Monday passed in a blur of busy-ness as I packed my bags and did all the things I needed to do before leaving town early on Tuesday morning.
I love this familiar sight at Ontario Airport!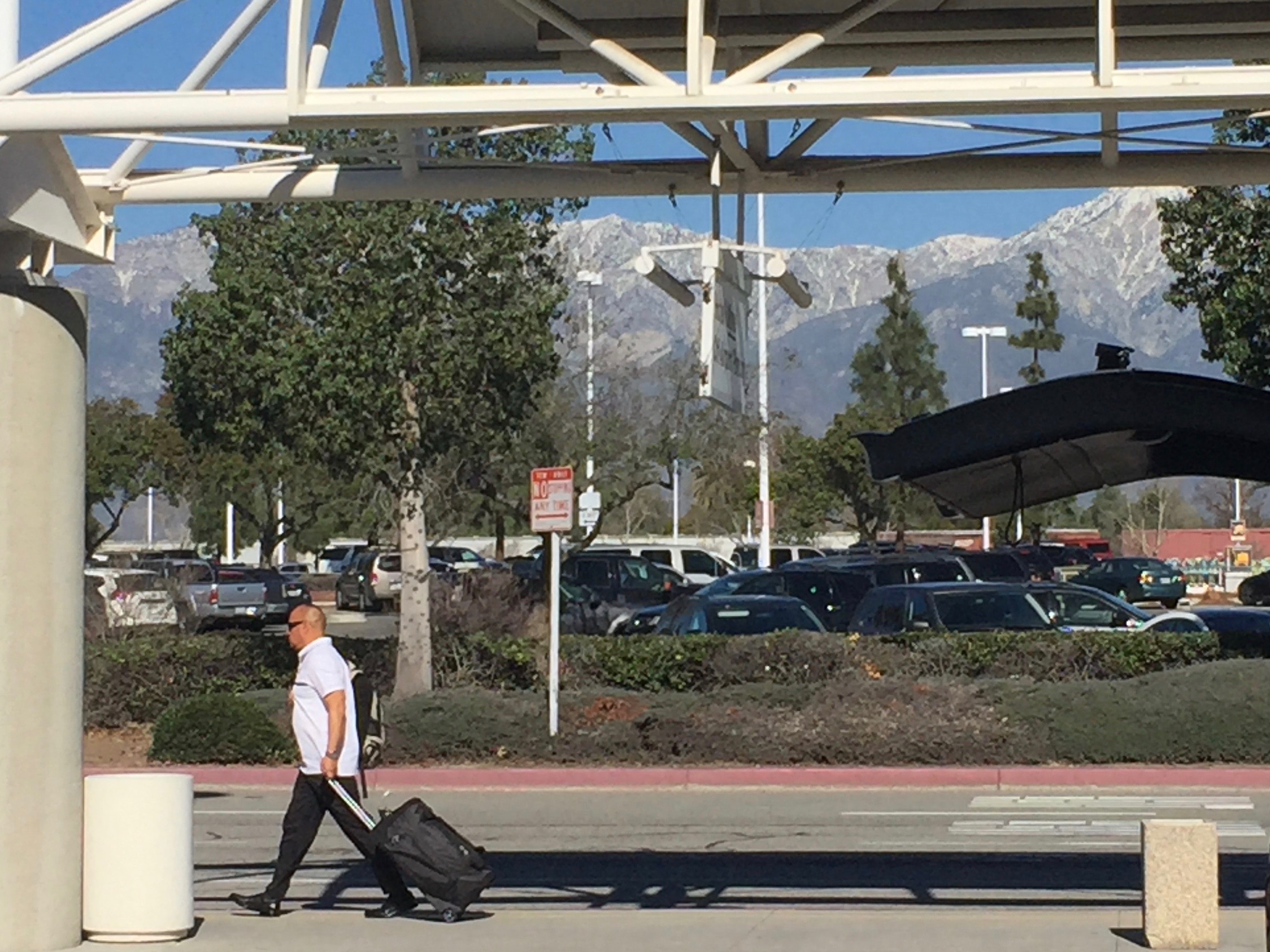 Sheila was just around the corner and we were soon on the road for a better view of those snow capped mountains.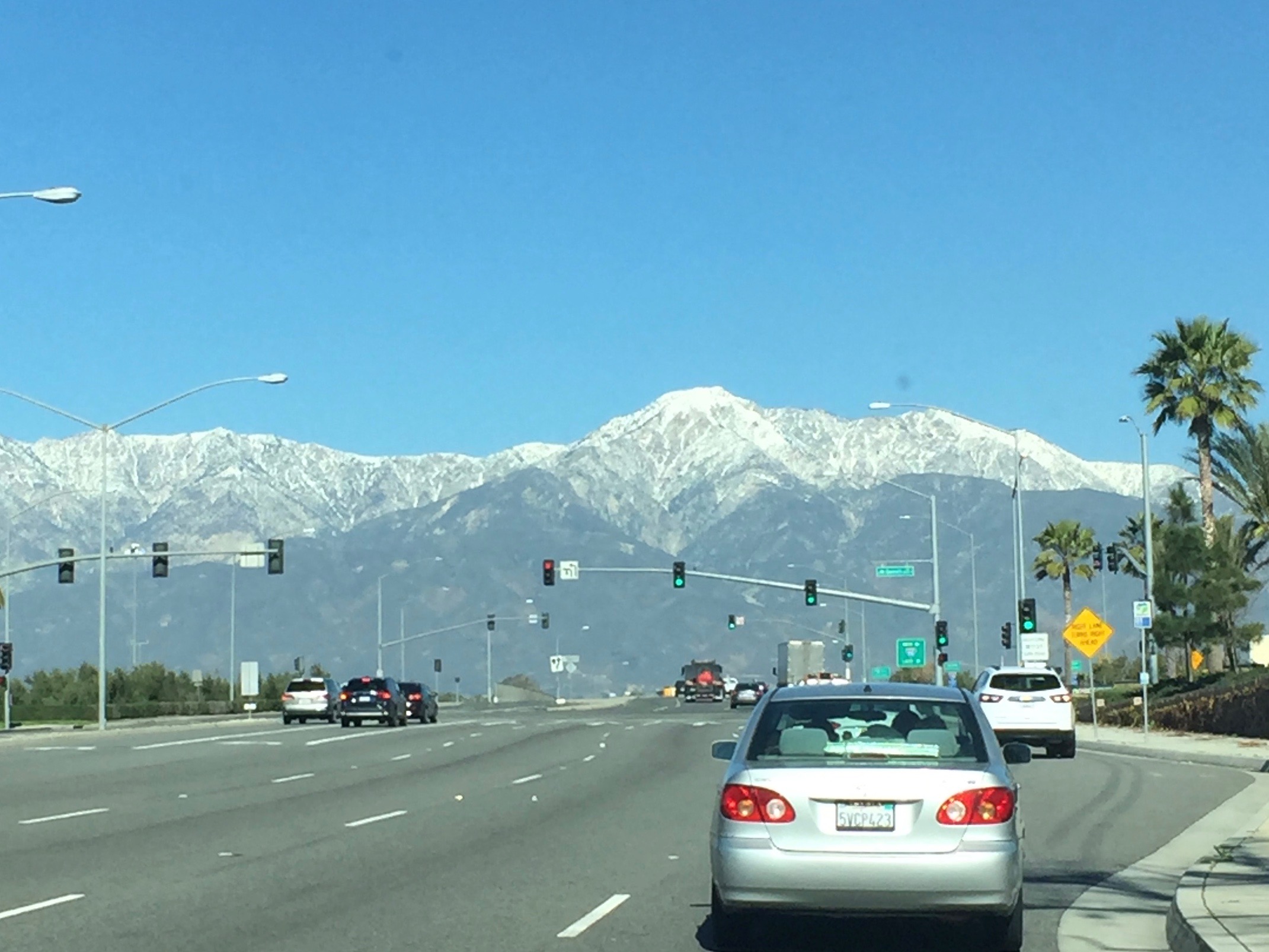 Left to my own devices on Wednesday I watched the whole eight episodes of Lemony Snicket on Netflix and stitched away. I had some paperwork to do but, knowing the real deadline was Friday, it got left to one side…
It started raining on Wednesday evening and was still pouring on Thursday morning. I have the pictures to prove it…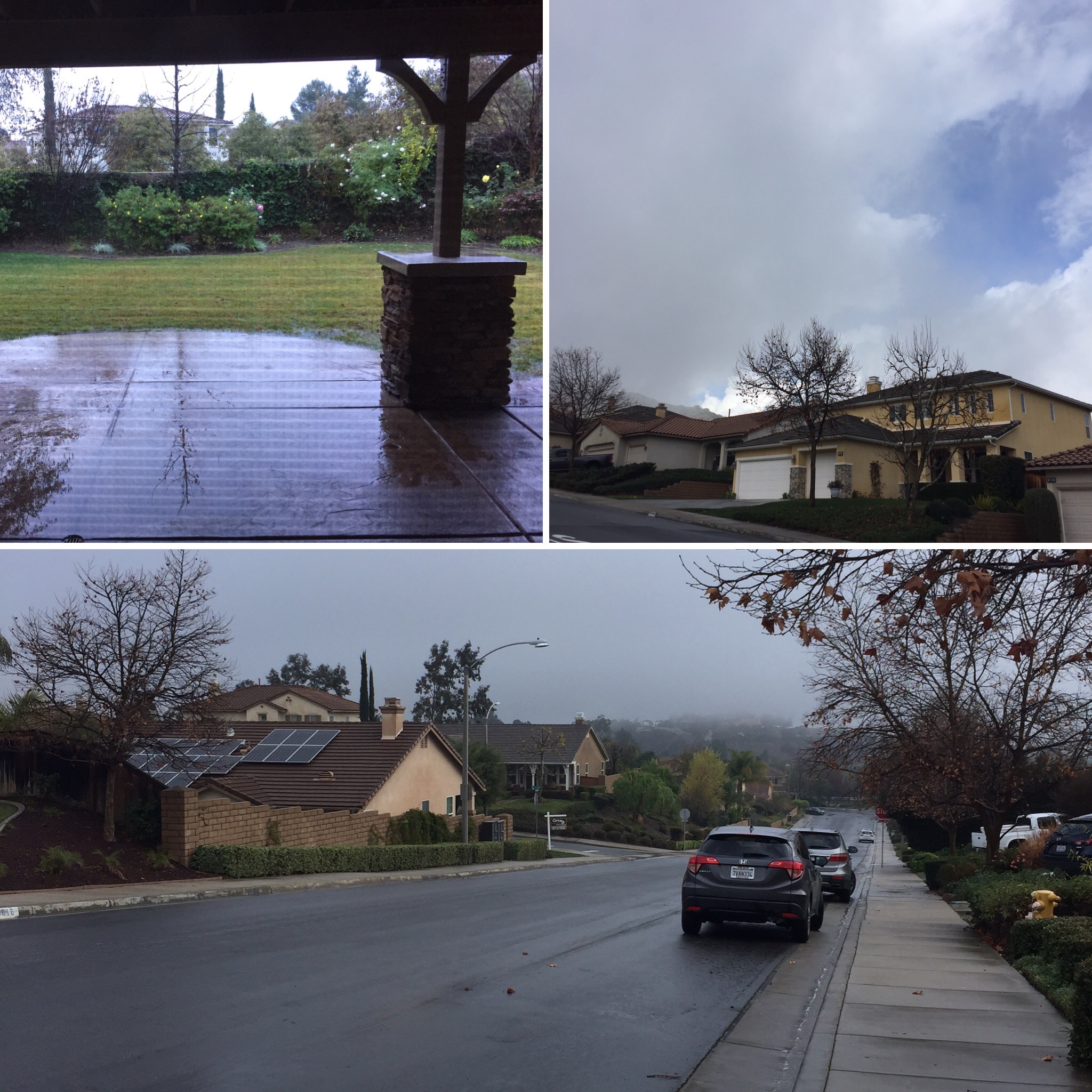 There was a little patch of blue sky by the time we left the house and we stayed dry walking from the parking lot to the convention center for Road to California. I have been coming out to California for the show since Joanne graduated from college (and we stopped paying her airfare) and it never disappoints.
There is a very special, special exhibit in the arcade this year. I am a member of the Inland Empire Guild and our quilts were hanging there! No, I didn't get it together to get one there myself but we were very well represented.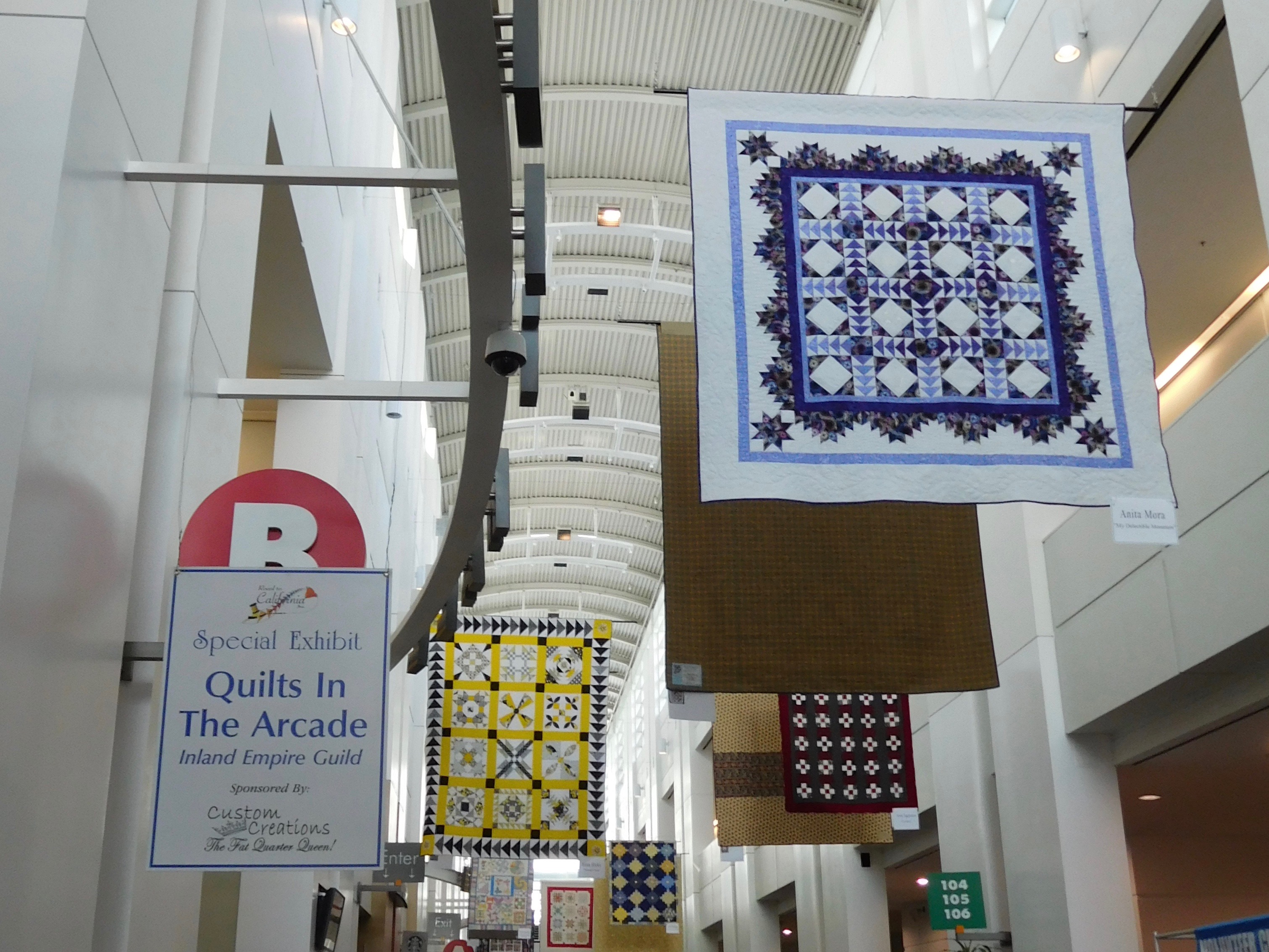 Sheila's beautiful wedding ring quilt was hanging right near the entrance.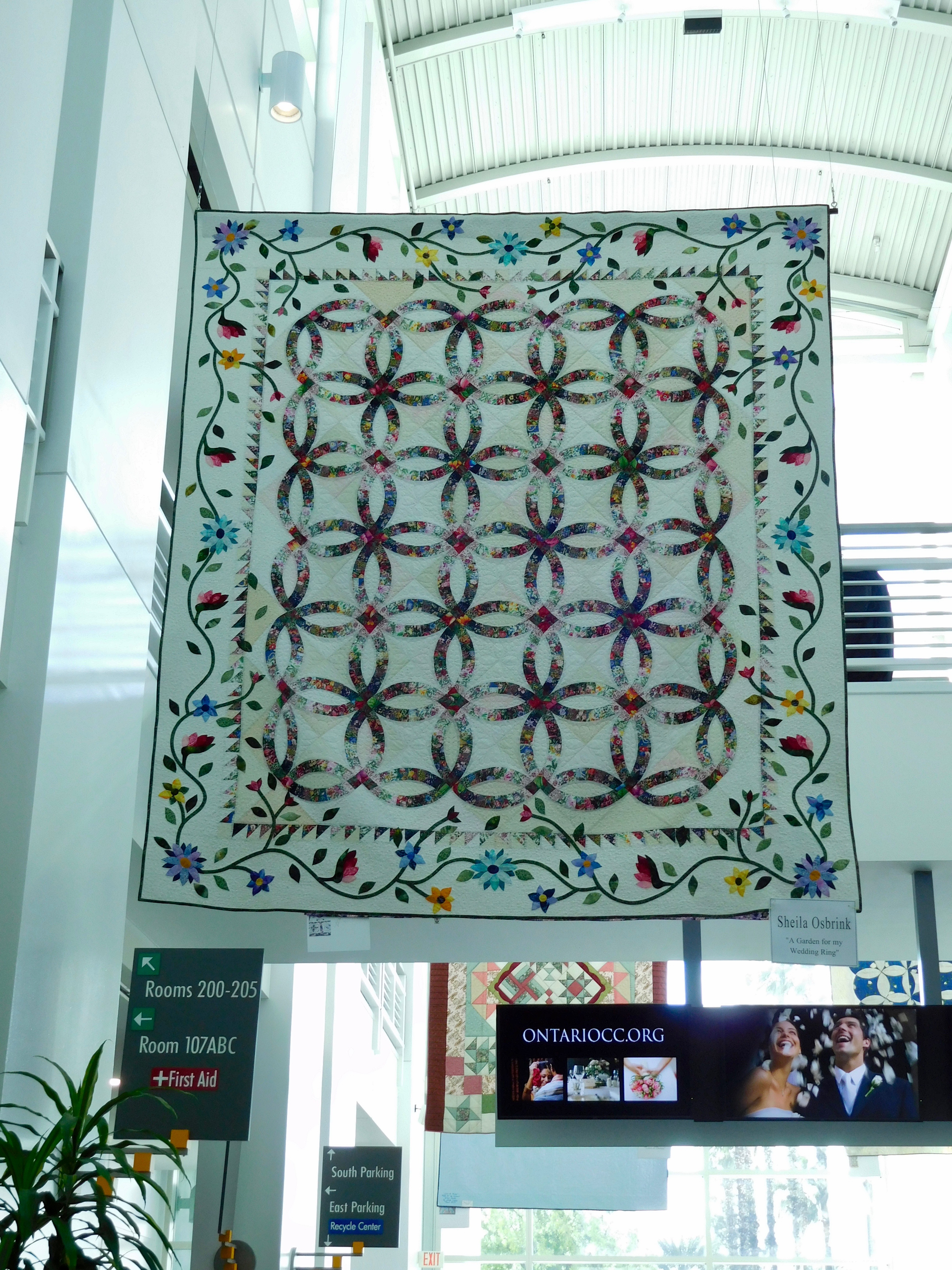 We made our way up and down all the aisles of vendors, stopping every now and then when something caught our eye.
I stopped to say hello to Linda Pumphrey who was in a booth promoting Mountain Mist batting and her book of historical quilts. We took a picture together.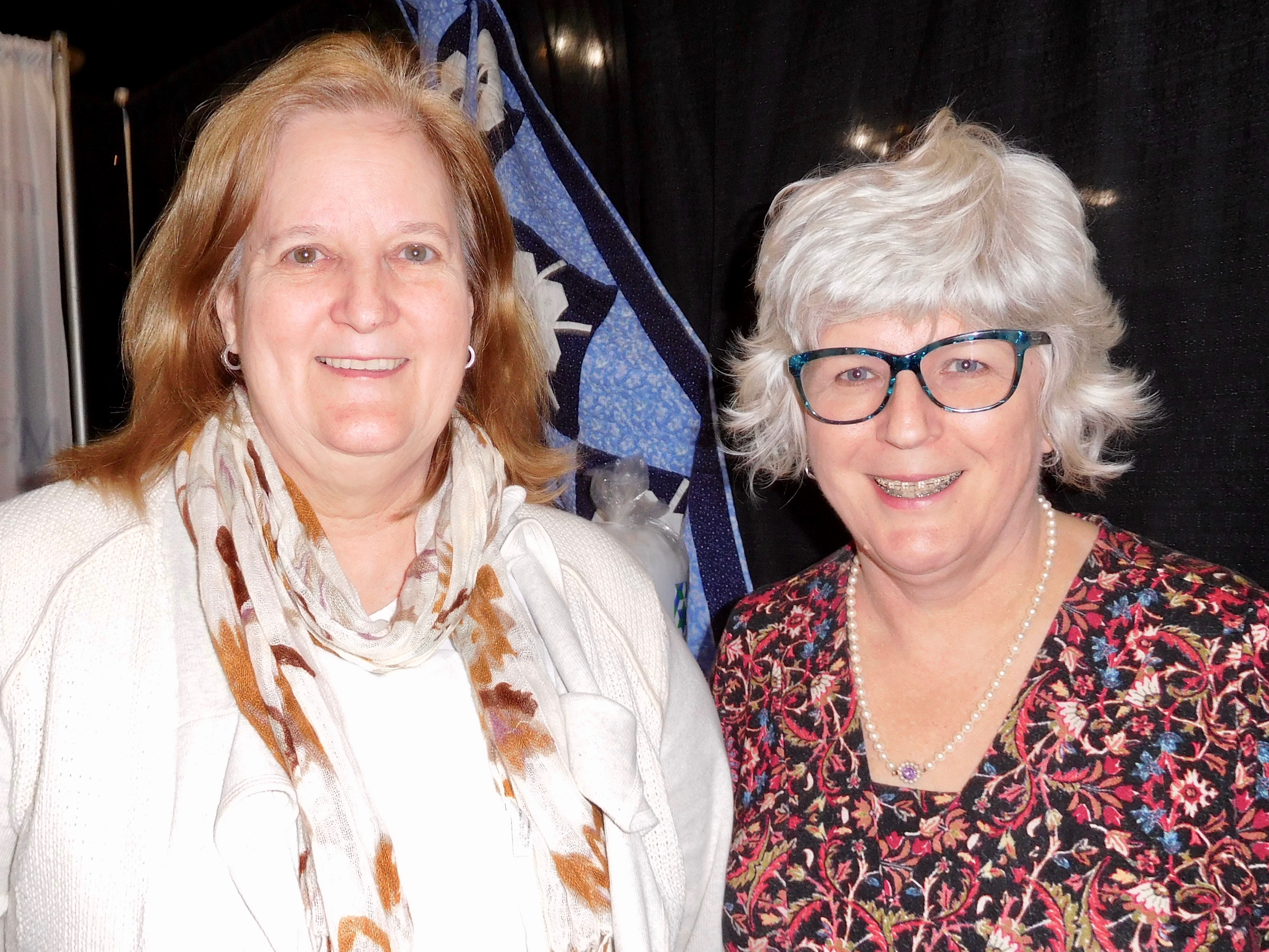 At least we are both smiling?
Linda's book is published by Fons and Porter, the same as mine, and we chatted some about writing books and such.
I did do a little shopping.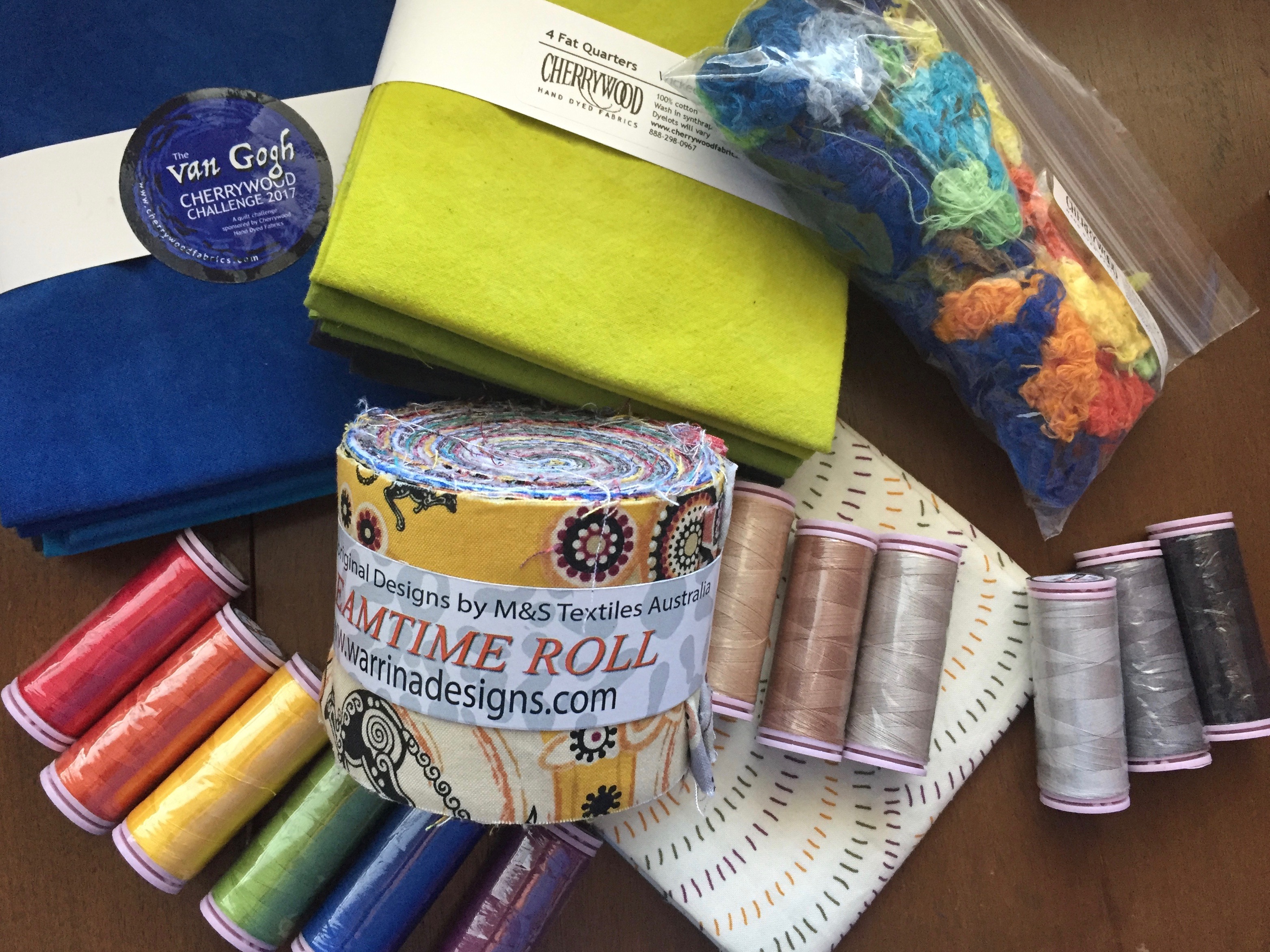 Will I actually make time to enter the Cherrywood van Gogh challenge this year? I bought the fabrics! I also bought a roll of Australian fabrics for a project I will be working on next week and ten spools of Wonderfil's NEW 60wt. thread. I'm going to be using it for a lot of my machine quilting in the future.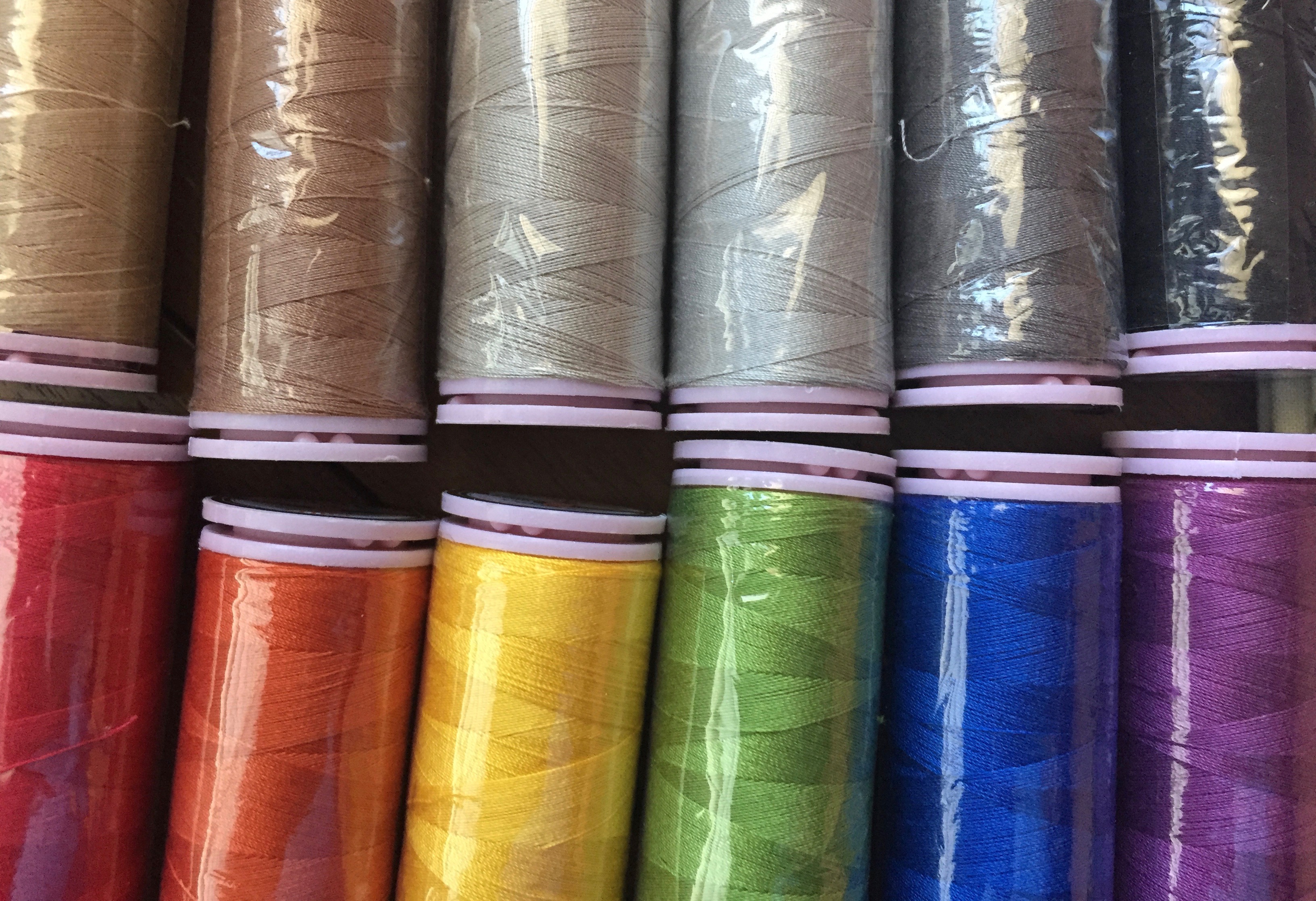 Did you notice that little plastic bag on the right hand side of the picture? This is what is inside.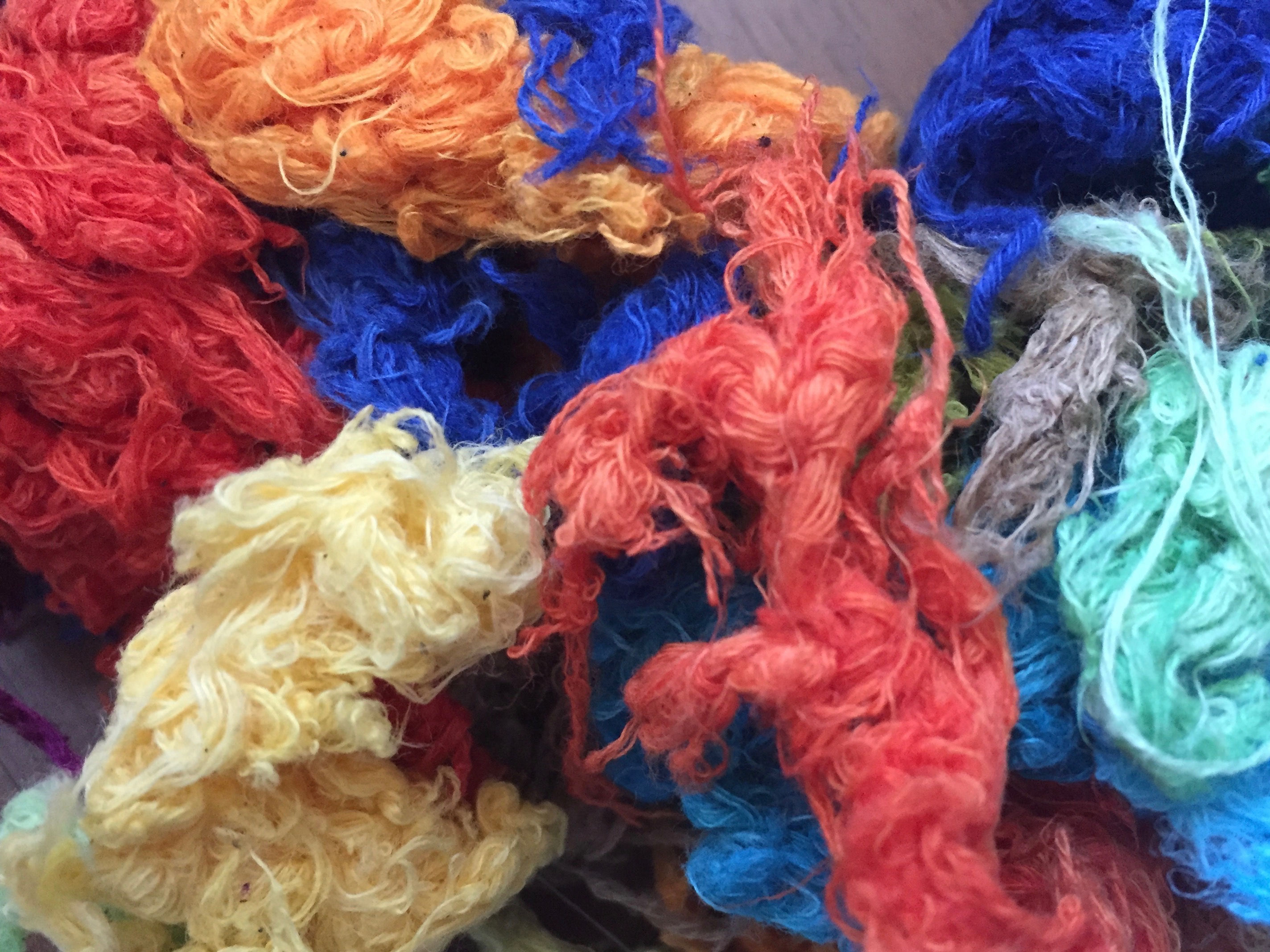 What do you think it is?
They are the strings from Cherrywood's fabrics when they come out of the dryer! There were bags of dryer lint too but I didn't fall for one of those. I do actually have a purpose in mind for using them… something to do with that challenge. We'll see!
(BTW today's featured image is a closeup of these luscious Cherrywood fabrics.)
We took a lunch break and then went to look at the quilts in the show. We are going to go back tomorrow so I am planning on taking pictures and having a better look then. Suffice to say there were some beautiful ones! Crystals seemed to have made a comeback. I'm not too sure how I feel about that…
Yesterday the biggest news of the day in California was the rain…
Yes, there was big news in Washington D.C. but it was pouring here, and after the last ten years of drought rain is huge news! We had film of falling trees, mud slides and rock falls before anything from out East.
I spent the morning doing that paper work. I entered eleven quilts for the Chicago Quilt Festival. It took a while to write descriptions and fill in all the details but I powered on through and it is done. It feels so good!
And then I stitched. I worked on my Indian elephant. Here's a sneak peek.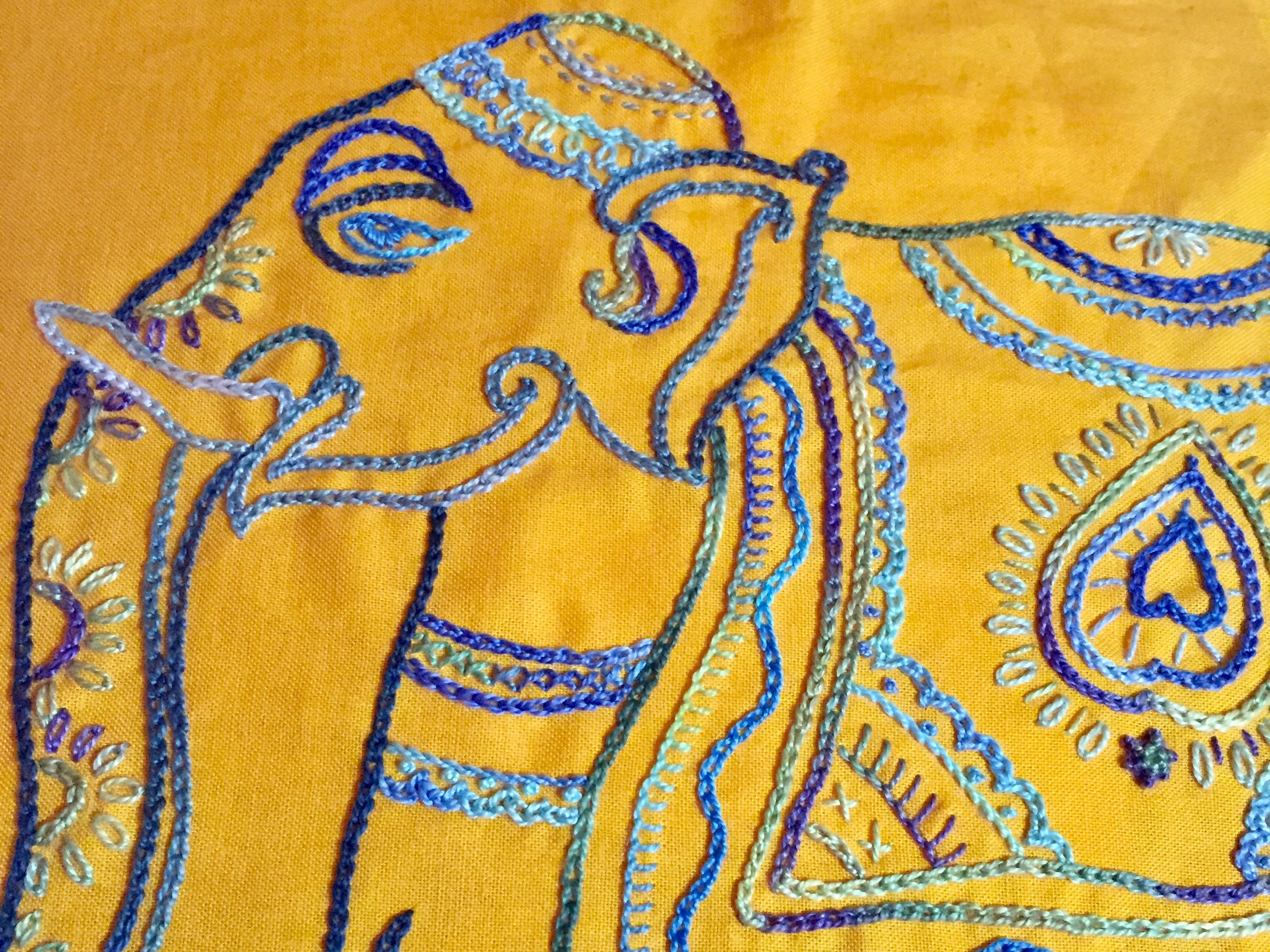 He'll go in a quilt with a crocodile and a peacock sometime very soon.
The sun has come out today. We have apocalyptic weather warnings for tomorrow… A third band of storms is coming in that is supposed to out rain the other two put together. The plan is to go back to the show. Sheila is driving and she's always up for an adventure.
But today I'm stitching…