I finished a quilt yesterday!
I have lots of quilts in progress at the moment with deadlines looming. Each morning I have to decide what I should be working on and get to it, no excuses… although sometimes emptying the dishwasher or folding laundry somehow seems very important?
A new challenge was announced at PAQA last year, ready for Quilt Festival in Chicago.
Intentional Improvisation, as described on the Quilts Inc. website,
"The artists of the Professonal Art Quilt Alliance (PAQA) were challenged to depart from their familiar ways of working to discover new ideas, themes, and techniques. Members were encouraged to start with one design idea and let it evolve. This method of working is called Intentional Improvisation. This exhibit makes its Festival debut in Chicago."
The deadline for uploading our pictures is January 20th and I'm heading to California next Tuesday so I knew I needed to get a move on.
After attending Gwen Marston's lecture at QuiltCon last year when she talked about the joy of putting all her pieces in a bag and just sewing whatever came next I had been wanting to try it… with English paper pieced hexagons.
I had lots of mini charm packs of solid colors and I started by cutting them for 3/4″ hexies and basting them over papers. I added one mini charm pack of Cotton + Steel basics and lots of grayish neutral ones and put them all in a brown paper bag.
And then I started sewing.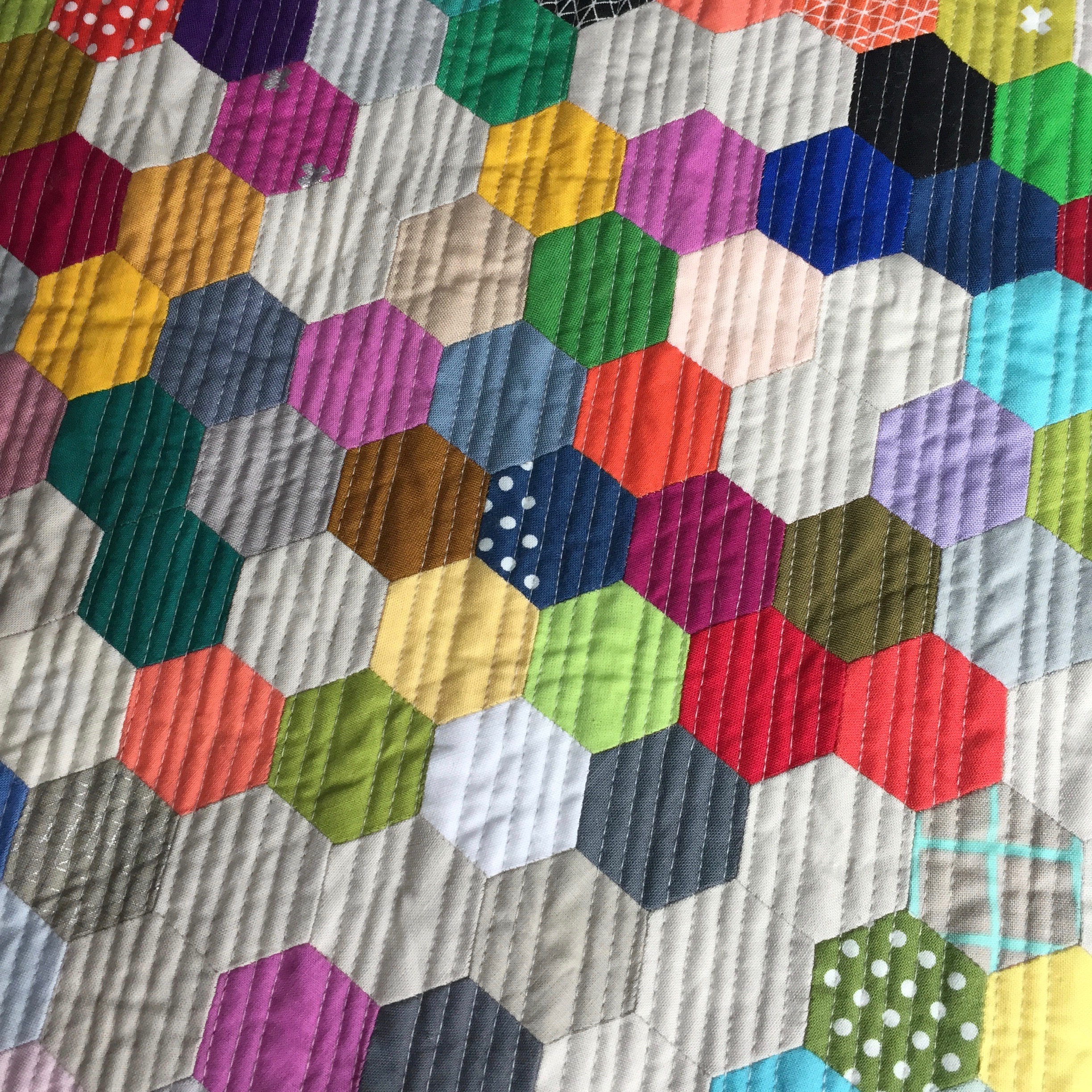 Sometimes it was difficult, like when I had two emerald green ones right next to each other or a long line of neutrals, or no neutrals, but I made myself do it!
I made a big block and then it came time to appliqué it to a background. Oops! I didn't have much of my neutral left and I had no idea what it was. I looked at my color cards and was still no wiser. I paid a visit to Quilters Quest but they didn't have a match… In the end I went on line and ordered five different neutrals. When they arrived none of them were the right one…
What to do?
I decided to cut the small piece of matching neutral into several pieces and stitch a background combining what I'd bought! I made sure the matching pieces were spread out and then I appliqués my hexies onto the background, cut the back away, removed the papers and I had a top. That was all before Christmas.
This week I quilted it.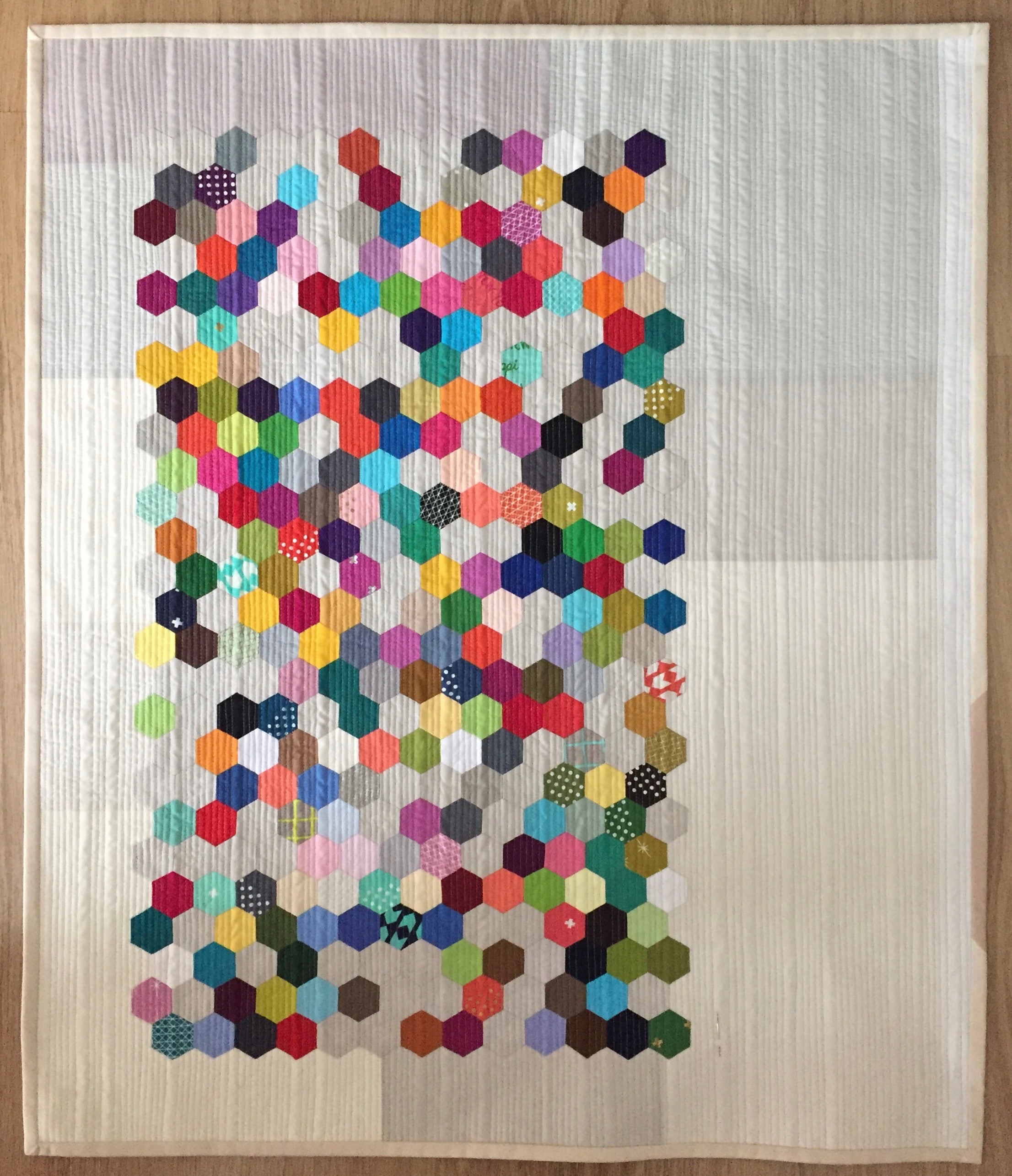 And just in case there was too much negativity on the right hand side I added some cross stitching.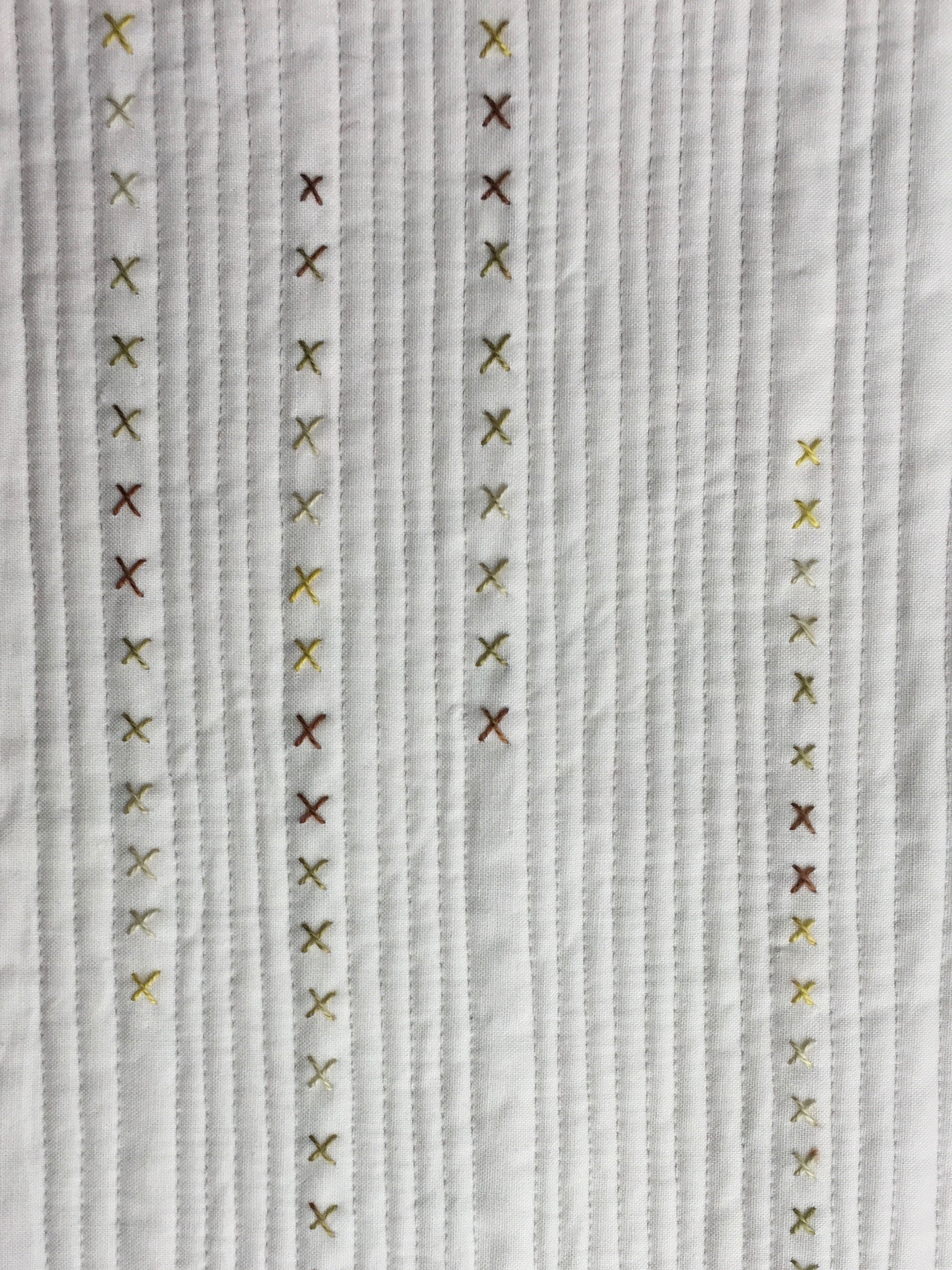 Et voila!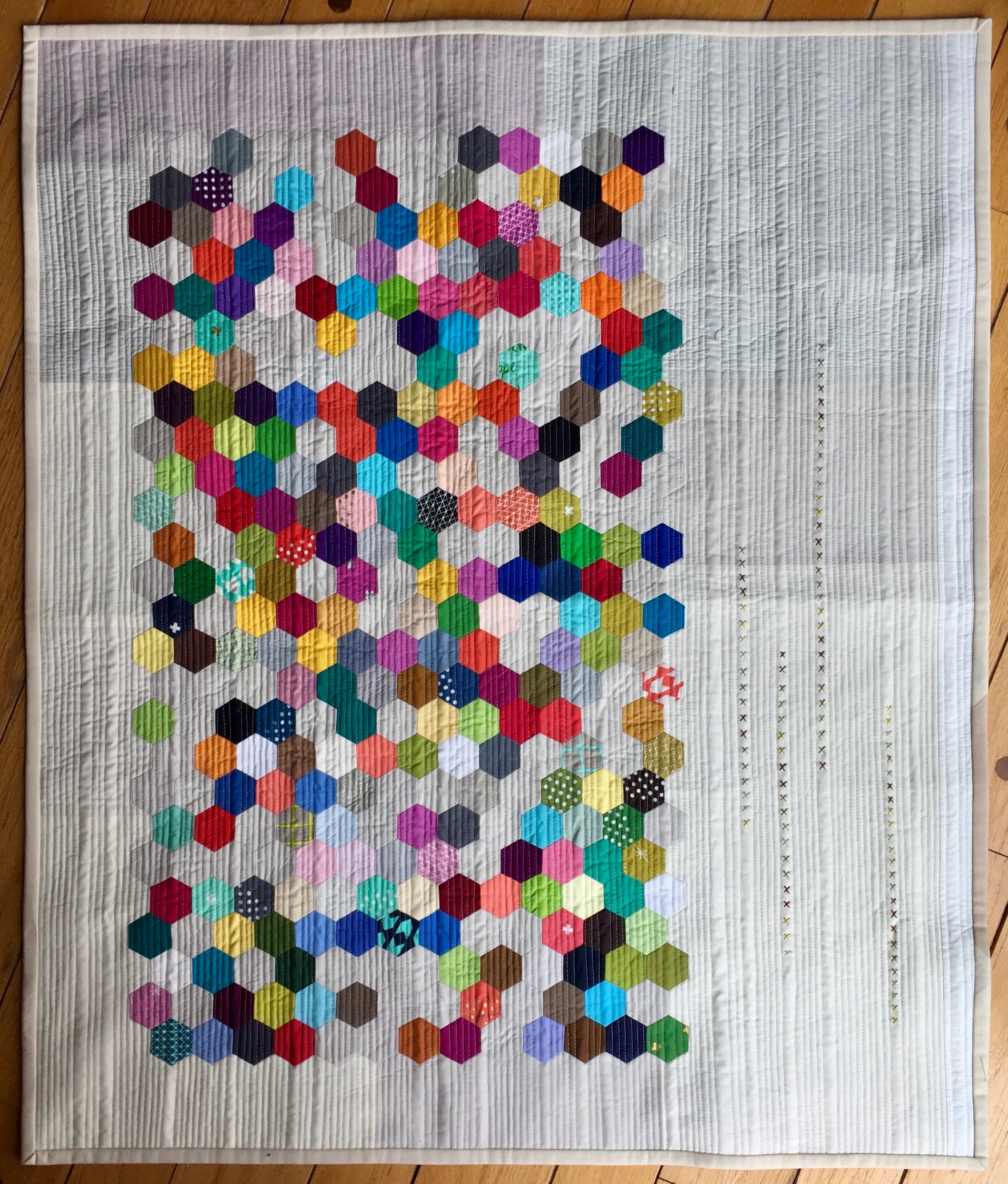 Done, ready to enter. (OK, it still needs a label and hanging sleeve but those will be added in due course.)
And a beauty shot…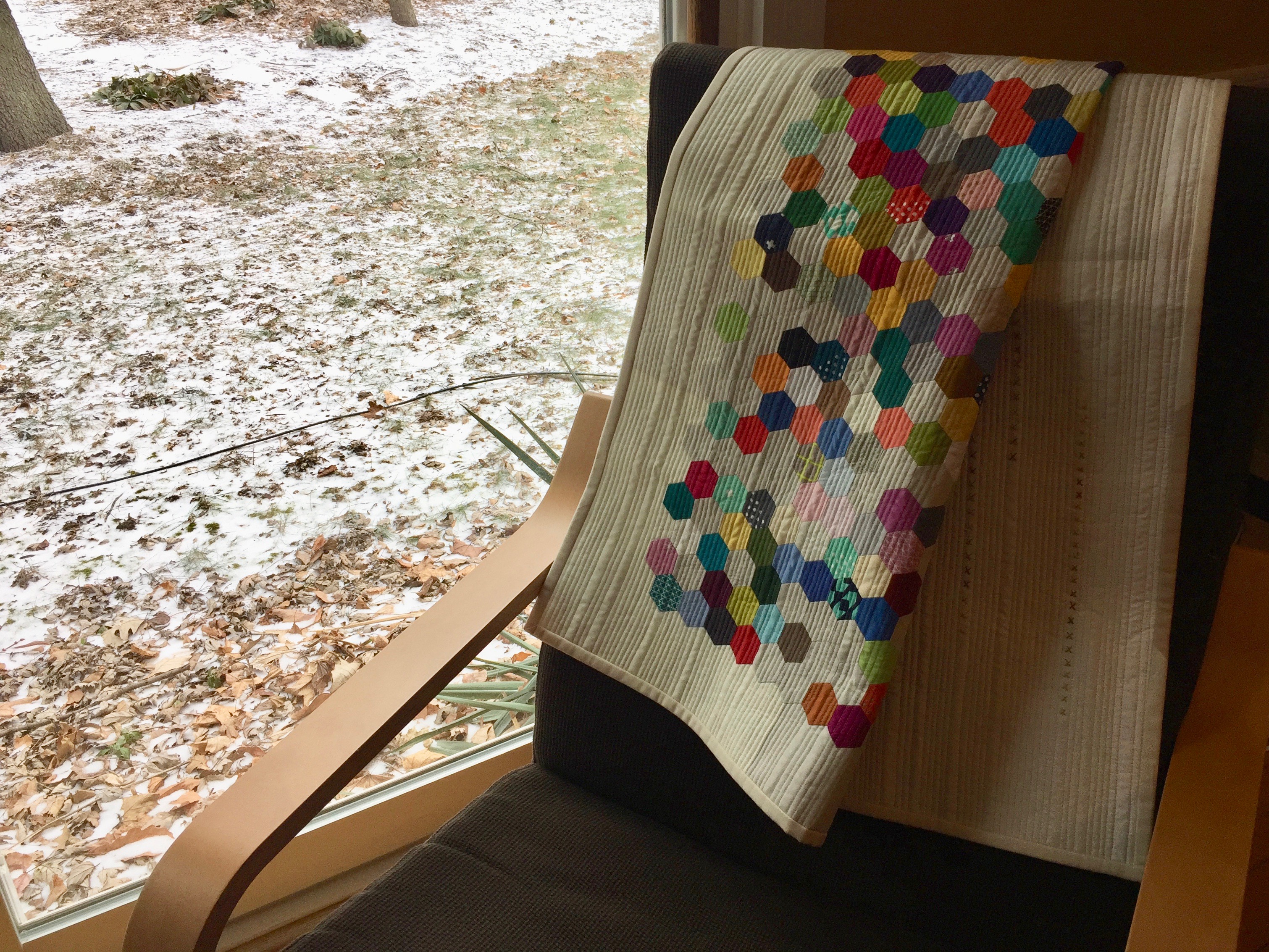 Please note cable laying on the grass…internet and television is still working!
Some technical thread details if you are interested. I used Wonderfil's Invisafil 100 weight polyester thread for my hand piecing and appliqué. It's super fine and doesn't fray against the papers and allows about 20 stitches to the inch. I used Wonderfil's NEW 60 weight 2ply cotton thread for the quilting and it was great. I used a size 80 Microtex sharp needle and it didn't break and gave lovely texture to the quilt without changing the color. For the embroidery I used another Wonderfil thread, this time an 8 weight variegated perle cotton from Sue Spargo's Eleganza range. Too much fun? I will be getting more of that 60 weight cotton in California.
If you took a peek at the Quilts Inc. websit then the next exhibit down under the Intentional Improvisation one might have caught your eye? or not? Take a look…
Trip Around the World in Folk Art Stitches? Yes, that's me. And yes the quilts will be finished in time, and yes, there will soon be pictures!