I hand quilted my first quilt. It was just a four block sampler and my stitches were not very small so it didn't take long. I tied my next quilt. When I started hand quilting my third quilt in three months I realised that I was not going to be able to keep up with all the tops I wanted to make. I took a machine quilting class. It was OK but I knew there was so much more more I needed to learn if my quilts were going to look anything like the ones I was admiring at quilt shows. So I took more classes and practiced, a lot.
Now 14 years later I think I have come a long way. I might never reach the lofty heights of the heirloom quilters with their micro stippling and tiny stitches but I can finish my quilts myself and have them look quite nice, even if I say it myself…
Machine Quilting 1 is one of my favorite classes to teach. For some students it is the first class they have ever taken and Saturday's class at Pieceful Heart Fabrics was no exception. We started by sewing some seams and learning a good pressing technique…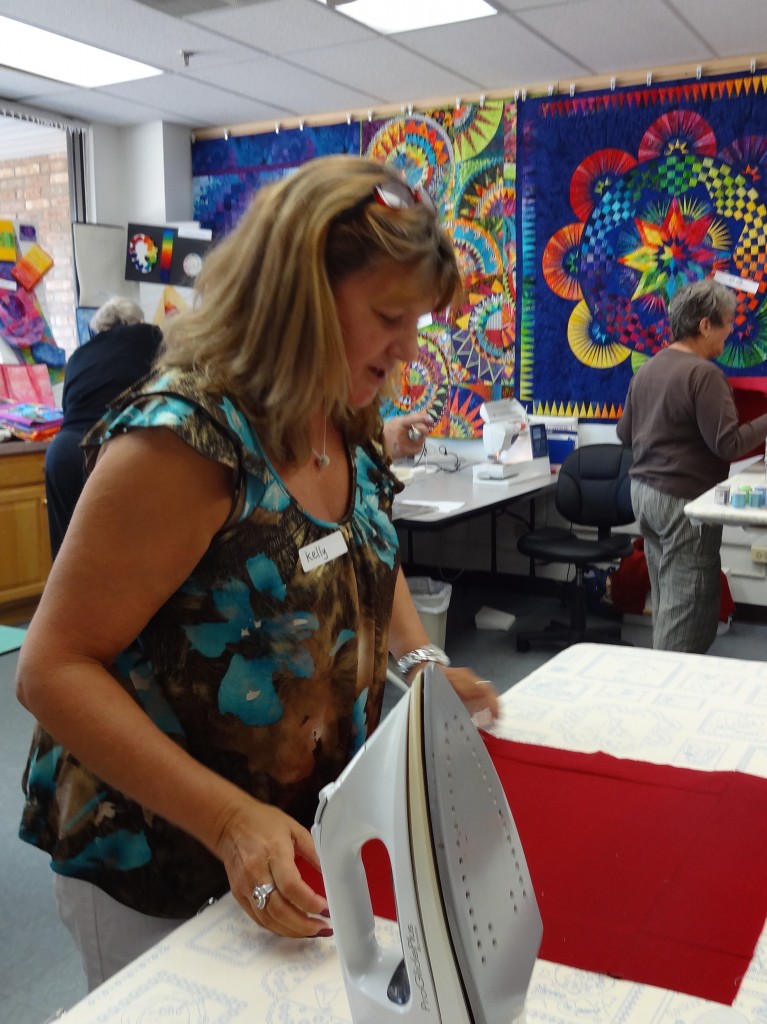 Then we had a discussion of the wonderful world of batting, threads and needles… that took a while.
Marking the quilt top came next.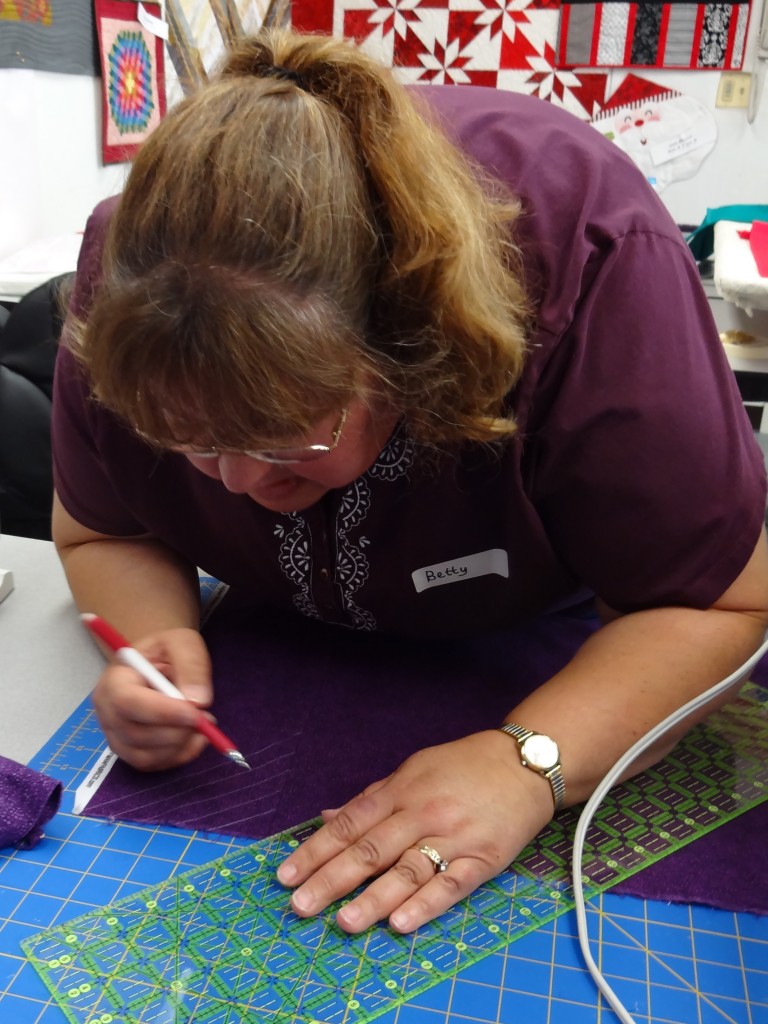 And soon it was a very important part of the class… lunch!!
Fortified by some good food we basted our quilts together.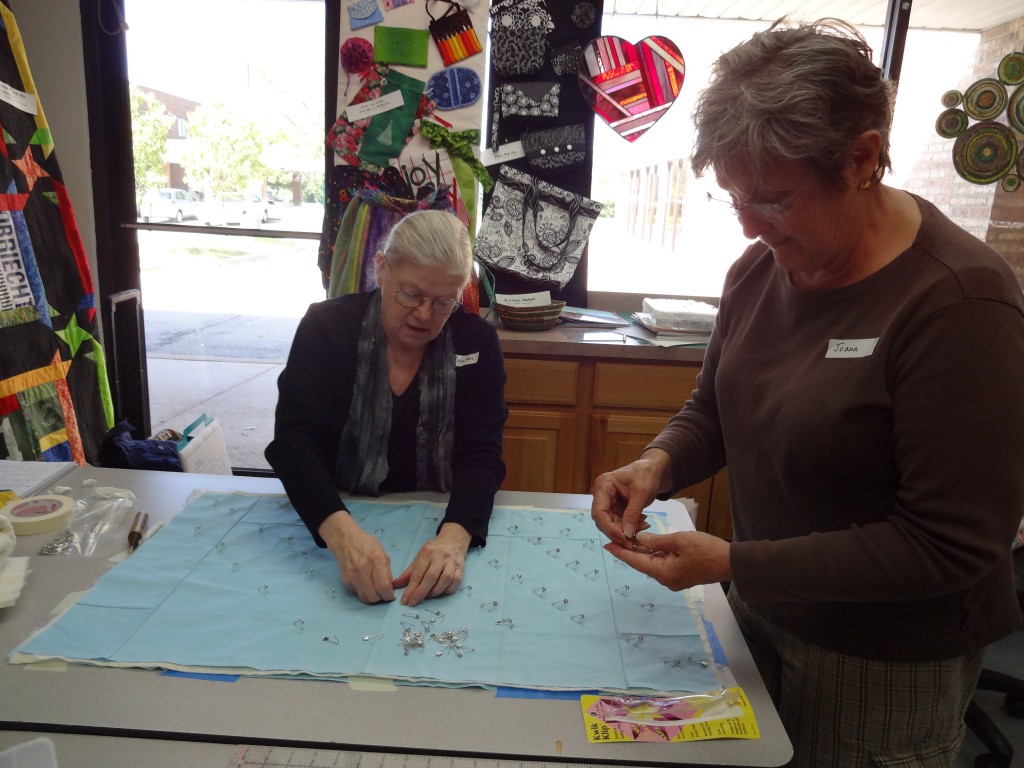 Finally, it was time to quilt… stitch in the ditch, free form curves and altered stitches were all demonstrated and then tried. Then all that was left was the practice!
My next favorite class is Machine Quilting 2 but that comes next month.
On Sunday I returned to Lisle Depot Days. We had enjoyed ourselves last year, spending the afternoon giving quilting demonstrations on behalf of Riverwalk Quilters Guild so we were delighted to be able to go back this year.
Yvette was demonstrating English Paper Piecing in front of our beautiful raffle quilt.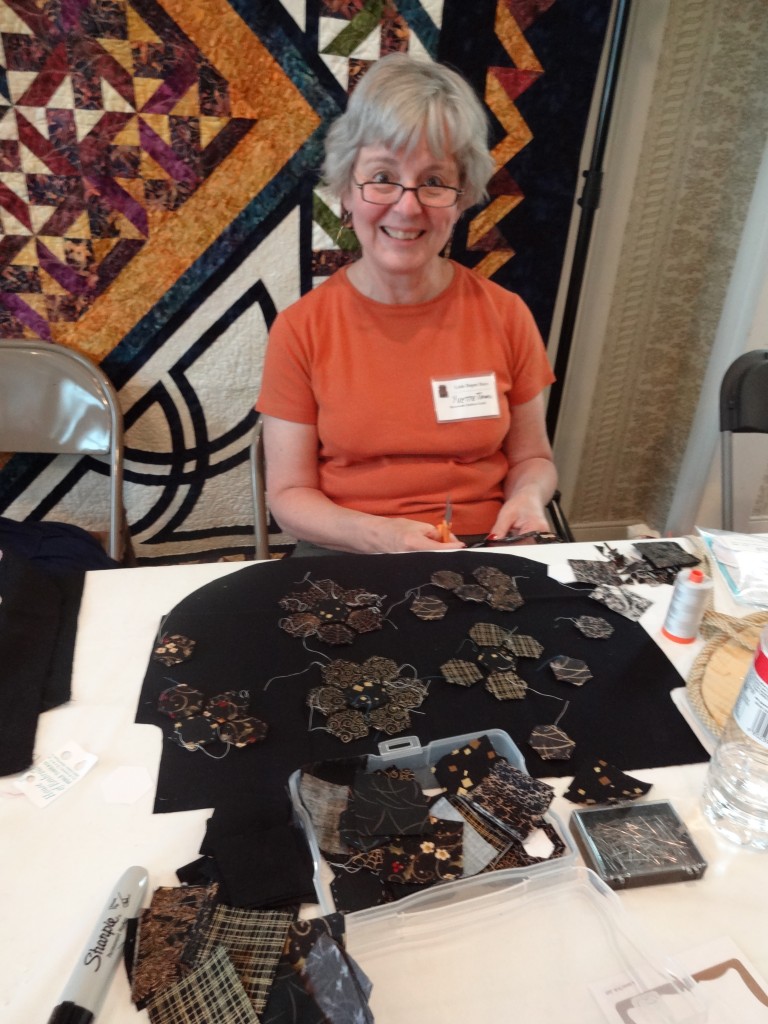 Sandy worked on a piece of hand applique and Nancy was paper piecing a miniature on her machine. Lots of people came through and stopped for a chat.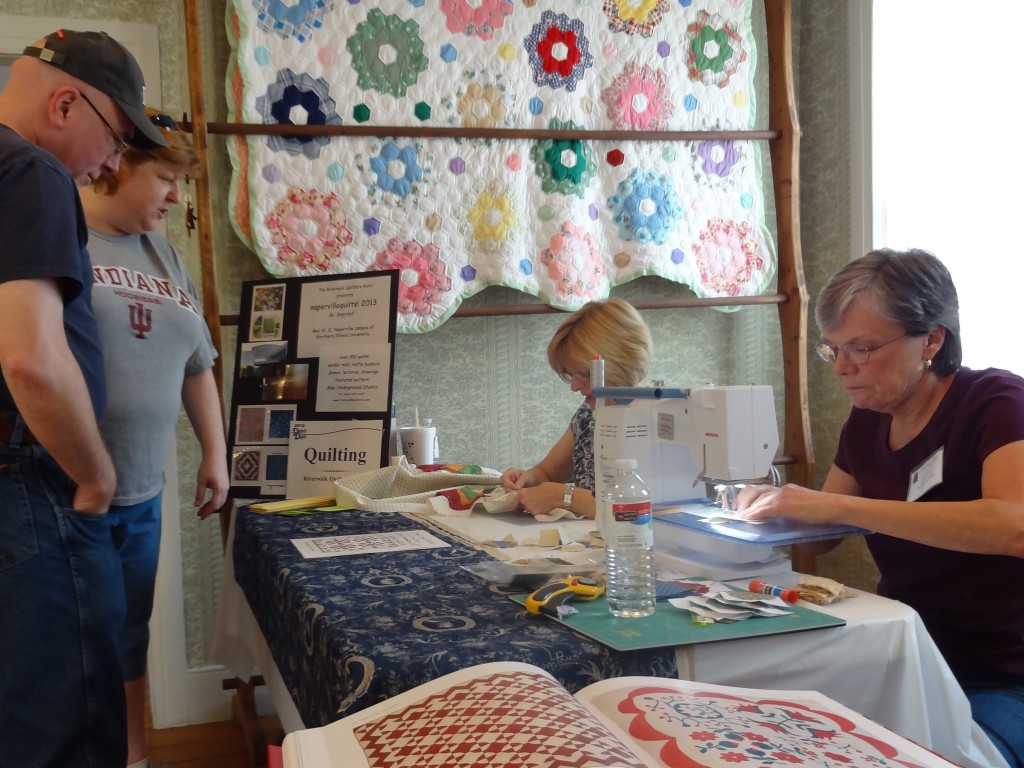 Heidi spent the afternoon hand quilting on a frame.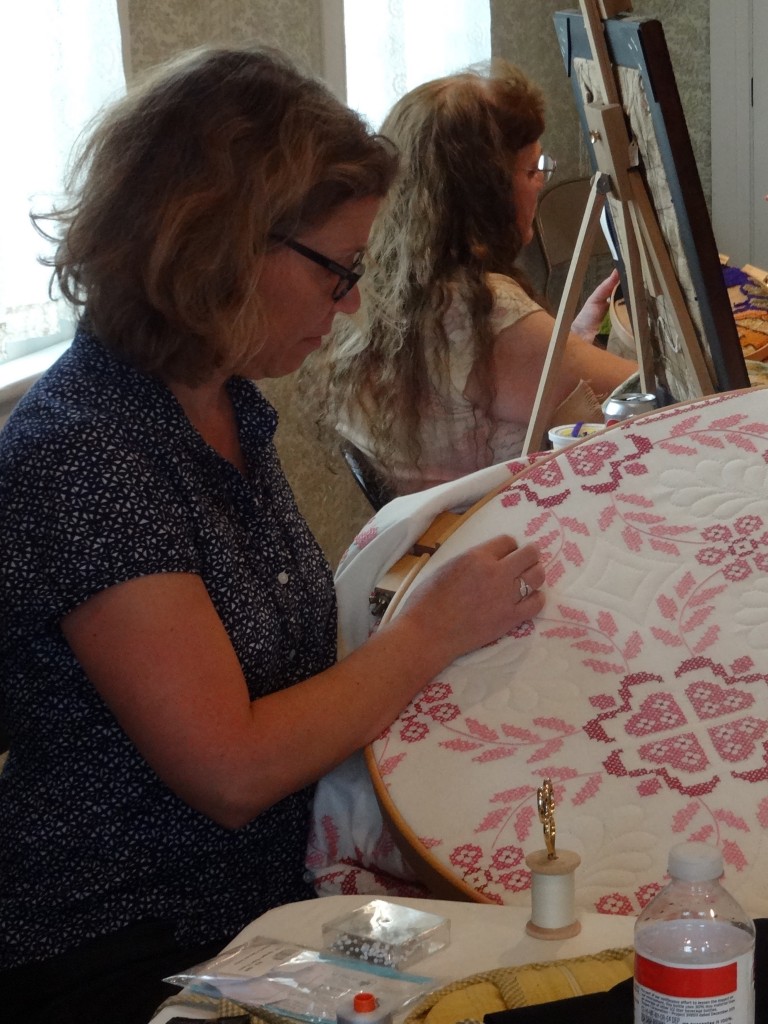 I stitched on an embroidery, so between us we represented many facets of our craft. We passed out general information on our Guild and invites to the  Small Quilt Auction. It would be good to see some new faces at next month's fundraiser.
It was raining for last year's show. This year the sun shone, so Sandy and I went on a little expedition to see what else was going on… There was a log chopping machine, which was fun to watch in action, vintage cars and even a petting zoo.
Altogether, a fun afternoon in good company.
On Monday I returned to the basement. First, I prepared samples for my Modern Mixx class that evening. The blocks are going to go into a Mini Modern Mixx quilt…  More work is  still needed on that one.
Then I started on my challenge piece for Naperville Modern Quilt Guild next week. When I was away last month (there was a wedding or something?) it was decided that we should all make a piece using tangerine, aqua and grey.
Watching Yvette and her English paper piecing reminded me I had been itching to stitch hexagons together for a little while so that is what I did.
Here is my piece, complete with quarter inch borders and a little straight stitch quilting. It is about 11″ by 14″. Sarah thought it would make a good place mat but it took me rather too long to allow anyone to risk spilling their gravy on it.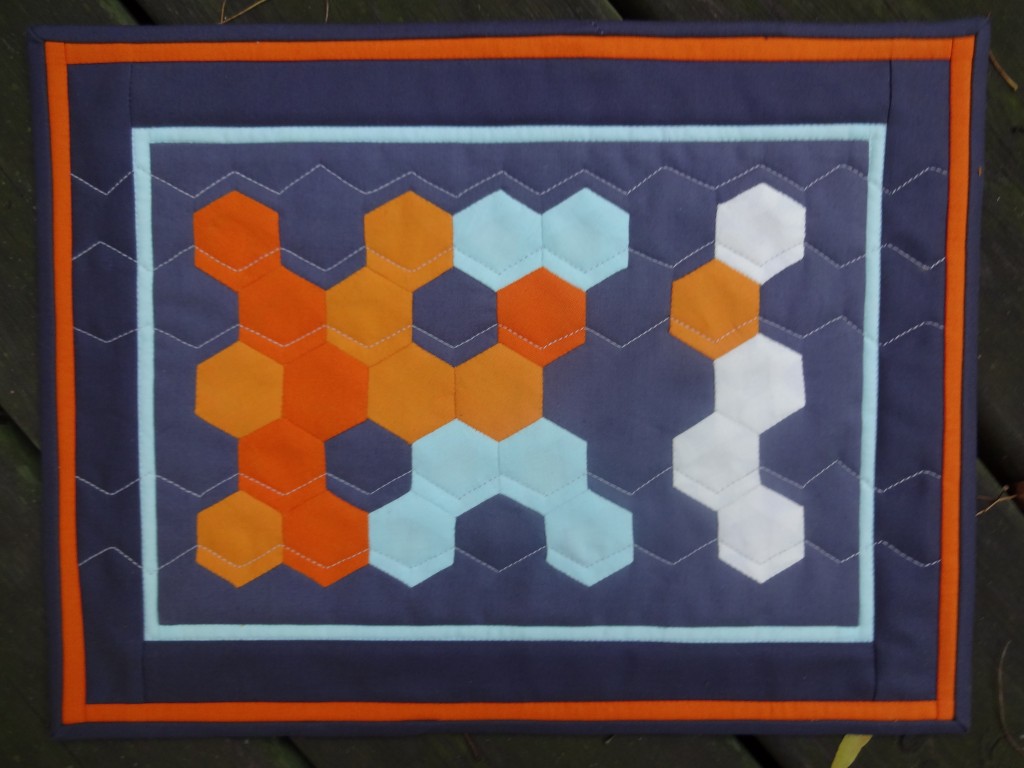 Here is a close up of those hand stitched hexagons, appliqued onto the grey background.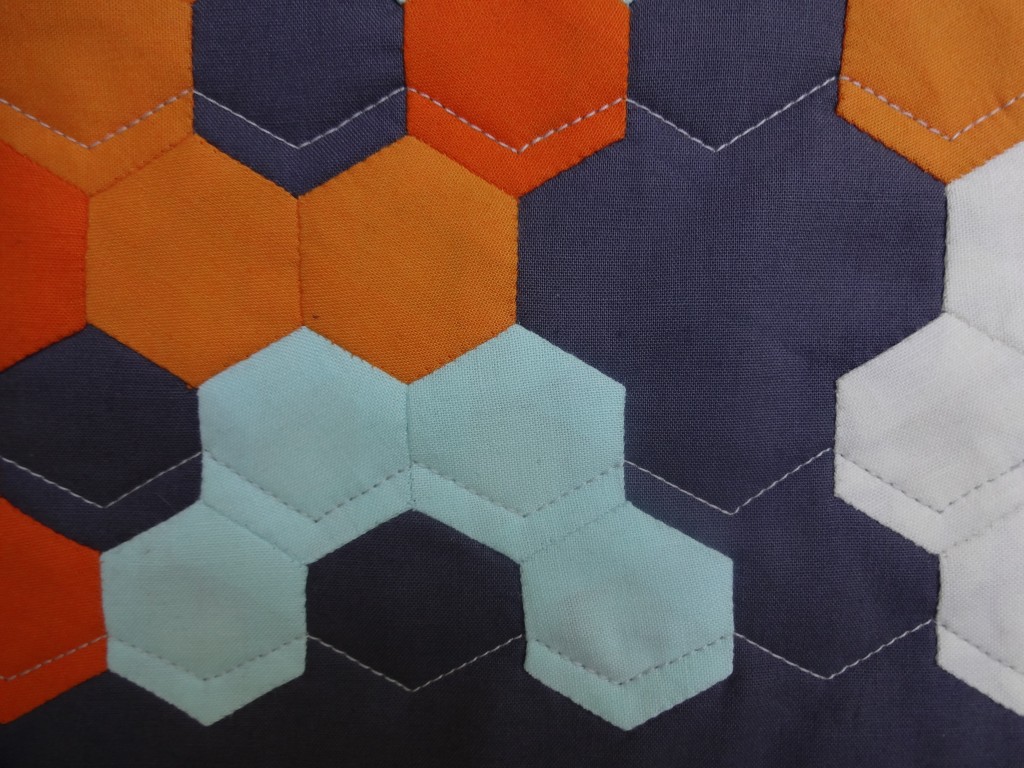 I'm rather pleased with the finished little quilt. Now I need to make a name badge, due last month but not started yet.
That's something for tomorrow.