One of the highlights of going to Market has to be seeing all the new stuff… and bringing some back with you!
I have learnt that not everything has to come home. I do not have room to store it for one thing, or time to use it for another 🙂 But I did do a little shopping while I was in Kansas City and I have the pictures to prove it.
I have been reading about needle tatting and found this good looking book and needle set so I can give it a go. Barbara gave me a mini tutorial so time will tell…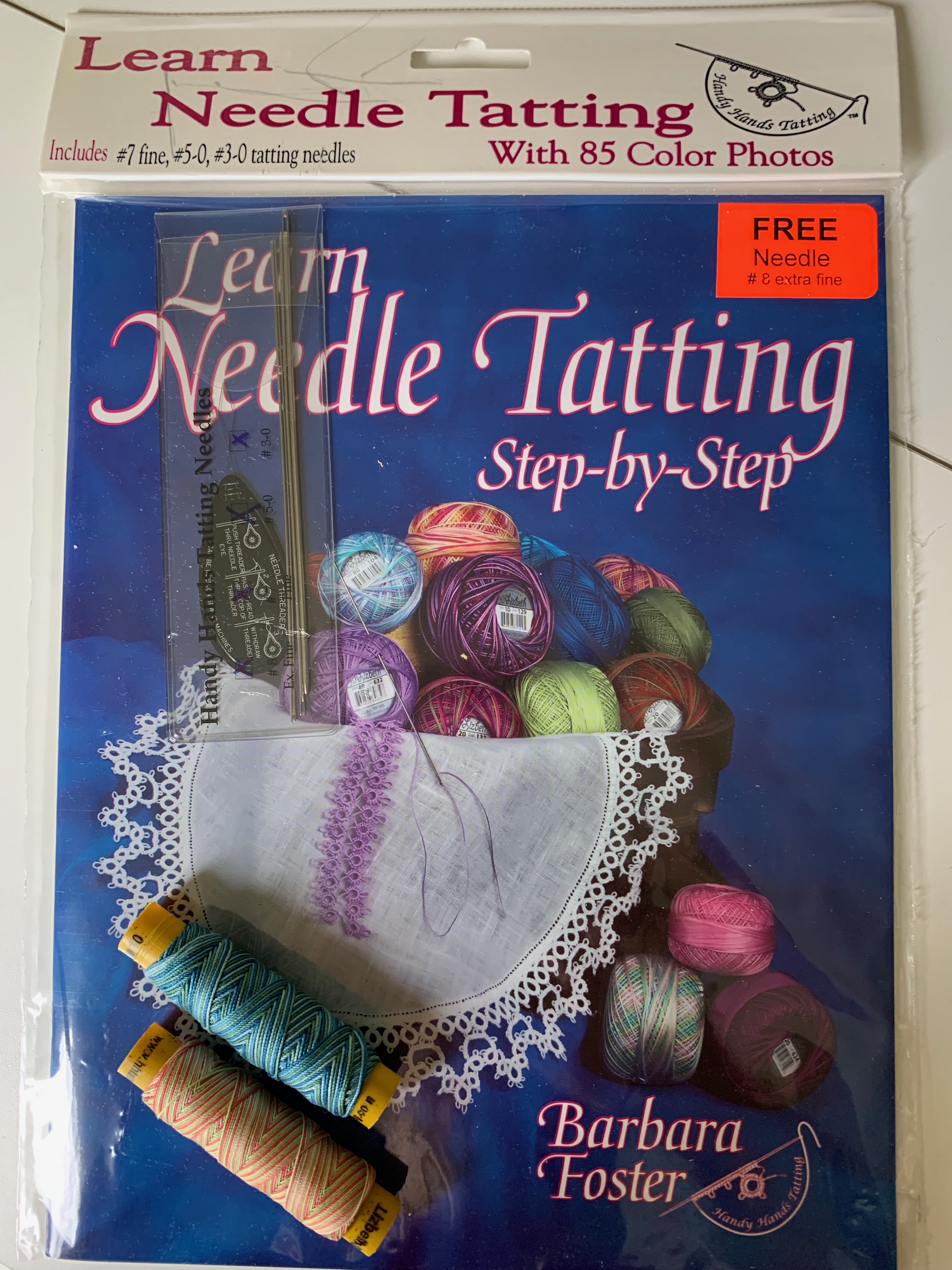 I restricted myself to just two magazines. They were free so it did take a little self control. I always like to read the latest Quilt Sampler. It took Sheila and me on an epic road trip to McPherson Kansas in 2002… American Quilt Retailer is full of the latest industry news and handy tips.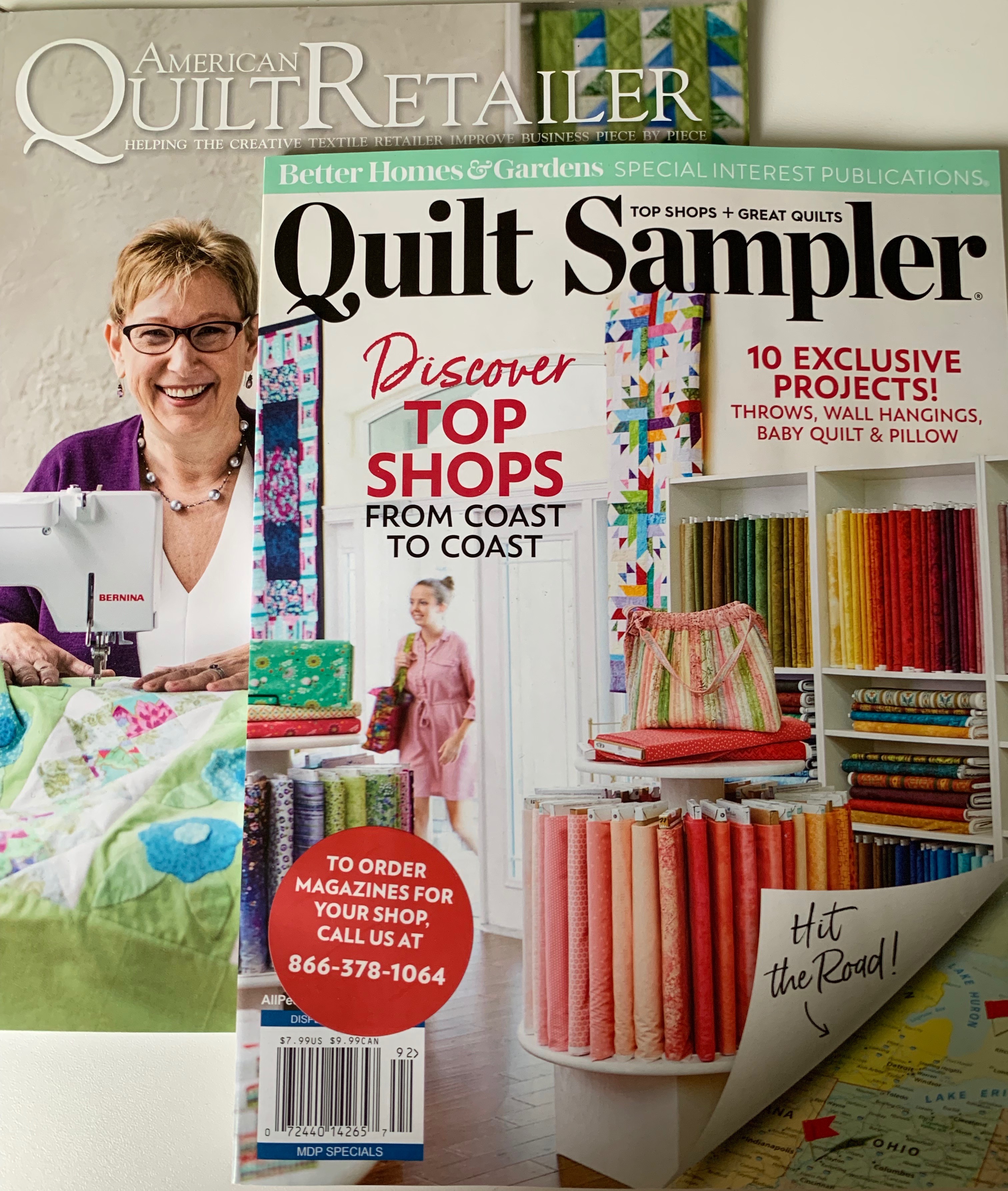 I placed an order at the Sue Spargo booth for books and wool that will come next week but I came home with Sue's latest Spoke Easy tool ( I still need to peel the backing papers off the perspex templates) and one of her pre-cut wool appliqué kits. Sometimes I just don't want to have to think for myself and a kit is fun and easy.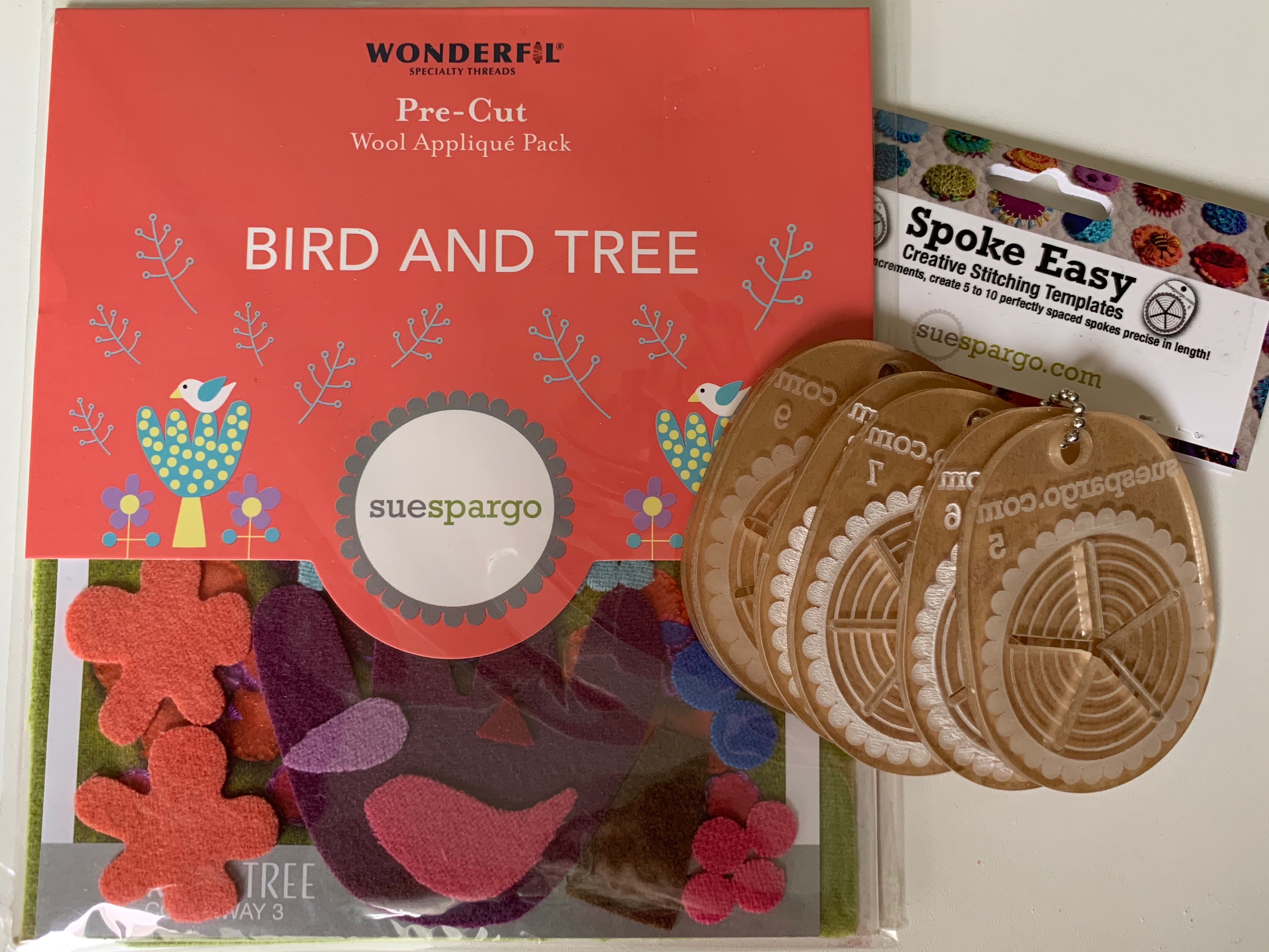 I bought the whole range of Windham Fabrics shot cottons, the new additions to Marcia Derse 's Palette collection and one of her Art History panels. Marcia gifted me the charm pack in the picture. It was a nice extra!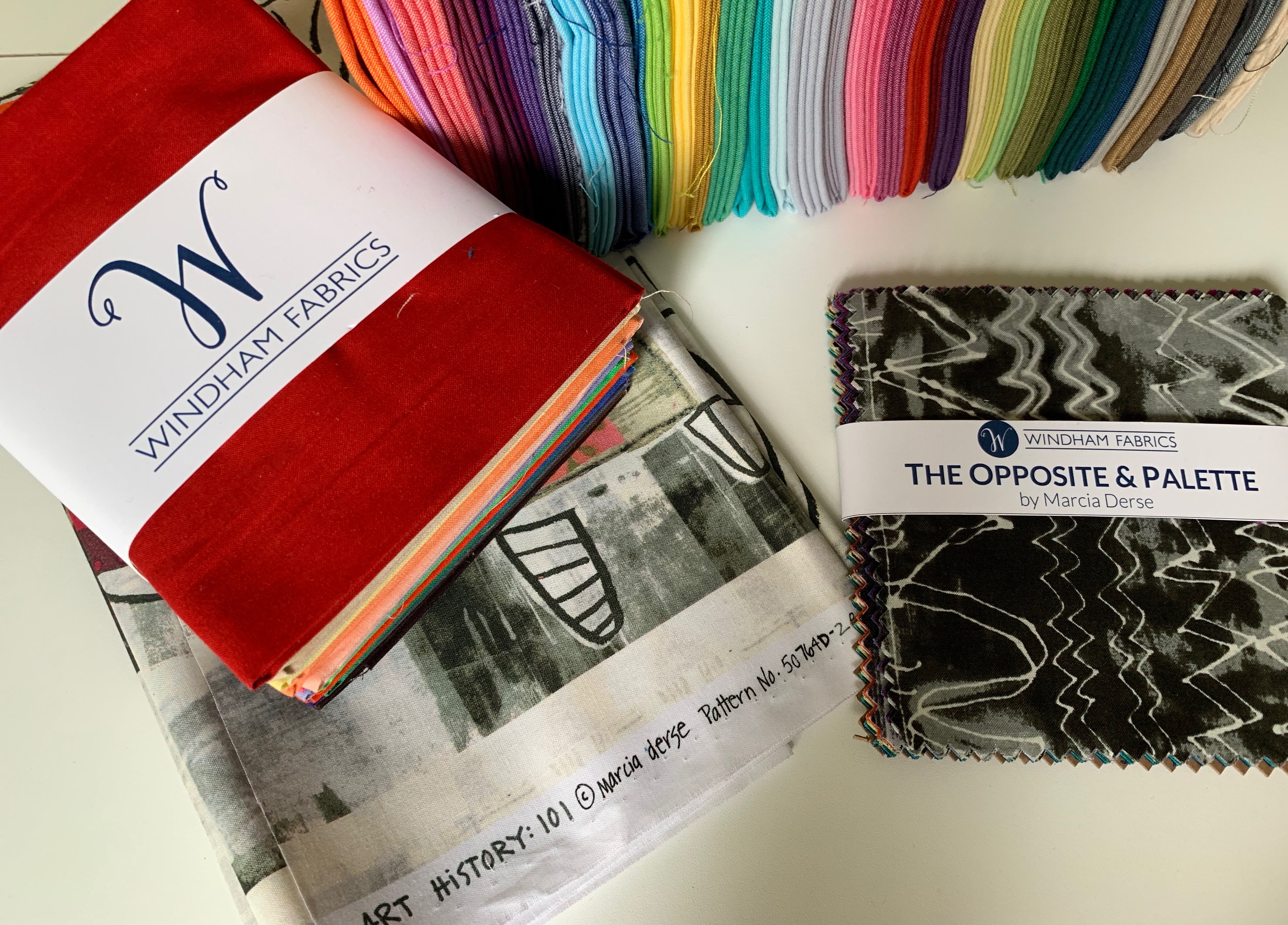 I picked up the new variegated Eleganza threads from Wonderfil at Sample Spree. I will use them when I need more than a few yards of thread for a particular project, like bold hand stitching…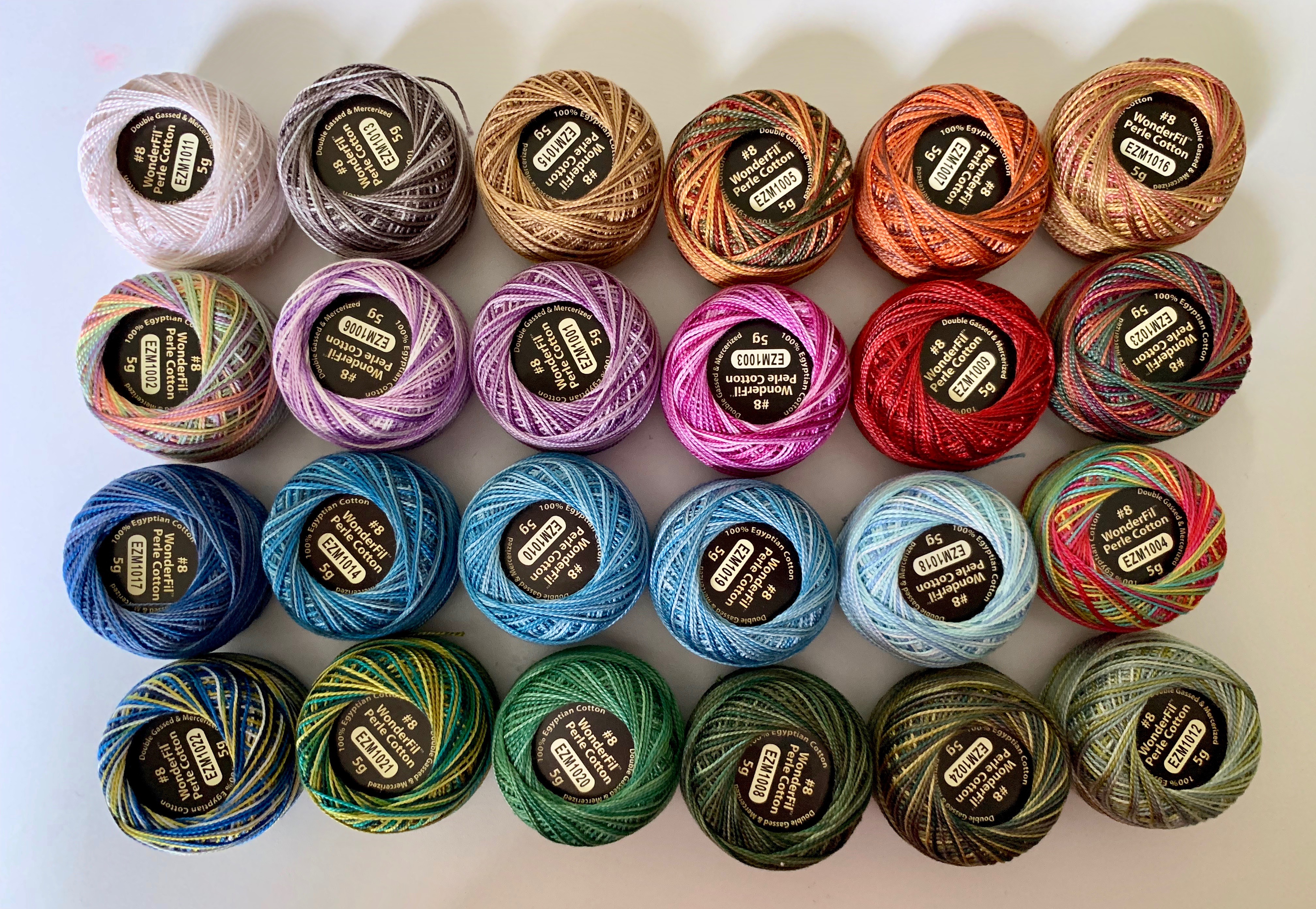 More solids and shot cottons, these are from Robert Kaufman. I can never have too many solid colors to choose from.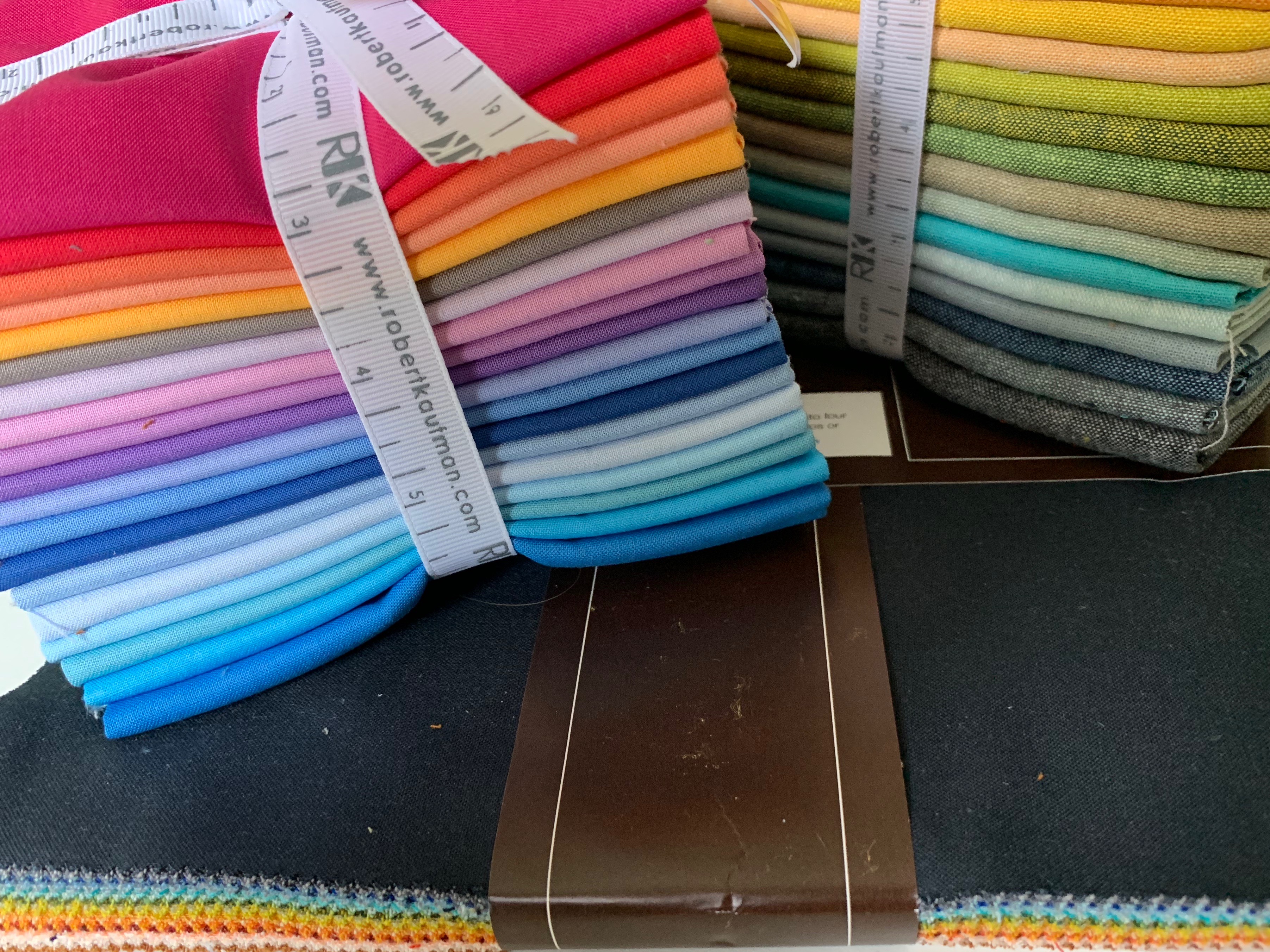 Ten inch squares are just the right size for an embroidered motif or a machine quilting sample.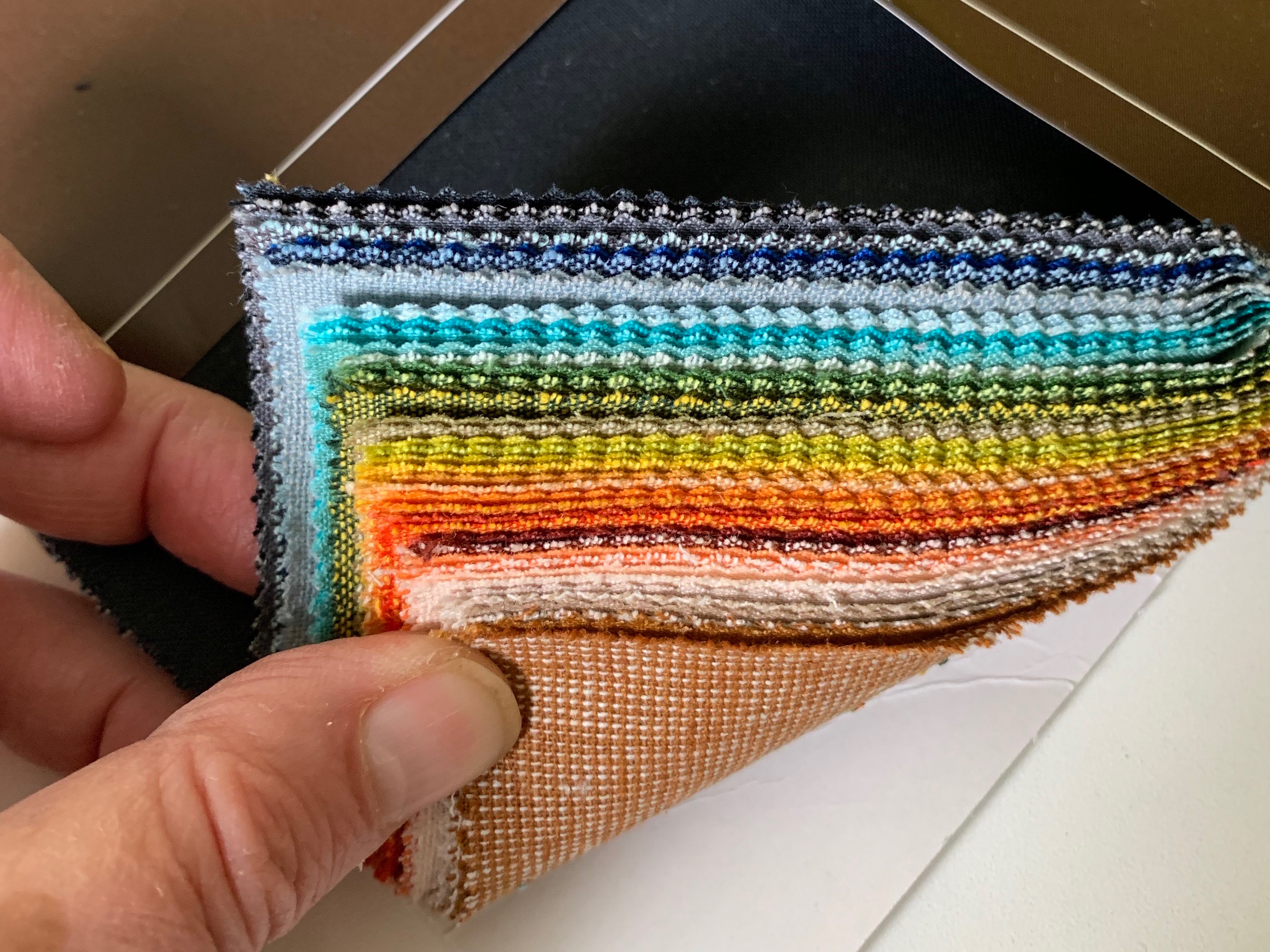 I found these Charley Harper barkcloth fat quarters on the Birch Fabrics table at Sample Spree. Made into a quilt, along with the cute onesies, they will make a lovely baby gift? It's a good thought anyway!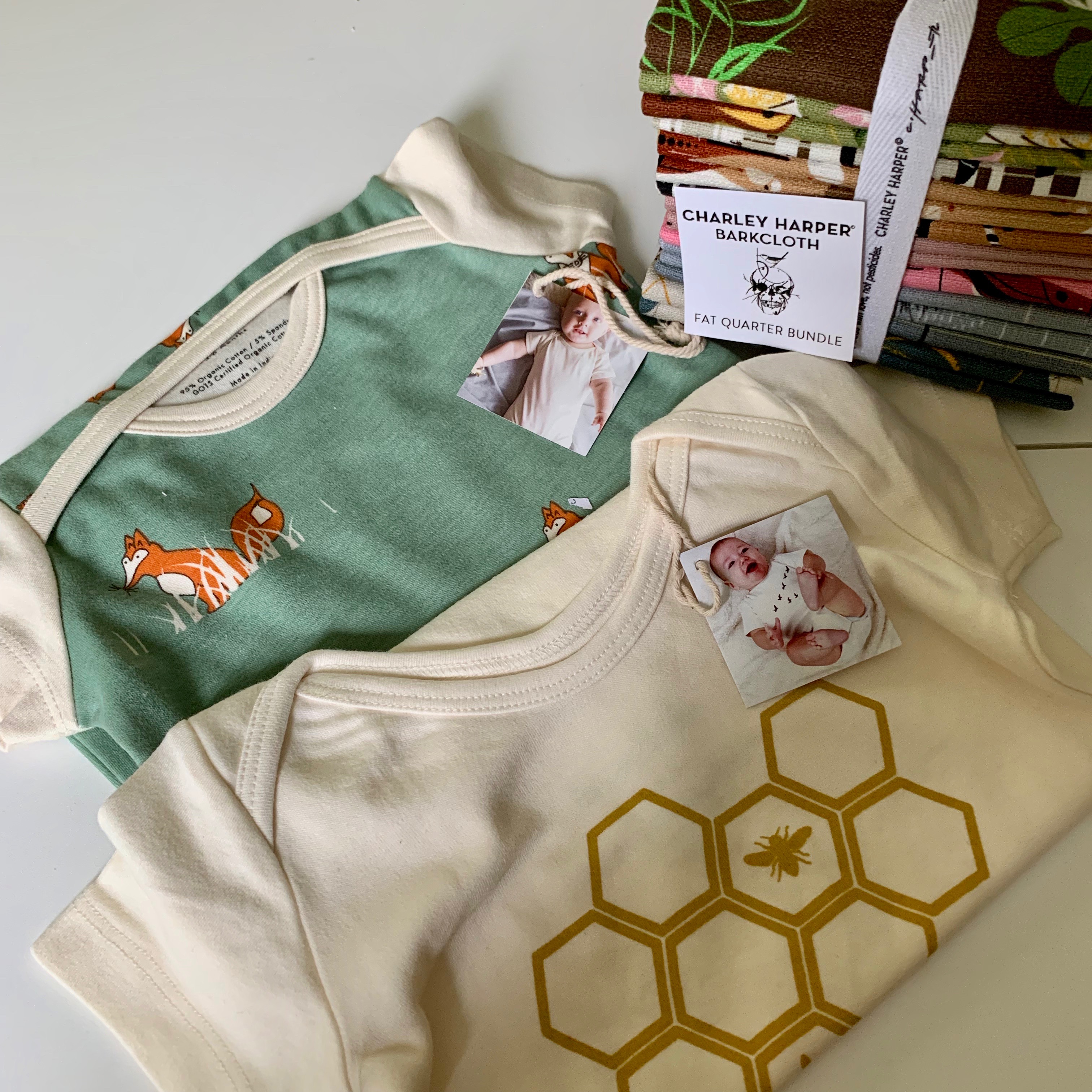 On Sunday afternoon you can sometimes find some excellent bargains. I kept myself to just two books, one by my friend Judy Gula from Artistic Artifacts using the beautiful Batik panels she imports. The rose gold tote bag was a gift from the owners of Sommer Street Associates, started by some familiar faces lately of F &W…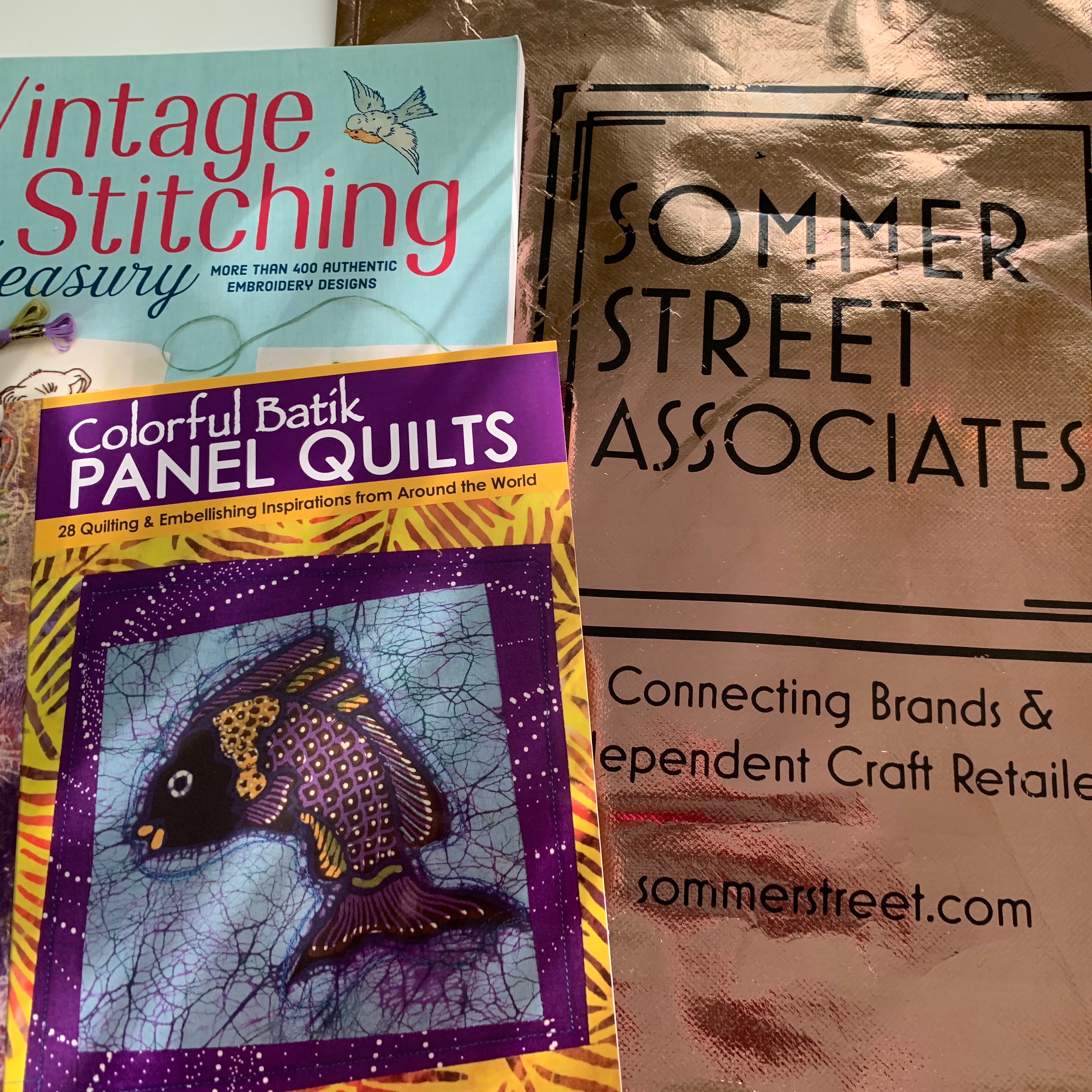 I also brought home the whole collection of colors from House of Embroidery in five weight perle cotton threads.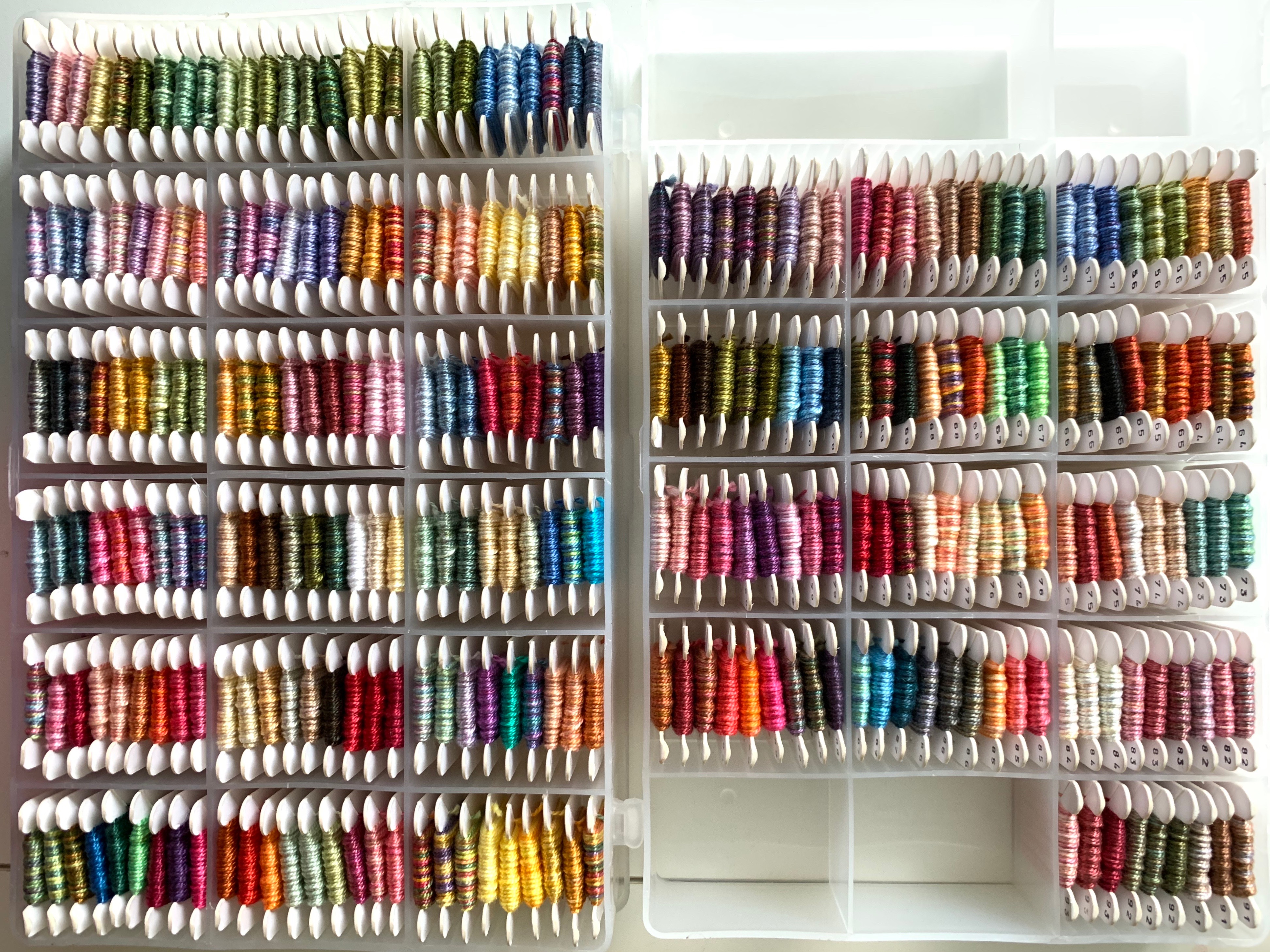 I think they deserve a second picture!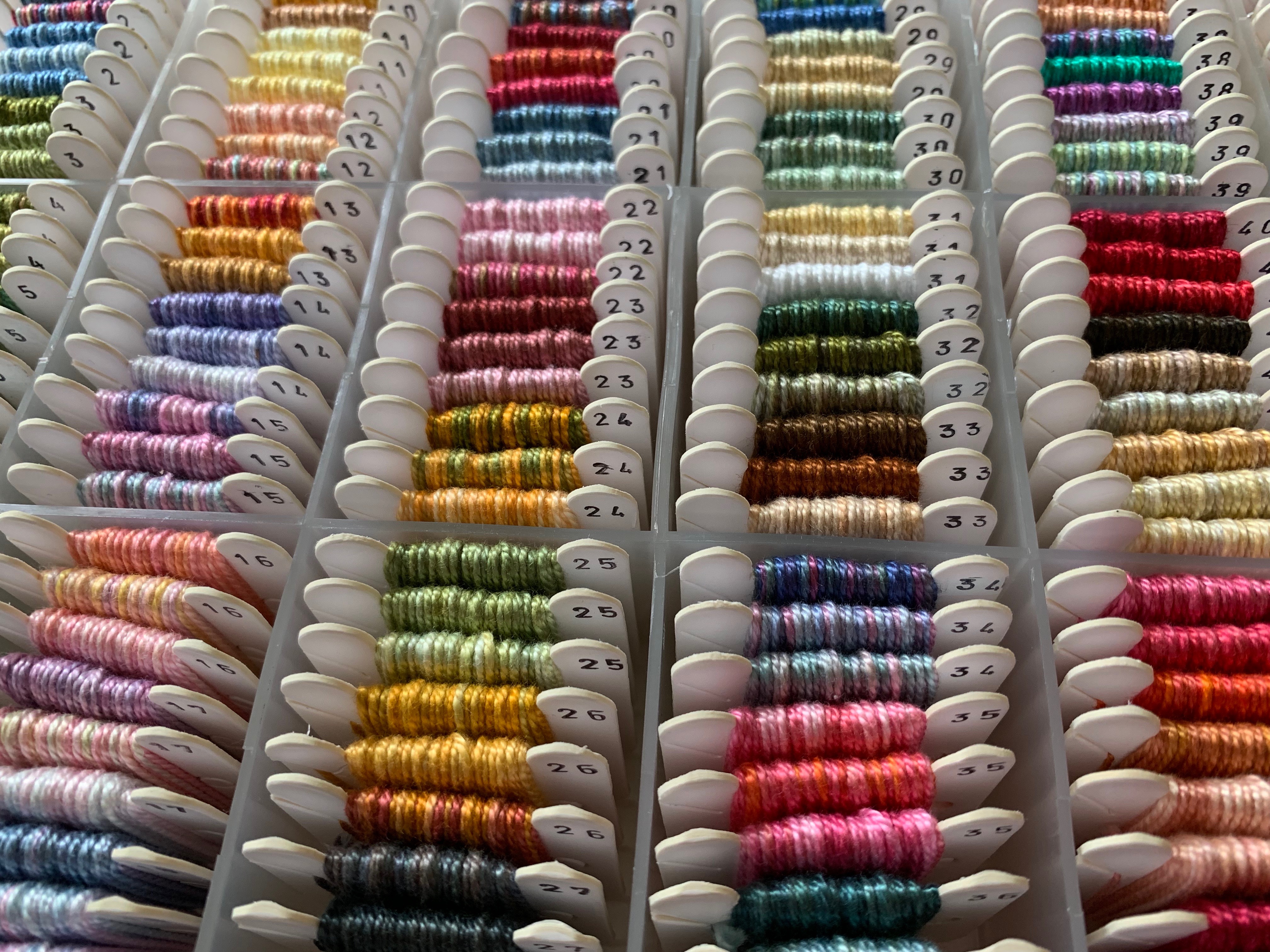 I have already started on a new project, getting ready for Fall Market…
And I needed this new mini-collection.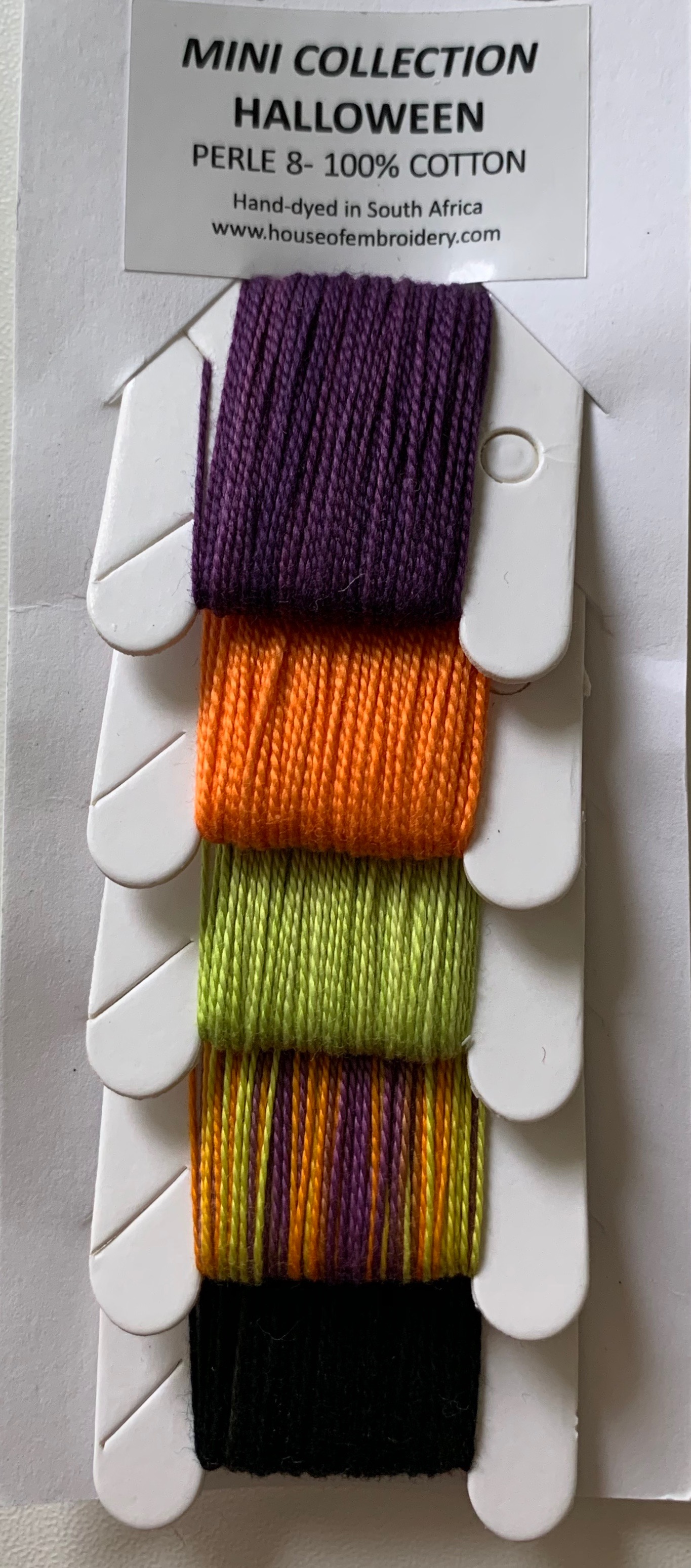 I'm not much of a Halloween fan but I'm going to be stitching a Halloween flavored paisley design in my near future. The threads will be available, along with a Patriotic mini-collection, very soon on The Global Artisans website!
So that's it. That's all I brought home with me. I had taken a suitcase of stitched samples to leave behind in the  booth so I didn't even need an extra heavy hand luggage bag. Am I really getting wiser as I get older?
I really did have a good time at Market. It was very different being in a booth, actually working. I had a lot less time to socialize. There were a whole lot of people I never got a chance to say hello to, but that was OK. Perhaps I'll catch them next time? I did see some people, and I'm looking forward to sharing some exciting news in the coming months…
Now it's time to get my bags packed for next week. I'll be in Crown Point, Indiana on Tuesday at the Heritage Quilters Guild for a half day class of Walking Foot Quilting fun. On Wednesday I am flying at 7.10 AM. (It seemed like a good idea when I booked the flight) Stitches United starts on Thursday at the Cobb Galleria in Atlanta. I have four classes (It's still not too late to book a seat) and various demos on the show floor. I'm also taking thirty quilts for an exhibit. Entry is free on the Sunday. Come and see me if you are in the area!