I was feeling good when I took this picture…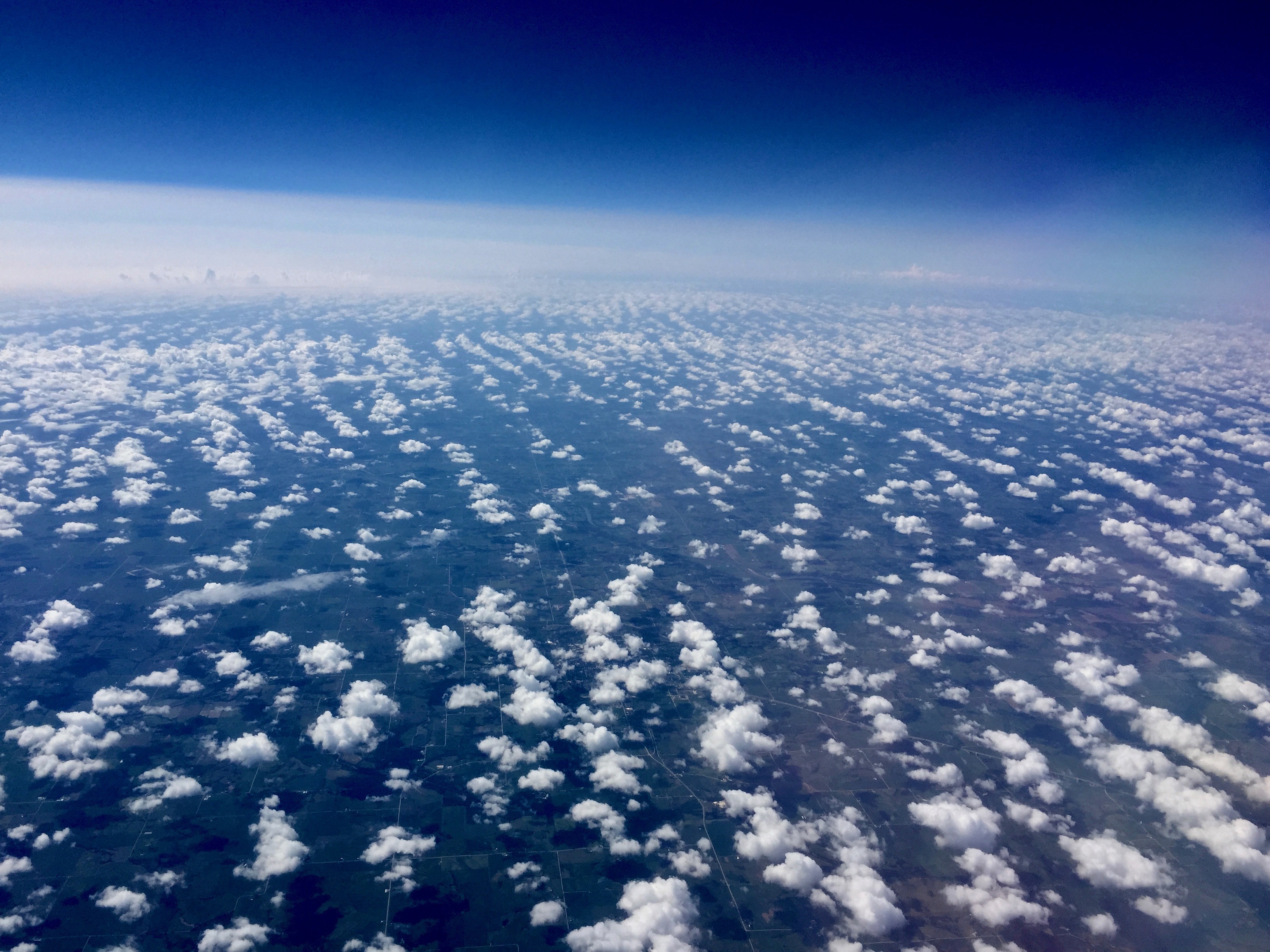 I had driven myself and my two big suitcases to the airport. I parked in the economy lot, took the shuttle with the bags, used the self check to check my luggage and got to my plane on time… it was the shuttle bit combined with the bags on my own that I had been most concerned about. I did it! Thanks to the shuttle driver who insisted on helping me with the luggage. I hope he'll be there when the bags are really full?
BTW Does anyone know why the clouds line up in straight lines across the sky?
The square fields of Nebraska and Kansas really do need a quilt made in their honor.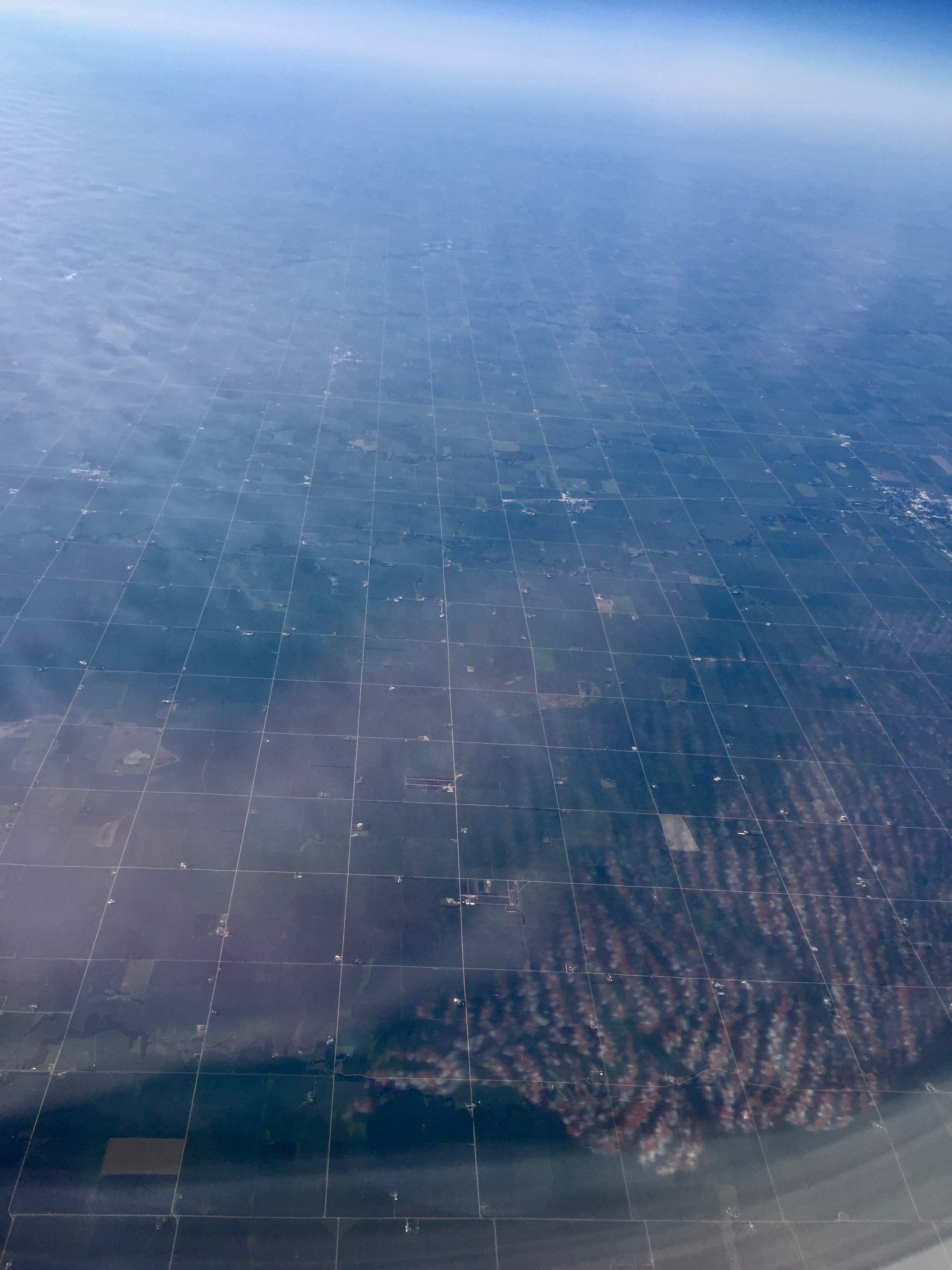 And I always have to take a picture of the irrigation circles.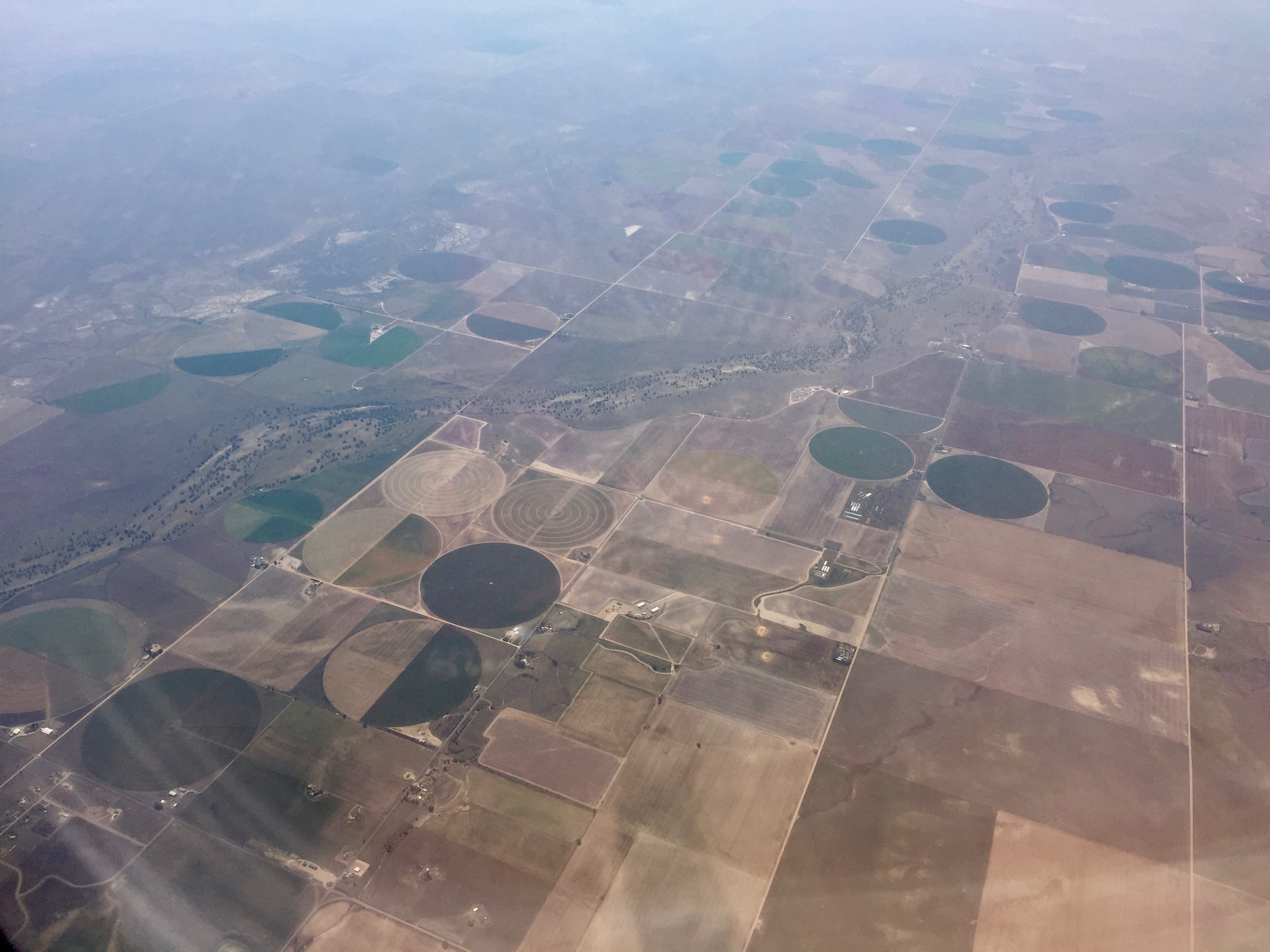 At Denver I had to take another shuttle. I had booked a rental car for the first time ever, all on my own… And I did it! Mr Google's maps led me out of the airport and all the way to Golden with just one scenic detour when I decided to believe my printed directions. It really was scenic so it was all OK.
I've been staying at the Hampton Inn and everyone has been very friendly. I have had to be out of the door by 6.45 every morning. The sky looks pretty at that time of the day, looking out from my room,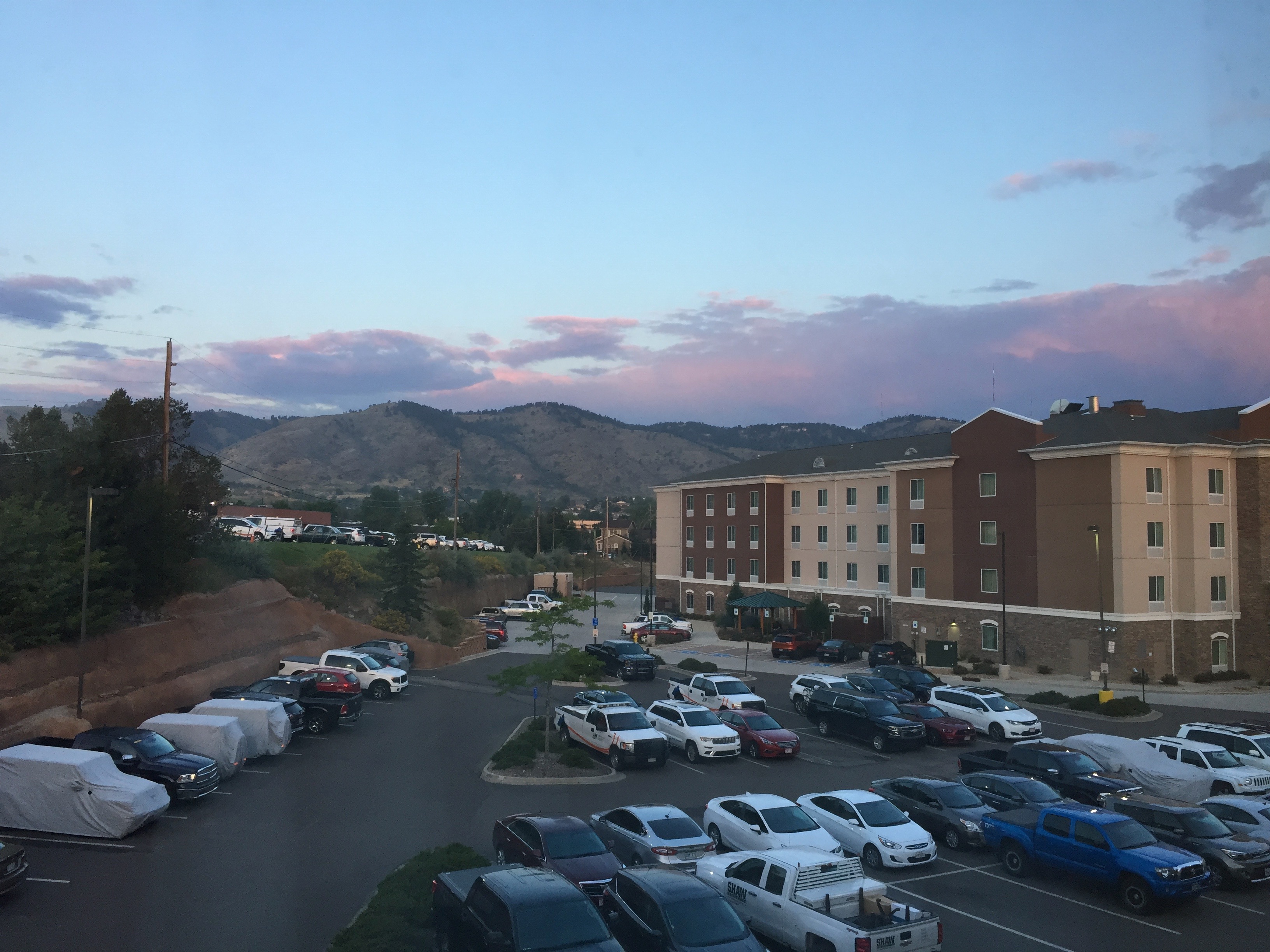 or reflected in the window at F+W…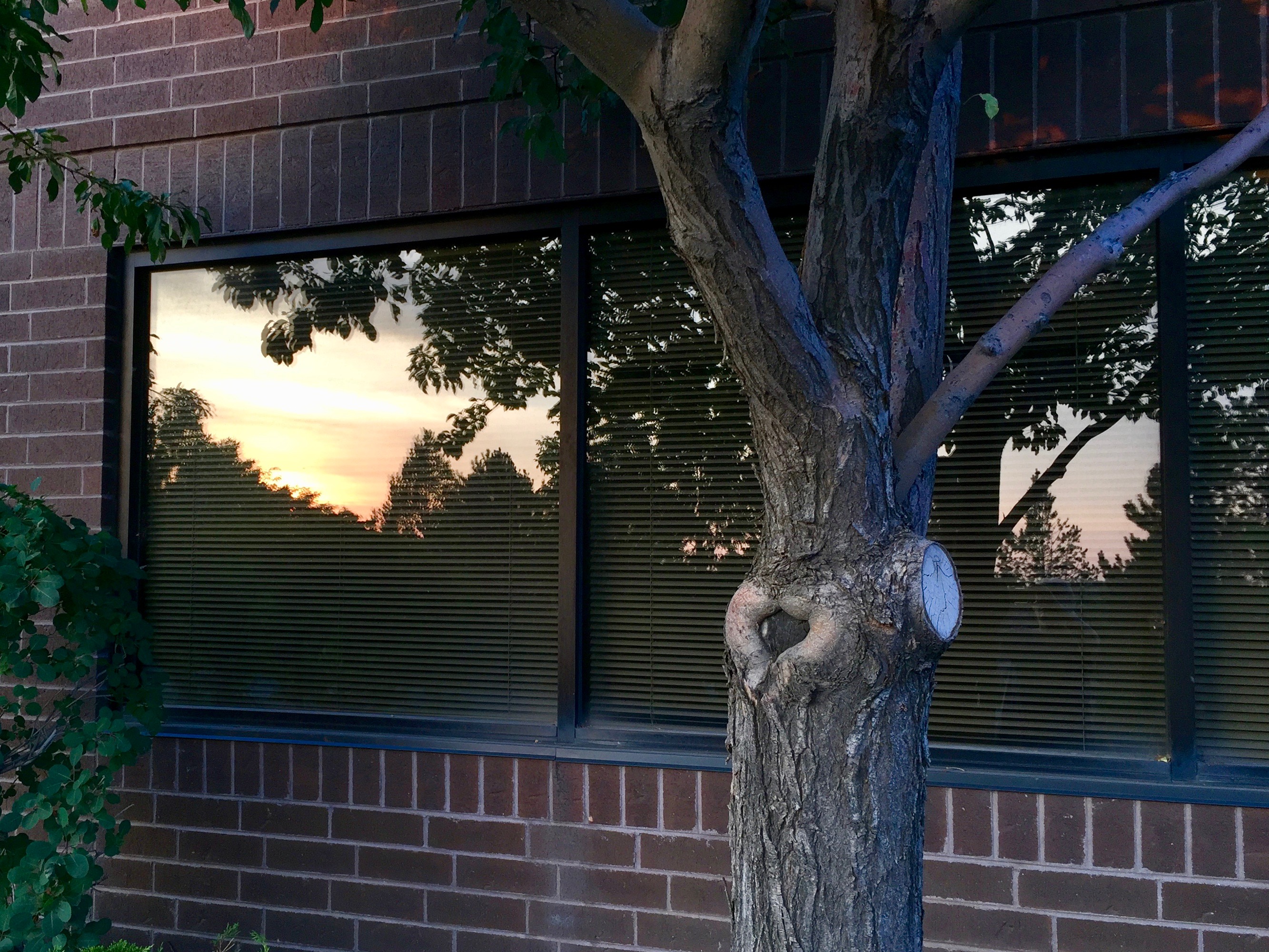 So why Golden?
I have been recording an on-line course for Craft University!
Makeup and hair at 7AM every day.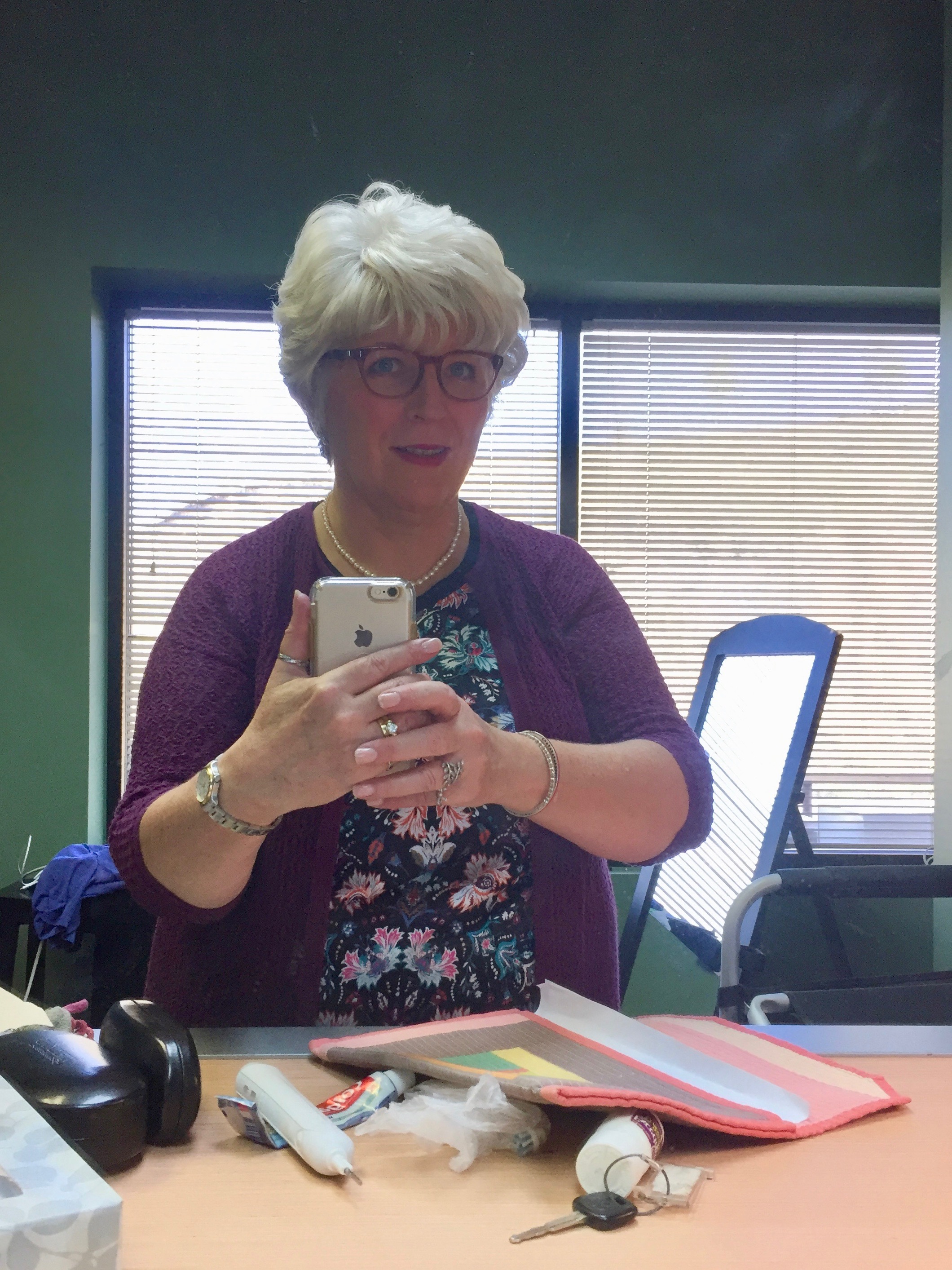 Walking Foot Quilting – Beyond the Ditch.
It's been a long time in the planning but it's finally a wrap!
We set up the studio with all the stuff, including a brand new BERNINA 790 PLUS… It is an amazing machine. I had downloaded the instruction manual and it worked like a dream.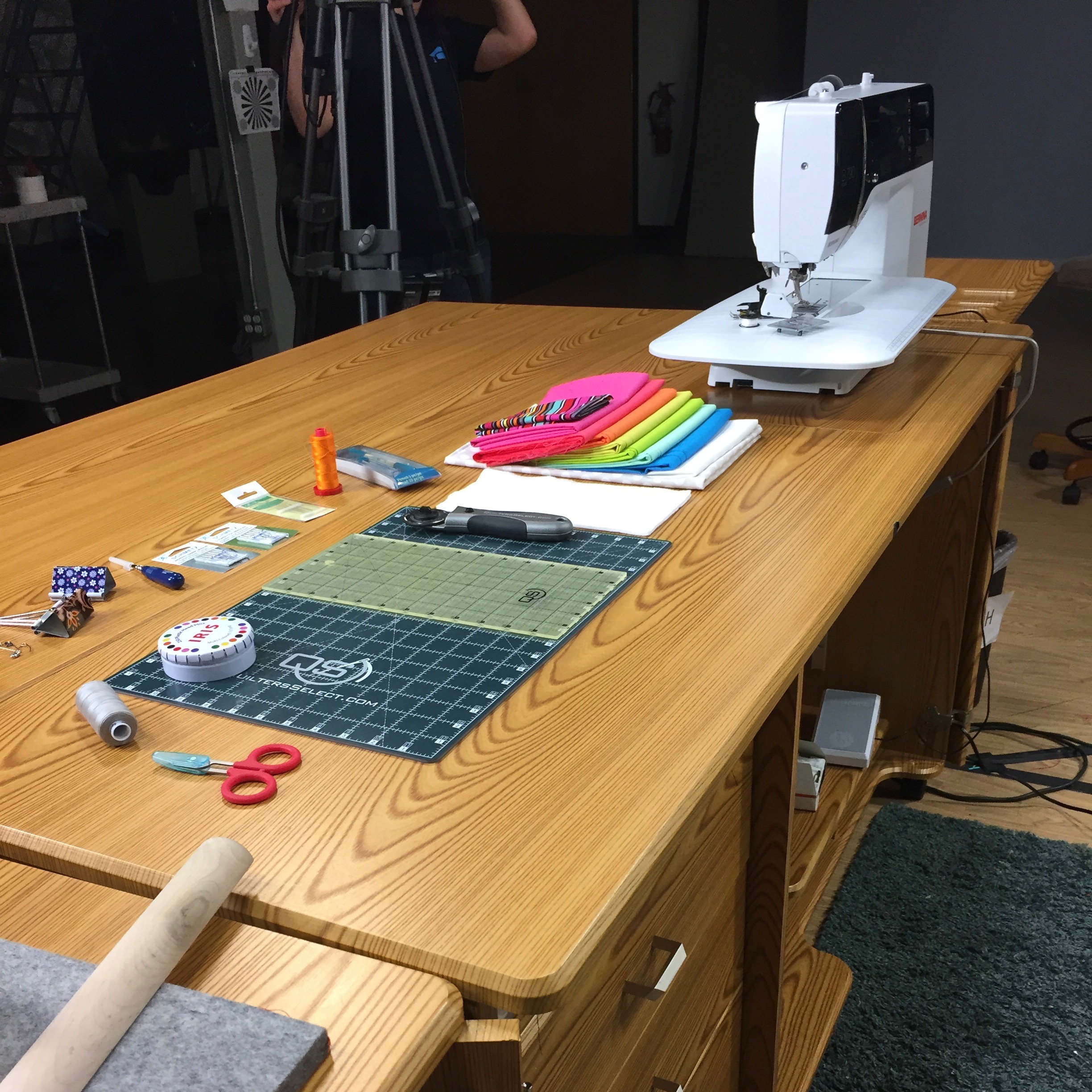 That's my Iberian Tile Throw in the background with some of the co-ordinating place mats.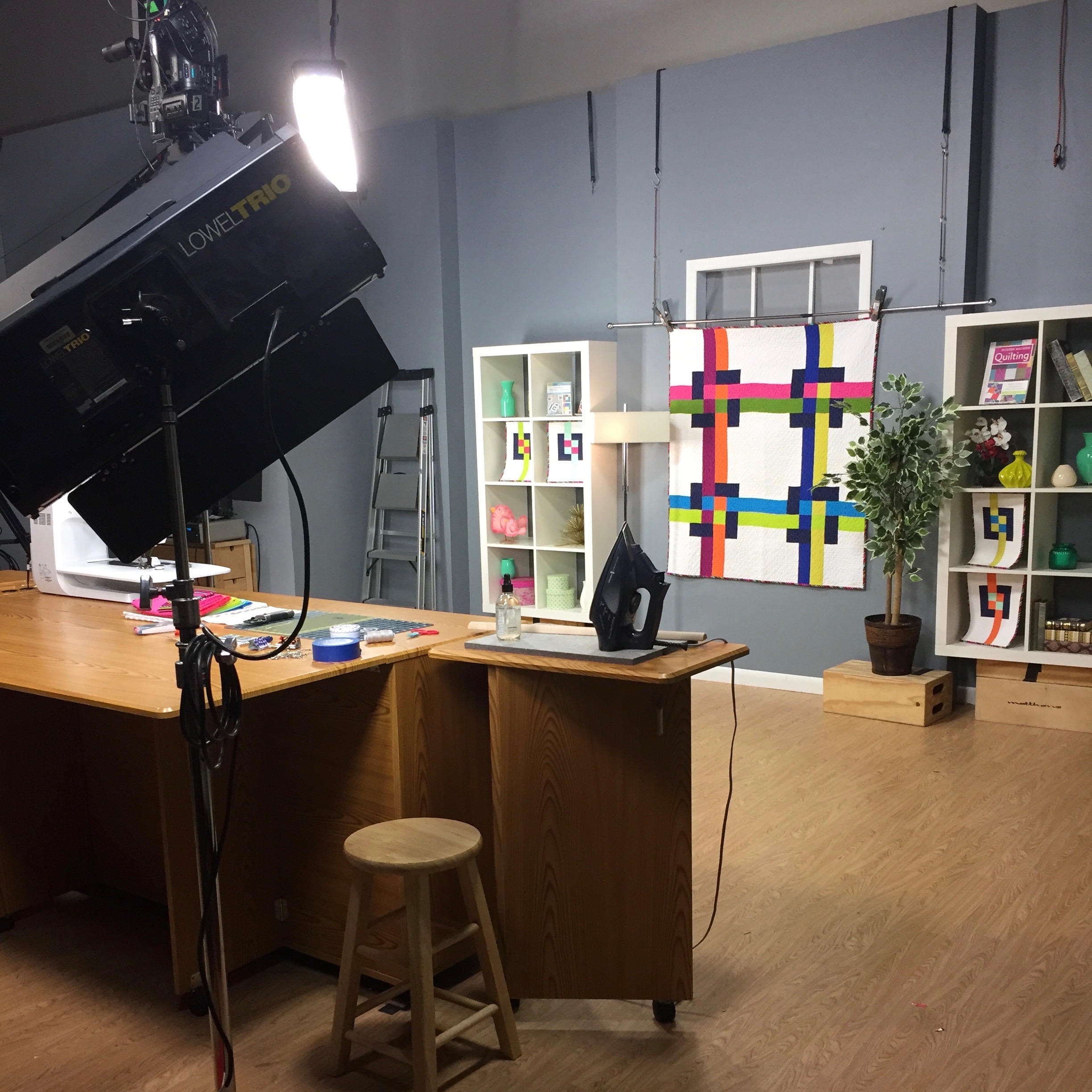 My step outs came in handy when it came to assembling one of those mats.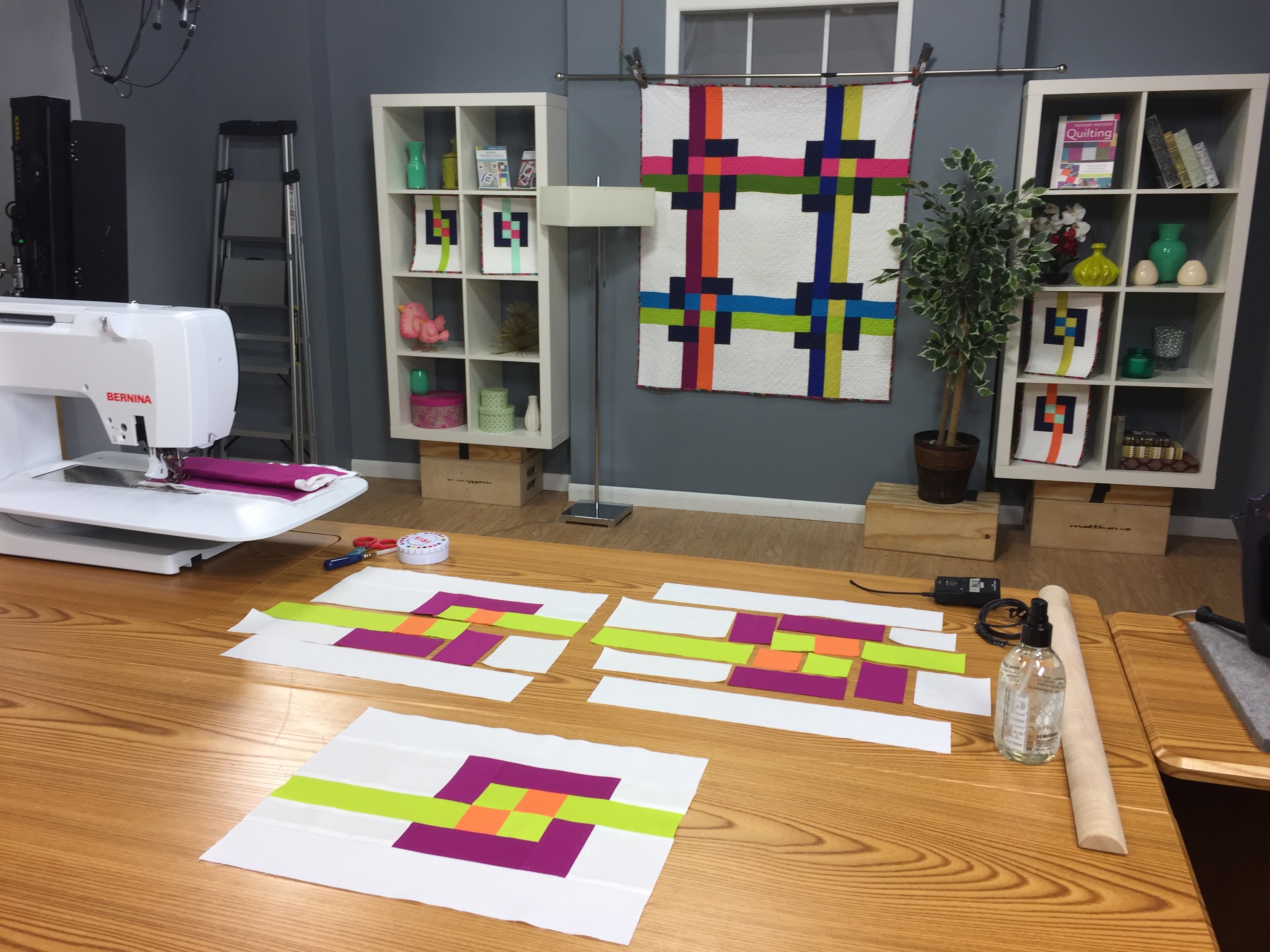 I wasn't alone in  the studio. Lots of cameras watched my every move.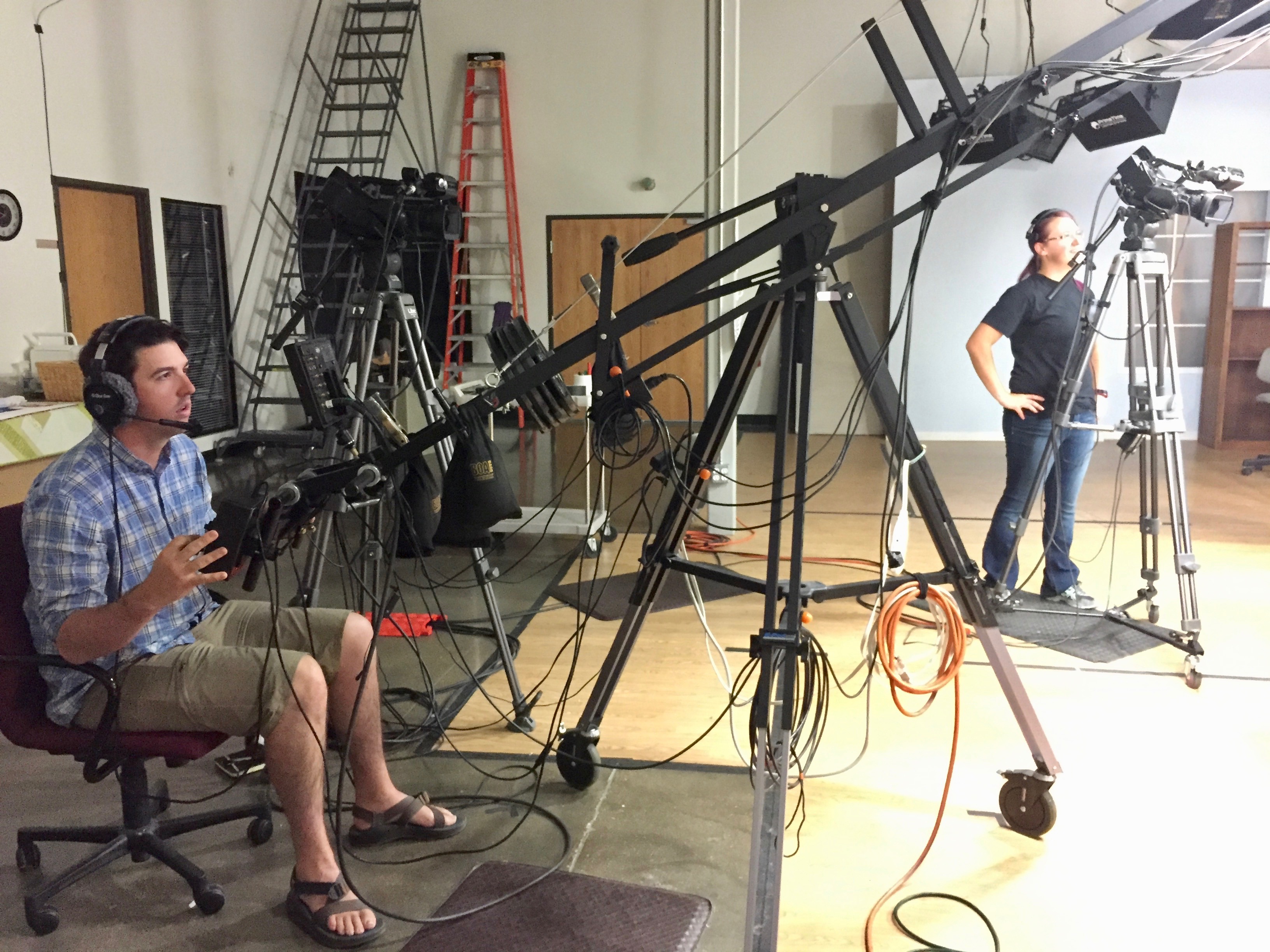 This is Mr Googly Eyes, the camera I was supposed to talk to, and smile at… Do you like his mustache?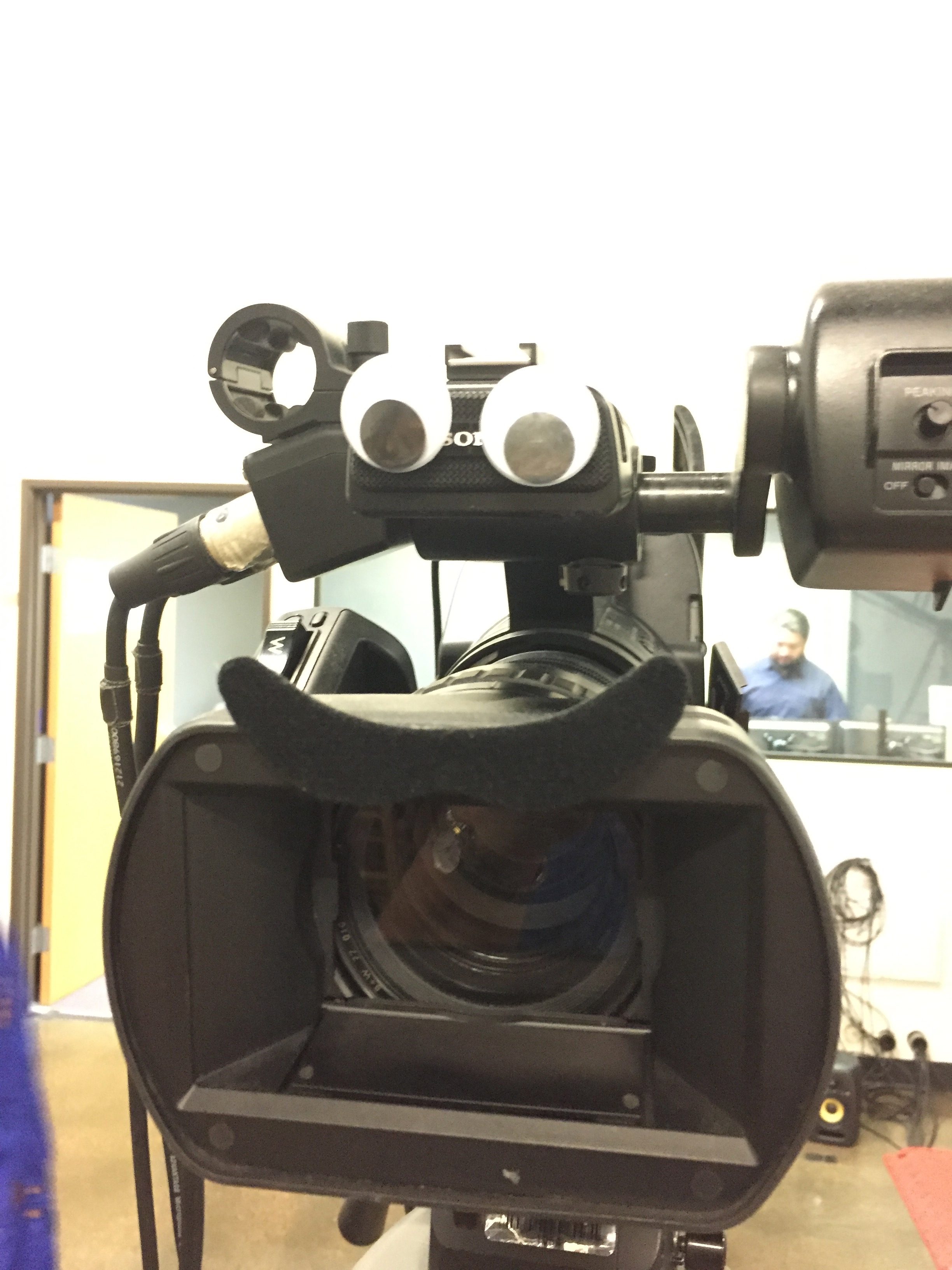 Three days of taping culminating in a Facebook Live session with Ginger for Fons and Porter Love of Quilting.
All too much fun. The team were awesome and made everything go really smoothly. I learnt lots about presenting on camera. It really was a good time.
So now I just have a little paperwork to get done and sent in while other people do all the difficult stuff. The course will go live on February 2nd next year. That seems like a long time away but you know it will be here before you know it. Details are up on the Craft University website here. If you track down the Facebook Live post you can get a discount code for $10 off if you pre-register before the course starts. (There's a link on my Facebook page if you need help!)
I'll have a button at the side of my blog sometime soon…
I'm still here in Golden one more night. I have been doing a few other things besides working 🙂 I'll tell you about that tomorrow!