I slept well after such an exciting evening which was good because I had a full schedule all week.
On Tuesday we had an almost full class for Wool Appliqué with Dimensional Hand Embroidery. We used the brand new Wonderfil wool threads for the appliqué, so new they aren't on the Wonderfil web site yet. They were super to stitch with and I'll be stocking them for classes as soon as they are available.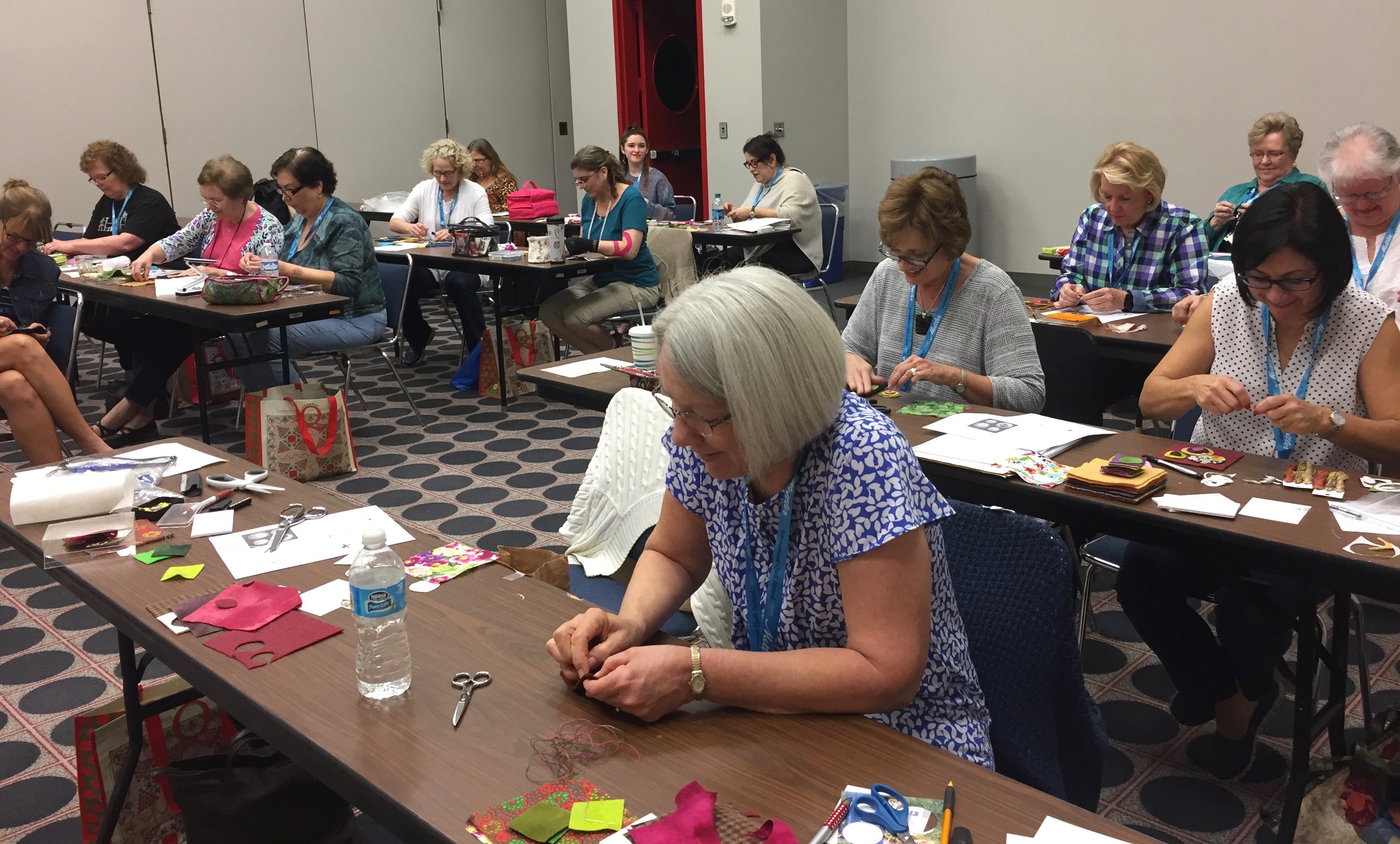 While everybody got to work on the appliqué Sheila was hand stitching the binding on a quilt for Lilly.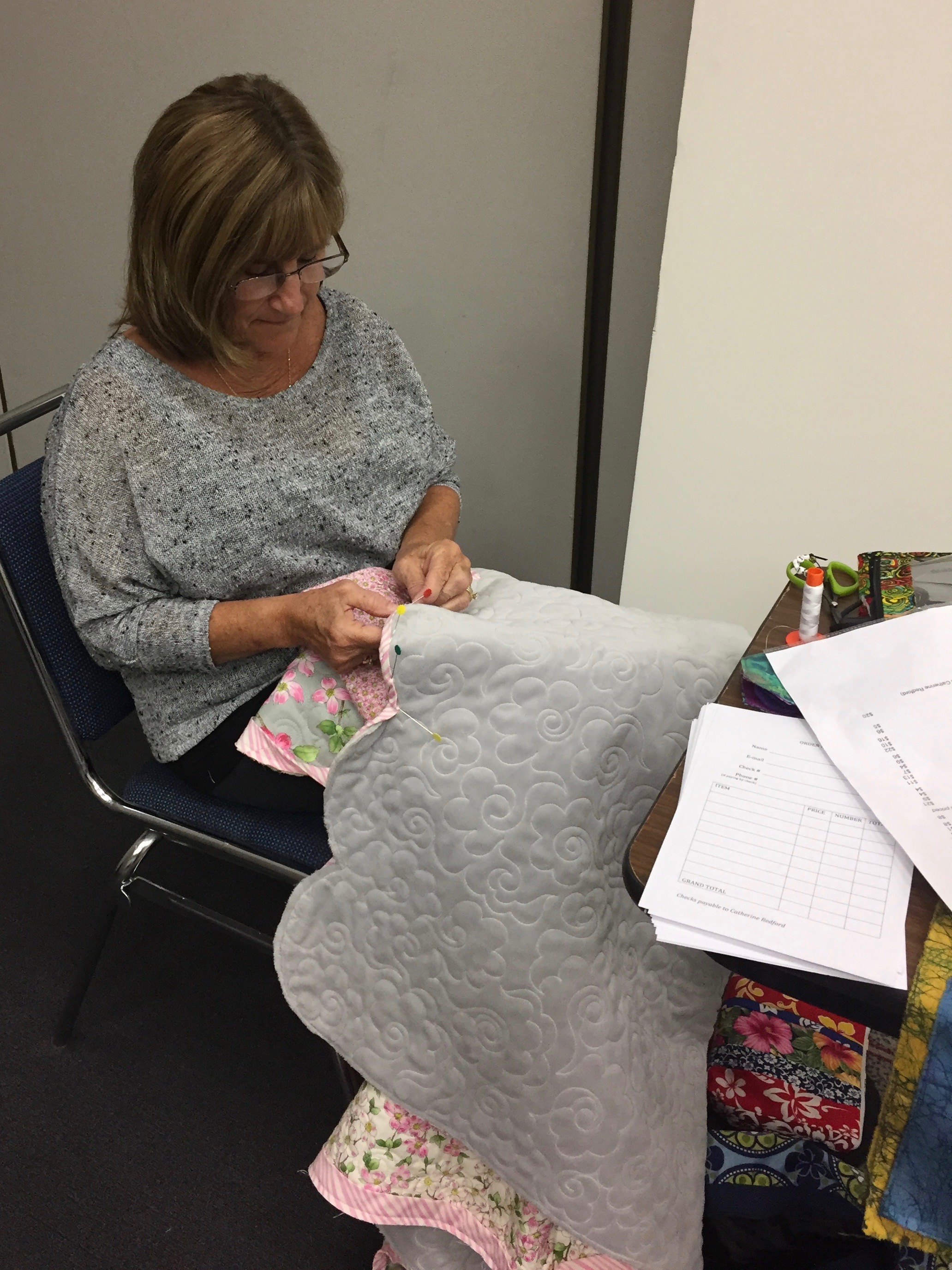 I gave out a pattern for everyone to use but gave the option of doing your own thing. Lots of people chose to go their own way.
We had fussy cut cottons.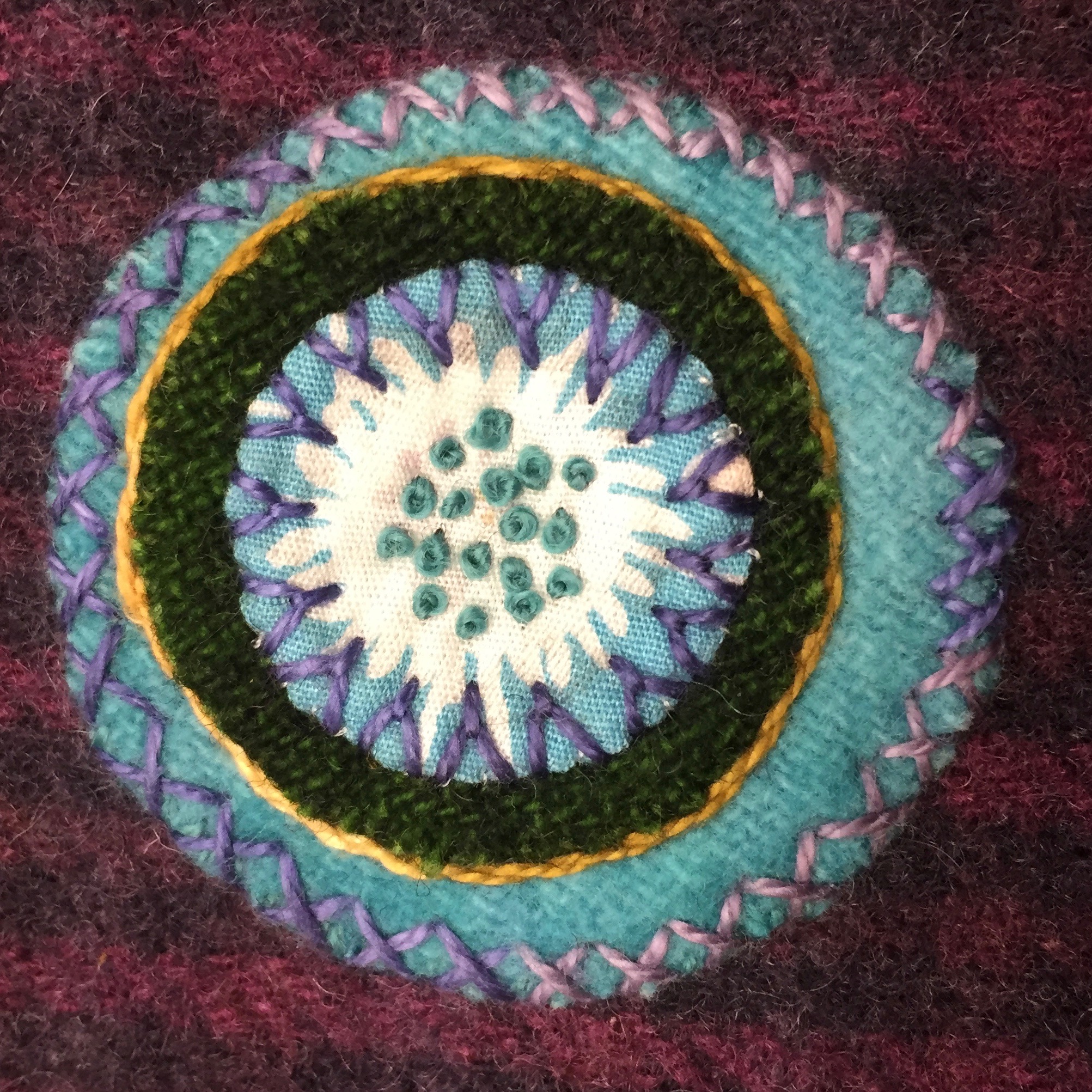 All manner of interesting stitches …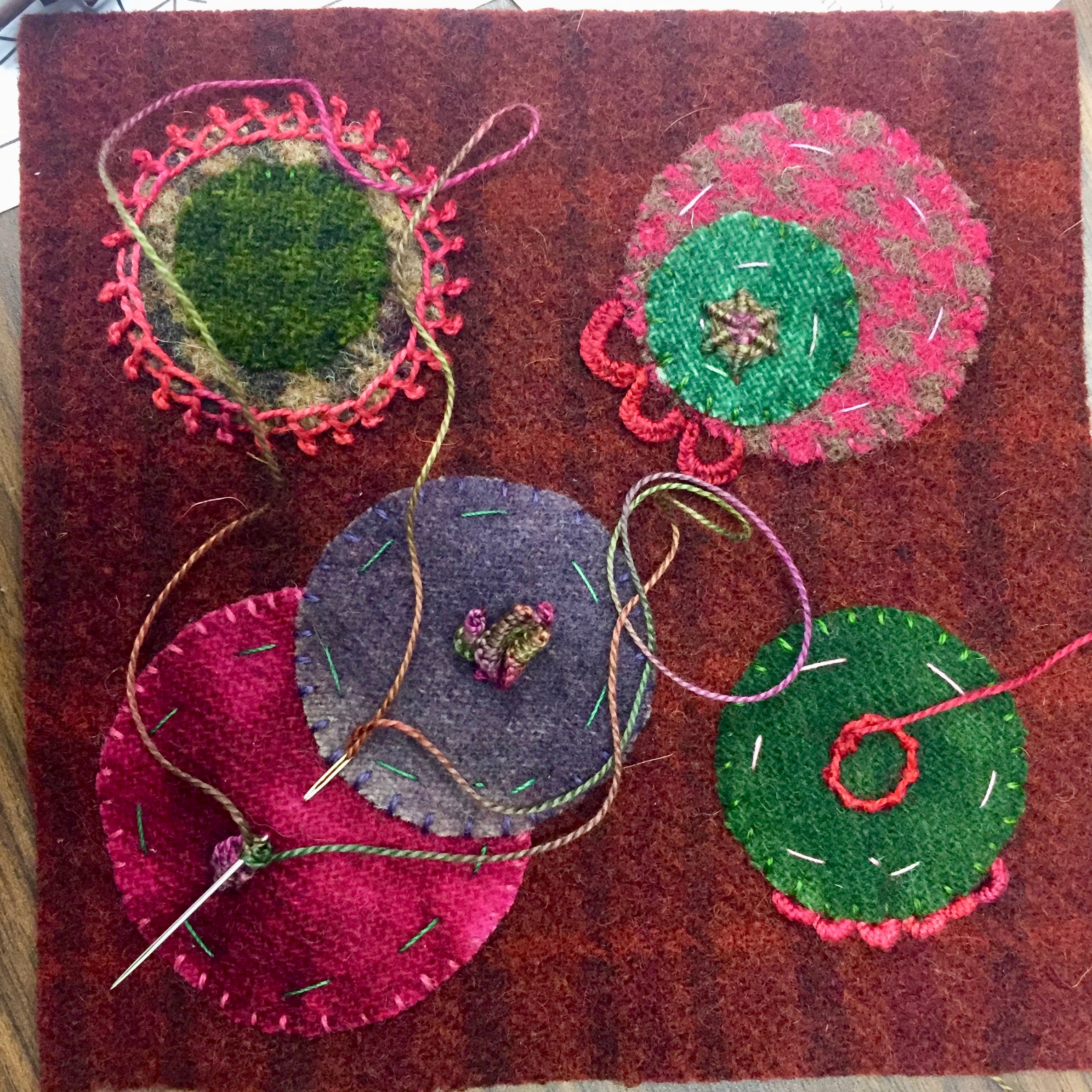 Love the drizzle stitches on the daisy.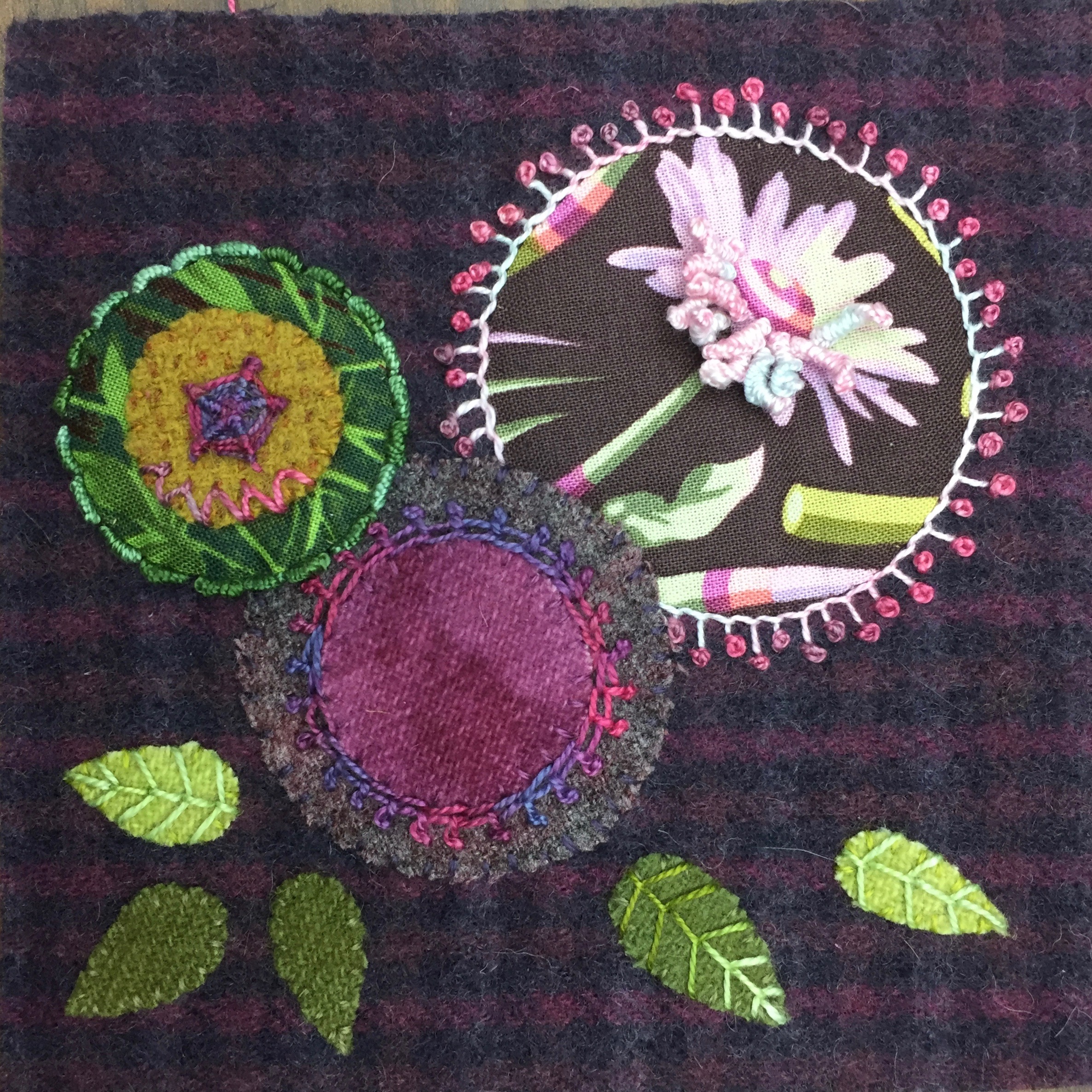 Why not cut a paisley shape?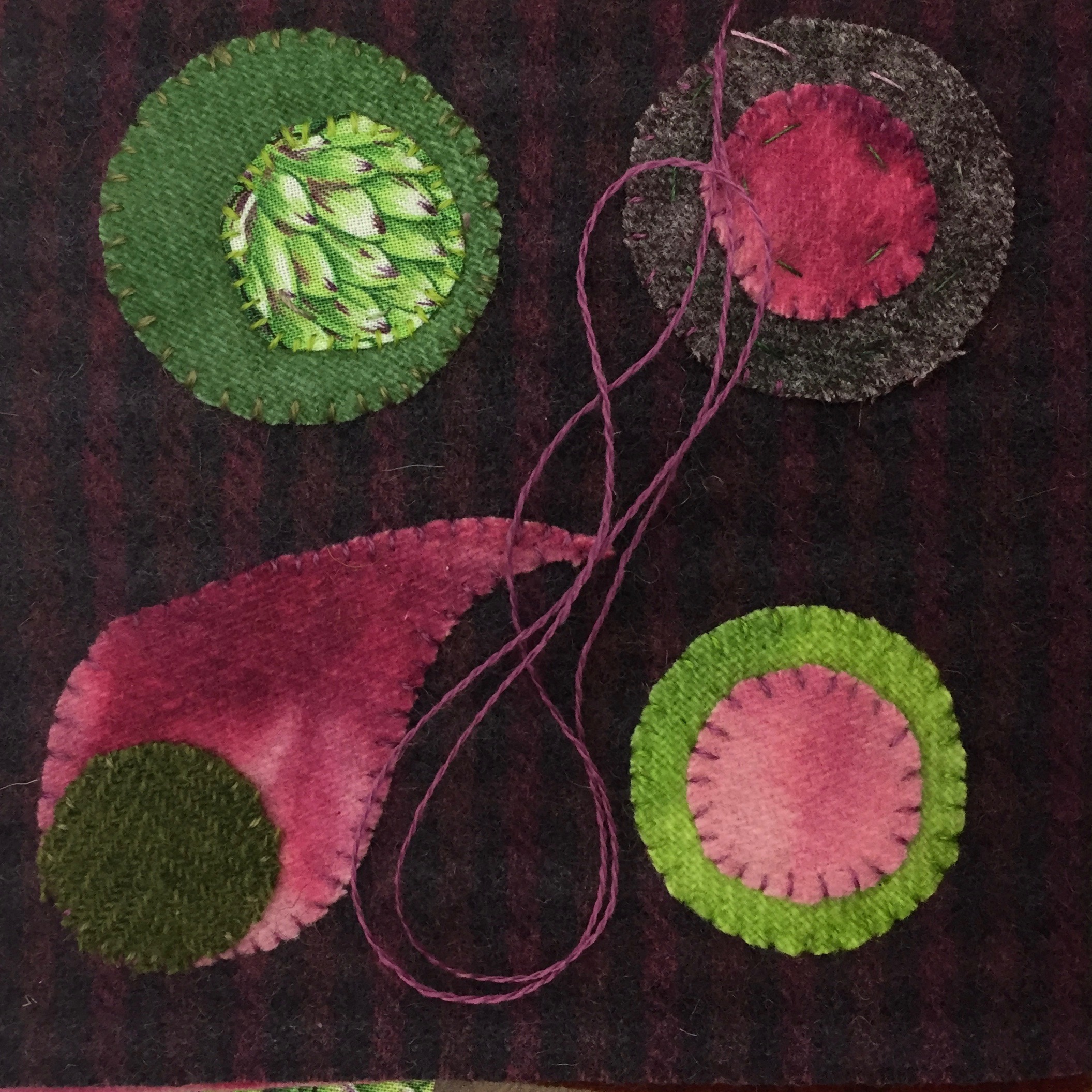 How about this lacy edging around the heart?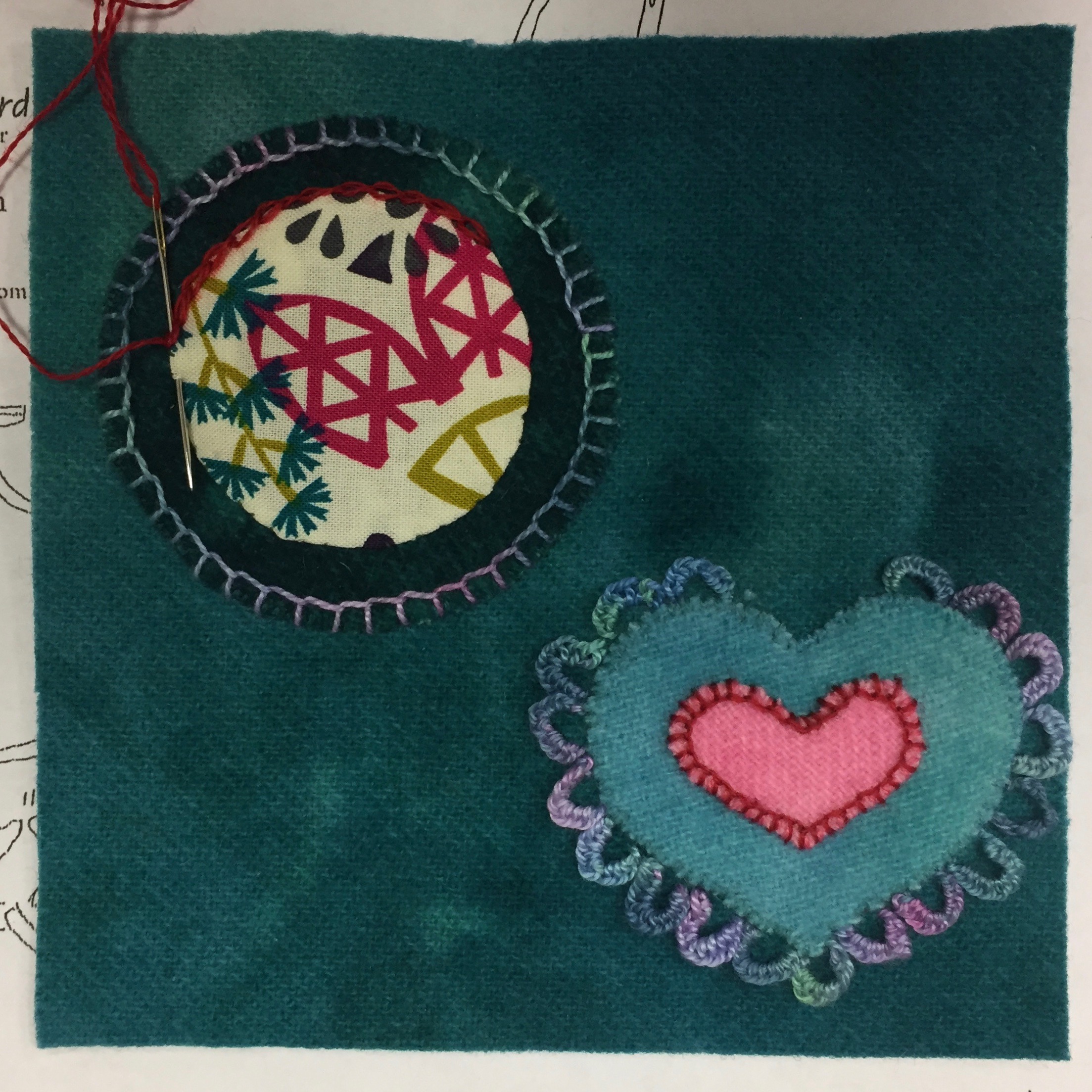 And a whipped woven circle in variegated thread?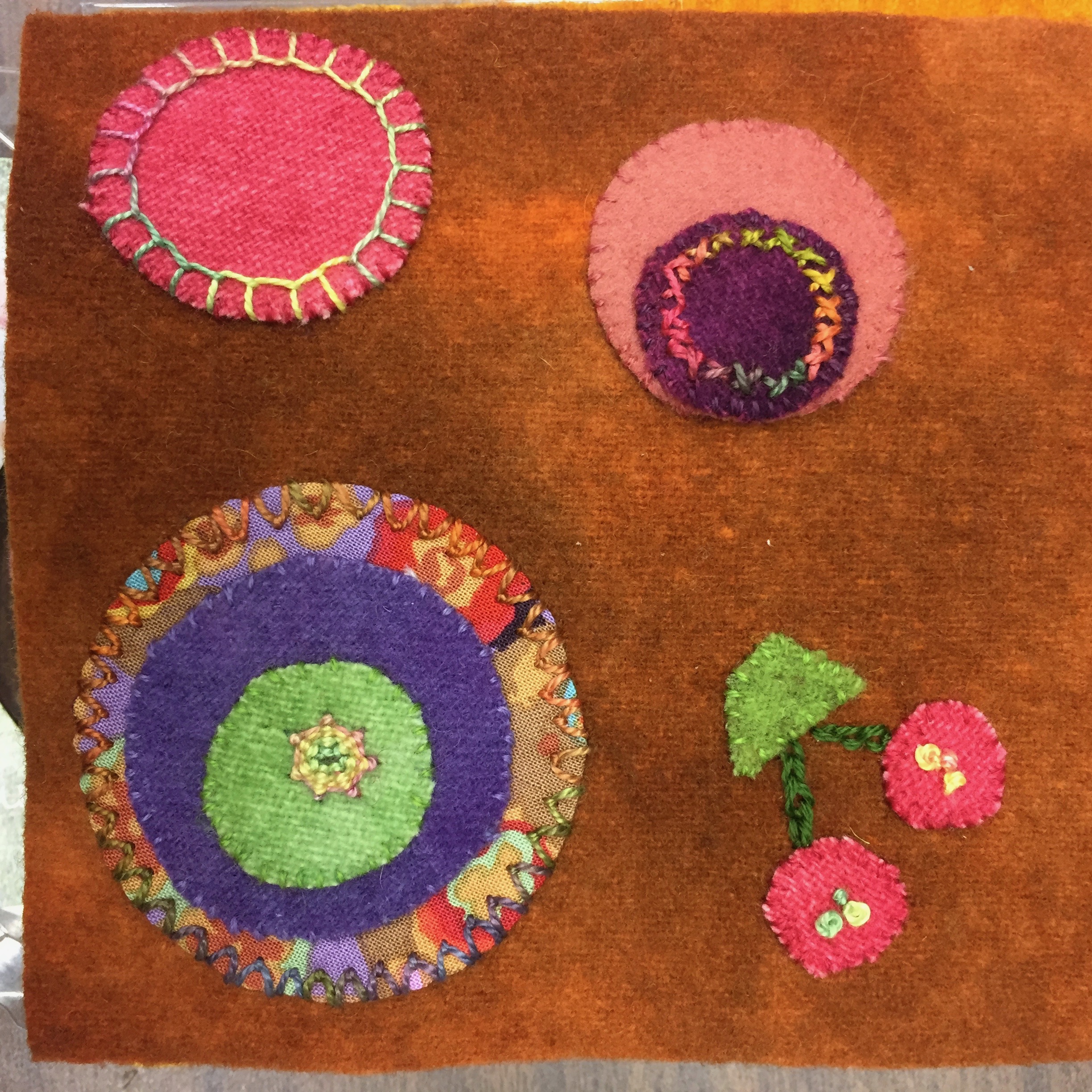 Six hours class time allowed for lots of stitching.
We headed over to the Winners Circle Celebration to enjoy the unveiling of the winning quilts in the IQA judged show. It was as amazing as always. No pictures here but I'm sure you will find lots elsewhere.
Wednesday morning was a full English Paper Pieced Clamshell Pillow class.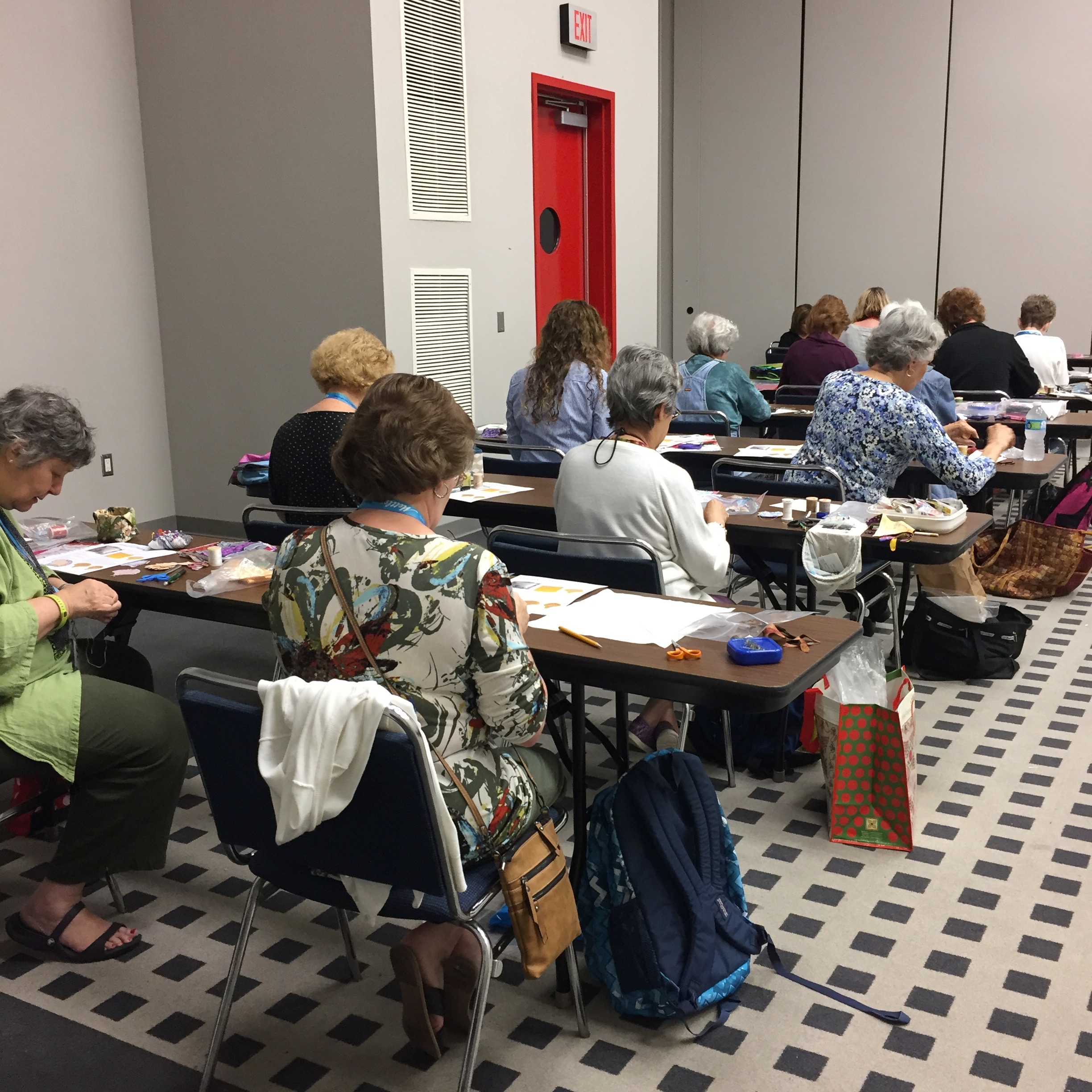 People seem to like the new handouts that Julia had made for me and lots of clamshell pillows were in progress by the end of class.
Just time for a quick lunch before another full class, Introduction to Wool Appliqué this time.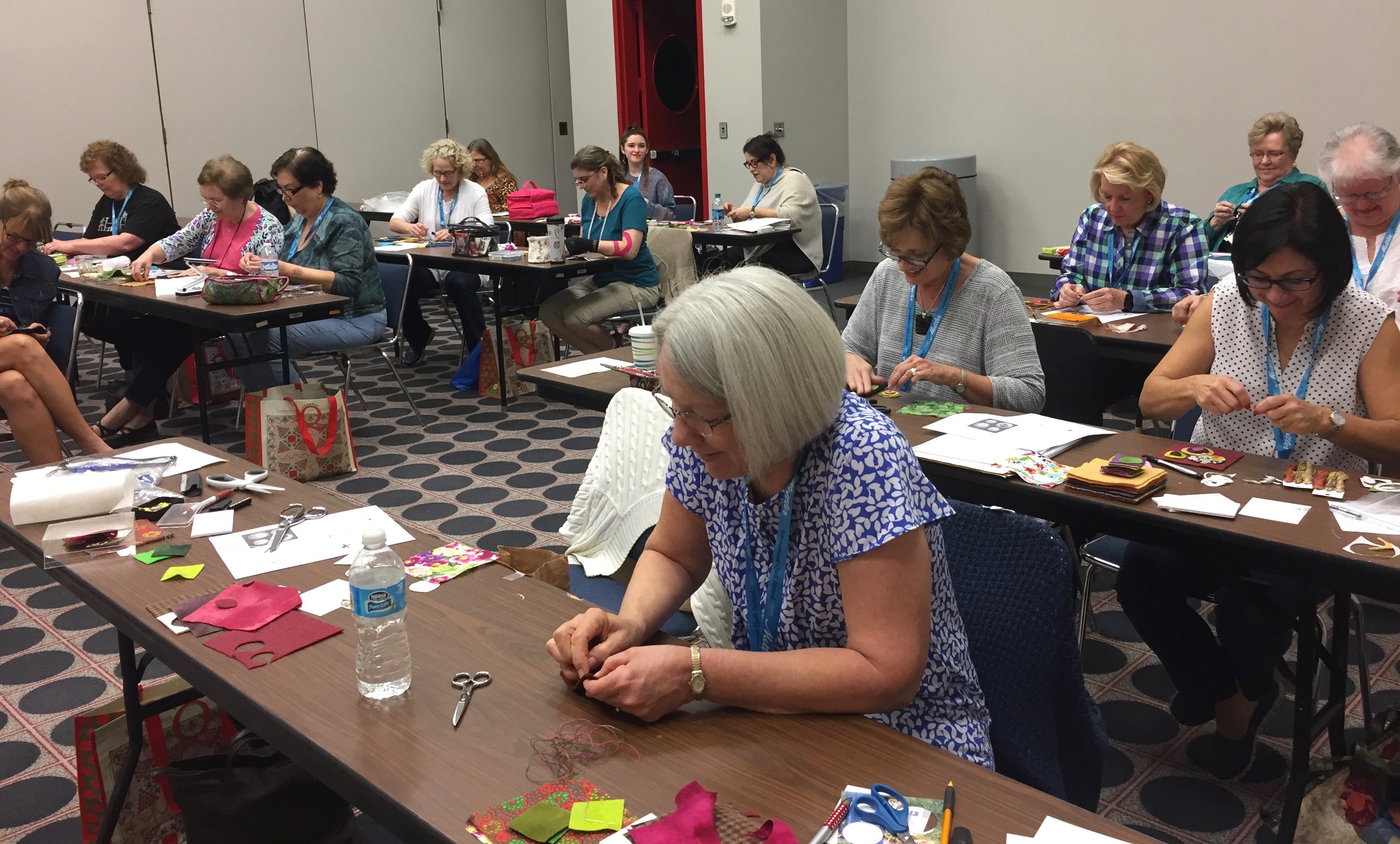 Appliqué with just a little embroidery!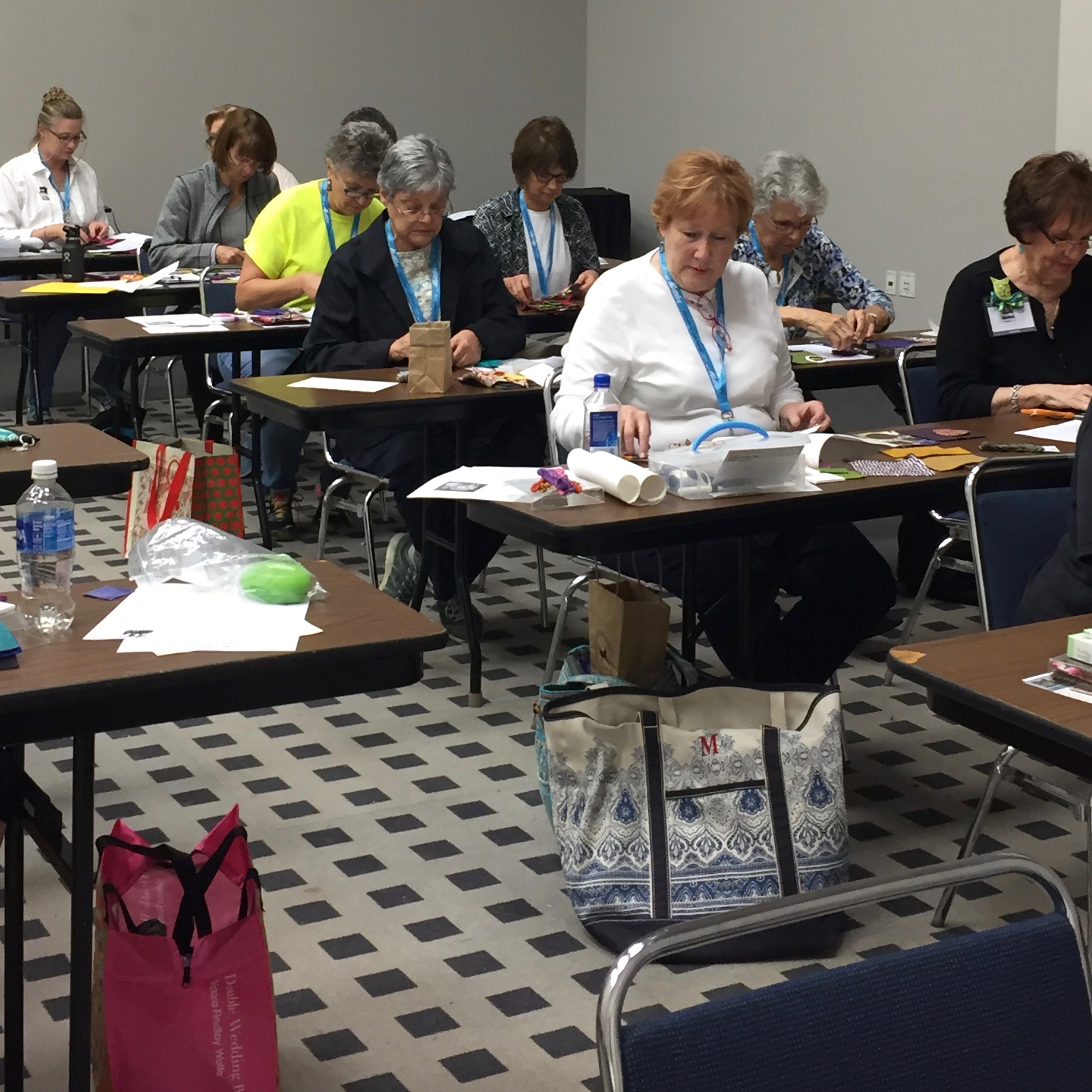 These ladies were all members of one Texan Quilt Bee. They look happy.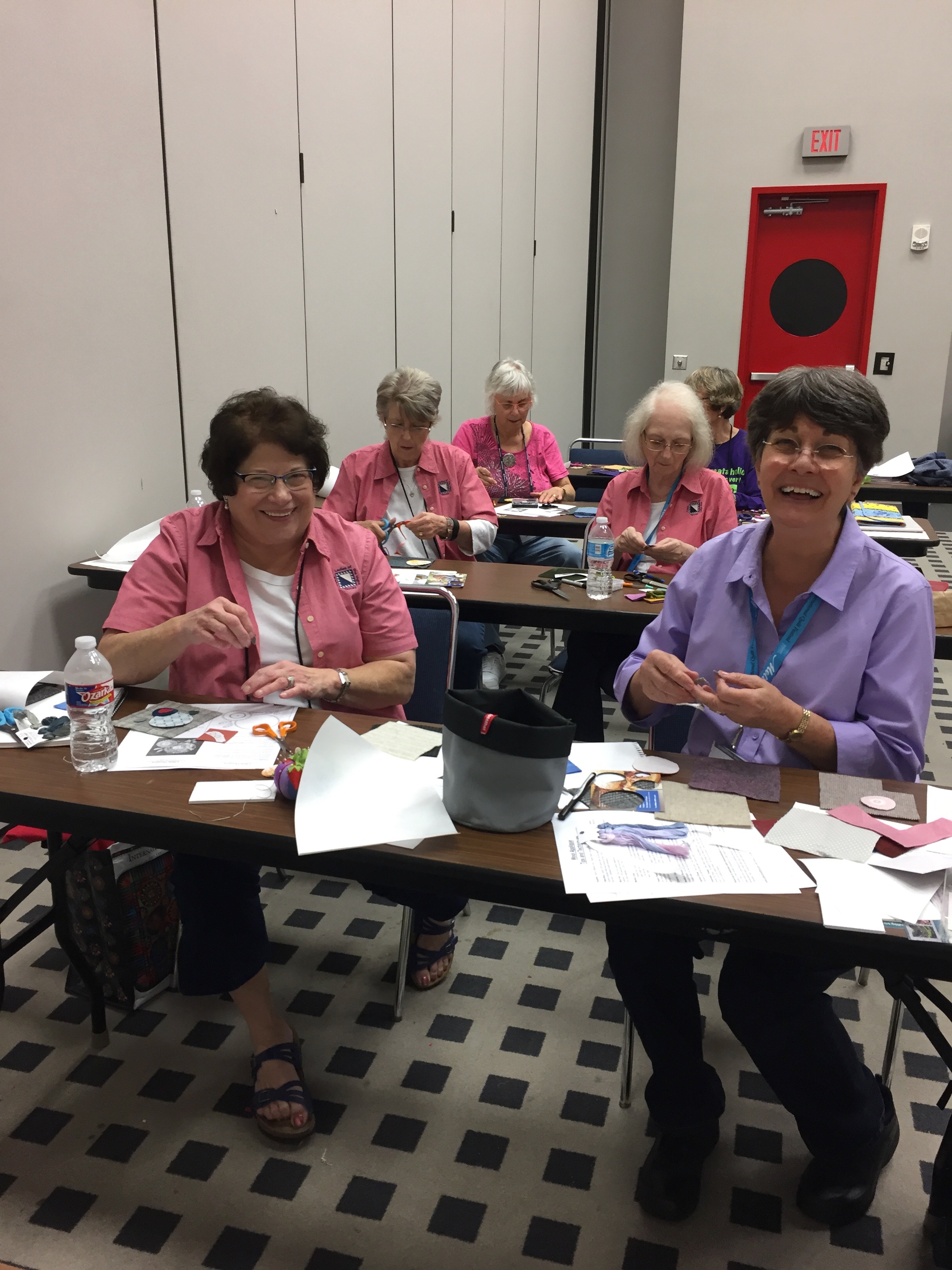 Preview night started at five. The faculty enjoyed a reception and light supper together and then I headed down to the show floor where the crowds were enjoying the quilts. That's Melissa Sobotka's Silk Road in the background. It had won the Koala Studios Mastery Award for Innovative Artistry.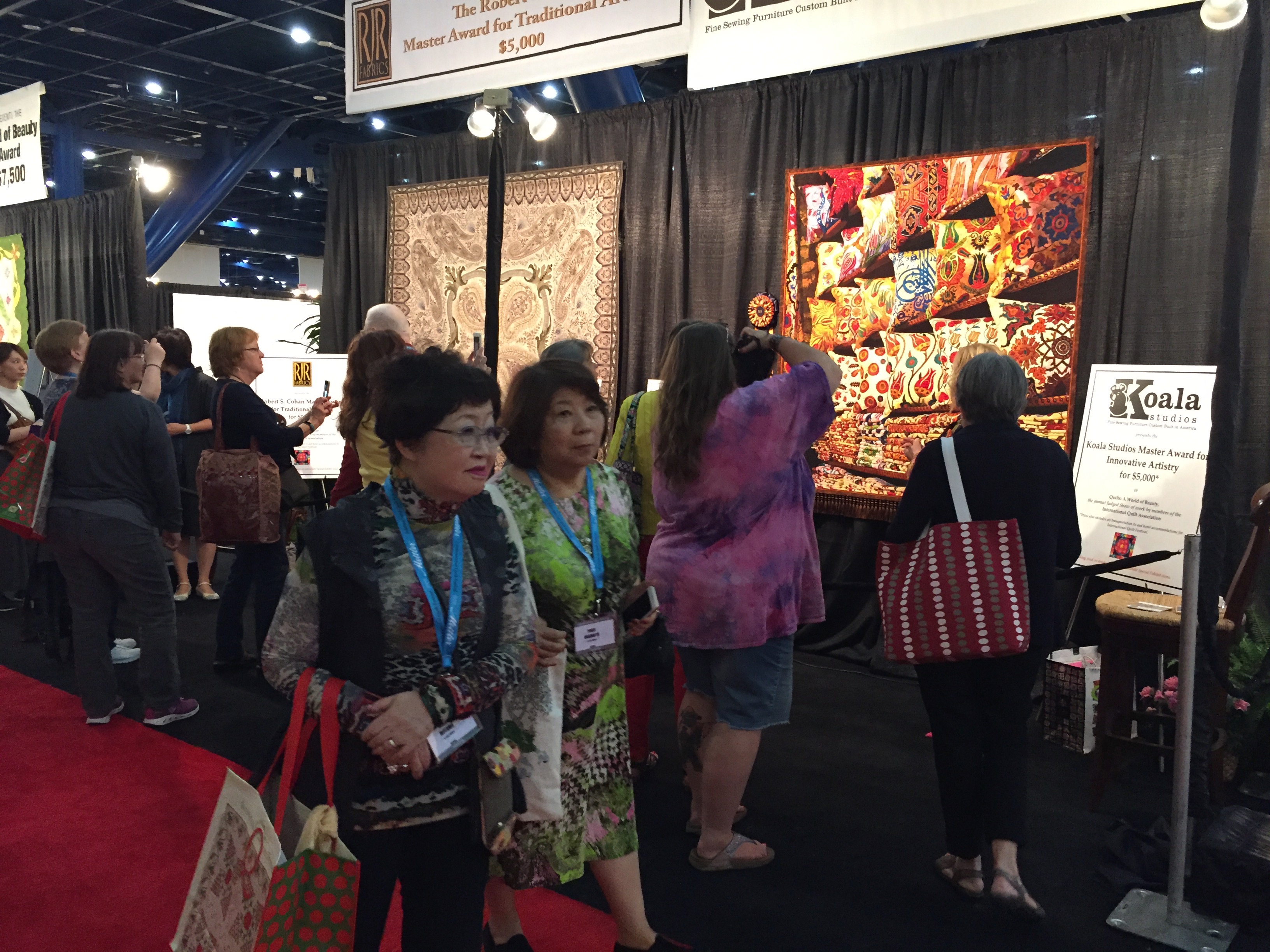 The show remained open until ten but Sheila and I only managed to stay on the floor until nine…
I was booked for the Machine Quilting Forum at nine on Thursday morning. Seven teachers in a room, all set up to show their speciality seven times! Here is my display, ready to go.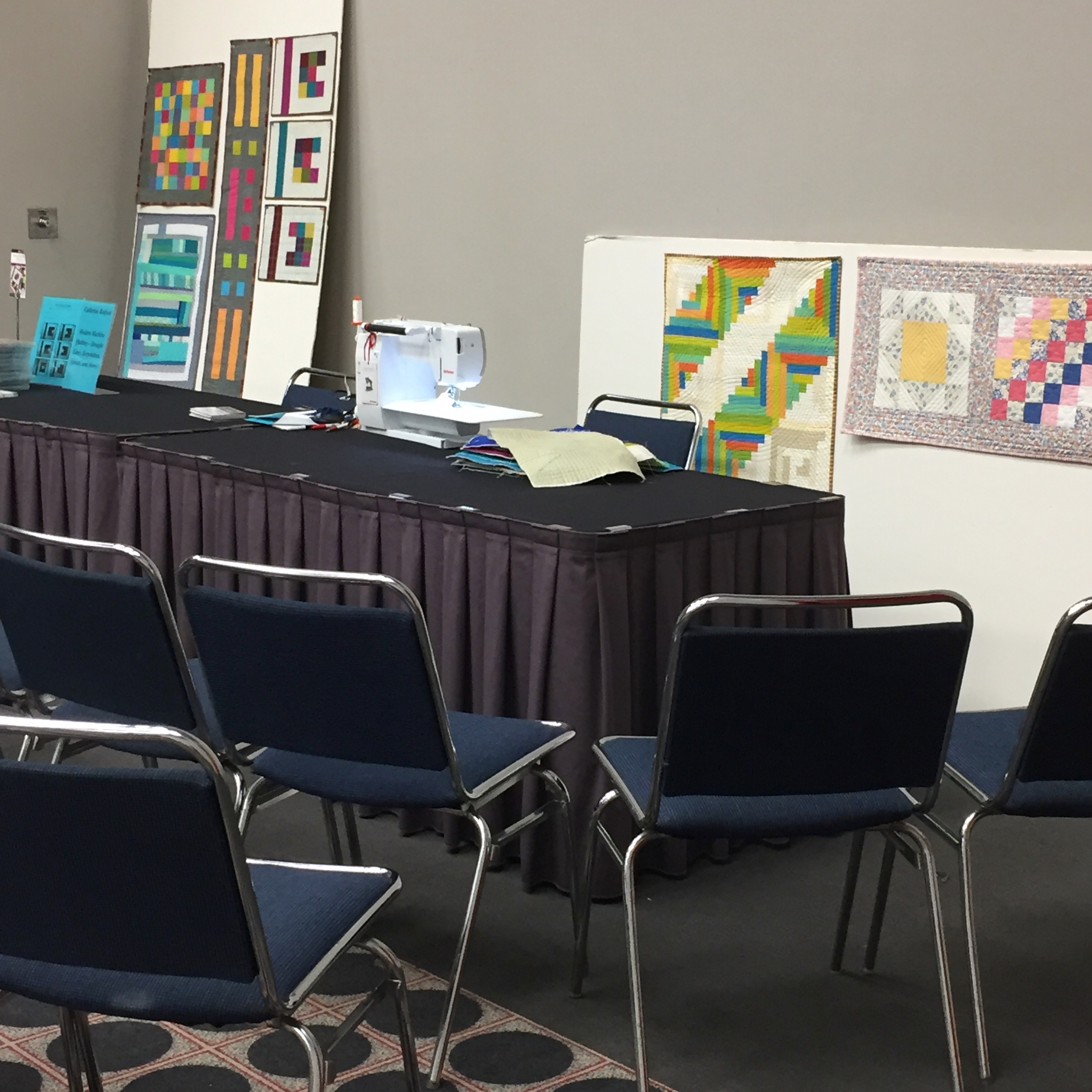 Here is the crowd ready for the introductions before they moved around the room. It was sold out…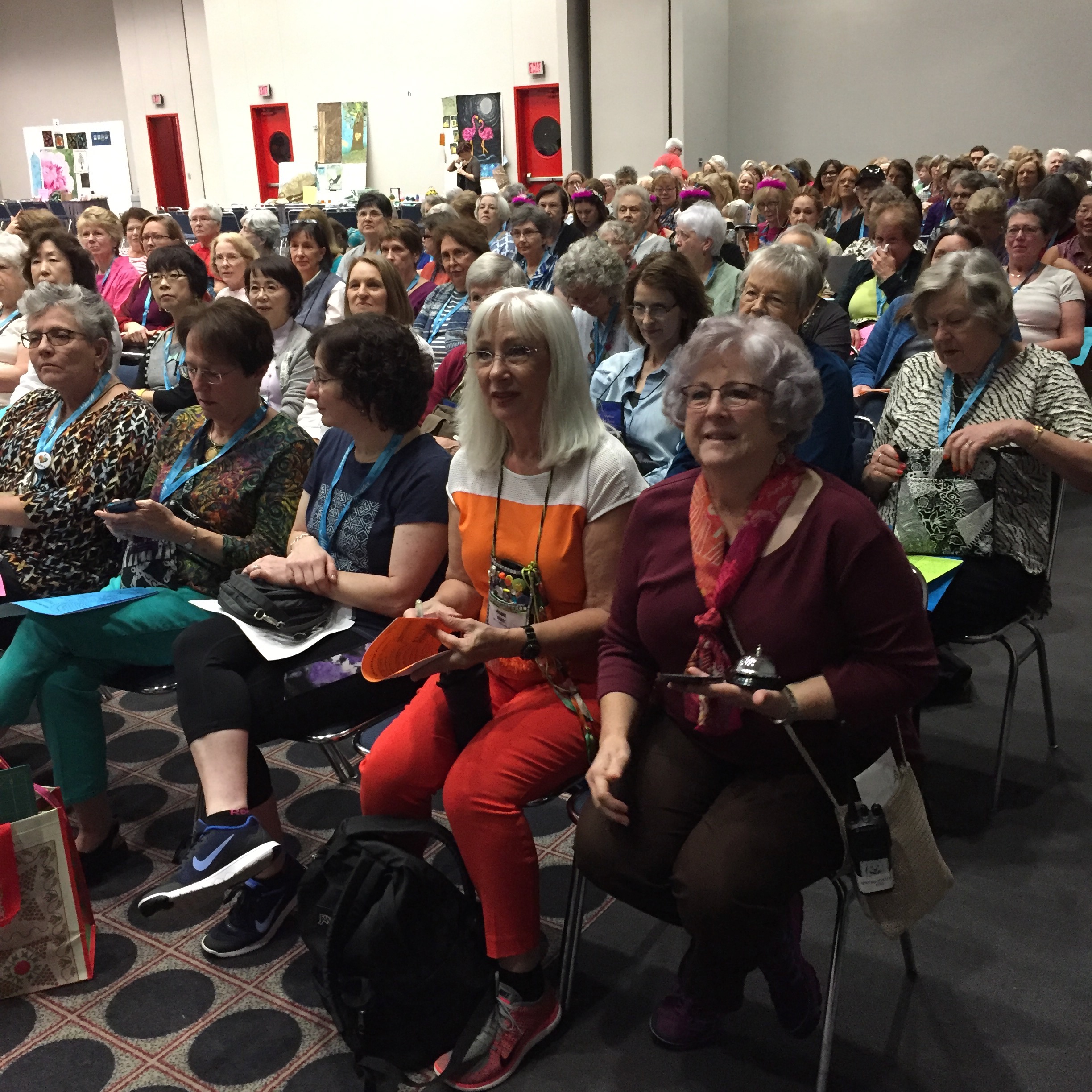 Too much fun but no time to linger!
Lunch with a lecture from Pam Holland and then I had another full class to head to…
Today's featured image at the top of this post is my Bold Hand Stitching as the Quilting Line class. Sheila headed off to the airport and I was on my own again, well as on your own as you can be at a quilt show with 60,000 attendees!!
On Friday morning I got a bit of a lie in… The Friday sampler didn't start until ten. I stitched lots of lines of Embellished Folk Art Stitching for some of the over 500 visitors.
Two o'clock found me at Open Studios with a good sized crowd wanting to learn more about Modern Machine Quilting.
Looking left,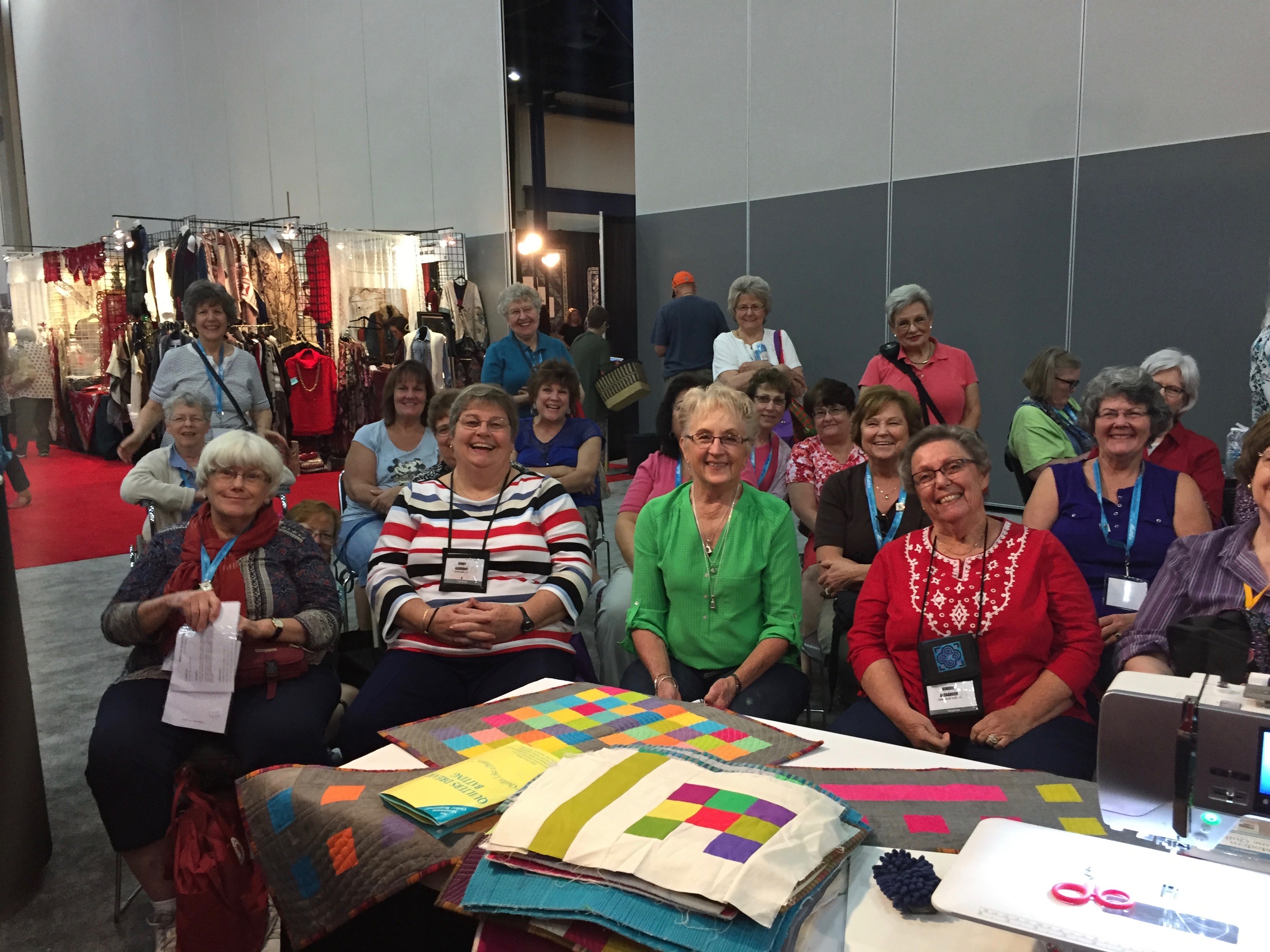 to the center,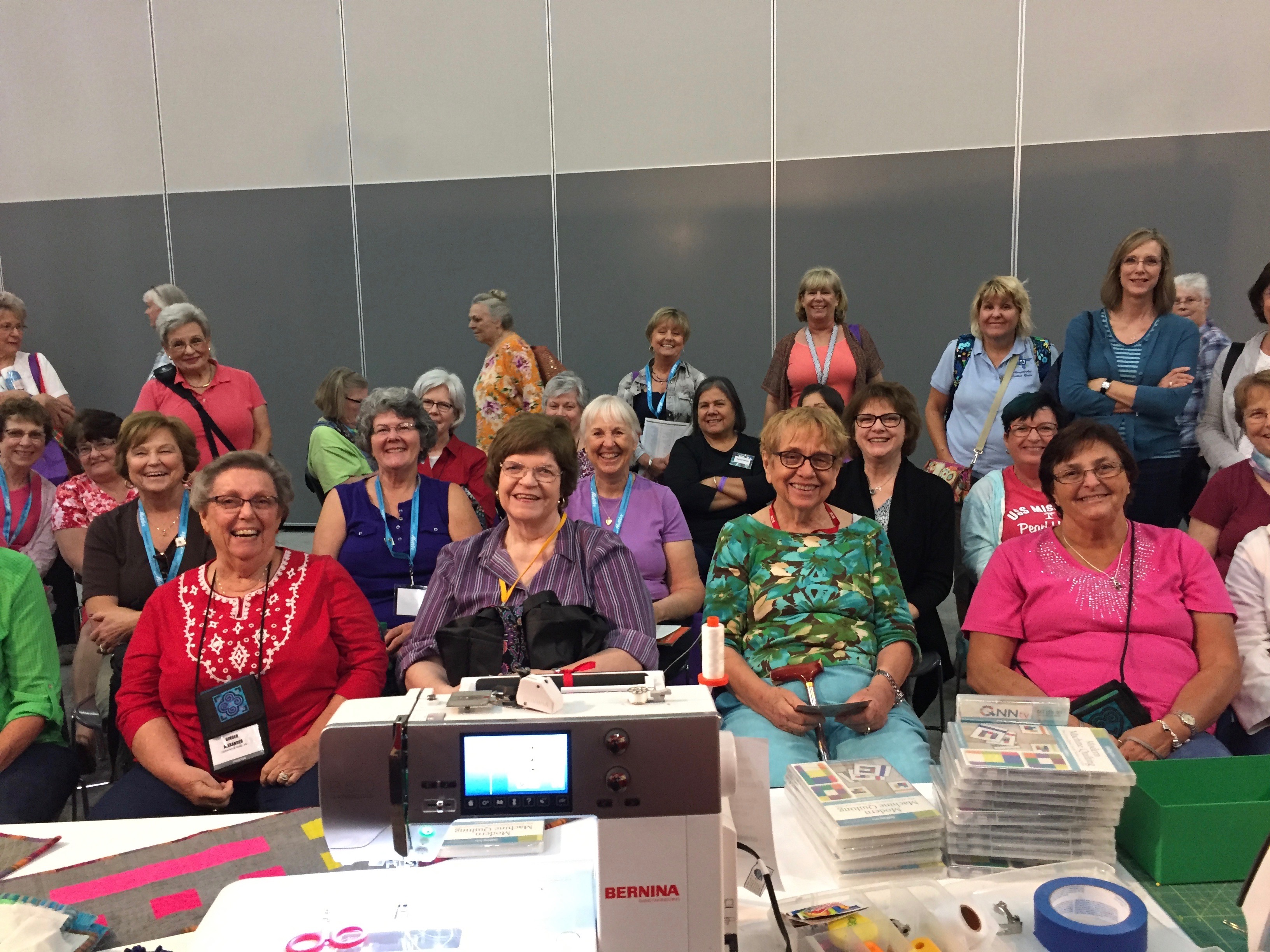 and to the right.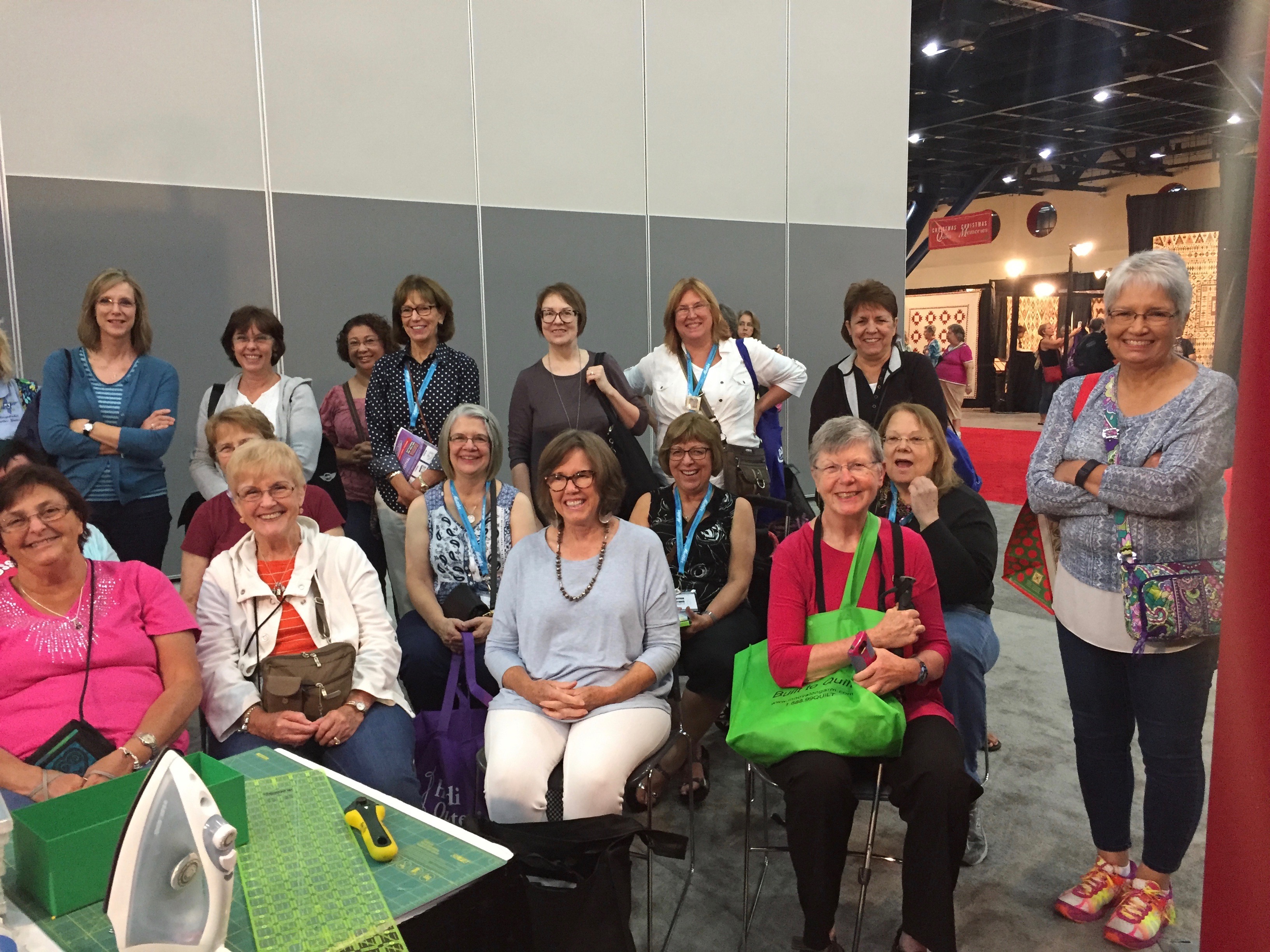 Lots of smiling faces!
There are classes on Friday evening and I was delighted to be in a BERNINA room for my second full class of Walking Foot Quilting – Beyond the Ditch with Edna as my very lovely class room helper.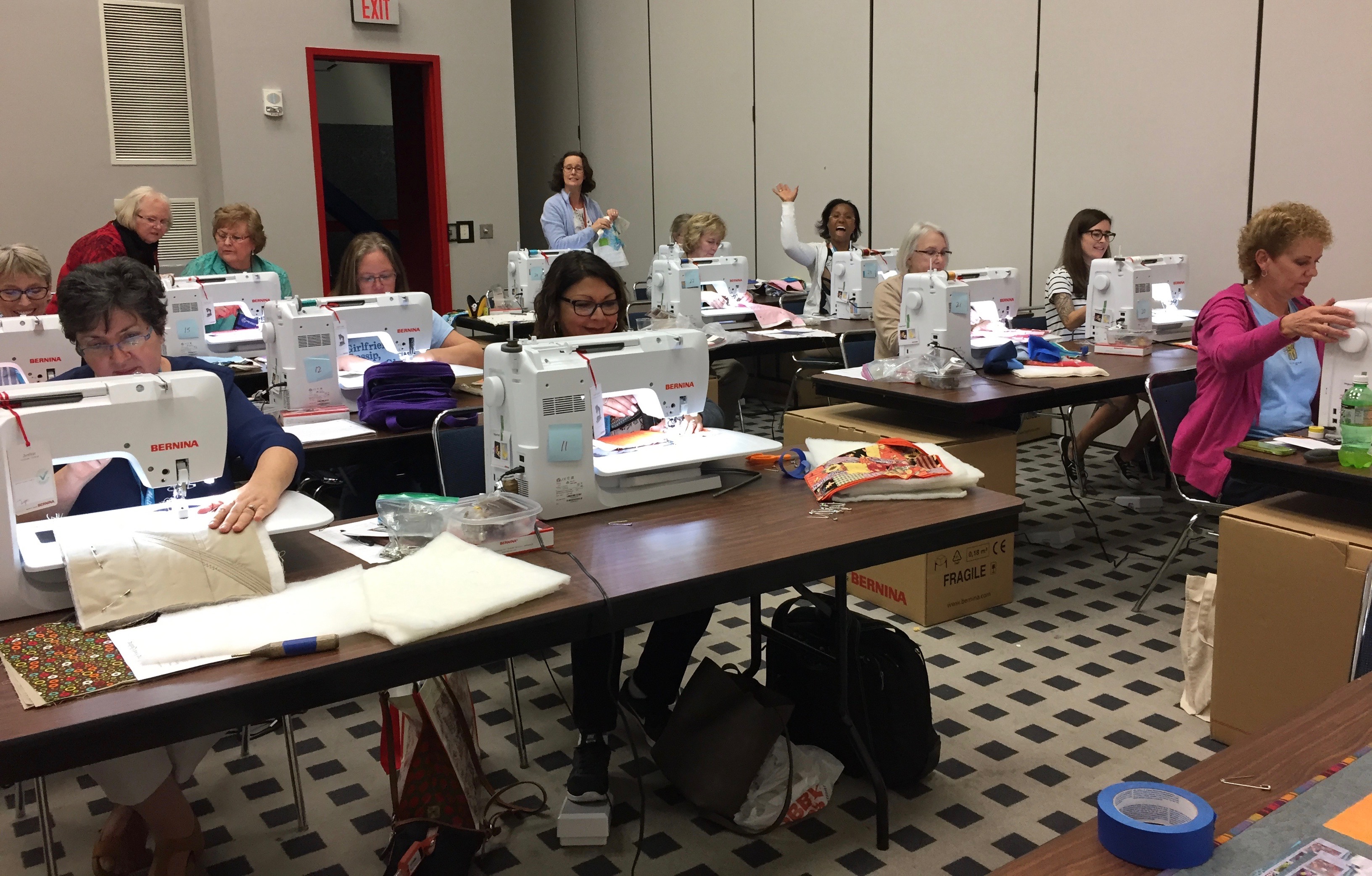 Our machines purred along as we made straight lines, serpentines, spirals and more!
I was at the Saturday Morning Sampler with more Folk Art Stitching on Saturday morning and then I got the afternoon off to enjoy the vendors. I'll post pictures of my purchases when I finish unpacking!
There was a Modern Meet Up in the evening and the After Hours party too. I enjoyed a little of both events but I still had one more class to go.
There was just a small select group of seven students for our Introduction to Hand Embroidery on Sunday morning.
Stitching with smiles!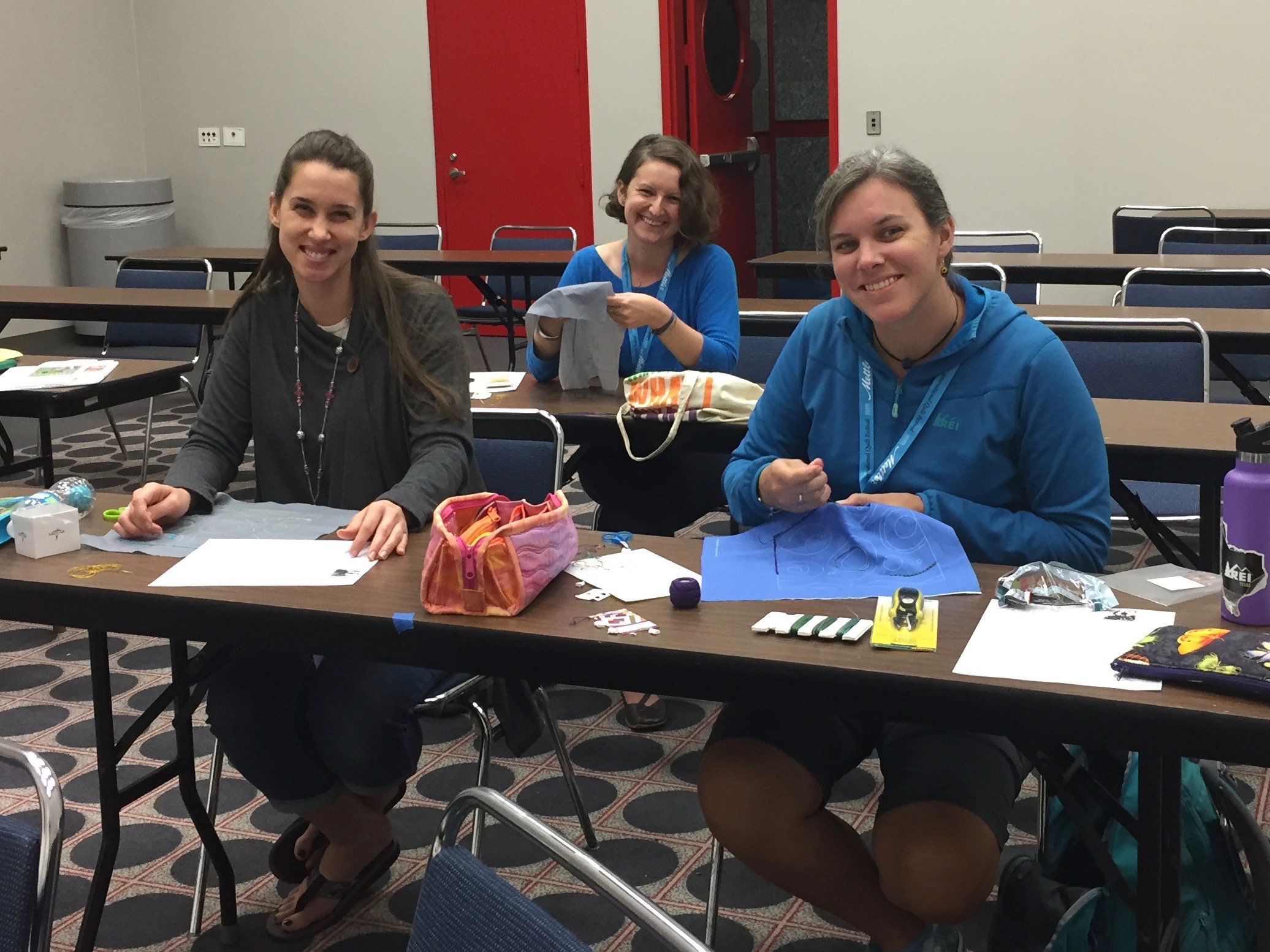 and more smiles…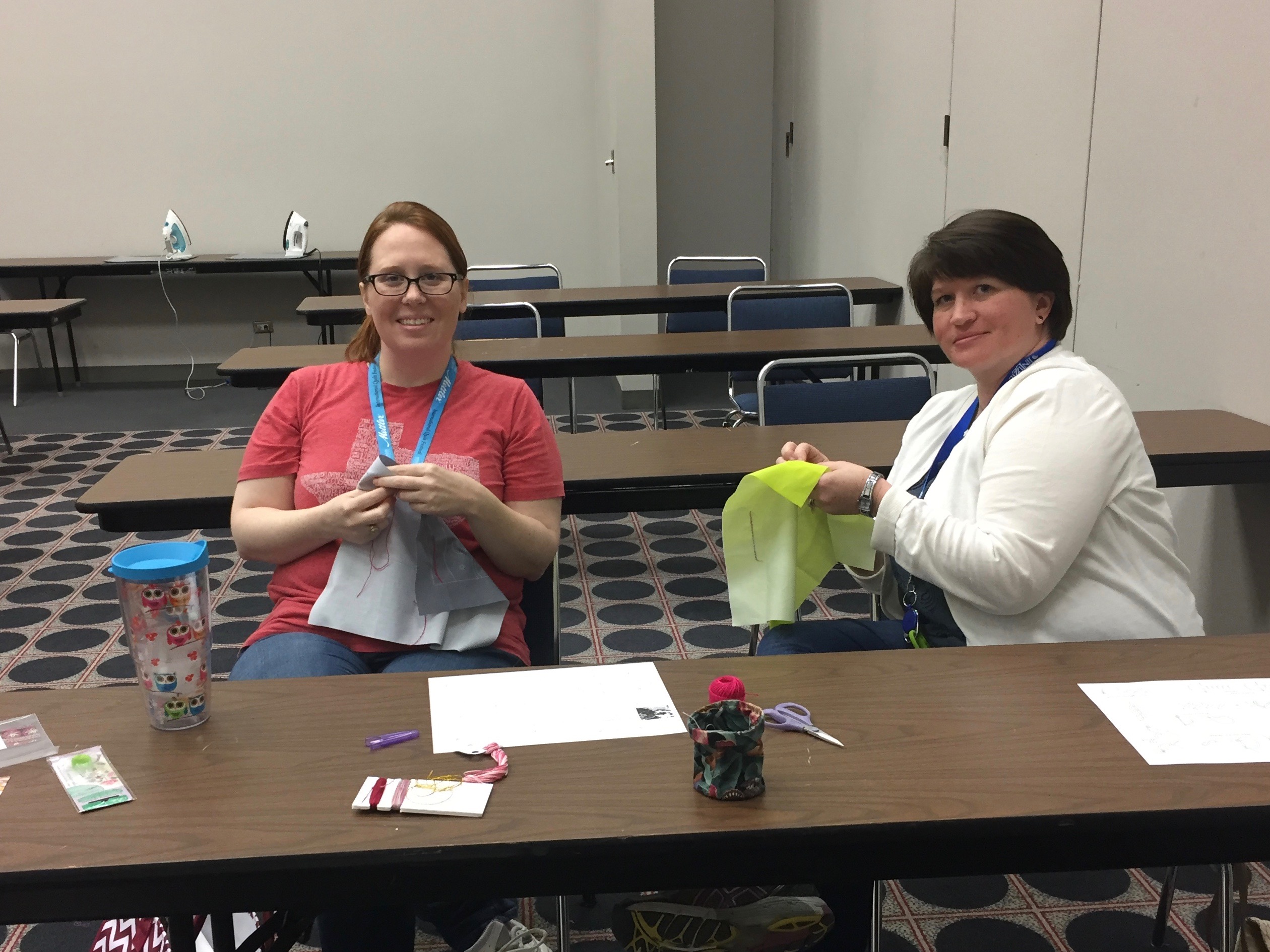 What's not to enjoy when you're learning the basics such as chain stitch, stem stitch, french knots and circular fly stitch?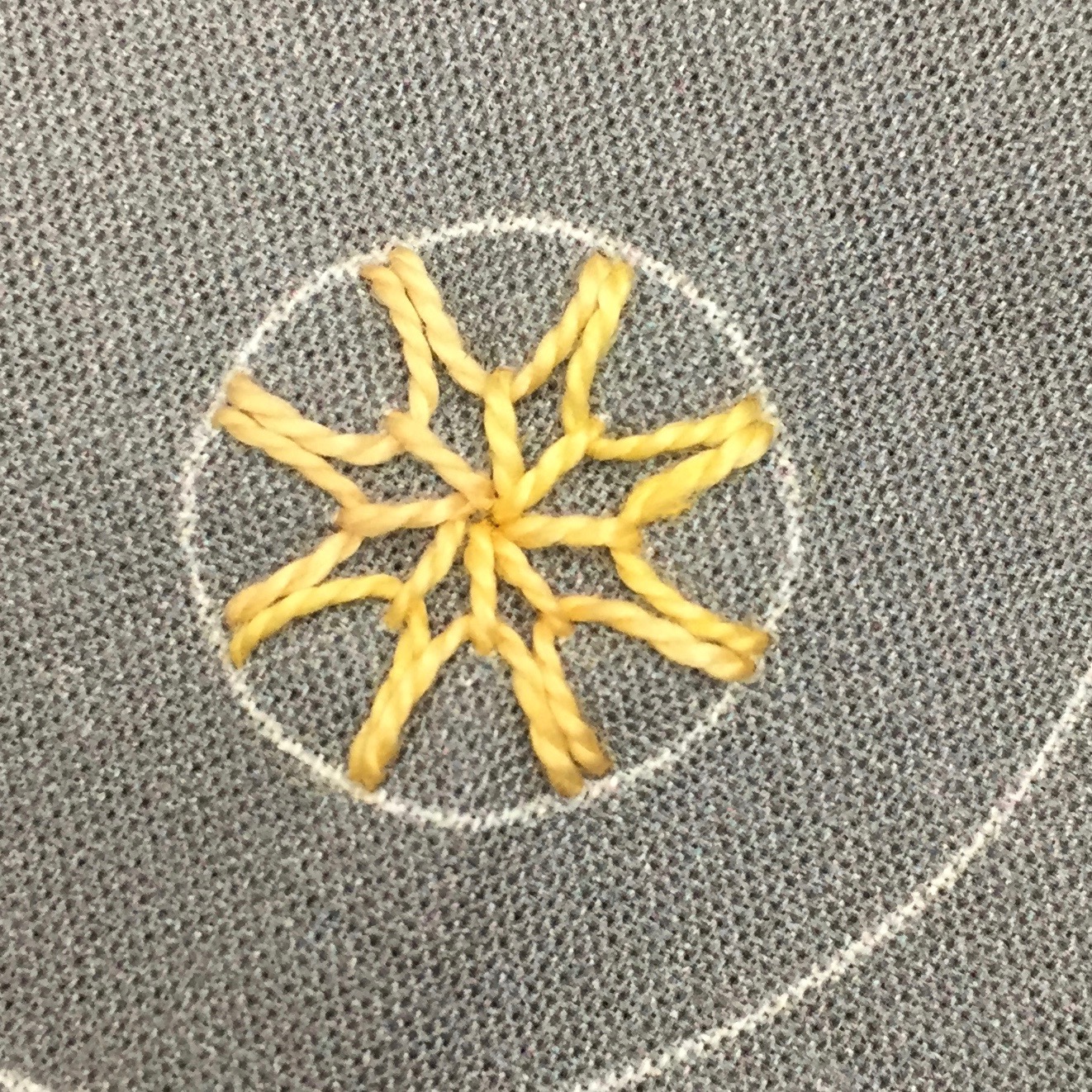 So that was seven classes, a forum, two samplers, an Open Studios slot and the Iron Quilter Challenge in seven days. Just time to see some quilts…
I'll share some of my favorites soon.