If it was Friday it was Festival of Quilts at the National Exhibition Centre, just a short train ride away from the center of Birmingham. (NB the purposeful two spellings of the word center!!)
Sarah and I walked through the Bull Ring to New Street Station.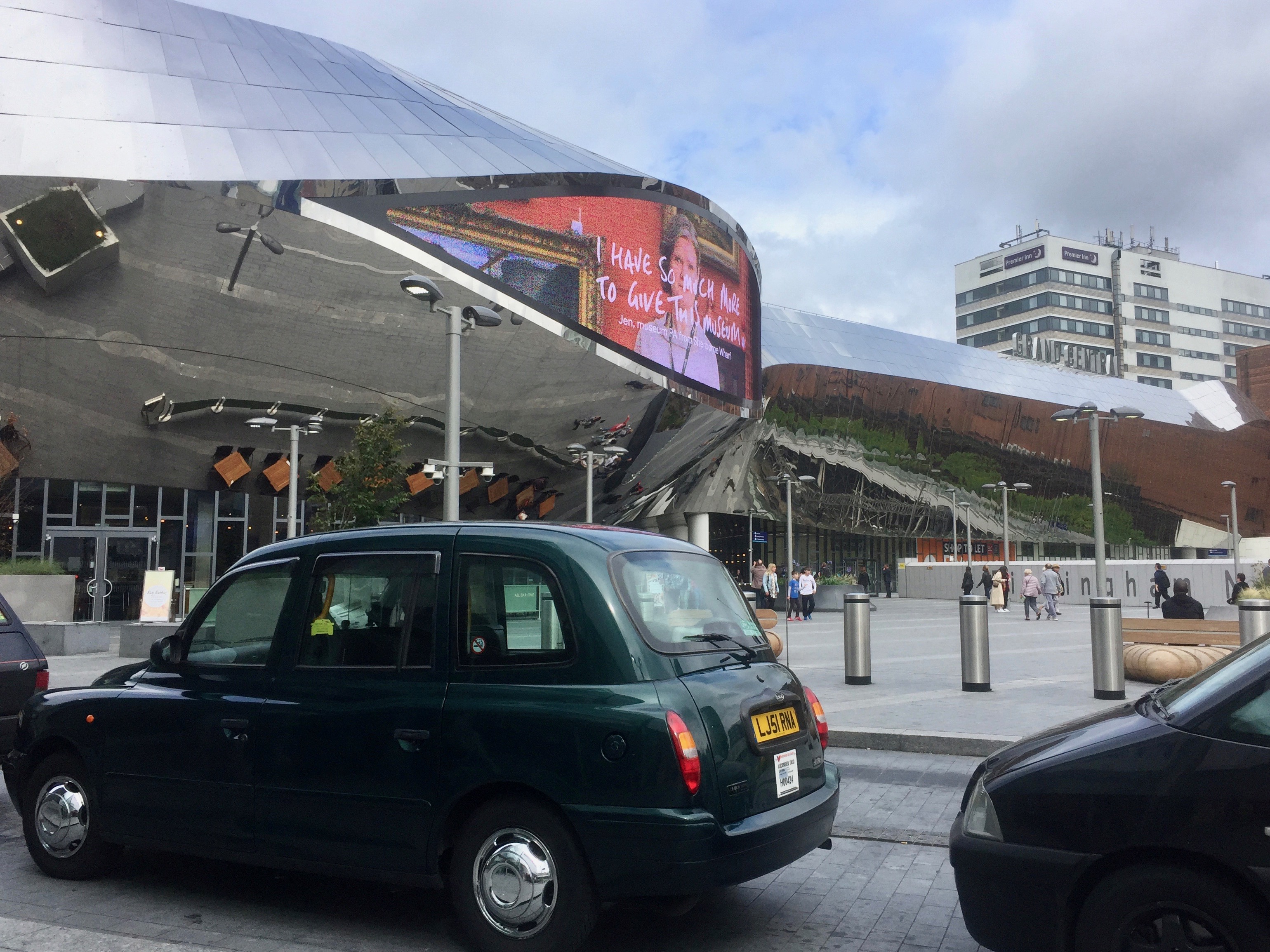 We needed to take our picture reflected in the shiny entrance…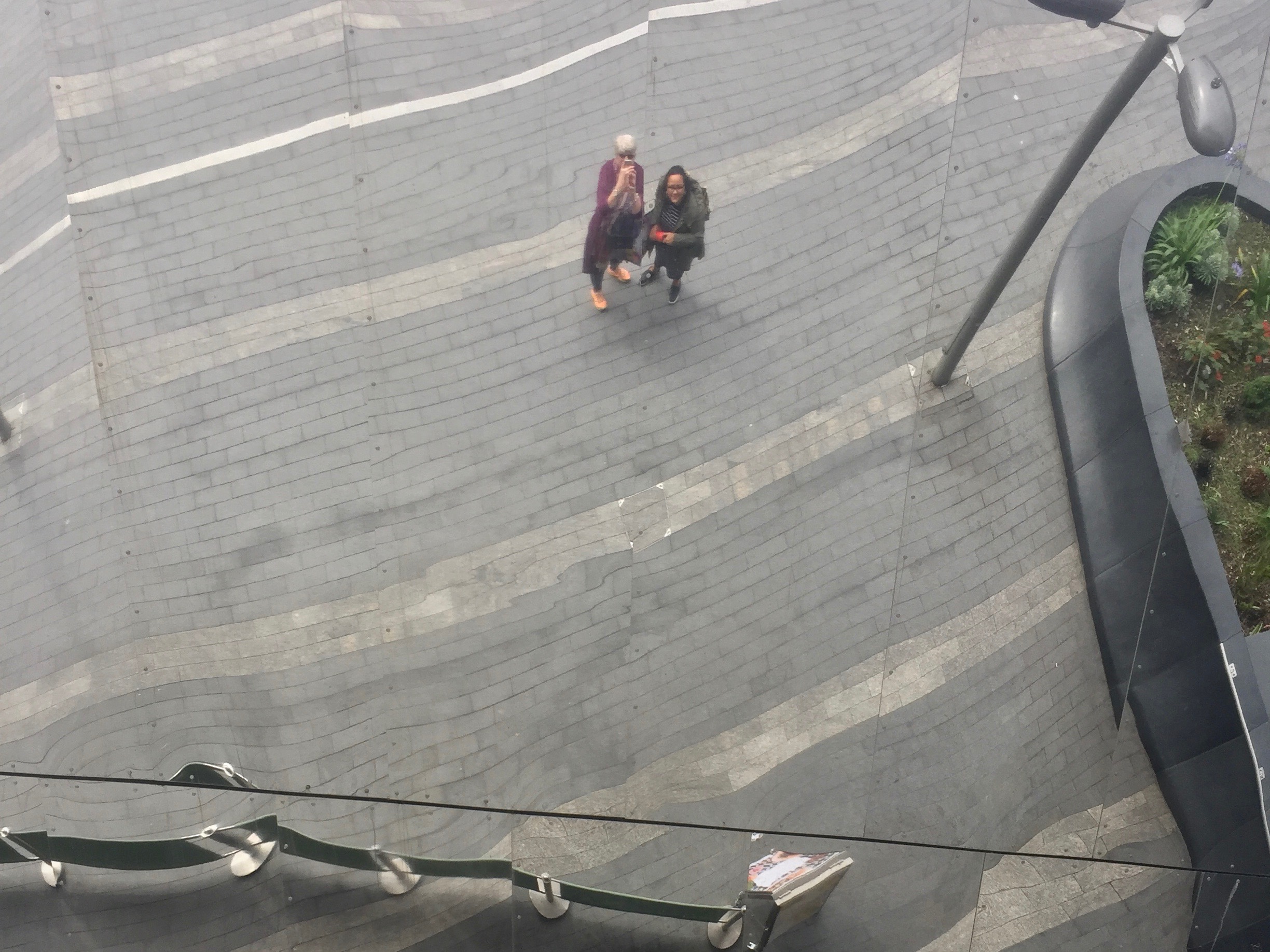 A Virgin Rail employee dressed up as a chicken(?!!) helped us buy our tickets and we made it onto the crowded train for the ten minute journey.
Breakfast butties at the Weatherspoons by the exhibit hall fortified us and we were off…
Up and down the aisles of vendors, stopping to say hi to a few familiar faces including Theresa who was in Lynette Anderson's booth demoing Lap Apps and Apliquick tools.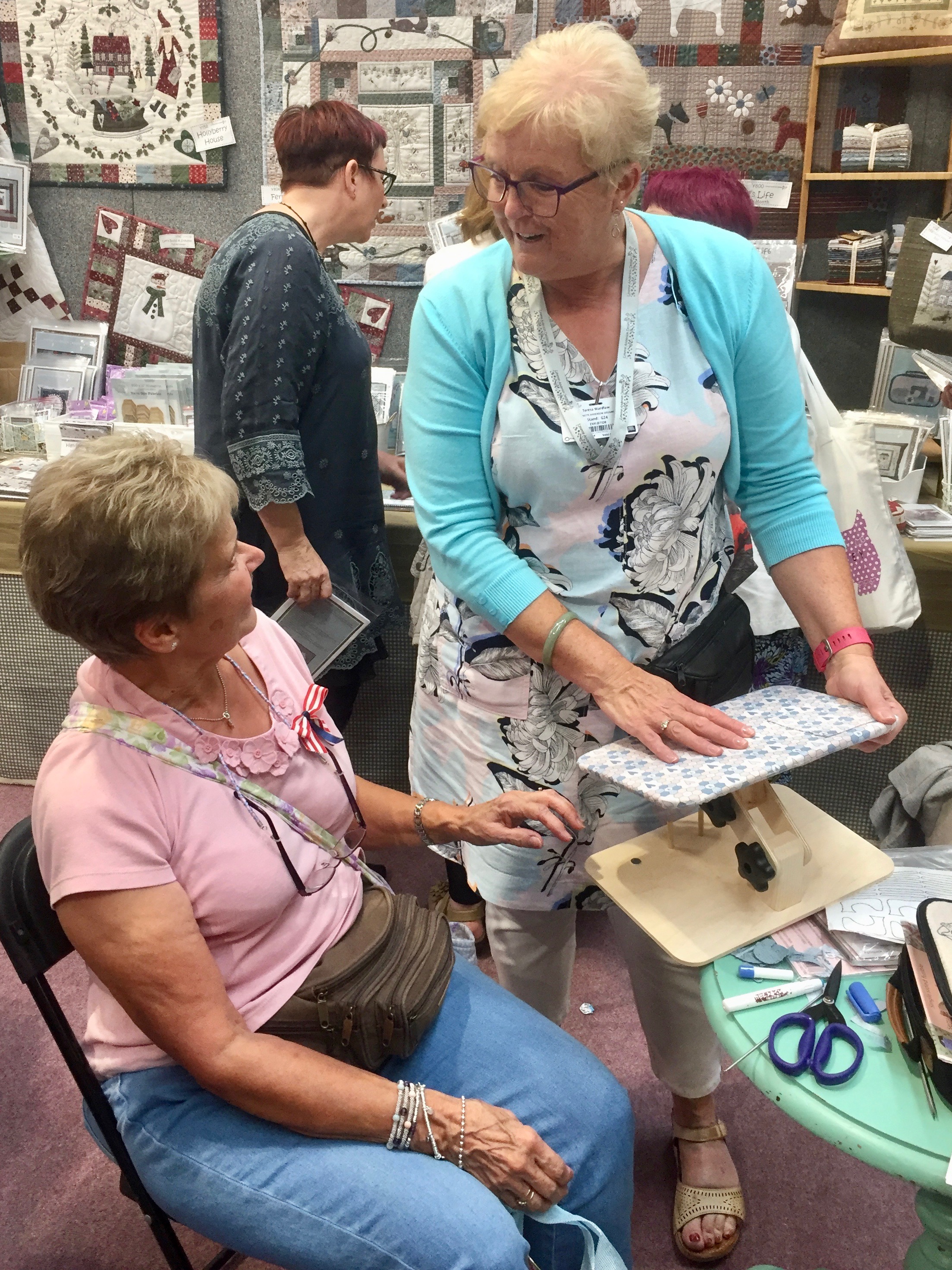 I know she was doing a great job because they sold out of the Lap Apps well before the end of the show.
There were over 300 exhibitors, all offering essential supplies. It took a while to get up and down all the aisles.
Look what we spotted on the Kaleidoscope Book stand.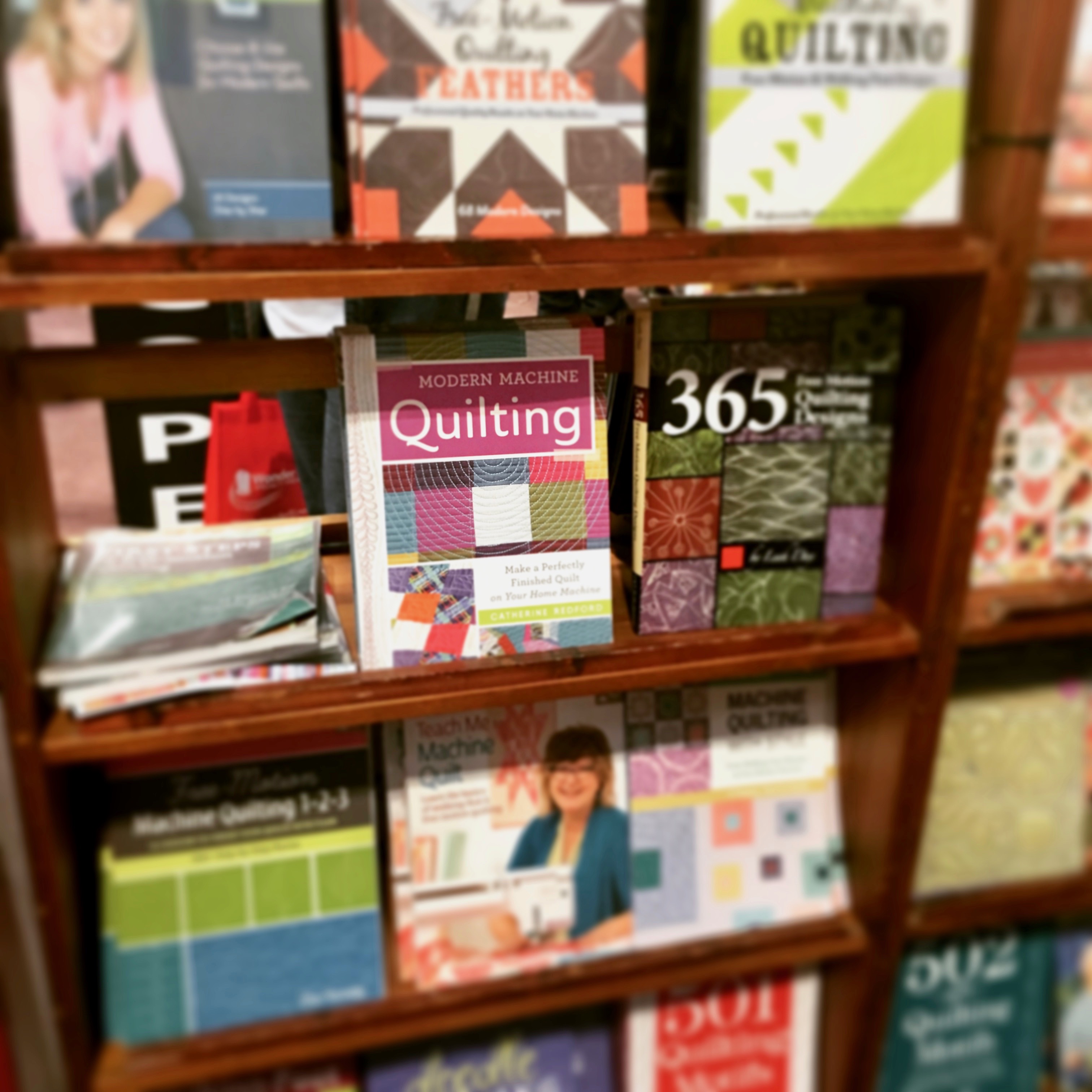 Actually when we arrived at the stand we couldn't find my book so Sarah asked…
It was supposed to be on the end cap with all the other machine quilting books but those ones had all been sold…  more were found to fill the gap. I did hear that when someone I know went to buy one on the last day they were all gone too. I think that's a good thing?
Of course there were also lots of quilts to look at. They were displayed in several ways. There gallery spaces interspersed among the vendors where special exhibits were hung in a museum like setting.
I really liked an exhibit showcasing the work of Ineke Berlyn (1956-2017), including this small piece called Autumn Landscape.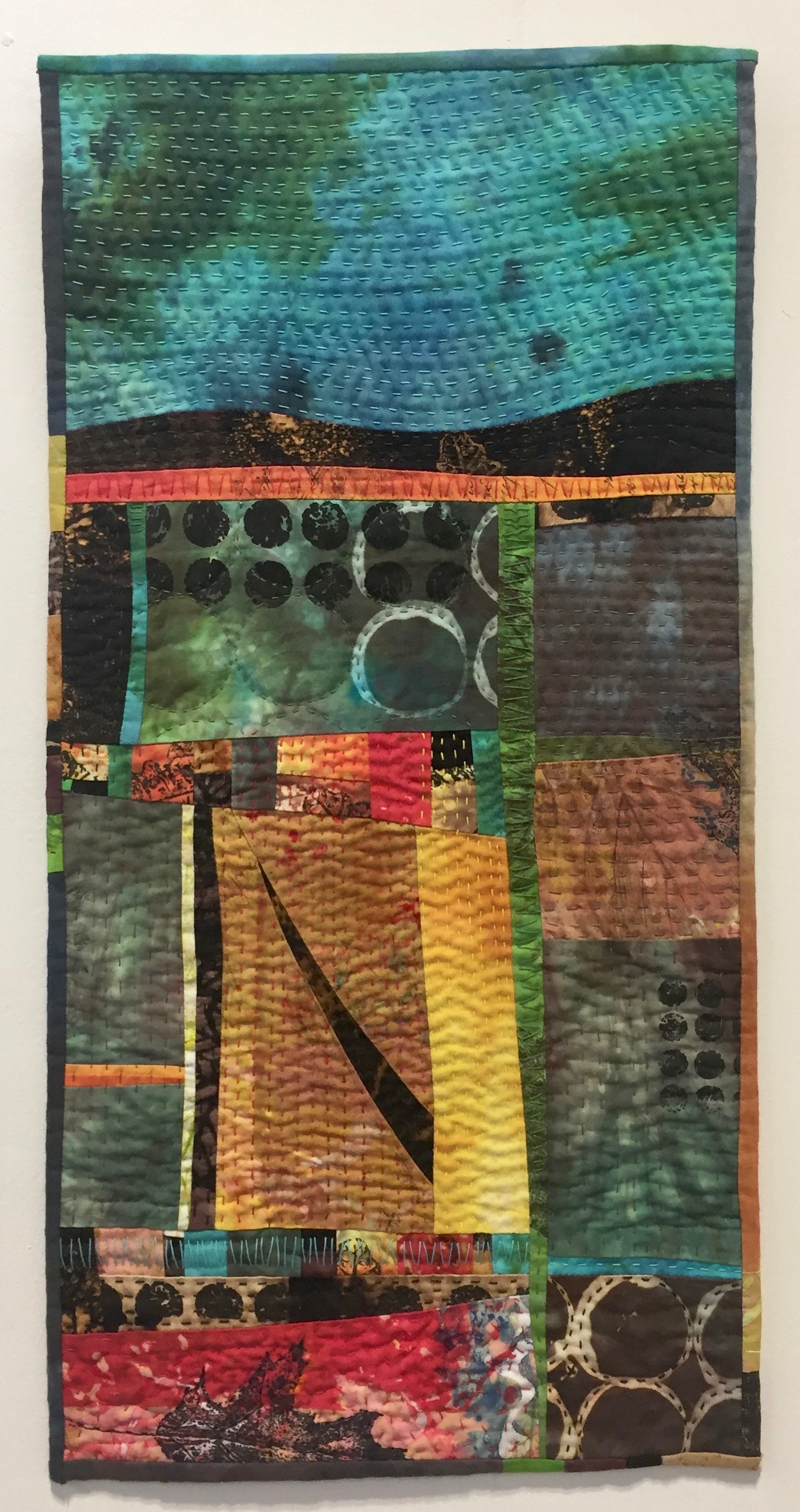 Here's a closeup of the handwork.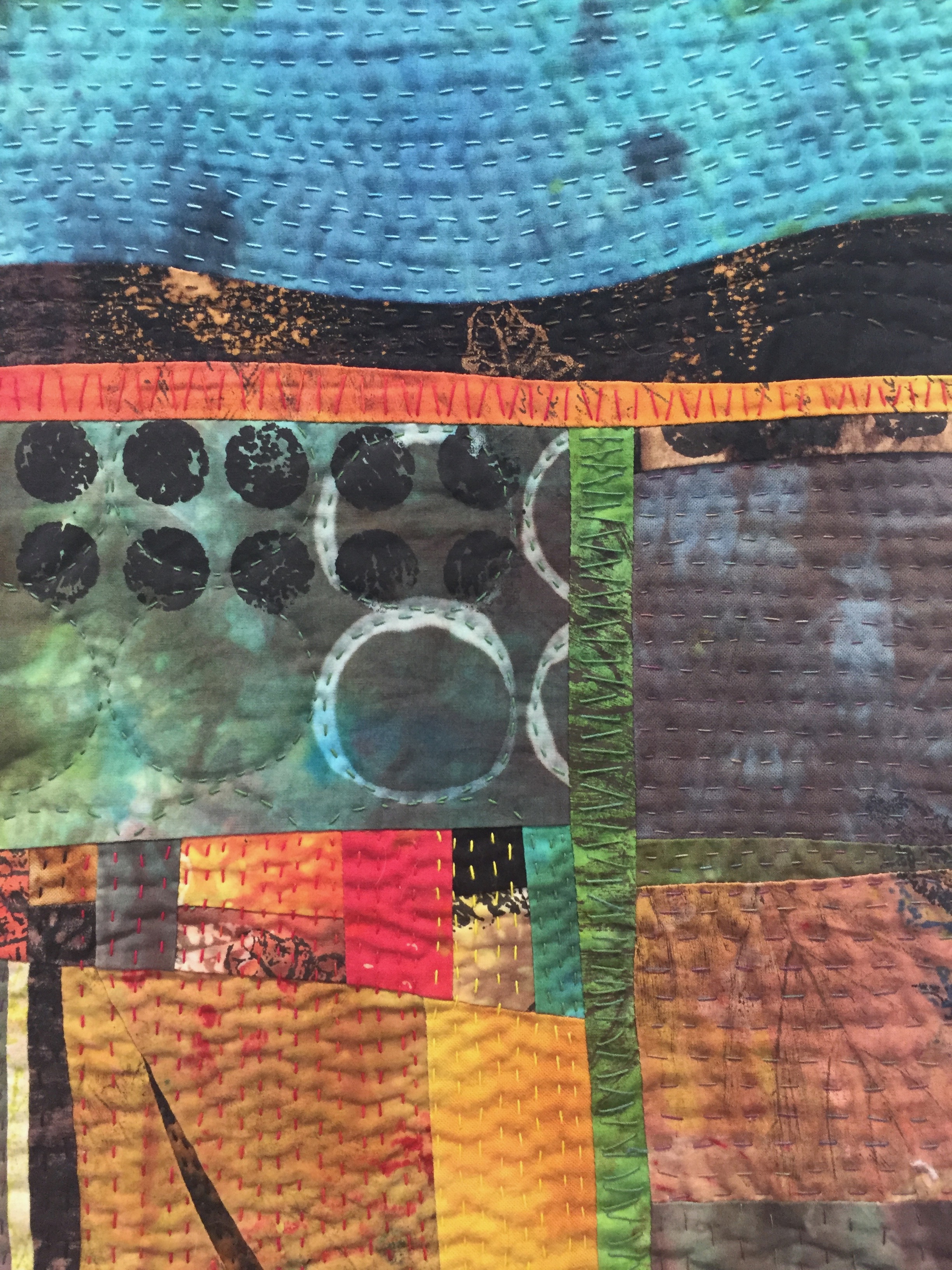 The Modern Quilt Guild's showcase of the best quilts from QuiltCon had a good space.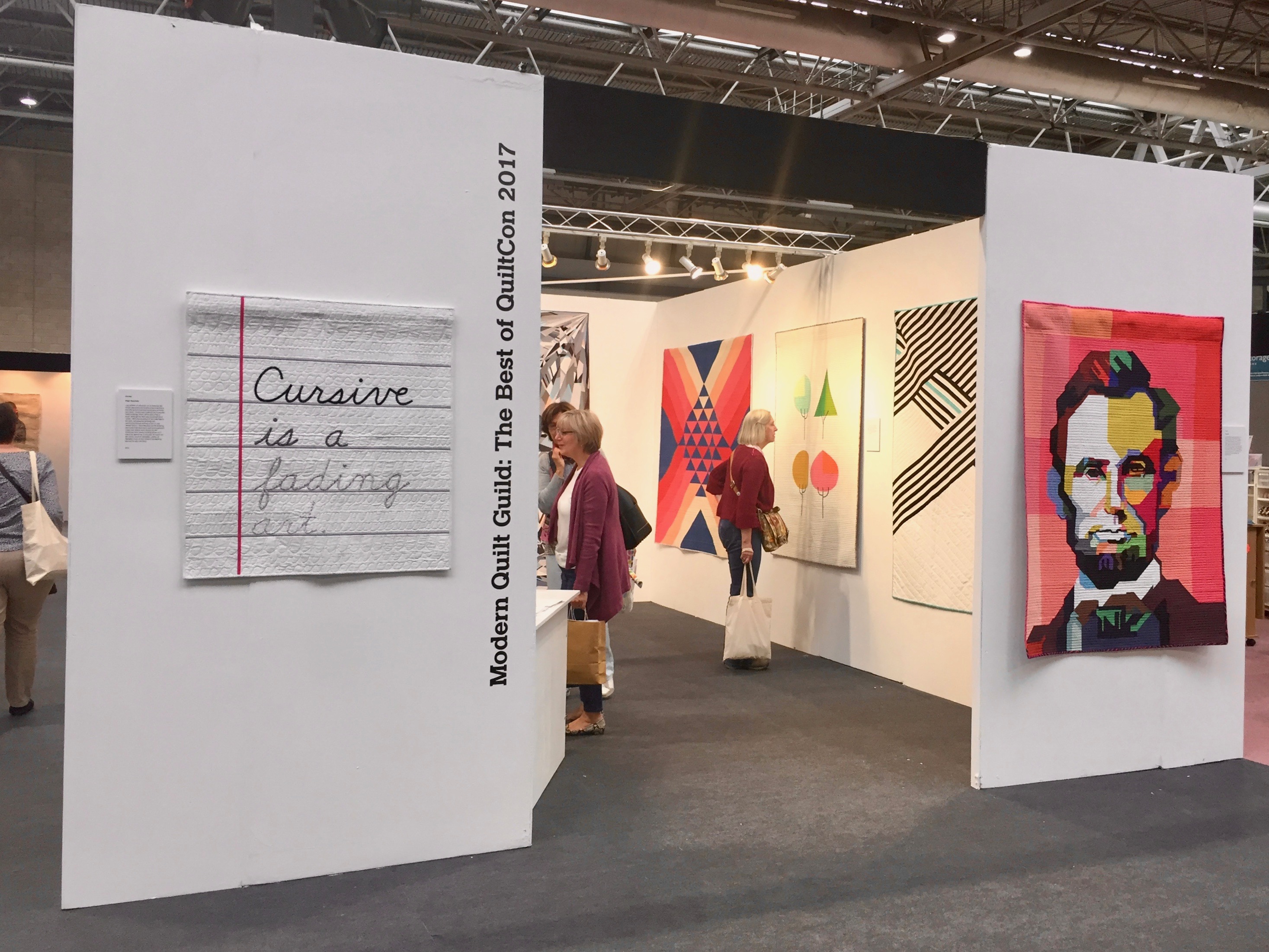 And then there were over 700 quilts that had been entered in the competition itself.
Best of Show went to a miniature quilt entered by Philippa Naylor, called Measure for Measure.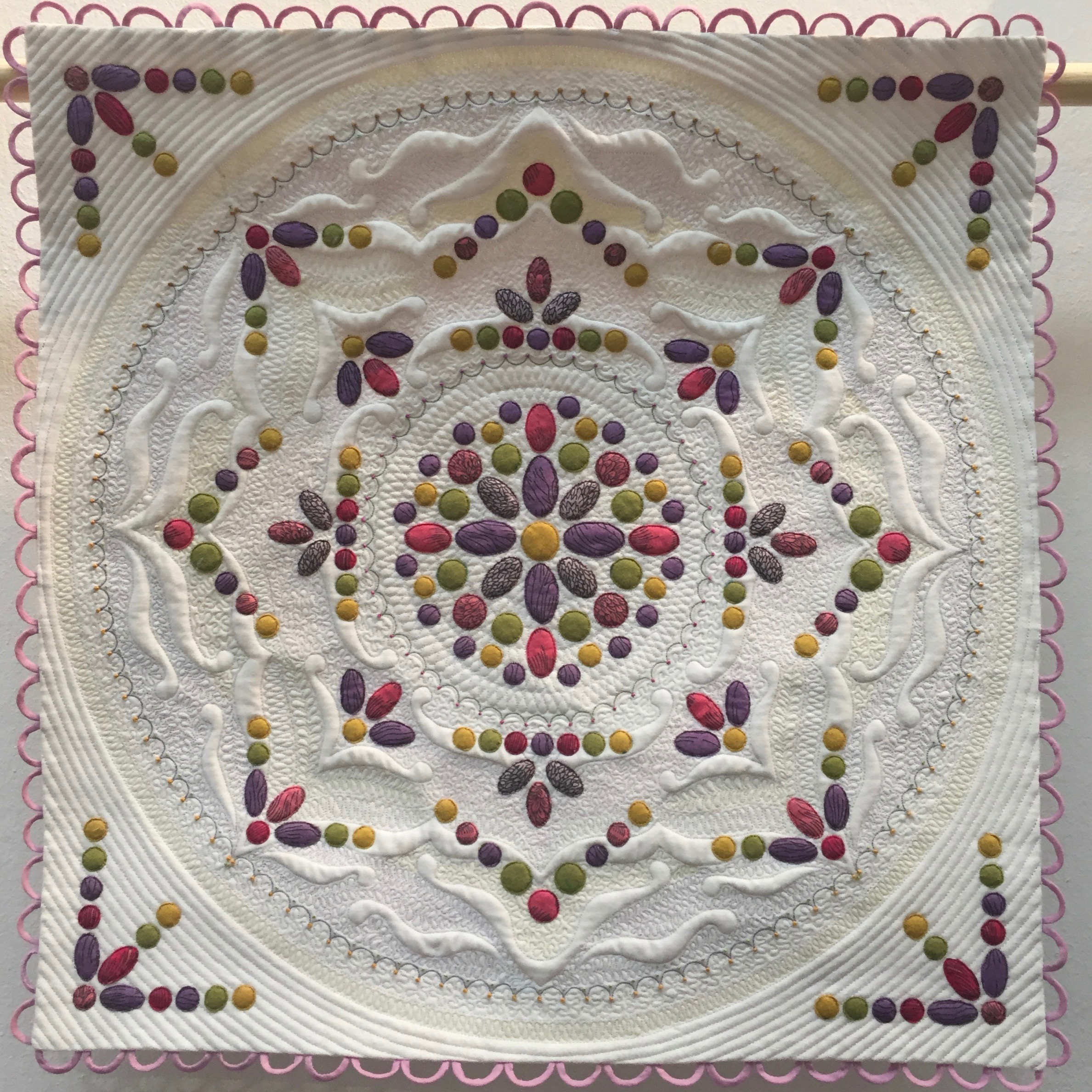 I had seen pictures of this hexagon quilt, Sunshines Out, by Juliet Nelmes on Facebook before we got to the show,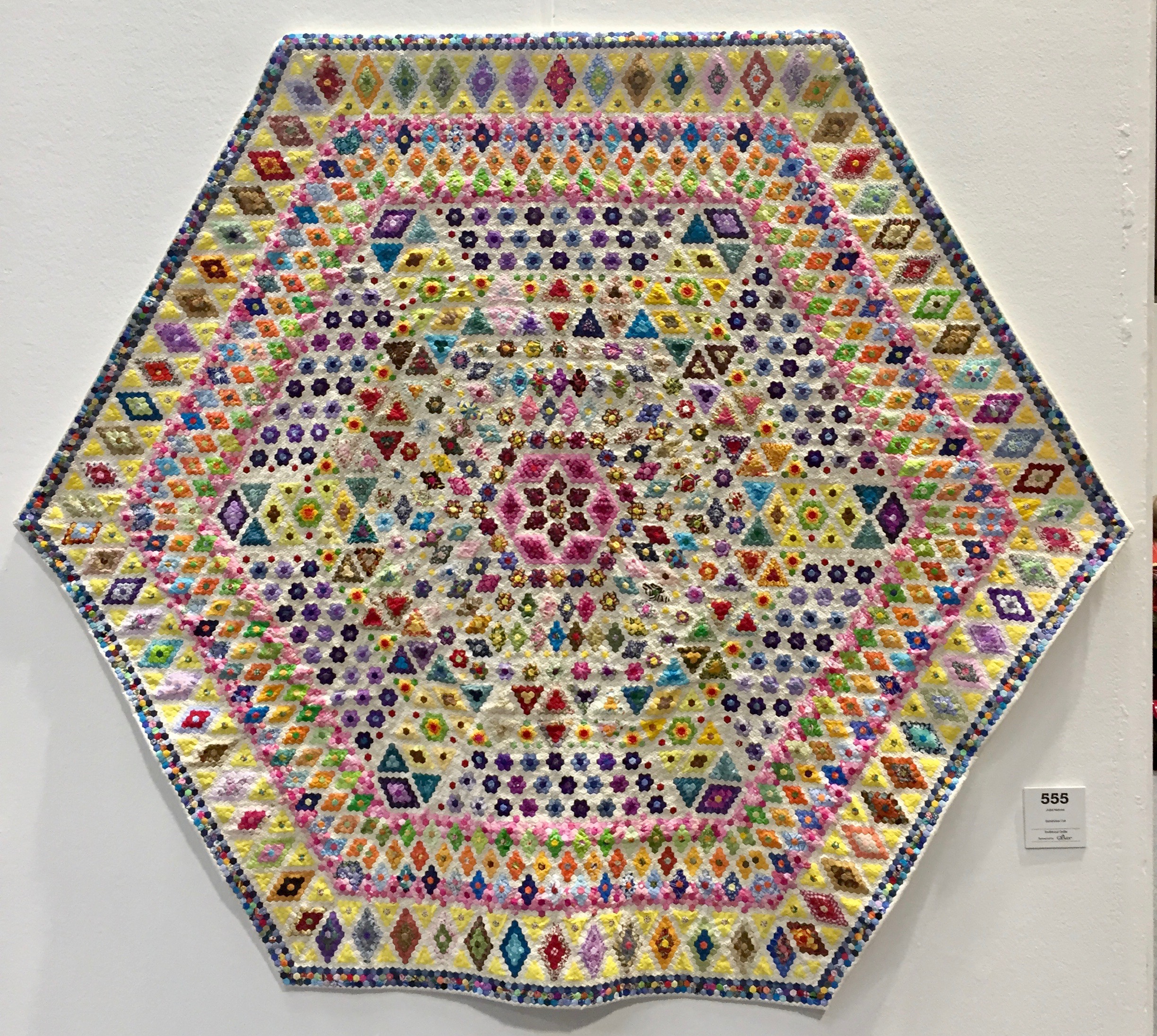 but none of the pictures prepared me for the quarter inch hexies making up the design!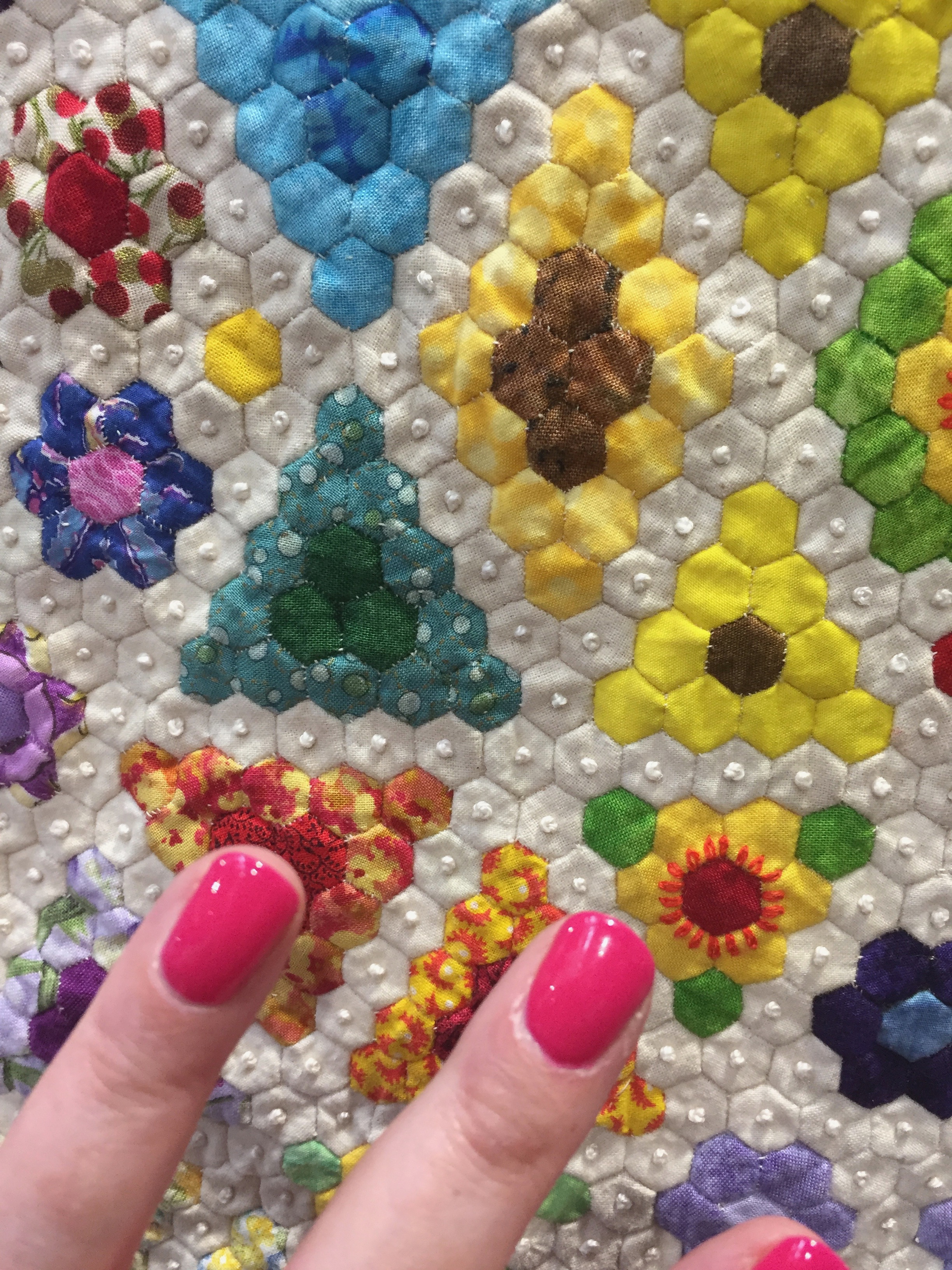 Yes, that's my manicured hand giving you some sense of scale but no, I did not touch the fabrics.
One more quilt. This one made me smile.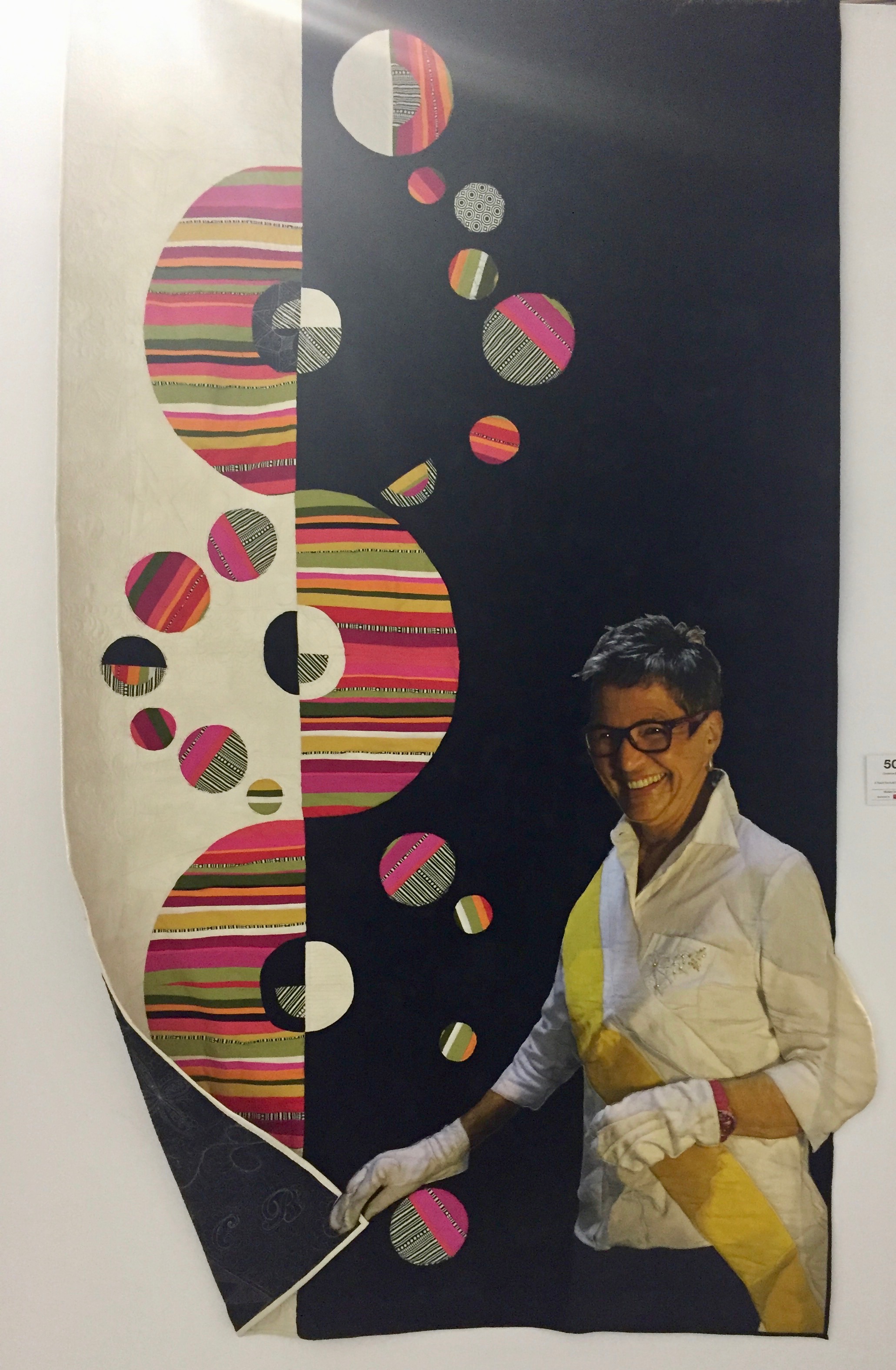 The quilt angel is part of the quilt which was turned back and stitched in place by Constanze Botel, titled, appropriately enough, A Thank You to all Quilt Angels.
I had reserved two days in our schedule for the show, but by staying almost until closing time we decided that we had seen enough for this year. We made our way back to the station with just seconds to spare before a train headed west to New Street.
James and Steve had had a leisurely start to the day but had quite impressively managed a trip to the Birmingham Museum and Art gallery. We caught up over dinner at Purecraft Bar and Kitchen where I enjoyed the grilled mackerel, (no head or bones on the fillets)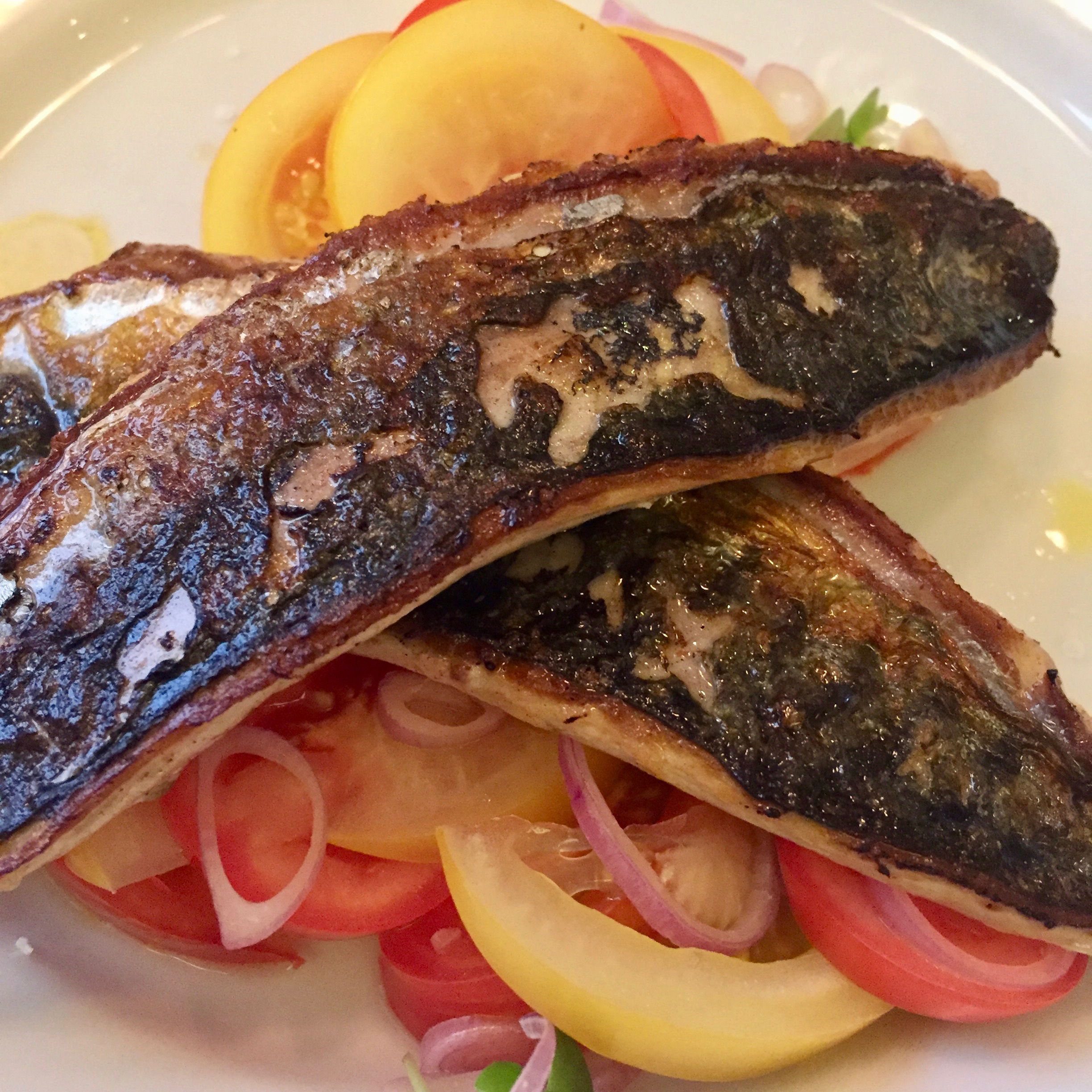 and a rather good version of treacle tart which I did share…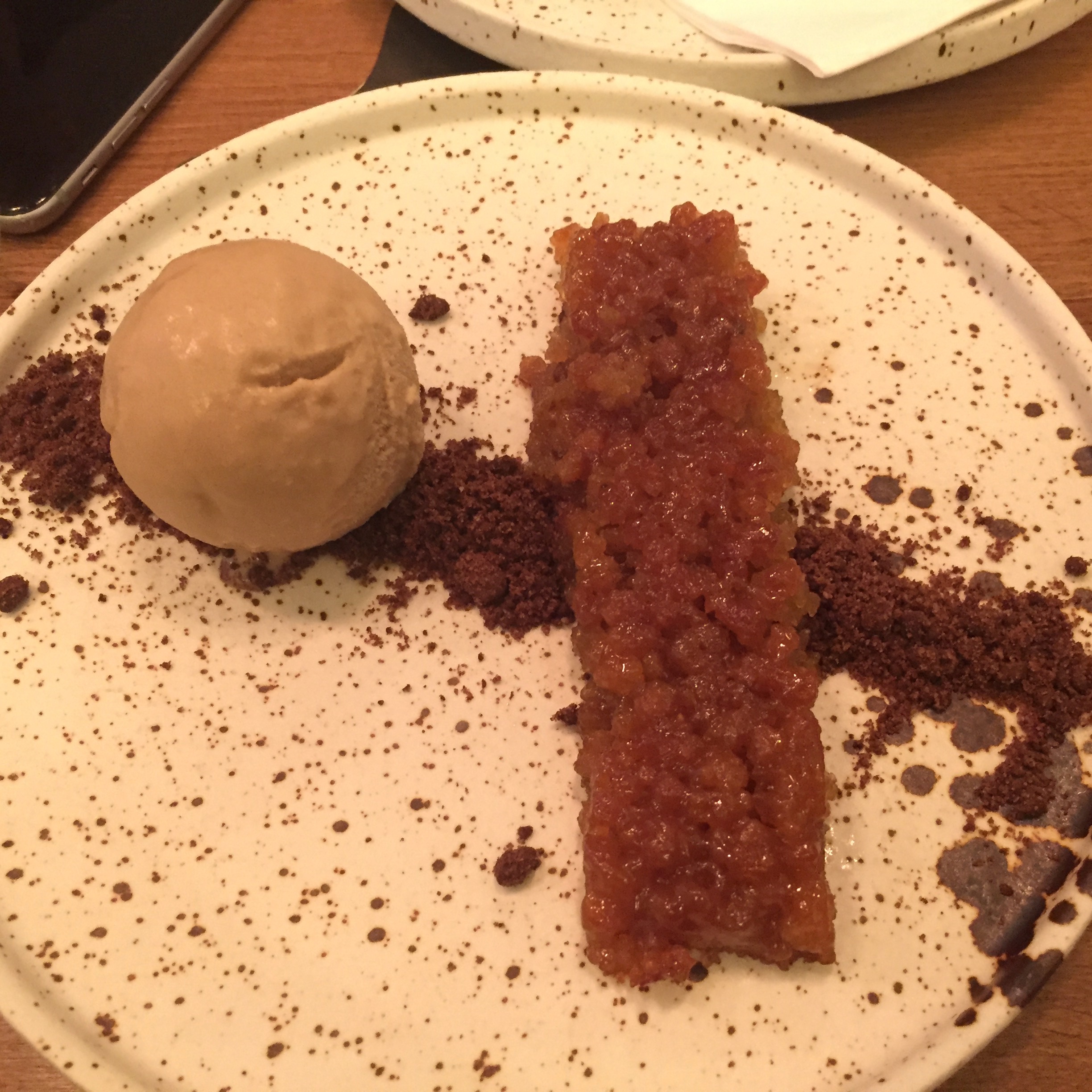 Have you been wondering what I bought at the Festival?
Wonder no longer 🙂
I purchased some rather lovely linen threads from Linladan.
They came packaged in tissue paper,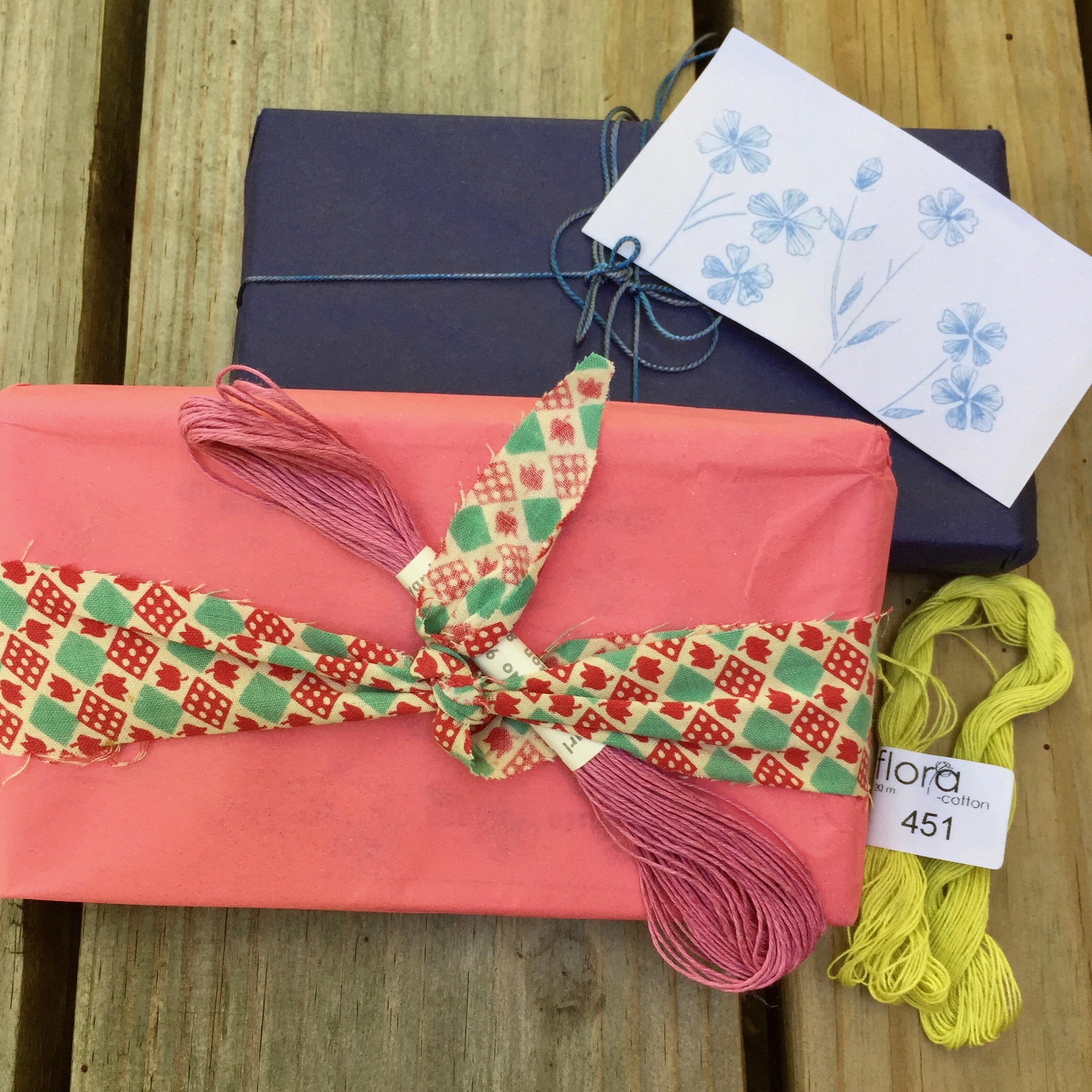 which unwrapped to reveal pretty boxes,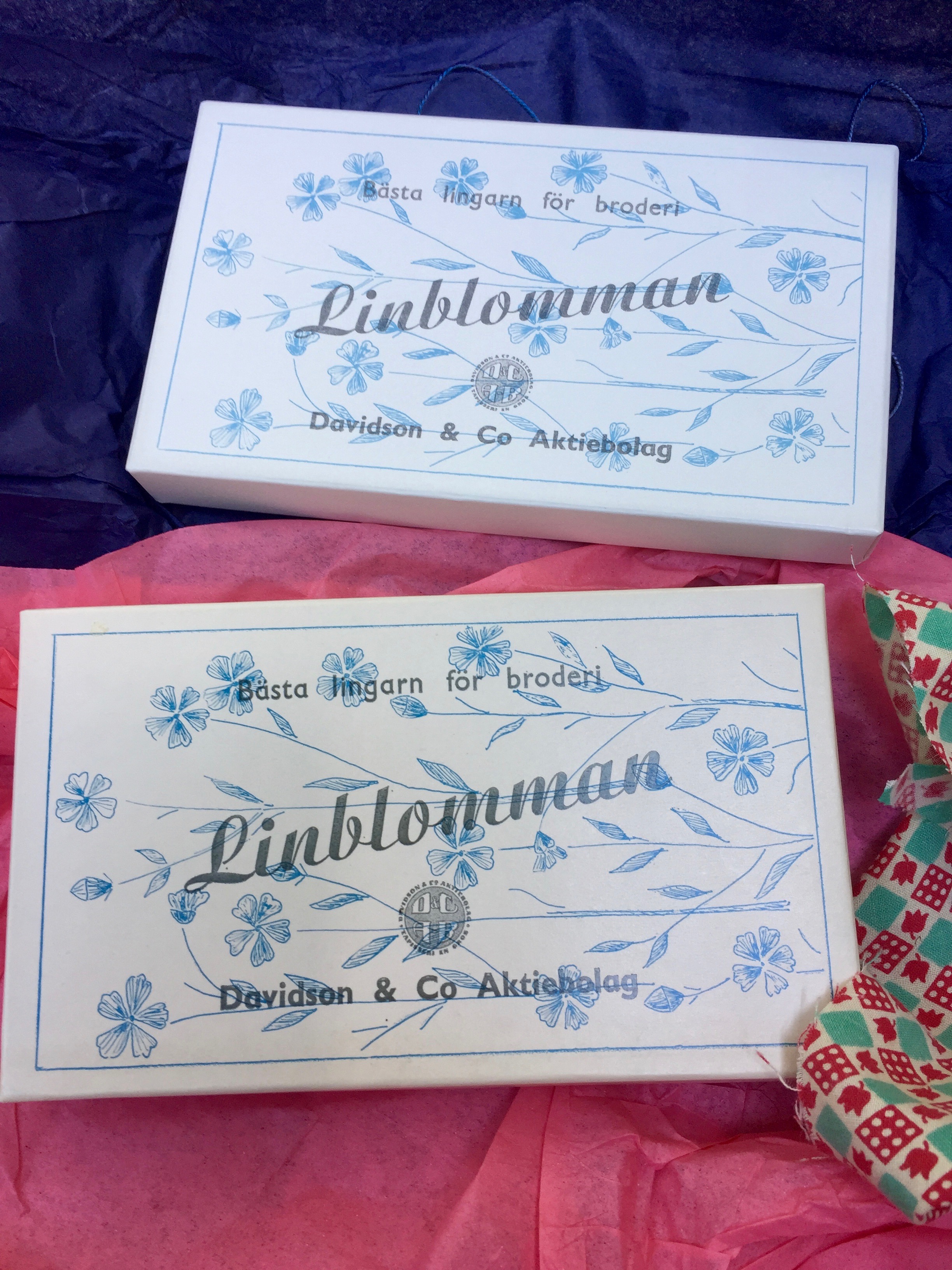 containing a beautiful assortment of colors.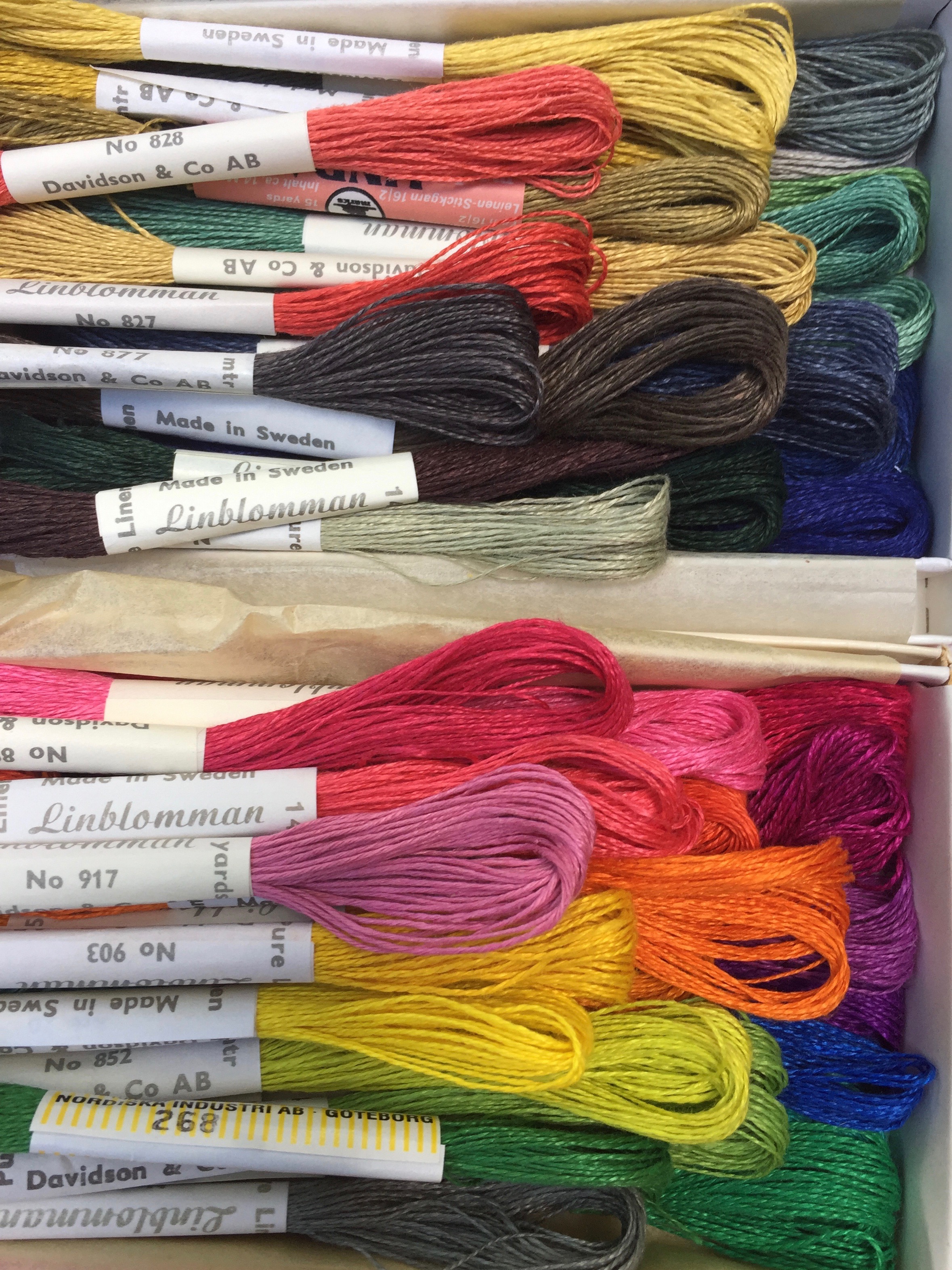 Almost too pretty to use?
I also bought a souvenir pin,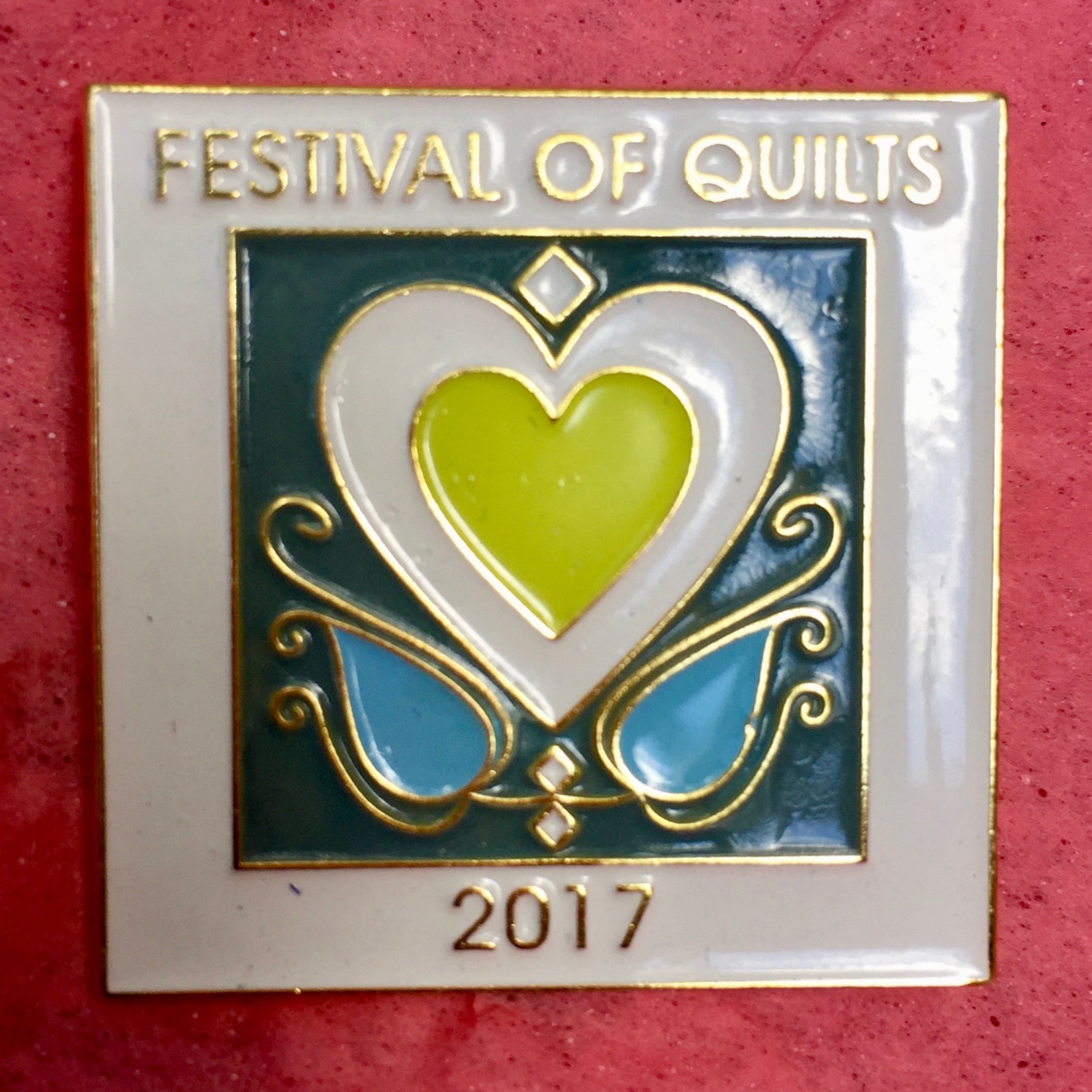 and another souvenir I will share another day when I have taken a photograph…
And that was all I bought! I still have sari silk pieces and other bits and pieces from last year so I really was that circumspect about my shopping. Maybe I'm getting more sensible in my old age?
Tomorrow I'll go out and about with some touristy pictures of our trip.