Last Monday was a beautiful day for a road trip, temperatures in the 70s and clear blue skies… I picked up my friend Sue and headed across the border into Iowa. We made a brief stop in Bettendorf where the corn was changing color and made for a wonderful photo op.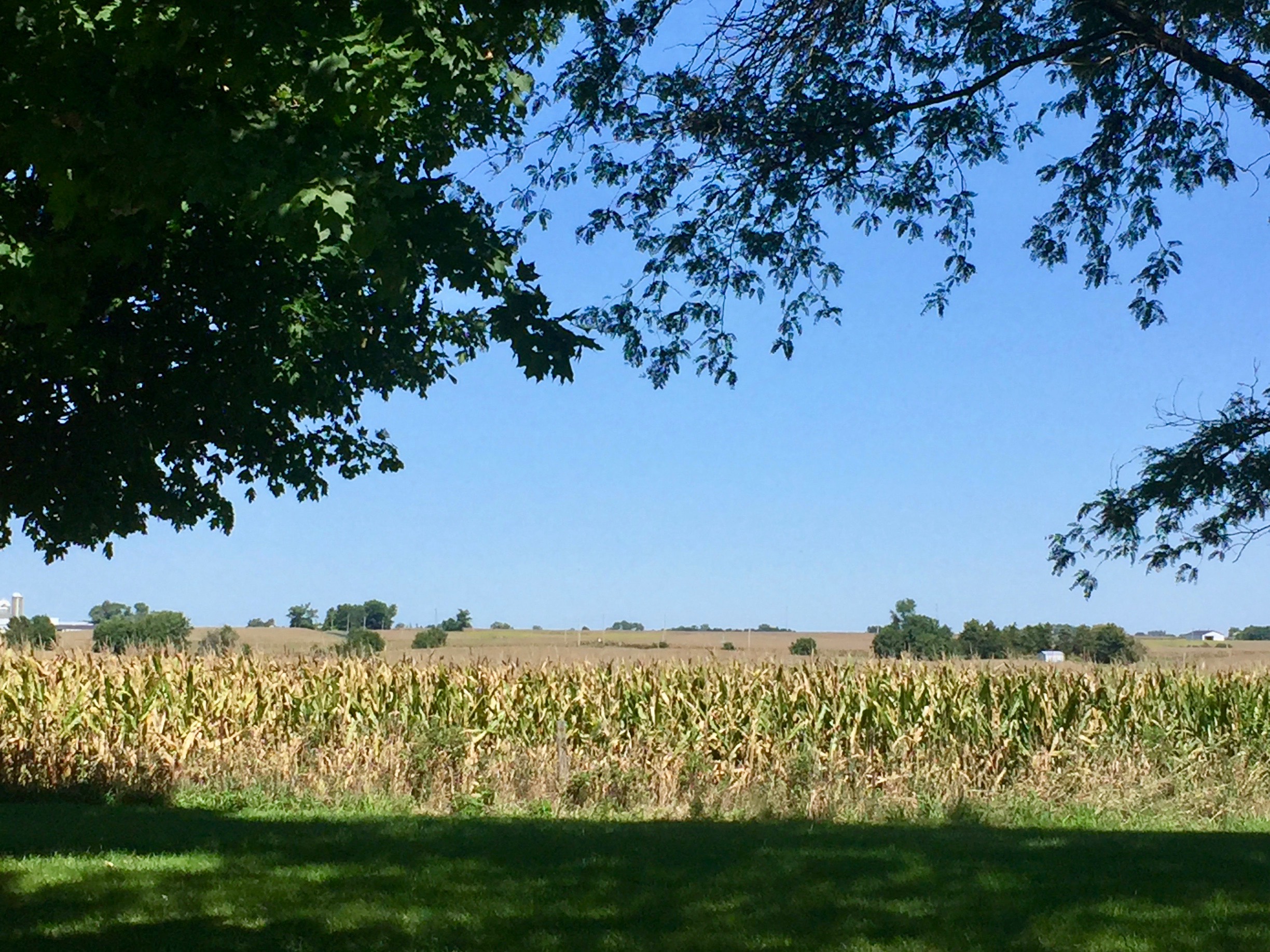 Our destination was the Old Capitol Quilters Guild in Iowa City. They are a very organized group. We met at the church and got everything set up for my presentation  and then went to check in at the hotel before dinner and the evening meeting. Having everything ready to go made for a relaxing meal.
There wasn't a whole lot of business before Show and Tell. We started with a fast paced look at the month's charity donations. No sooner were the quilts shown then they were folded up…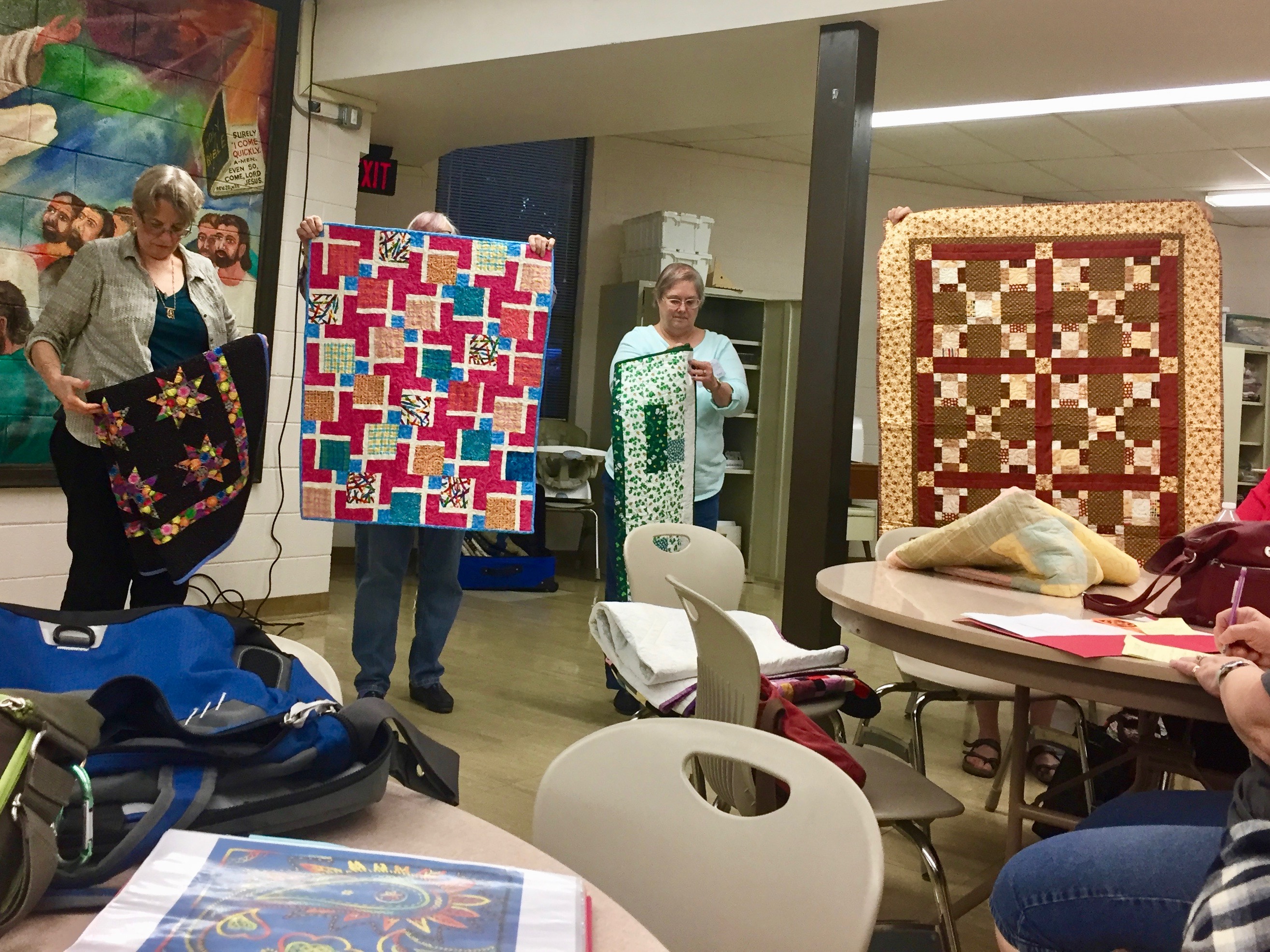 There was a big pile of quilts being given away.
The rest of the quilts were not being given for philanthropic causes but lots of them were going to be given away!
This bright log cabin/wild animal combination was made for a child.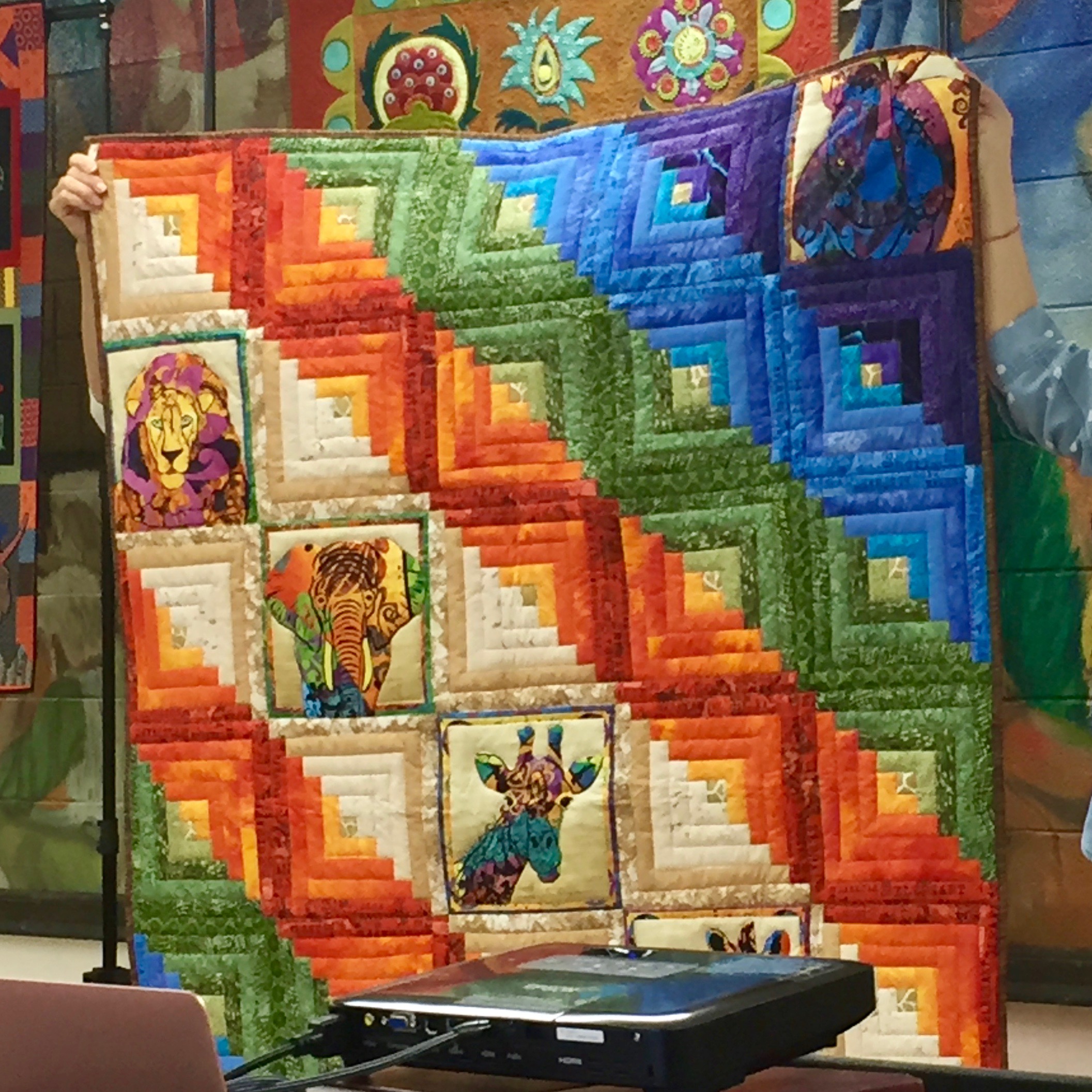 I had seen the next quilt in my instagram feed. It's always fun to actually meet someone you are following…
Described as a scrap buster from Jill of pieladyquilts, I do like the small overall grid used for the quilting.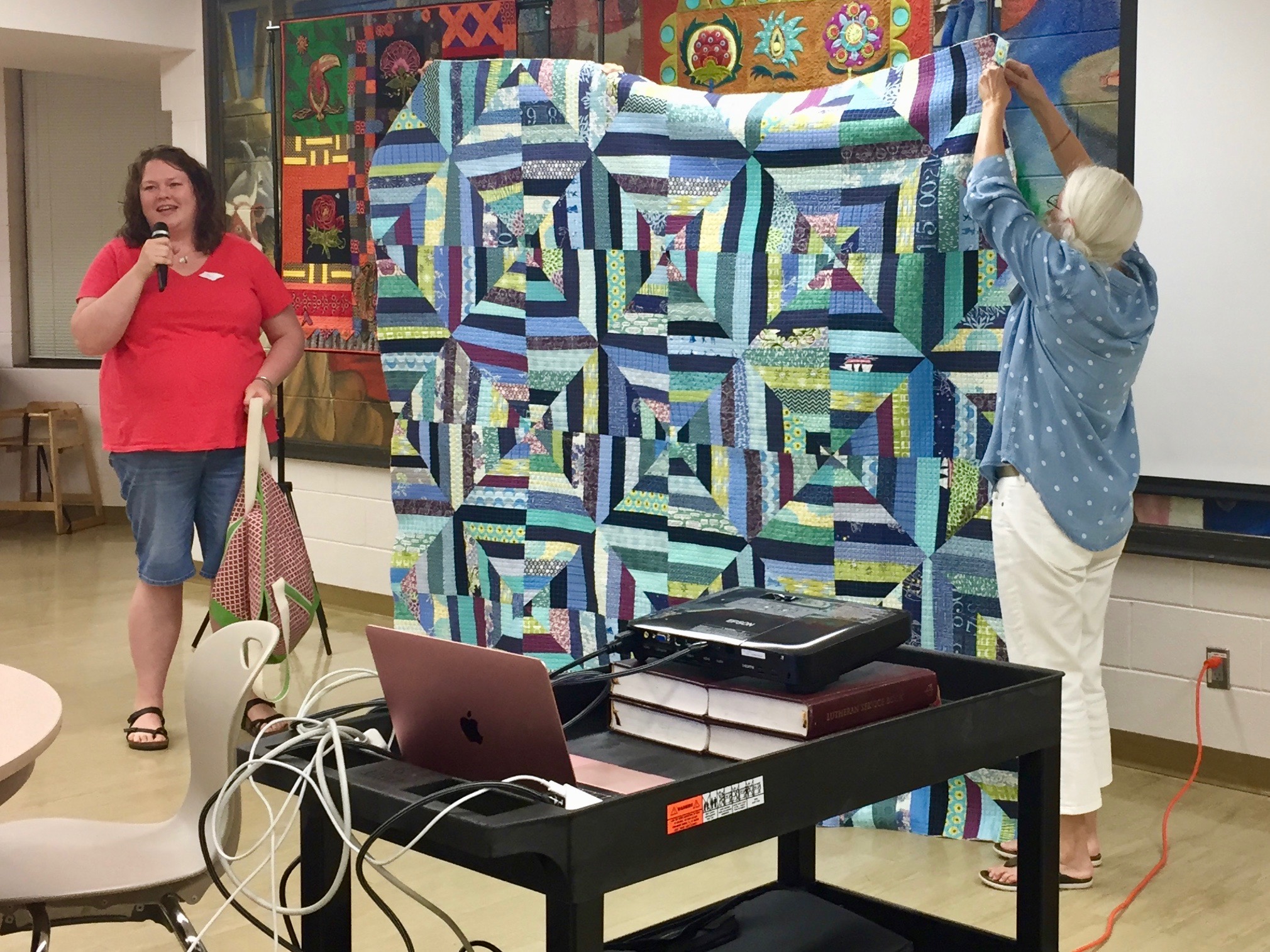 I don't know much about this next quilt but I liked it!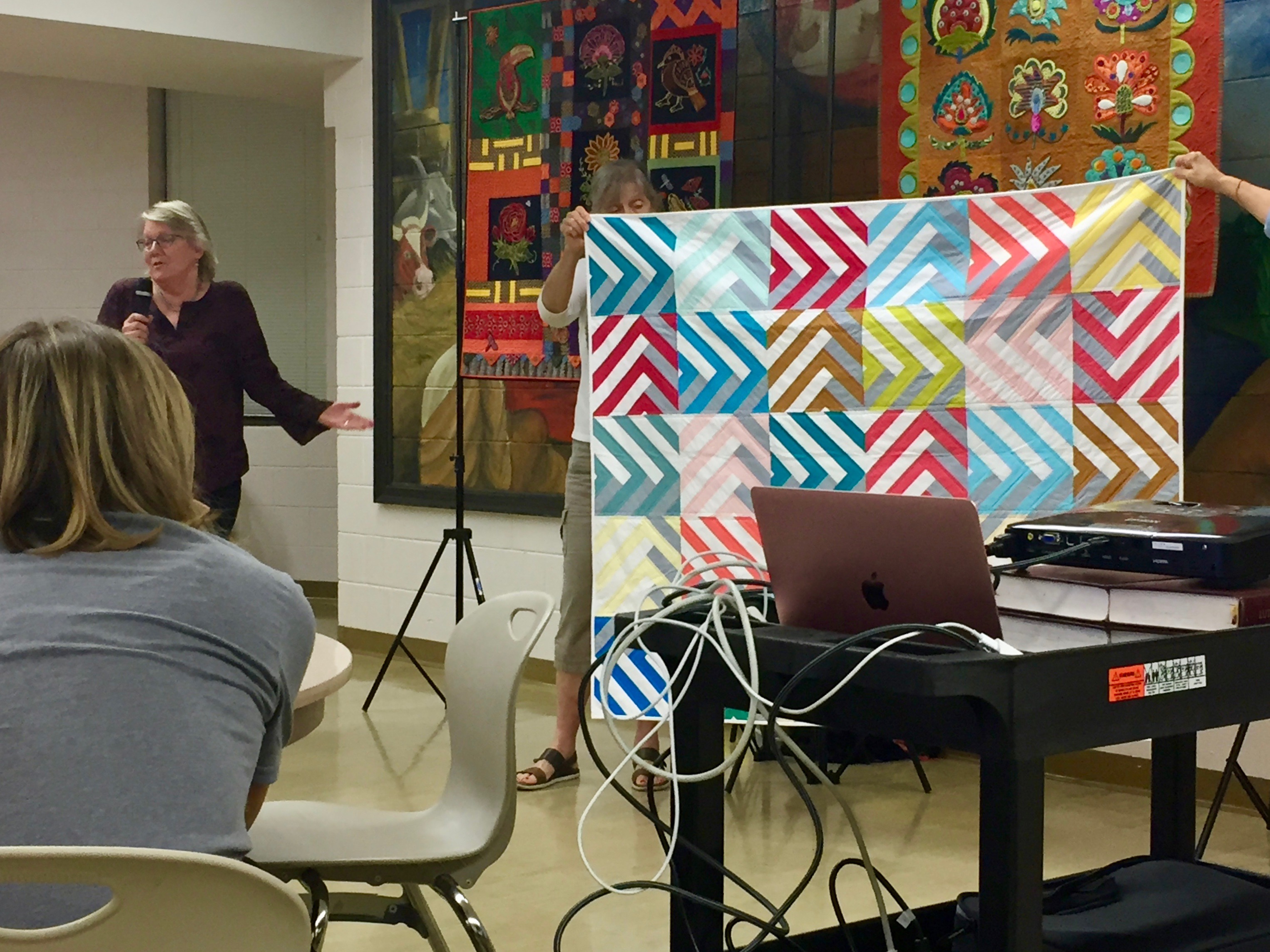 This one was made for the owner's bed. It doesn't matter where I sit I never seem to be in the right place to get full length pictures. (you get a great view of my new projector in this shot…)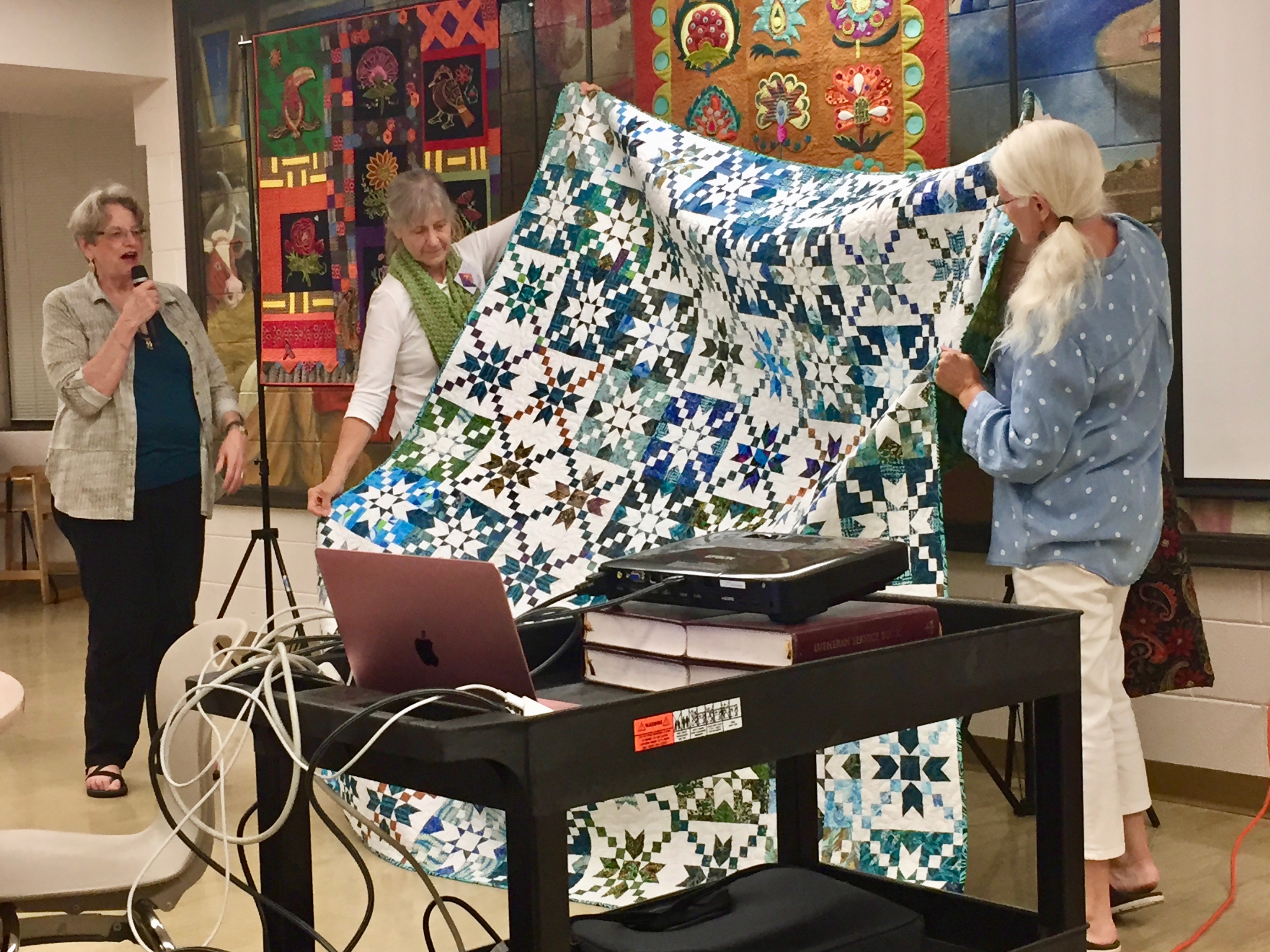 This table runner was started in a class. Fabulous points and curved piecing.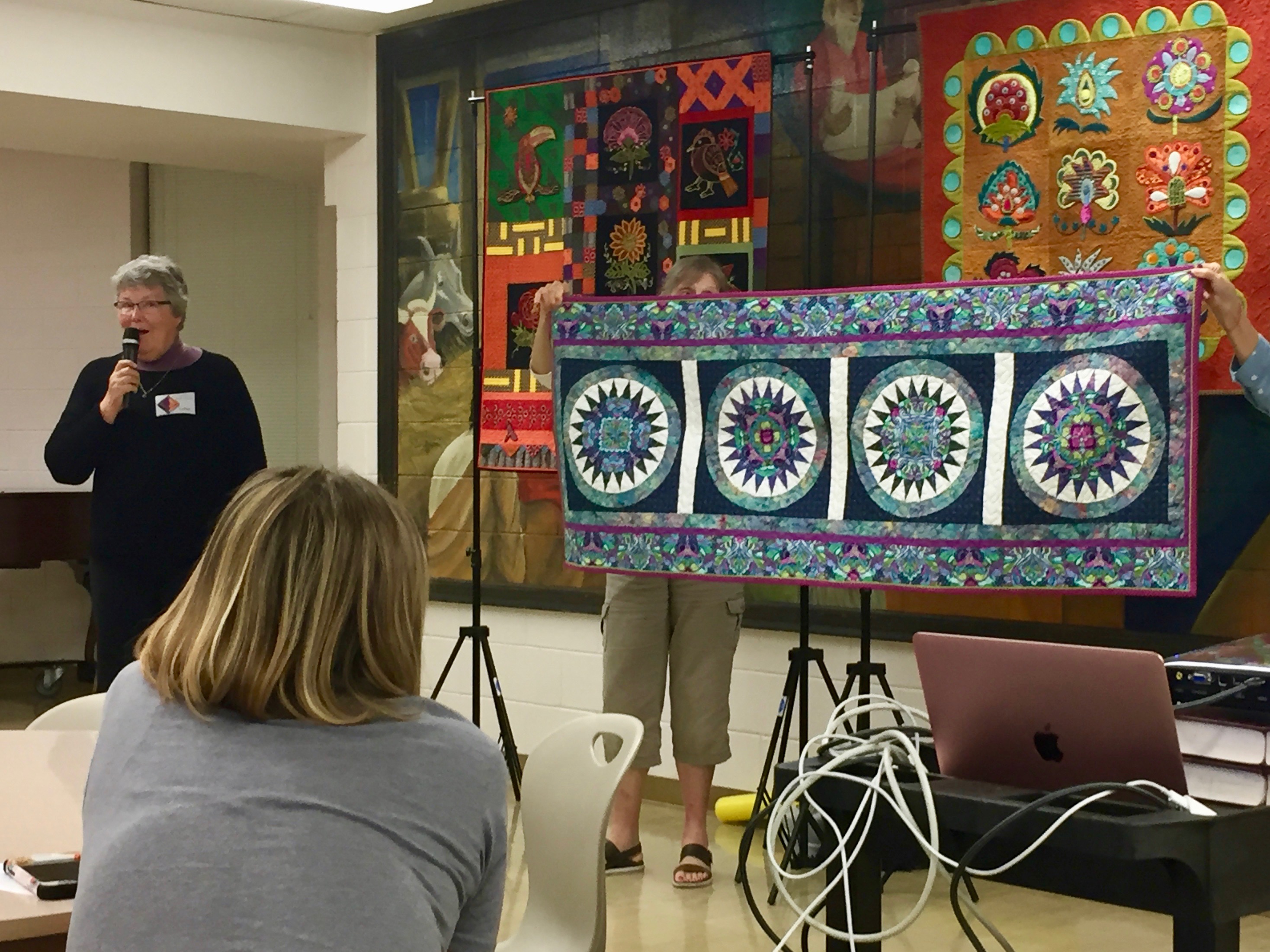 One of the small groups challenged themselves to use the same pattern and came up with these quilts.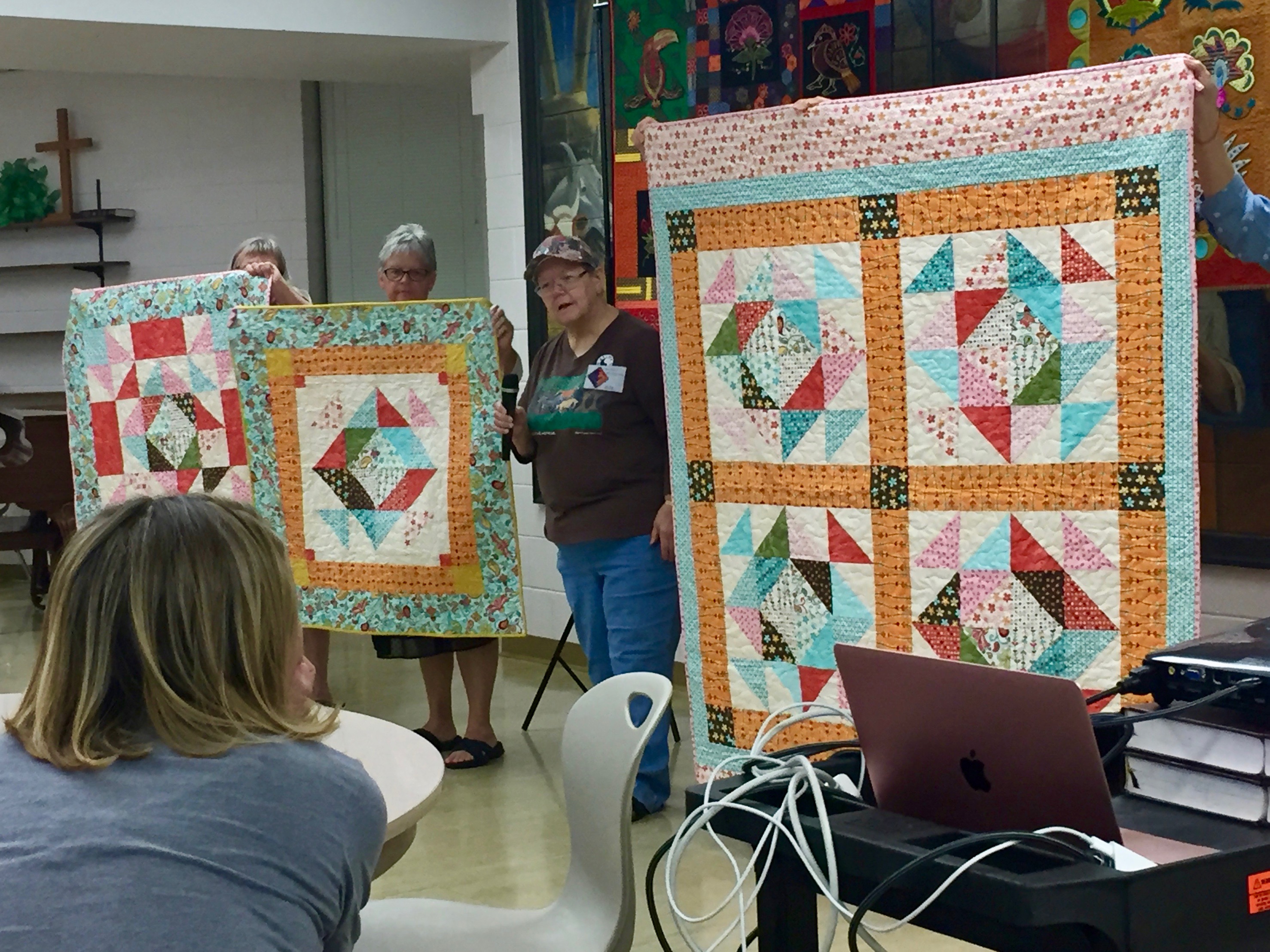 A very productive group.
Kristin gave me a short introduction and it was my turn.
Looking right…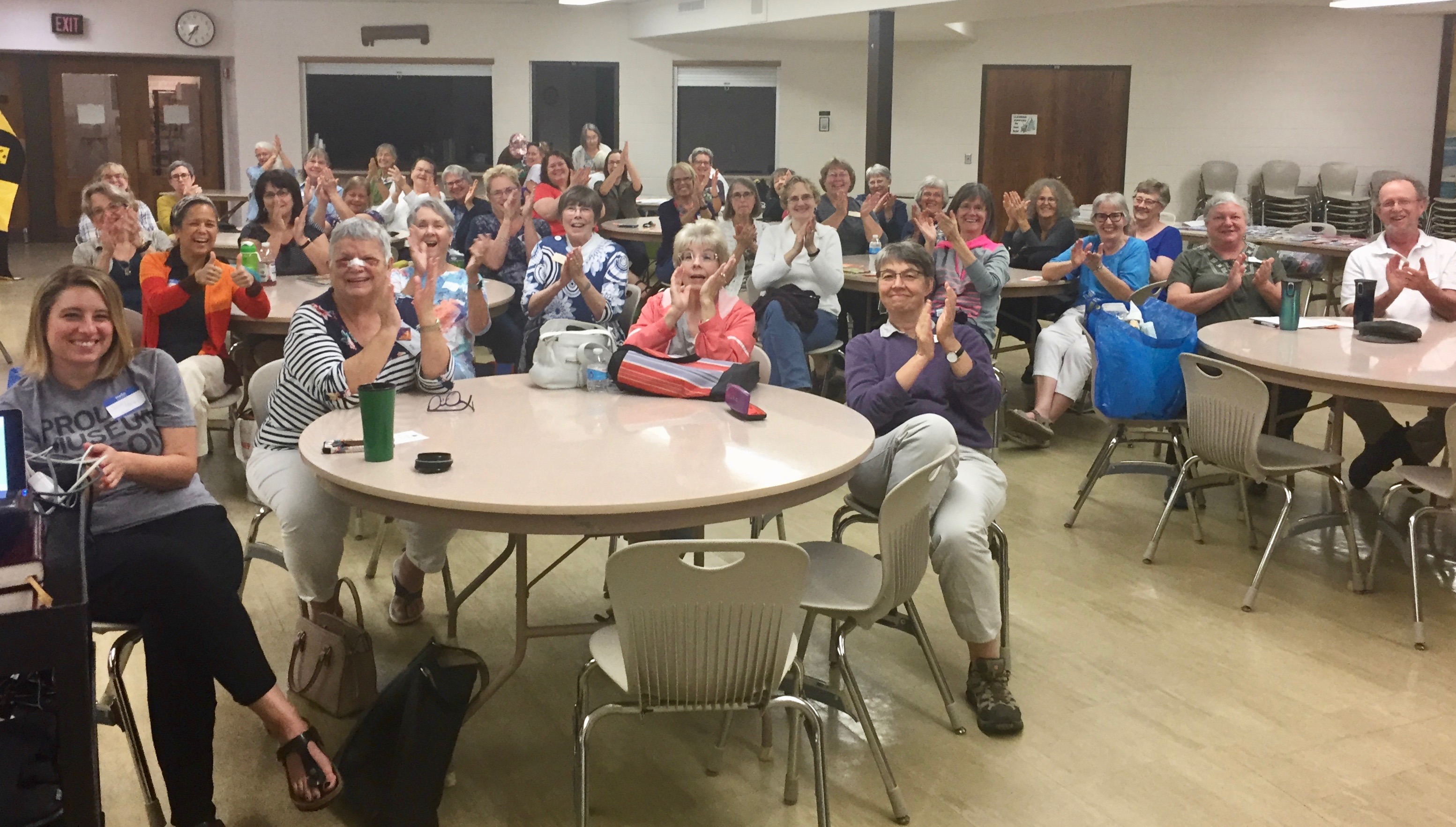 and then left.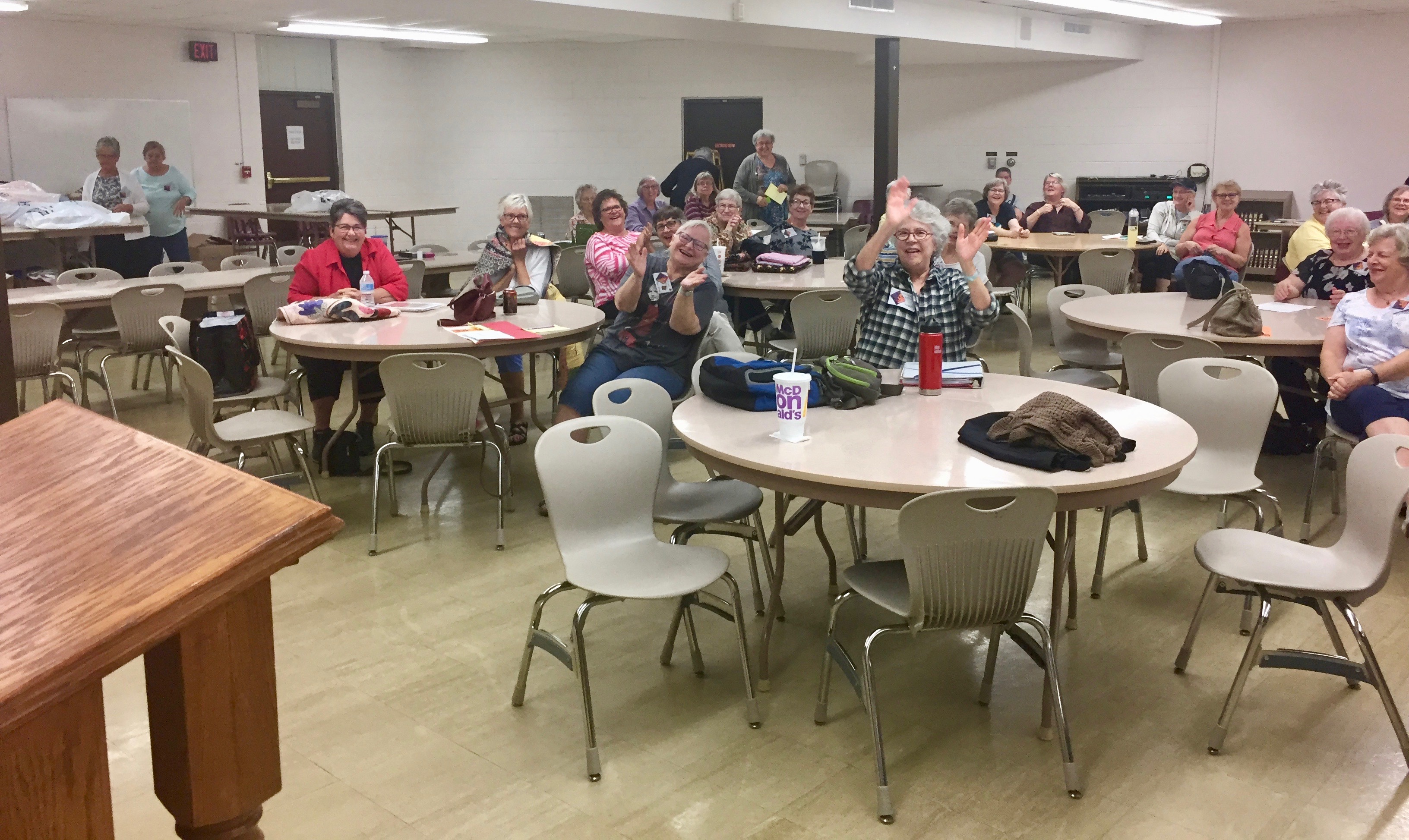 I bought a new projector that is smaller and brighter than the last one. It worked well and we had all learned a few lessons from my quilting journey before the end of the evening.
Tuesday's workshop was in the same room so I could leave everything in place for the morning. I was back early and we started promptly at 9. It was a busy day. We began with basic embroidery stitches and embellishment, before lunch at HiVee! In the afternoon we changed pace for some bold hand stitching as our quilting line.
I managed to take a few pictures of the very full class of happy stitchers during one of the demos.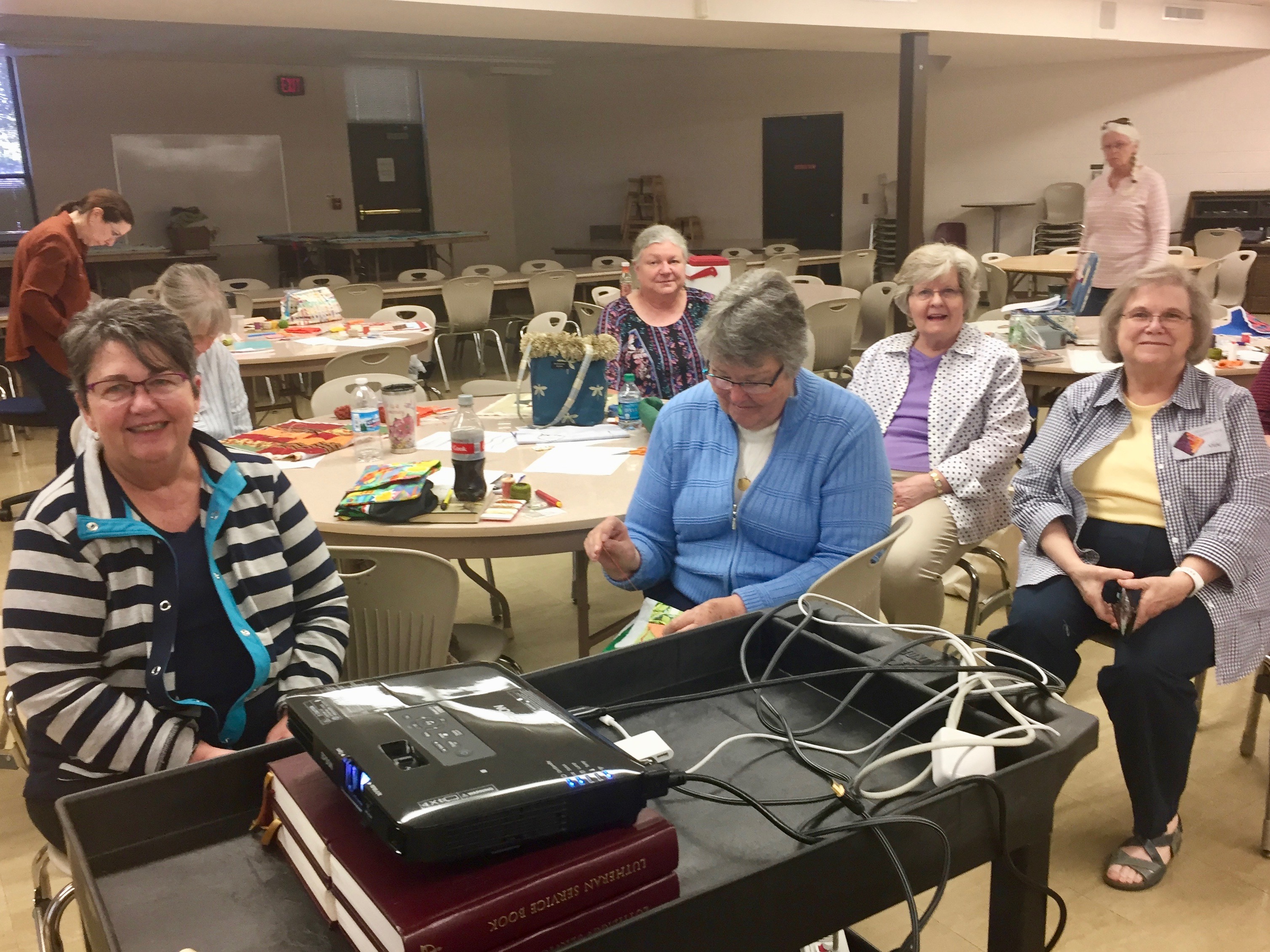 I like to have people come to the front even though I use the projector for a close up view. Most people follow instructions 🙂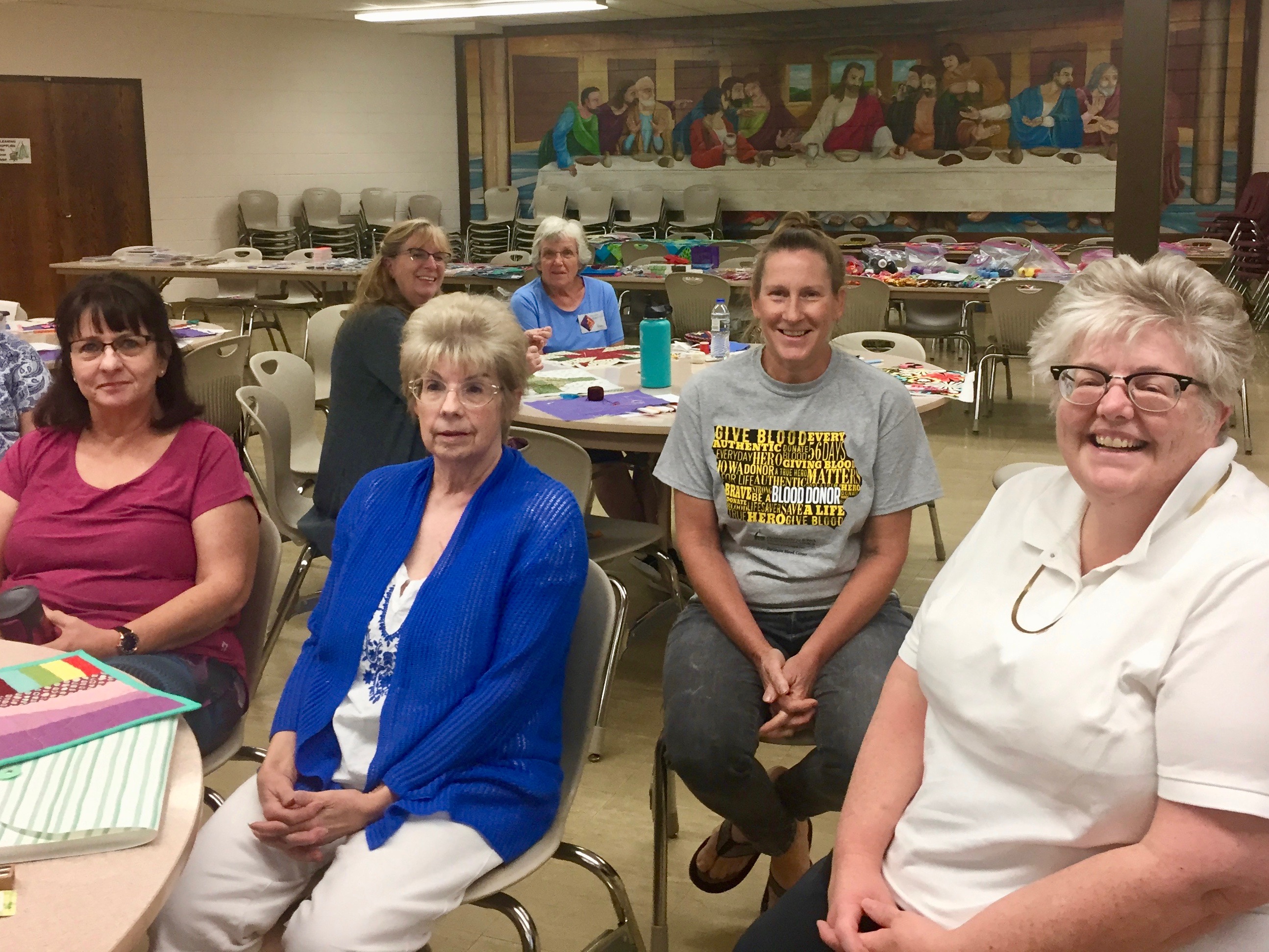 Everyone worked hard. I hope they slept as well as I did on Tuesday evening.
We had the whole day to drive home on Wednesday so we decided to make a side trip to Mount Vernon, about 20 miles north and west a bit from Iowa City.
It was a whole lot warmer than I had expected. I'm not sure why I didn't believe the Weather Channel app on  my phone?
The old high school has been converted into the First Street Community Center.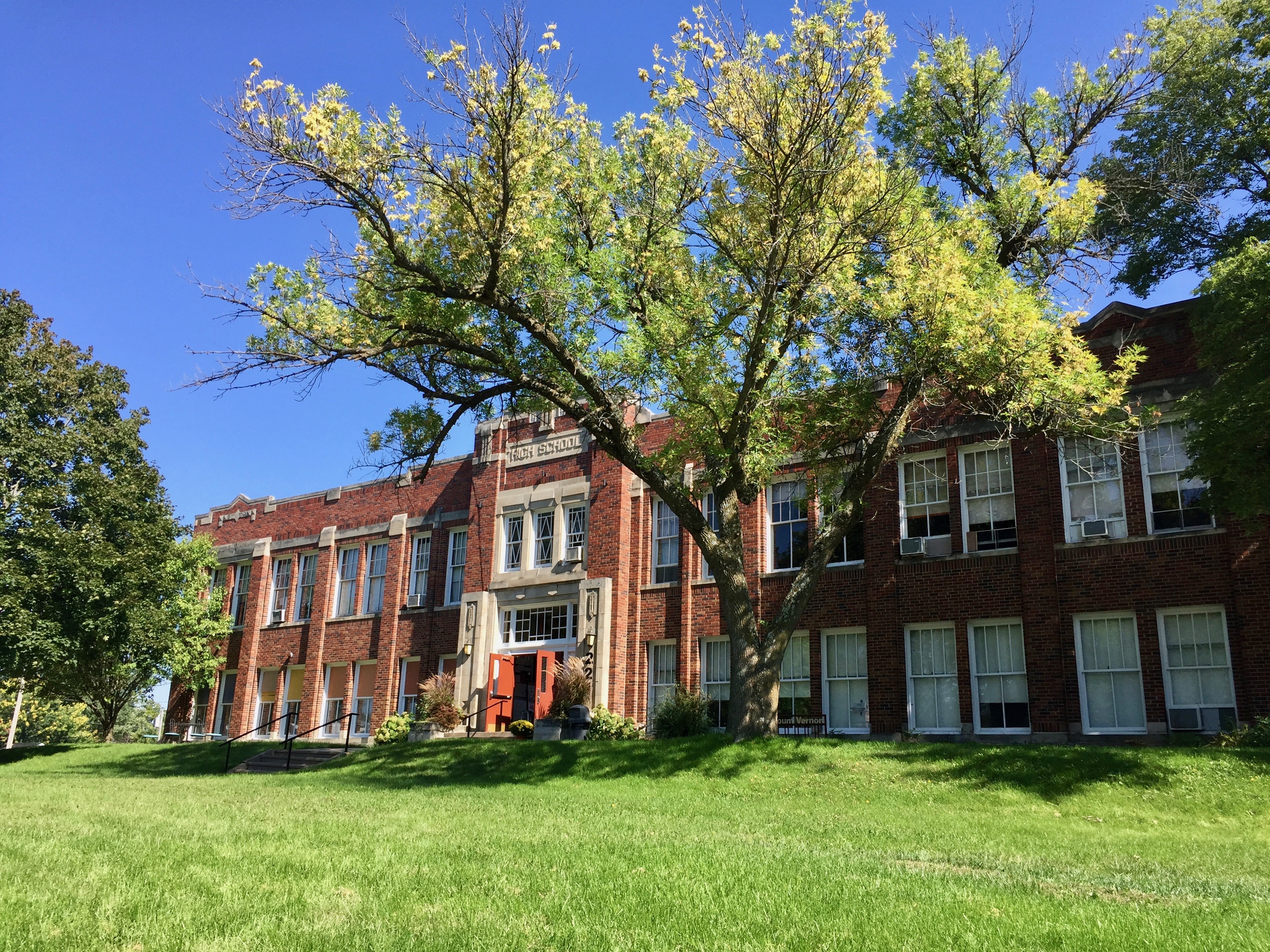 There are lots of little shops and businesses inside including Helios Stitches N Stuff.
Sale fabric was displayed outside in the hallway.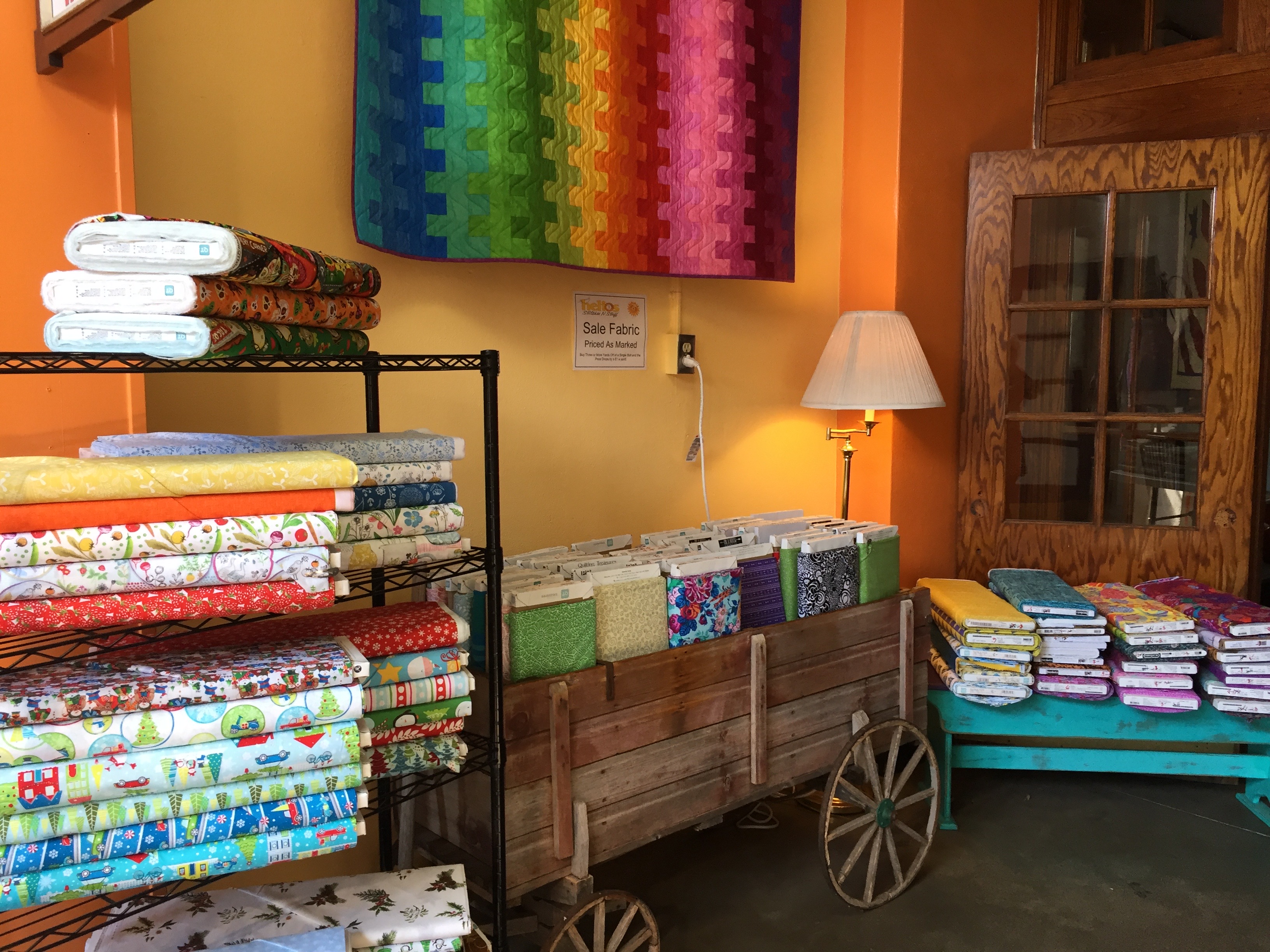 Time to look inside.
Lots of bright and cheerful bolts and panels.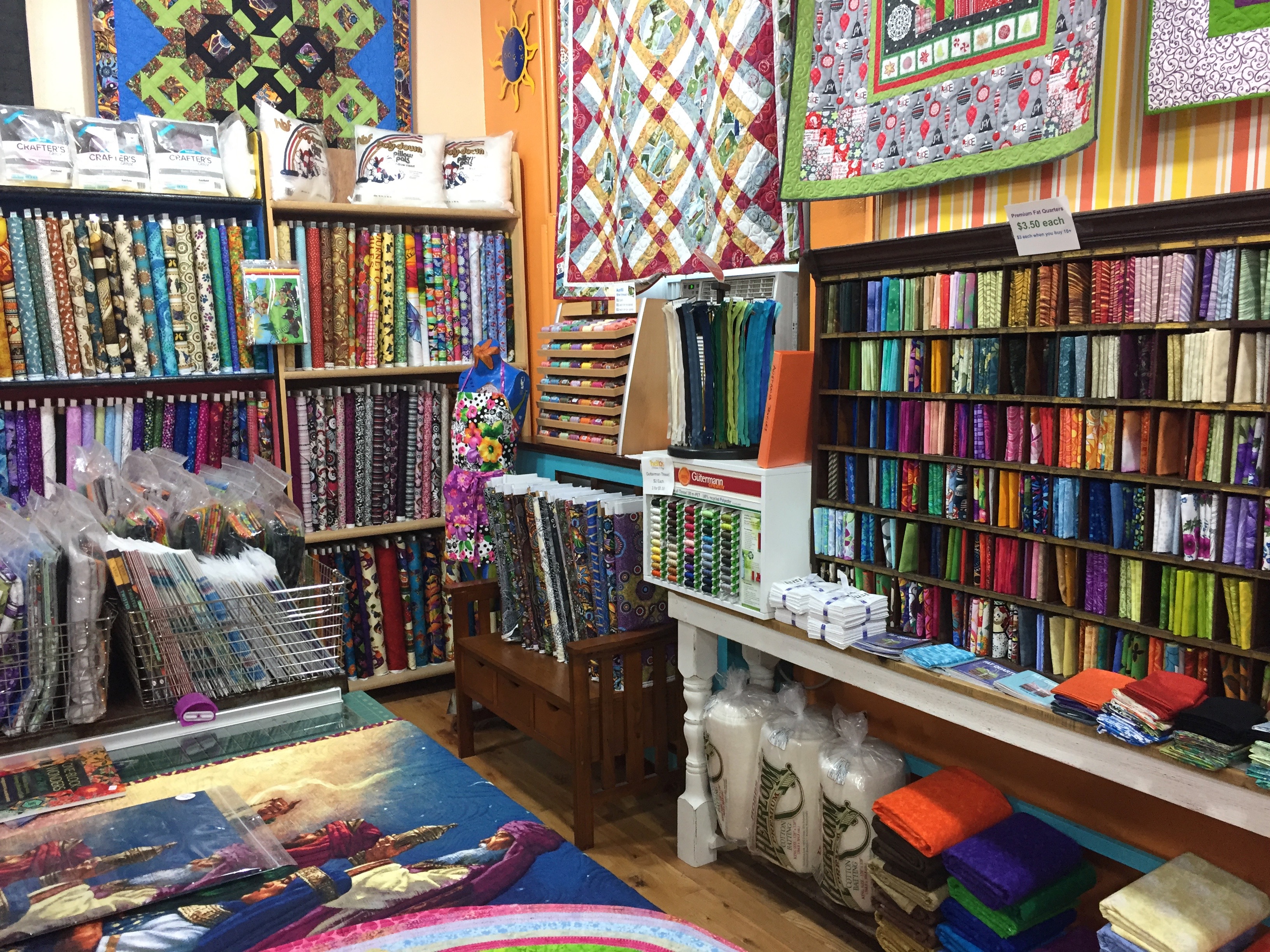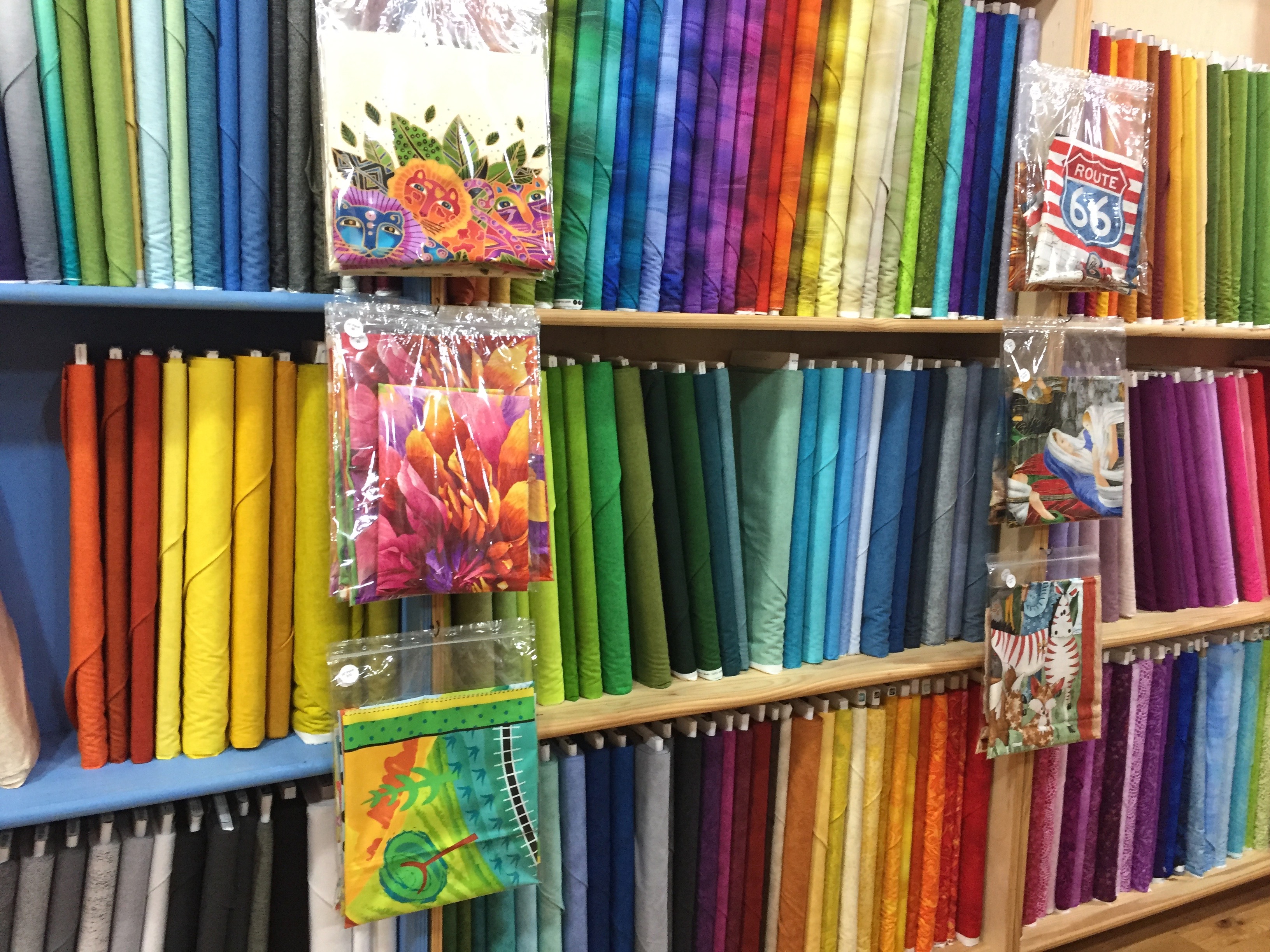 I bought 3 yards from the sale corner… a Kaffe Fasset large print that will be a backing in the future, a piece of an Australian design and a small panel…
Someone familiar walked into the shop while I was having my purchases measured. Deb Wykert from Muscatine (I was there in 2015) needed fabric and she had a quilt top to share.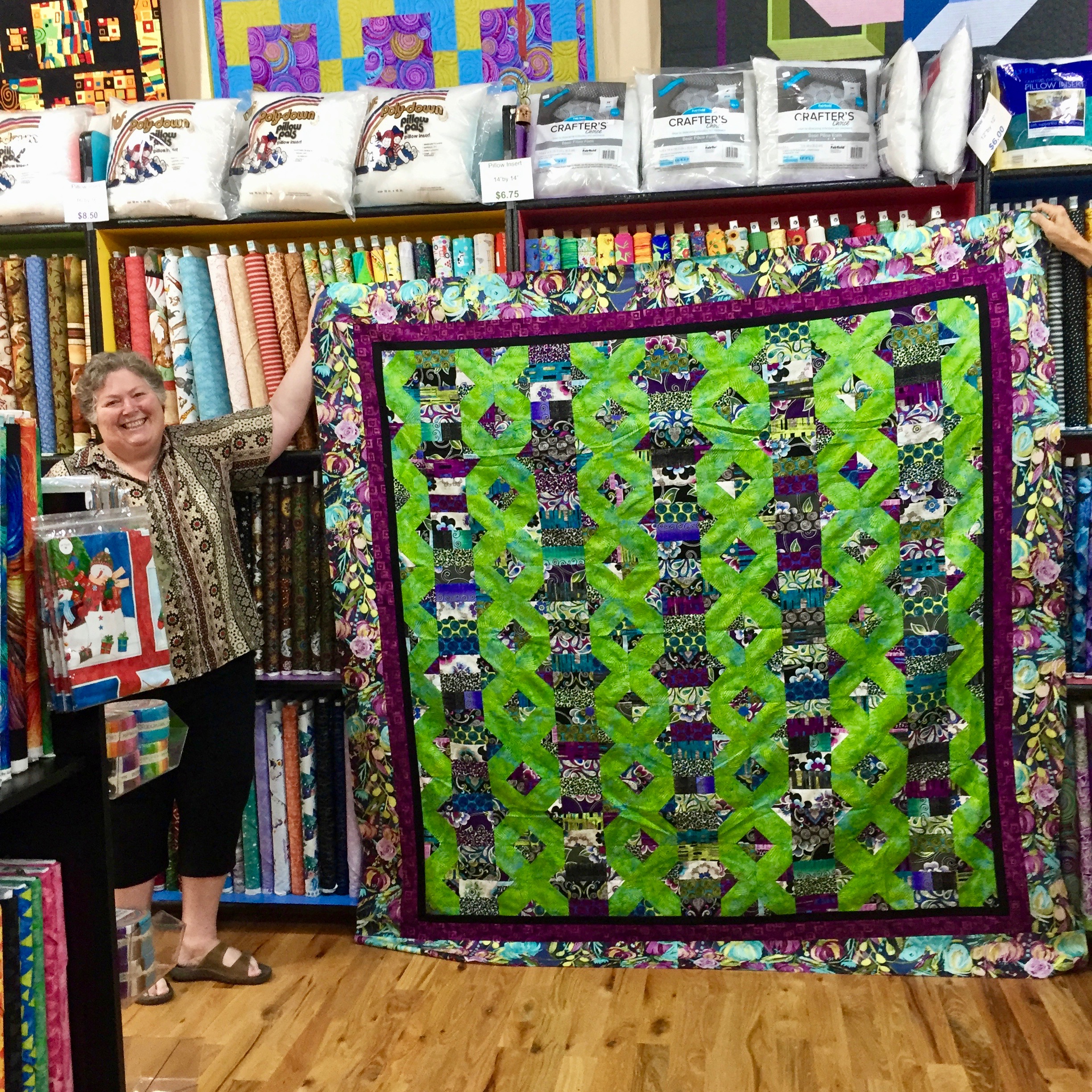 Deb had passed my name on to the quilters in Iowa City so it was great to catch up and thank her for her kind words. Nearly all my bookings come through referrals. (Do any of you know anyone in Hawaii or Alaska?)
It was late by the time I finally arrived home on Wednesday. We might have visited a few more stores in Mount Vernon and enjoyed a good lunch at the Palisades Cafe… and maybe I visited the stores at Geneva Commons after I dropped Sue home?
I unpacked my bags before the weekend. I'll be teaching multiple handwork classes at Houston in November but all my classes before then are machine quilting ones so I tried to put everything neat and tidy(ish) to make it a bit easier next time I am filling my bags.
Ruby was seven on Friday so we went to see her on Saturday. She seemed happy with her Wonder Woman activity book…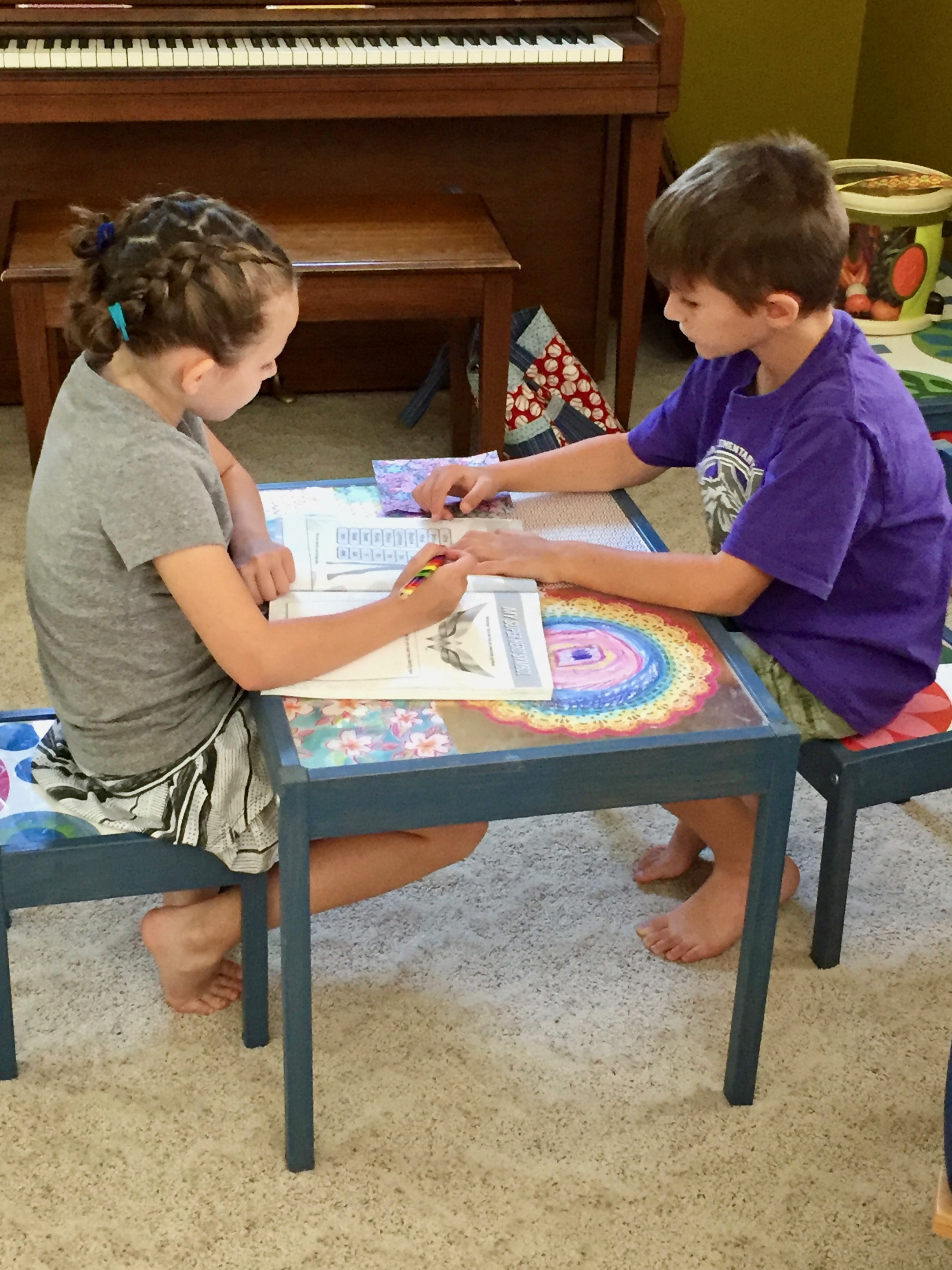 Joanne came down with Emily who is now six months old.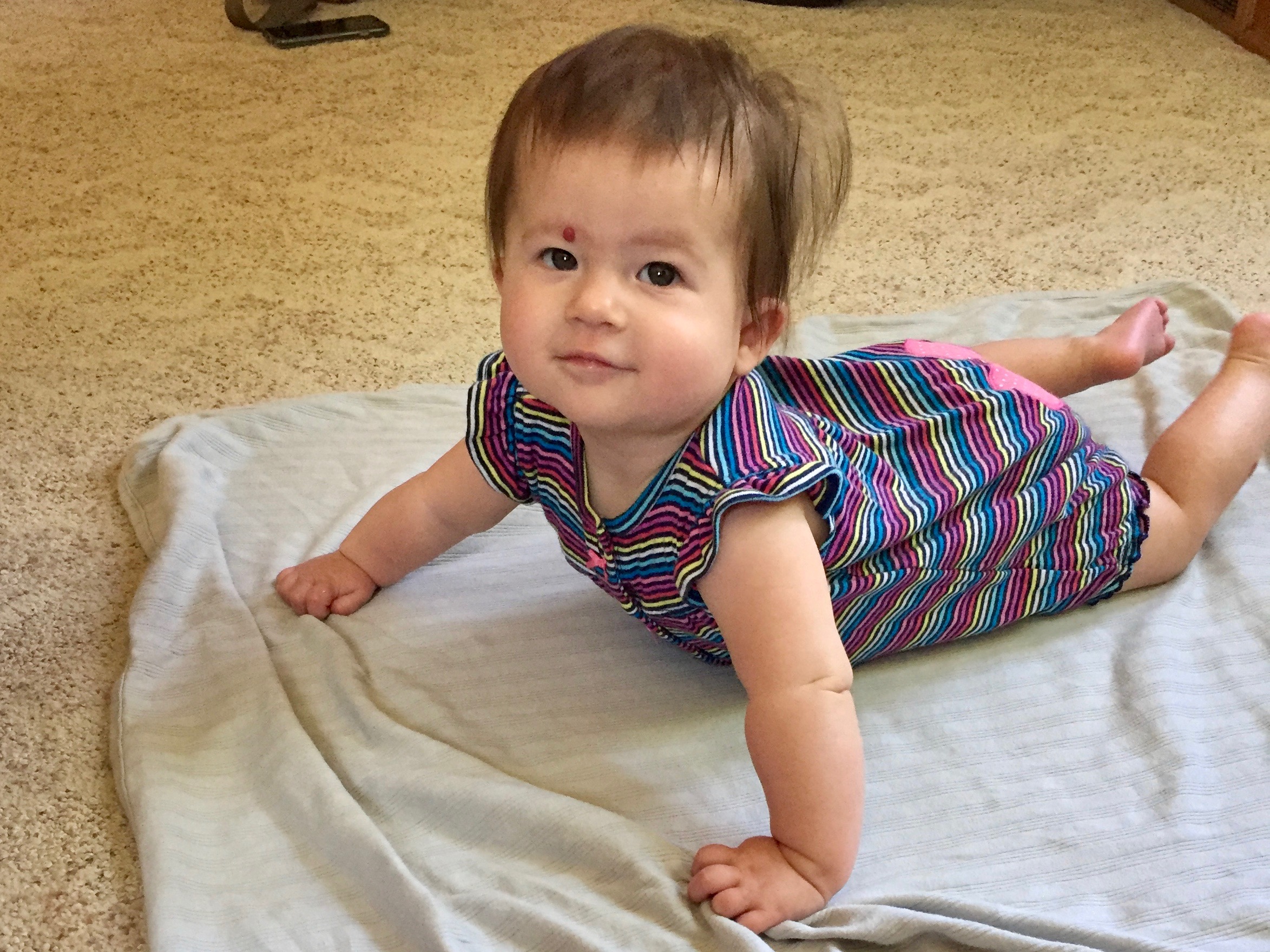 And now it's Monday again. I have two weeks before my next trip when I will be flying to Michigan. I have a long list of things to get done. I'd better get to them?
Happy Monday everyone!