When I book an 8.30 morning flight it doesn't seem very early but as the day approaches and I work out what time we need to leave the house and then I realize that means setting the alarm for 5.15 a.m. it sounds very early to me!
But we did it! Steve backed out of the garage at 6.02 and dropped me off at Midway with lots of time to spare… you just never know what the traffic will be like and I don't want to be running through the terminal…
The plane landed in rain in Oakland but Fran was there to pick me and my luggage up and off we set. We took the bags to my hotel and went off to look for some lunch. There just happened to be a quilt shop across from the restaurant, New Pieces.
The store has been open over 30 years but the stock was fresh and lovely. There were bright novelty fabrics,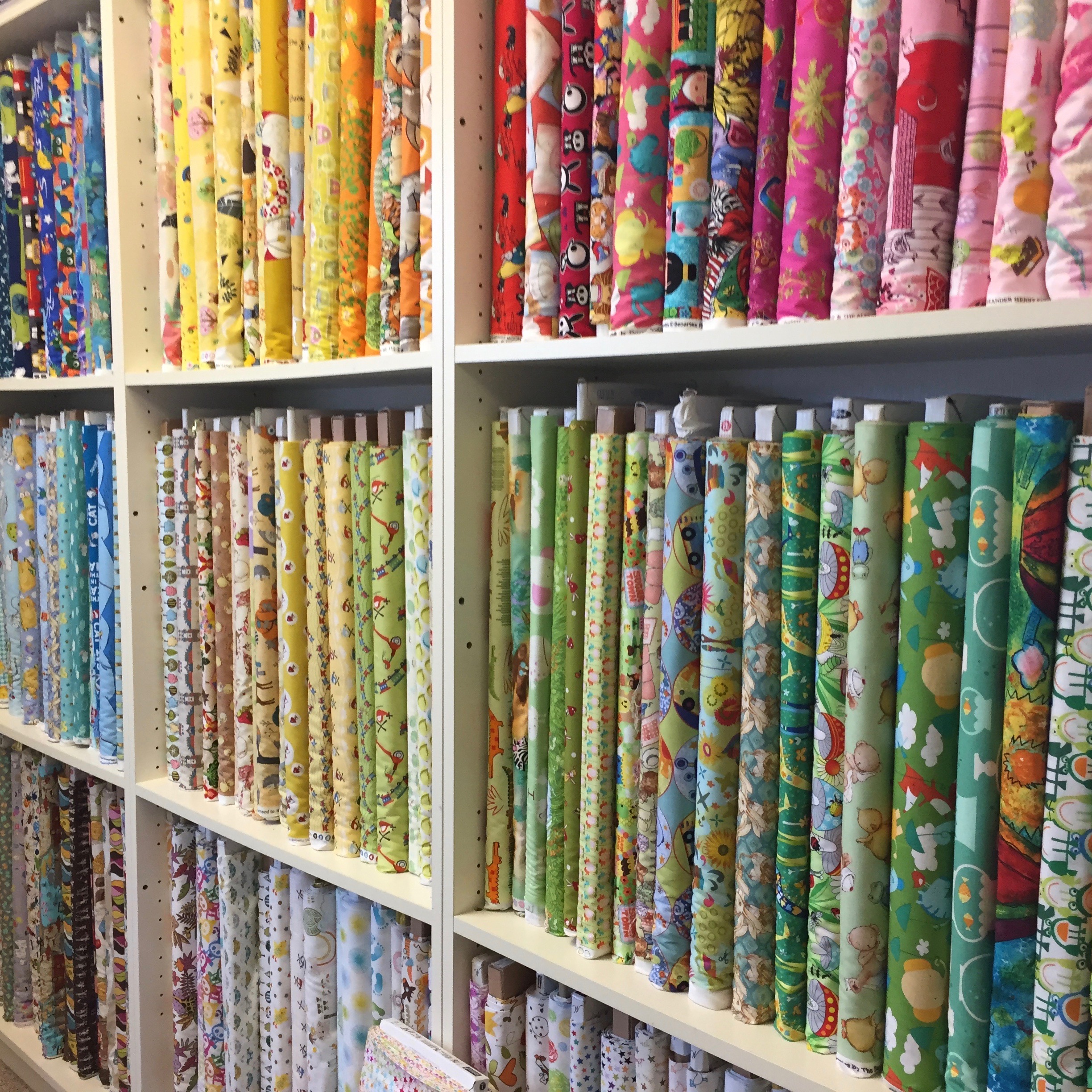 a great selection of black and whites,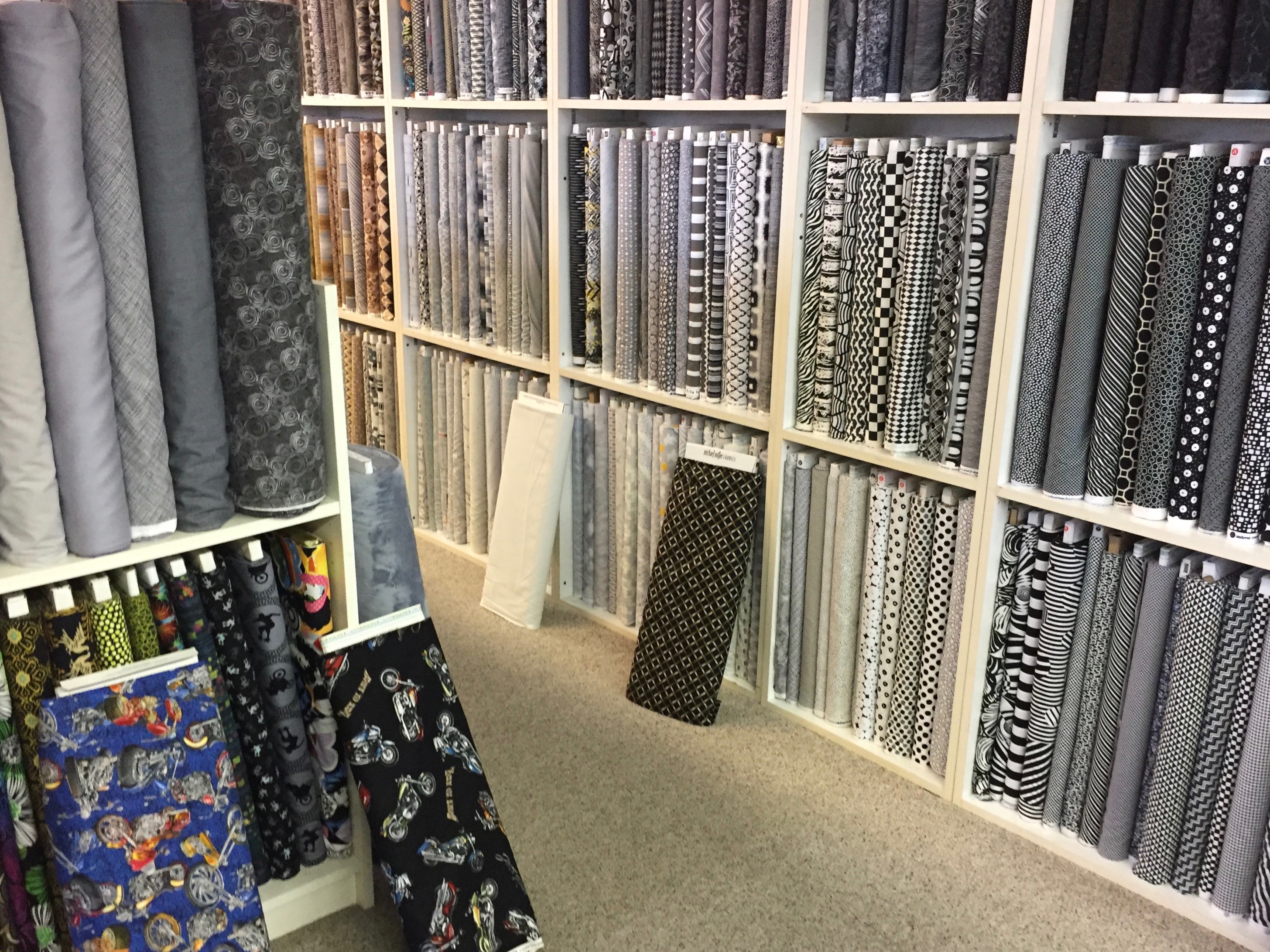 and all sorts of colors, Asian prints, indigos,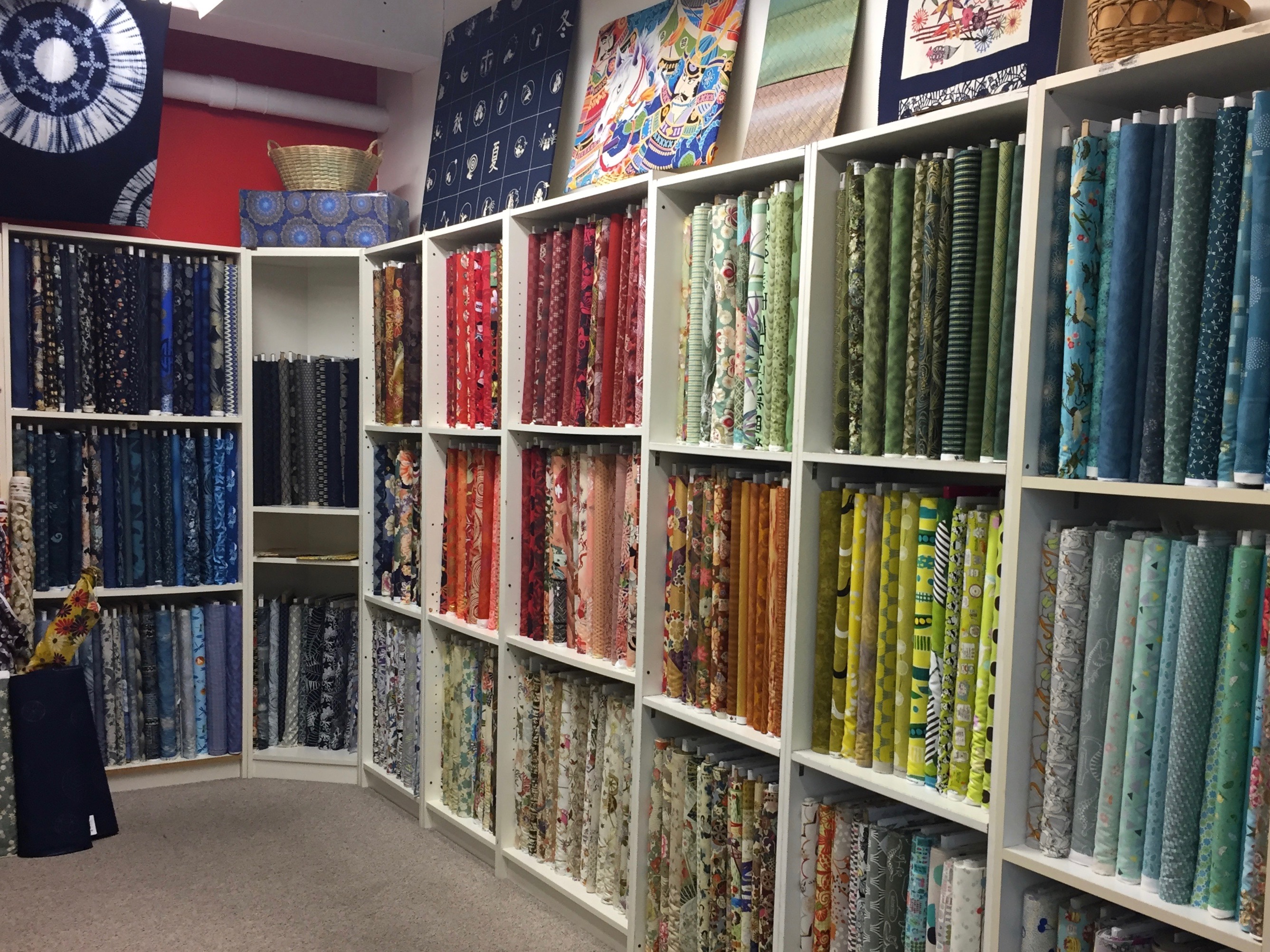 as well as a wall of batiks, a big selection of books, notions… lots of everything you might possibly want or need!
I bought a piece of California themed fabric as a souvenir. I was feeling a bit tired, time for a nap before dinner?
I needed to be on good form ready for my first class on Saturday morning. Eight a.m. PST isn't too bad and I was downstairs all ready to be picked up a few minutes early. That meant I had time to take some pictures of the flowers around the hotel after Fridays's rain.
Beautiful cyclamen,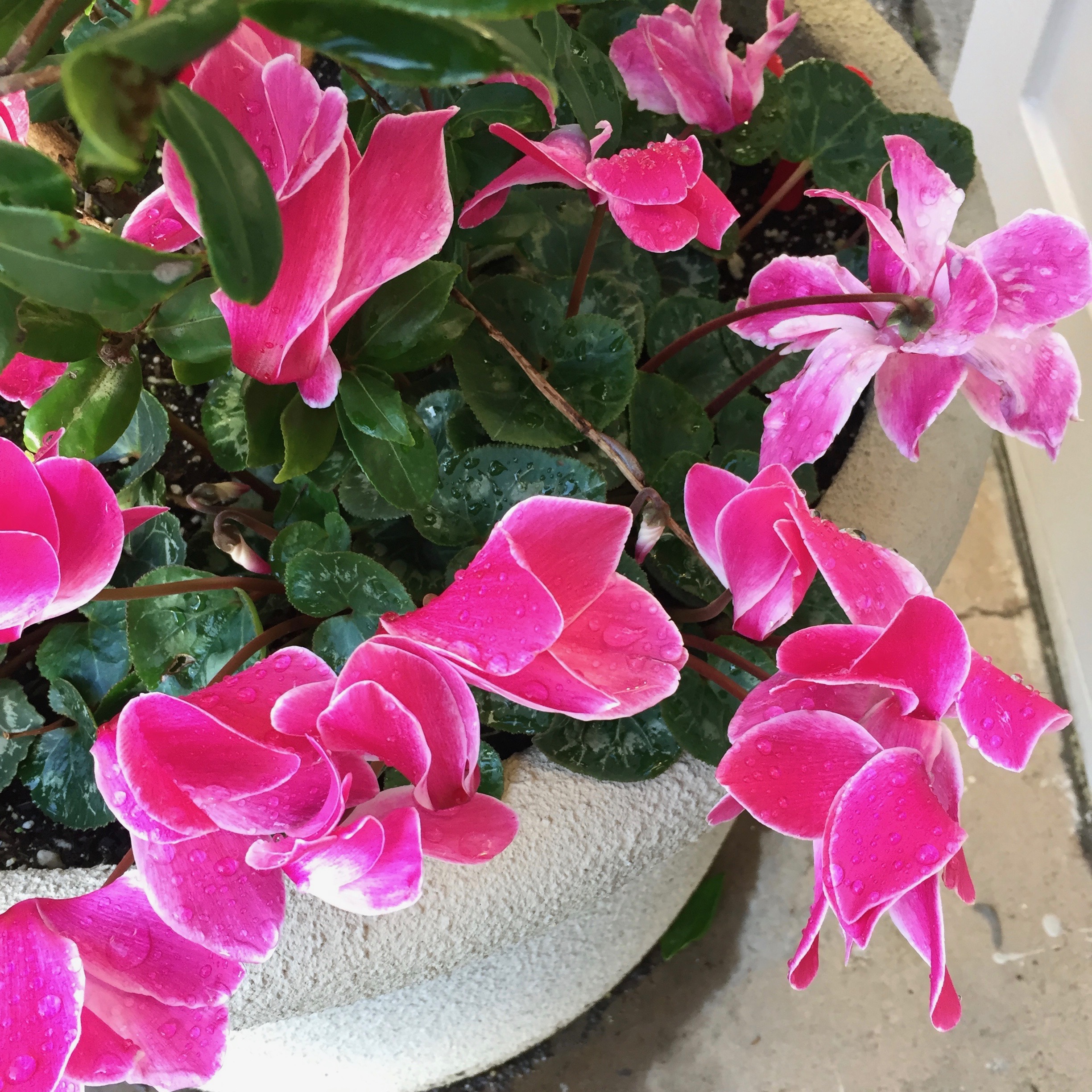 Tropical bird of paradise,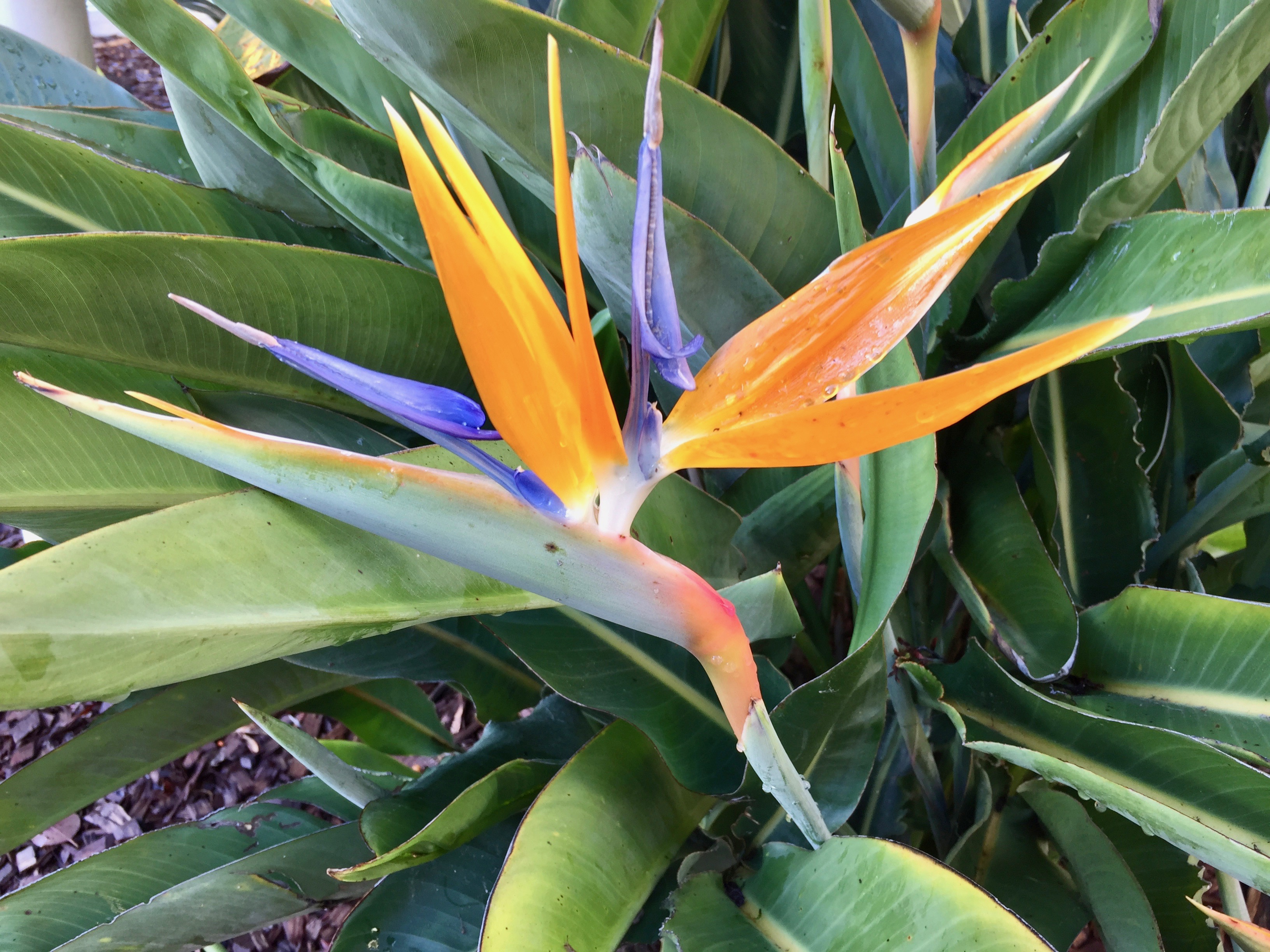 and pretty allium blooms.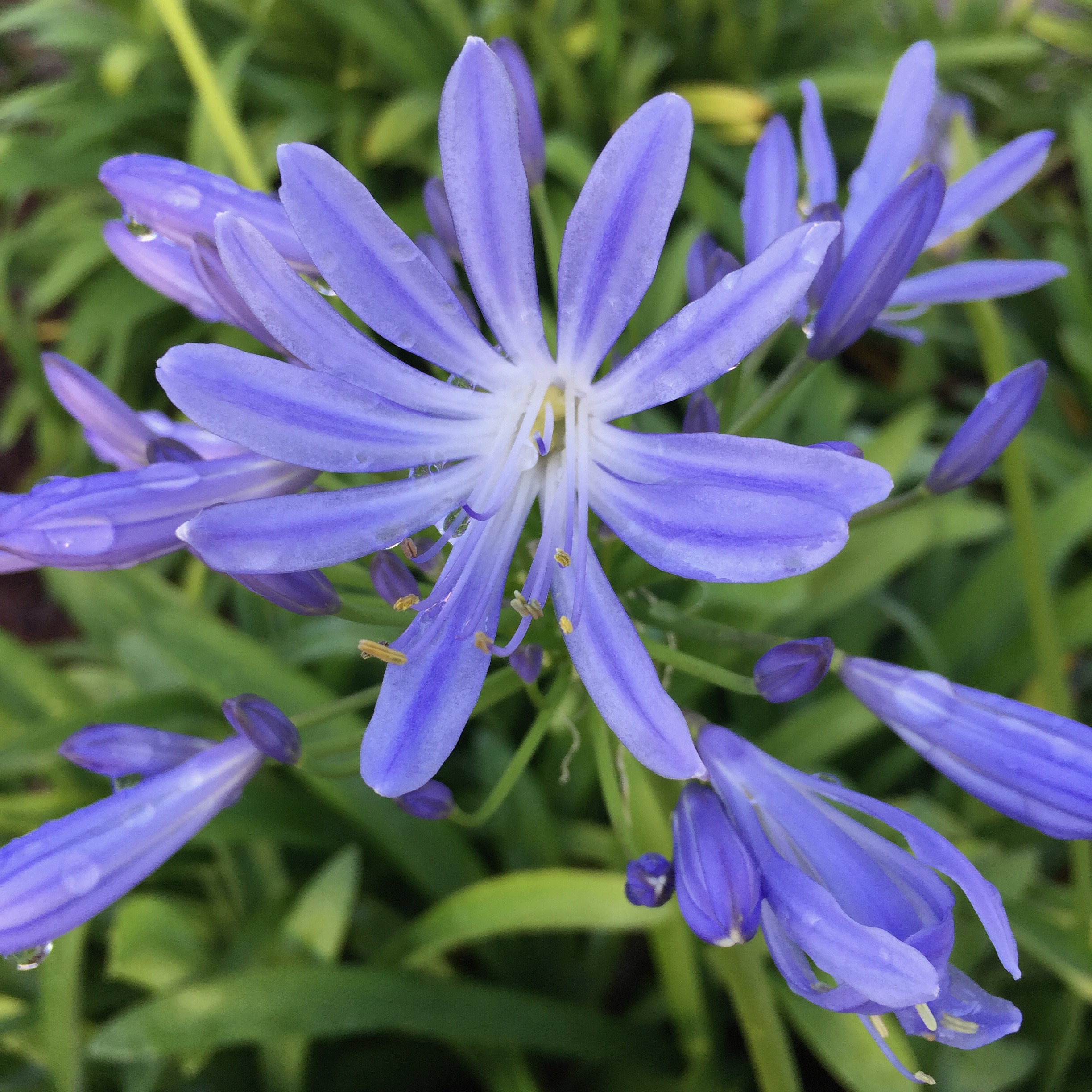 Still time to get a picture across the bay…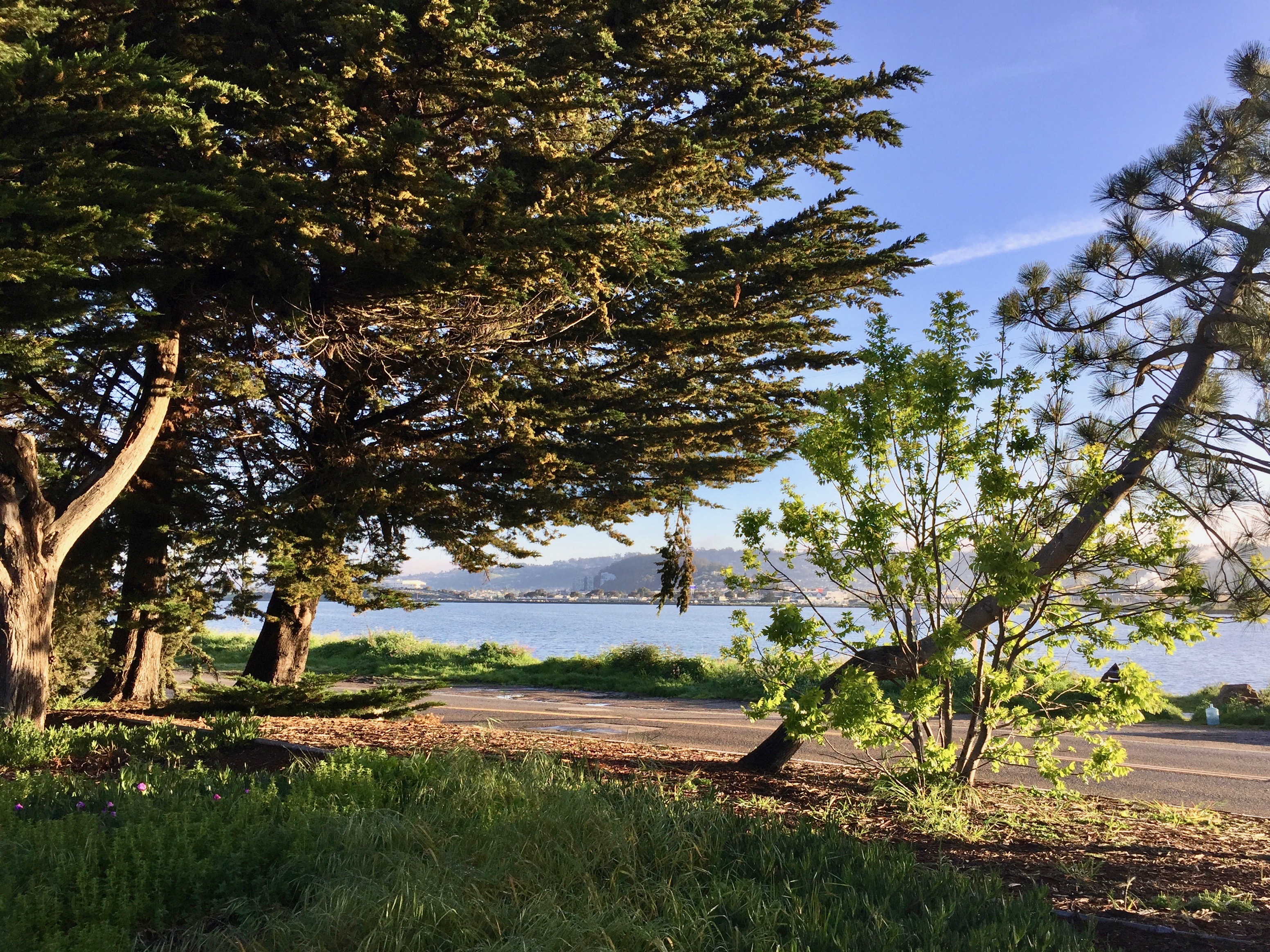 What a great start to the day!
Off to our workshop space and the members of the East Bay Heritage Quilters Guild who were getting set up for our Modern Machine Quilting class.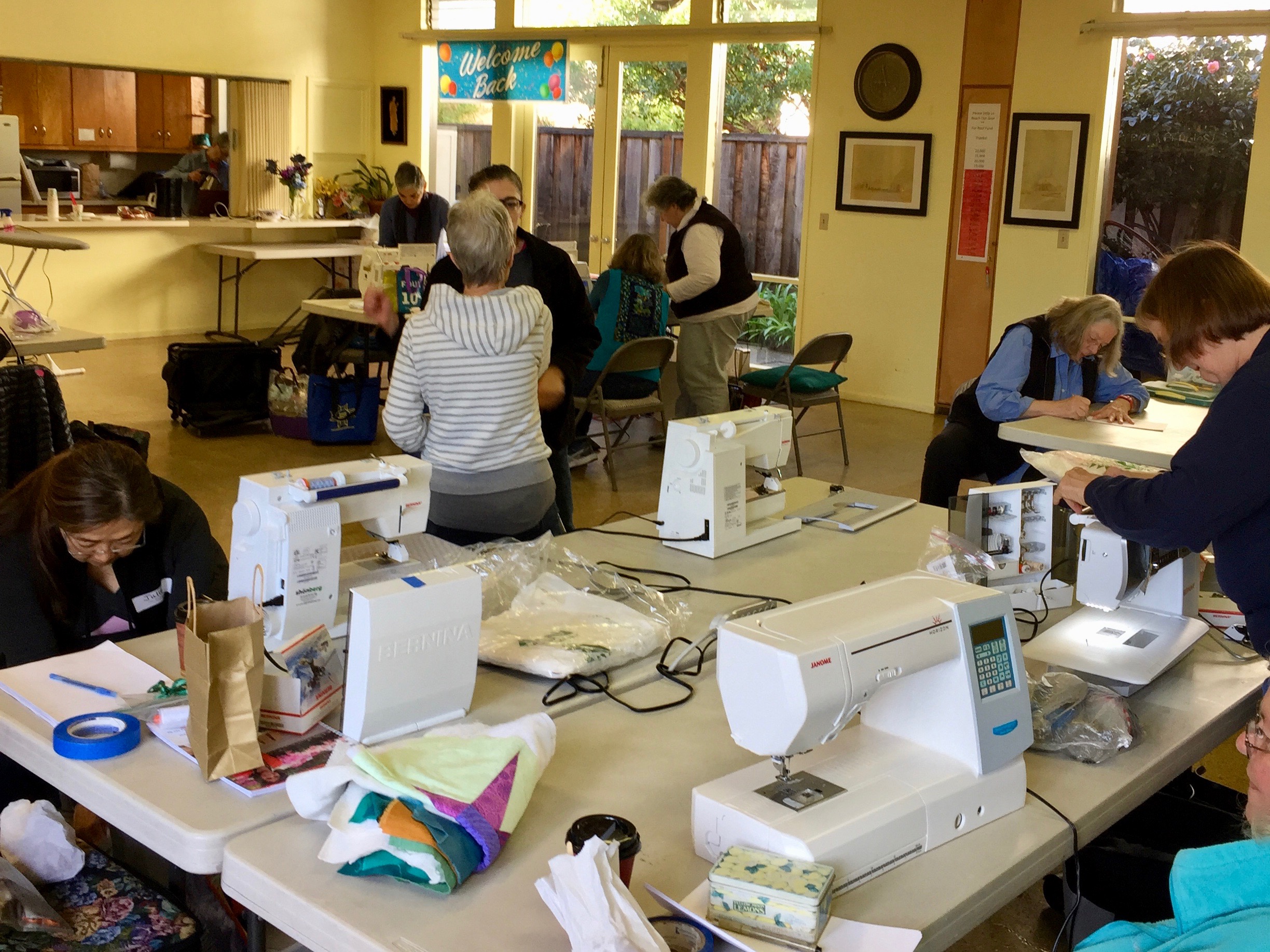 We had a busy day with lots of stitching.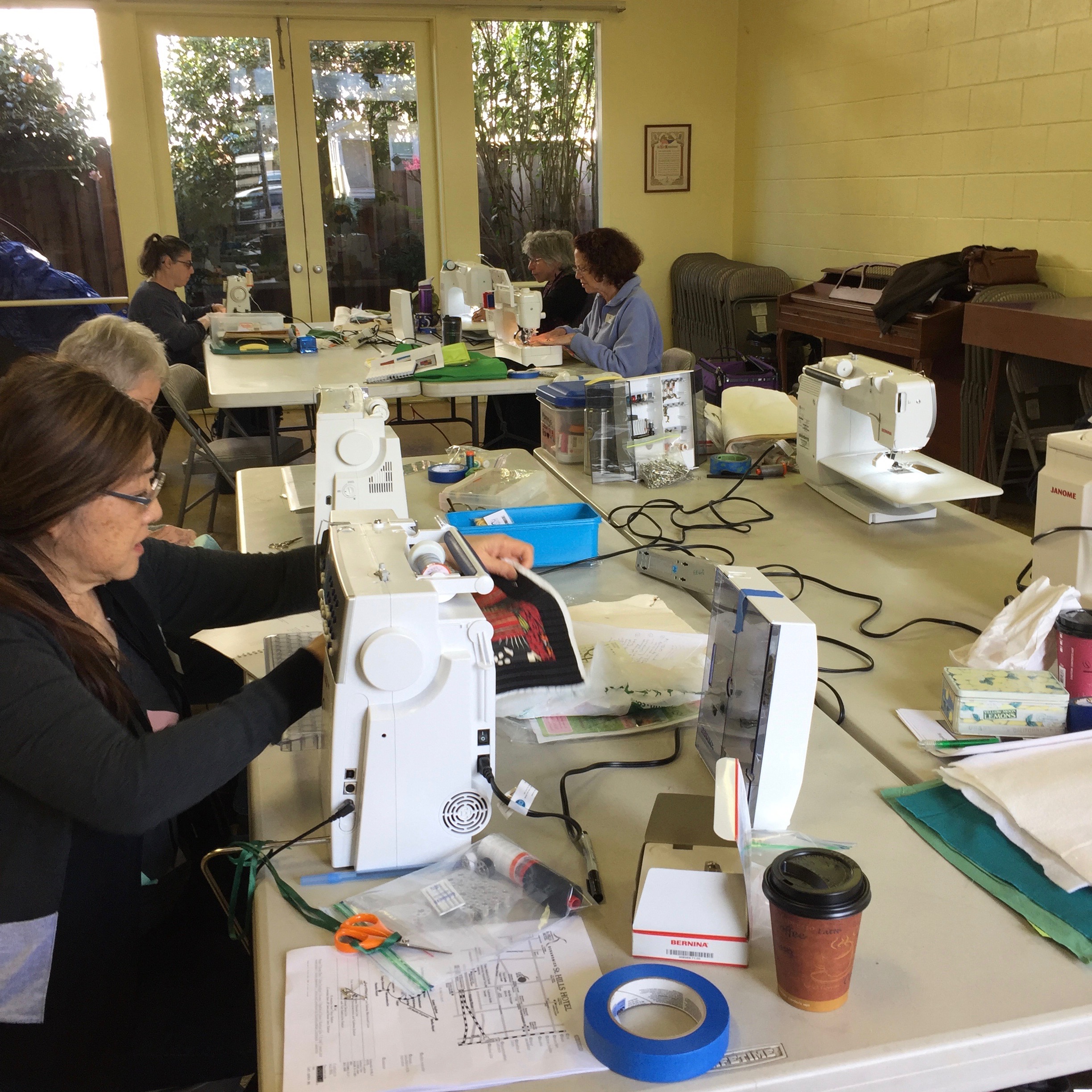 All makes and models of sewing machines were humming,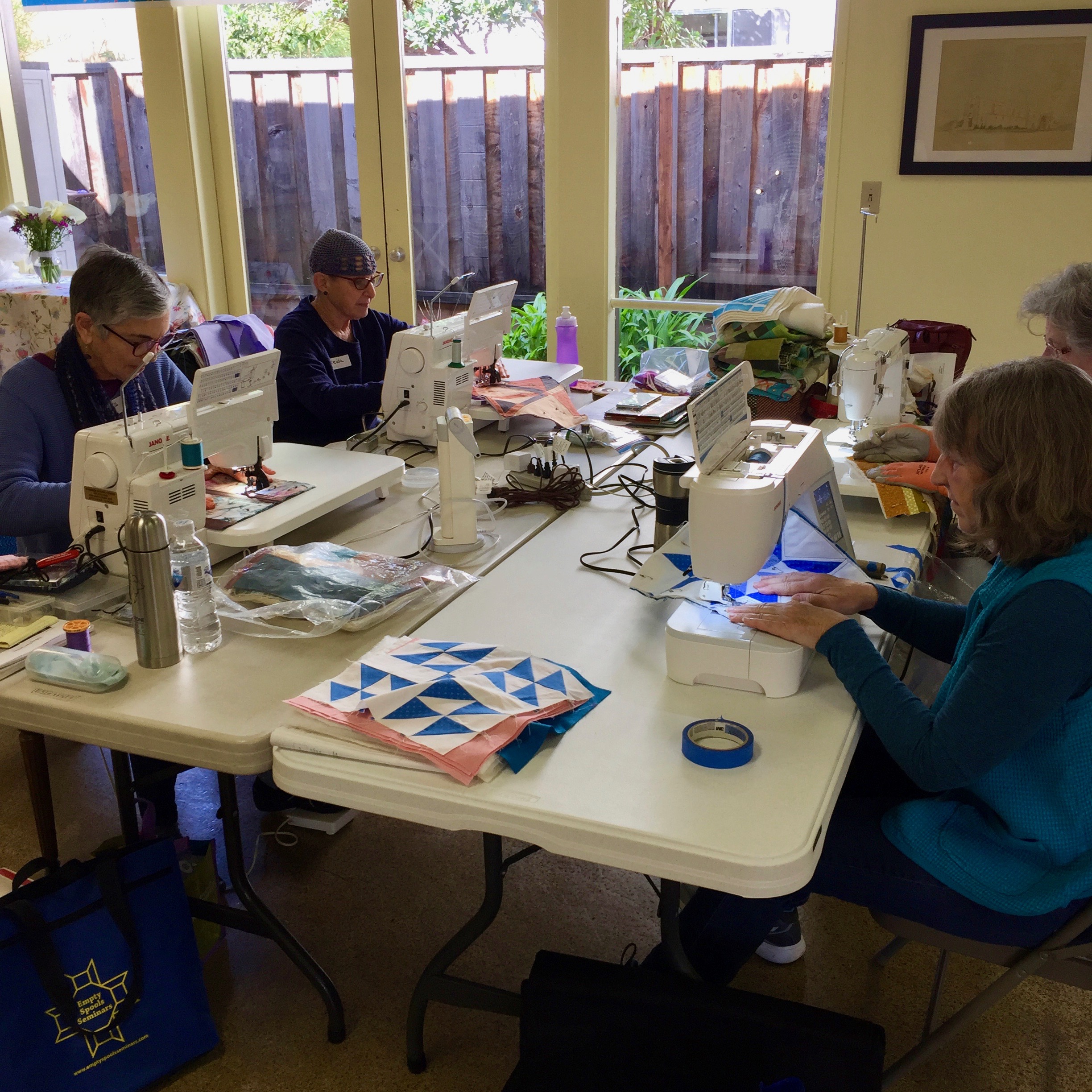 including the vintage ones.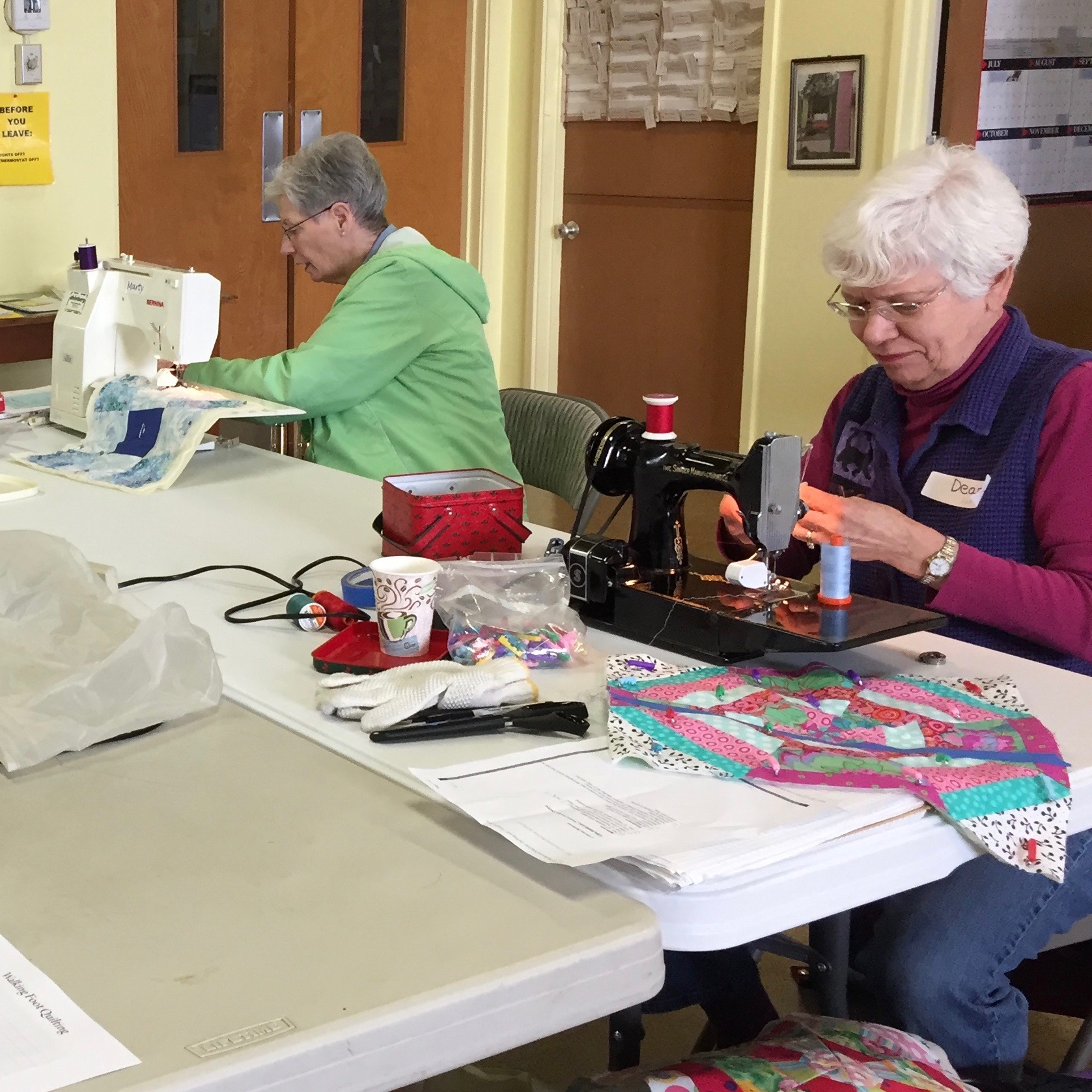 The six hours went so fast. I hope there will be lots of finished quilts very soon.
I had the day off today before I teach again tomorrow. That doesn't mean I have been sitting in my hotel all day. I have had a very special day!
My ride arrived at 9.30, Fran and her husband ready to show me some of the sights of the Bay area.
We started by driving across the Bay Bridge from Oakland into San Francisco. Discussing the collapse of the old bridge during the 1989 earthquake whilst crossing its replacement is just slightly strange, but that didn't stop us doing it. We followed the road through Golden Gate Park and decided to visit the Legion of Honor in Lincoln Park to view the Rodin sculptures and a special exhibit of Monet's early years.
The museum is housed in a splendid reproduction of the Palais de la Légion d'Honneur in Paris.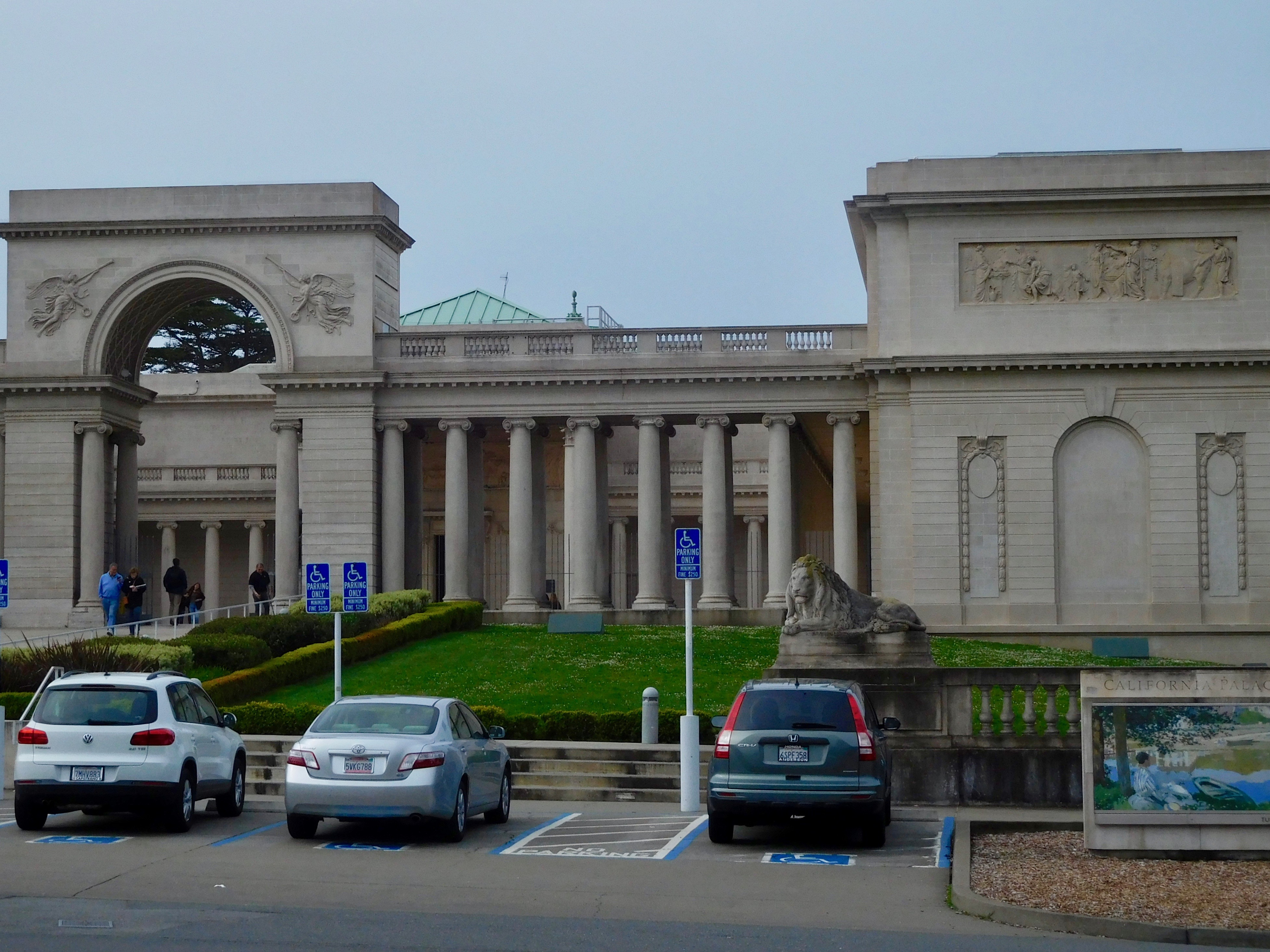 Inside we visited with the collection of Rodin sculptures that took up three large rooms.
This is Henri Rochefort in bronze on a marble base.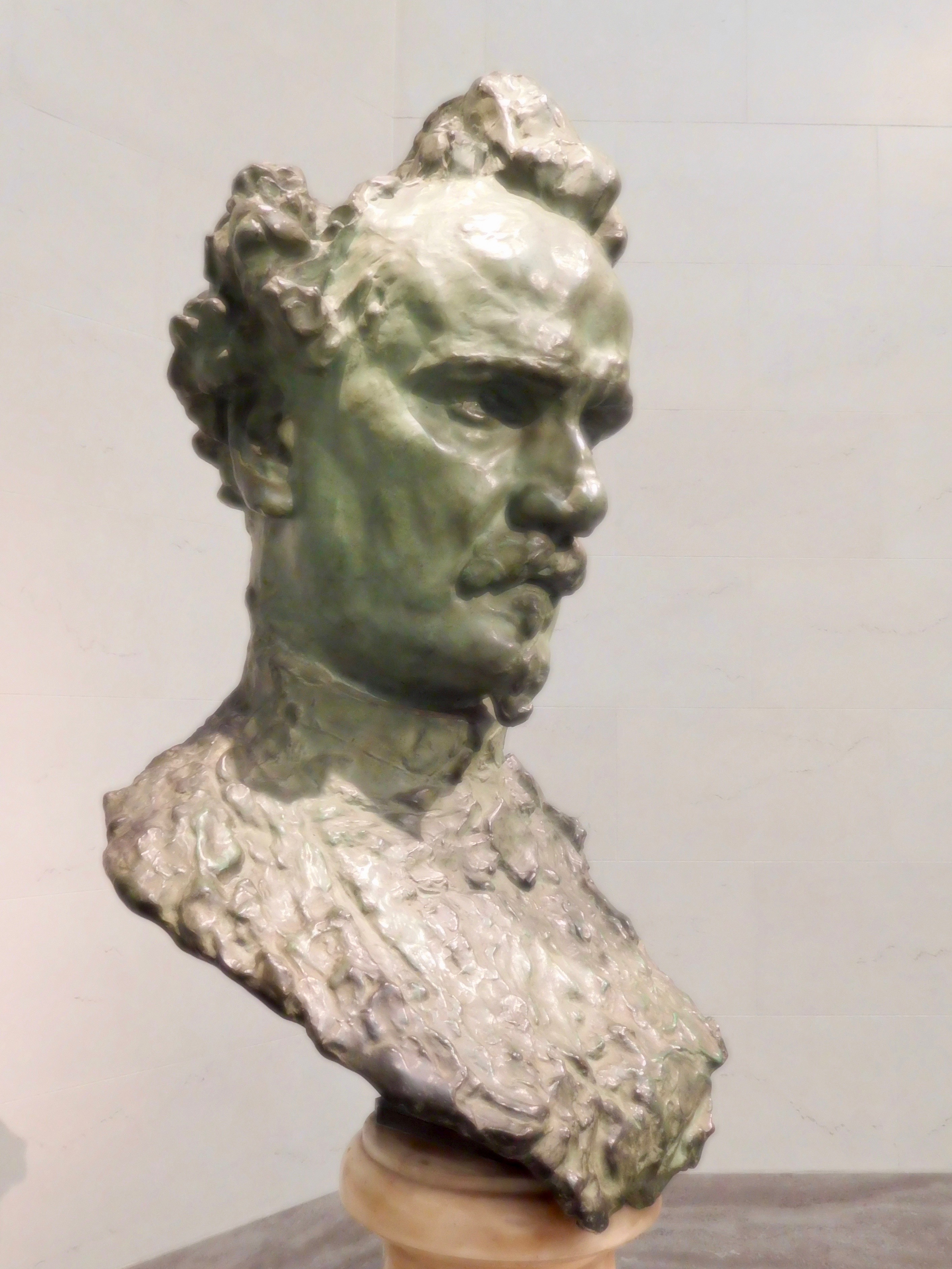 He looks quite serious!
Another room had a collection of Impressionist works, one from virtually every artist you could think of.
This one, Sewing Party at Loctudy painted by Edouard Vuillard in 1912, caught my eye.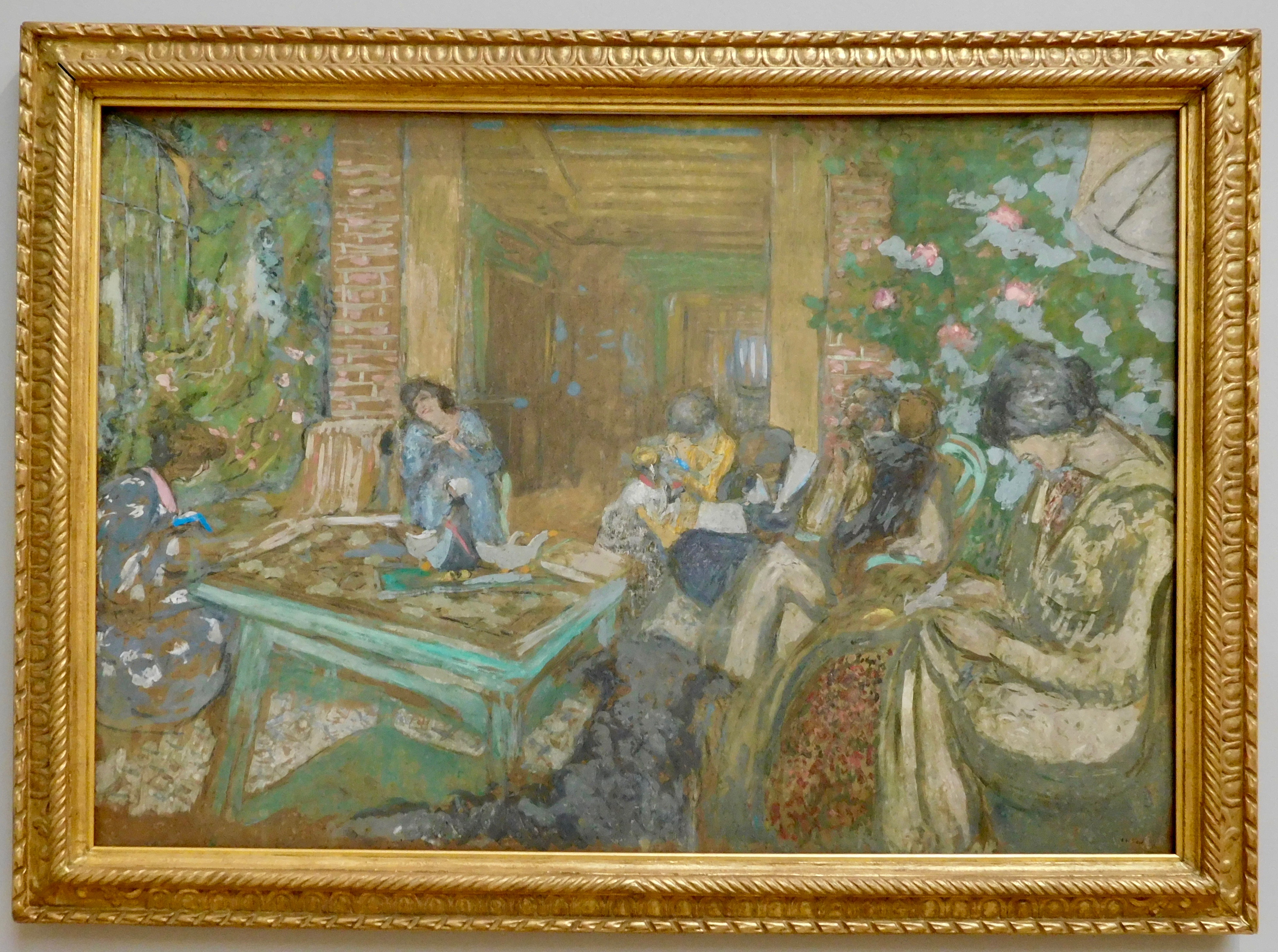 Then it was time to go and visit the Monet exhibit, 60 paintings from the first part of Monet's life.
View near Rouelles, painted in 1858 when he was 17 was the first painting Monet presented to the public.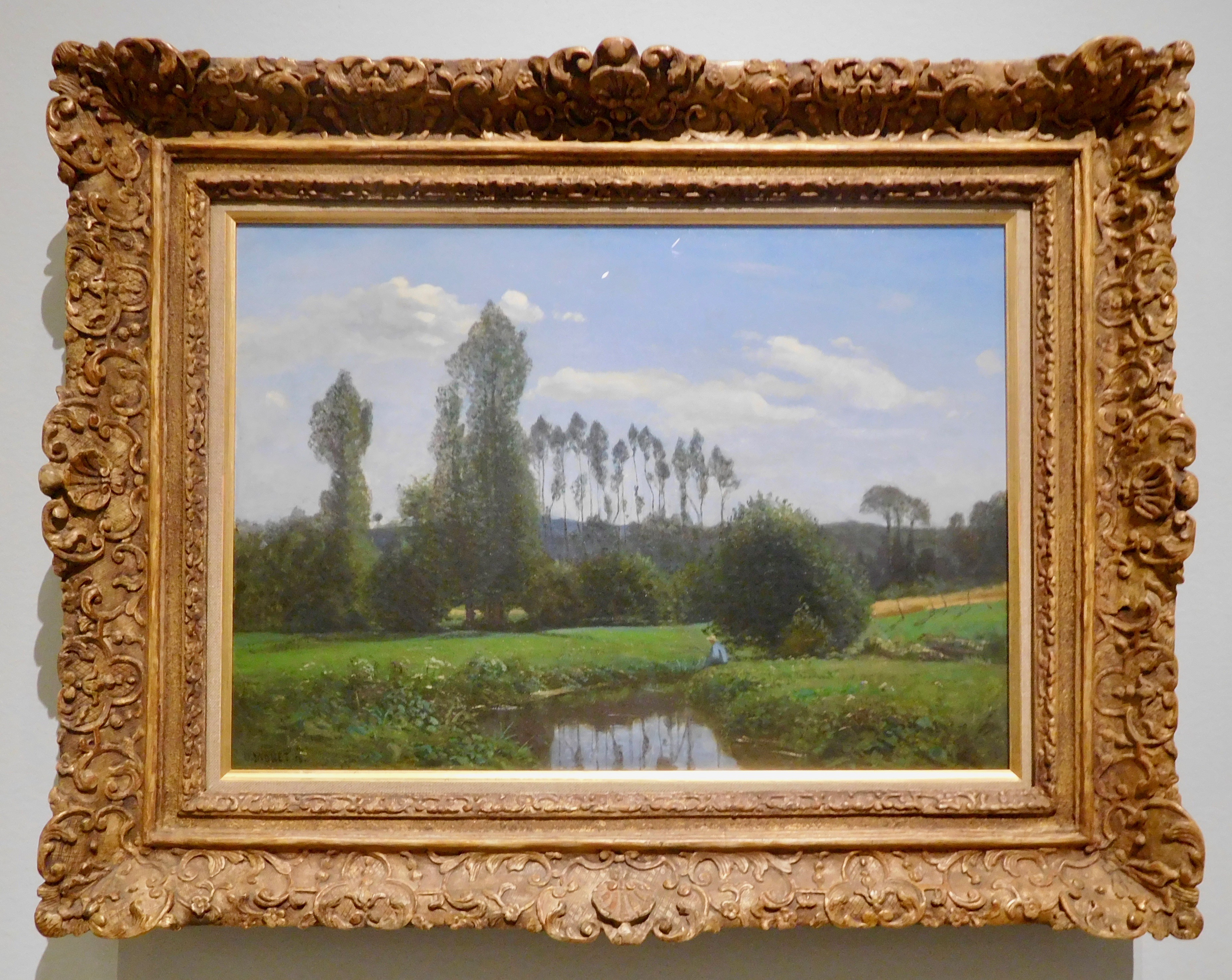 Impressive?
I don't think I was the only quilter looking at the paintings!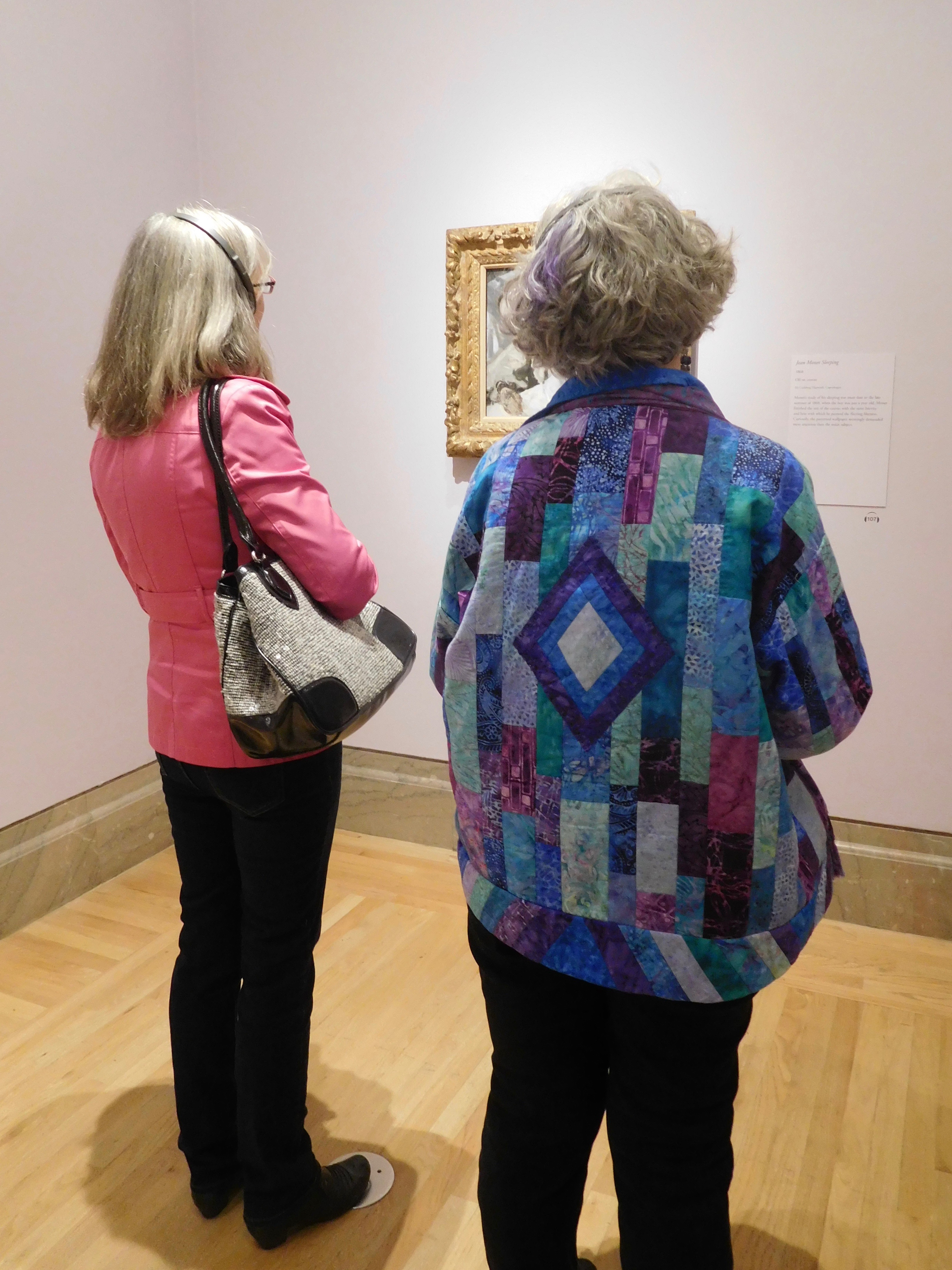 I couldn't resist a picture of the jacket… I wonder if it will be there at the meeting on Monday?
Outside again and a quick stop for more pictures,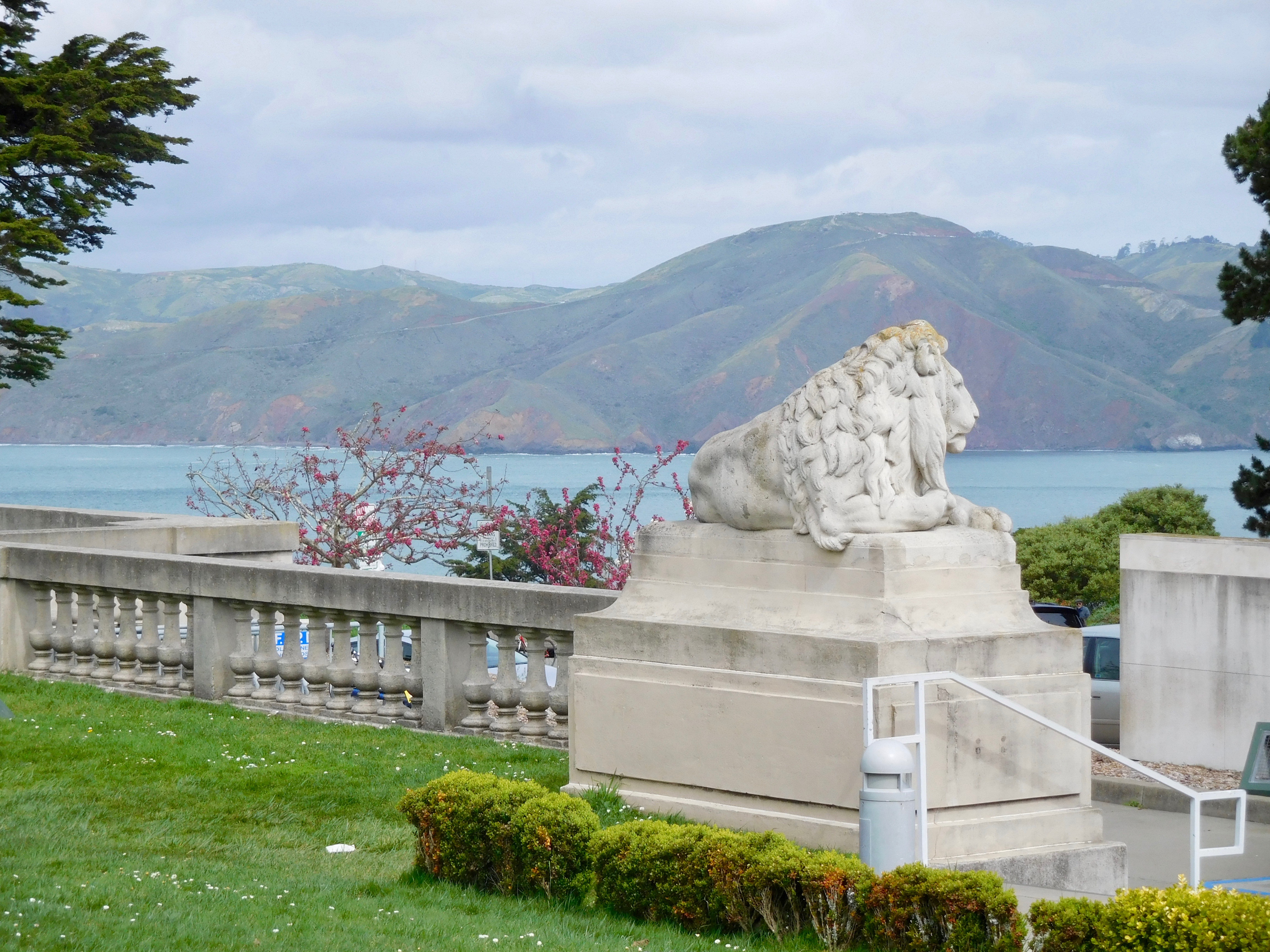 then back in the car to go over the iconic Golden Gate Bridge.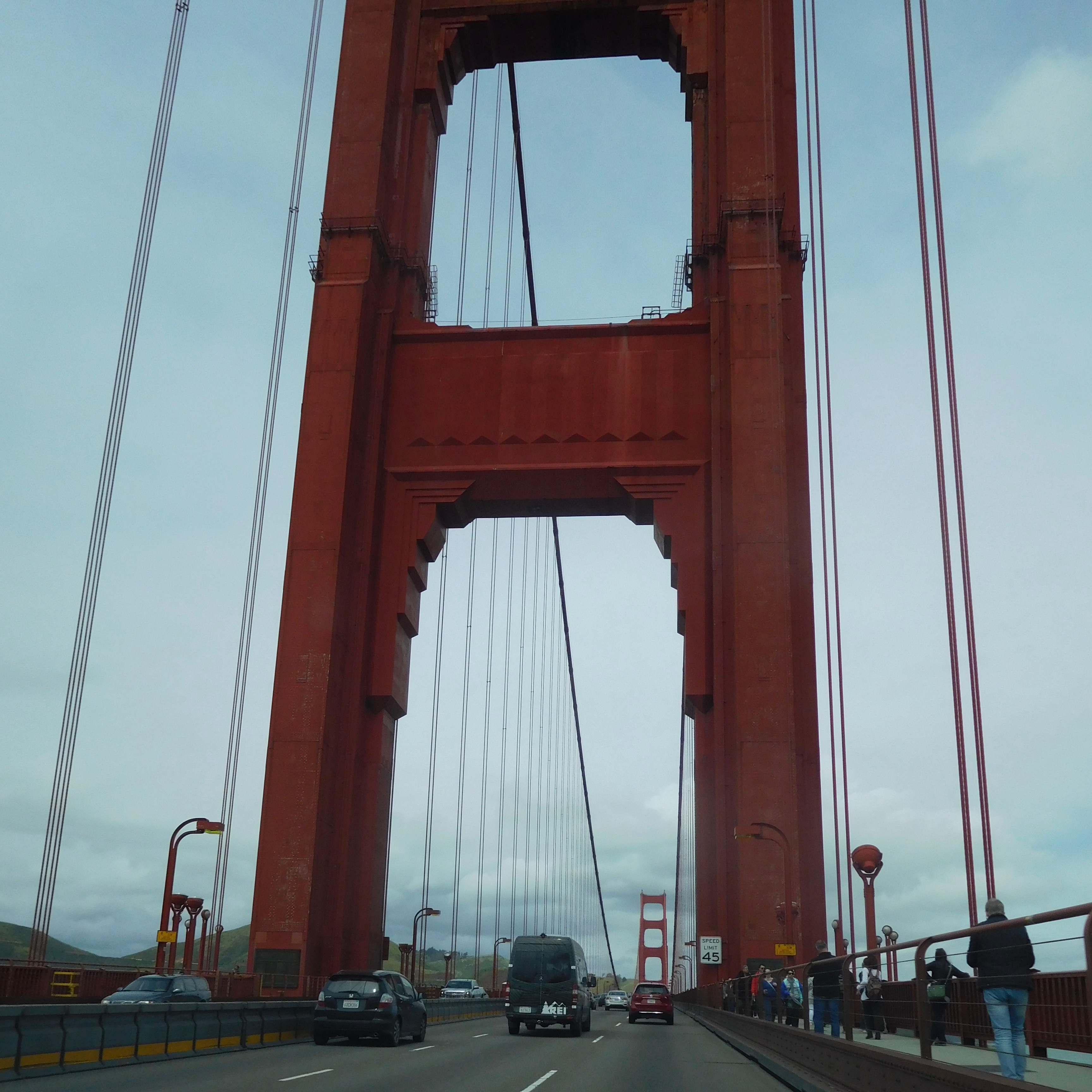 The main span is 4,200 feet.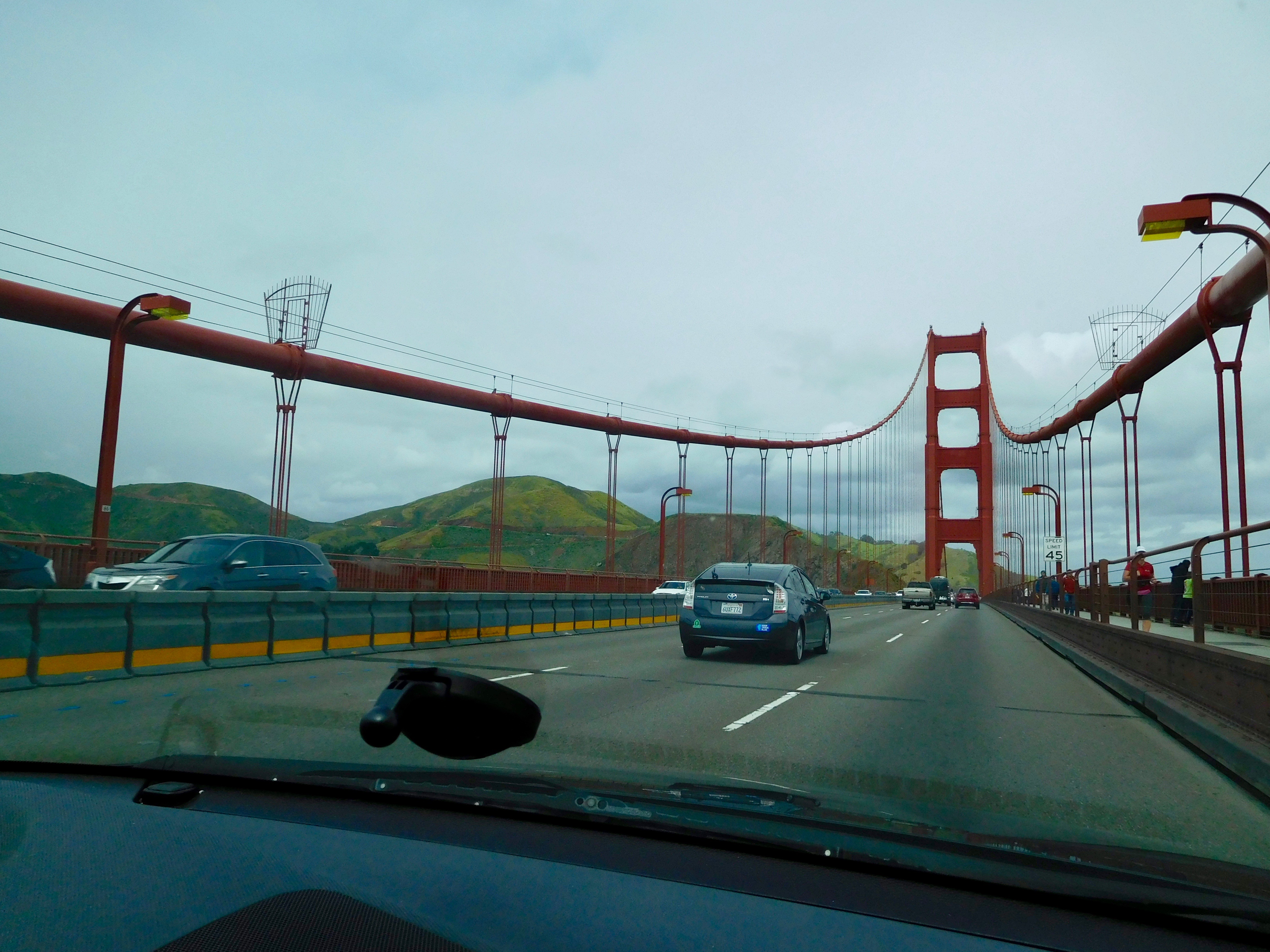 A parking space opened up just at the right time in the viewing area on the Marin side and I took full advantage of the opportunity for more pictures! I wasn't the only one…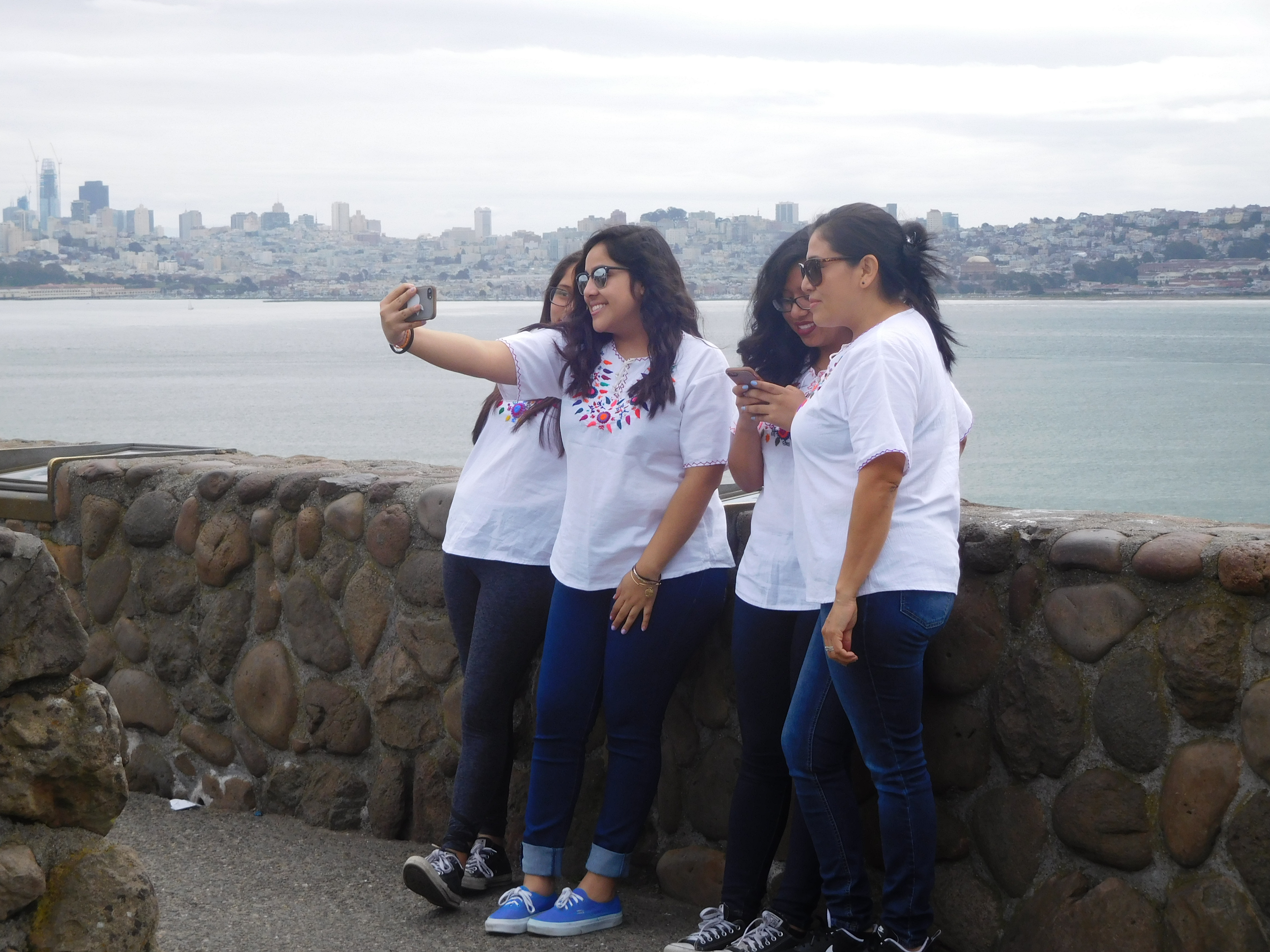 We had a good view of the city,
the bridge, complete with green hills and flowers,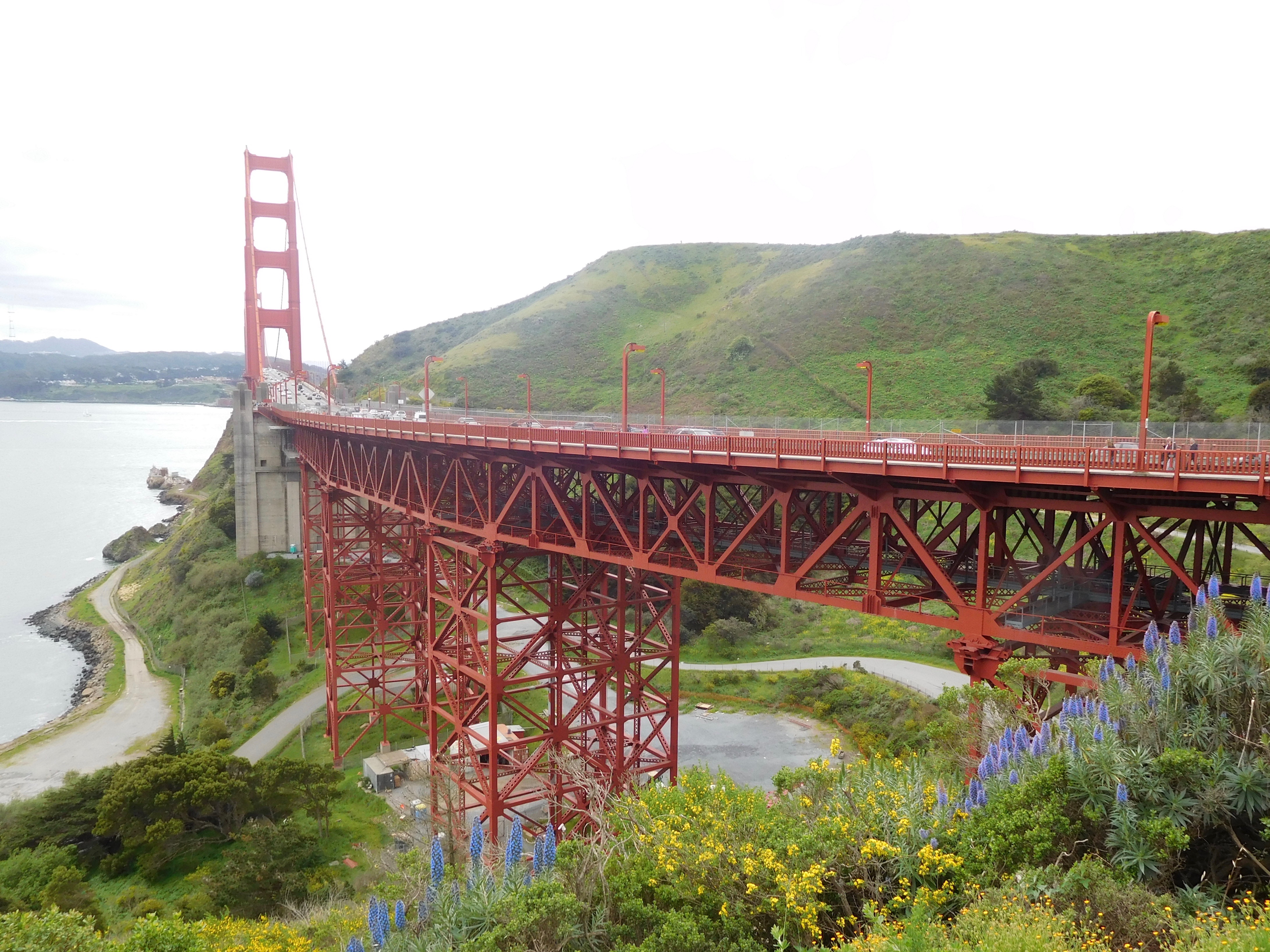 and the Presidio Yacht Club.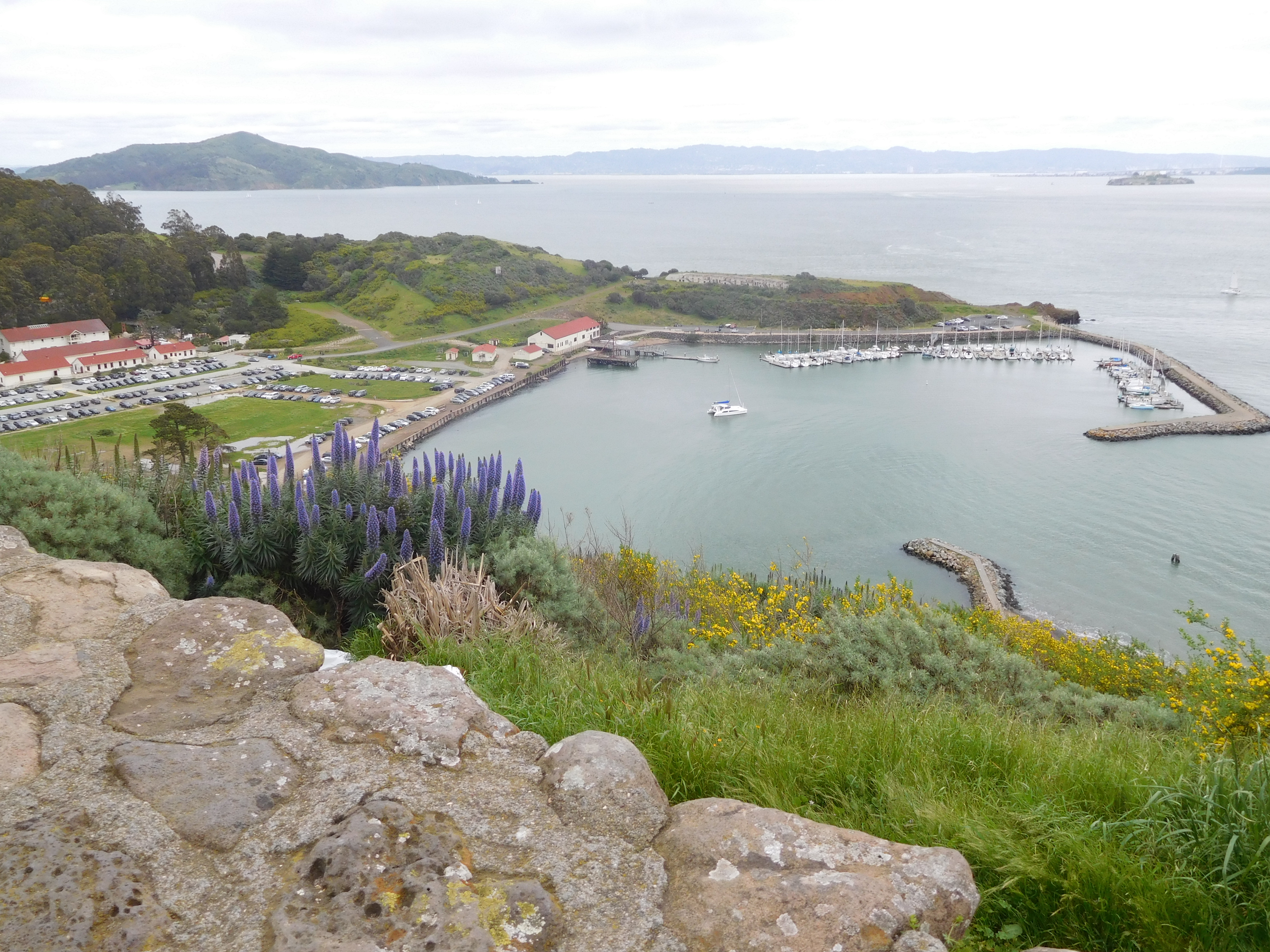 Off on the road again!
Up to the Marin headlands for more wide vistas.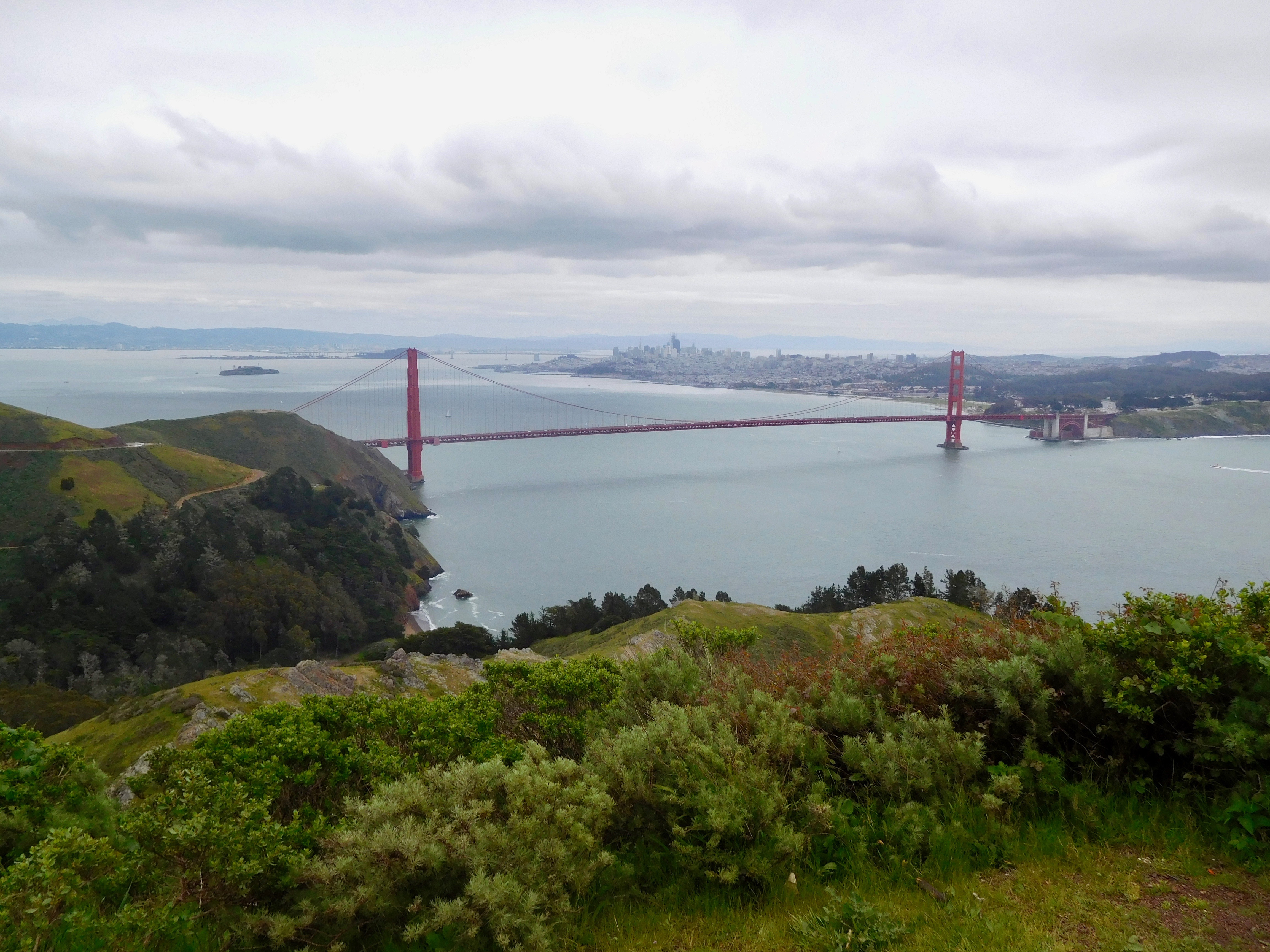 and down to the water's edge.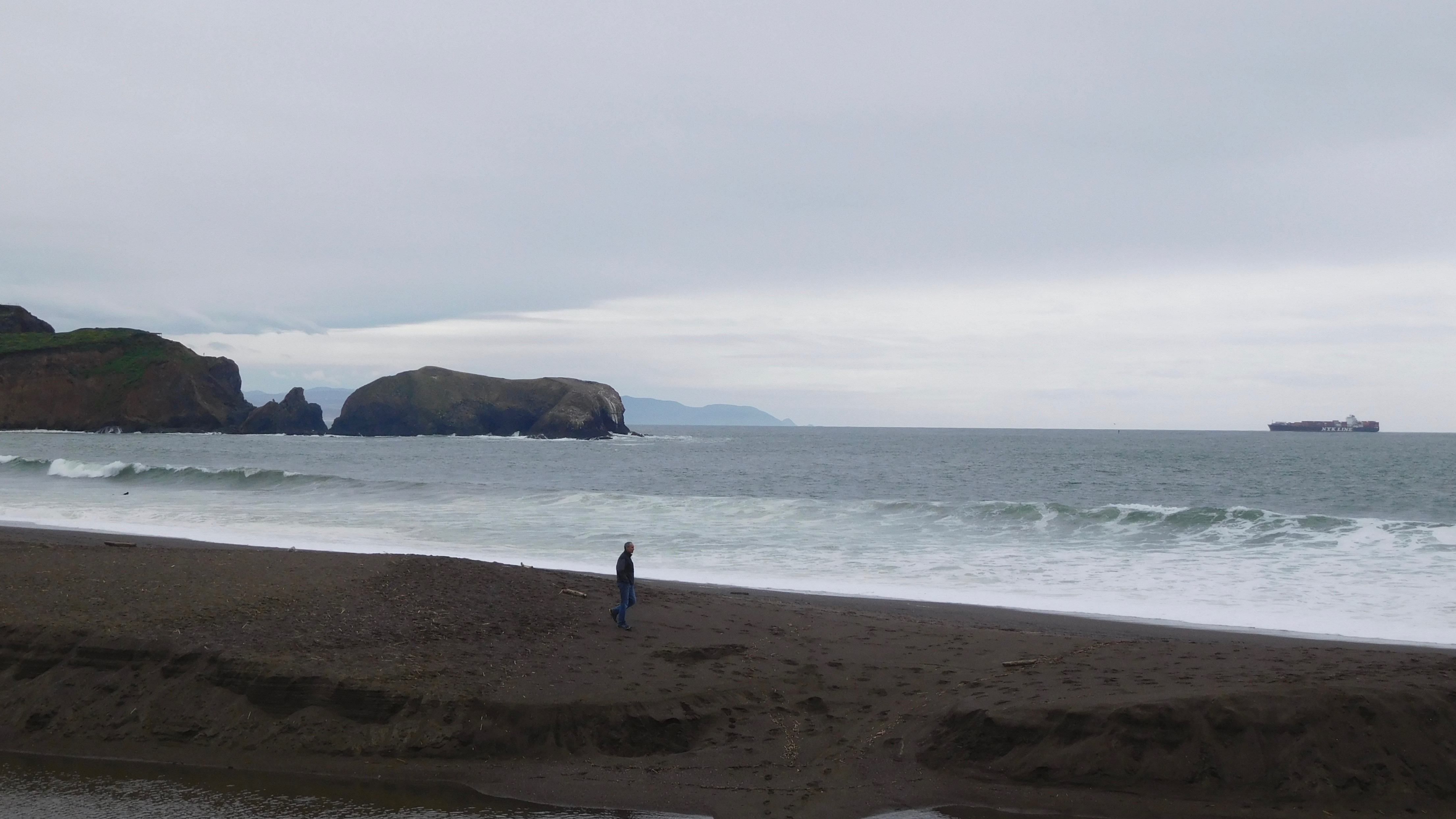 We were getting hungry. Fran had somewhere in mind… She had seen Davey Jones Deli  featured on the PBS show Check Please! so we went looking. It is right by Sausalito's floating homes community,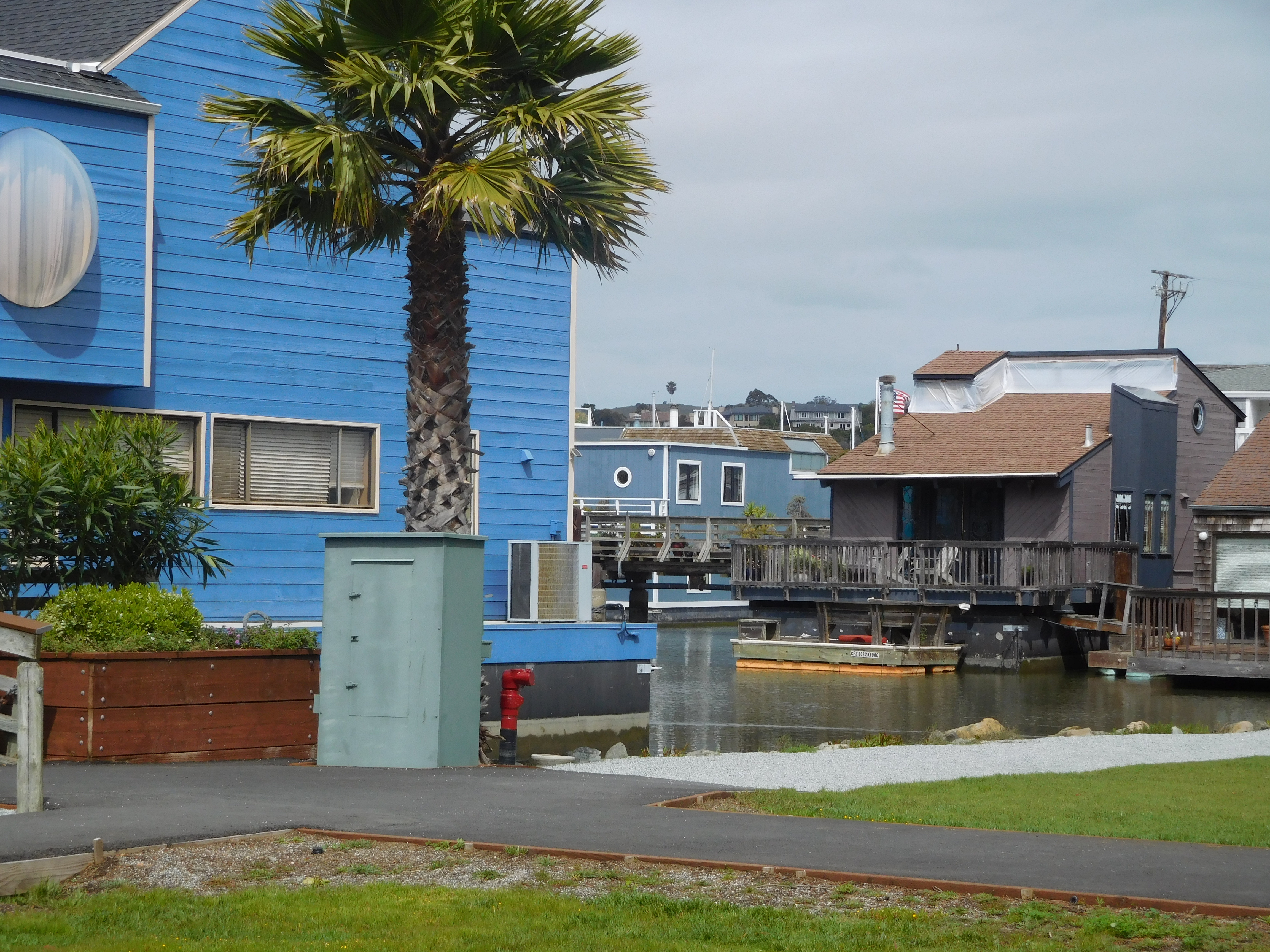 inside The New Bait Shop…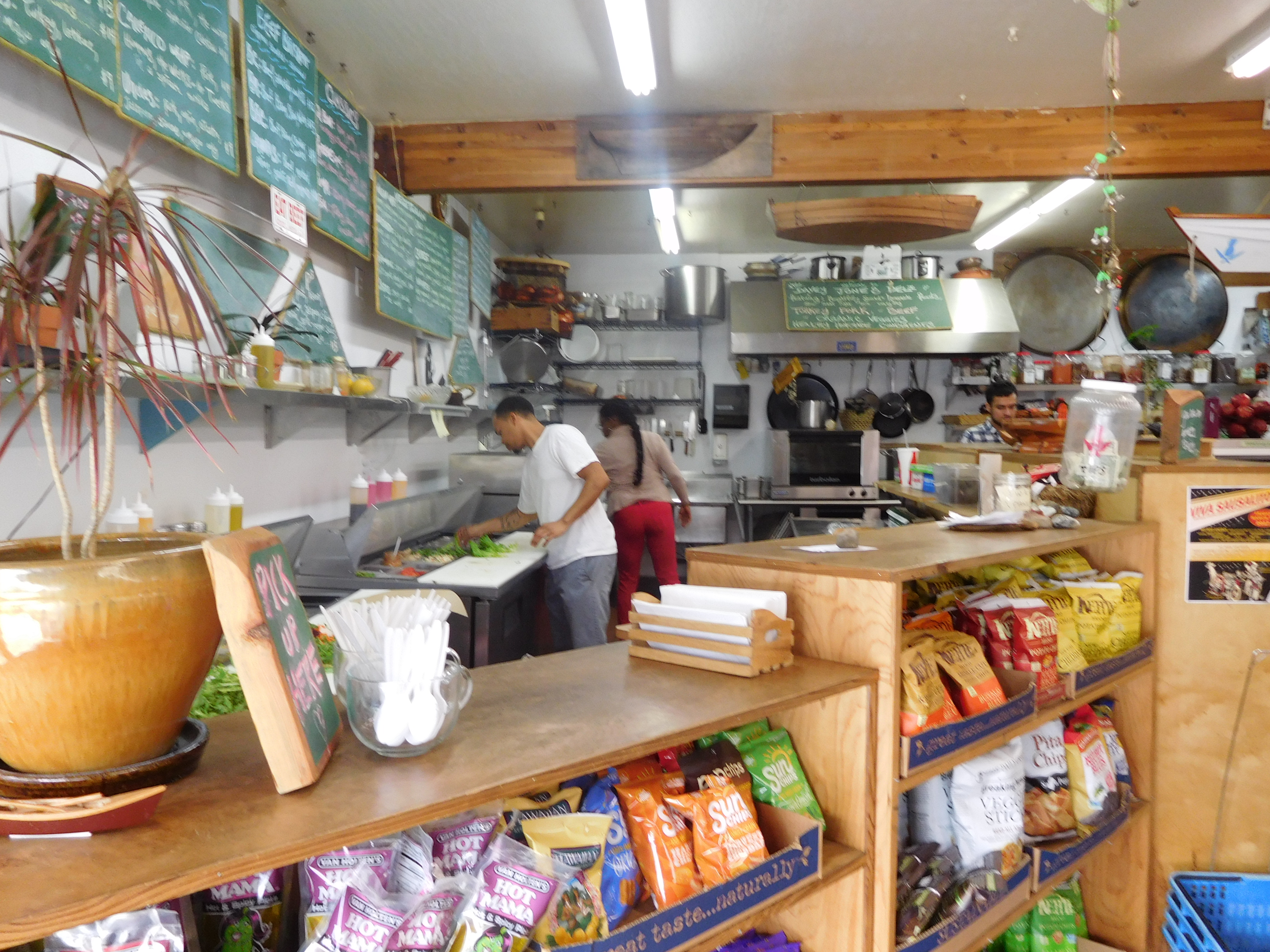 The sandwiches were everything we had been hoping for. I brought half of mine back to the hotel for my dinner.
Very yummy.
So then it was back on the road over the Richmond-San Rafael Bridge and back to my hotel.
Fran had promised me an adventure on my free day and she certainly delivered. Engineering feats, world class fine art and all that nature has to offer after a drought breaking rainy season made for a wonder-filled excursion. I hope I don't disappoint with my folk art embroidery class and my lecture tomorrow.