This time last week I was getting ready for a day of embroidery with the East Bay Heritage Quilters in California!
We had a lovely day learning the basics of Folk Art Stitching, embellishing our chain stitches and adding beads.The time sped by but I did get one picture of the action…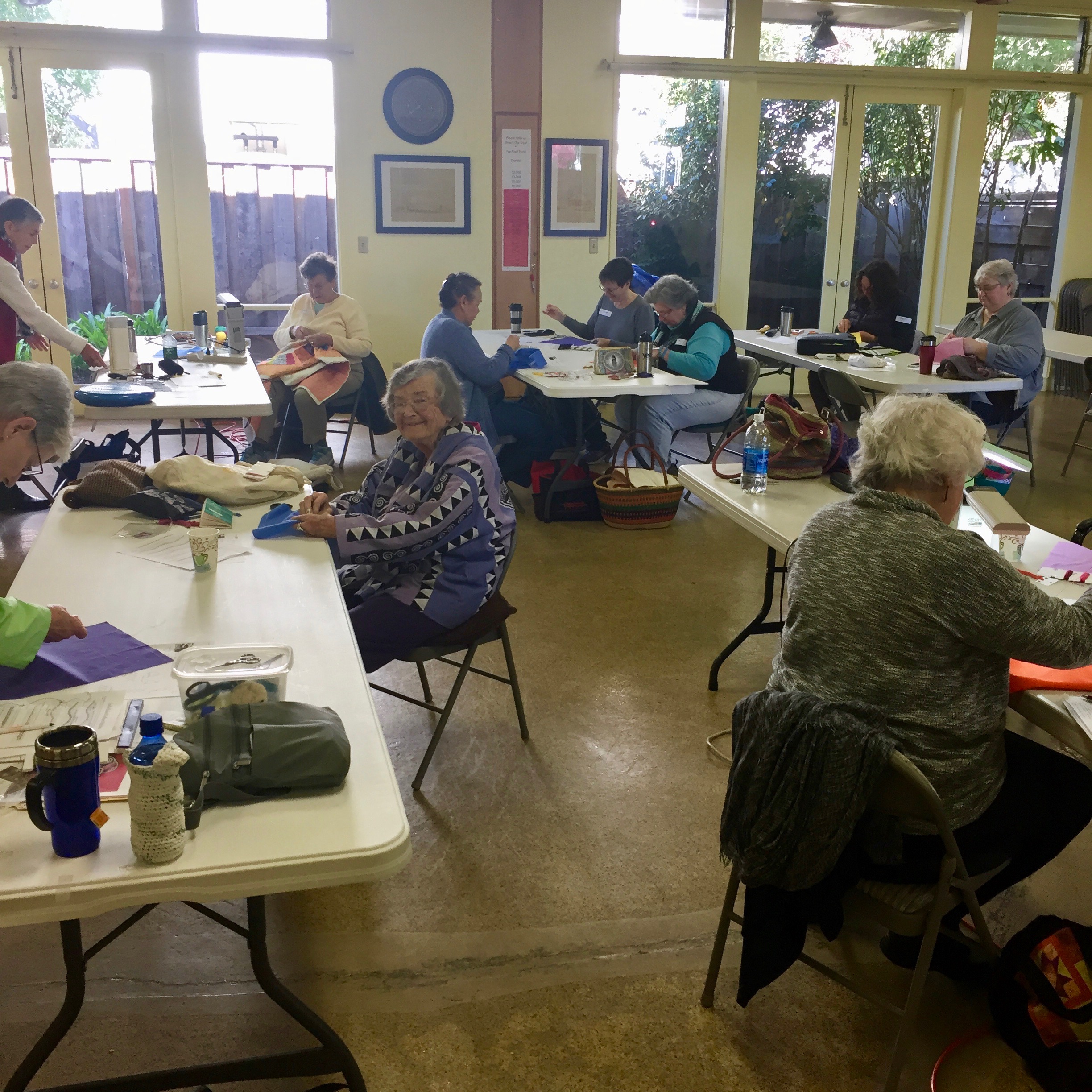 I just had an hour back at the hotel to prepare for the evening's lecture. I was very glad of a friendly crowd for Lessons learned While Quilting. Almost everyone smiled for the camera.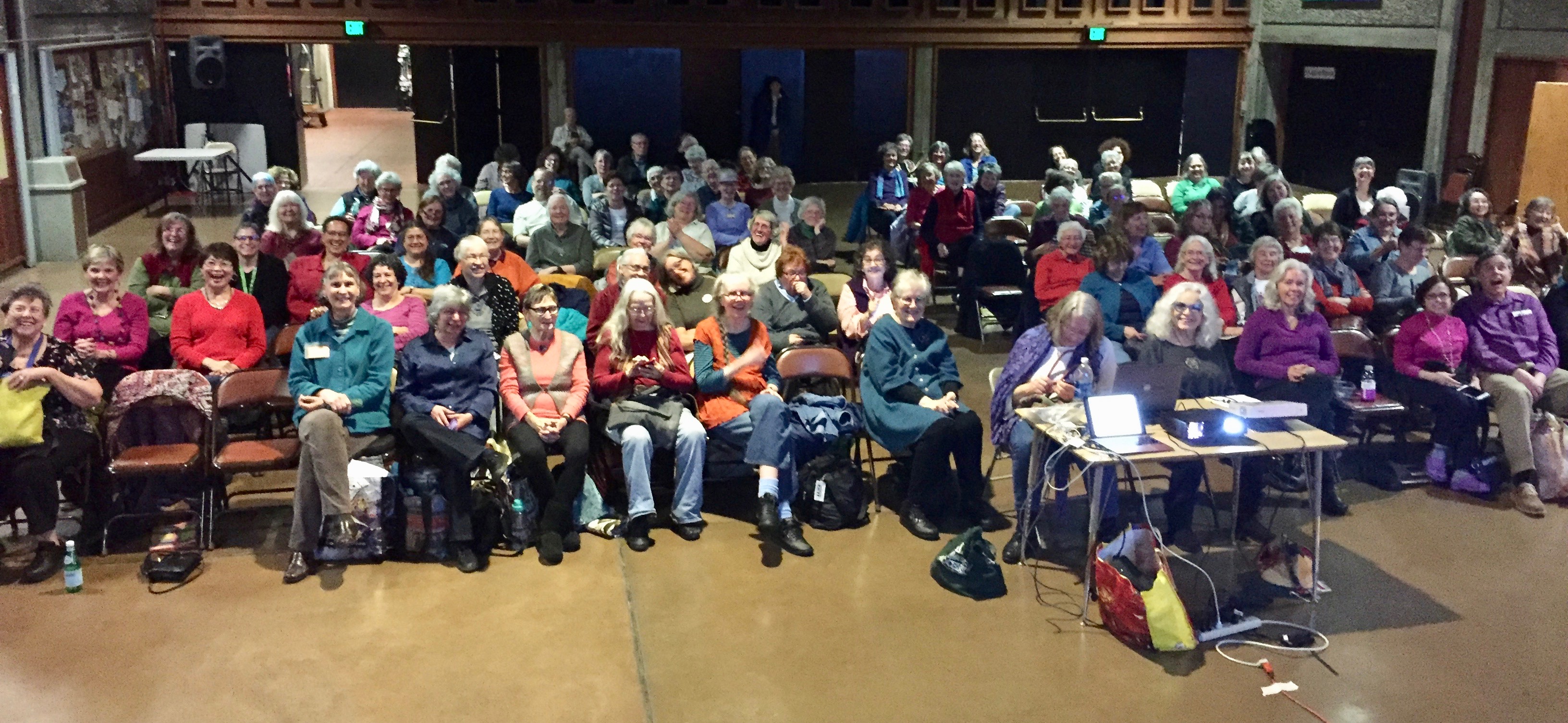 I made the most of the opportunity to sleep late on Tuesday before my afternoon flight back home. I love teaching but I do get very tired after a long day.
Not too much time to relax! Julia and the children came to see me on Wednesday. They were very patient while I caught up on errands, mailing parcels and fitting in a trip to the orthodontist (and the toy shop!). Ruby took charge of the granola bars so nobody went hungry.
I filled out the forms to vend at the Pieces From the Heart Quilt Guild's show a long time ago… Thursday was set up day. I checked out the weather forecast and managed to time my arrival in Channahon between the showers. I found some lovely ladies to help me in with my boxes and tubs and got everything ready in a couple of hours. A bit of a squeeze with two big tables and my comfy chair but all was set for an early start Friday morning.
The entrance way was bright and cheery when I arrived at 8.30. Quilters on parade!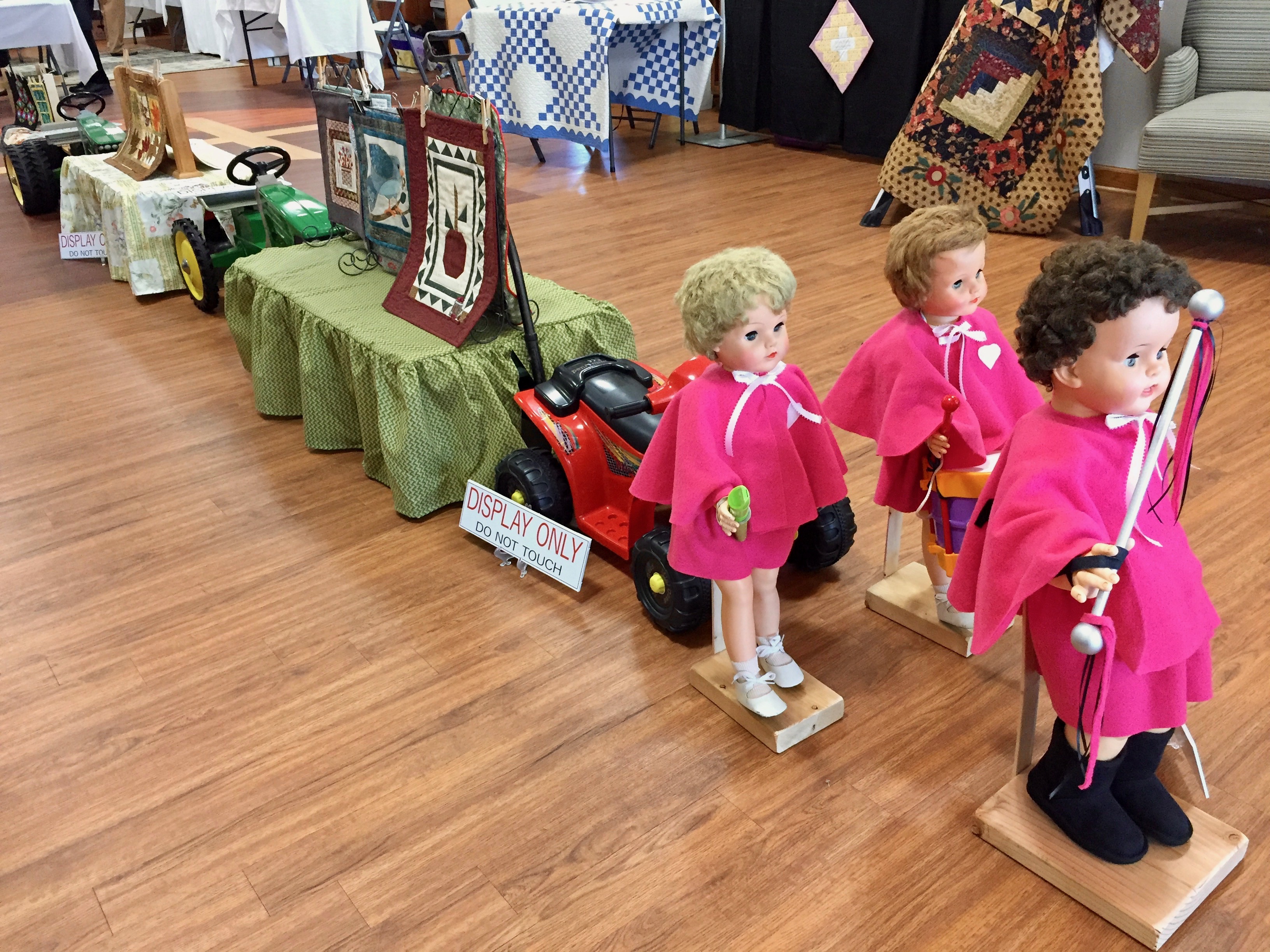 Toy tractors, appropriate for our rural setting, and miniature quilts, so cute…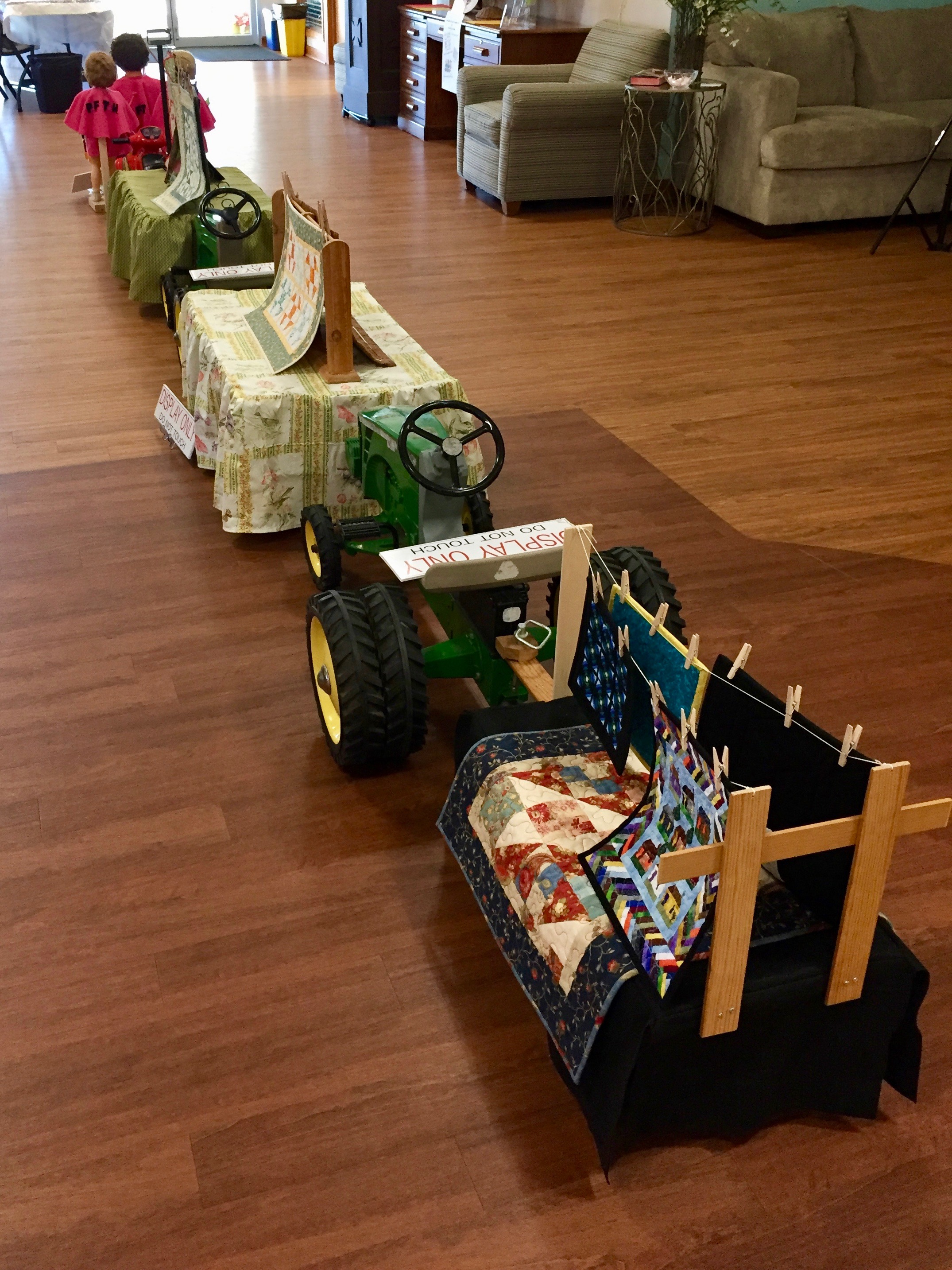 and in the hallway going in to the vendors' room.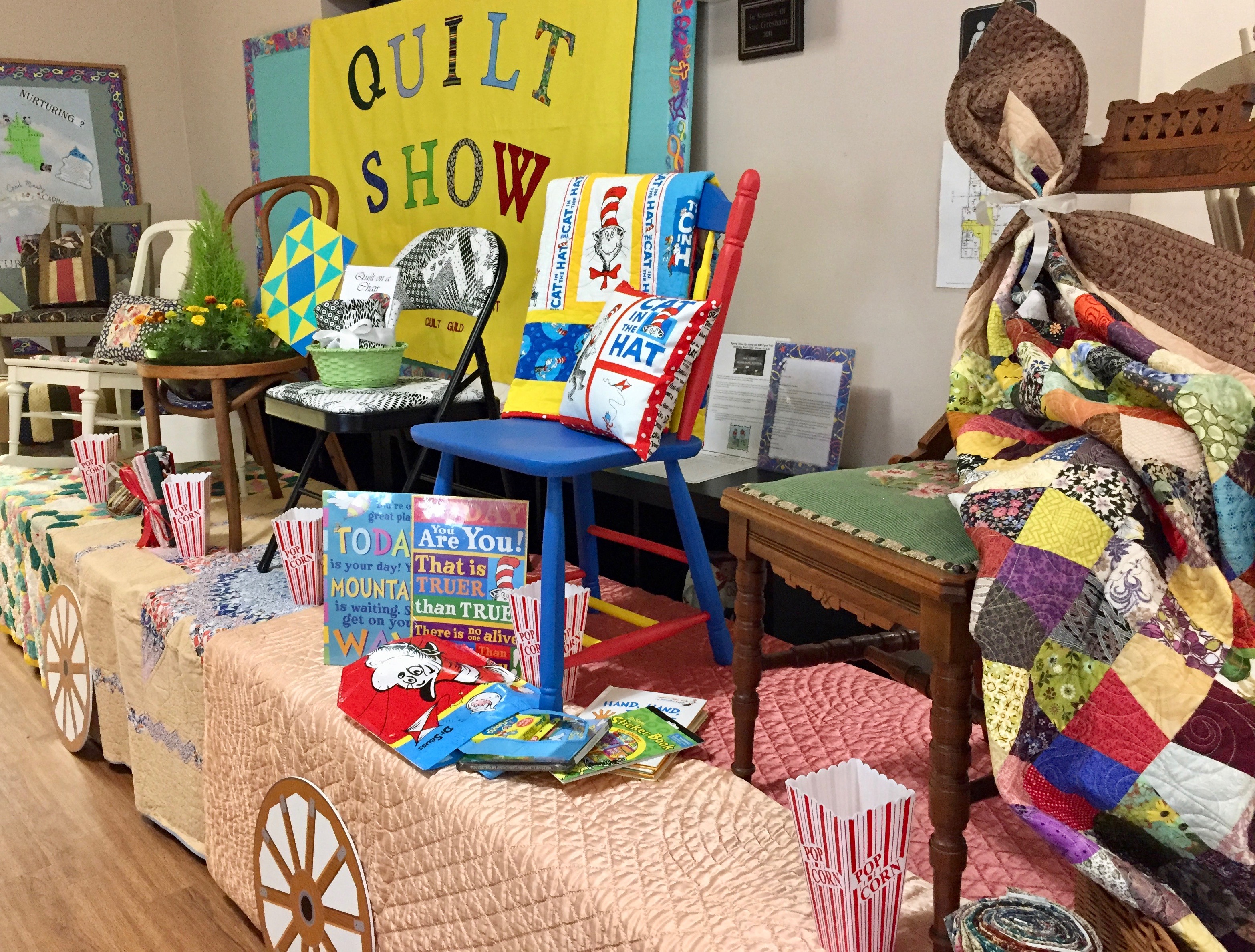 The show itself was in the church  where the quilts were displayed over the pews.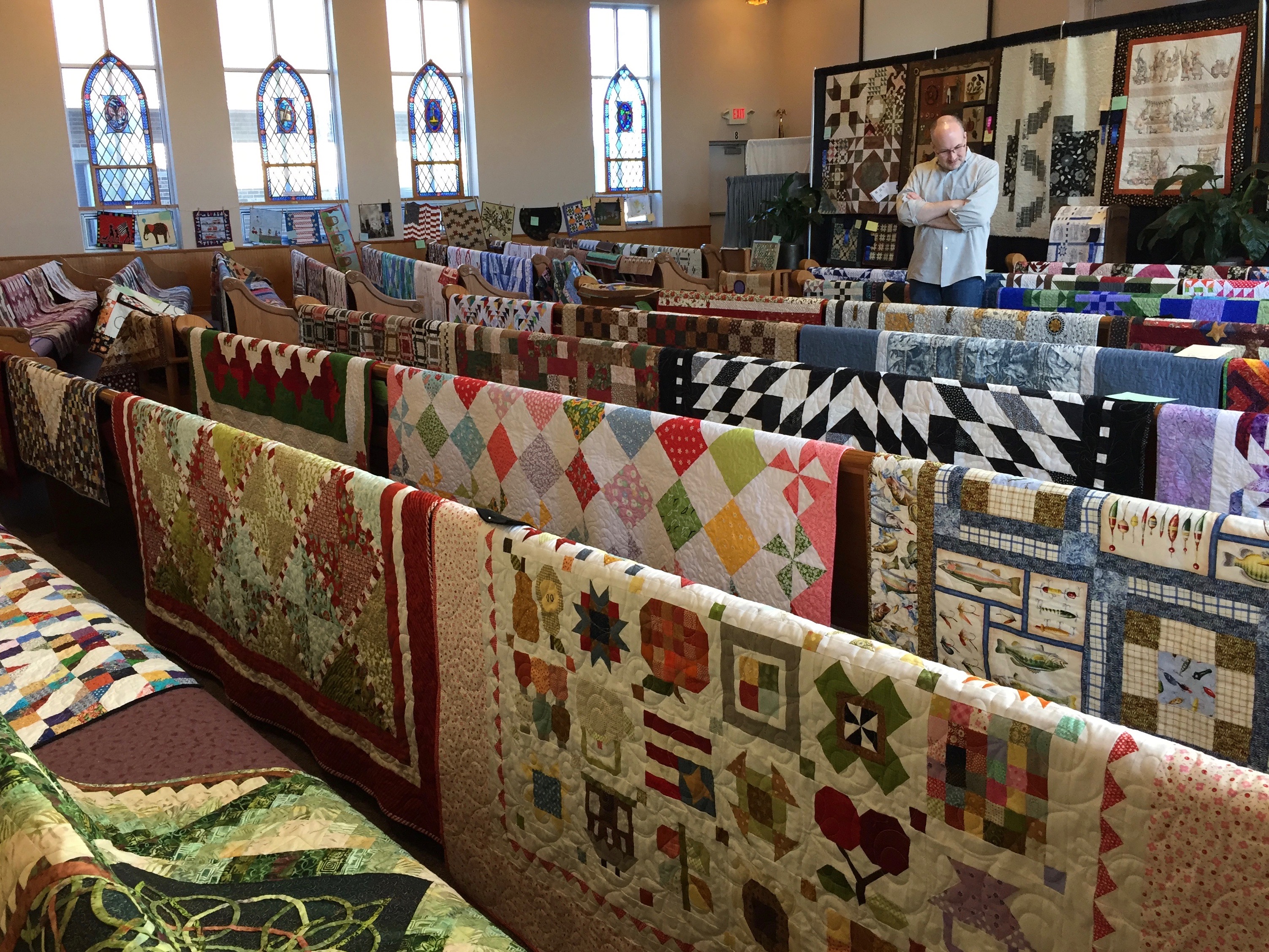 Lots of quilts, all shapes and styles.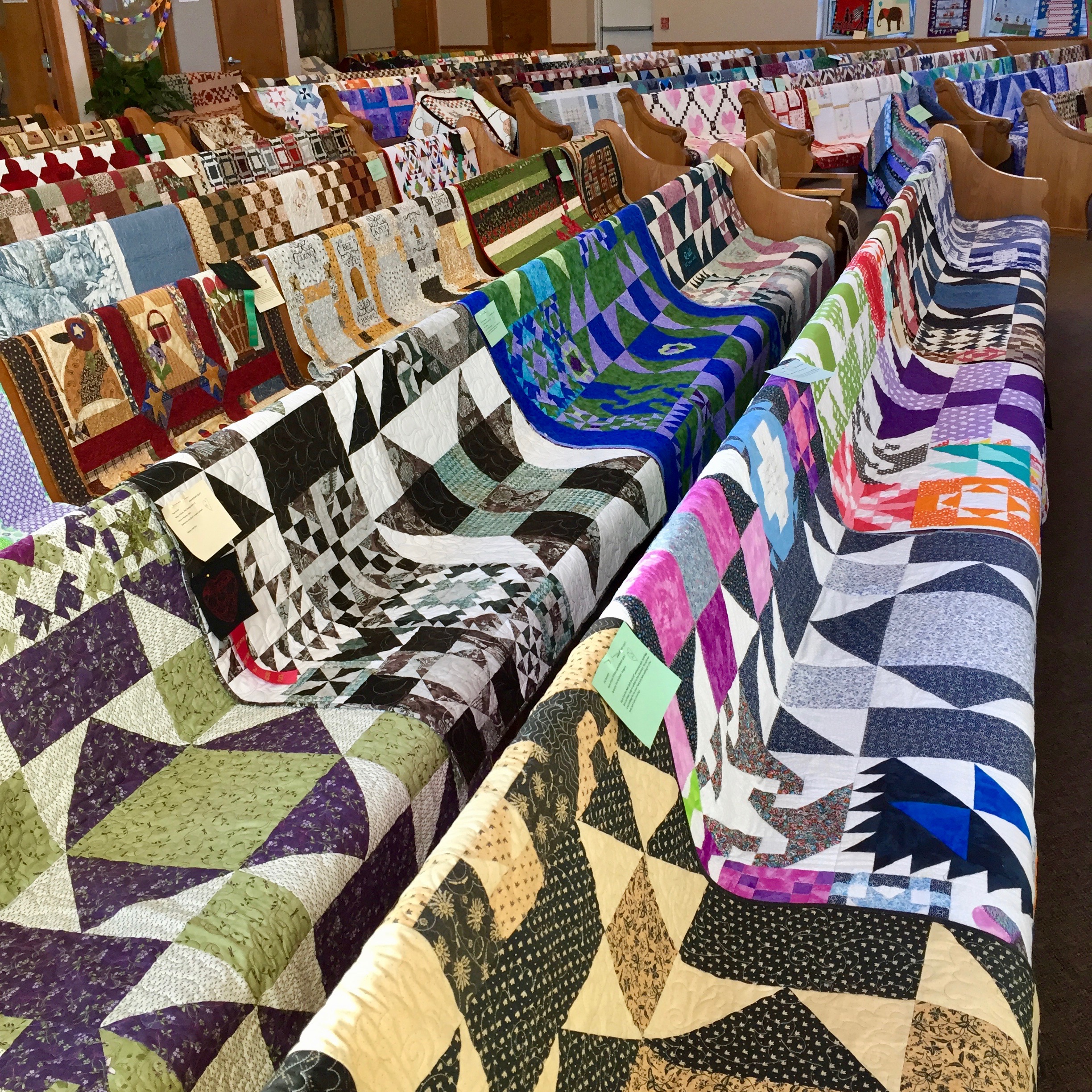 Bright colors, traditional, contemporary.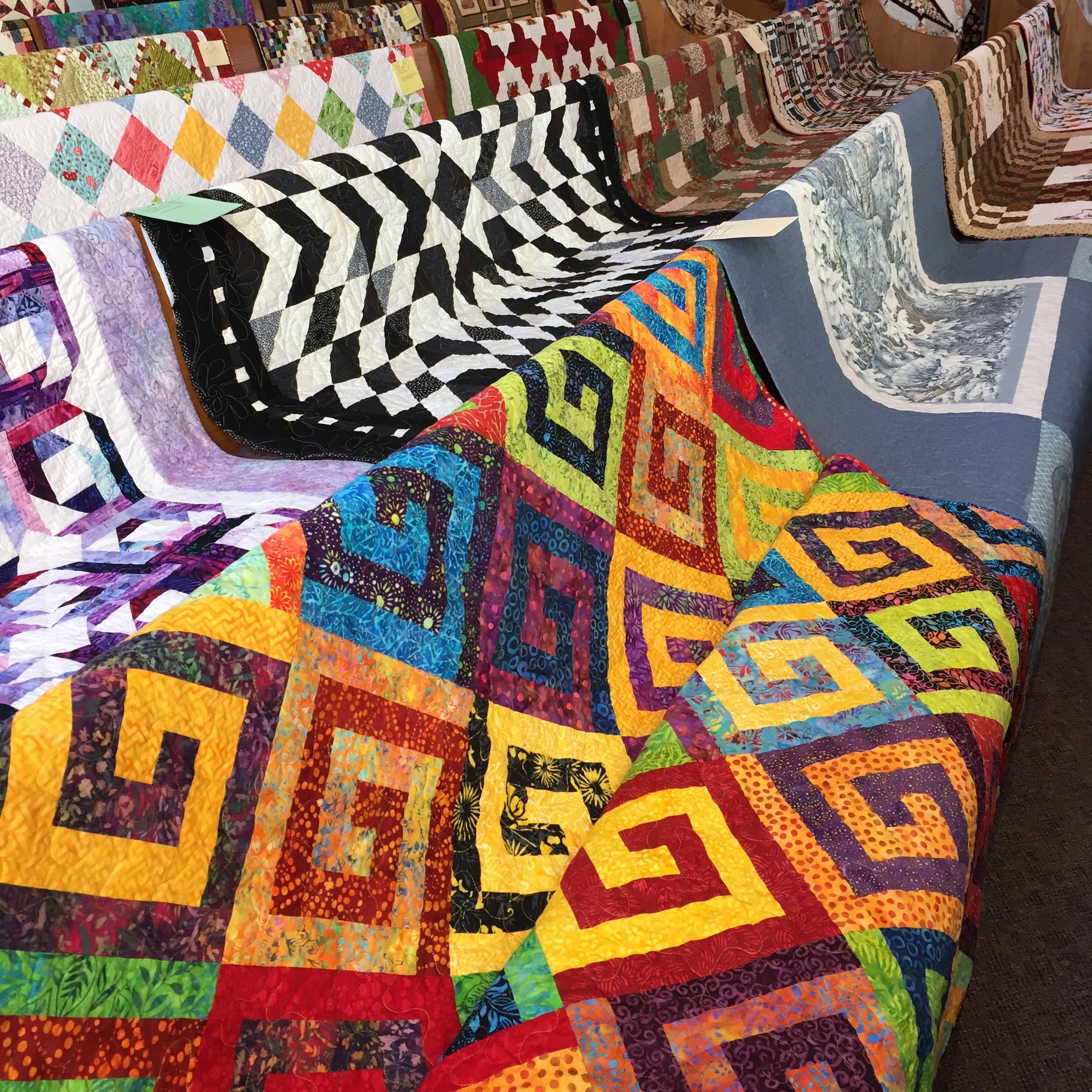 The blue ribbon winners were on stands at the front.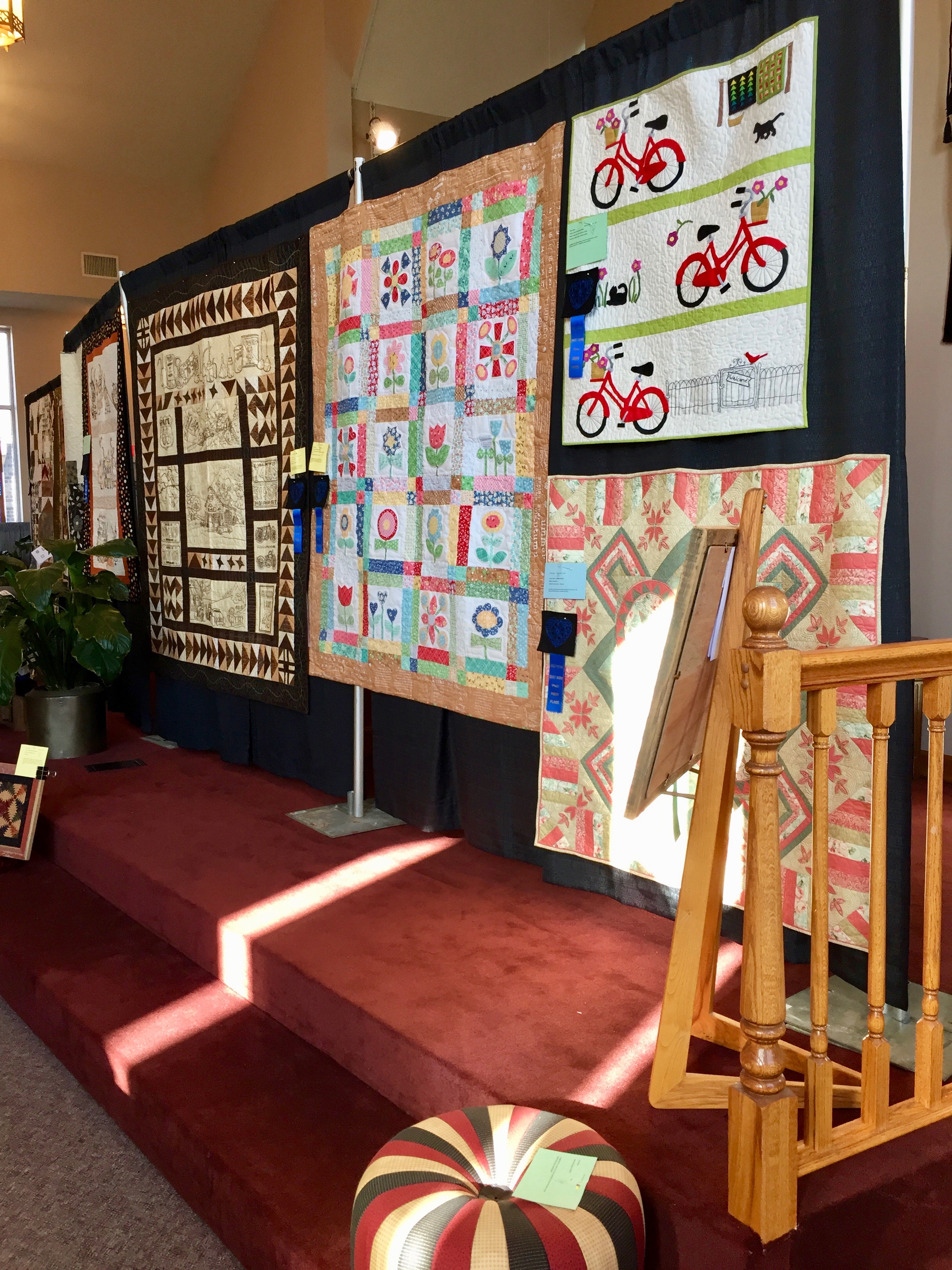 Linda Charley won best of show with her version of Kathi Campbell's Autumn quilt. She quilted it herself.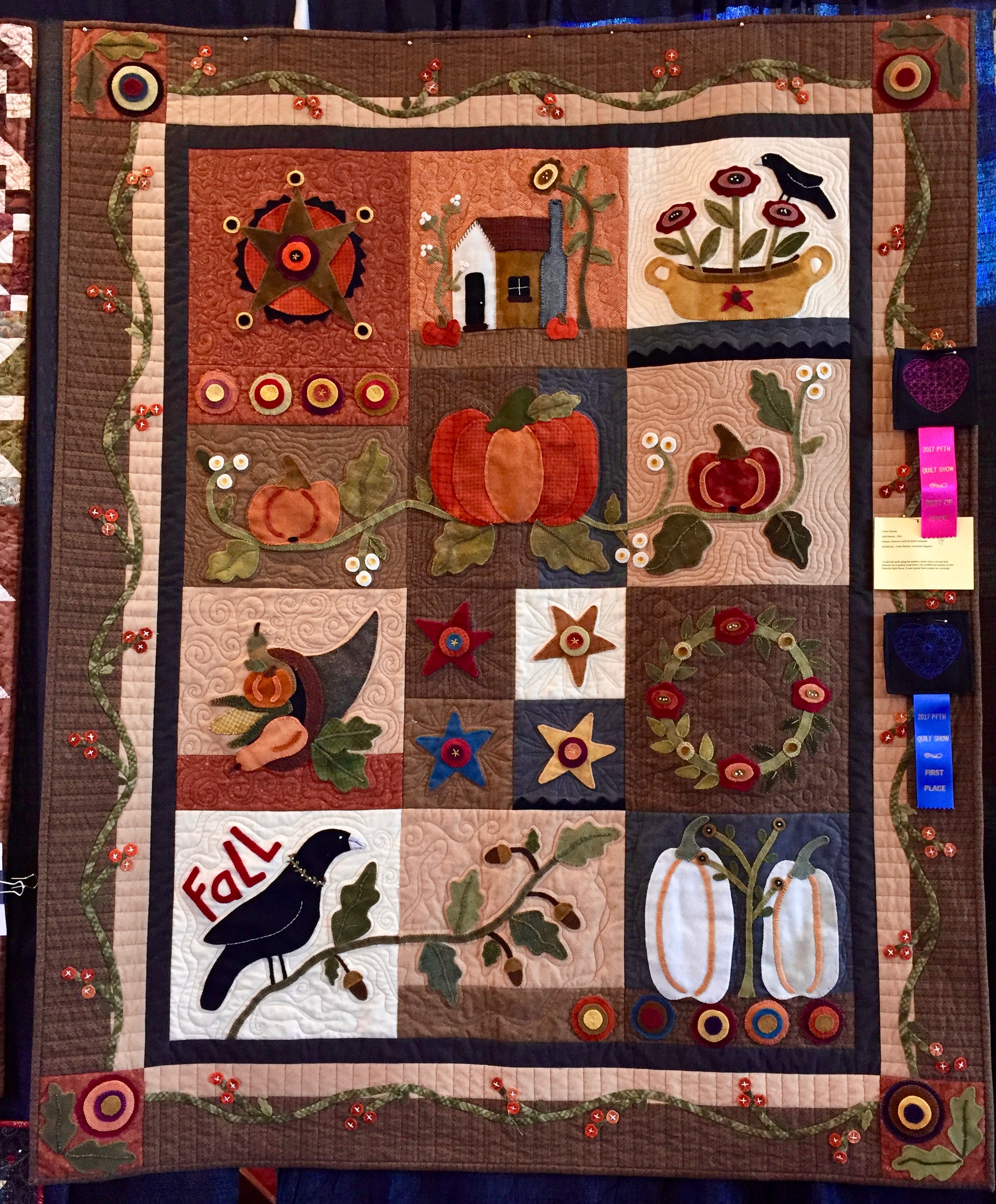 Gloria Hansen's handmade yo-yo quilt caught my eye,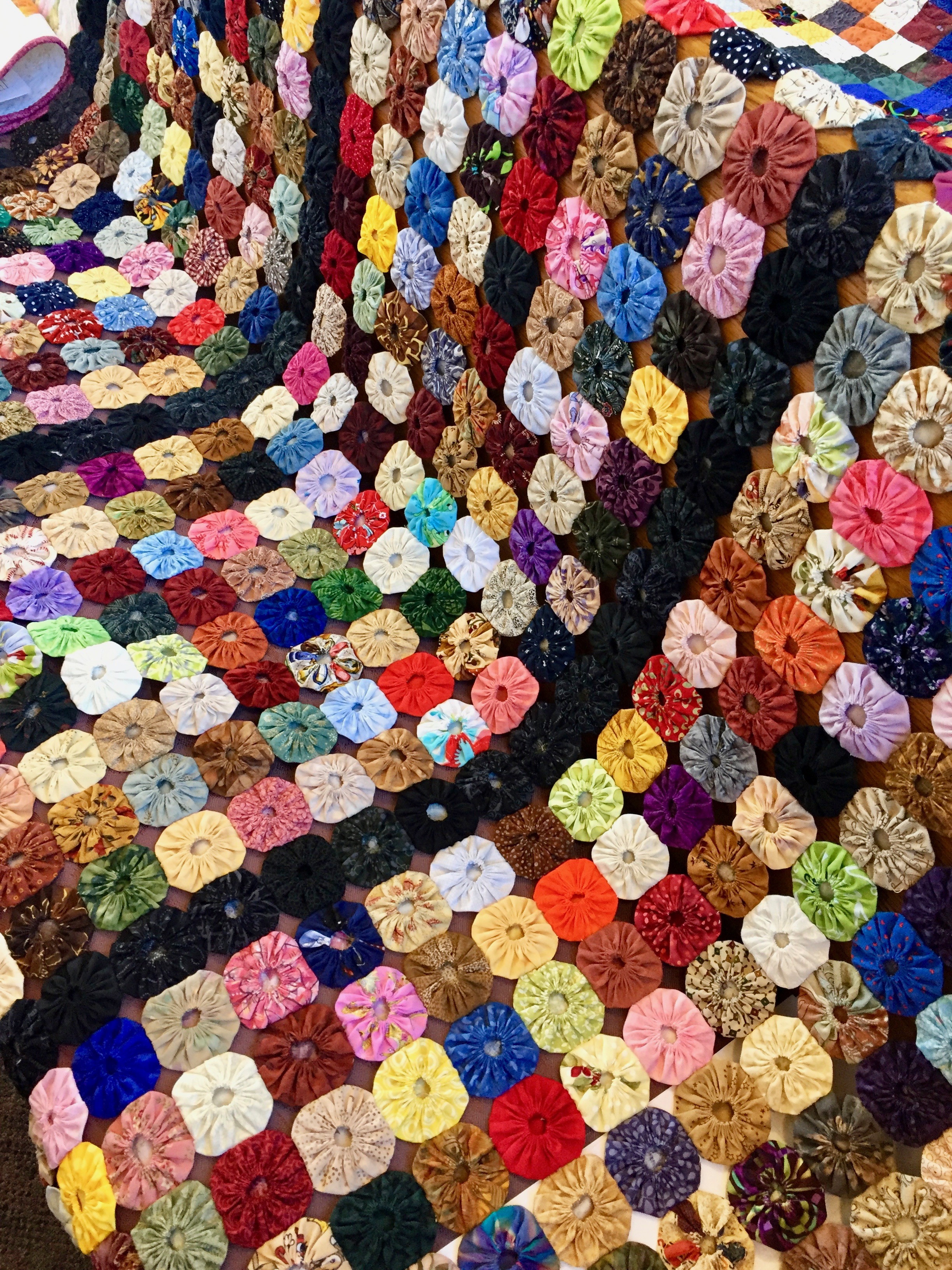 and who doesn't love Elizabeth Hartman's Fancy Forest pattern? This one was made by Kathy Hoge and quilted by her daughter, Rebecca Parini.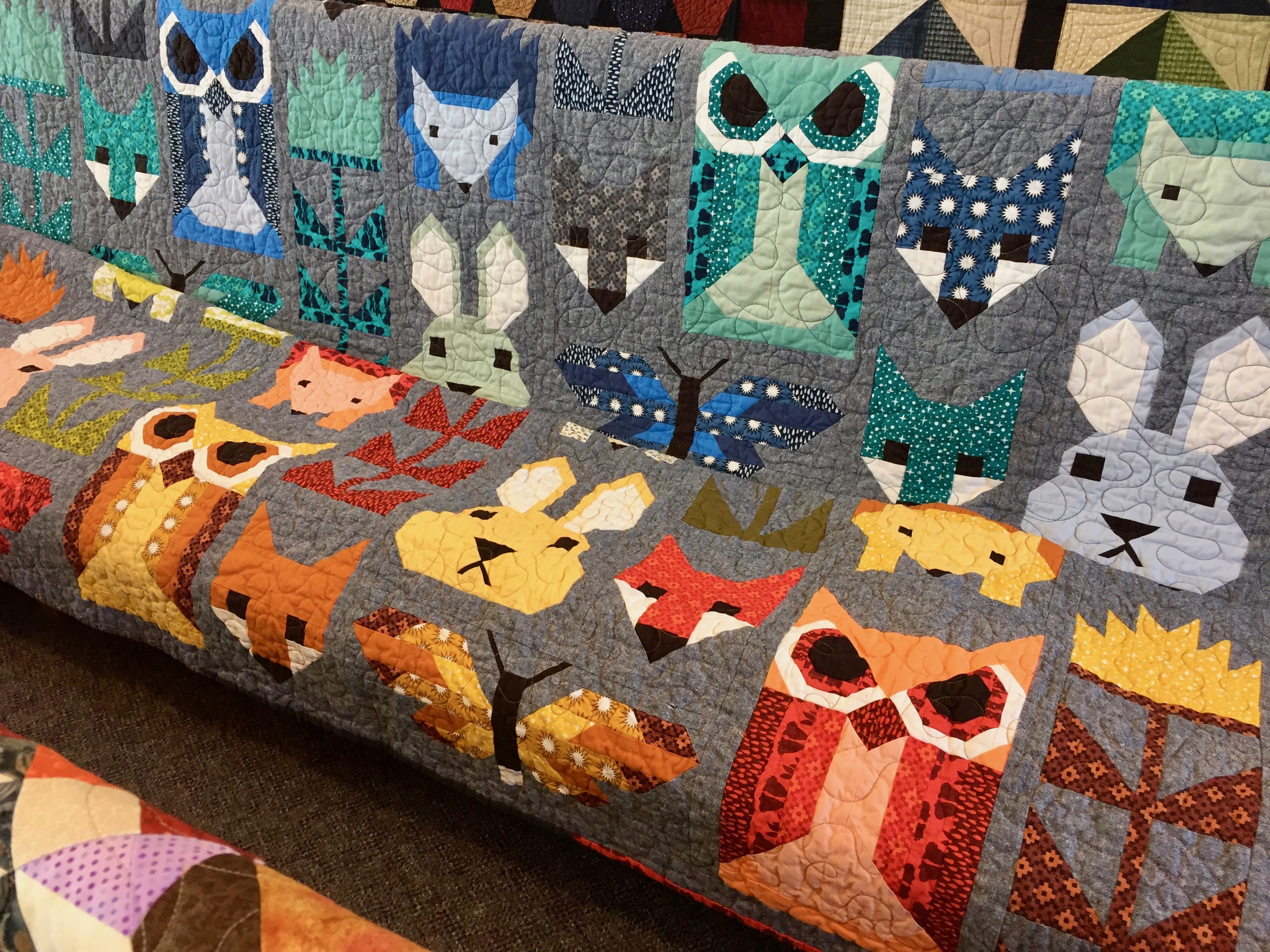 I couldn't walk out without taking a closer look at Deb Buttry's Tree of Life quilt made using fabrics from my friends at Frond Designs!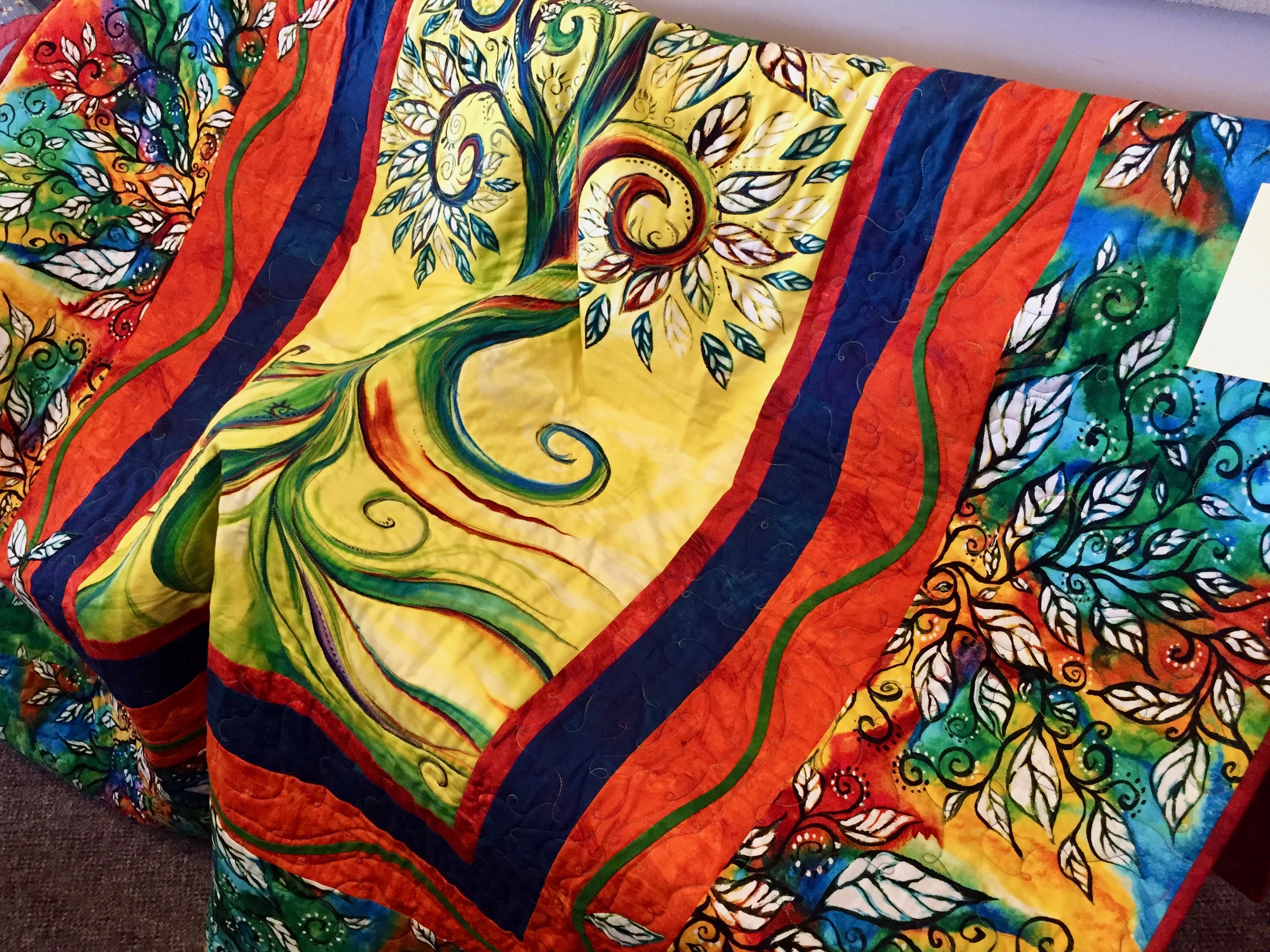 I was so glad I took the time to look in the quilt room.
Time to get to work!
My booth was waiting for me, dust covers on…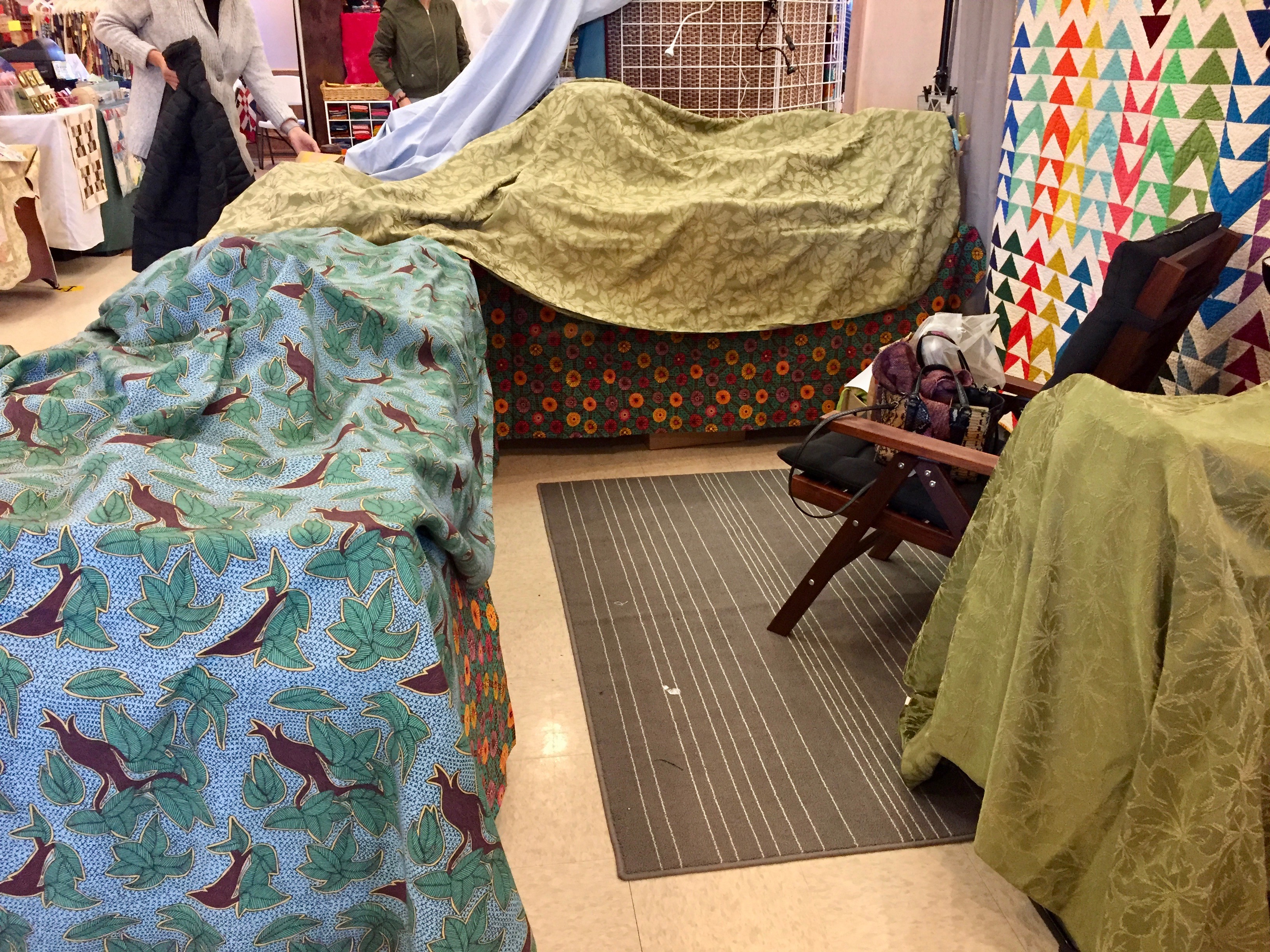 Lots of goodies underneath!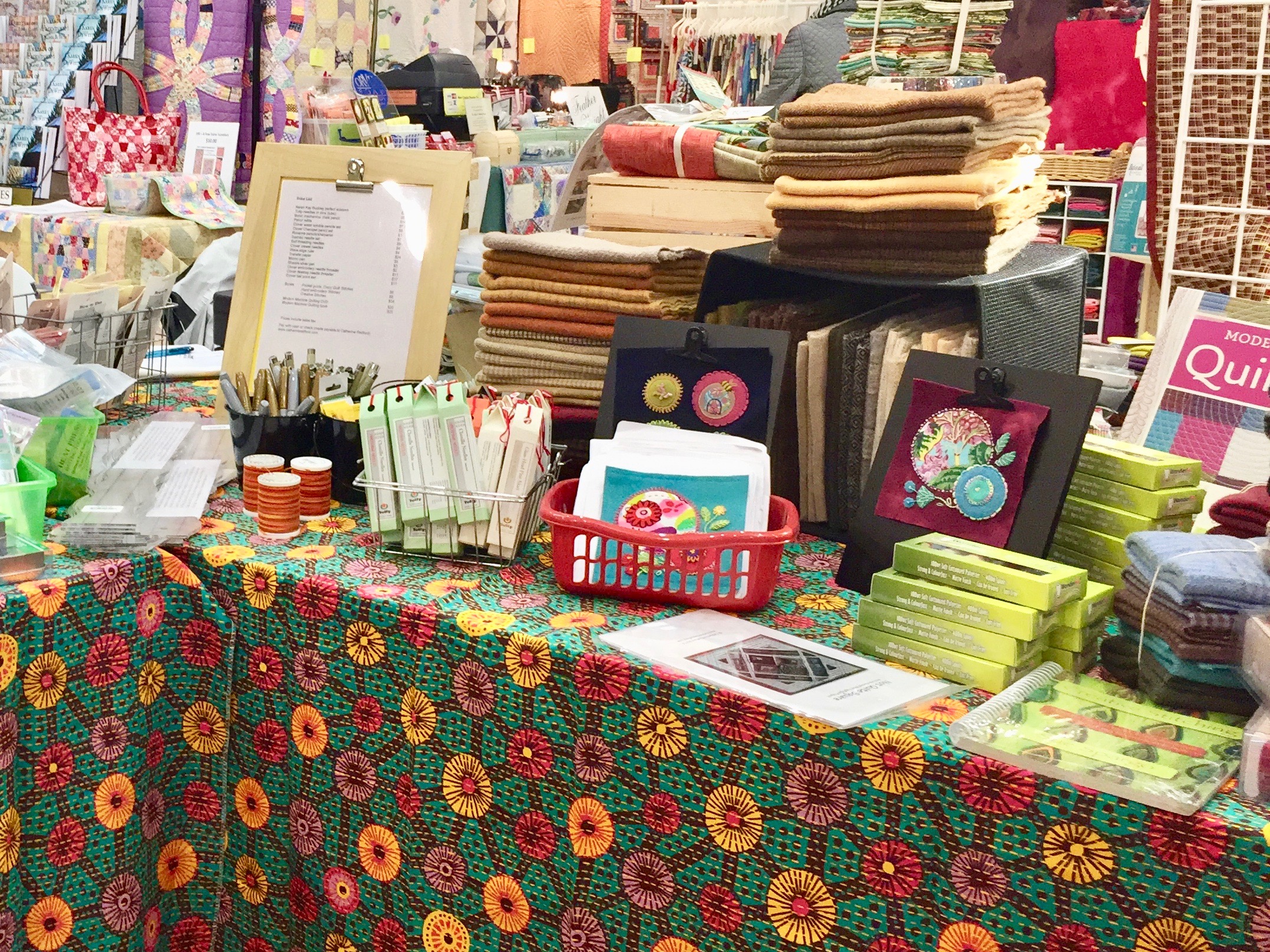 I was next door to Second City Quilt Company from North Center Chicago.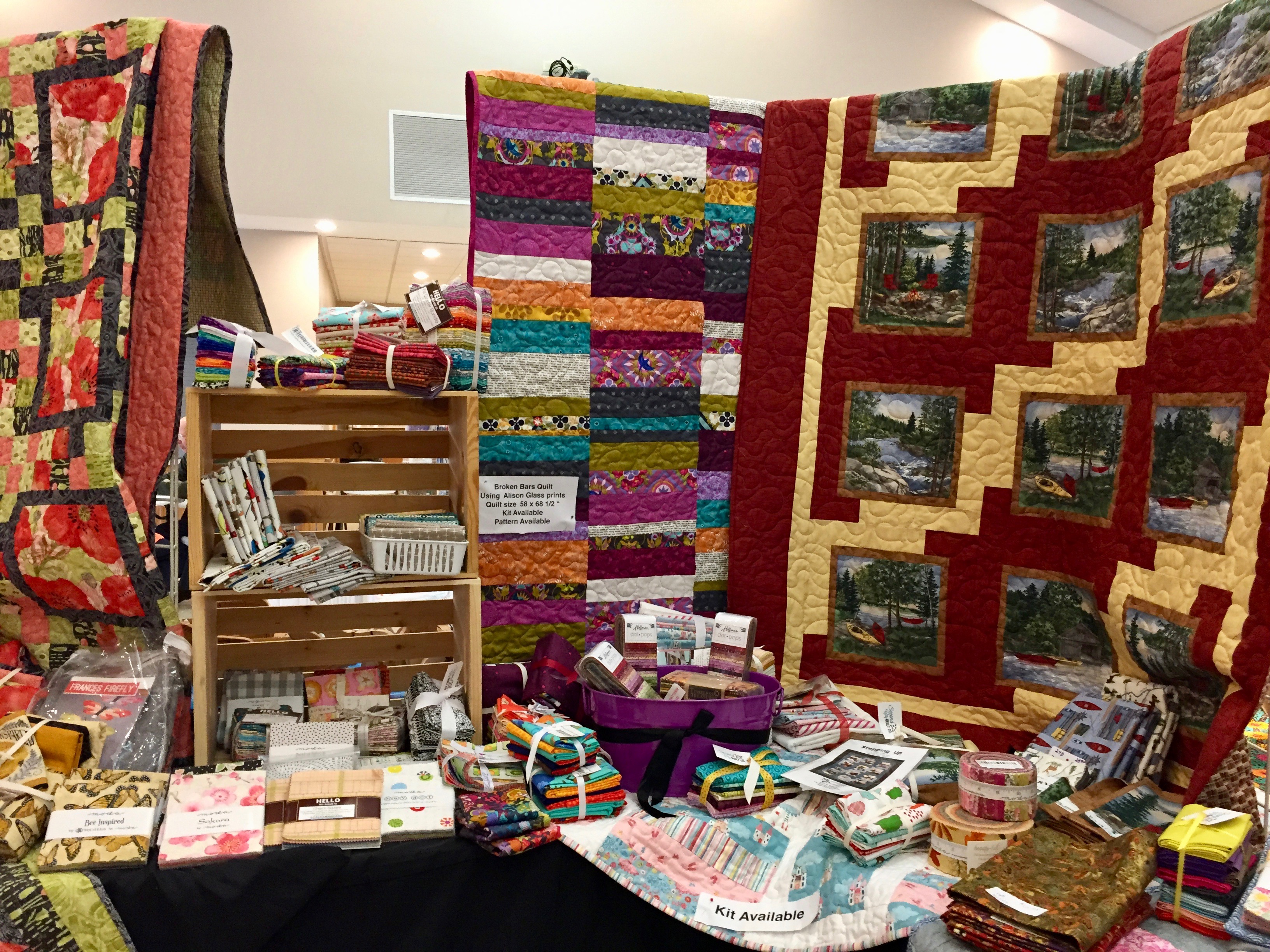 Becky was there with Gabby on Friday and with her daughter Mia on Saturday. They were the best neighbors I could have hoped to have.
Two days of vending is always a fun experience. It was good to see old friends who stopped by to say hi and make some new friends too. I didn't get too much time to sit in my comfy chair.
Packing up was quicker than setting up but I tried to do it carefully so things are sorted ready for my next outings. We'll see how well I did?
So, all the hanging sleeves are on my quilts to be delivered tomorrow. They do still need labels and that's on the list for today… along with sorting laundry, clearing up, grocery shopping… there's also a contract waiting to be sorted and bags to be packed.
It's almost time for Chicago Quilt Festival. If you are planning on being there I hope I'll see you. I'll be giving a tour in my Trip Around the World in Folk Art Stitches exhibit at 11 each morning. Just meet me in the exhibition!
On Thursday I'll be in Open Studios noon until 2 for Free Motion Fun. Friday will find me in Open Studios at the same time showing Embellished Folk Art Stitches and on Saturday at 2 until 4 I'll be there with Modern Machine Quilting.
In between times you can find me sitting and stitching in the Akonye Kena booth 1245. We'll have a make and take ready for you. I'll also have books and DVDs if you want to take one home. It's going to be all fun, all the time!