So, I set my alarm for 6.15 yesterday morning, coffee arrived at the door and I was all ready to leave the hotel just after 7 for a short walk to the Convention Center. I left my rain jacket in my room because it wasn't forecast to rain until 10 and I had an umbrella just in case…
Well, I turned left out of the hotel and strode boldly down the block… and kept walking… and kept walking… It started to rain, no problem, I put my umbrella up and kept walking…
I looked at my map and couldn't quite make the road signs match the street names on the map… I kept walking…
I reached the river but the river wasn't supposed to be there…?
Time to ask someone? I found a nice lady, obviously on her way to work. Oh dear, I was at least 10 blocks in completely the wrong direction!
By now the rain was coming down steadily but I set off with renewed vigor. The wind came up. My umbrella blew inside out and then the main stem broke. Umbrella in the trash can. I came to a CVS, they were out of umbrellas… Never mind, I was brought up in the wettest part of England…
Forty five minutes after leaving the hotel I arrived at the Convention Center, a little wet but in plenty of time to register for School House, get my coupon for a free tote and with a good story to start my day!!
No pics of my trek because did I say it was raining?!!
Here's one from inside the center, looking out on the river on a grey day.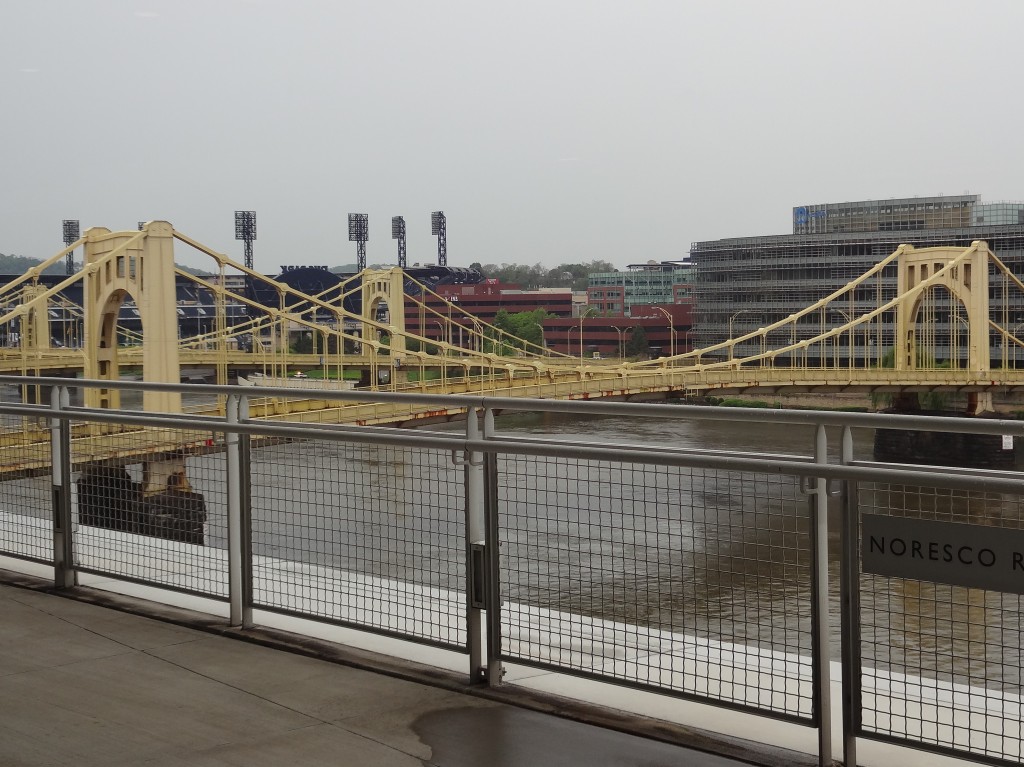 We started out with everyone in the main ballroom for an introduction from Karey Bresenhan and then a charming presentation from the girls of Cotton and Steel. They left me wondering how the fabrics we buy are so cheap…?
The classes I chose were in all corners of the building so a lot more walking was involved. I went to Valori Wells' Blue Print Basics Color of the Week collection…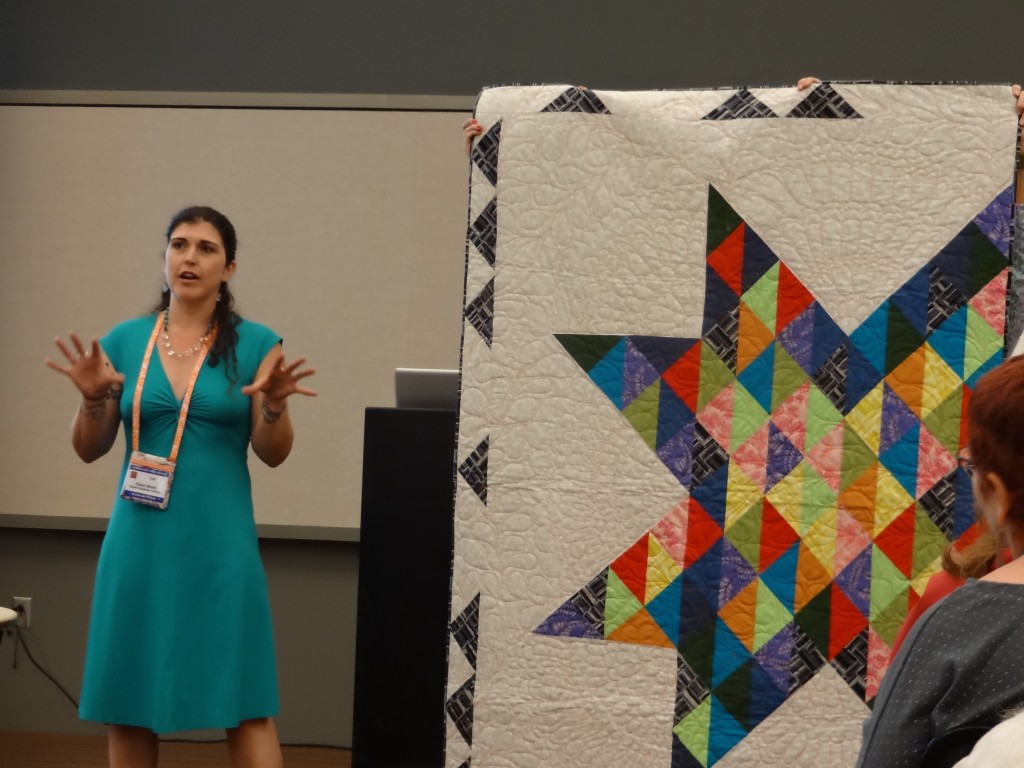 Thomas Knauer getting all existentialist on us with his meaningful quilts…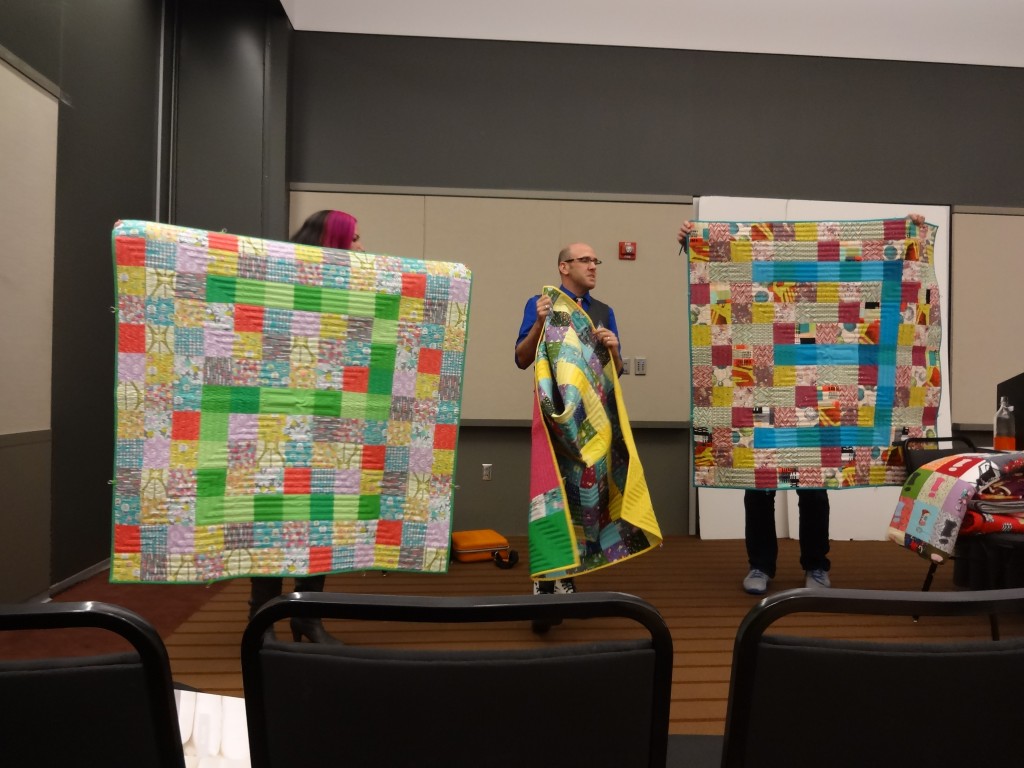 Sue Spargo's Creative Stitching Classroom. Here's Amy hiding behind one her mother's beautiful pieces, the cover quilt for Sue's new book, Creative Texturing, coming soon!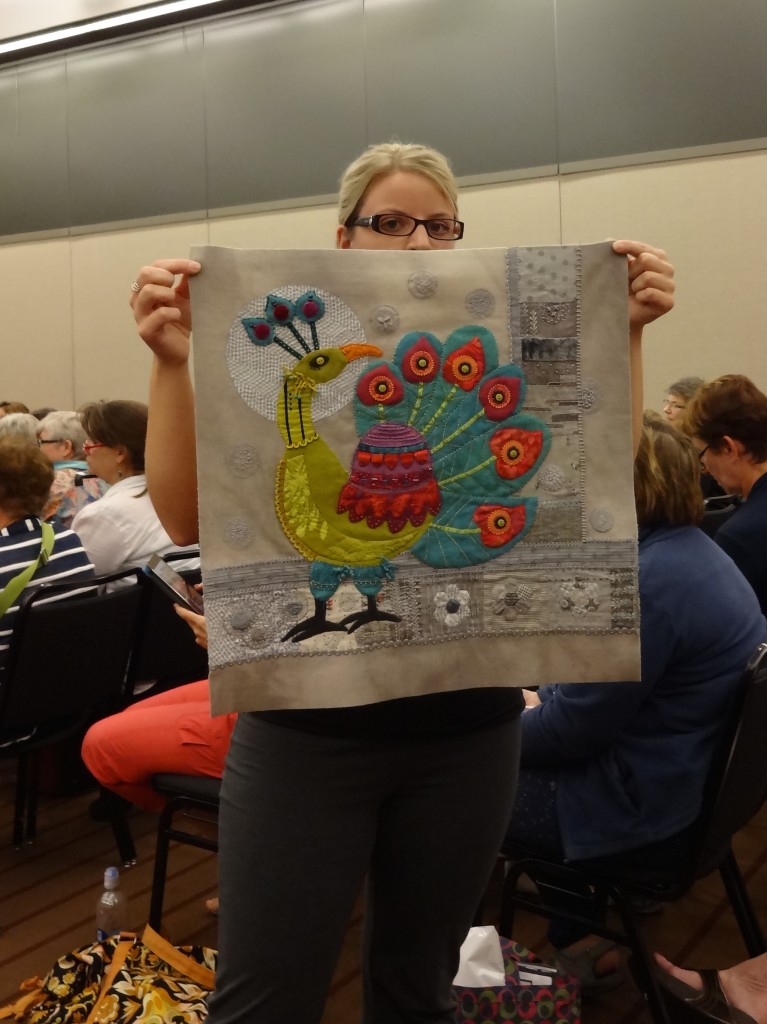 Many of the classes had drawings and my very exciting win was in the Coats & Clark room in a 15 minute presentation on their solids, in particular the Denise Schmidt Modern Solids. My card was drawn for a box of the whole range of 75 colors!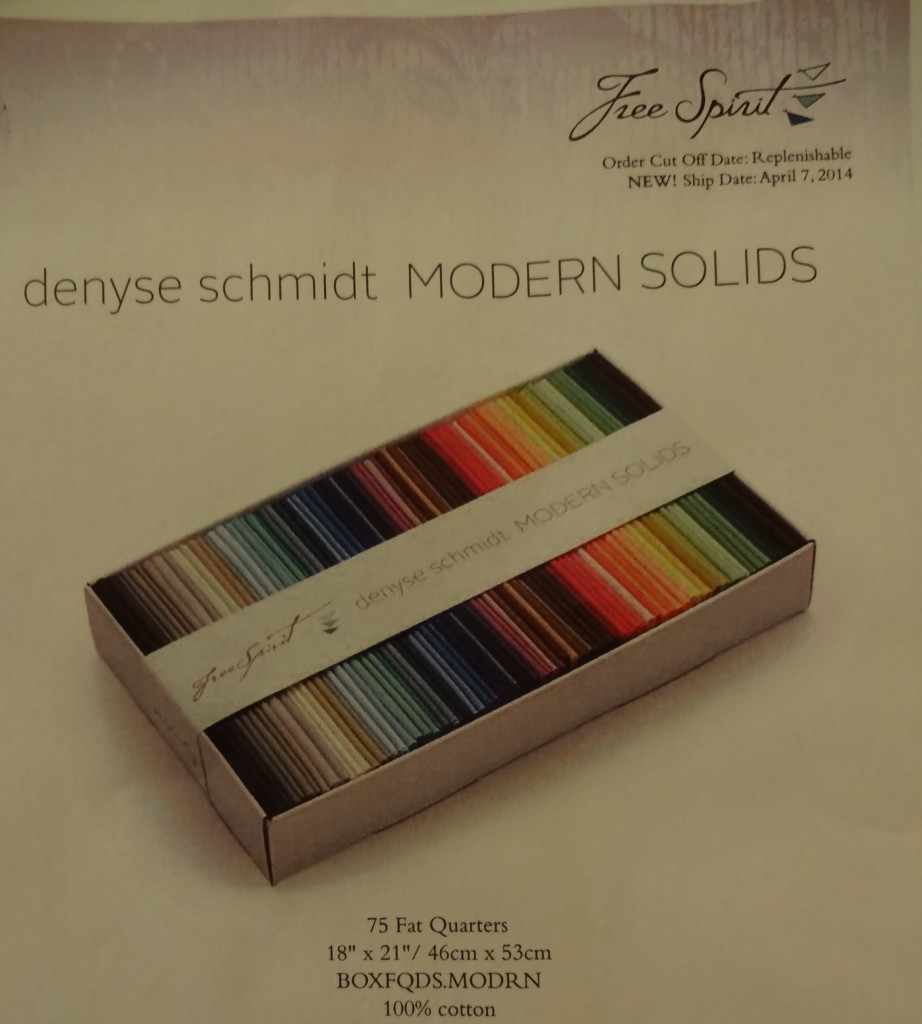 I'm looking forward to getting those in the mail when I get home!
Every time I walked over the bridge between the two halves of the convention center there was an opportunity to see the progress on the show floor below.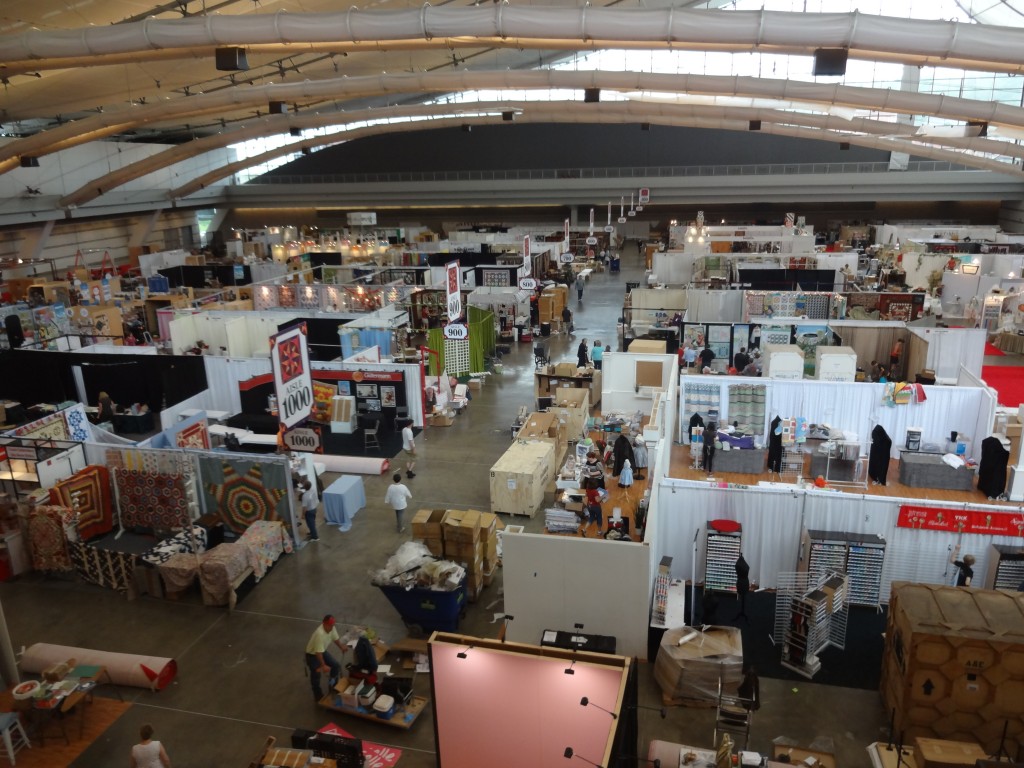 Not long now until I get to appreciate everything in its full glory.
Enough learning, time for shopping and the infamous Sample Spree. Valerie managed to secure an excellent spot in line, with chairs, and so we waited in comfort for the two and a half hours until it all began. By 8 o'clock the line snaked all around the food court…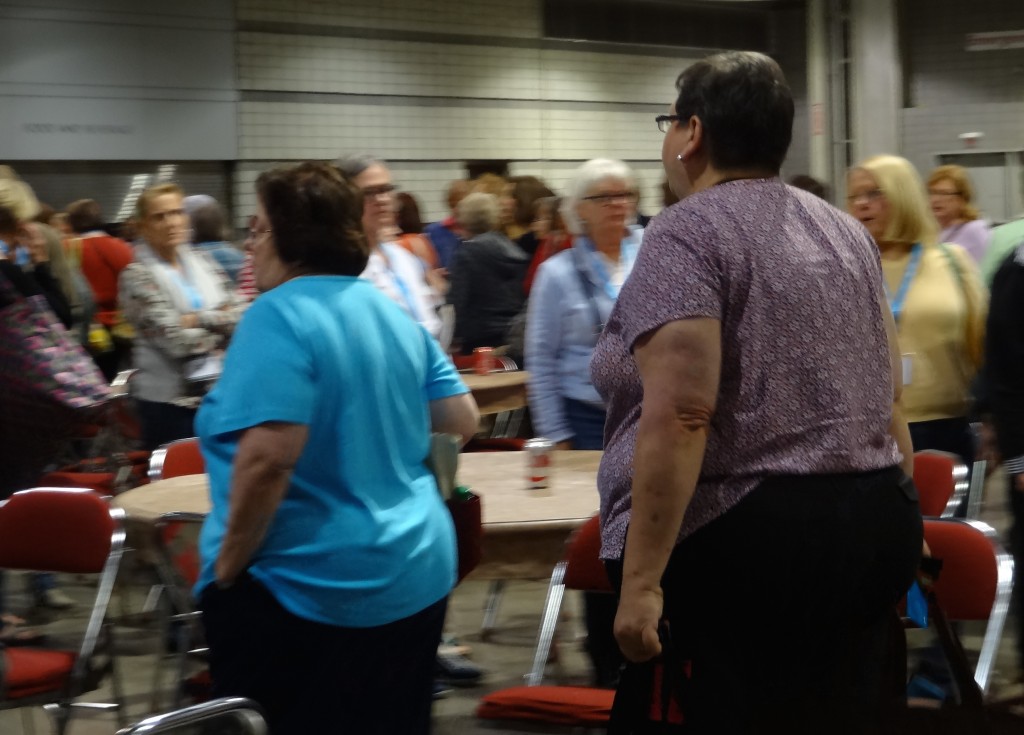 but this is how close to the front of the line we were!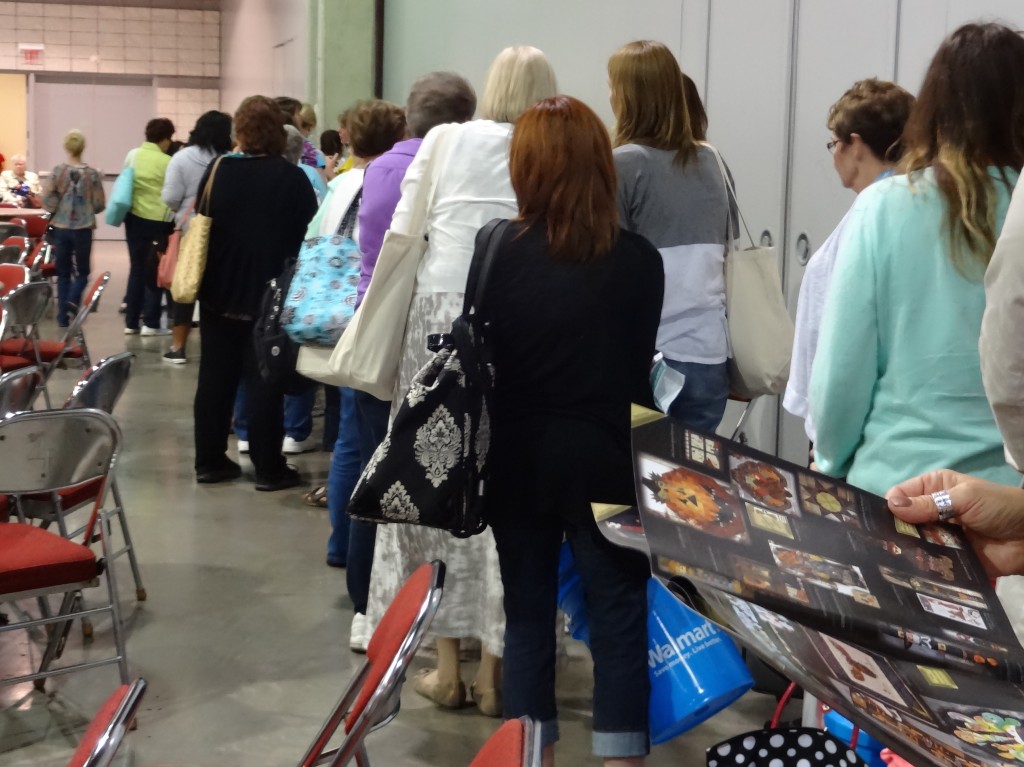 No pictures of the chaos inside but within an hour we were done. Here are Ute and Valerie comparing their purchases with the ladies from Robert's Sewing Center in Crest Hill.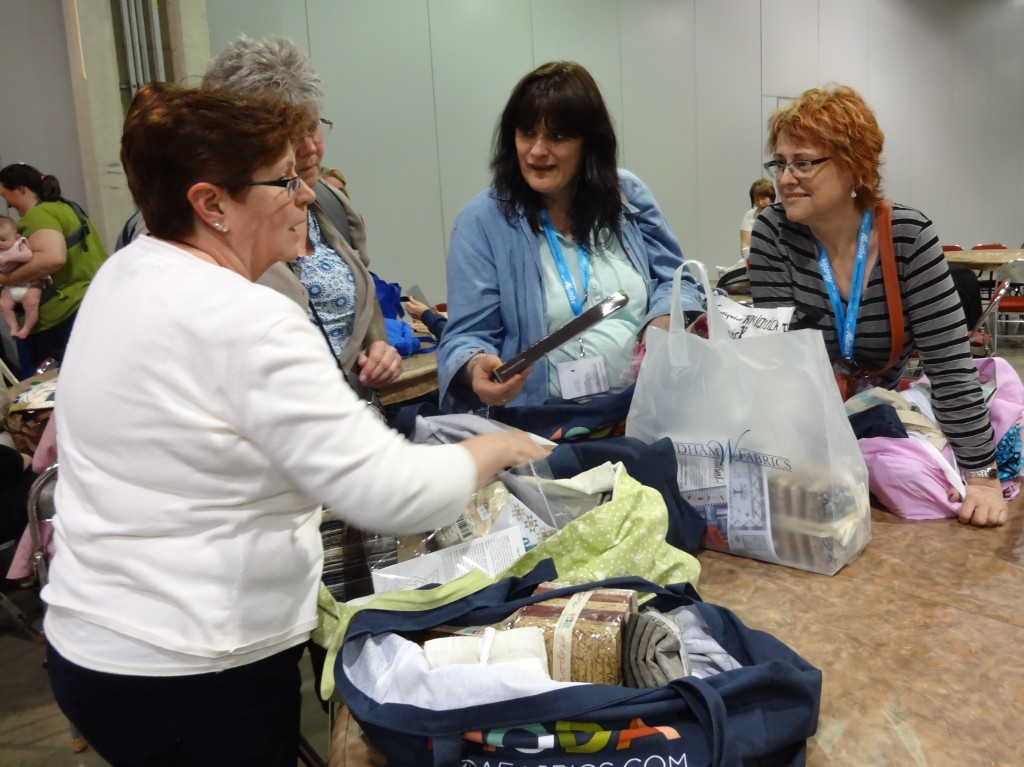 I made a few new friends who were very happy with their shopping.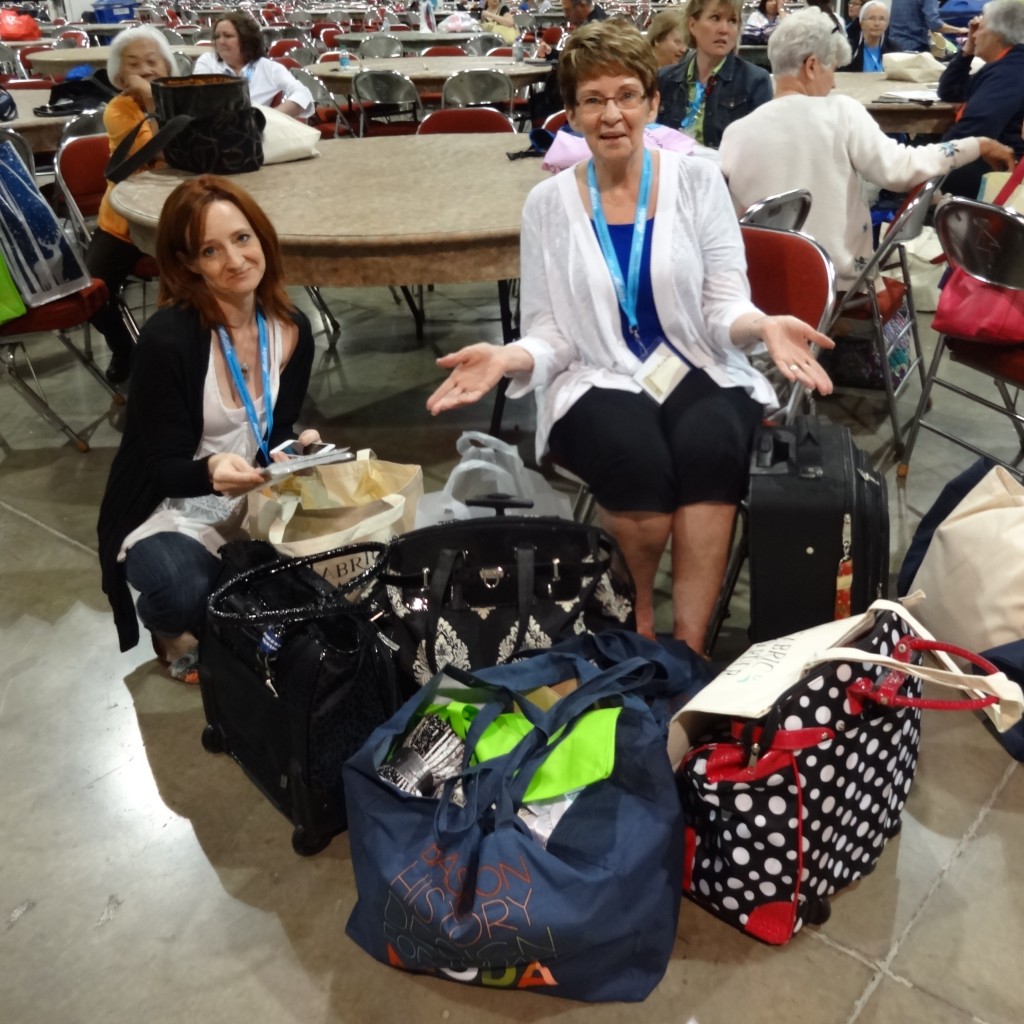 These ladies assured me they would have used everything they bought before Houston Quilt Market in October!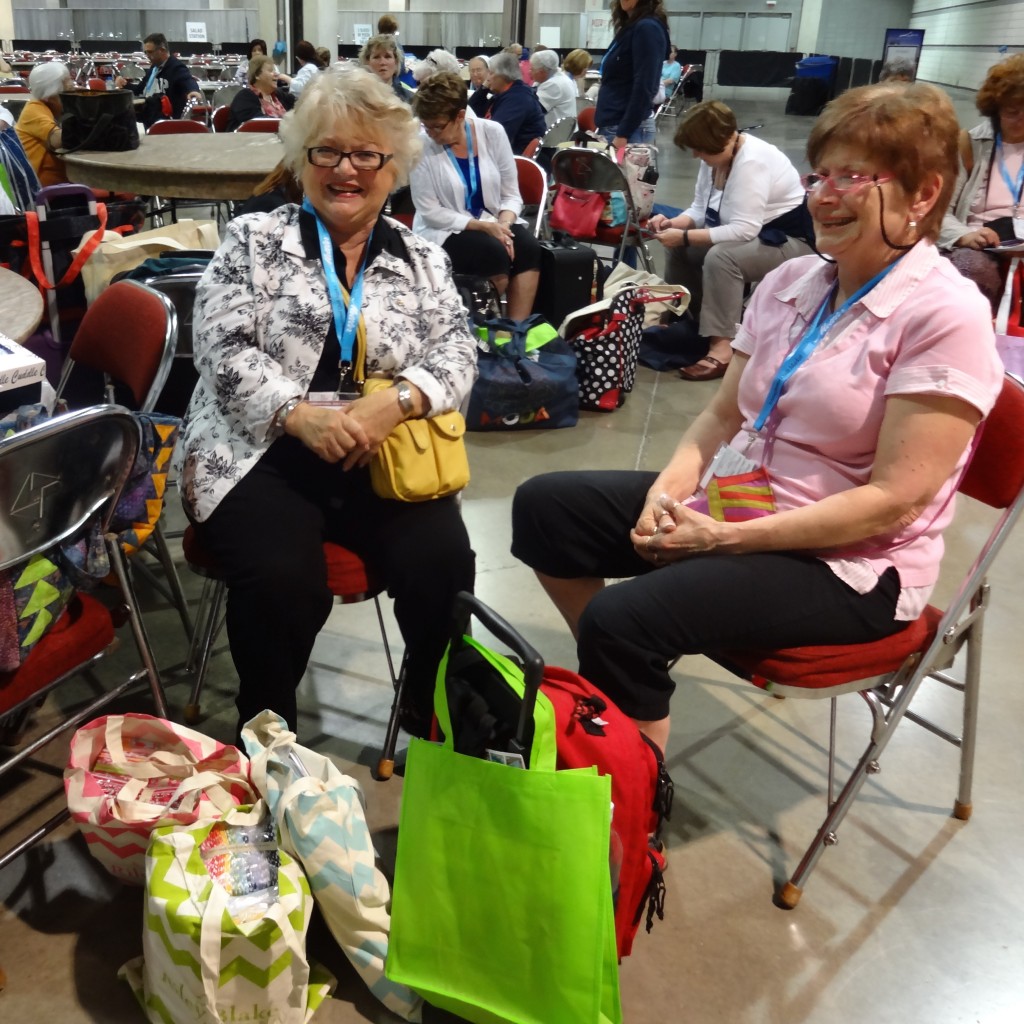 I'm not sure if I believed them.
Here are my purchases. I am particularly thrilled about the bag that has wheels and a pull out handle. It's going to be great when my plane is at Gate 25 in the future.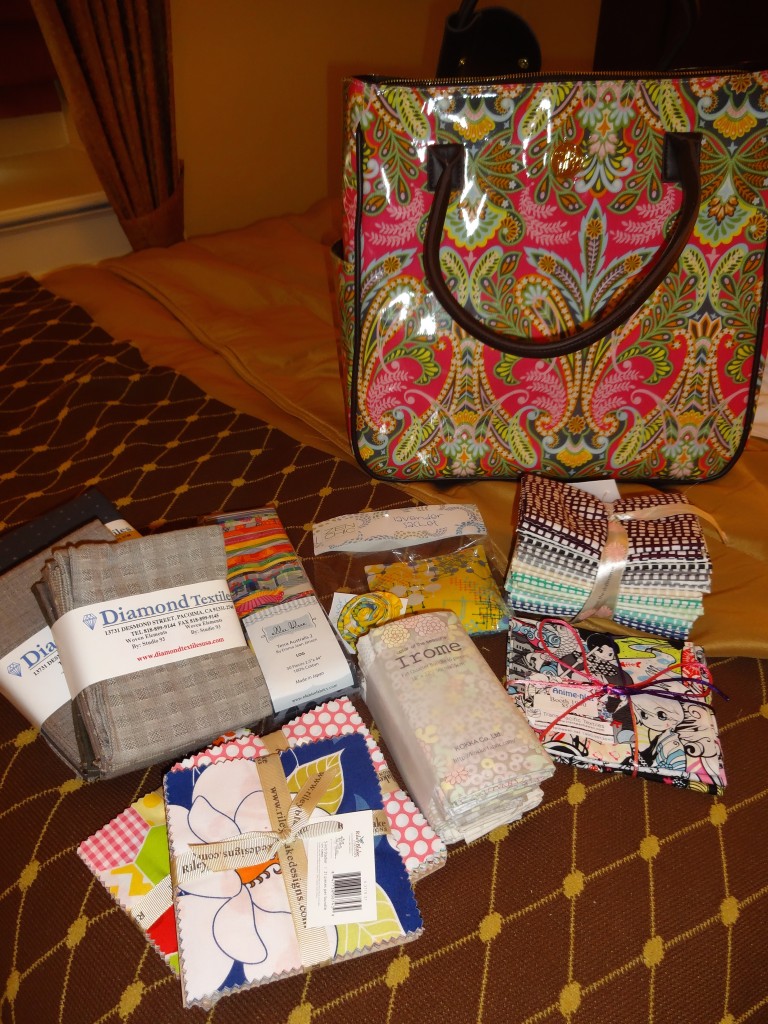 That was my first day at market. What will today bring? I'm going to turn right out of the door. That's for sure.