You might be forgiven for wondering if I really hadn't done just a little shopping my first day on the show floor…
Actually, I did keep my shopping to just a few very special items. Here are two Oakshott charm packs from Hyggeligt, hand dyed burlap and cheesecloth from Fiber on a Whim and a new ruler from EZQuilting/Simplicity.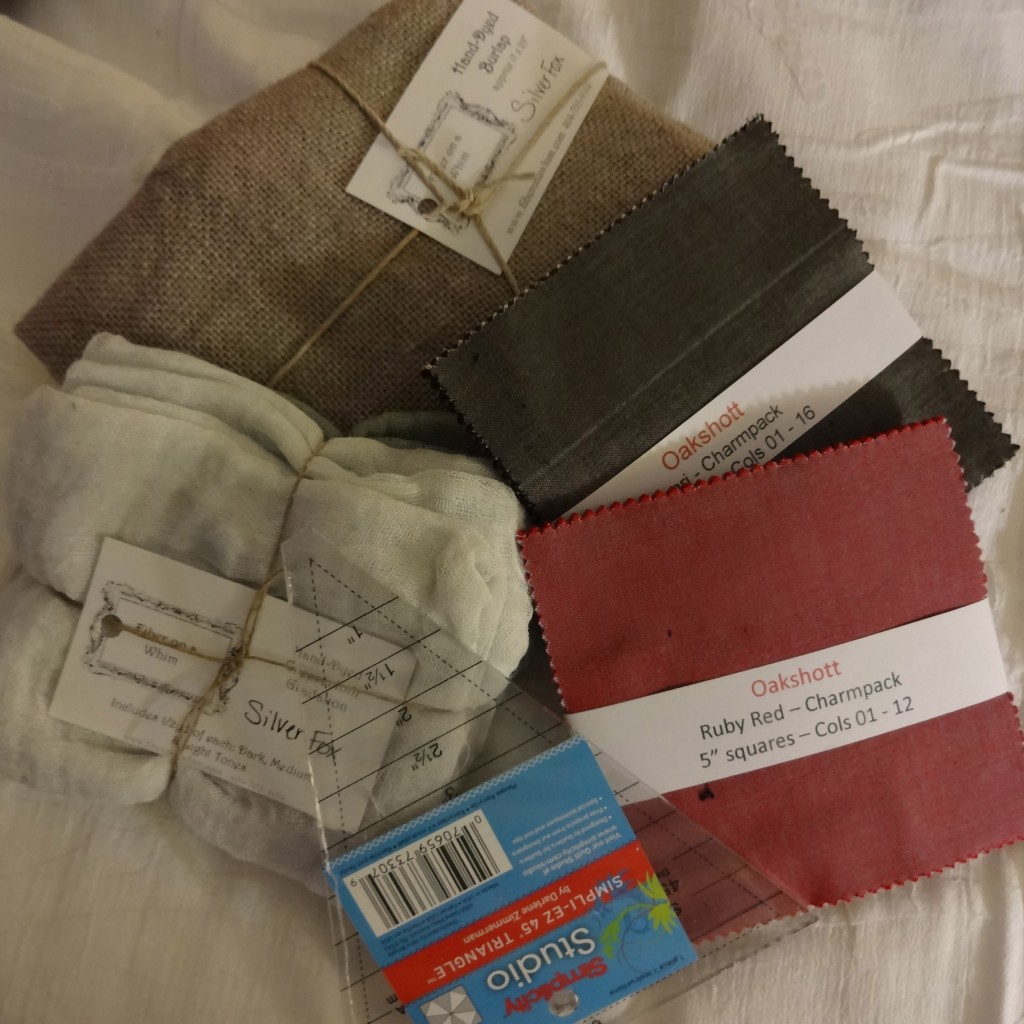 So you'd think my bag couldn't be very heavy? You would be wrong, of course! At registration as a Super Volunteer we got a large QuiltCon bag of stuff… That coupled with the odd freebie picked up on the way around looked something like this…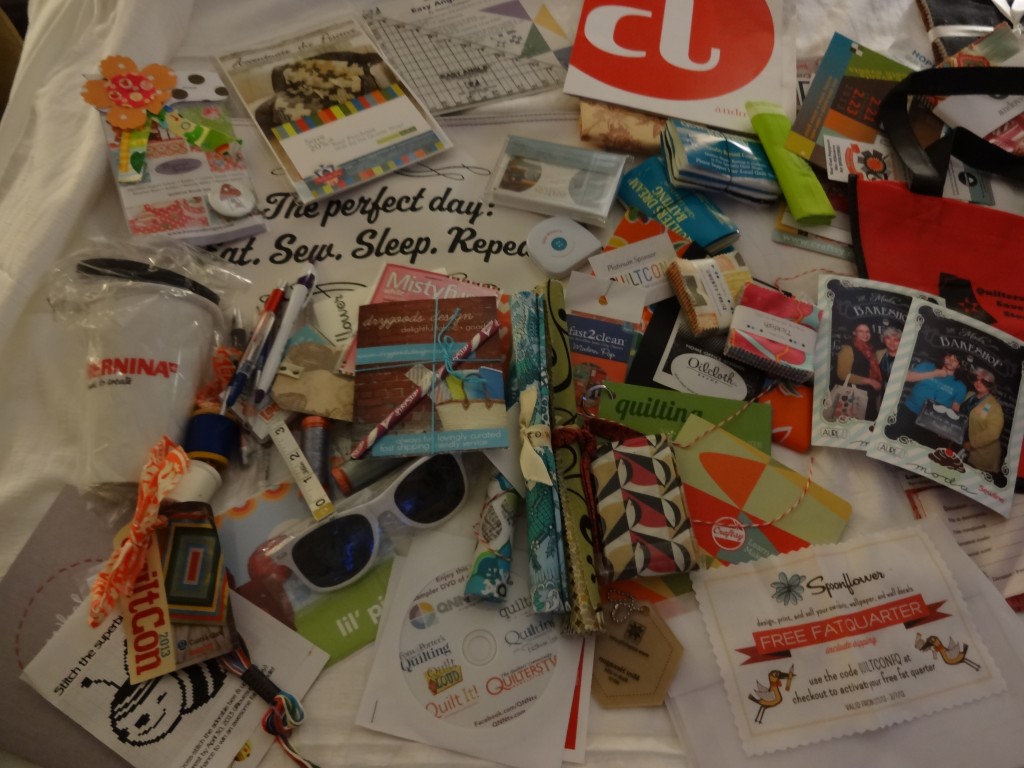 That was Thursday's haul…
Friday morning, we decided to start the day with breakfast on the 18th floor before we set off for the convention center. You can see how close the corner of the center is to the Hilton Garden Inn in this pic taken out of the restaurant windows.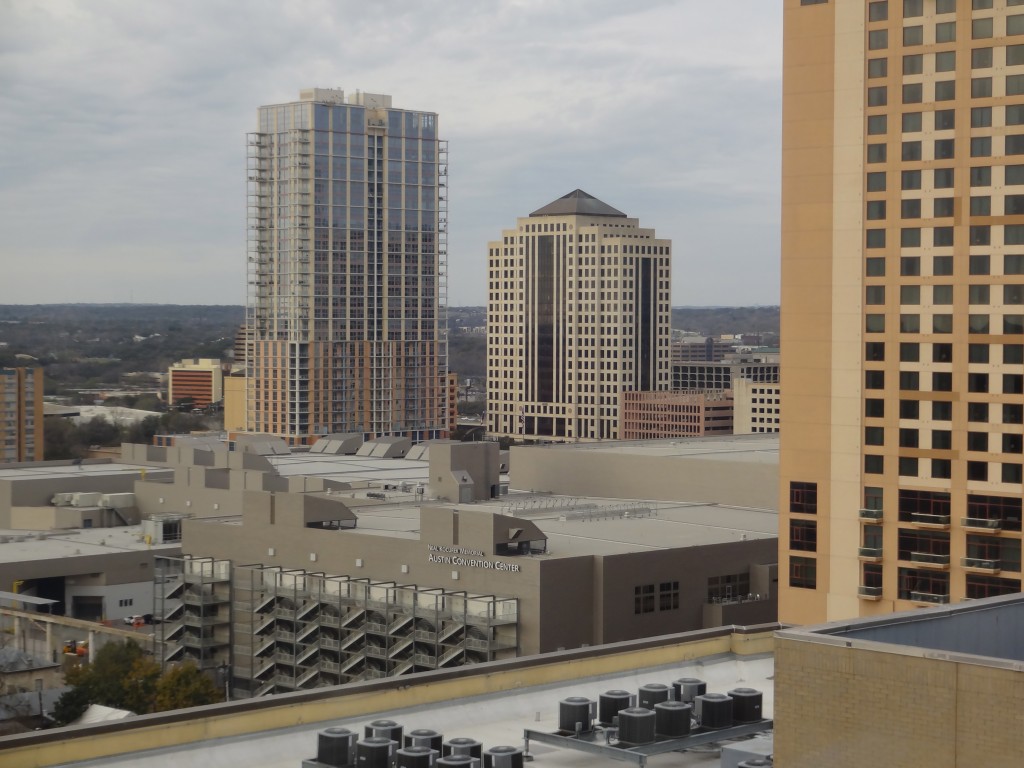 What you can't see is how may blocks long the convention center is, so you can't tell how far we really had to walk to get to the exhibition hall doors! Rest assured we walked a long way each day…
I spent the morning walking around the quilts and taking lots of photographs. For so called "simple" quilts there was a lot to look at. I am sure QuiltCon will be posting pictures before too long.
In the afternoon I worked at the box office on cash sales. Event Coordinator Gina Pina with the bright pink hair kept us all in order.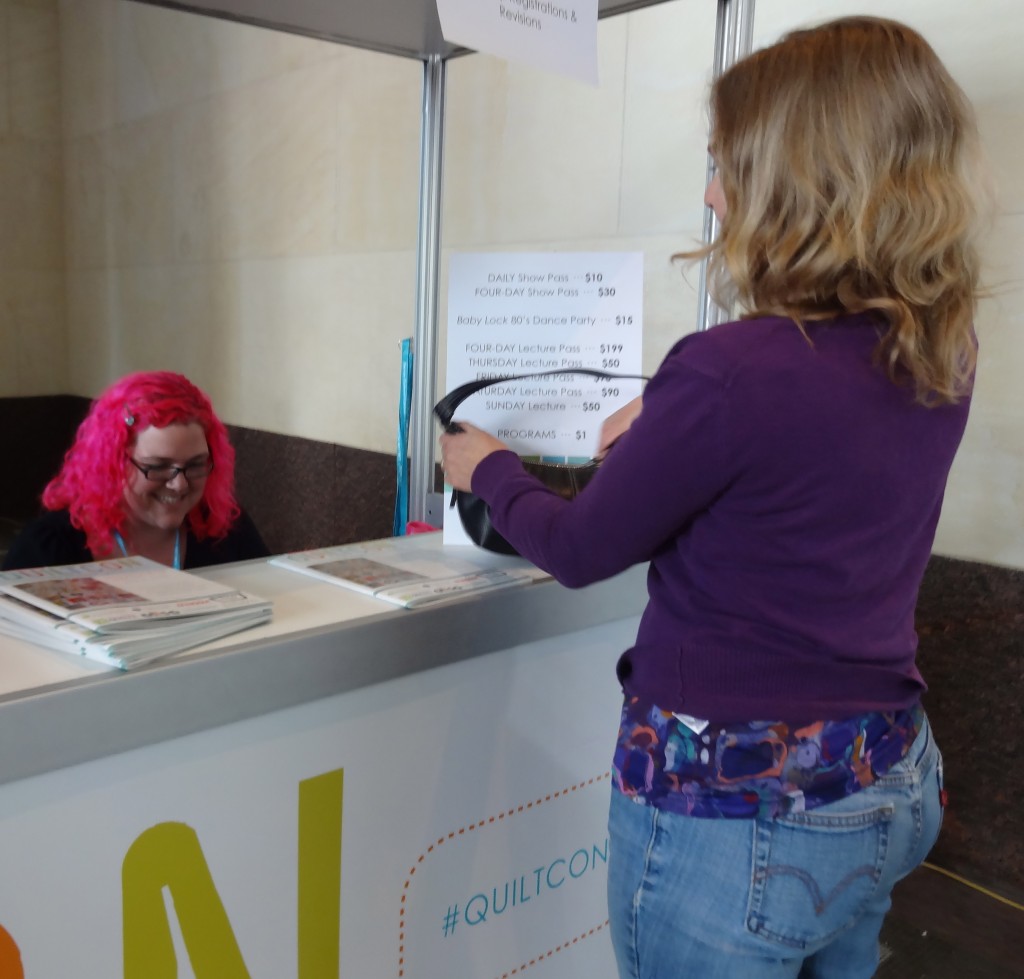 After all that busyness it was time for dinner with Anna's friends. We went across the street to Moonshine where I was told the Sweet Potato Pecan Pie was not to be missed. So, I didn't miss it. I made it my dinner and it was very excellent. Even though I made it my appetizer, entree and main course, and shared some, I still had almost half of it to take home for another day. Good job we had a fridge in our room?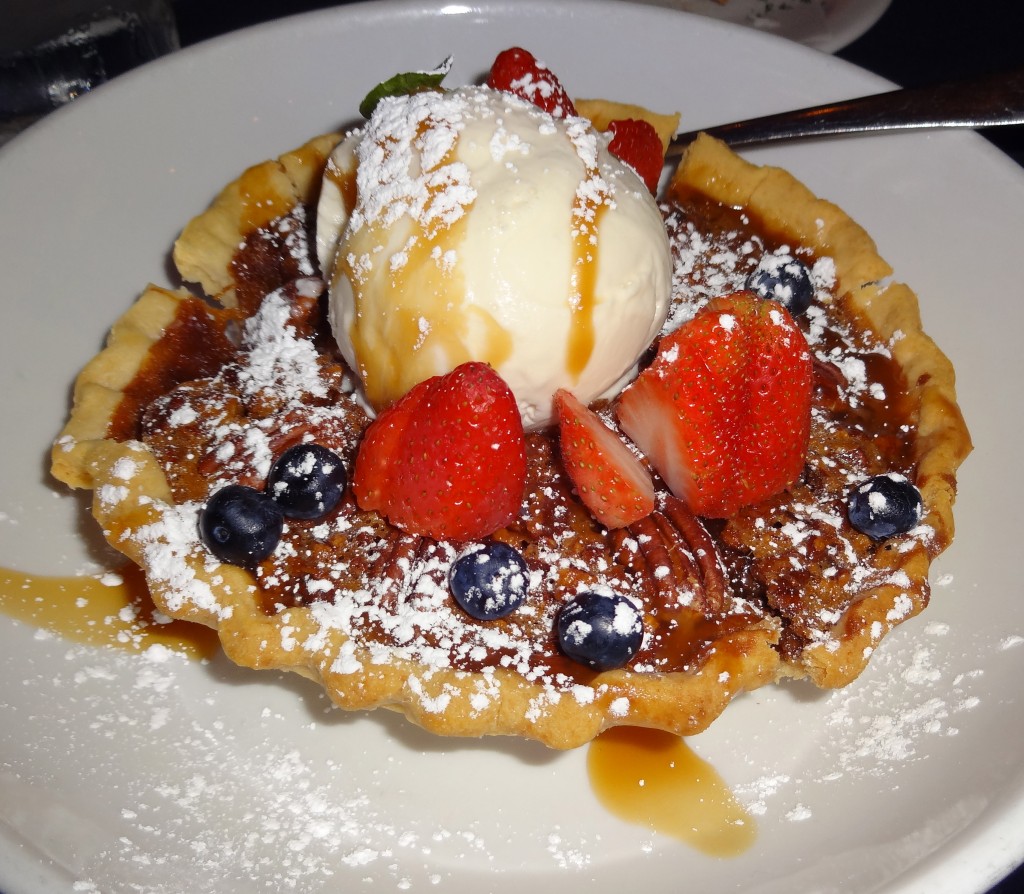 That was not the end of the fun… There was still the 80's dance party… so we put on our party clothes…
and partied the night away!
The alarm woke us up on Saturday morning but I didn't need to get to the show until 9.15 so I took the opportunity for a few photos along the way…
My first duty for the day was on the show doors, checking tickets and stamping hands… I met lots of lovely people including theses members of San Diego Modern Quilt Guild.
I think the resemblance to Girl Scout sashes was intentional. Very cute!
Next up was supervising the lecture hall. I have to admit I slept through one lecture but I was awake for a panel discussion, All about Fabric Design with Evie Ashworth, Laurie Wisbrun, Kathy Miller and Amy Butler, shown here with moderator Kim Kight.
Although I don't see myself designing fabric any time soon it was very interesting to listen to the different points of view of the designers and their design directors.
Next up was Heather Grant speaking on the Design Fundamentals of Modern Quilting, number one of which is "there are no rules", so I suppose all fundamentals may be ignored at any time?
An educational afternoon and three quarters of the way through my time away already… I checked in for my flight home at exactly 6.15 and was still B2… explain to me how that works please? Dinner at Ironworks BBQ (very excellent chicken), a little time chatting in the atrium and I was asleep again!
We packed our bags and checked out before heading over to the convention center on Sunday morning. I was listed to be in the MQG booth but the helper for Valorie Well's workshop was missing in action. I very happily agreed to head up to her classroom and help out! My joy was short lived because the real assistant turned up and I rather reluctantly handed over my responsibilities…
Downstairs Gina put me to work, helping her distribute gift bags to the vendors and sponsors on the floor… I didn't actually get to push the full cart myself but people were very pleased to see us!
Then I donned the white gloves until lunchtime. It was fun talking to show goers, but three hours was exhausting!
All our volunteering hours completed and with just a few hours left before it was time to head to the airport Anna and I took a souvenir picture in the Michael Miller booth,
and did a little shopping. (!!)
Back at the hotel, we got our bags, said our farewells and the SuperShuttle arrived to take me back to the airport.
Steve insisted I tried out the wifi on my Southwest flight and Downton Abbey got me back to Midway very quickly… too quickly in fact. I had to turn off my electronic device 9 minutes before the end of my show. I am going to have to borrow someone's DVD set sometime soon.
Steve was waiting for me and I was home in time to watch the end of the Oscars…
This morning I have been unpacking, sorting out my pictures and generally catching up on life. I took a snap of those few last minute purchases and freebies…
Now it's time to get to work. There won't be another QuiltCon for two years but I have lots of ideas to process and try out. There is that log cabin top to quilt…