Another year, another Quilt Market!
Steve was in Dallas last week so I had to get the bags in the car all by myself…
Three 48 pound bags this time around, a carry on bag and a personal item.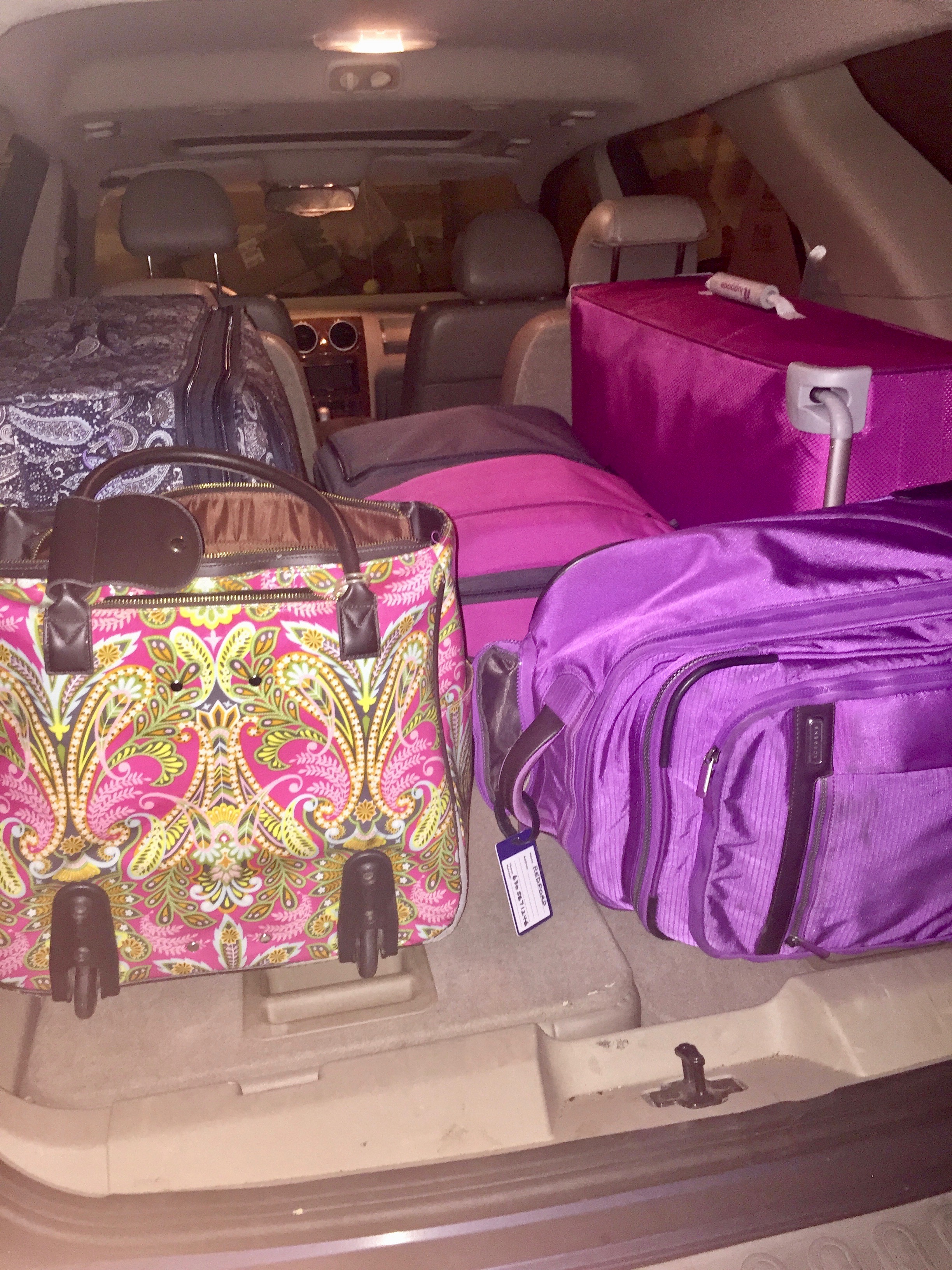 It was still dark outside when I left the house. I picked up my friend Kay on the way. She was set to be working  in a booth and had a spare suitcase allowance… Thanks Kay 🙂
We parked in the daily garage, convenient for us and for Steve on his return the next day! The sun had come up and we had a great view of the city from the fourth floor.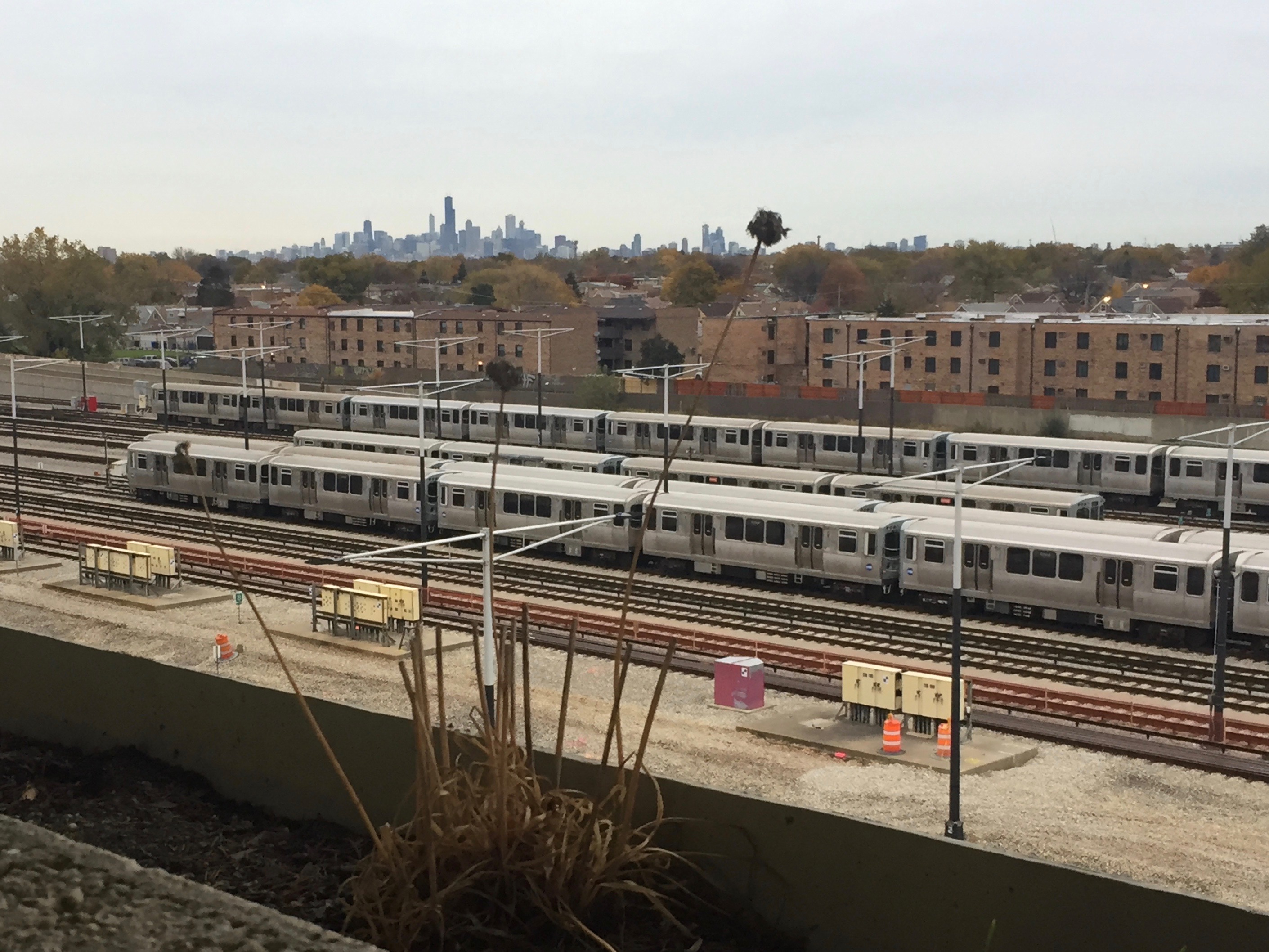 The journey was without incident which is the best way to be. I arrived at the Hilton of the Americas with all my  bags intact and set about unpacking and settling in for my eleven night stay. I met up with Jenny Lyon, we checked out on our parcels, had something to eat and I came back to my room… where was my phone?
Oooh…
No phone 🙁
What to do now?
I opened my lap top and googled it… Mr. Google knows everything. Find My Phone is activated on my phone so that I can find it in the house when the ringer is turned off. OK. Go to Find My Phone, go to lost phone mode… The phone appears to be in the parking garage. I haven't been in the parking garage? lock the phone and put a message on the screen for the finder to call Steve. Tell Steve via messaging that I'm hoping he will get a call. Get the phone to make a noise. Check the location of the phone. It appears to have moved to the hotel? Message from Steve that he has had a call from Dave in hotel security. He has my phone…
Can it be that simple?
I went downstairs and Dave really did have my phone! A guest found it in the parking lot when it made its noise and handed it in. Apparently an iPhone 6 with a reasonable code number is not in high demand. I must have dropped it or put it down somewhere and someone picked it up hoping to have made a good find, realized it was not so and left it in the parking lot where a good samaritan took pity on it…
So that disaster was averted. Just a few minutes of raised heart rate and stress!
Ever onwards…
Yesterday morning I was up early for breakfast in the 24th floor lounge. I do like the inside/outside shots when it's still dark.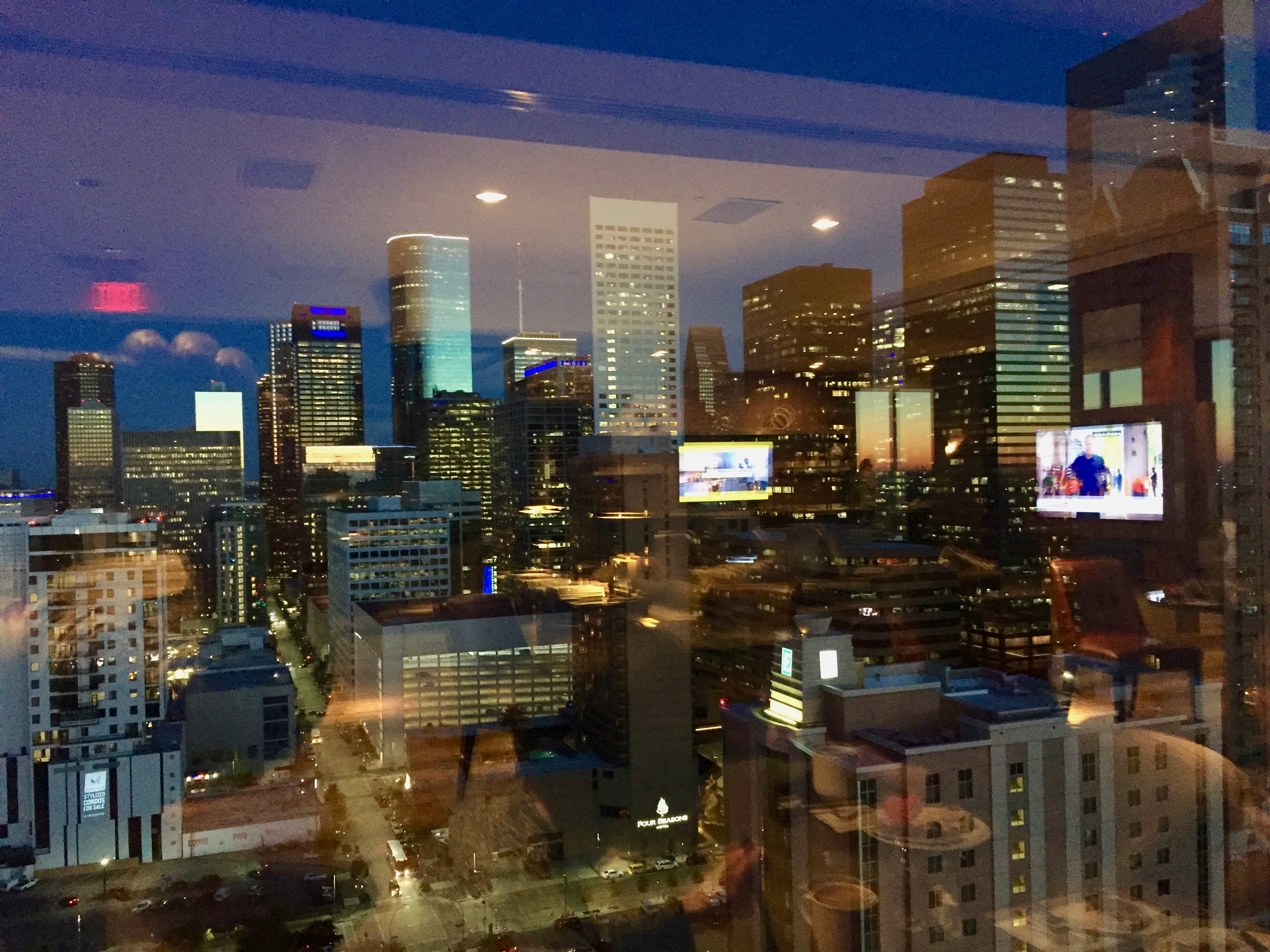 I picked up my School House materials and went to help Richard set up his booth for an hour.
I had to take a look at my quilts in the Rest and Recharge Lounge. All on one wall I couldn't get them all in one picture.
Looking right,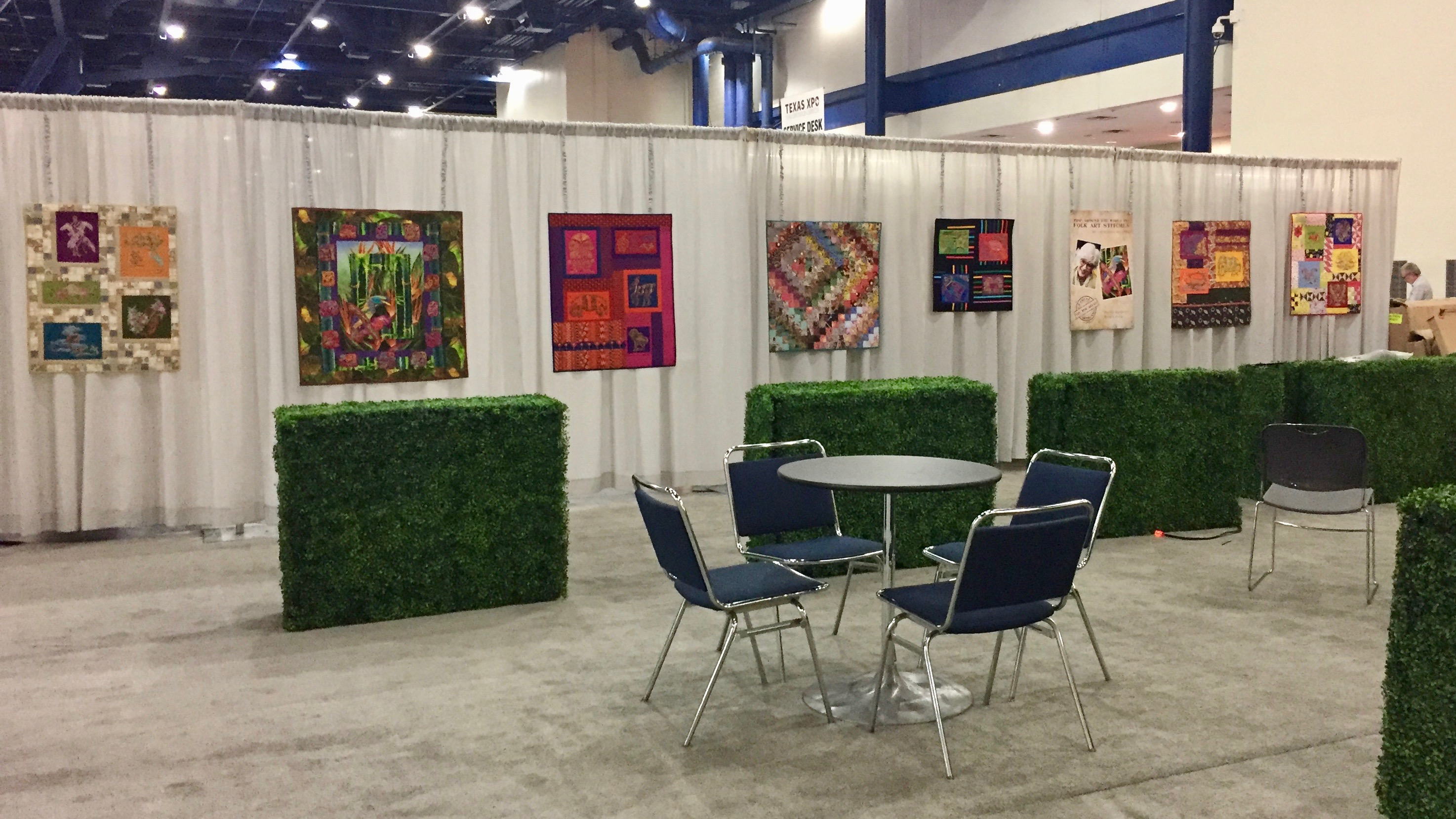 and looking left.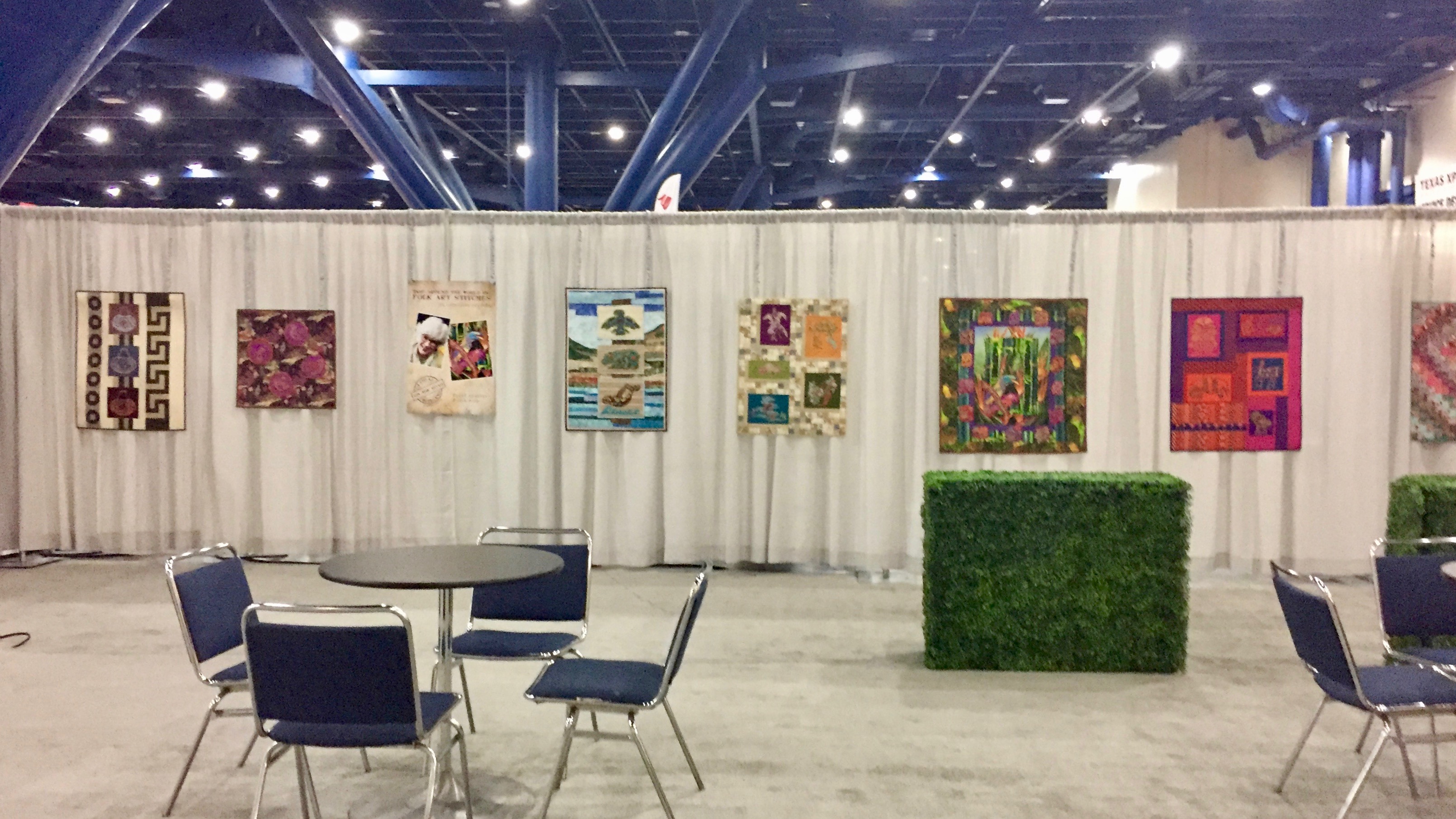 Pretty quilts all in a row.
Back to the Global Artisans booth.
Twelve paisley designs I have been working on this year…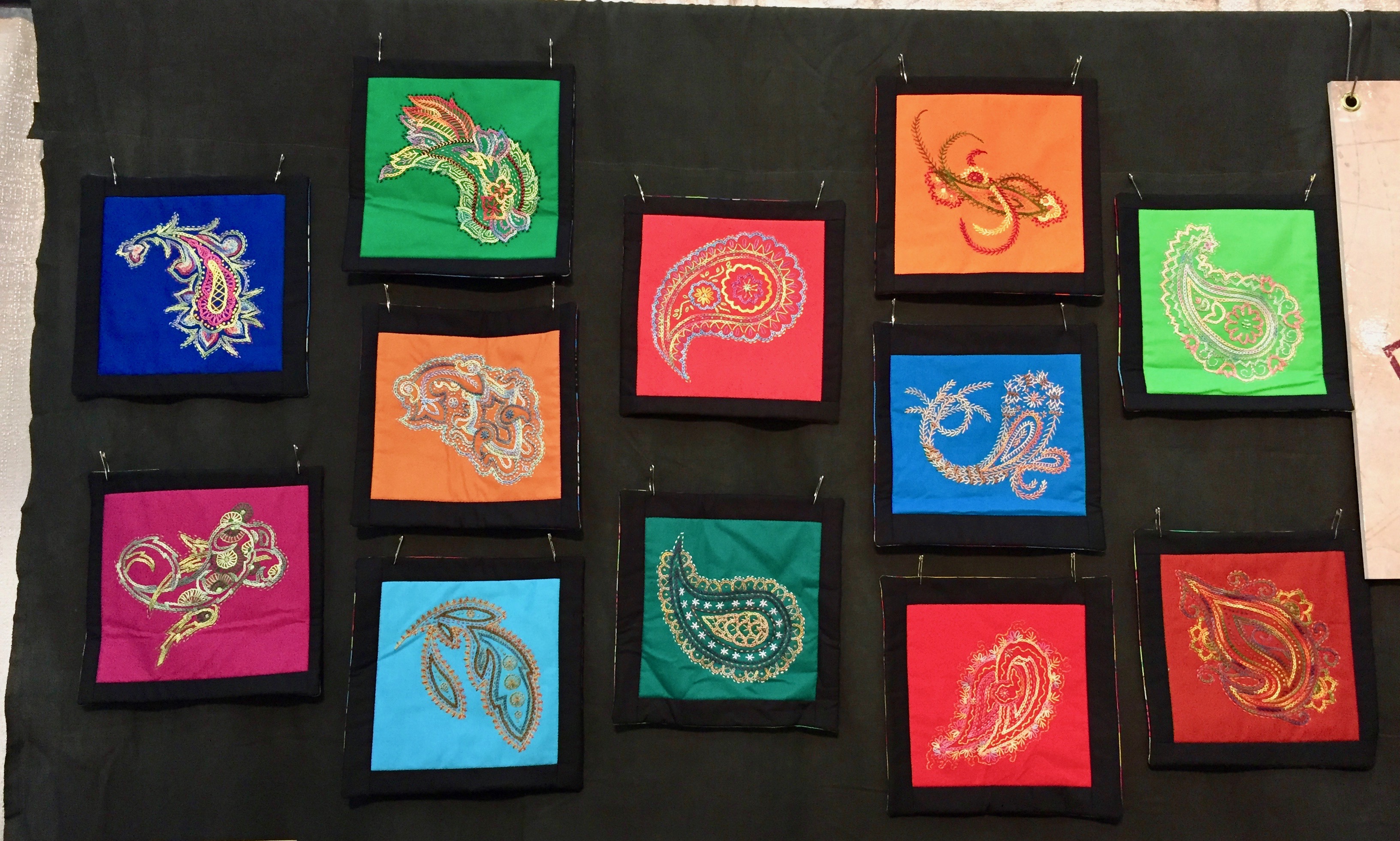 We have patterns! I will be stocking them for sale when I travel. One for each month of the year!
And then there are the patterns designed by a South African artist…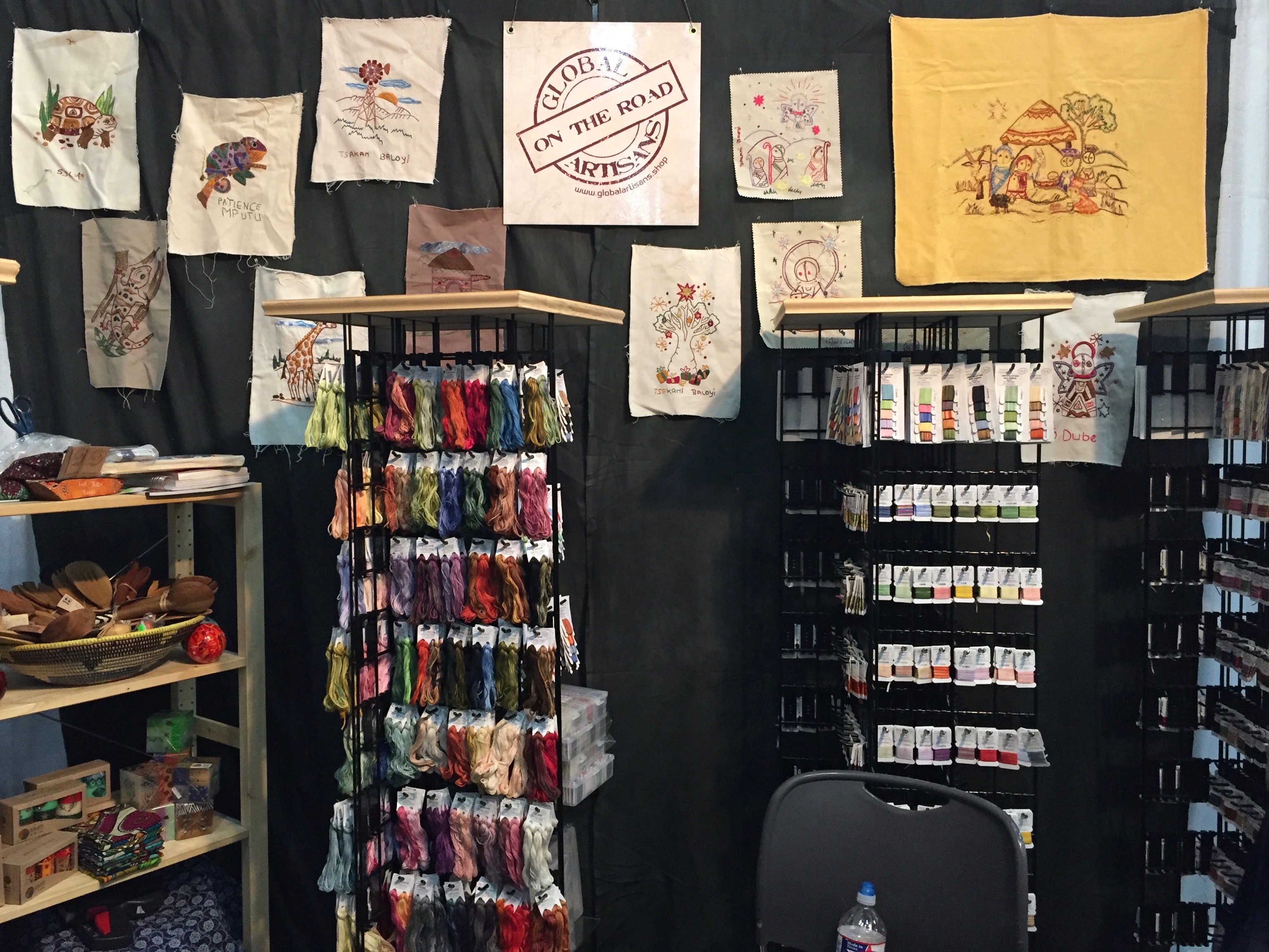 I'm going to have those too.
Enough "helping".
Off to School House for the opening session and then to class.
I started off in Kathy Miller's Color: What's Trending NOW and why…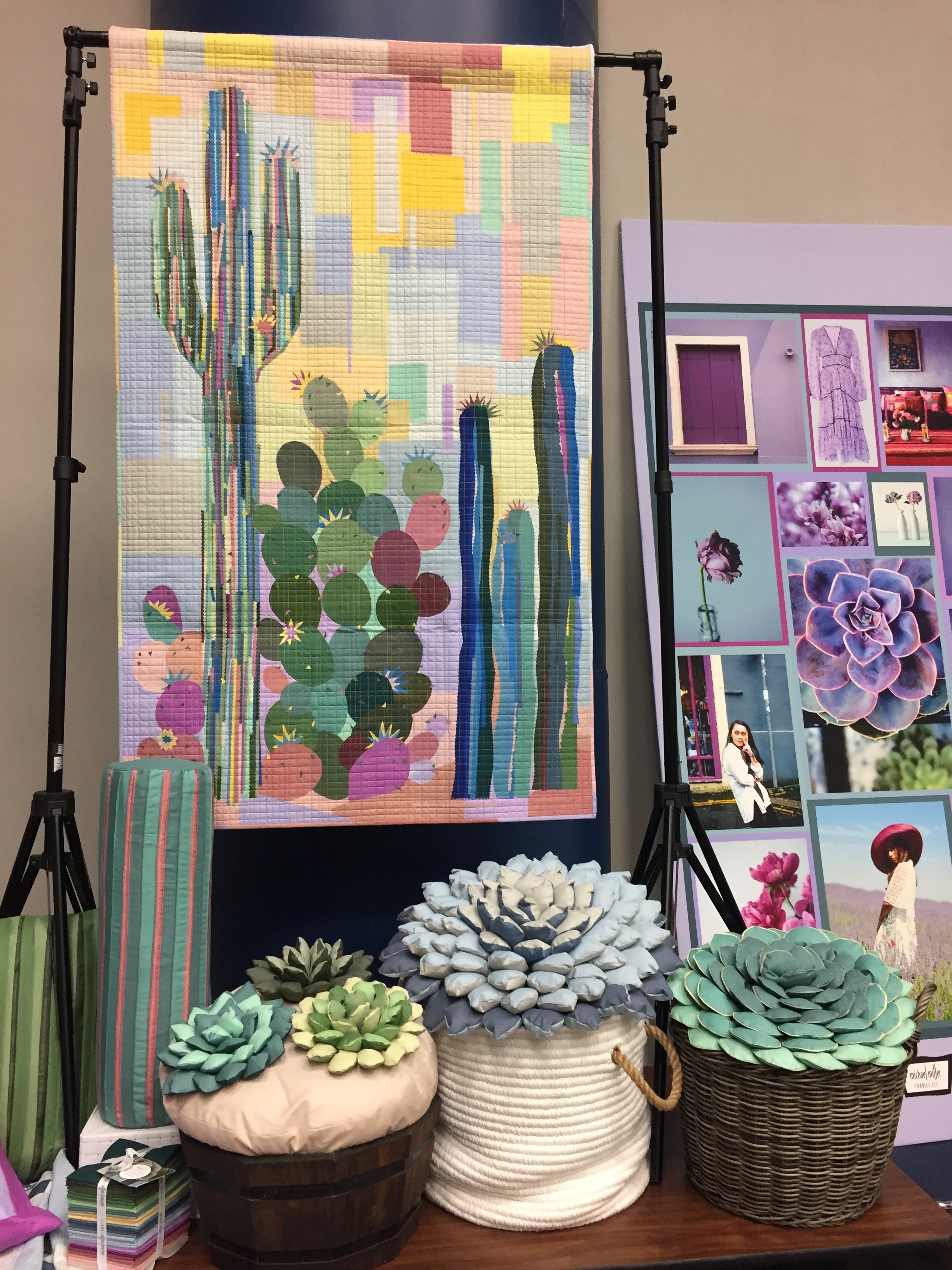 Kathy talks with such knowledge and wisdom.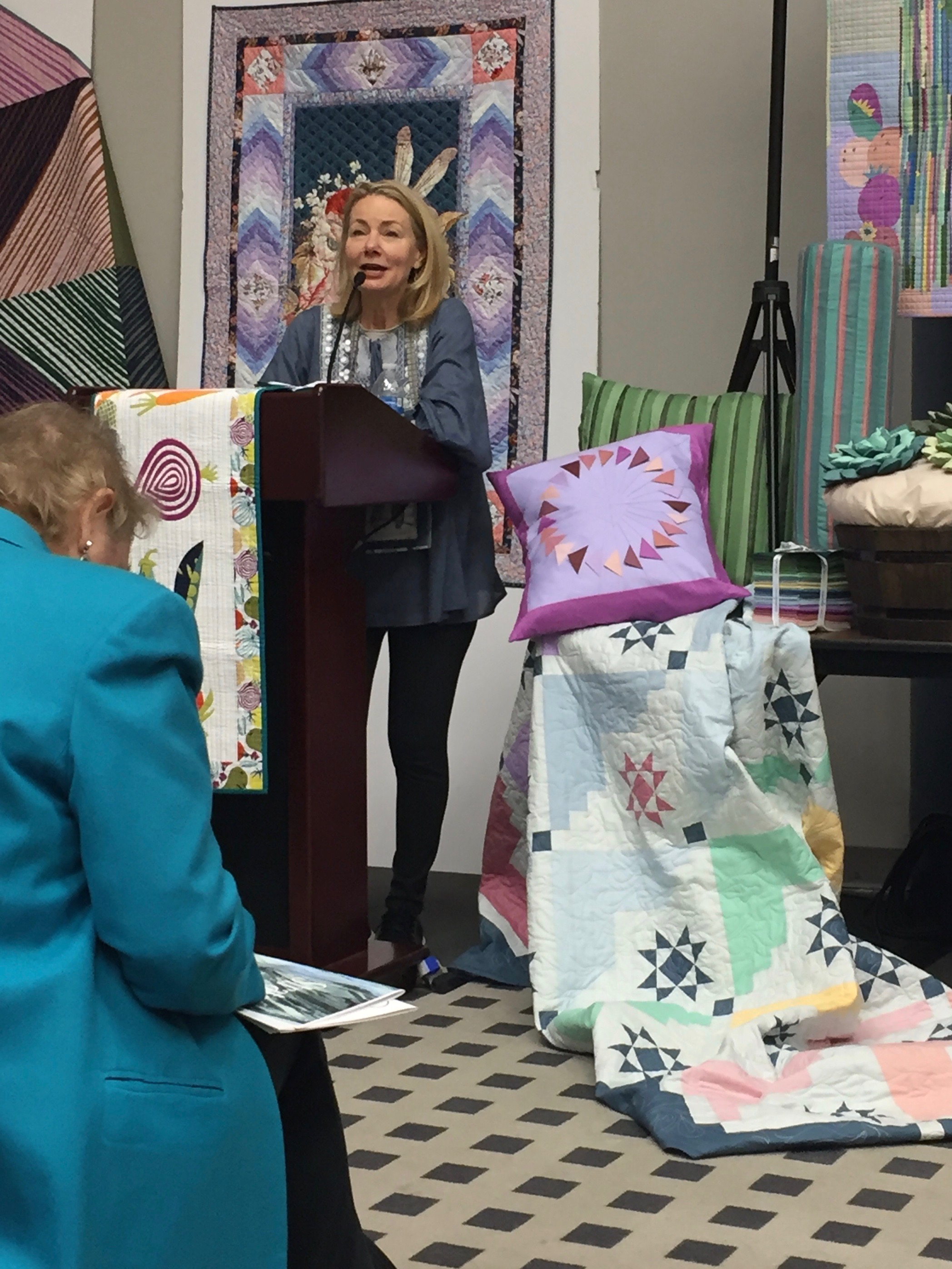 And I won a new color card in the drawing!
Next was Dennis Bevins talking about the way forward for Cotton+Steel.
Interesting.
I went from one class to another. Lots of good information.
At 1.55 I went to Valori Well's presentation for Free Spirit Fabrics of her new collection Murmer.
Her work starts with hand cut blocks.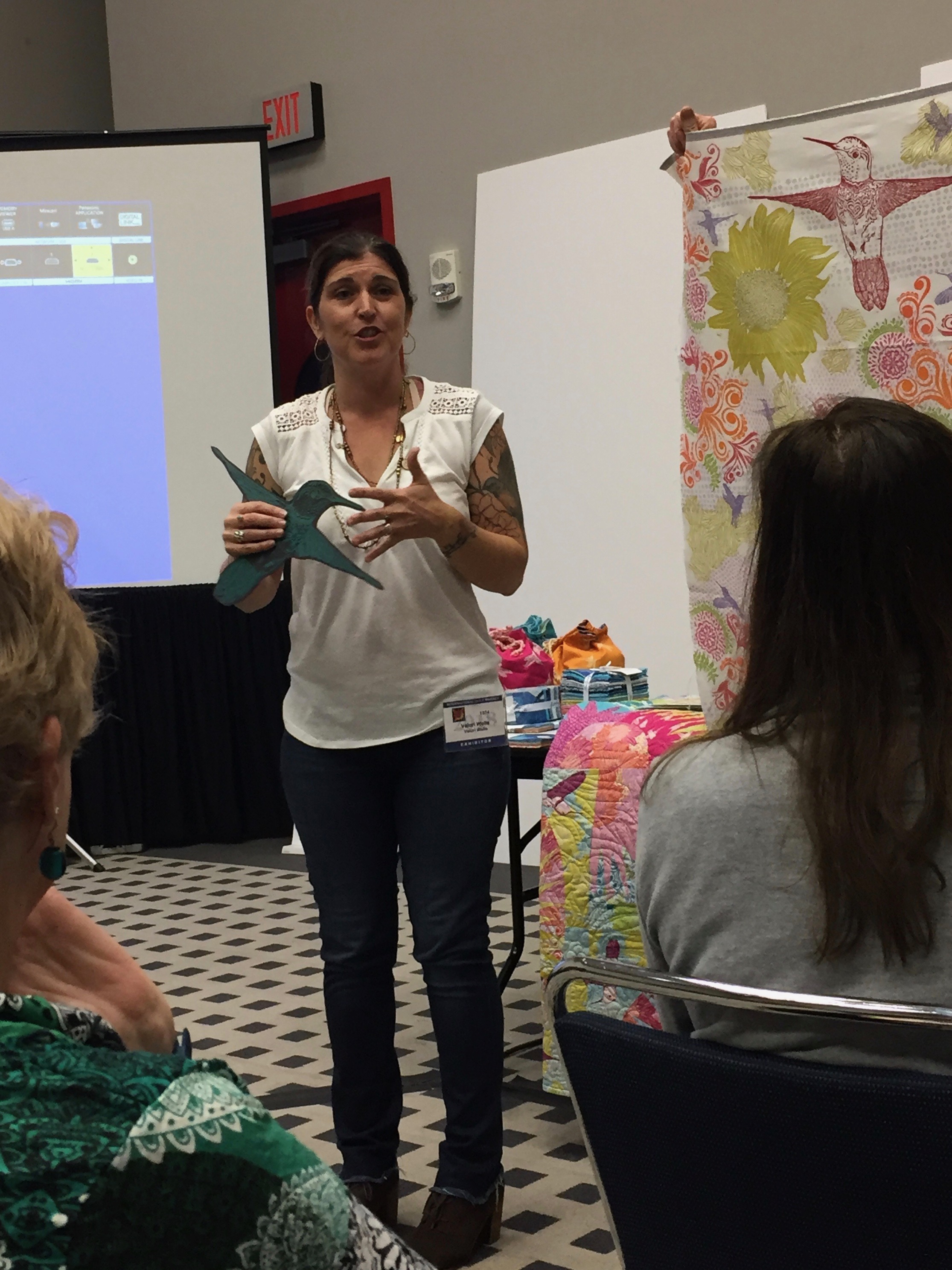 So pretty.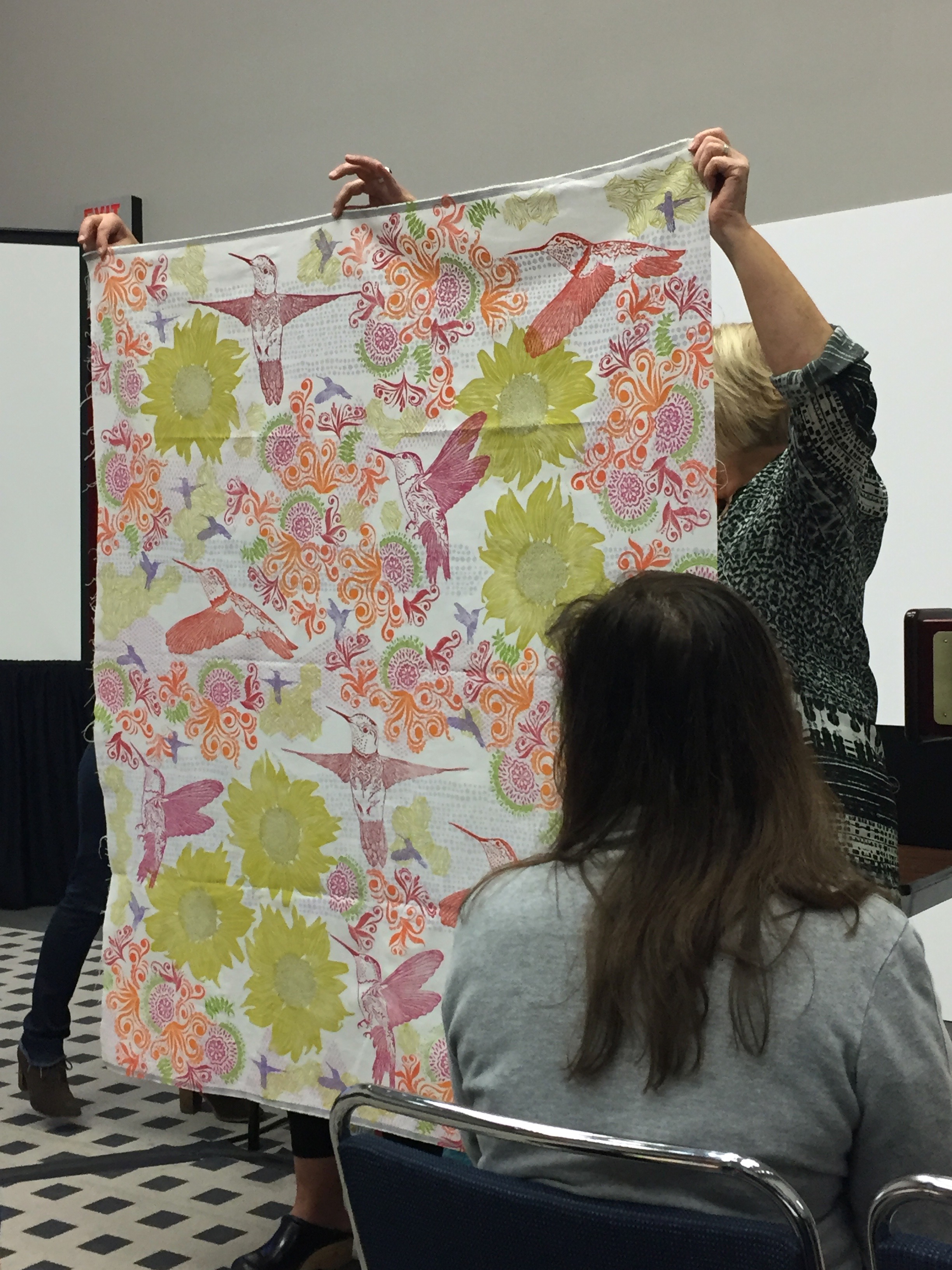 And of course, there were quilts!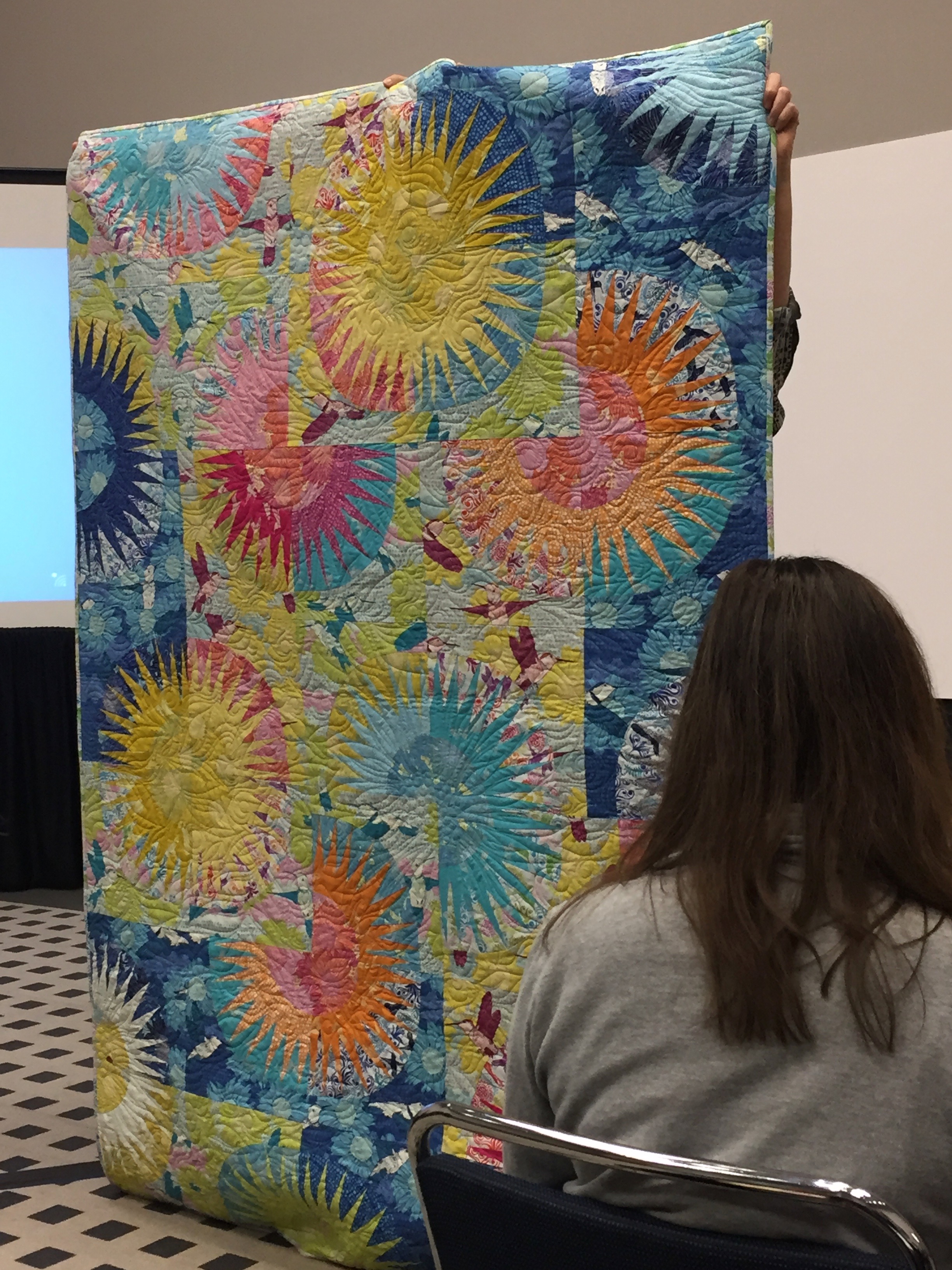 Jenny has a new book, hot off the press.
I went to hear all about it.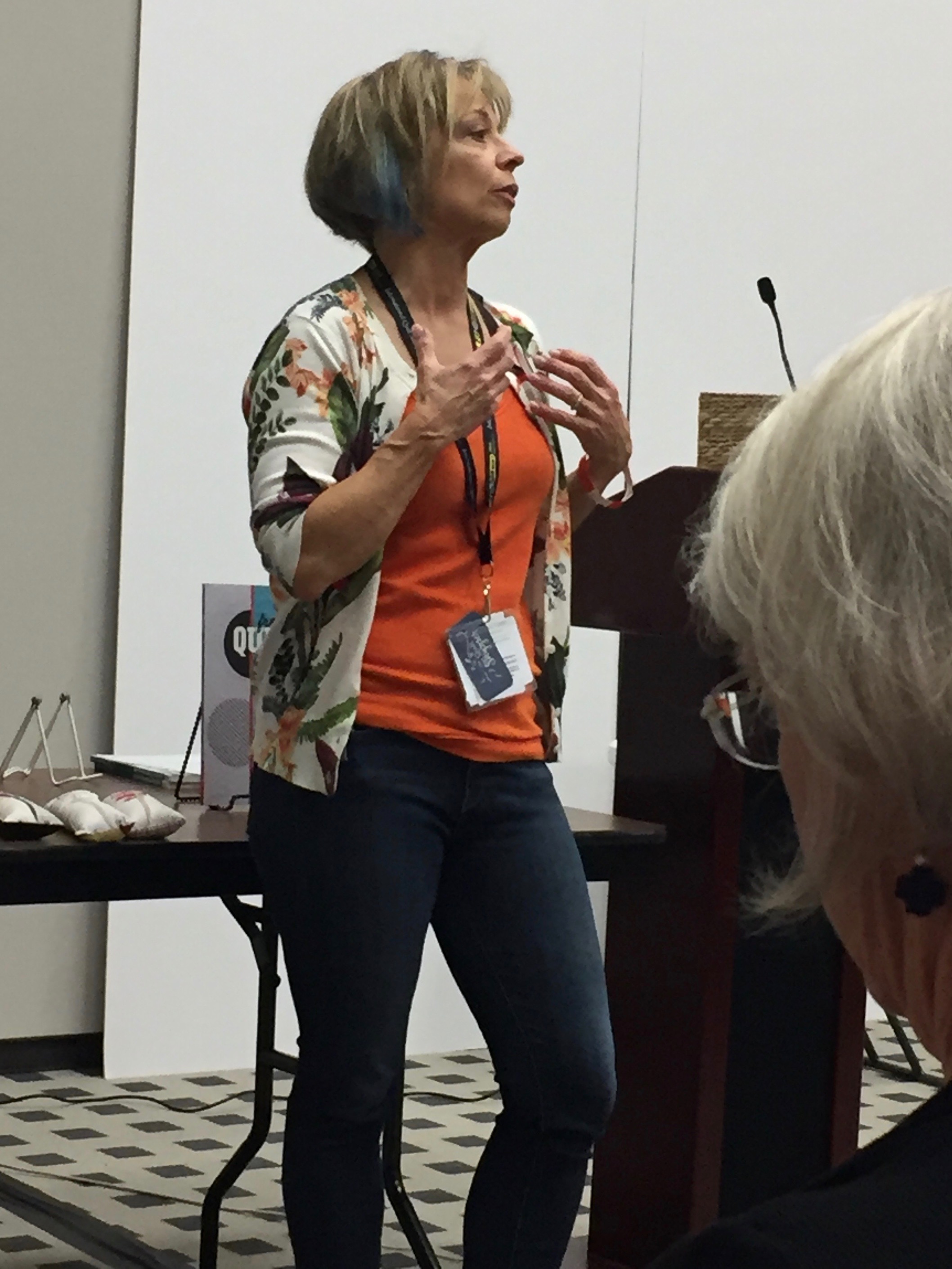 I will be writing more about her book sometime soon…
I was done by 5. No time to rest. I was helping Richard at Sample Spree so off I went to get something quick to eat and then back to the exhibition floor to get set up.
It was fun seeing things from the other side. I did get a little chance to shop…
So what have I added to my luggage?
First up are all the goodies I brought home from School House.
Gifts from Northcott, the sponsors of the Opening Session, celebrating the 10th Anniversary of their Stonehenge Line, charm packs , a pattern, a little batik elephant from Artistic Artifacts and that color card!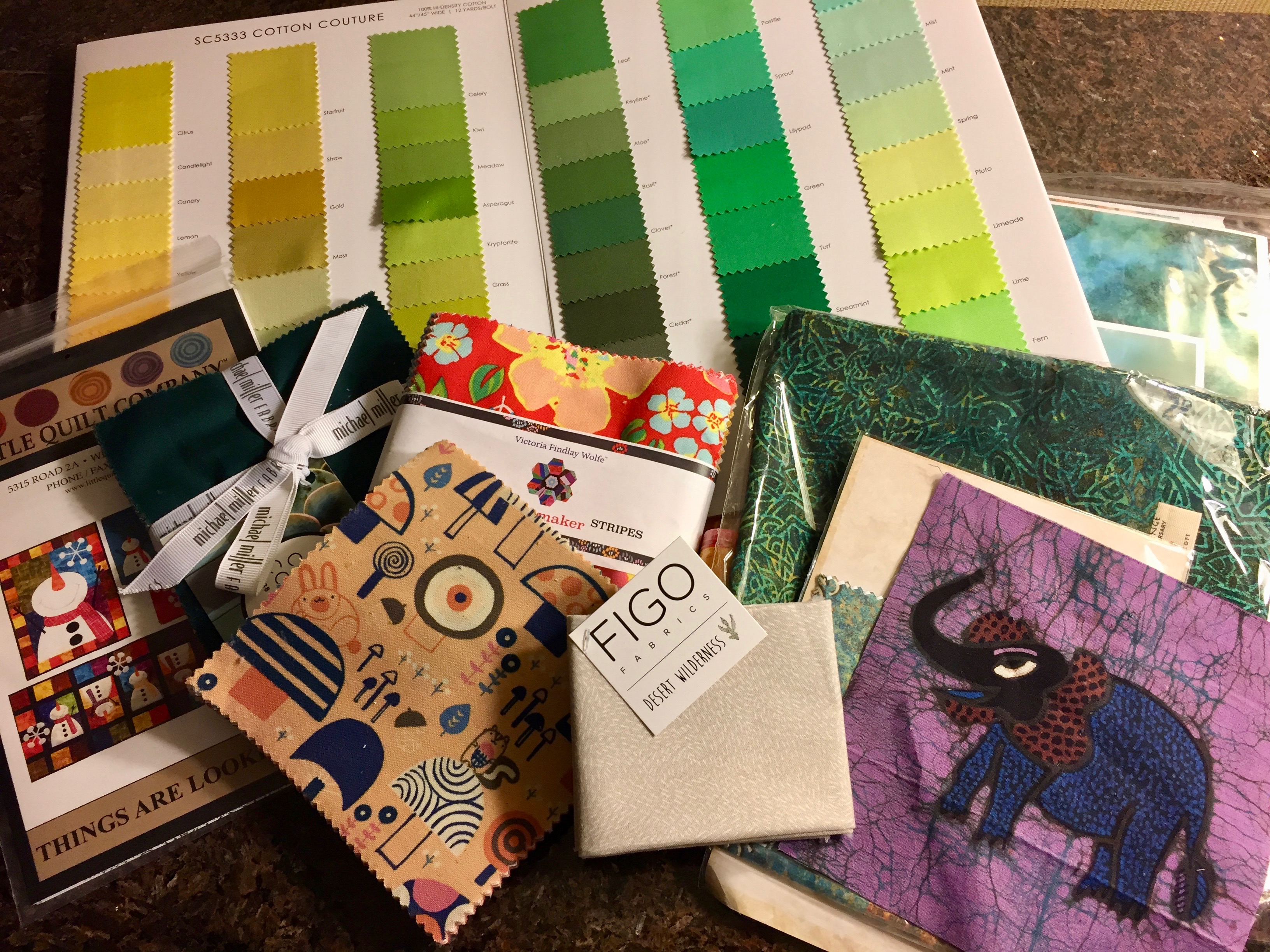 And then there's my shopping at Sample Spree…
The full set of Michael Miller's new Cotton Couture colors and a stack of flower fabrics from the Kashmir Gardens line, Linen pieces from Kokka fabrics, 10″ squares of Kona cottons for my workshops, a little embroidery pack, some decorative ribbon AND two unicorn key chains for a certain unicorn-loving grand child!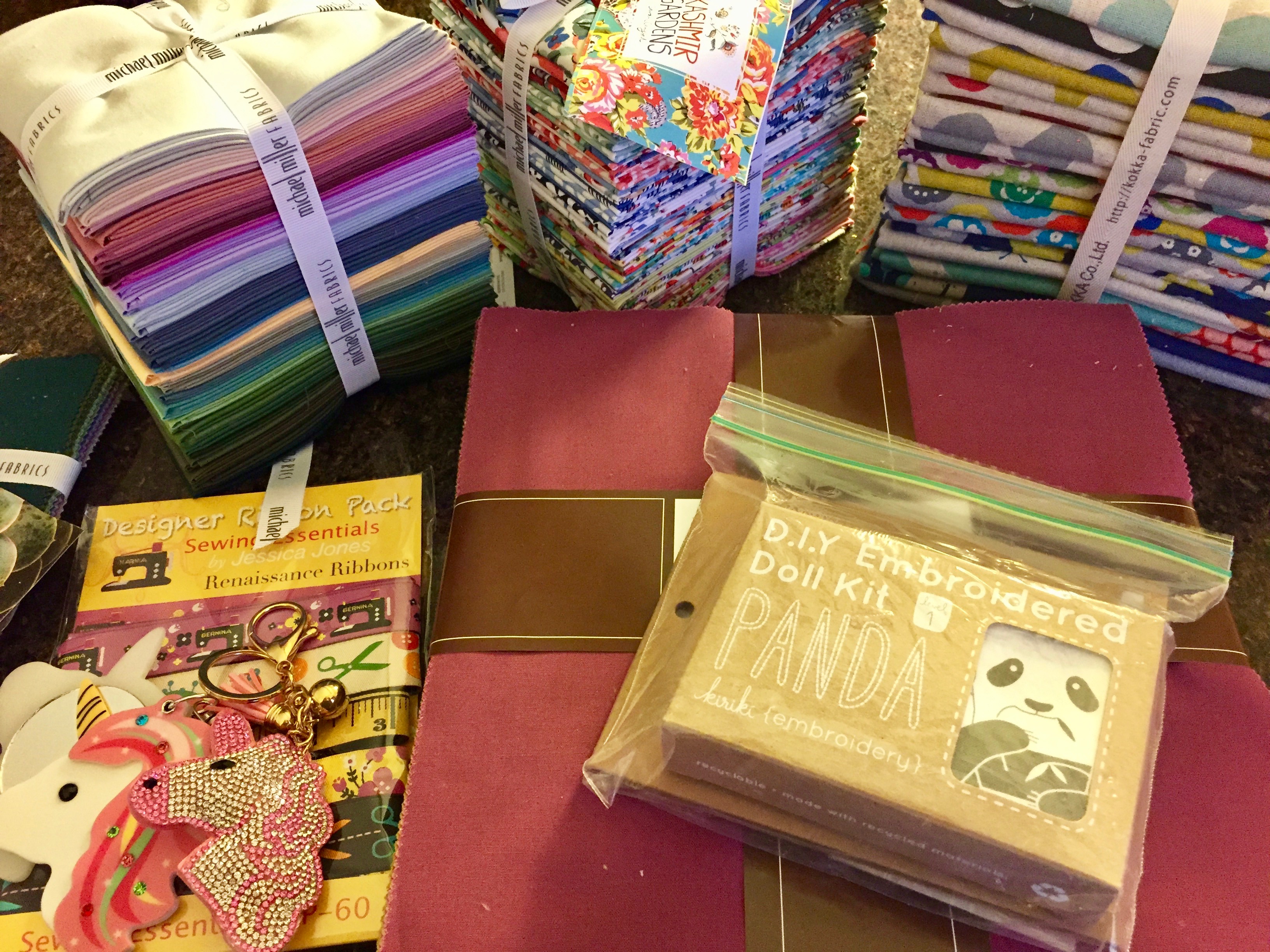 That was one busy day!
I was not out of bed quite so early yesterday morning. The sun was definitely up before I took my 24th floor view!
I spent the day walking the floor at market. I did a book signing at 11 but managed not to get any pictures whatsoever! I met lots of lovely people. I gave away as many business cards as I could. We'll see…
I will take pictures today.