One of the best parts of my job is traveling around the country and giving talks. I really have too much fun and now I've been given the opportunity to share one of my favorite lectures with you!
A little while ago I was invited by the folks at CraftU to join their faculty. I'm ready for a new webinar.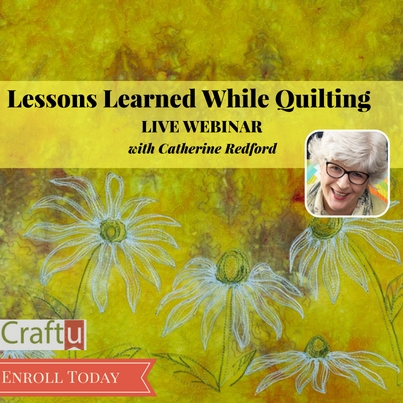 I've done my homework and got everything set so I'm ready to go. I'll be talking for just under an hour and then answering questions from listeners, all live from my kitchen table.
Yes, I'm going to be giving my Lessons Learned While Quilting lecture! I will introduce you to my life as a quilter and the many and varied lessons I've learned along the way. If you know me at all you'll know it won't be all serious, but I'm definitely going to be informative, so you can look look forward to a fun hour of quilts and inspiration. It doesn't matter where in the world you are, the more the merrier!
I've got lots of pictures all lined up in a slick Keynote presentation…
And when does it happen? This week! Friday the 18th of November at noon CST.
How do you join the fun? Just click here
and it'll take you to the registration site. It's $19.99.  If you can't attend on Friday, don't worry. A recording from the live session will be uploaded to the webinar area within a week and the recording will remain available online for 30 days after the live event. You can watch the recording anytime during those 30 days, or download it to keep for ever!
I hope you'll join me…