Time to catch up again!
I had a wonderful trip to South Carolina last week. Those bags were packed full and ready to go by ten o'clock on Sunday morning.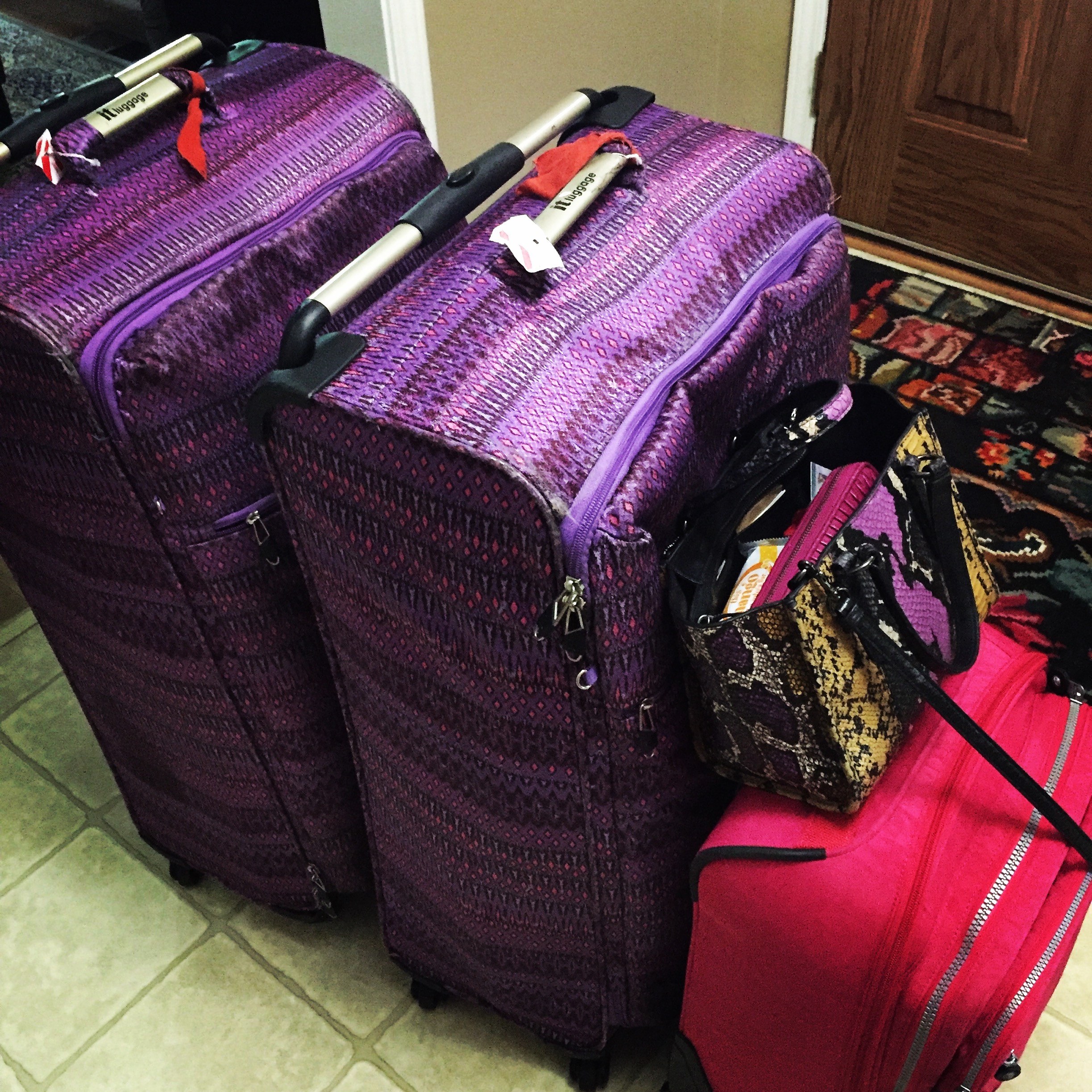 After a stop and plane change in Atlanta for the short hop over the Georgia border the lakes came into view on the descent in to Greenville-Spartanburg airport.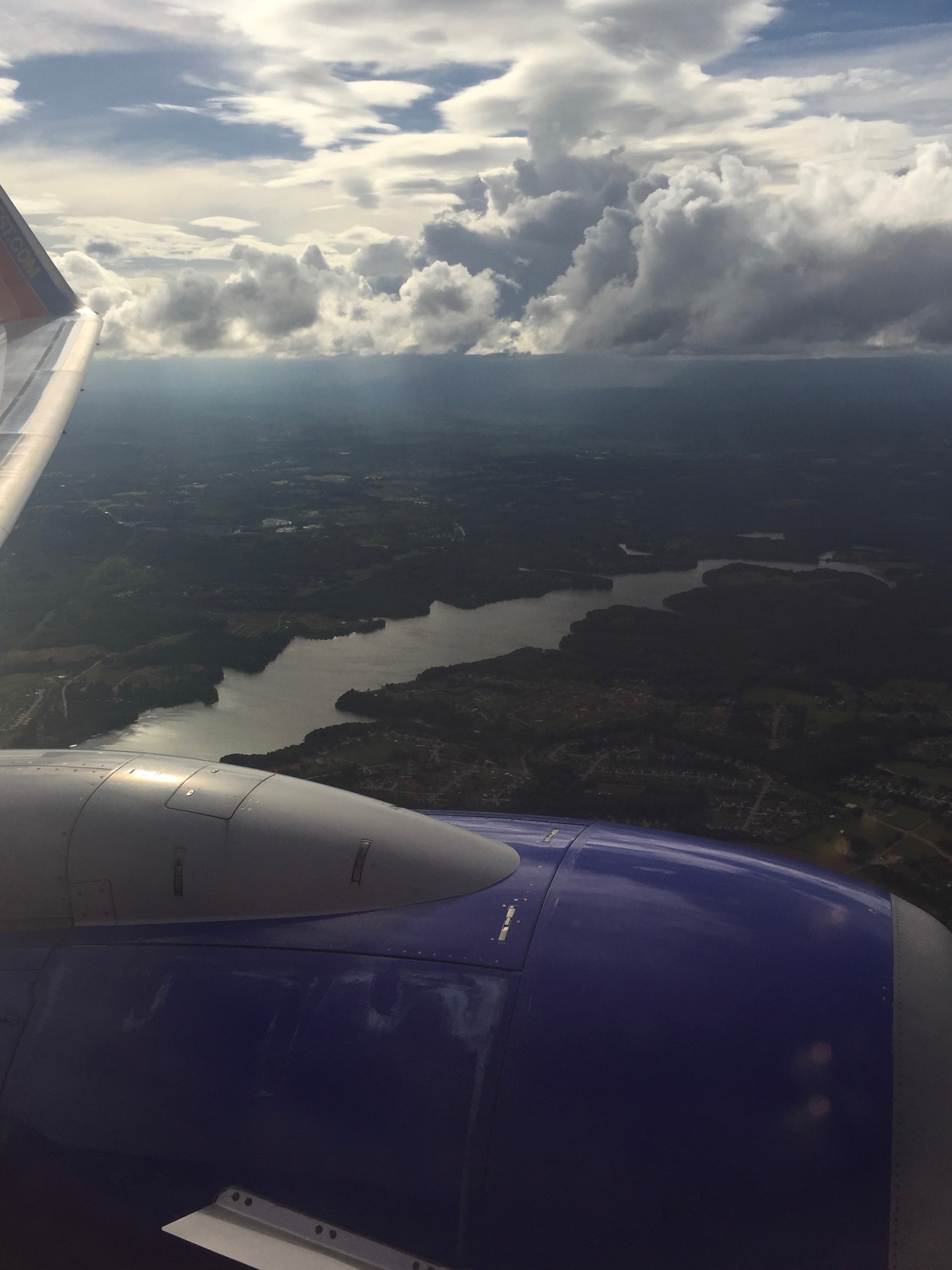 Paula met me by the luggage carousels and we got in the car for Seneca and my hotel.
On Monday morning Paula was back to take me for a drive through the beautiful countryside. We were meeting the ladies for lunch at the Lighthouse Restaurant, on the shores of Lake Keowee.
Had they arrived by bike?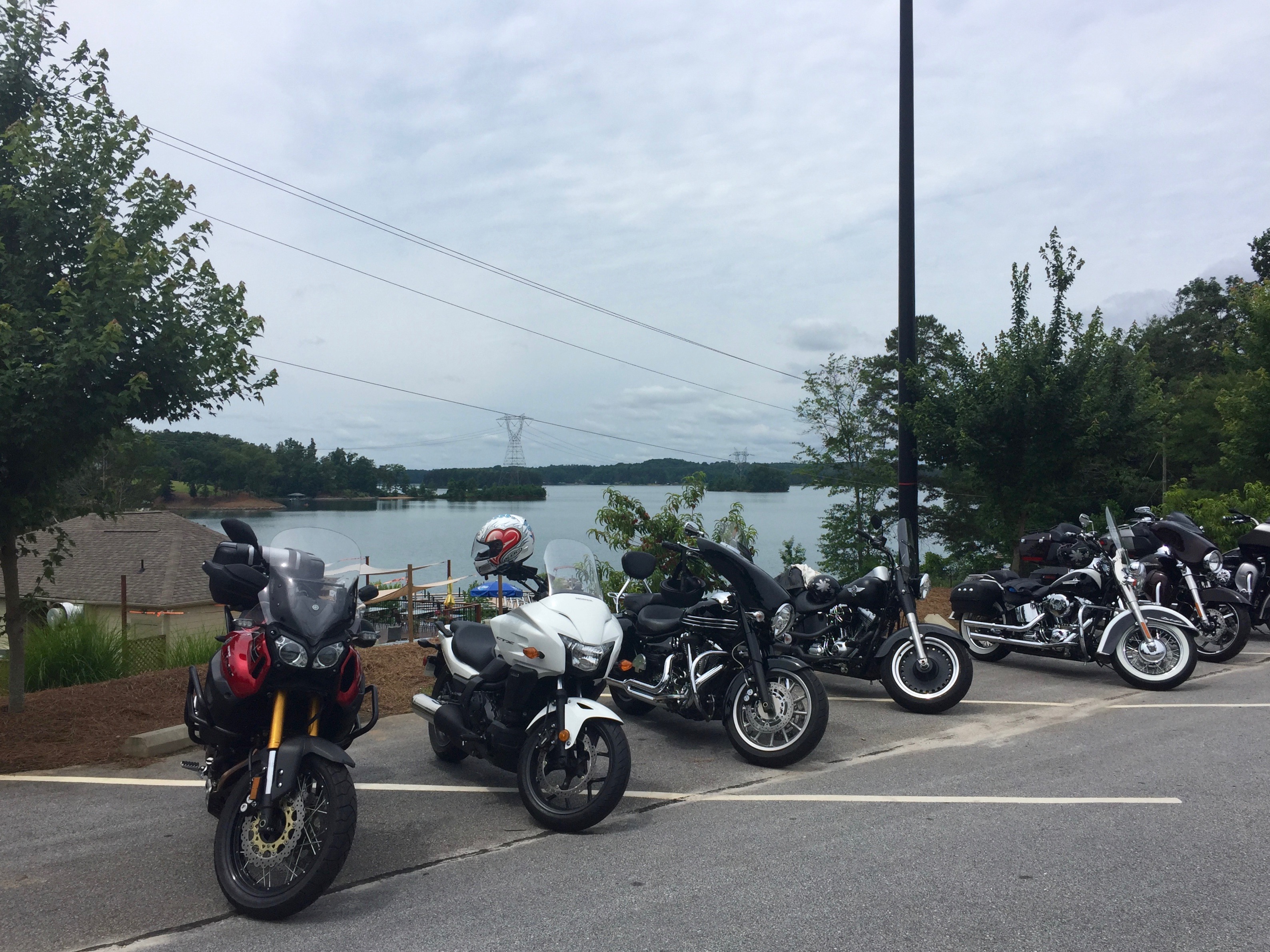 What do you think?
Well actually those bikes belonged to another group who were also lunching at the restaurant.
When in the South… try the chicken and waffles.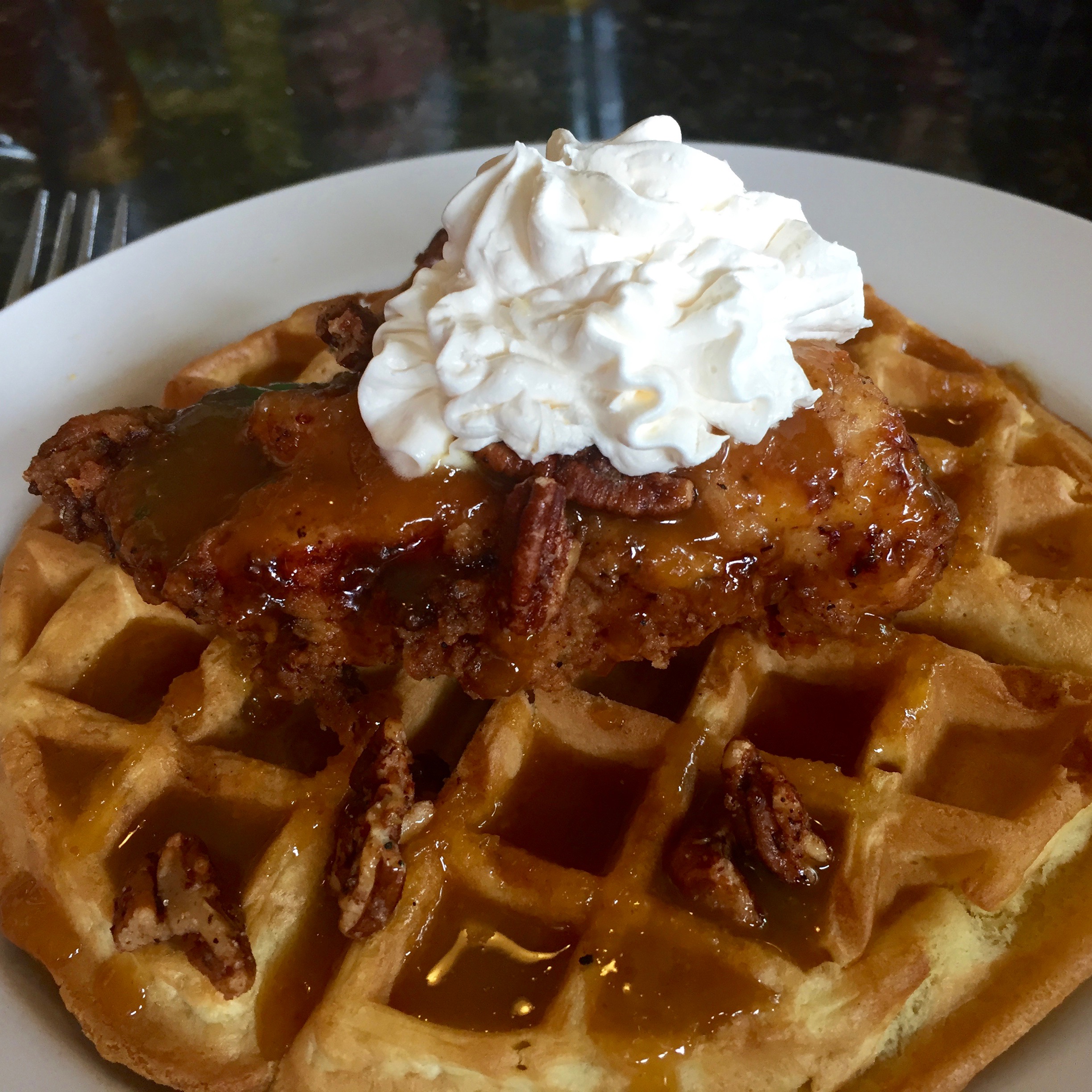 "Fried chicken breast over a toasted Belgium waffle and topped with candied pecans, whipped cream and peach bourbon honey glaze."
Yum! Not quite sure why I needed the chicken. The sauce was excellent.
Suitably nourished we set off for Cheryl's house where we boarded her pontoon boat for a ride on the lake. We weren't the only ones who wanted to see the waterfalls so this is as close as we got.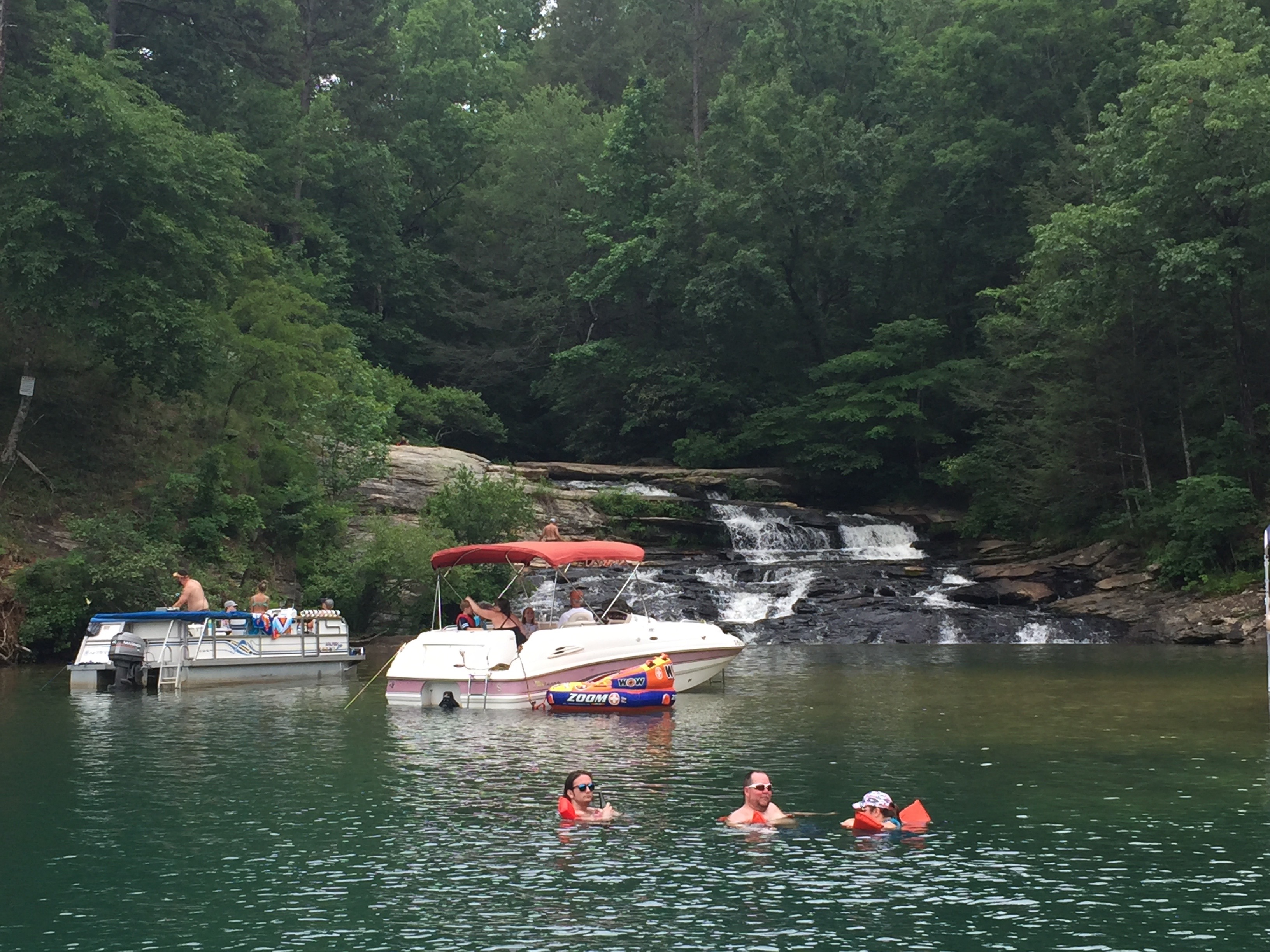 Cheryl has a beautiful home. Not only does she make fabulous quilts, she is quite the keen gardener. Calla lilies growing as perennials always attract my attention.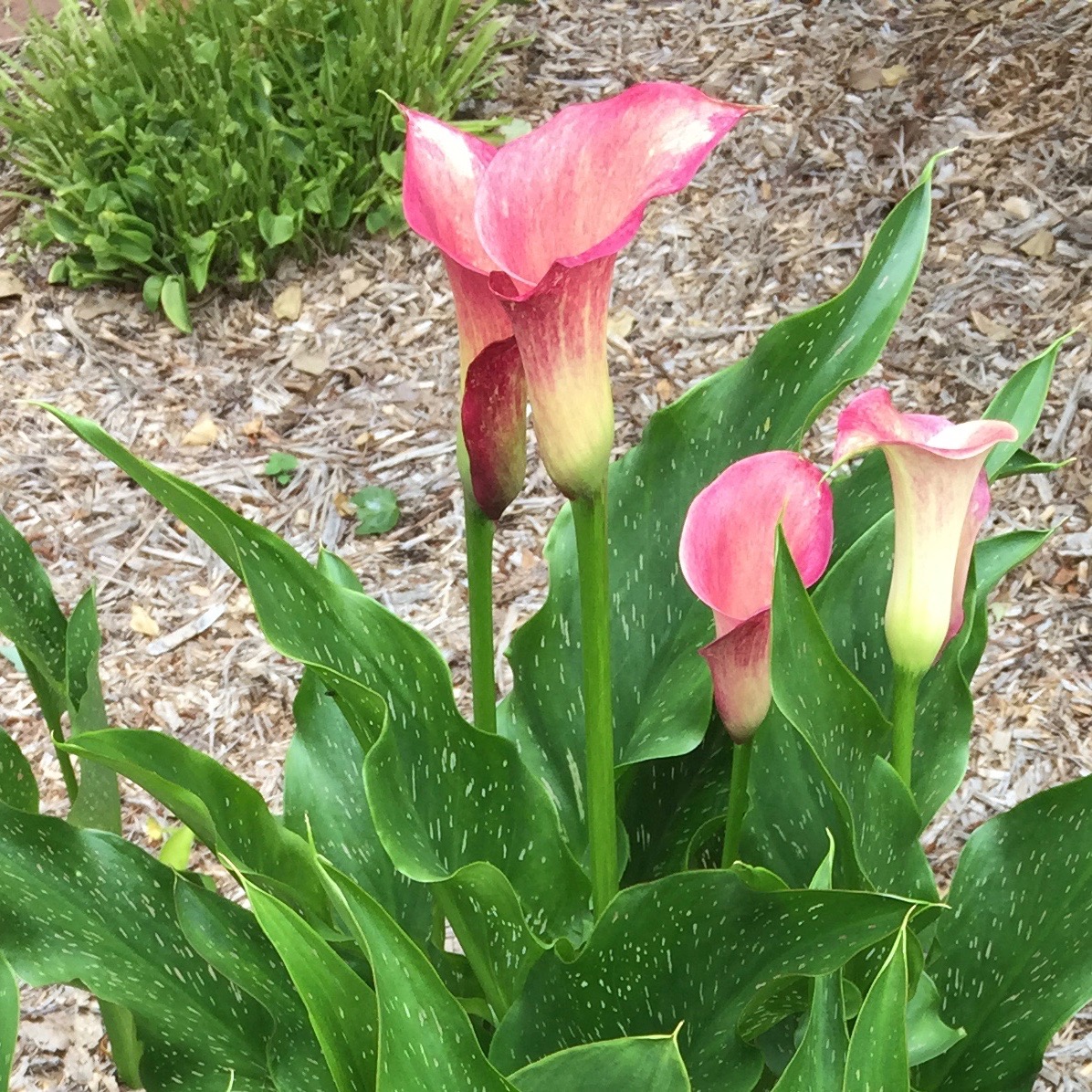 Cheryl's orchids flourish in her greenhouse.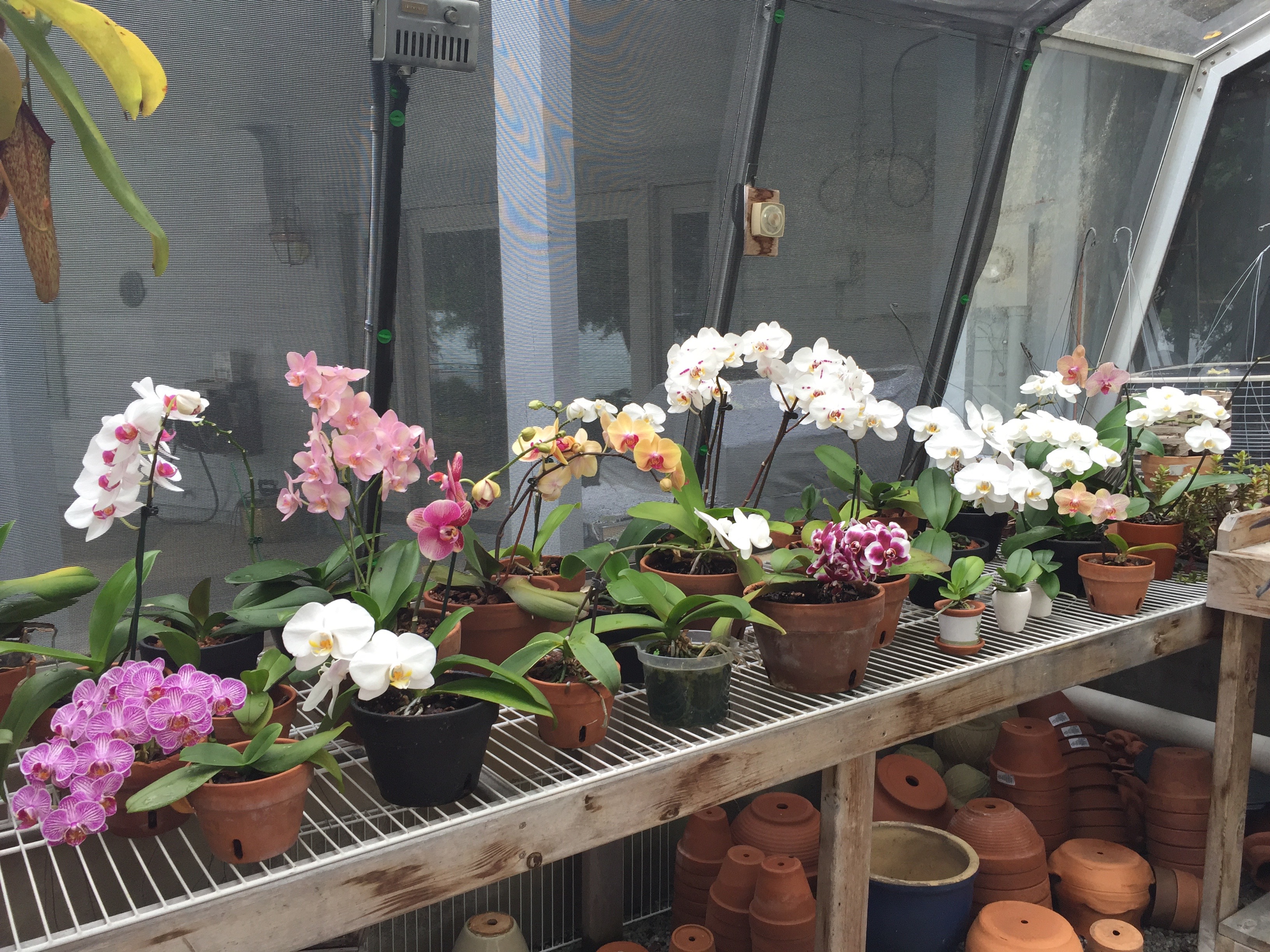 A closer look at this fine pink specimen,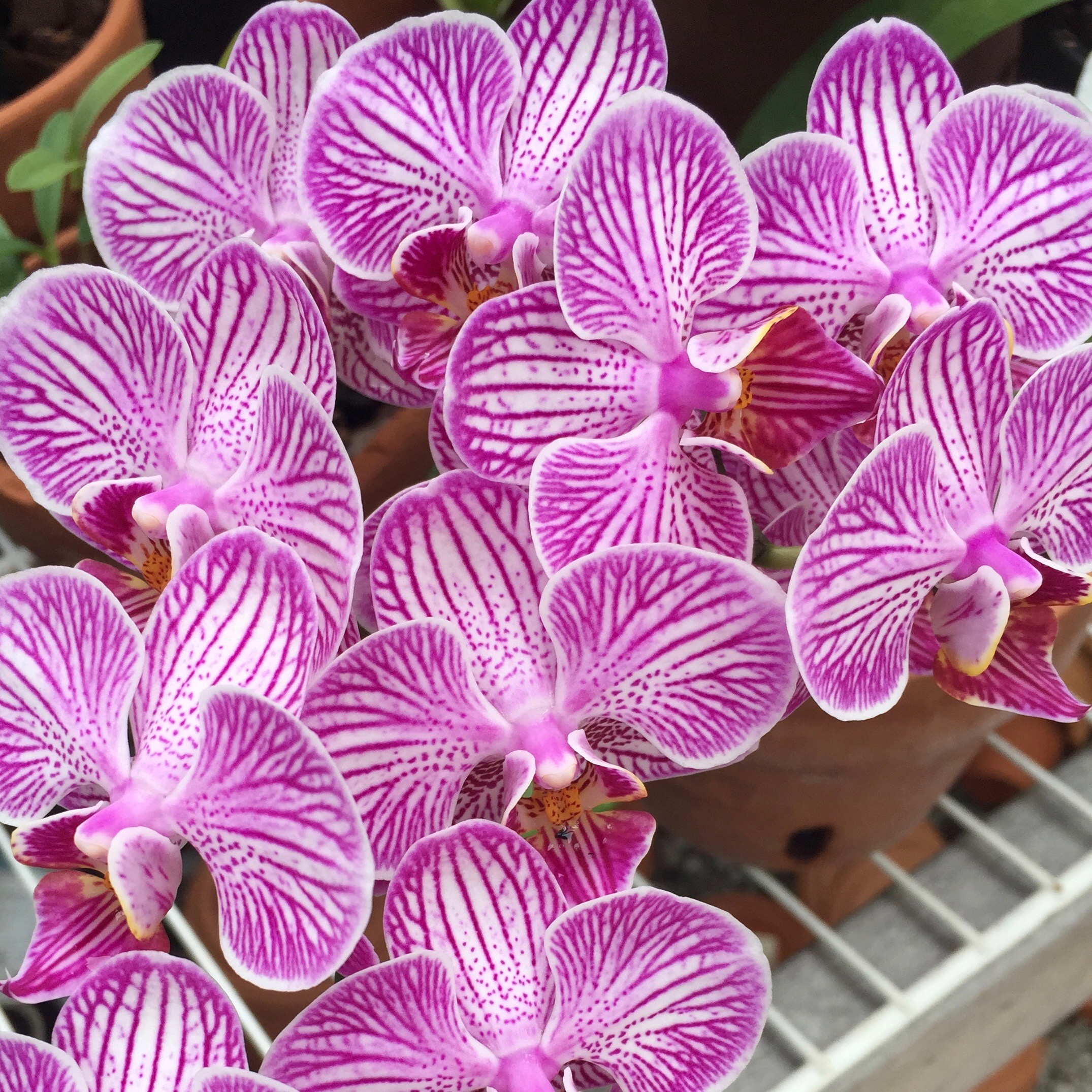 and I had to take a picture of this pitcher plant. (I didn't look inside to see what it had caught!)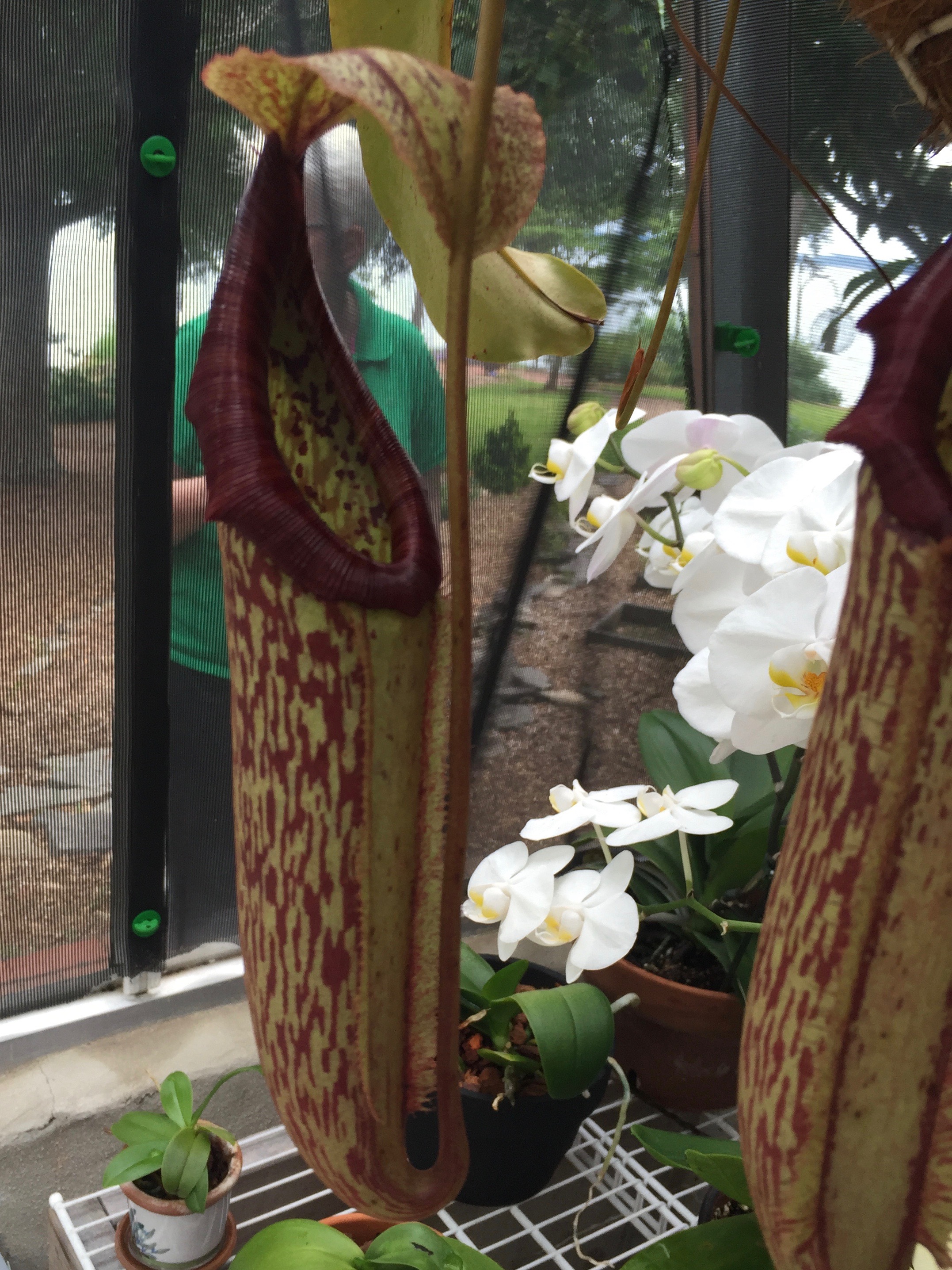 Back in the house, another orchid,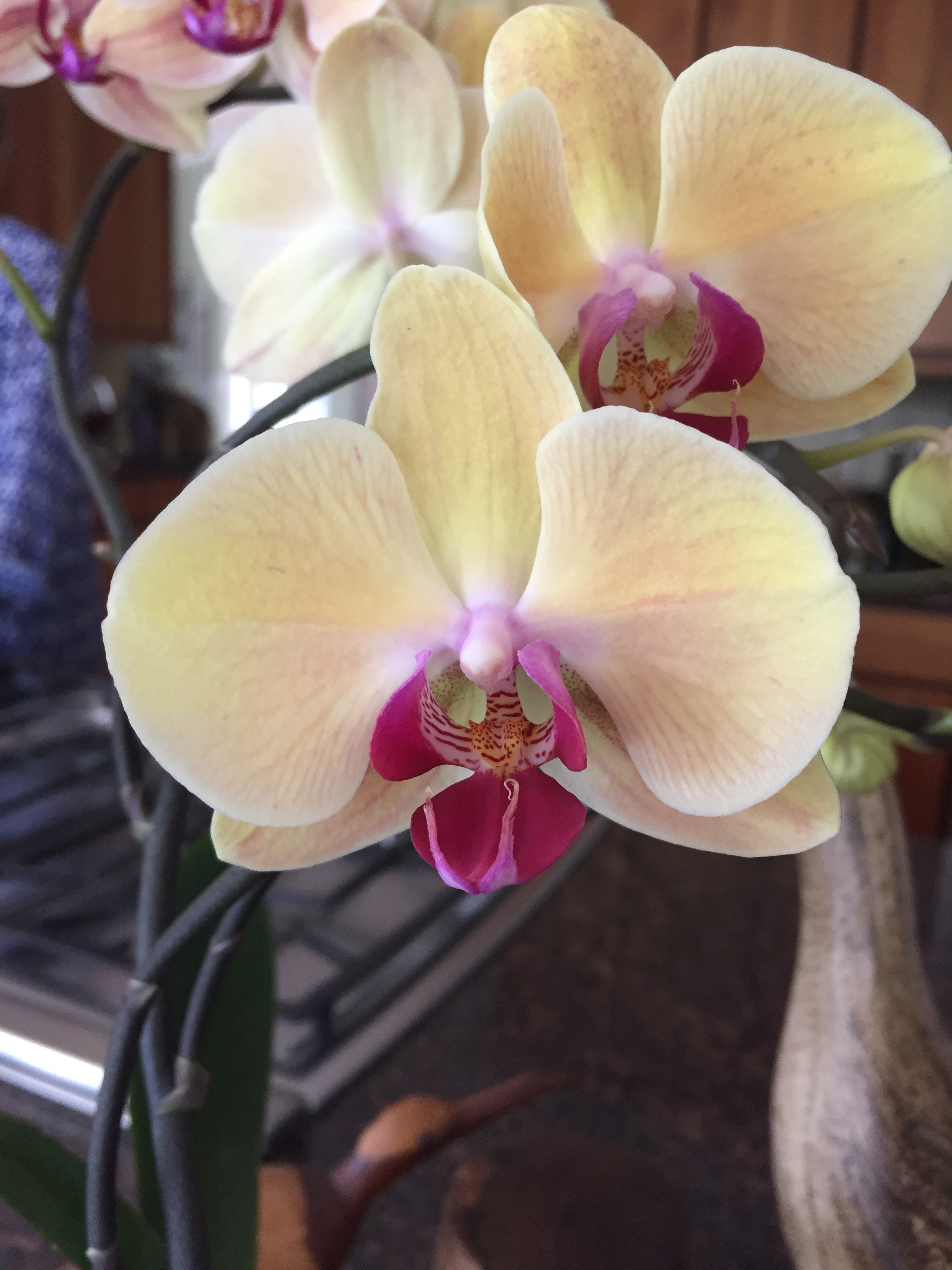 and just in case you were wondering… a small part of Cheryl's fabric collection. These are all Kaffes neatly stacked on the shelves.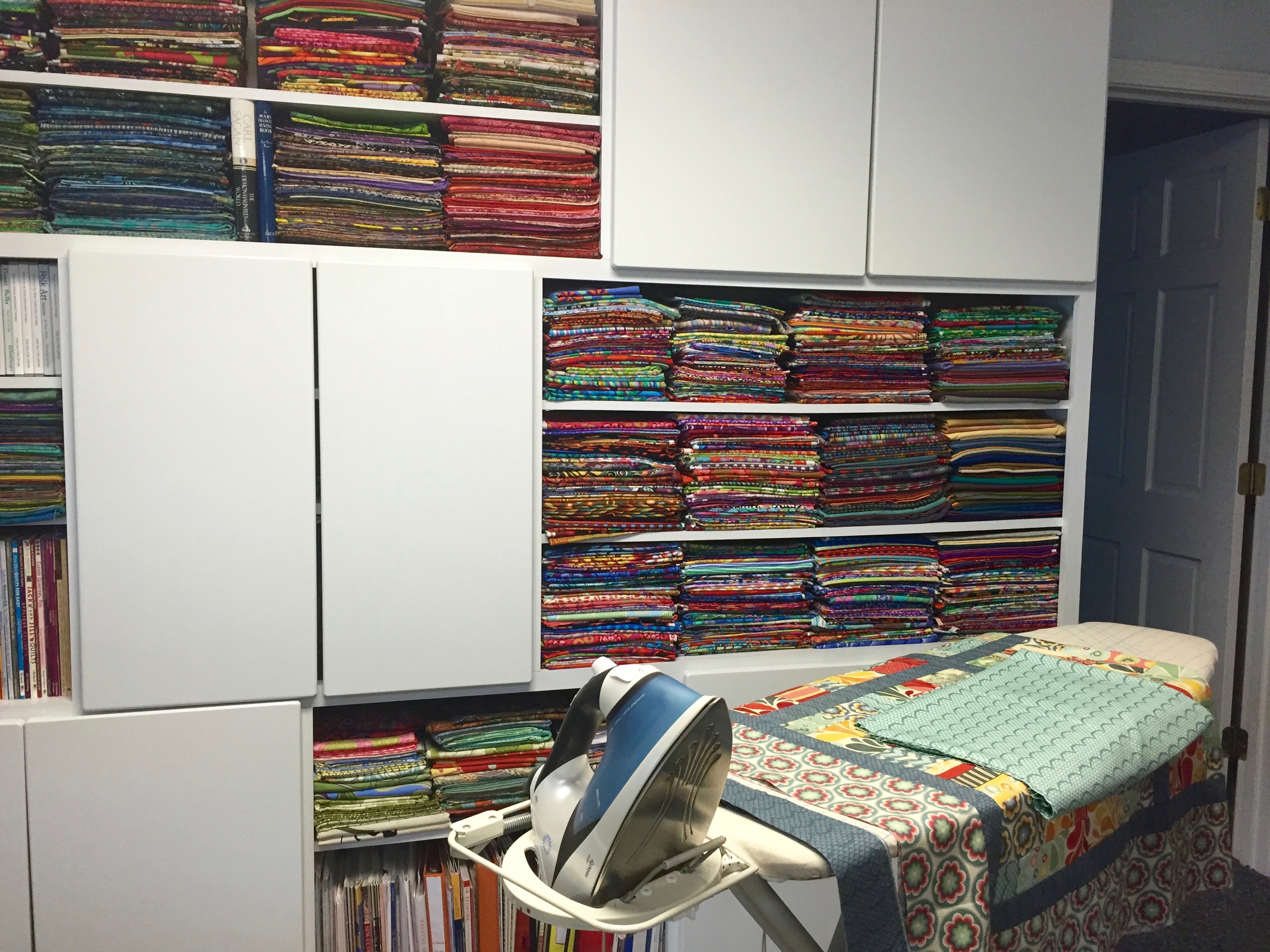 You might be forgiven for wondering if I was ever going to get to work.
Paula returned me to my hotel room so I could prepare for the evening. Suitably clad and bags packed in order, I was ready for her return and off we set for the Lake and Mountain Quilters Guild meeting.
The meeting started with Show and Tell.
Members have been making quilts to give to Marines.
This one was made using Mark Lipinski Stars and Stripes pattern.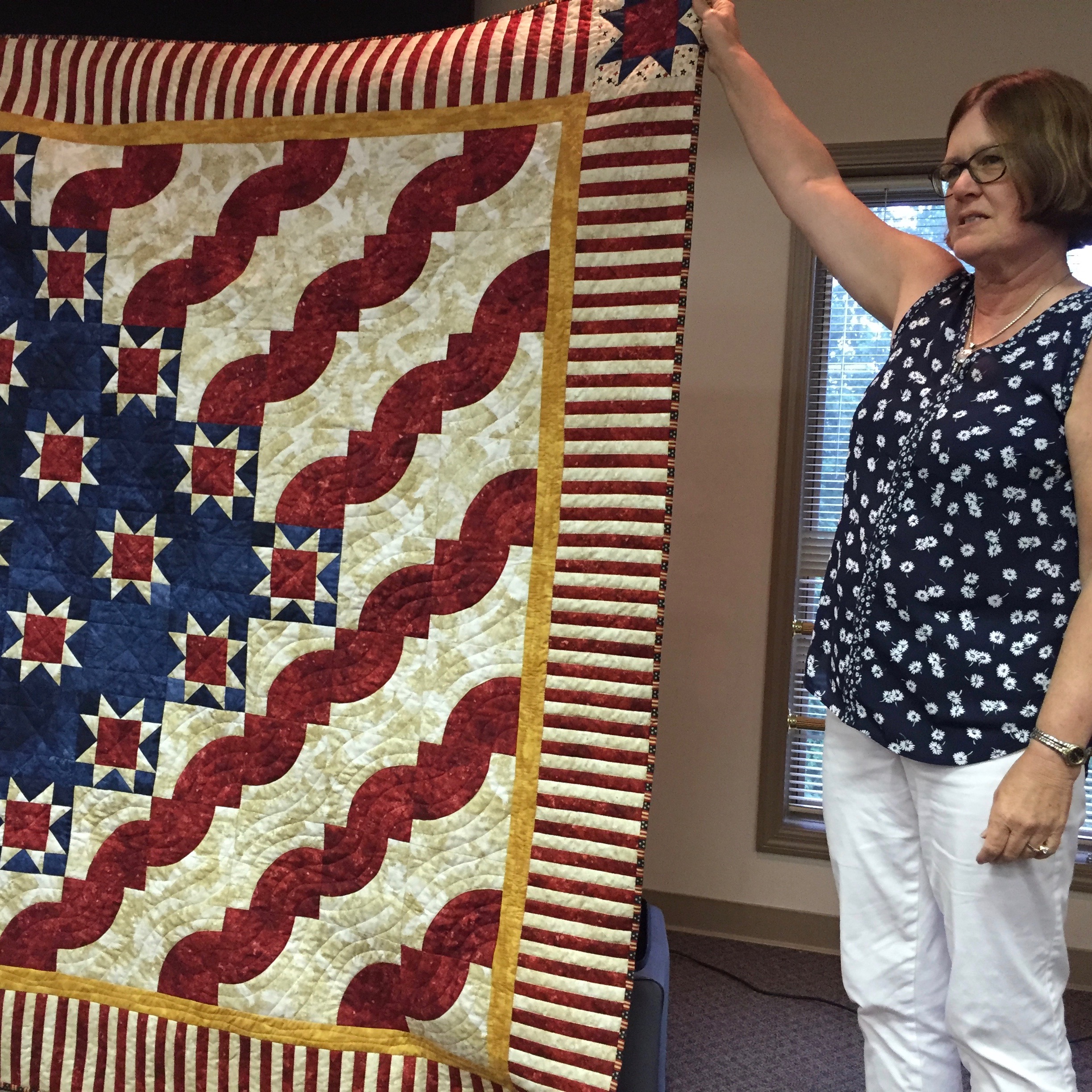 Stunning stars!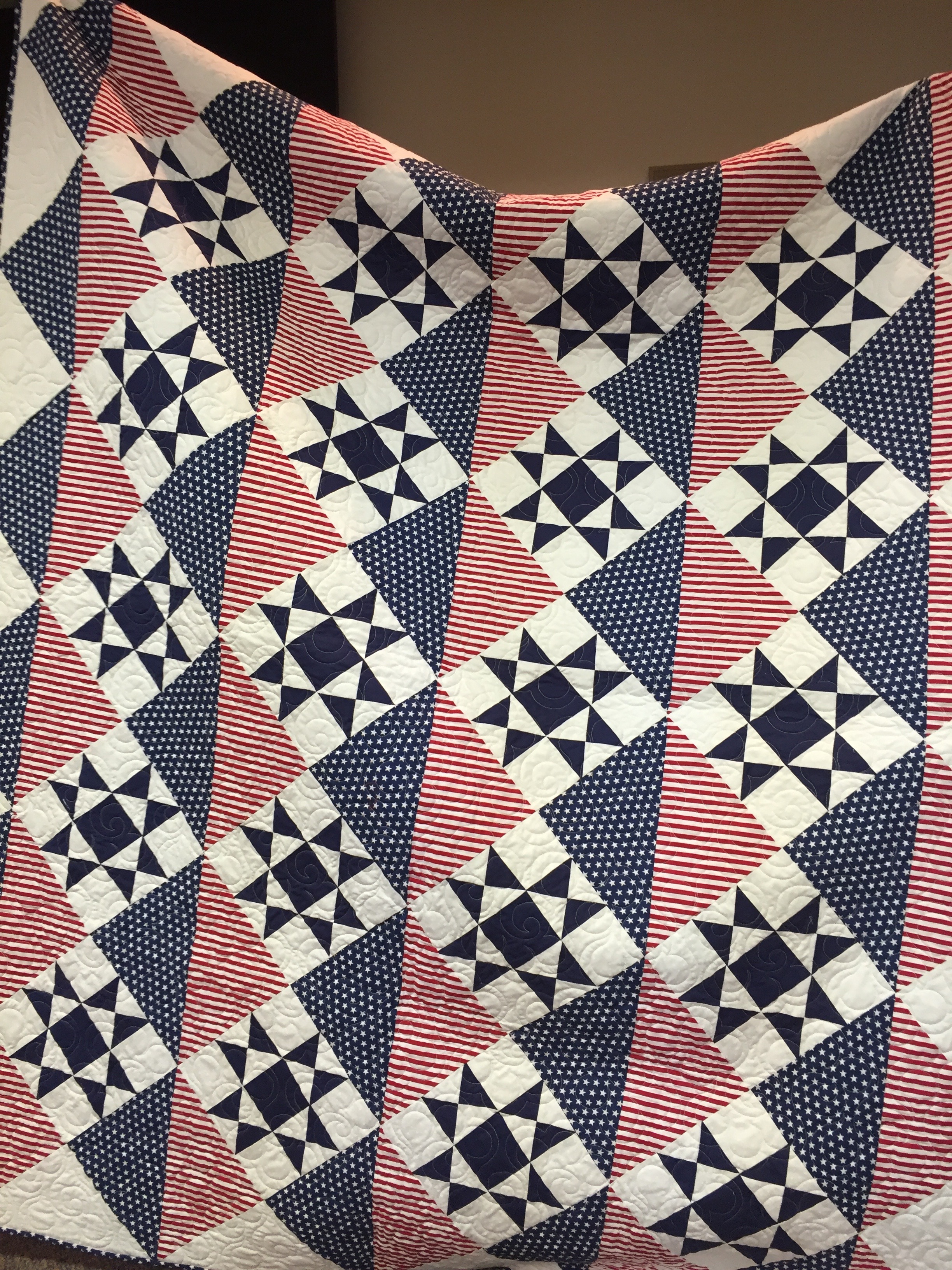 I always wanted to make a Spider Web quilt. This one is so bright and cheery!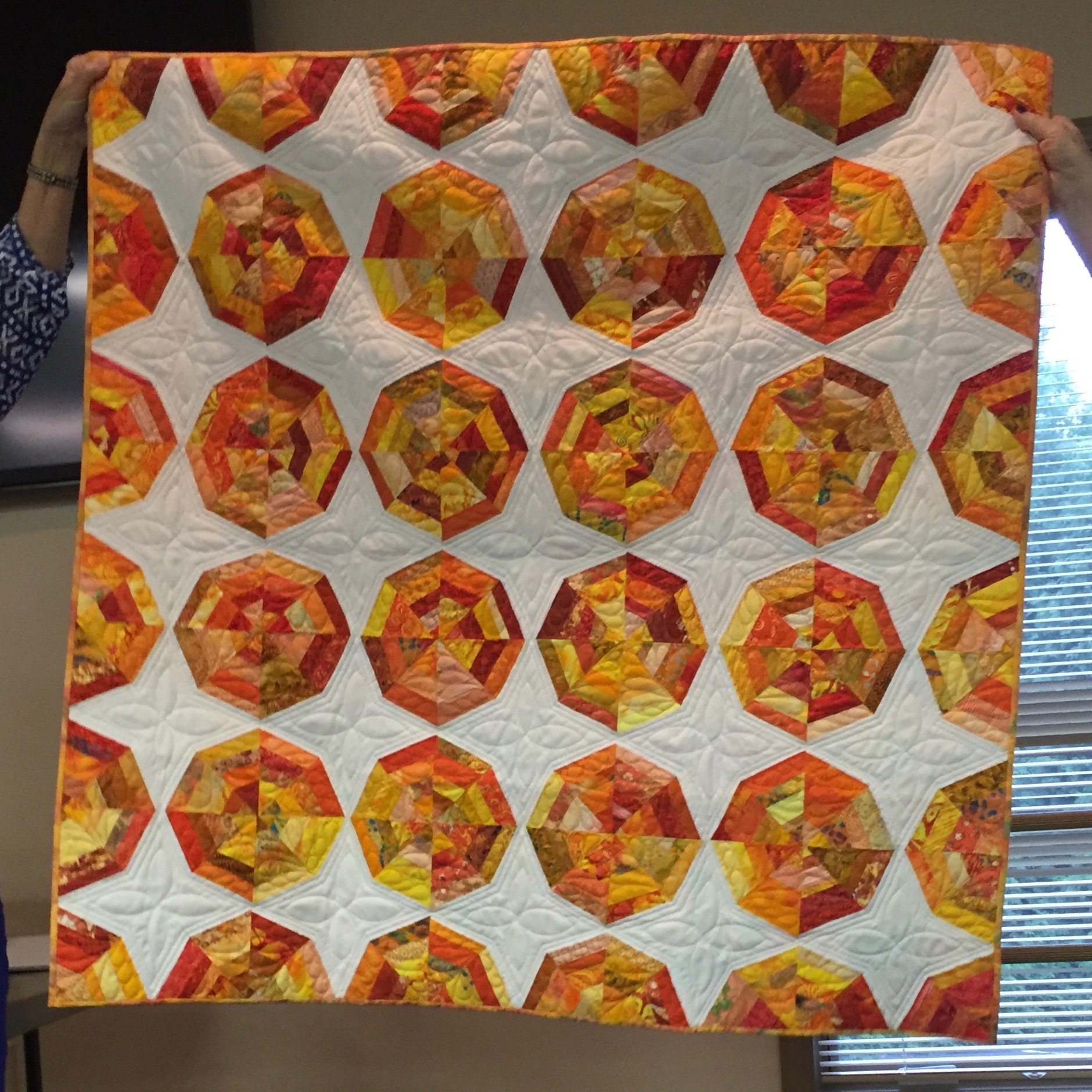 And there were some beautiful whole cloth art quilts to enjoy too!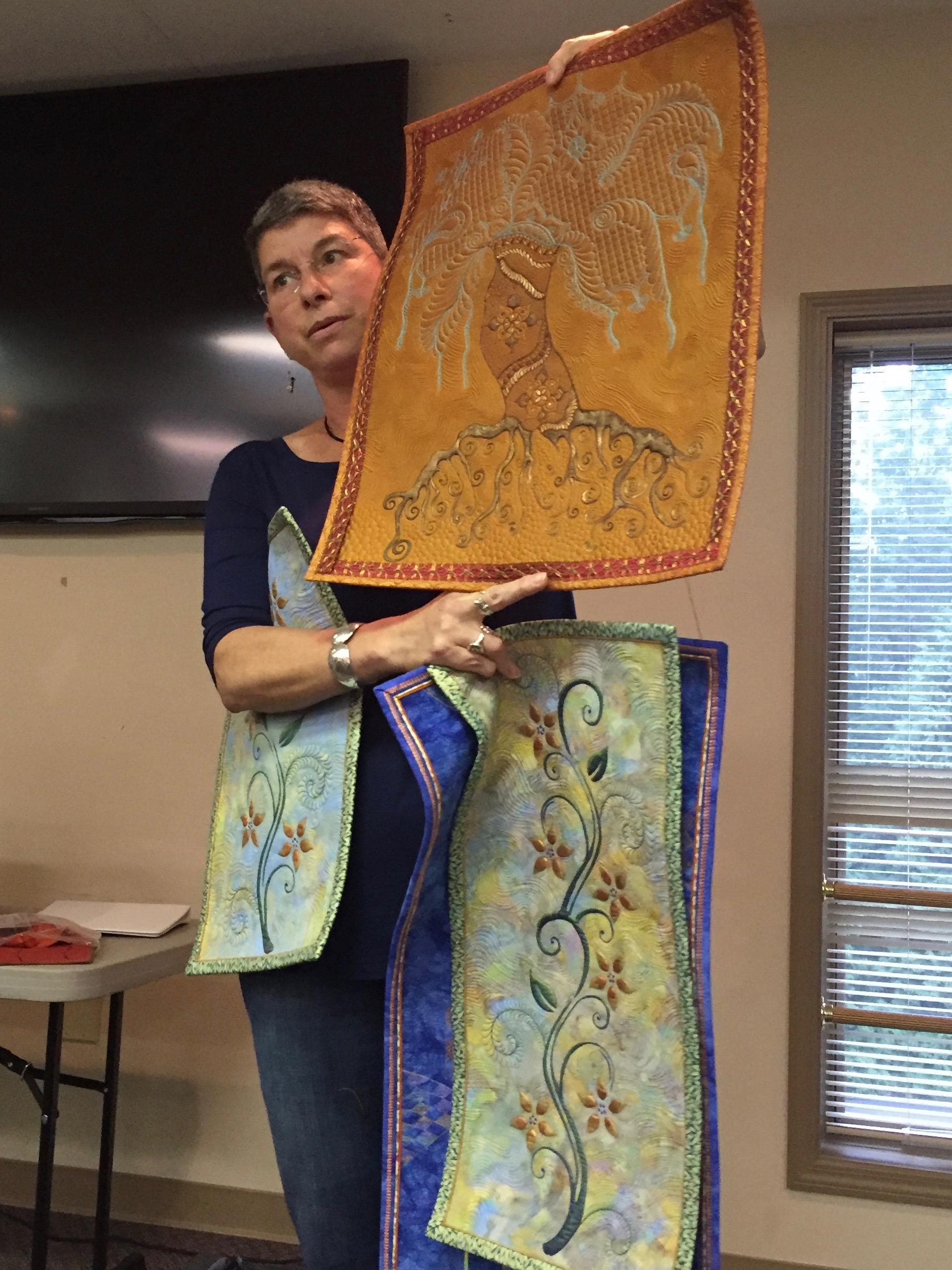 Business was next. With a quilt show coming up in September there was a plea for volunteers…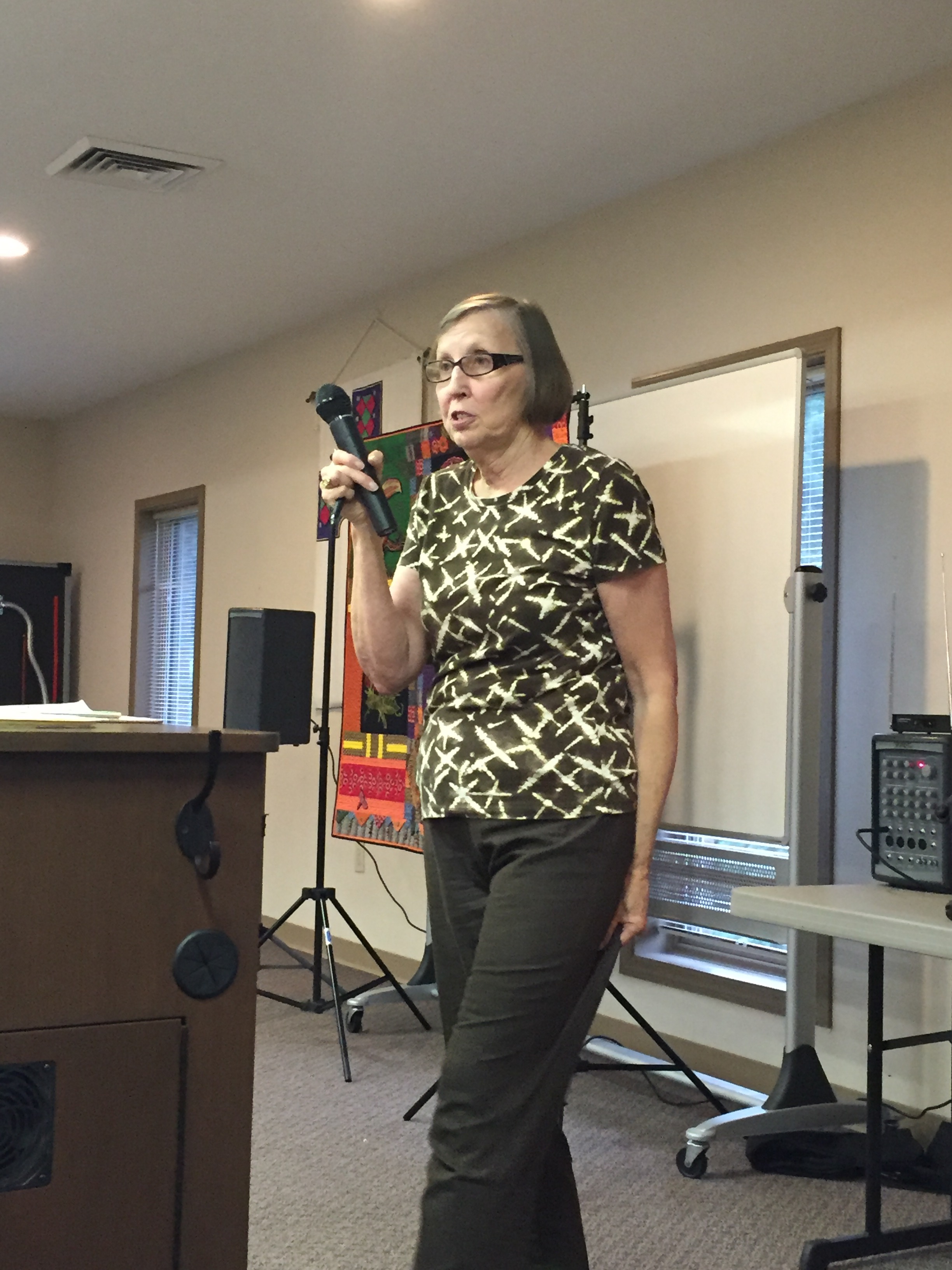 I was very glad to see the ladies gathered around the sign up table in the break!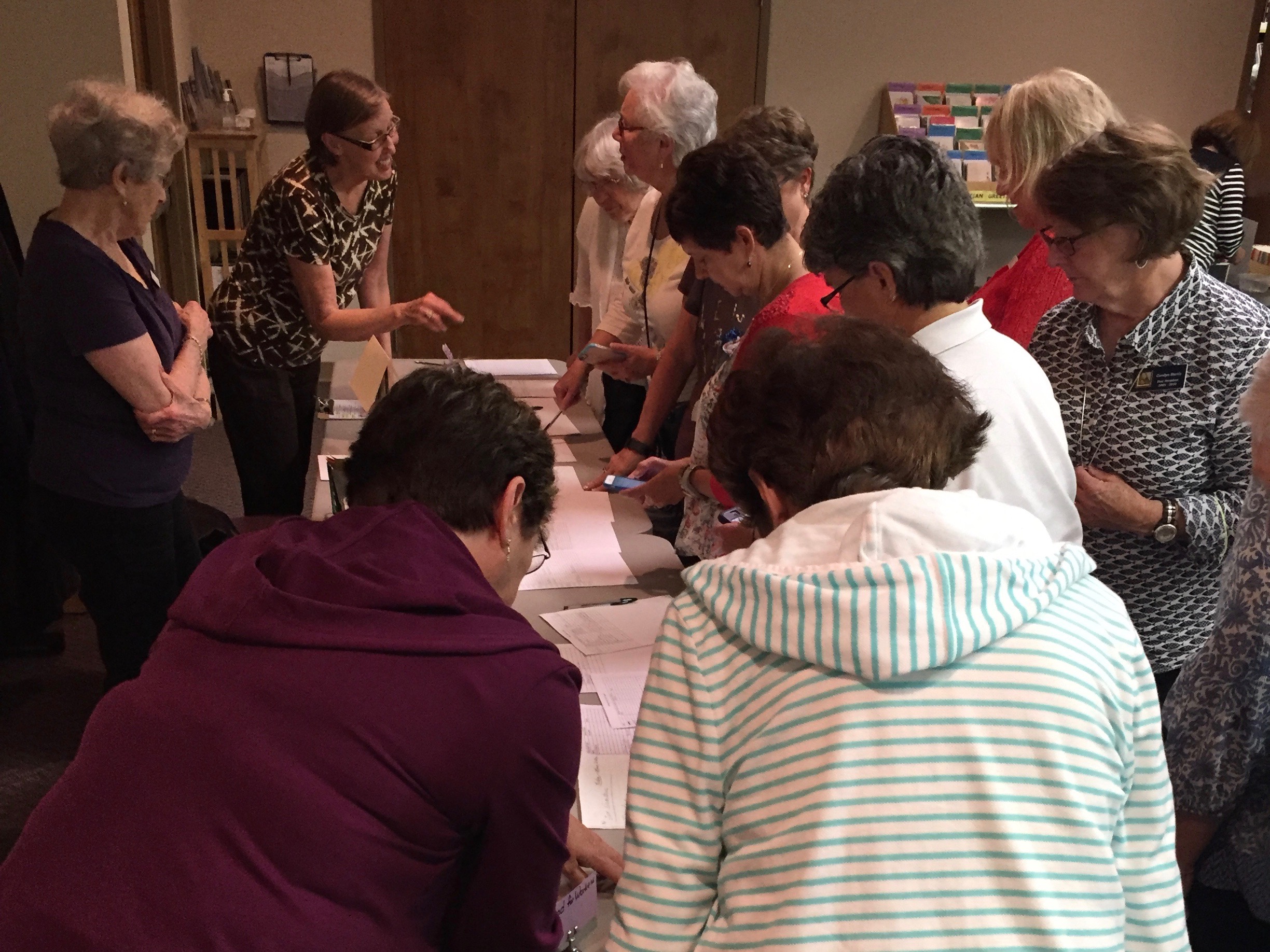 Many hands make light work?
My turn!
I made sure the ladies were sitting comfortably before I began.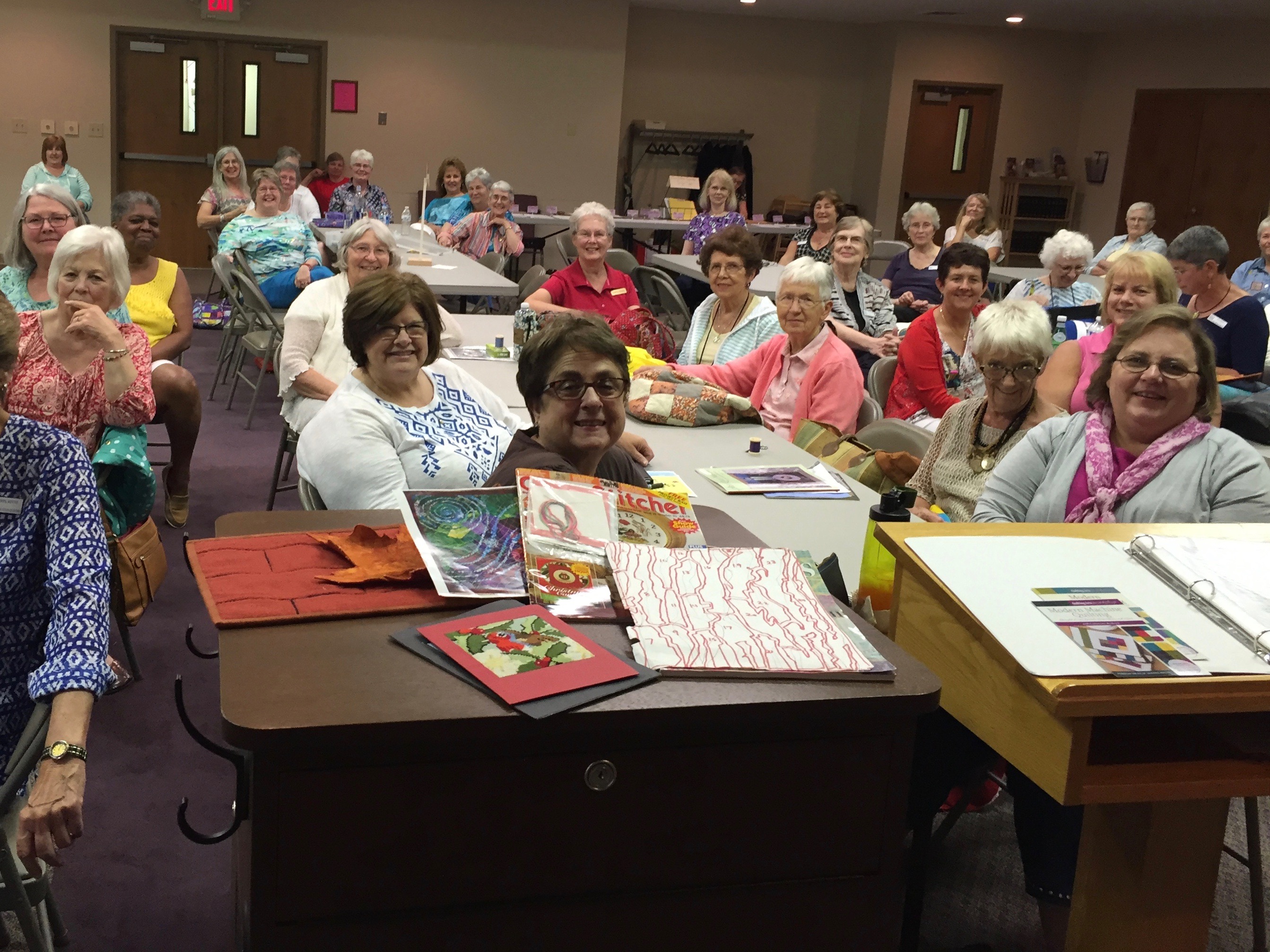 It was a good evening.
Tuesday morning I was ready to go and so was everyone else. We had a full house for my Walking Foot Quilting class.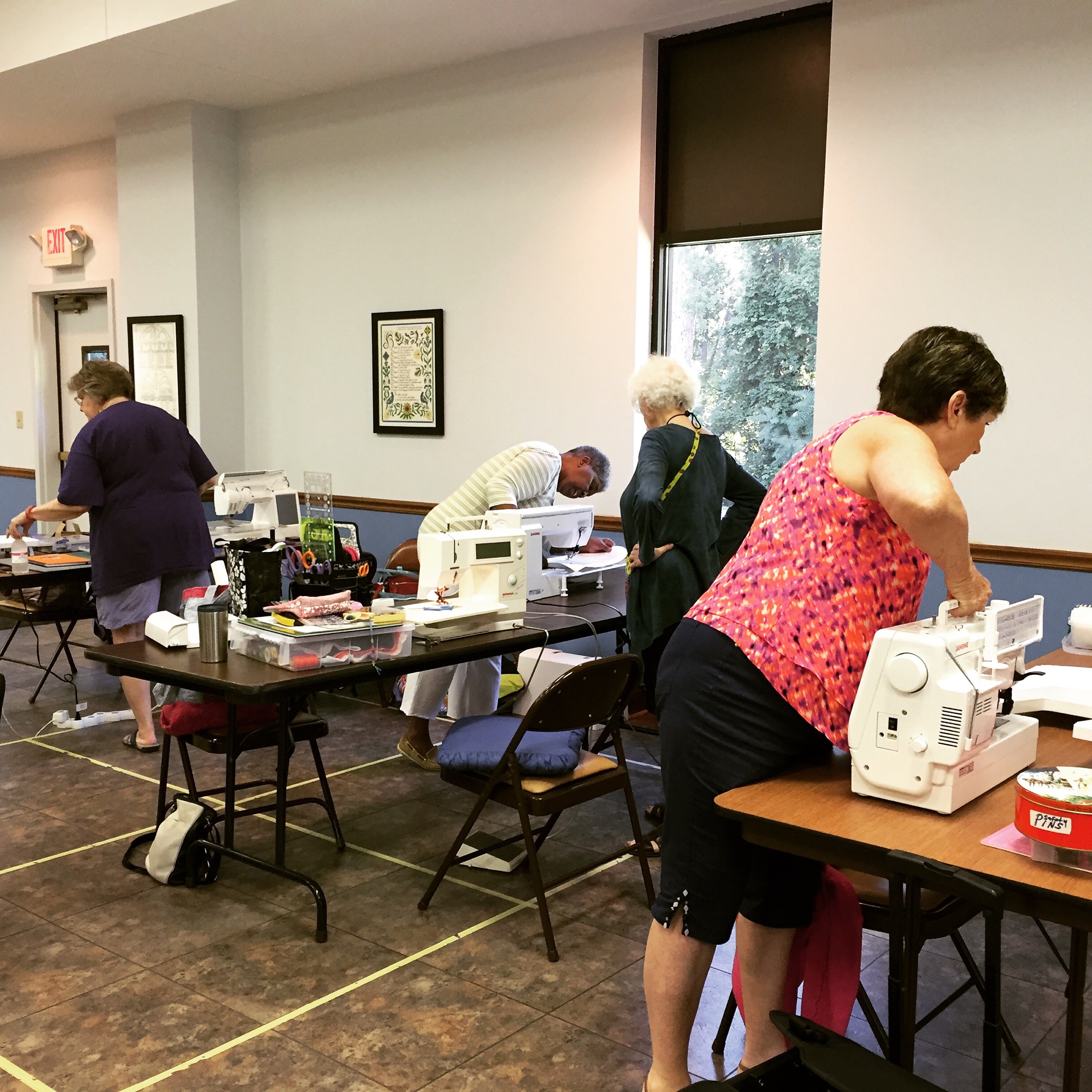 Plenty of shopping opportunities!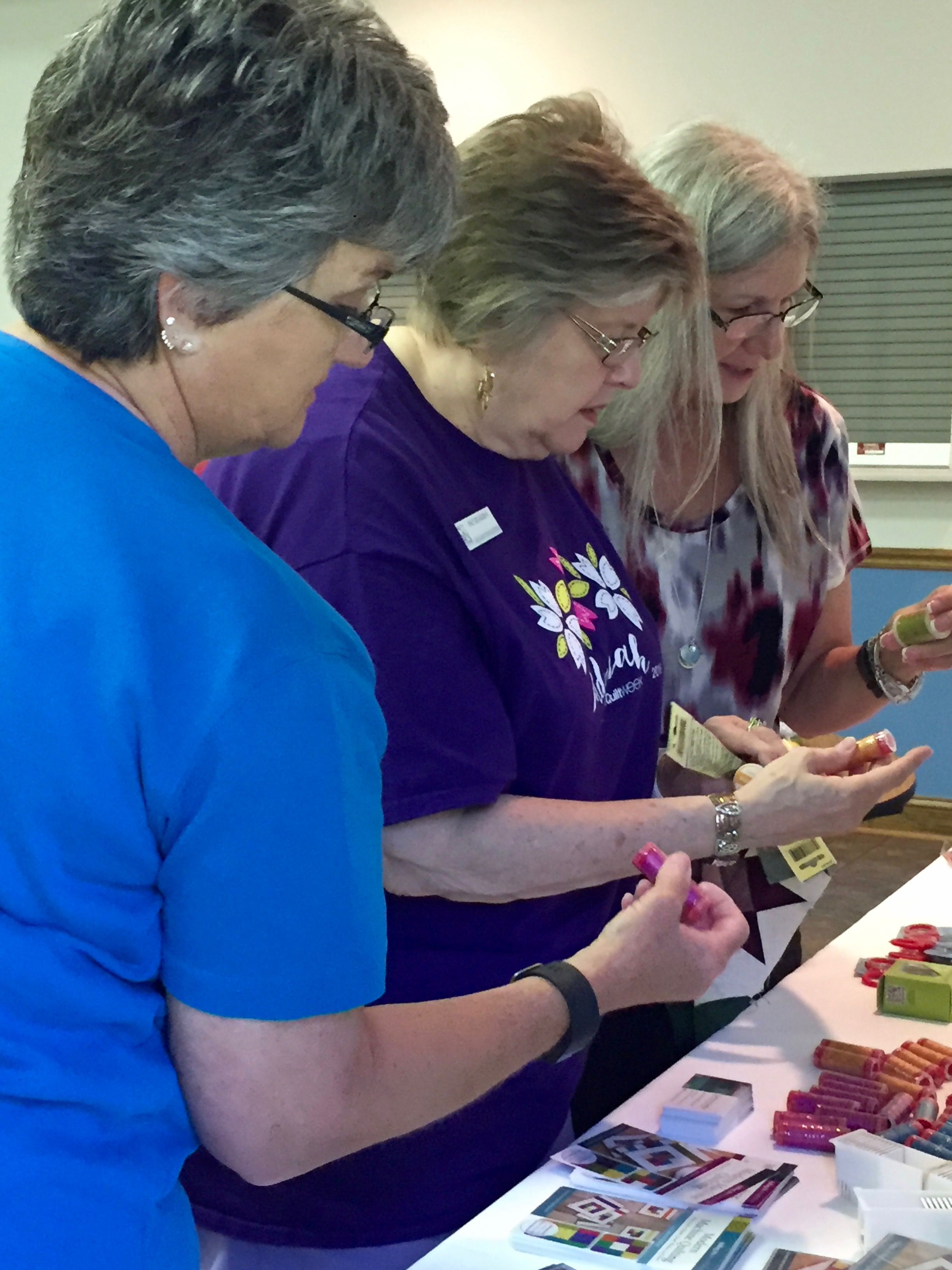 Lots of serious stitching.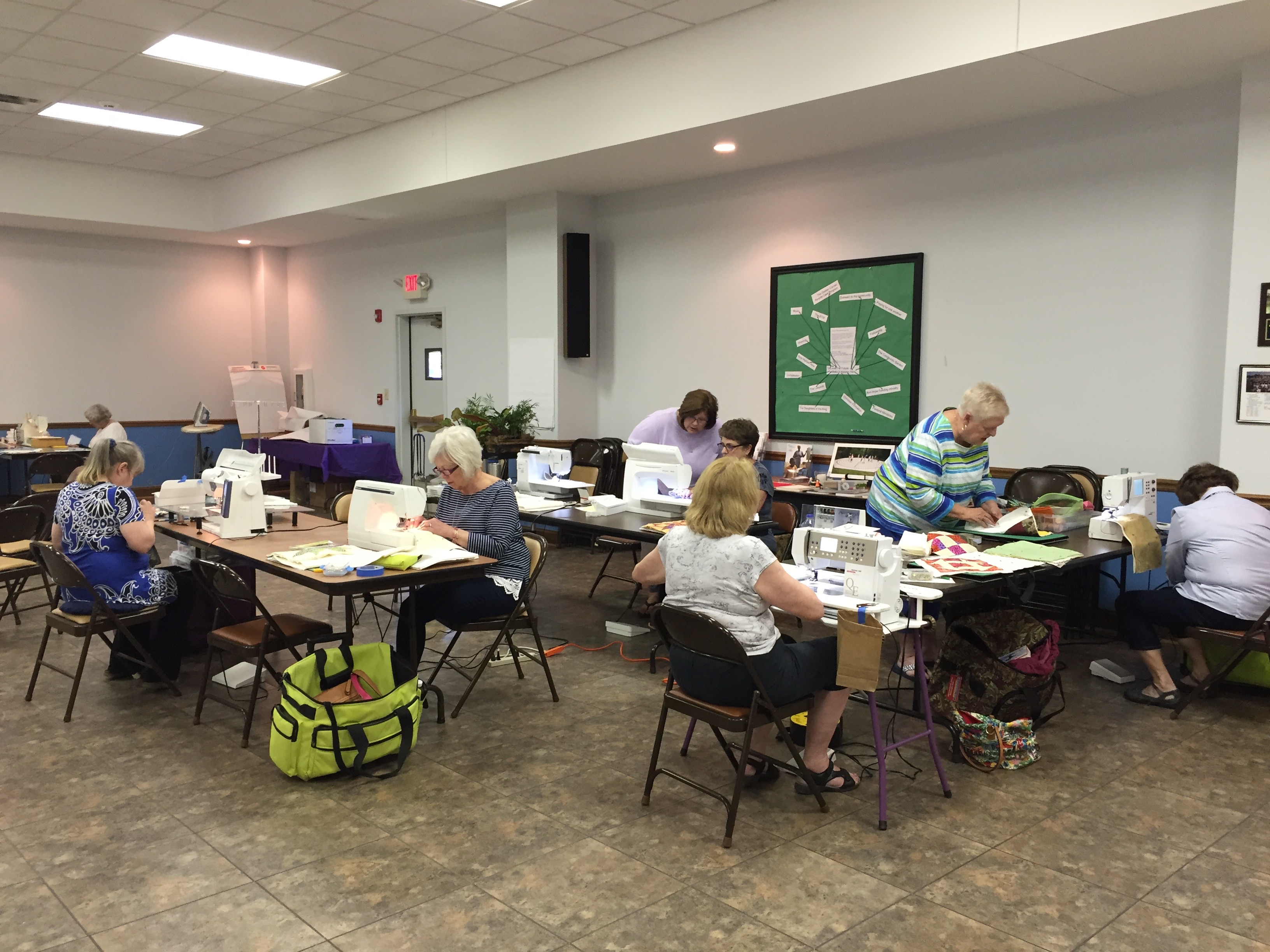 But just like that it was time to go home. After all the planning and preparation the actual trip always seems so short. Thank you to all the guild members. I do hope I see you again some day.
A last look at the lakes from my window seat.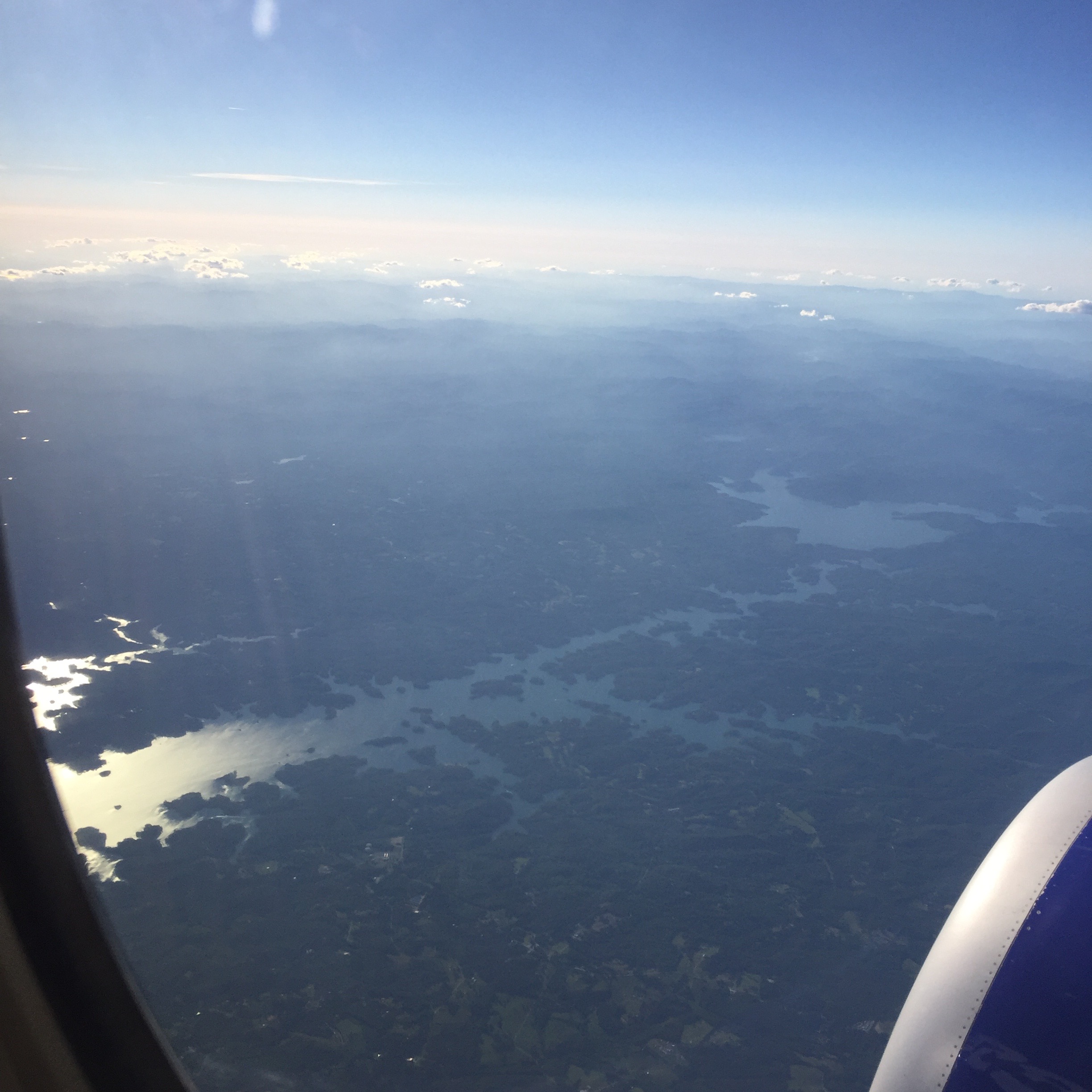 It was well past midnight by the time I arrived home. Tired, but very content. Who knew work could be like this?
Pegg dropped my Market goodies in on her way past from Utah to Vermont. (just a short road trip?!!)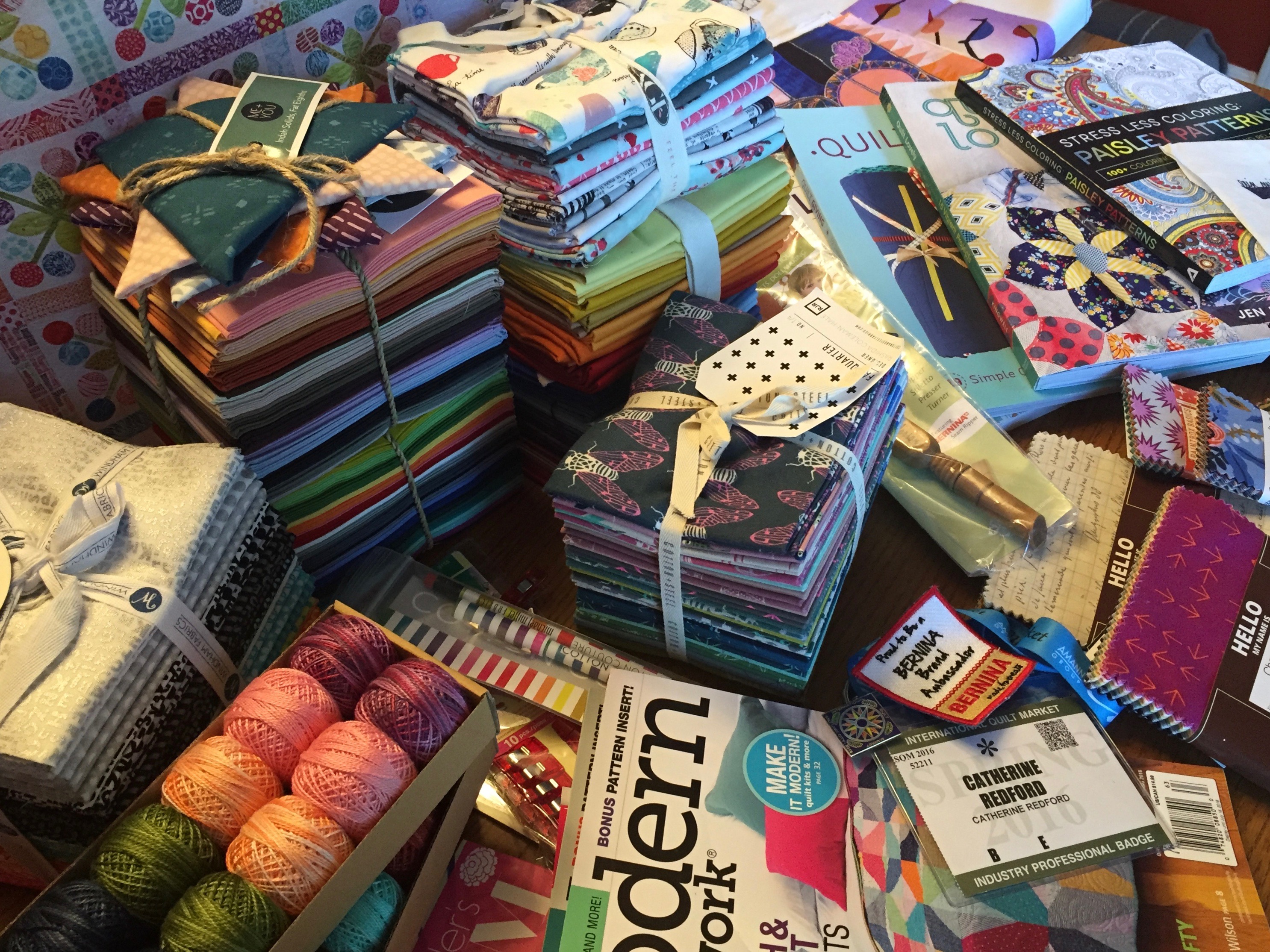 What do you think? Was I restrained or does it look like a lot to you? Once I knew that I wouldn't be shipping my purchases I did add a few things on the last day…
I see some very happy stitching in my future!