Remember these fabrics?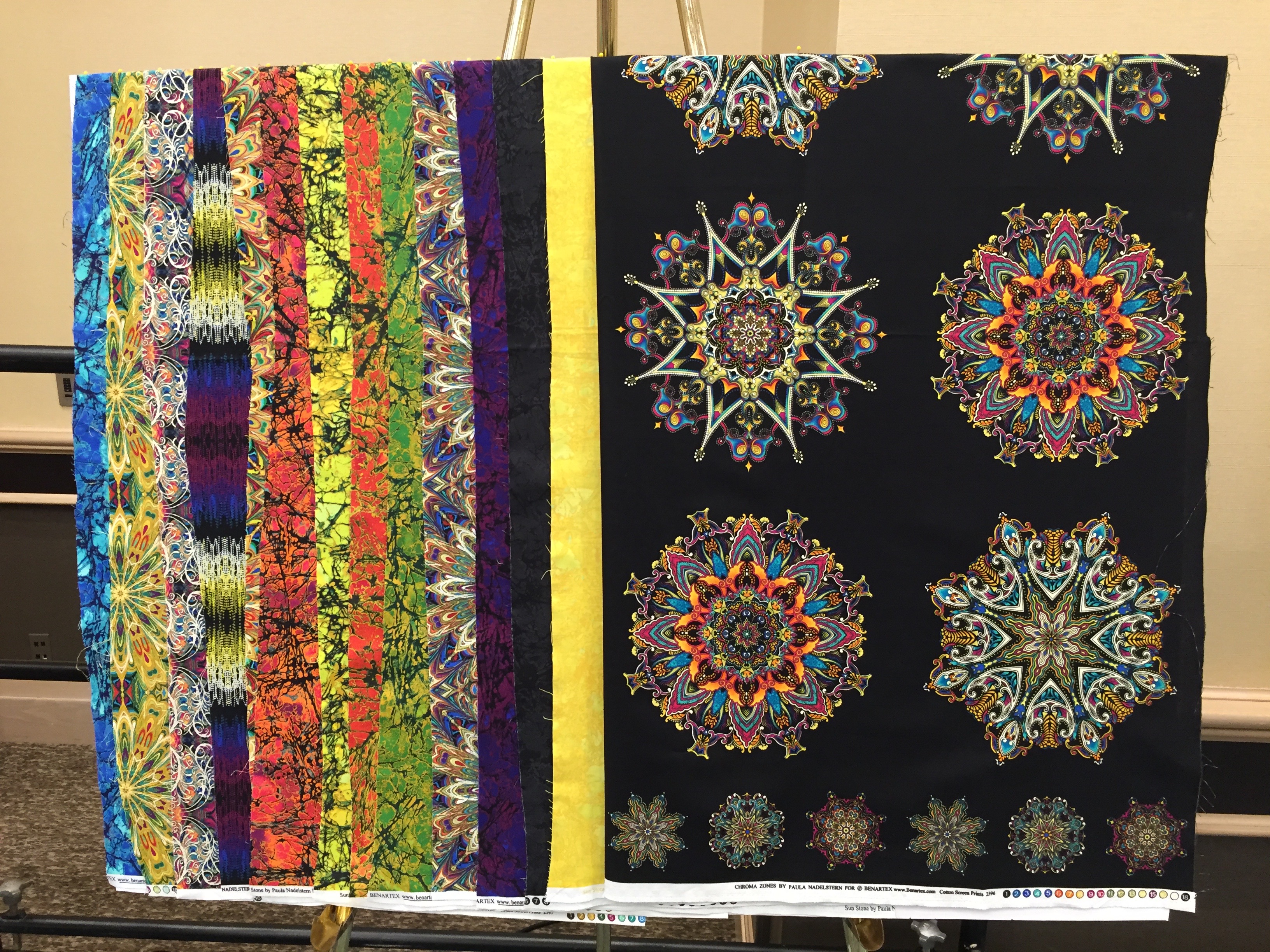 When I went to select the collection we would be working with for the Iron Quilter Challenge nobody outside our team knew this was the design I had drawn up the night before…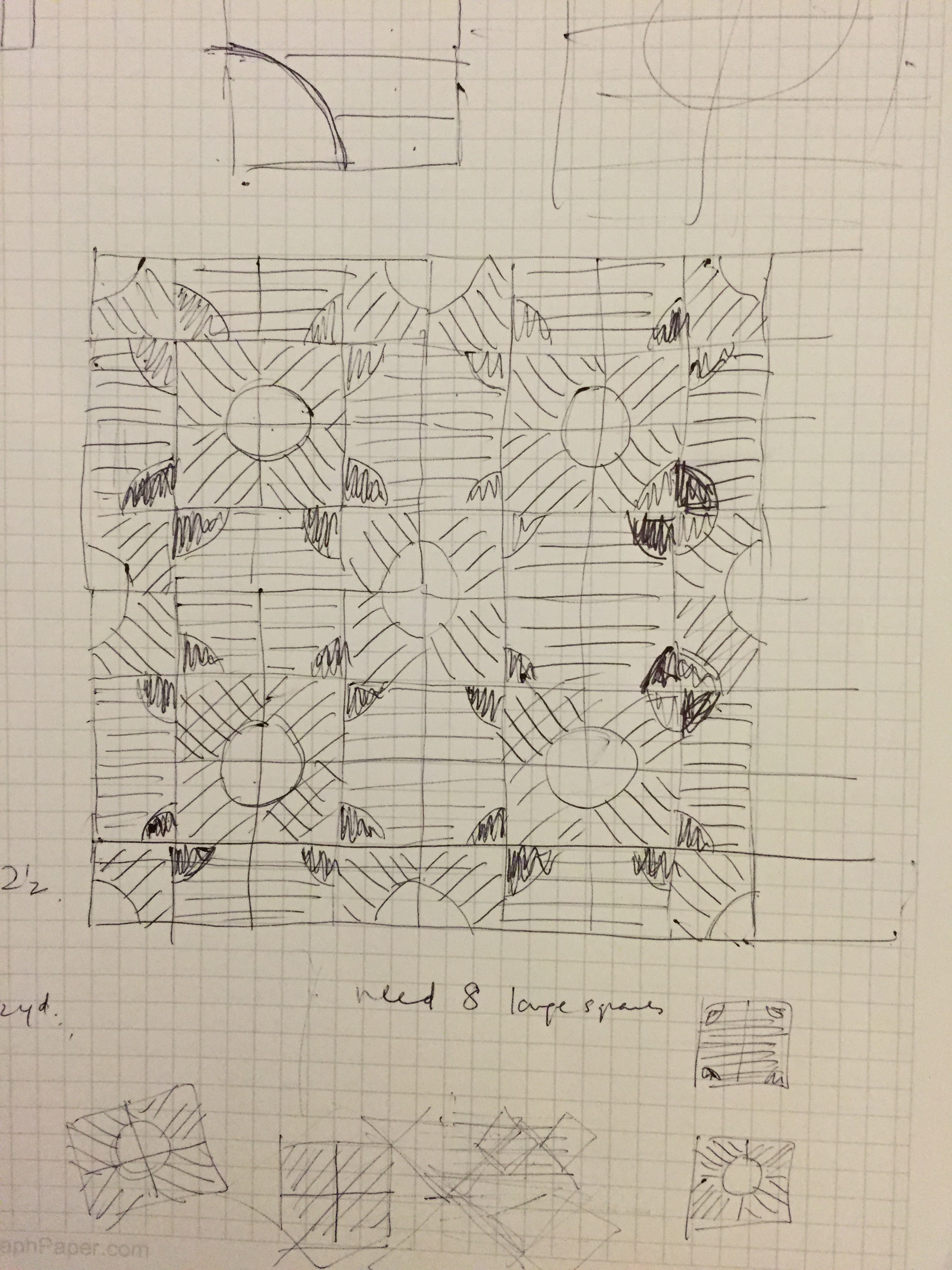 We were VERY happy with the fabrics the other two team leaders didn't want!!
So, incase you haven't come across the concept of the Iron Quilter Challenge before, I guess I should explain a little. At the Chicago show three team leaders are selected from the Faculty members and invited to form a team with four other quilters of their choice. Three fabric manufacturers donate fourteen half yard cuts from one of their lines. These are the fabrics we got to "choose" from at midday. At 5.30 PM we were allowed to set up our space ready to start sewing at 6.30. Show goers can buy tickets to come and watch. There are lots of door prizes and freebies on offer. Each team is allowed to bring any tools of their choice but no extra fabrics. Quilt tops need to be finished in two hours, not a minute more!
My team were the Redford's Racers with the tag line Ripping towards the finish line. I invited Jenny Lyon, another faculty member, to join me, along with three members of Riverwalk Quilters Guild, Valli Schiller, Kathy Herbach and Sandy Alfaia.
Here we are, all dressed in black and white with our checkered flag bandanas, almost ready to start…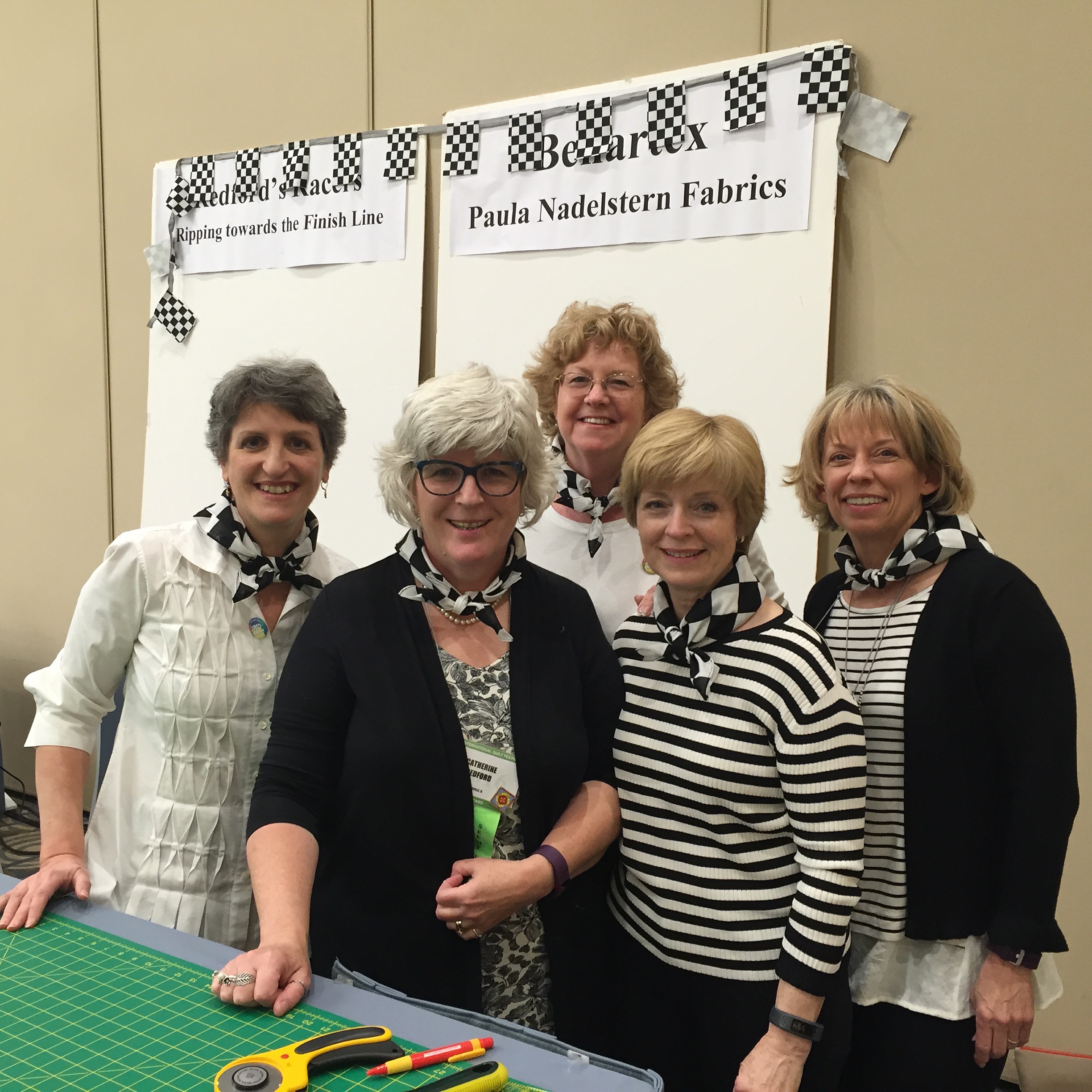 The teams went up to the stage to be introduced by their leaders and collect the fabric and we were off!
Sandy started cutting strips.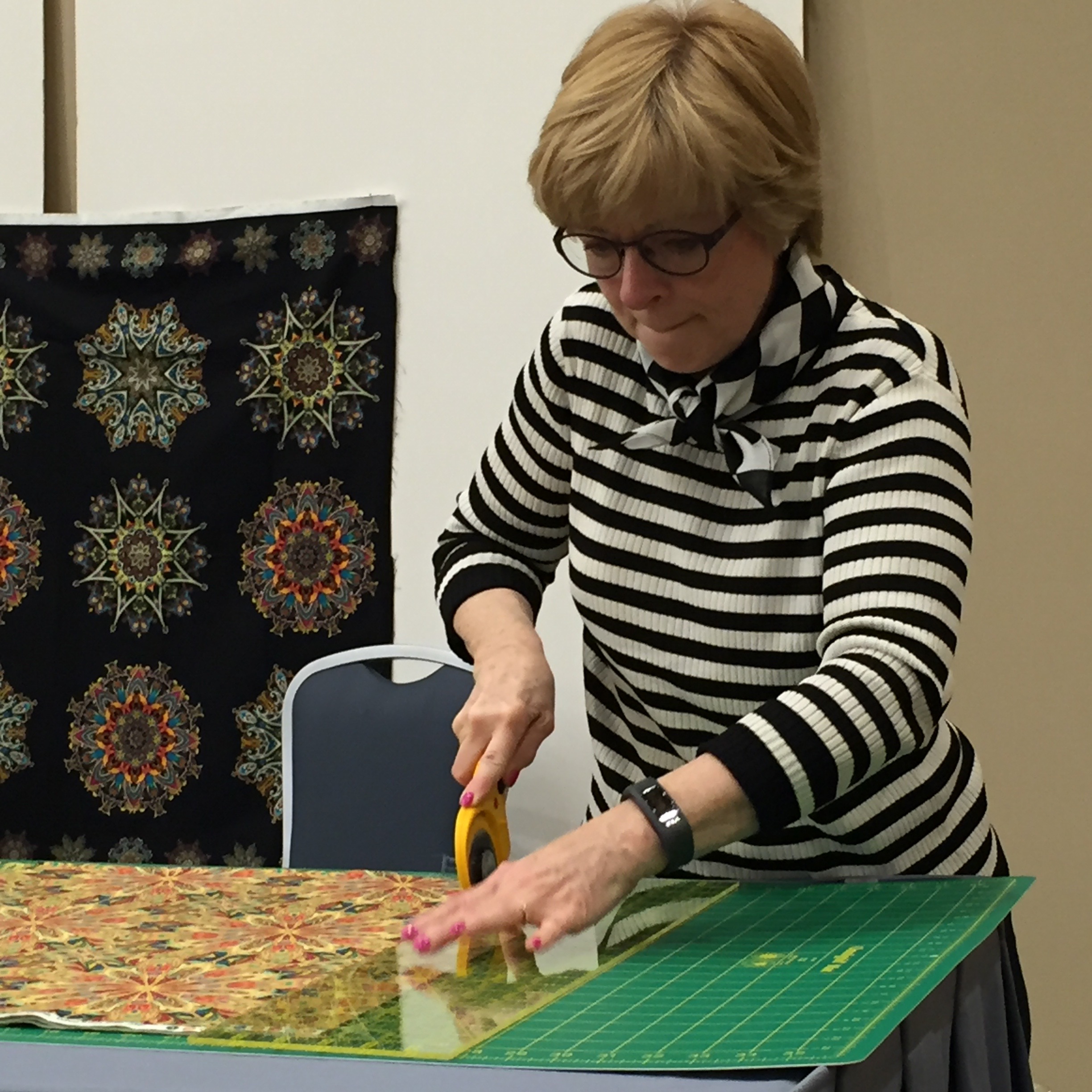 As soon as the first strips were cut Kathy got to stitching.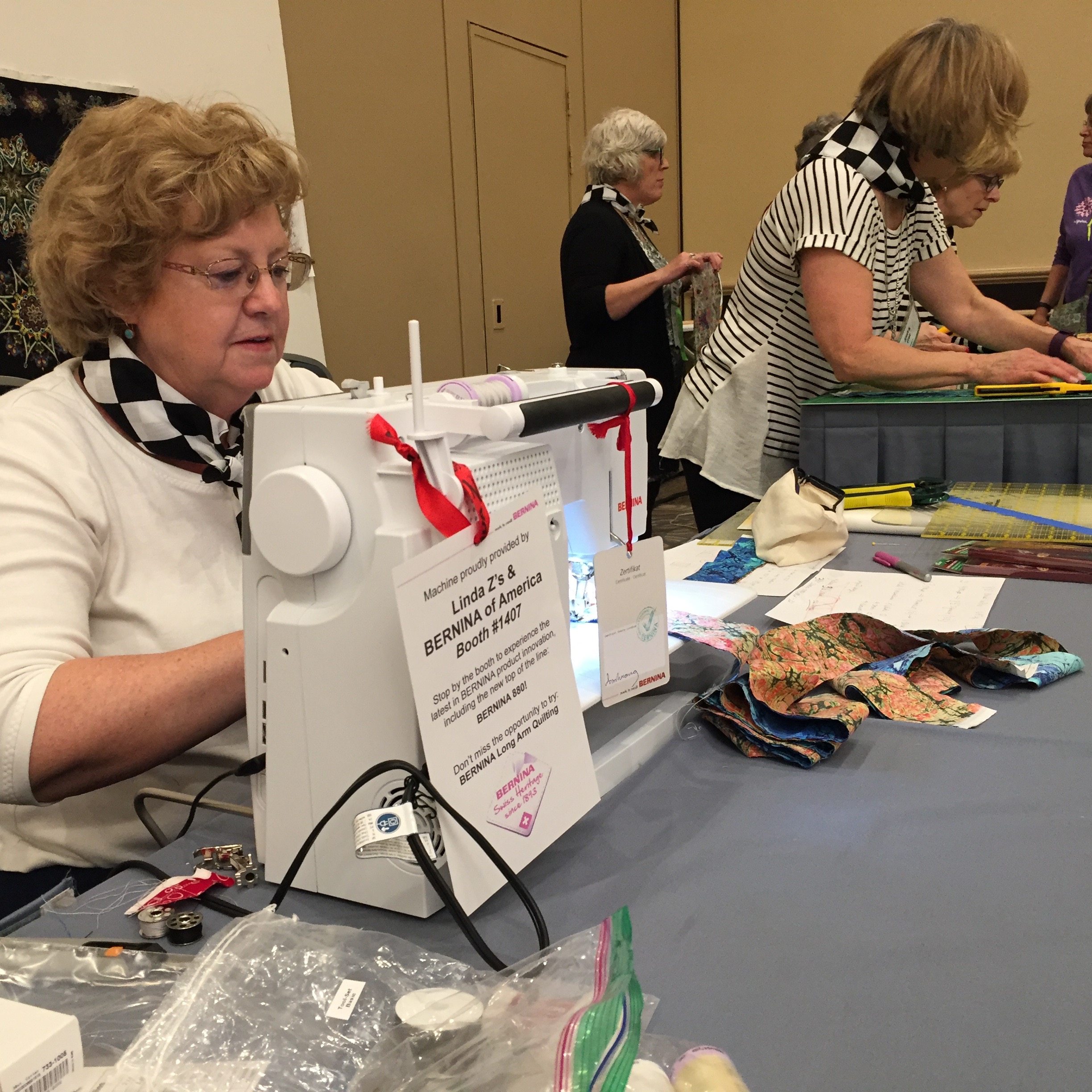 And so did Valli.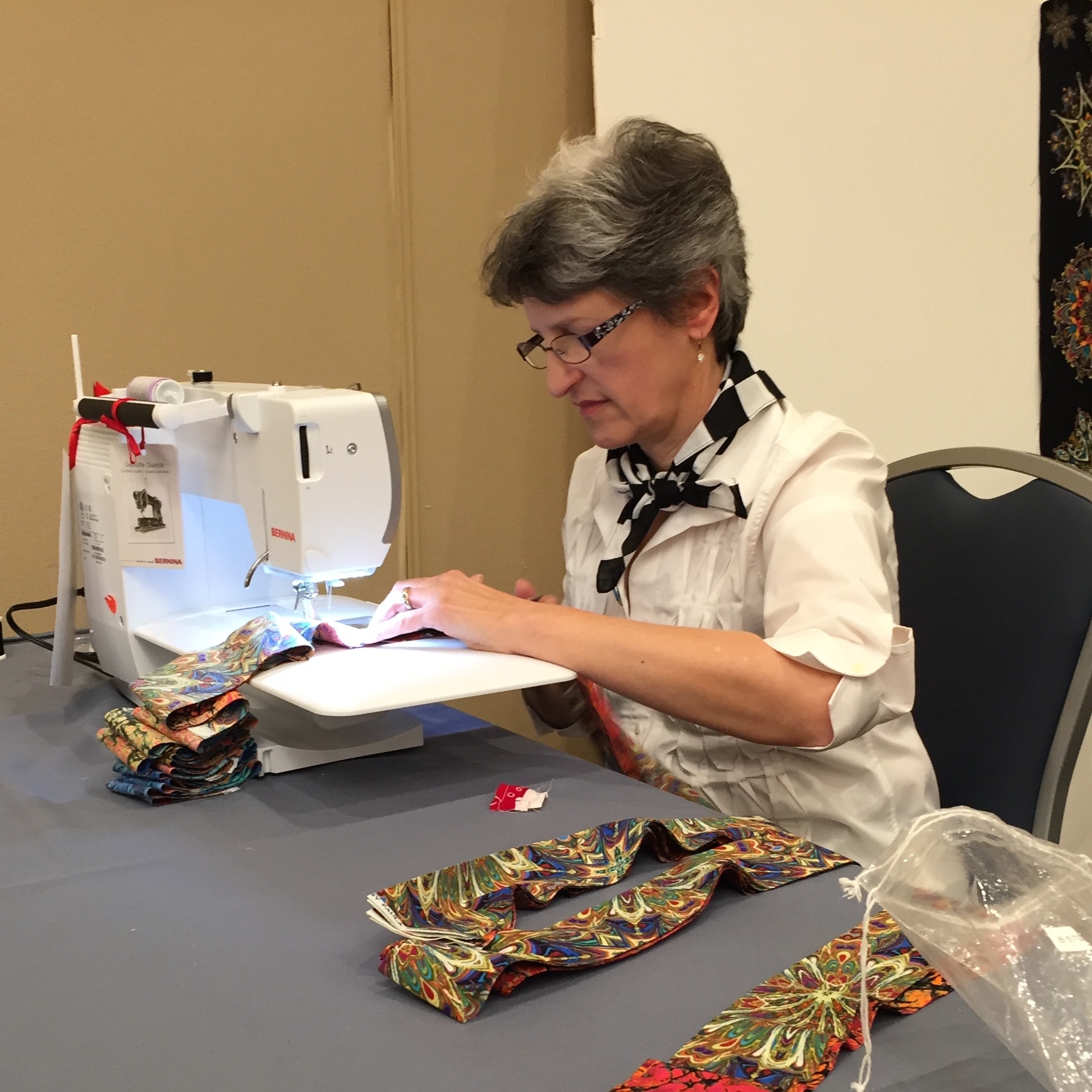 More strips, more stitching, we worked so well together.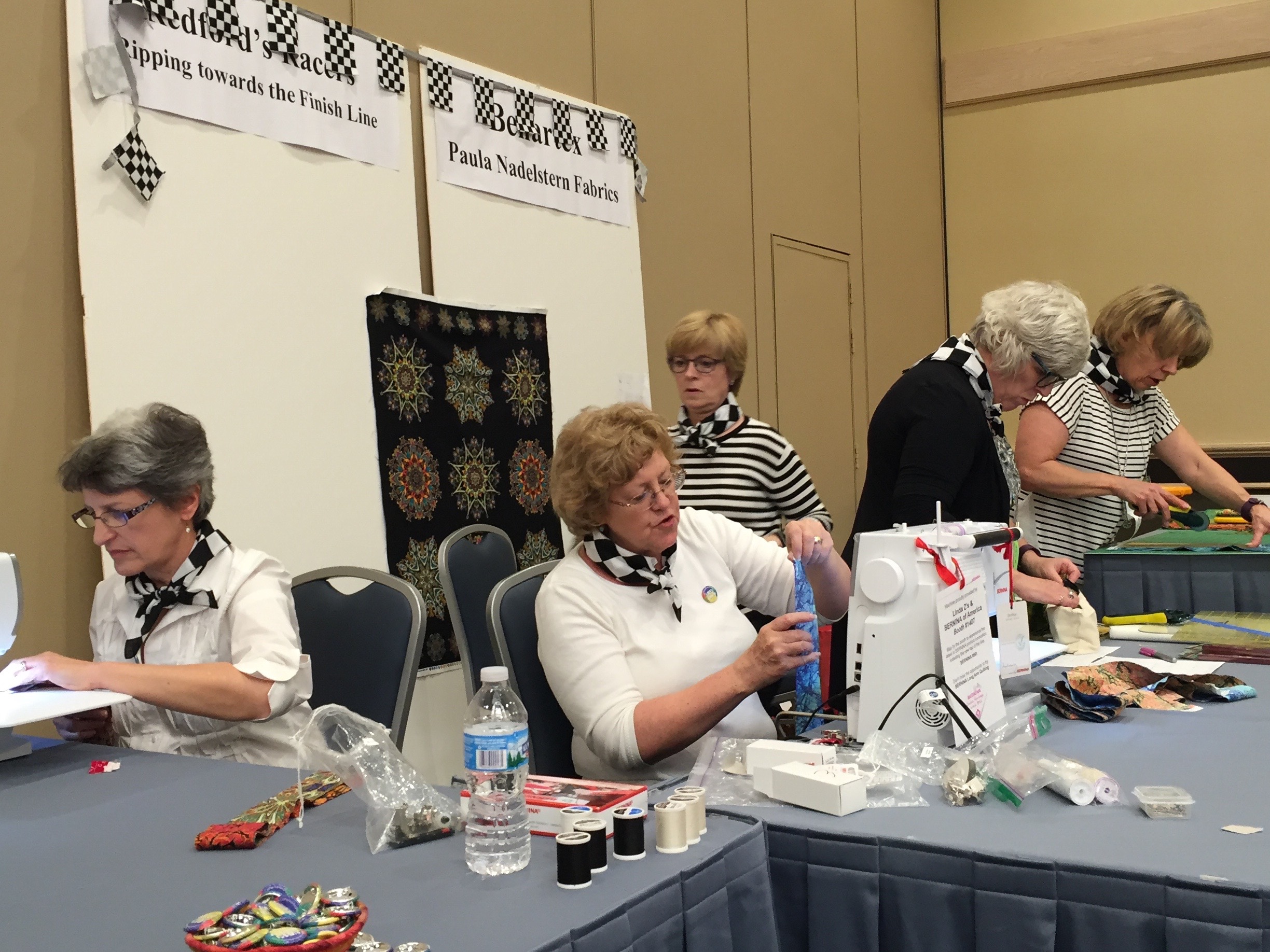 Meanwhile my competing team captains did whatever they did.
Cyndi Souder posed for a picture.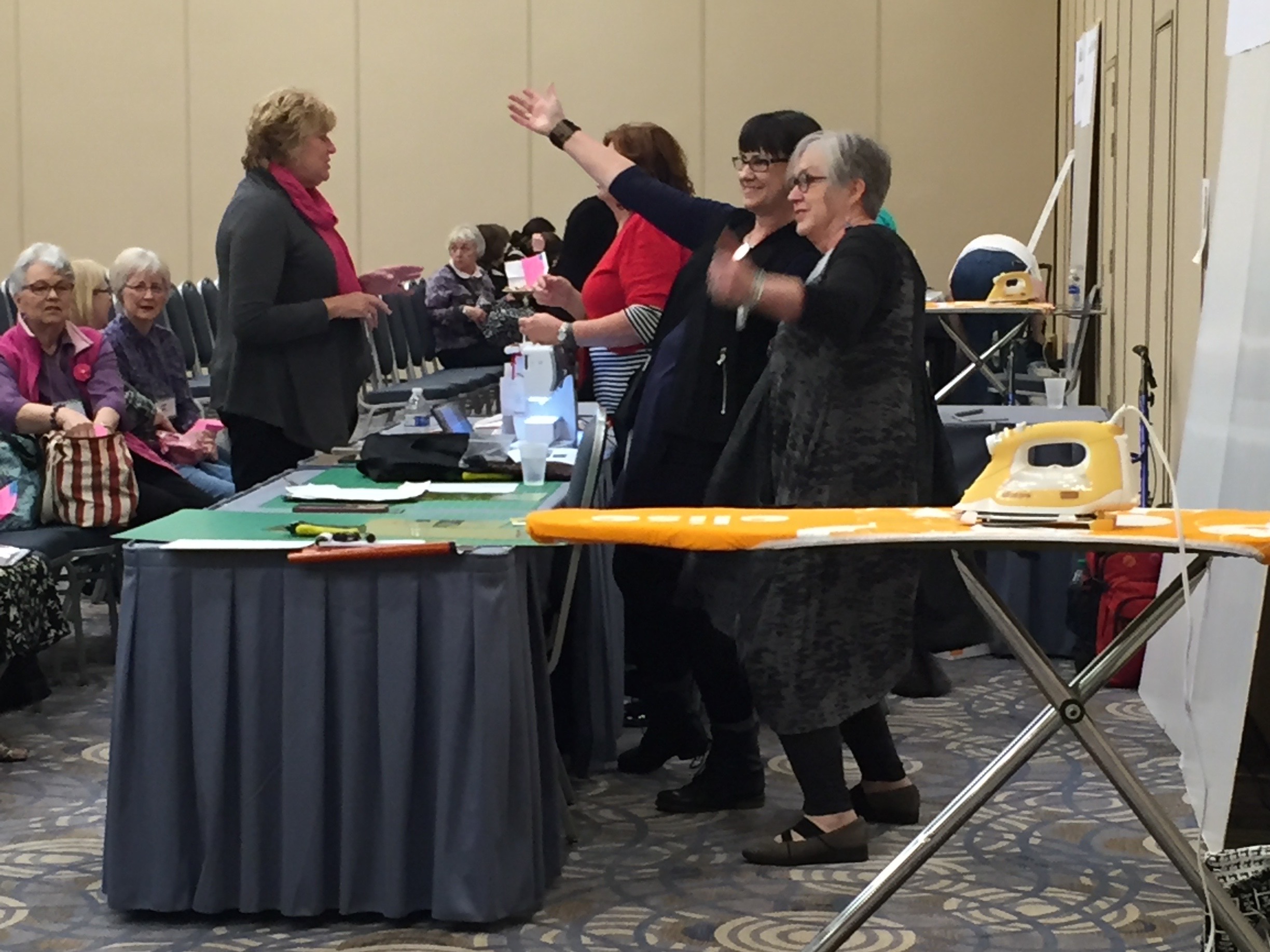 Kathy Lincoln marshaled her troops.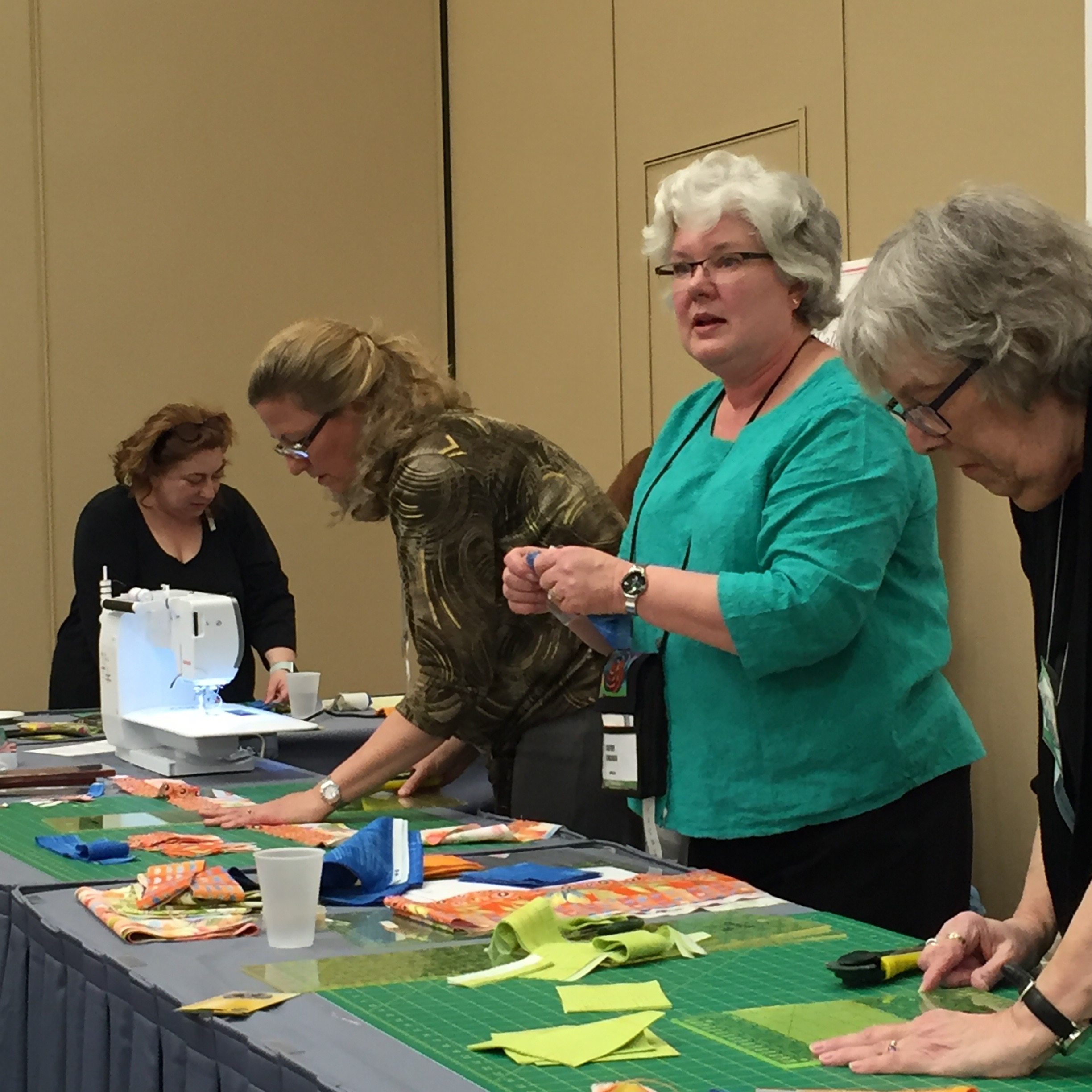 Time to cut triangles from those strata.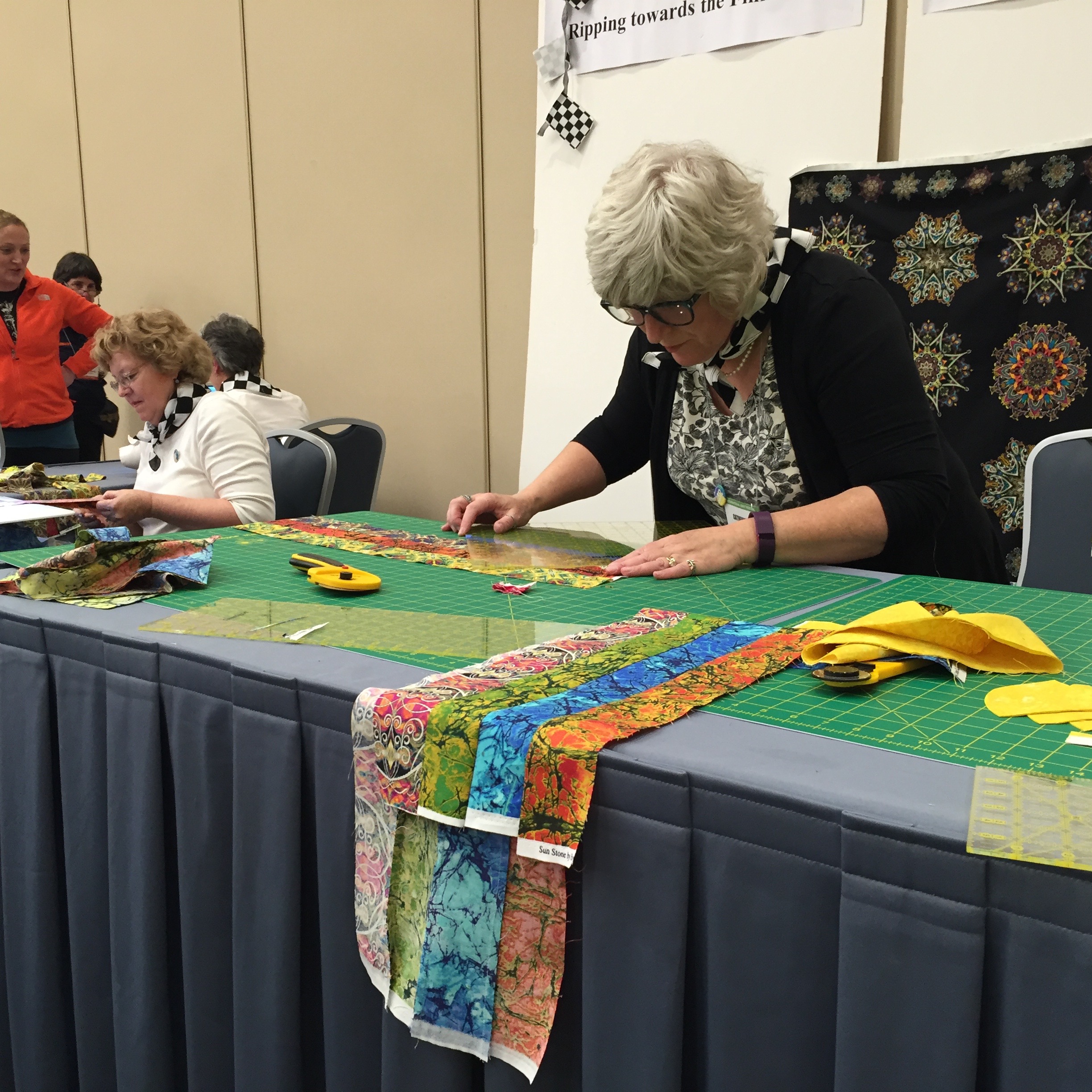 Jenny at the ironing board.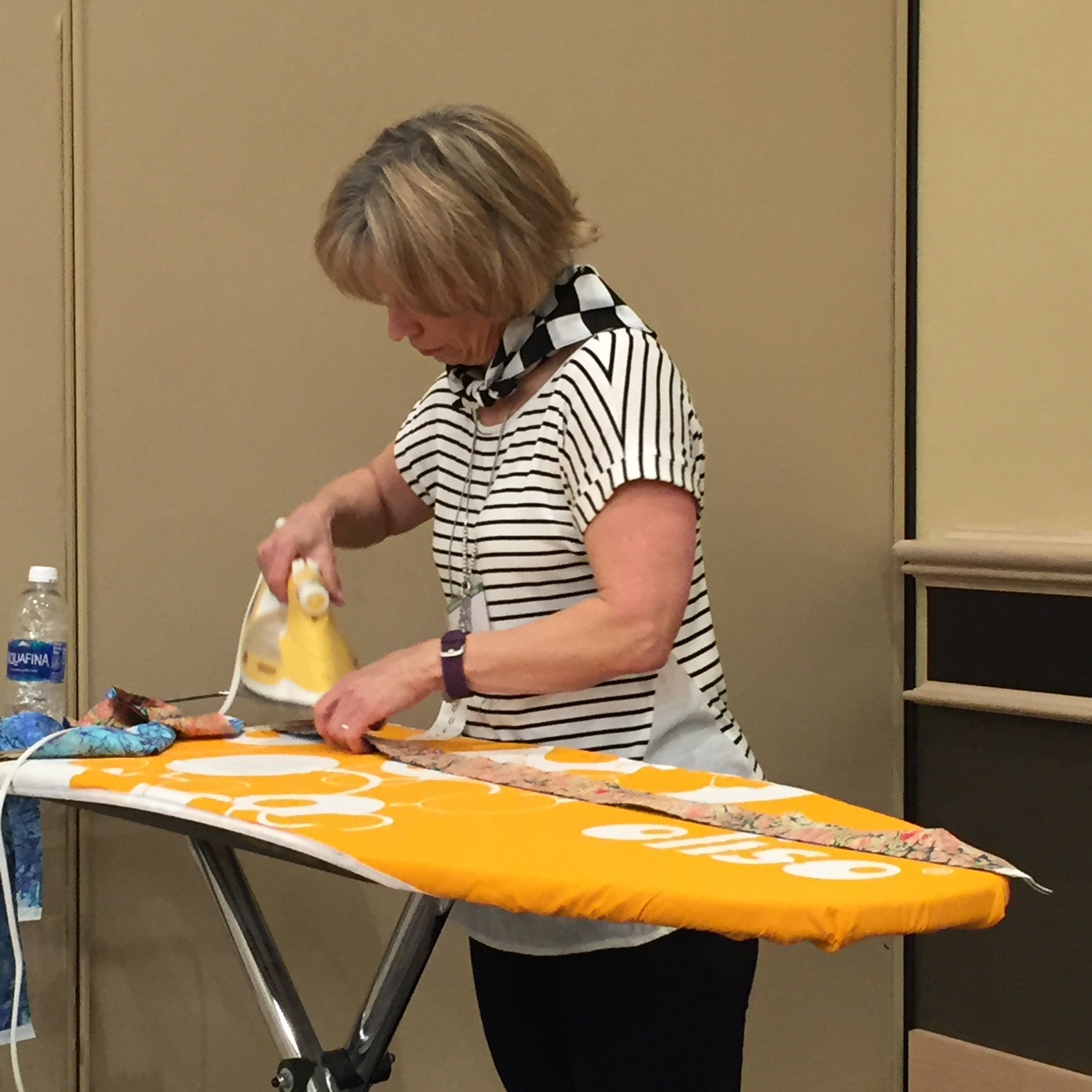 Bob from Quilts Inc. came round to check on us from time to time. I didn't give him very serious answers!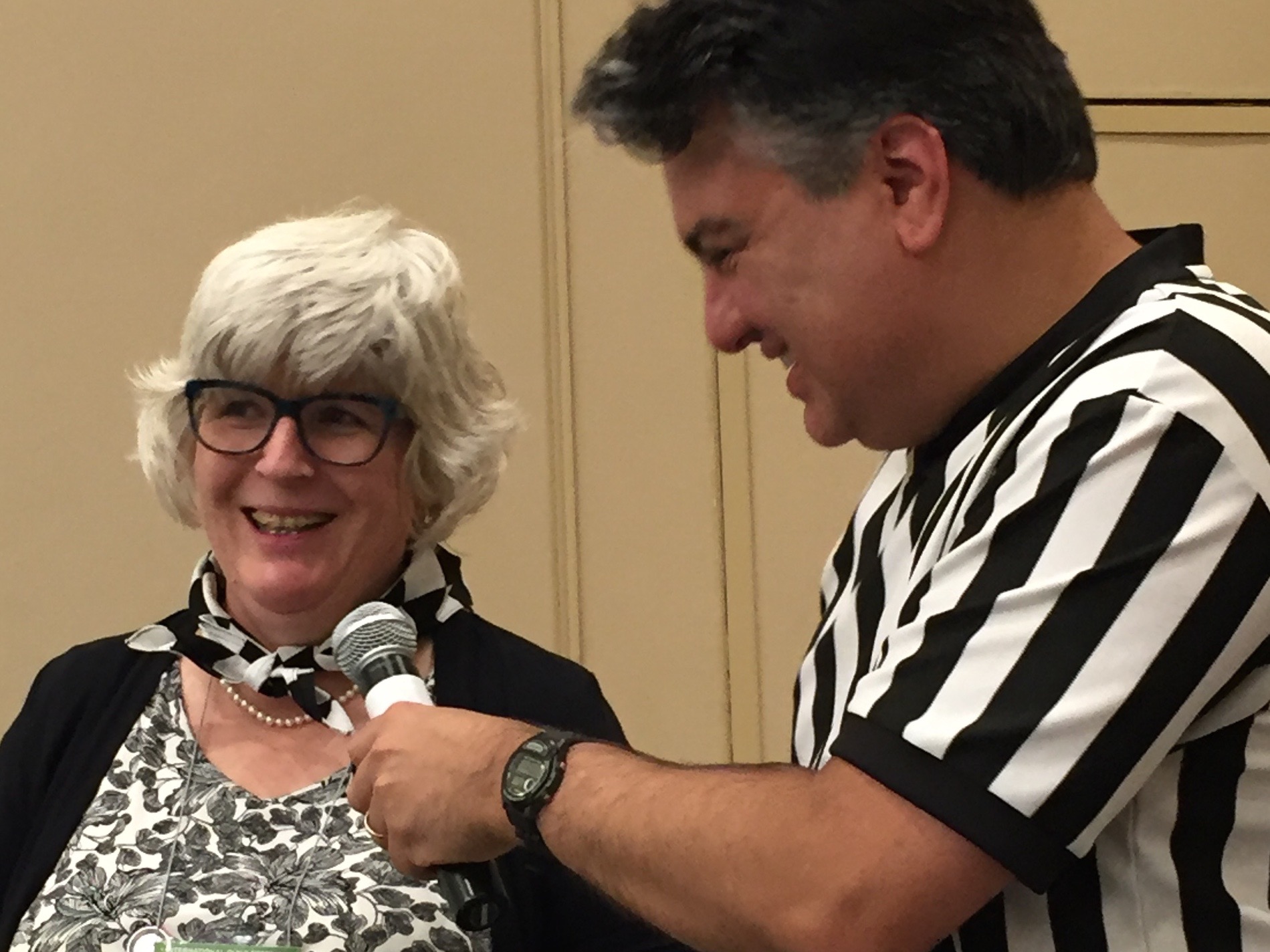 Quilt blocks were beginning to appear on the boards.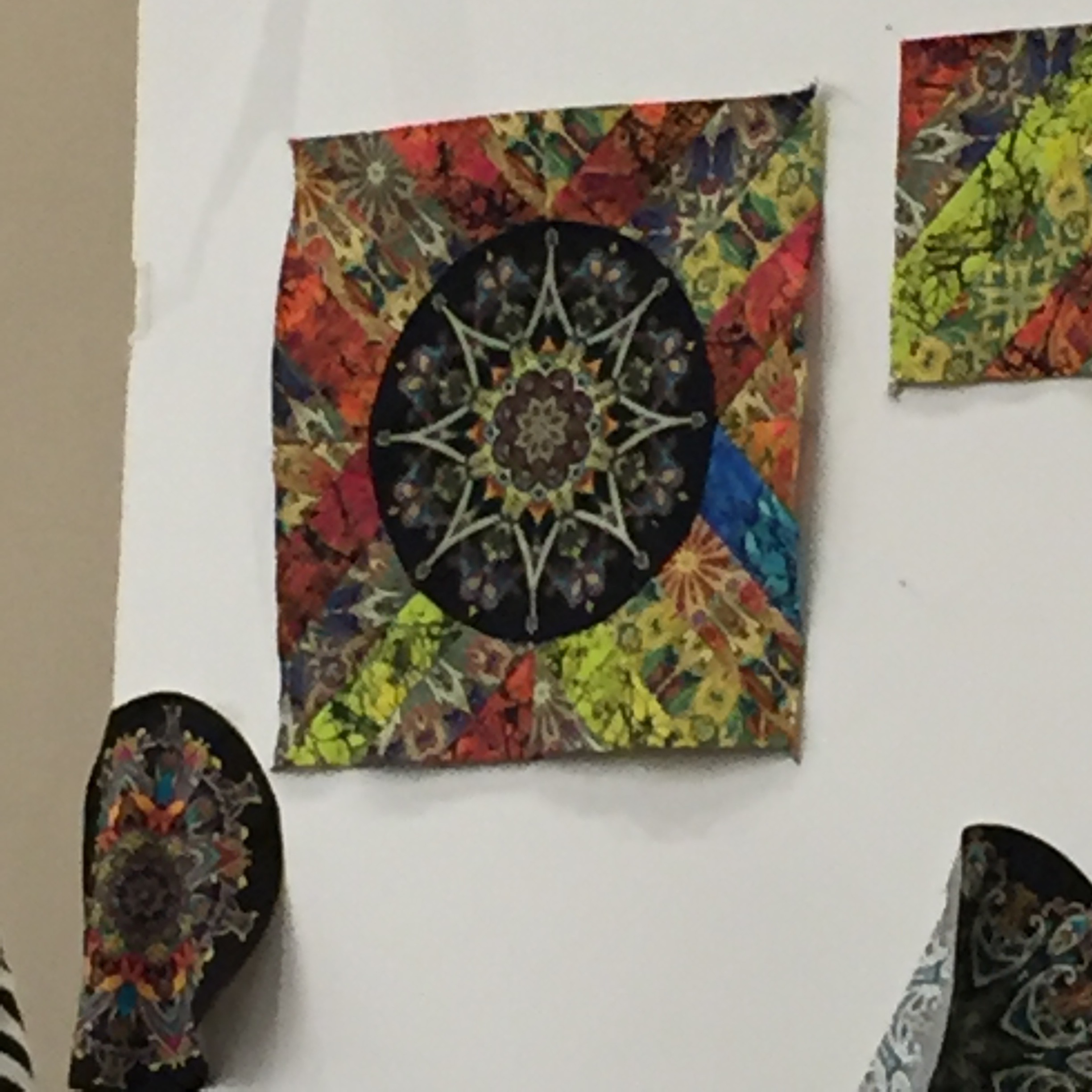 Time to sing along to the music?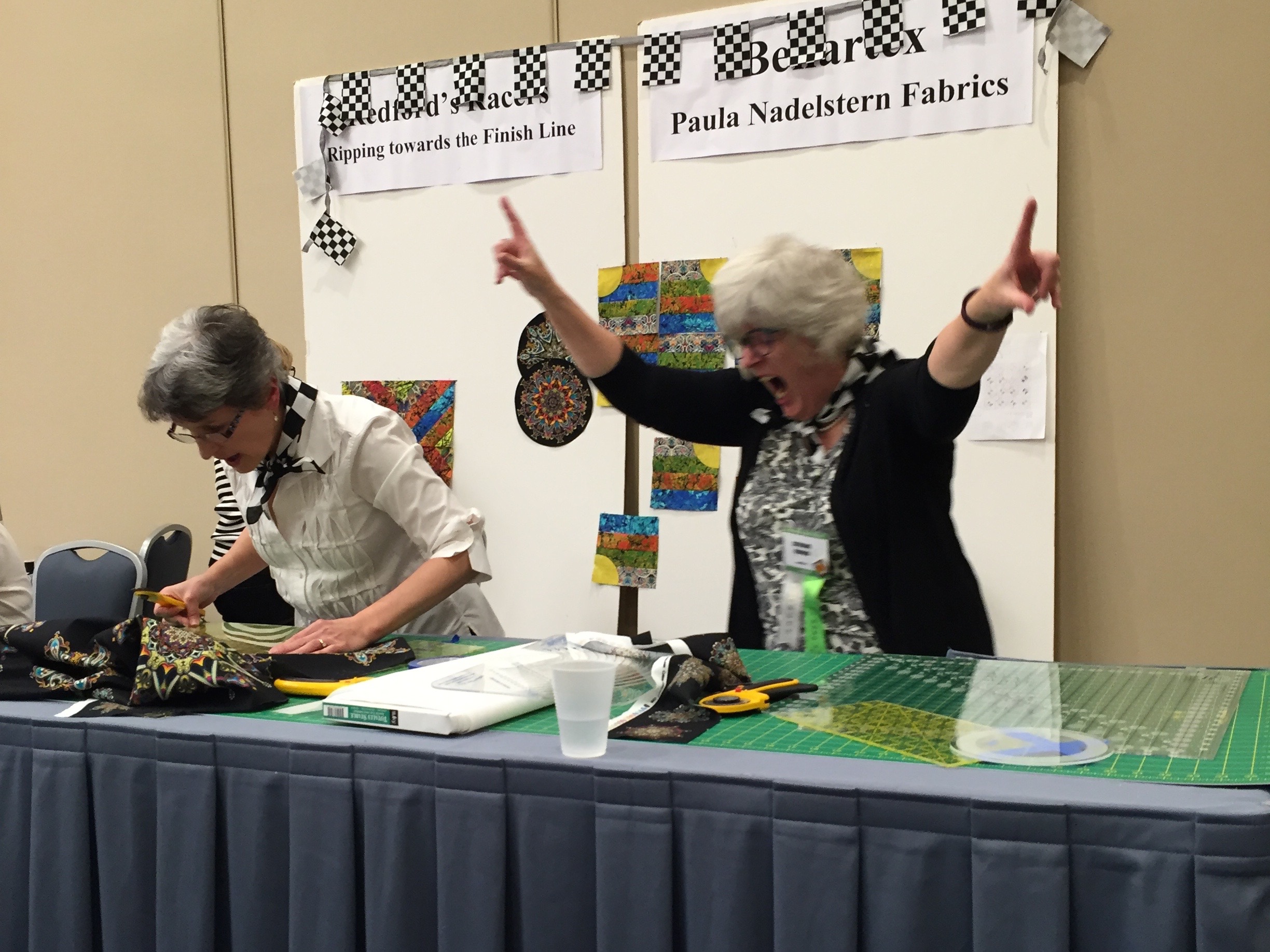 More measuring and cutting.
And while I was off campaigning for support a quilt top appeared.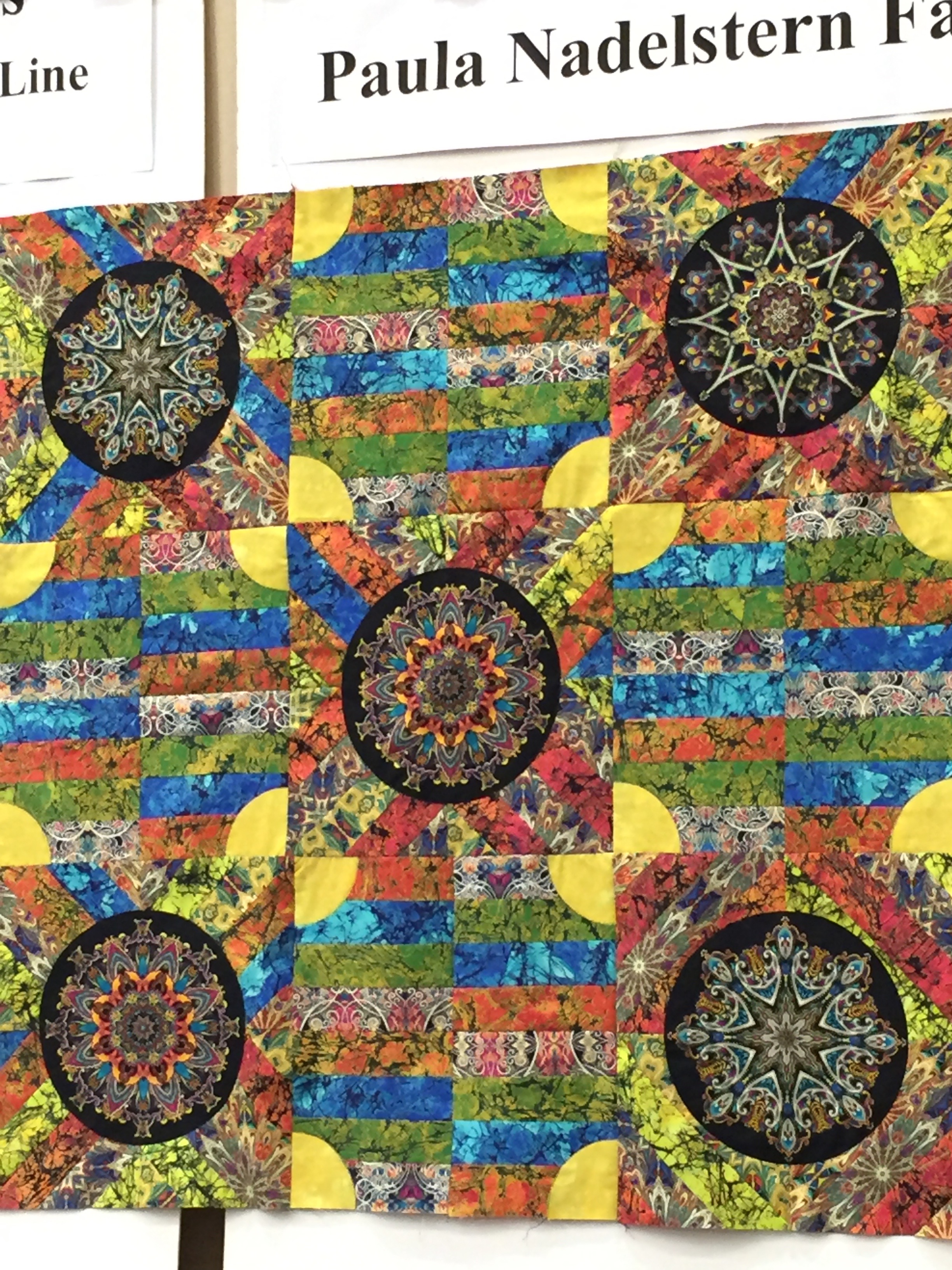 Yes, the right hand side block at the bottom is different to the other corners..
No, it was not supposed to be that way.
We were the first team past the finish line so we bought a celebratory round of drinks. The picture is today's featured image.
Now it was time to bring our finished quilts on stage.
Cyndi and Kathy got theirs up first.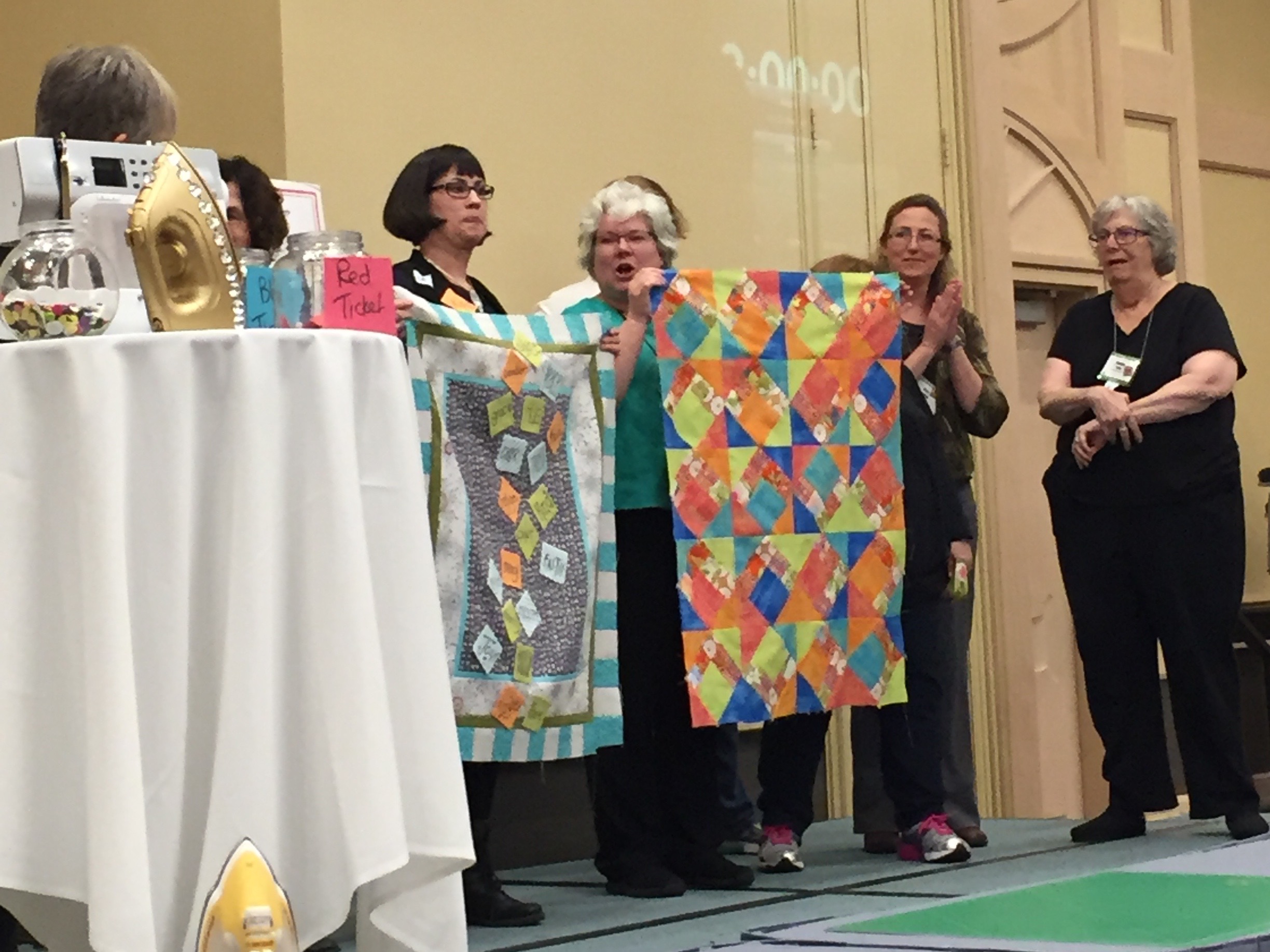 We ran ours in and stood while everyone voted by putting buttons in jars.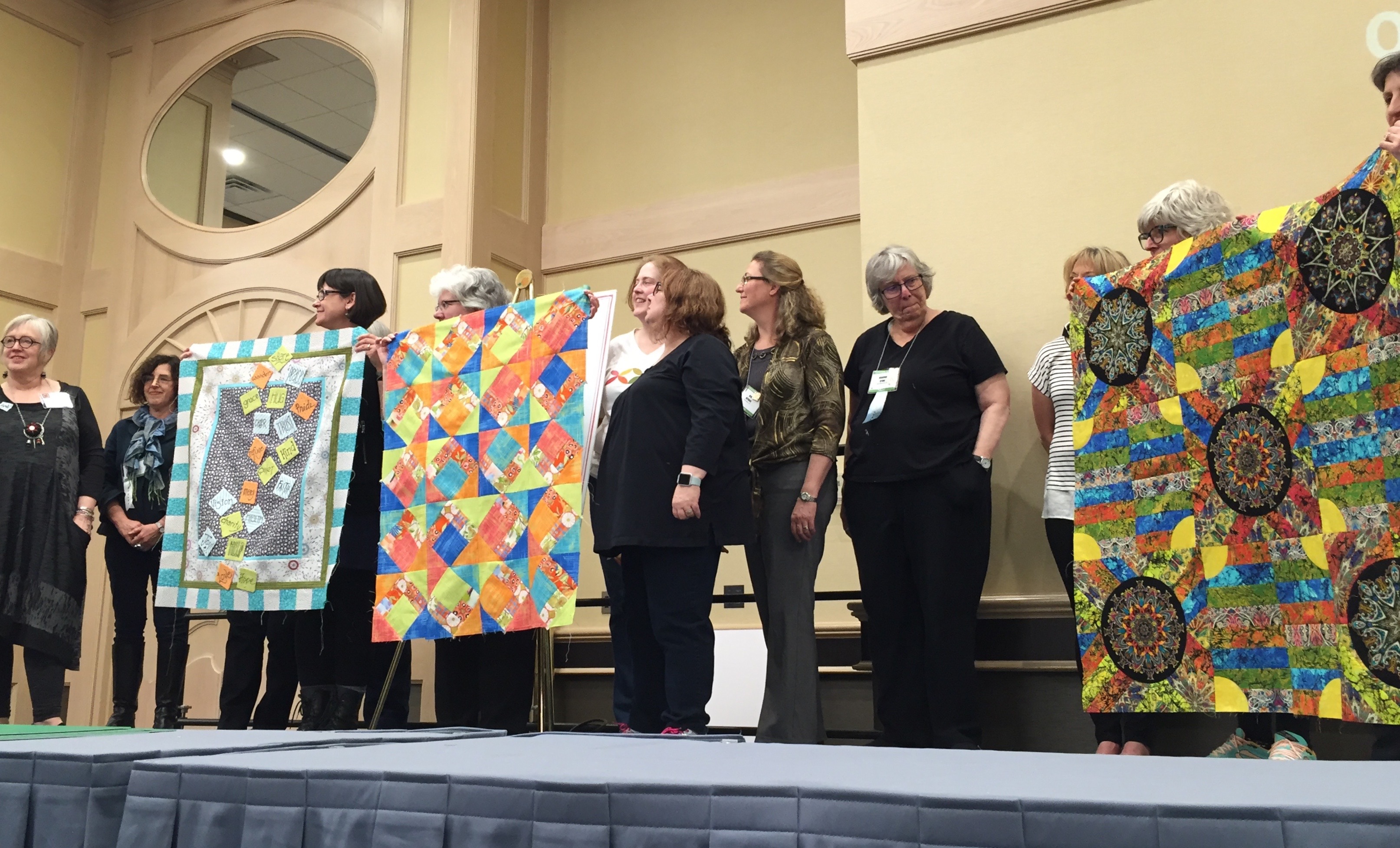 Oh no! Not really! Team Redford's Racers were announced the winners!!!
Winning is so sweet.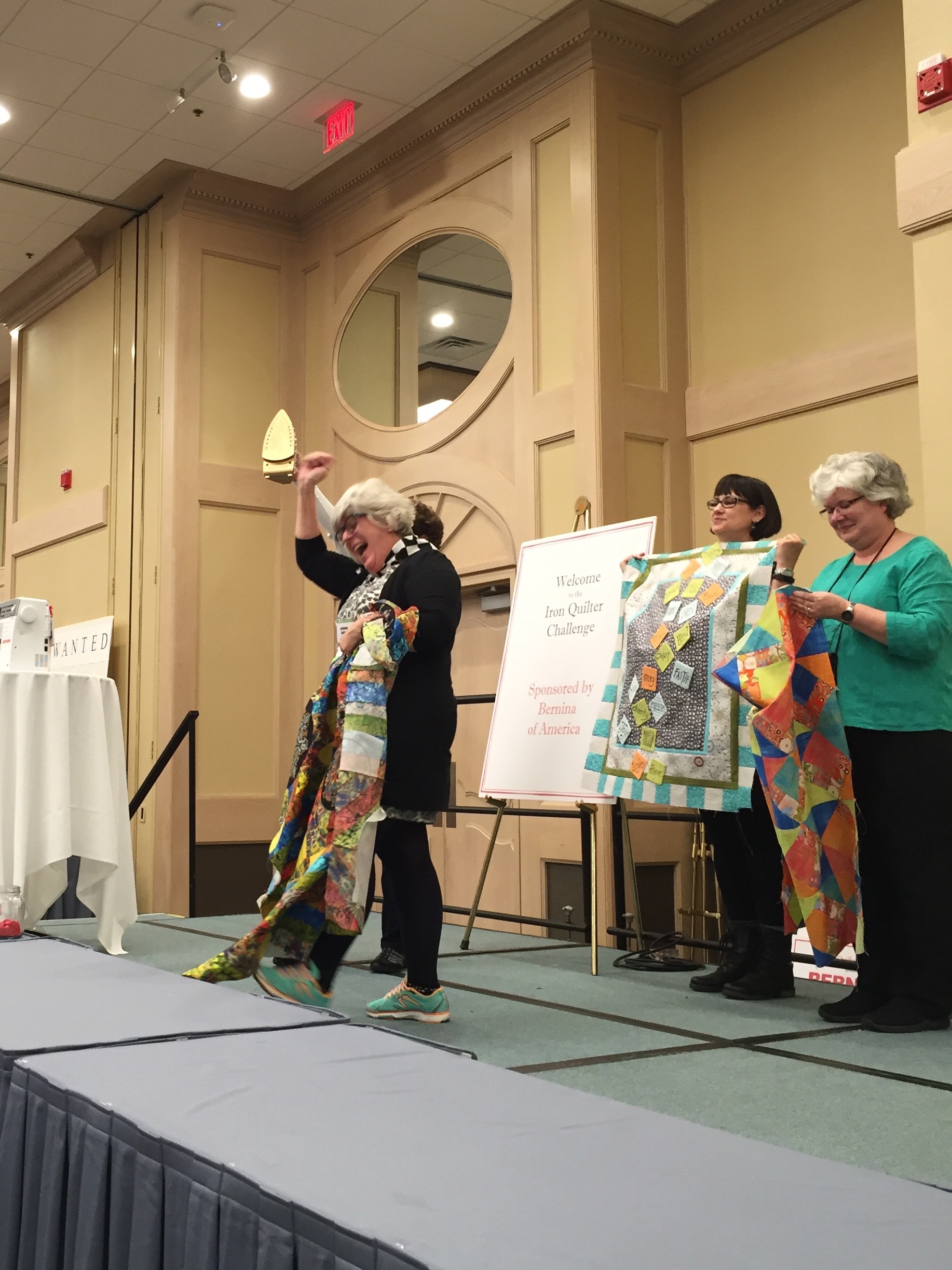 Go team go!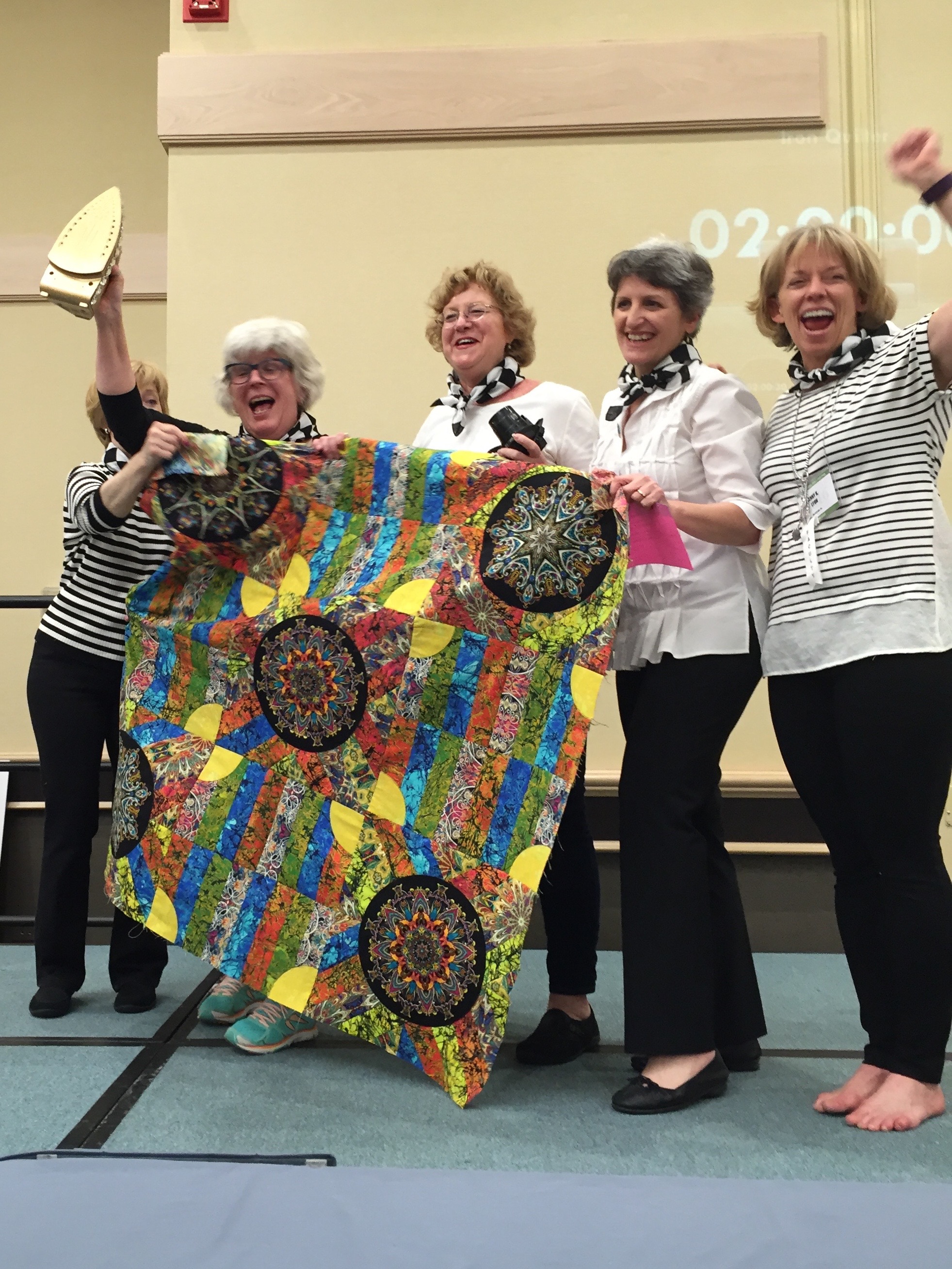 Time for a little speech. Who to thank first?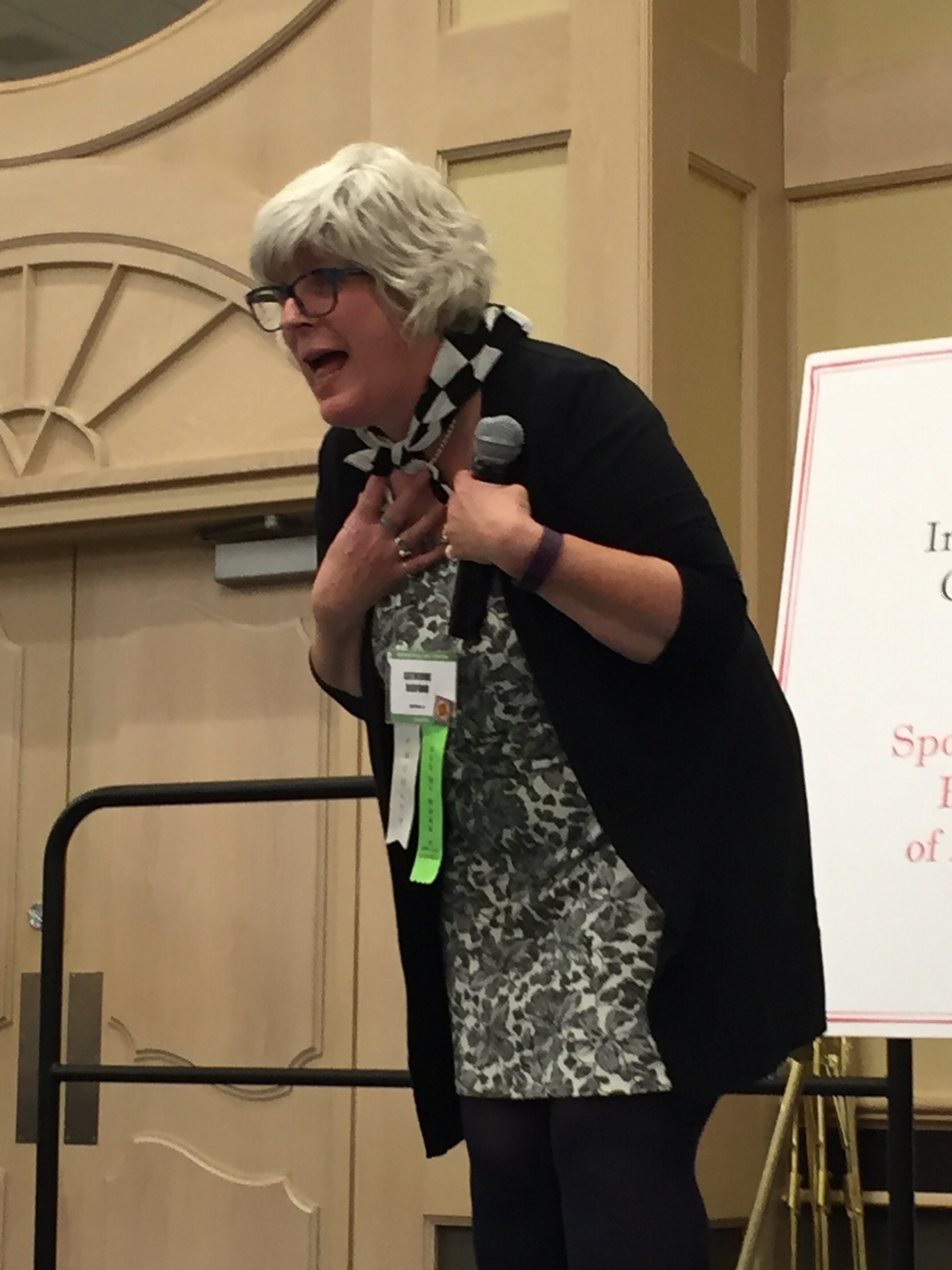 One last picture with the golden bejeweled iron.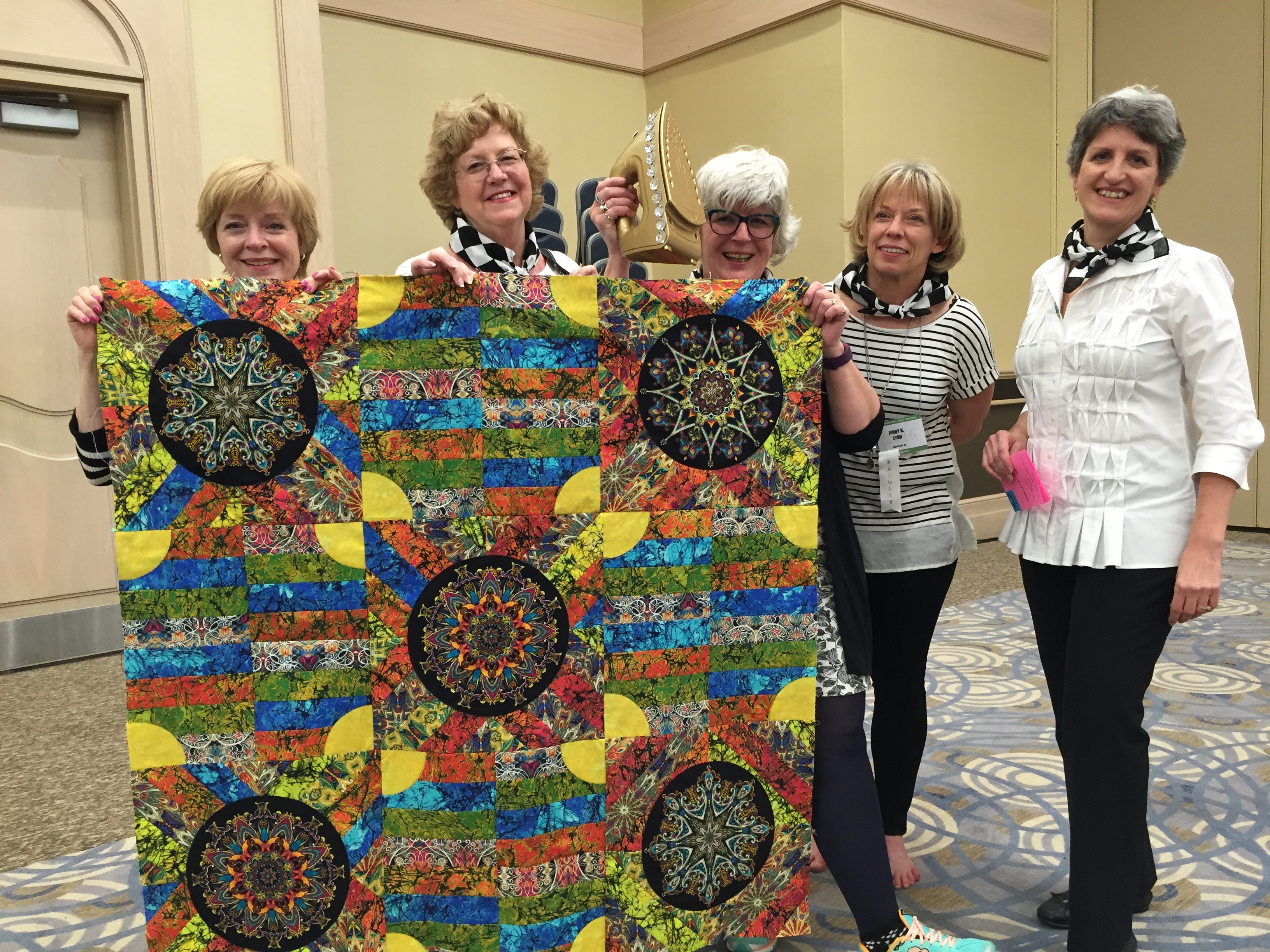 Far too much fun.
The only way is down…
I'll be doing it all again in Houston. I'll have a new team and fierce competition. We were all newbies this time. It won't be like that in October.
Still it's the taking part that counts isn't it?