I've been sewing up a storm. Lots to do, and my days at home are whizzing by…
Research has been high on the list, including watching classes on the Craft University platform. You never know what you might learn!
One of the things I have learned, which is certainly too useful to keep to myself is a foolproof (yes, it worked for me!) method of joining my bindings.
I've had a lot of bindings to stitch, including ten new placemats samples.
Here are six of them, looking pretty on the outside table.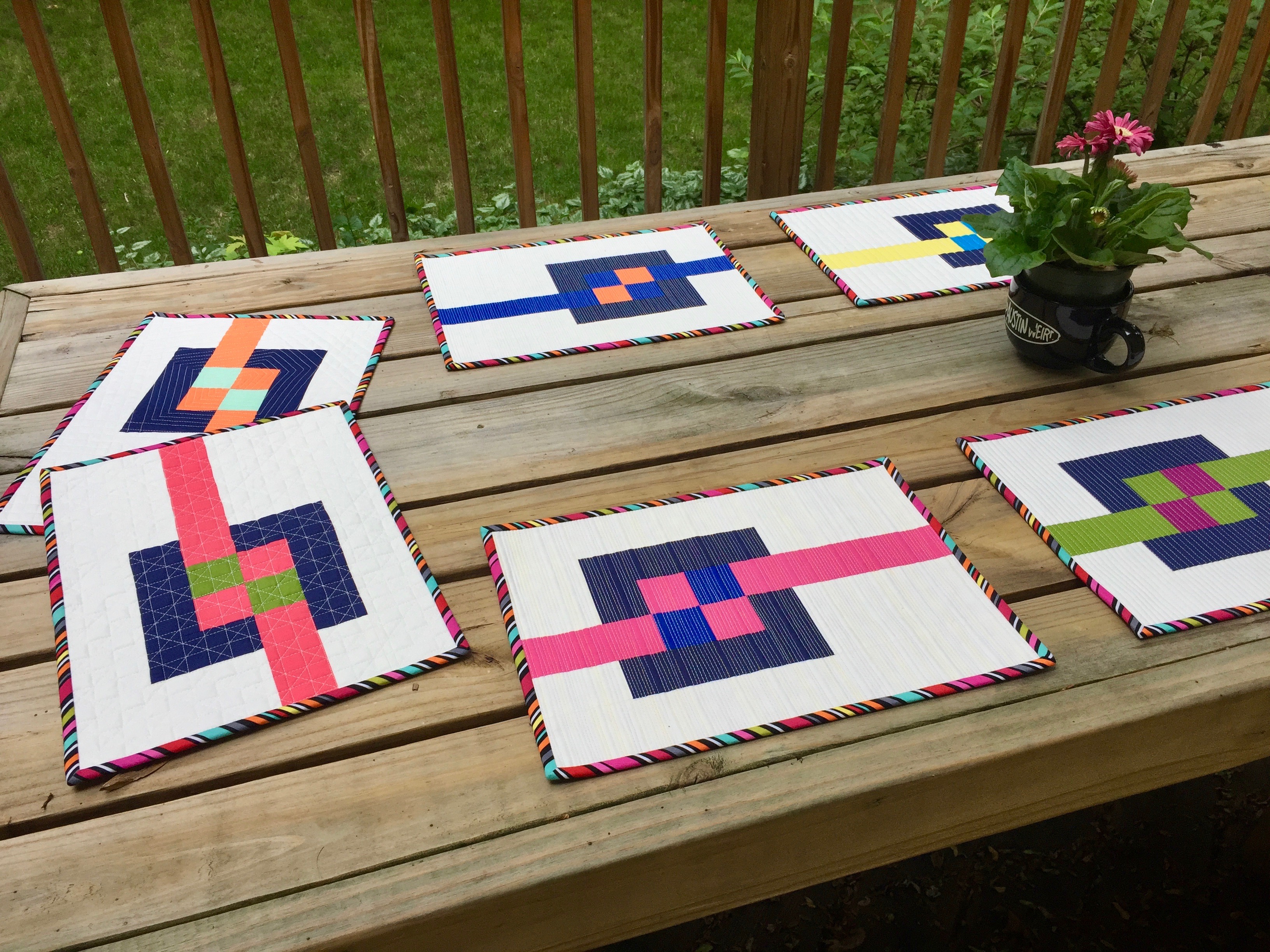 Those bindings went on like a dream.
And it's all thanks to a bonus segment by Ellen Osten, Sulky's Director of Education, at the end of Eric Drexler's quilting class. I obviously can't show you quite like Ellen, but I did take some pictures while I was working on finishing one of my placemats. It's not a new technique, I've seen it before, but there was something about the way Ellen did the demo that struck a chord and now I'm not fudging my joins any more!
Time for some pictures…
I work with 2¼" cut strips. These happen to be bias cut because I wanted the candy cane effect. I leave about 5″  before I start stitching but pin the free end to the edge of the quilt to keep it neat and in place.
I stitch carefully around the quilt using my walking foot (or even feed system) with a ¼" seam allowance. I'm careful not to stretch the binding strips and miter the corners as I go until I am about 5″ from where I pinned at the beginning.
Now the magic starts.
Let's see if I can explain myself so you understand.
Fold back the end of your strip leaving just over ¼" between where you started at the beginning of the binding and the crease. I put a pin next to the fold, to stop it from moving.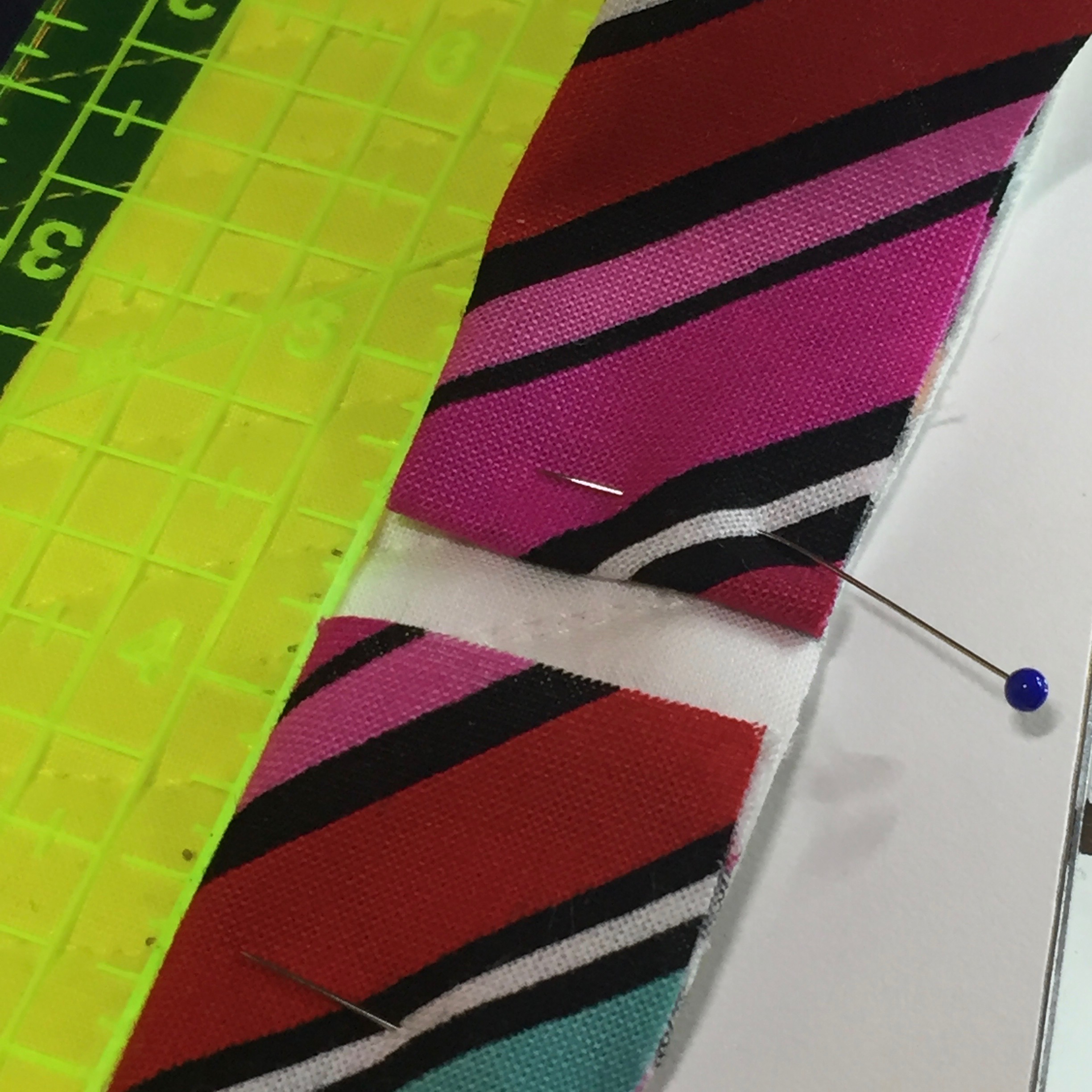 Take a spare piece of binding and lay it longwise next to that fold and cut right next to the edge of the strip, away from the fold.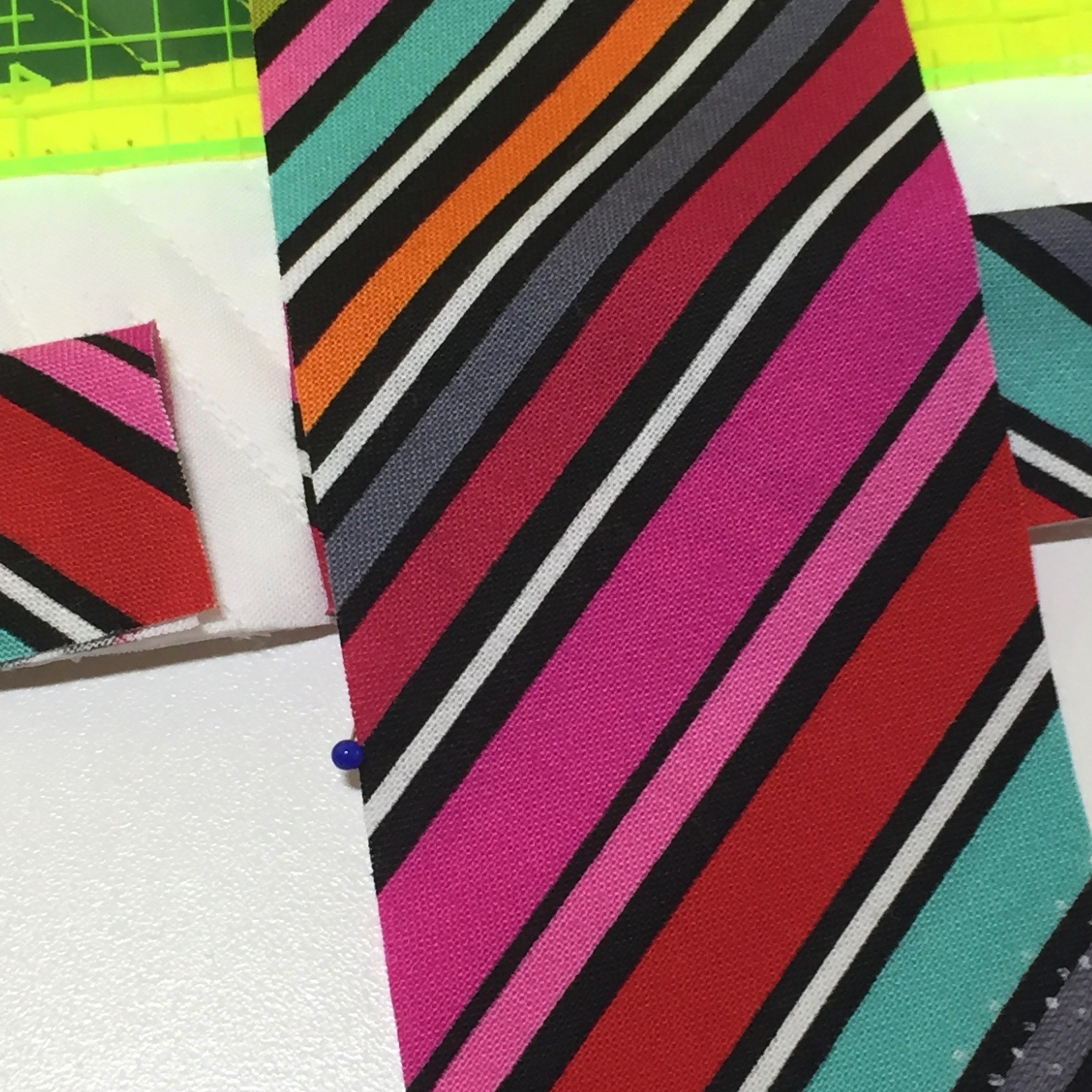 It should look something similar to this… You could just measure the cut width of your binding back from the fold but there is something about placing the fabric there that gives the method the foolproof label!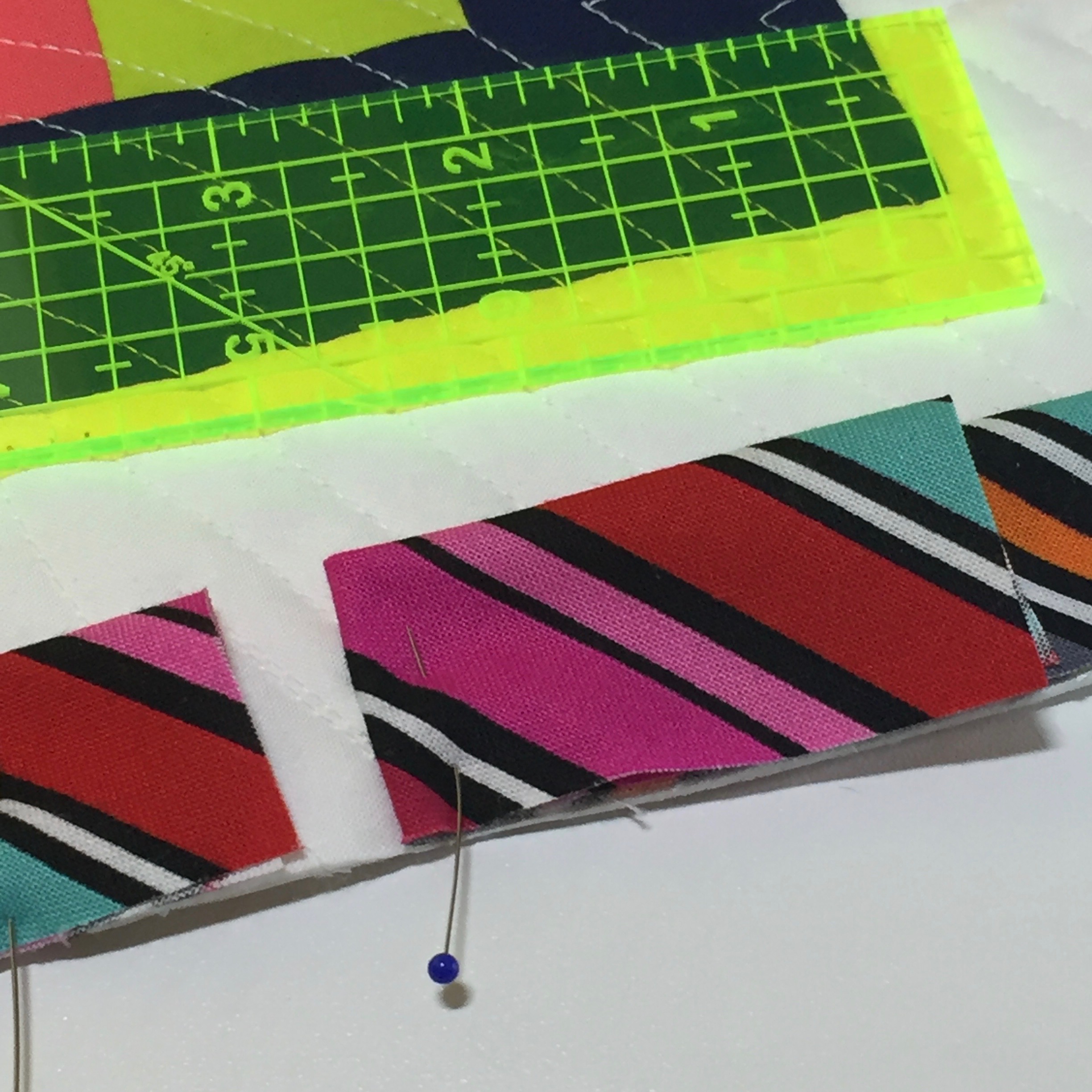 Now you can take the two ends, open them up and overlap them, right sides together. Put a couple of pins across where you need to stitch.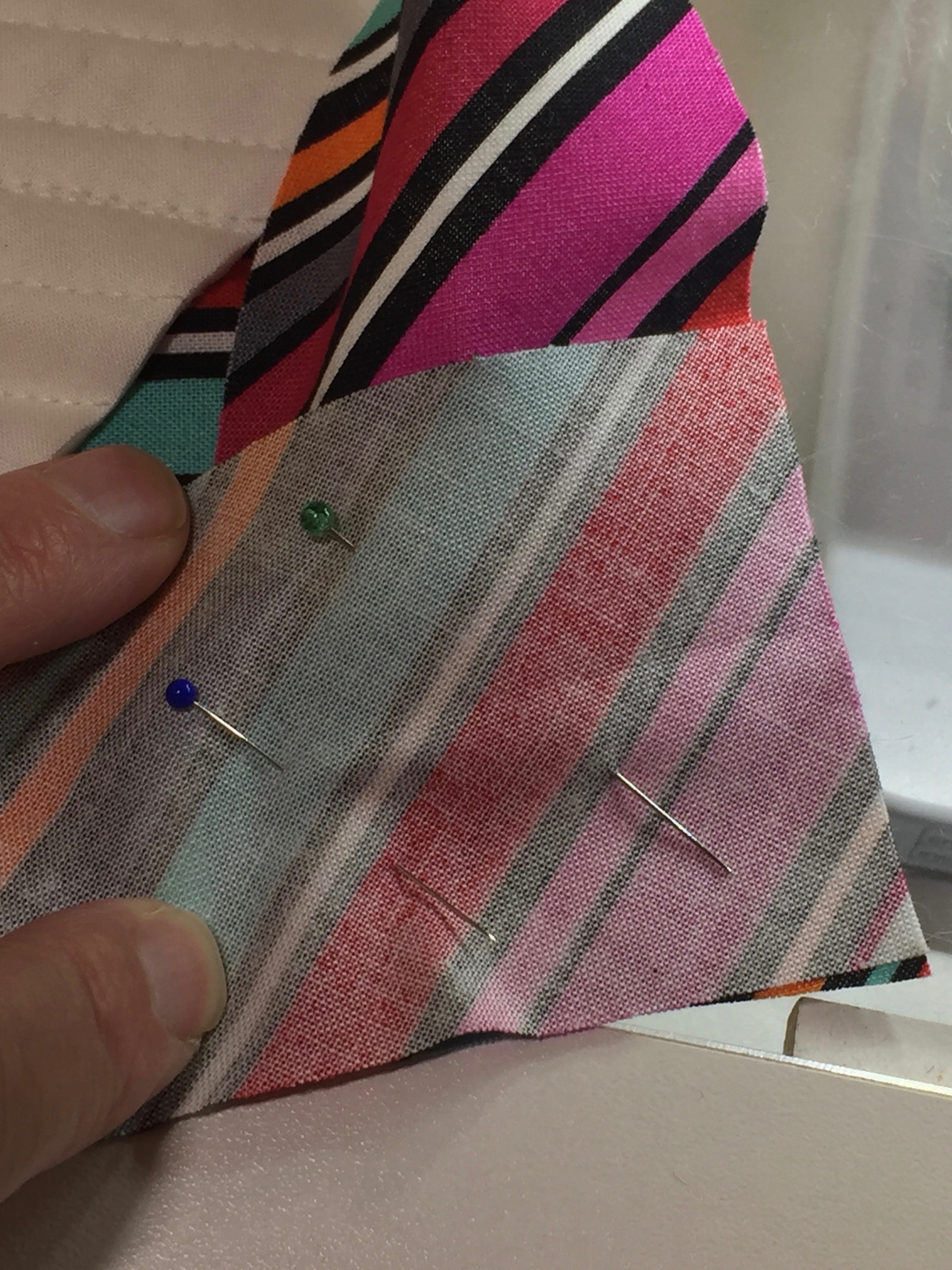 Time to go back to the machine and stitch across the diagonal. The striped fabric helped me stay straight but you could draw a line if you want to.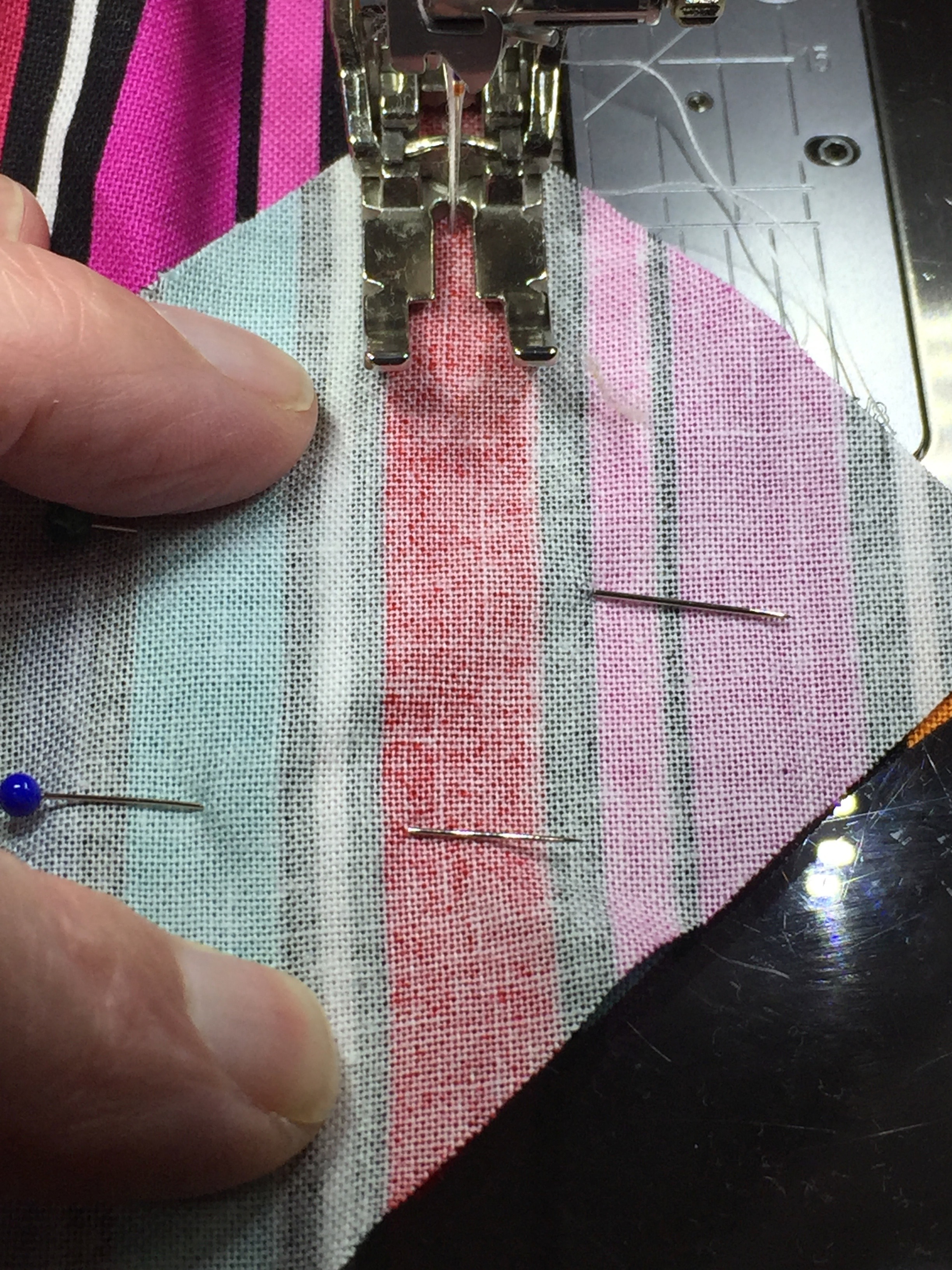 Wow! Looking good? (You can check it worked by trying it against the edge of your quilt if you like)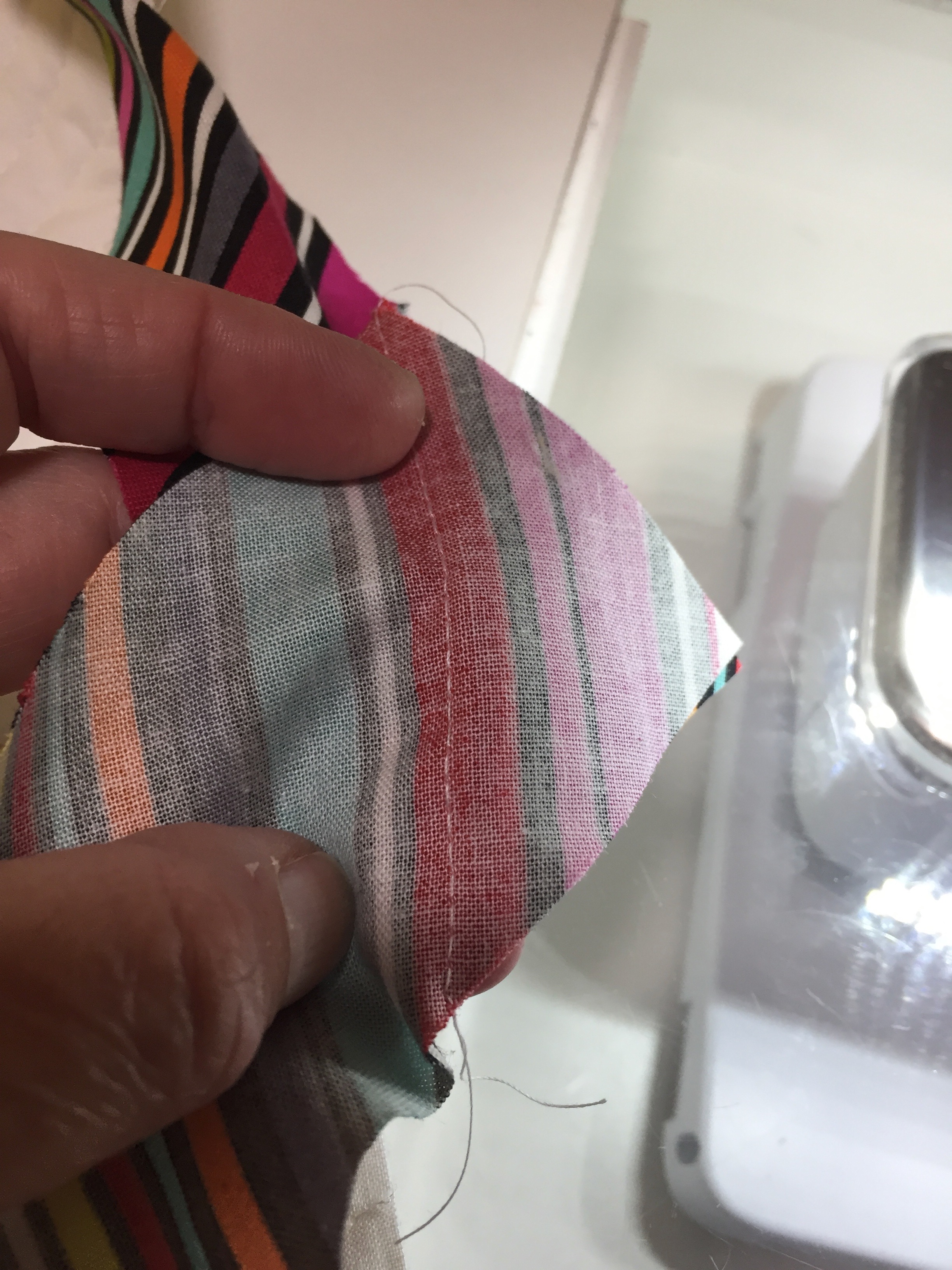 Trim at ¼" and open up your seam.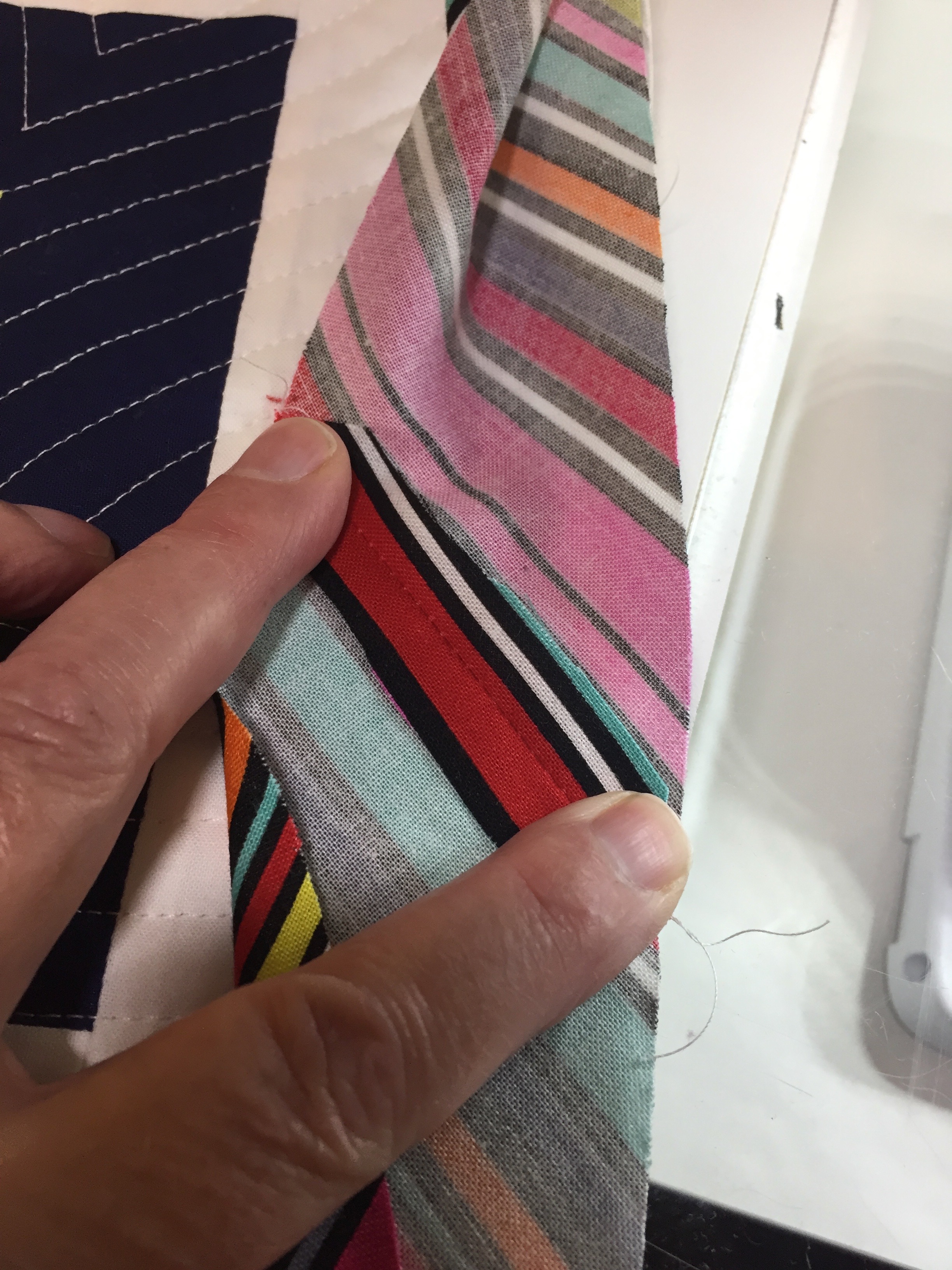 I like to pin the 10″ or so of binding I have left to stitch down, just to make sure it's all going to lie flat.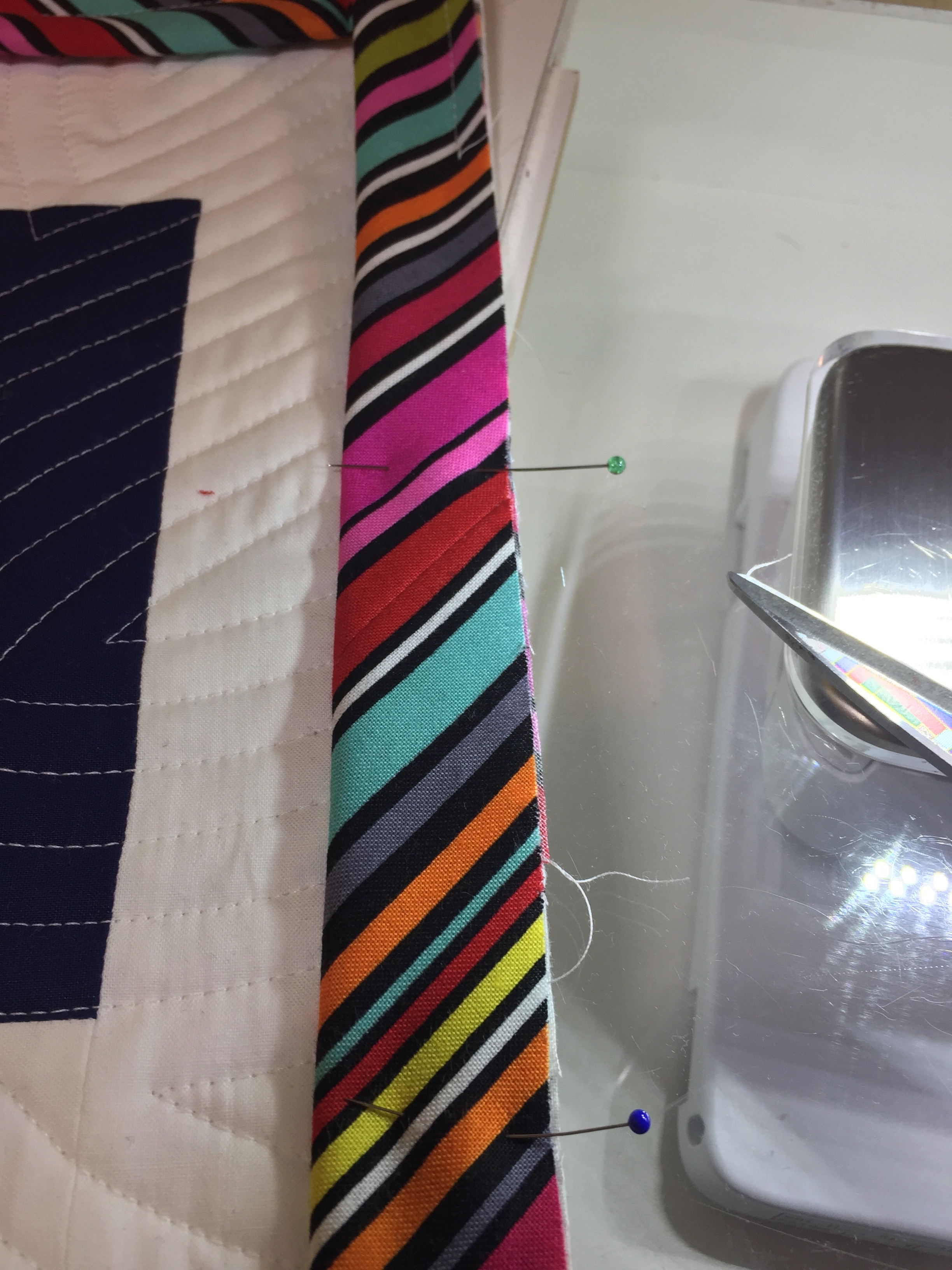 Stitch across that beautiful join.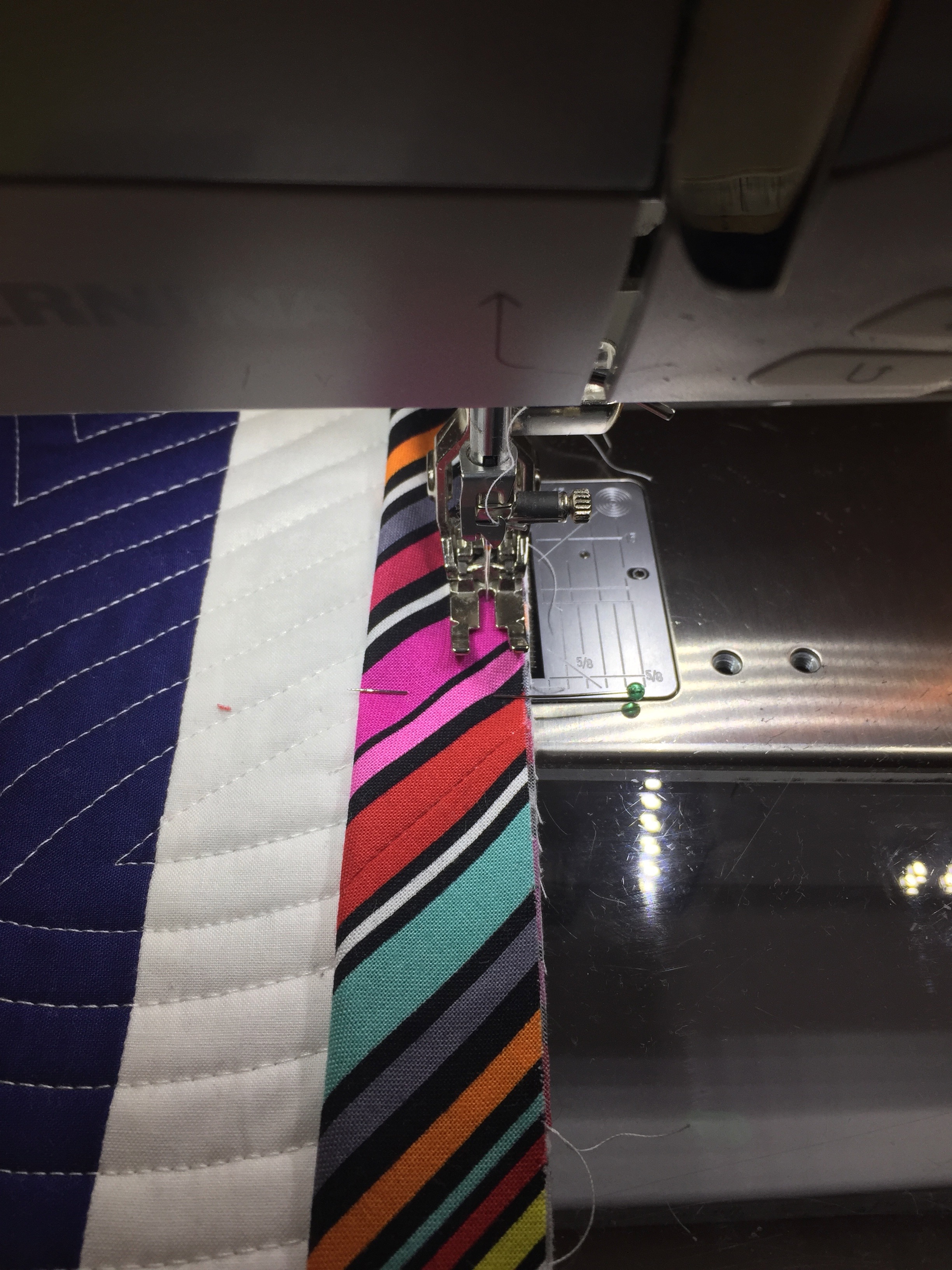 And it's done.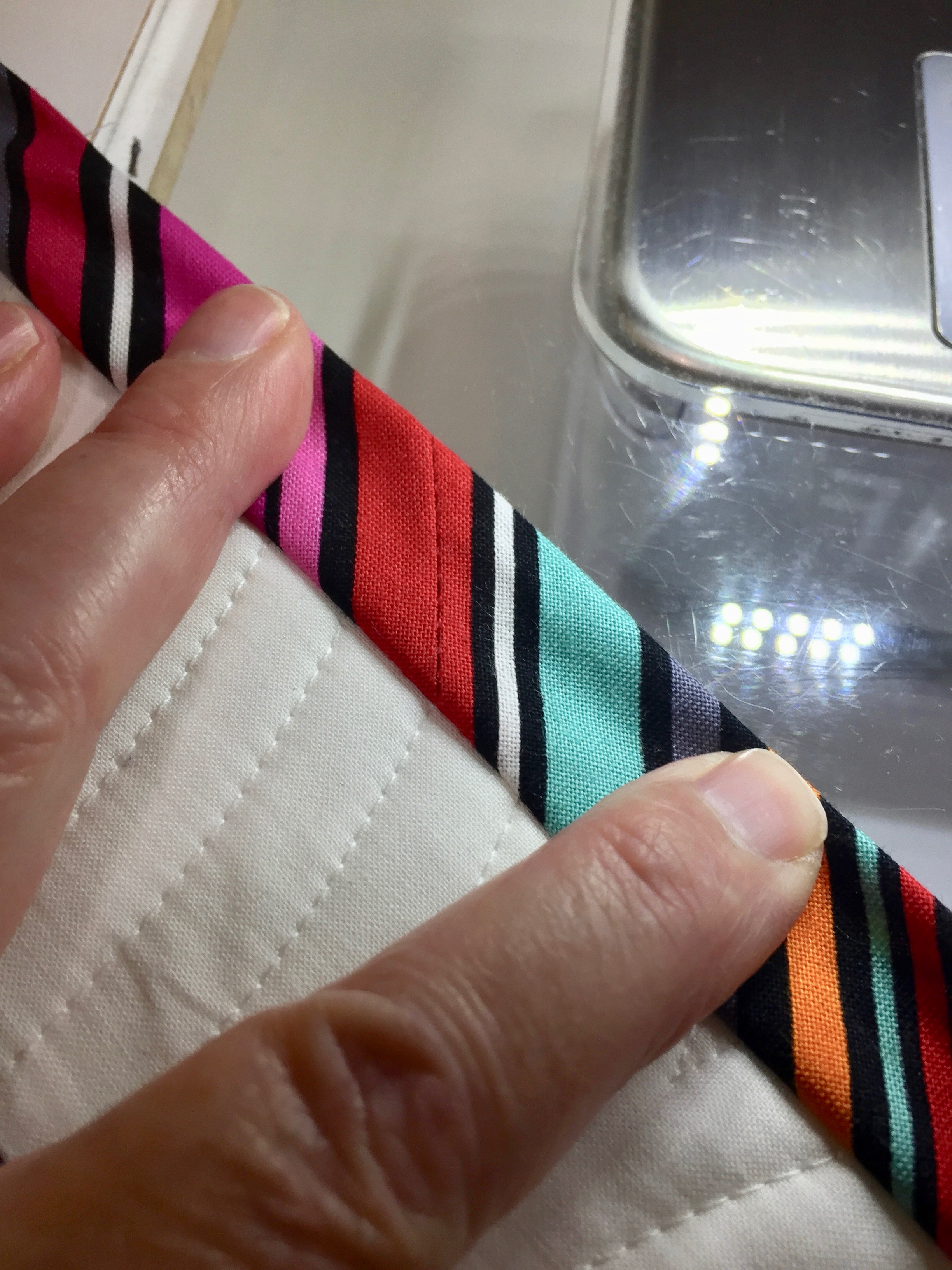 I stitch the back by hand… time to watch more of those classes!
What do you think? Did it make sense to you? No extra tools needed, it works whatever the width of your binding.
With the place mats finished I have moved on.
A table runner is next under the machine.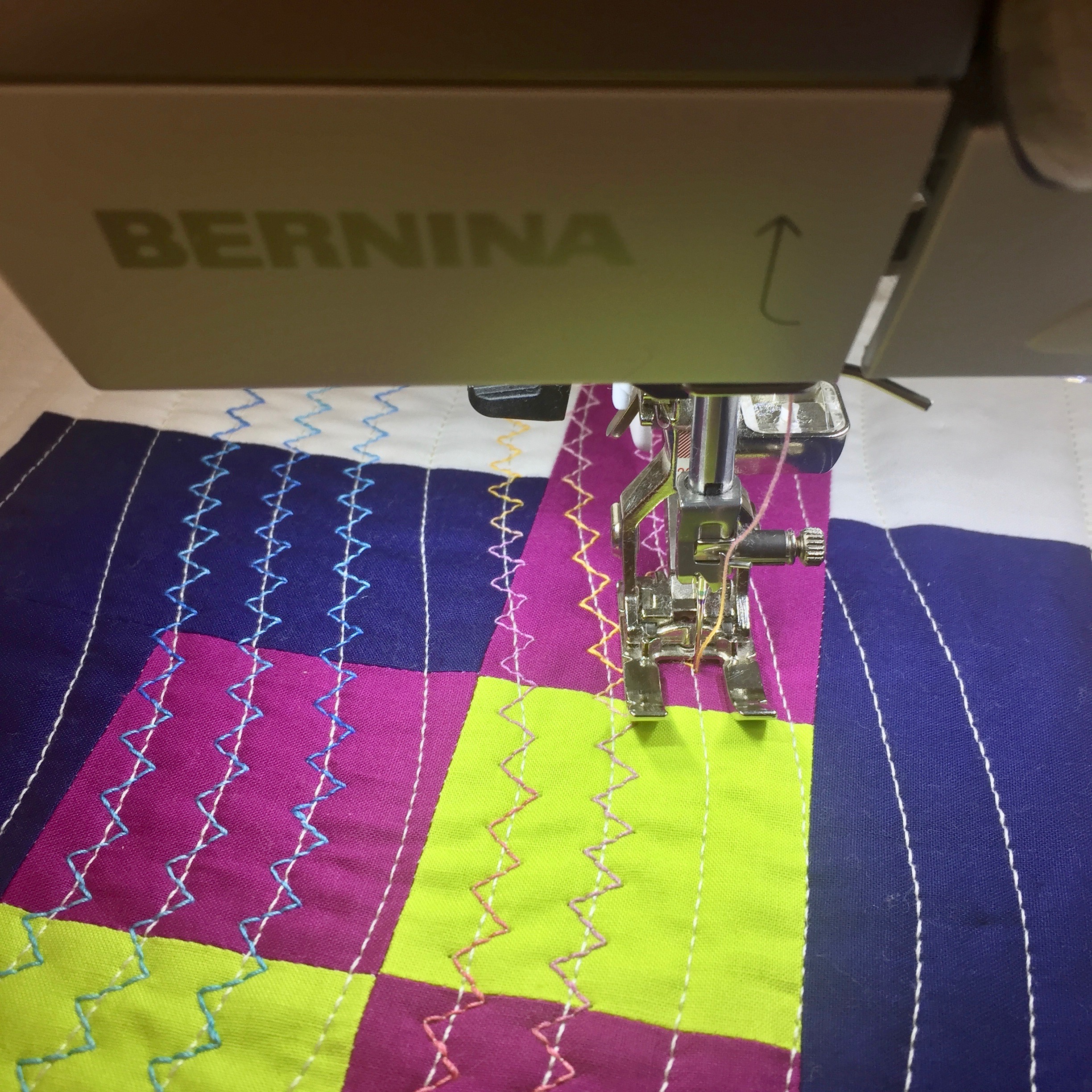 Now, this is some fun stitching!