I get lots of e-mails enquiring about my availability to teach. One popped up in my inbox in March last year inviting me to the San Joaquin Vally Quilter's Guild in Fresno, California (or to quote Dianna, " we like to call it FresYES"). I had just recently flown up the San Joaquin Valley on my way home from Ontario via Sacramento. I had looked down and thought I'd like to have a closer look. Here was an invite!
It doesn't take long to get organized and the contract was signed in April, just a year and a bit to wait…
Last week the time finally arrived and Steve dropped me off at O'Hare airport under some dark and ominous clouds. The clouds did not disappoint. Here's the view out of the window when we received the text message telling us the flight was delayed.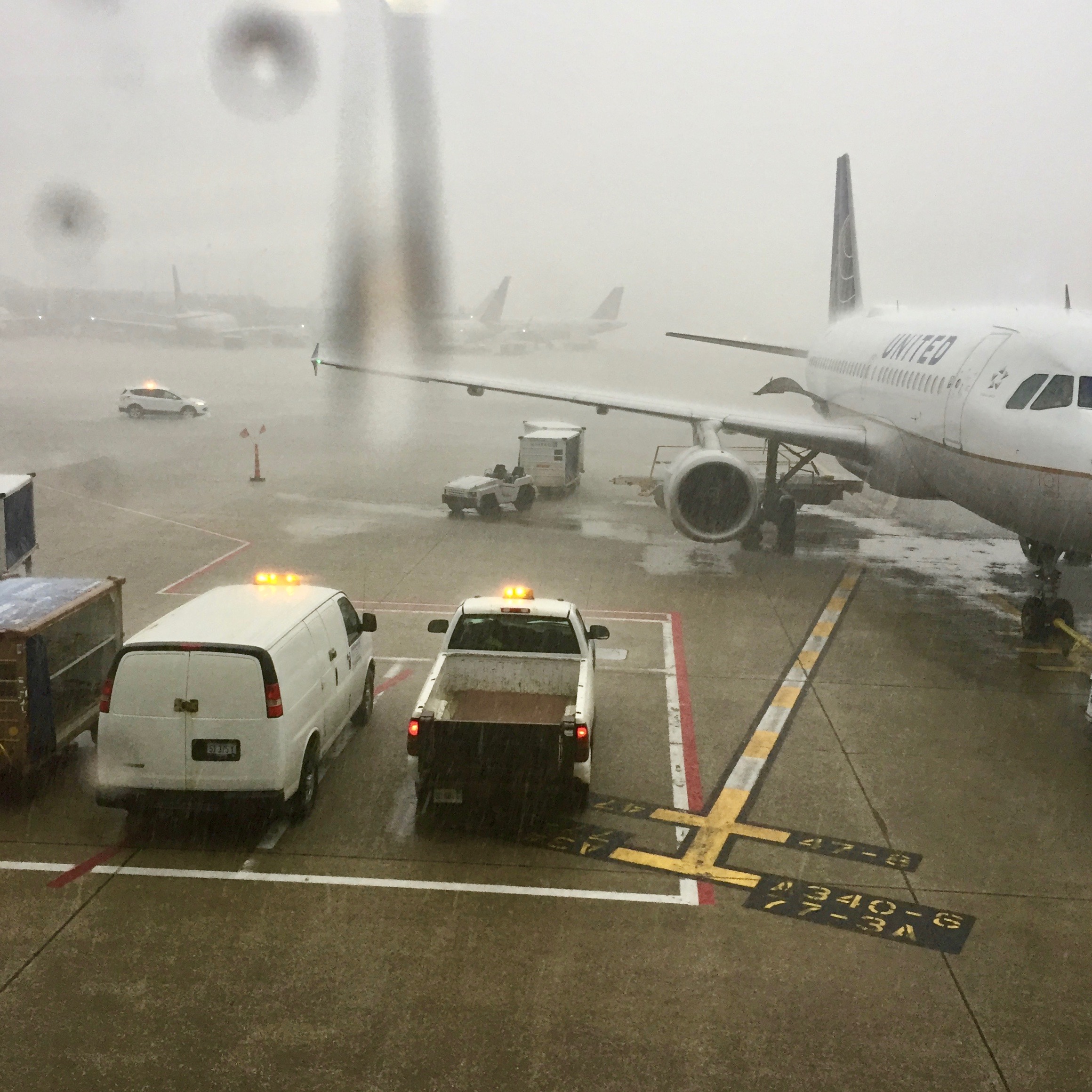 I have learnt that there is no point getting uptight when there is nothing you can do so I reached for my knitting. We boarded the plane between storms but then the lightning started again… We were over an hour late by the time we left the gate and I knew I had 45 minuted to make my connection in LAX. Oh well… the knitting was progressing.
A short nap, two packets of snack mix, a couple of crosswords later it was time to make the descent into Los Angeles. I checked my United app… the Fresno flight was delayed. I had fifteen minutes to run from gate to gate. Perhaps I could make it after all? My seat companion let me past her and I started wending my way to the exit using my best apologetic English accent, "excuse me, I have a fifteen minute connection to make". It worked, my fellow passengers were letting me through and I was at the exit door as it was opened… ready to run (walk swiftly?)
But what's this? A lady in uniform telling us she was looking for two passengers? "Redford"? That's me! The second passenger emerged from first class and we were led down the side stairs to the tarmac. This was fun. And there was a limo with open doors and driver standing ready to take our bags…
On the short drive across the apron I was informed it was my lucky day… the first class passenger was a super frequent flier and as such deserved first class treatment. I was just allowed along for the ride. No problem, I'll take it. We arrived at the delayed plane, climbed the stairs and it was time to go. I know United has had some bad press but they were coming through in a big way for me!
Off we set over the Pacific Ocean, before turning inland and North to Fresno.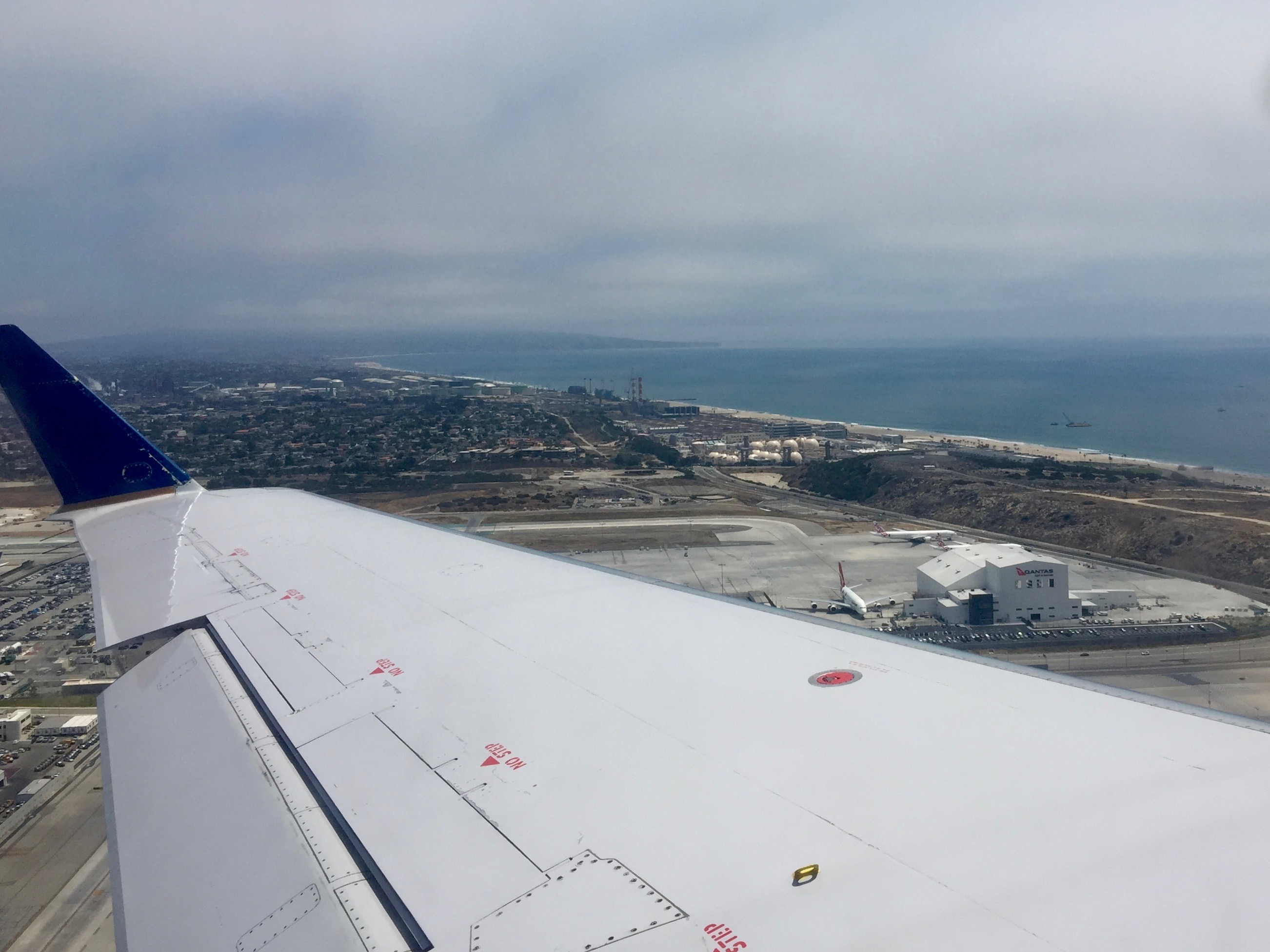 It really is a short flight. My phone camera record 34 minutes between taking off and coming into land over the farm land around Fresno.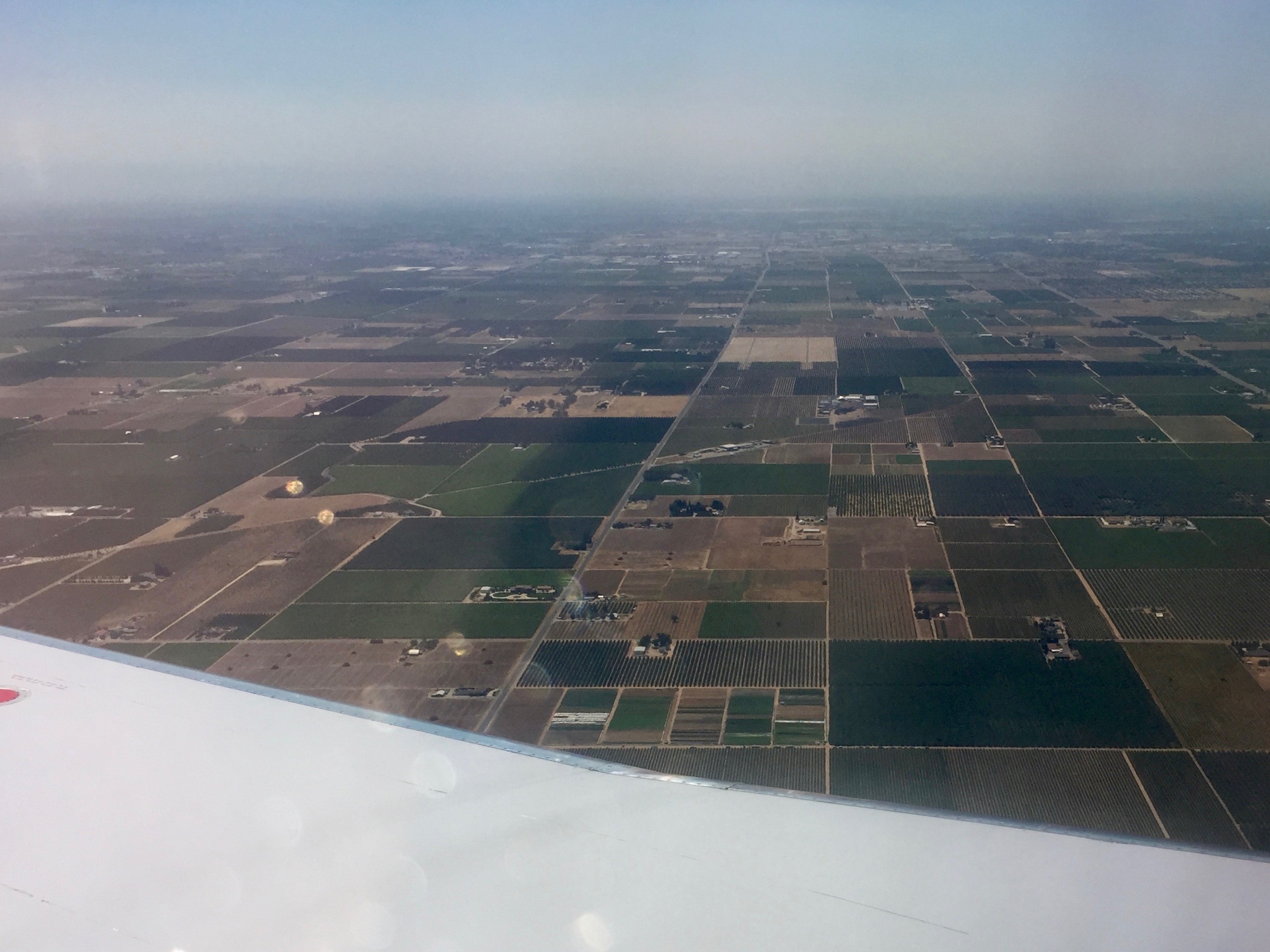 It's actually Fresno Yosemite International Airport. I needed to take a picture of the Redwoods in the lobby!!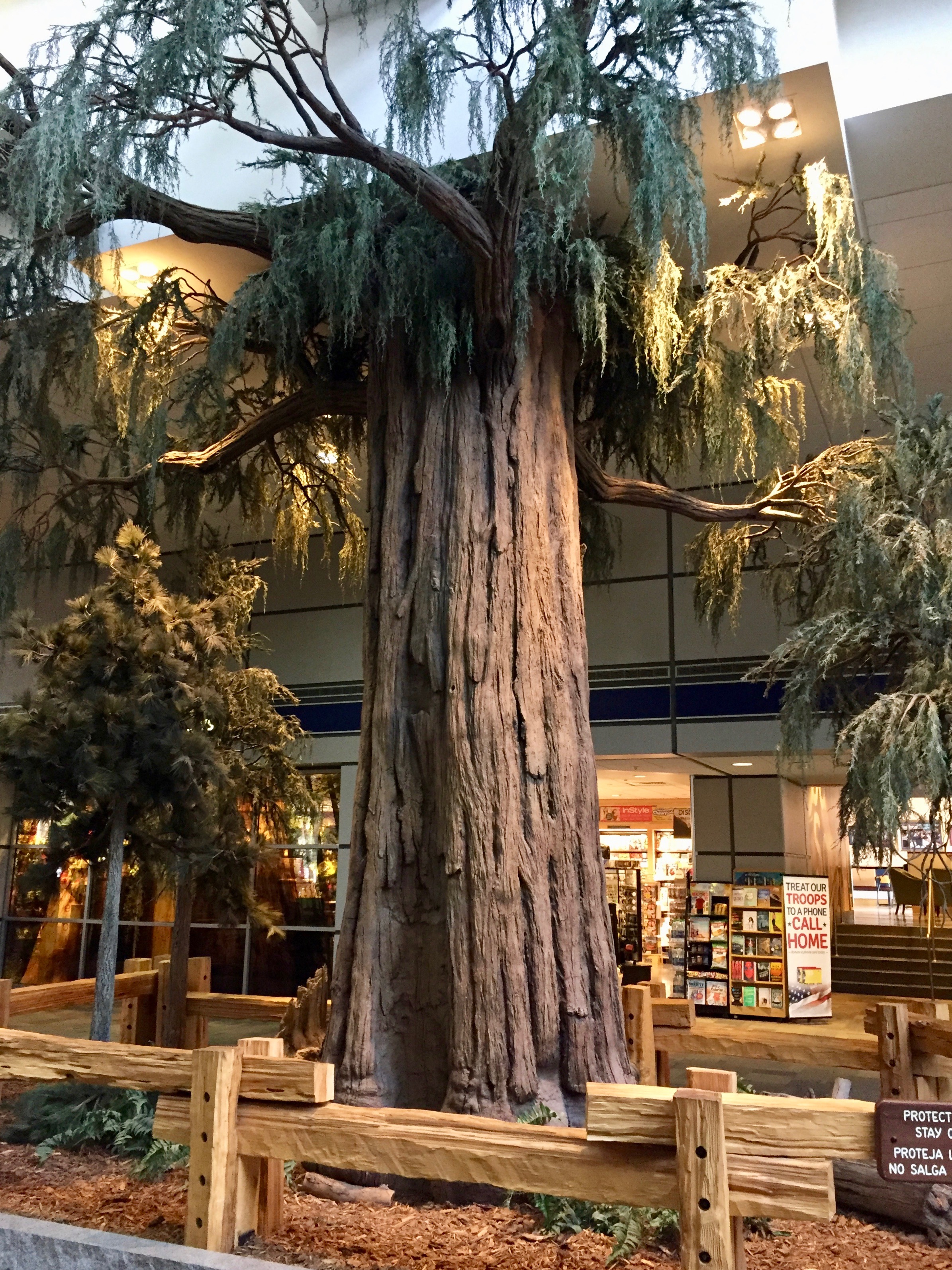 I did wonder if my checked bags had made it on the plane with me… Why yes, of course they did. My pink and purple luggage soon came through on the carousel. All was right with the world.
I met Dianna who took me to my hotel room to get settled before dinner. I was glad I had said yes to Fresno!
That was Wednesday. Thursday morning it had been arranged that Anne would pick me up at 9.30 for a little adventure. Anne arrived and off we set.
I'm always OK whatever I do but given the chance I do like to explore the area I'm visiting, beyond the shops. Things were about to get even better! Anne was an archeologist in her working years and the best tour guide I could have wished for. She was happy to drive the narrow roads up into the hills to visit the Pine Flat Dam on the Kings River to the east of the city.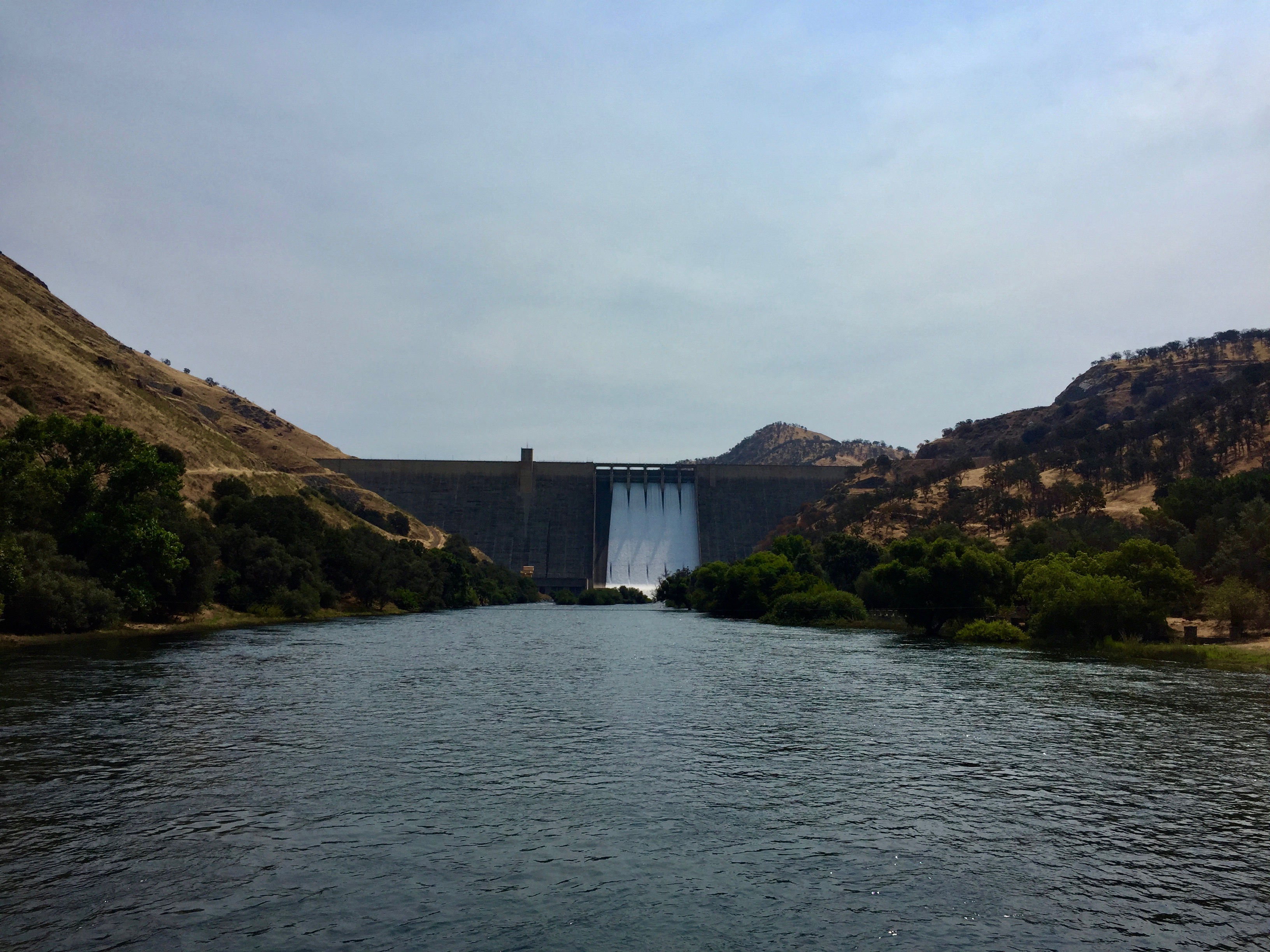 Pictures don't do it justice. It was so beautiful up there. The lake behind the dam is over 100% full this year after five years of drought and the river is right up to its maximum level.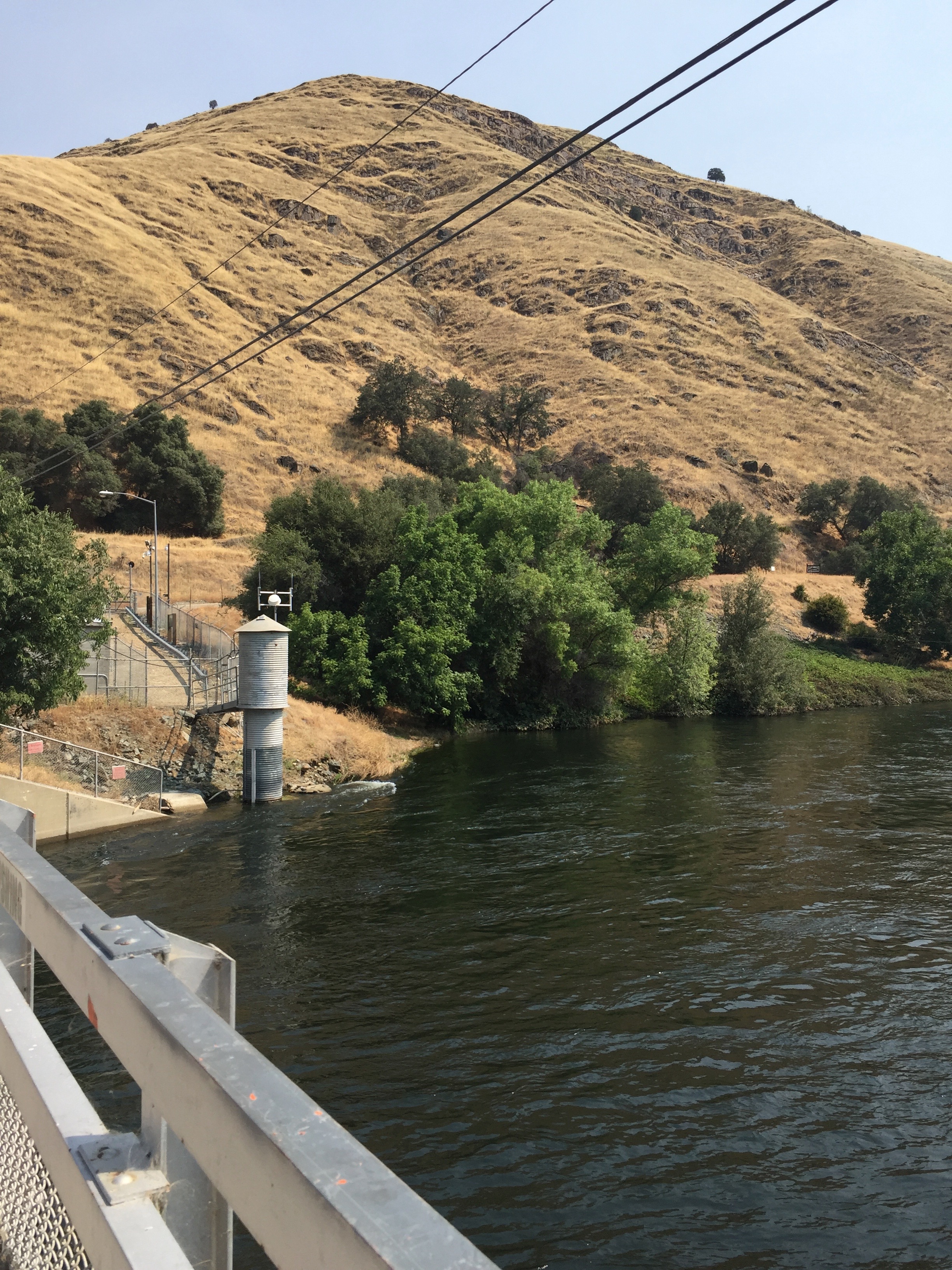 It's flowing very fast!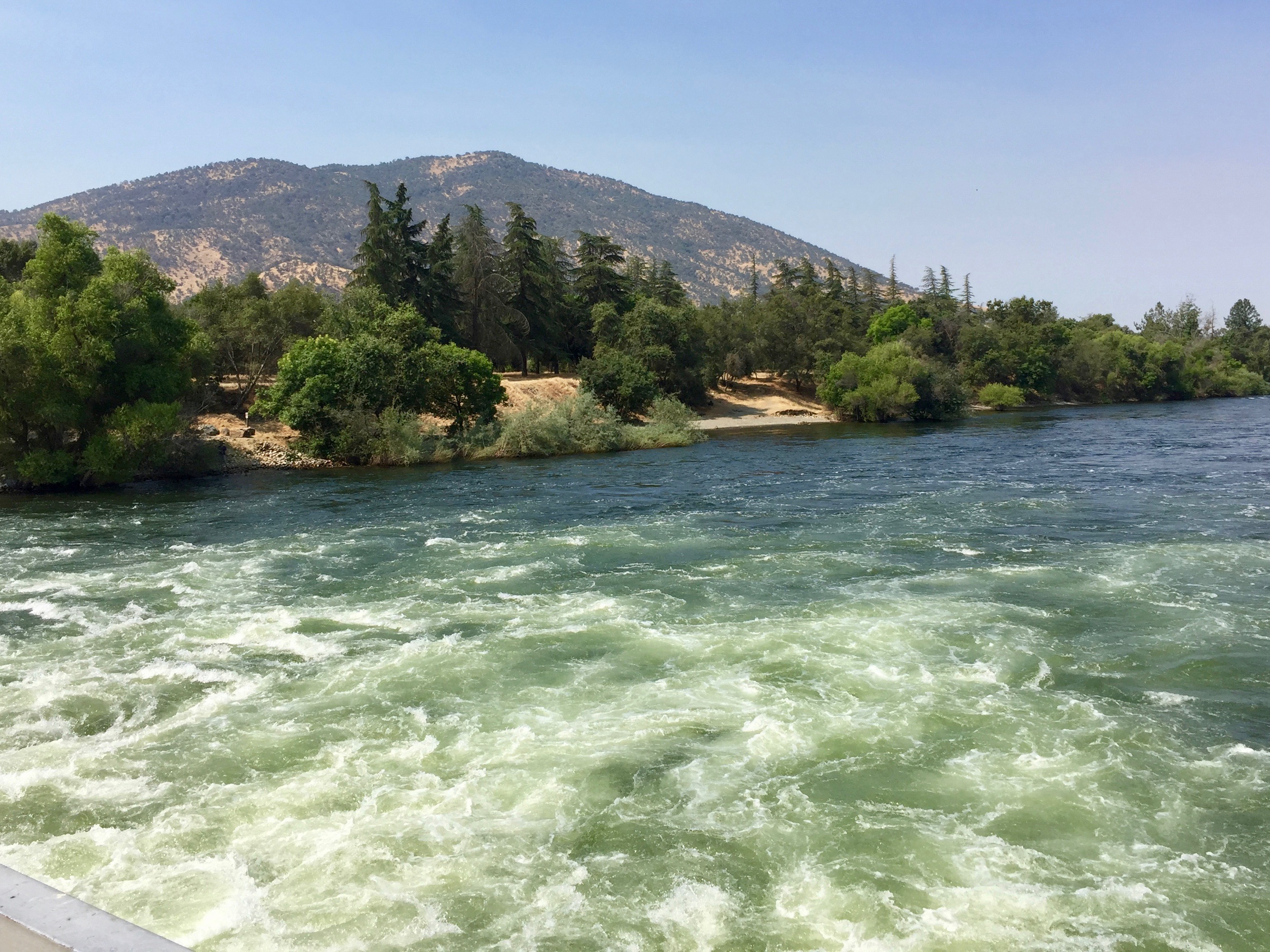 I haven't mentioned the temperature  yet… Fresno in July is hot and it was around 100ºF  (it's a dry heat 🙂 ) so we took the photos and got back in the car!
Anne asked me if I'd like to go a little higher and see the lake. What do you think I said?
We set off again. Just one picture to give you some idea…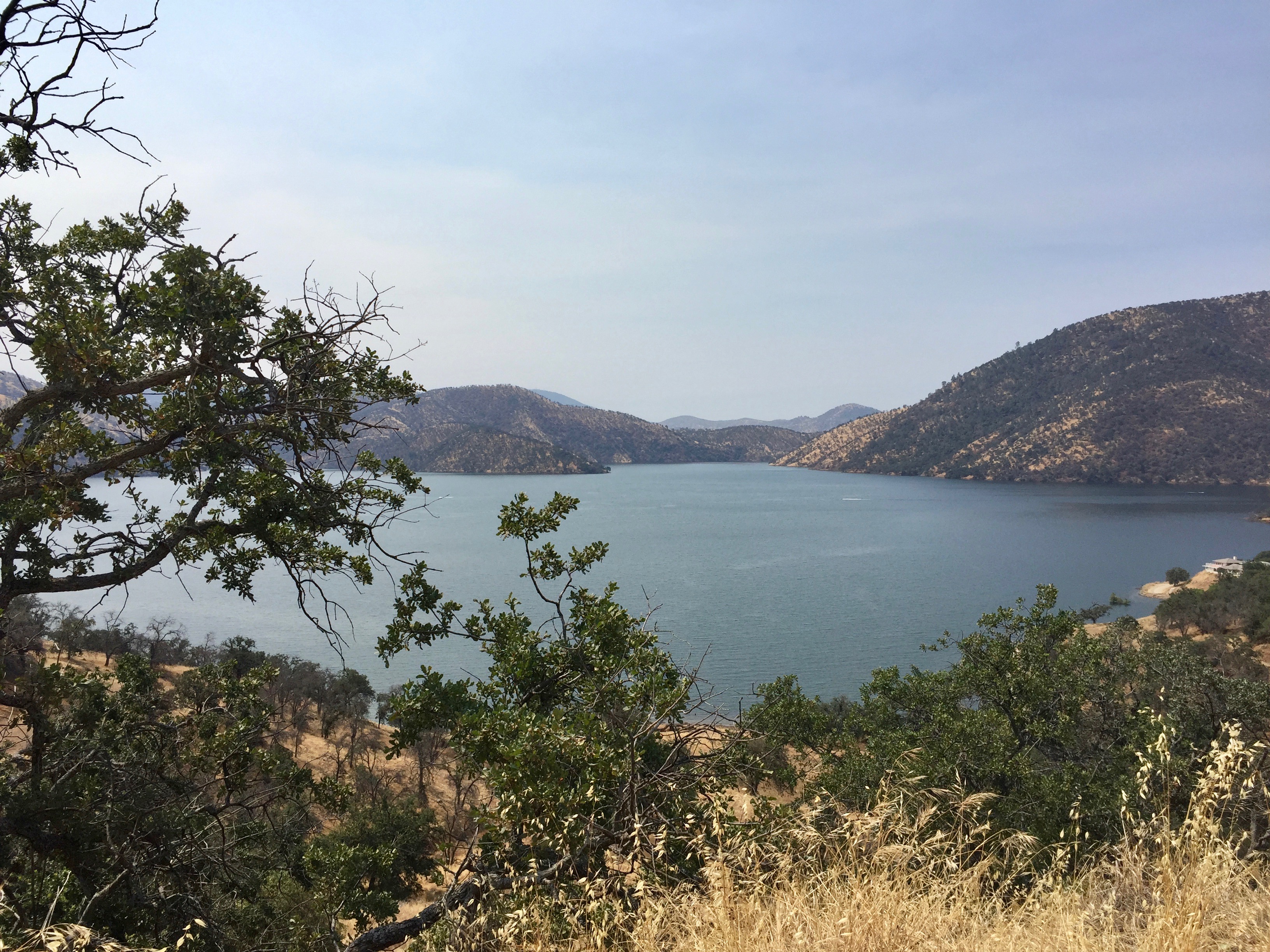 It was a good year to be visiting!
Well, there were people to see and lunch to eat. We headed back into town past the market gardens, and all kinds of fruit trees that the San Joaquin Valley is famous for.
I had a fun afternoon with some of Anne's friends who meet every Thursday to stitch and chat. We did some stitching and lots of chatting…
Then it was back to the hotel to get changed and prepared to actually work. Sandy picked me up for dinner and delivered me to the meeting.
Time for a lecture. Let's take some pictures of the guild members. To the left…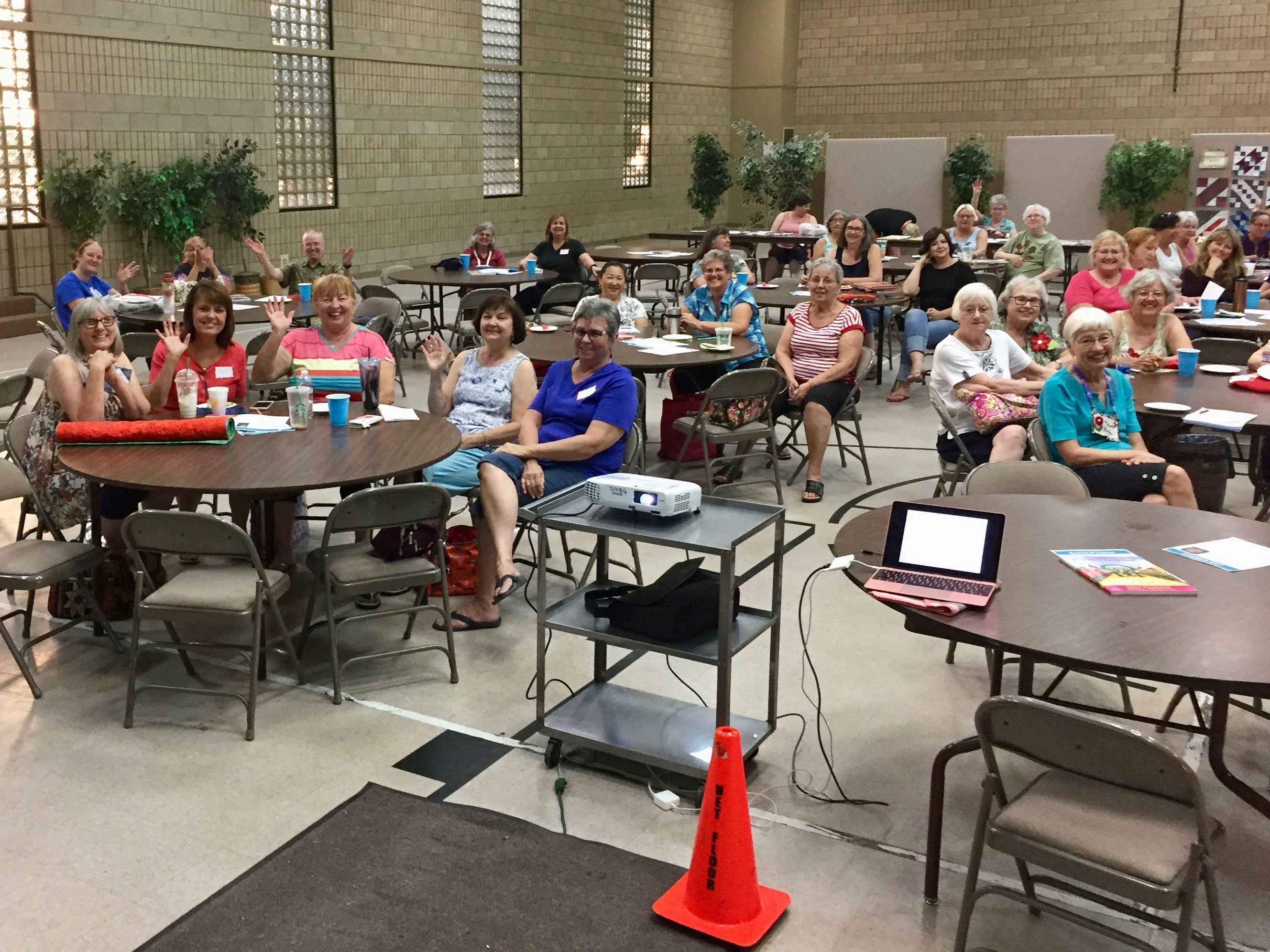 and to the right…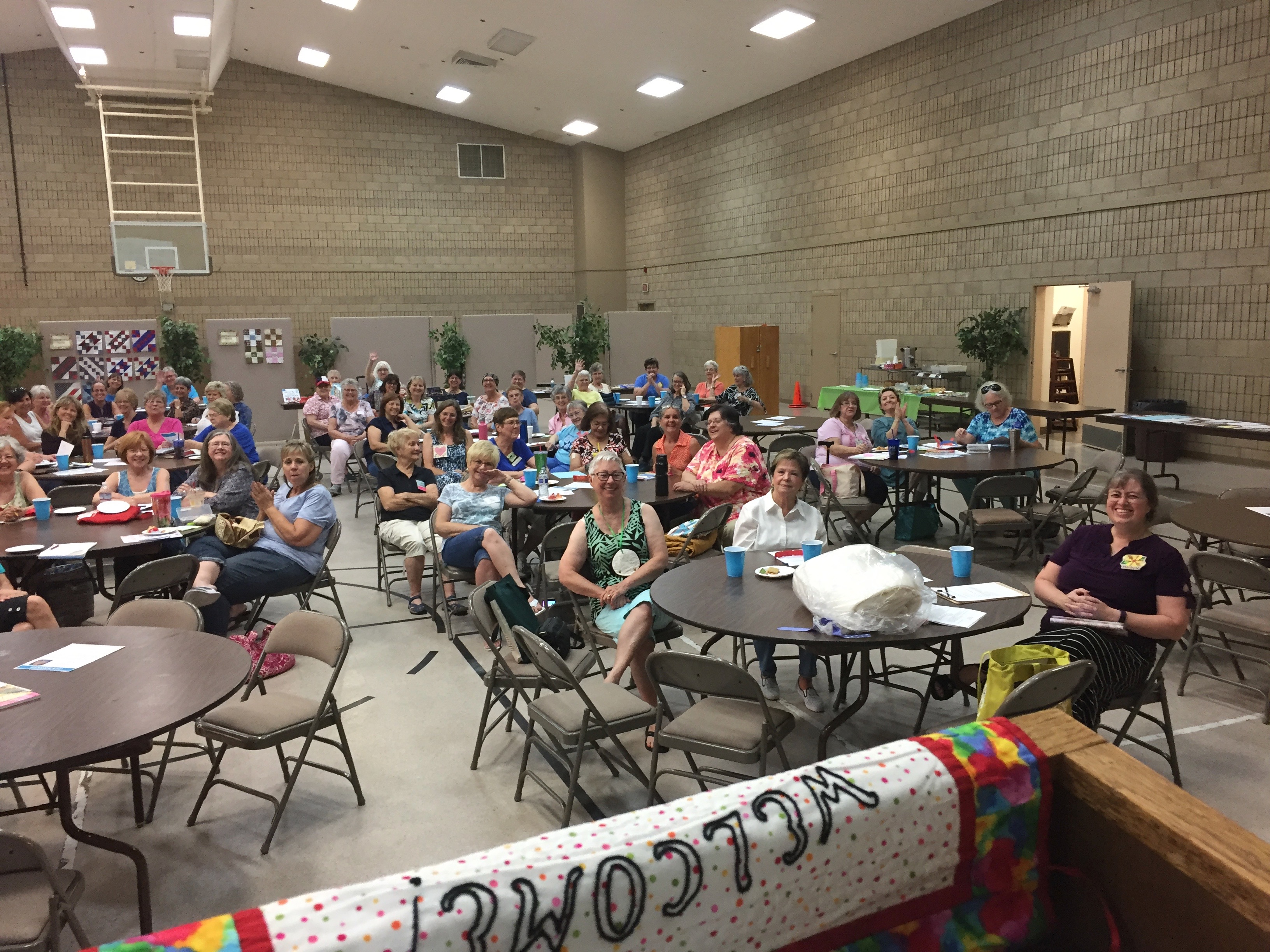 A good looking crowd. We enjoyed Lessons Learned While Quilting together, took a break and then got ready for a little Show and Tell.
A picture quilt,
A dimensional city quilt,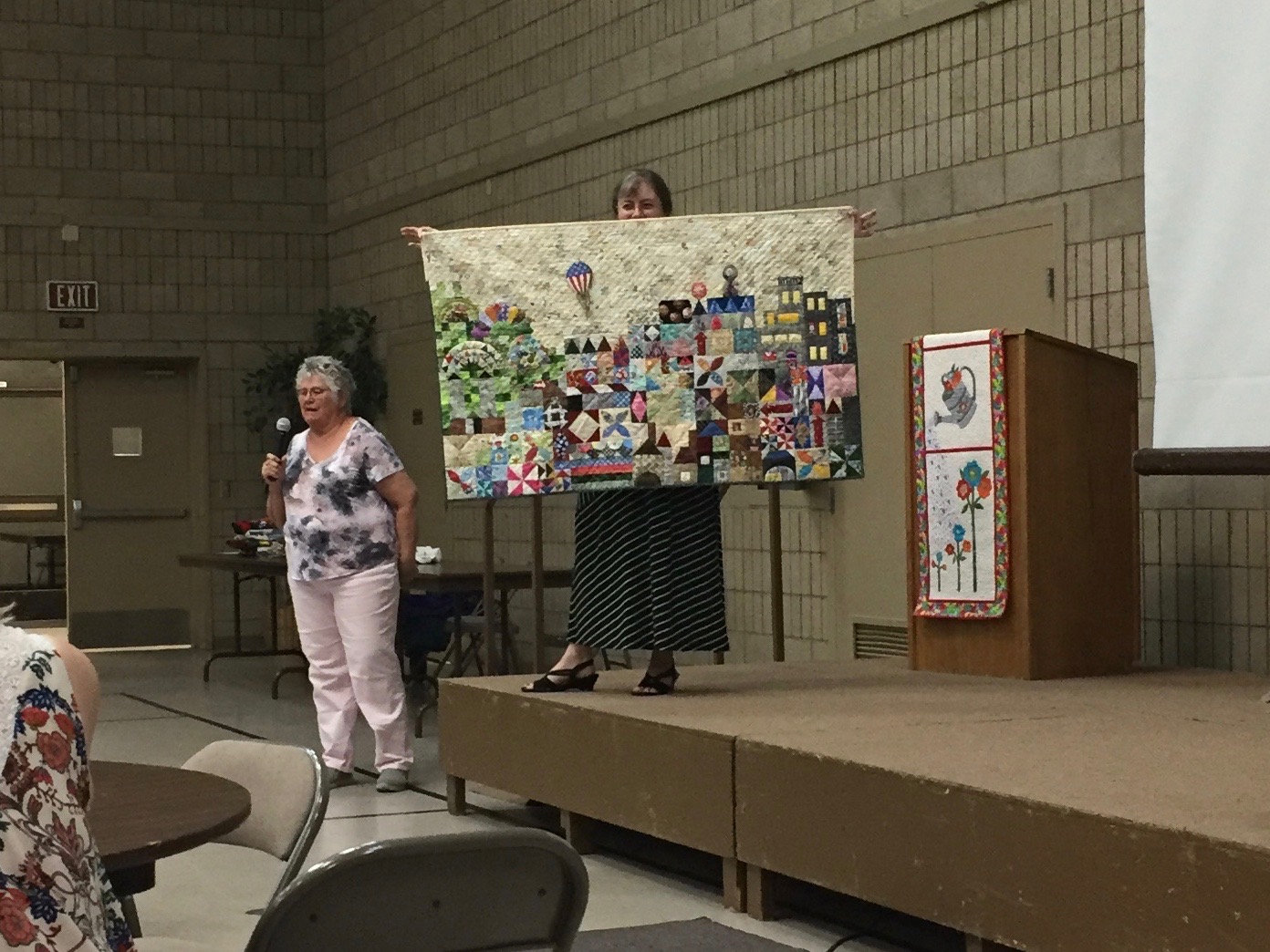 and a quilt for a lucky niece.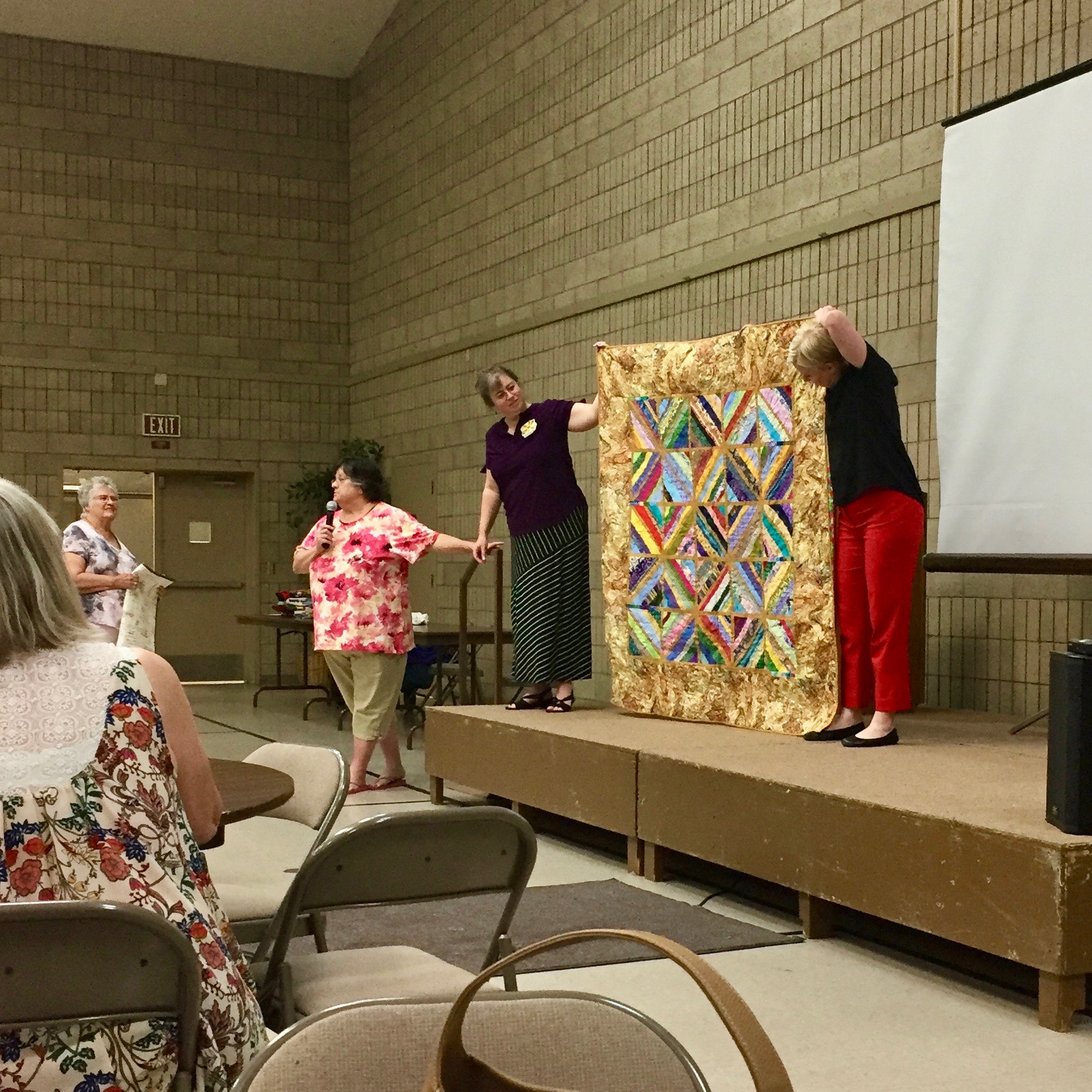 A super end to a lovely day.
Back to the hotel to pack my bags for Friday's class and a good night's sleep.