I was ready and waiting at the appointed hour on Friday for Sandy to pick me up and get me to our class on time.
I spied a red telephone box on the way across town…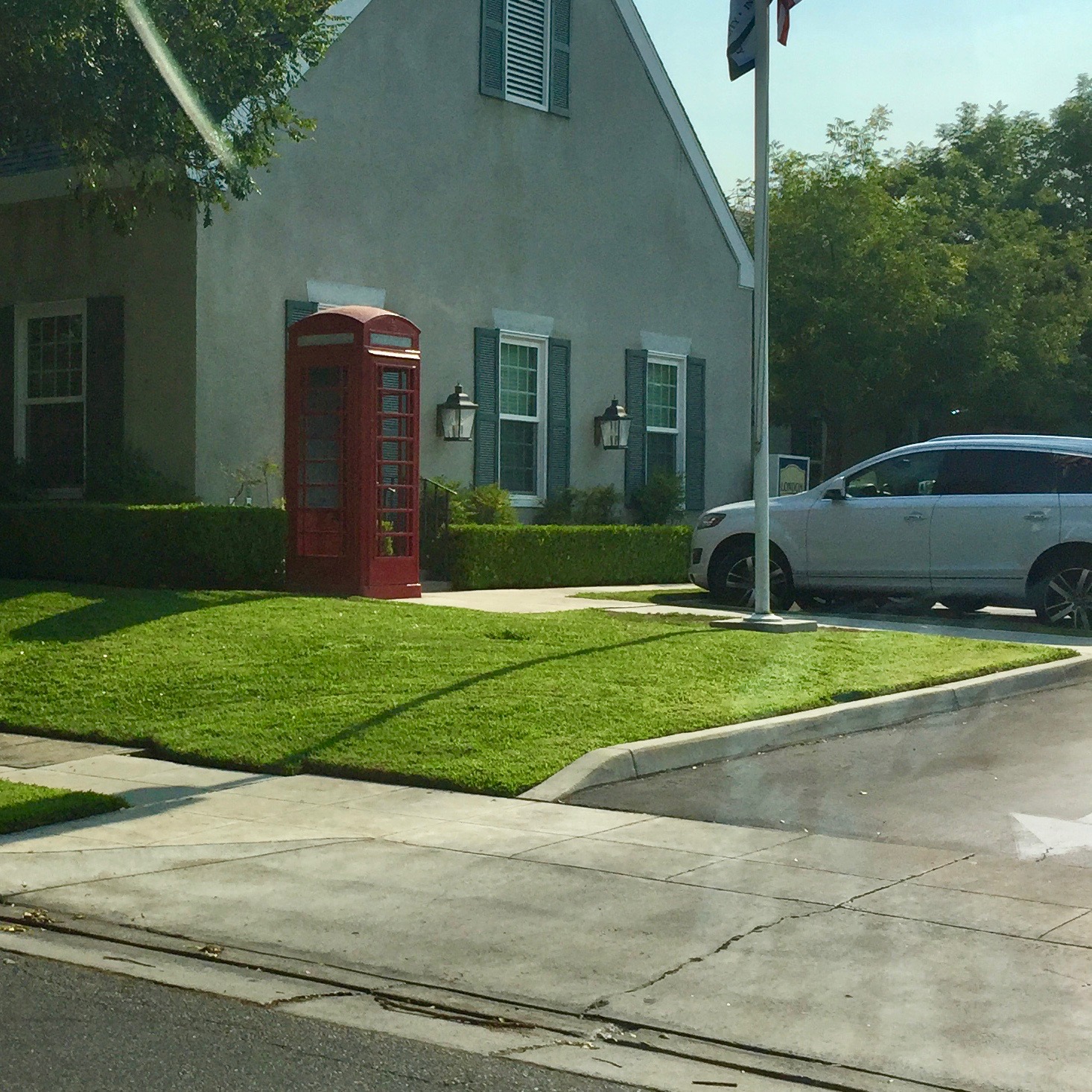 A sign on the corner said "London Properties" so perhaps there was some significance?
Our class was held at Second Chance Fabrics, a unique store selling pre-owned fabric pieces. They will buy your old stash, mostly for store credit, and offer it for sale in a very nice clean environment. I met the owners at Houston last year and I had been looking forward to taking a look inside.
There was a lovely light workshop space attached to the shop and we quickly got set up ready to get to work.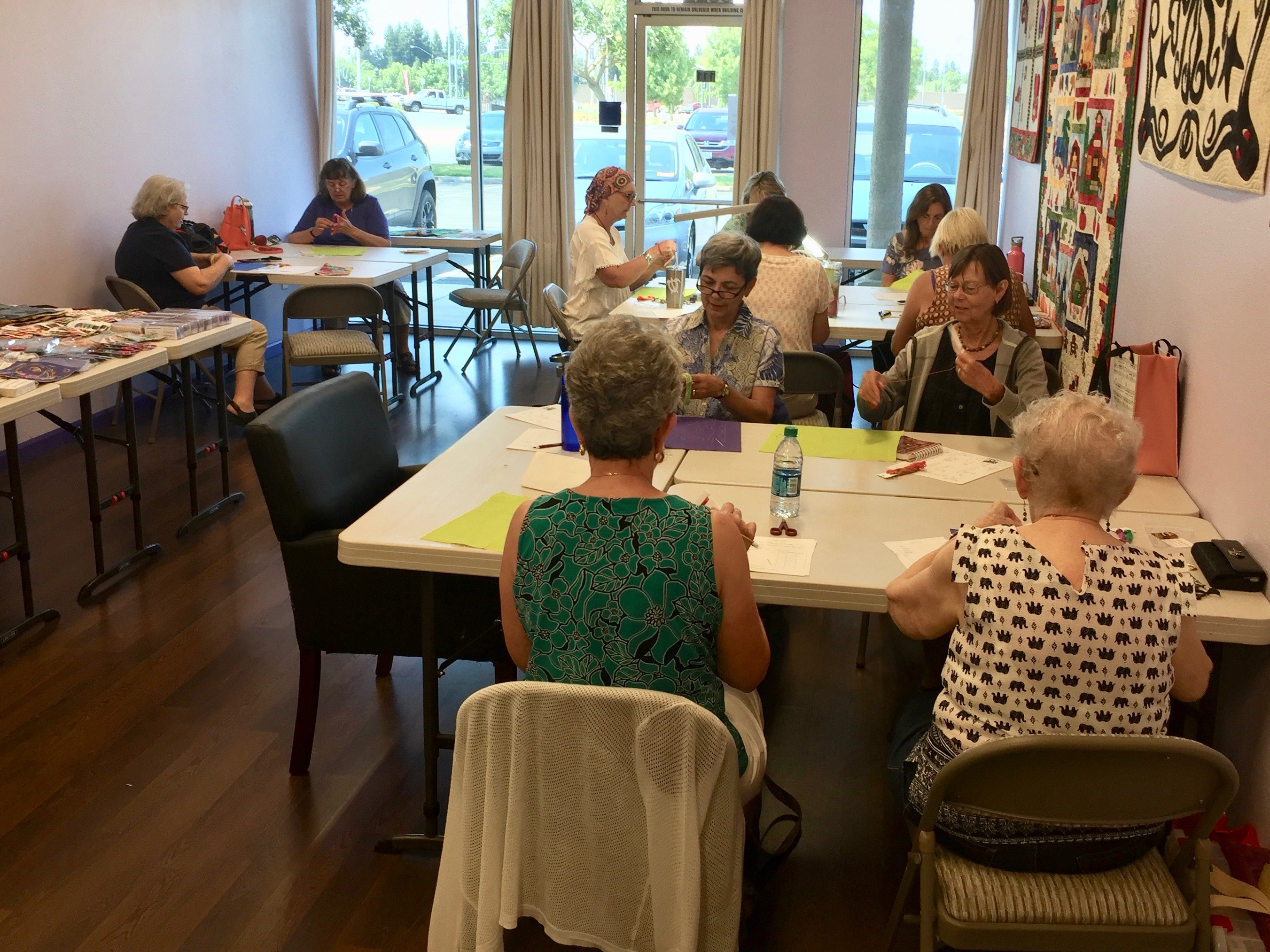 It wasn't a packed class but plenty big enough to have some fun and ask lots of questions!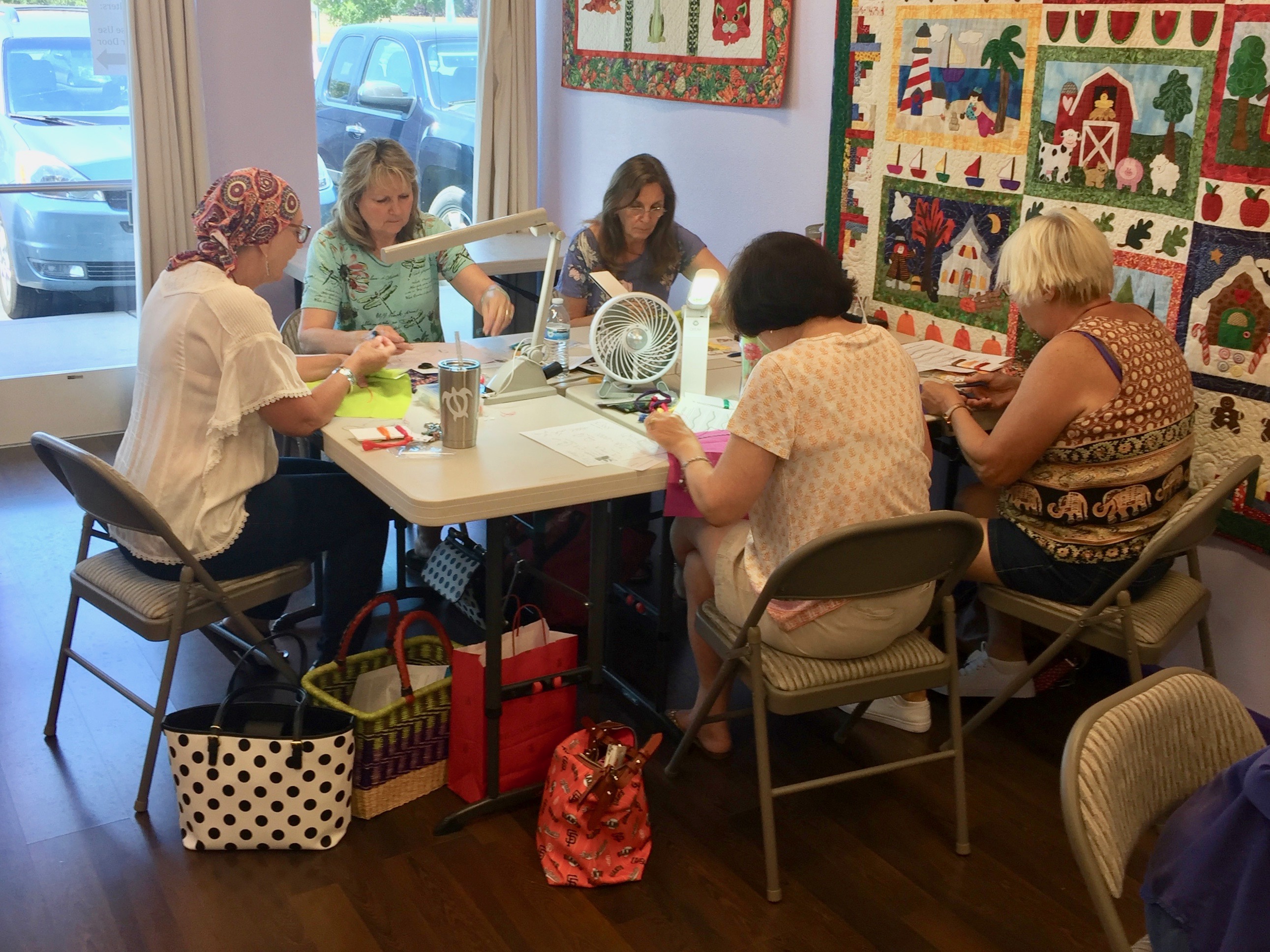 We used my custom printed samplers to stitch on. I have a range of colors and a rather large choice of thread colors. One card comes with the kit fee but students are able to purchase as many cards as they wish…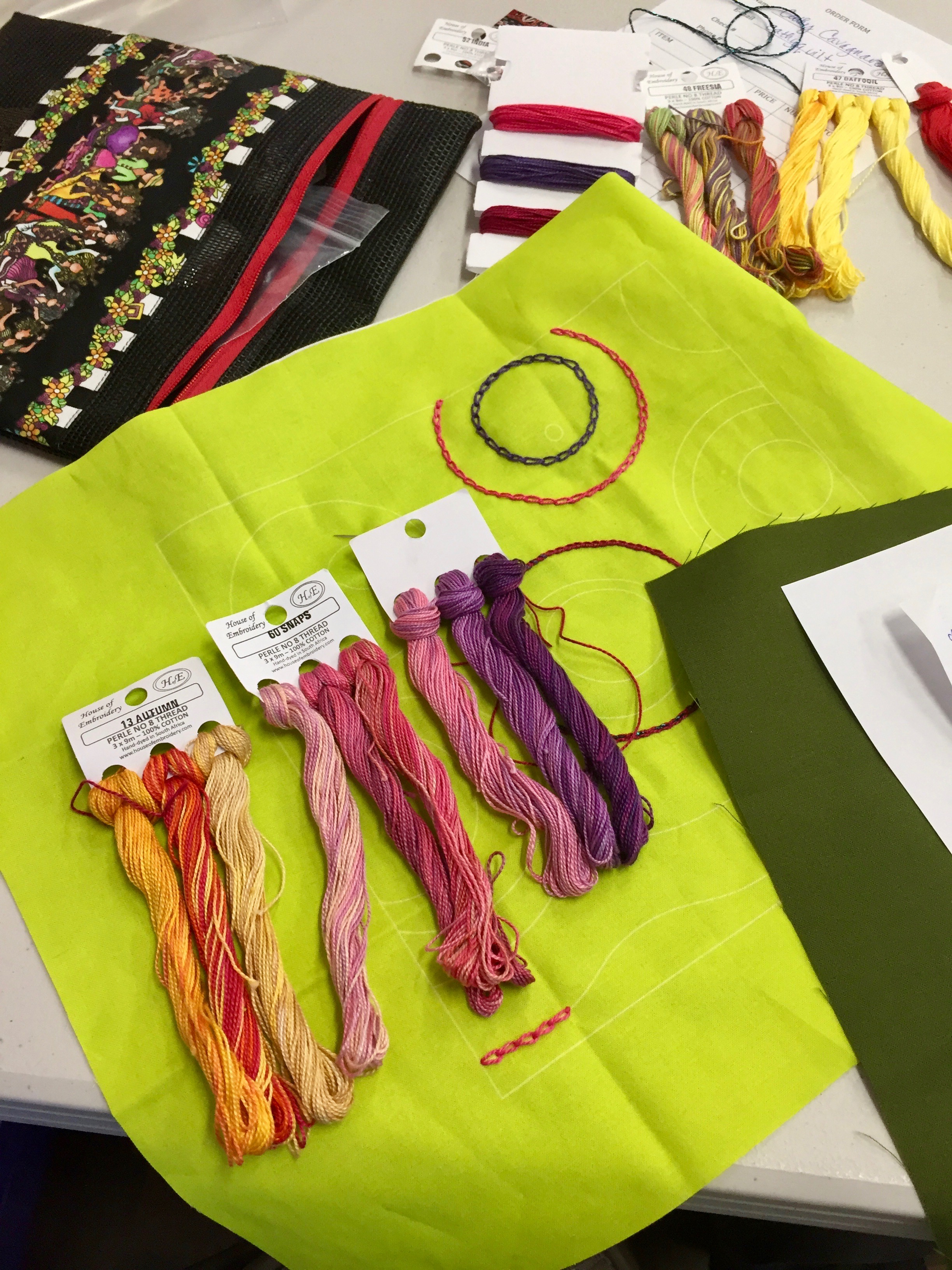 We started with chain stitch and then added our embellishments.
Here's a very striking example of double sided wrapped chainstitch.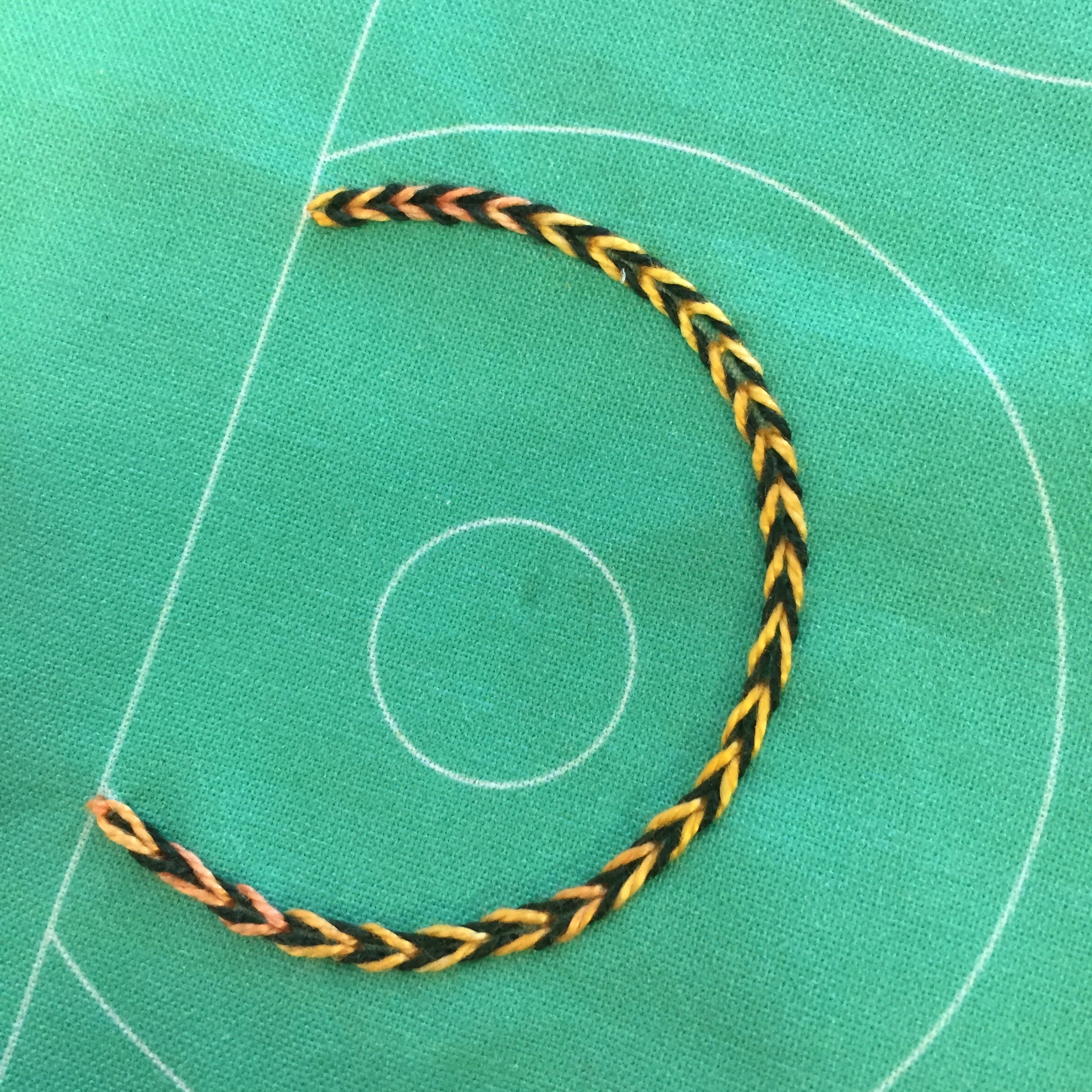 Three types of wrapped stitches here and some beads for the win! (Notice the stem stitch in variegated color at the top?)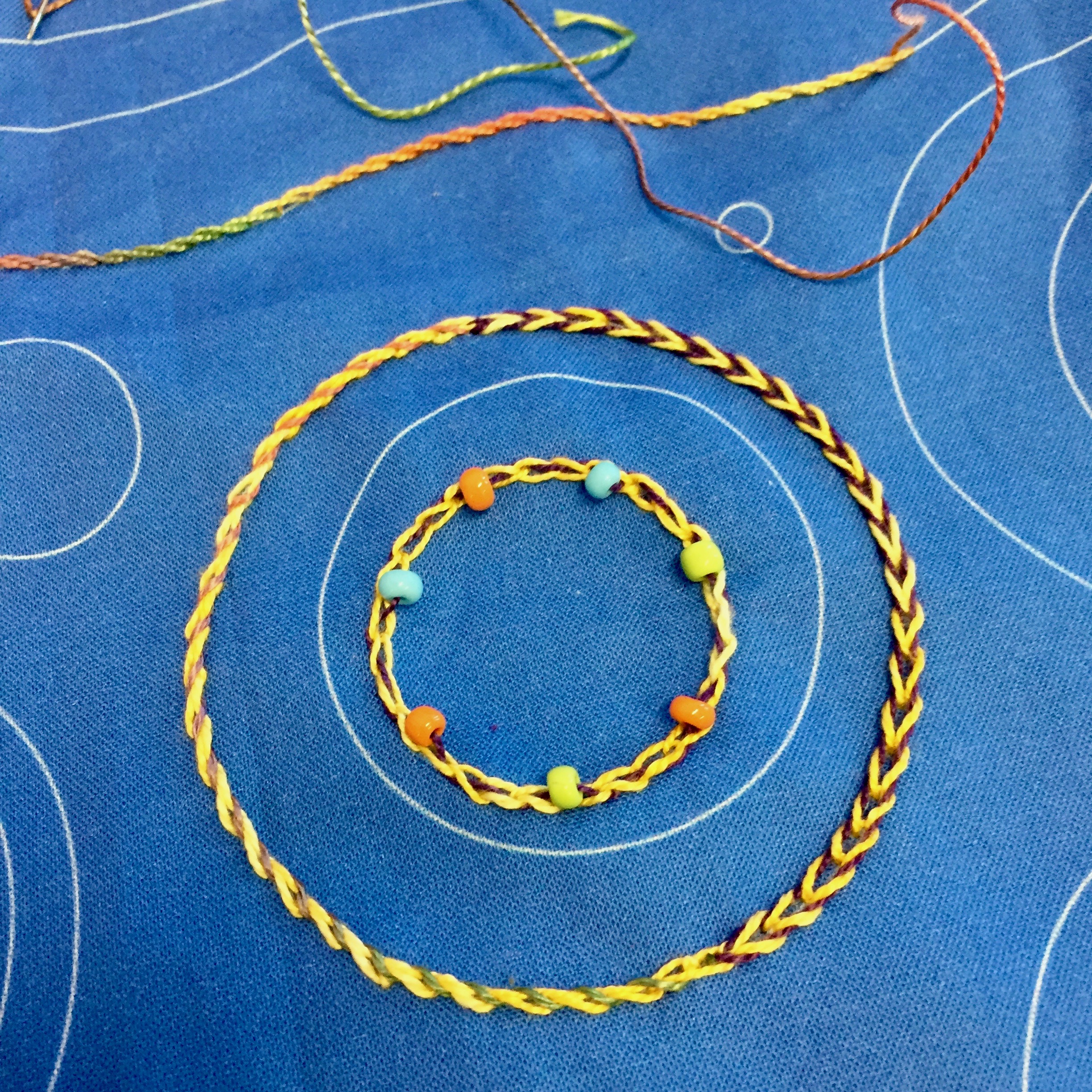 It was a very jolly day. I'm looking forward to seeing some pictures in my inbox sometime soon.
But all good things must come to an end. I returned to my hotel and repacked the bags. There is an awful lot of packing in my life. You'd think I must be getting good at it? Better perhaps, not very good yet.
Our little plane was ready for me at Fresno airport. I'm beginning to appreciate the speed of embarkation when there are only 50 or so passengers to get seated.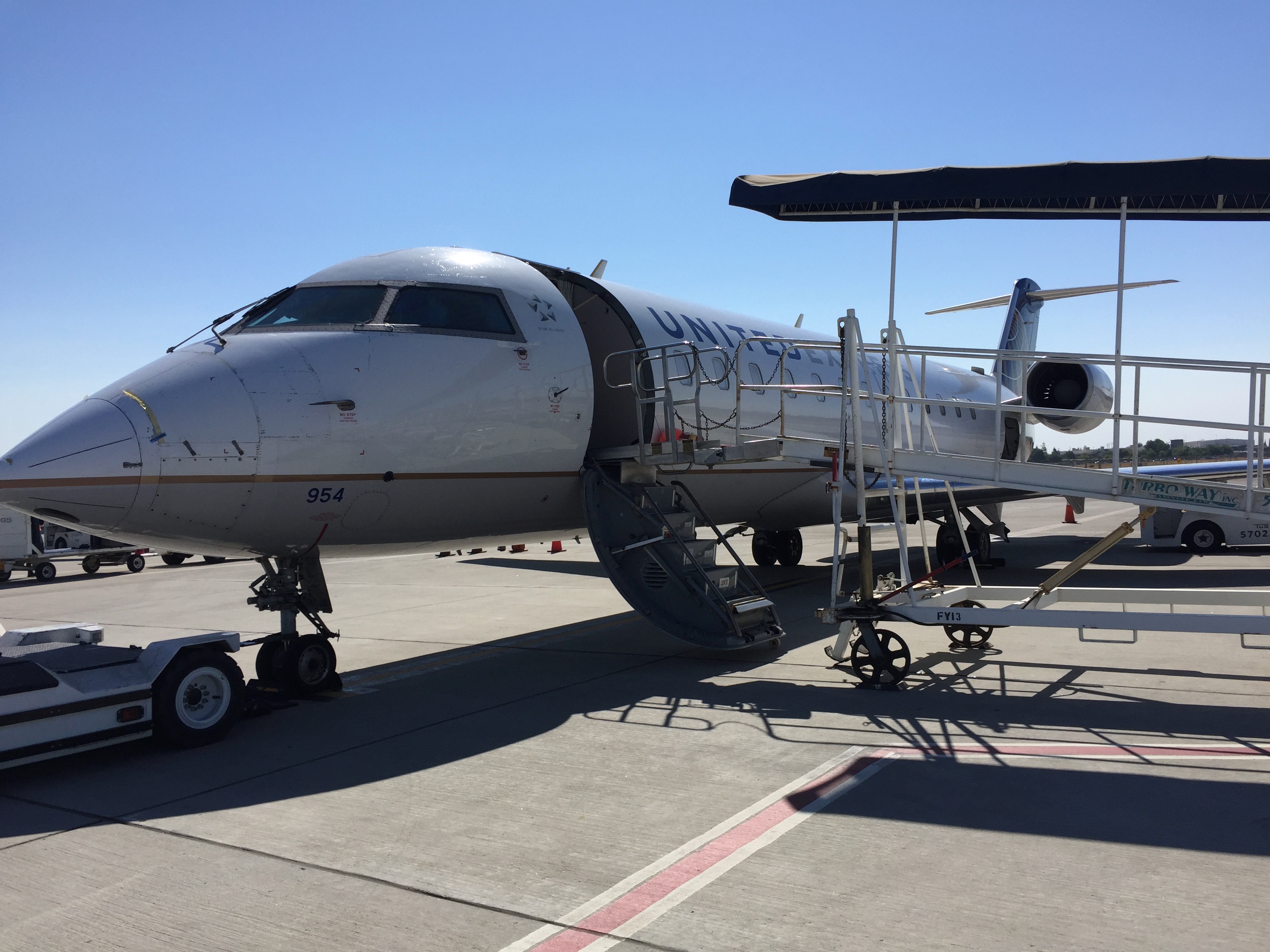 And away we went up the valley.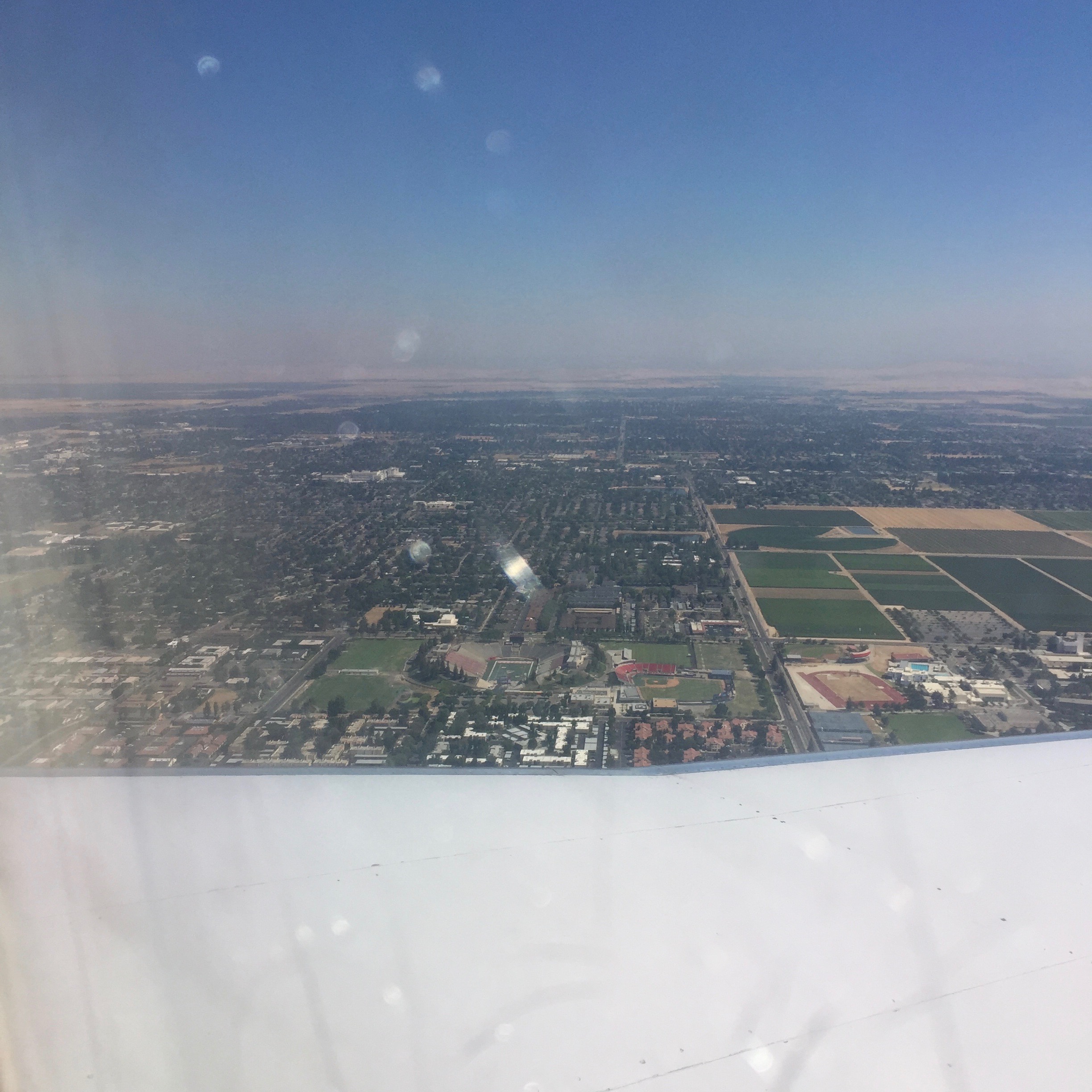 Less than 30 minutes before we were in sight of  San Fransisco.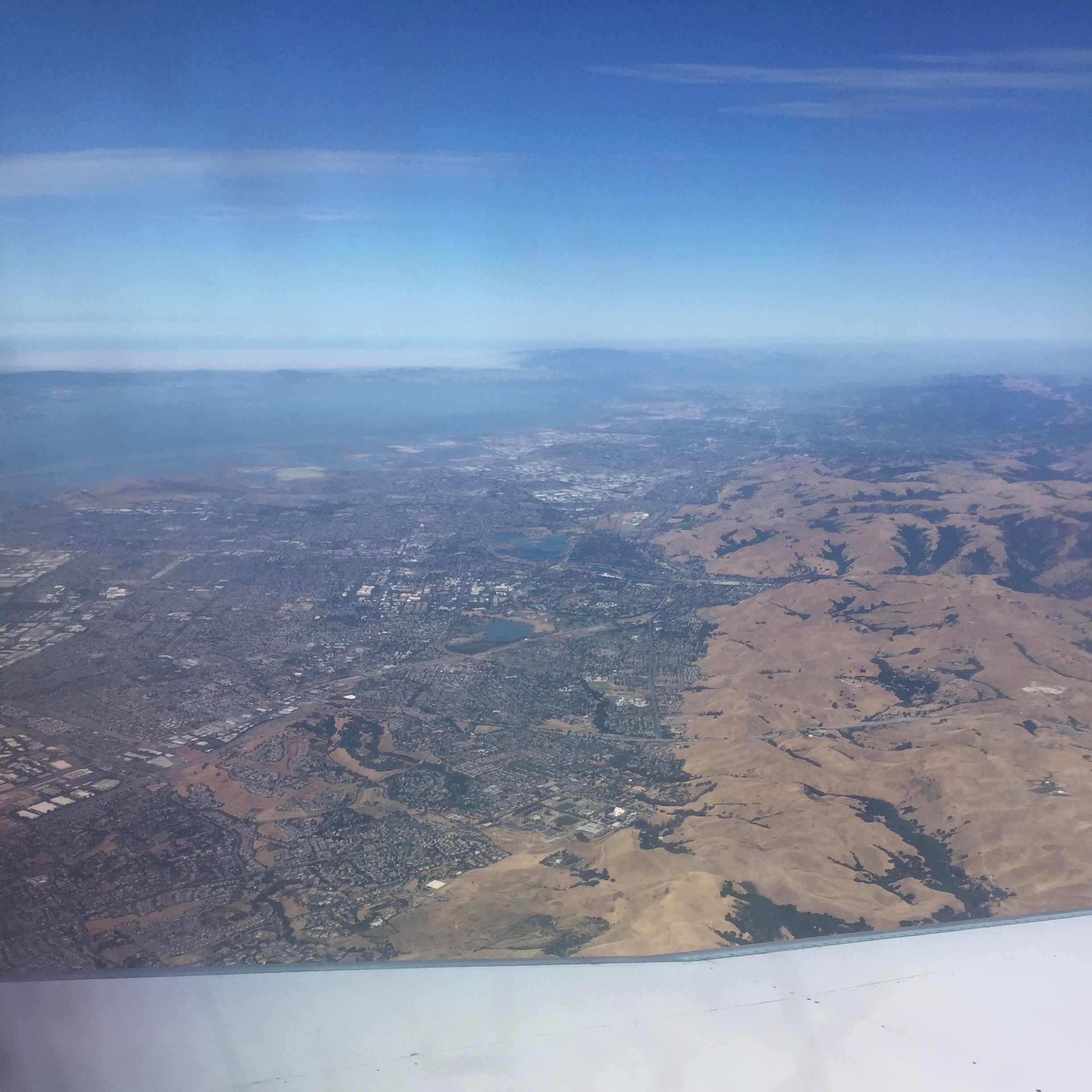 There was no rush to make my connection this time. I had two and three quarter hours to spend at leisure. I retrieved my stitching pouch and worked on my latest butterfly until it was time for my flight home.
When I choose my seat I do try to think about where I am headed and what I might see on the way there. Sometimes I make a better choice than others. I think I did well on Saturday. I was rewarded with a wonderful panoramic view of the city as we took off.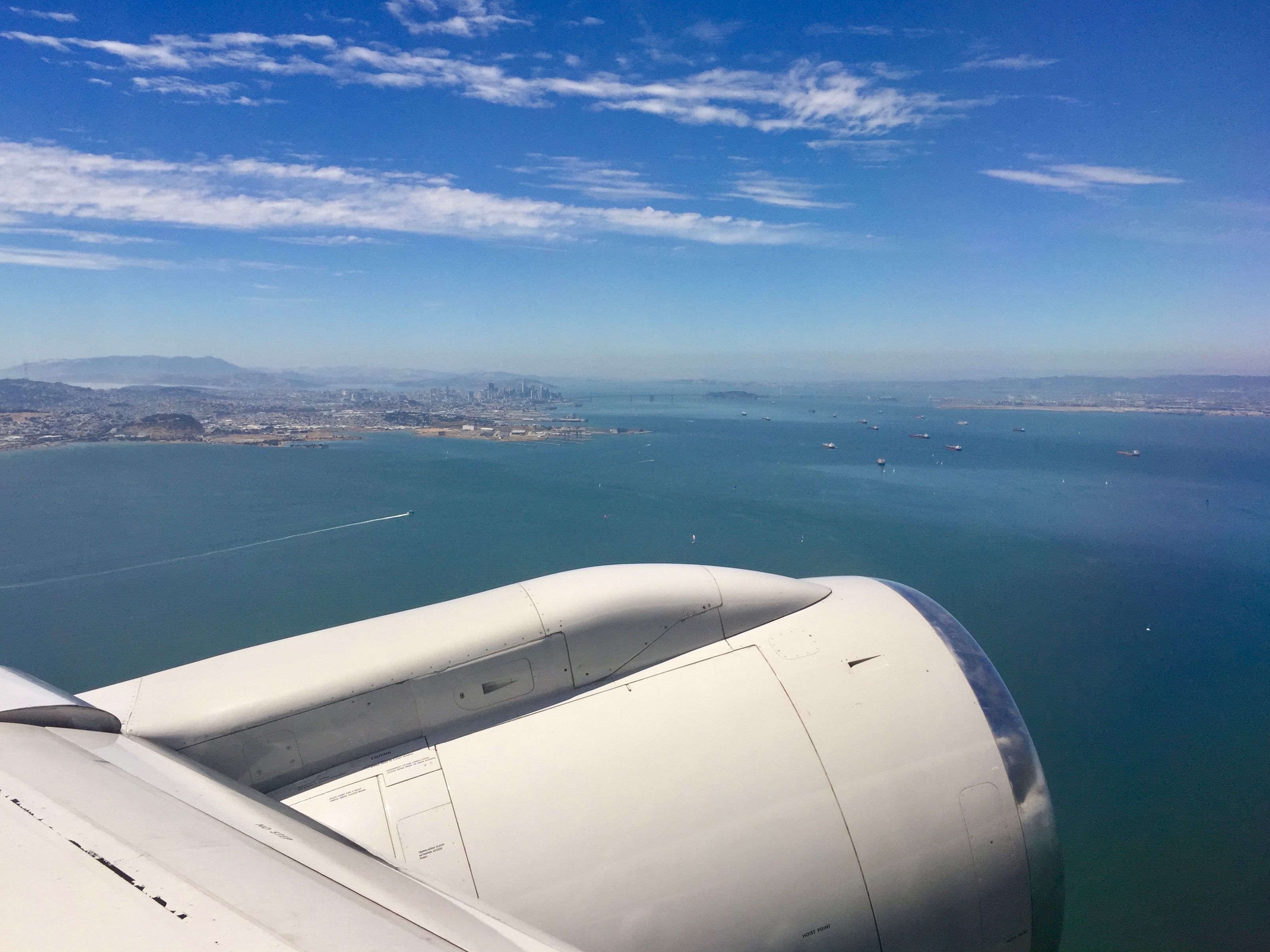 We flew over Oakland. Remember, I was there in March? My host drove me over that bridge.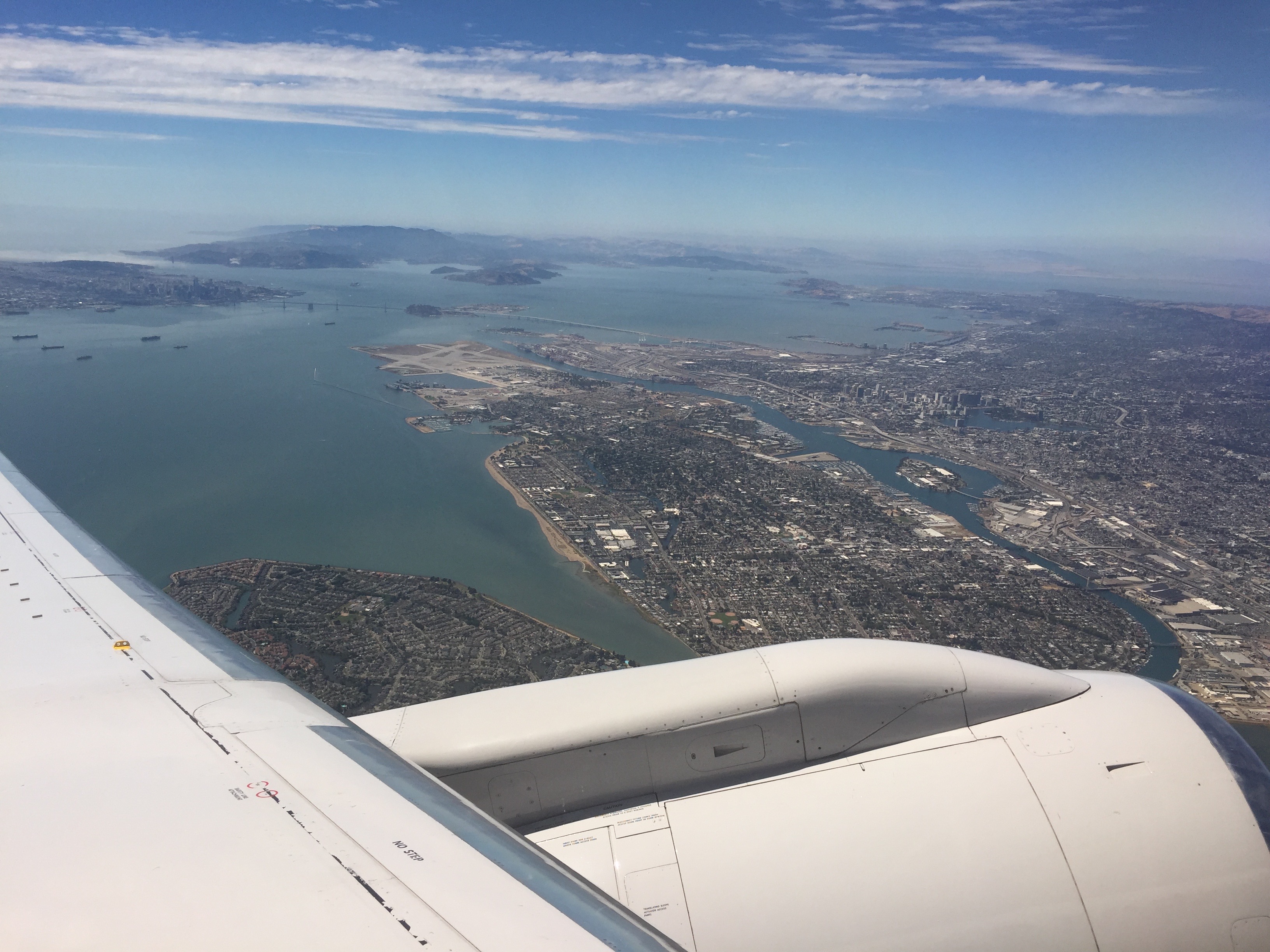 The flight path took us over Salt Lake City and the Great Salt Lake, looking very red from our great altitude. I looked up the reason for the coloration. According to the Utah Water Science Center (and they should know) the reddish purple color is caused by photosynthetic sulfur bacteria… so now you know too!!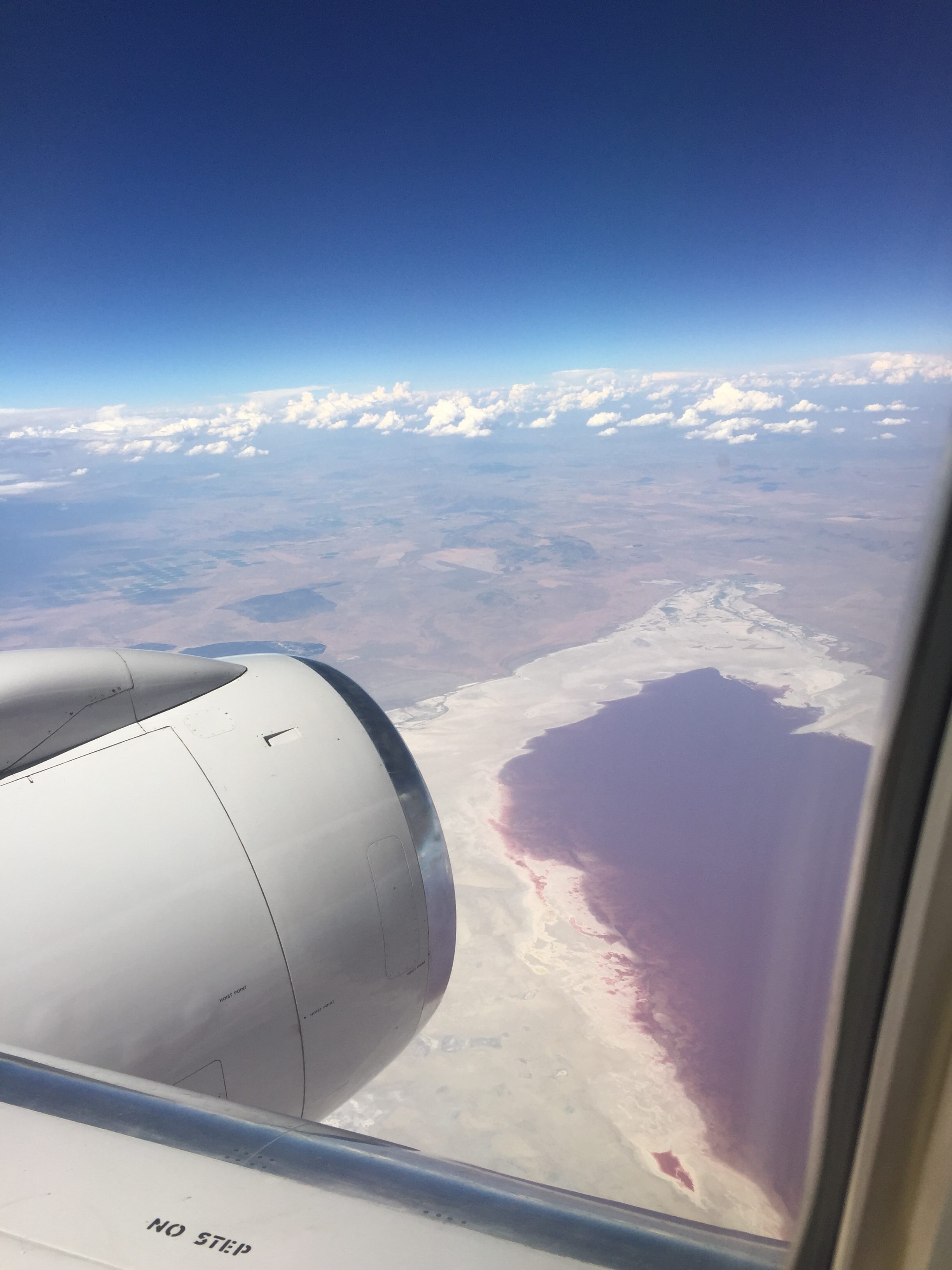 Four hours after take off we were coming in to land in Chicago and I was on the right side again (actually the left hand side) to enjoy a view of our striking sky line.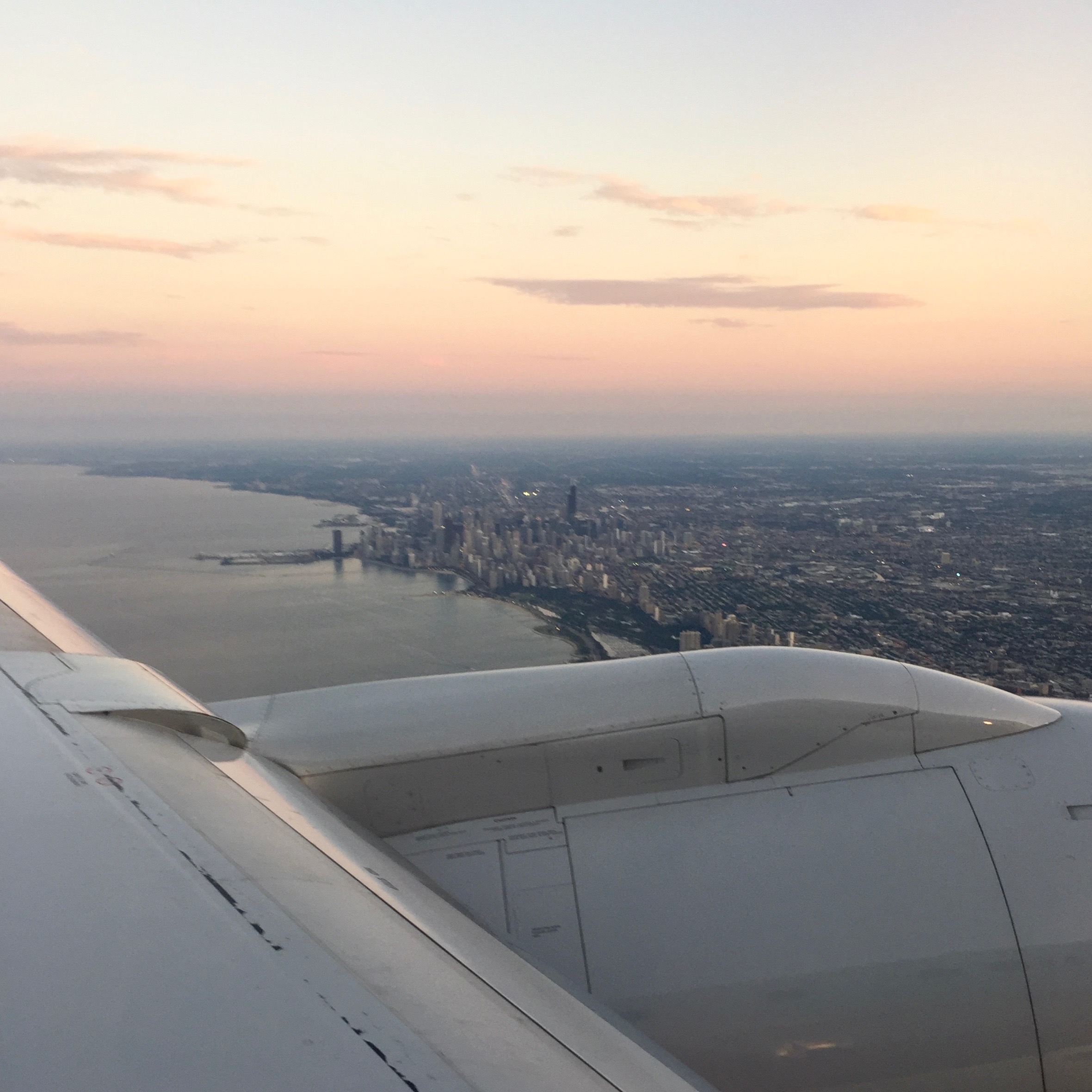 The walk from concourse C at O'Hare gave me the chance to stretch my legs before I collected my bags and met Steve.
No more Fres-no… definitely Fres-YES from me!
I'm afraid my purple and pink IT suitcases have now been retired. They have made their final journey. The handles are coming apart, the corners are rubbed through. I'm going to fill them with stuff for donation and drop them off this week before I am tempted to try to make one more trip. Other teachers have told me they replace their luggage every twelve months. My two cases have lasted almost three years, been on two cruises and multiple planes. They have done very well. I just don't think I am going to be able to find anything that's so me.
I'm looking.