I never know what the day's e-mail might bring…
Last July I received an invitation from Jean Nolte to try out the new Fons & Porter Template of the Month Club. I'd get a template and fabric and try them out and blog about my experience. It sounded like fun to me so of course I said yes but that I'd need to wait a bit as I was a little busy finishing up a book manuscript, amongst other things…
I looked up the website and thought that as long as I didn't get the apple core template it should be easy.
So, I received a big envelope in January containing my template, instructions and a pattern and the fabric for a table runner. And guess what? It was the apple core template!
Time to get my big girl panties on. I took the project with me to Southern California so I could try it while I was on retreat. That way, if there were problems I could get Sheila to help 🙂
Here's the instruction sheets, fabrics and template I received.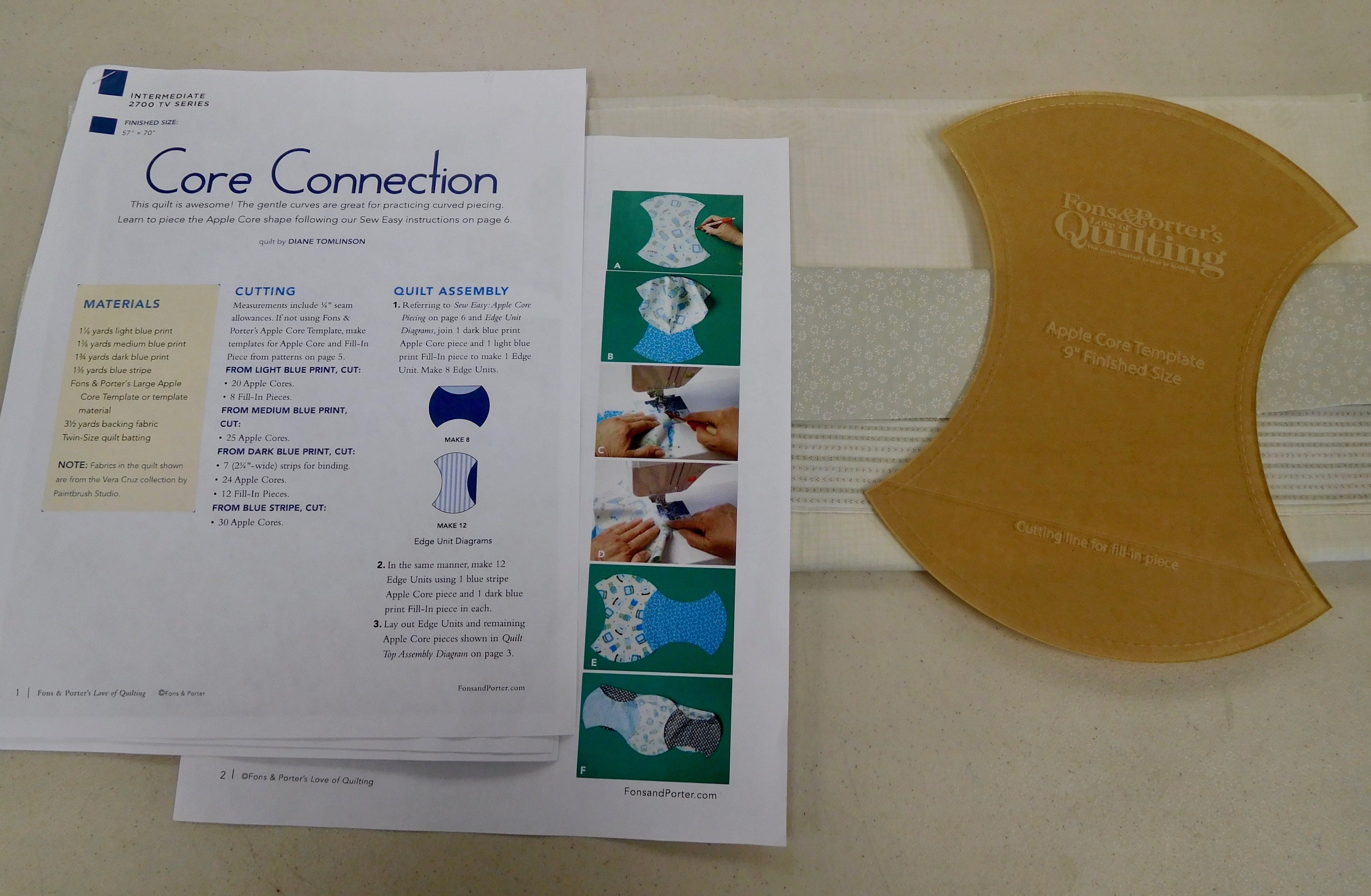 It's a big template so the curved piecing shouldn't be too difficult?
I read all the instructions and set to cutting out the fabric pieces. I had to be reasonably careful to make sure I got them all out of the materials provided. The template was nice and sturdy and worked well with my 45mm rotary cutter. Cute daisy fabric by Lynette Anderson from the Bread and Butter collection for RJR…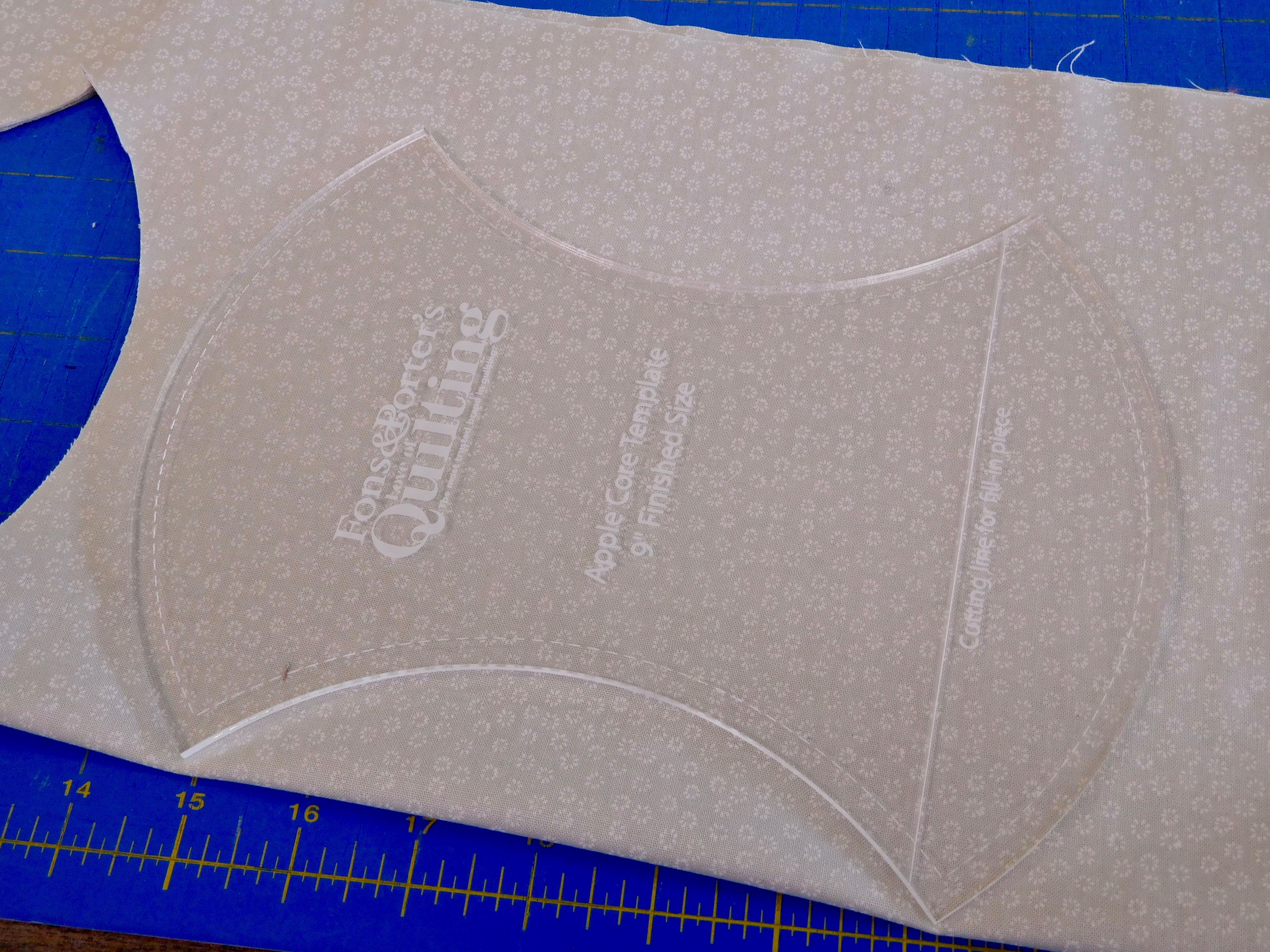 All cut!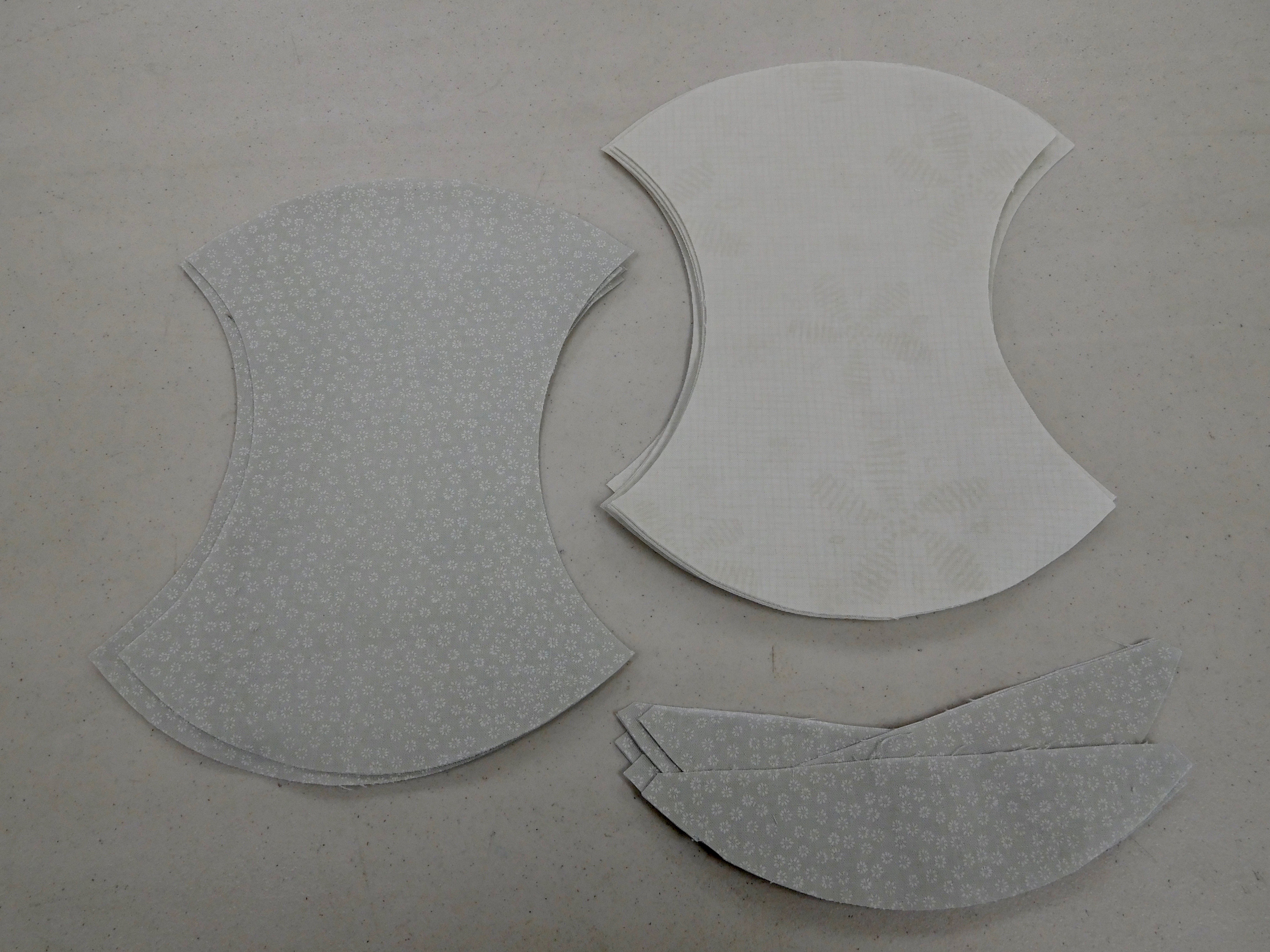 Time to start piecing. I managed with just a center crease to match the seams and three pins.
It worked.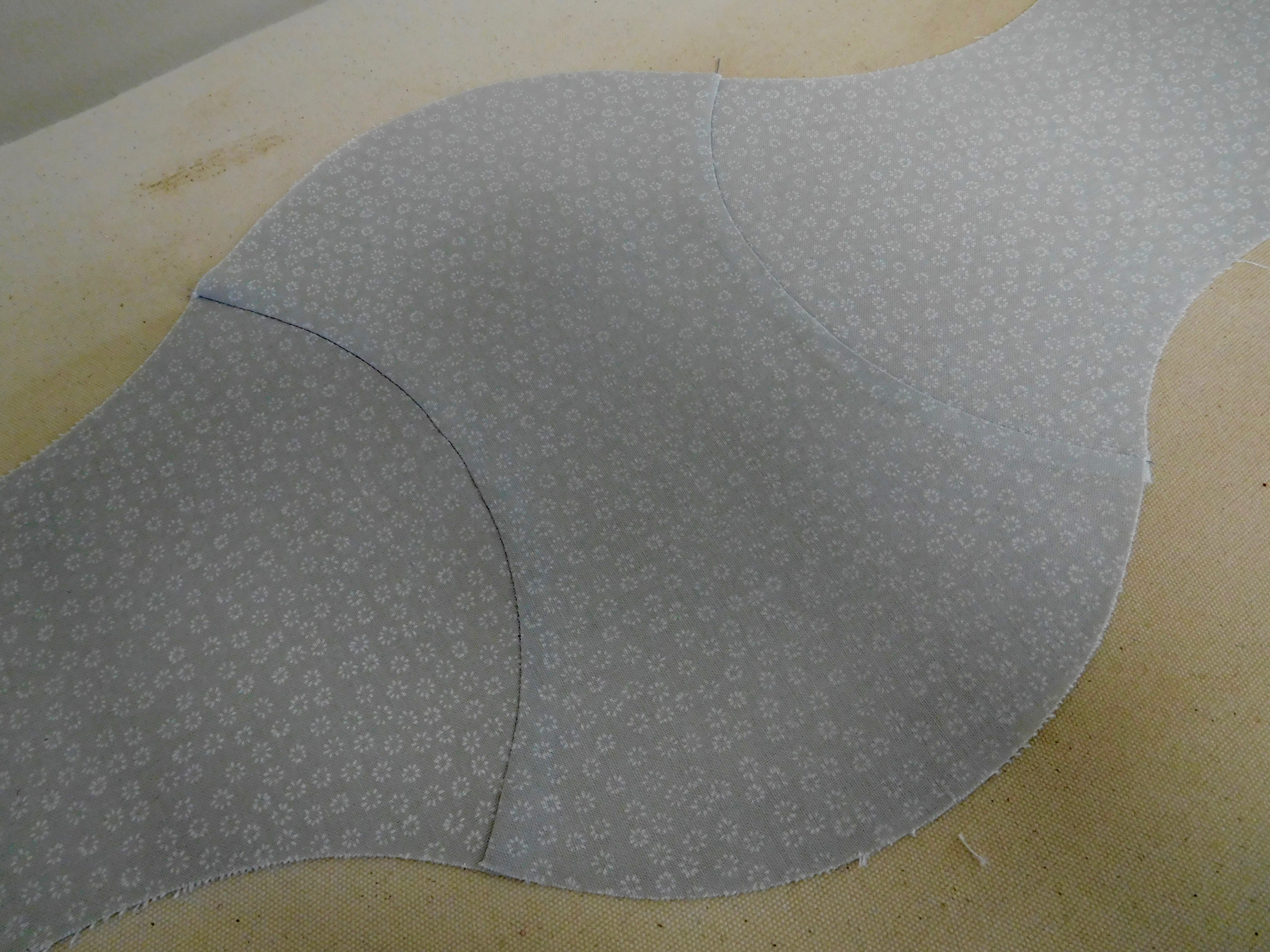 Sorry about the dirty ironing board. I wasn't at home.
Then I just had to keep sewing. One seam at a time.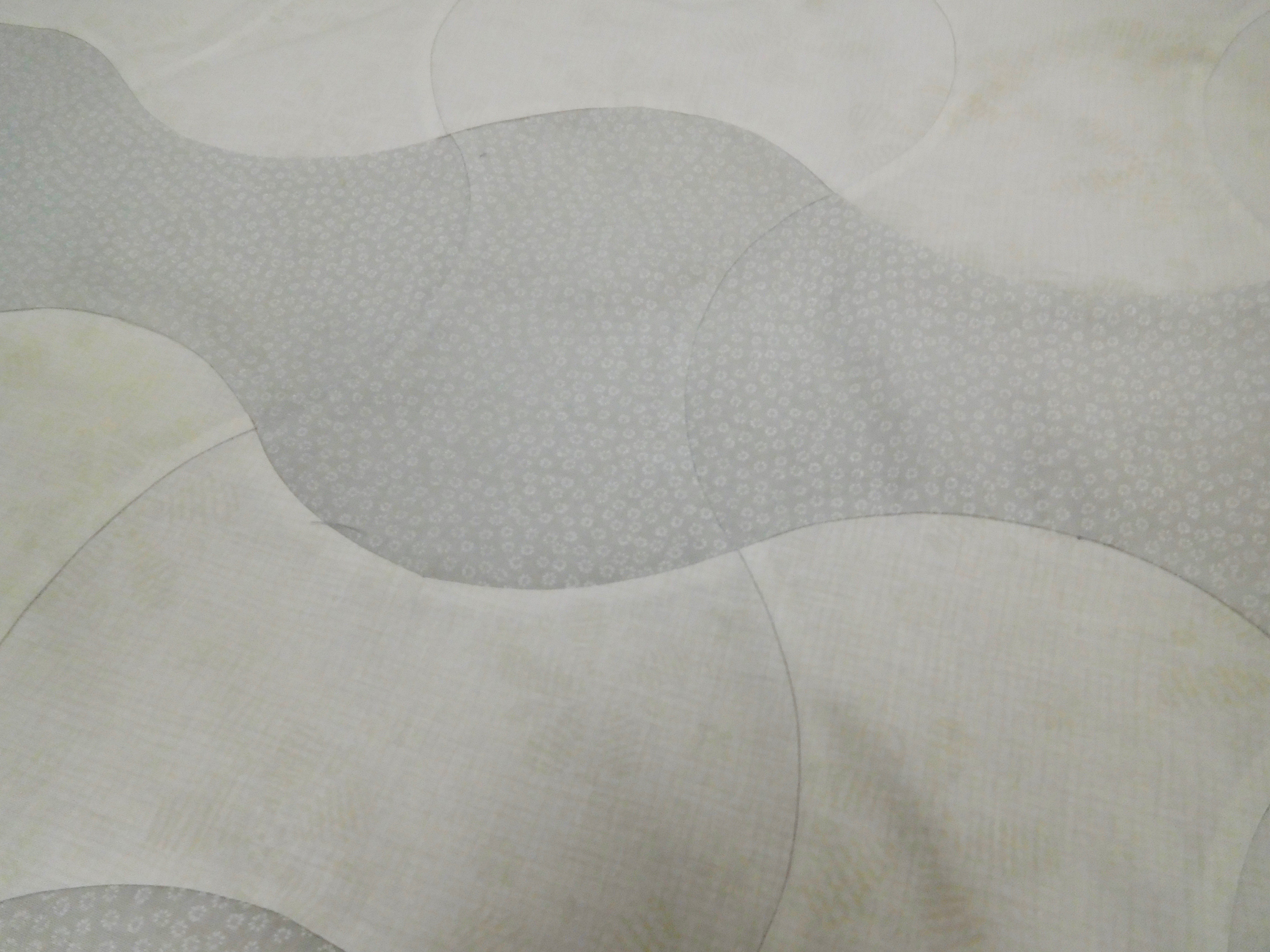 I couldn't believe it. I was actually making an apple core quilt.
My table runner lay flat and everything!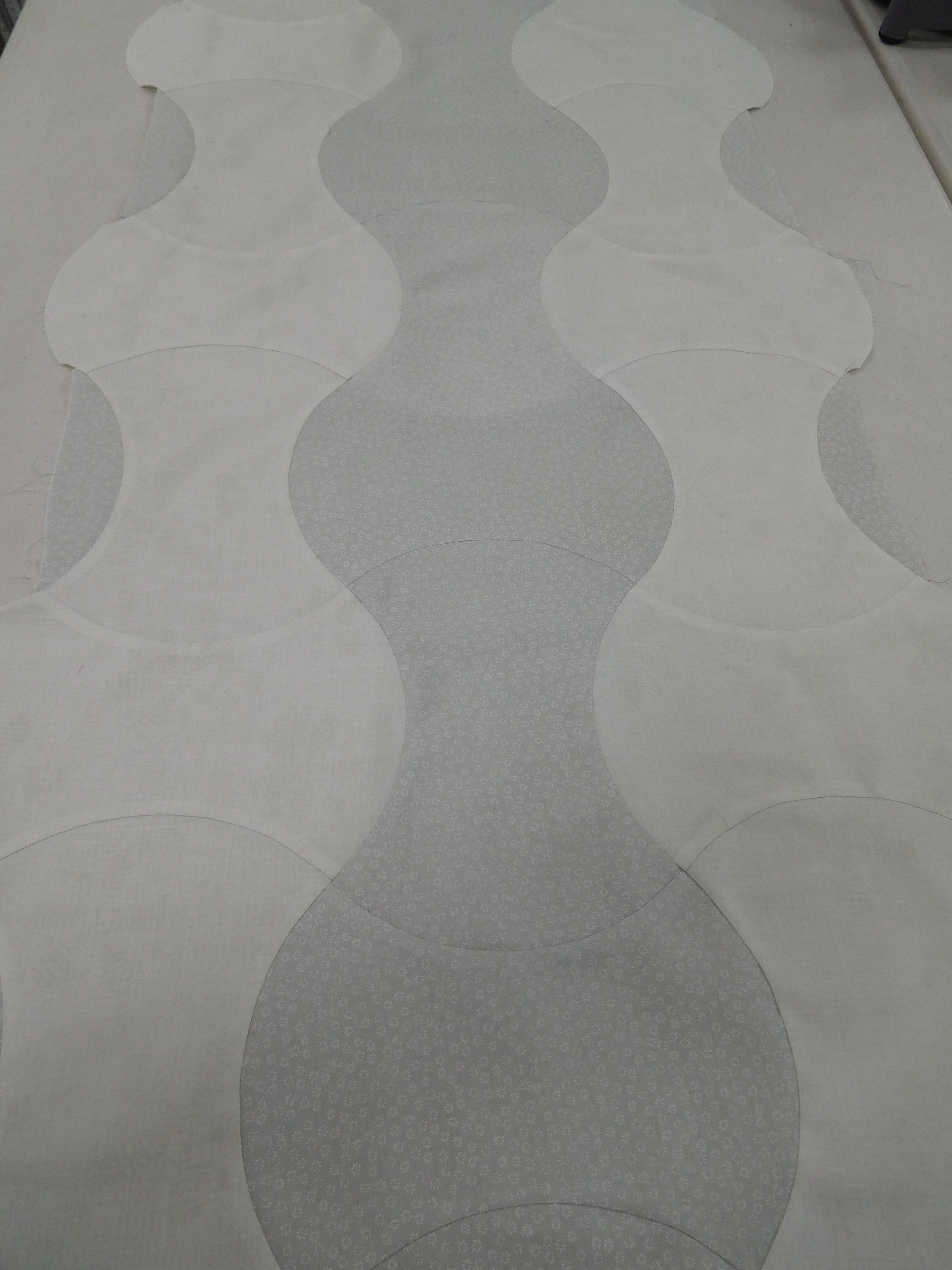 I had batting and backing fabric with me so I went ahead and lay it out for basting. Blue tape to keep the backing flat, nice smooth batting from Quilters Dream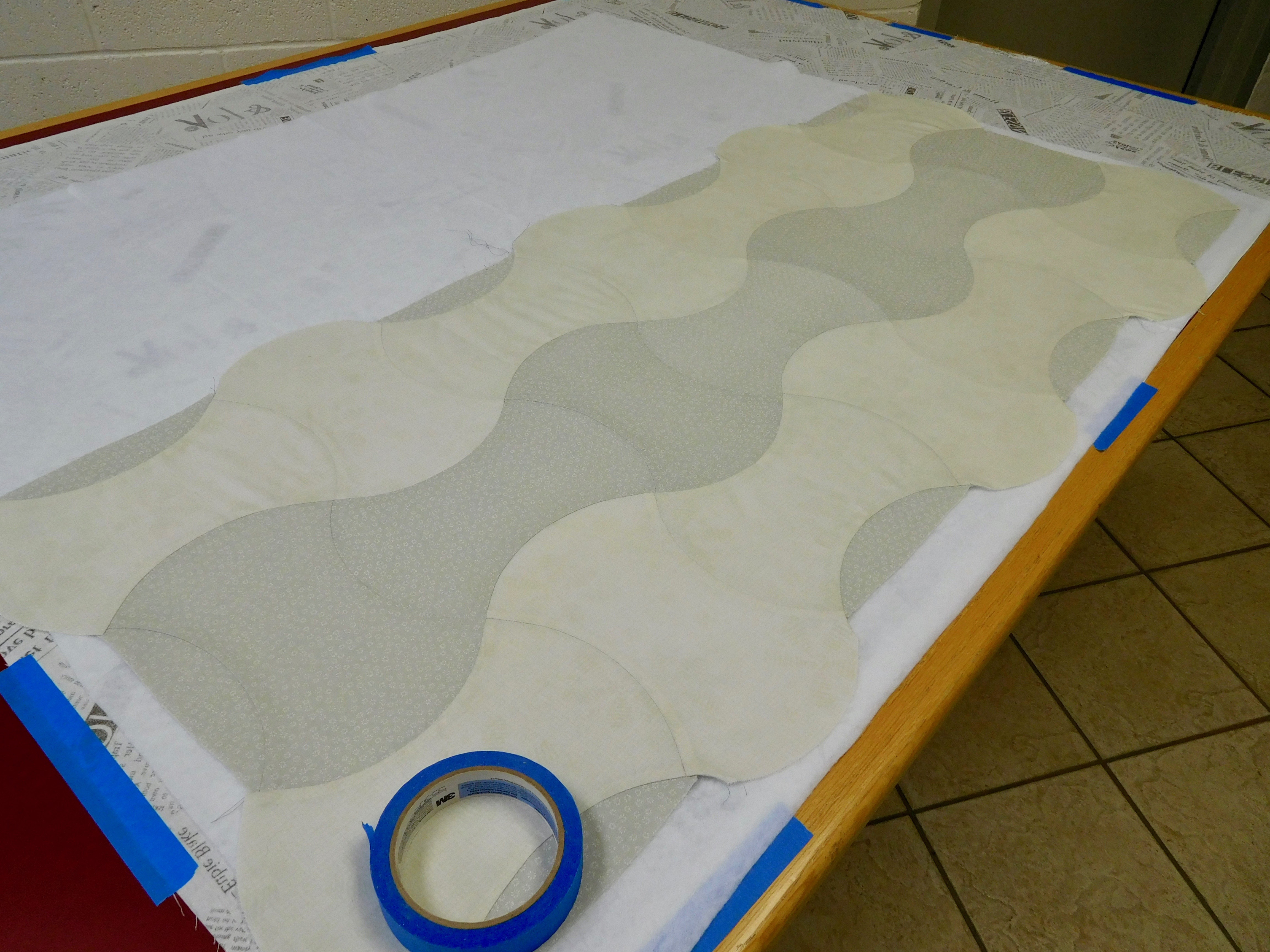 Lots of pins to hold it .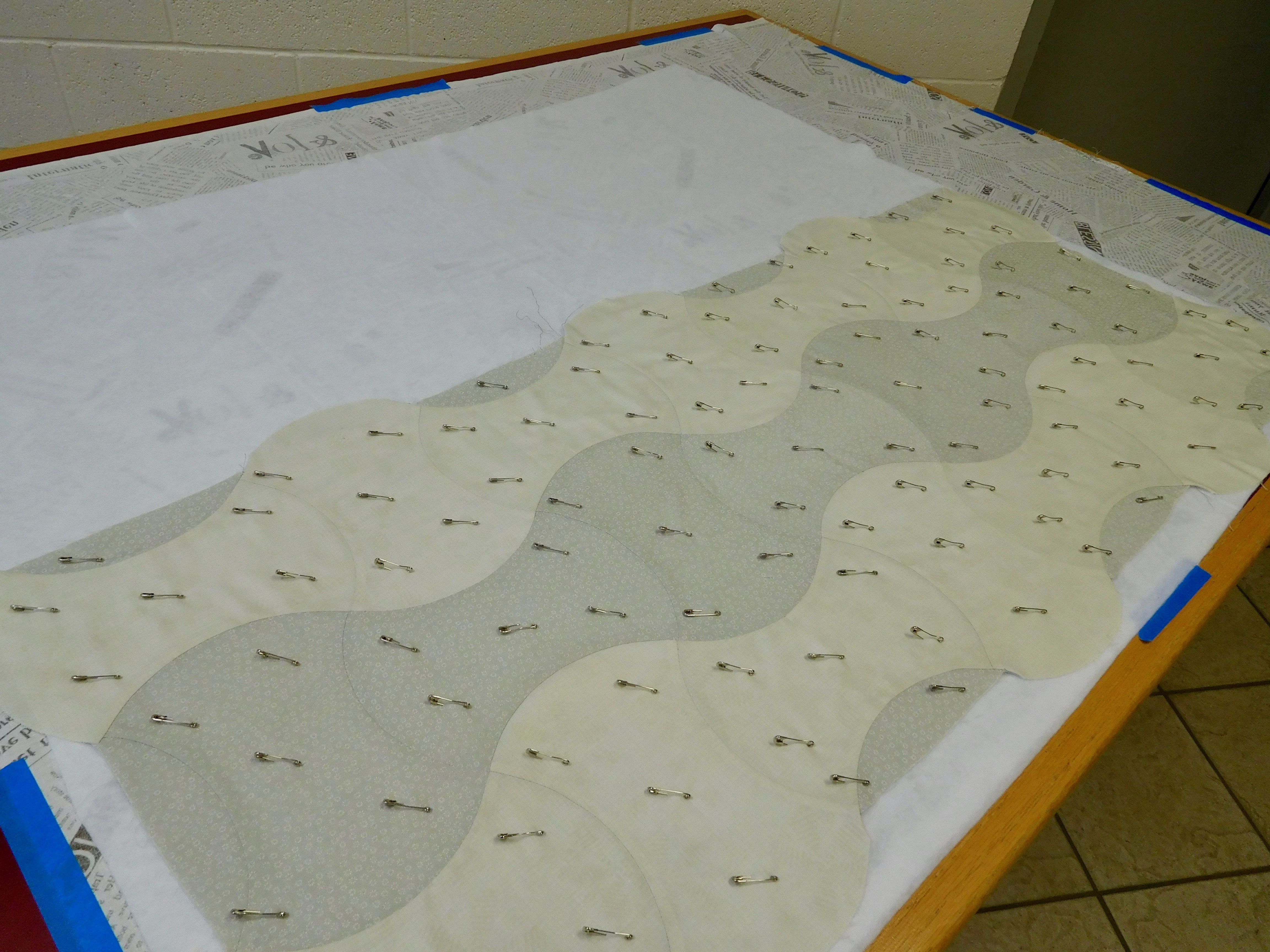 I trimmed it up a bit and that's where I left it. It's one thing sewing the seams on a borrowed machine but I wanted to be home to do the quilting.
Once I got home I'm afraid my project stayed in my bag for a while. Then it sat on the table while I got to some other things but last week the time had arrived and I set to quilting on my BERNINA 740.
I used my built in dual feed to quilt the curved lines echoing the long seams down the length of the table runner. I switched between my 1/4″ foot and my open toed appliqué foot (20D) to get the different widths and reduced the presser foot pressure to reduce the drag around the corners. I was liking the way it looked!
Next came some free motion stitching with the darning foot. I chose my chrysanthemum motif for the darker sections and flowers on the light color parts.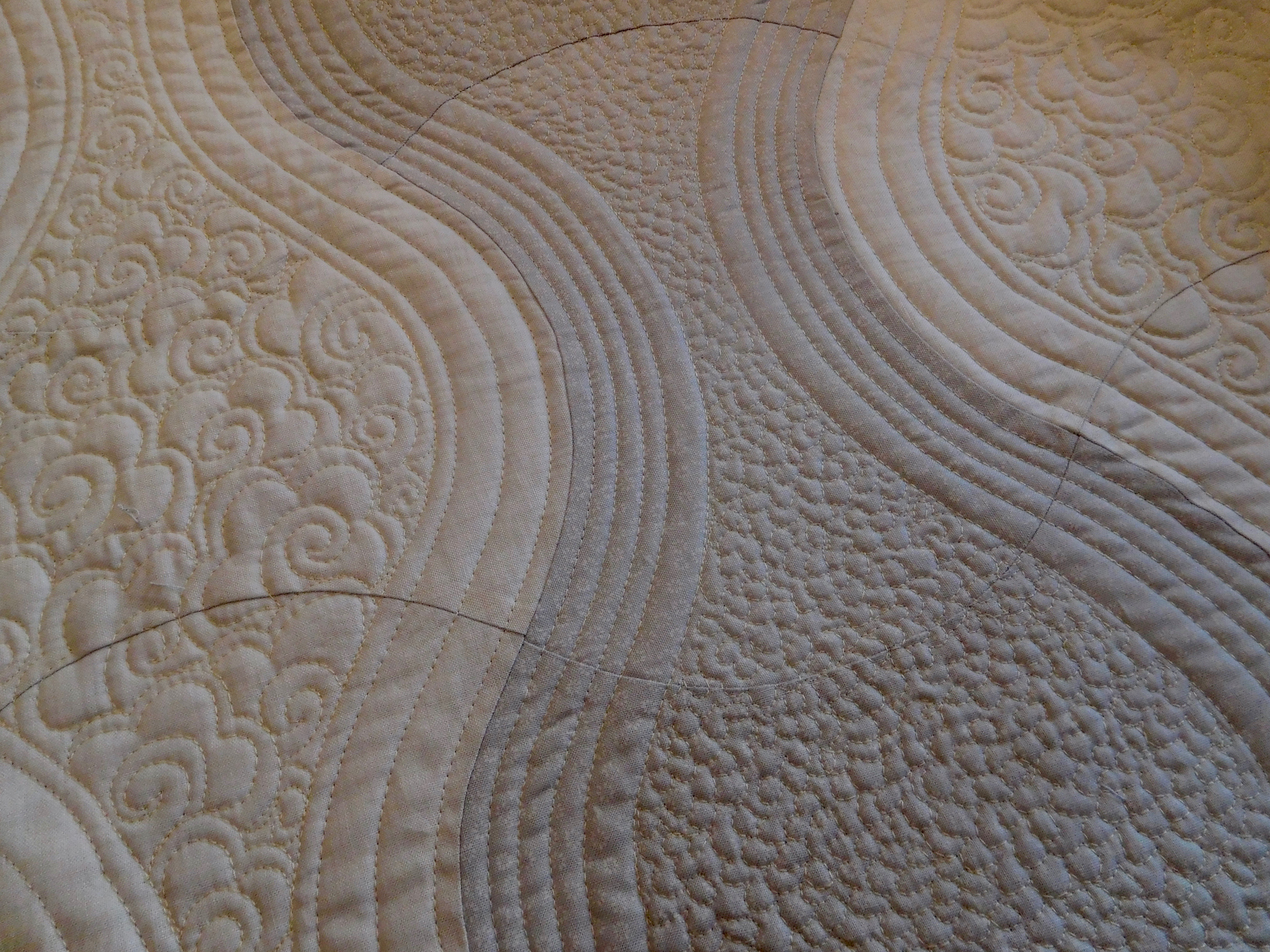 Narrowing the sections with the walking foot stitching first makes the free motion go much faster and defines the areas well.
Time for the binding. There was about 12″ of striped fabric included in the kit but the stripes ran selvedge to selvedge so if I'd cut the pieces straight across it wouldn't have looked very nice. I bit the bullet and cut beautiful bias strips and pieced them together before stitching them onto my table runner using my walking foot. It was definitely worth it.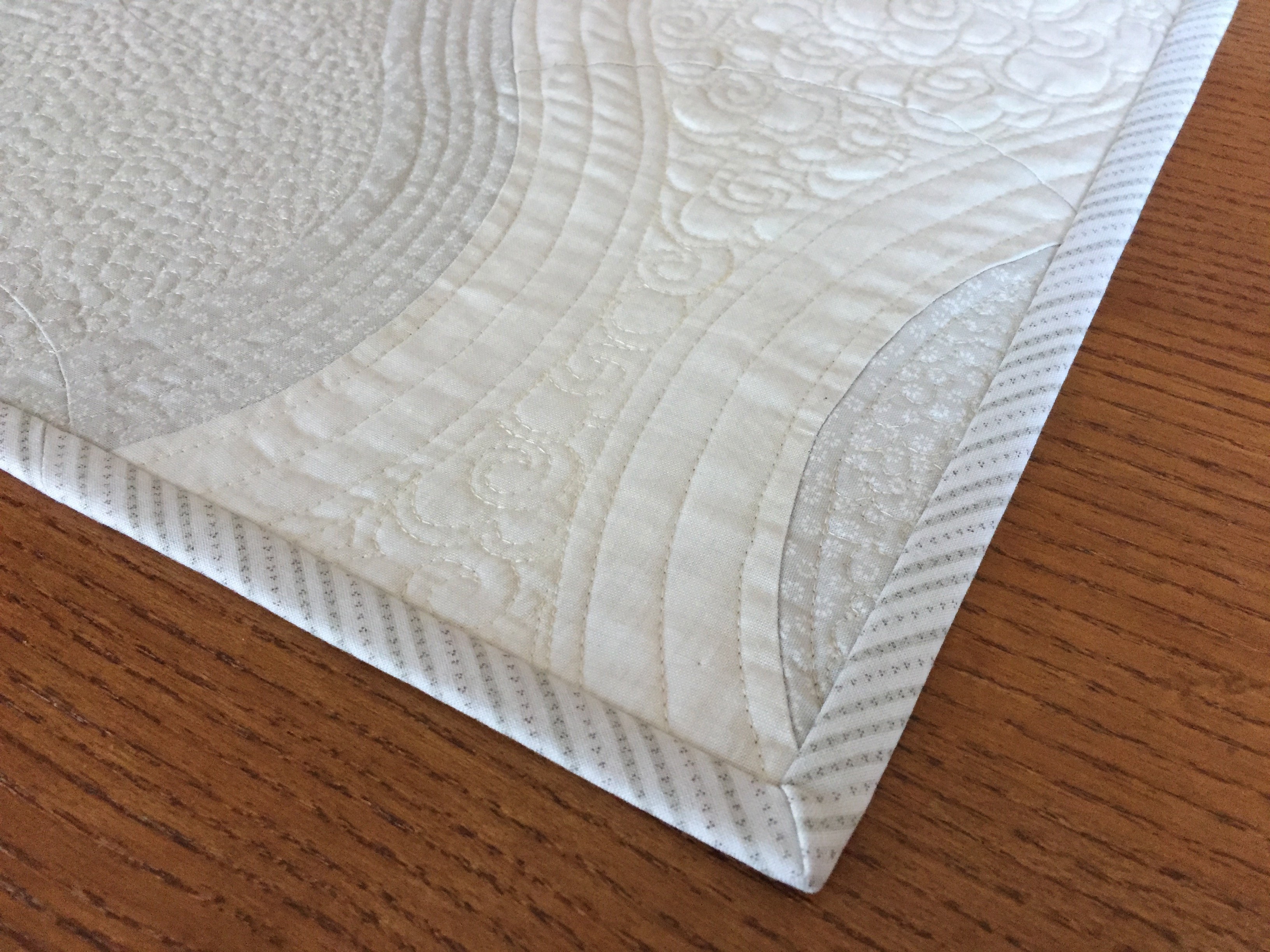 Done.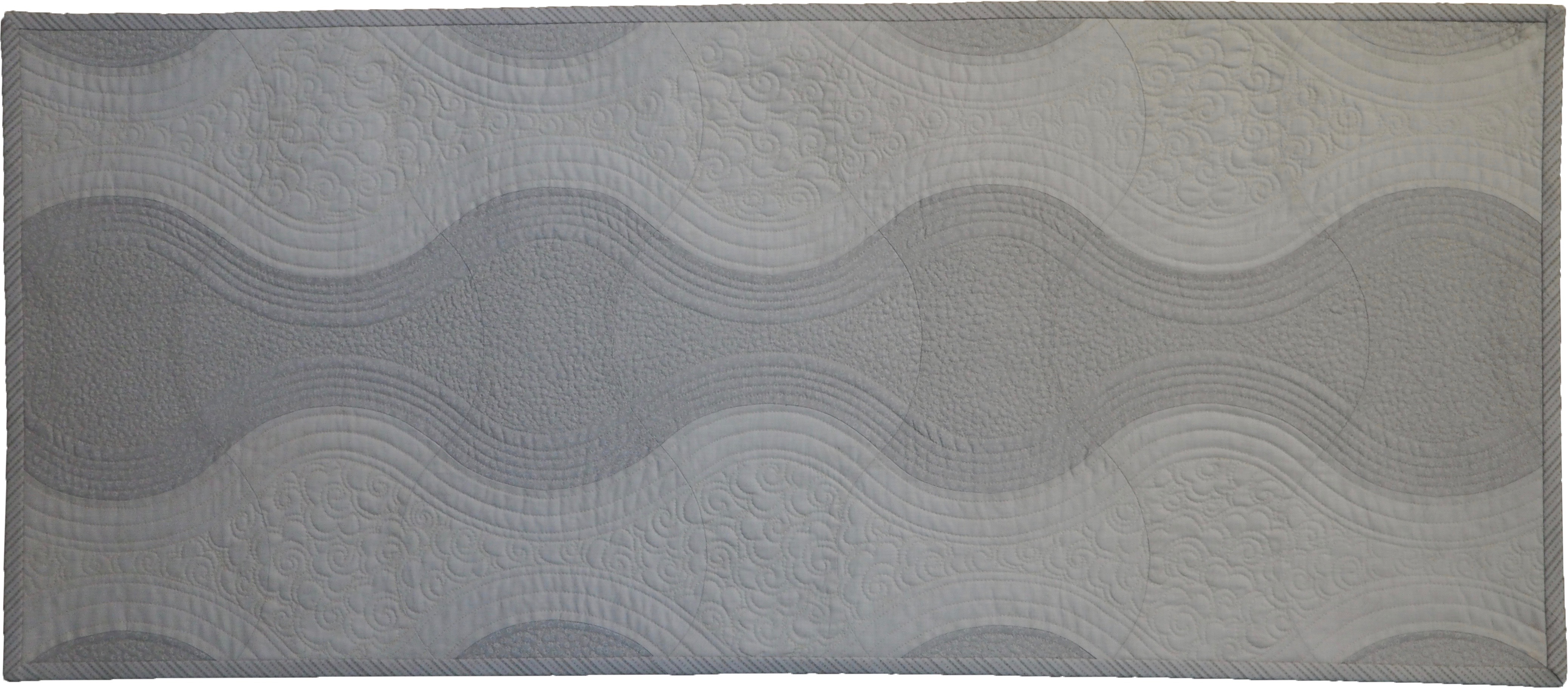 Time to put it on the table for a beauty shot…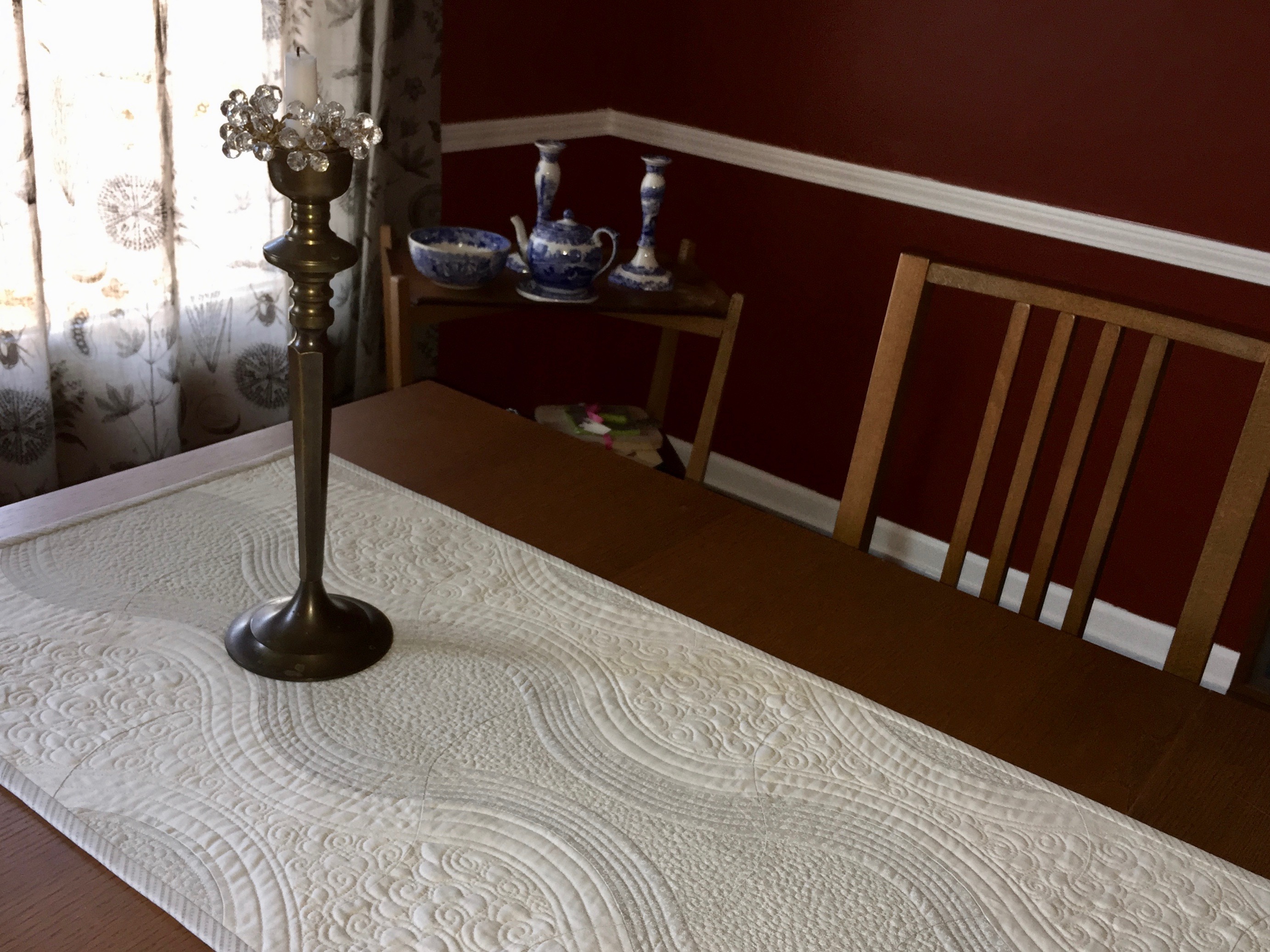 I think I like it. What do you think?
I don't often use a kit these days, let alone follow a pattern but it was a fun project to do and it turned out really well. I might even try another apple core quilt some time!