We came home Sunday evening and I have been busy…
Too busy to update my blog?
Well yes. But I'm doing it now, while I wait for the girls to arrive ready for the next adventure.
We left Sheffield for Hotham which is sort of between York and Hull in the East Riding of Yorkshire. Complete with War Memorial, pub AND bus shelter it has everything you would expect of a small English village!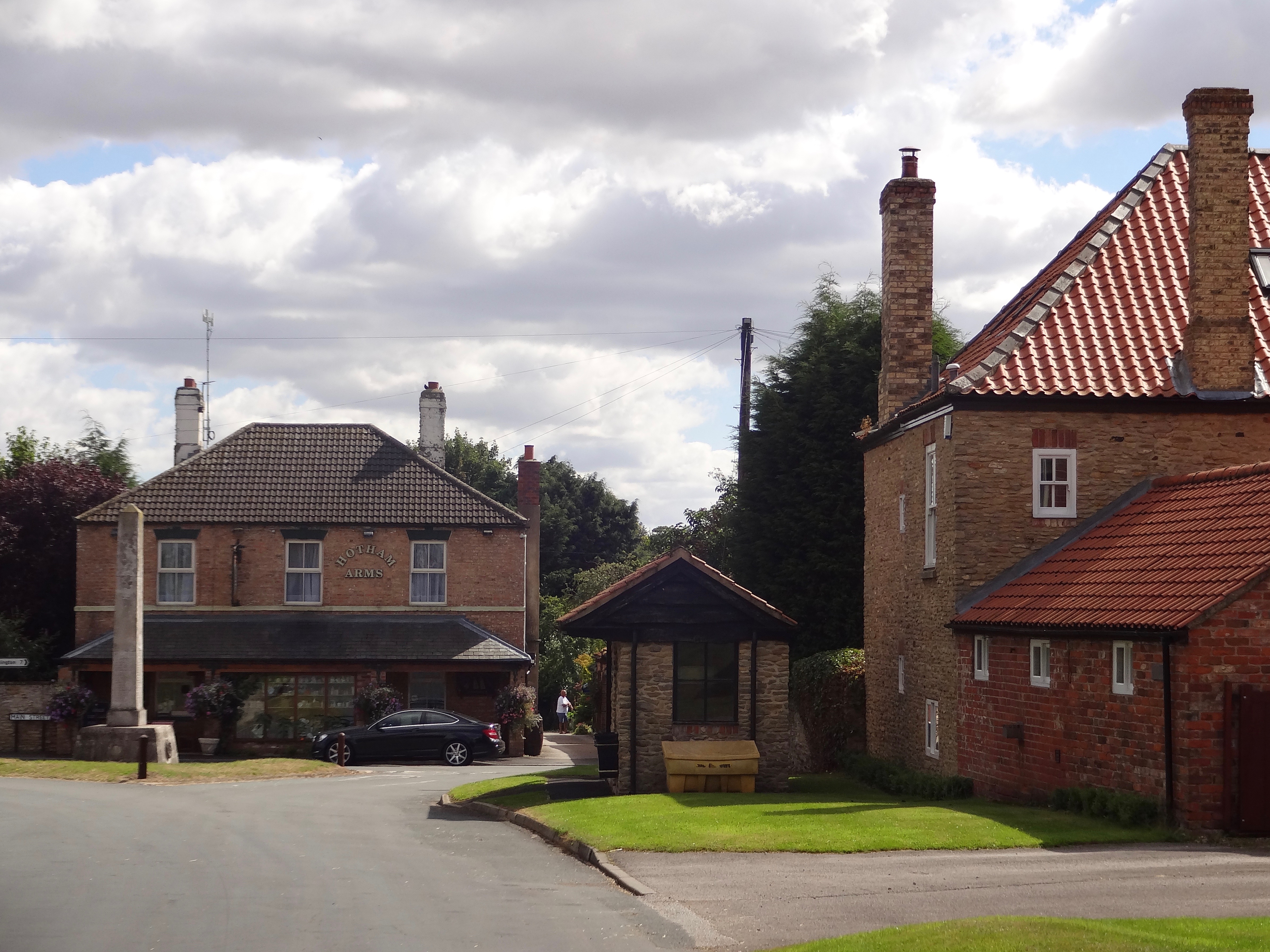 It also happens to be the home of Steve's sister, Ali. Steve soon made himself at home, logging in and getting to work while our great niece did a little coloring at the kitchen table.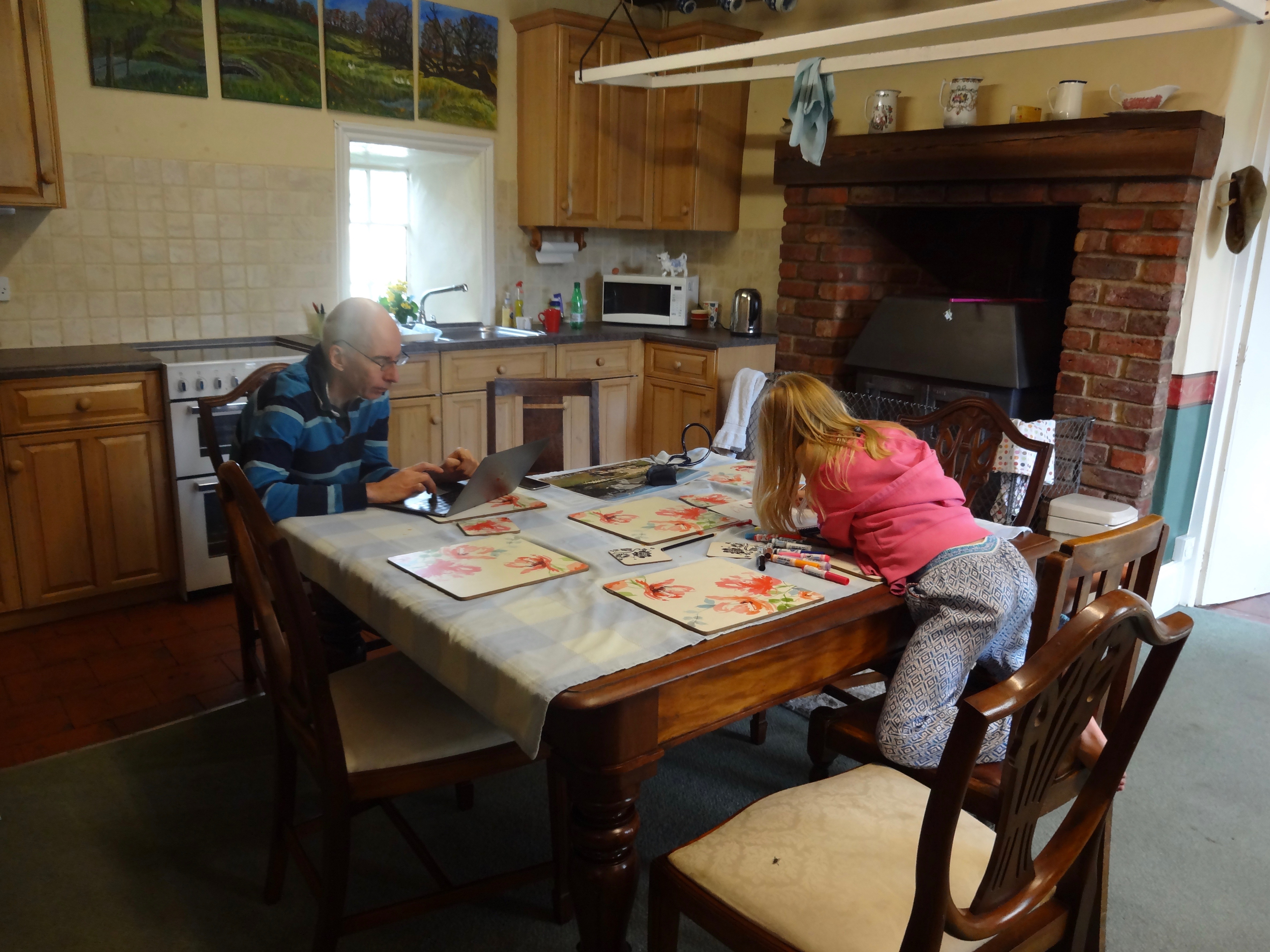 Of course we went for a walk around the village, past the church…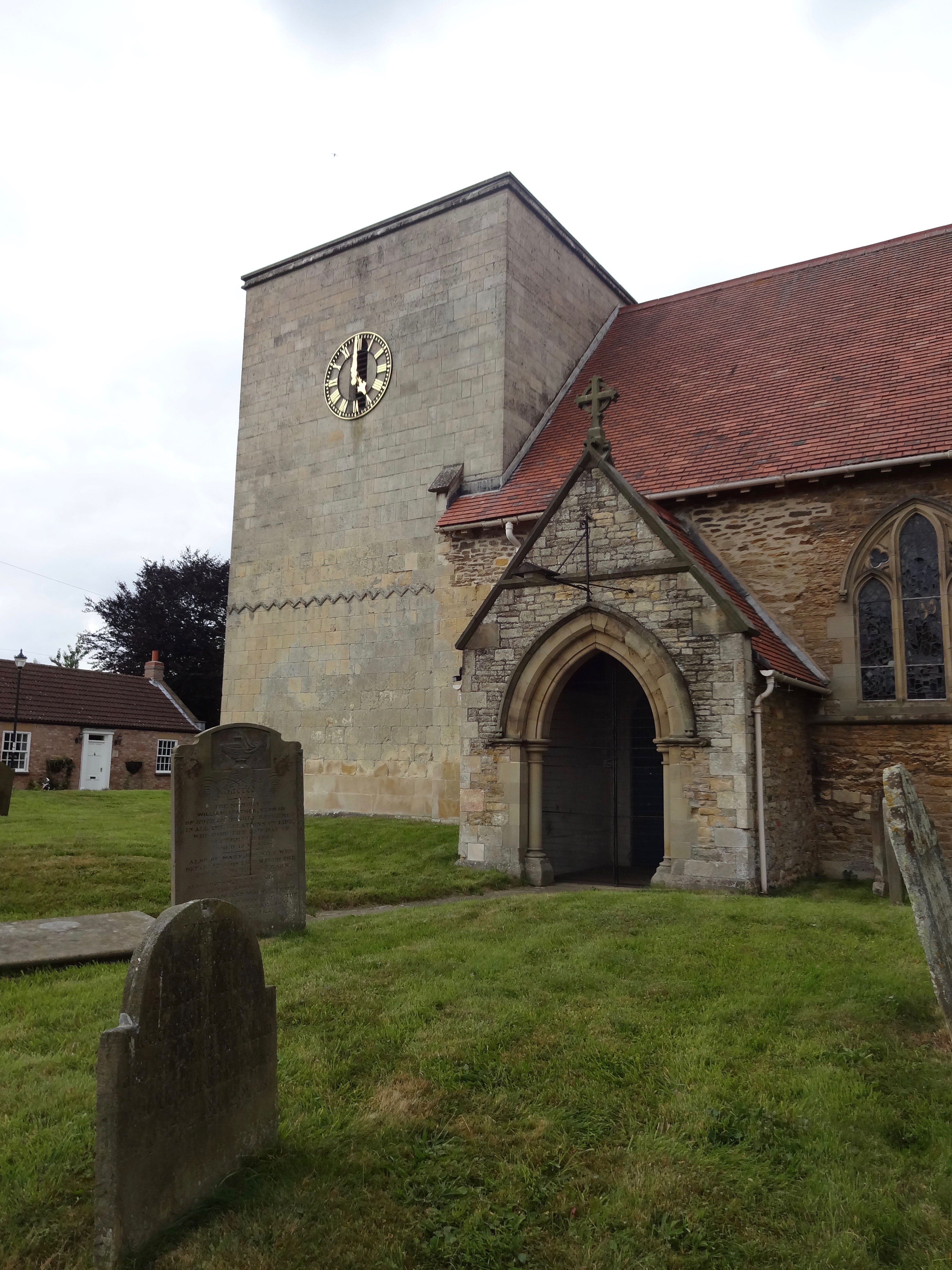 St. Oswald's is a Grade II listed building with a restored tower dating back to the early 12th century. Details are listed on the Historic England site, if you are interested.
No trip to Tom and Ali's is complete without a real fish and chips dinner!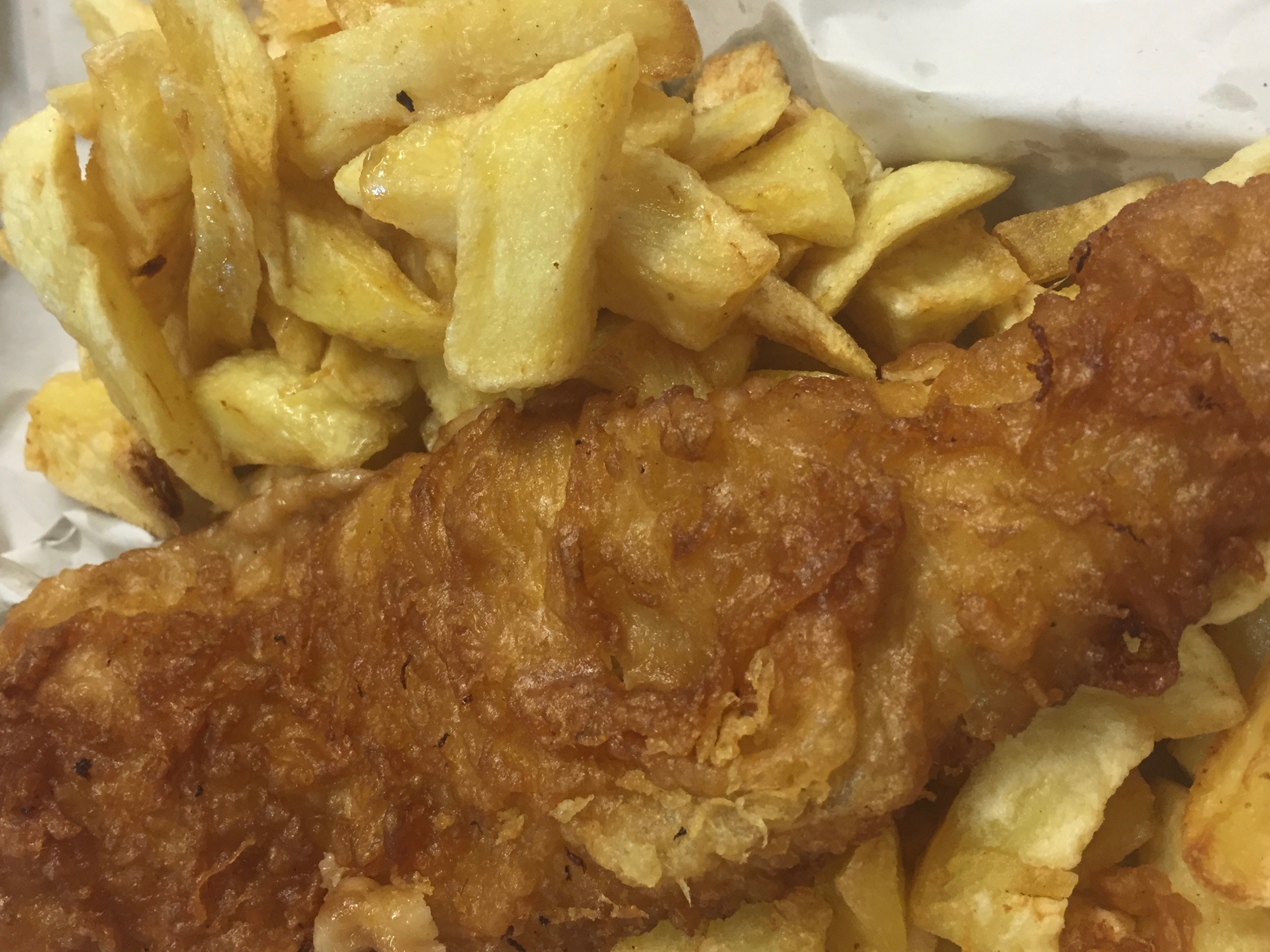 Yum, yum!
Time for another quick walk before we bid farewell to the farm. The geese came out to say goodbye.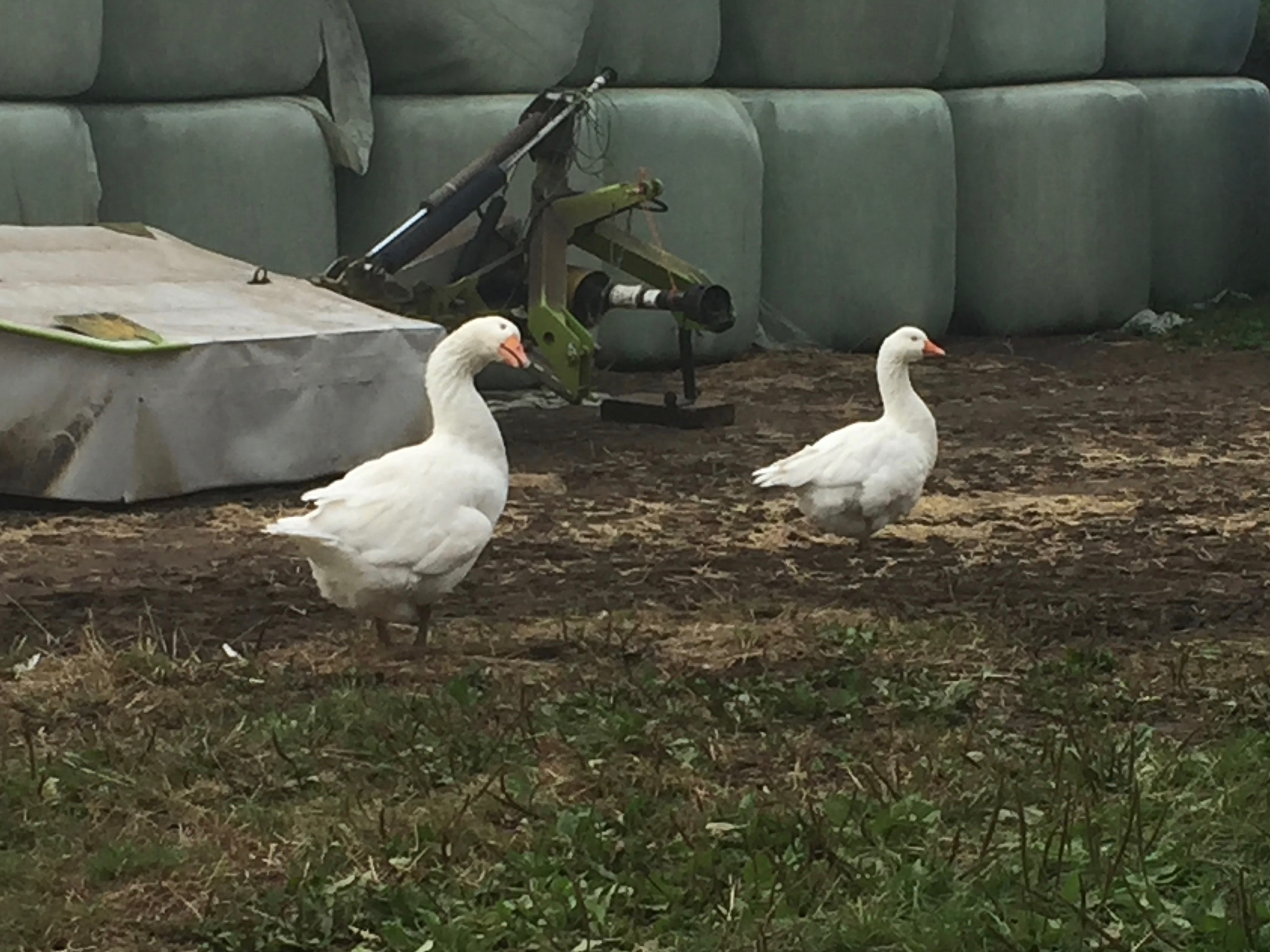 Next stop Birmingham and the National Exhibition Center ready for the Festival of Quilts. We checked in at the Hilton which is a short walk from the NEC.
I set off, following the blue line on Thursday morning.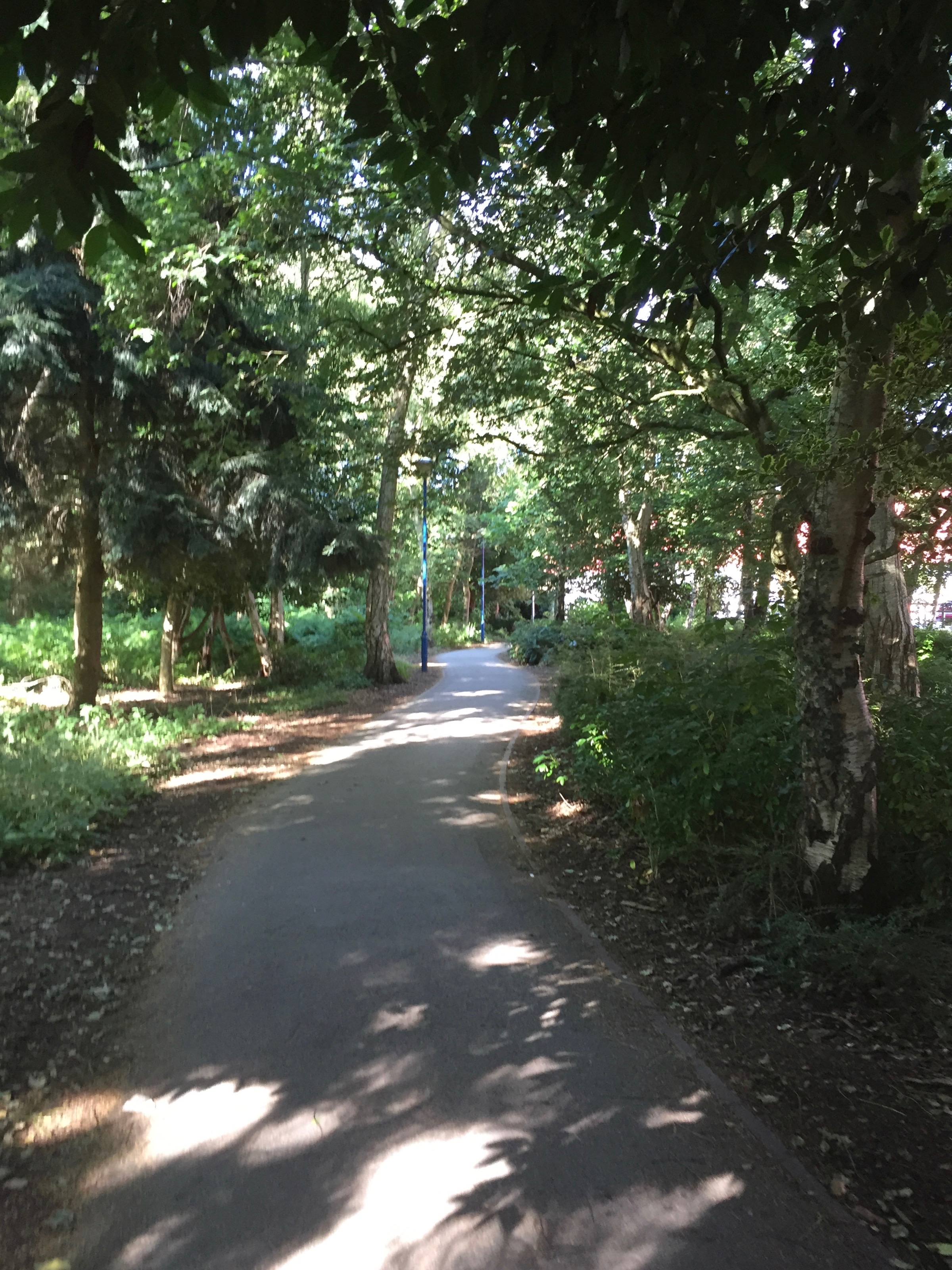 And on, around the outside of the building…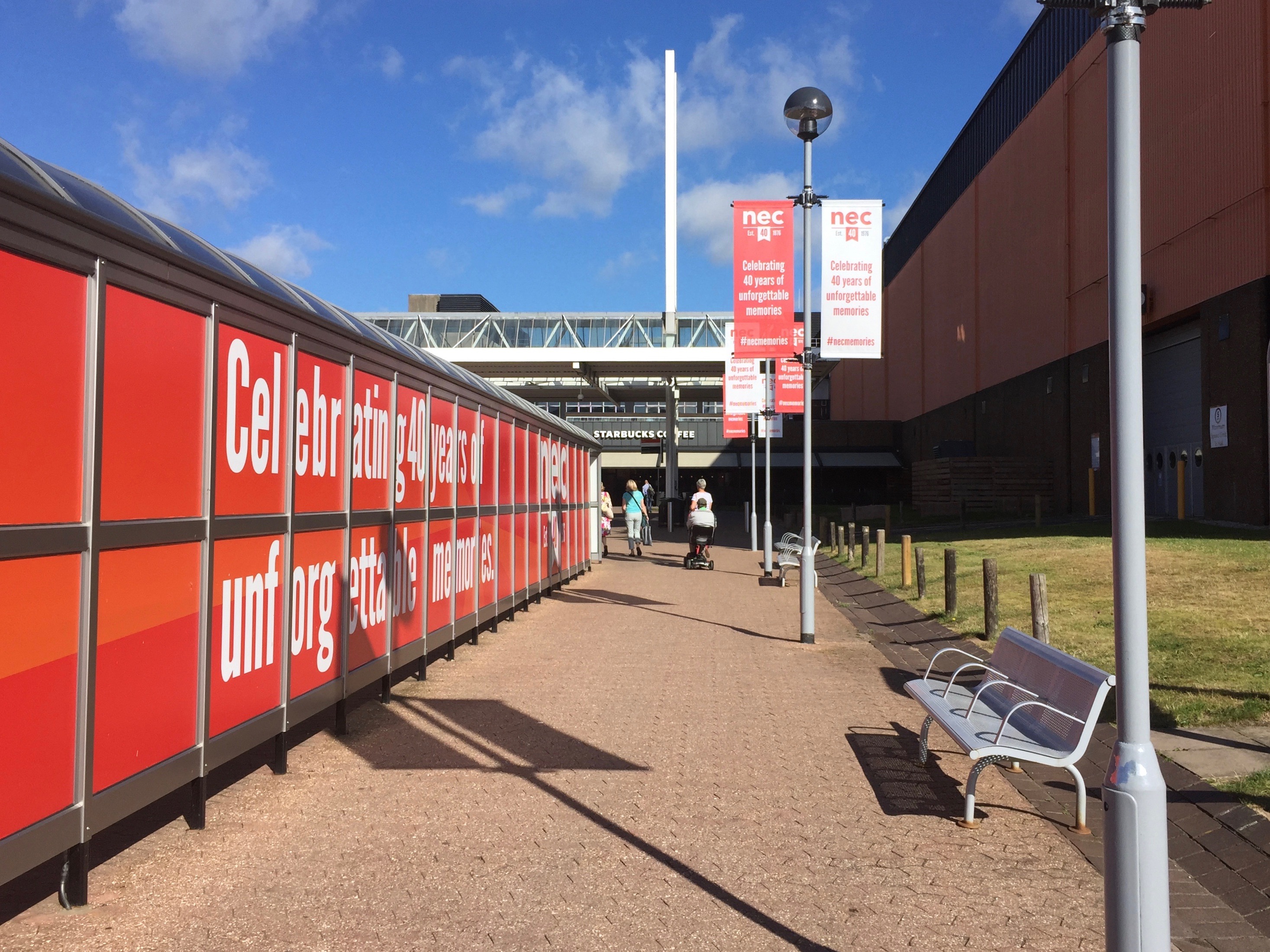 Now I'm getting closer! There was a long queue waiting patiently to go in…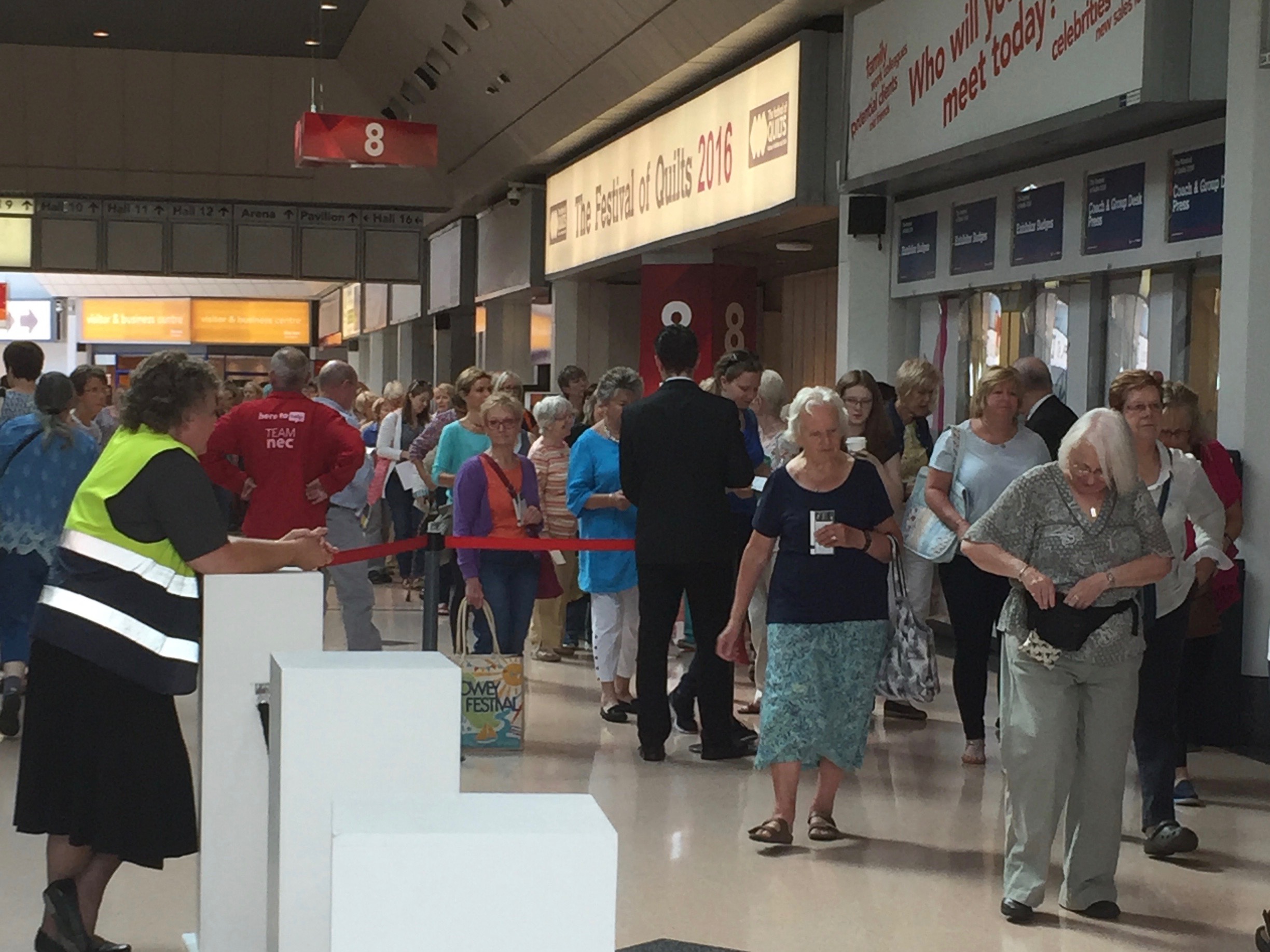 Inside I found Penny Jeffries and her mum, Belinda. Last time I saw them I was in Pasadena at QuiltCon. Penny is a graduate of Bath School of Art and Design and was specially selected to have a display of her wonderful work.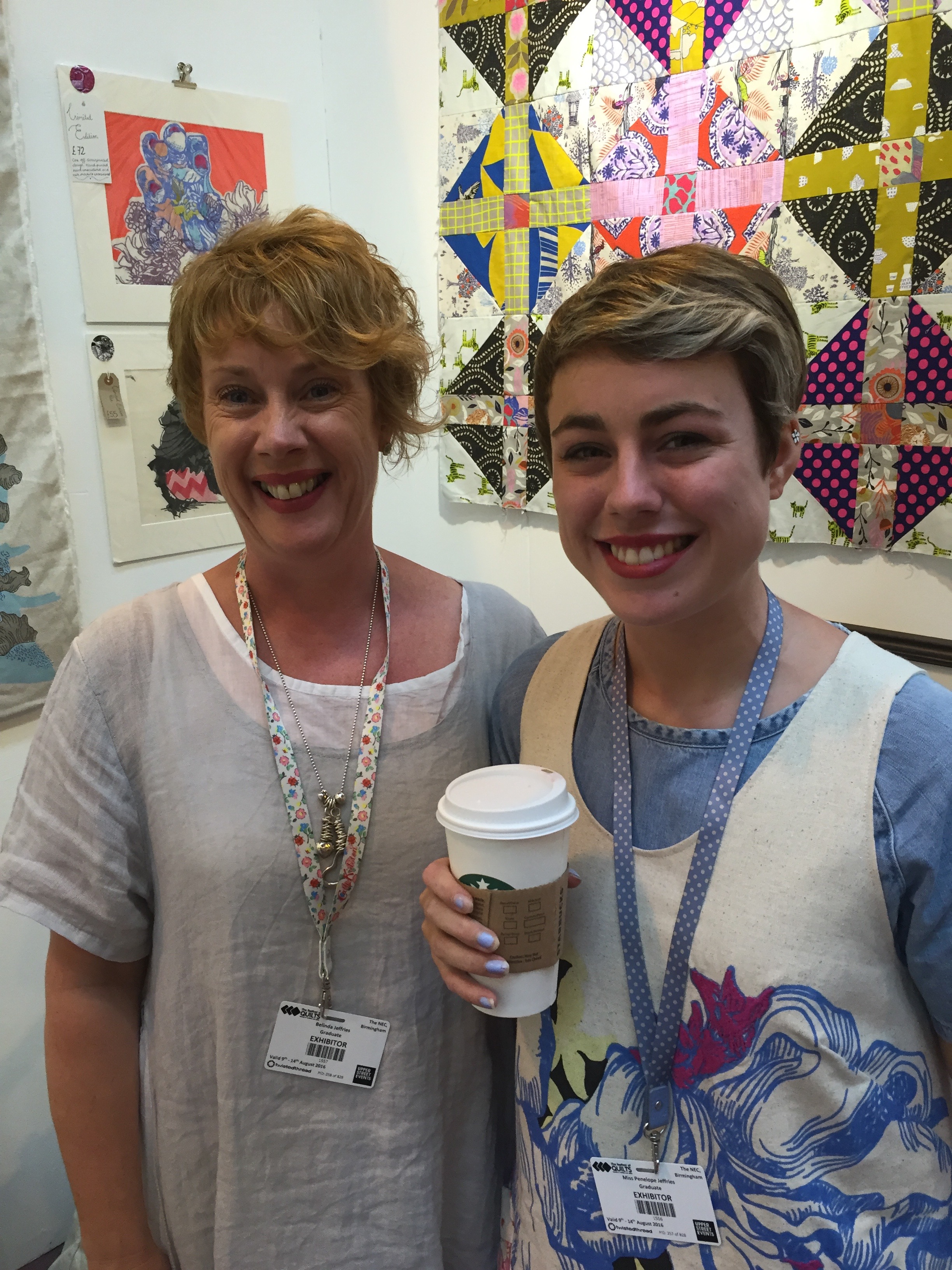 Not a lot of time to stop and chat, there was so much more to see.
The BERNINA booth was busy. Who wouldn't want to have a go on the fabulous Q24?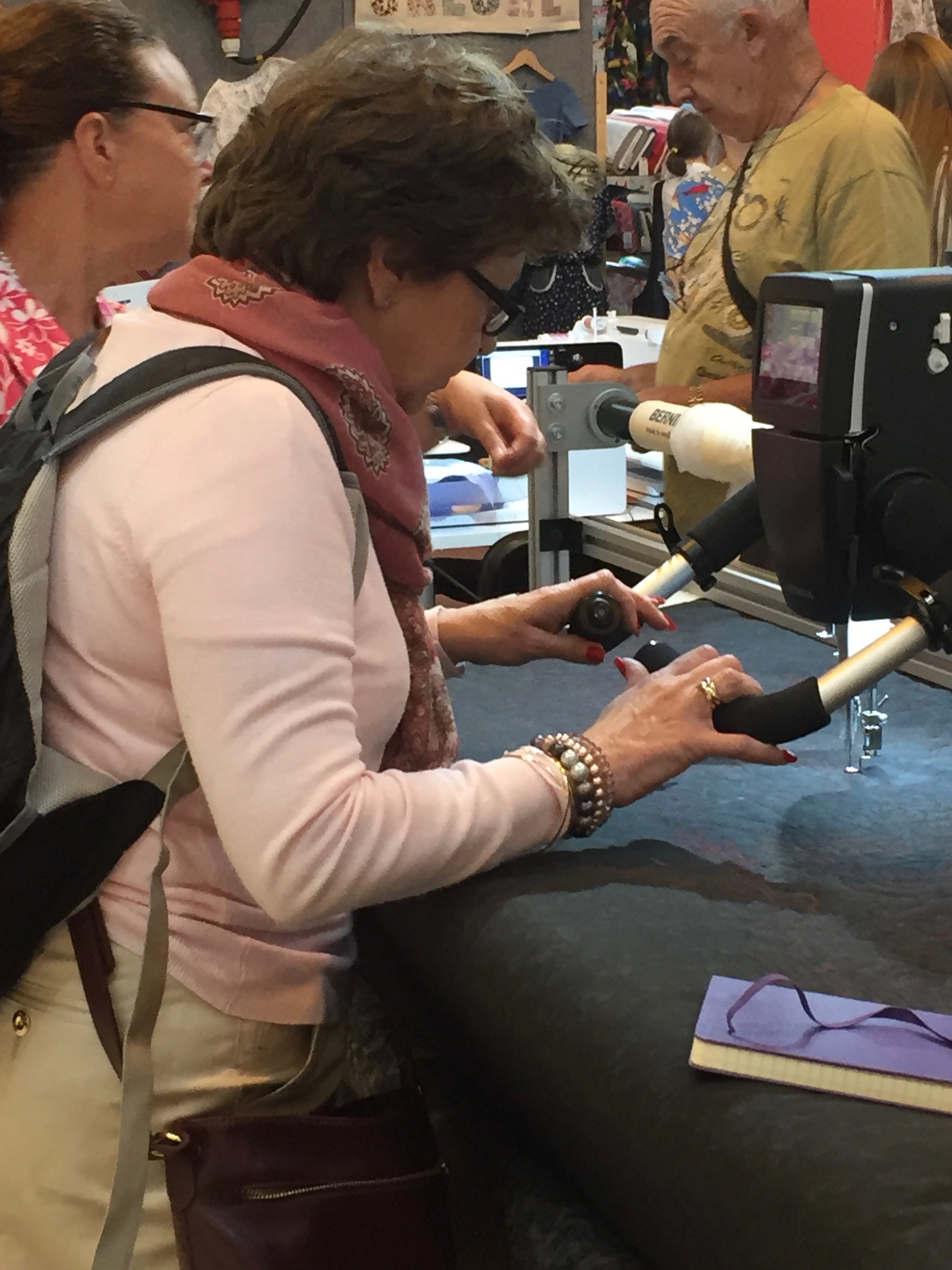 Kaffe Fasset was showing people around his exhibit of traditional inspired quilts.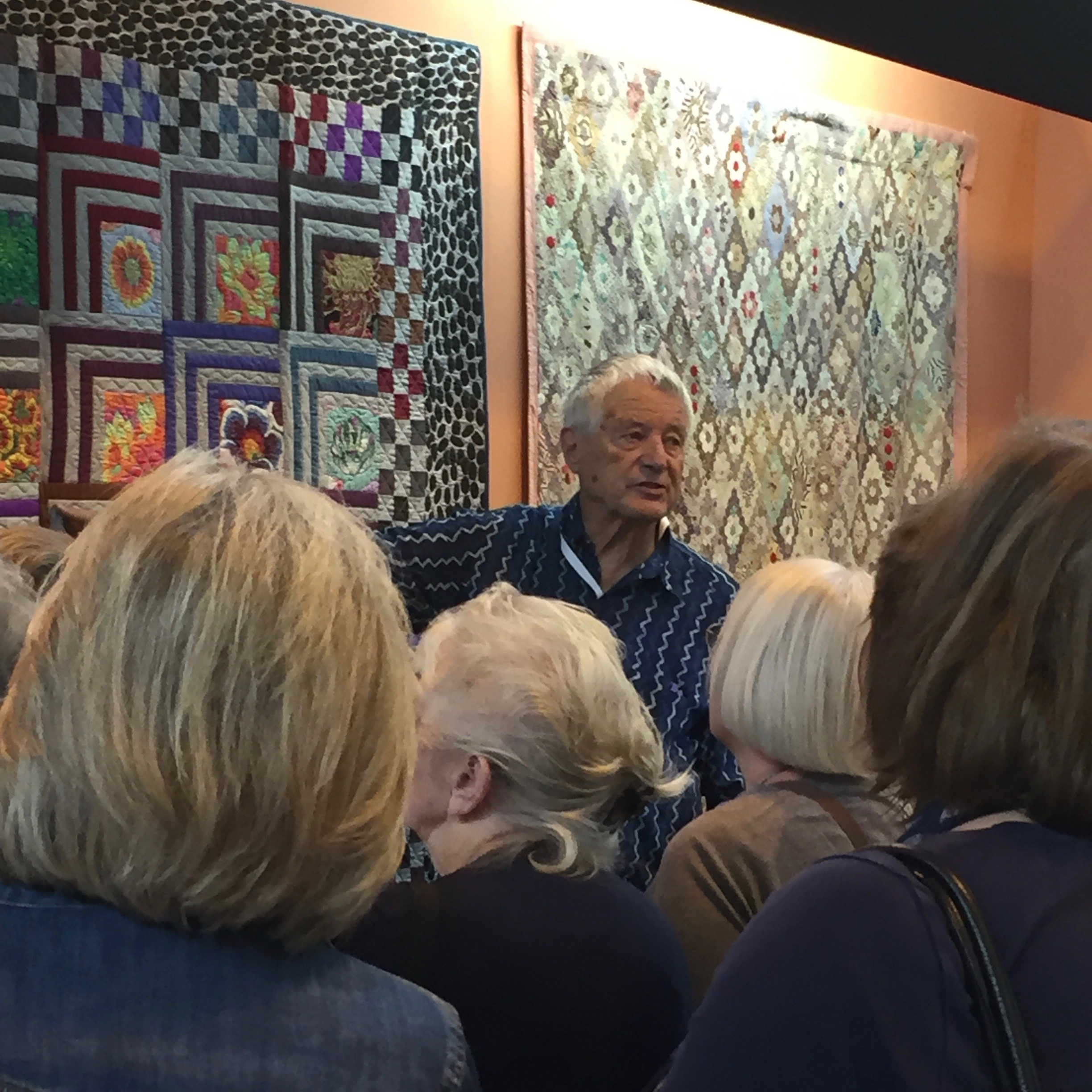 I stopped for a sit down in the Rowandean Embroidery  booth where there was a fabulous make and take opportunity. Pretty flowers on a colored tulle background with the owner, Katrina.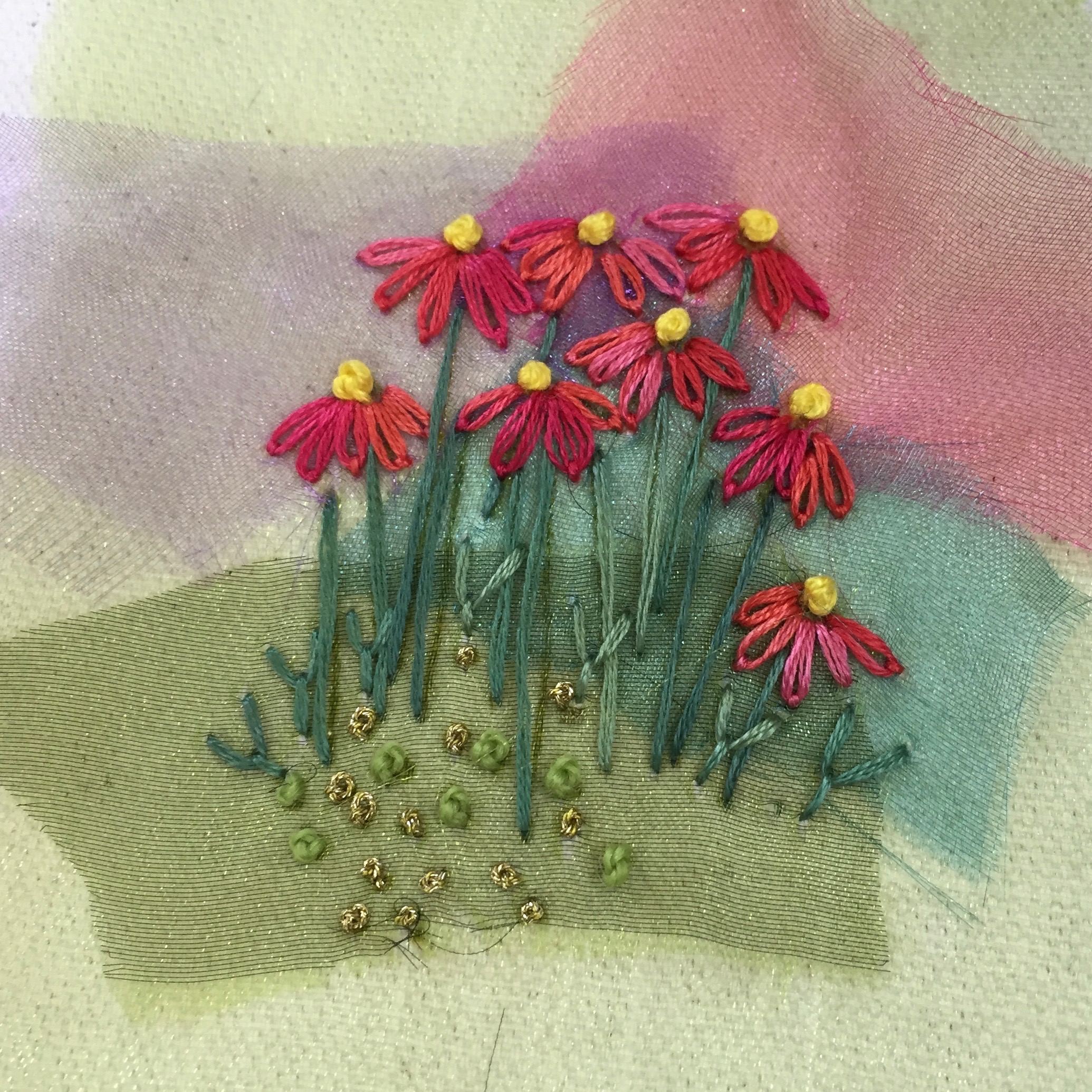 People had said it wasn't a very big show… Yes, it wasn't as huge as Houston but it was not a small show. There were a lot of quilts and rows and rows of vendors. I soon realized I was not going to get around everything in the time I had available.
Never mind, I think I got a good taste of what was there, enough to know that a return visit is in order, for at least two days next time. I took some quilt pictures but I'll just post one here.
This deck chair quilt was the winning entry in the Secondary School category. It's called Sittin' in the Morning Sun and was made by the pupils of Burgess Hill School for Girls.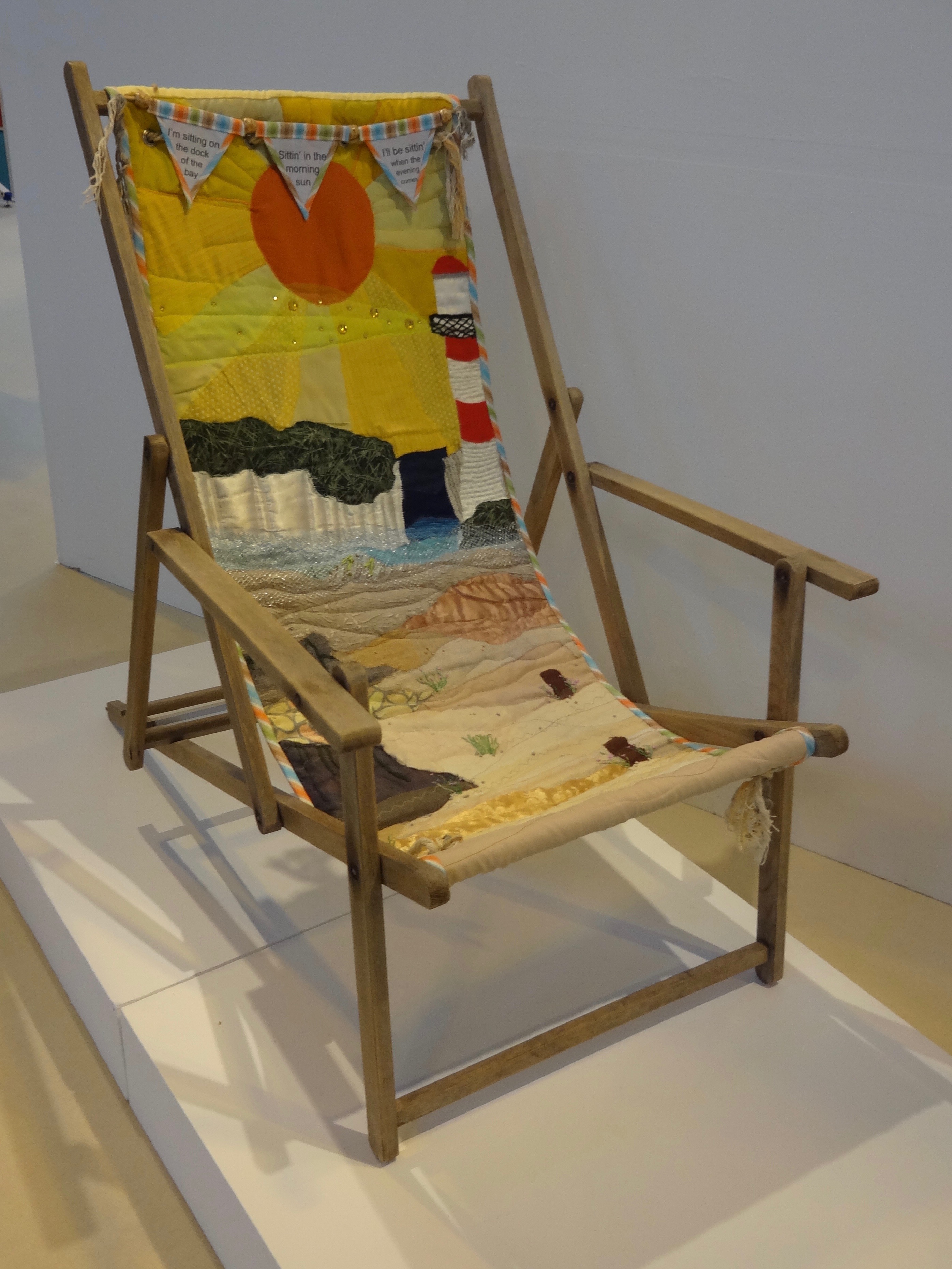 Time to retrieve Steve from the hotel and head into Birmingham to meet a friend from my school days.
Rosemary and her husband took us on a walk around the city. (It included three pubs so we were well hydrated.)
Here's the library.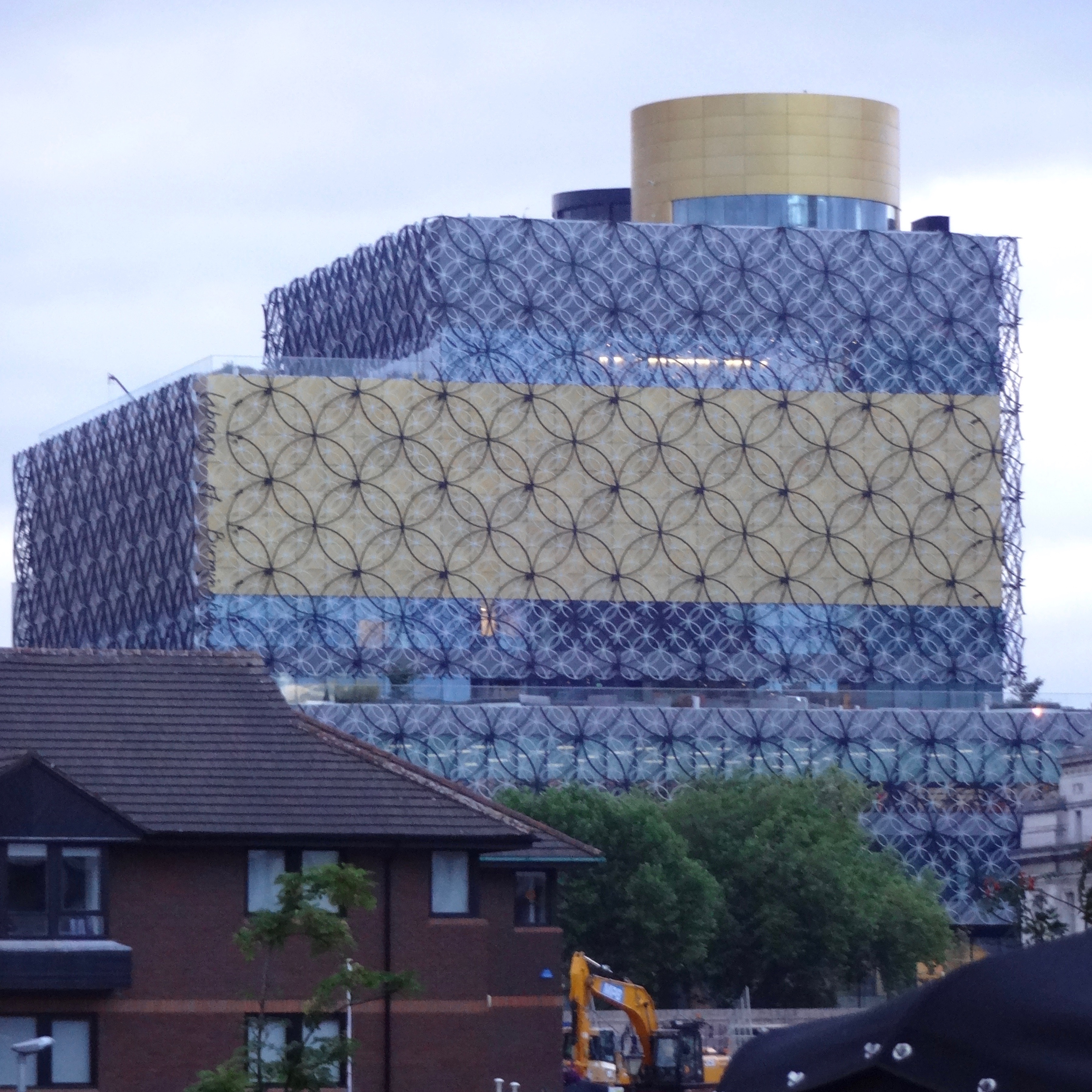 The Cube building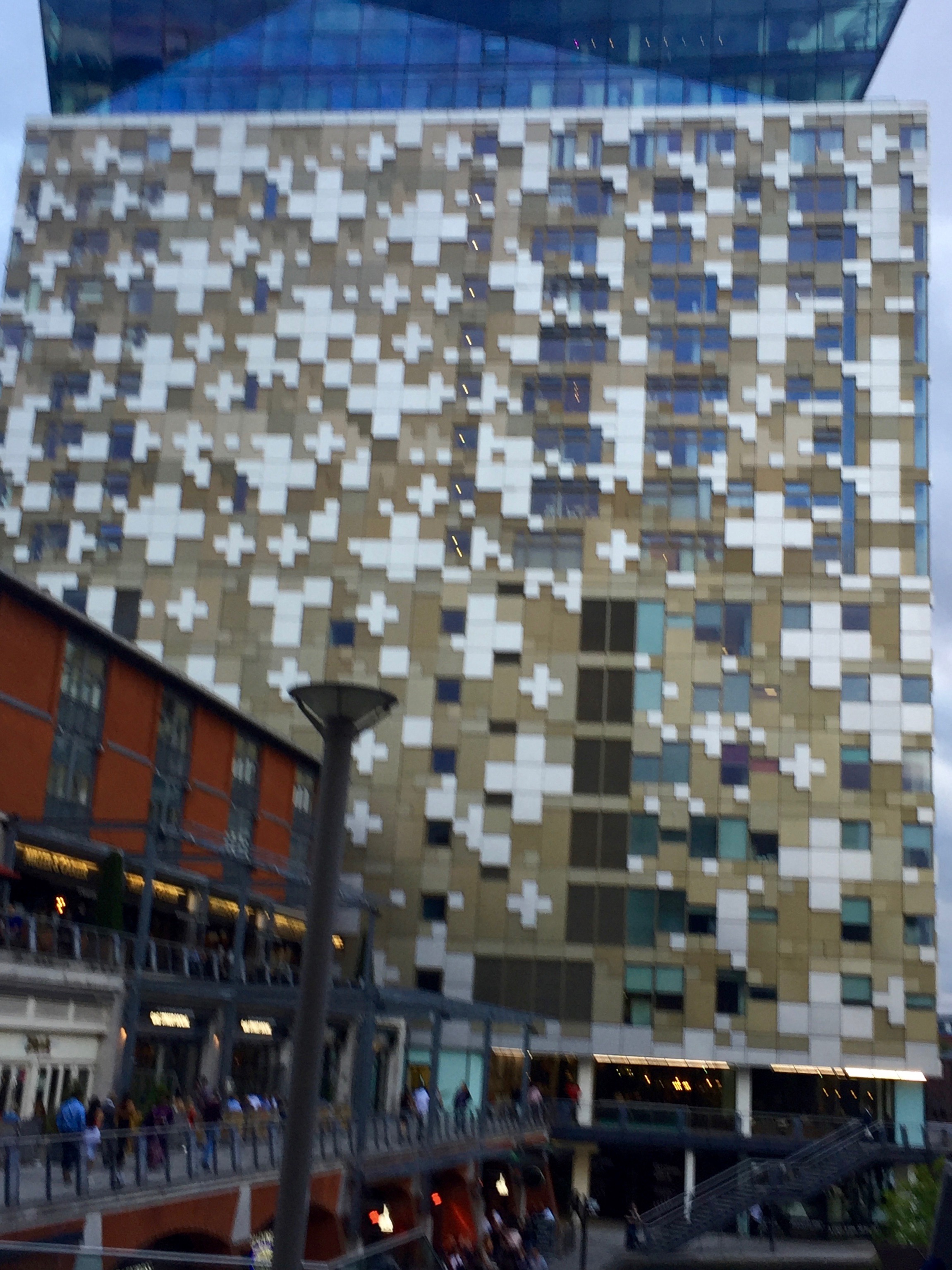 Inspiration for a quilt?
We walked along the canal.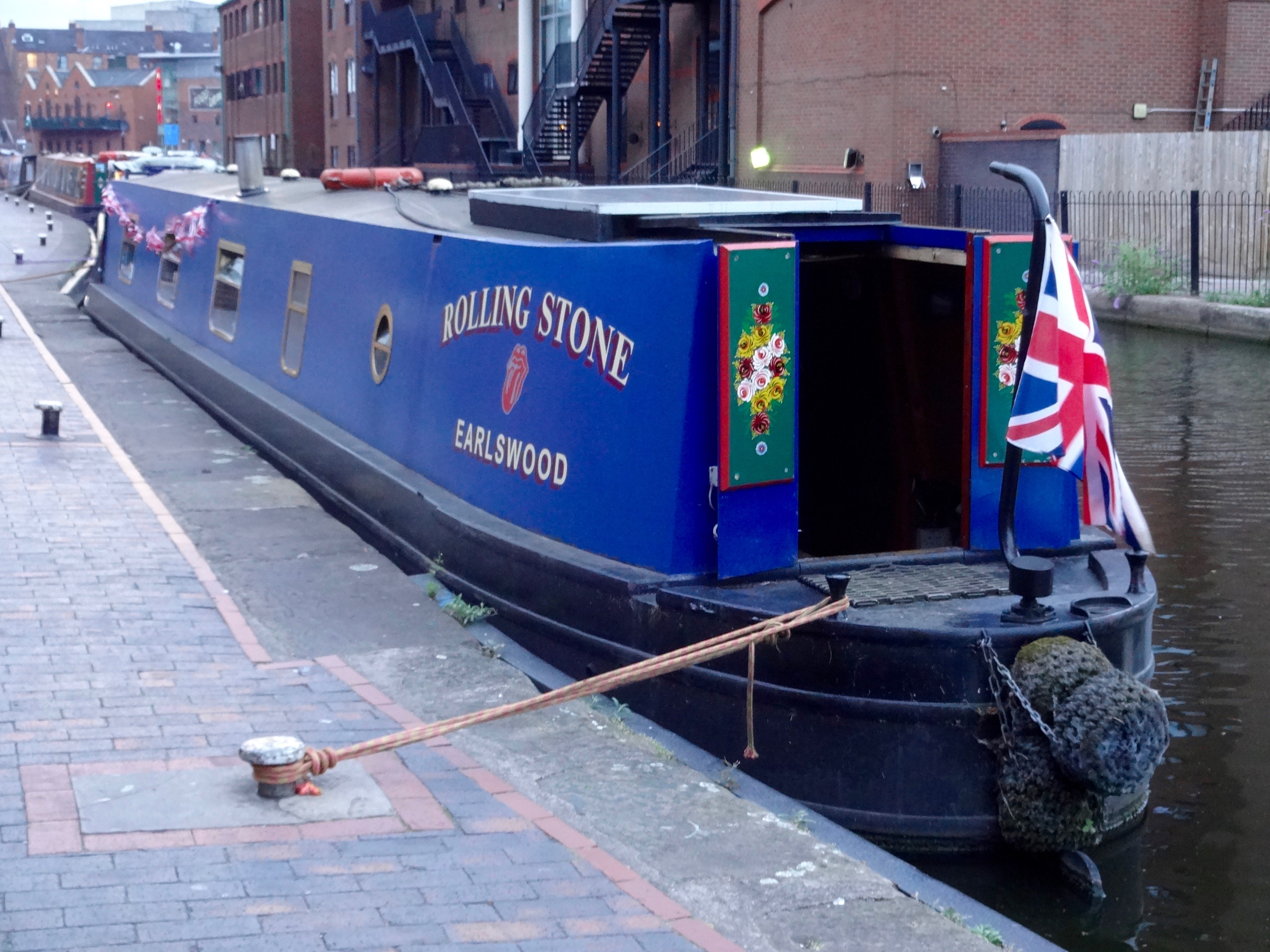 Very pretty as the lights came on…
It was a super evening. My Fitbit celebrated yet another day of exercise!!
On Saturday we headed back North again for a Redford family get together. That means croquet on the lawn…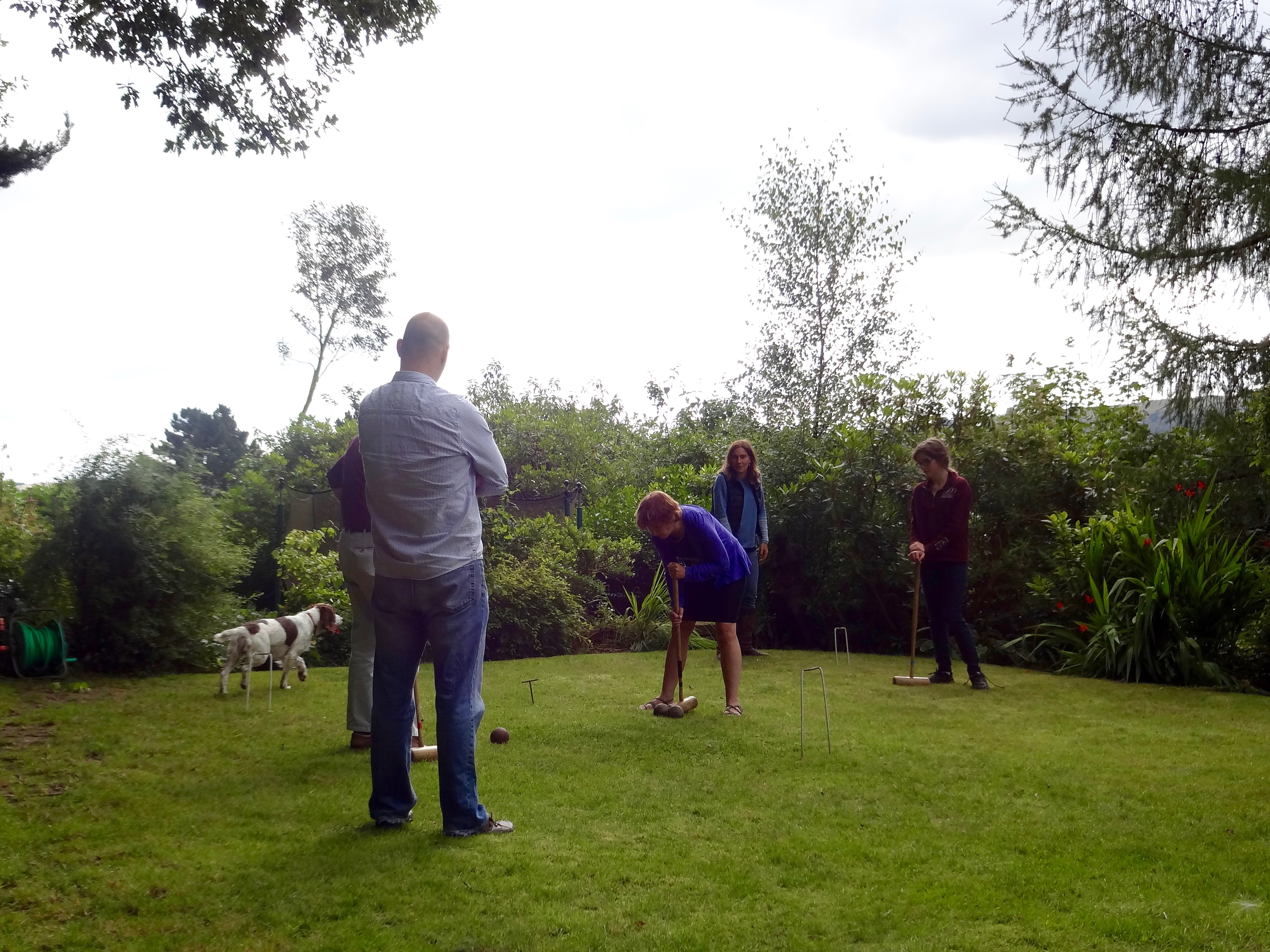 It's a vicious game, not one my family played growing up so I just watched!
One last photo of Steve and his parents.
And then back in the car for the airport hotel.
A last pint of John Smiths!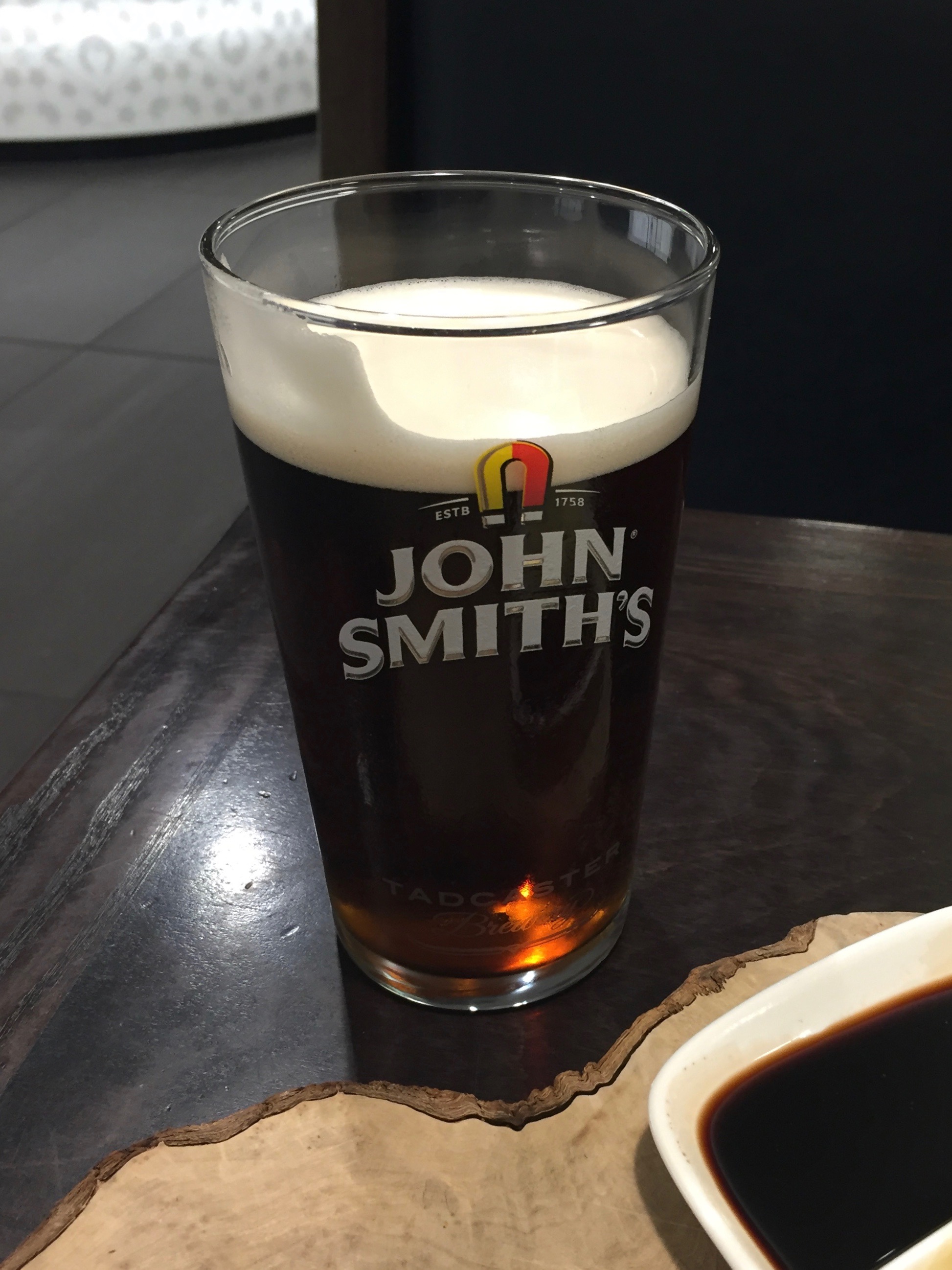 Sunday morning we took off over Knutsford where the harvest was in full swing.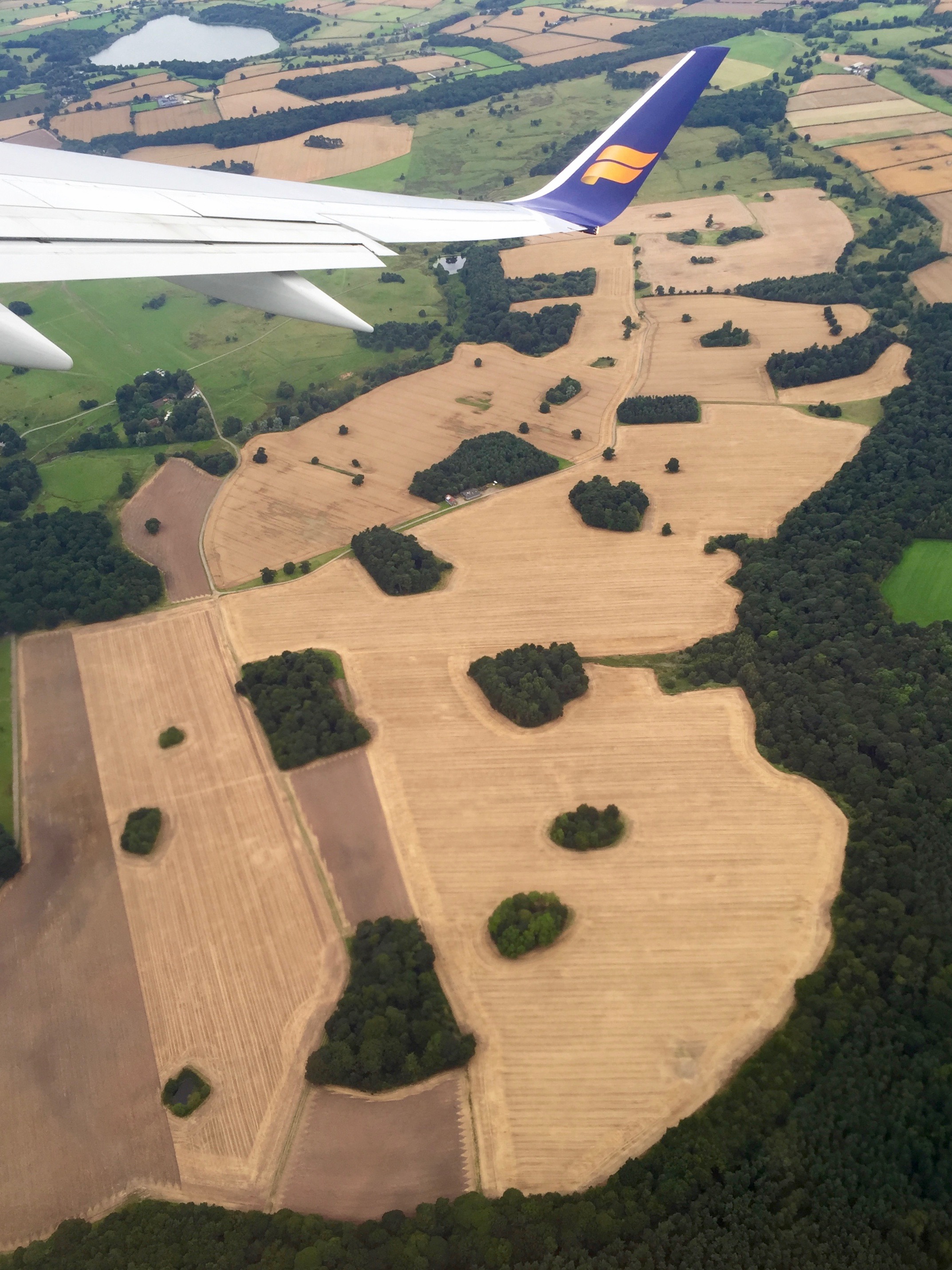 It was cold, wet and windy at Keflavik when we switched planes. I was glad we had made our stop over on the way out. We were only outside for a few minutes when we deplaned into busiest get to the terminal and that was long enough!
I stayed awake all the way over Greenland this time. This picture is on the West coast where the ice sheet gave way to some lakes and bare mountains.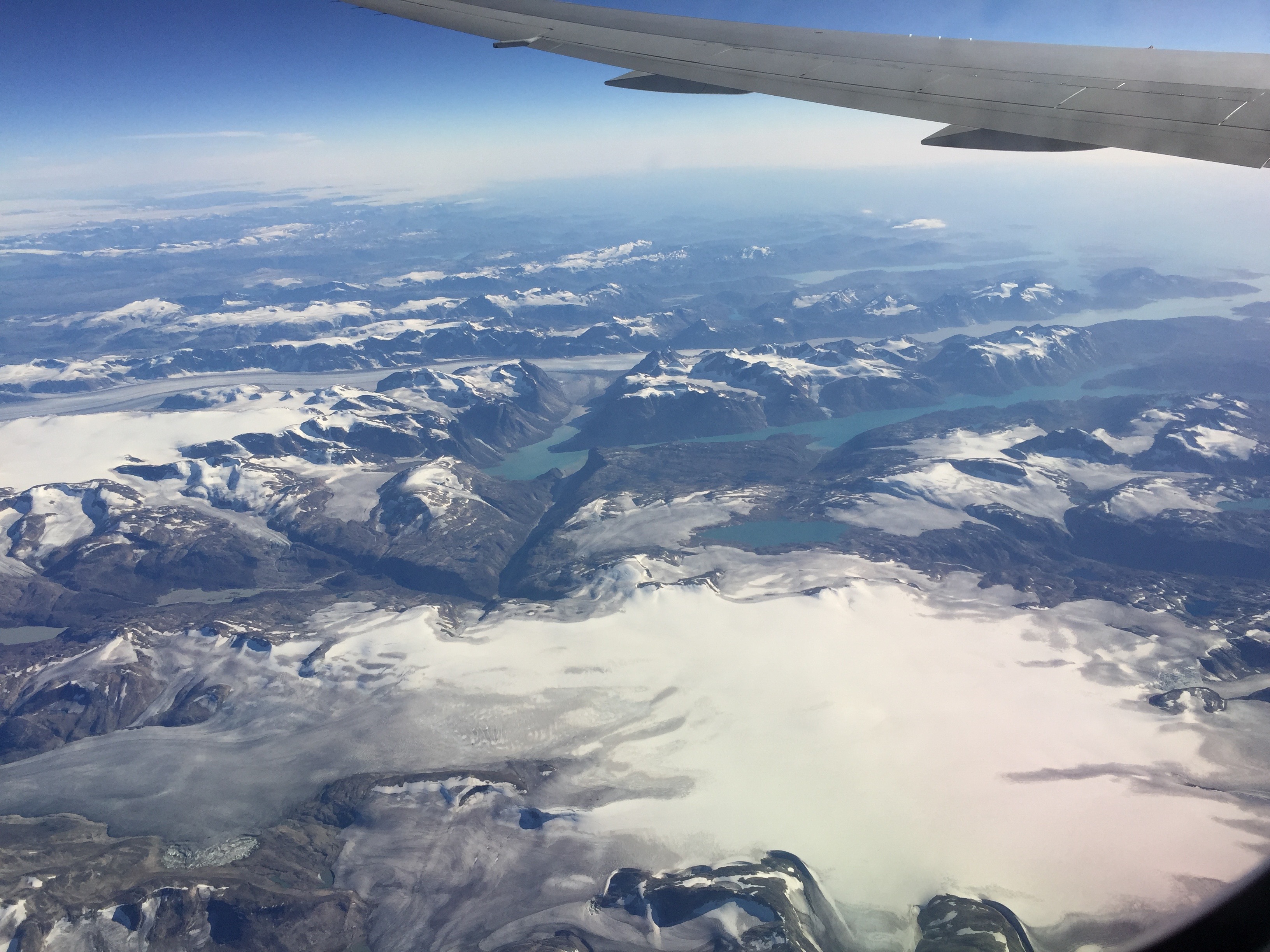 Back to O'Hare and the delights of Immigration and Customs and on to the train for the long stay parking.
A beautiful sunset to welcome us home!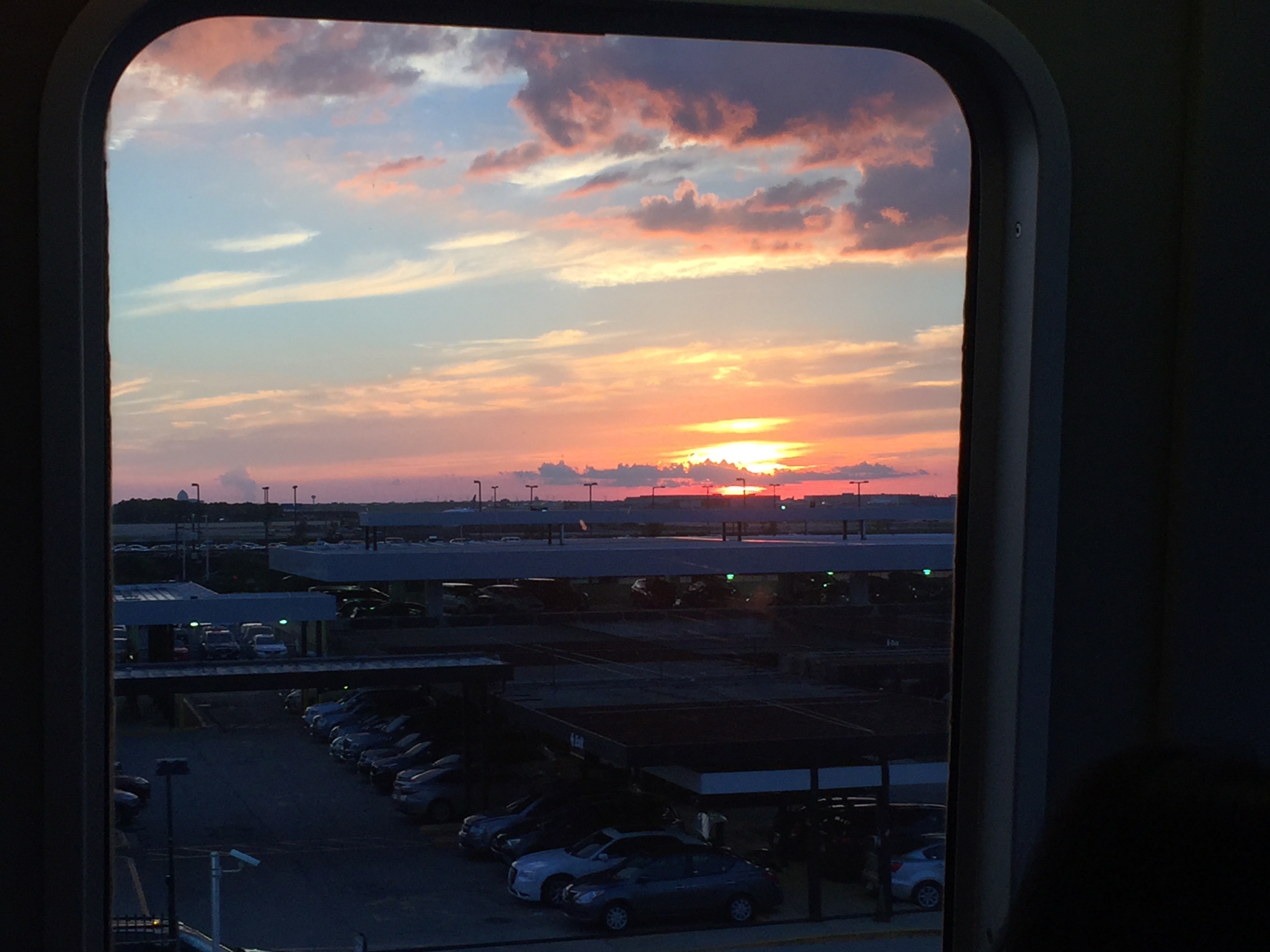 And to what counts for normality…
I've finished a couple of projects this week, signed up for two future guild outings and worked on book edits. No time for jet lag. Tomorrow morning I'm off to Nashville with Julia, Joanne and Sarah for Lauren's baby shower. We come back Saturday evening and then I'll be off to Cedar Rapids on Sunday afternoon.
Yes, I'm living the dream!