It was about time I reacquainted myself with my sewing machine…
So, yesterday, I filled the dishwasher, put a load of laundry in the washing machine, watched the season finale of Downton Abbey…
and having run out of excuses went down the stairs!
Jean's quilt top had been sitting on the side for a few months. I said I would quilt it for her to donate to philanthropy at quilt guild. She only asked me a few times how I was doing… A good place to start?
I found a nice piece of fabric in my box for the backing and some Quilters Dream batting and soon got it pin basted. A few hours later and it was quilted too. Why not attach the binding? Then a quick wash and a spell in the dryer and it was finished! That wasn't too difficult.
Here it is looking all warm and cosy against the sprinkling of snow we got last night. Jean is a master of the scrap quilt. Virtually no pieces are too small or too odd for Jean to include in a quilt. This one is a study of all shades of greens set off with a red and white check in the sashing and binding.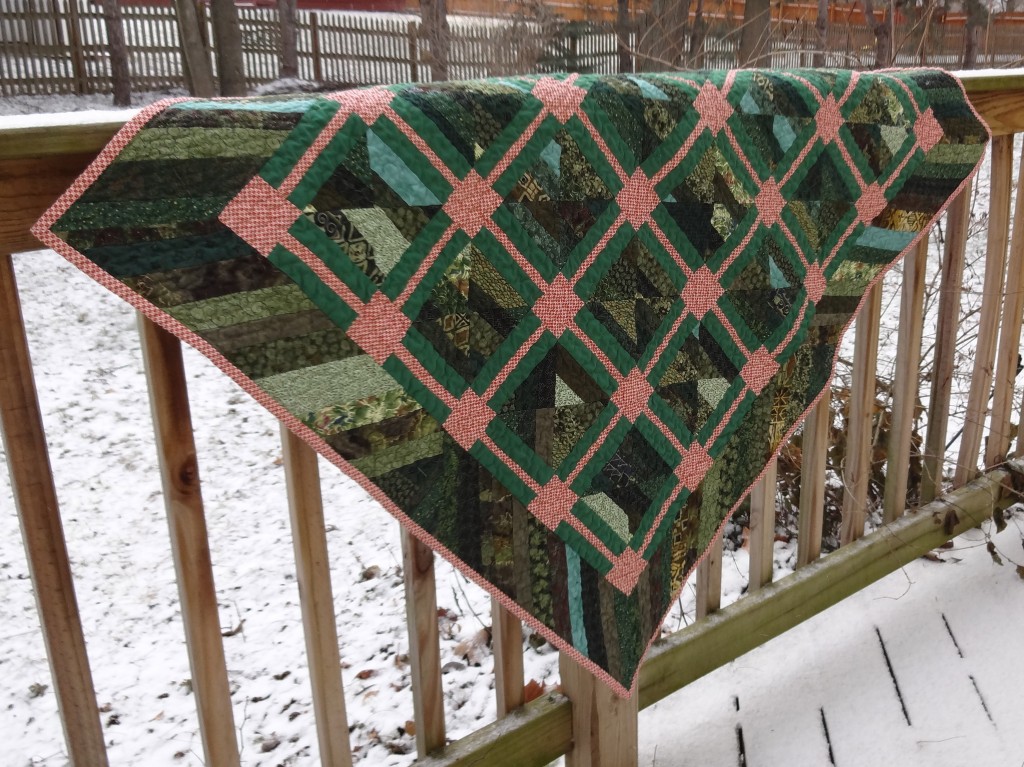 I just used my number 4 stitch, widened and elongated, for nice wavy line all-over quilting and 30wt Sulky Blendable thread. With the Dream Cotton batting it's super soft ready to keep somebody warm in the near future.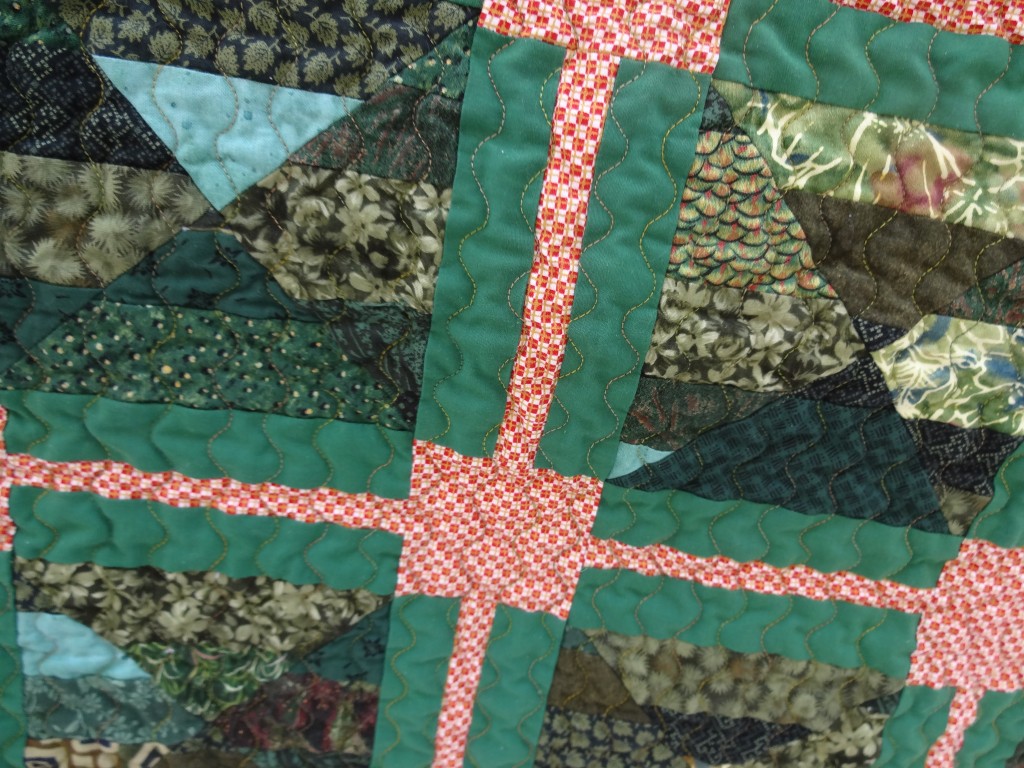 What next? My stack of log cabin blocks from December have been waiting to be stitched together. It did take me a while to decide what to do with them. With no advance planning and no extra of the printed fabrics I just had to make them work. We need 36″ finished square quilts for our log cabin challenge at Naperville Modern Quilt Guild…  I added 32 solid squares to the 32 pieced ones. They each finish at four and a half inches so those logs are 1/2″ wide.
I think I like it. A sort of de-constructed barn raising setting?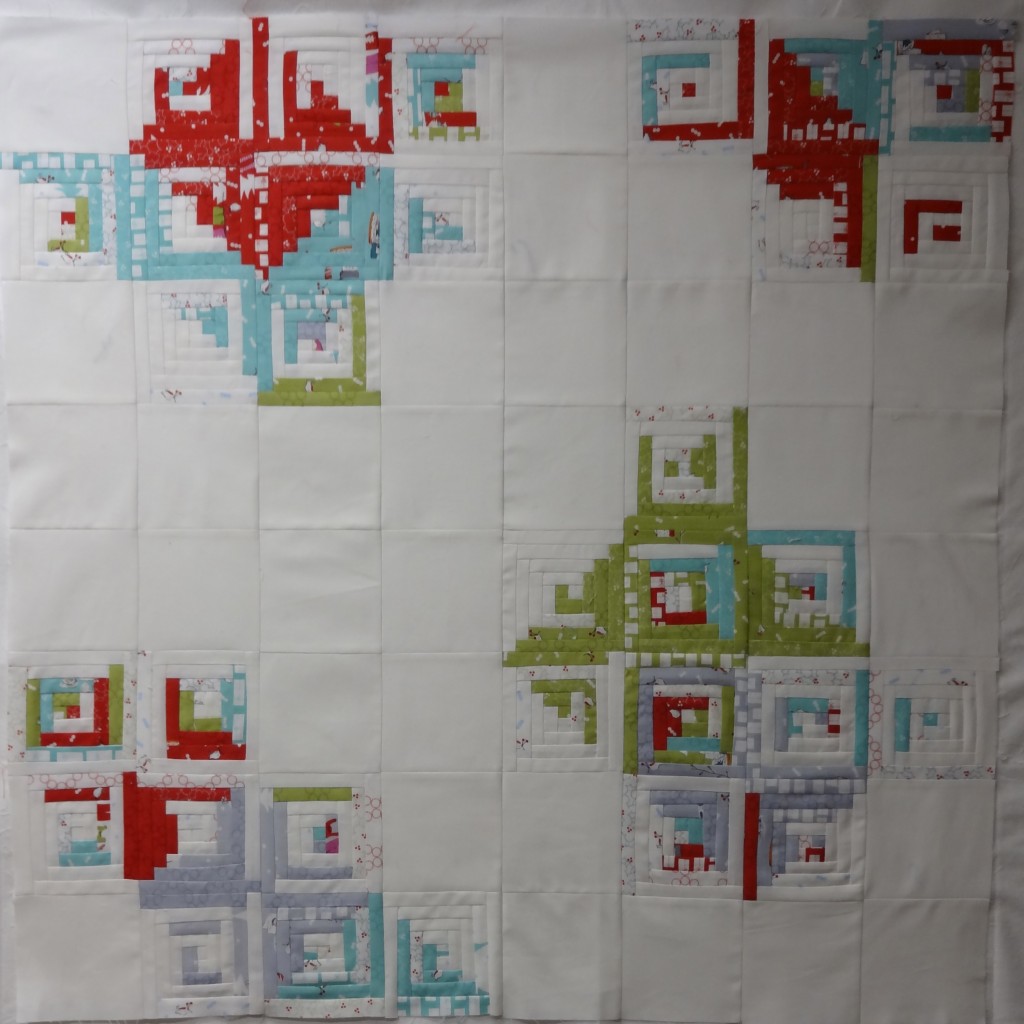 Now it's on the design wall, waiting for inspiration to strike on the quilting… I have some ideas but I think I will wait until I get back from QuiltCon…
I'm flying on Thursday morning. The excitement rises.