I said I'd show you what was happening in the other rooms while we were quilting at the weekend.
Students were given a choice of four teachers by the Greater Ann Arbor Quilt Guild at Quilt University 2017. When I saw the other classrooms I was amazed that I had had anyone in mine. Such varied offerings!
First up was Deborah Boschert. On Saturday she was teaching Techniques with Paint and Ink.
"Simple techniques and supplies, stupendous results! Cut freezer paper stencils, create foam stamps, print with found objects and make marks with pen and ink! We'll talk about shapes, pattern, repetition, and color. Students will leave with a beautiful stash of original fabrics ready to be used in art quilts, collage or mixed media."
There was a lot going on in her class room.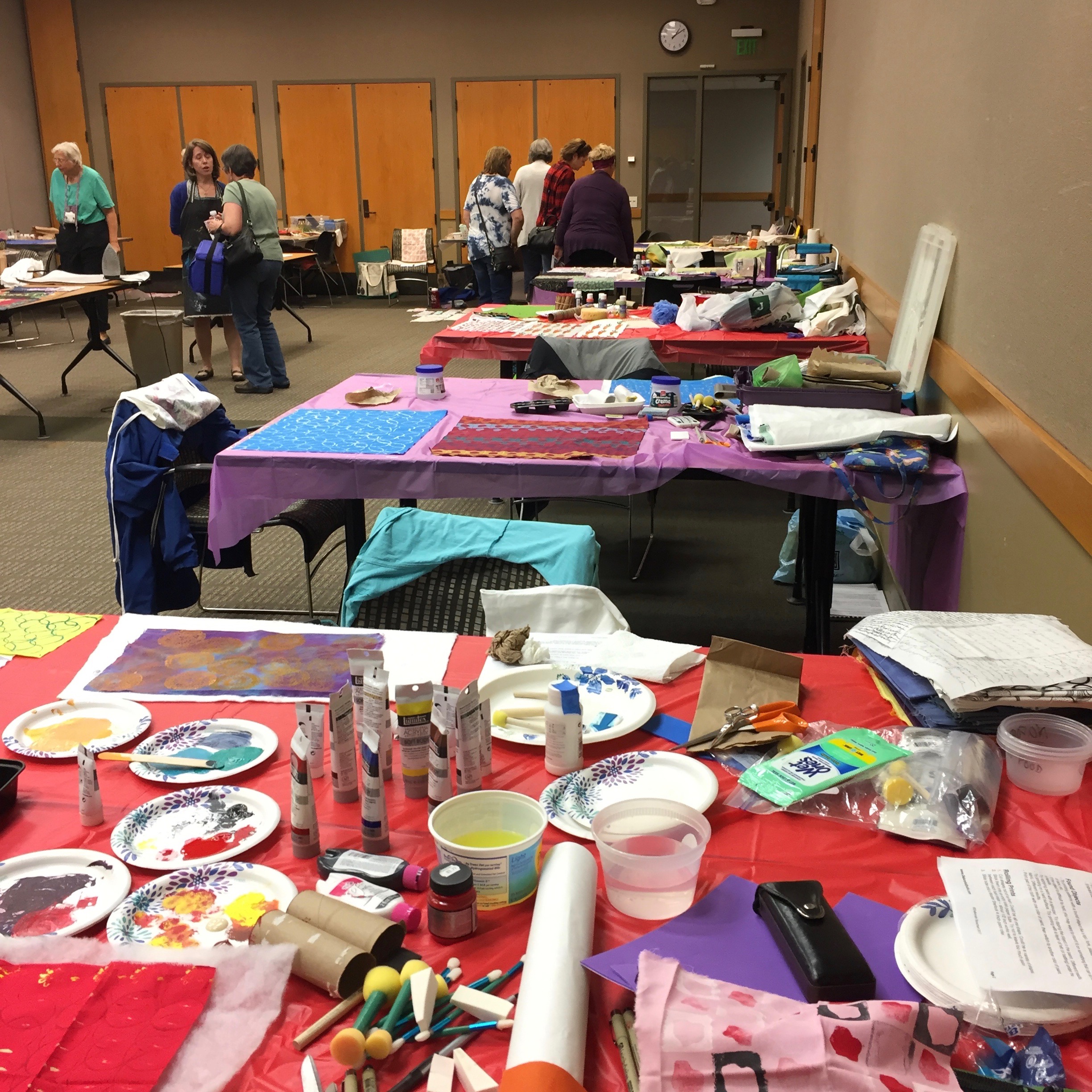 Everyone had a fabulous display of original fabrics at the end of the day.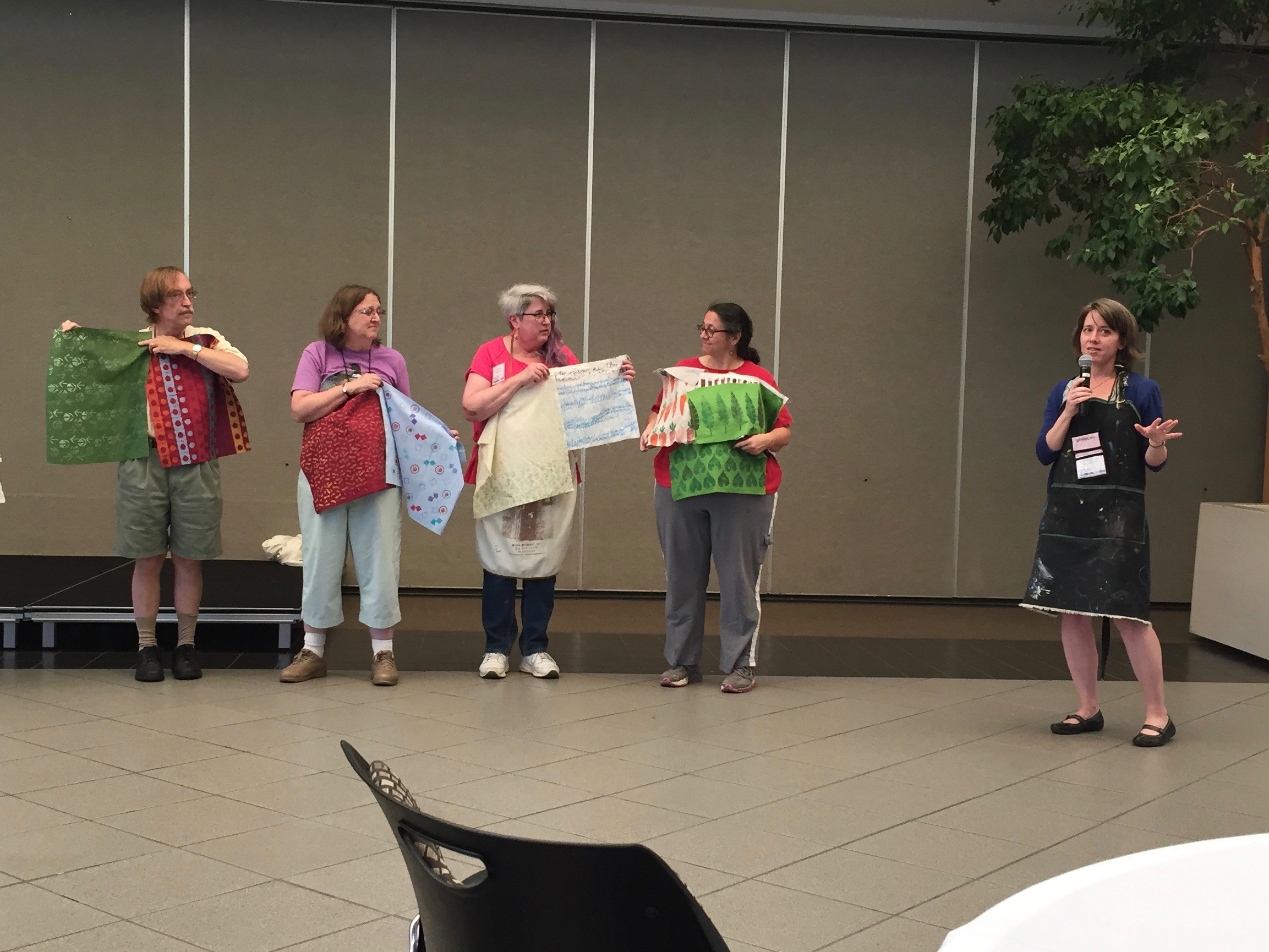 On Sunday it was Captivating Compositions for Art Quilts.
"Deborah introduces eight design guides that get the creative juices flowing. Look at examples of captivating compositions from fine art and the quilt world. Create a "sketch" for each of the design guides using fused fabrics. Learn to edit, audition and improvise using a super helpful design checklist. Explore adding details with machine and hand stitching. Your completed set of fabric sketches can be used as instruction and inspiration for future art quilts."
Here's some of the compositions in progress.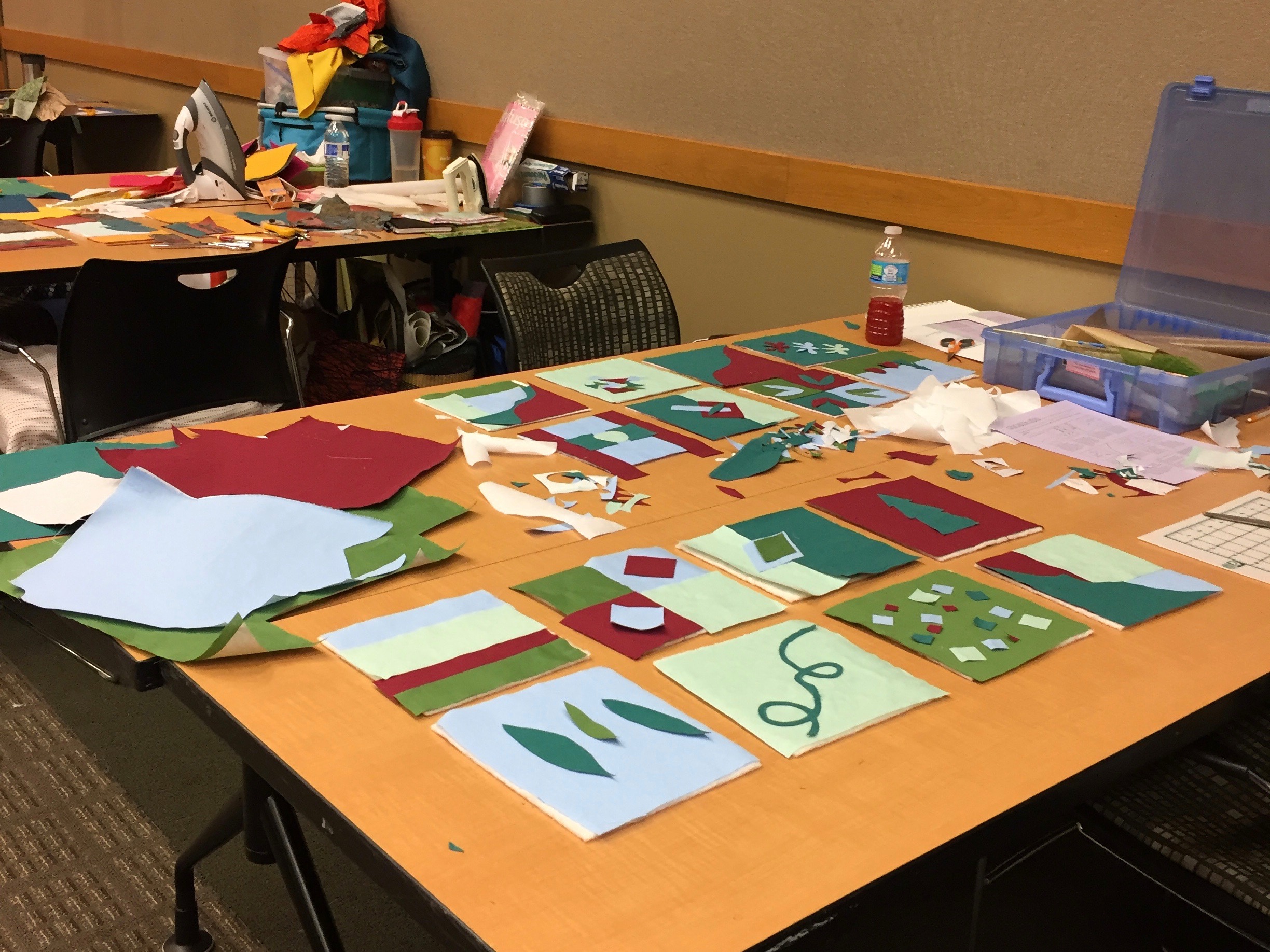 Two great workshops that got rave reviews from the participants.
On the other side of me was Dianne Hire. I found this introduction to Dianne at the AQS web site.
"Dianne S. Hire is known for her outrageous quilts, chaos and mayhem in workshops, fun, informative lectures, bold designs, and daring color combinations. She loves to be introduced as having the coloring sense of a first grader."
Dianne was teaching a two day class, Saturday and Sunday, Playtime: Intuitive design.
Here's the class room at lunch time on day one.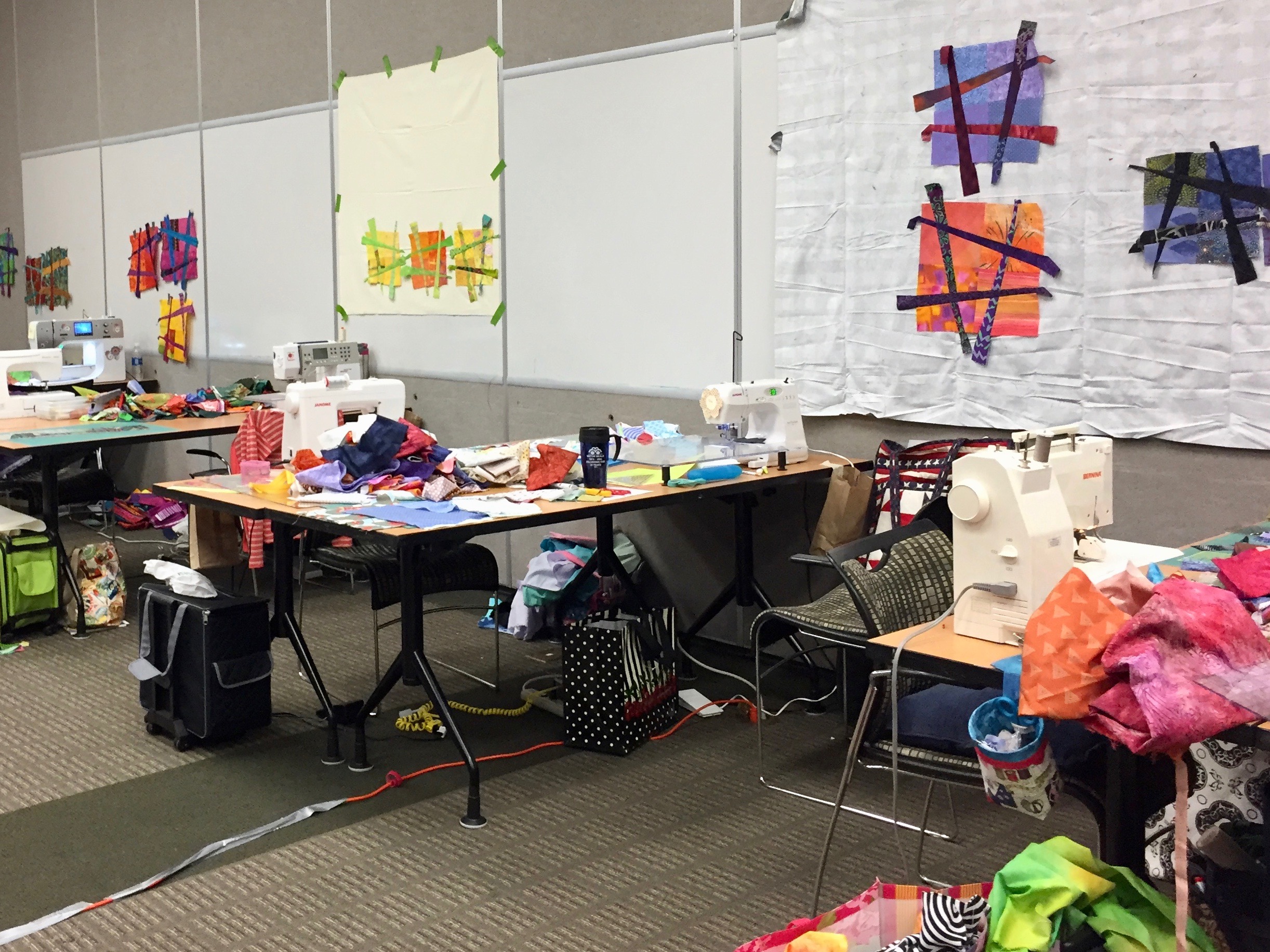 By four o'clock there was this.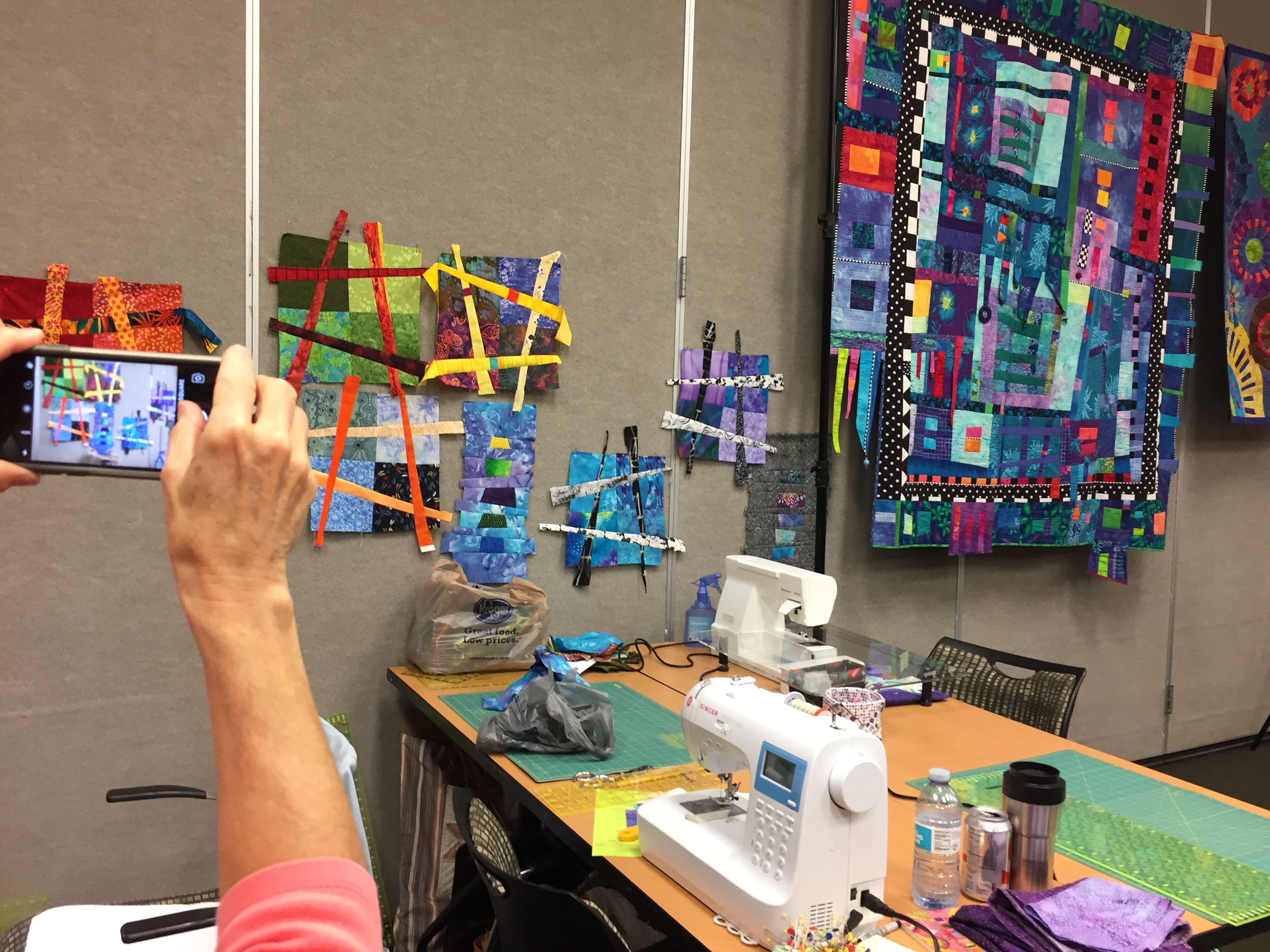 And by lunchtime on day two there was this…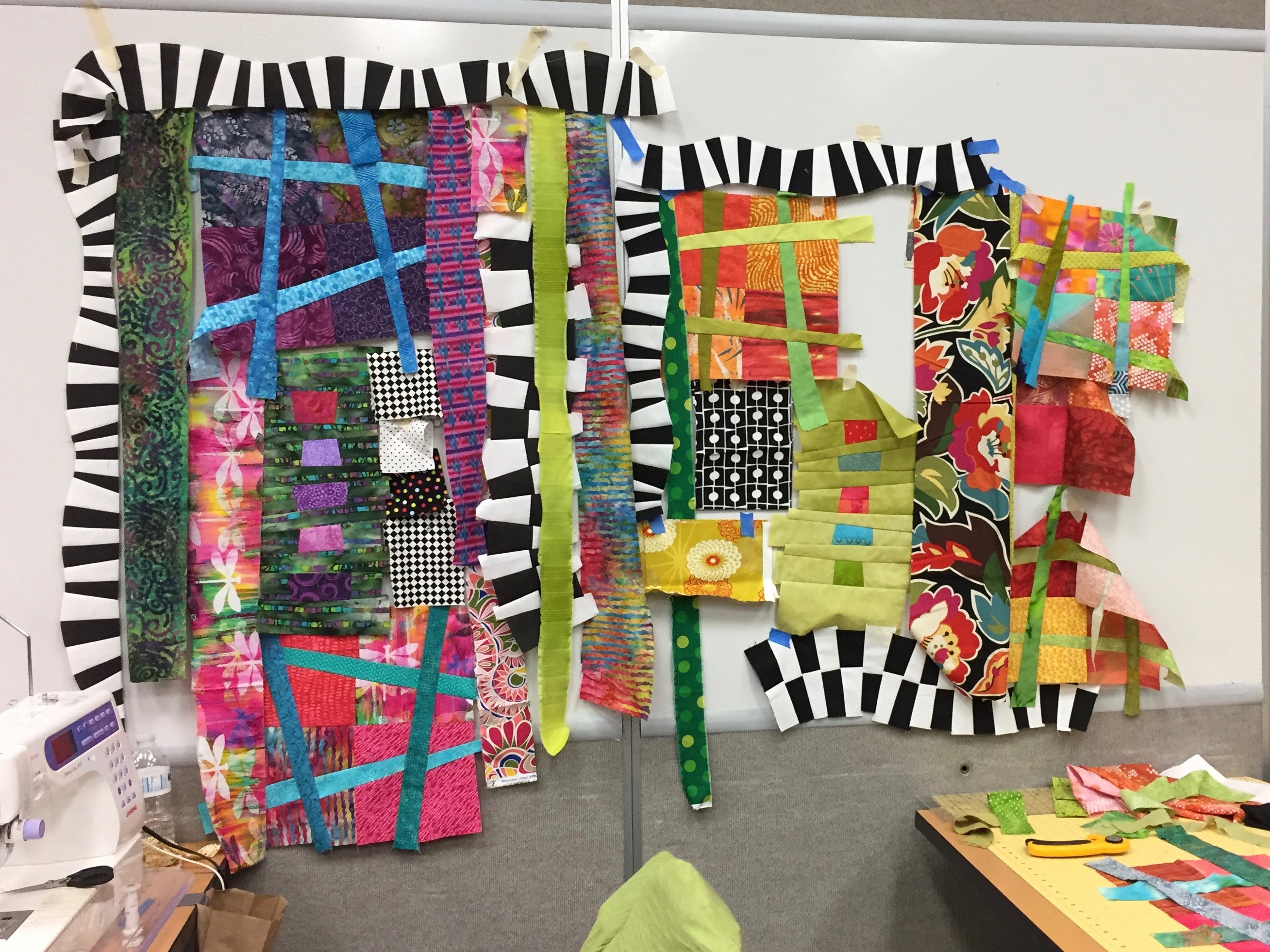 And at going home time?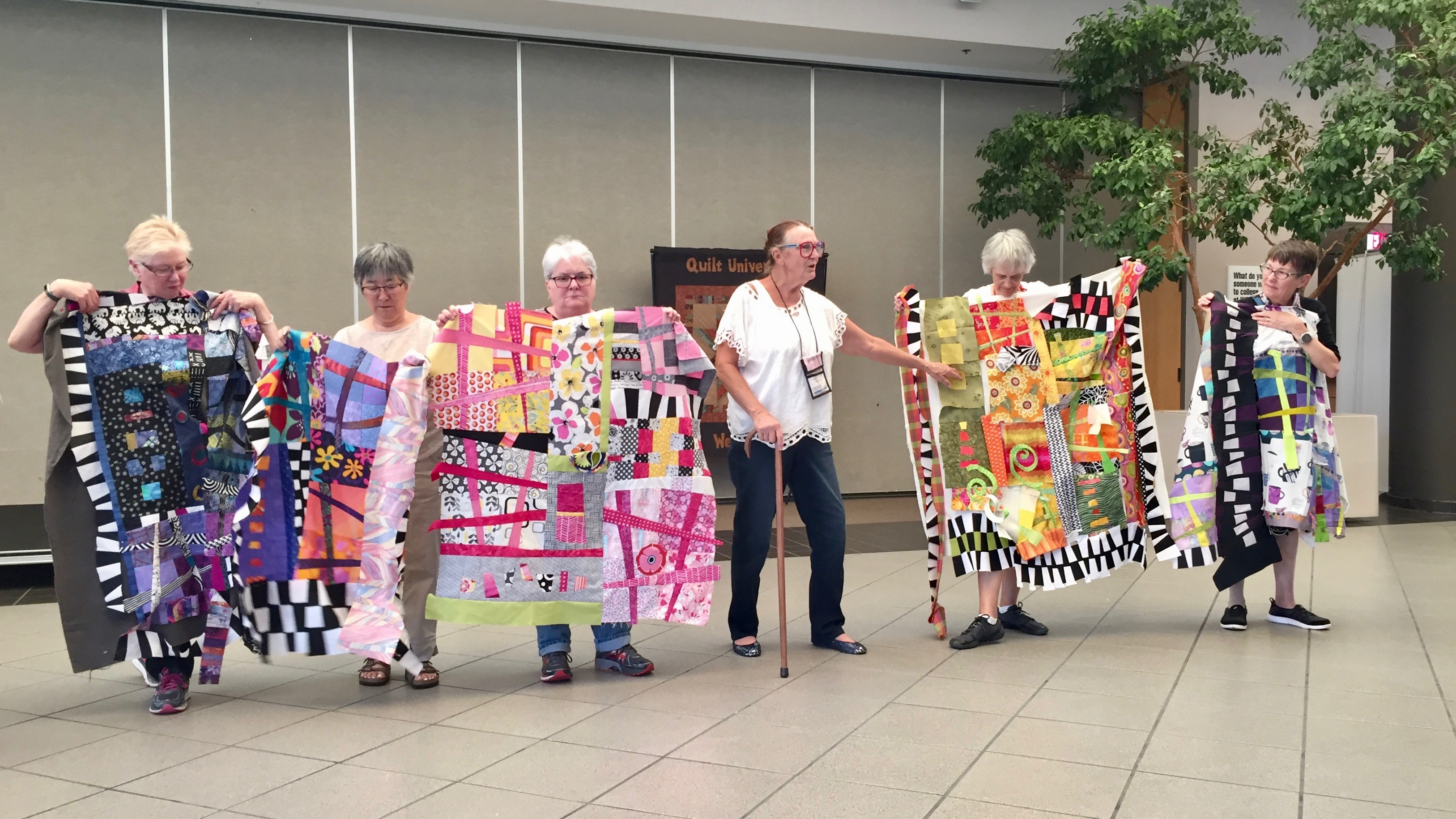 Just wow!!
Dianne is planning her retirement, so if you've never taken one of her classes and you get the opportunity in the next few months, run, don't walk to sign up!
That's one of Dianne's quilts as my featured image today. Don't you love it?
From all that improvisational, beautiful chaos to across the hall where Kathy Groves was also teaching a two day class, Compass Rose. It's a Judy Niemeyer pattern. Kathy will be Judy Niemeyer certified in October and she certainly knows her way around a Quiltworx pattern!
Here she is showing us what to expect…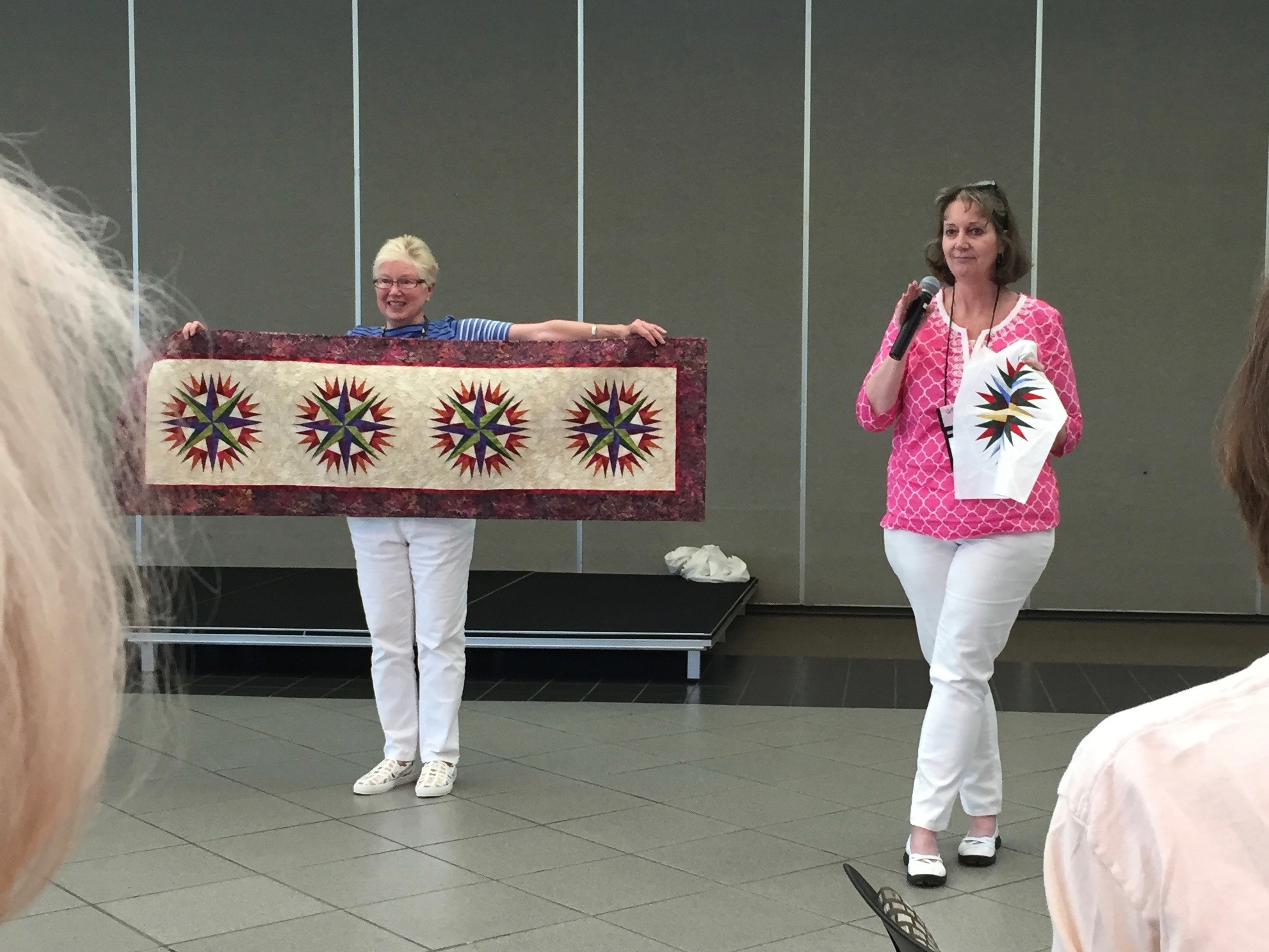 and here are her students on Sunday afternoon, looking very excited, with their finished blocks.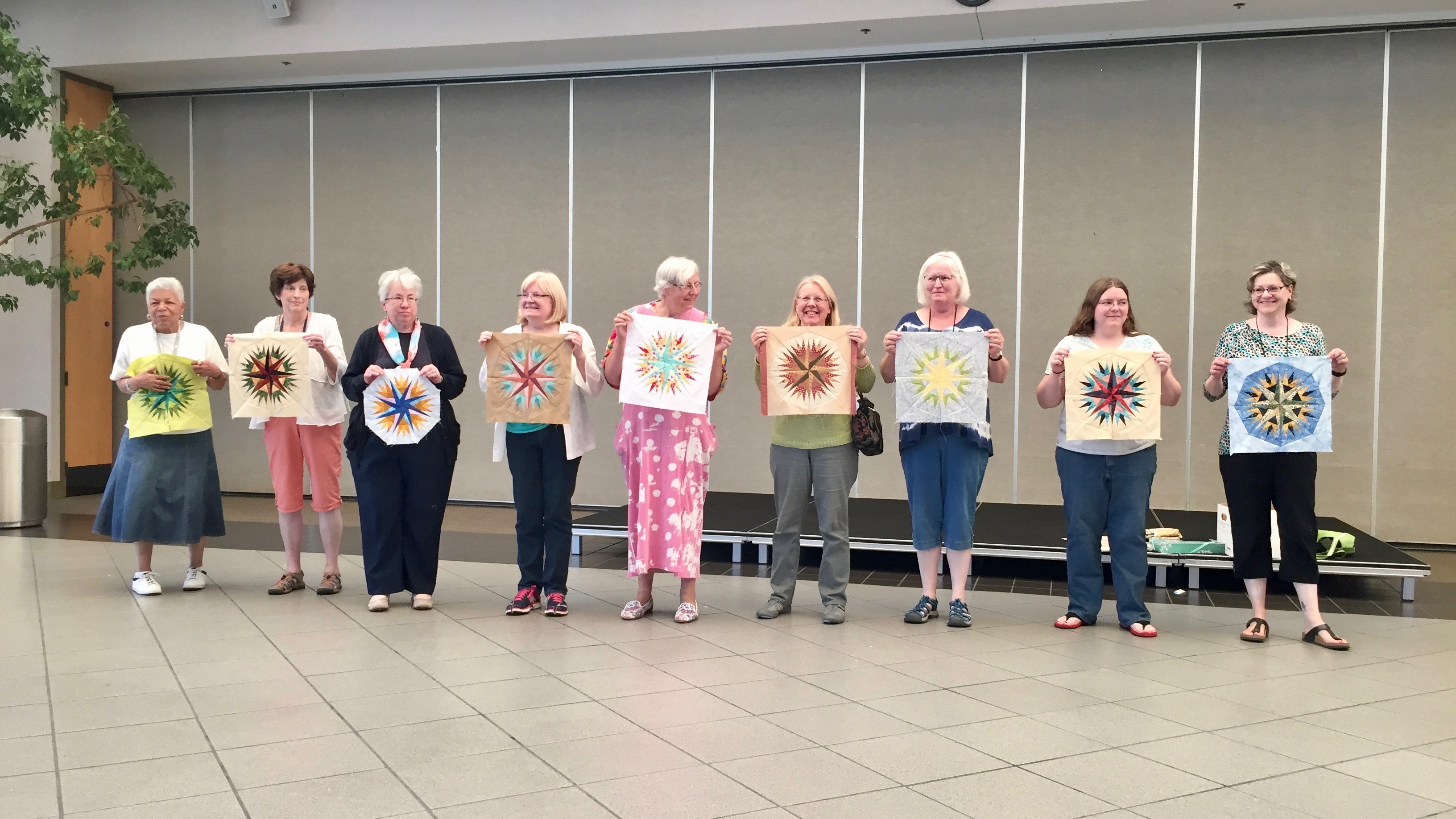 There really was something for everyone. I wasn't around on the Friday but there were more classes then. There were also evening activities for those who wanted them. You have to know such an action packed schedule took a lot of work to pull off so flawlessly. Kudos to the organizing committee.
All good things must come to an end.
My ride came promptly on Monday morning to return to Detroit Airport. Another beautiful day for flying! We took off over New Boston,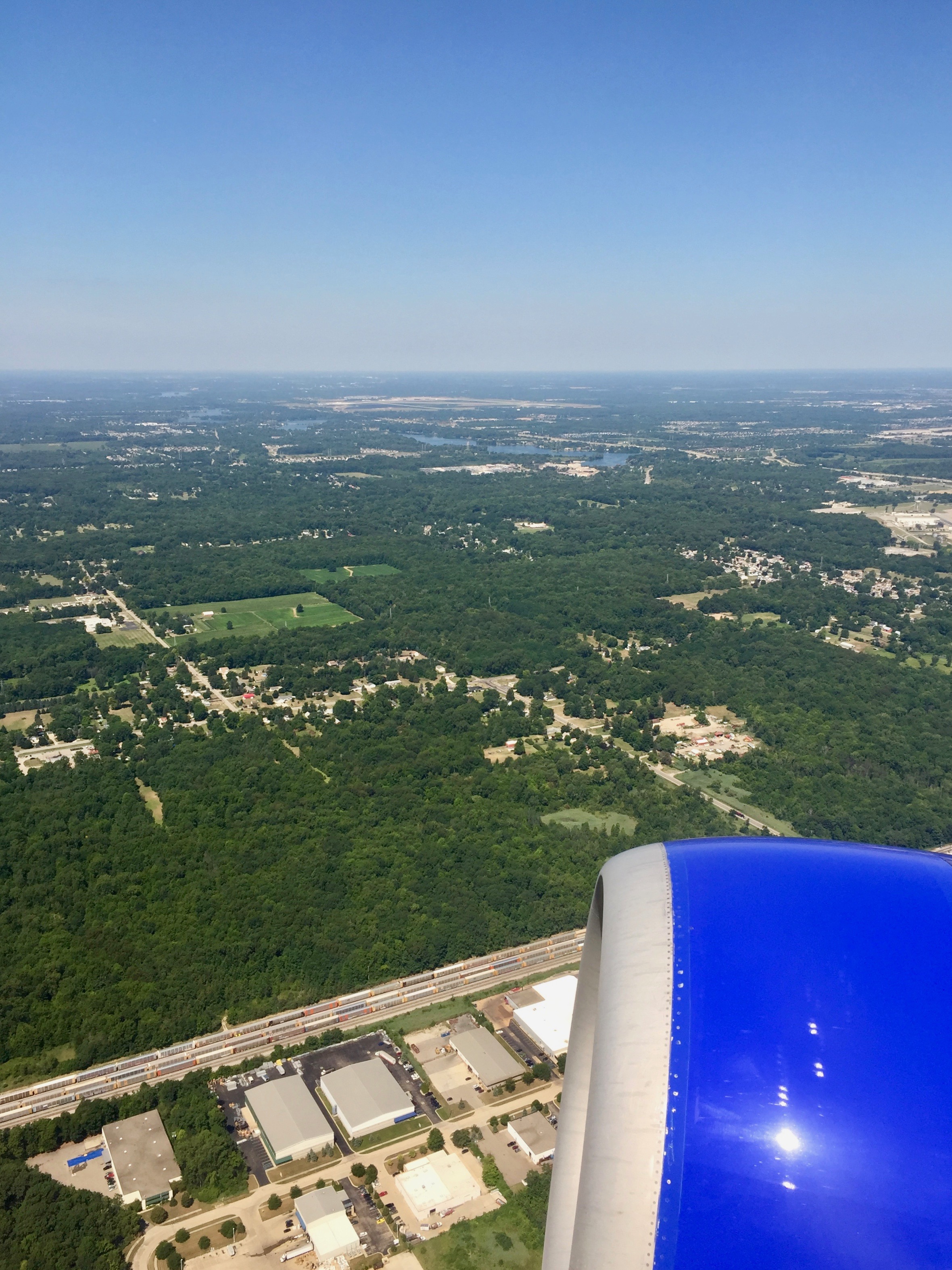 and 30 minutes later we were headed over the lake at New Durham, Indiana.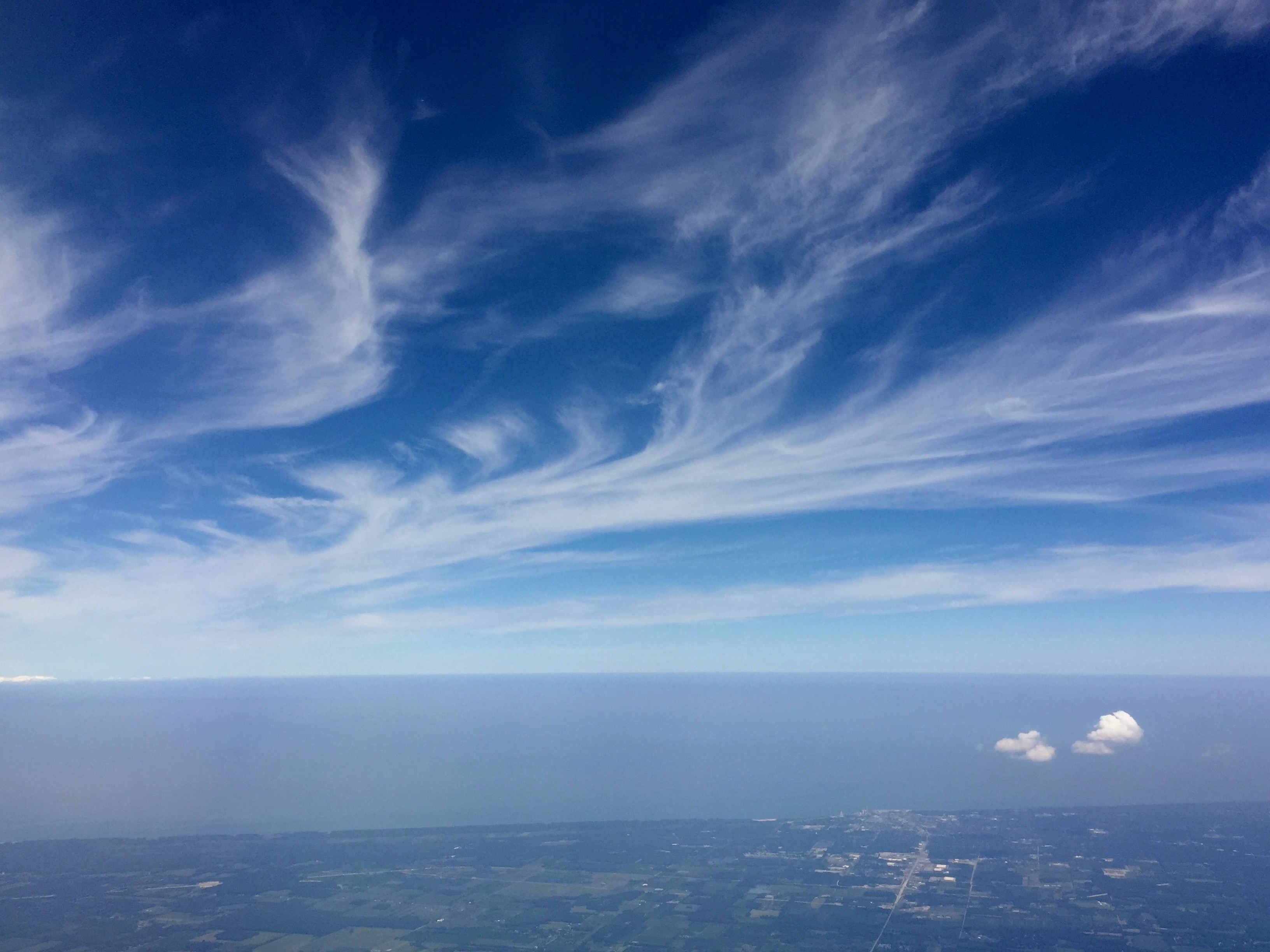 I followed along on the flight tracker. We never got above 21,000 feet on our short hop.
We came in to land over Gary and East Chicago.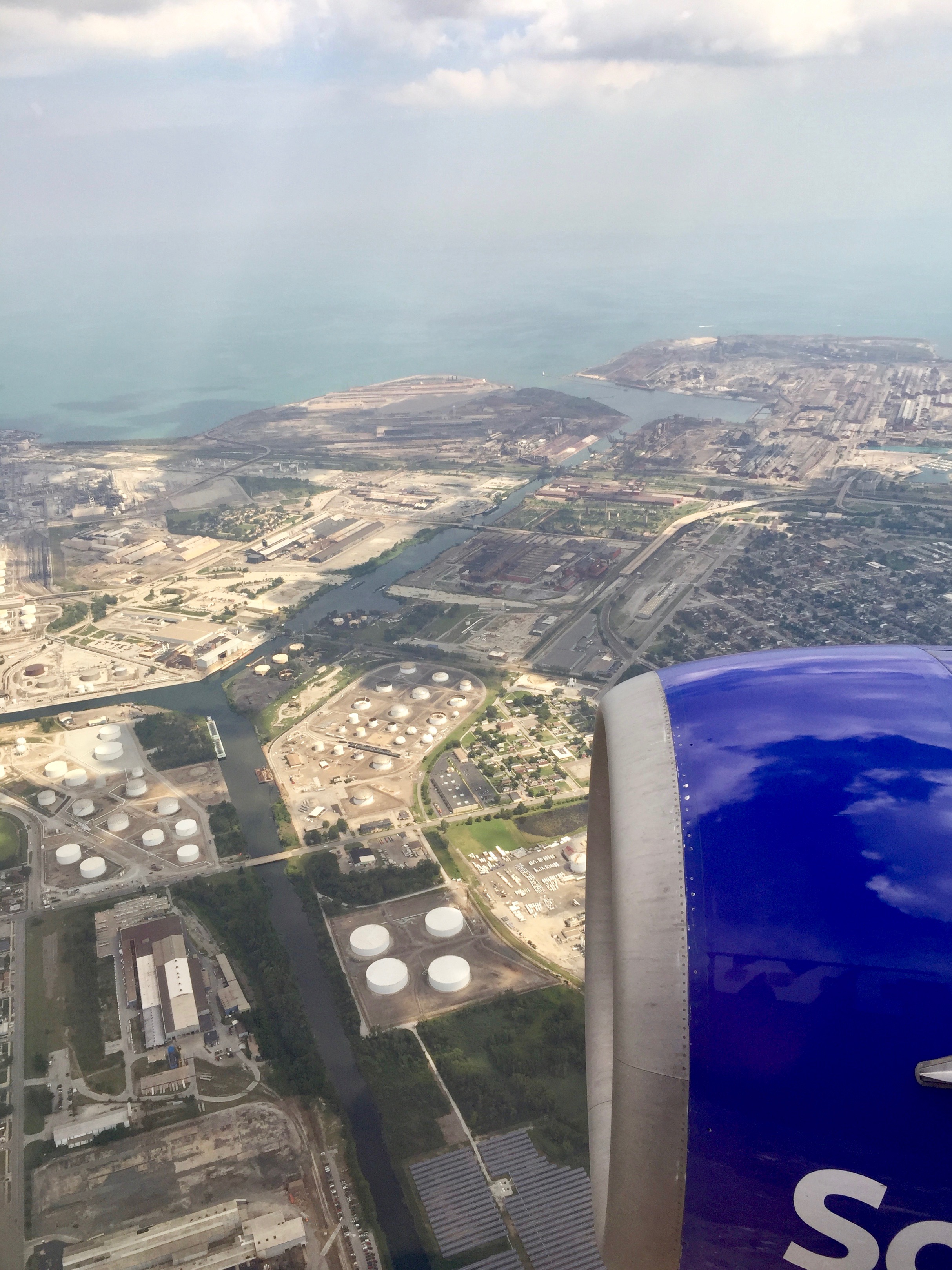 You know you're almost home when this comes into view.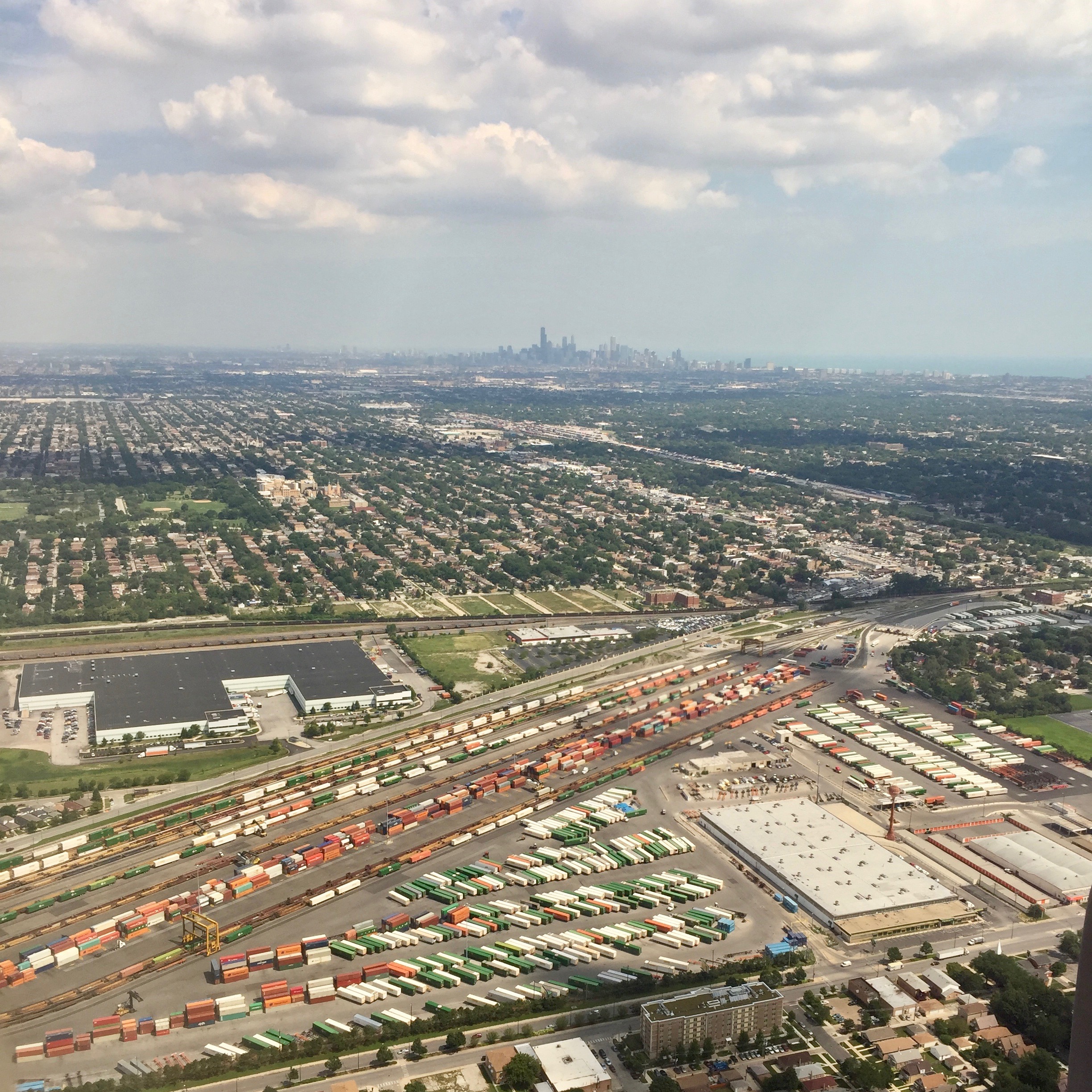 Steve went to Miami on Sunday evening. He left the car in the parking lot for me, so it was easy enough to pick up my bags and drive myself home.
Today I've been clearing up, doing some laundry, entertaining my bee and getting ready for my next outing. This evening it's my turn to do the airport pickup. I need to go and collect Steve!
I'm off north to Antioch tomorrow evening to share A Trip Around the World in Folk Art Stitches with the North Lake County Quilters Guild. I hope I'll have some new pictures to share soon.