I've been away! I've actually been back for almost 4 days but can I just say "jet lag"? A weak excuse but true.
We arrived at Manchester Airport to blue skies which was good because there was no jet bridge, just steps and a bus ride…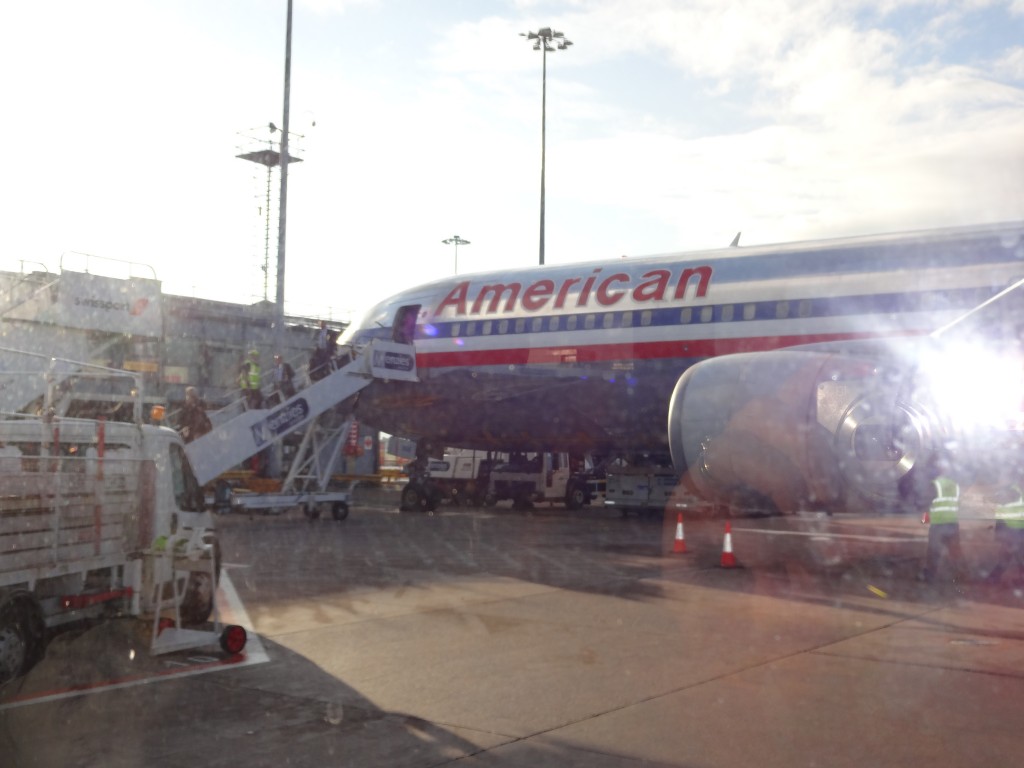 The GPS took us on the scenic route to Sheffield. Our hire car had fancy automatic windshield wipers… we found that out quite quickly because those blue skies didn't extend across the Pennines…
Steve's parents made us very welcome and, after something to eat, Steve introduced them to the delights of an I-Pad. I think they will soon know more about it than us as they set to work reading the manual. I mean, who does that?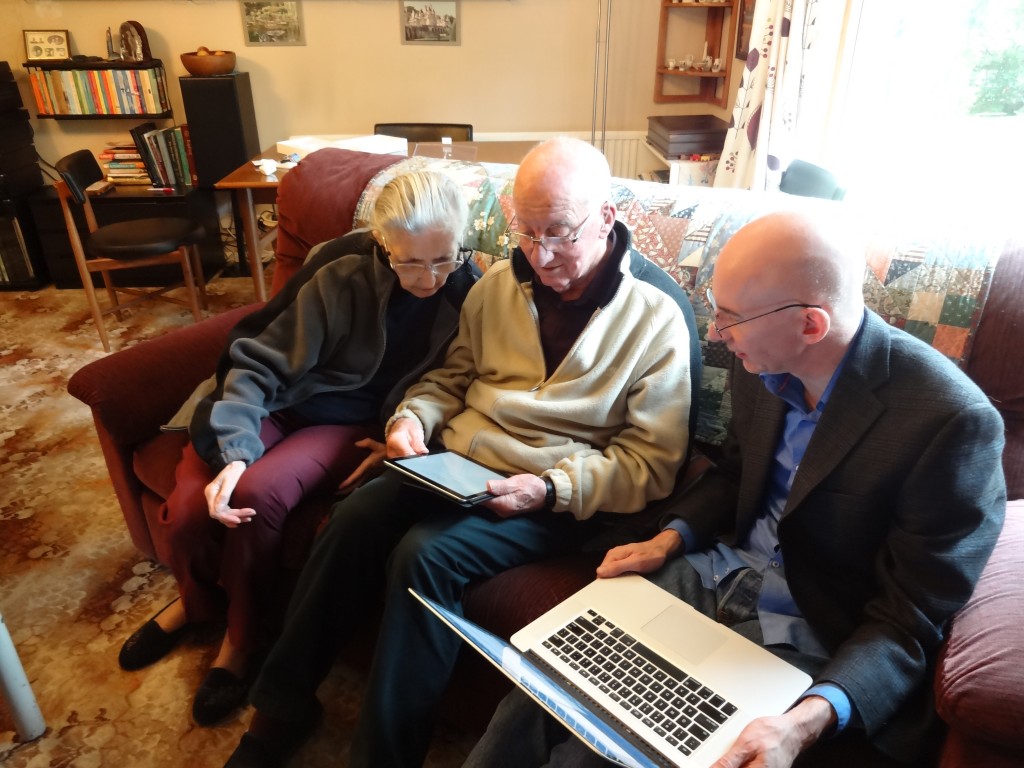 Next morning we set off to a local-ish Stately Home. The grey clouds add a certain atmosphere?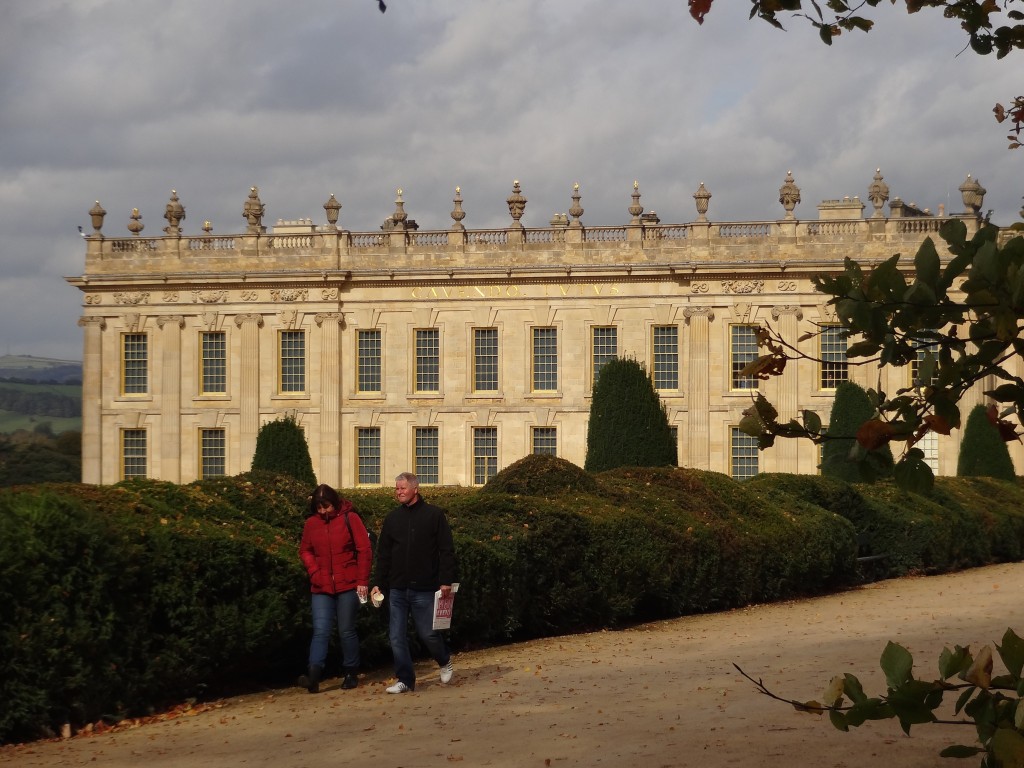 In case you are wondering this is Chatsworth House, the home of the Duke and Duchess of Devonshire.
Rain was forecast for the afternoon so we walked around the gardens before lunch. We found Winston Churchill and Franklin D. Roosevelt having a chat on a bench…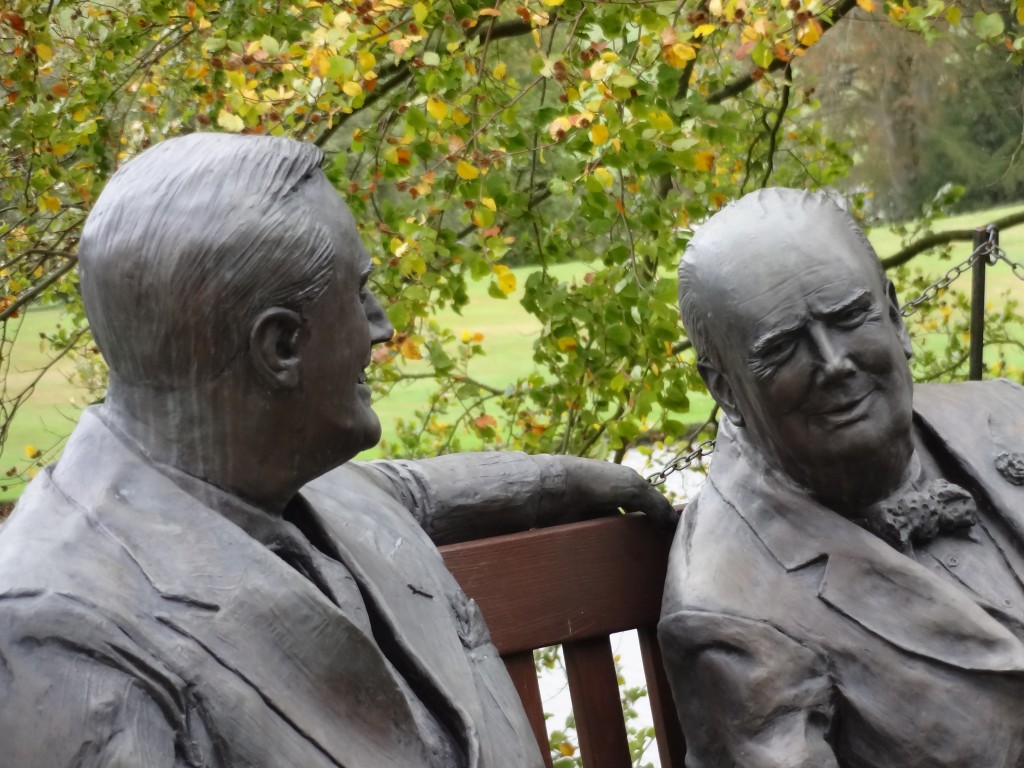 After lunch we ventured inside the house. The Devonshires have always been keen collectors. Here is a very large Greek foot one of them brought back as a souvenir of his travels.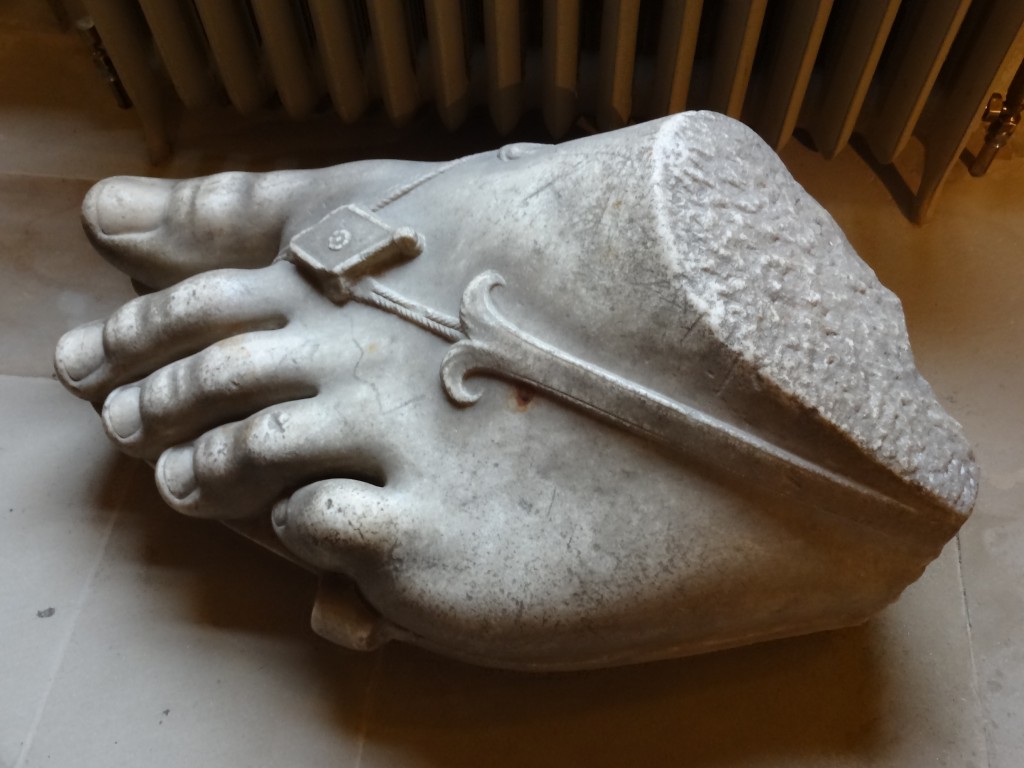 Apparently the whole statue was twenty six feet high.
I remember visiting the red dining room in my youth. It still looks much the same.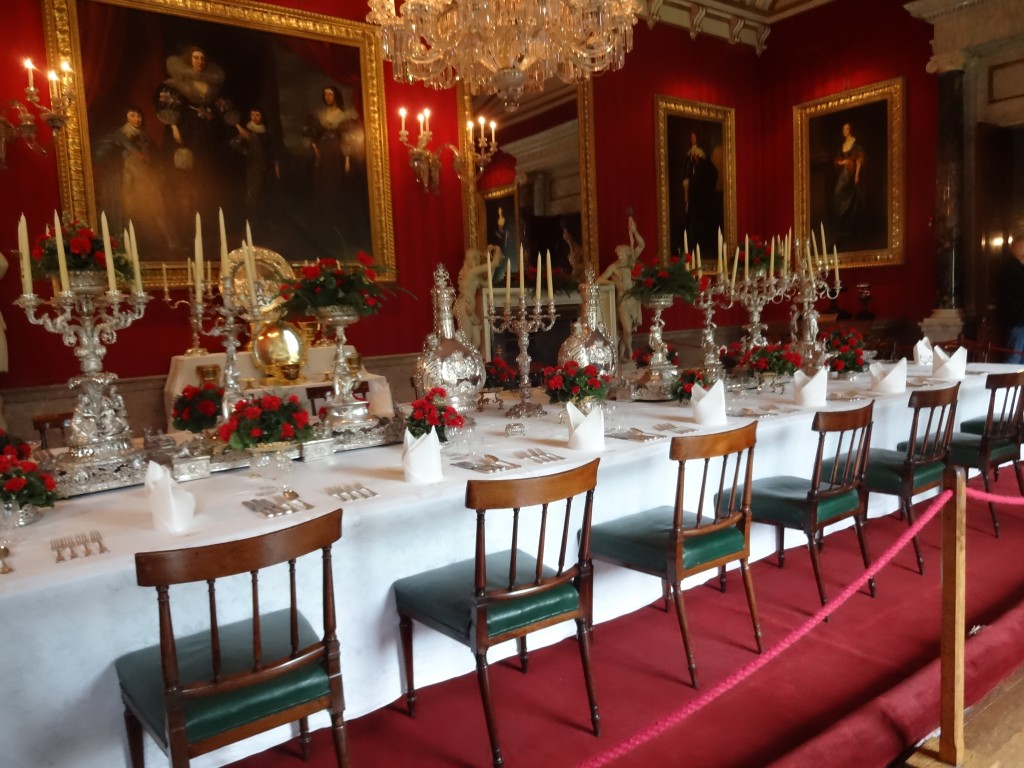 We bid farewell to Steve's parents on Friday morning and set off for Sutton Coldfield where we were booked into a rather nice hotel, the New Hall Hotel and Spa. The buildings date back over 800 years.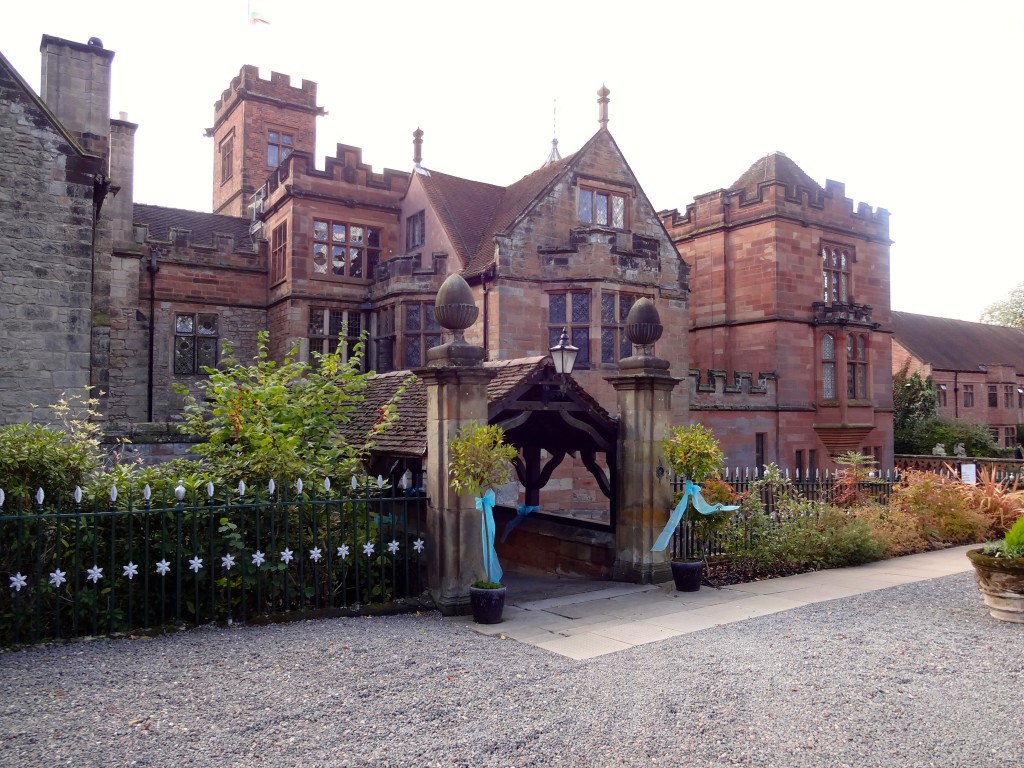 The blue ribbons were for a wedding taking place at the hotel. We were not there for the wedding but rather to meet up with some friends from our London days. The hotel was quite up-scale. We enjoyed a bistro-style dinner. In England fish served in posh hotels looks like fish…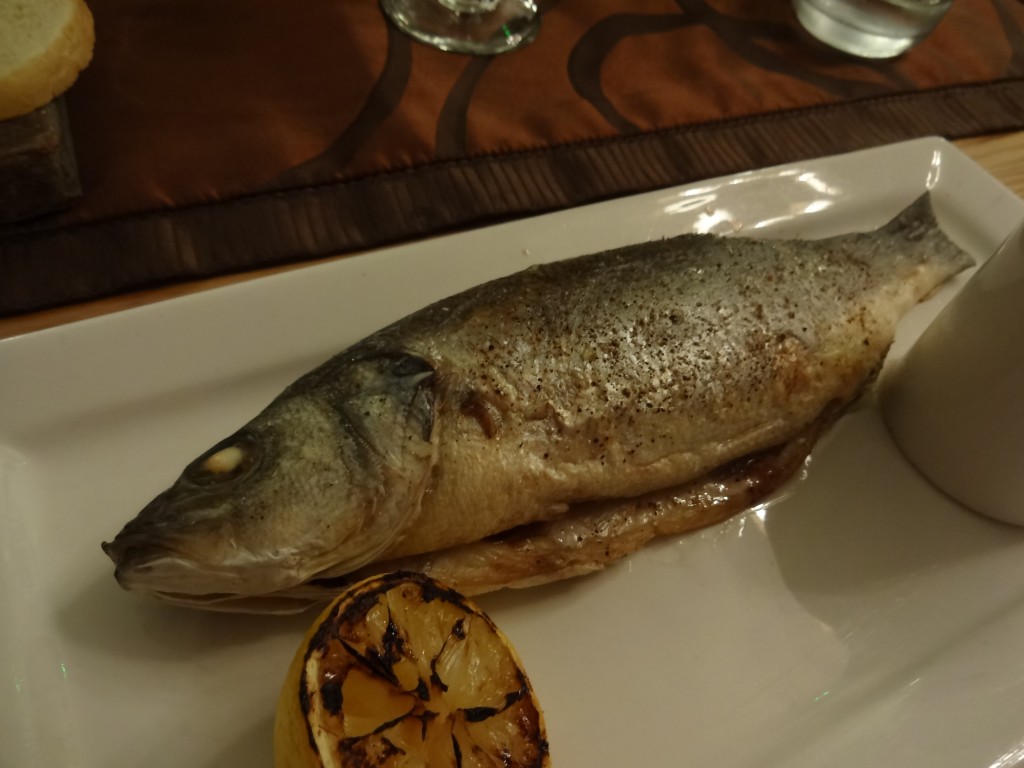 Next morning our friends had to leave after breakfast. Not to fear… I had arranged to meet my High School friend, Rosemary who now lives in the area. I dragged her off for a new experience, a quilt show at Trinity Church. There were two lovely ladies on the ticket desk from the Trinity Quilters.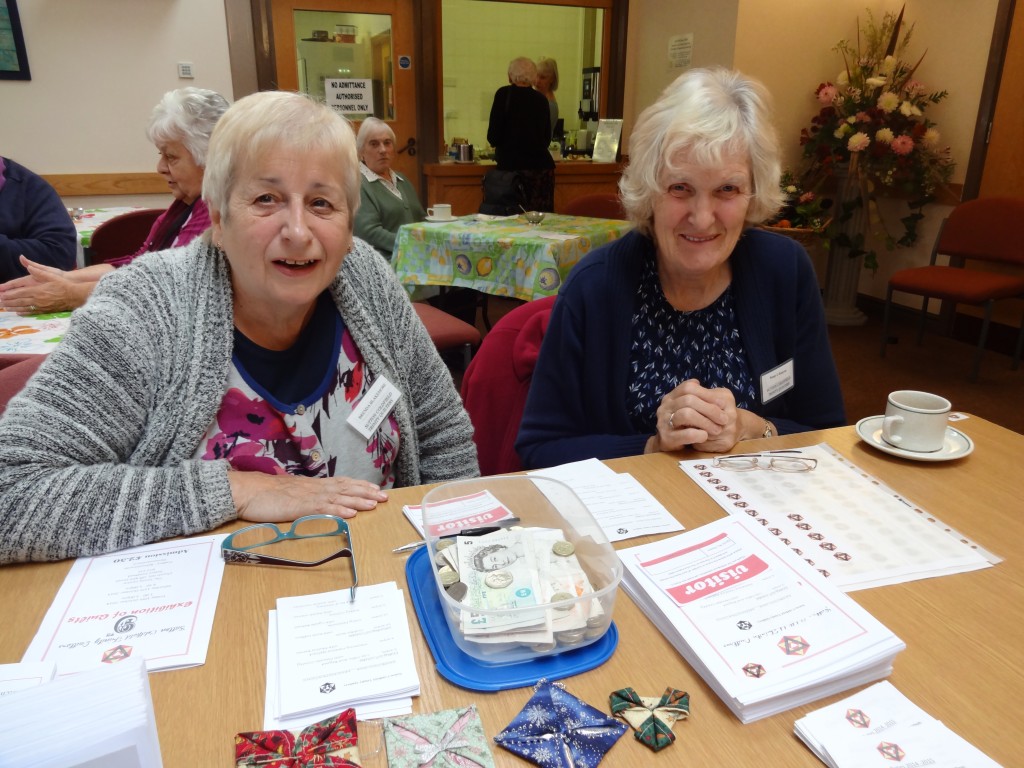 We had a good look at all the quilts on display and enjoyed a crazy quilting demo from one of their members.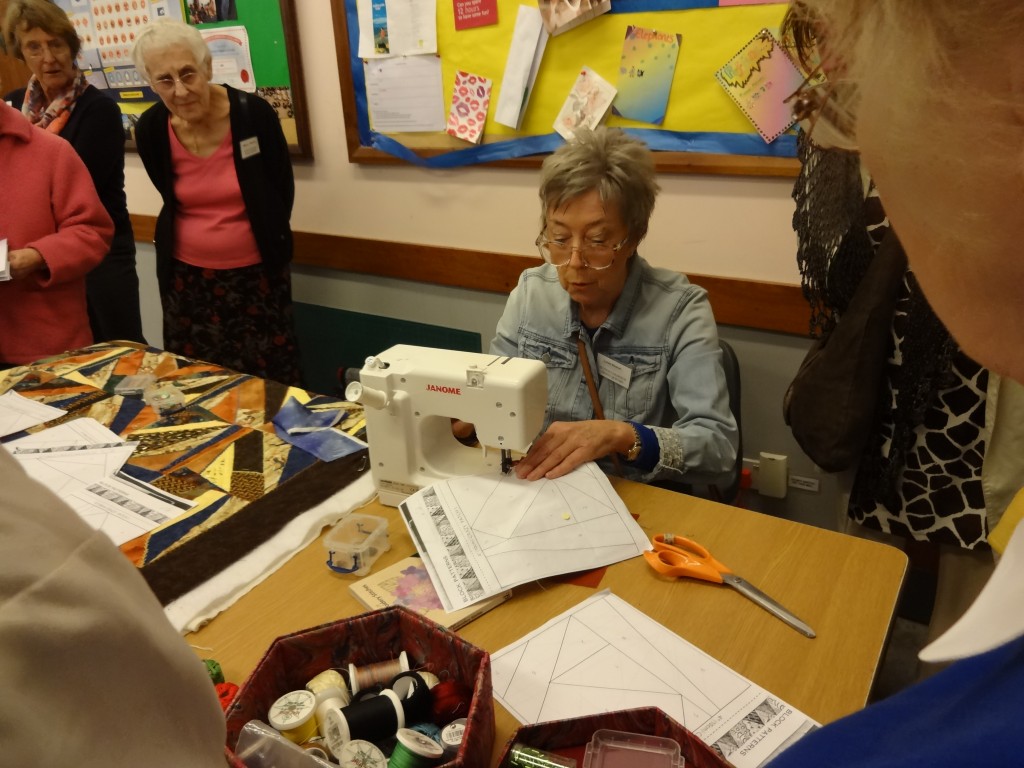 But no time to hang around! We went back to the hotel to collect Steve and head for Calke Abbey where we met up with Rosemary's husband.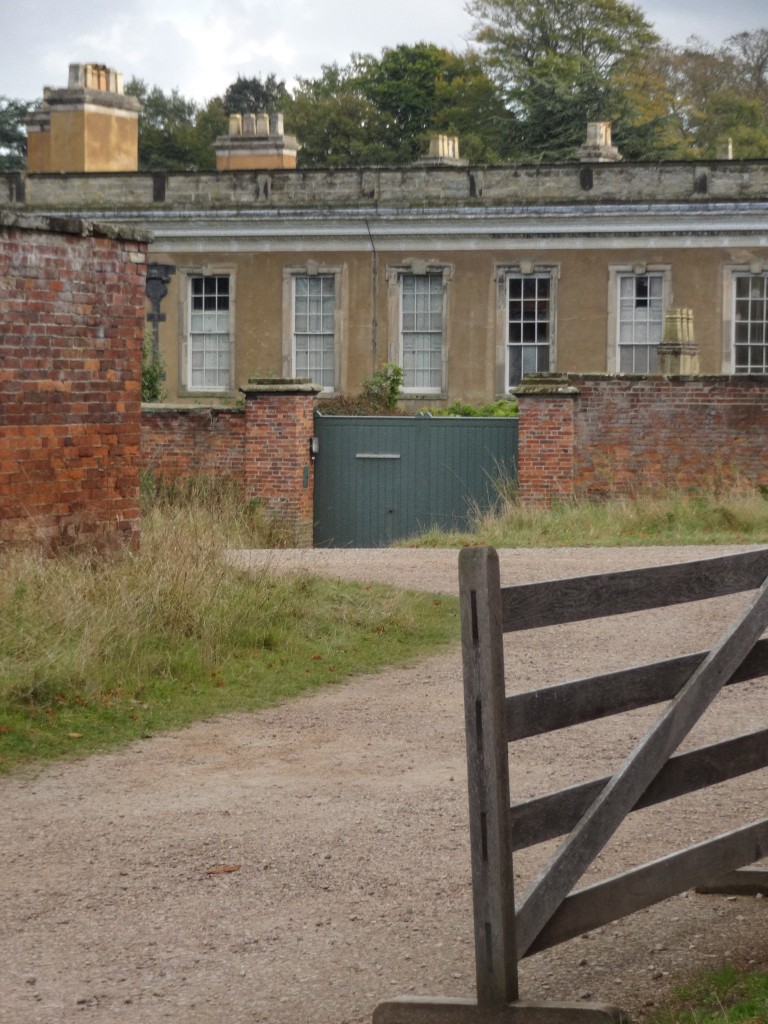 It was an interesting place. Left to fall into disrepair before being rescued by the National Trust it was not at all like Chatsworth. These shower facilities were interesting…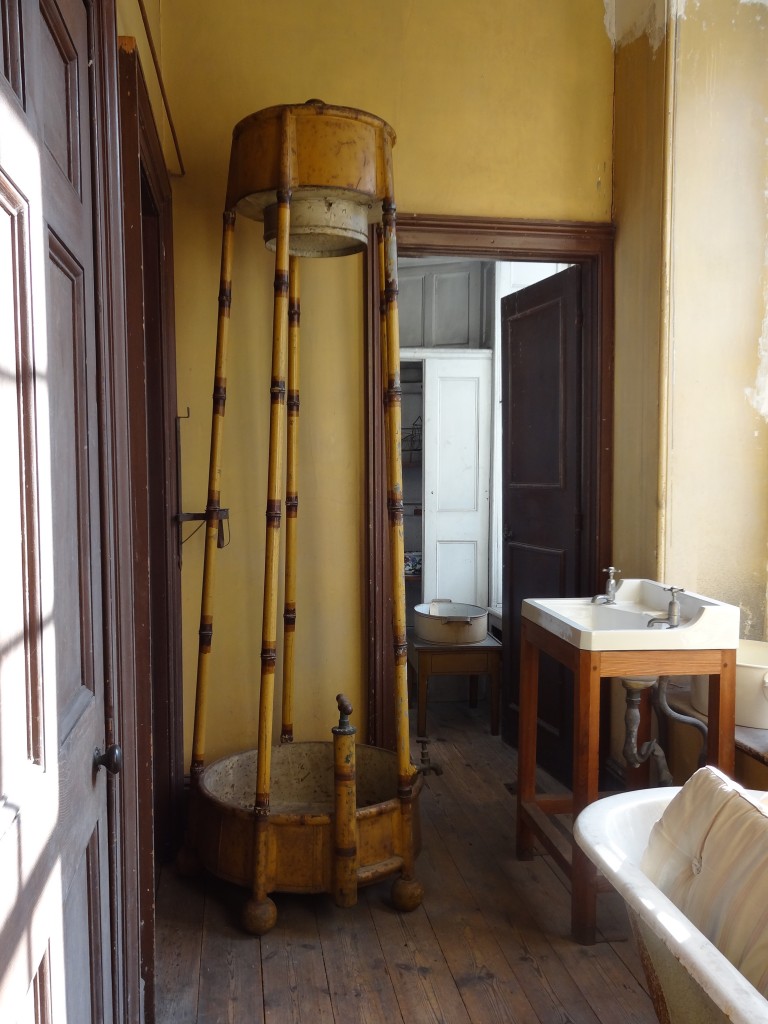 This is what happens if you don't have a clear out from time to time…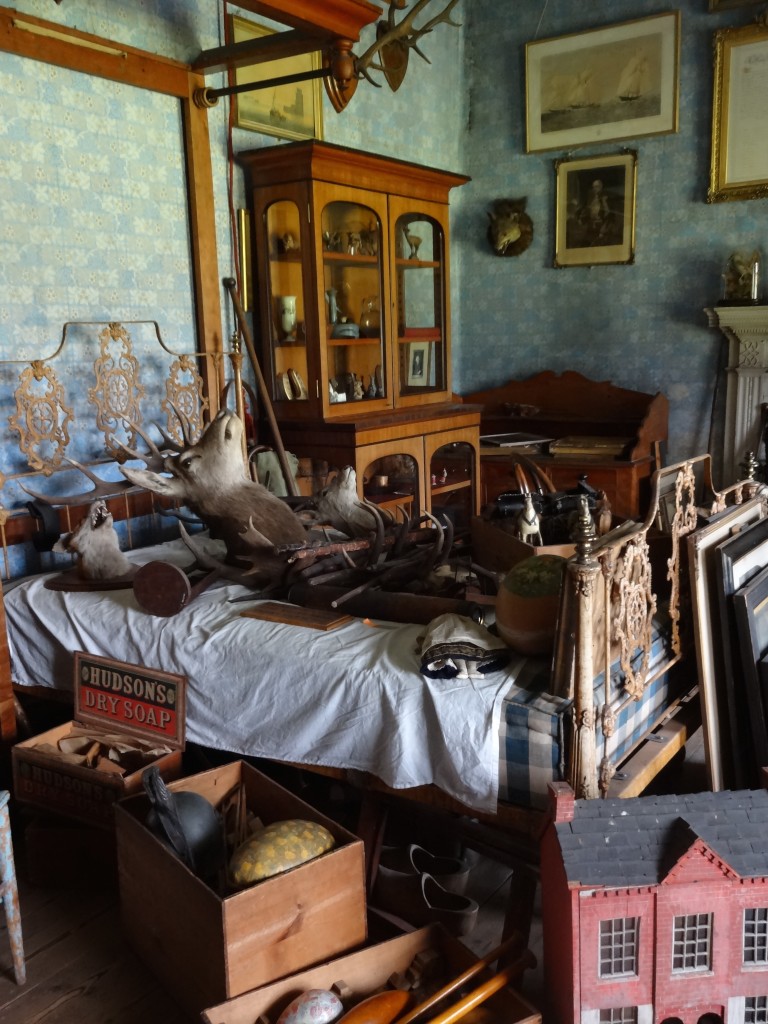 Time to move on again. We set off further east to the home of the elder of Steve's two sisters. Tom and Ali live on a farm. Ali had invited the whole of the Redford clan for the day on Sunday. Too much fun but no decent pictures…
Here's a view of the farmyard in between showers.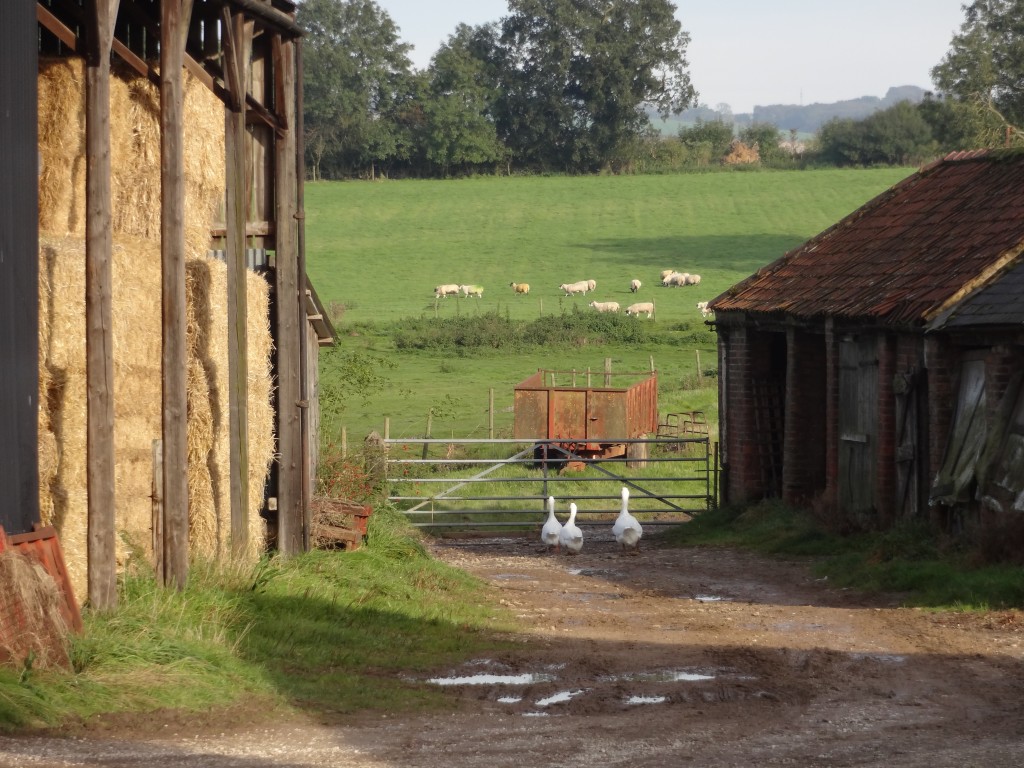 On Monday we drove for York. By the time we got there it was time for lunch at the Golden Fleece, established 1503.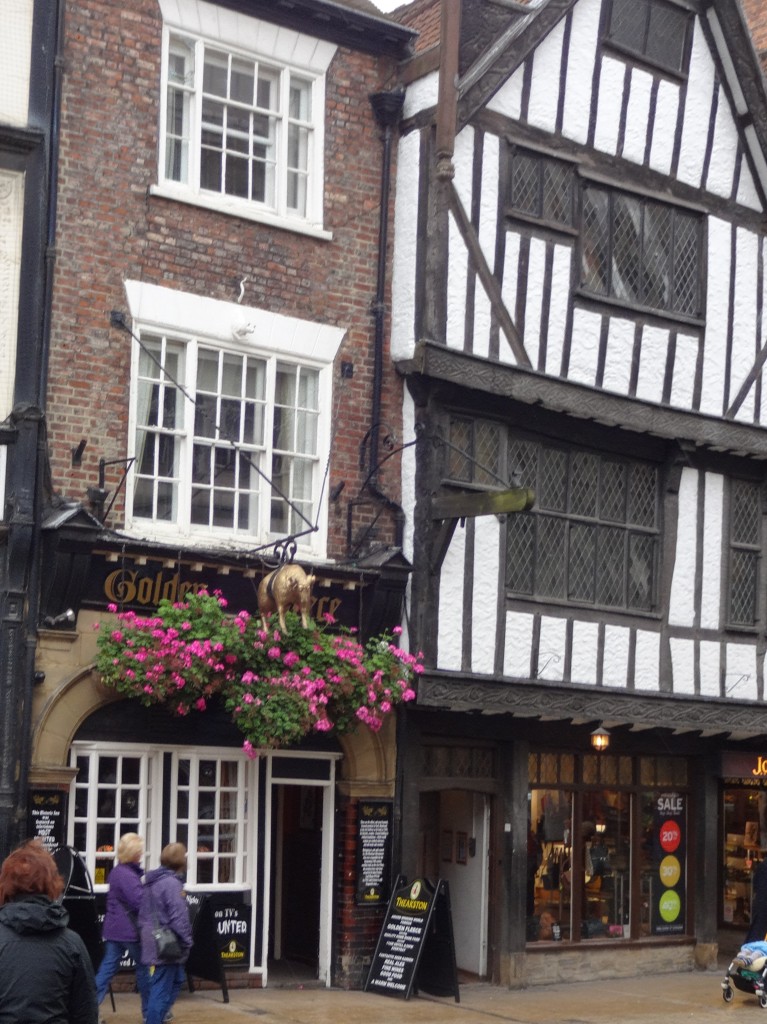 My fish was suitably covered in batter!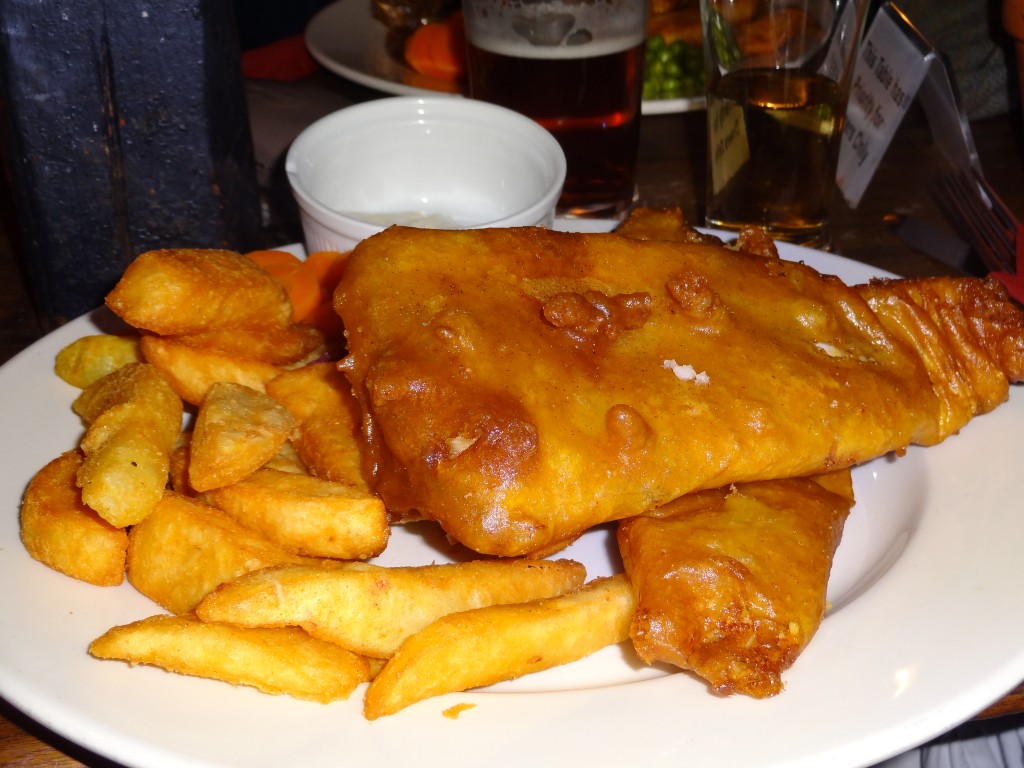 While the men went for a walk around the ancient city walls I took Ali to the  Quilt Museum.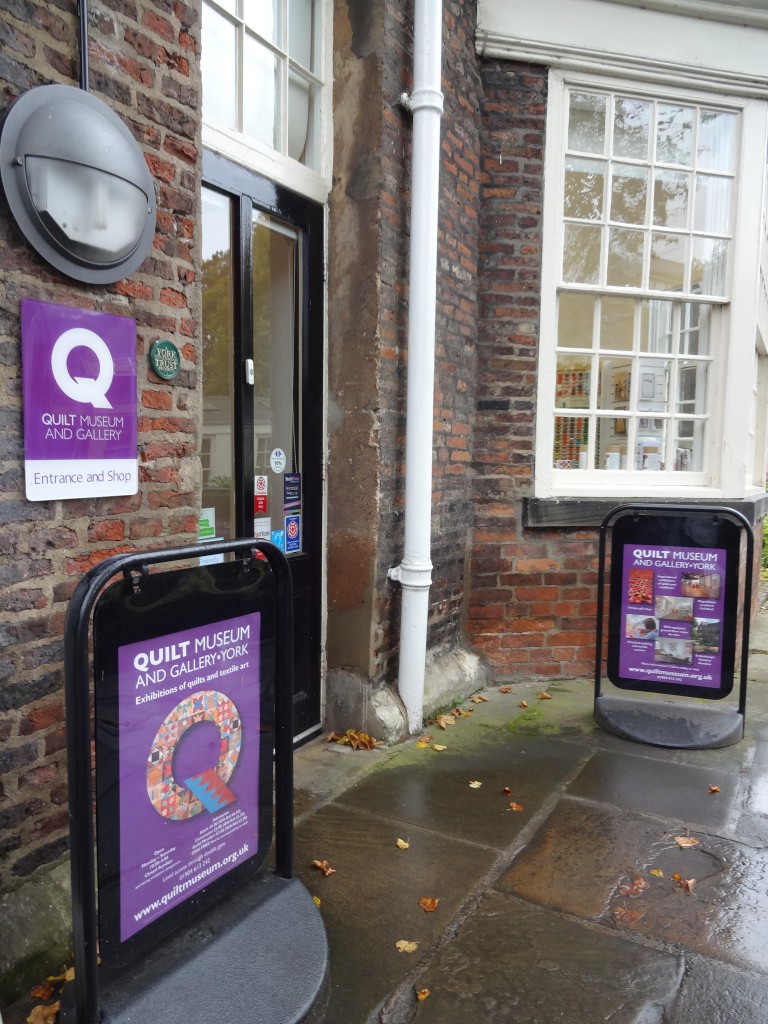 Yes, it was raining… No pictures were allowed inside the gallery but there were some very interesting exhibitions including the 1718 Silk Patchwork Coverlet which is the oldest dated quilt in Britain.
We were heading back to Sheffield on Tuesday evening but first we needed another country walk.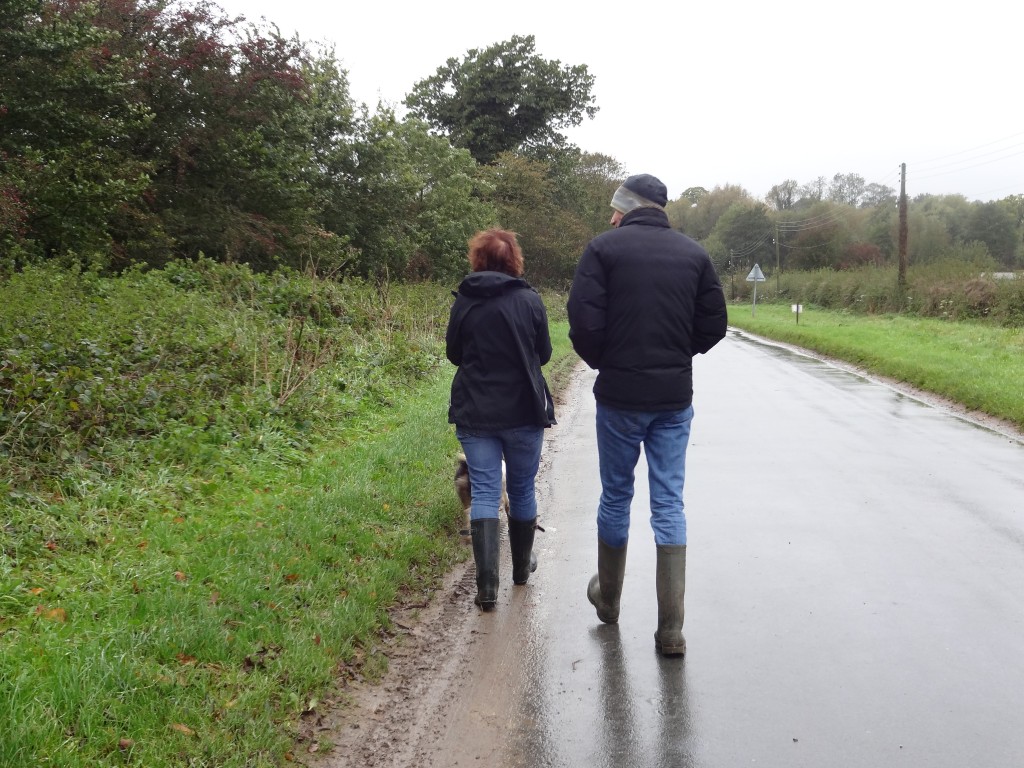 Steve was very glad of his thermal hat, and the Wellington boots he borrowed.
Driving back through Sheffield city center I took a few pictures of some of the newer buildings. This one is local authority housing.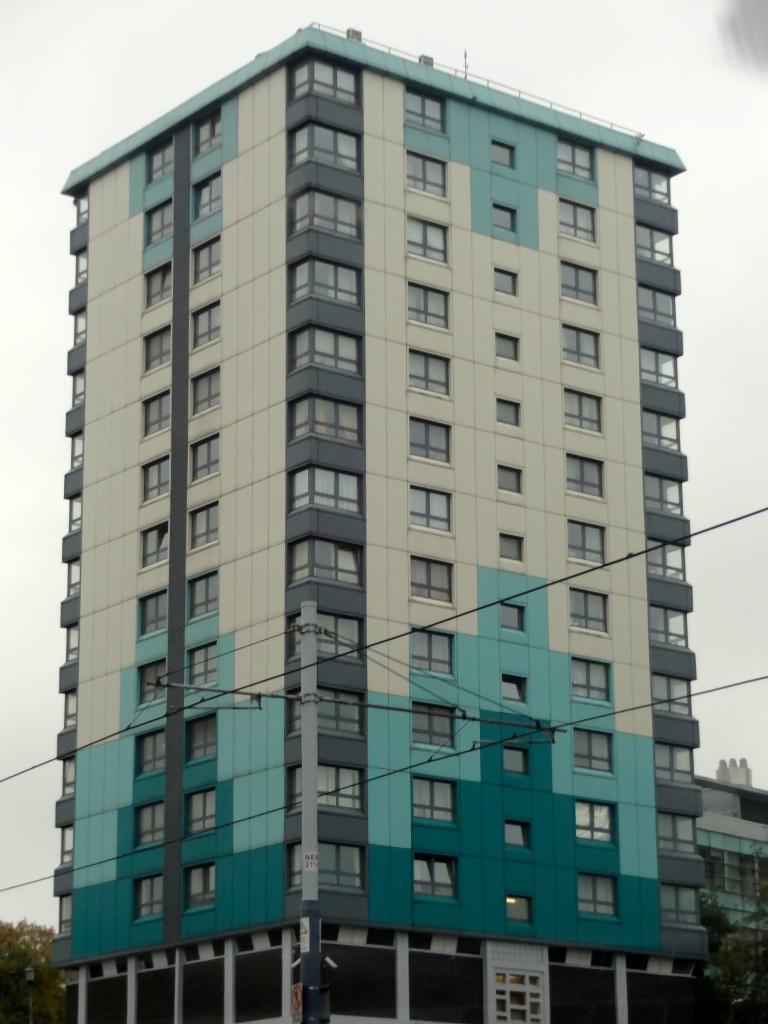 This equally colorful one is a student residence hall.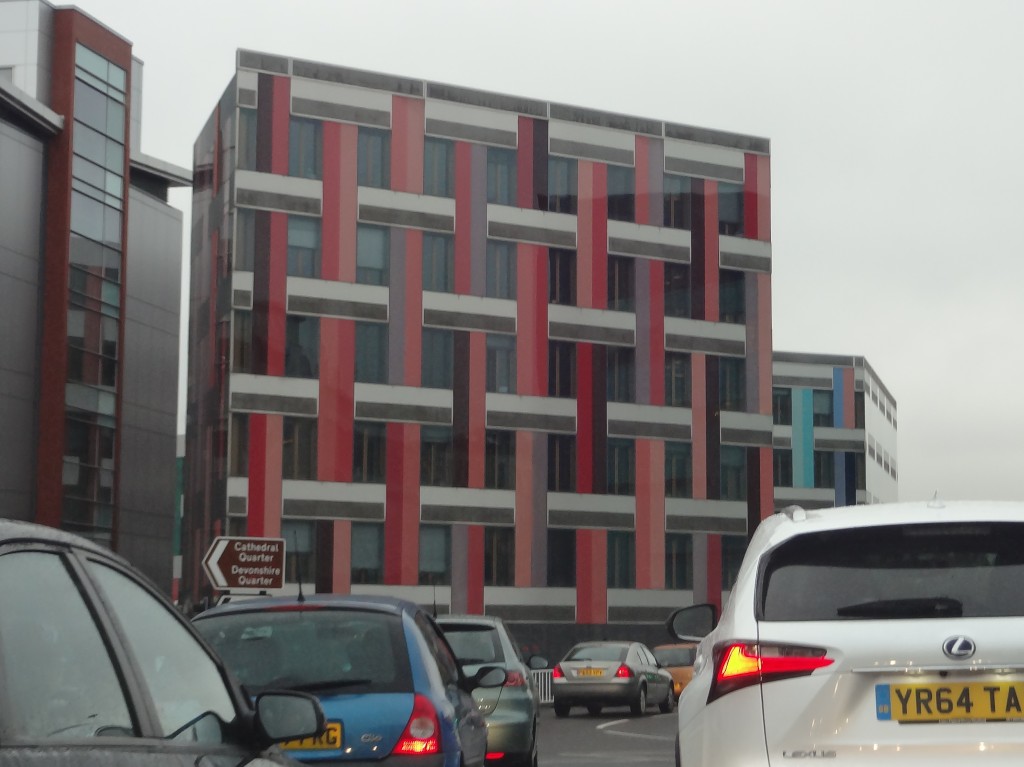 We all went out for dinner in the evening. The Cricket Inn is described as a gastro pub. It was around a lot of corners, over a (foggy) hill and in the middle of nowhere. The desserts were worth the drive…
Wednesday was our last full day away. we went to Meadowhall for me to get my shopping done. Steve and his parents went for a walk along a nearby canal while I conducted business…
And then it was time to come home. Manchester Airport is an interesting place… At one point we were detained in a corridor while we let the passengers from another flight deplane. Steve used the time to catch up on his e-mail.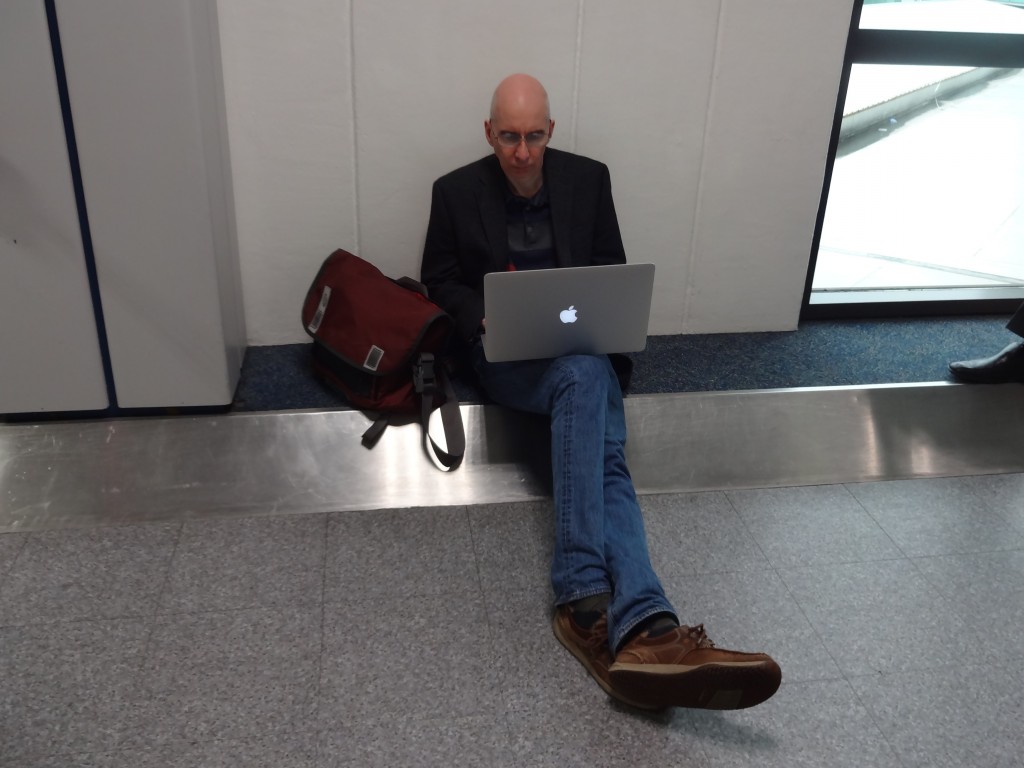 We persuaded security that we and our hand luggage should be allowed to fly home…
And now we are back.
We are gradually getting used to Central Standard Time again. I have been sewing. It's now only eight days until I leave for Houston and the cruise… nice work if you can get it!