It's already been a week since I loaded up the car and headed southwest on I-55 to O'Fallon, Illinois.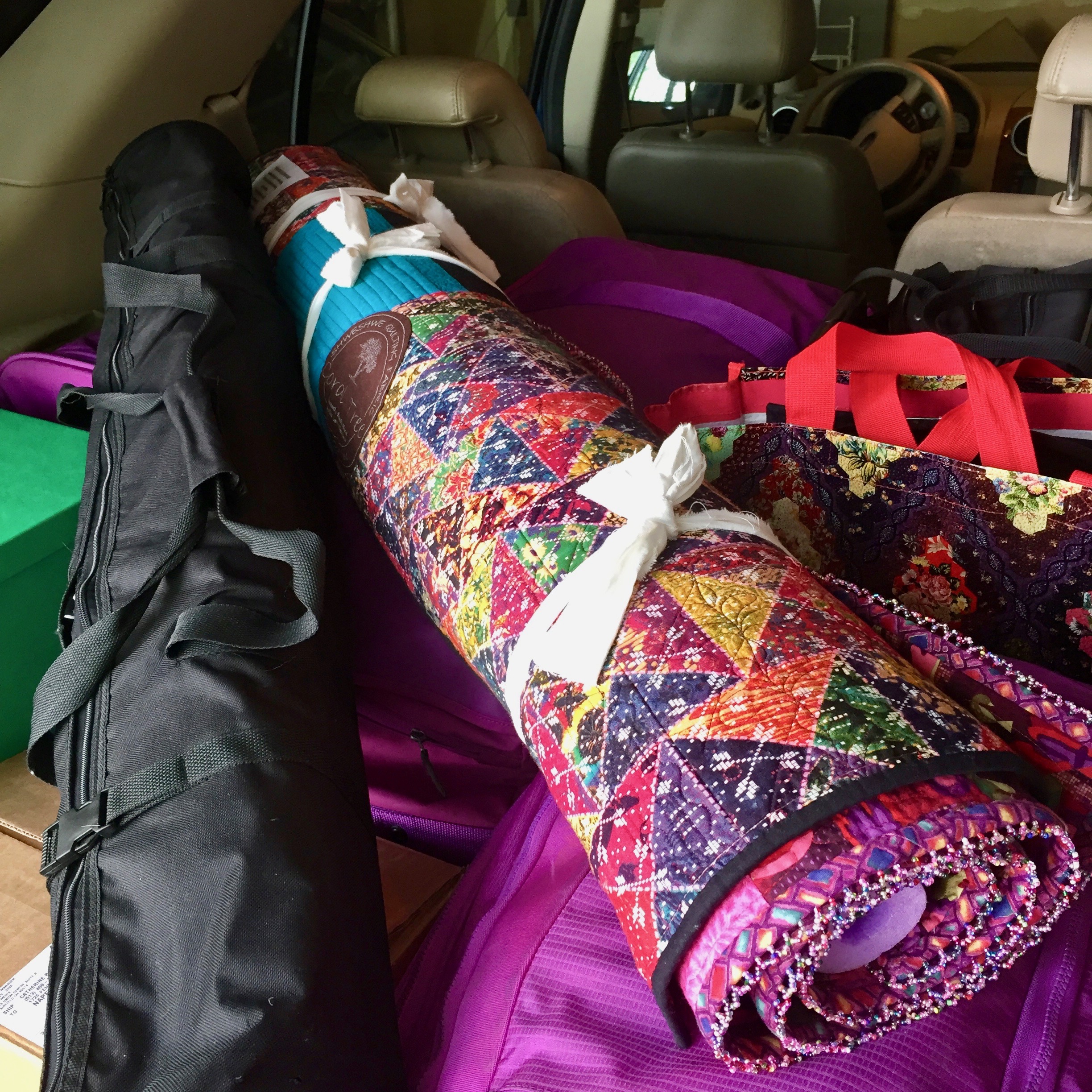 It's about 270 miles to O'Fallon which is just to the East of St. Louis. NPR and a few podcasts kept me company. I'm getting used to these long solo drives!
I had a little while to relax before I needed to be at the Hearts 'n' Hands Guild meeting. The right cables to plug my computer into their projector set up were not forthcoming… It was a good thing I had packed my own projector amongst all that luggage!
The quilters humored me with a smile for the camera before I got going.
To my right…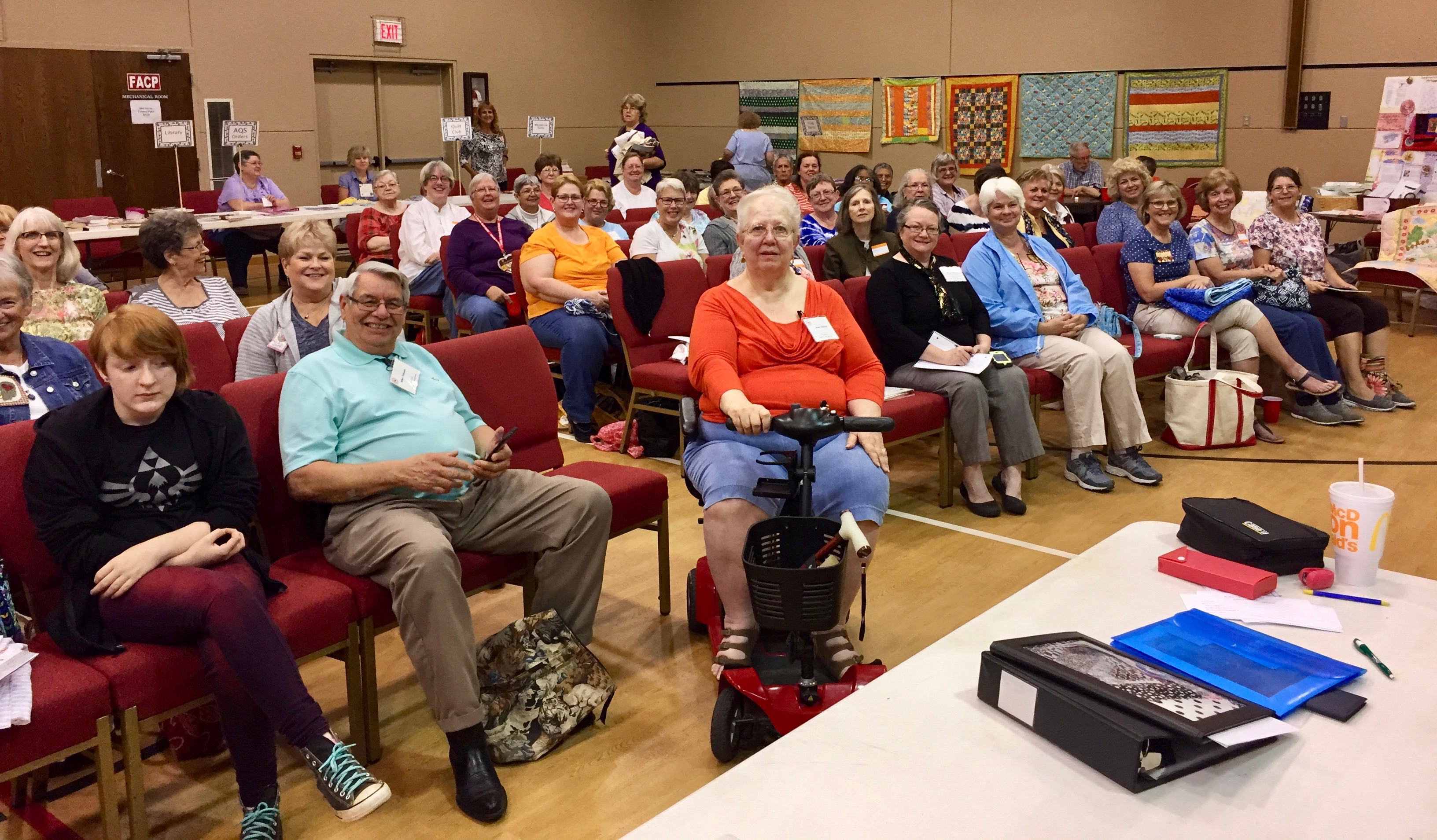 and to my left…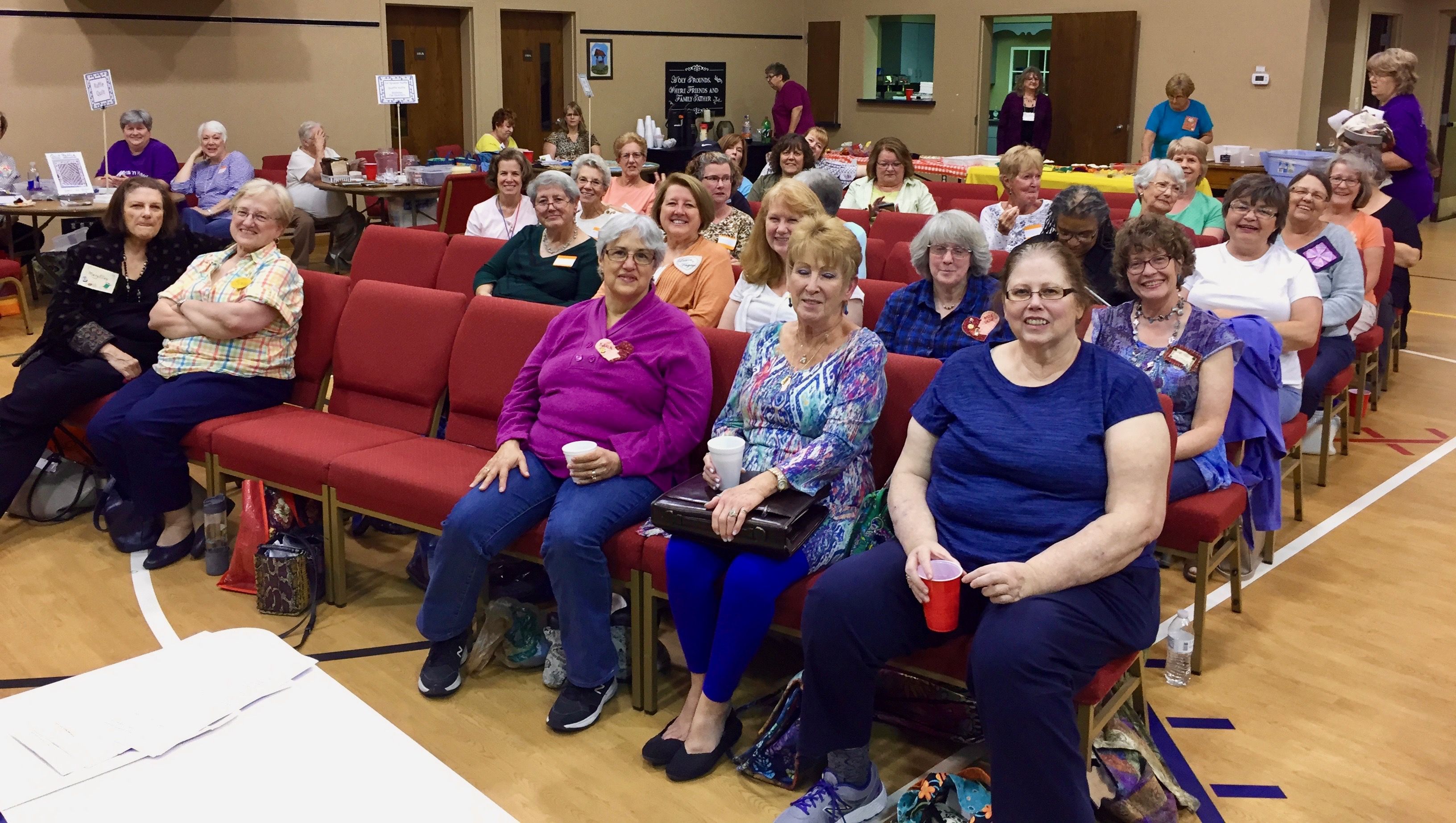 The slide show is working well. I remembered I had a "last slide" this time 🙂
No time to take more pictures! Too busy chatting and managing my merchandise!
I was booked for two days of classes so I checked with my host what class I would be teaching in the morning and turned up bright and early to set up.
Oh dear! Ten minutes in one timid soul piped up, " I thought we were doing embroidery today". (Note to self: if you are going to check which class you are booked for, you need to remember the answer…)
Yes, I had started on my wool appliqué spiel. We gathered in the wool kits, gave out the embroidery ones and set off again. The ladies were very kind. This table of stitchers look happy?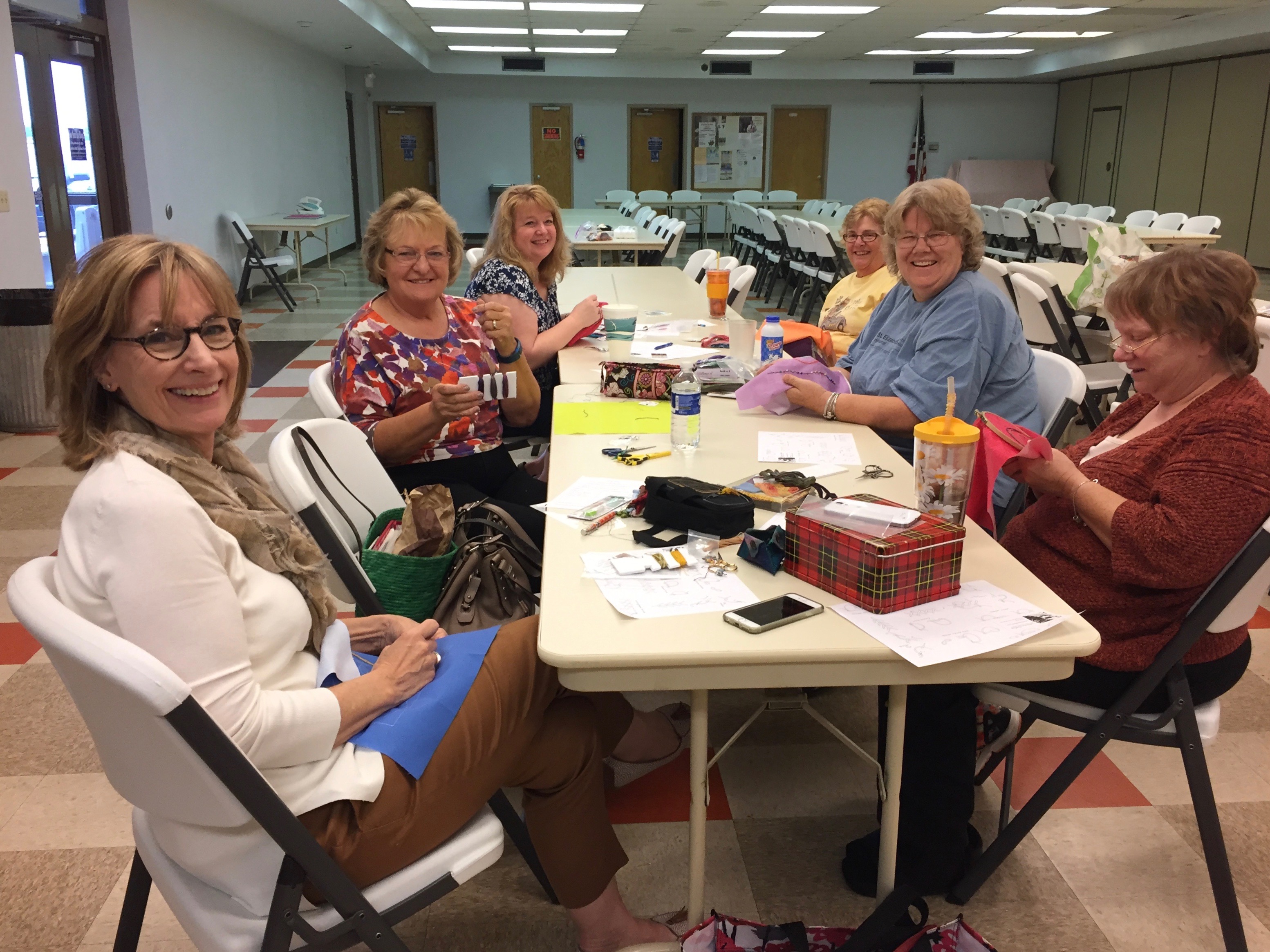 I felt so silly!
Heather went home and finished her project and sent me a picture.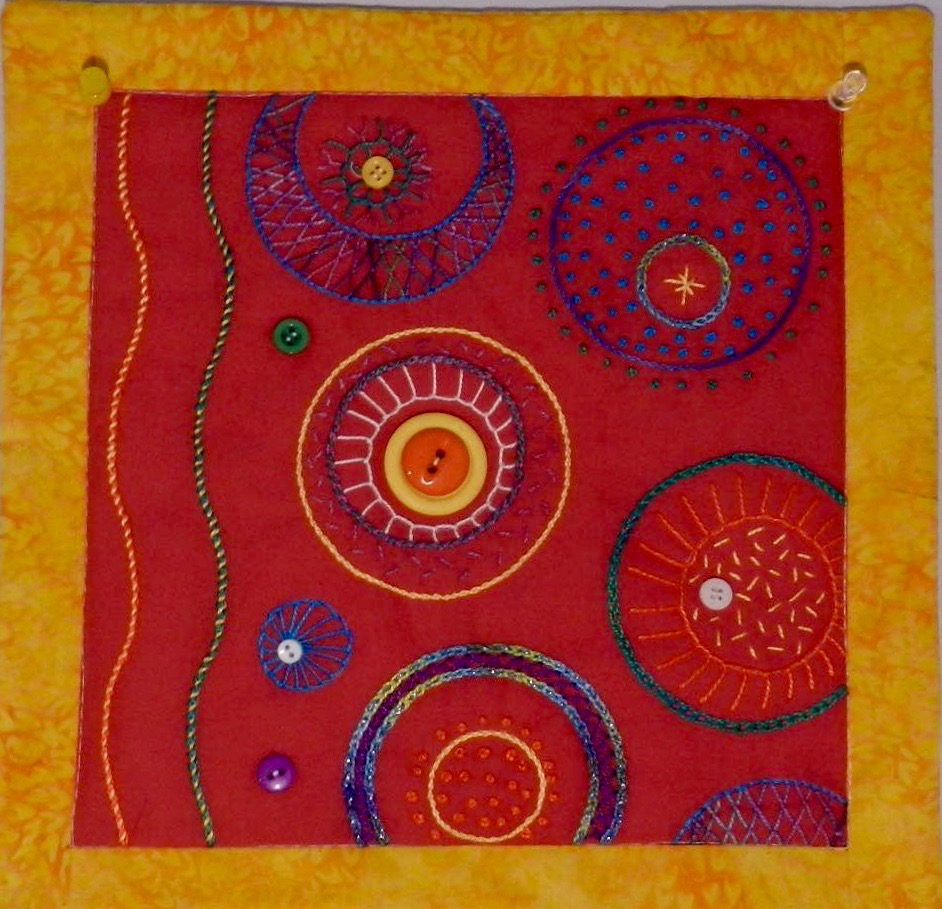 I love the way she used buttons and added stitching in the spaces. I need to make a sample that looks like hers!
On Thursday morning I left the hotel early enough to call in at the new Tim Hortons. After Wednesday's bad start I figured donuts would be a good way to go.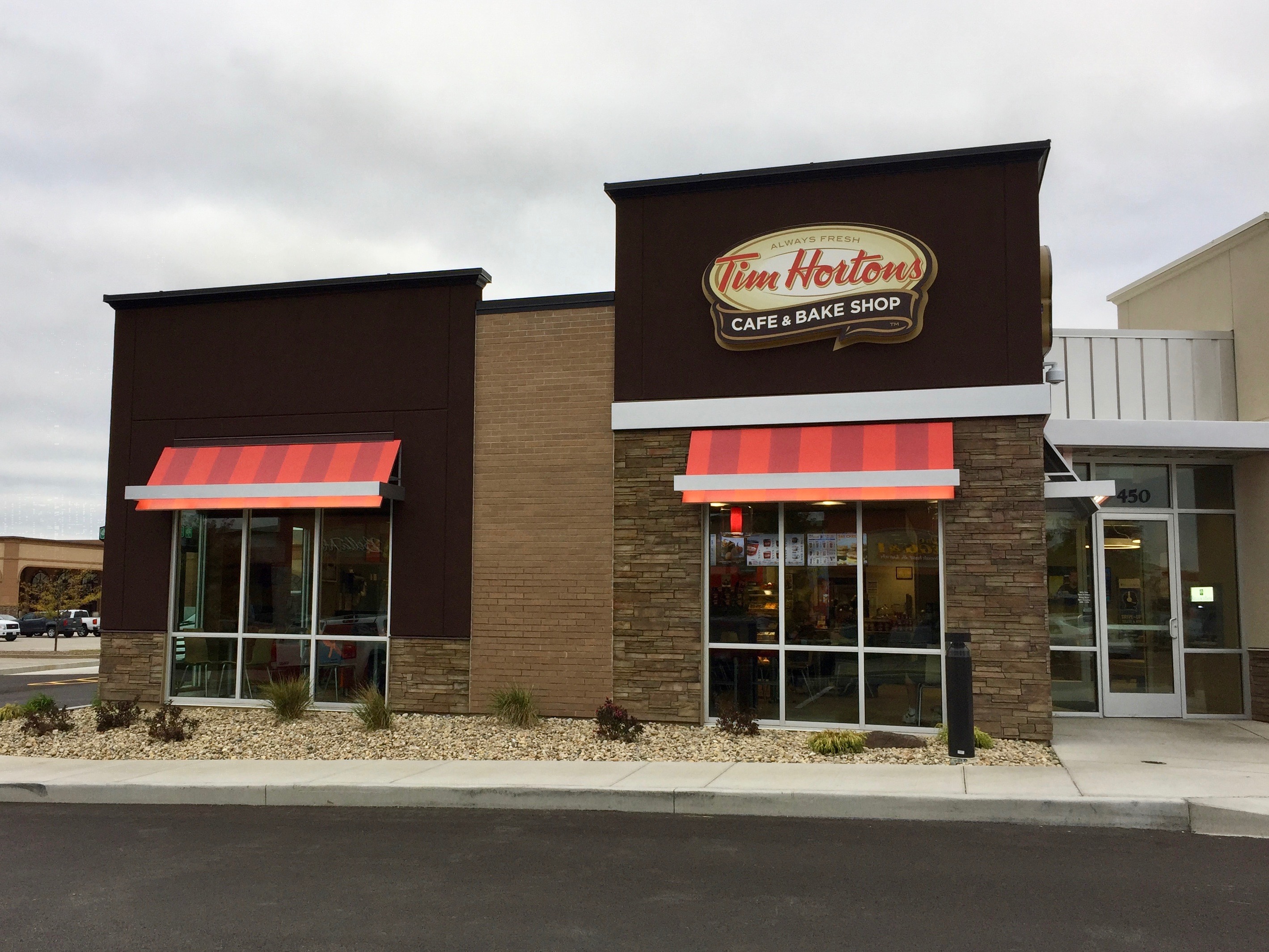 Coffee and a Boston Creme for me and a box of TimBits to share!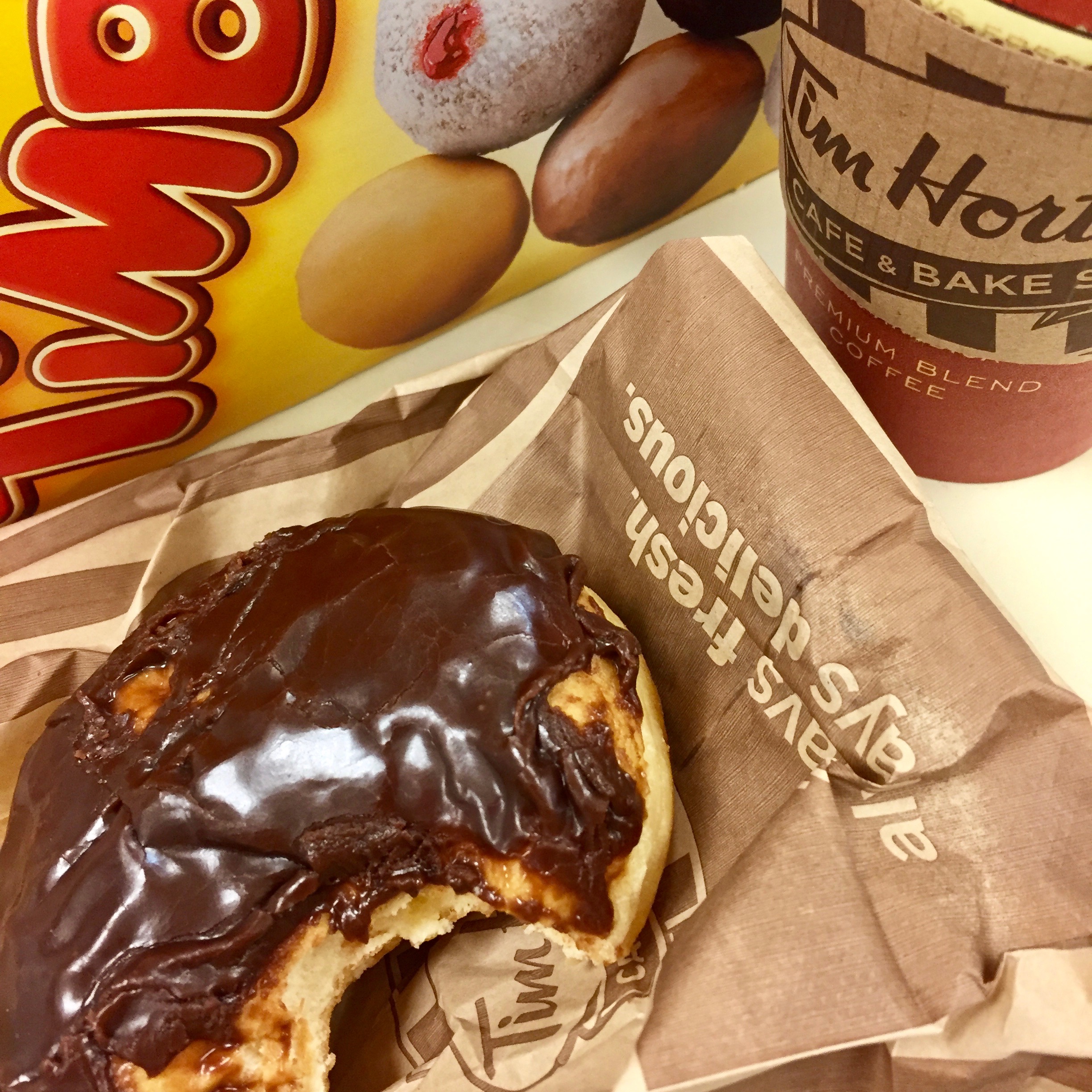 Yum Yum.
Wool appliqué introduction and then stitching…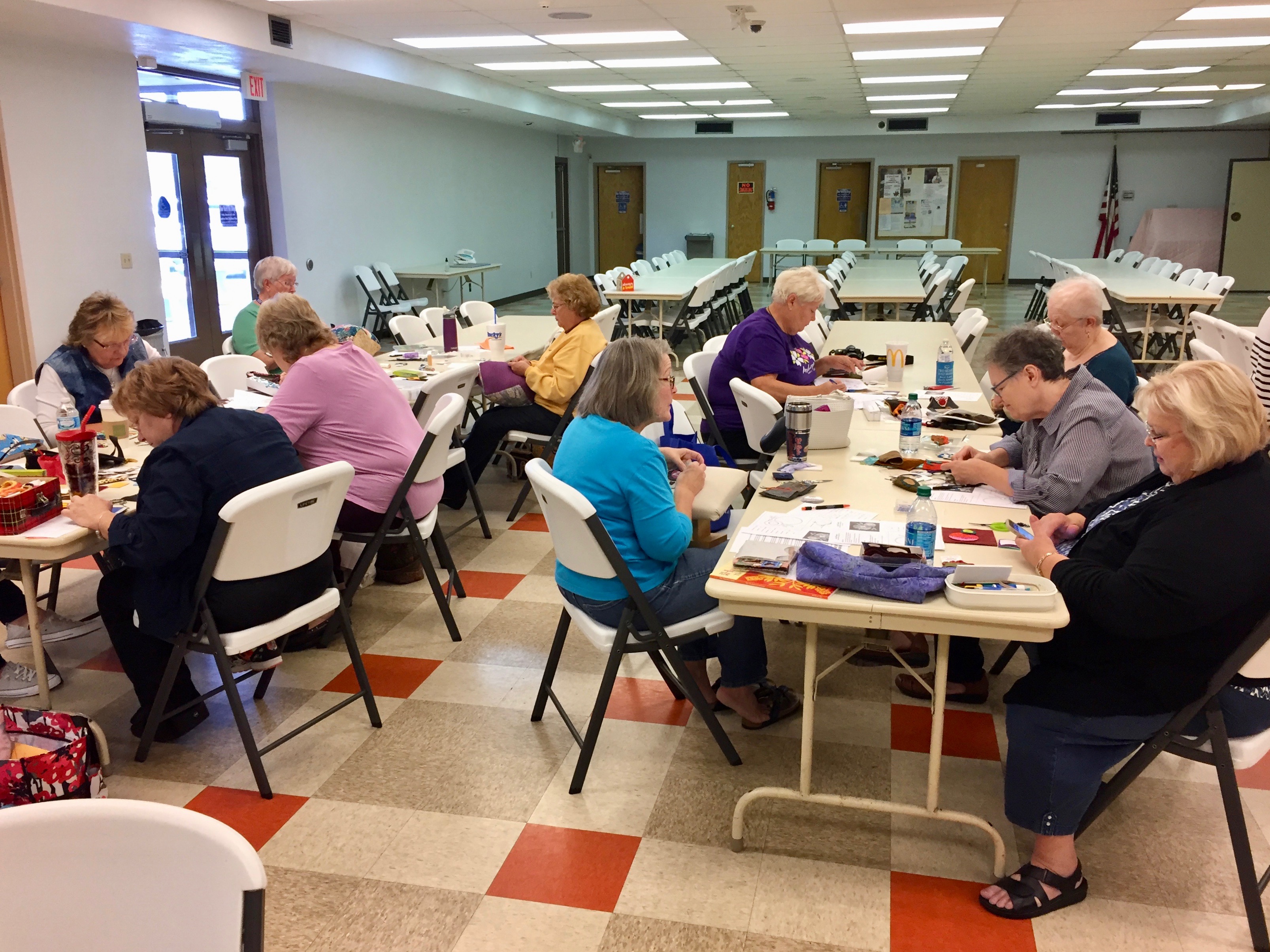 and more stitching.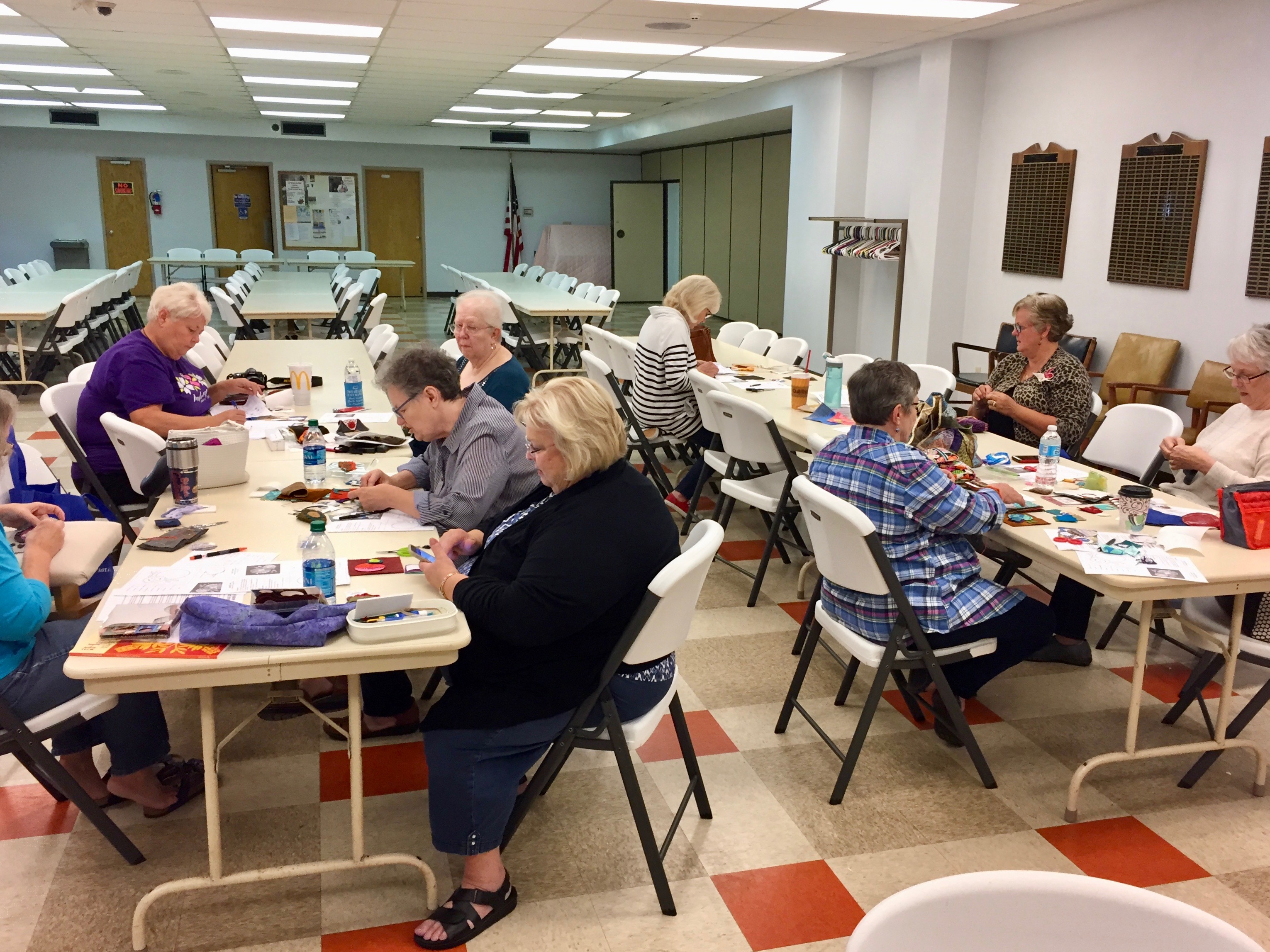 I managed to get all the stitchers in the picture this time. Nearly everyone had signed up for both days of classes.
We worked on my Little Flowers project.
This wasn't this stitcher's first time at appliqué. Look and admire her smooth circle!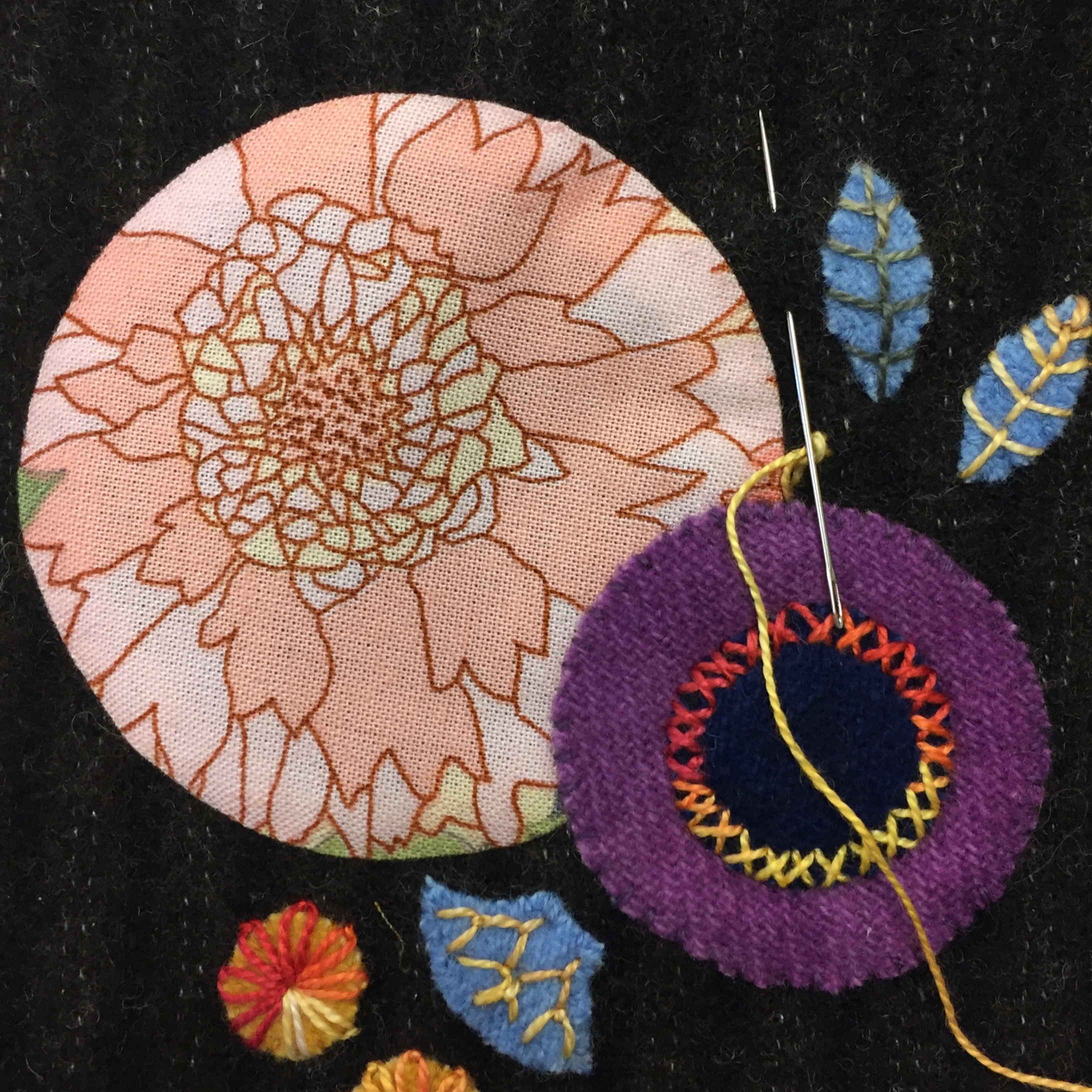 Sue went home and finished her embroidery and sent me this next picture. Those are some seriously good bullion stitches.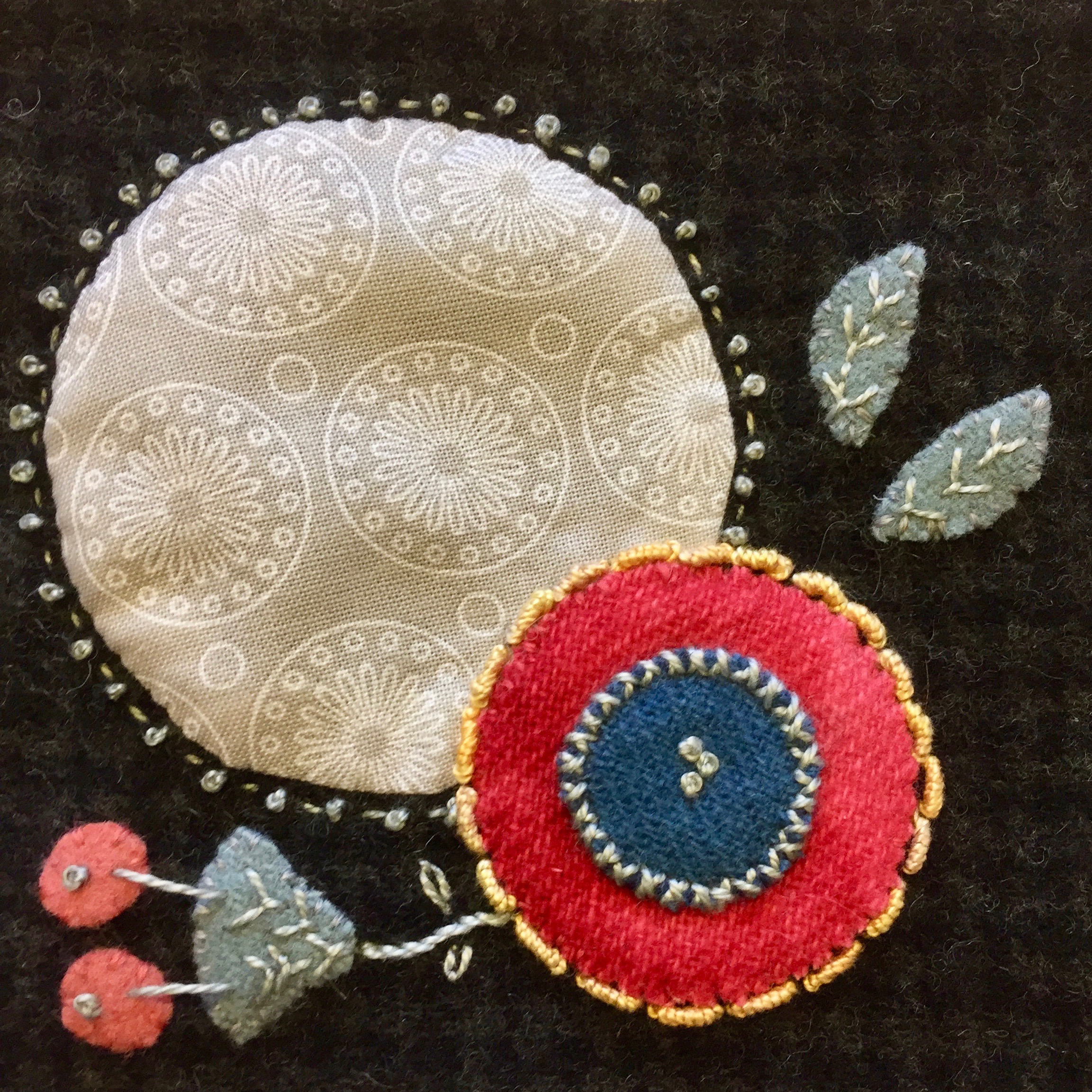 I had a lot less to pack in my bag after the class. I think there will be lots of hand stitching in the ladies' futures? I  certainly hope so!
I drove home on Friday, 270 miles northeast this time! Unpack my bags, put the laundry in, prepare for James and Sarah coming to stay…
AND
Lilly June Redford!!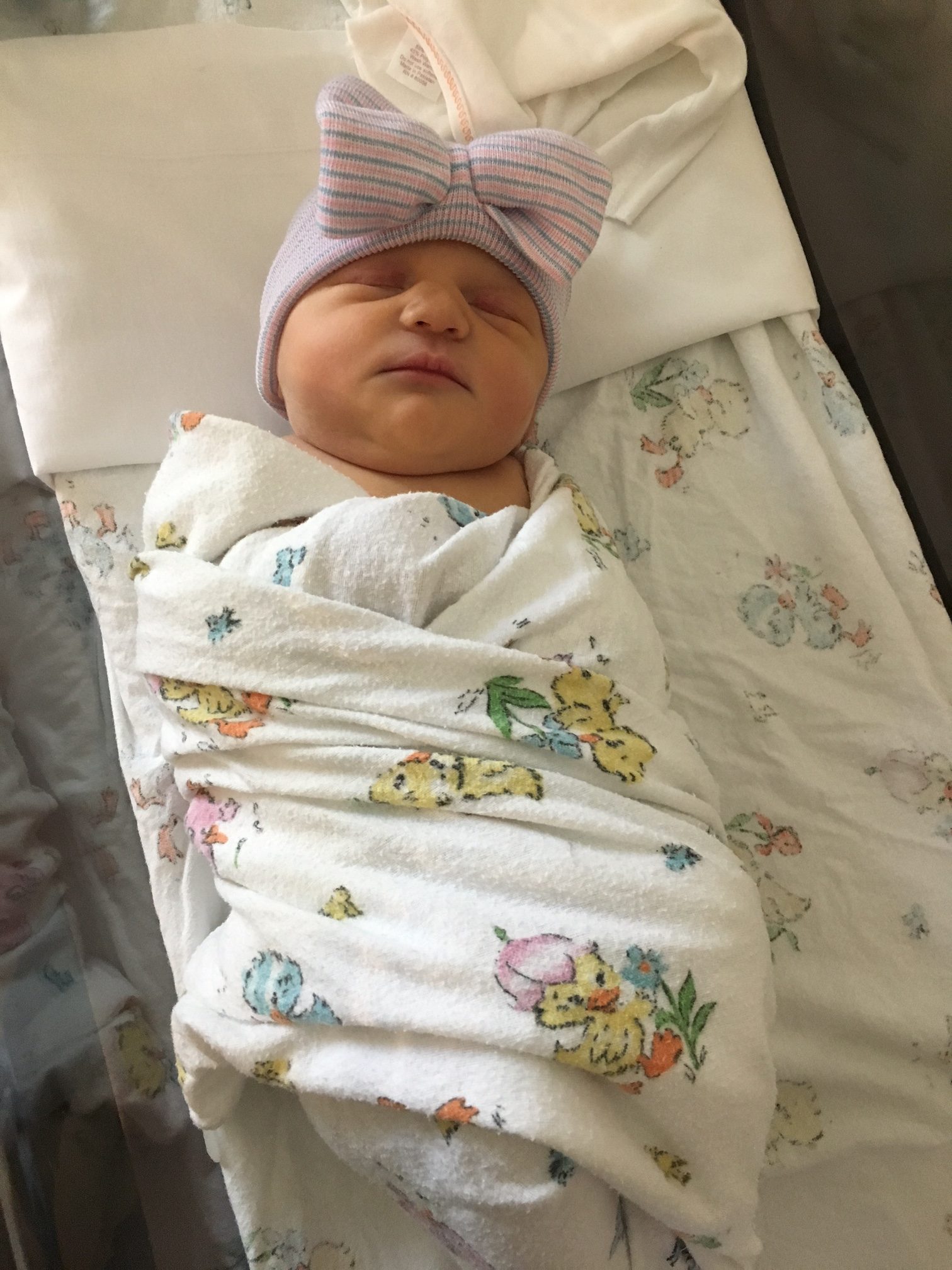 Jonathan and Lauren's baby girl arrived in Nashville very early on Saturday morning. Everyone's doing well. My ticket is booked for after Houston. Until then, there's FaceTime…