Other than having to get up in the middle of the night, the journey to Pittsburgh was uneventful… Steve makes a fairly good chauffeur and while he's willing to drive me to Midway in the rush hour I'm very happy to be driven!
It's interesting taking flights full of business travelers. They are not all very business like and I am very easily amused…
Enough said!!
My hostess Anne, from Quilt Company East, was waiting for me at the airport and she took me on a little tour of the sights. This is the view of the city across the river from Mount Washington.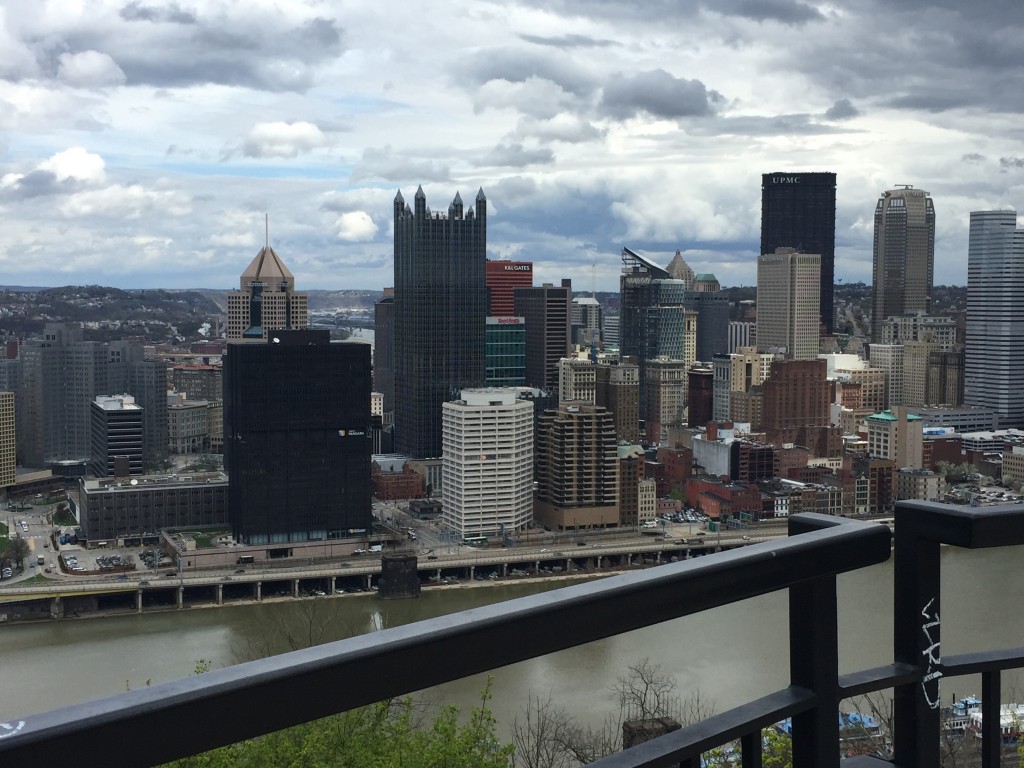 After a short nap , a change of clothes, and dinner with some of the guild members, it was time to get to work! I was in Monroeville to take the guild members On Safari with African Folklore Embroidery… No one got eaten by a lion so all went well.
Every guild does things their own way. My lecture came first, followed by a short break. Then it was business  and last up was show and tell. Some members went home in the break but here are the ladies (and two gentlemen) during the business section. Note the beaded dolls in the foreground!!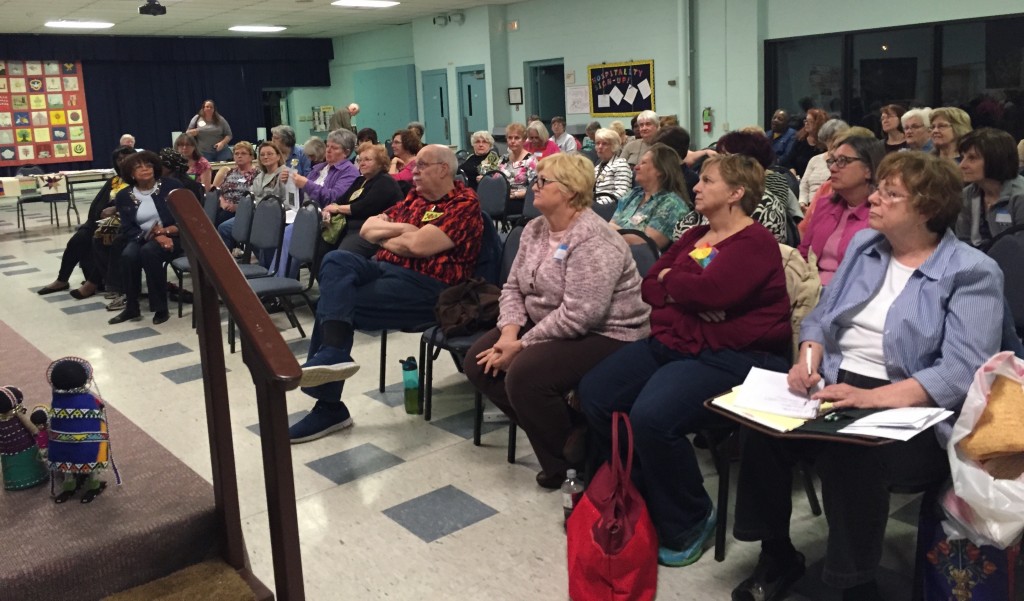 There was lots of show and tell. This mom showed a denim and t-shirt quilt made for her high school graduate who is joining the military later this year.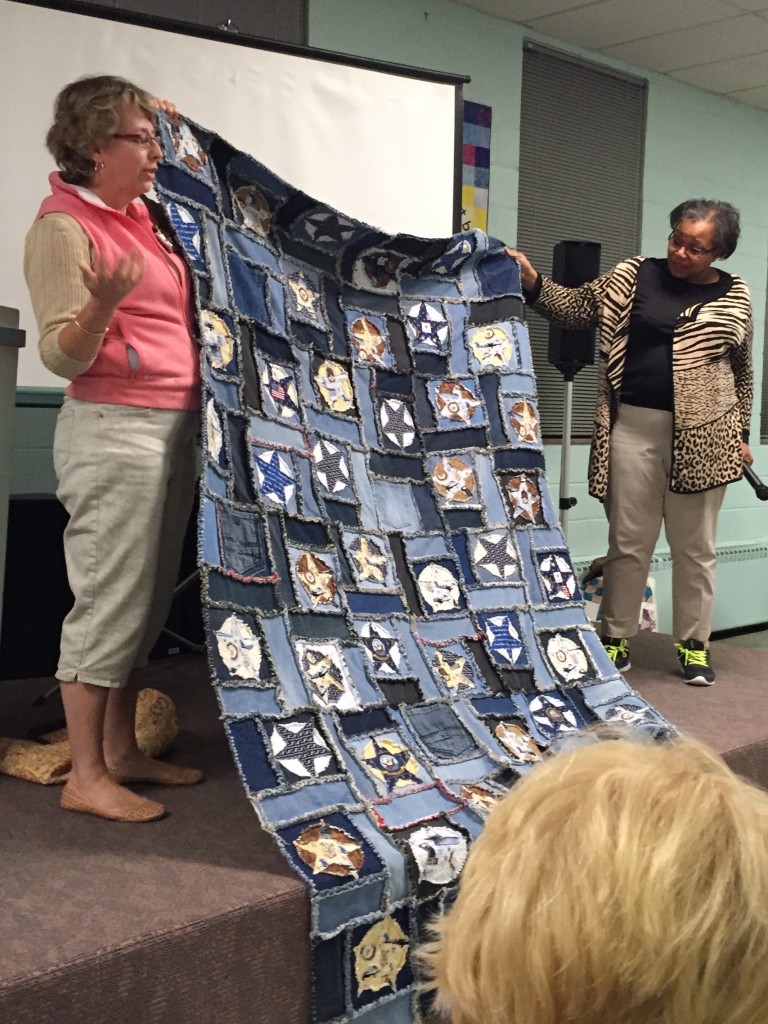 This Grandmother's Flower Garden was made entirely by hand. It took nine months from start to finish.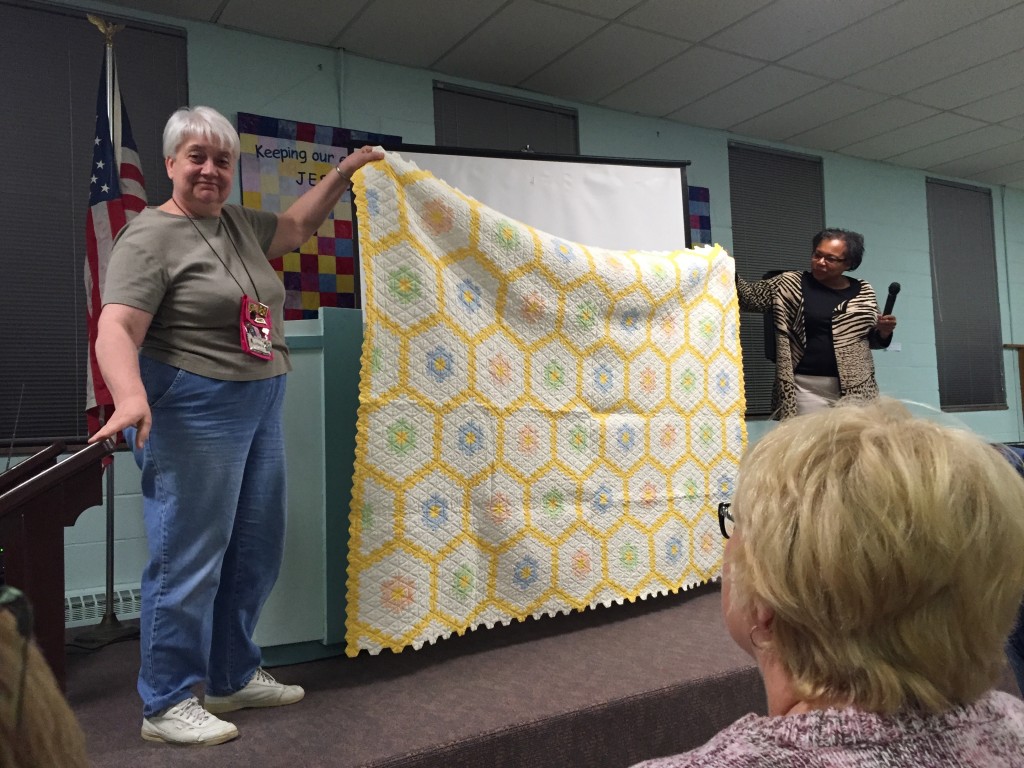 Maybe I'll make a larger size hexie quilt one day?
Back to my hotel for a good night's sleep before an all day adventure with African Folklore Embroidery. Rule number five is have fun and we quickly set to work having lots of fun…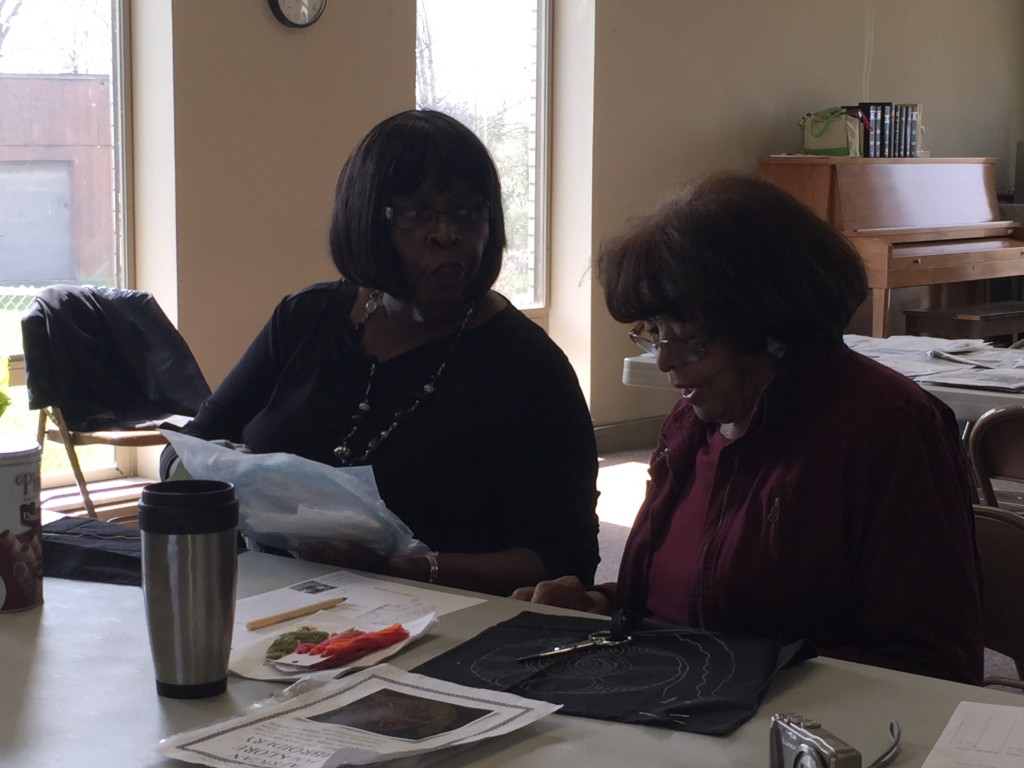 Of course I didn't manage to get a picture of everyone before some students had to leave, but here are some of us with our embroideries.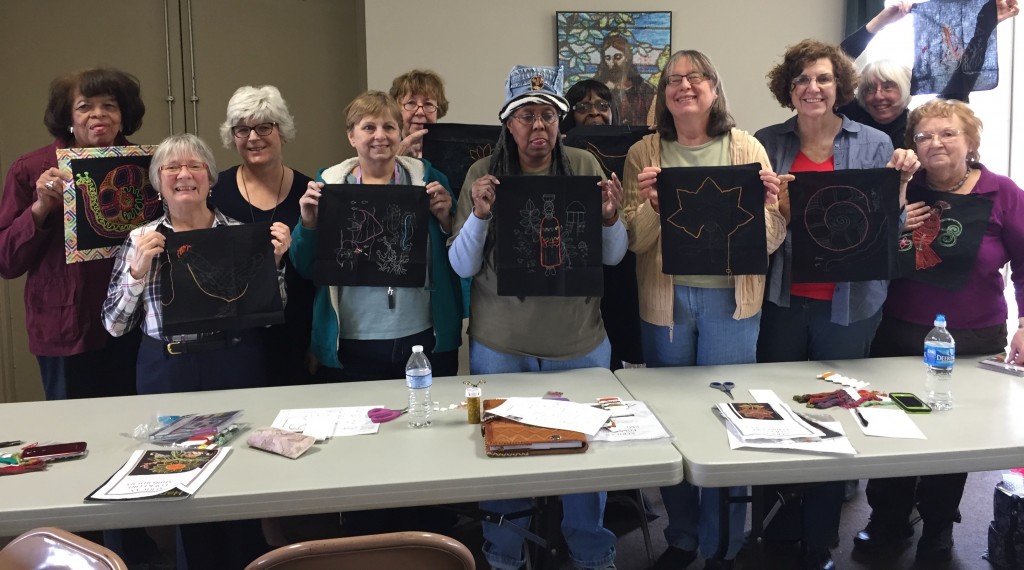 (Yes, I did say that the ladies could pick up one of my pieces if they preferred and one lady took me at my word.) Everyone did very well and I look forward to seeing some finished pieces….
Anne had the task of returning me to the airport in the afternoon rush hour through construction… I was glad to be in the passenger seat again.
There are some unusual sights at Pittsburgh airport!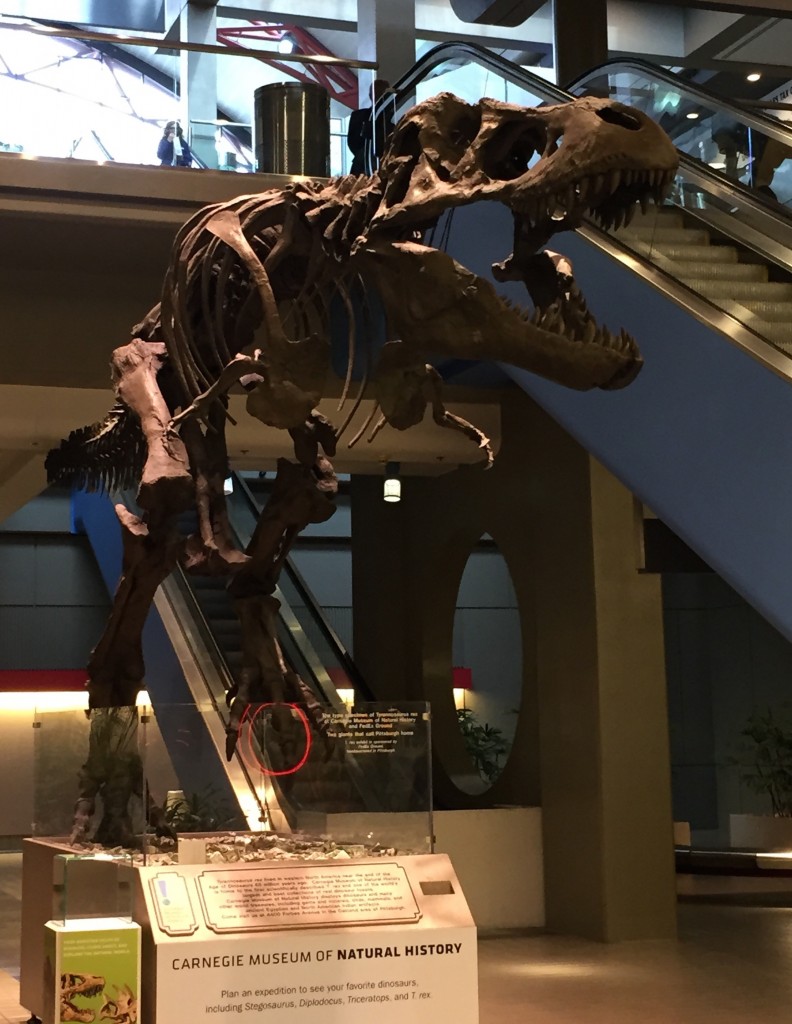 Who doesn't love a dinosaur skeleton?
More interesting passengers on the planes… I thought I might get a nap but the conversation behind me was far too loud and far too fascinating to miss. Our plane wasn't fitted for wi-fi so we got free drinks… enough said?
While I was away Marie sent me a picture of her finished chameleon. She started it in our class at International Quilt Festival/Chicago.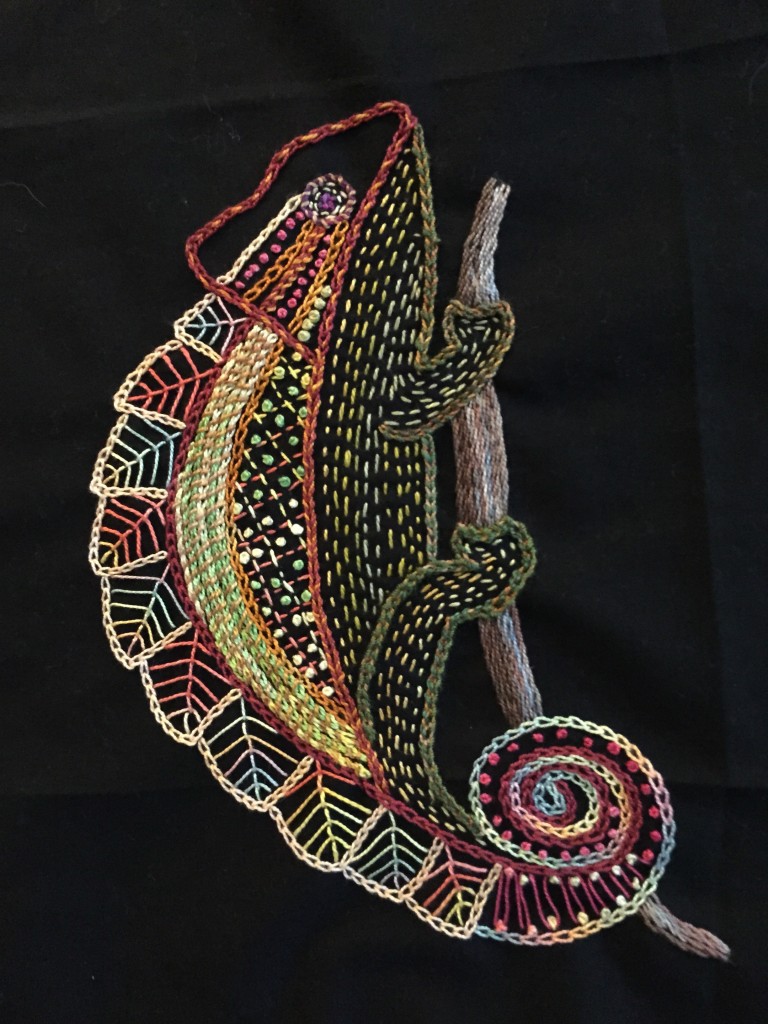 Isn't it wonderful? It makes me want to start stitching one for myself!
I know I haven't finished my Sewtopia review… I'll get back to it very soon…