Well, it's been a fun-filled month. You would have thought that I could have had a few days, or even weeks to relax after all the excitement of a wedding and my dad staying but no… Alicjia came and cleaned up and we were off again…
First up was Maggie Ball, all the way from Bainbridge Island, WA. We had invited Maggie to lecture and teach at Riverwalk Quilters and it was my pleasure to play hostess.  We had a beautiful day for a sightseeing trip to the city..
We started off at Millennium Park with obligatory pics of the bean…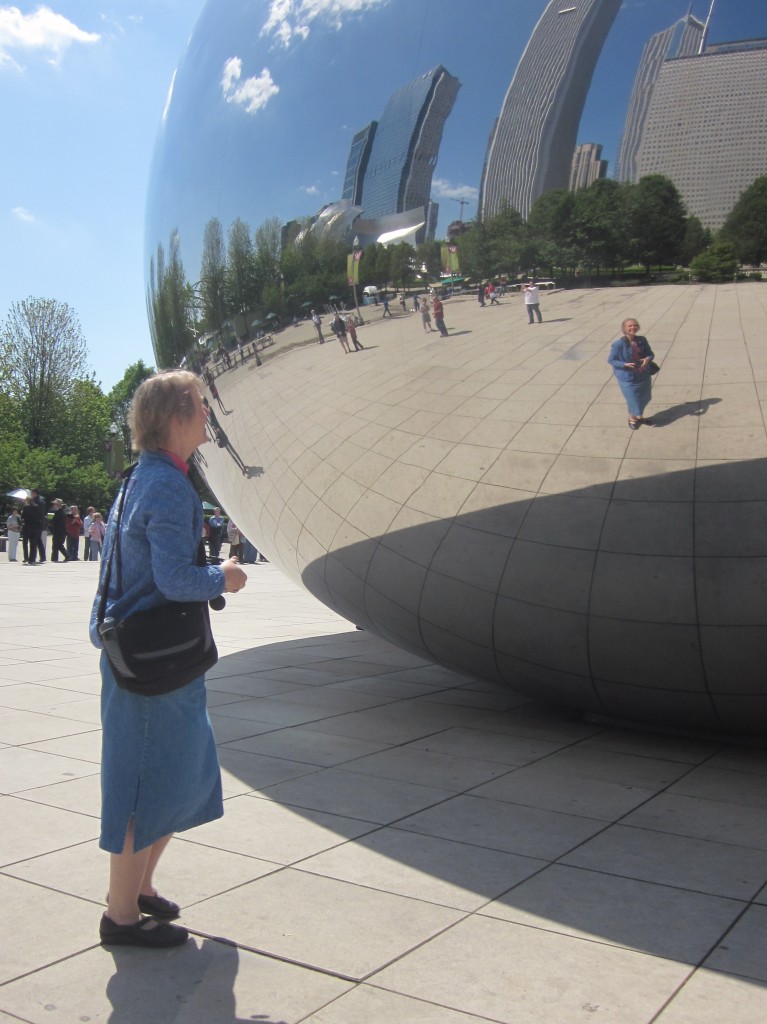 This was followed by a visit to the Art Institute and a quick walk to the lake front before driving home ready for Maggie to speak to the guild in the evening. We heard her lecture Quilters without Borders, all about her experiences teaching and traveling in Mongolia. I'm not sure I could travel across the Gobi desert, sometimes staying in a tent and emerge smiling…
On the Wednesday Maggie taught her Gateway to Mongolia class, her take on the traditional olzii symbol. Here is my center block, constructed and displayed against the background fabric.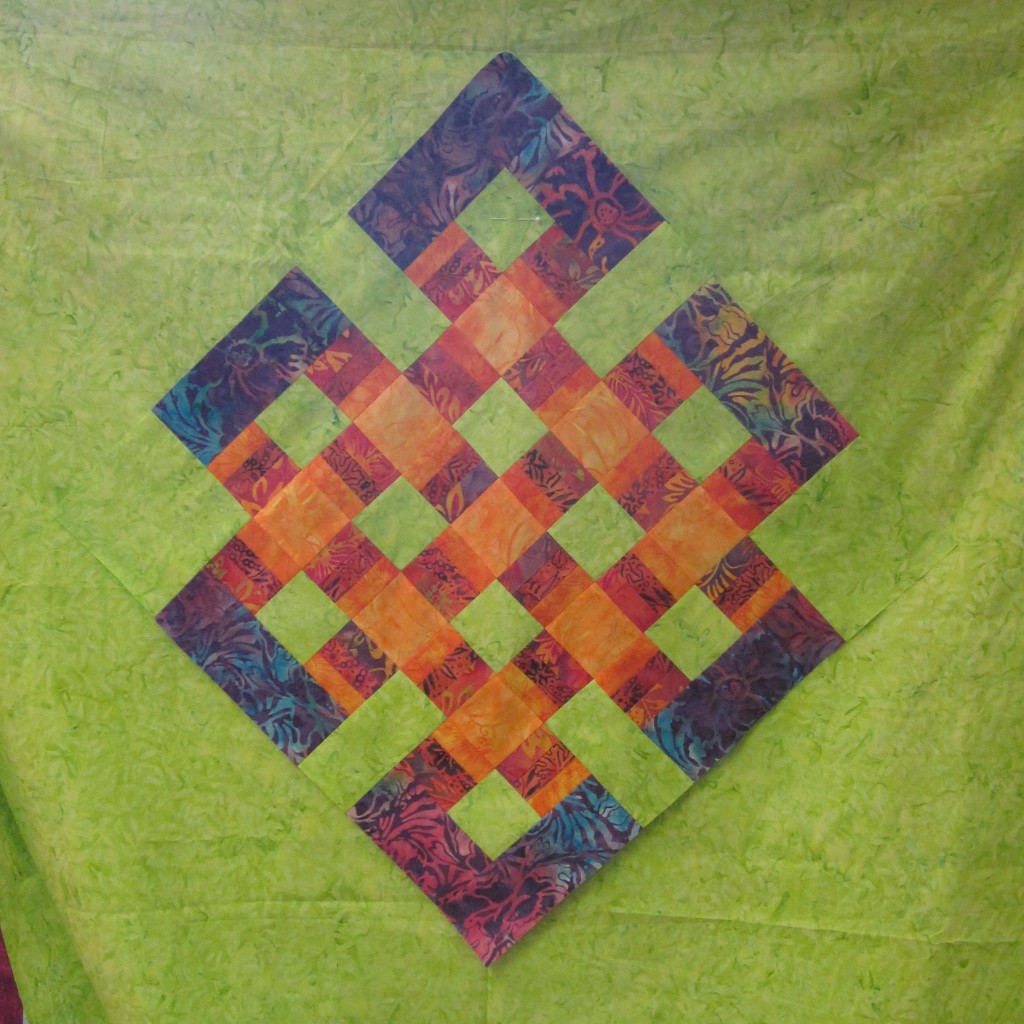 I have a ways to go before my top is finished. We set ourselves a target of having them finished by our July meeting. Mine is still folded up in my bag so we shall see…
Yvette came and took Maggie away. early on the Thursday morning.. I don't go to the airport at 7.30 a.m. unless I really can't get out of it….
I took the opportunity to inspect the flowers, blooming early this year. Here is a peony, just one ant hiding amongst the petals if you look closely.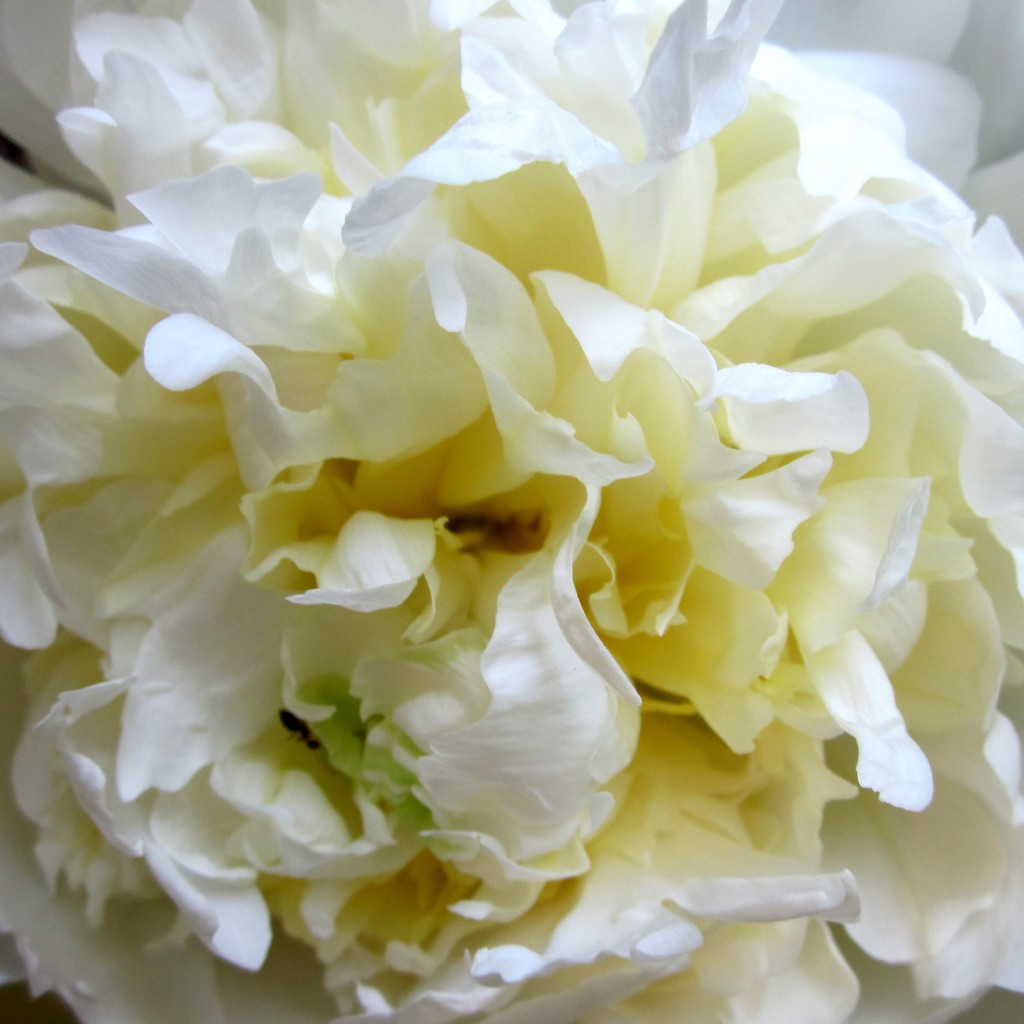 And  then I got to some outstanding projects…
Cheryl and I picked up packets for the Arts and Old Lace challenge when we were in Houston last November. Mine had been sitting on the side since then so I retrieved it and set to work. We are not supposed to show the finished piece until after they have been displayed at Artistic Artifacts in July so here is a hint…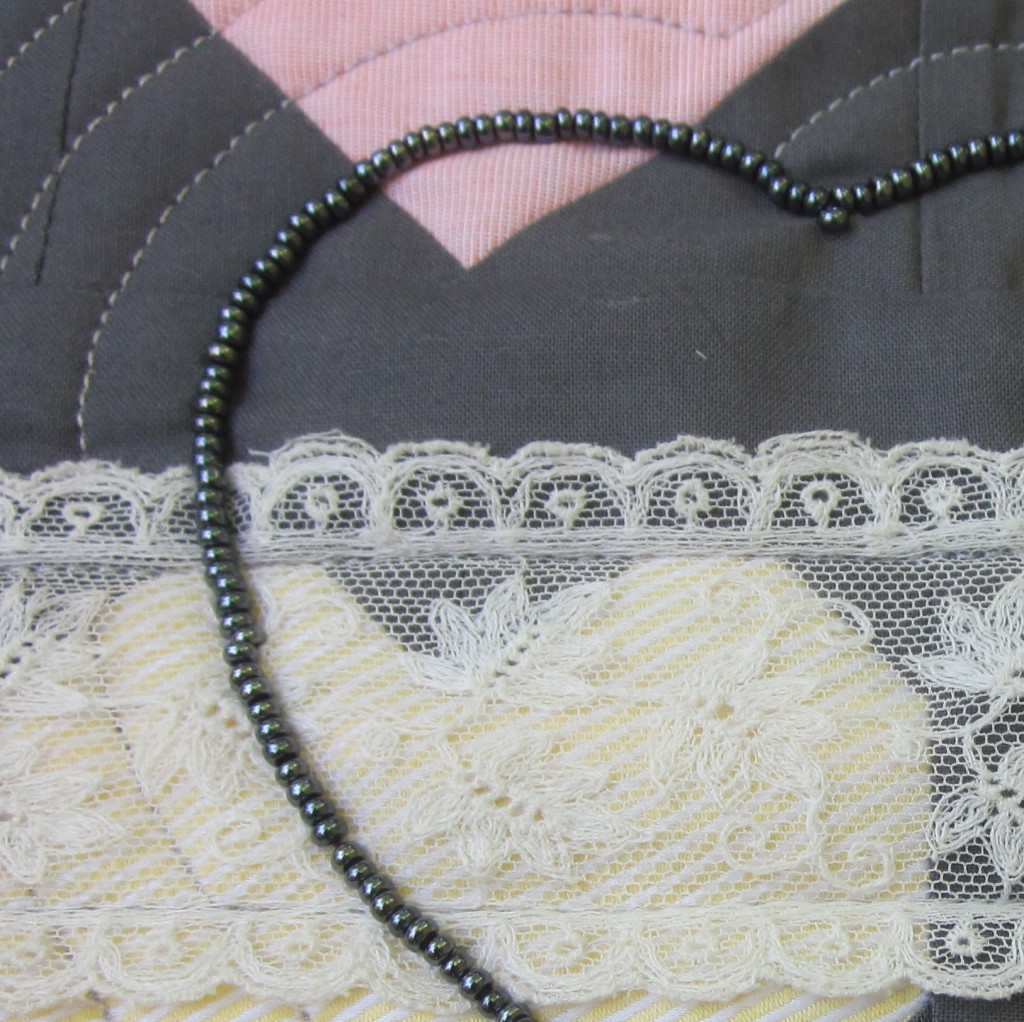 It's called (he)arts and old lace. I will post more in July!!
With my challenge quilt finished I looked in the drawer for inspiration and came up with some fat quarters I bought at a show back in 2007. There were seven co-ordinating Jason Yenter prints so I added one of my new Marcia Derse modern textures and put together this  little quilt from Happy Hour Quilts by Atkinson Designs.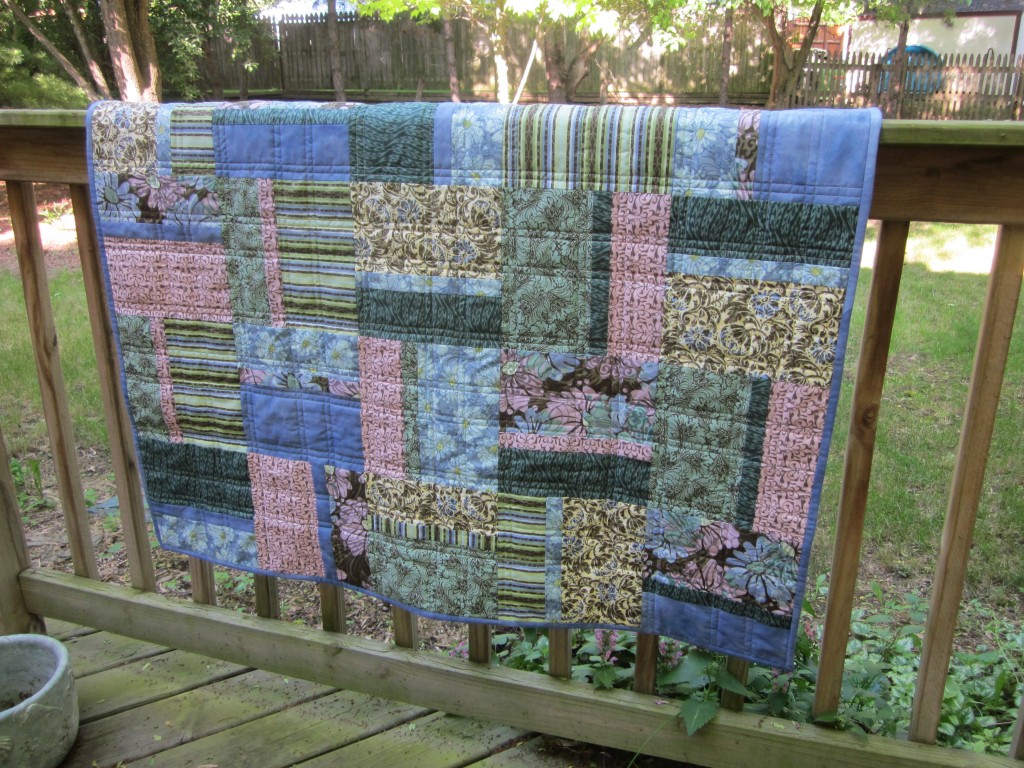 Finishing at 36″ x 45″, with a soft wool batt and a textured yellow backing I can add it to my collection of finished baby quilts!
I have another quilt pinned and ready for finishing but I didn't take any pictures yet. It's been good sitting at my machine and sewing again. I think I have done 300,000 stitches since it came back from the menders!
Another baby shower invitation meant I needed another small cardigan. This time I know that the baby is going to be a girl so I could knit in pink. I combined a couple of patterns and some cute yarn from a Craftsy mystery box to make this cute combo…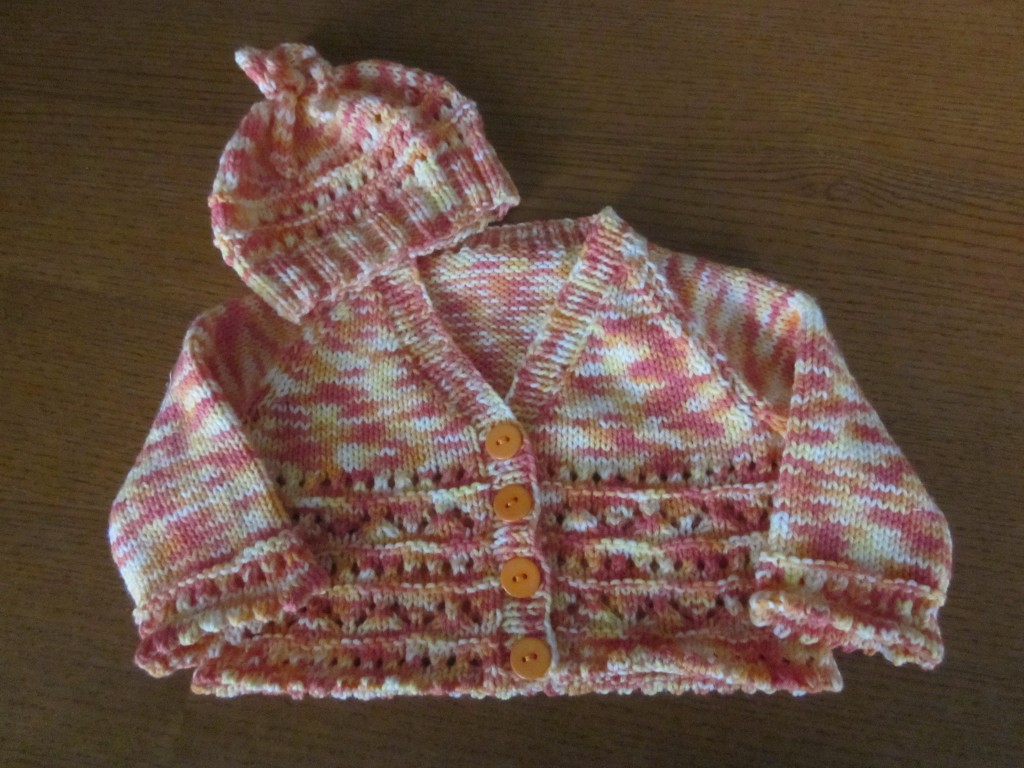 The hat was fun. After decreasing down to eight stitches I split them into two halves to make two i-cords which can be knotted together or tied into a bow. I am sure I will be doing that again in the not too distant future.
We went to see Ruby and Benjamin on Memorial Day Monday so naturally I needed to take a few presents… A new Nancy Halvorsen panel had come in at Pieceful Heart fabrics  that looked just right for Ruby. I just needed to add her name, some quilting and the binding and here she is checking out what a big girl she is getting!!

Benjamin couldn't miss his chance to be in the picture,,,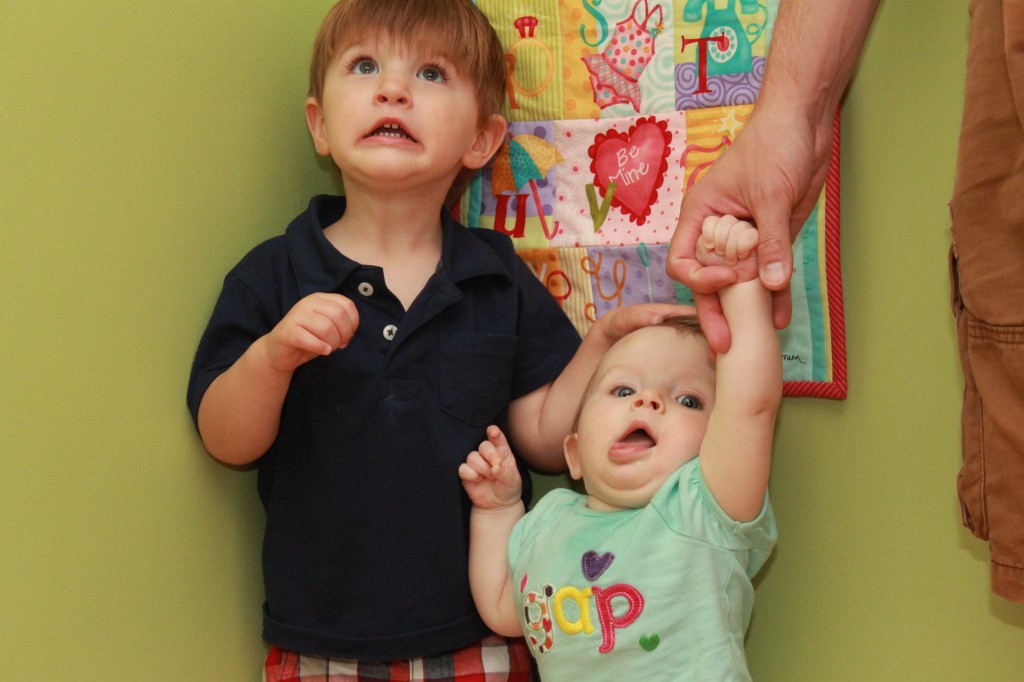 A picture speaks a thousand words!?!
So, I have my Mongolia quilt top to finish, another quilt pinned ready for quilting and I have finally got to the painted kimono I brought home to quilt for Rebecca from Stewart Gill. It has been sitting on my table for six months… I will OK in the basement if we get the hot summer we seem to have headed our way…