I spent yesterday packing, doing errands and packing…
I need to post some pictures before I fly to Houston tomorrow?
North Dakota was everything I hoped for and more! The flights were easy. My luggage arrived no problem. Laura took time off from her moving house packing to pick me up for the drive from Fargo to Grand Forks. We dropped off my suitcases, enjoyed lunch and a little shopping and after a short rest I was ready for my first commitment at the North Star Quilters Educational Conference, (QuiltED CON) 2016.
The lights went dark before I could get a picture so all these quilters had sat through my lecture when I snapped my photos…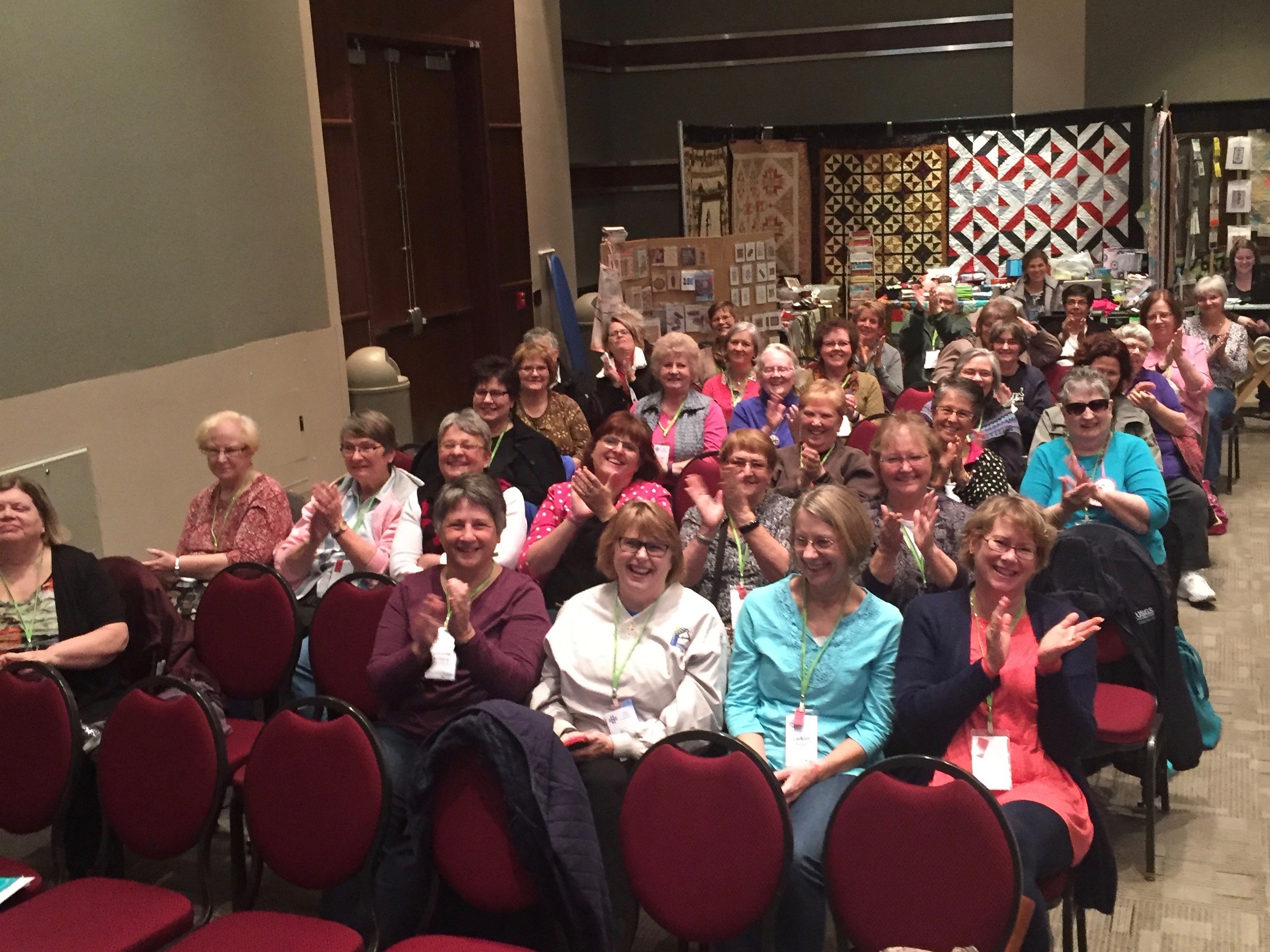 And we can't forget the other side of the room!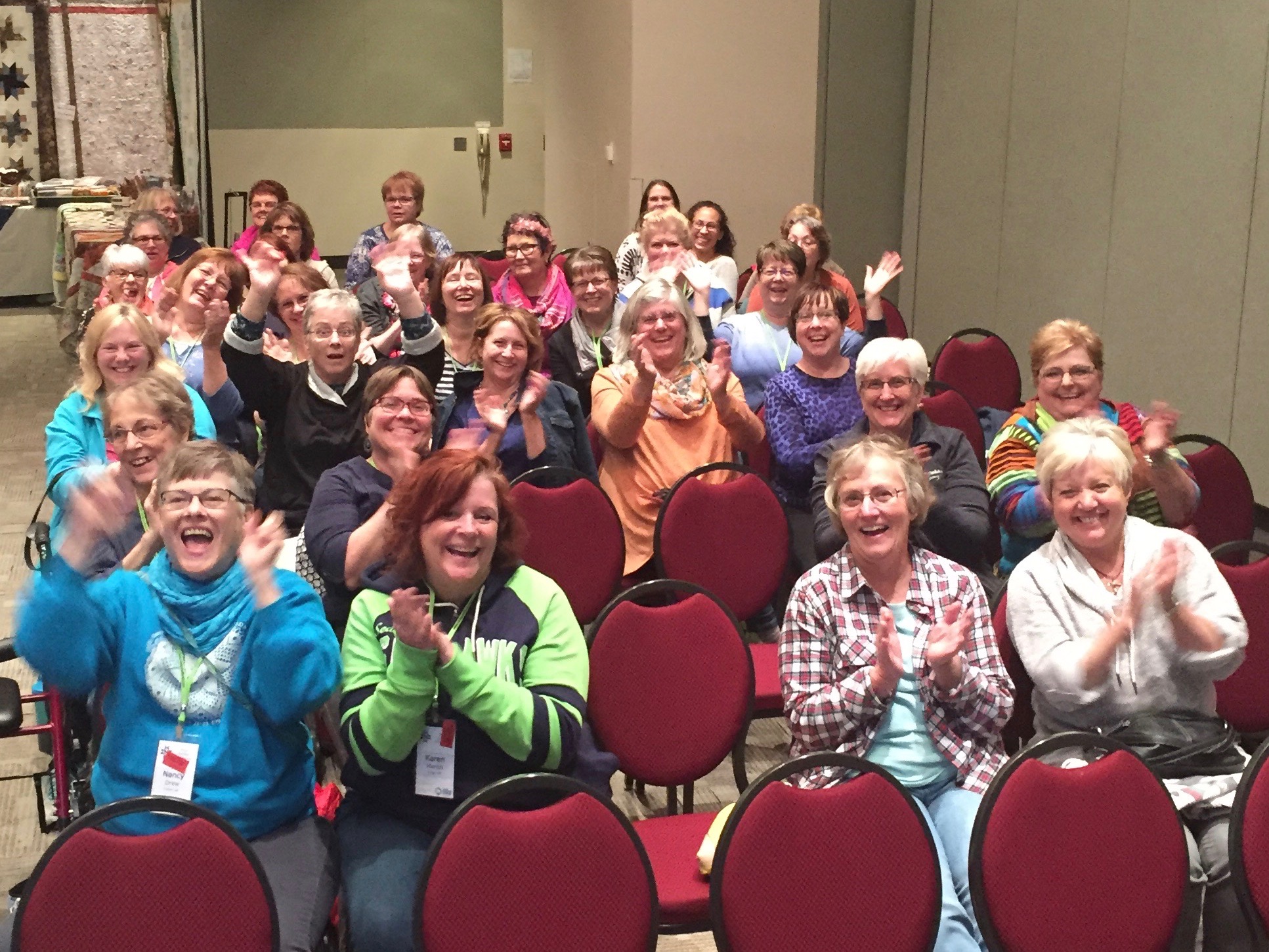 Too much fun?
Back to my hotel for the night and then time to return to the Alerus Center for the conference. I was expected.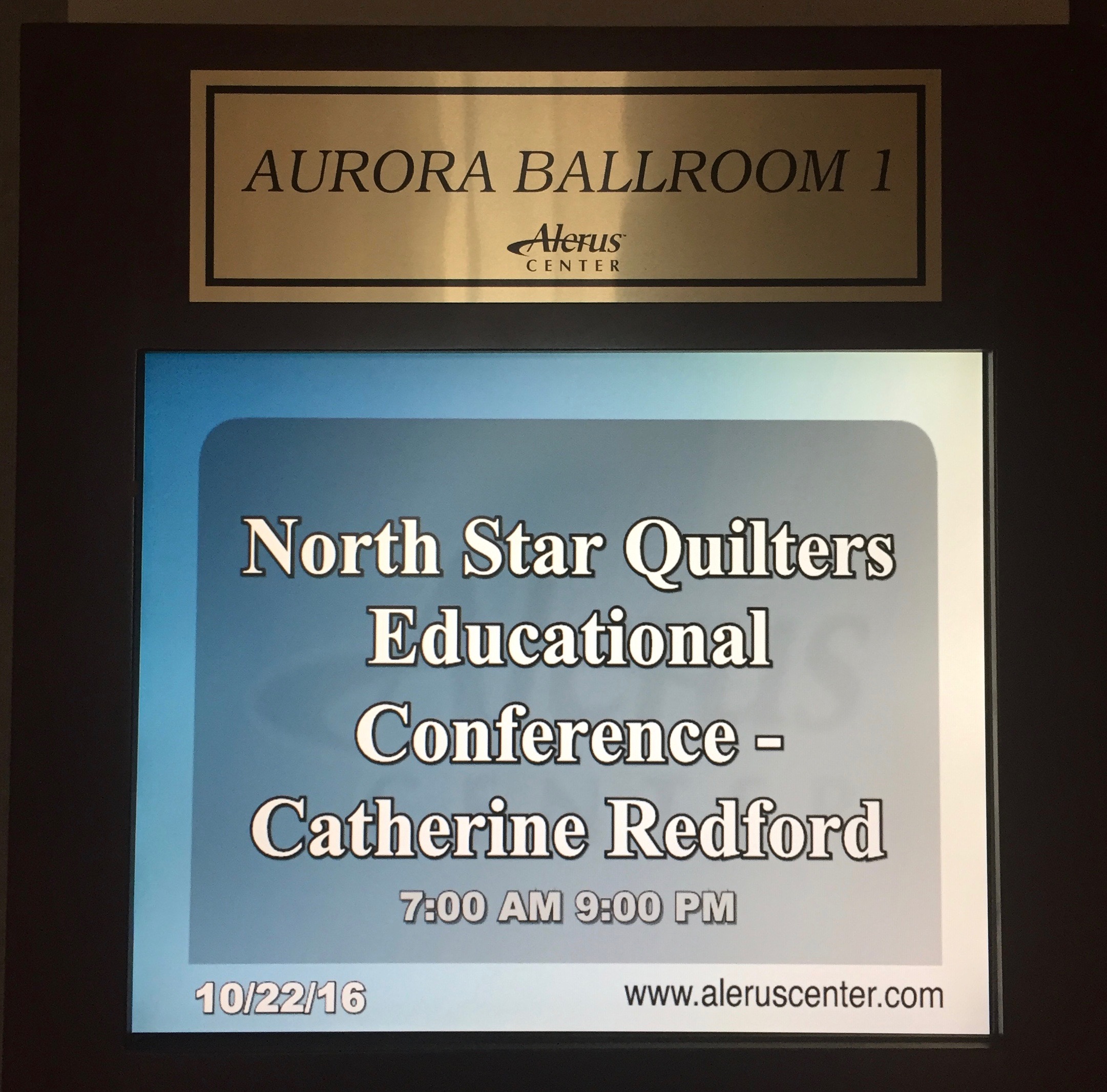 The class was not to be fourteen hours long!
All the seats were taken for Walking Foot Quilting – beyond the ditch and everyone set up their machines and set to work.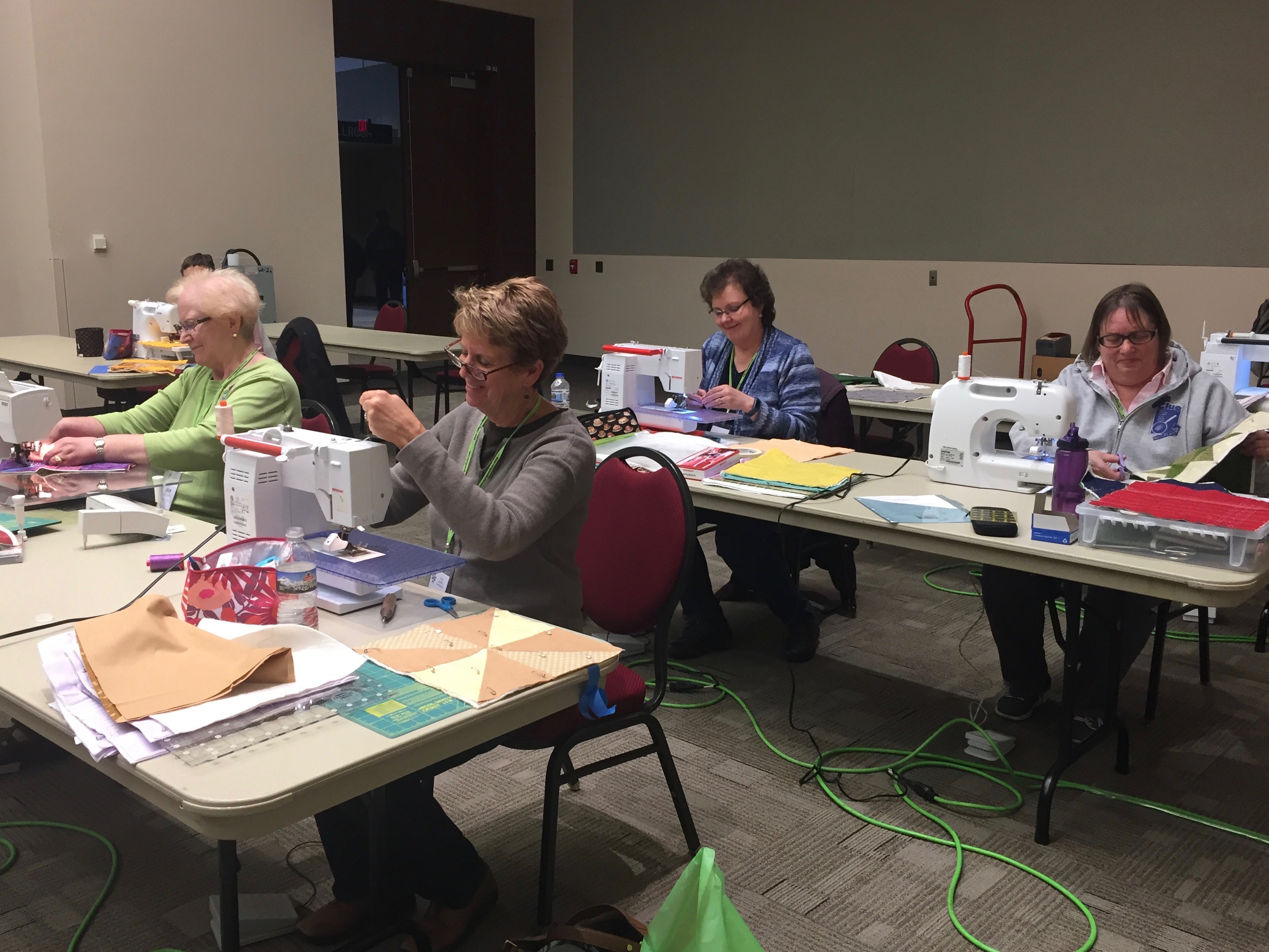 I'm always slightly bemused by people wanting to take pictures of my samples but here they go again…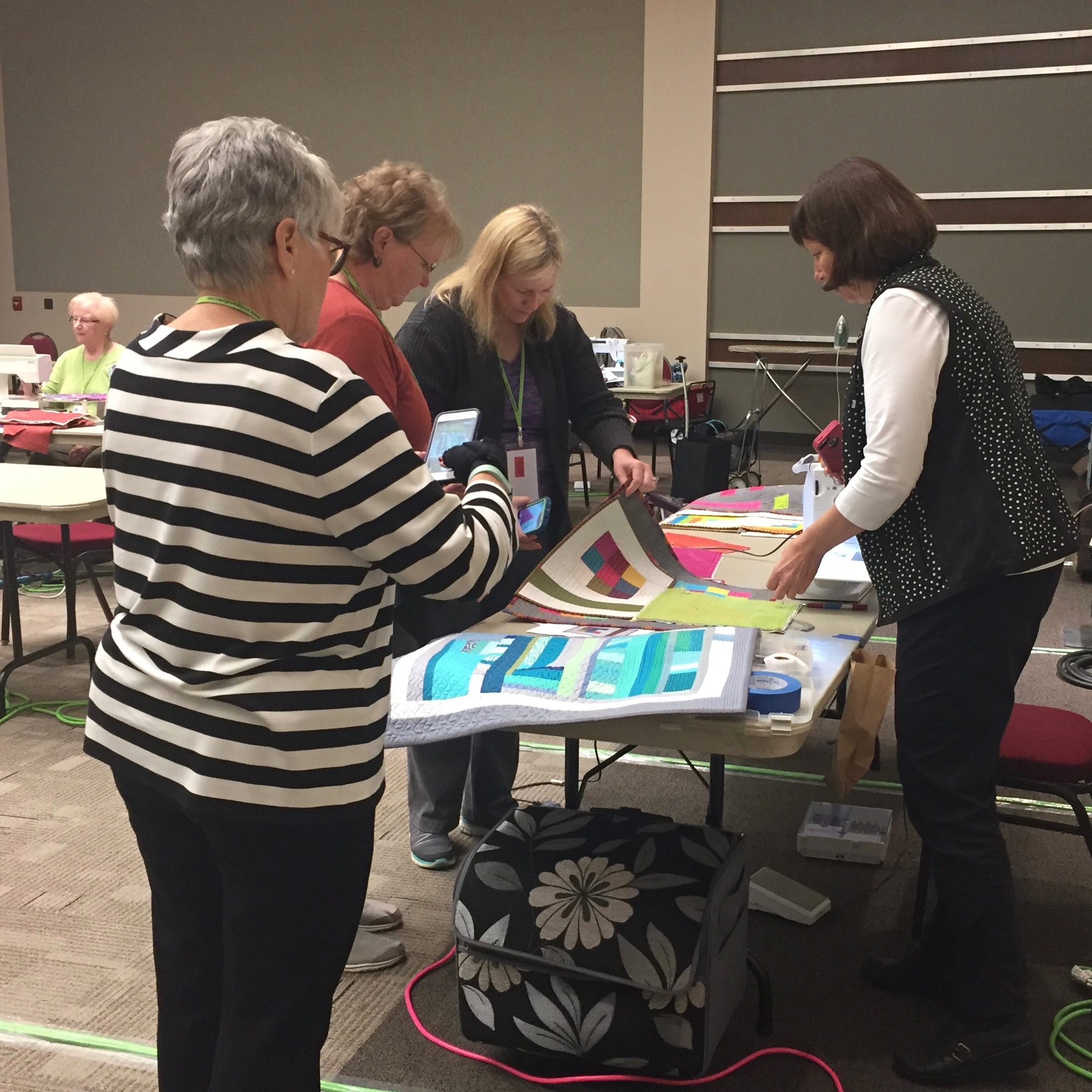 We had six hours for the class plus a one and a half hour lunch break. It whizzed by and before we knew it time was gone!
Ten of us went out for dinner and we were the last to get back for Colleen Carlson's lecture An Eye for Color. Colleen is a local award winning quilter with ribbons from Road to California. She was very organized and we all learnt a lot about color, how we see it and how we use it.
Here she is in full flow.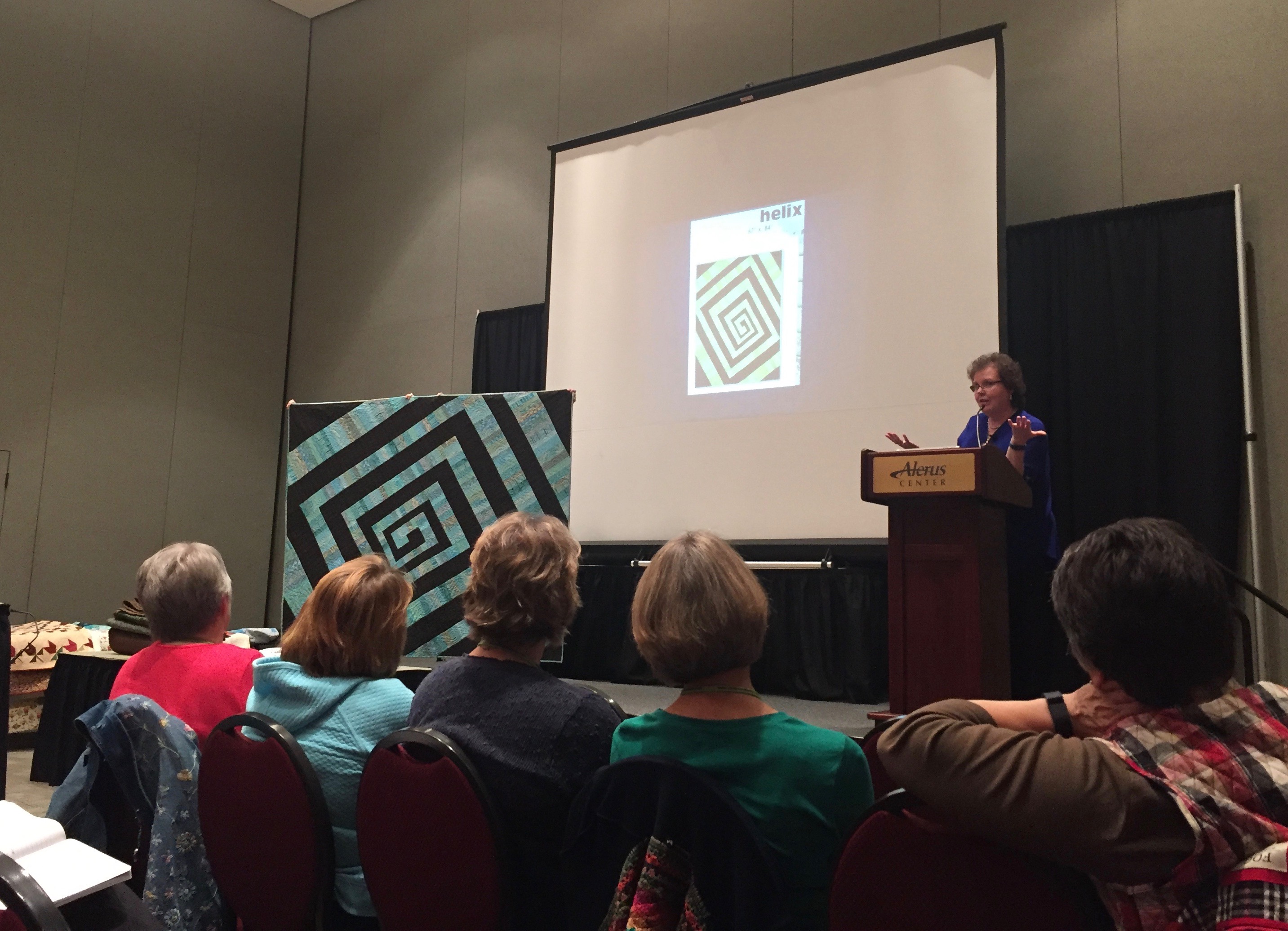 Sunday morning I was back at the Center for my second full Walking Foot Quilting class. I was a little concerned that I would get confused about what I had said the previous day and what I was saying again but it all seemed to go well. I took note of our time issues from Saturday and there was plenty of time to stitch spirals before going home!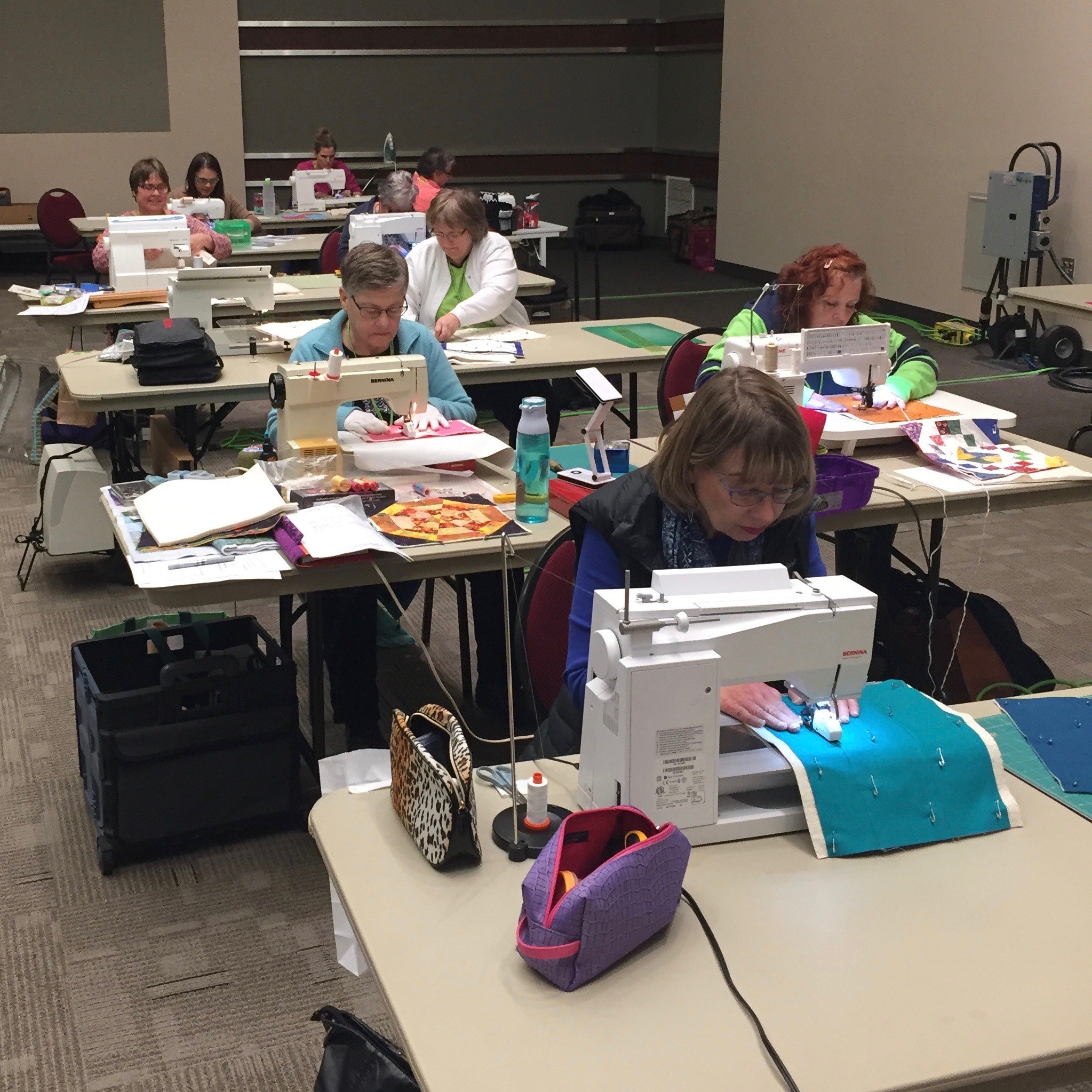 I was able to take this panoramic view of all the students gathered around my table for the final demo. Everyone stood still. There was no running behind to appear twice!

And then it was all over…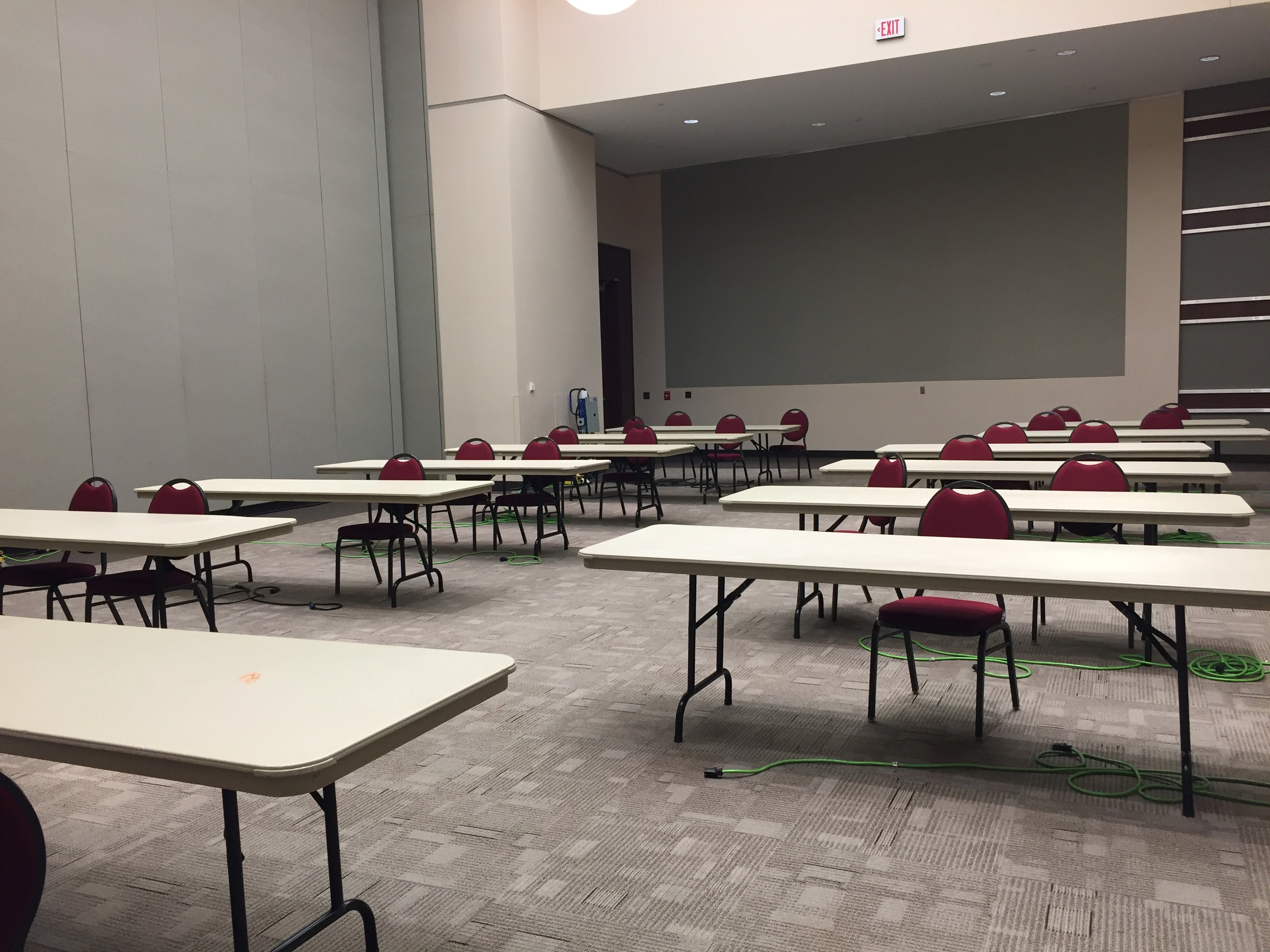 Just a few threads to show we had been there.
It seems like I spend so long planning for these events and they are over in a flash. I really try to appreciate every minute.
There were two vendors at the conference. Here's Katie and friend from Quilt Essential of Devil's Lake, ND,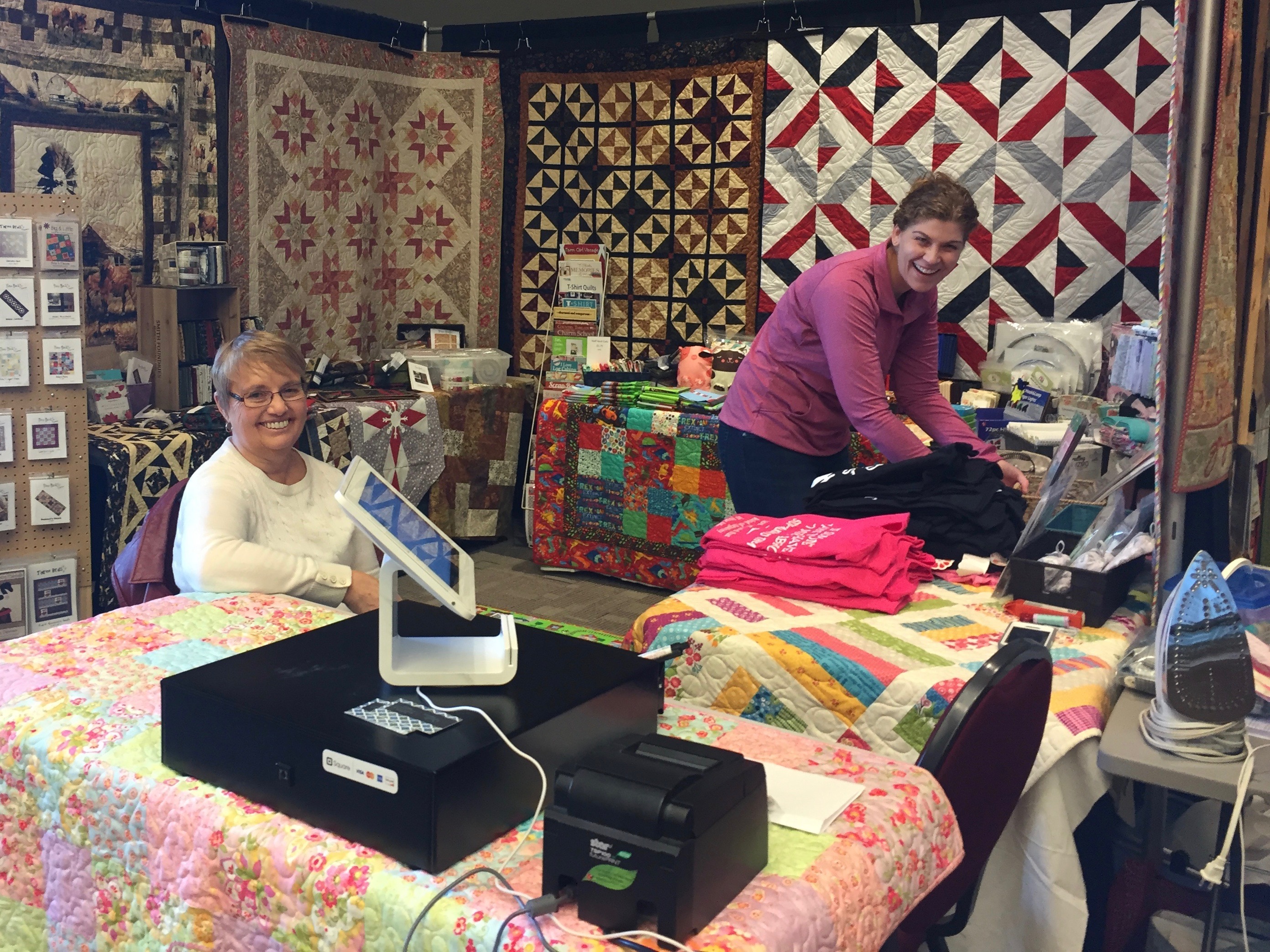 and this is Jenn from This is Sew Broadway of Crookston, MN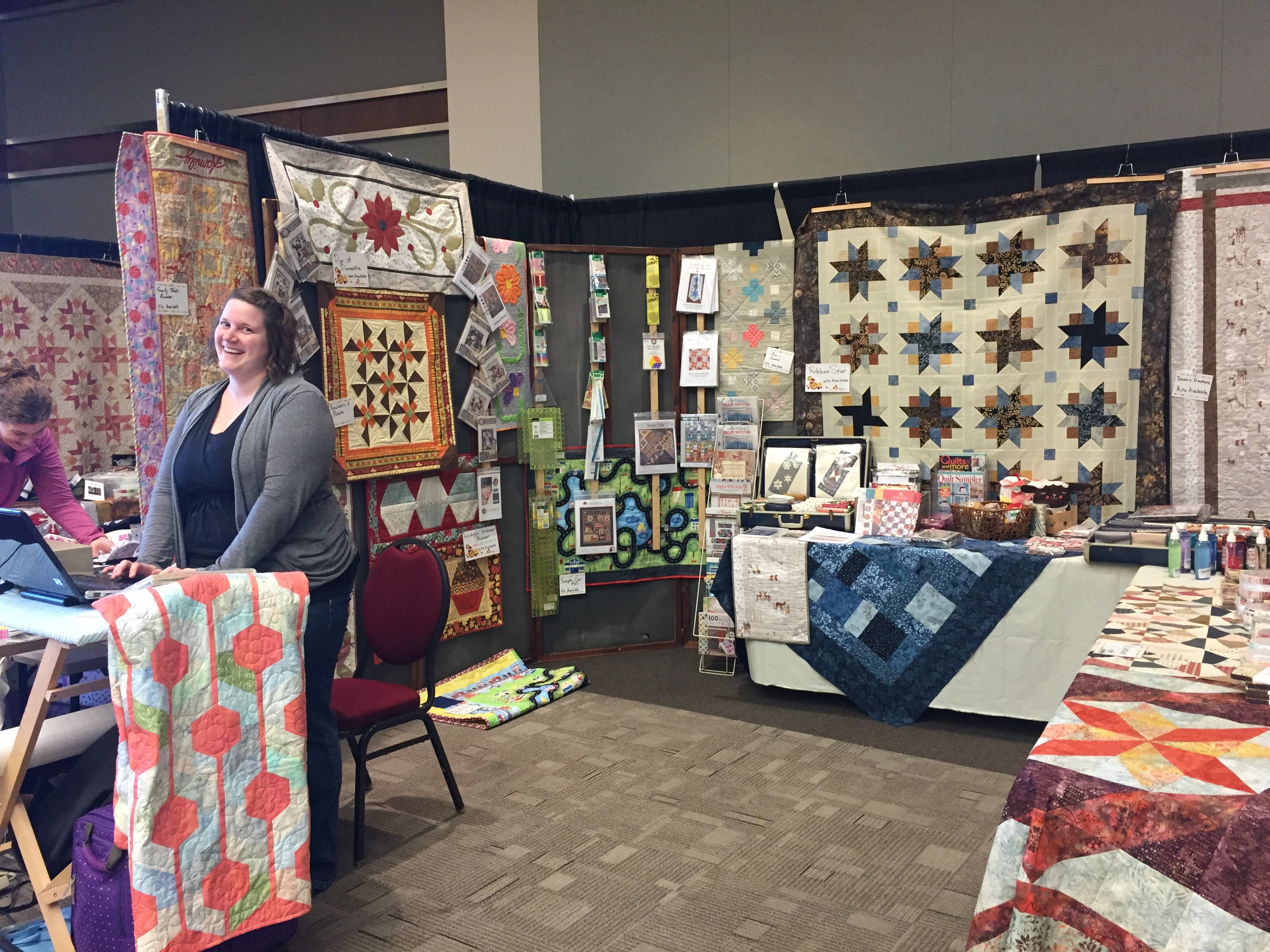 Happy ladies! I found a few fat quarters I needed…
Time to eat again. Off to dinner with Laura and her husband at Ground Round. I ate my dinner but I really did need dessert. How about a Tasty Trio sampler?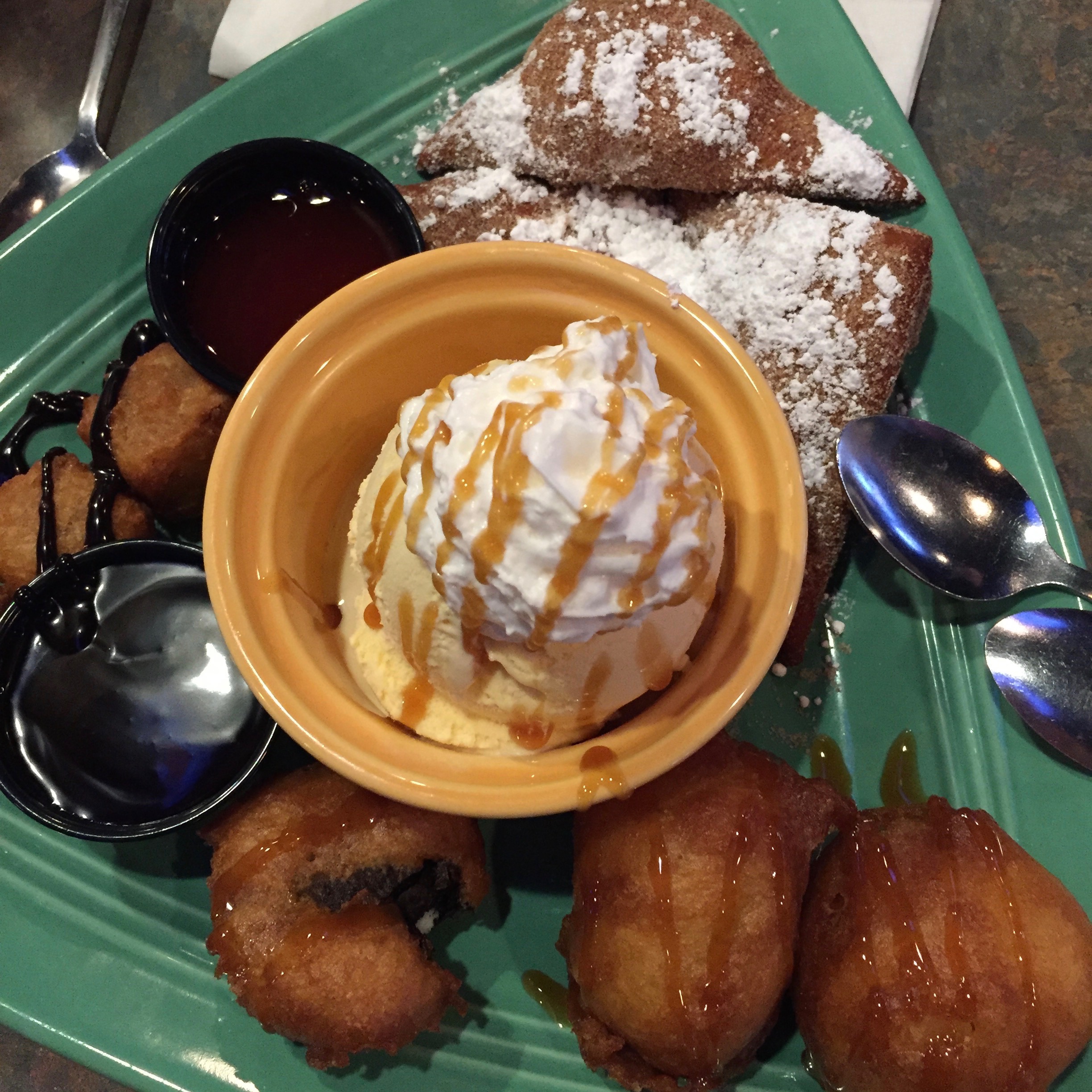 Black and white cookie delight (deep fried Oreos), cinnamon dippers and banana foster bites with ice-cream and  hot fudge and strawberry dipping sauces. We shared!
I did have steamed vegetables with my bun less burger…
Oh well.
Laura took me on a little road trip on Monday before I got my flight home. I'll post those pics tomorrow.
Now it's back to packing.