If you ask me, any day is a great day for stitching but why not give quilting a special day, all of its own?
Happy National Quilting Day everyone!
Today's featured image came from Ben Franklin's and seems to include the logo of the Quilt Alliance which is a wonderful organization to celebrate any day of the year.
According to nationaldaycalendar.com,
National Quilting Day is observed annually on the third Saturday in March.  It is a day that is celebrated around the country with special quilting shows, classes, open museums and much more.  This is a day to appreciate and to recognize quilt makers, along with all of their long labor, love and skill that goes into the making of each quilt.
If you are a quilter feel appreciated and recognized!
What are you going to do today? (so glad you asked!)
I'm going to be packing my bags ready to visit the Crystal Lake Modern Quilt Guild tomorrow. I'll be sharing my Lessons Learned While Quilting lecture and teaching my Walking Foot Quilting class. You know we'll be having fun.
Once that's done I'm planning on completing the tenth of my ten quilts for my Trip Around the World in Folk Art Stitches exhibit.
Yeah! I'm getting excited. I took the nine quilts I had finished to Rockford this week and Julia took pictures.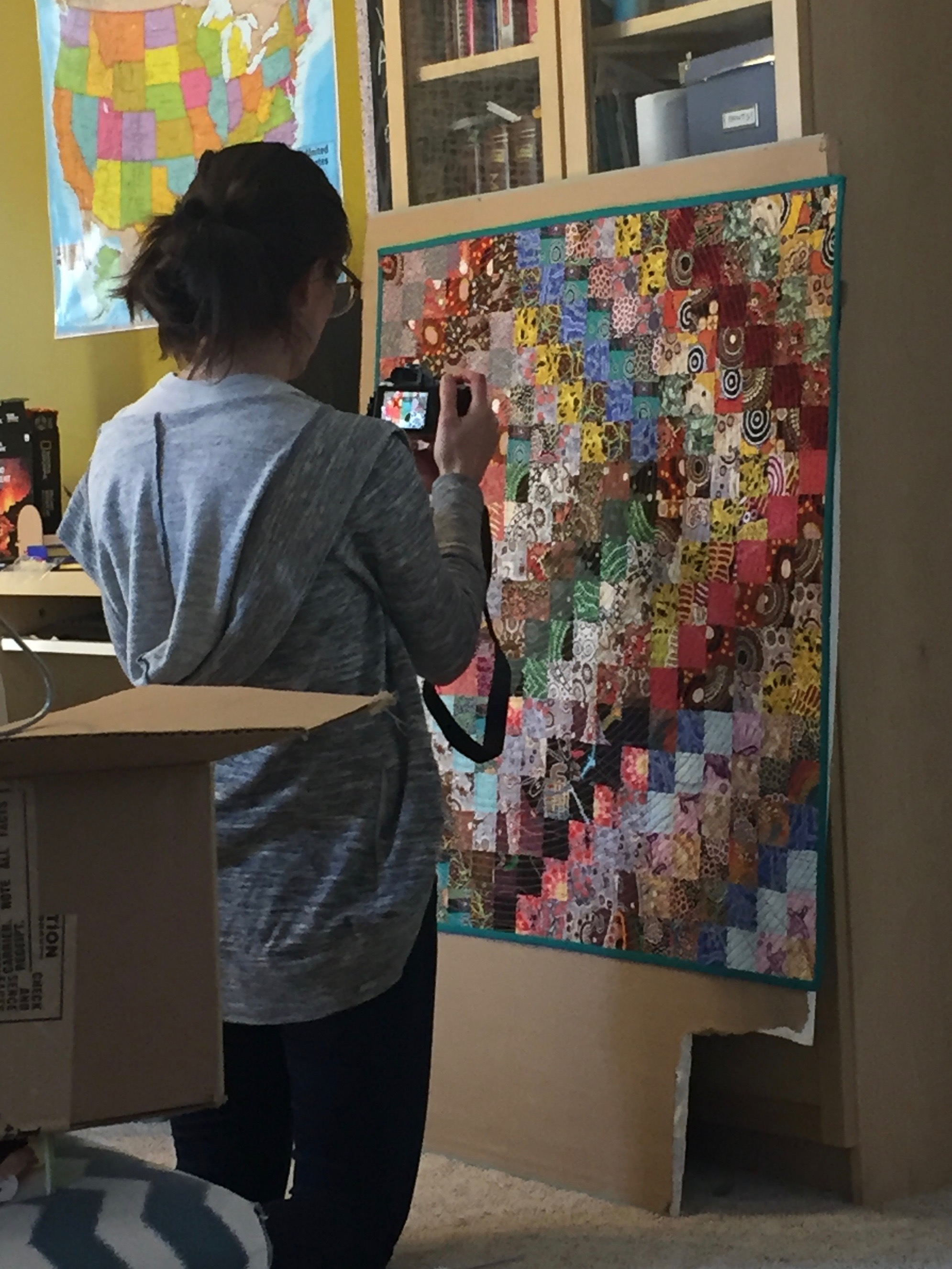 She designed me a new postcard which will debut at Quilt Festival in Chicago along with the quilts. It is very pretty. I'll share a picture when I have one! I'll be adding a new category to my website once we have all the photographs sorted.
Oh yes, there is also laundry to do and I'm sure Steve will be asking what's for dinner at some point…
If you wish you could join us in Crystal Lake tomorrow but can't, remember you can always get my Lessons Learned  While Quilting webinar over at CraftU. The link is at the right hand side of the blog and if you use the coupon it's just $15 for you to watch as often as you can stand…
In other news,
I just added a date to my calendar. I'm going to be teaching a two day workshop of Folk Art embroidery at the Stitchers Gathering near Springfield, Il in May. It's arranged by Peace and Appliqué Quilt Shop. All the details will be up on their web site soon but it sounds like a wonderful four days of stitching in a beautiful setting.
It's also Benjamin's seventh birthday today. He's having a party with twelve first grade boys. Earplugs any one?