Before I go on, I should say that Westside Quilters have their main meeting in Hillsboro which is next to Portland but is not Portland… The Saturday and Sunday workshops were in North Plains.
On Monday a small but select group met for an Introduction to English Paper Piecing. After all, I AM an English paper piecer? We worked on hexagons to make a simple flower, and tried sharp points with a diamond template. I like to hand baste my shapes and whip stitch them together with Invisafil 100 weight thread before appliquéing them on a background, so that's what we did.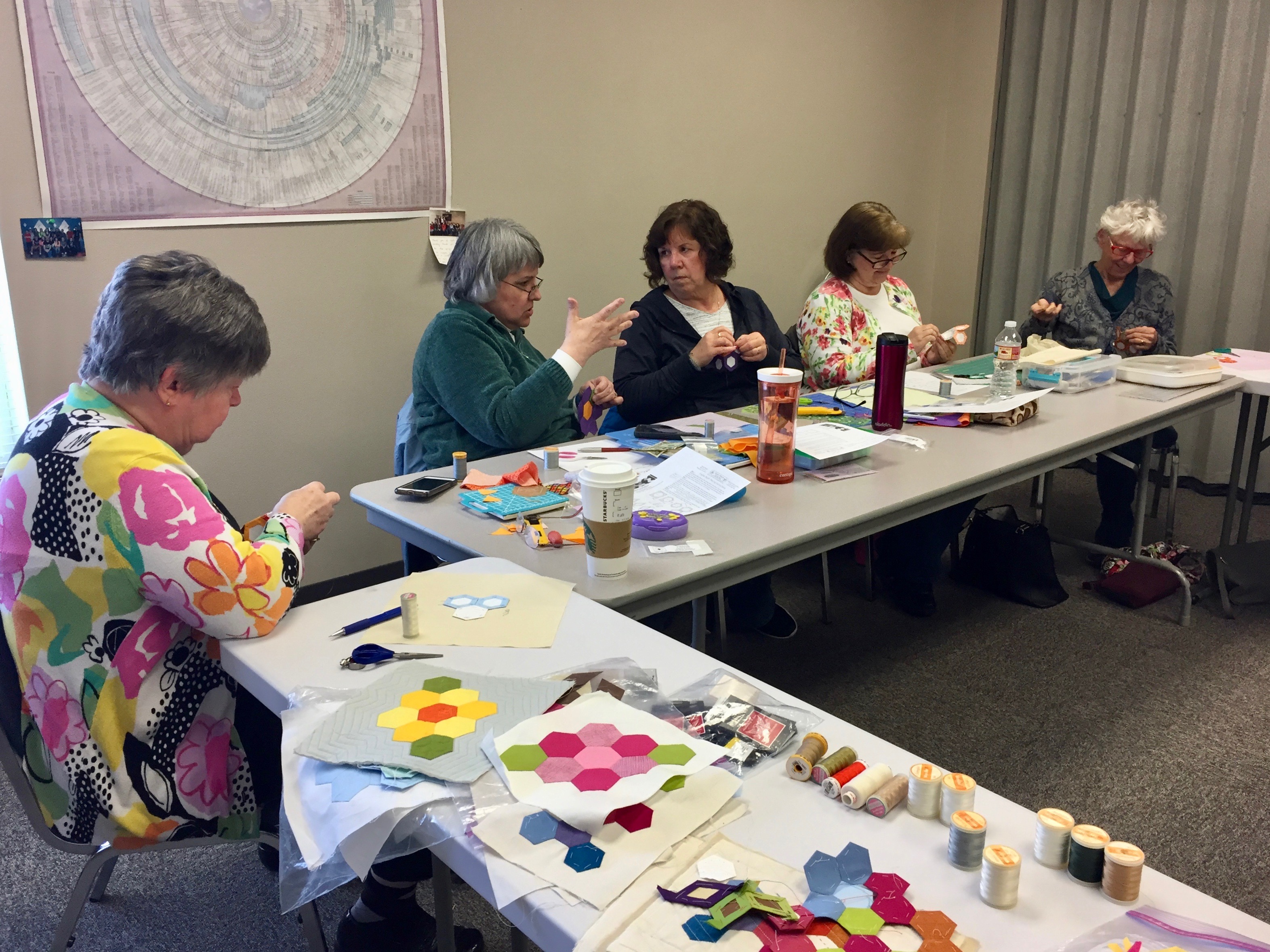 There was plenty of time to socialize and visit while sewing.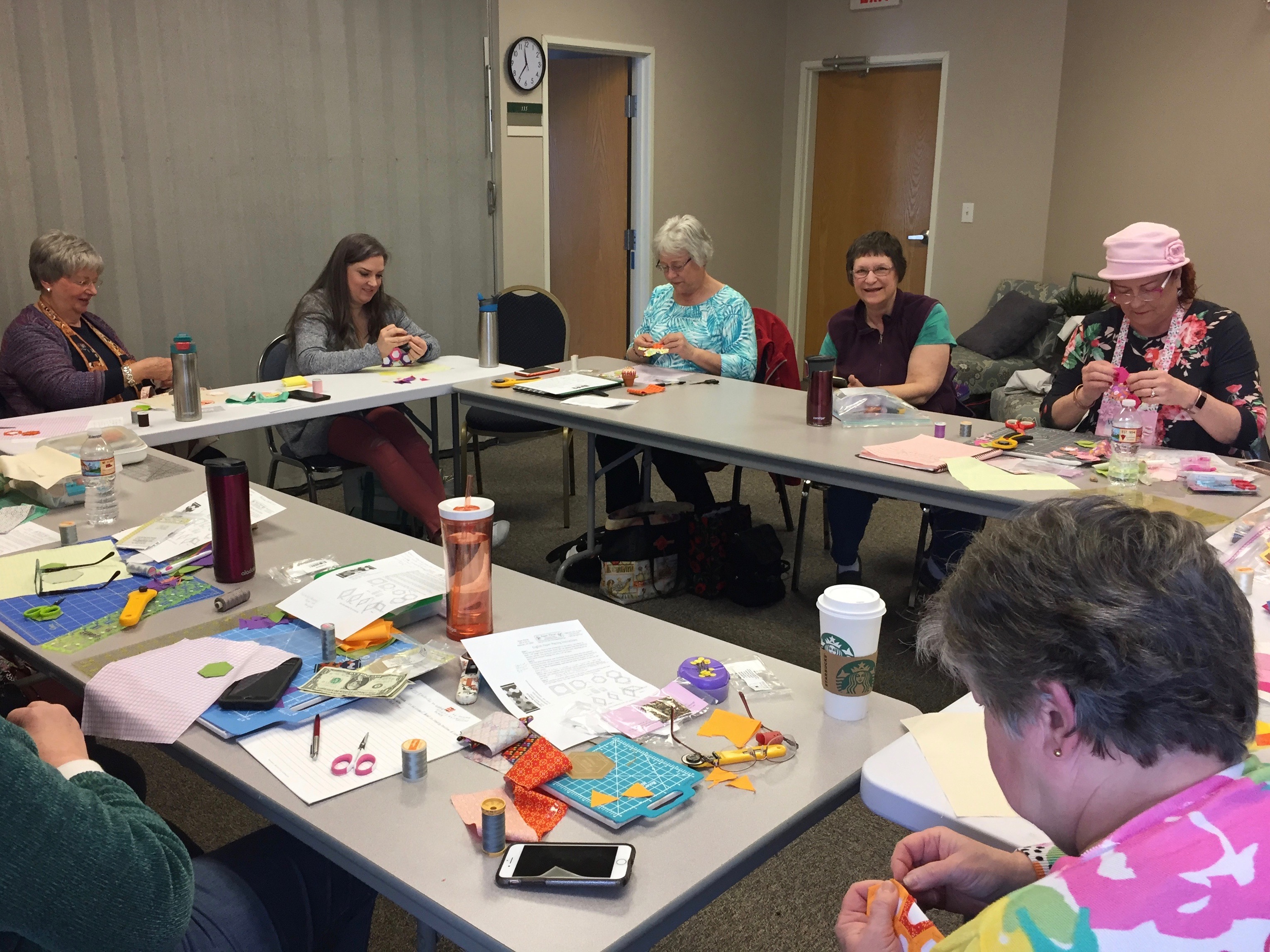 Everyone finished the morning well set to try a new project!
Outside the blue bells caught my eye.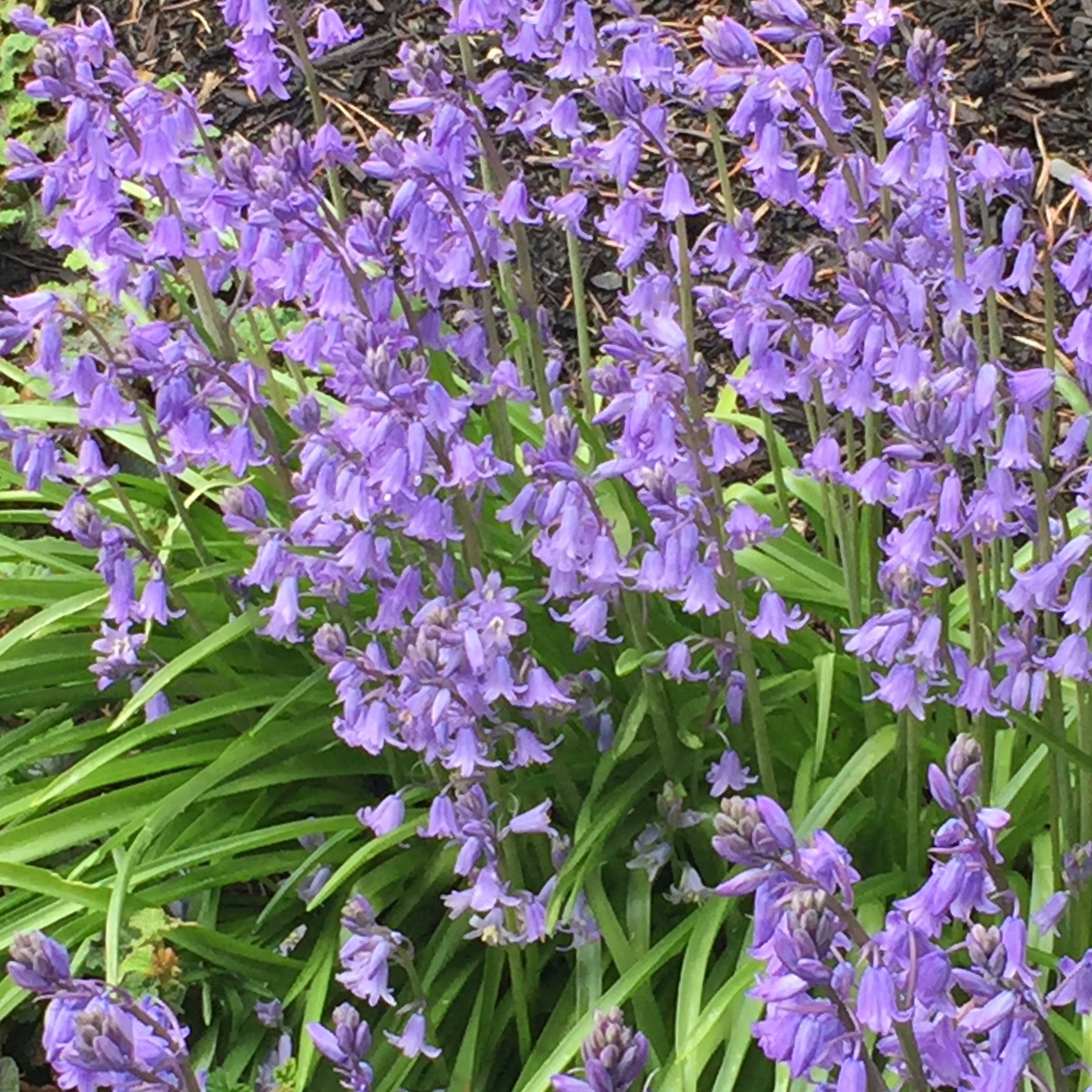 Classes over, the afternoon was at leisure. Mary was my most excellent tour guide and drove me around in style.
Time for lunch and then a trip to the Pittock mansion, built by Henry Pittock in 1912-14.
All the rain leads to wonderful greenery and mosses on the trees.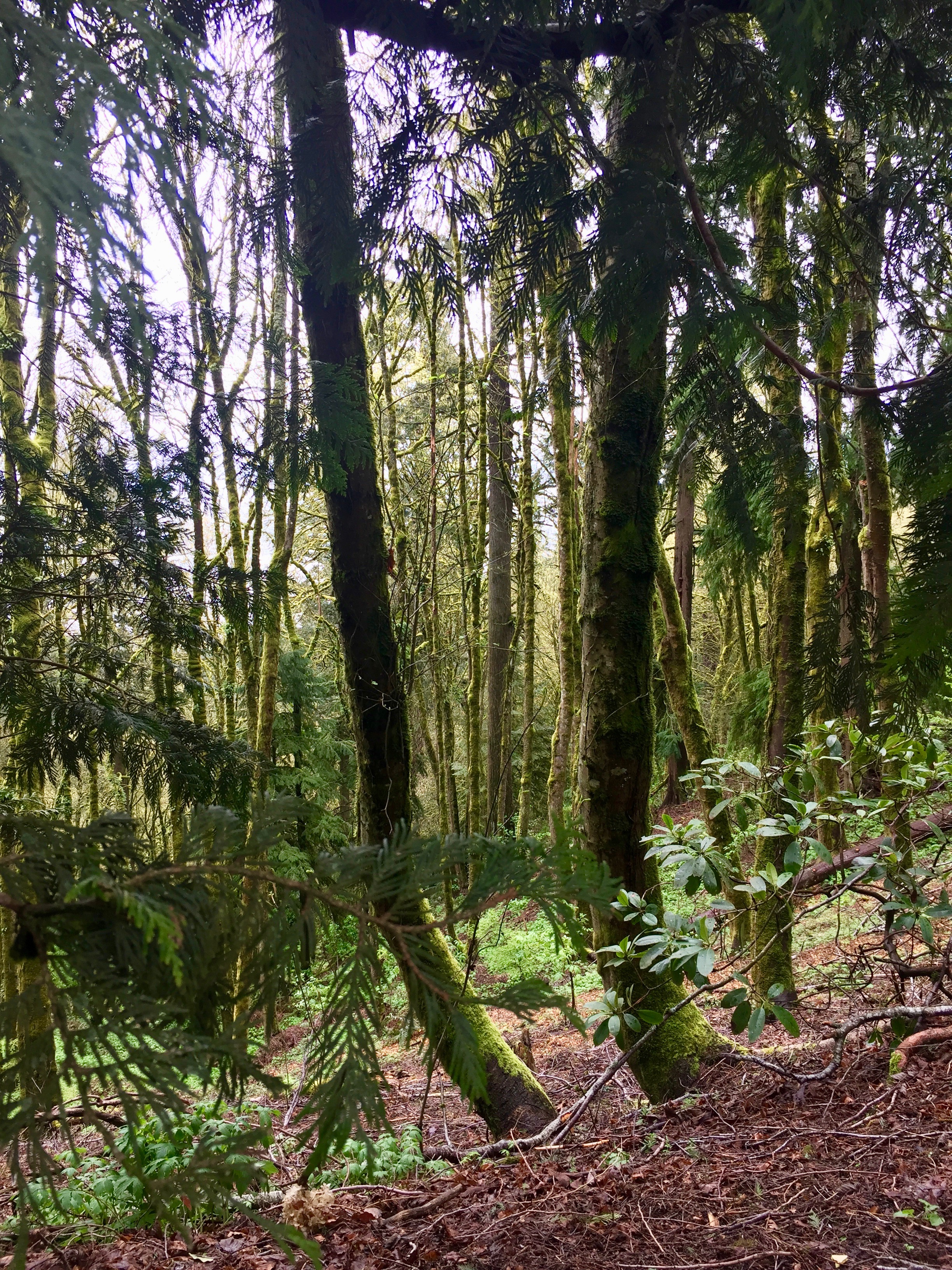 The rhododendrons were in full bloom.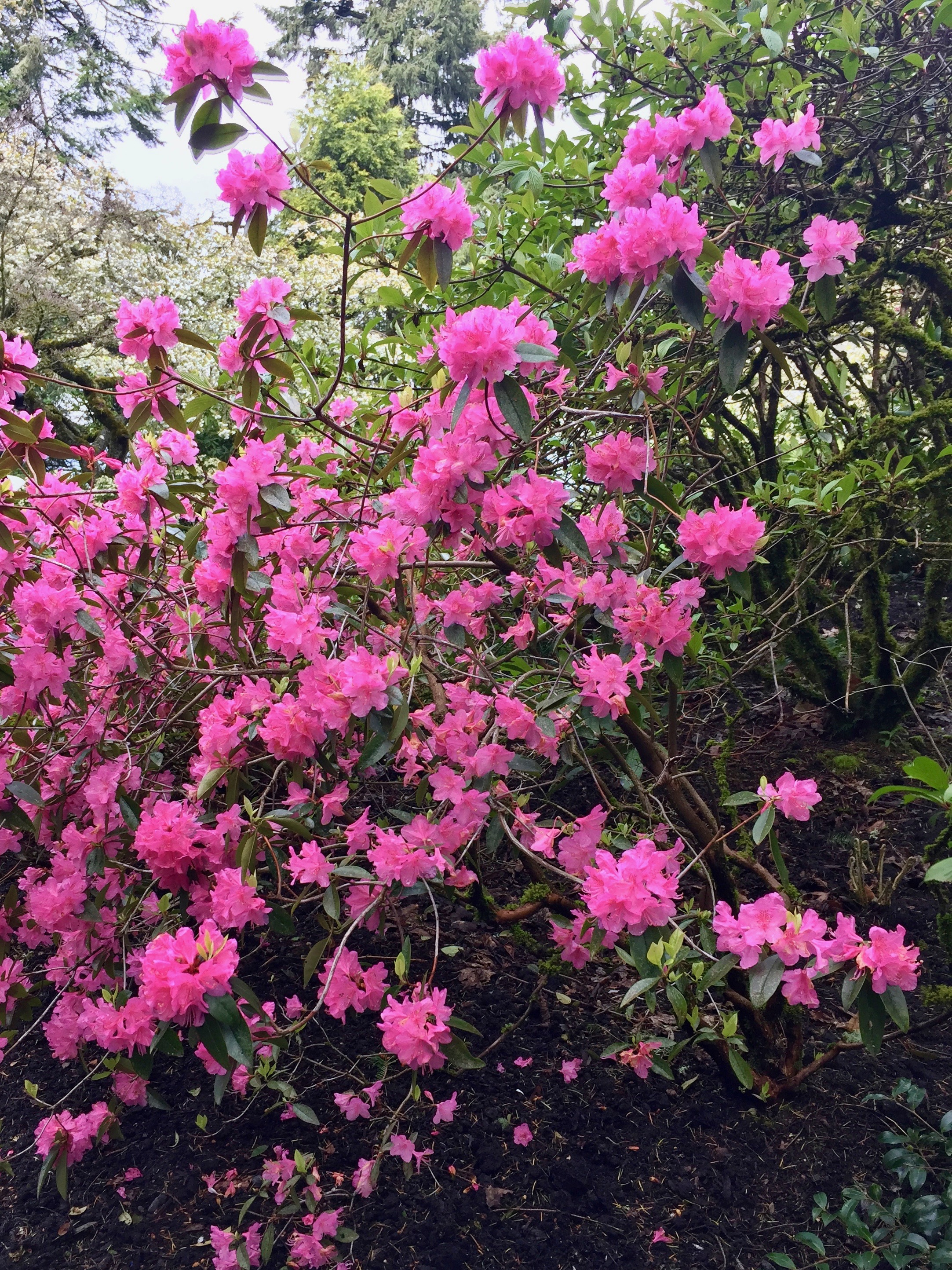 Inside the beautiful home the staircase caught my eye.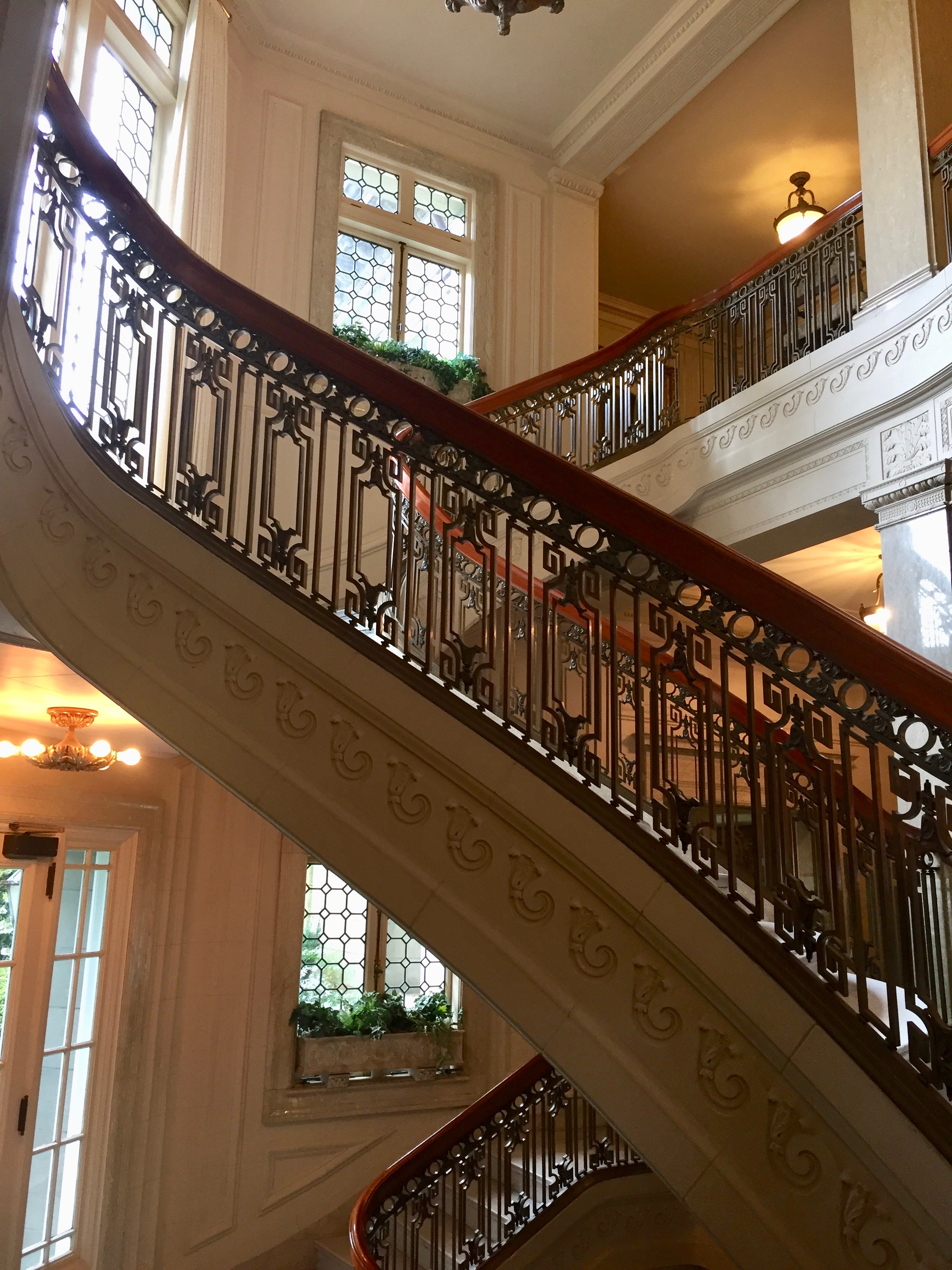 The house was designed to have spectacular views over the city of Portland (even in the rain!)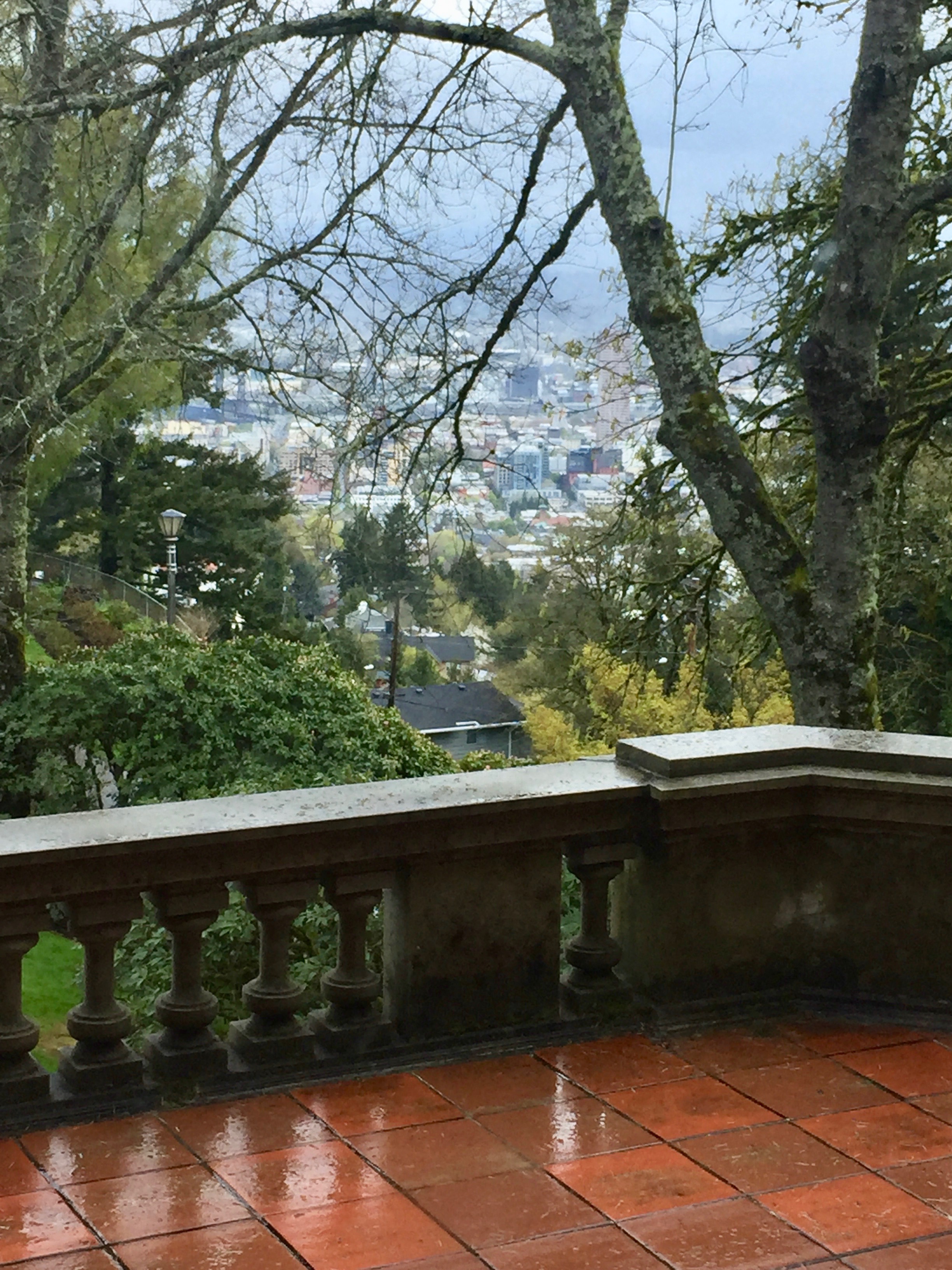 I had to have a picture in the sewing room on the second floor. Georgina Pittock belonged to the Unitarian Church Ladies Sewing Society.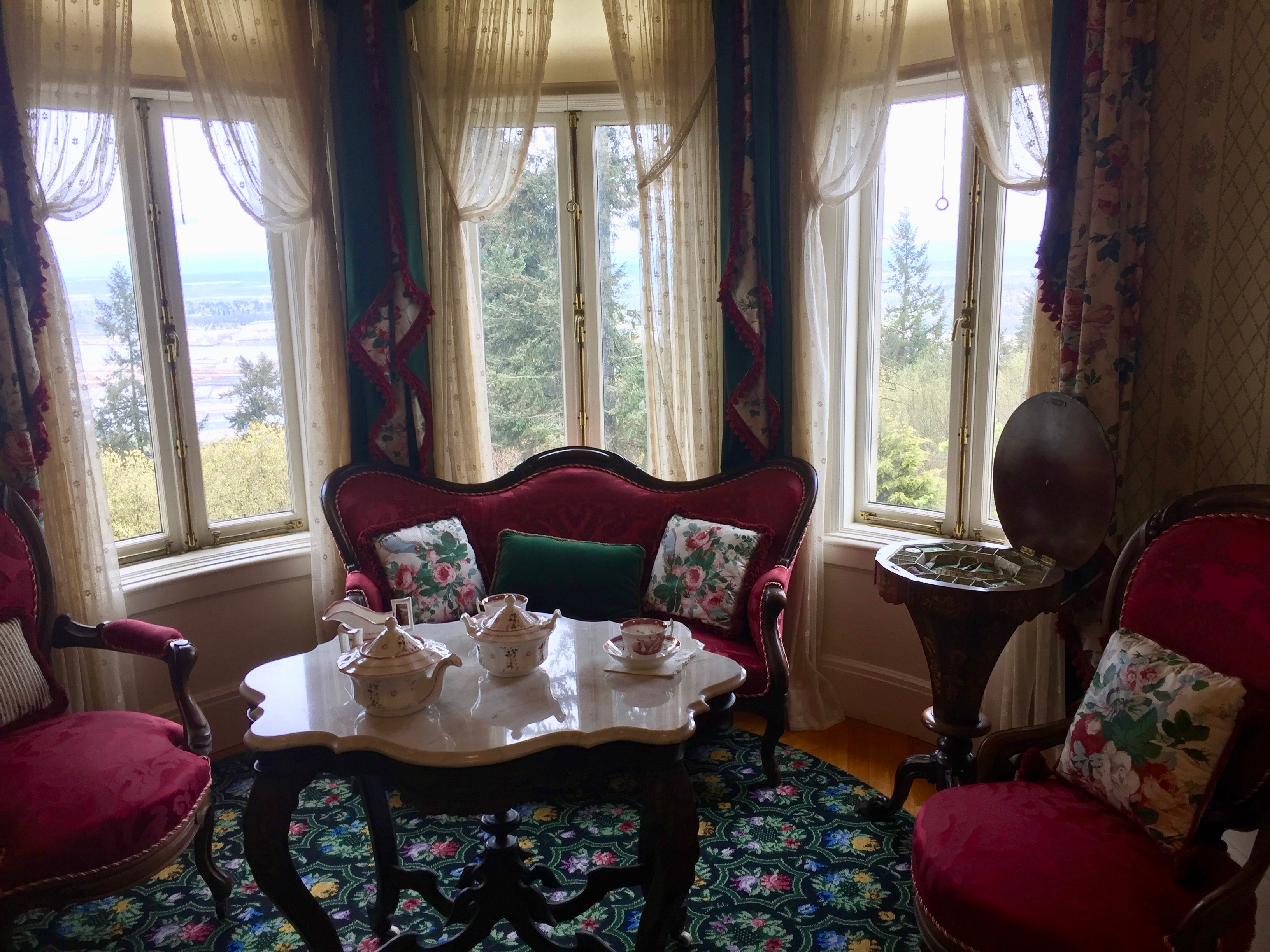 Outside, the sun was struggling to make an appearance…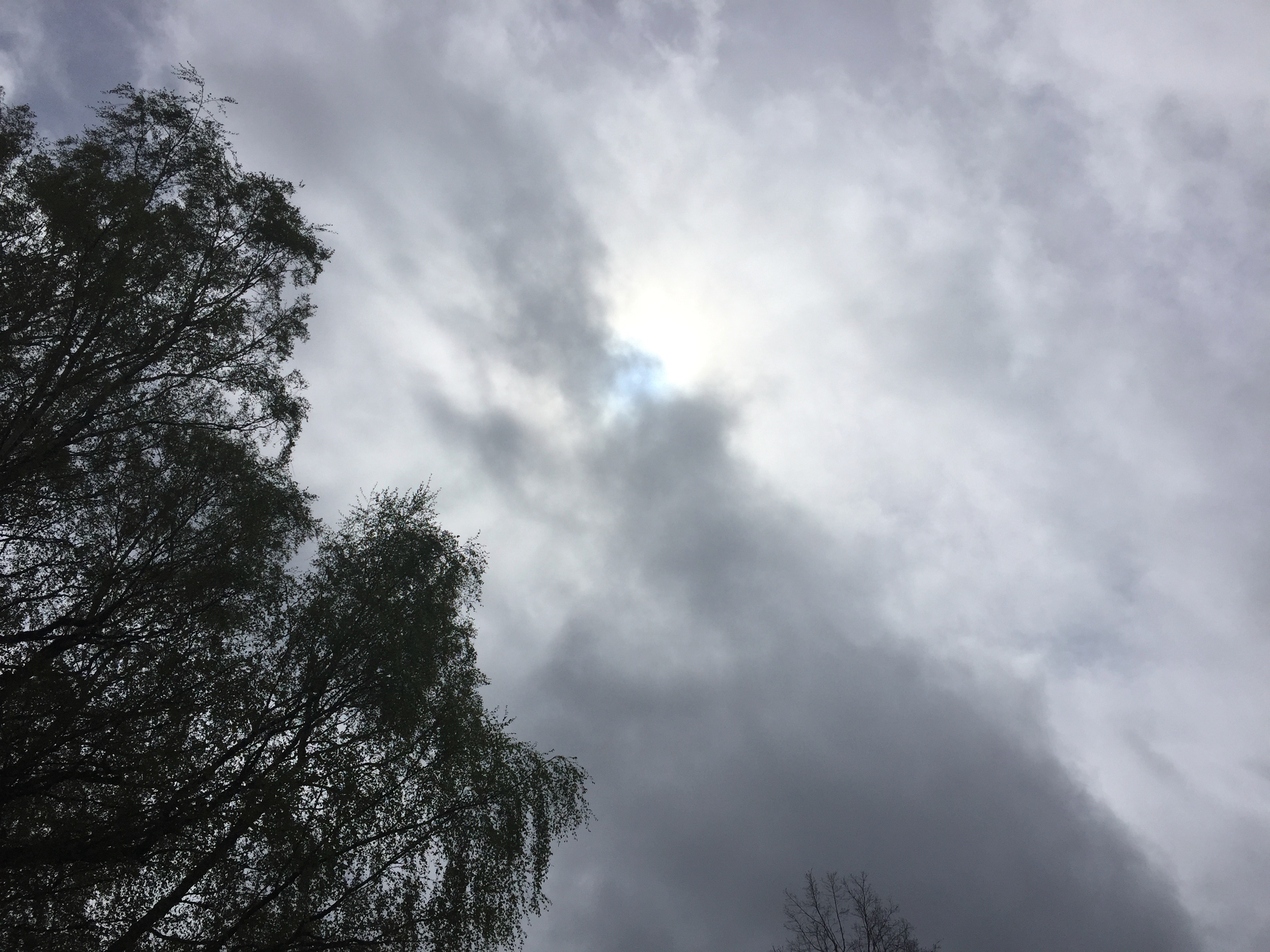 It had been a while since lunch? Time to experience some more of Portland's delicacies…
Next stop Salt and Straw for some very special ice cream.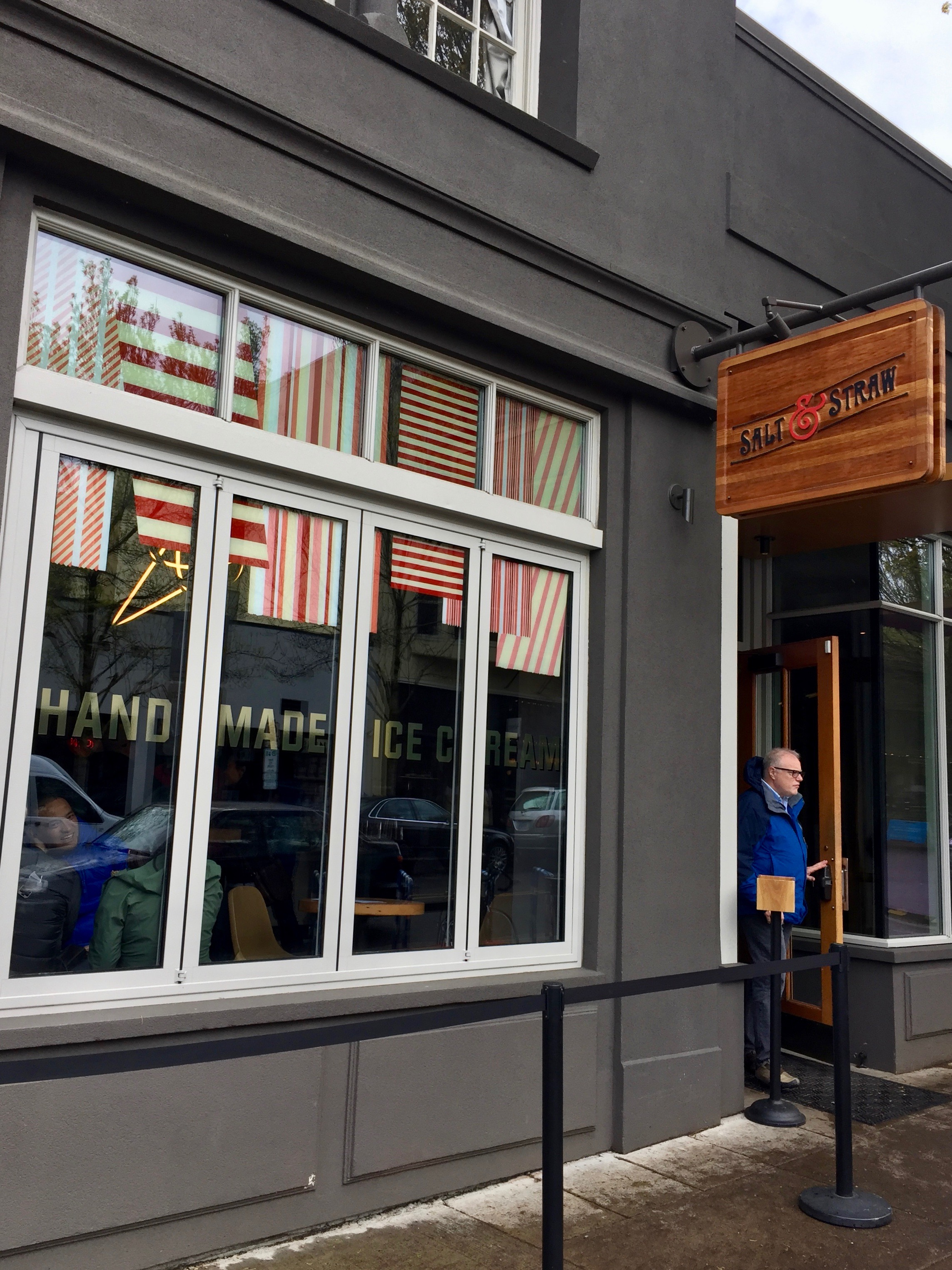 The line moved quickly.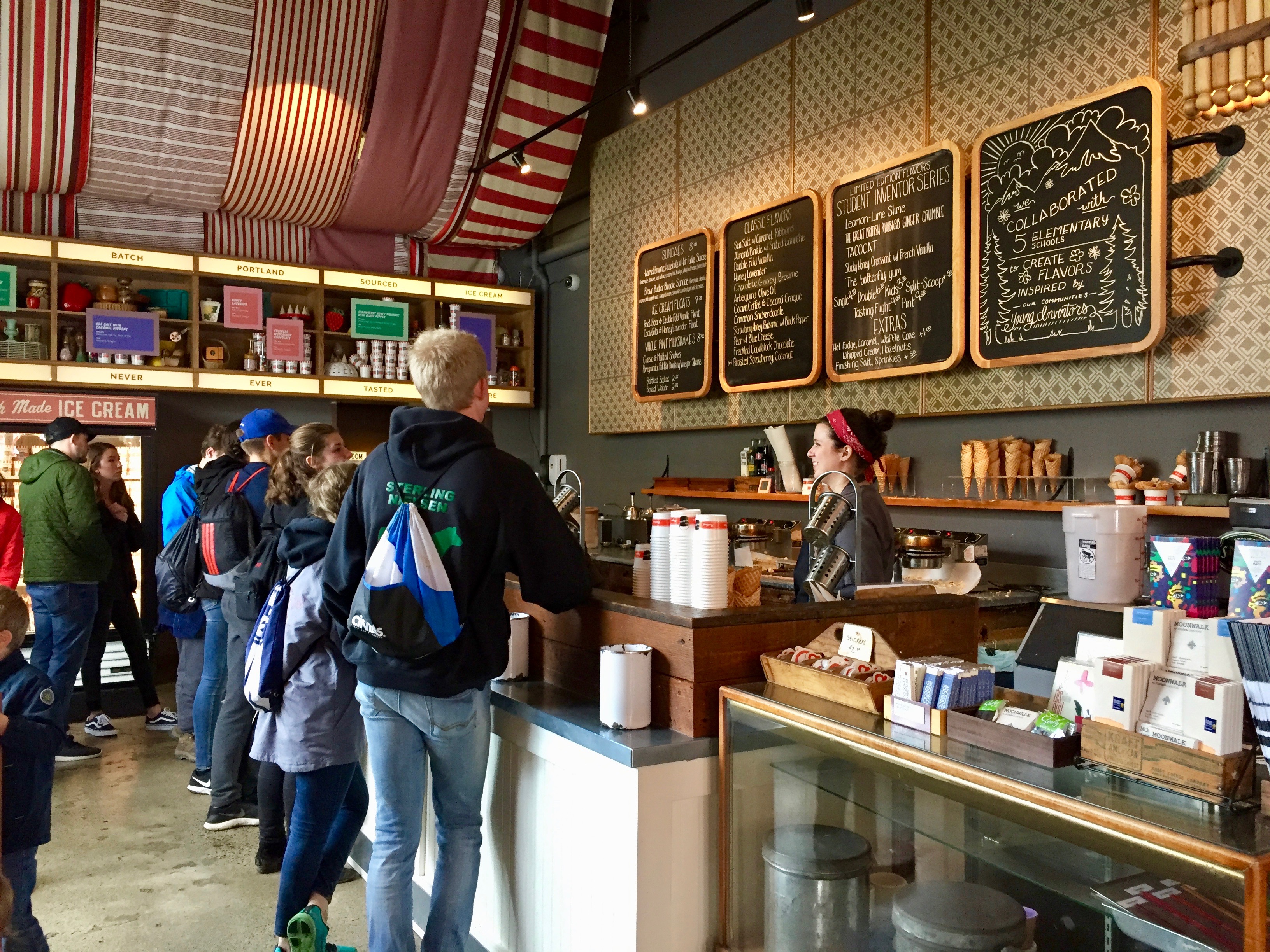 After having several tasters I settled on one scoop of the Rhubarb Crumble.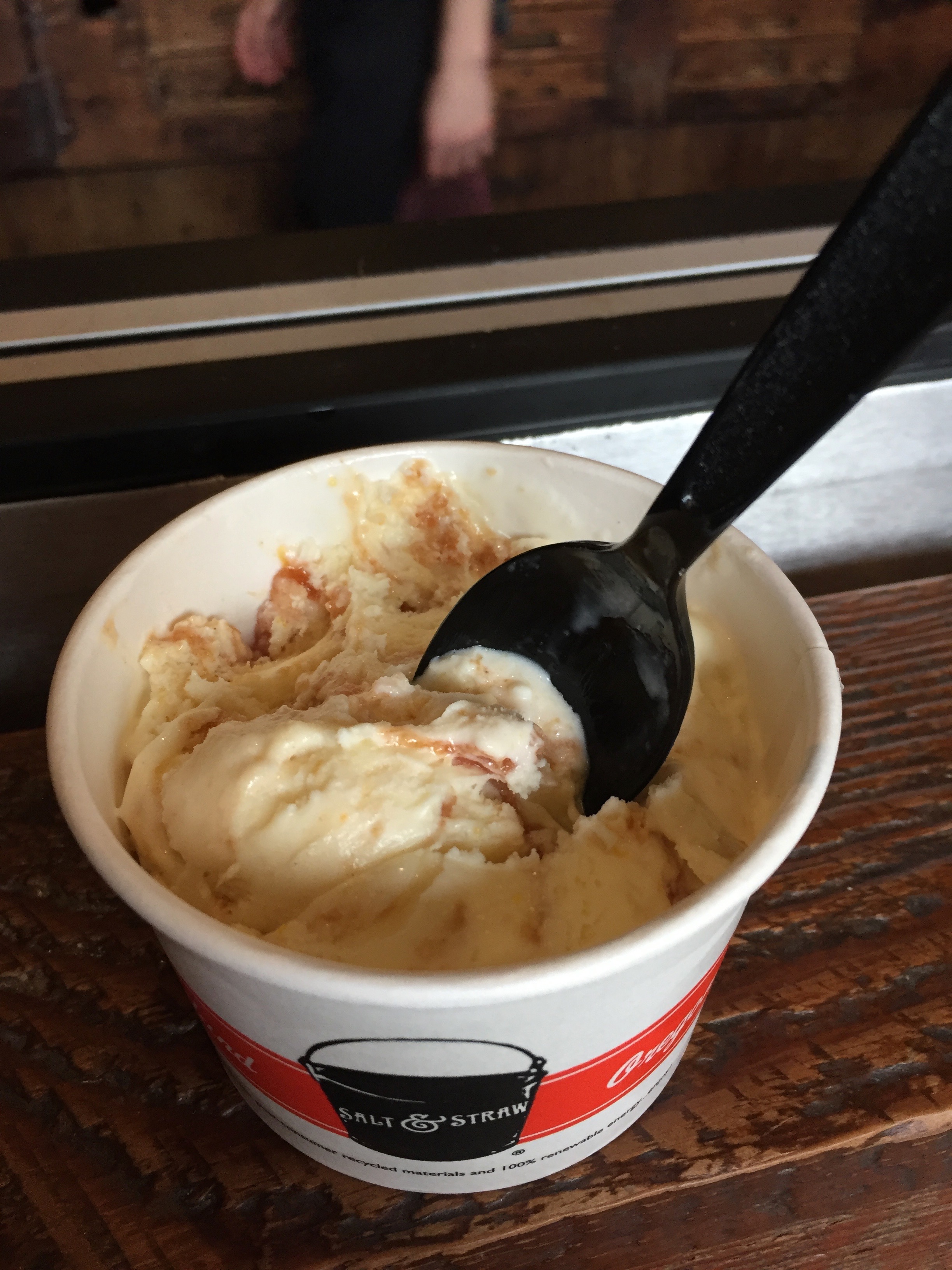 It was delicious so why only one scoop?
Because Blue Star Donuts was right across the street…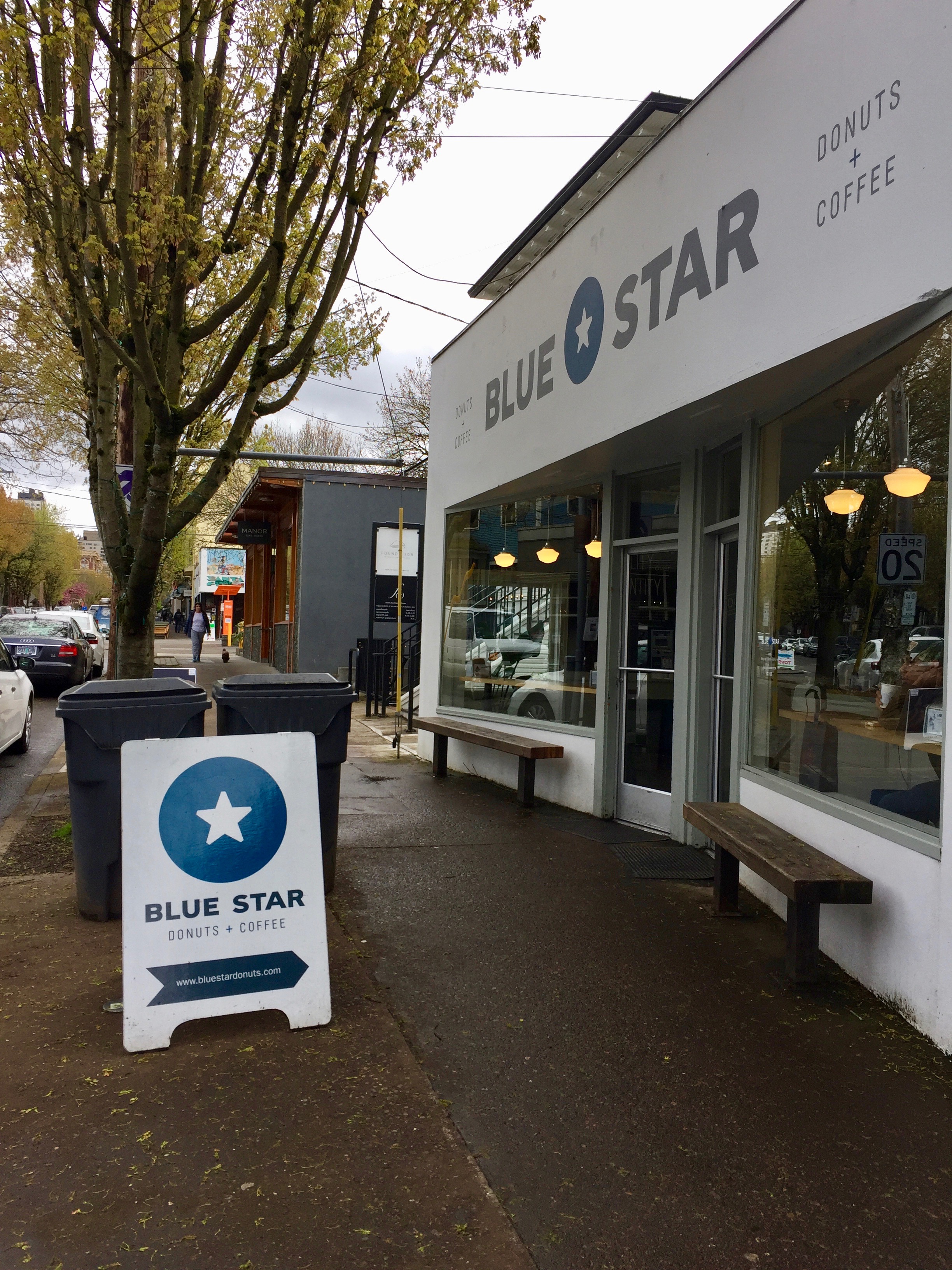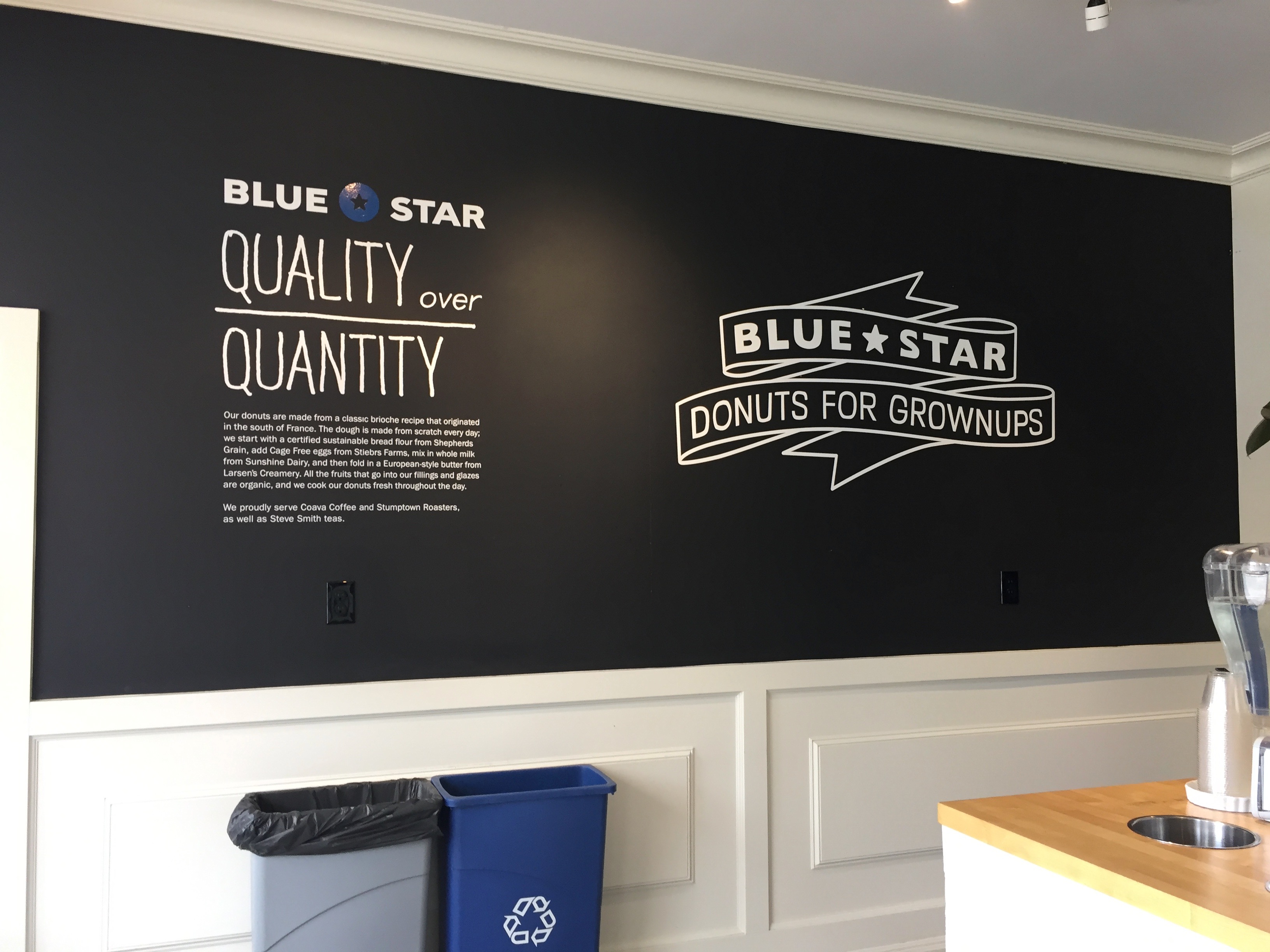 Quality over quantity sounded good.
We each chose a donut and shared.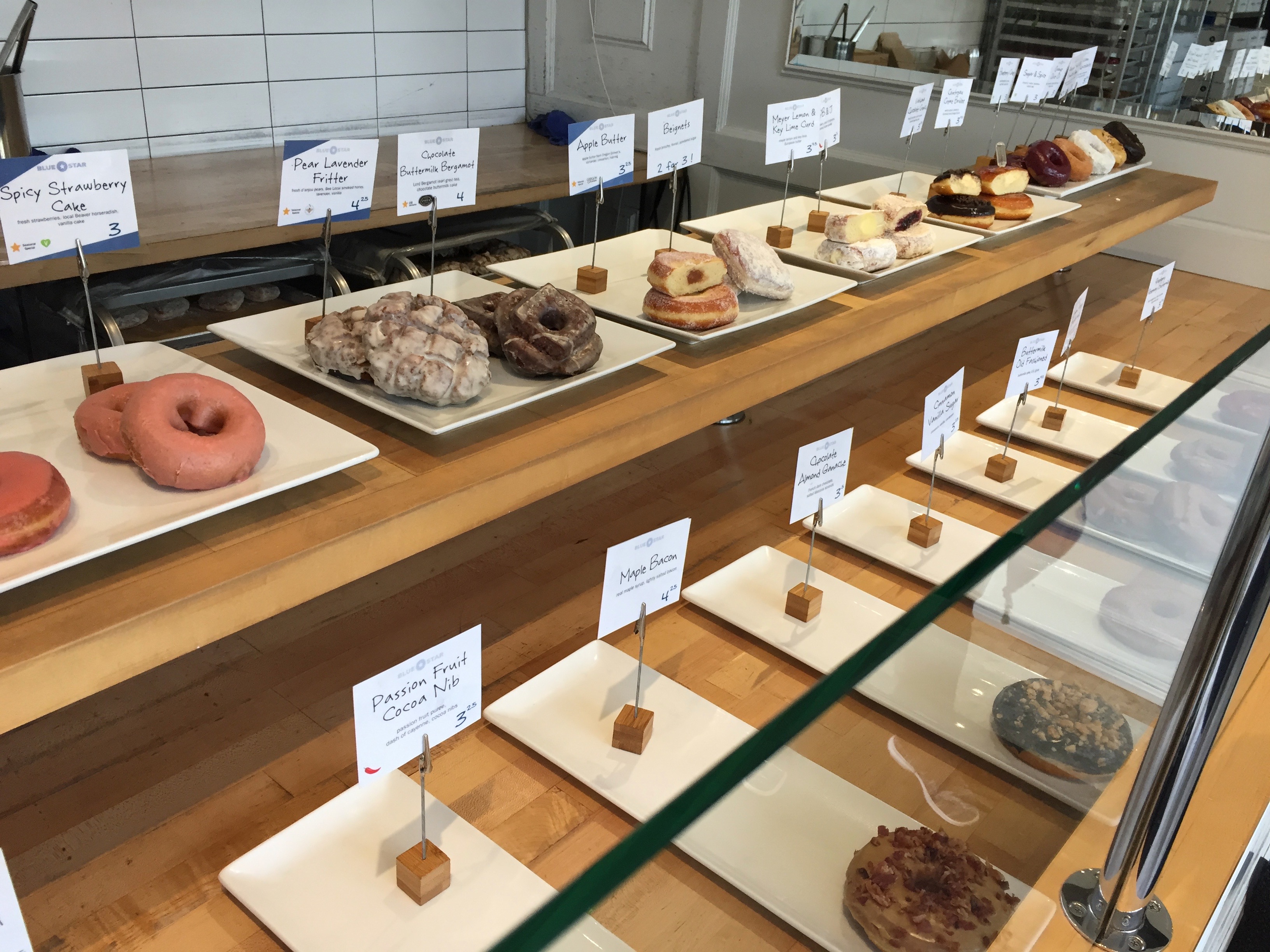 They were so good. I'm not given to hyperbole but the Cointreau Creme Brûlée was possibly the best donut I have ever tasted!
These piggies outside reminded us that one was enough?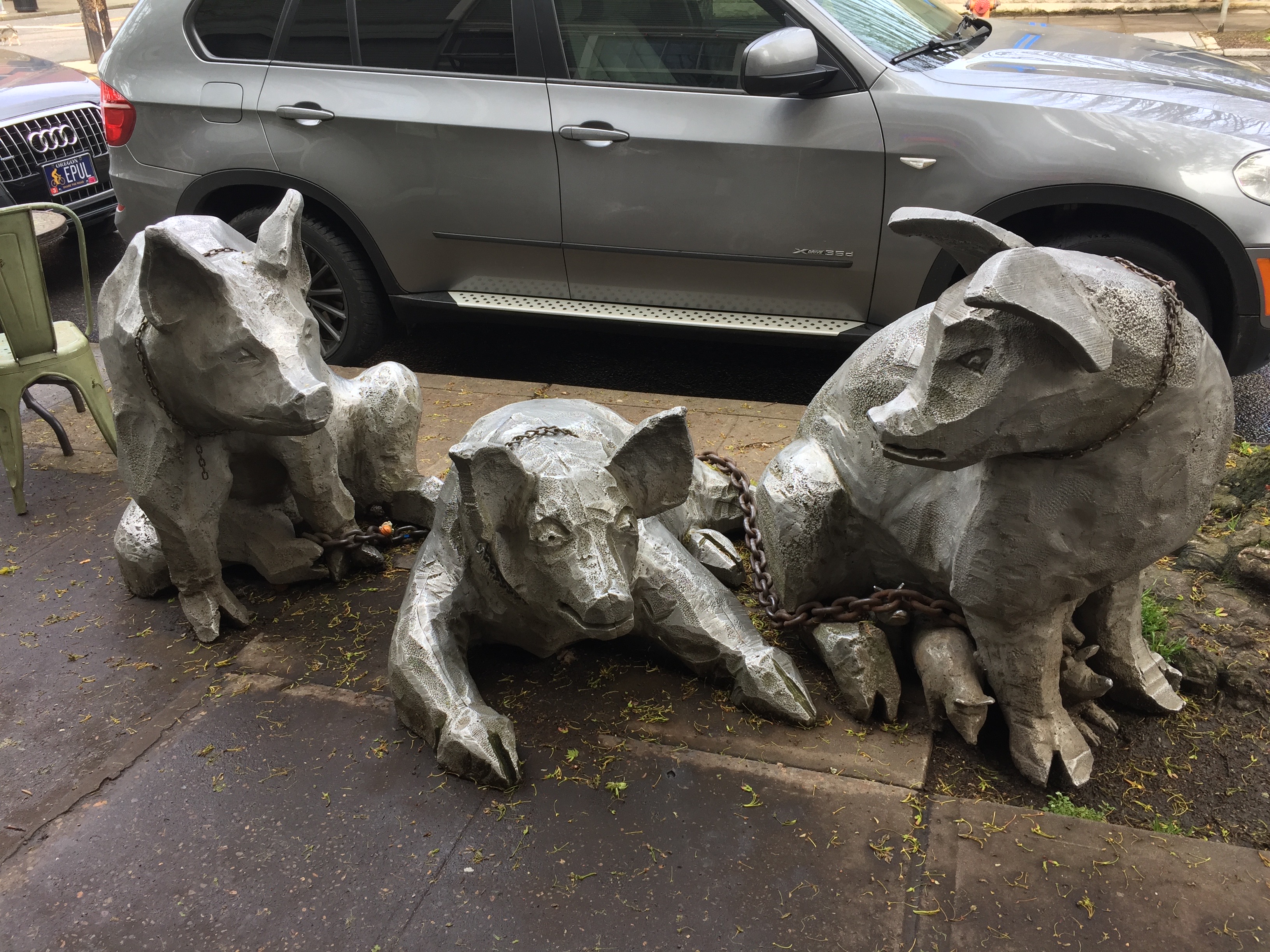 I still had one more official duty to fulfill. I had a few minutes back home and then we were off to the guild meeting. I had some expert technical help getting set up.
The quilters were a fun bunch.
The expected pictures… looking left, not so many,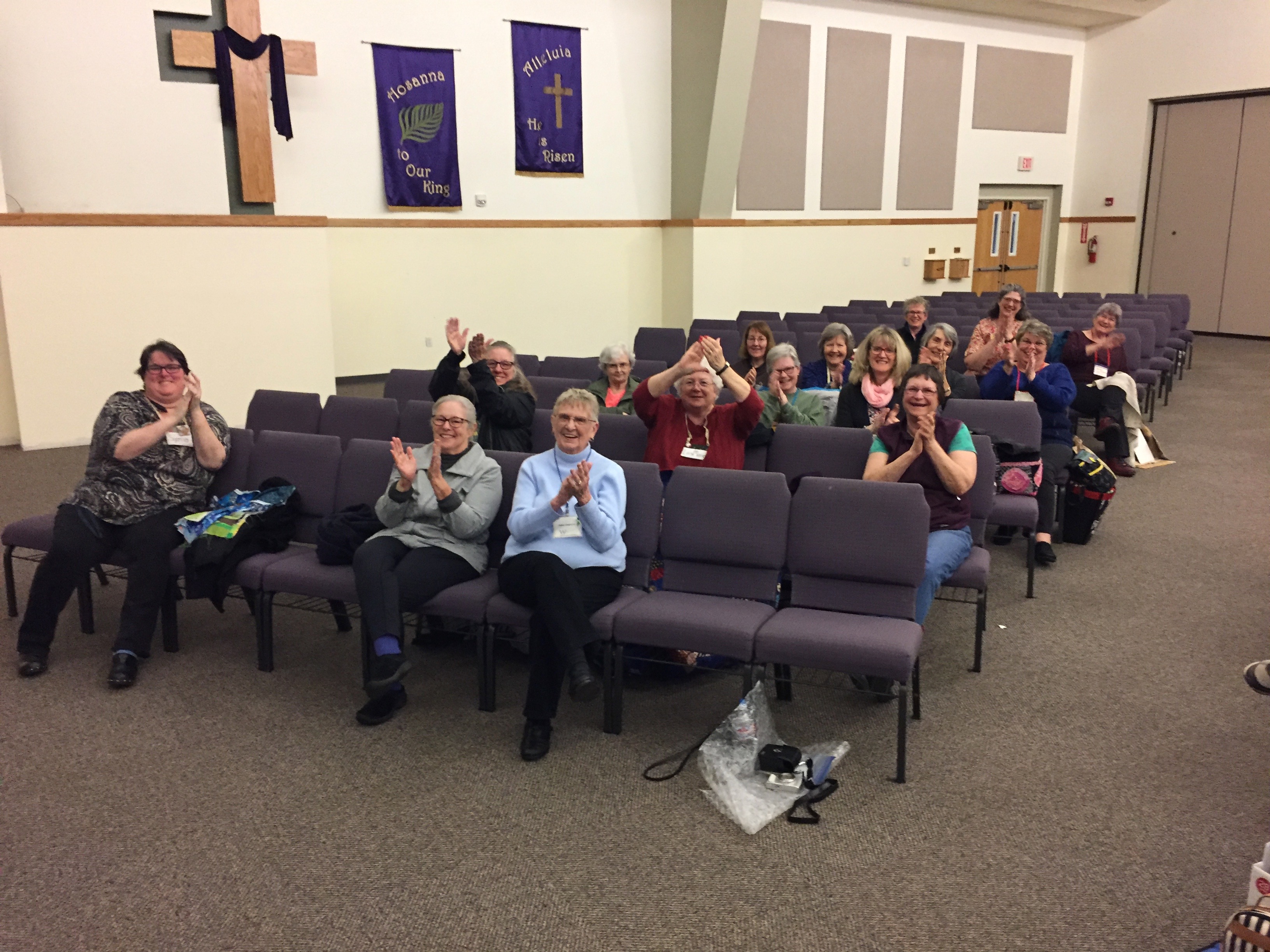 straight ahead, lots of people,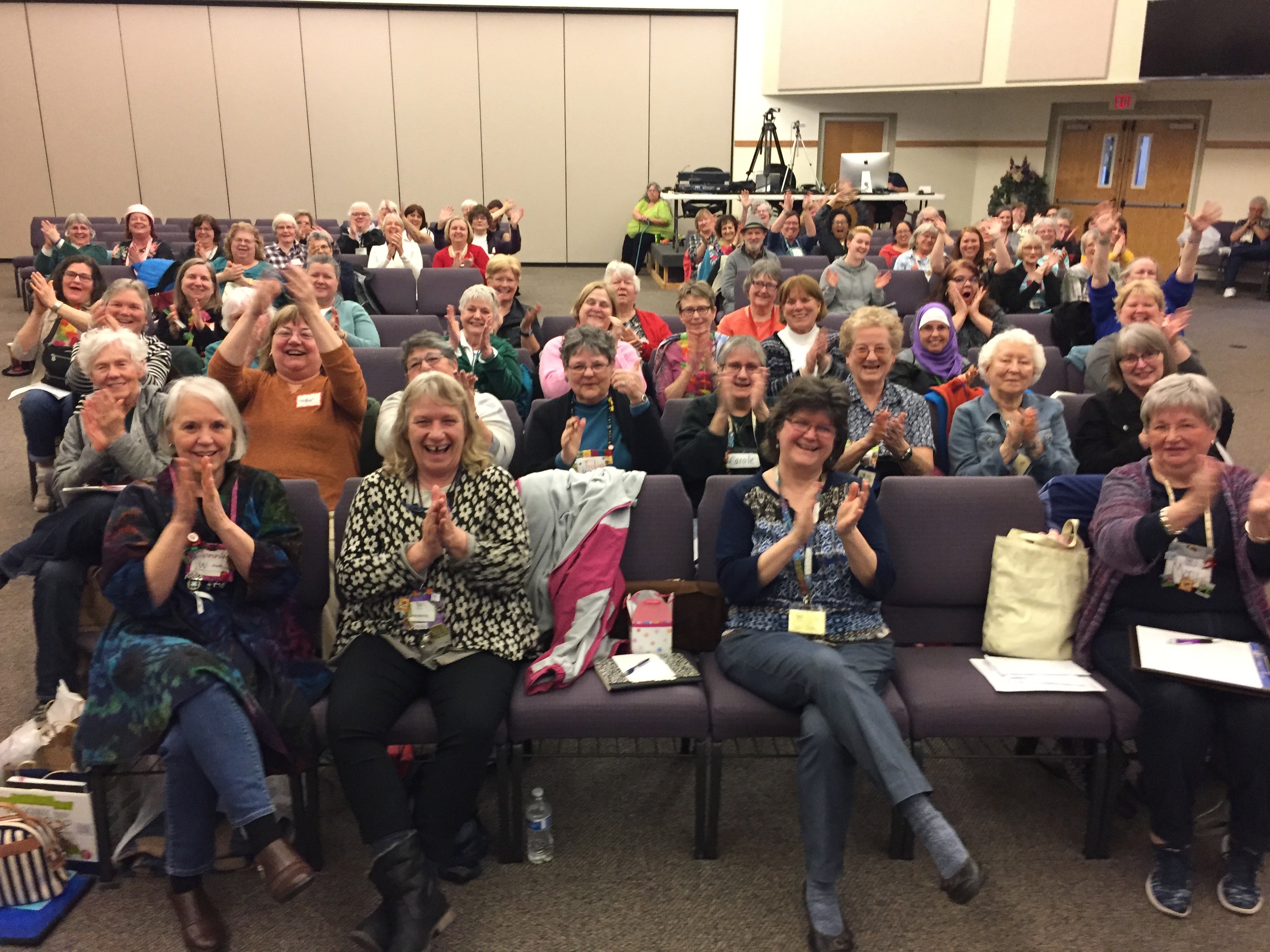 and to the right…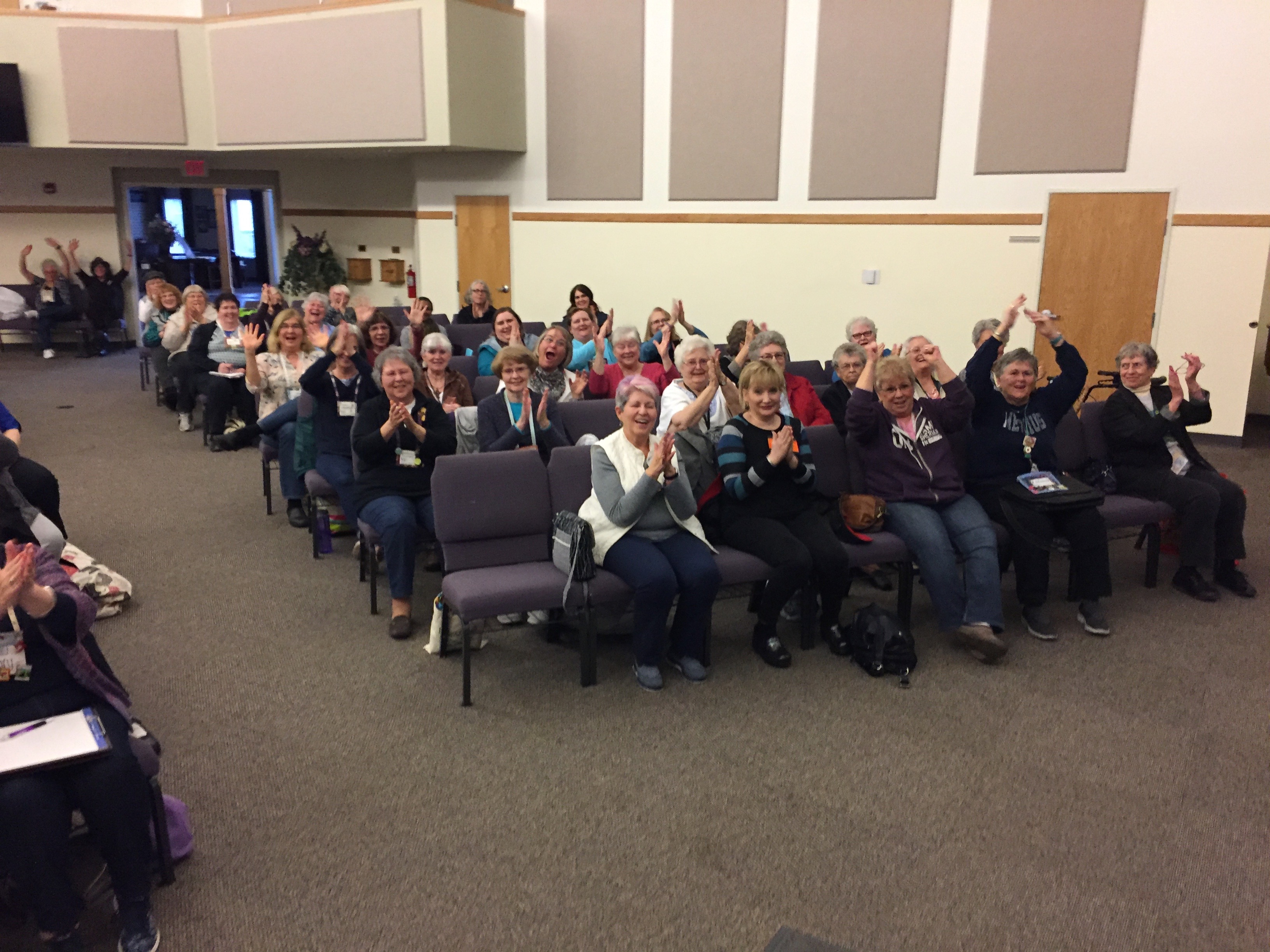 The show and tell was awesome! Just a few pictures.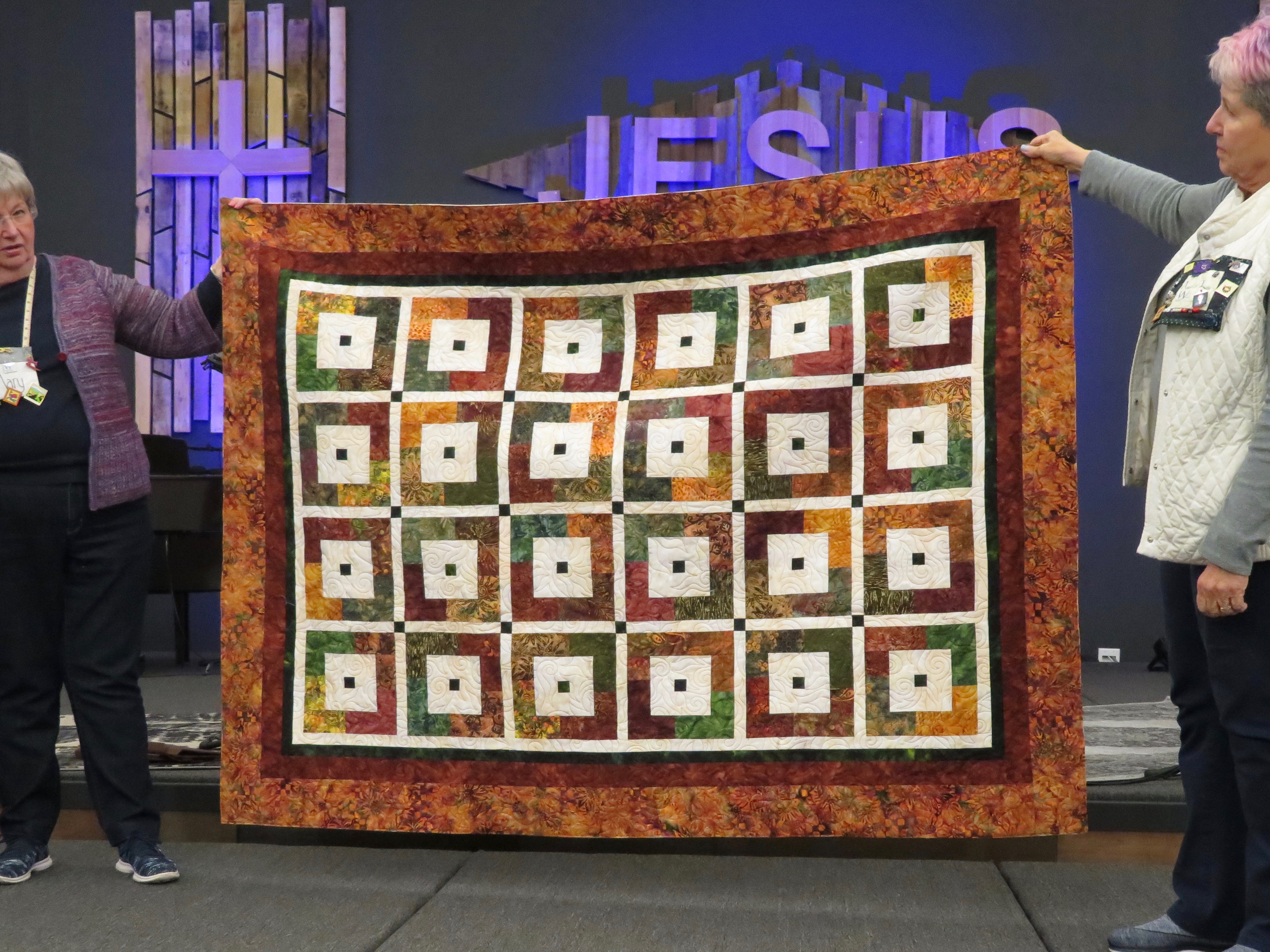 This next one was made for a neighbor who had dropped more than a few hints. I hope he liked it!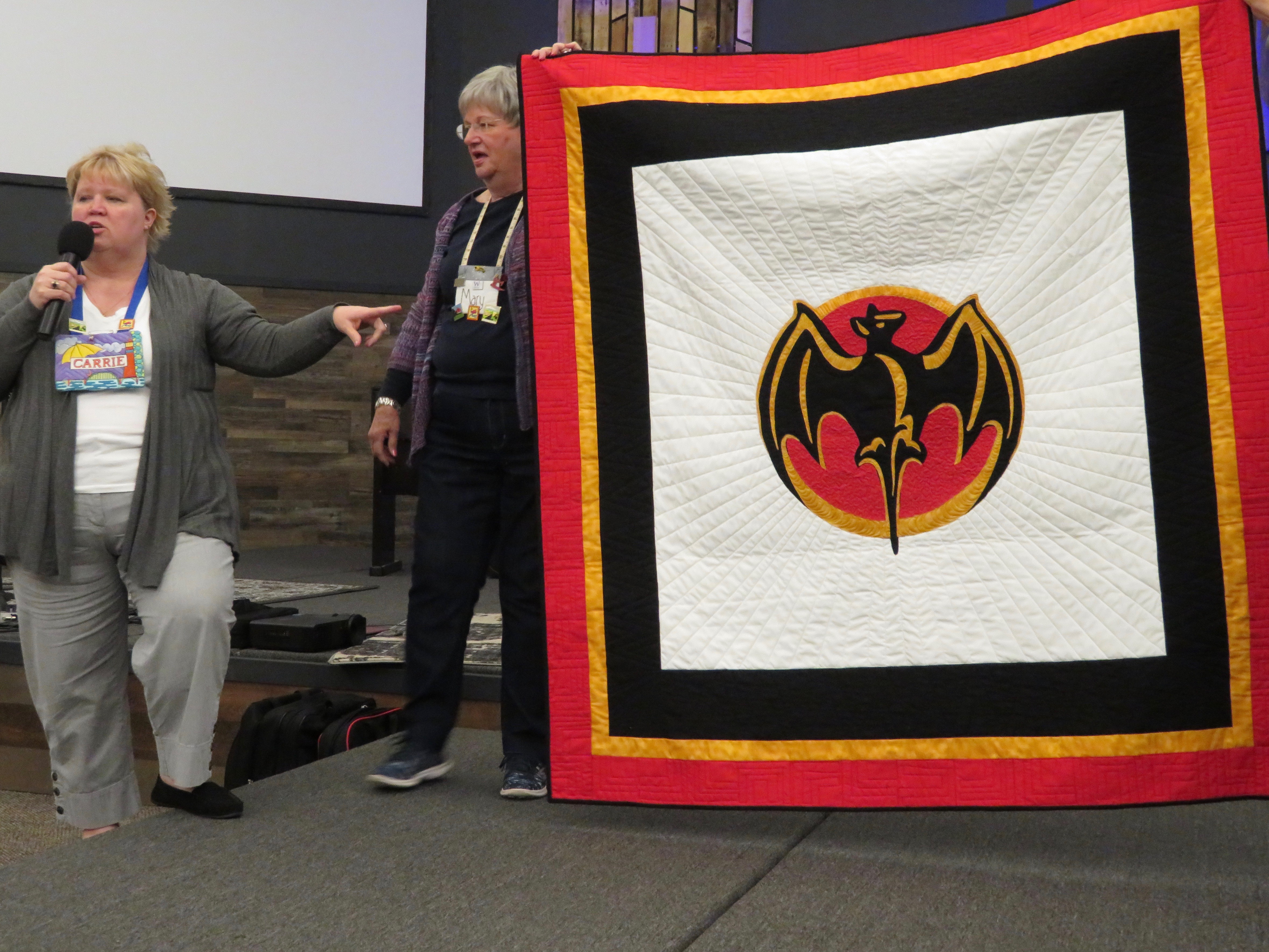 I would have liked to have taken this one home.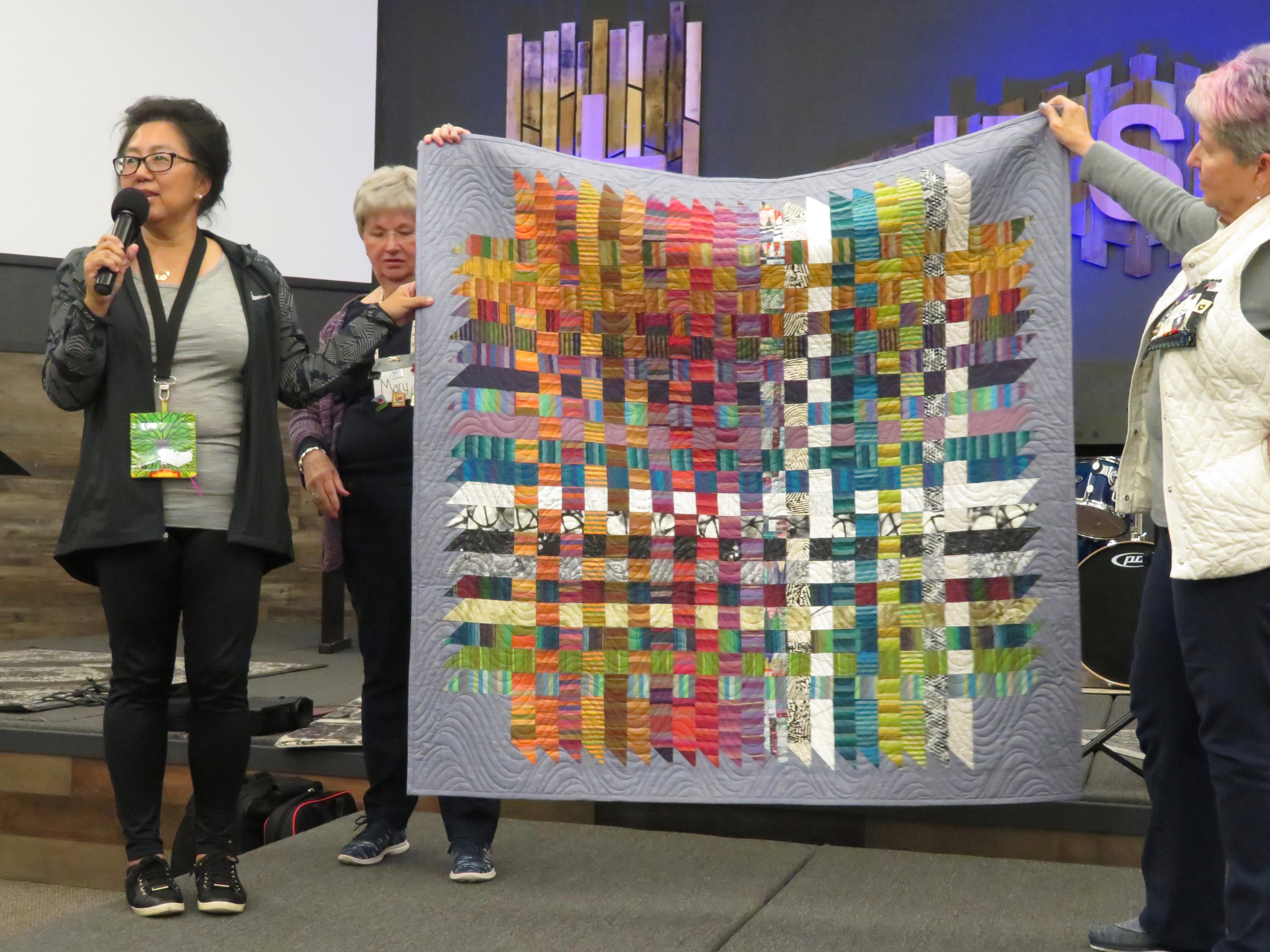 and two quilts made on retreat from the  same pattern.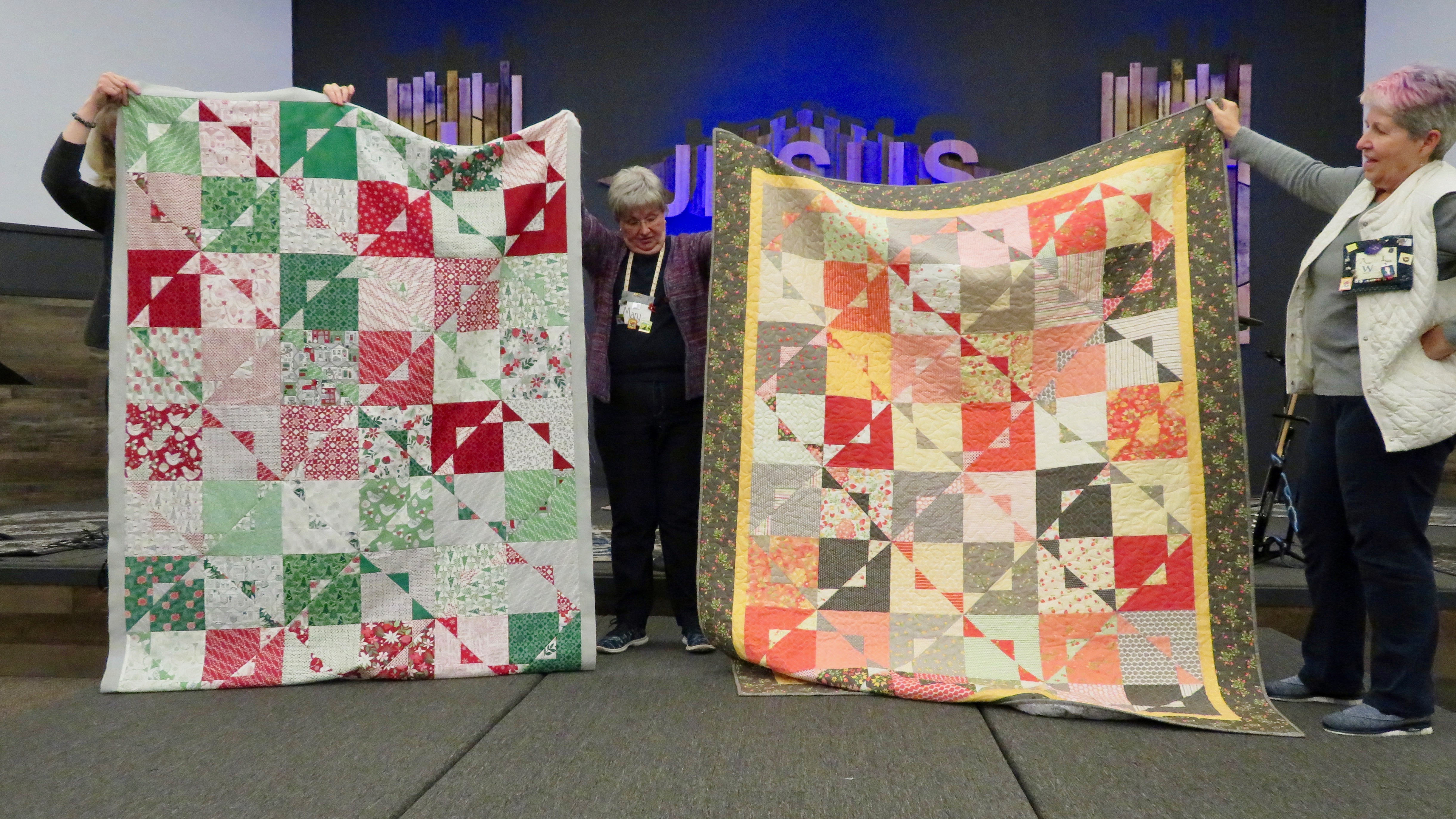 My flight home on Tuesday wasn't until mid afternoon so there was plenty of time for Sue to take me for a trip to EE Schenck, a major wholesaler and distributor for the sewing industry, who have a warehouse in Portland, and then on to Fabric Depot.
Here's an overview of Fabric Depot.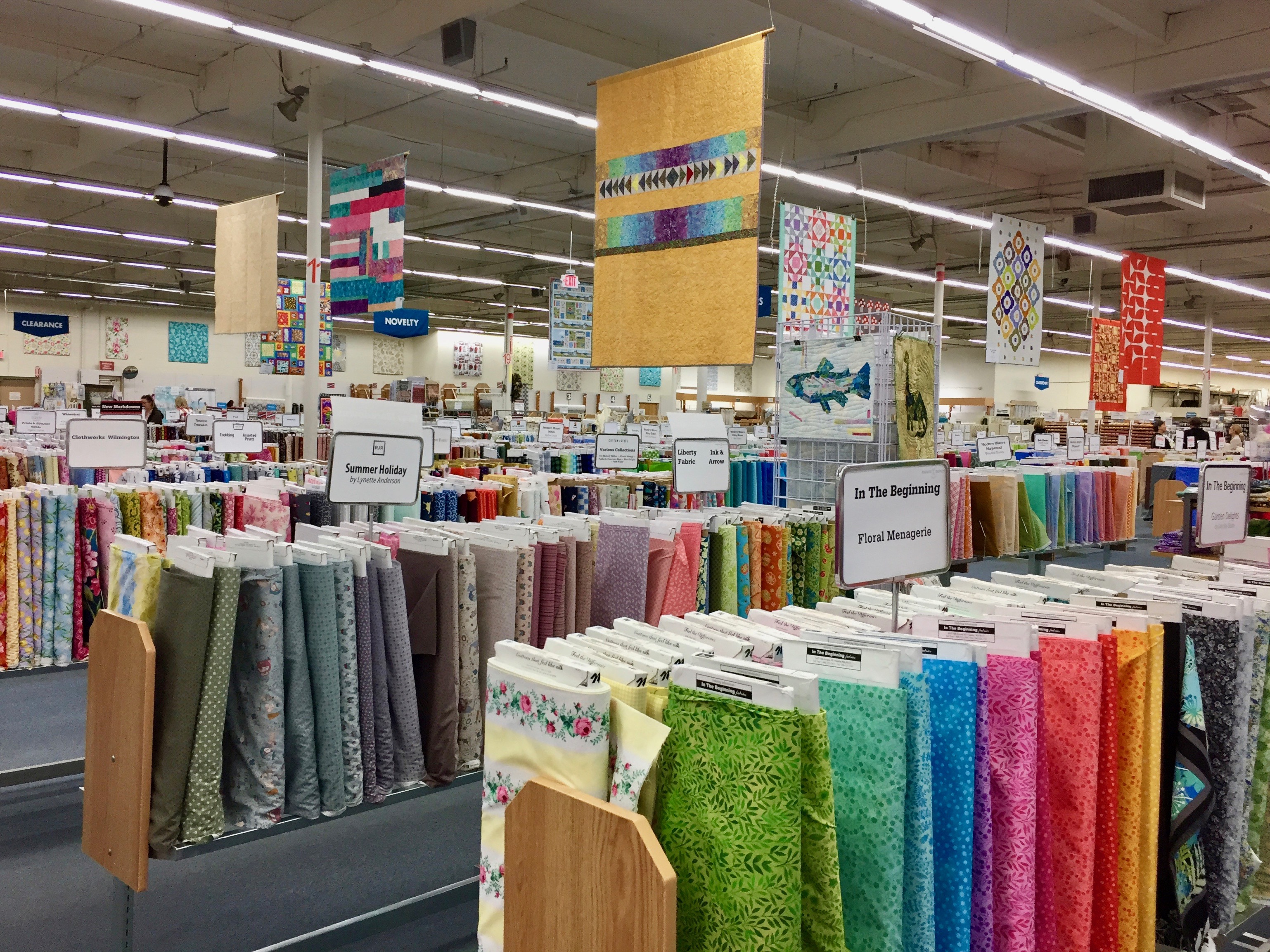 I was very restrained, knowing that my purchases would have to fit in my suitcases. I did pick up some embroidery stencils I'd been looking for from EE Schenck and just a few yards of solids for class from Fabric Depot…
And then on to PDX and back to Midway where Steve had left the car in the daily parking a few hours earlier when he flew to Florida…
It had been a full ten days between the Cocoon and this trip. I was tired! But now I'm back on track. My bags are almost packed for my next adventure.  I leave to drive to Menominee Falls in Wisconsin tomorrow afternoon. You never know I might call in on a certain  new grand baby on my way home?
Meanwhile there is a basted quilt on the table upstairs with a deadline on it 😉