I'm nearly packed to head out to Quilt Festival in Chicago this afternoon but before I go I just have to share the latest excitement in my life.
I'll show not tell..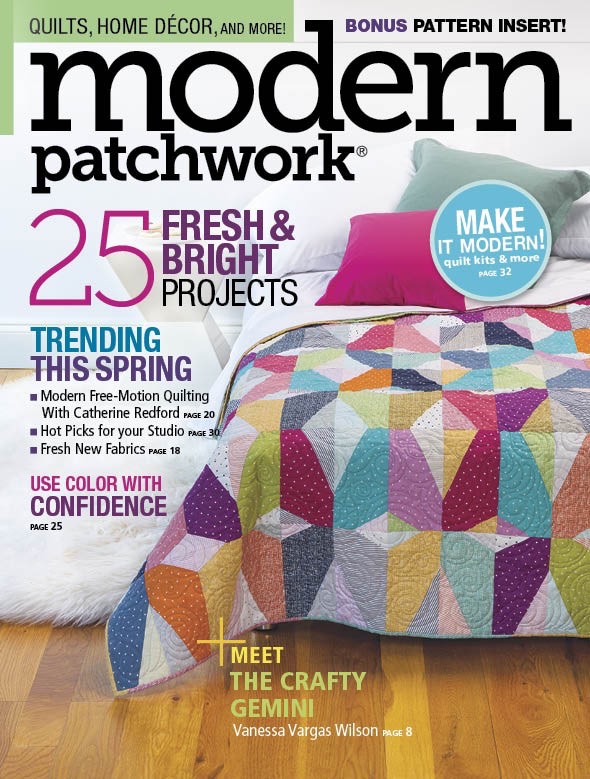 The download is available at the Interweave store already but the news stand date for the print version is April 19th.
I have an offer for you from the Interweave store
FOR A LIMITED TIME!
Pre-order the physical version of the new Modern Patchwork issue and get the digital version today for free! Simply add both products to your cart and use promo code MPBOGO at check out! A $30 value for $14.99. Hurry – this sweet deal ends Friday! (April 8th)
I'll be posting more pictures when I get my copy of the magazine…
I have two quilts on display at Festival. One in the PAQA Explorations exhibit and one in the Modern Drunkards Path challenge. I'm looking forward to seeing them hung with their friends!
Here's my schedule starting Thursday.
Thursday 9AM: Wool Appliqué with Dimensional Embroidery Embellishment class (all day)
Friday 9-12: Bold Hand Stitches as your Quilting Line class (3 hours)
2-4: Modern Machine Quilting in Open Studios
6 – 8.30: Iron Quilter Challenge… Redford's Racers will  be in action ripping their way towards the finish!
Saturday 9-12: Happy Scrappy Improv Quilt class
2-5: Wrapped in Scraps Bowl class
There's still room in all the classes. If you want to join the fun just go along to the class enrollment booth at the Convention Center and sign up. I have extra kits and supplies. You don't need to worry if you are missing anything. Ticket Sales for Iron Quilter close at noon on Thursday so you would have to be at the show or arrange with a friend (?) to book your spot in plenty of time.
I hope I might see you at Rosemont?