Wow! I can hardly believe how many people are joining in and leaving comments. If you are new to my blog I hope you feel welcome and will stay a while. And my faithful readers… you know it's always good to see you again! Never a dull moment.
So, it's my friend Svetlana of SOTAK Handmade writing about my DVD today. I stole this picture from her website because I love it so much.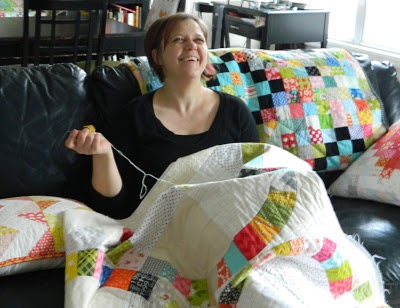 Svetlana never gives up on a challenge. She is a founder member of the Naperville Modern Quilters Guild although it is difficult for her to attend meetings any more. With three teenagers and an expanding stitching business to take care of she is one busy lady. You can find her growing range of patterns on her website, all carefully written and tested. Sometimes she will sell one of  her creations… imagine that, finished and everything! She has also been published in the UK's number one quilting magazine, Love of Patchwork and Quilting. It's such fun when I pick up a magazine and see a friend featured!
I write these posts before I've seen what has been said about the DVD. I hope Svetlana enjoyed it…
Today I'm sharing the whole of the placemat that has the stipple design on it.
There's a double loopy meander, or ribbon quilting, all around it. Two lines are almost always better than one. They really help to smooth out any bumps or uneven stitching on the first pass.
I've shown the figure of eight stitching as my featured image. It makes a lovely allover pattern as an alternative to the regular meander. Quilt in rows coming down your quilt towards you. It takes practice to get both sides of the eight even but you know you can do it. Remember to doodle first and get the rhythm going.
Here's the list of bloggers again. If you've only just joined us check and see what you missed!
Thursday January 7th Me!
Saturday January 16th Me again!
Comments do win prizes… I'll be drawing at least three names from all the comments left on my blog between the 7th and the 16th on Sunday 17th to win a DVD. The grand prize winner will also receive a brand new Hexie Love ruler AND a Stella task lamp from Stella lighting. Definitely worth trying for? and I do love your comments!
You can comment once on each of my blog posts. I'm showing different stitches and tips and tricks each day so it might be worth looking back at some of the earlier ones.
And if you're not lucky, or you just know you can't wait? The DVD or digital download is available at the Interweave store by clicking on the widget at the right hand side of the page.
See you tomorrow!