It's been a busy week. These days there are usually only the two of us in the house, and sometimes just one or the other of us, so when the family come to town it certainly shakes things up a bit!
I managed to take a few pictures but as usual, when you are busy enjoying yourself, they didn't always happen.
My dad arrived on Friday evening. Jonathan, Lauren, Lilly and Lucy pulled on to the driveway Saturday lunch time. Our friend Sher joined us for dinner that evening. James, Sarah and Christopher put in their first appearance on Sunday afternoon.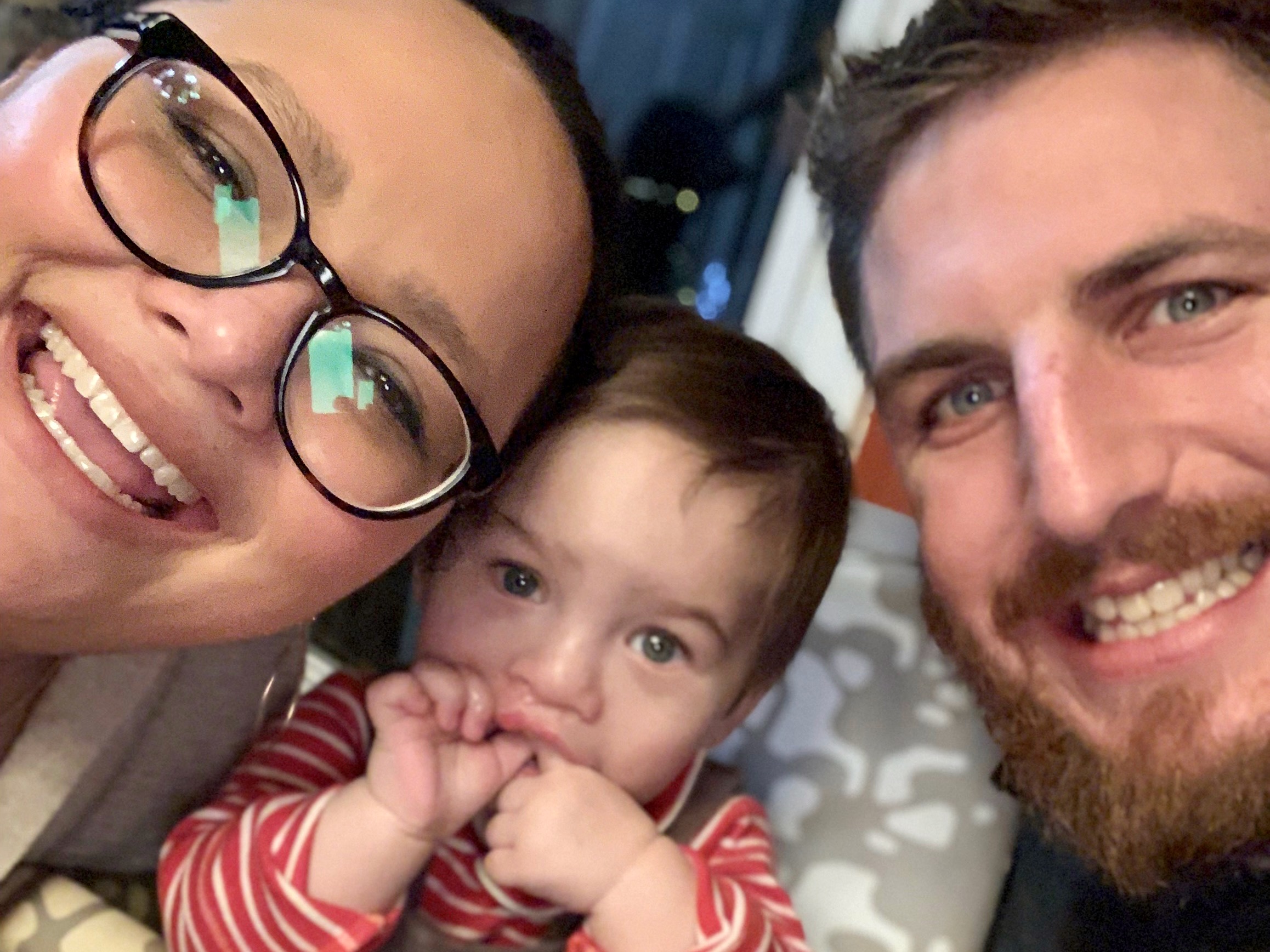 Lucy and Christopher got acquainted!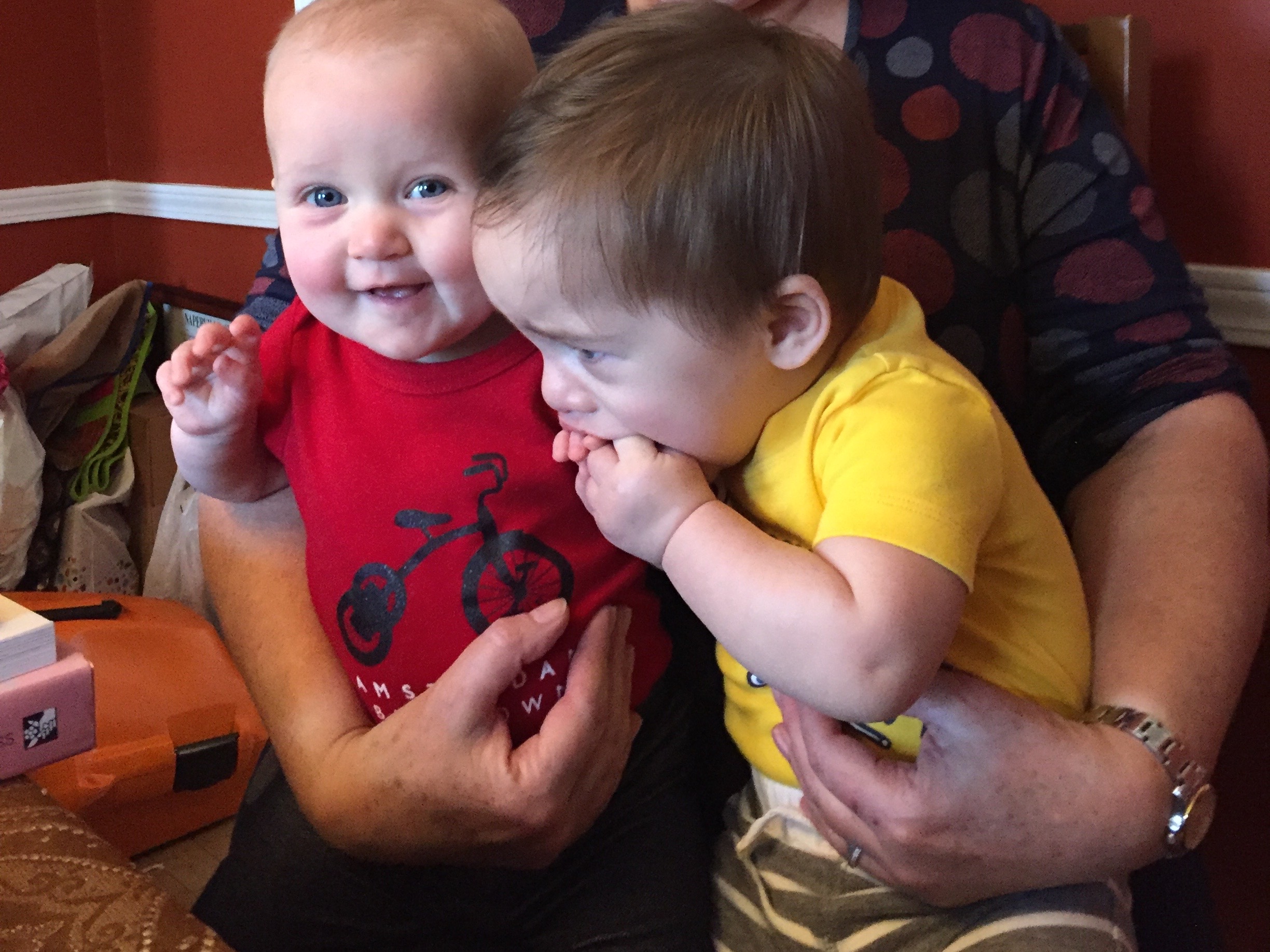 Julia, Matt, Benjamin and Ruby joined the fun in time for dinner. Brenda and Sang came too.
Matt and Ruby had made me a birthday cake!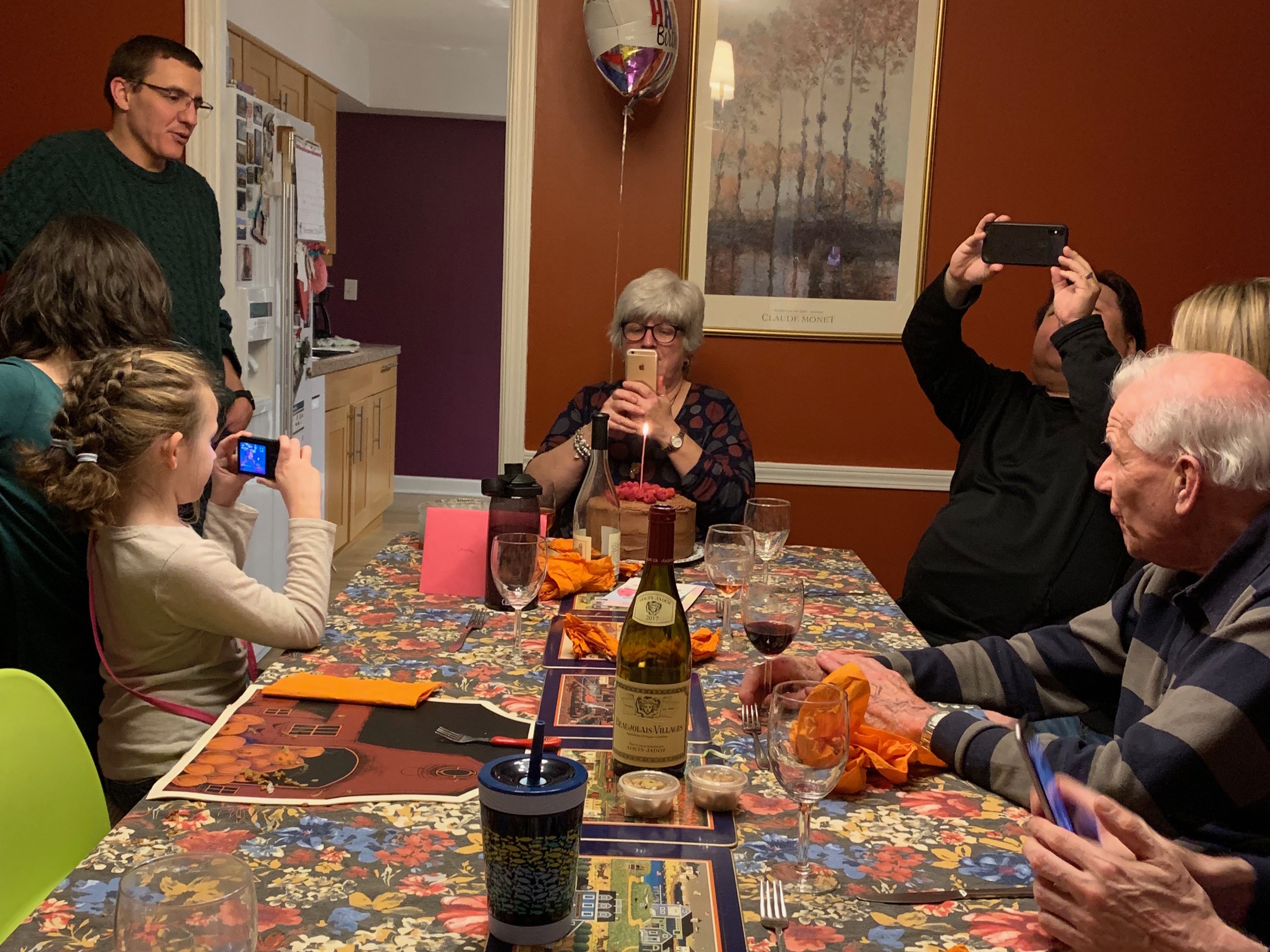 We met up with James and Sarah at church on Christmas Eve. They were staying with Sarah's brother's family… We went early, before the rush. Sarah and Ruby posed by the Christmas tree.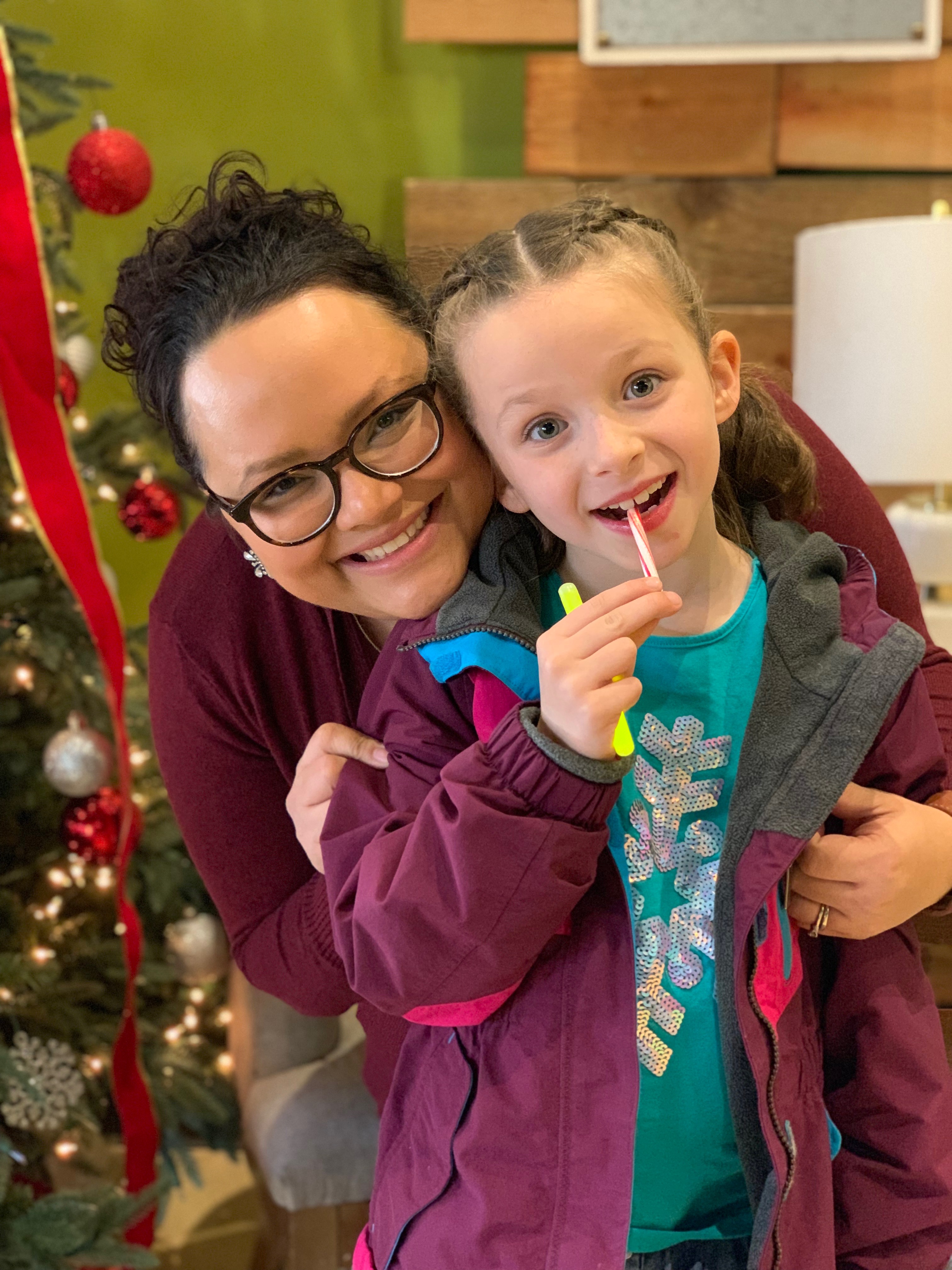 I finally decided I would like a new phone for Christmas so some shopping was done. Jonathan set it up for me. Yes, a day early but we knew we would be busy the next day and I wanted to play with the camera 🙂 Ruby and Lilly helped.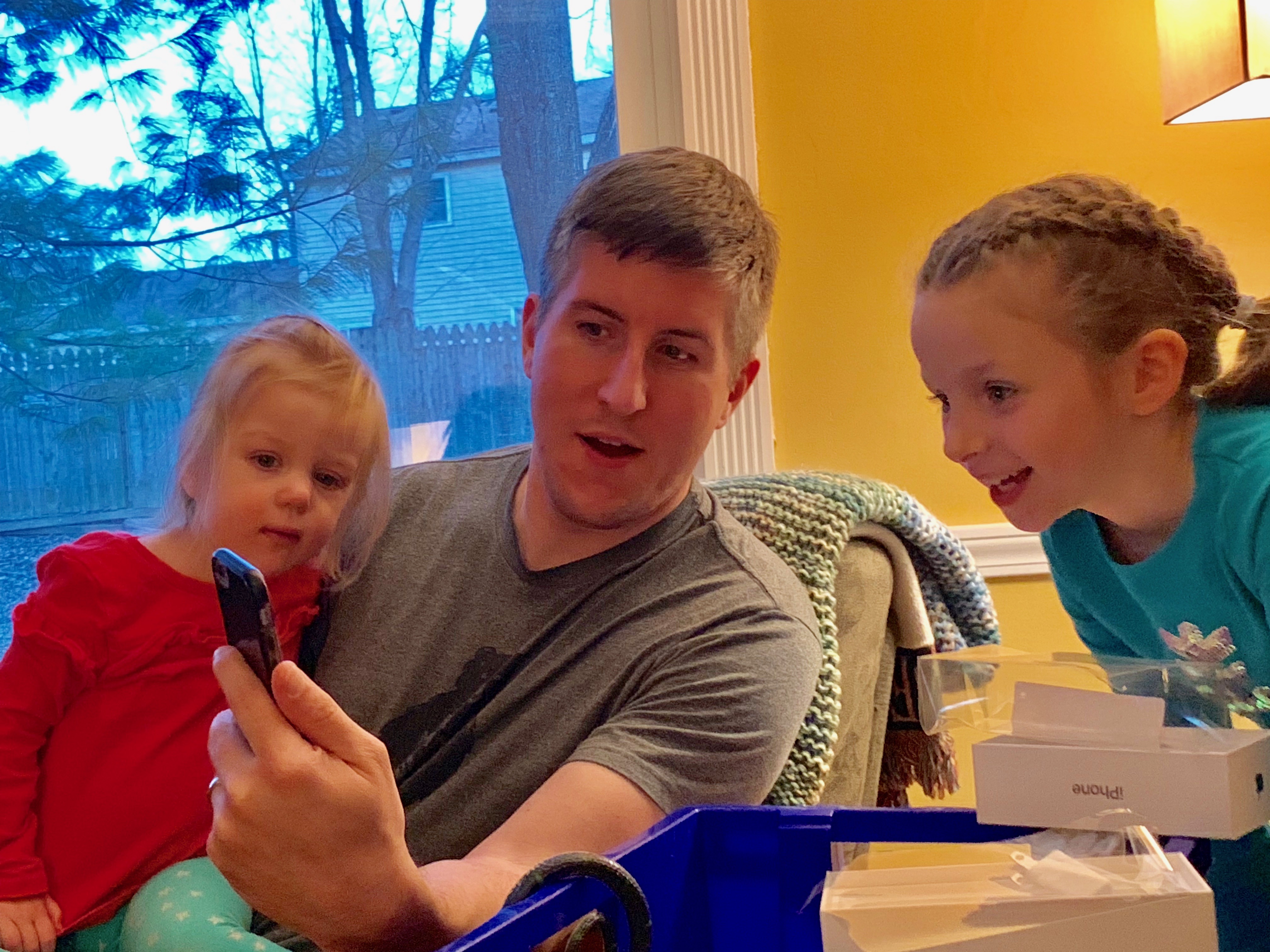 Lilly made a great subject for trying out the portrait feature. She does like apple sauce.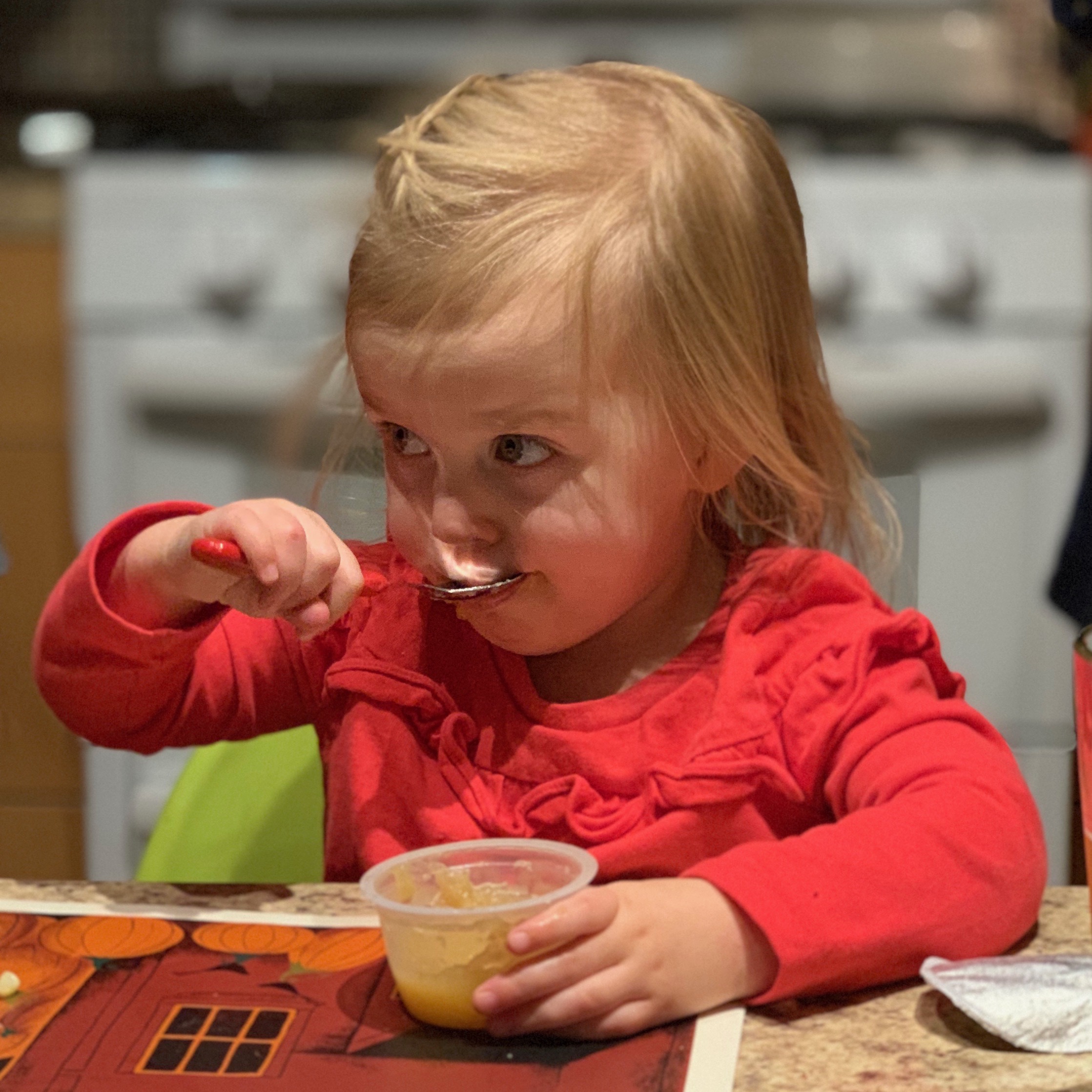 I tried a selfie with the very patient Julia.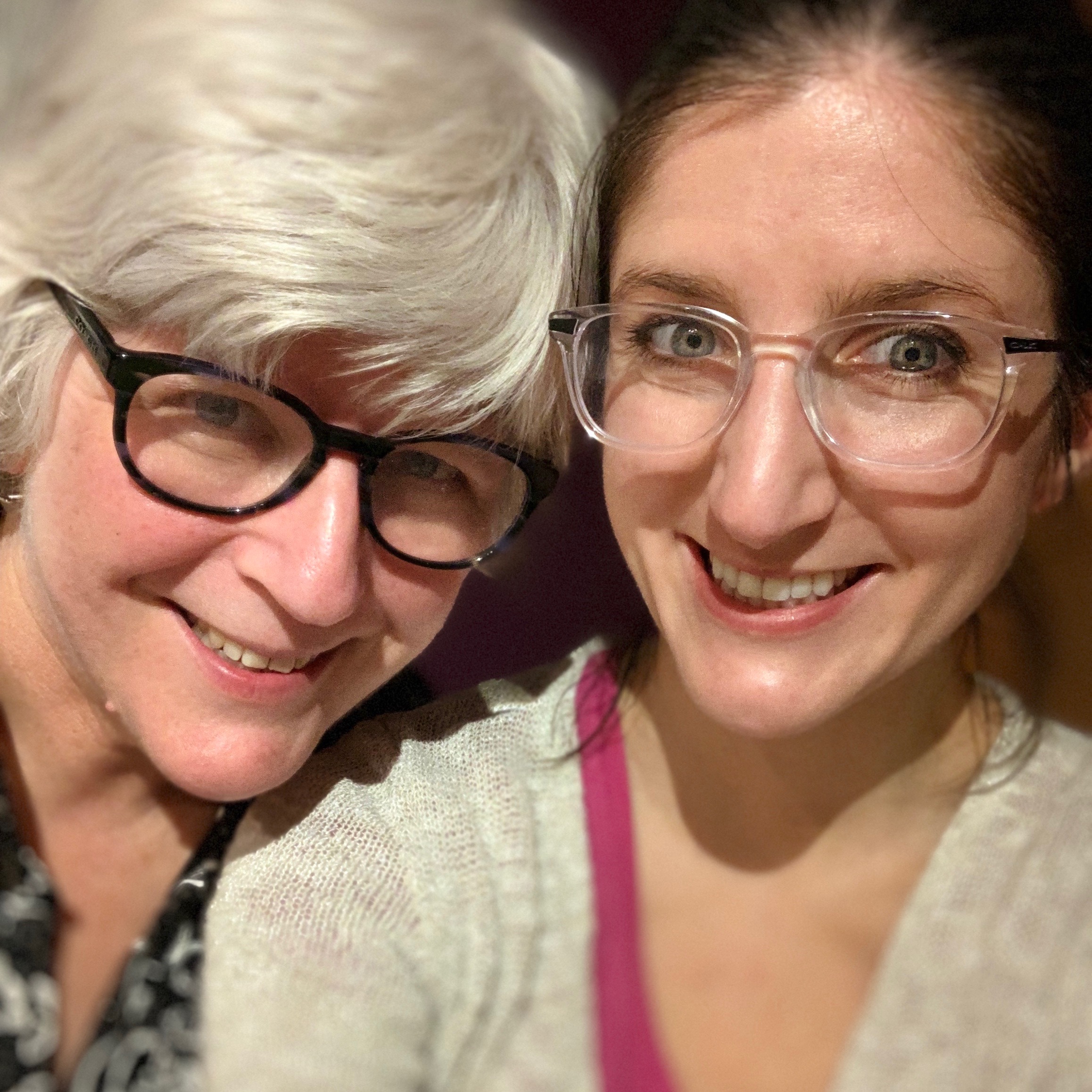 So we got to Christmas Day. There were eleven of us in the house over night. James, Sarah and an extremely cute looking Christopher turned up after breakfast. Christopher was wearing an outfit that I made for Benjamin from a pattern I had used for Jonathan…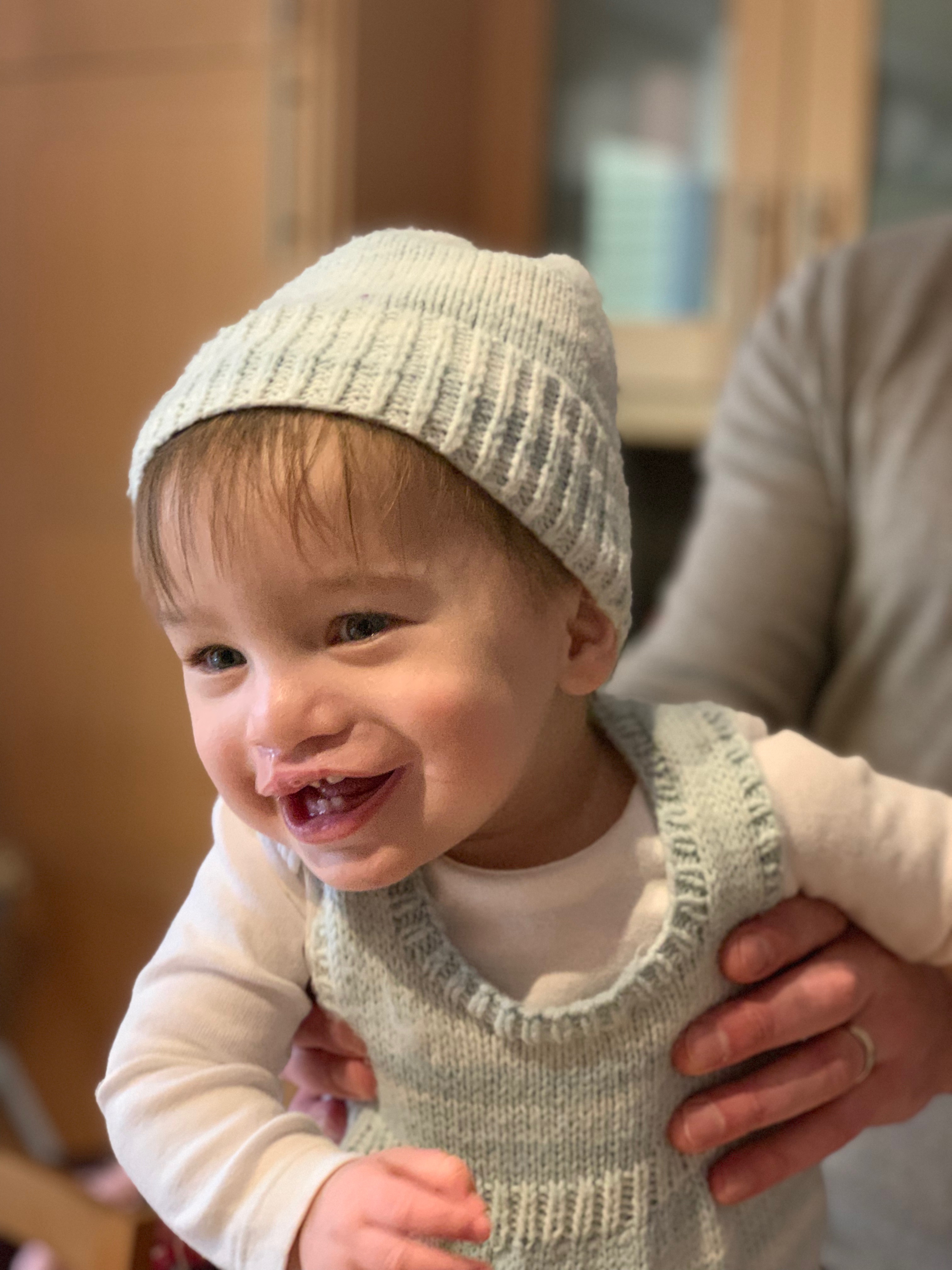 Christopher and grandpa…
Christopher and great grandpa!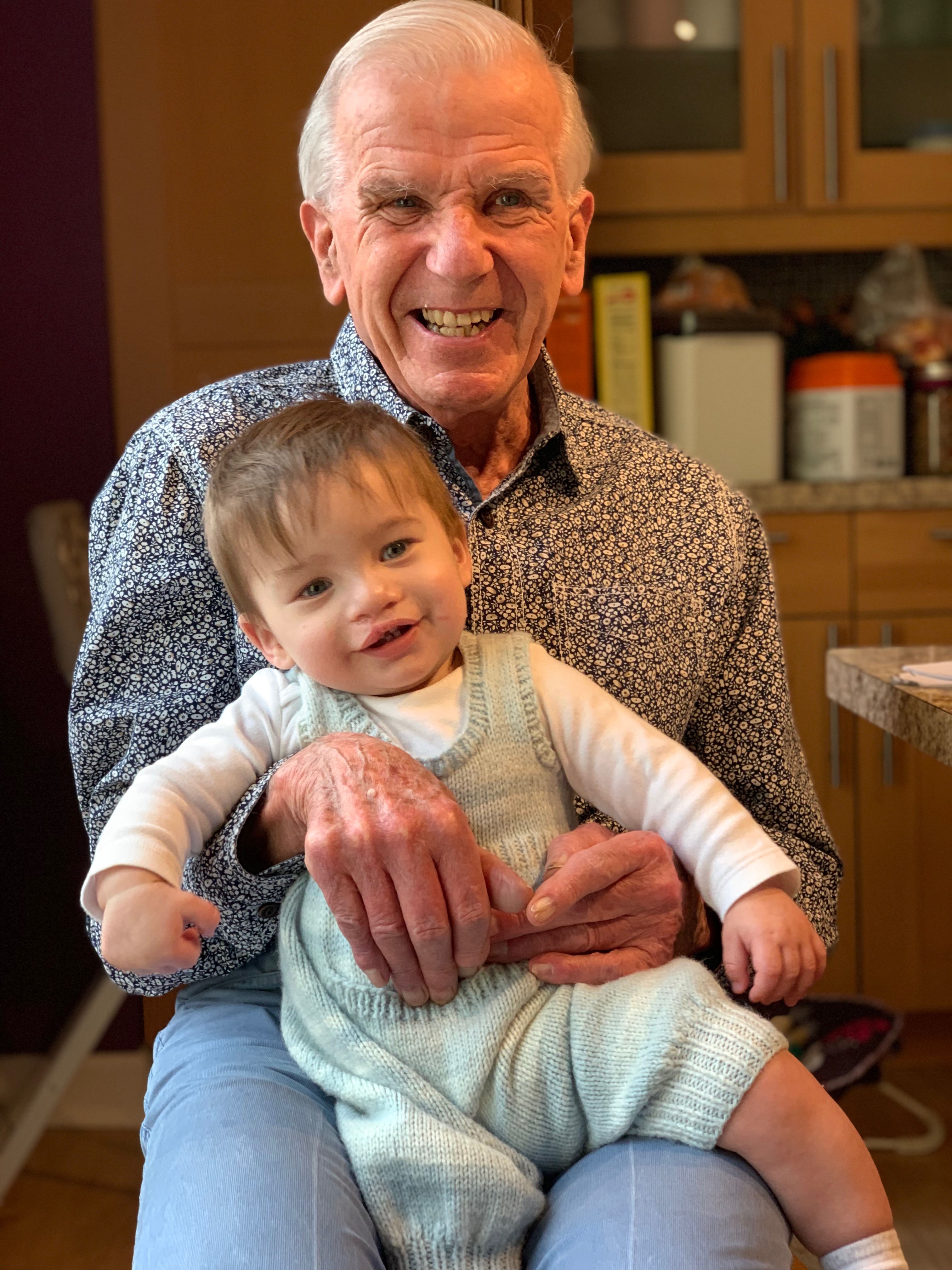 Joanne, John and Emily drove down from Wisconsin. Lauren had got matching shirts for all the cousins.  Quick, take a picture before everyone gets tired!
One for the ages.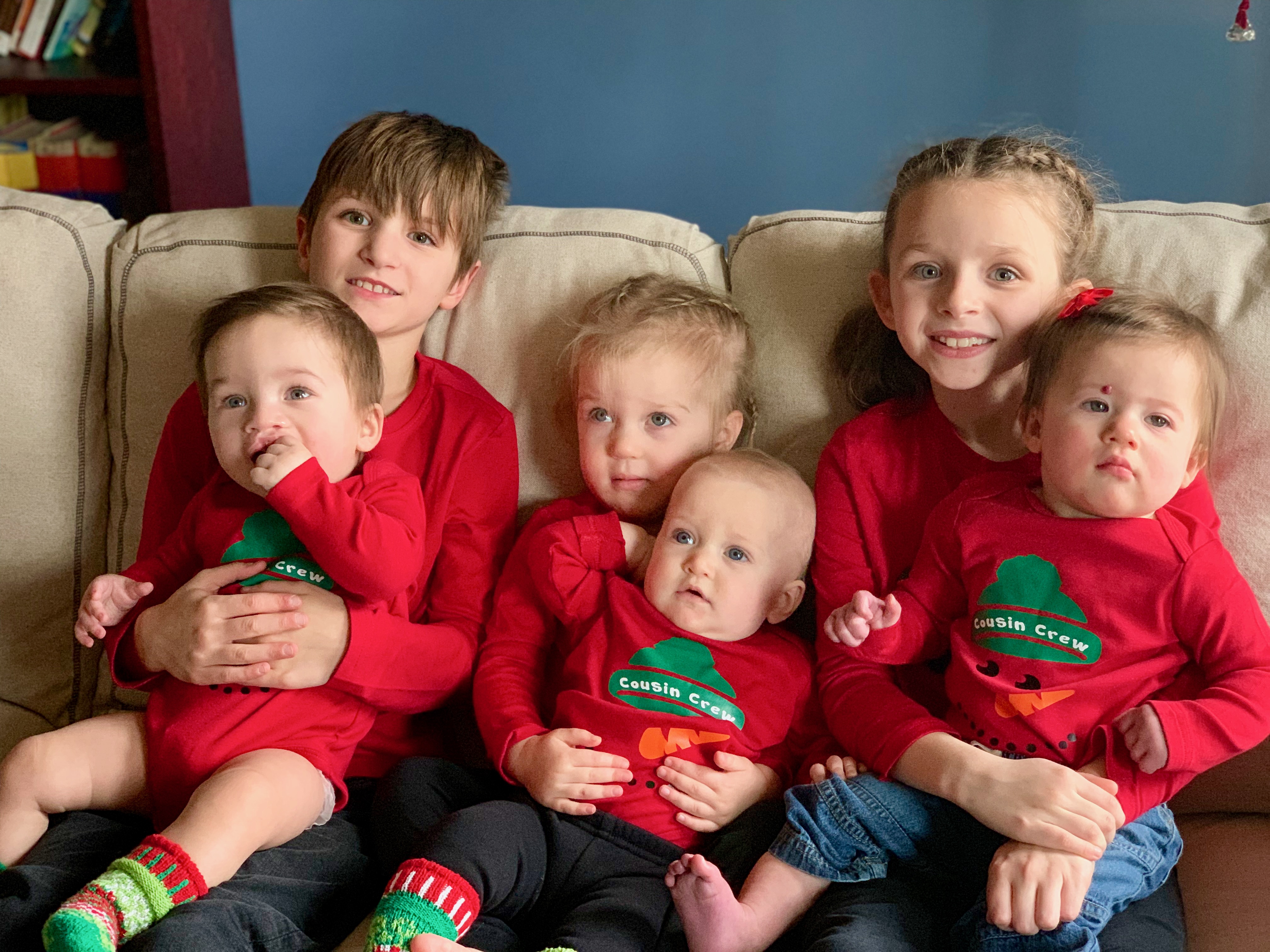 We opened presents before lunch. Julia had her big camera and I hope she took some good pictures. I haven't got any yet…
Here's one I took of Benjamin and Ruby in their lovely new hats from Uncle James and Aunty Sarah. They should keep them warm at the bus stop.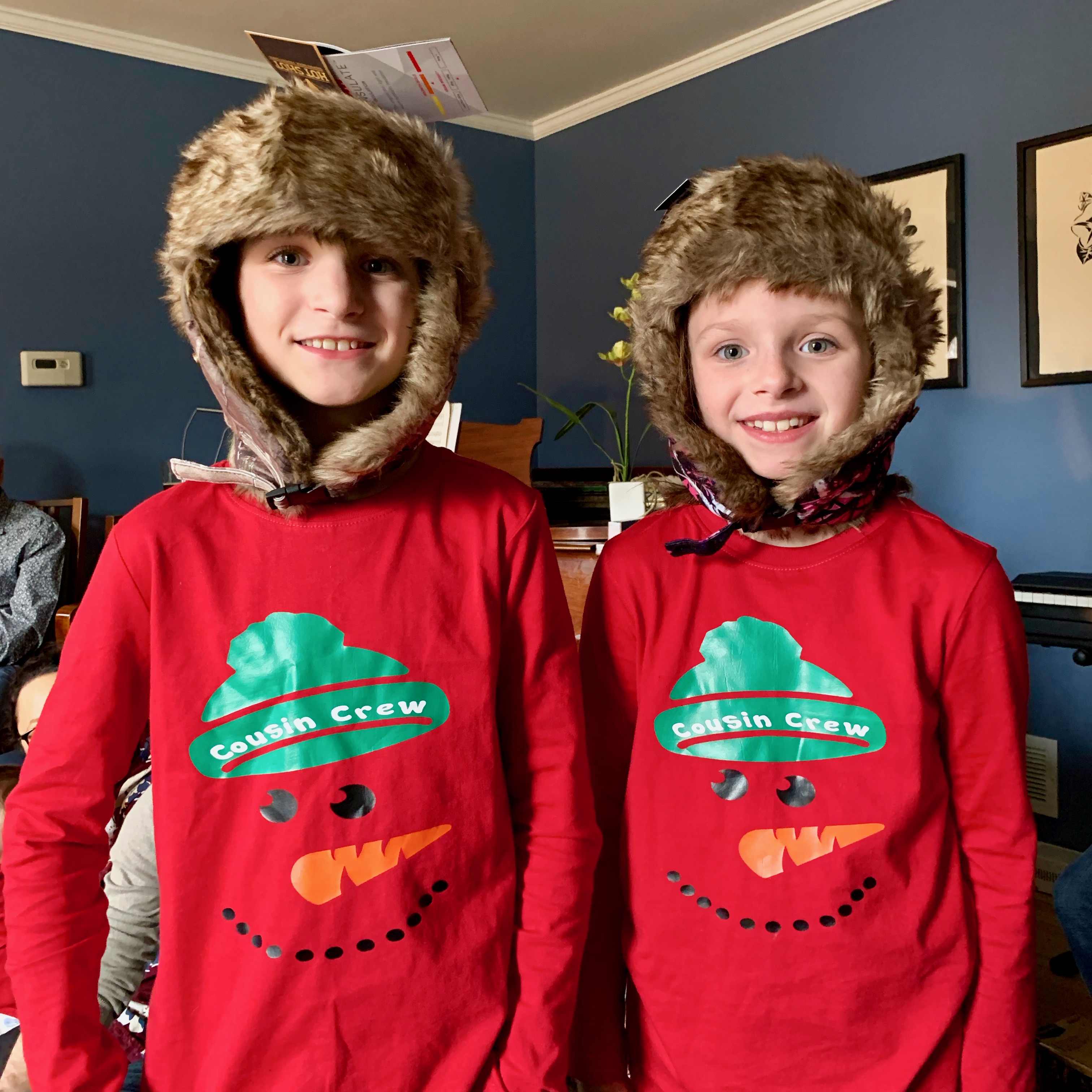 We managed to all sit at the dining room table for lunch. It was a bit of a squeeze but I think we all enjoyed our British style turkey dinner with home made cranberry sauce, sausage stuffing, mashed potato, sweet potato and carrot, roast parsnips and brussel sprouts with liberal helpings of gravy… There were mince pies and Christmas pudding with rum butter for dessert. Good times!
In the evening my dad, Steve and I joined Julia's family in the mini van for a tour of Naperville's finest light displays. They varied from incredibly tacky to very tasteful.
I liked this one.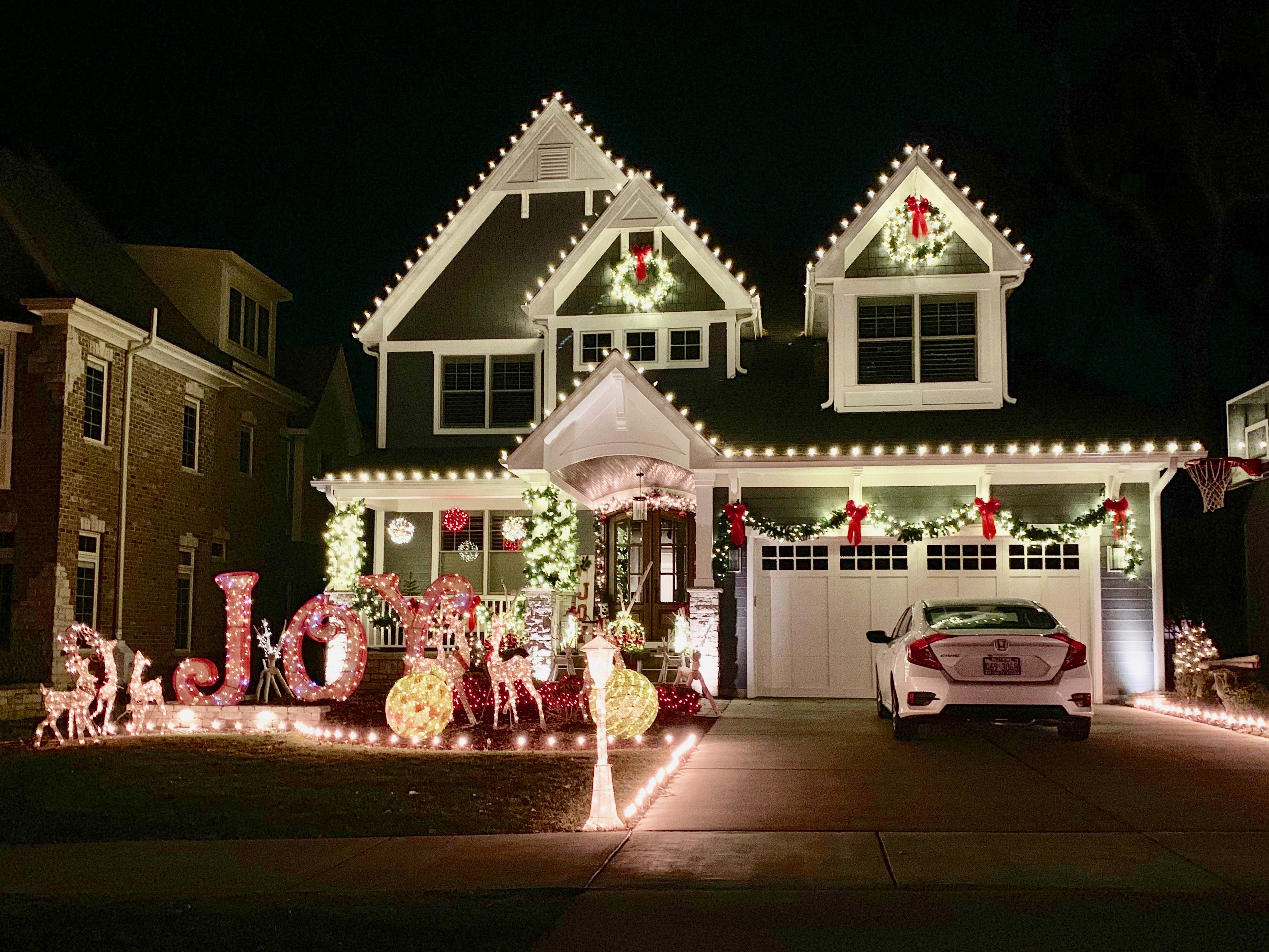 Joanne and John headed back North soon after lunch. James and Sarah left for Michigan. Jonathan's family departed after breakfast on Wednesday to drive back to Nashville. That left seven of us. We went to see Mary Poppins Returns in the afternoon. Reclining seats and a big bucket of popcorn added to our enjoyment. I have to admit I might have taken a little nap while the lamplighters were doing their thing…
Julia and family left from the movie theater. Just three of us in the house! Leftovers for dinner and an early night 🙂
Dad and I went out for breakfast with my friends on Thursday morning. I had dropped off two of my sewing machines for an over due service appointment before Christmas and had received notification they were ready for pick-up so we drove down to Thimbles in Lockport to pick them up.
Dad went home Friday afternoon. He took my old phone with him.  I now have his cell phone number in my contacts. You never know when it could be useful? I took a picture to put with his details.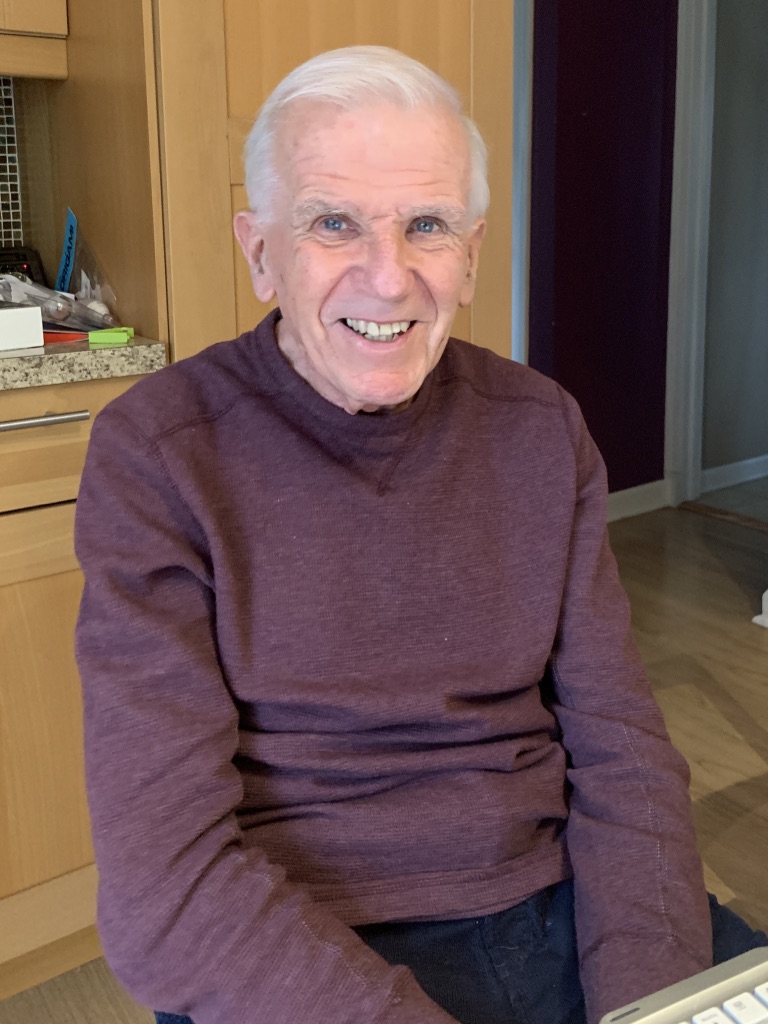 Did you notice the hair cut? I used some of my best Karen Kay Buckley's… I don't know what the barber is going to say when dad next visits…
We are back to the two of us. I did some clearing up in my sewing room and I pieced a quilt. I started quilting it today. I'm hoping to get the machine quilting finished tomorrow and then I am going to add some embroidered embellishment. It seems like forever since I sat at the machine to make Lucy's quilt but actually it's less than two weeks!
In less than three hours it will be 2019.
Maybe I'll try a round up of 2018 in the next few days. It was a good year!