I've been promising a butterfly hand embroidery block of the month for a while. I've dropped enough hints and shown enough partial pictures so it's about time?
Let's get started with a Year of Butterflies!
I'll upload a line drawing each month, for at least eight months, for you to download and print and then it's up to you to make it your own. I'll offer some finishing suggestions in the fall and let's see what happens?
Here's my version of January.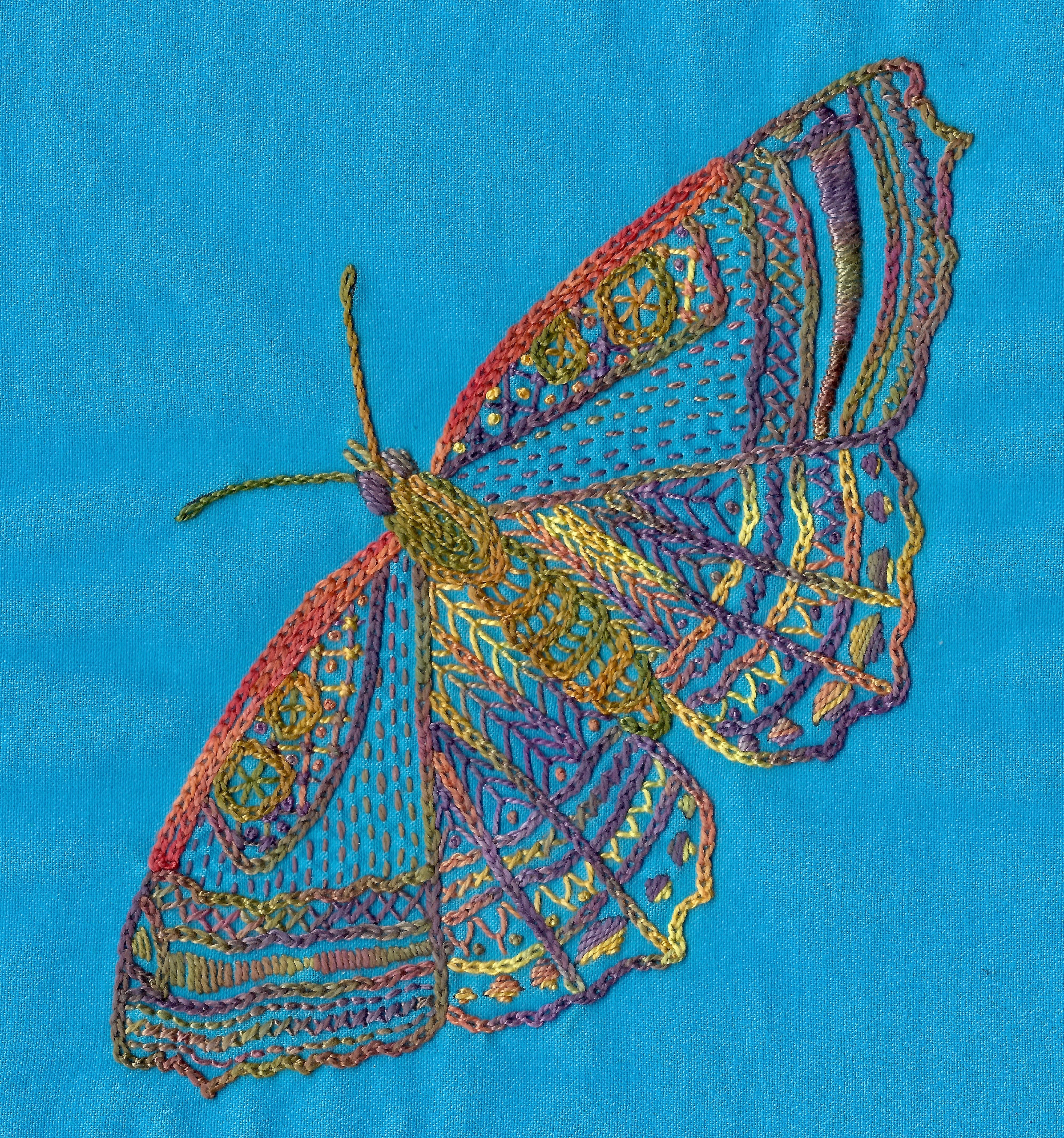 So what do you need?
I used squares of colored Kona cotton, the good stuff from Robert Kaufman, for the backgrounds. I like deep colors to really make the embroidery pop. Any good quality solid fabric will work. A hand dyed piece might be nice? How about some Cherrywood for a touch of luxury? I'd suggest you cut them at 10″ square to give you enough margin when you come to use your butterflies later on. These ones are actually 8″ because I had them left over from another project! They are OK, but if you want to include the block in a quilt at the end, you might wish you'd cut them bigger. 
My favorite threads and the ones you'll be seeing the most are the hand dyed number 8 perle cottons from House of Embroidery. I get mine from Akonye Kena… look under the SHOP button. I have sized the designs so that 3 or 4 colors will be enough for each one. You can get cards of three colors you will need to wind or mini collections with five pre wound colors or a box with sixteen colors which will give you plenty of choices.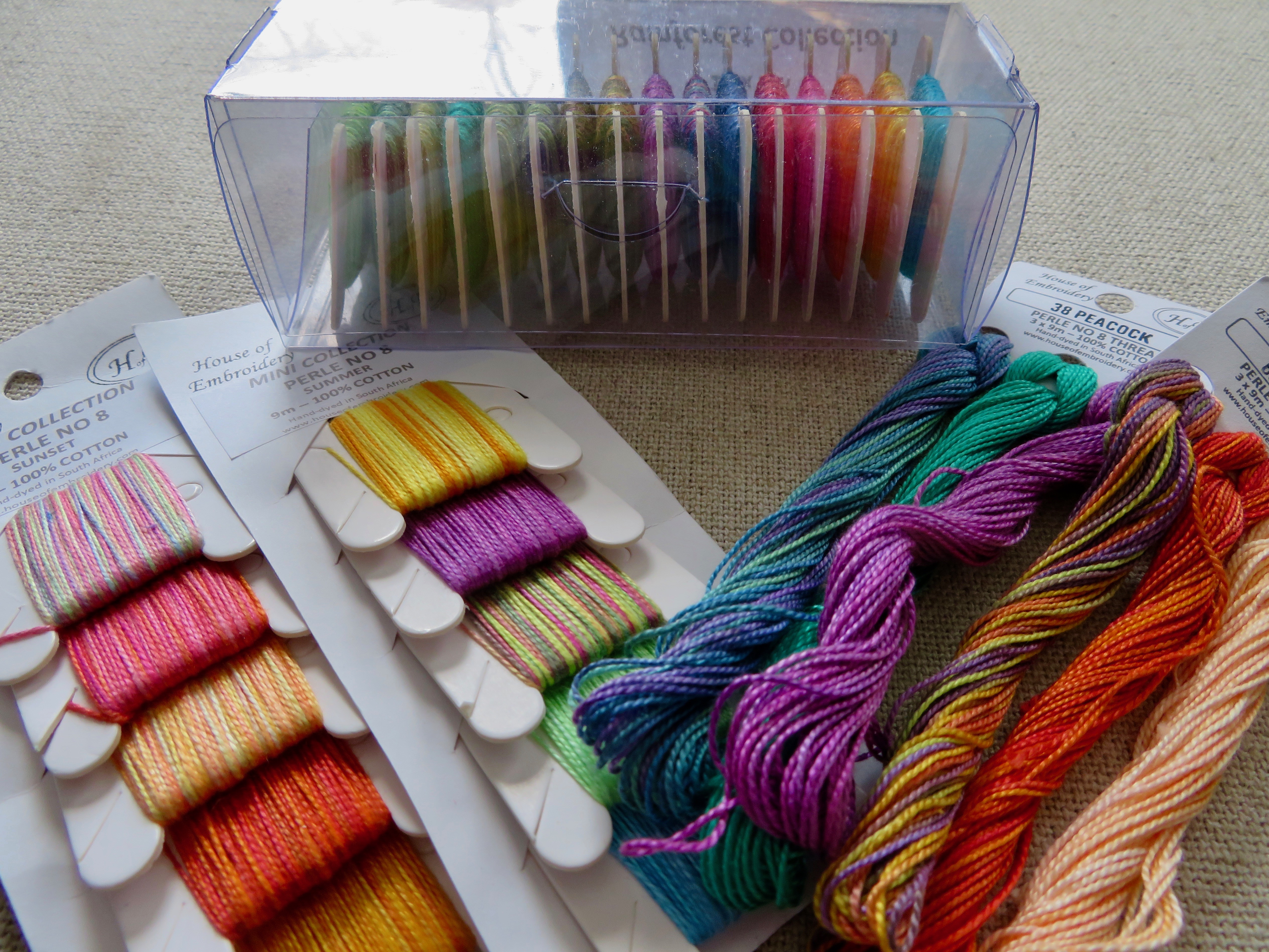 Of course you can use any embroider threads you like. You might well have a collection of embroidery floss. Two or three strands can be substituted for the number 8 perle cotton.
You'll need some marking tools. I like an ultra fine tipped marker for the basic outline. That's a black micron 05 in the picture. I sometimes like to add extra lines as I stitch. That's where the white chalk mechanical pencil comes in. It shows up well on the colored background and rubs off easily. There are lots of different ones… Fons & Porter, Bohin, Sewline etc.
Also in the photograph are my favorite pair of scissors from Karen Kay Buckley. They have curved tips and serrated blades so you can cut nice and close.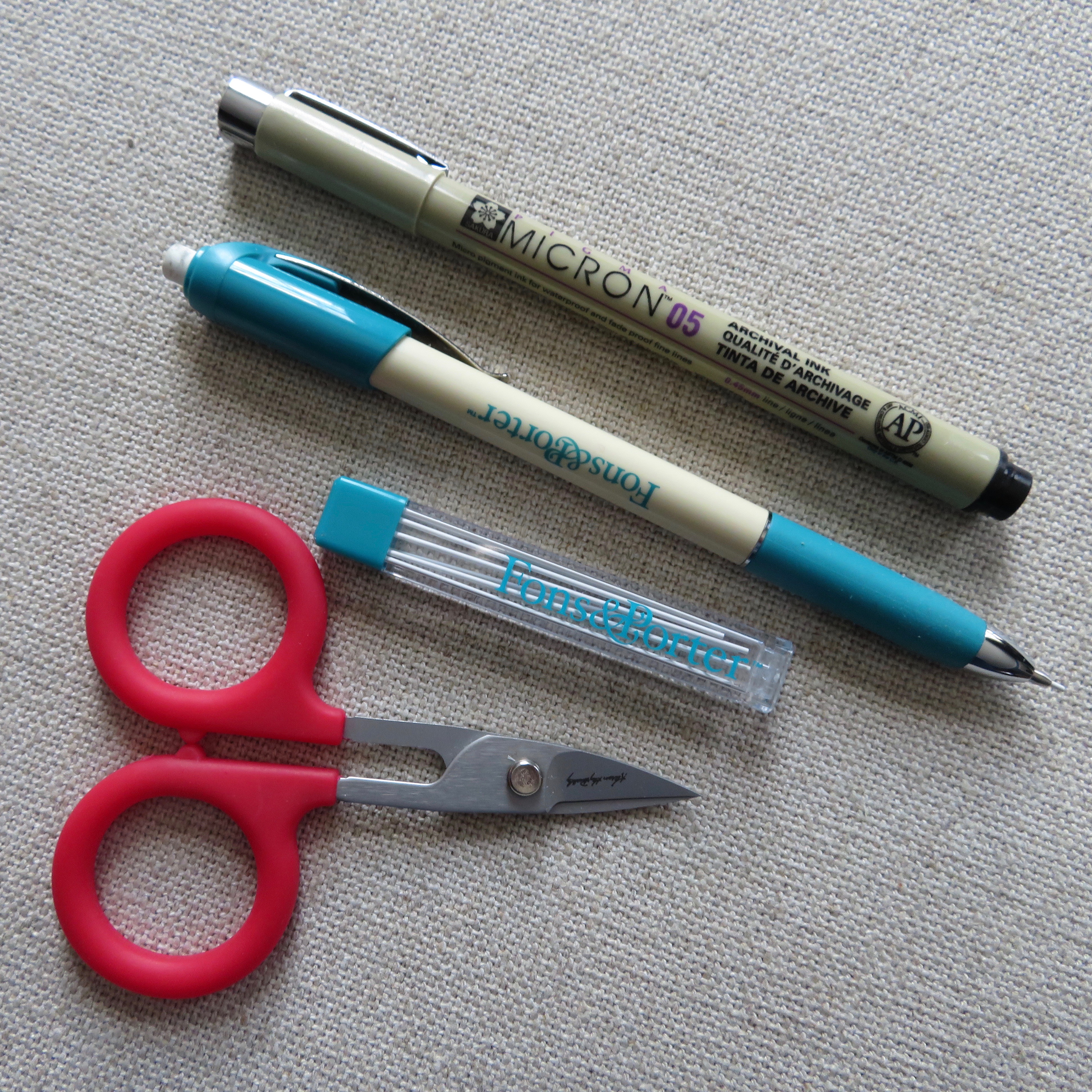 You'll need needles. My favorite are the ones from Tulip. I think they are the best quality you can get but they are pricey! English sewing needles are always good. You'll need Chenille needles for your basic stitching, #24 for the perle cotton and Milliners or specialist Bullion Knot needles for any wrapped stitches you want to try. If you have problems threading your needles try the Clover Embroidery threader I've got in the picture. My students seem to like them when I let them try mine!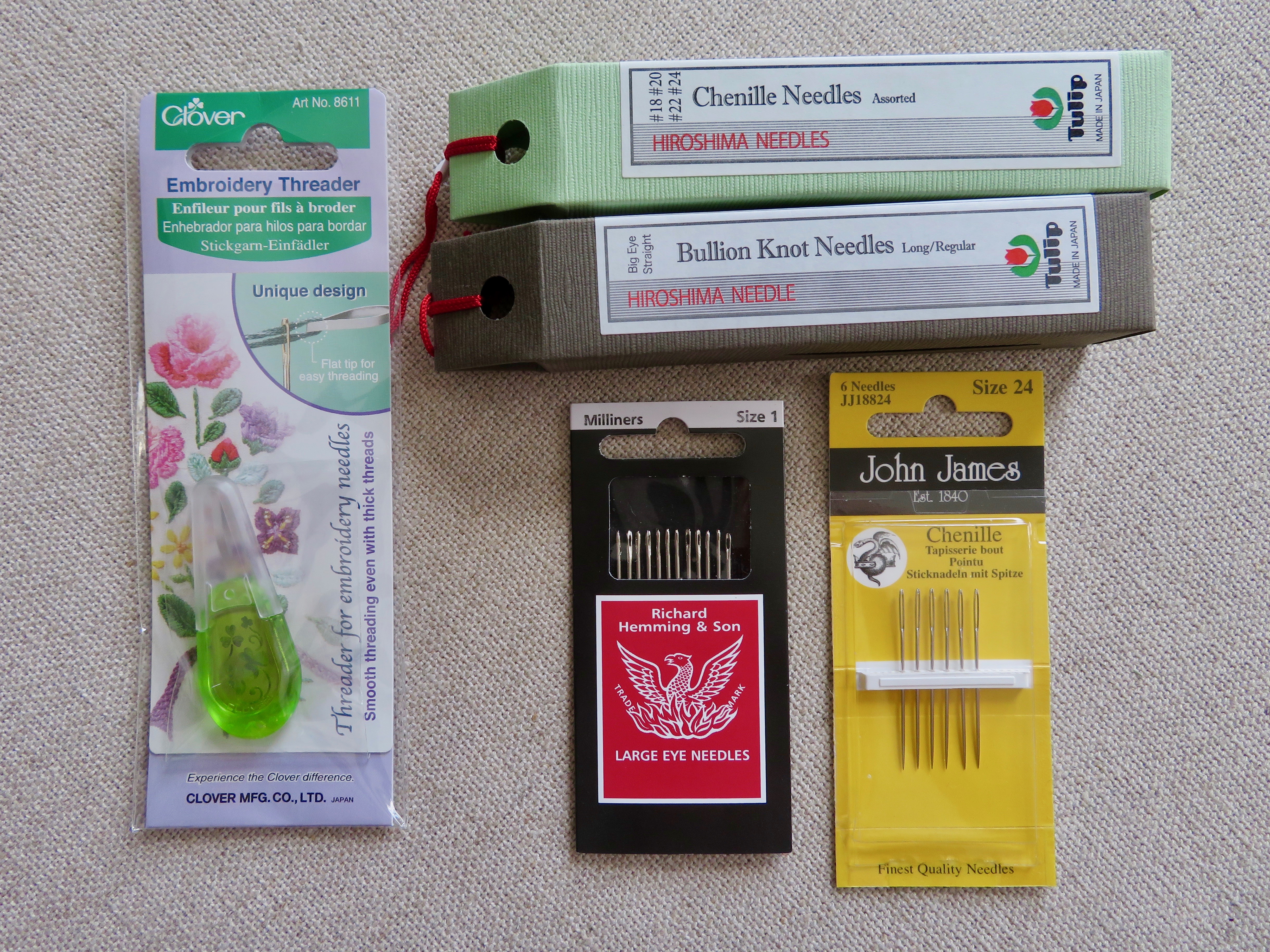 A nice thing to have is a light box for transferring your designs onto the colored fabrics. Mine from the Daylight Company has a variable light control and is lightweight and portable.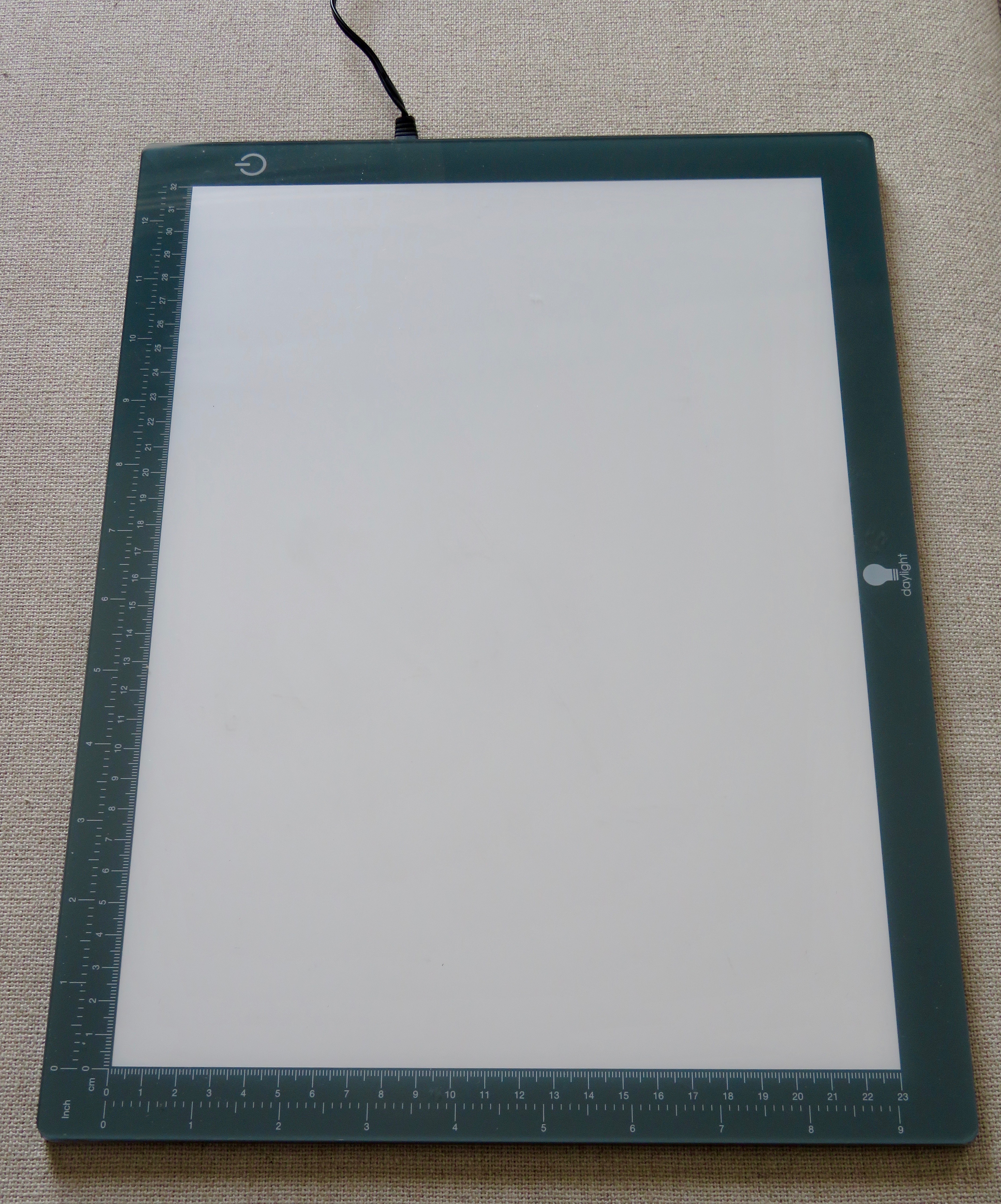 So that's what you need to get started!
All you need now is the design! Down load it from the Year of Butterflies tab at the top. It's easy to do. Just click on the picture and it'll come up in a new window as an image you can print at home, no need to adjust the size if you want yours the same as mine!
Here it is ready to go on the light box.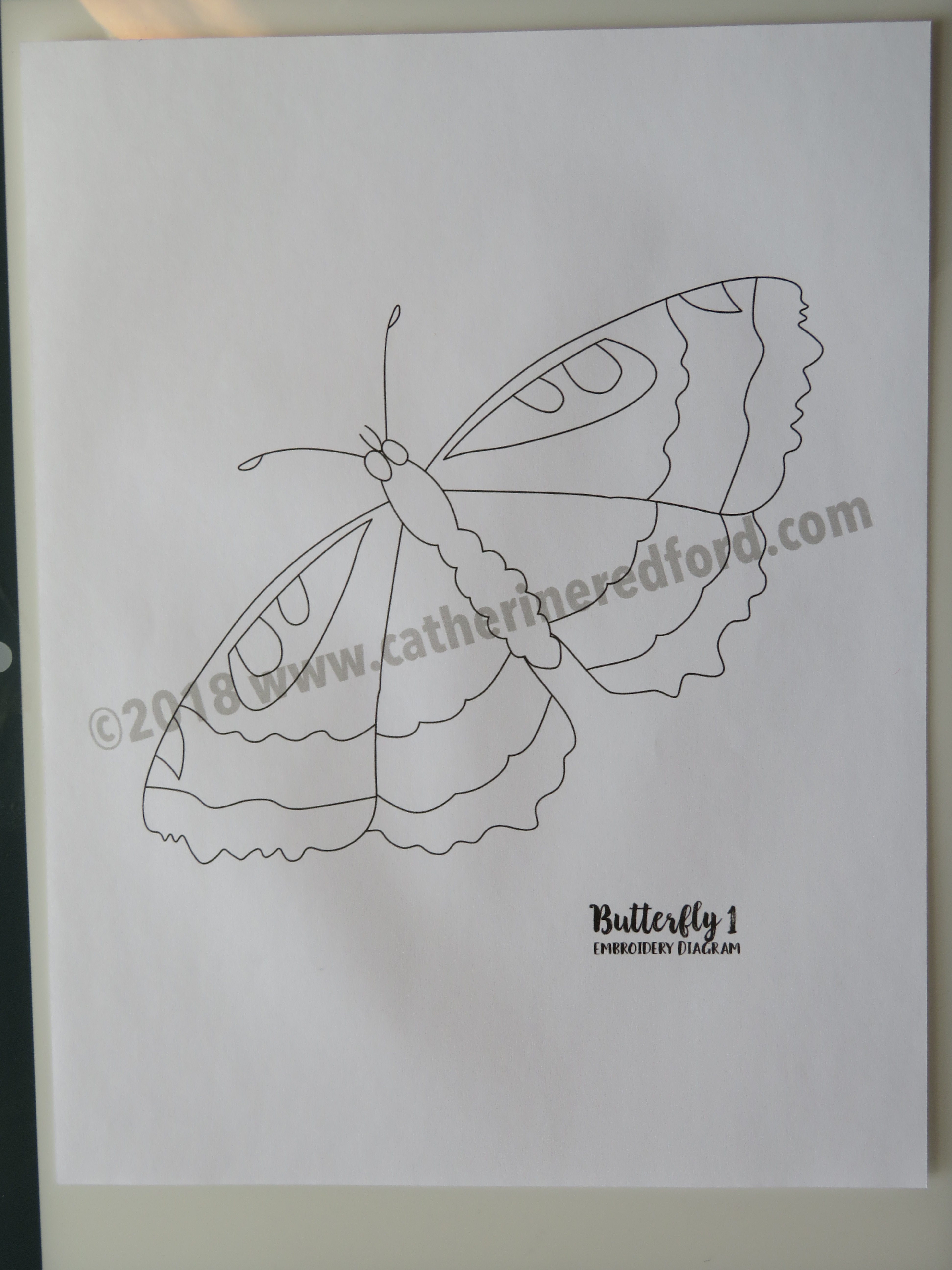 The watermark is there just to remind you that although I'm providing the designs free I have done some work to get them ready for you! It shouldn't get in the way of you using them 🙂
So now you can put your fabric square on top and switch the light on so you can see what you are doing…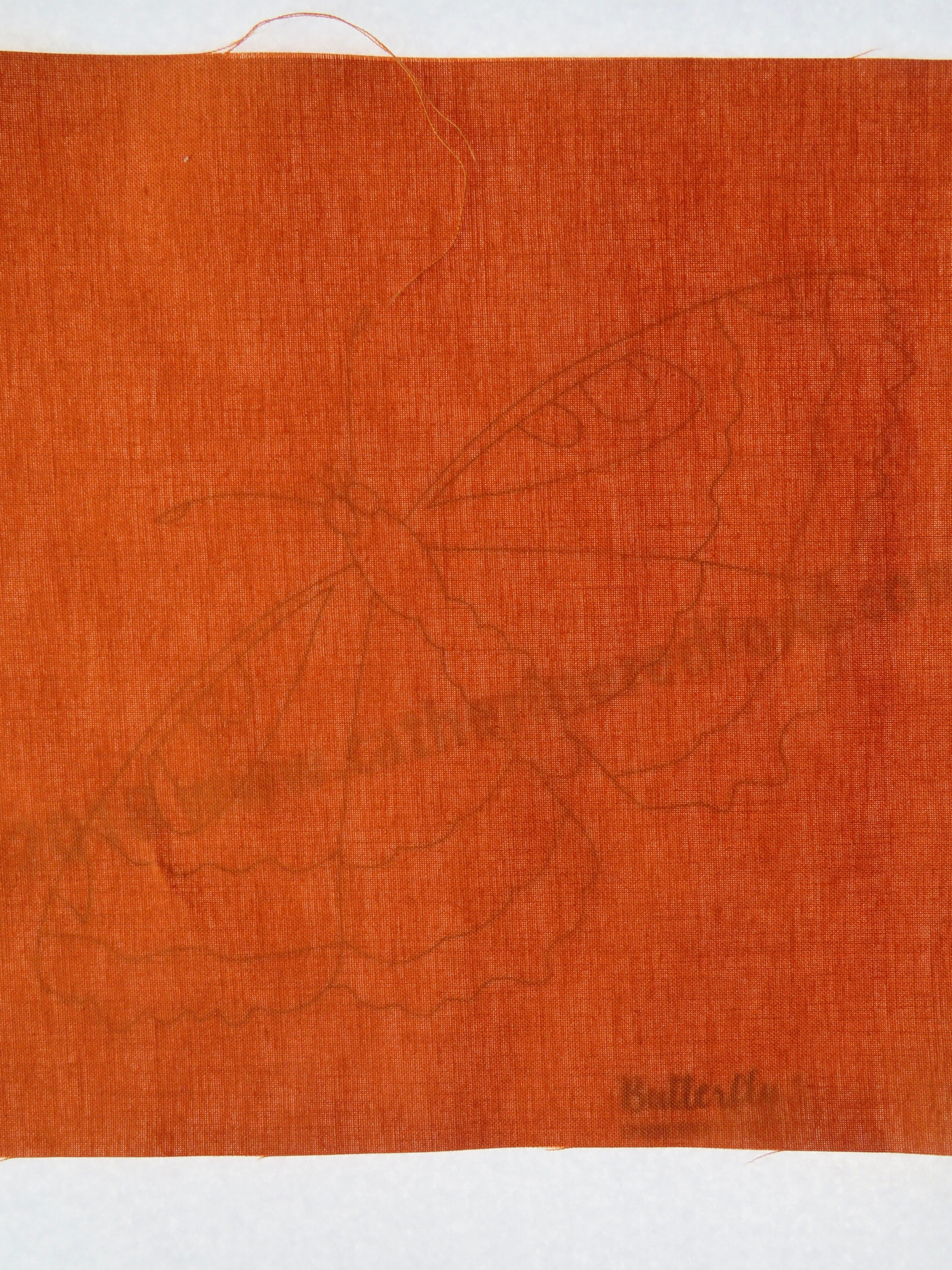 And ta-da! With just a little care your design is ready to stitch.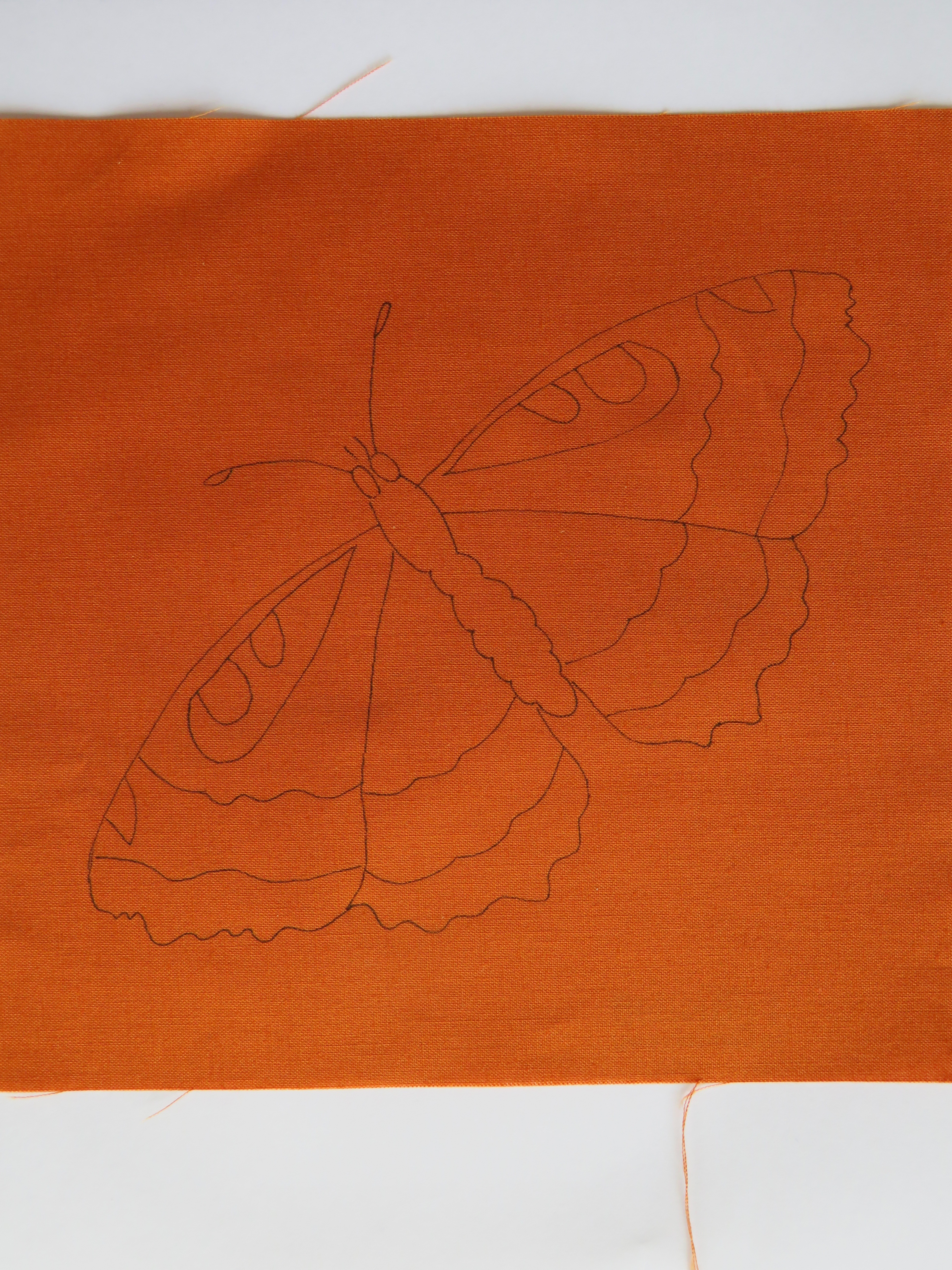 This is where the fun starts. Of course you can take a close look at mine and try and copy it but it really is more fun if you just go for it and use your favorite stitches. If you have ever taken a class form me you will know that I usually start by chain stitching the outline. Then I'll use running stitch, cross stitch, satin stitch, fly stitch, french knots… having a colored background means you can start with a knit and even travel across the back from time to time.
I don't have a book or any videos of mine (yet?) There are lots of tutorials available. Google a stitch and you'll see!
As the months go by I will be using other stitches. I'll point them out as we progress. I've been trying some wool appliqué too. I'll add those designs as I get them ready. I'm thinking that a Facebook group would be fun to share our projects? Would you join a group if I started one? The more people stitching along the more fun I think it will be so please share this project. I might even do some give aways?
So that's it for now. My year is just getting started. I'm off on my travels next week. I'll have stitching with me in my hotel room. Hand work is a great traveling companion. My calendar is up top for you to check. If I'm coming anywhere near you contact the guild I'm visiting and join the fun. It's going to be a good year!