We had decided that a trip to Key West would be a suitable way to spend our Sunday. You wouldn't expect us to set off early would you?  By the time we were on our way and decided to halt for breakfast the line was out of the door at our intended stopping point.
Never mind, we were on vacation and we just kept going until we were both really hungry!
This was our view from our waterfront table as we enjoyed our breakfast/lunch. I had breakfast, Steve had lunch. No problem.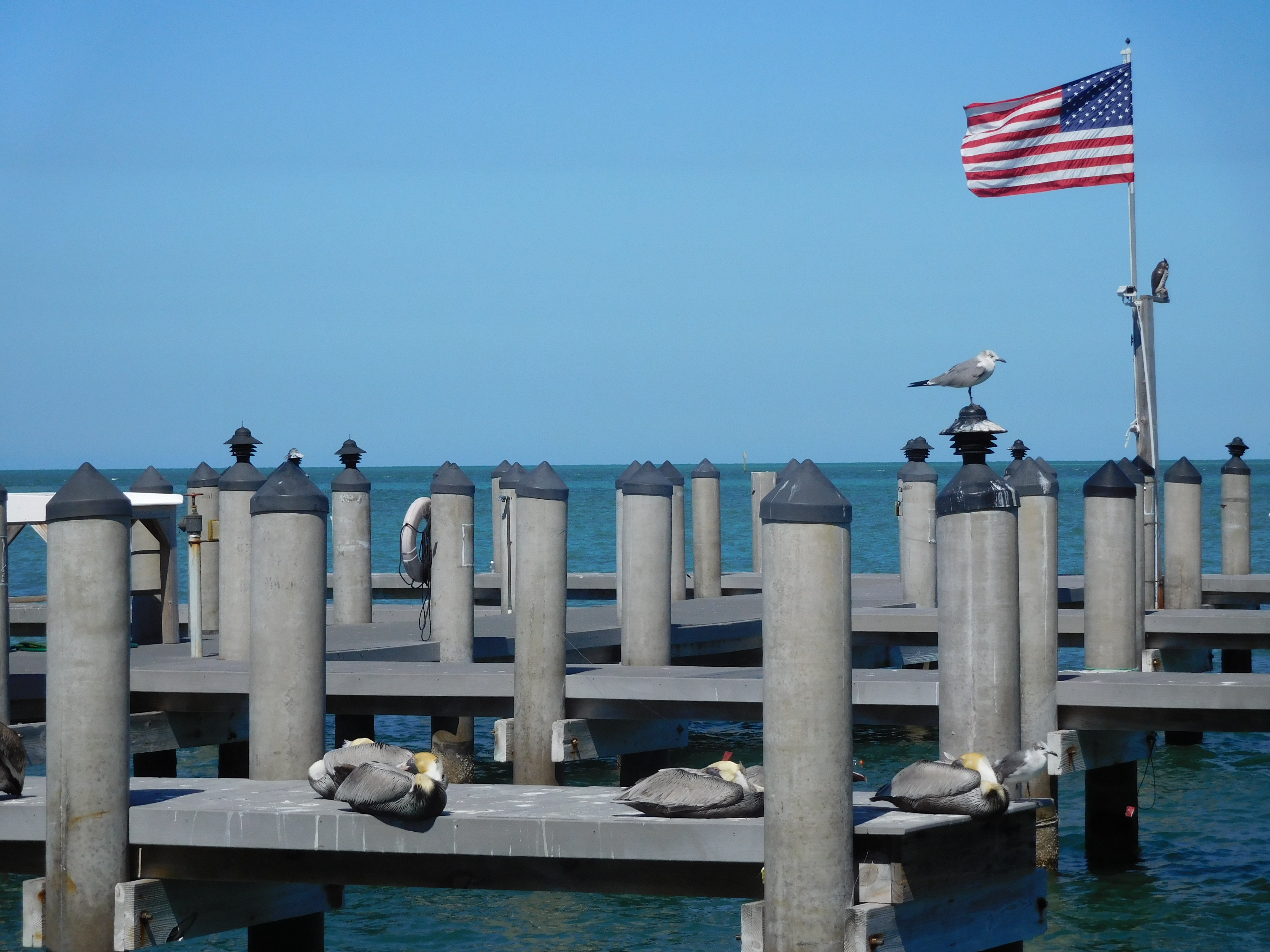 We did not feed the birds!
Off we went again, merrily on our way. Wait… what did that sign say? Quilt Show? Time for a U-turn?
Steve is a patient soul (on occasion) and he parked while I went and investigated. Yes, the Paradise Quilters were holding their bi-annual quilt show and we had found it. No charge for spouses!!
Lots of quilts to enjoy. Here are a few of our favorites.
The challenge quilts. I always love a challenge. Can you spot the required fabric hanging in the corner?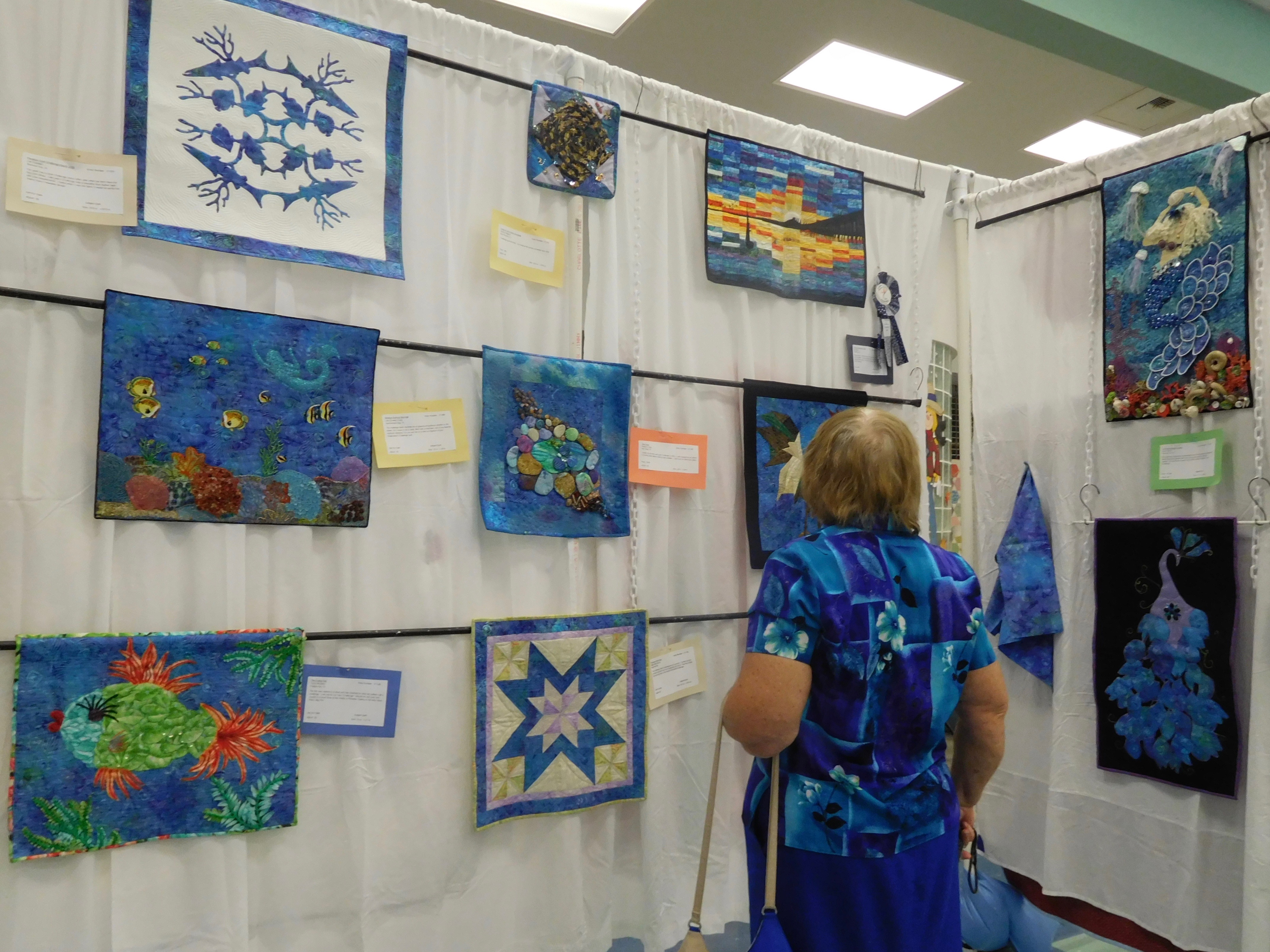 This mermaid entitled From the Octopus' Garden with lots of fun details was Dawn Davis's entry…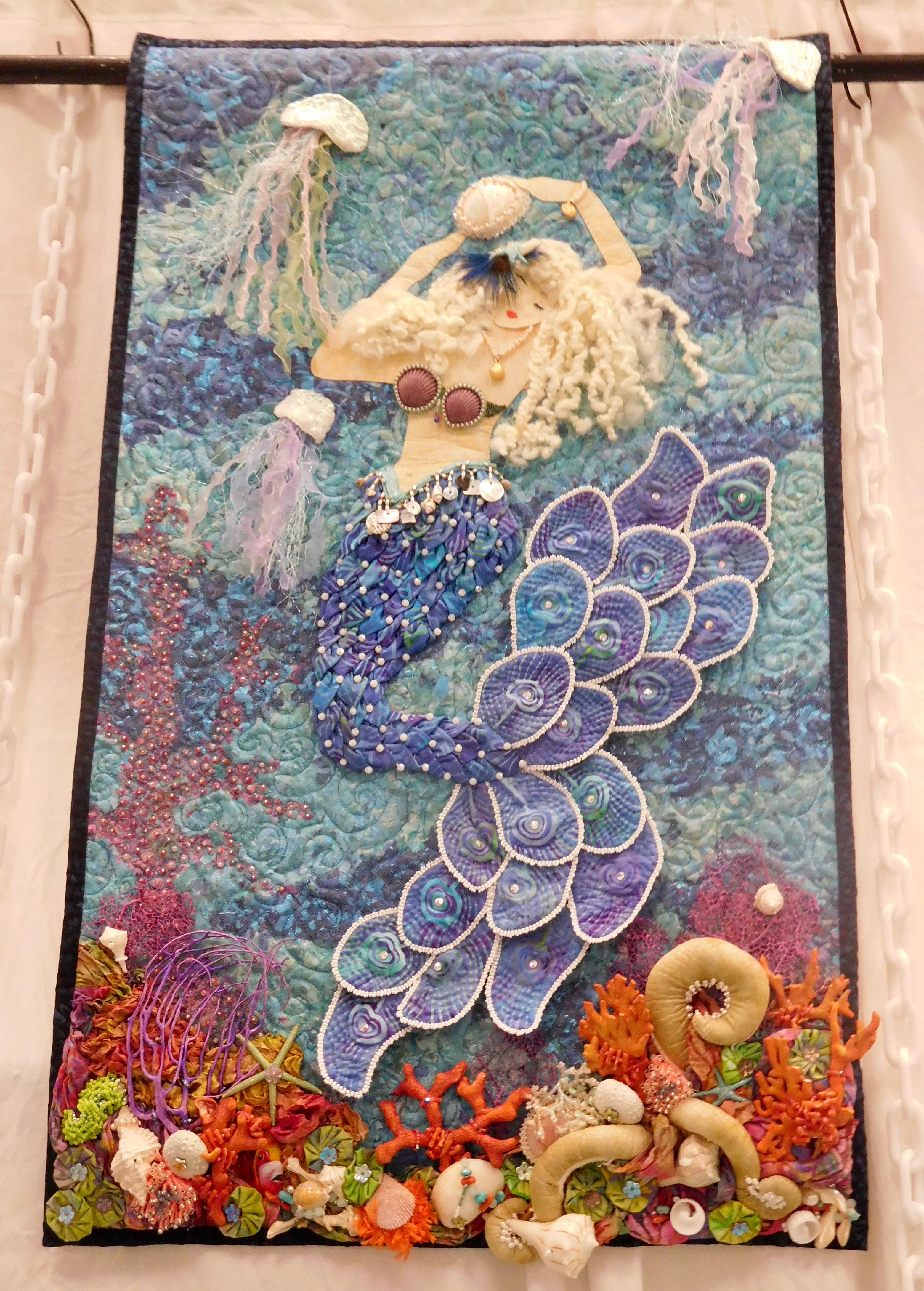 The first place winner was Nita Altum's very lovely Sunset Over the Seven Mile,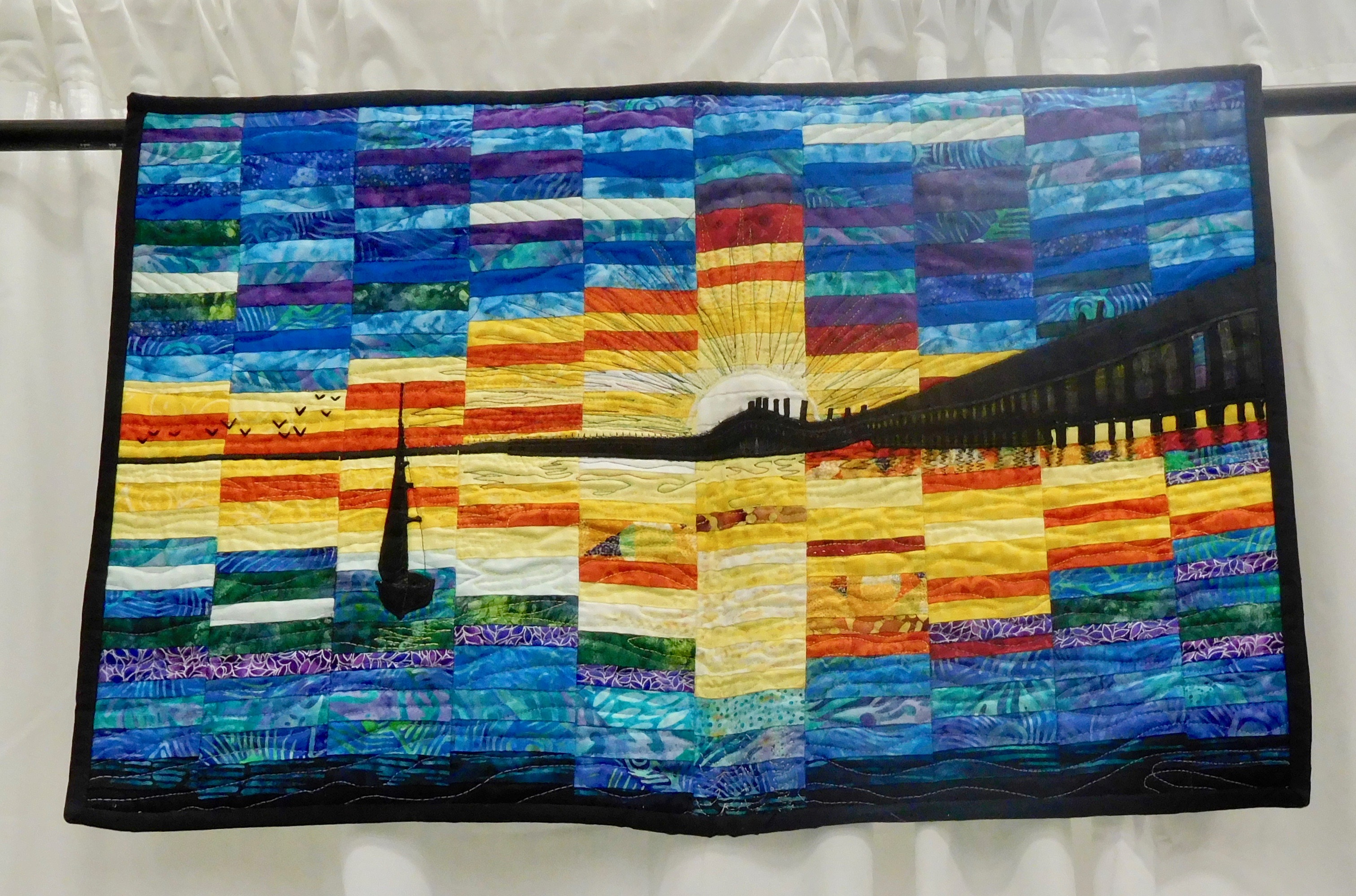 And I had to get a picture of  this pebble quilt, Sea Glass by Margo Ellis.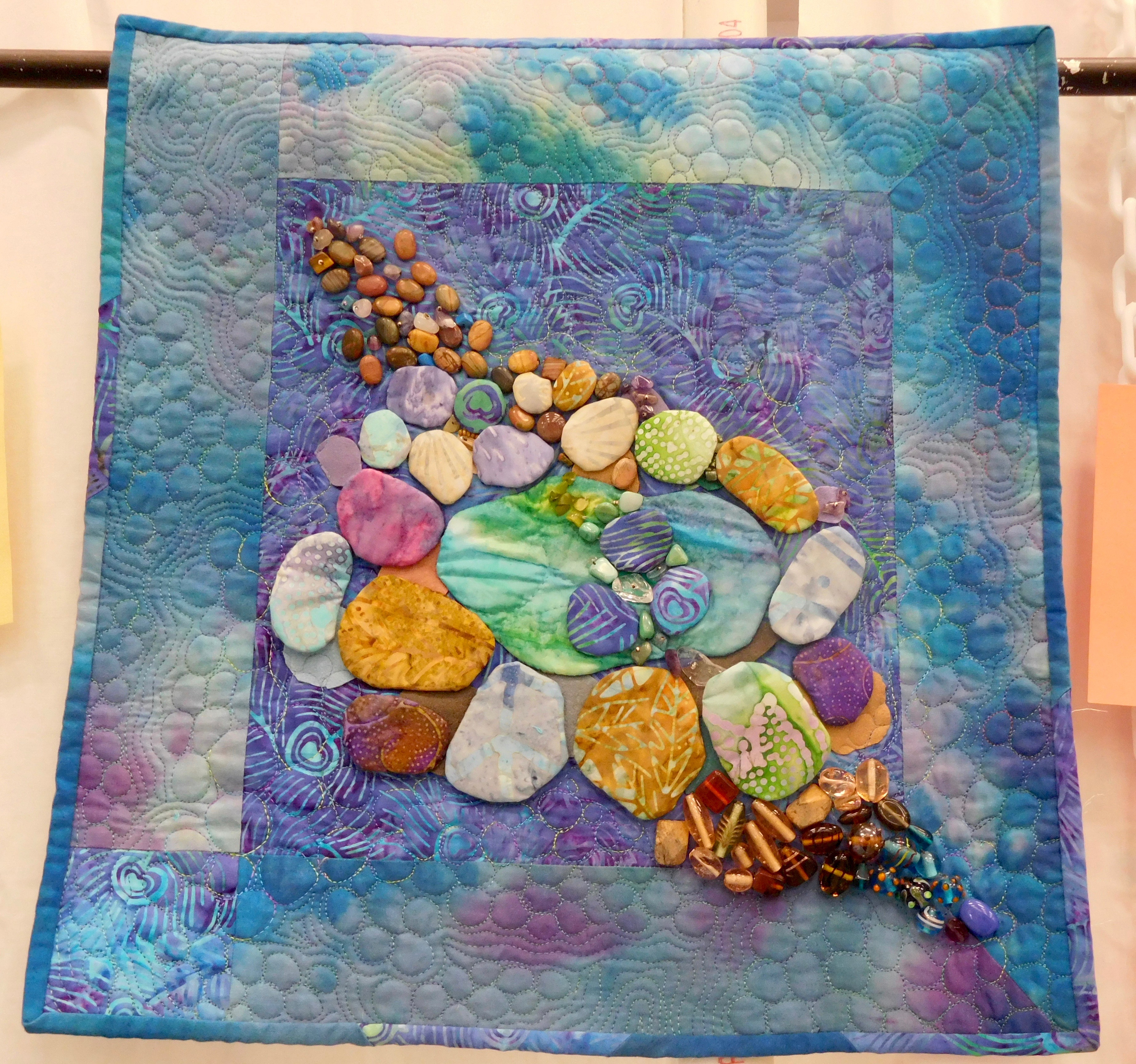 Leaving the challenge area but staying with a beach feel, Lois Craig made Beach using Karen Eckmeier's Accidental Landscape pattern. 
This next one, Peaceful Glade by Katharine Stubbs Ward won both first place Art/Innovative Quilt and Best of Show.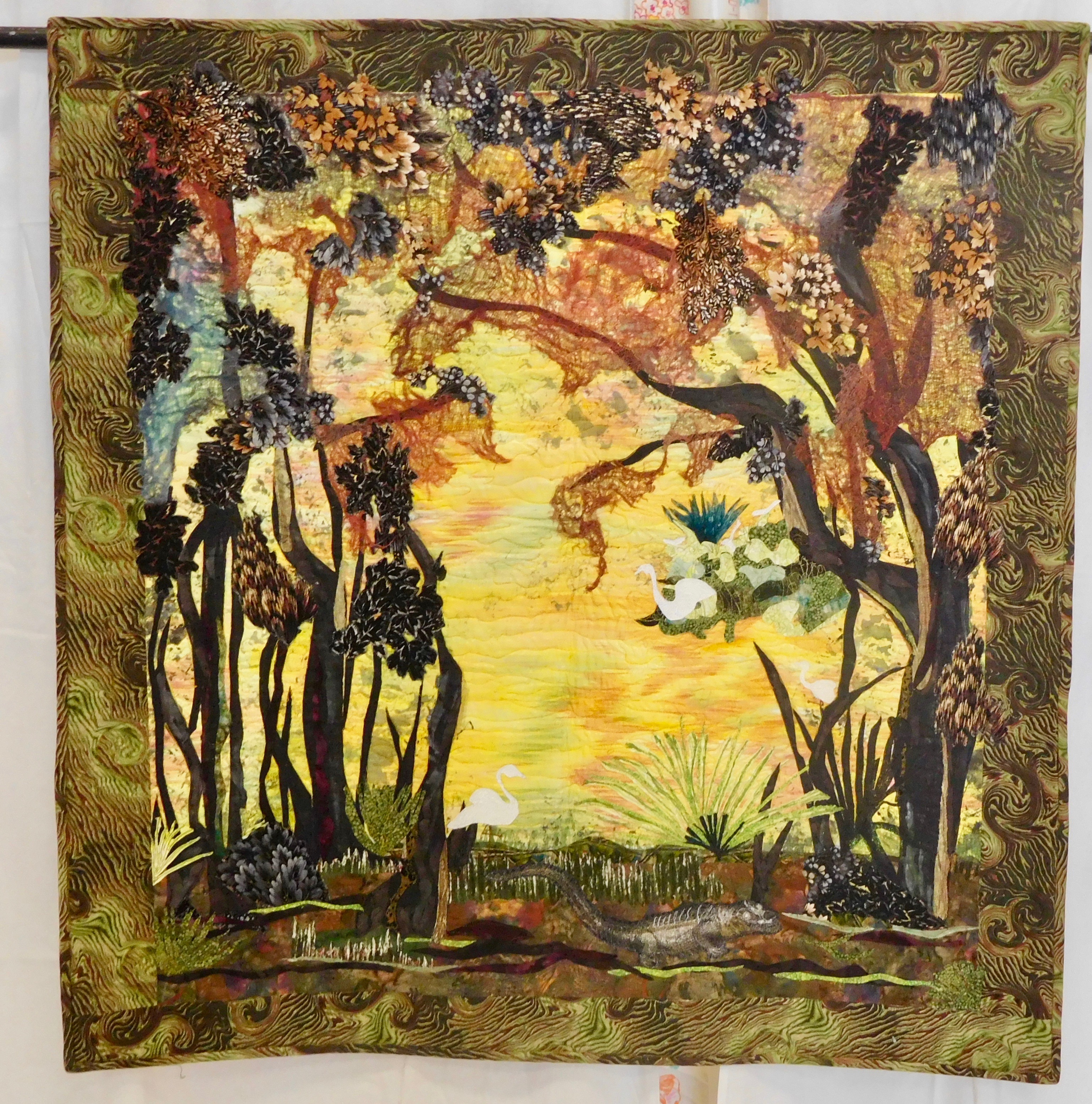 Details were achieved with paint and appliqué and dyed cheesecloth!
Gold Coast Farms by Karen Phelps caught my eye. I like the white spaces between the design elements in her depiction of the family farm.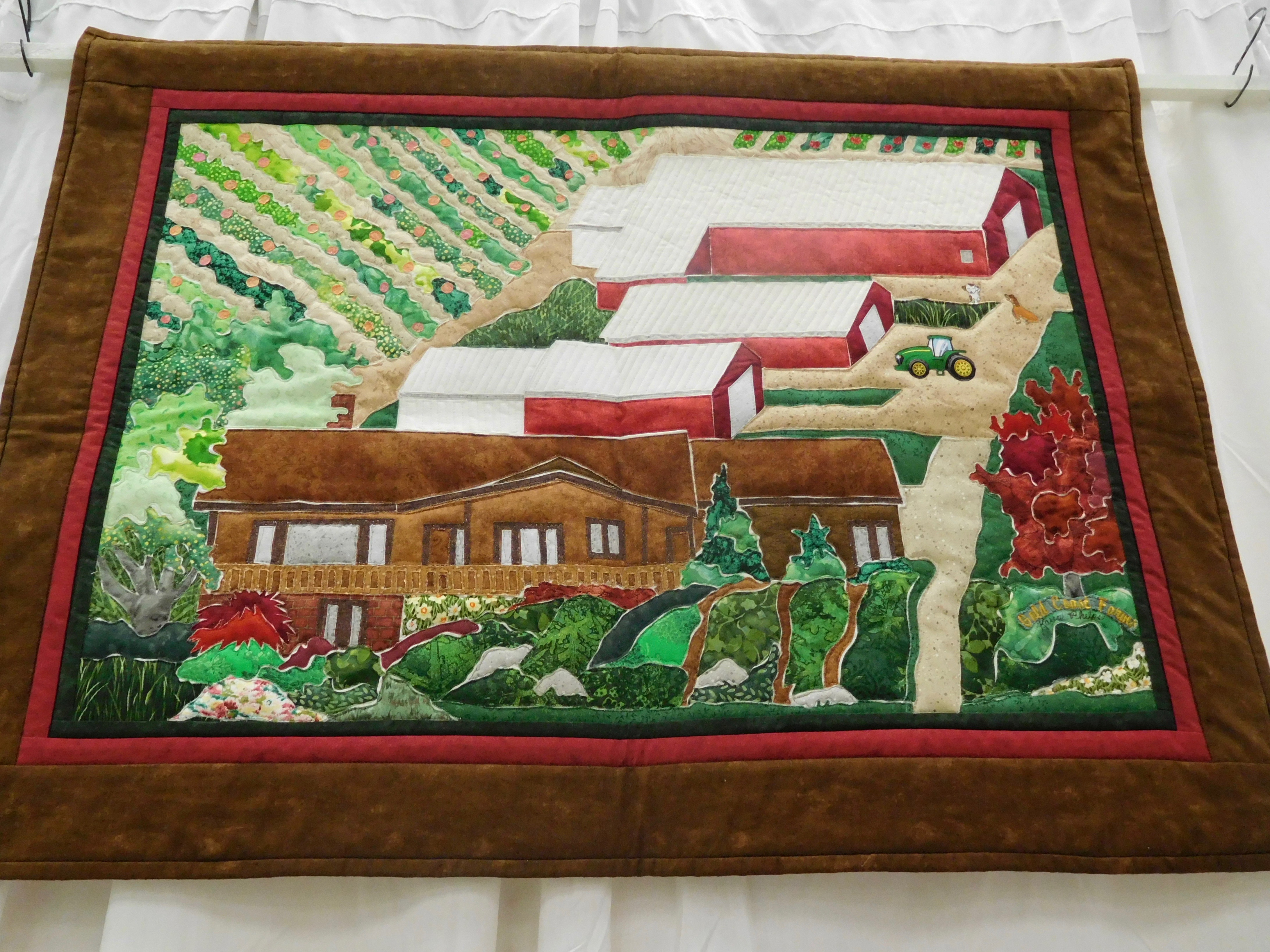 Pat Farce must have put many hours of work into her Town and Country quilt. She got the patterns seven at a time  in an online sew along.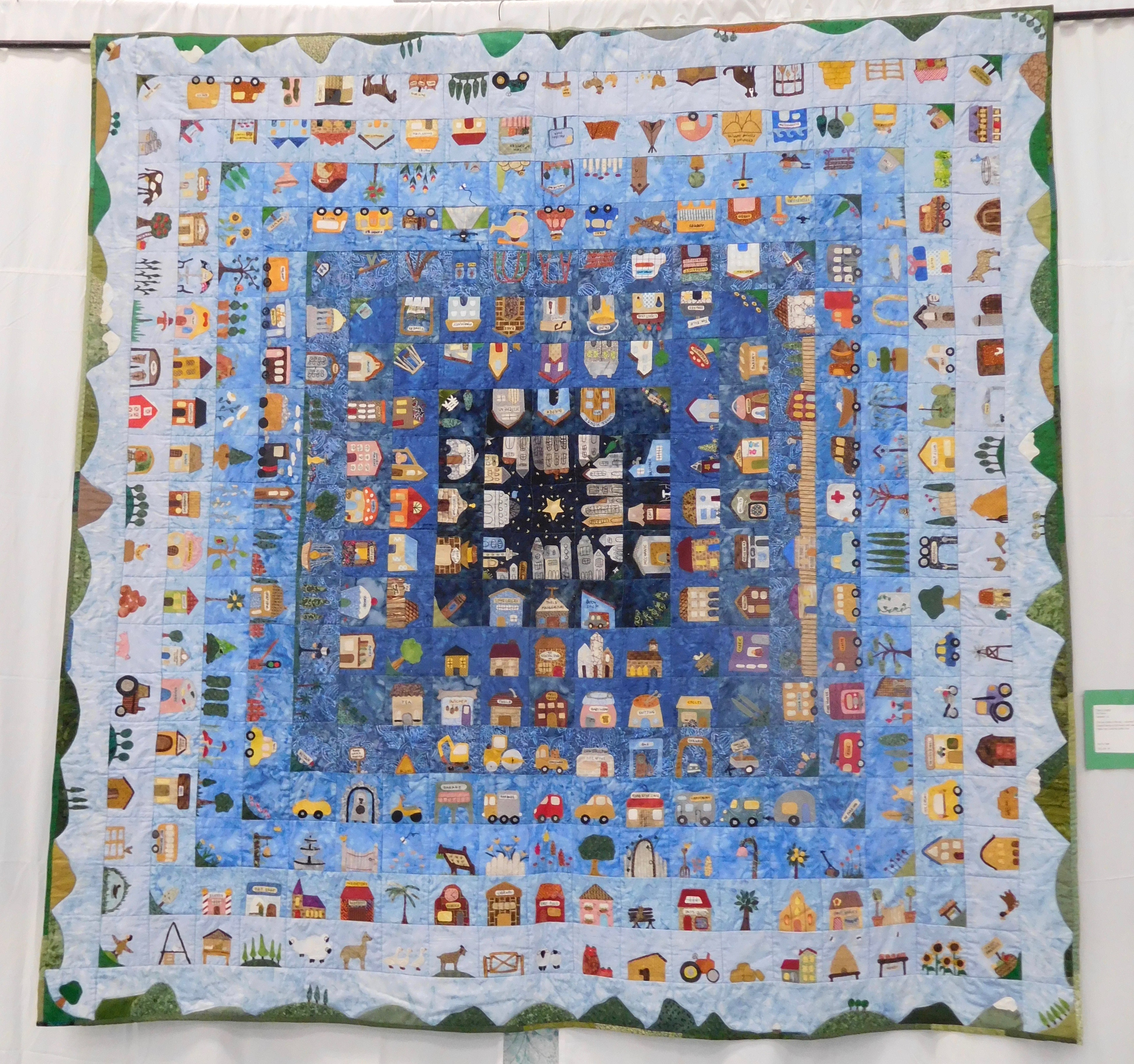 Steve likes a geometric quilt. He was impressed when I explained that all the black and gold blocks were made from the same fabric for Jean Hunting's One Block Wonder quilt, Walk Like an Egyptian.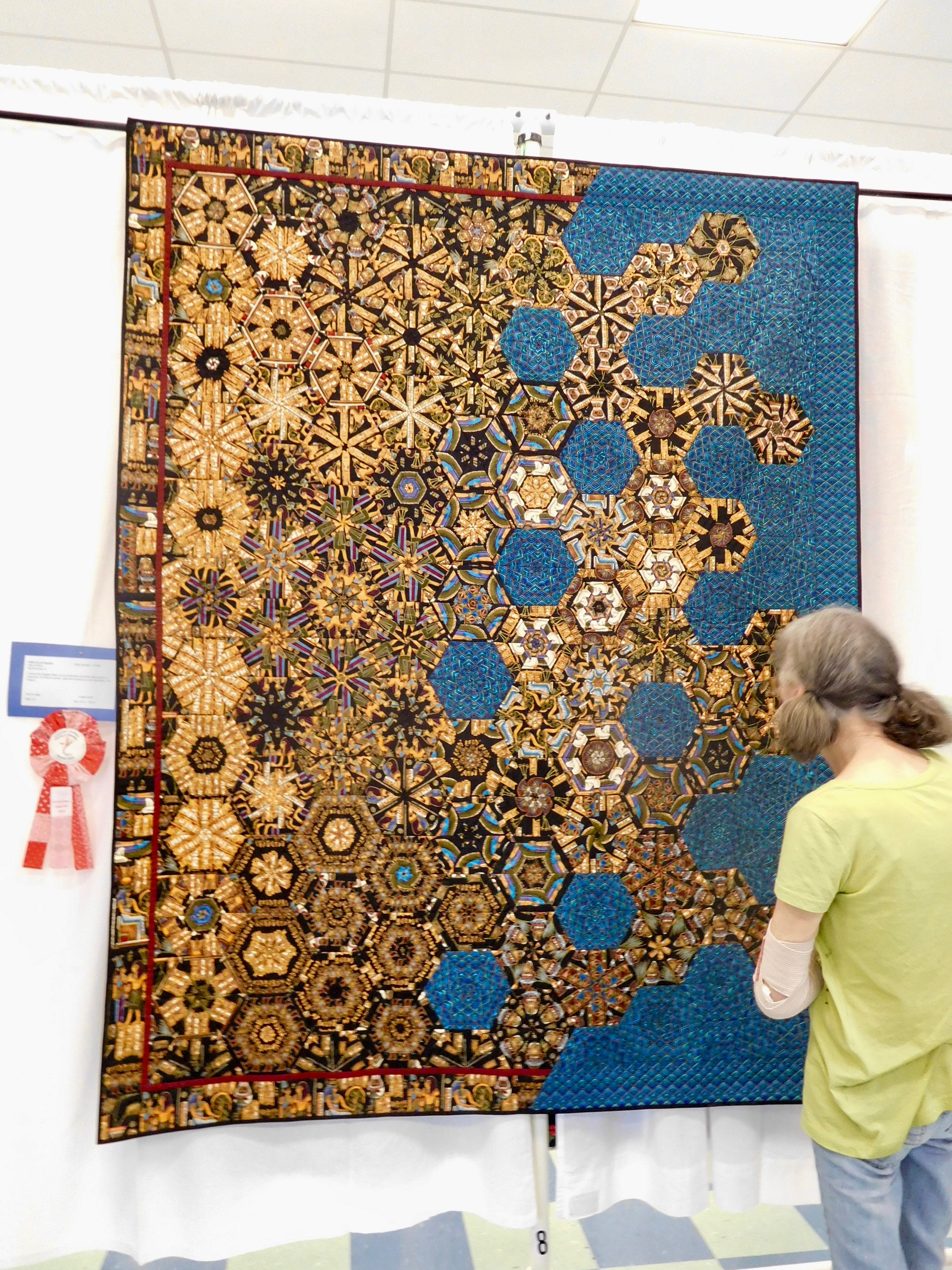 We had seen lots of pelicans on our travels. Here's another quilt from Katharine Stubbs Ward, Florida Colors, a woven background with a raw edge pelican silhouette.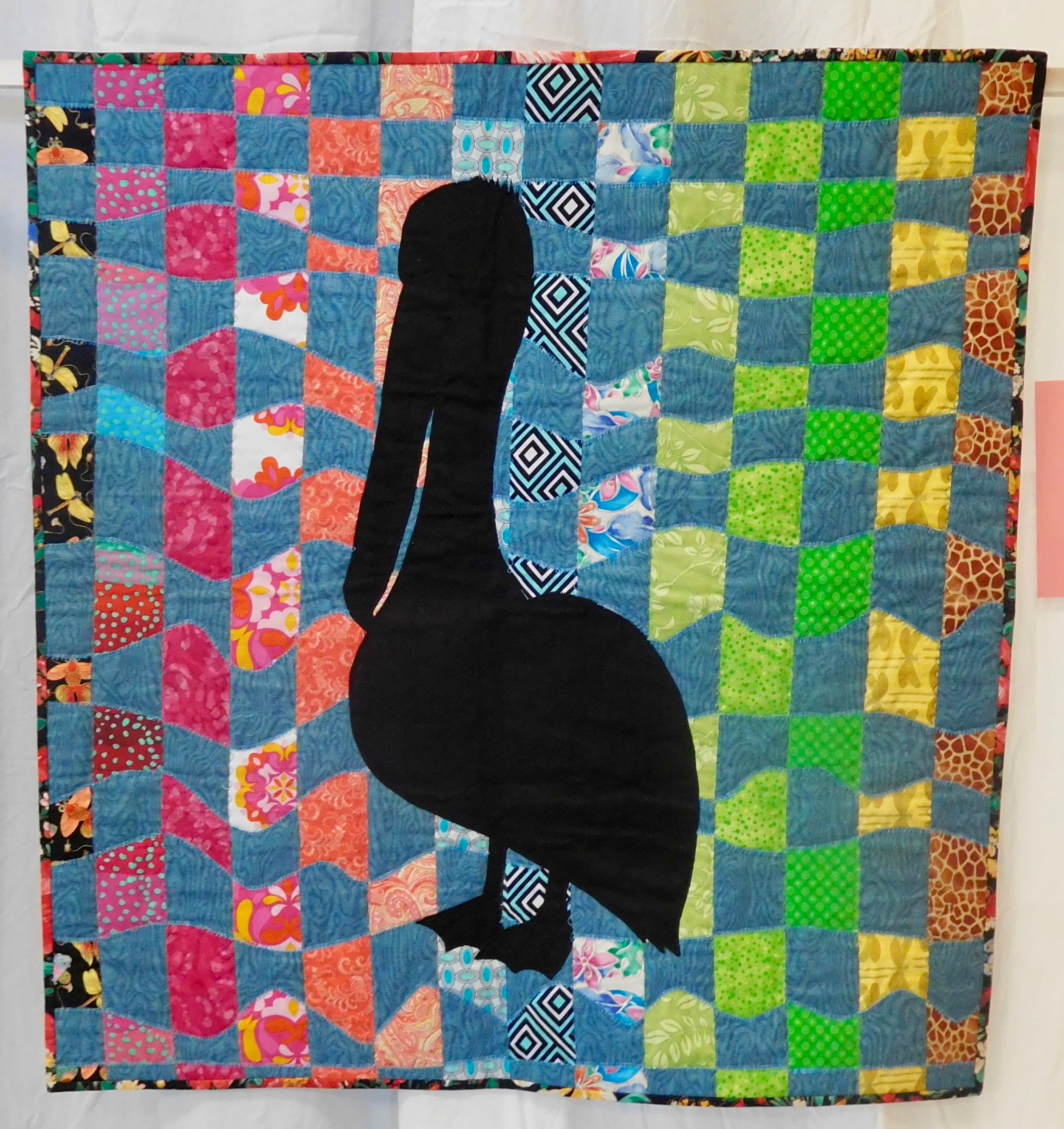 And what do pelicans eat? Lots of fish!
I'll finish with Undersea Highway by Margo Ellis. She made in a class with Dianne Hire called Danglers, Curves and Wedgies. It must have been a fun class.
The only problem with posting pictures from a show is I can't post everybody's quilt. There were lots more of all types from very traditional to quite modern, all shapes and sizes, and bags and clothes too. There was a lovely Karen Stone inspired raffle quilt, vendors and a silent auction. I met Dawn, the guild president and left her with my card… perhaps I'll be back? That would be fun.
We had a very happy hour looking around but Key West was calling…
Time to get back on the road. I'll post more pics tomorrow.
BTW: Today's featured image includes some Bird of Paradise fabric from my favorite people at Frond. Suitable to top a post a visit to the Paradise Quilters?