I was in Kansas City last week for Spring Quilt Market. It's a trade show for the quilt industry. Everybody is there to work… I worked hard!
I've had a few things I really needed to get done  this week but I think I'm winning so now it's time to share some pictures.
I flew to Kansas City on an early flight on Wednesday so that I would be able to help with booth set up. I was in the Global Artisans booth with Richard Kennair (you might know him as Richard in the kilt?) who started the company in 2010.
He had arrived at the Convention Center a few hours before and unloaded all the stuff we needed. Thread racks and shelves were up and ready for action.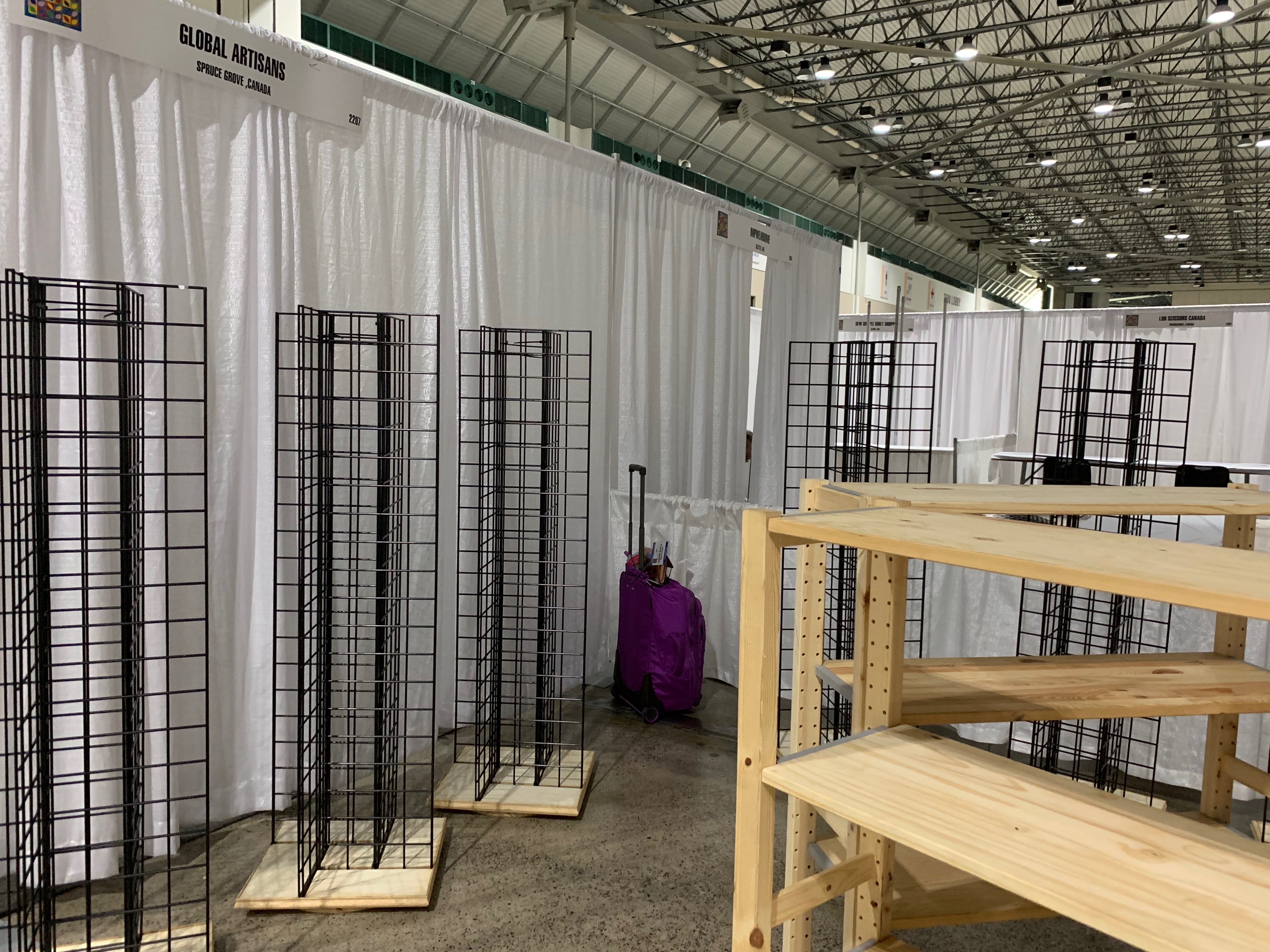 I started putting threads on the racks. I have done that before so I sort of knew what I was doing. Everything got messy before it got better.
Progress?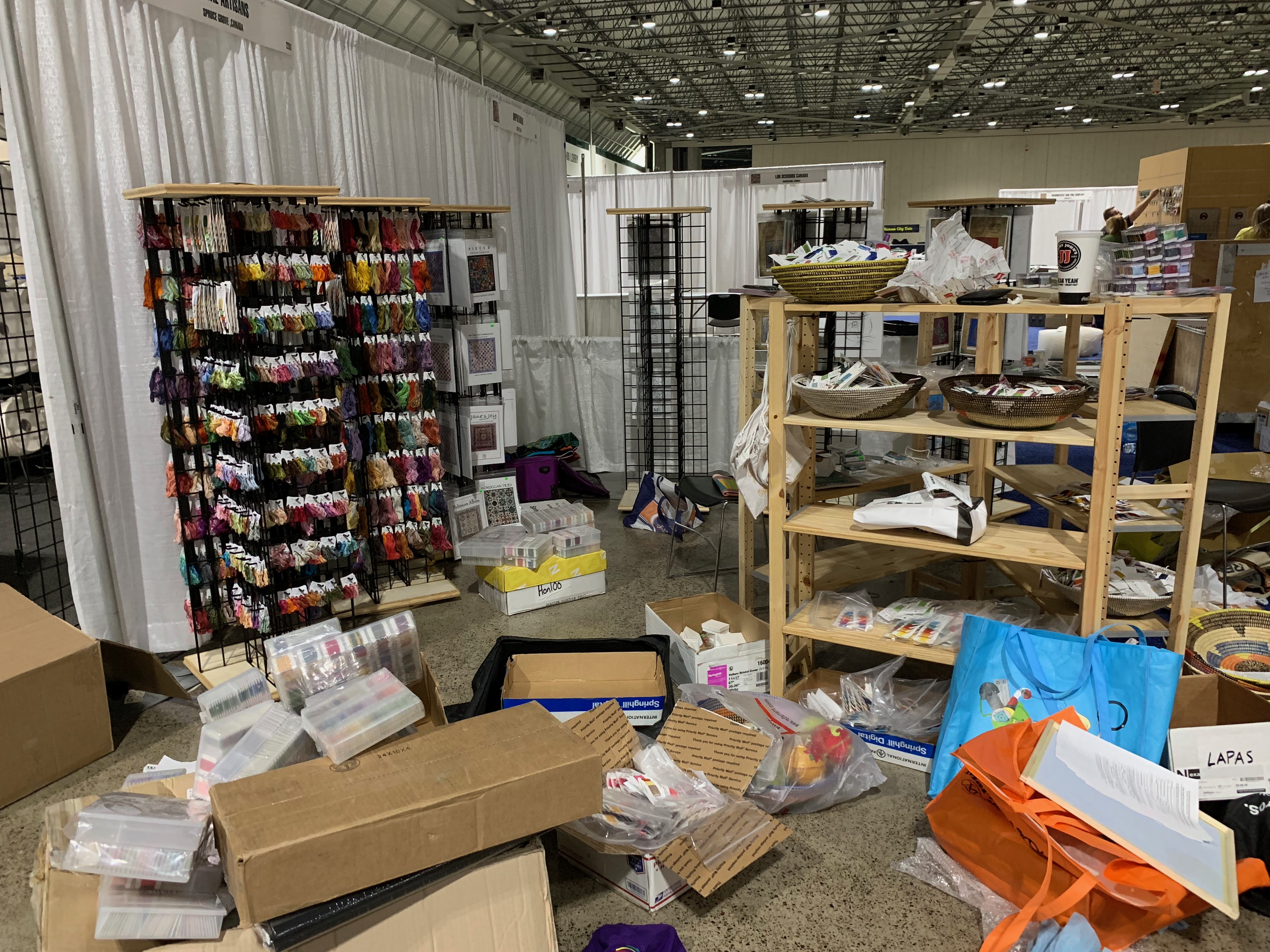 It took most of Wednesday and Thursday to get everything show ready. We did take a break to do a School House session on Thursday afternoon and we had to arrange a Sneak Peak display in the show cases by registration. (You can see our display in today's featured image at the the top.)
The show opened at ten on Friday morning. We were waiting!
Beautiful threads and stitched samples along the back wall,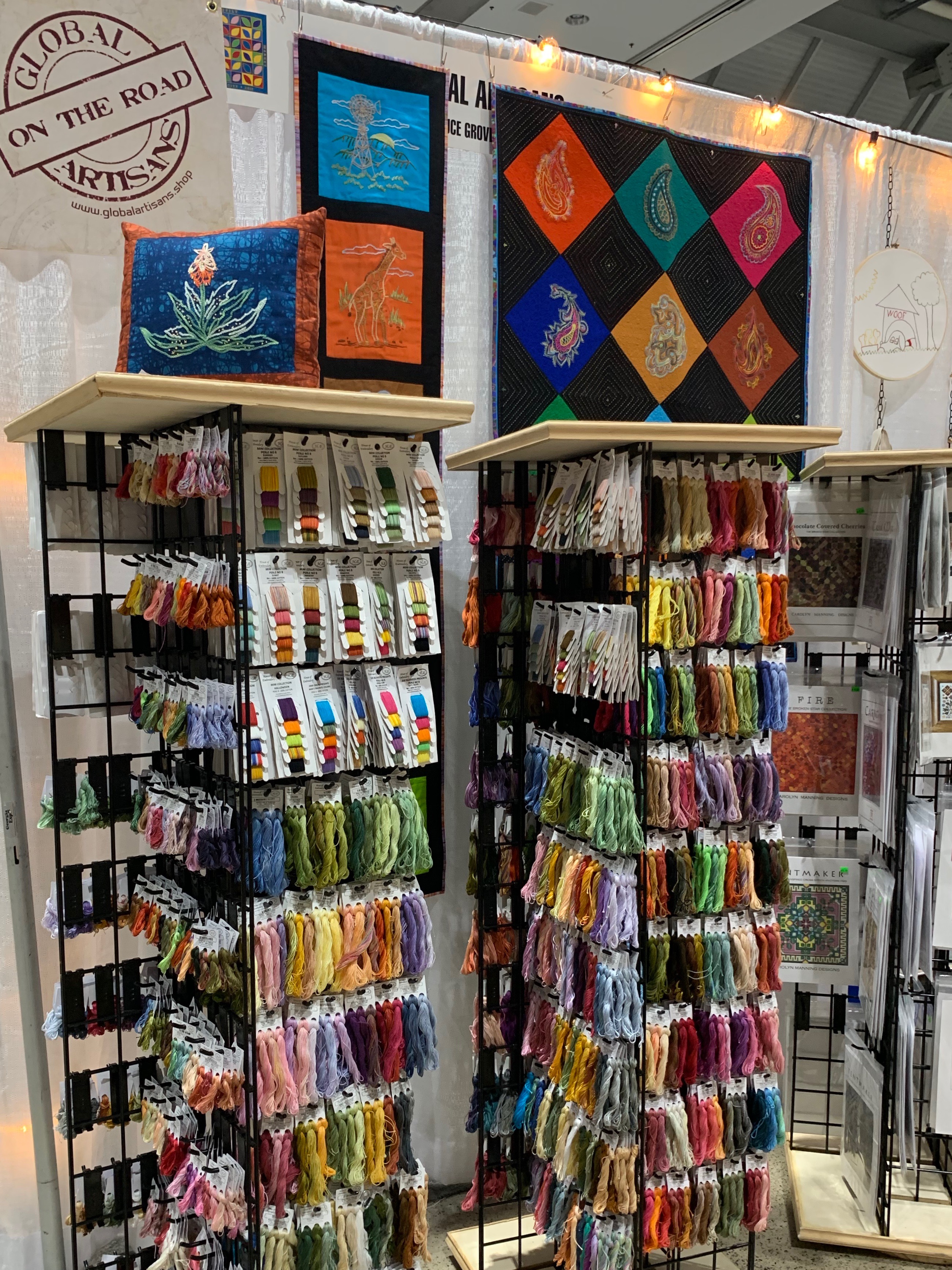 boxed sets of the complete thread range and Sue Bleiweiss's book to go with her range of embroidery patterns,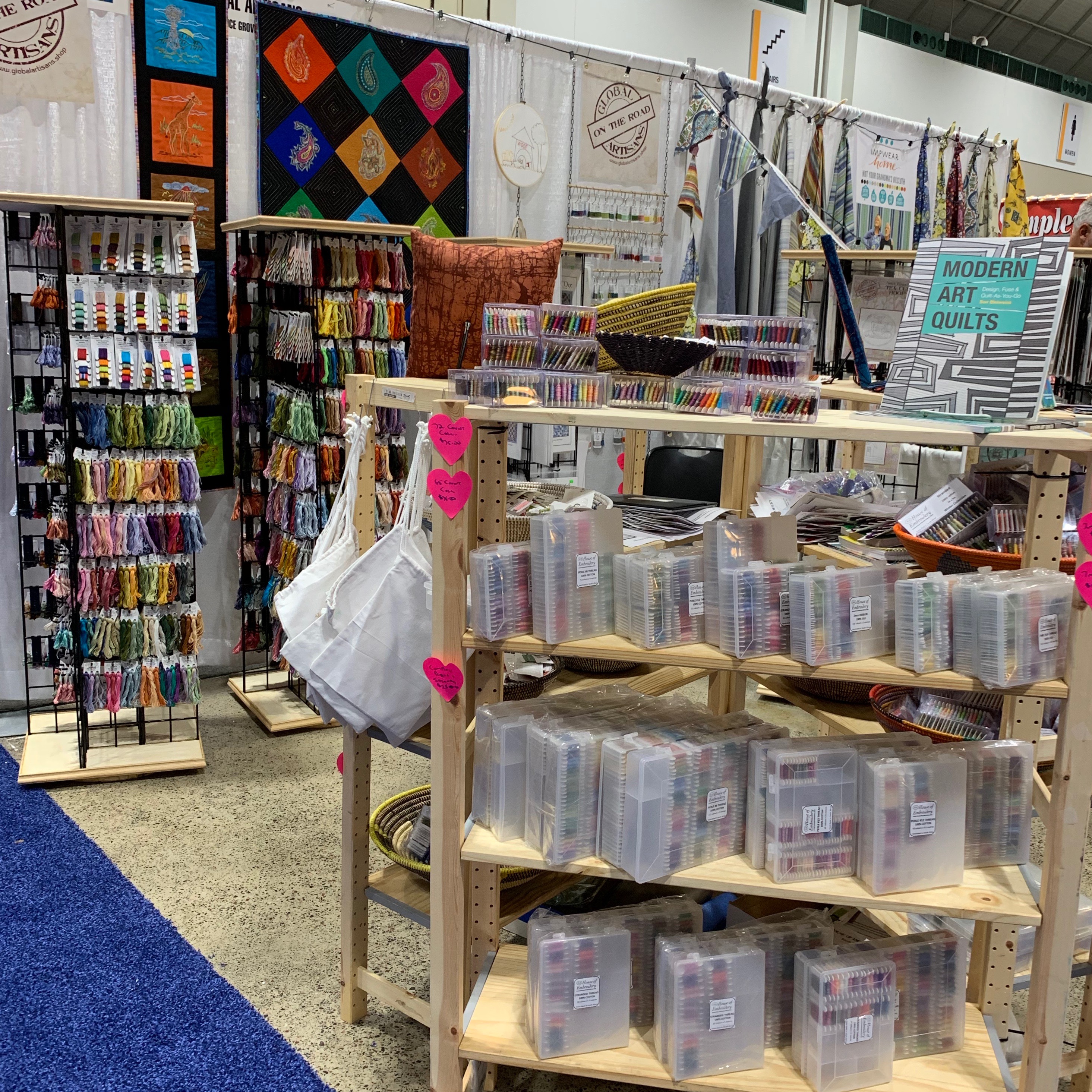 and more stitched samples!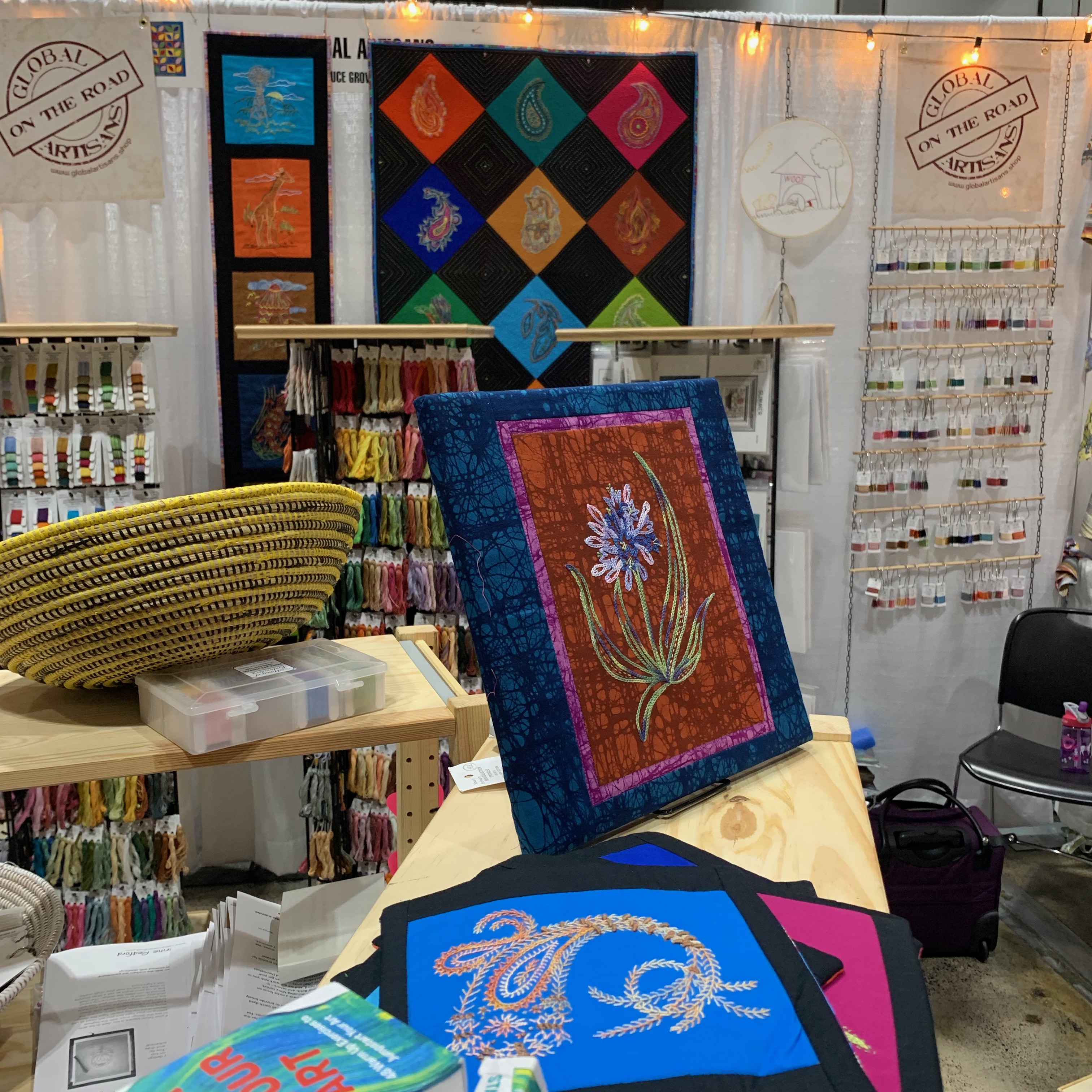 We were showing House of Embroidery threads from South Africa with new packaging options for shops and designers. New for market was also an ever increasing range of embroidery patterns and kits for quilt shops who are looking to add to their variety of hand sewing projects or just start carrying them. You can see more on the Global Artisans website, where you can order direct or perhaps you should be telling your local store to have a look?
Market is three days. Friday seemed to be our busiest day but we didn't have time to get up to mischief the other days either. There was always some one to talk to… By the time three o'clock on Sunday came around we had just about  enough energy to dismantle everything and package it all up… ready for next time!
I took a little while off on Sunday to walk (briskly) around the show and take some pictures. I'll post those tomorrow 🙂