You left me sitting in the sunshine at Sheila's home, avoiding the Polar Vortex in the Midwest…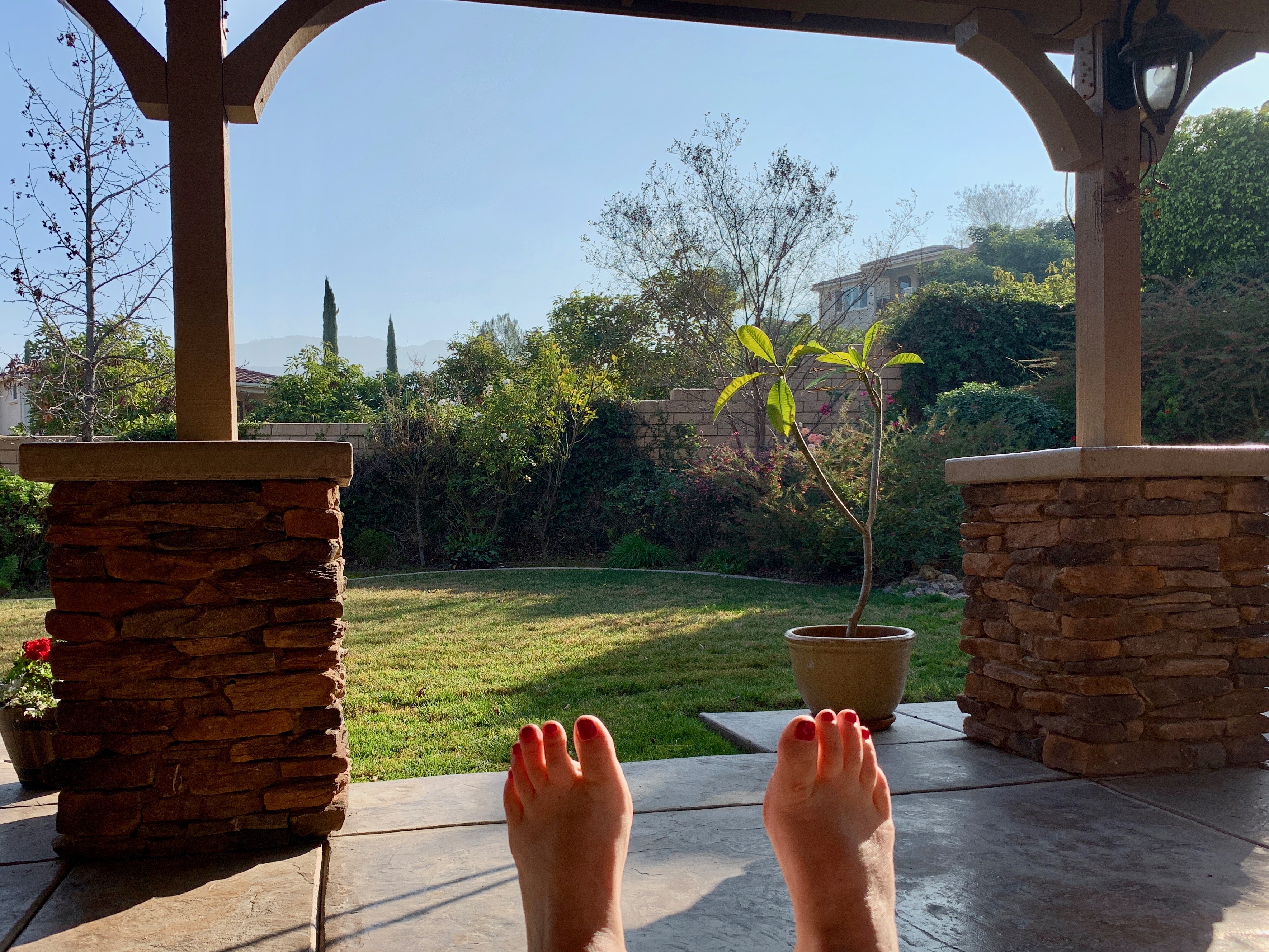 I have actually been back in Naperville since Tuesday evening. It's time to catch up!
I like spending a couple of weeks in Southern California in January but this year I was definitely combining leisure with business. We had three days to recover and recuperate from the fun times at Road before we set off again, headed for Atascadero (just South of Paso Robles).
By now the rain clouds were headed in to keep the TV weather men happy… We waited until the worst of the LA traffic was out of the way and off we went. I had done a little on-line research and we had a few side trips planned along the way. Superbuzzy sounded like fun? It became our first stop in Ventura.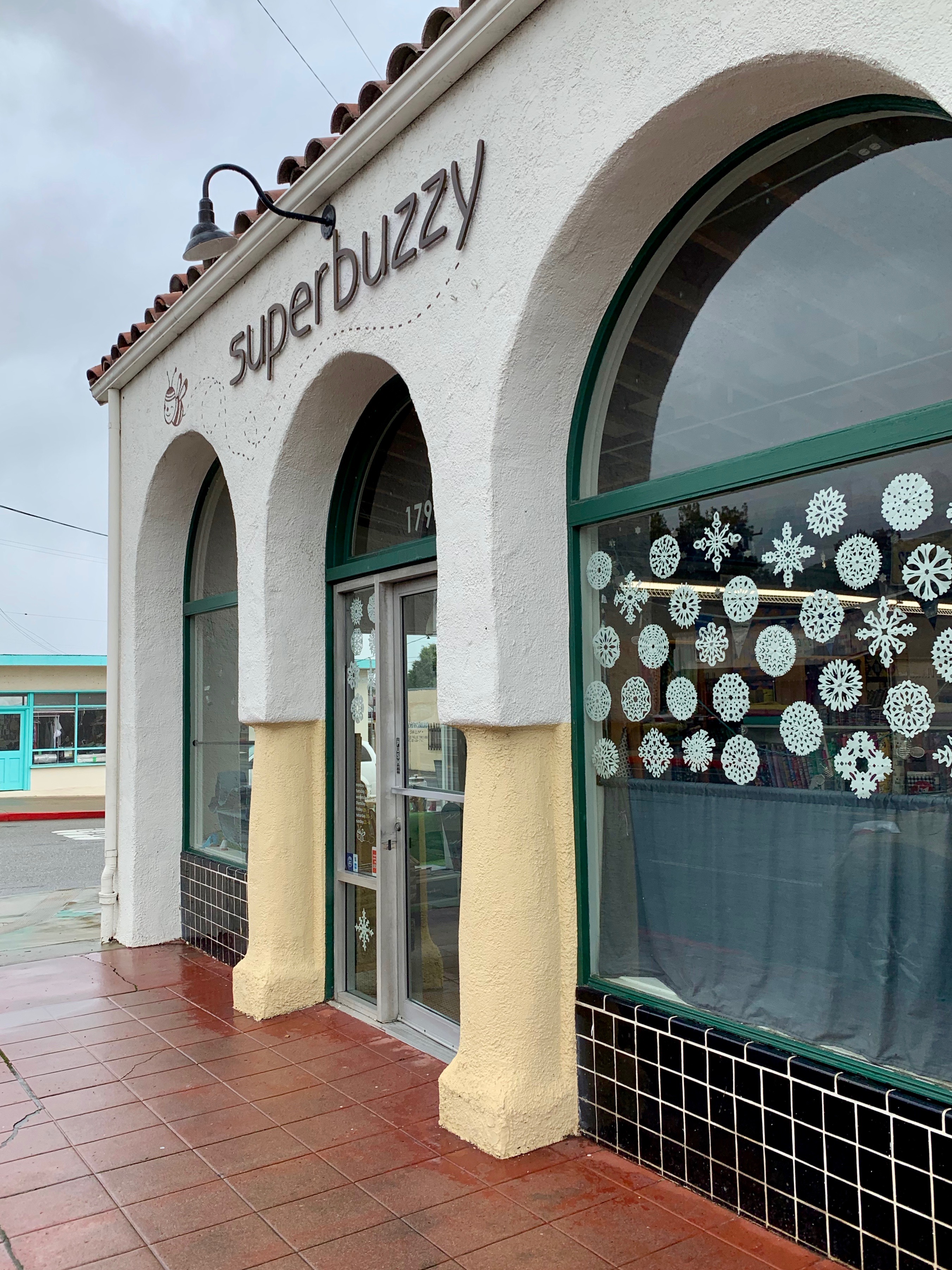 I'm not sure about  the snow flakes in the window, there's not a whole lot of snow in that part of the world. A pretty Valentine's Day display met us inside.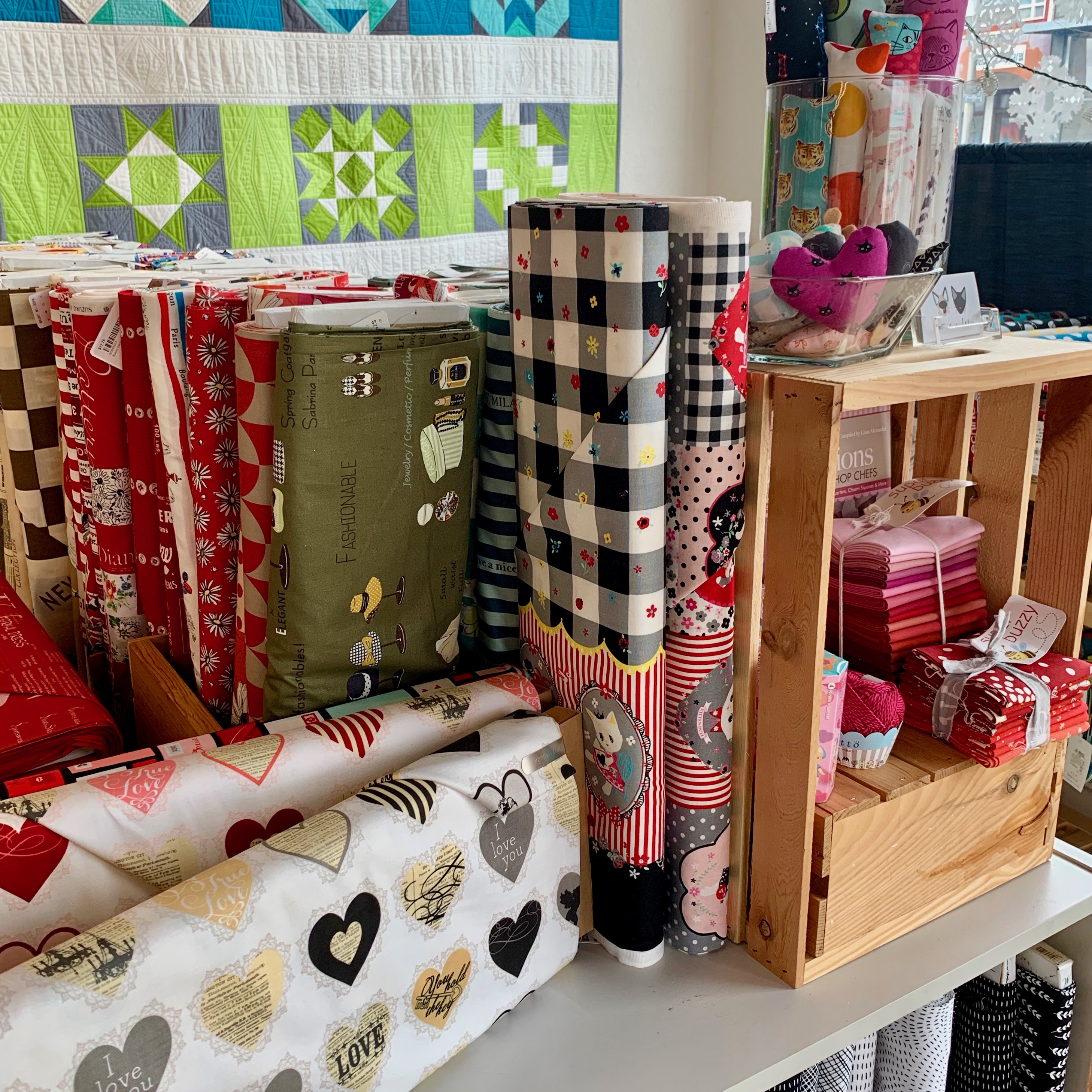 Lots of interesting things to look at!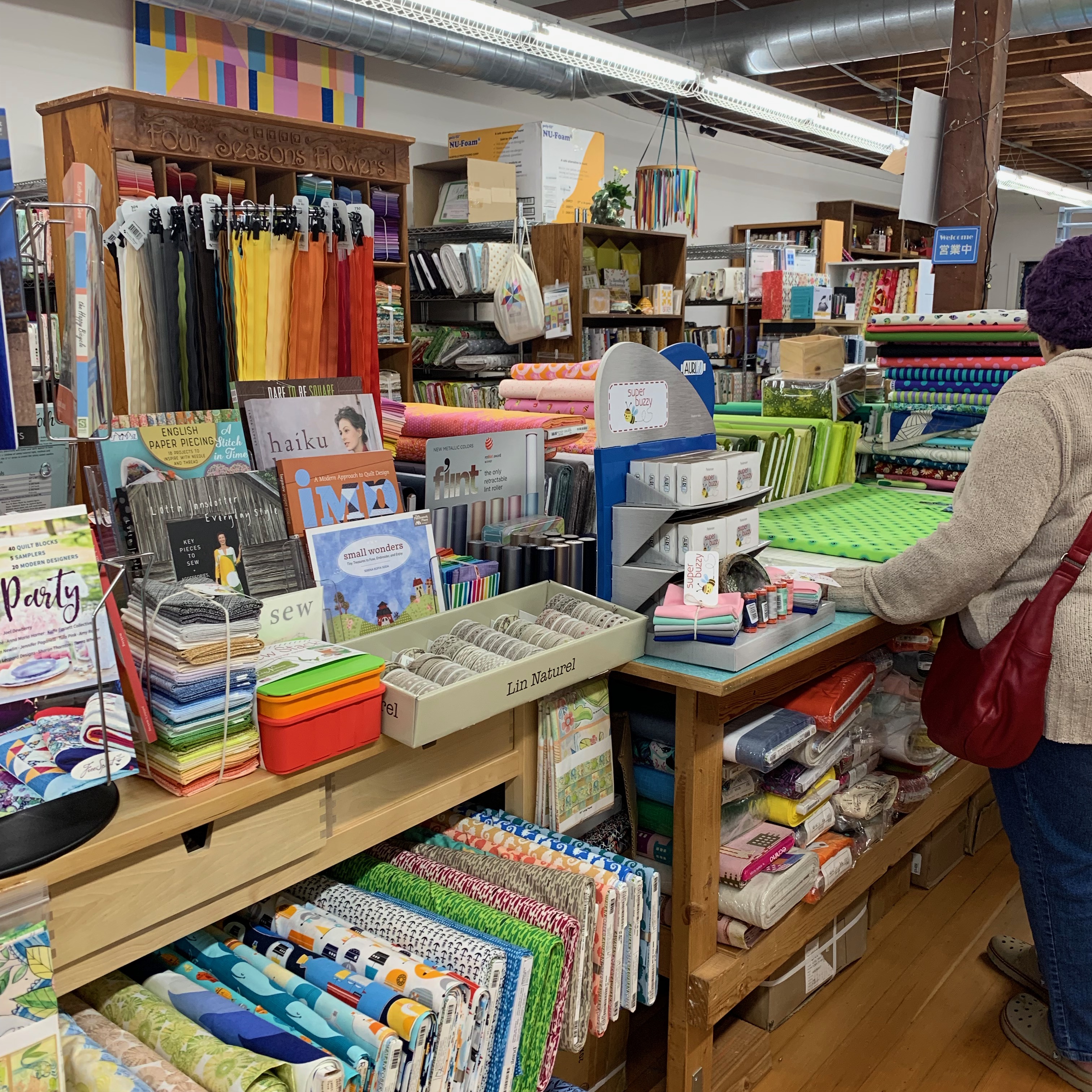 I bought a little Sashiko book, promising some inspiration and new ideas!
We headed into the old part of town for lunch at Paradise Pantry, almost opposite the Mission. The food was excellent and the rain had stopped by the time we were done which made picture taking so much  better.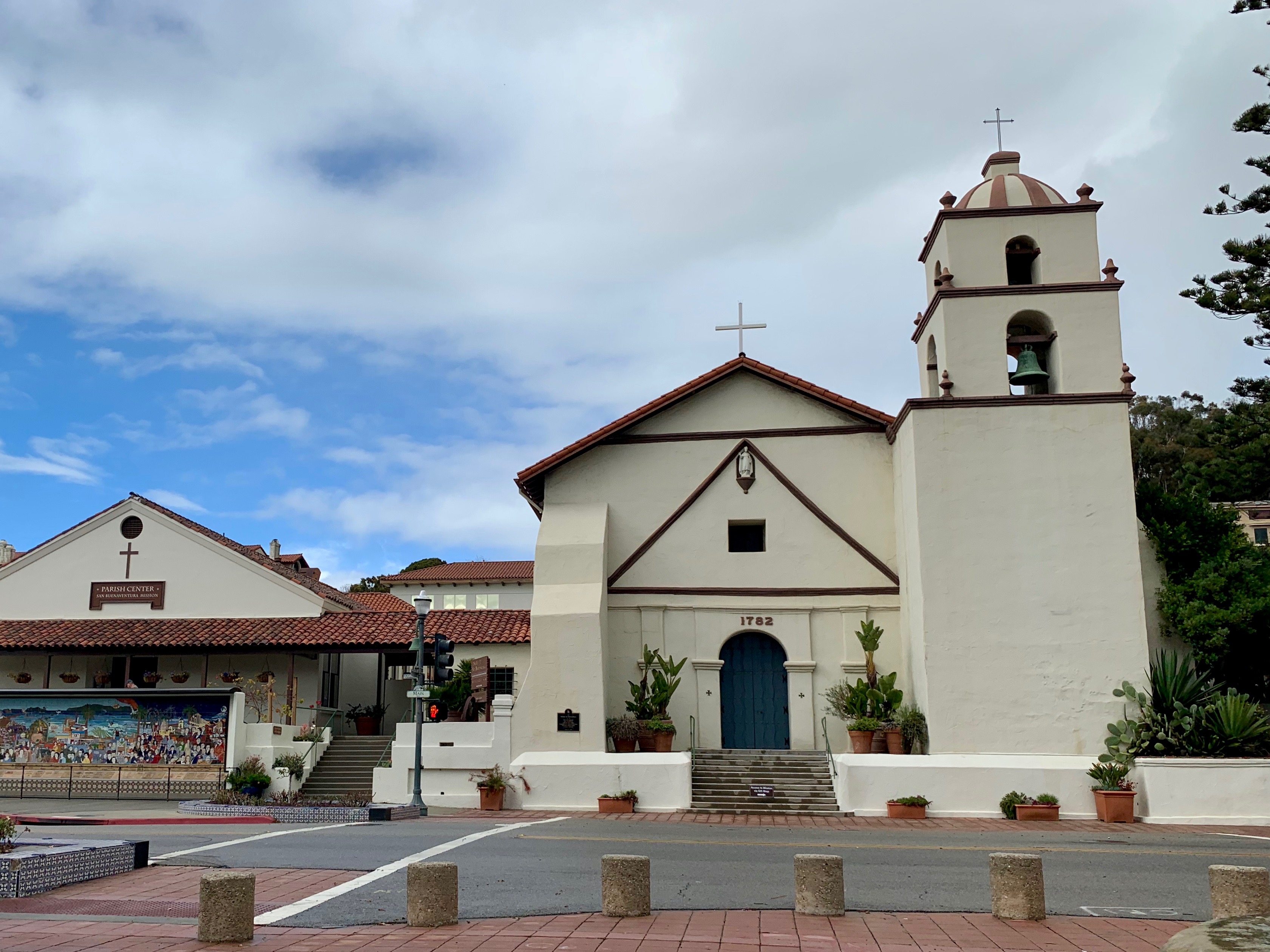 On we drove. Next stop was Roxanne's, A Wish and a Dream in Carpinteria. This was my third visit and it didn't disappoint.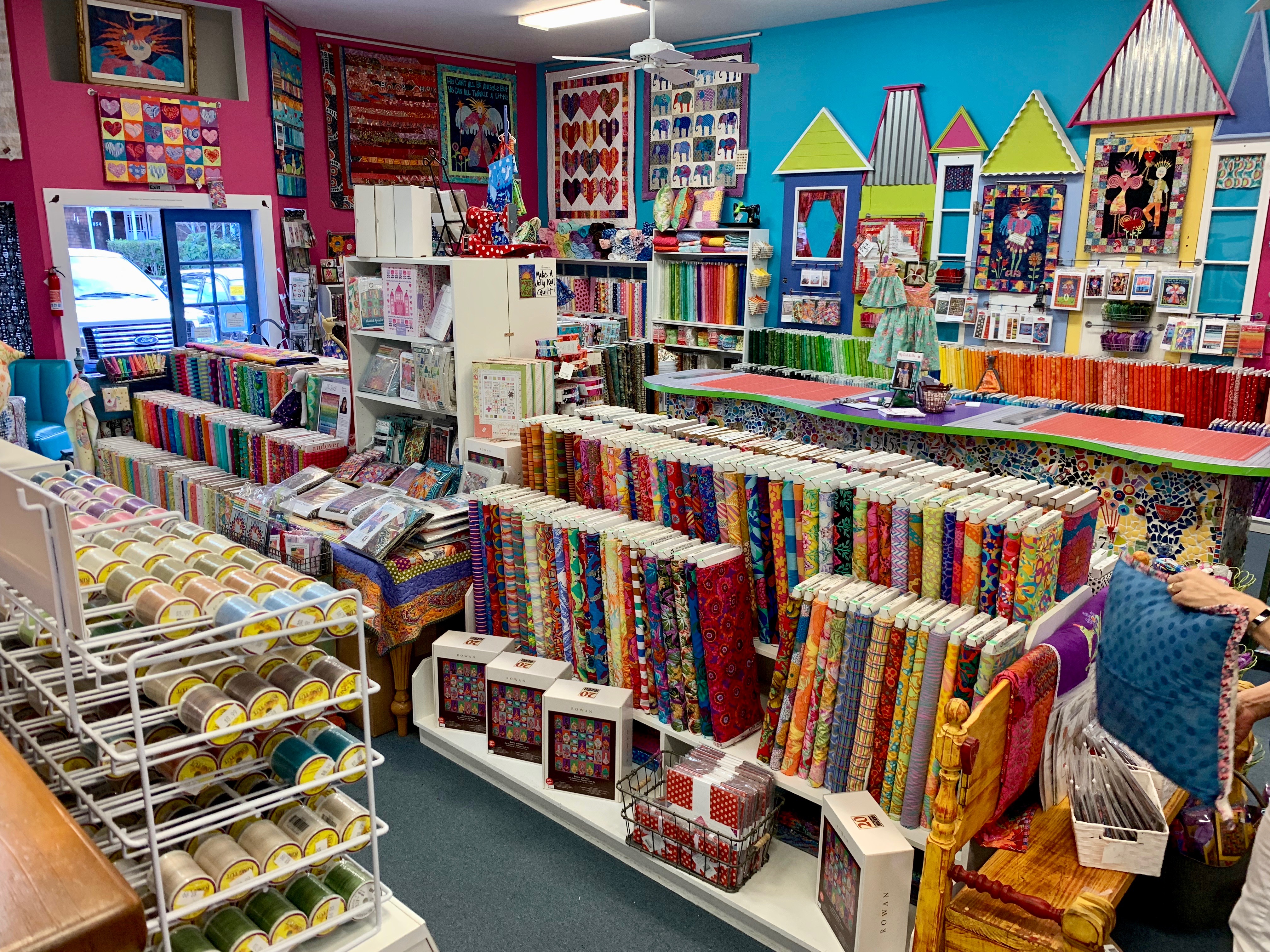 Yardage of striped fabric and a skein of uniquely dyed yarn left the shop with me…
Onwards! We finally got a proper look at the sea… in today's featured image… and decided to stop at Gaviota Beach in Goleta for a real photo op.
The sun was going down.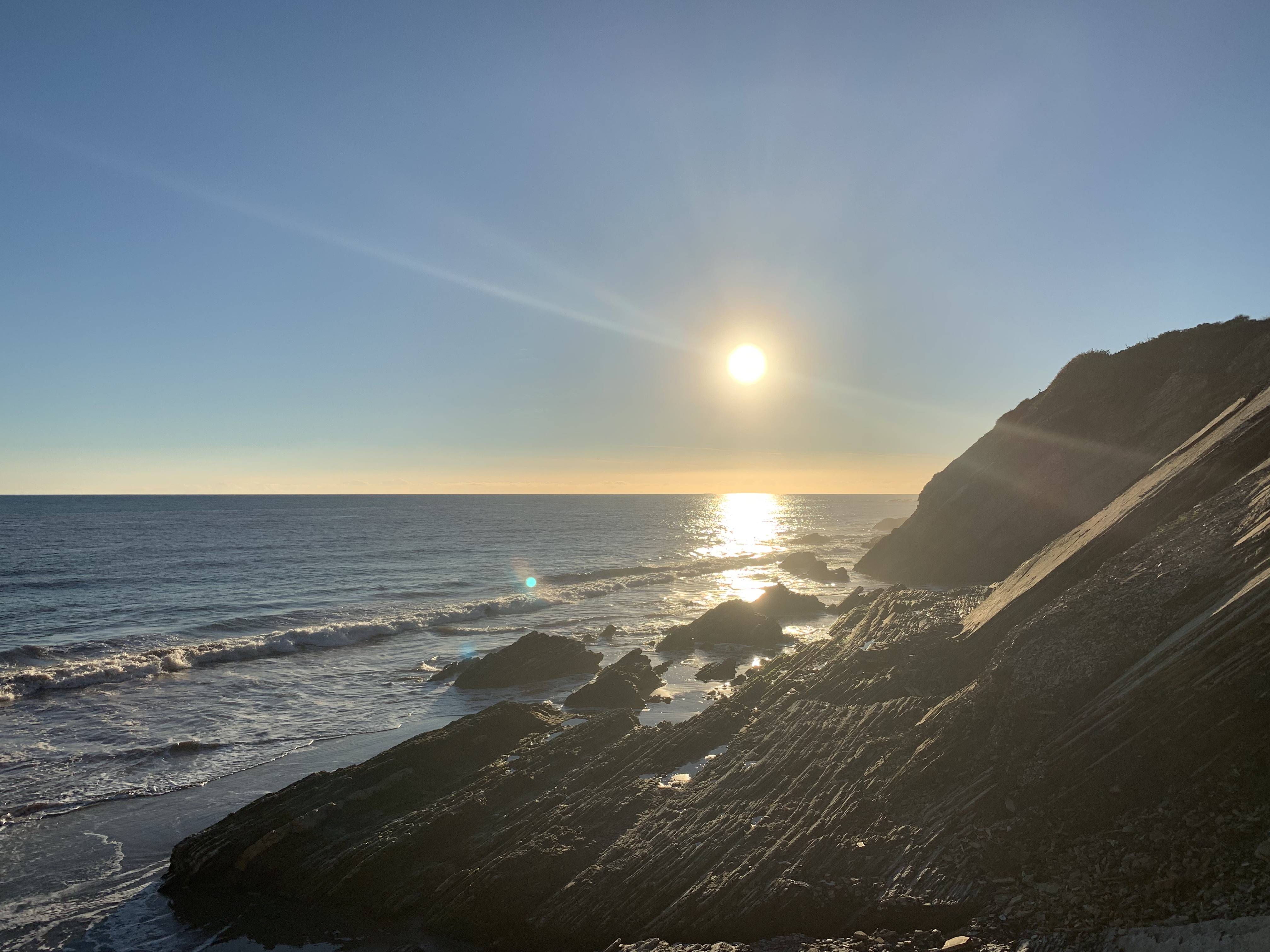 It gave us excellent light for this view of the train trestle.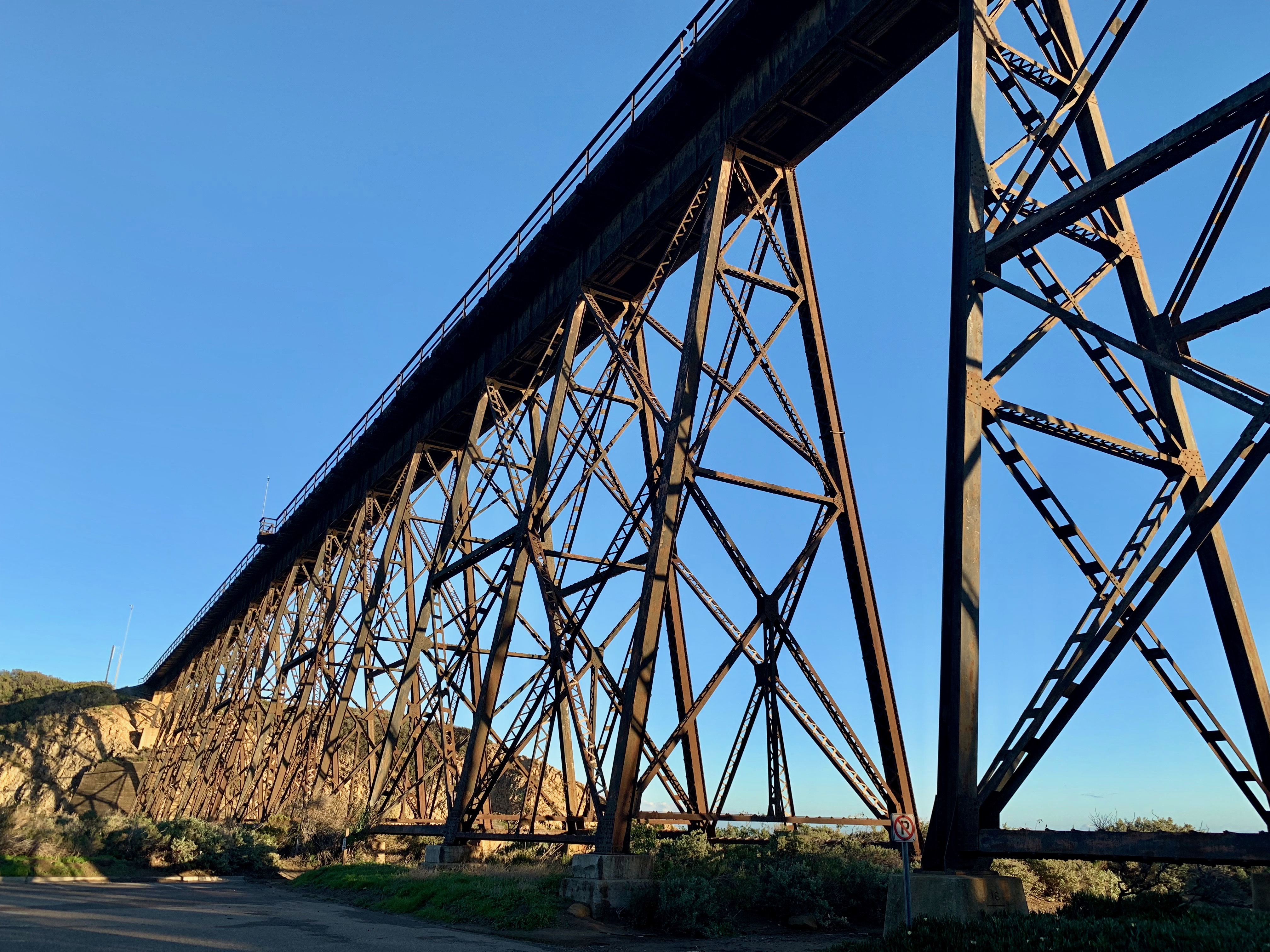 Sheila decided we needed a view looking down on the beach so we went off-roading a little to capture a panoramic shot.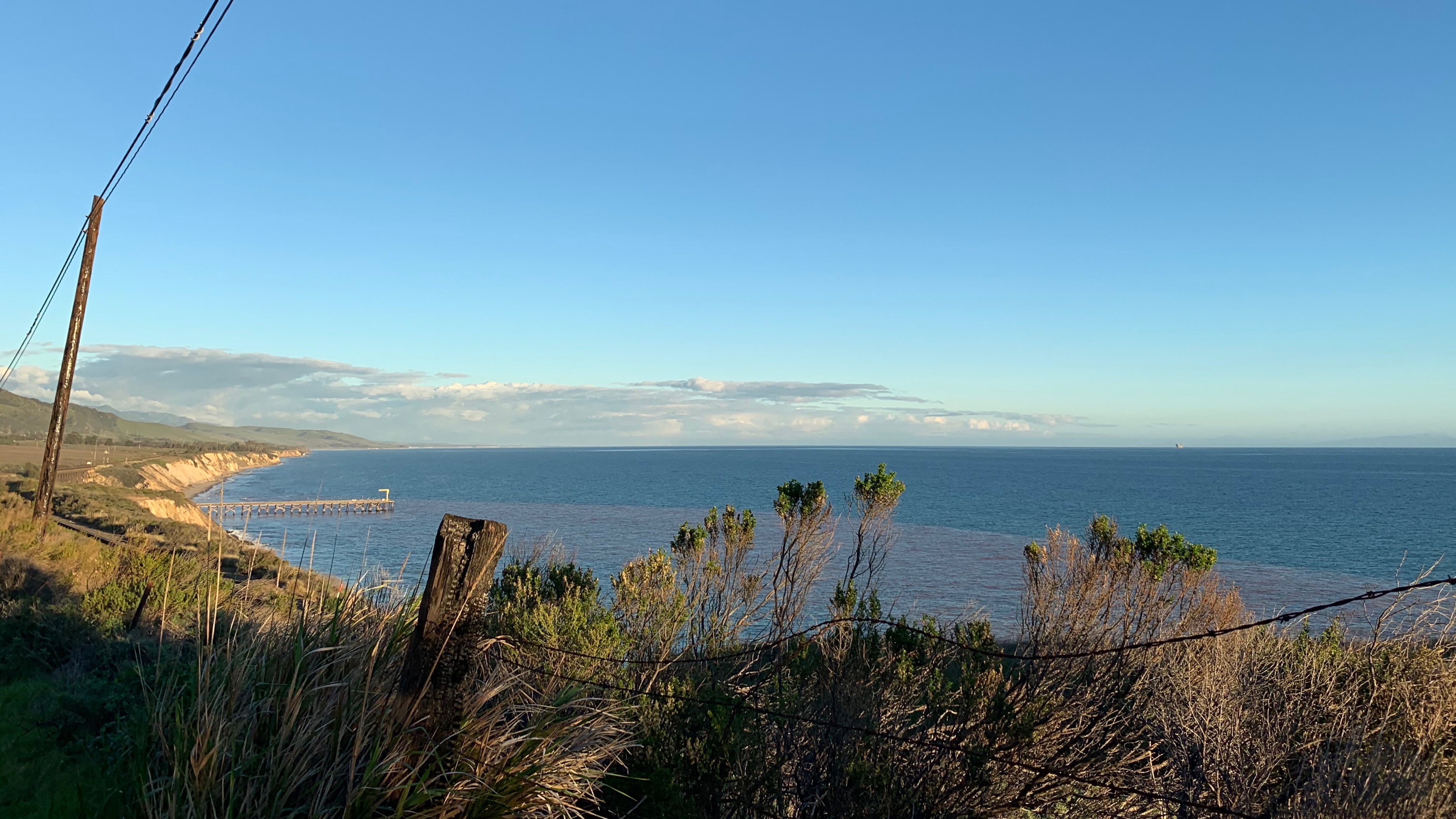 We were staying in Buellton for the night which made us ideally situated to enjoy a bowl of pea soup at Andersen's. Sheila was still smiling after the drive 🙂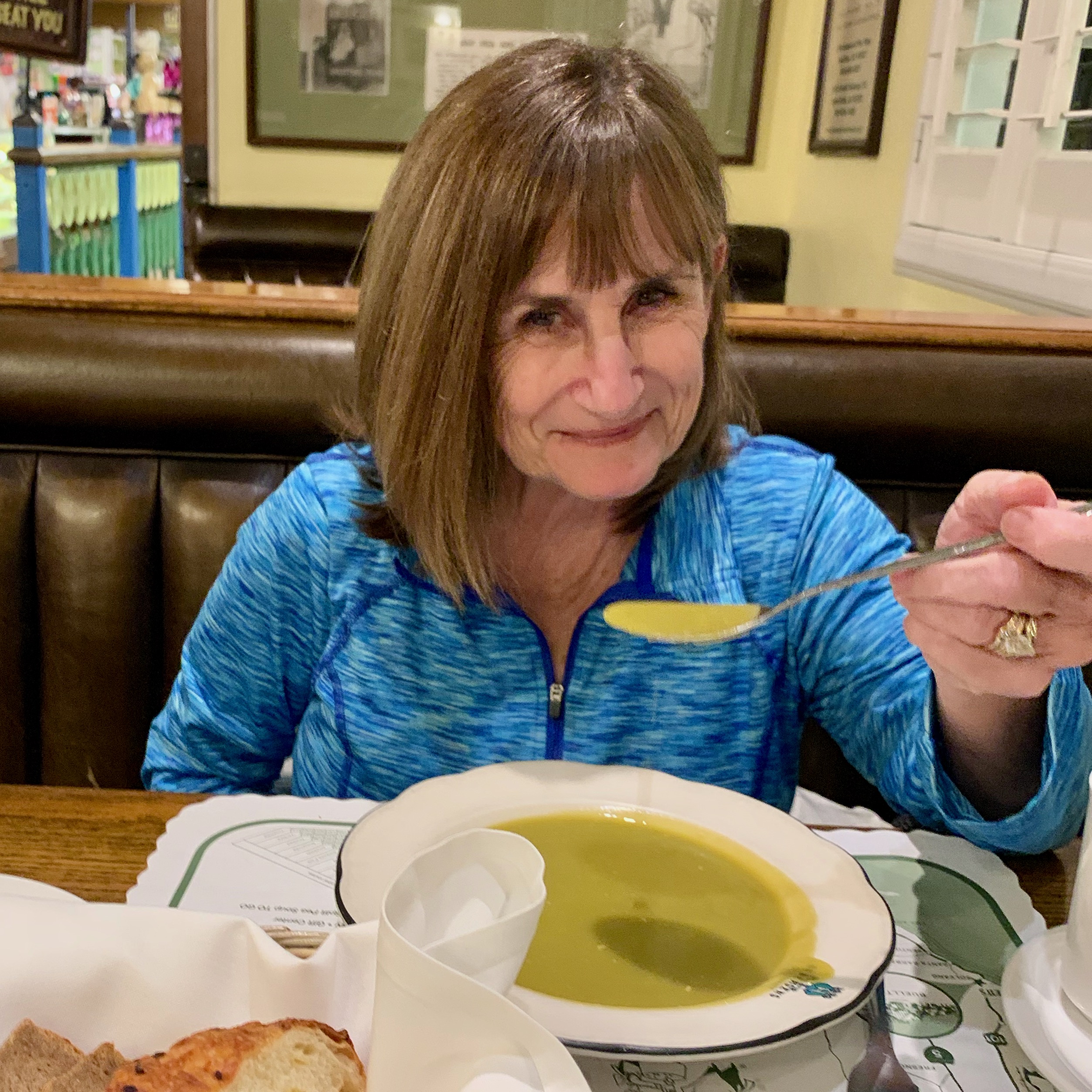 We needed to meet the guild ladies in Atascadero at five for dinner on Friday so that left plenty of time for our drive.
First stop was The Creation Station, just around the corner from the hotel in Buellton.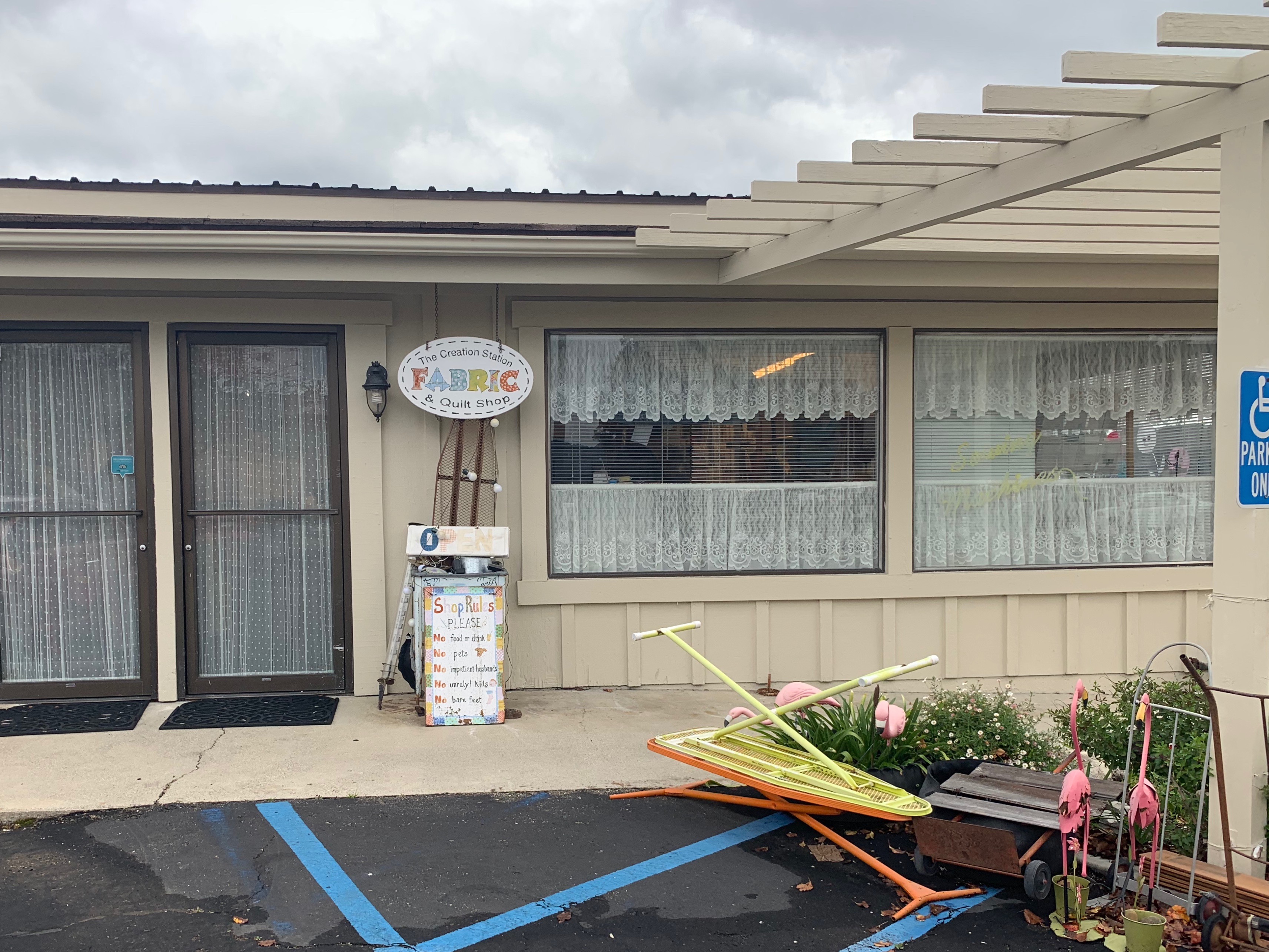 So cute inside, with lovely vignettes and displays every which way you looked.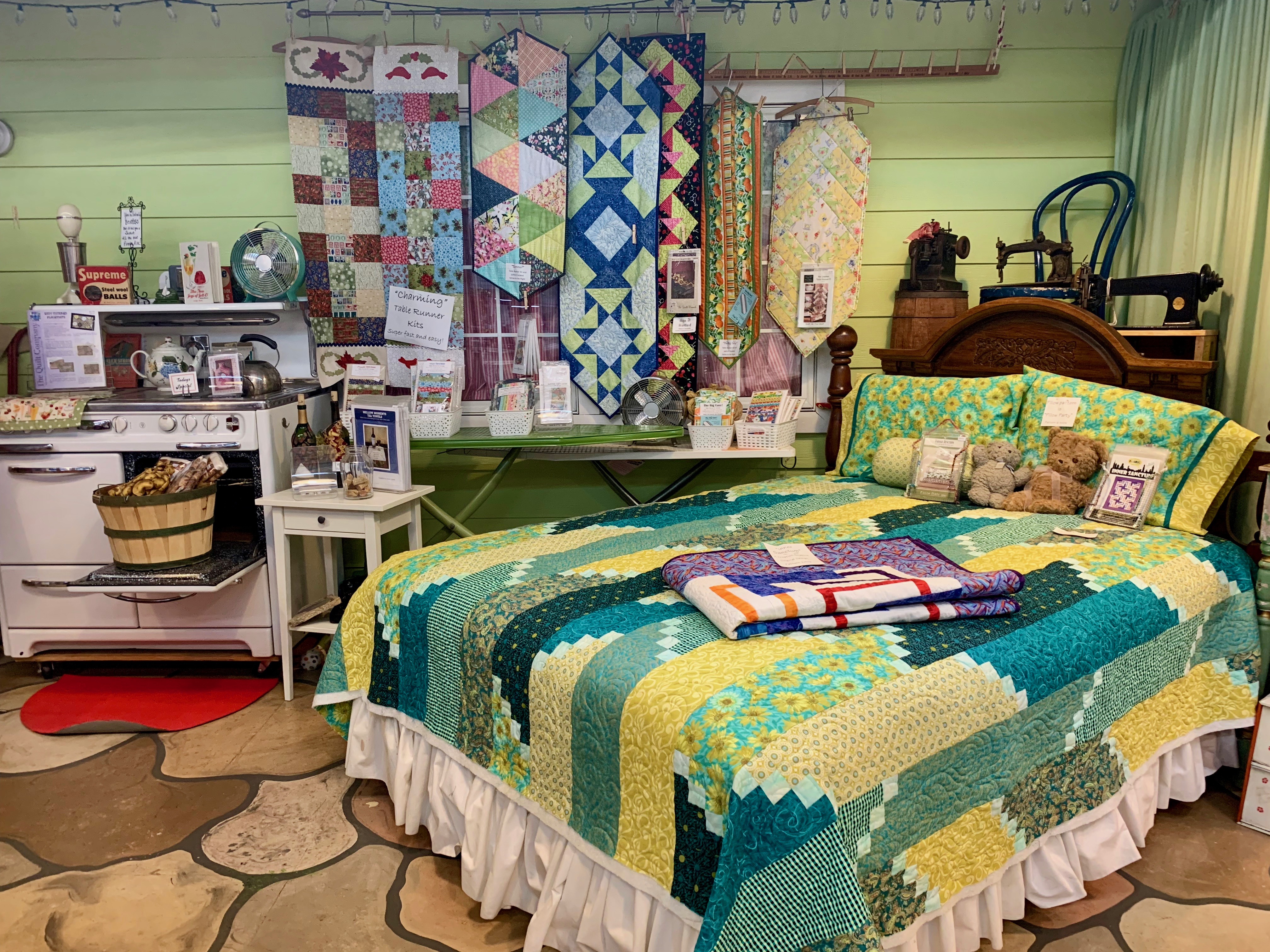 We drove on North past Atascadero to Paso Robles for a visit to Birch Fabrics, the brick and mortar store of Fabricworm, one of my favorite on-line shops. I was too busy shopping for photographs…
We still had plenty of time to check in at our hotel and get ready for the evening AND be on time for dinner! The ladies of the Almond Country Quilt Guild looked after us very well and I was well nourished for the evening's meeting.
There was some business to be done and then we had Show and Tell. I realized how long it had been since I last visited a guild… more than two months!
This beautiful Dear Jane quilt is all done except for a scalloped edge. It is going to be hand quilted.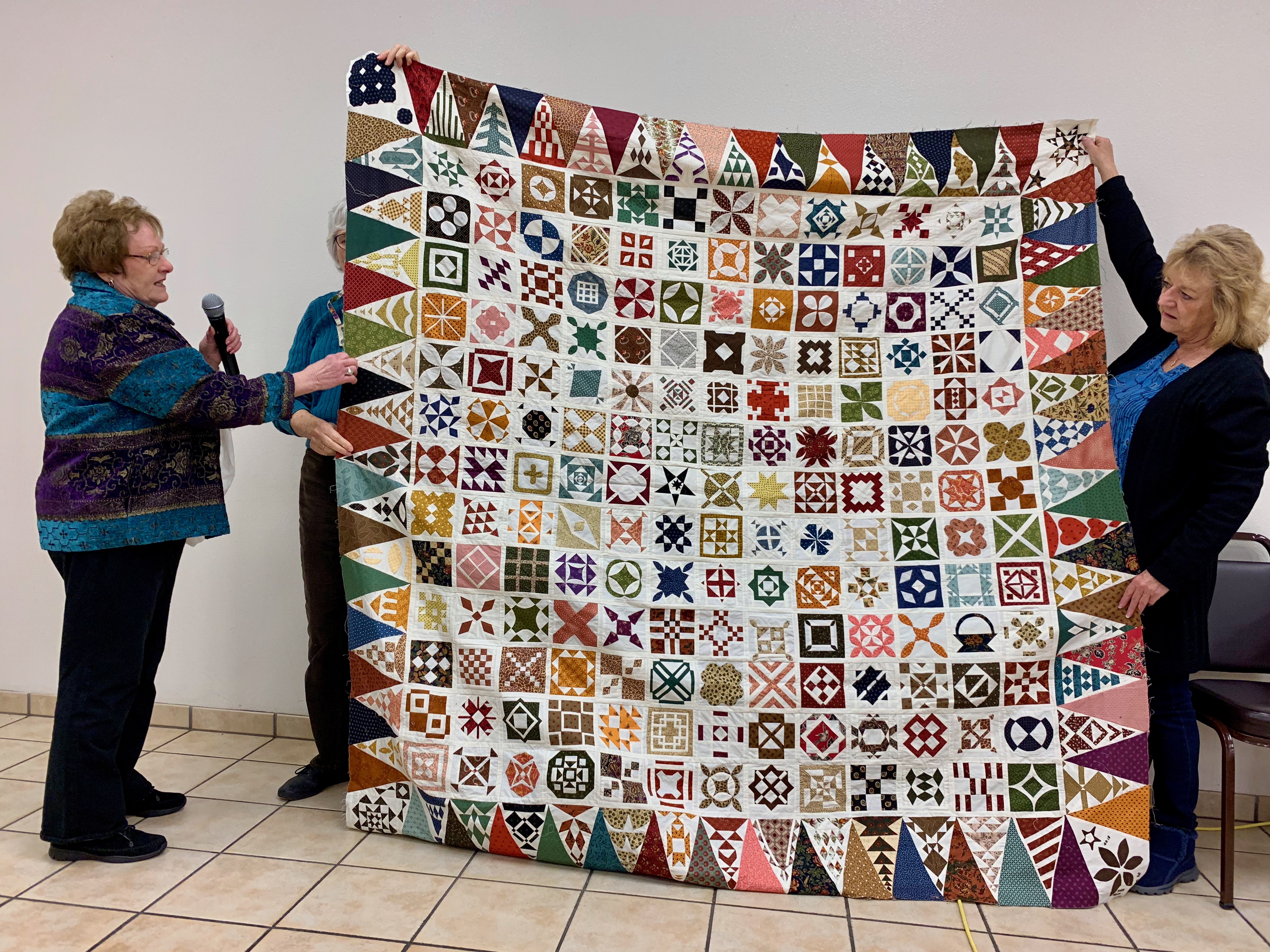 Cacti to remind me I'm not in Chicagoland!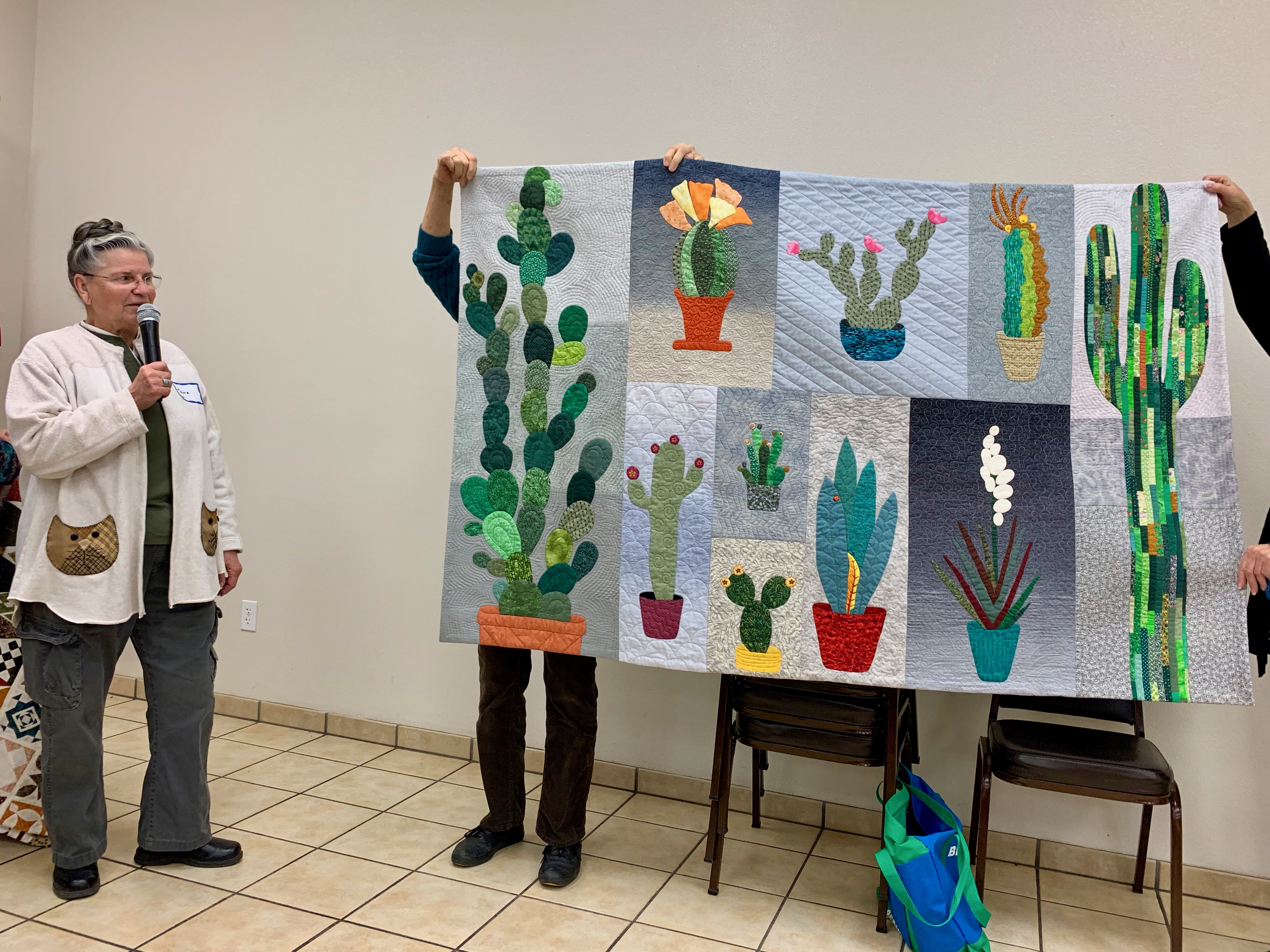 An ice-dyed piece. I'm assuming the ice came out of a freezer and not from outside?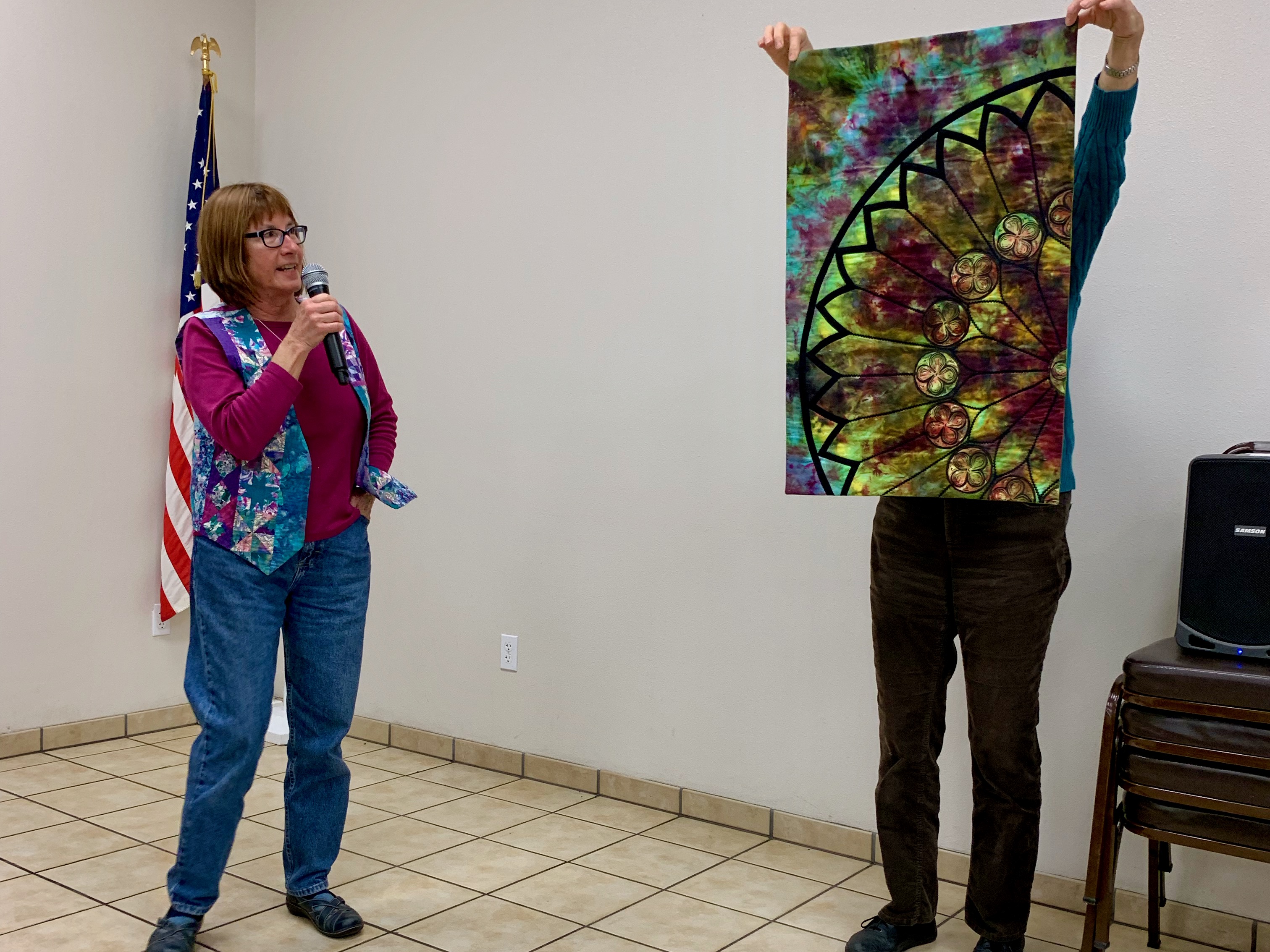 Debbie's three wool pieces, so cute.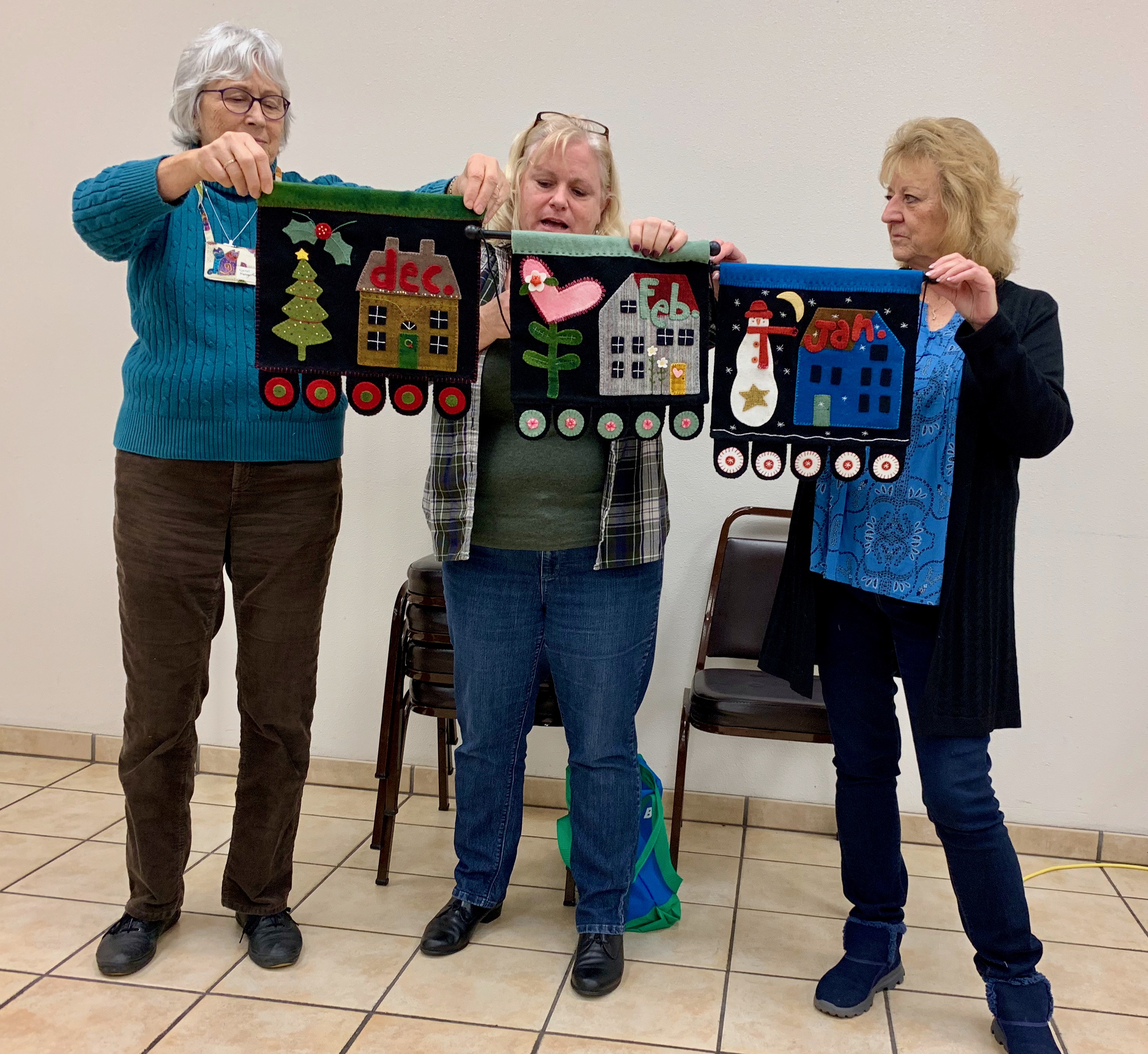 I had been invited to give my Trip Around the World lecture. I think it went over well. The members seemed happy to smile and wave for the camera.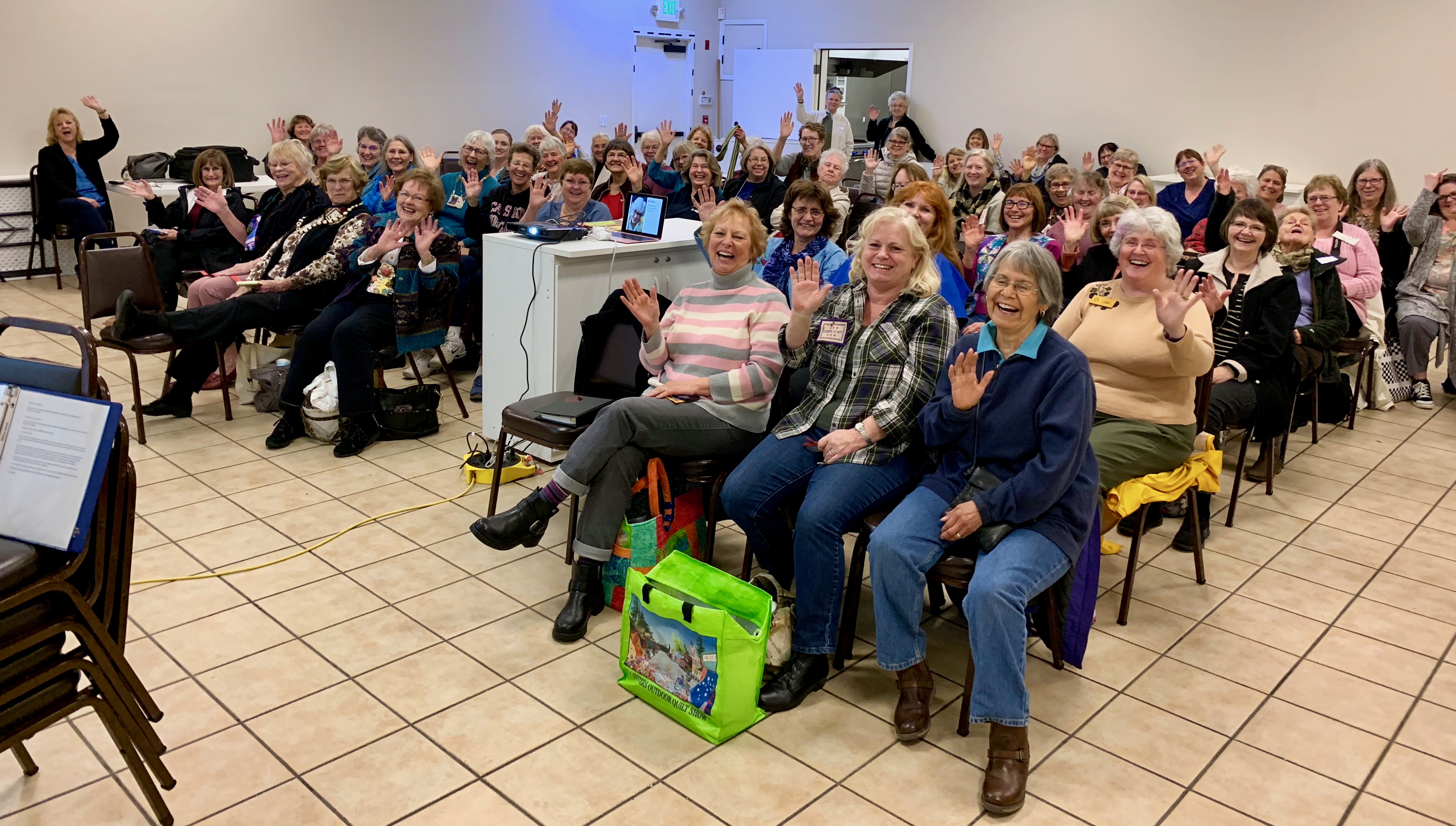 We had a full class on Saturday for a wool appliqué class. Frances offered her converted garage for the guild and we were very comfortable.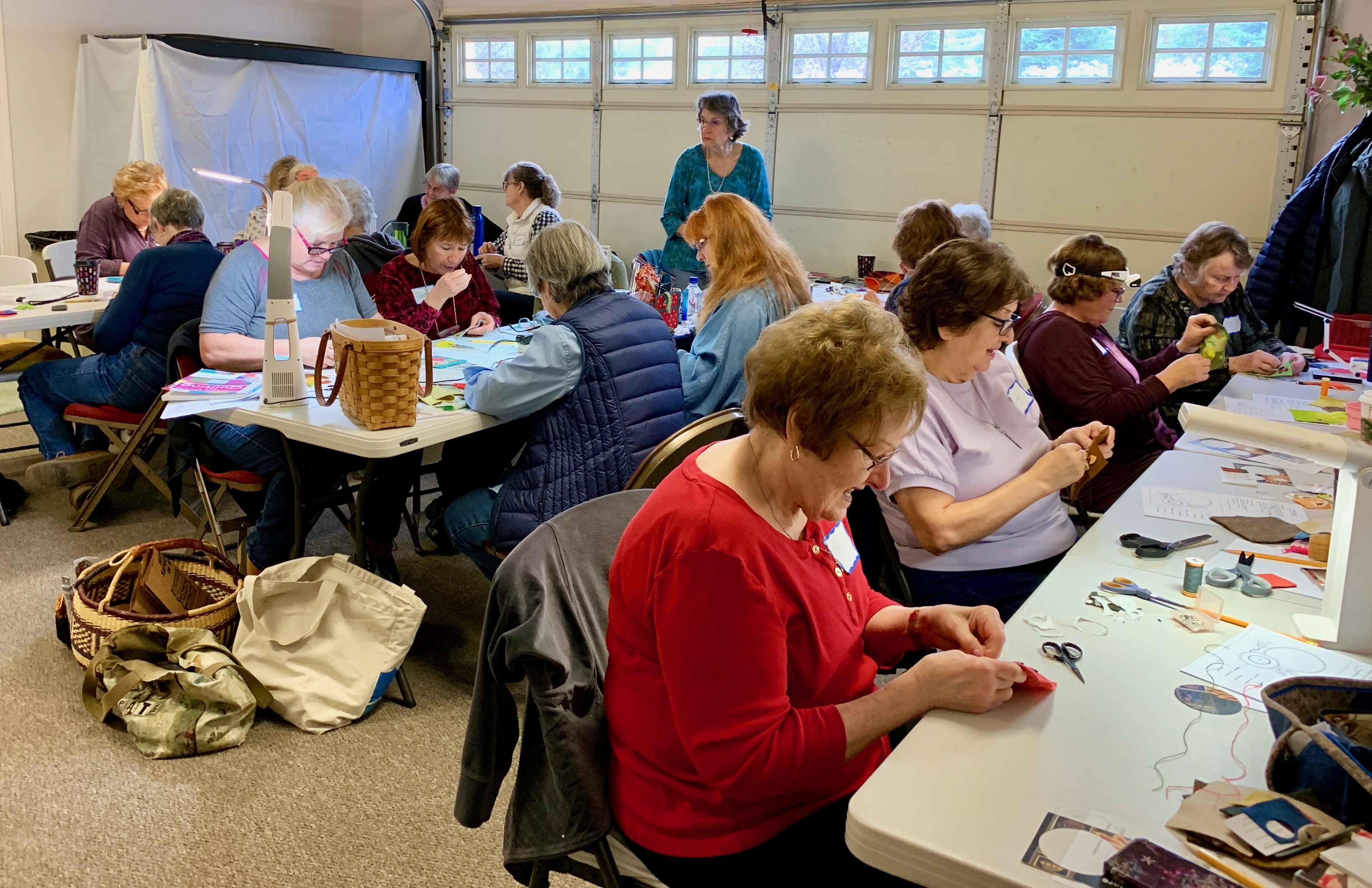 The stitchers worked hard all day with just a short break for lunch but they were done by 3.30. I'm hoping for some pictures of their completed projects?
Another front had come through during the day but by the time we were packed up the rain had stopped.
Sheila got back behind the wheel and we headed out. The sky was pink as we passed Bakersfield.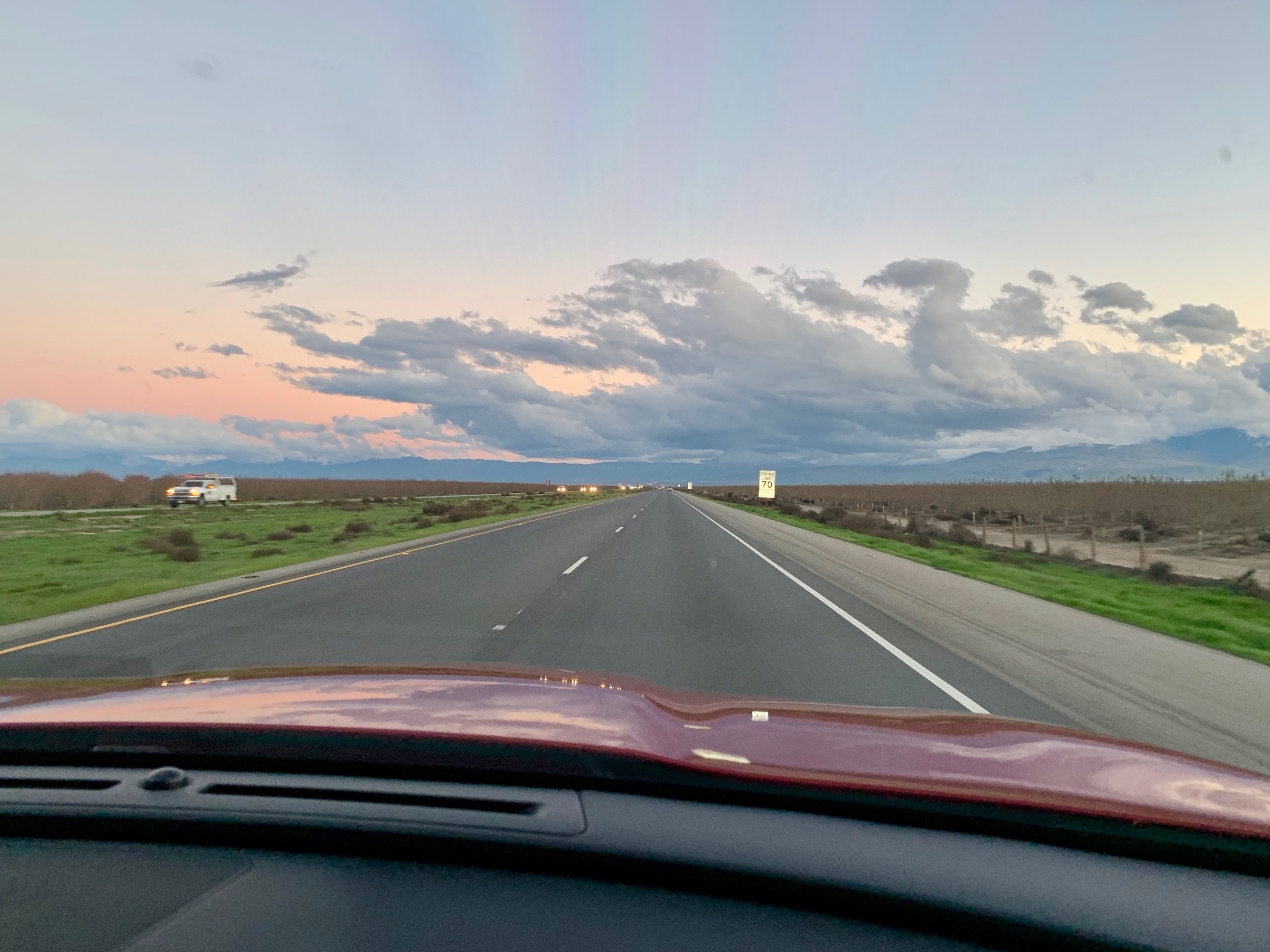 We arrived back home at Sheila's in plenty of time for the Super Bowl. I have to say the golf match that Andy had recorded to watch first was more entertaining…
Oh well!
Monday was a day to stay in. I repacked my bags. I had checked three bags on my way out and I was hoping I could fit one bag inside another to get it down to two to go home?
I did it! Two checked bags at exactly 50.5 pounds each (yes I snook in that extra half pound), a hand luggage bag stuffed full and a full size personal item. Off to the airport to check in. Goodbye to Sheila. Thanks for putting up with me AGAIN!
One last look at the mountains from the gate area window.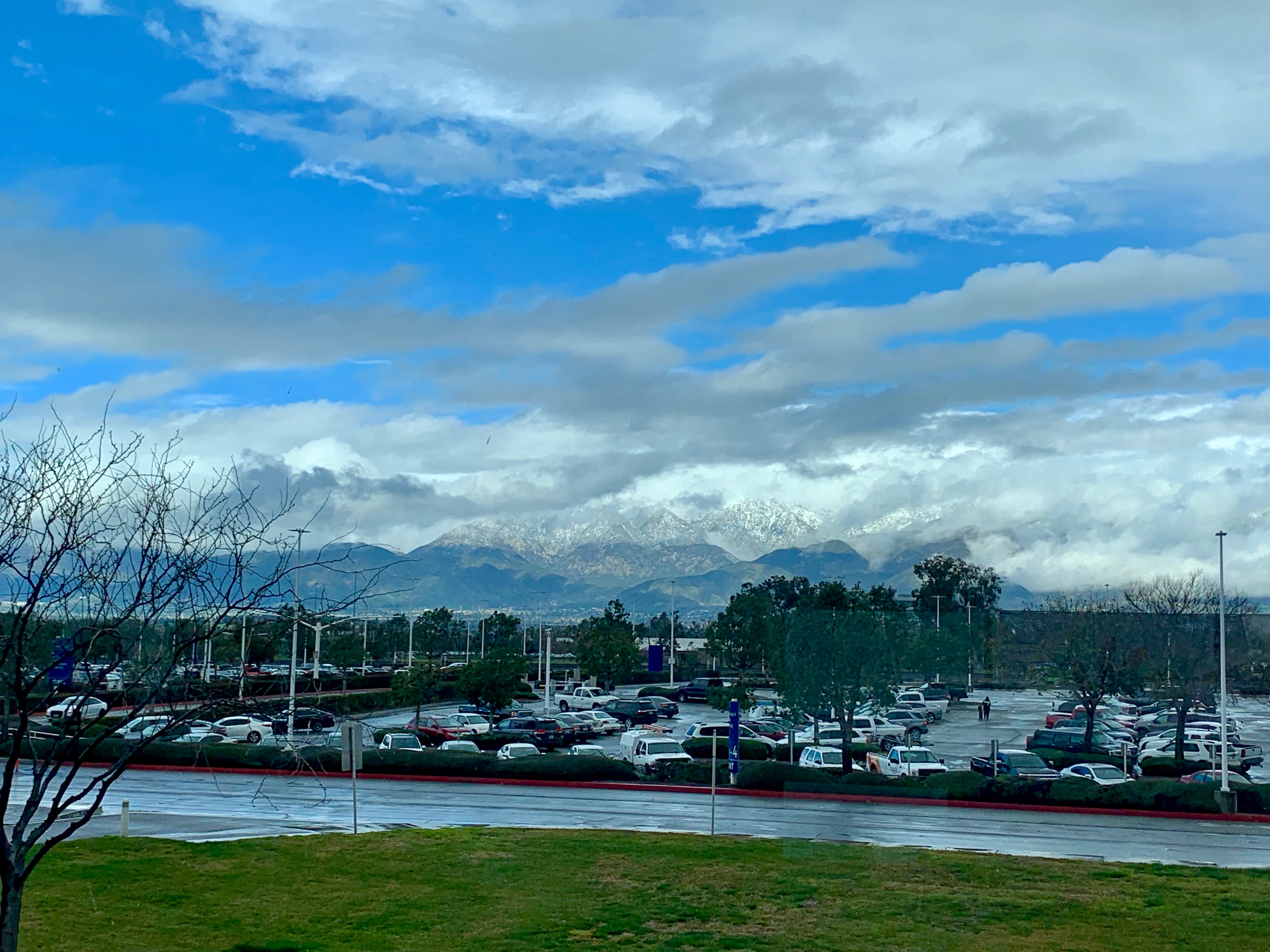 Up and away!
The flight took me via San Jose to Chicago. There were reports of freezing rain at Midway but we made it through. Lots of flights were cancelled but ours wasn't. Steve's wasn't either! He landed an hour and a half after me so we actually got to drive home together.
Excellent planning?
I've spent the last few days unpacking and working out what I need for my next big trip. An order came from Spoonflower so I've been cutting and packaging my printed designs… I have been stitching too. It's all go!
On Tuesday I will be at my home guild, Riverwalk Quilters in Naperville for a lecture. If you're in the area do visit us. I'm booked for my Trip Around the World talk so there will be prizes and a few laughs…