It's Saturday morning already. My bags are almost packed for my next trip and I haven't caught up with the last one yet. Better get to it?
I flew into BWI last Sunday afternoon, picked up my bags and headed outside. There should be something a bit weird about hopping into a stranger's car for a two hour drive across state lines but it has become a perfectly normal experience for me over the years. And after a couple of minutes Lorraine was not a stranger any more 🙂
There is a big bridge over the Chesapeake Bay, aptly named the Chesapeake Bay Bridge (!!)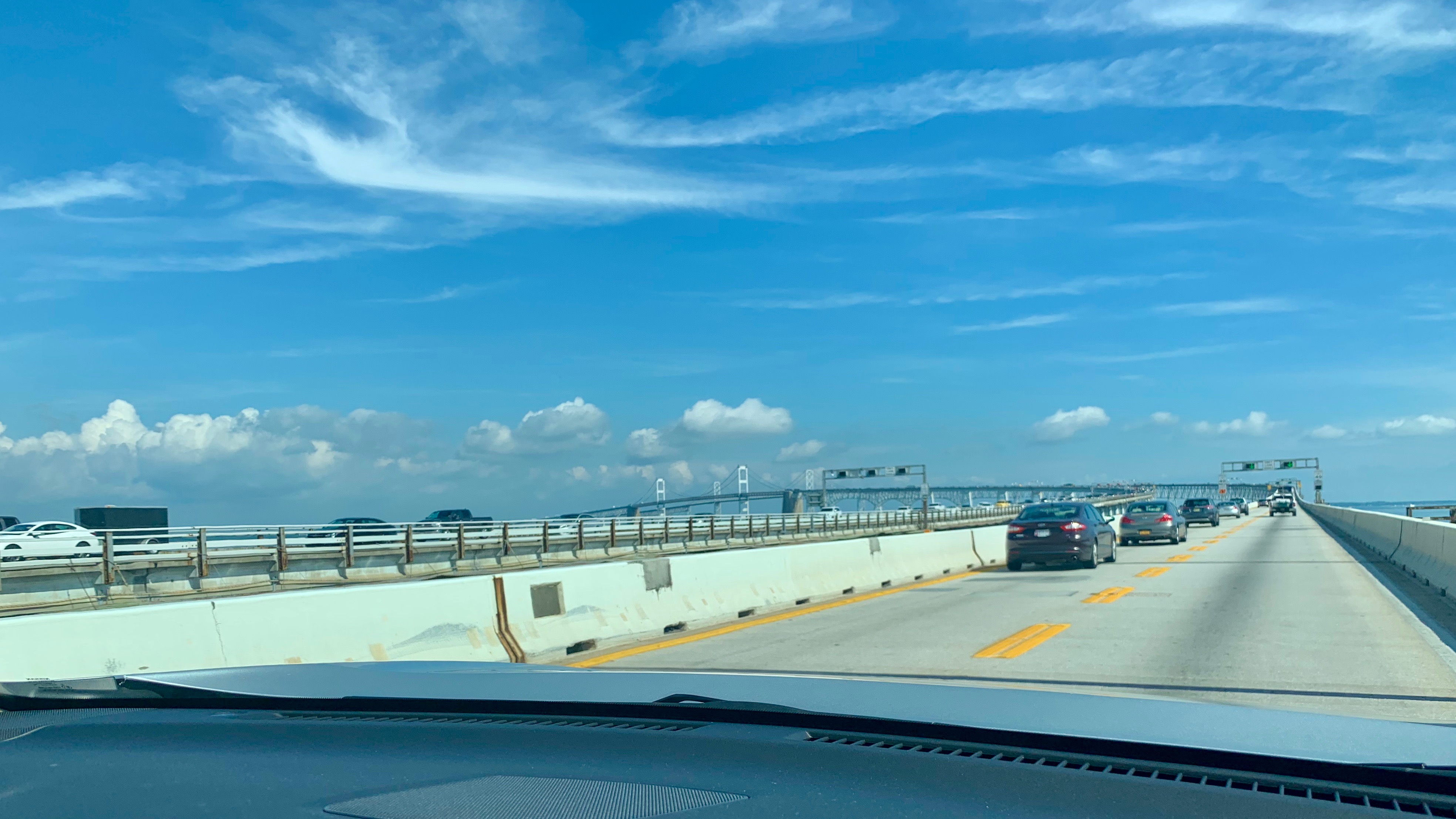 According to Wikipedia it is 4.3 miles long.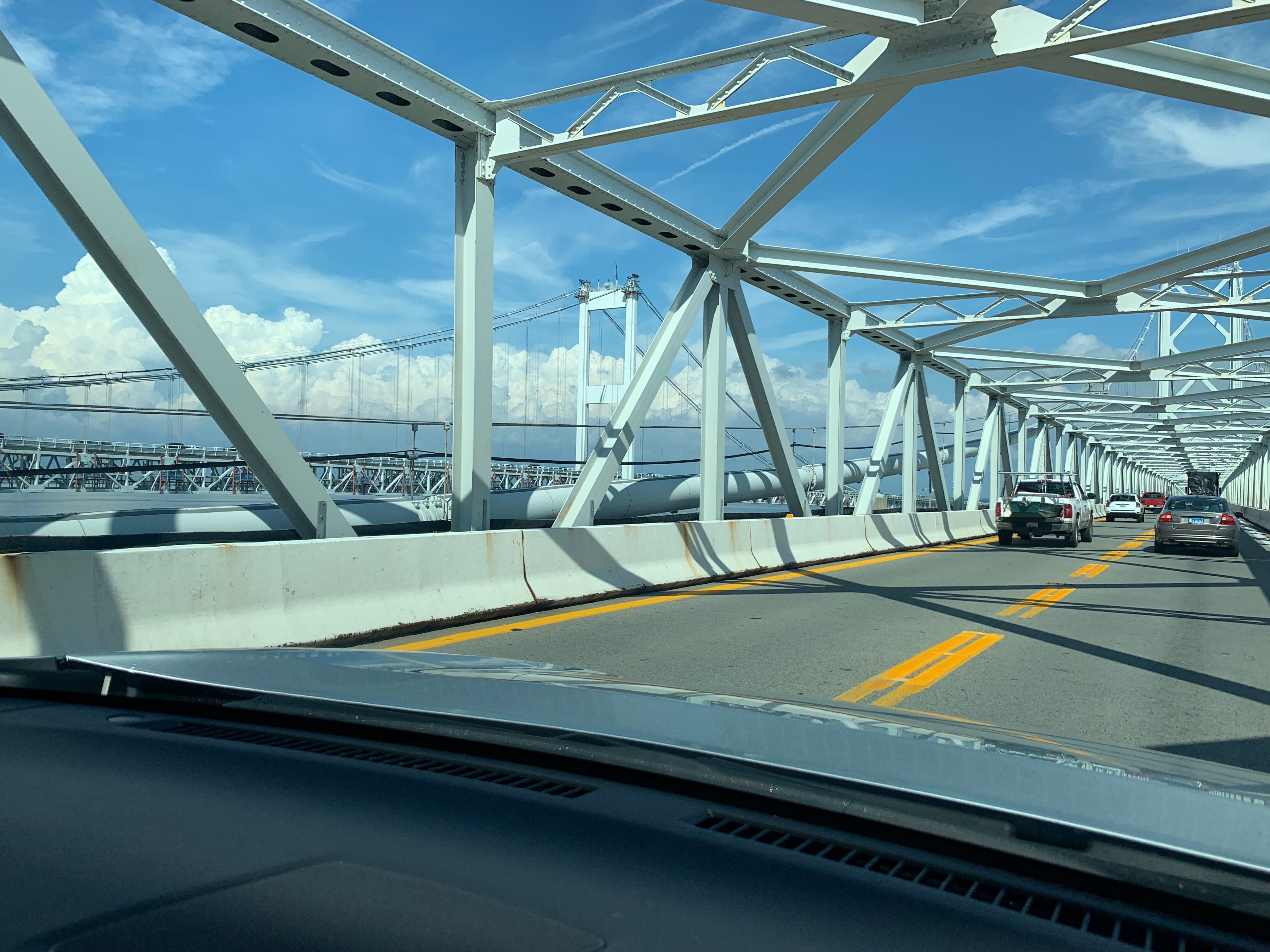 Delaware is flat with corn and soya bean fields.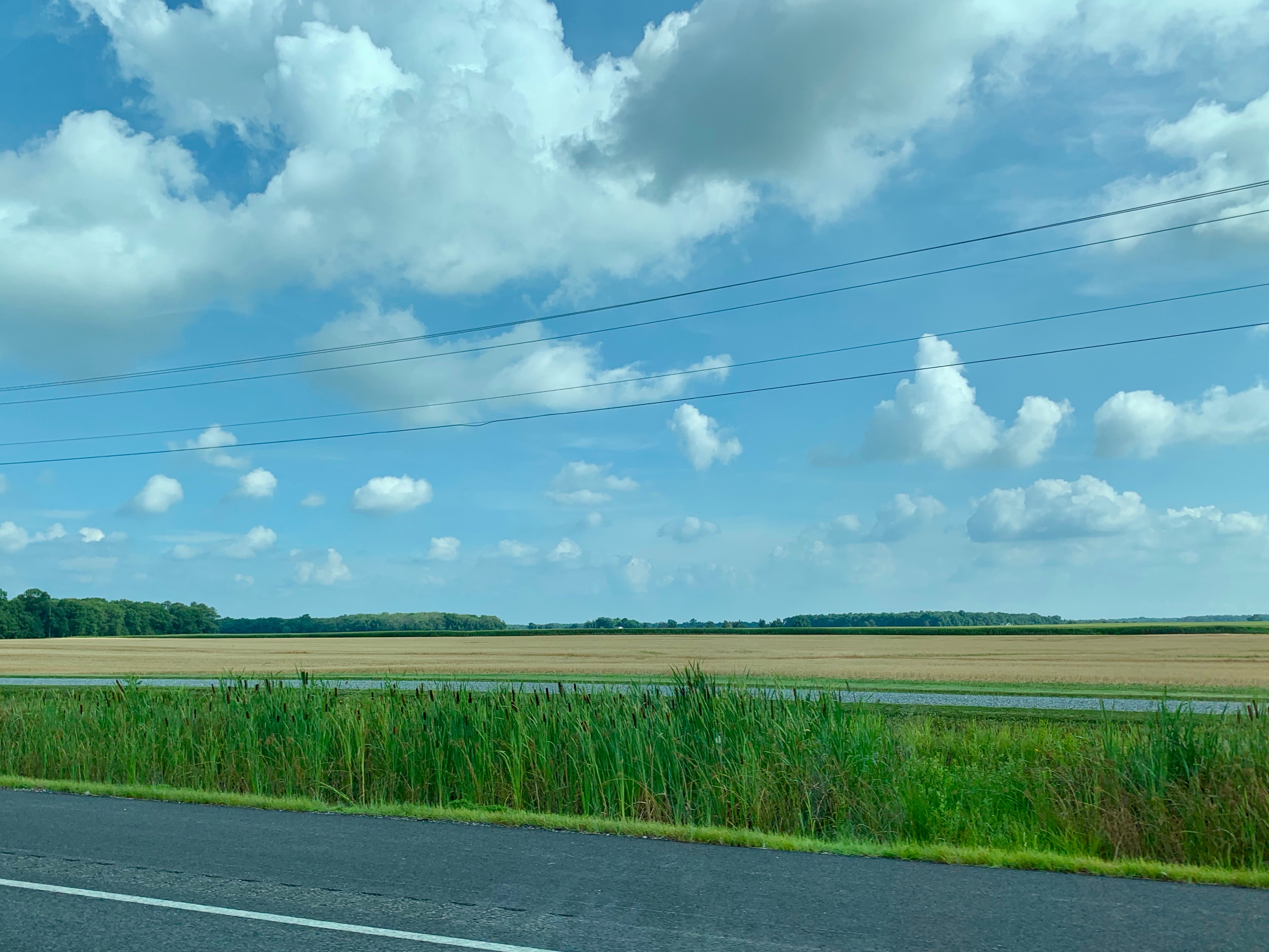 Felt like home?
I hadn't just flown all that way for a vacation… I was actually there to work? I had been booked with the Ocean Waves Quilt Guild of Lewes, Delaware since October 2017!
Lorraine picked me up from my hotel at 8.15 on Monday morning. I was ready and waiting.
I had lots of time to get set up and ready. My little pop up shop did a roaring trade in embroidery threads, books and bits and bobs ( a carefully curated stock of my favorite things).
There was just a short introduction and then I was up on stage. I had managed to mislay my remote control on my last lot of travels so Mary gamely stood in as my clicker. She did an amazing job, not one false move which is better than I usually manage! It was her birthday but, luckily for her, we didn't sing.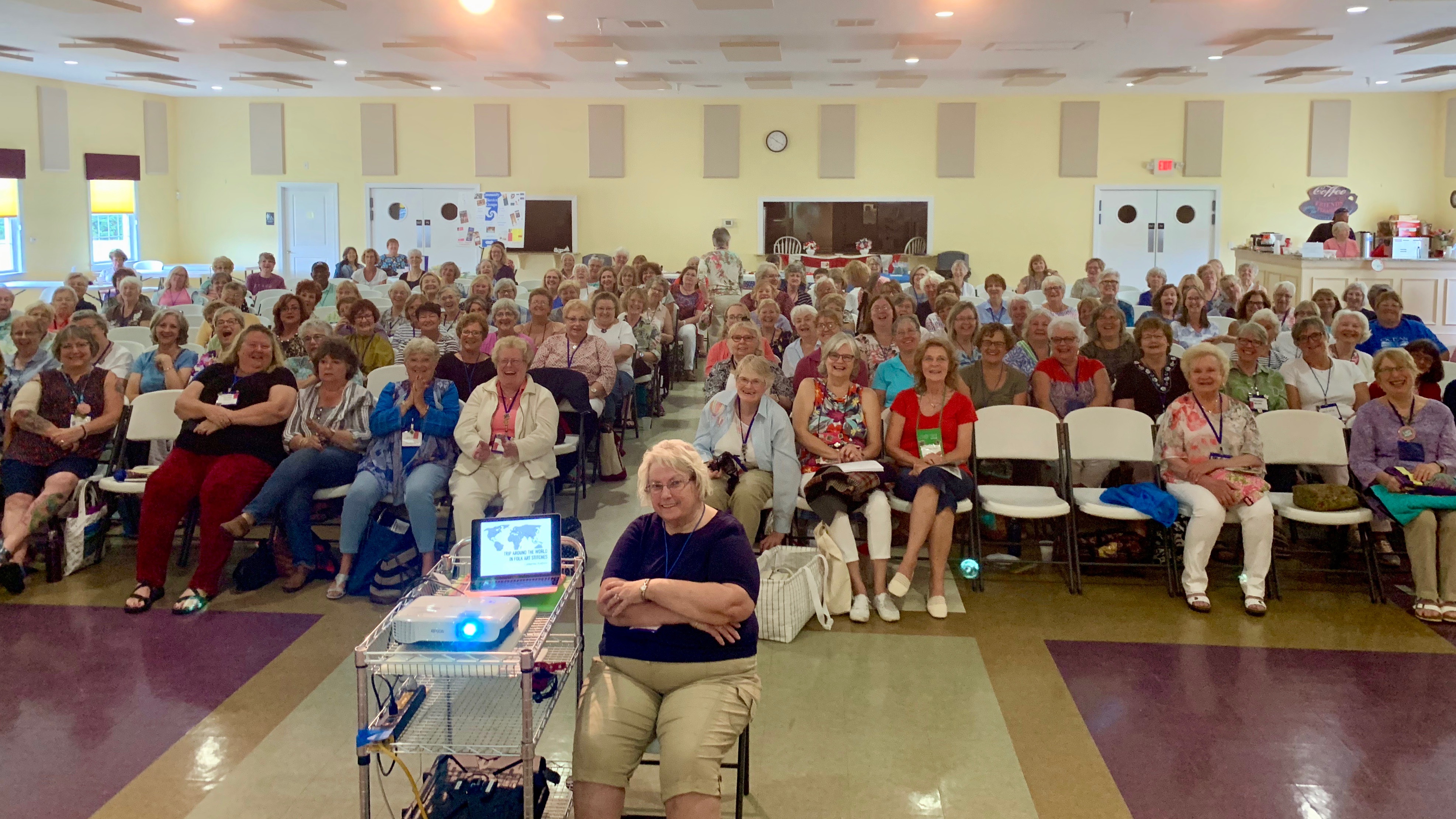 After a fun Trip Around the World we moved on.
There was lots of show and tell.
This quilter was very happy with her quilt.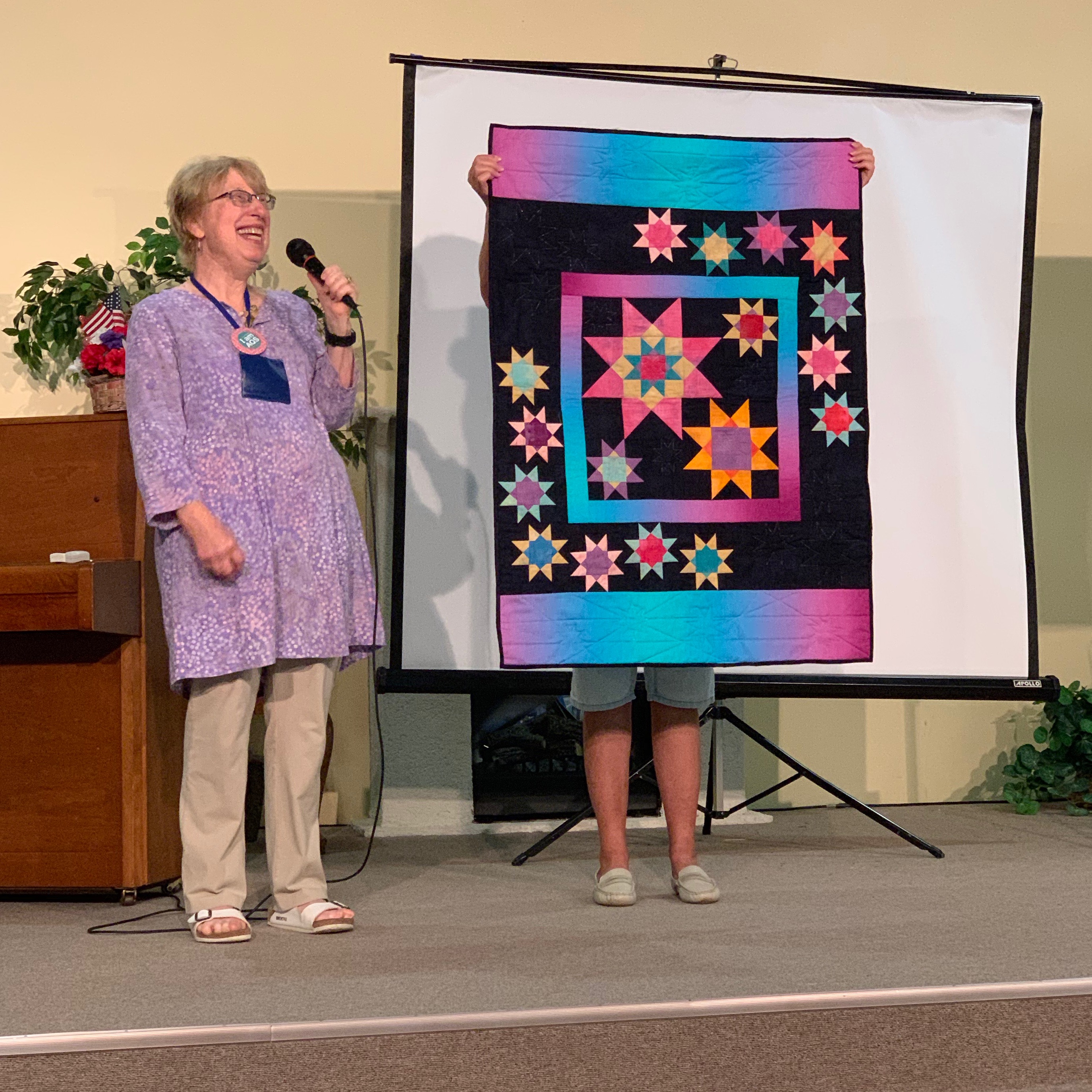 This member had run out of the blue fabric half way through making her quilt but a friend had more in her stash… fancy that!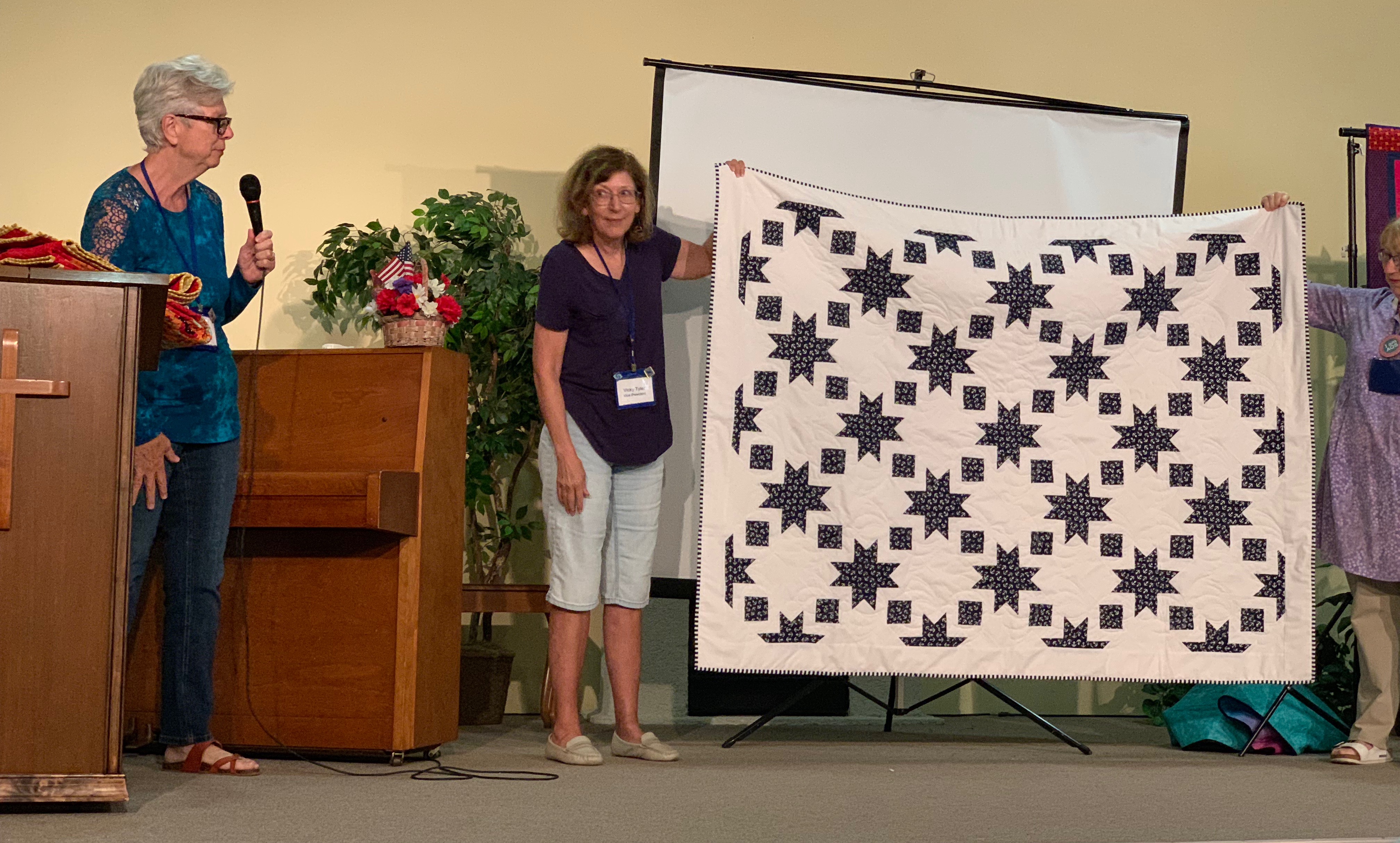 This finish was a long time coming. A Jan Patek design.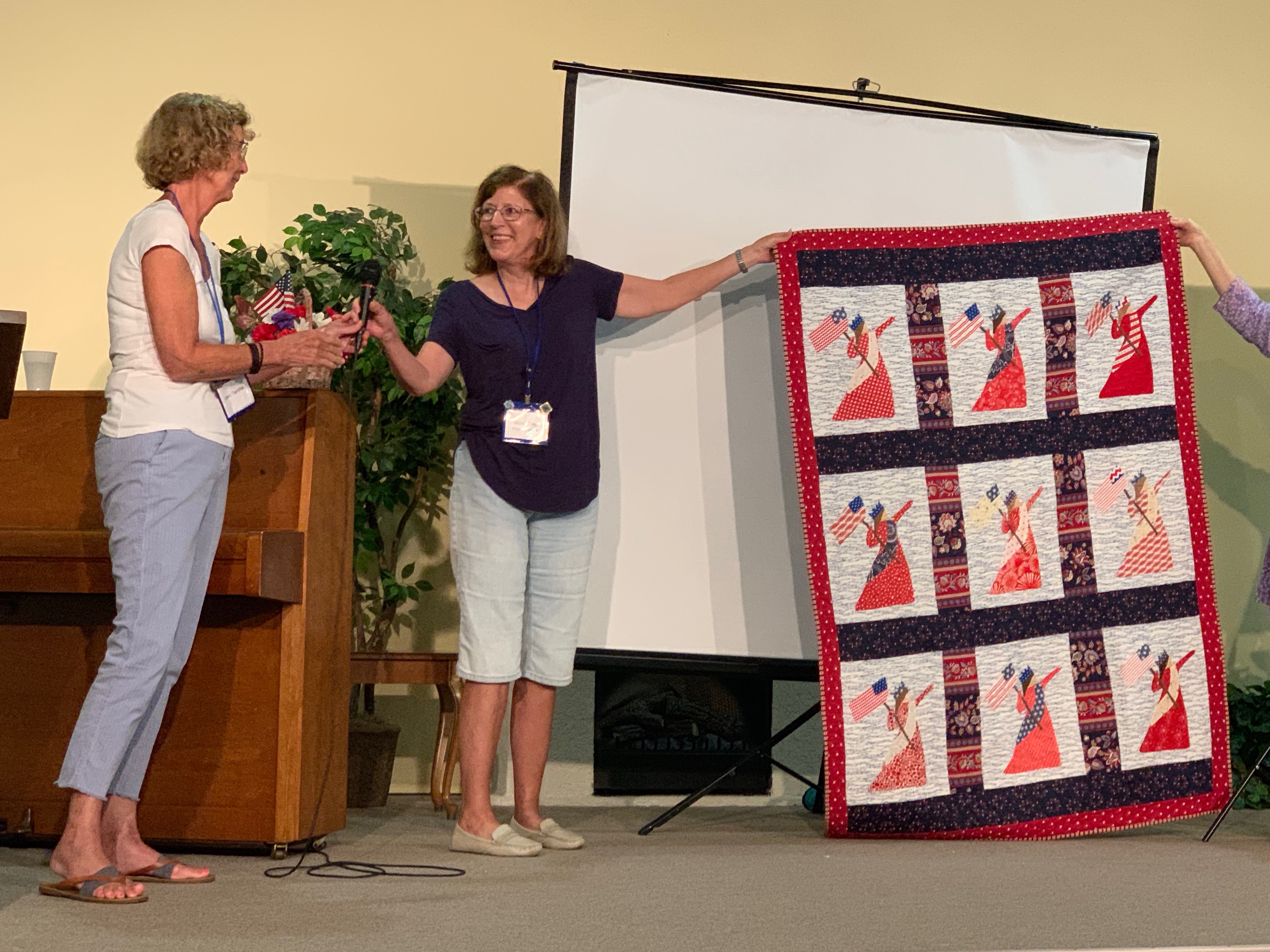 Place mats for donation to Meals on Wheels.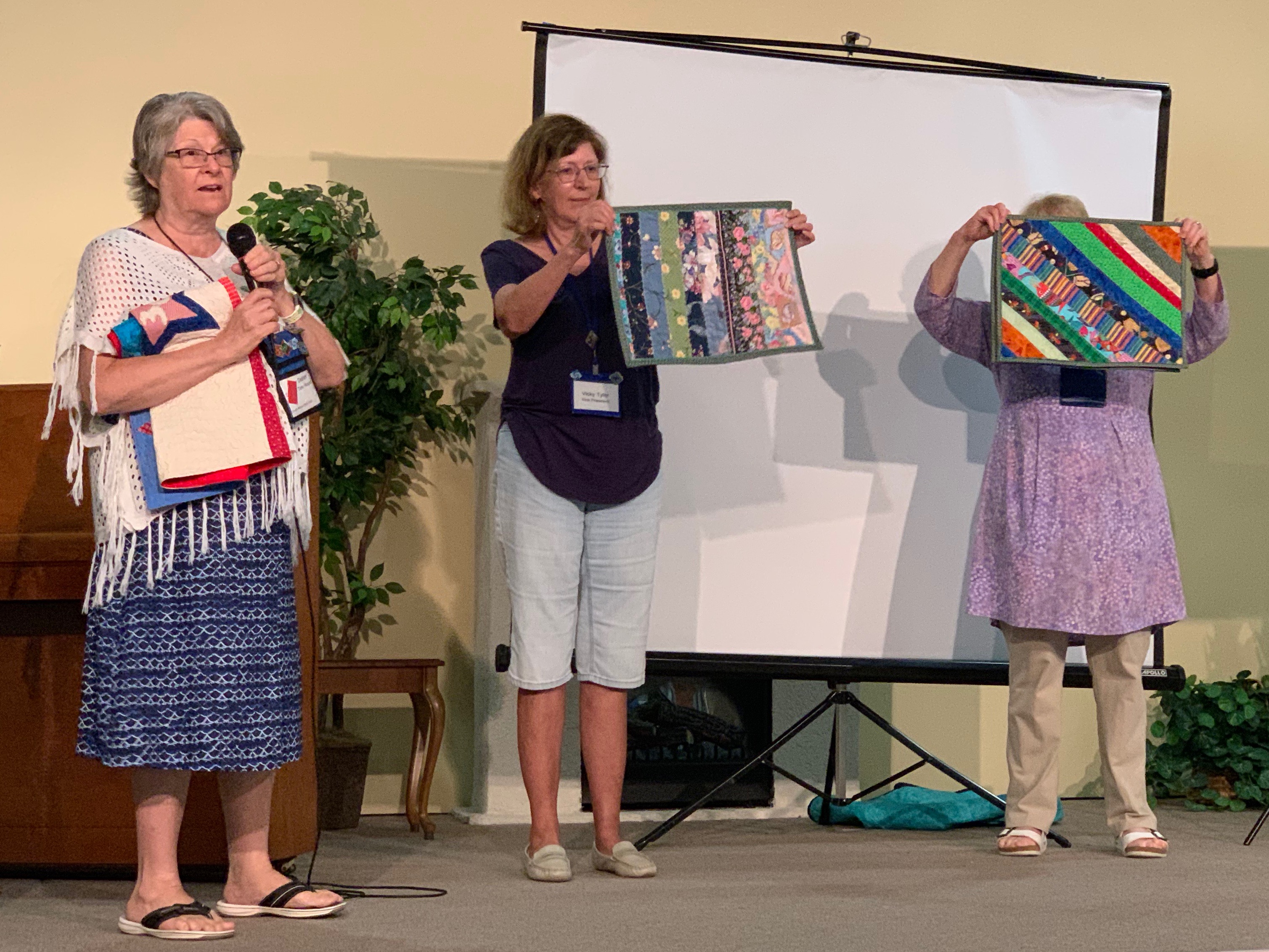 A birthday banner just in time for the birthday girl.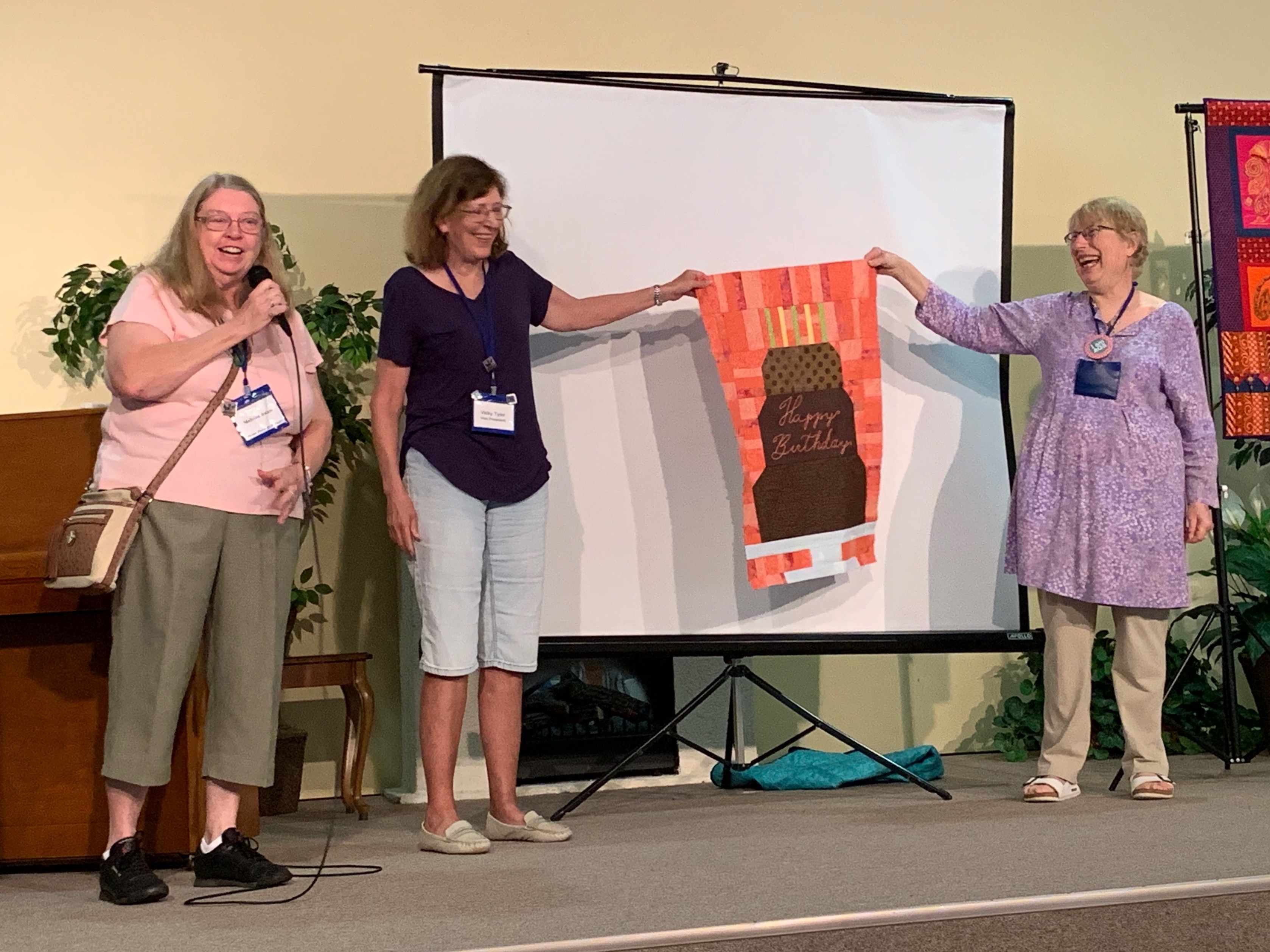 A big beautiful quilt.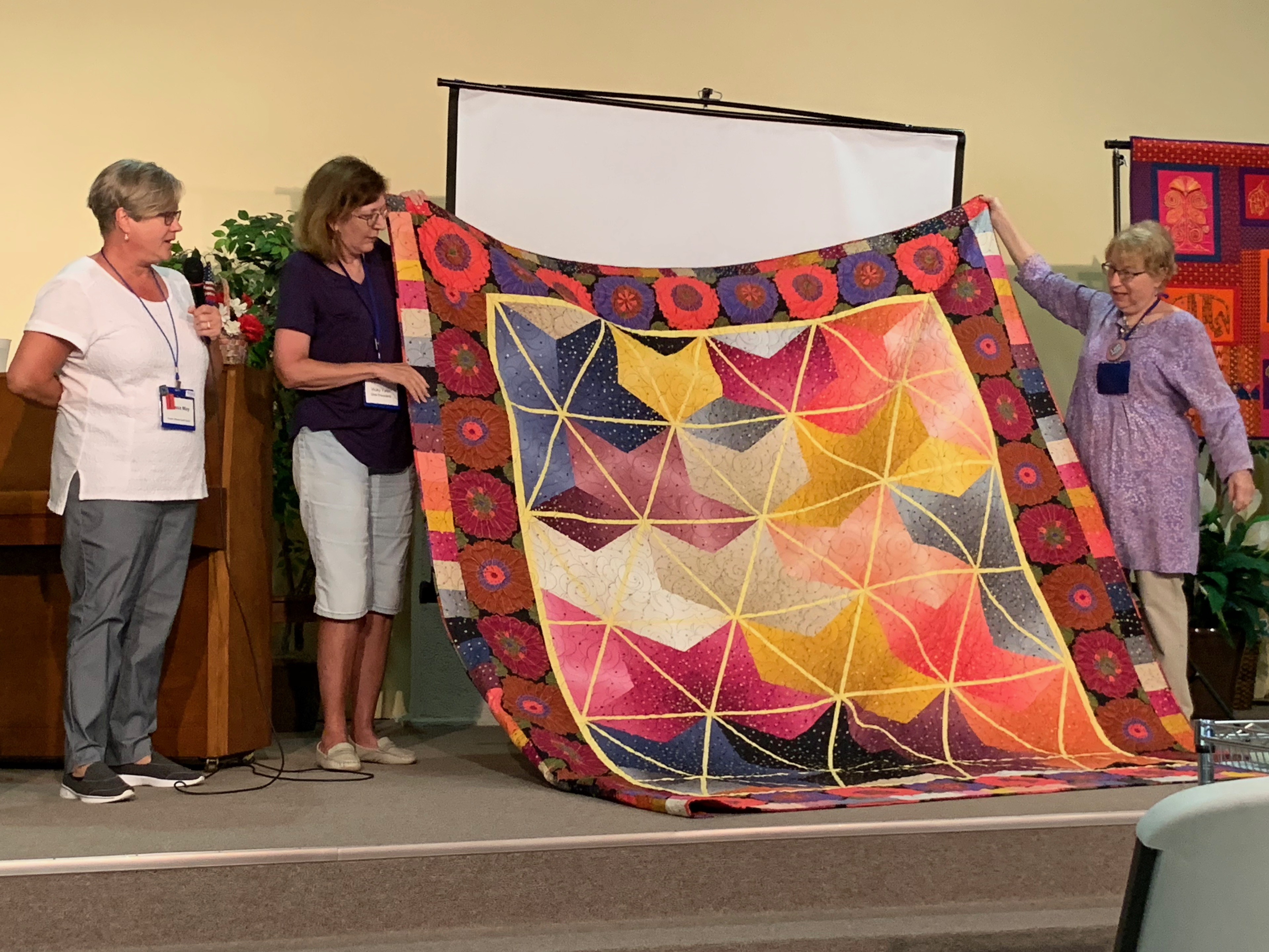 Christmas is coming…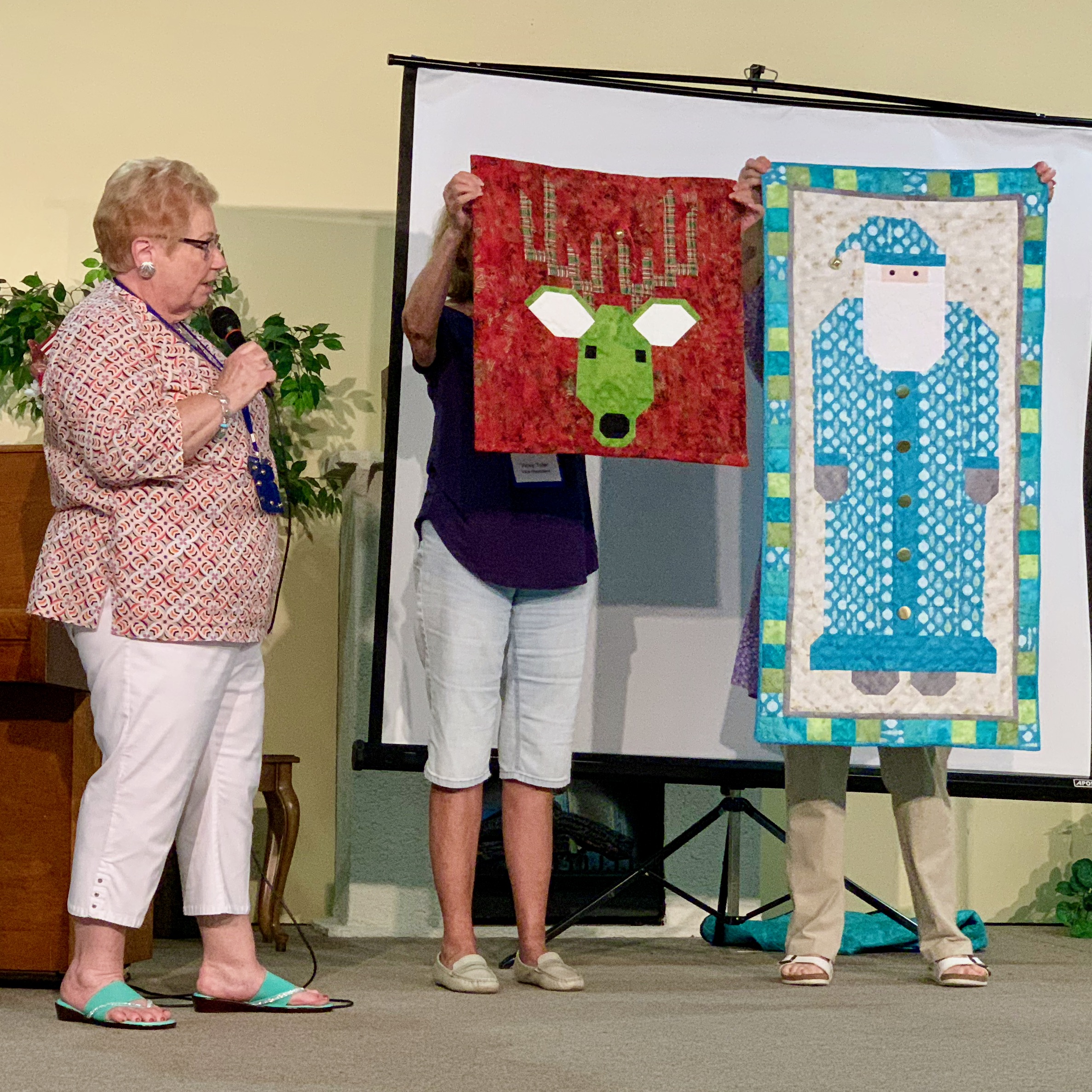 This is my one picture of Lorraine. A quilt for her smallest grand daughter she was going to be seeing on Wednesday.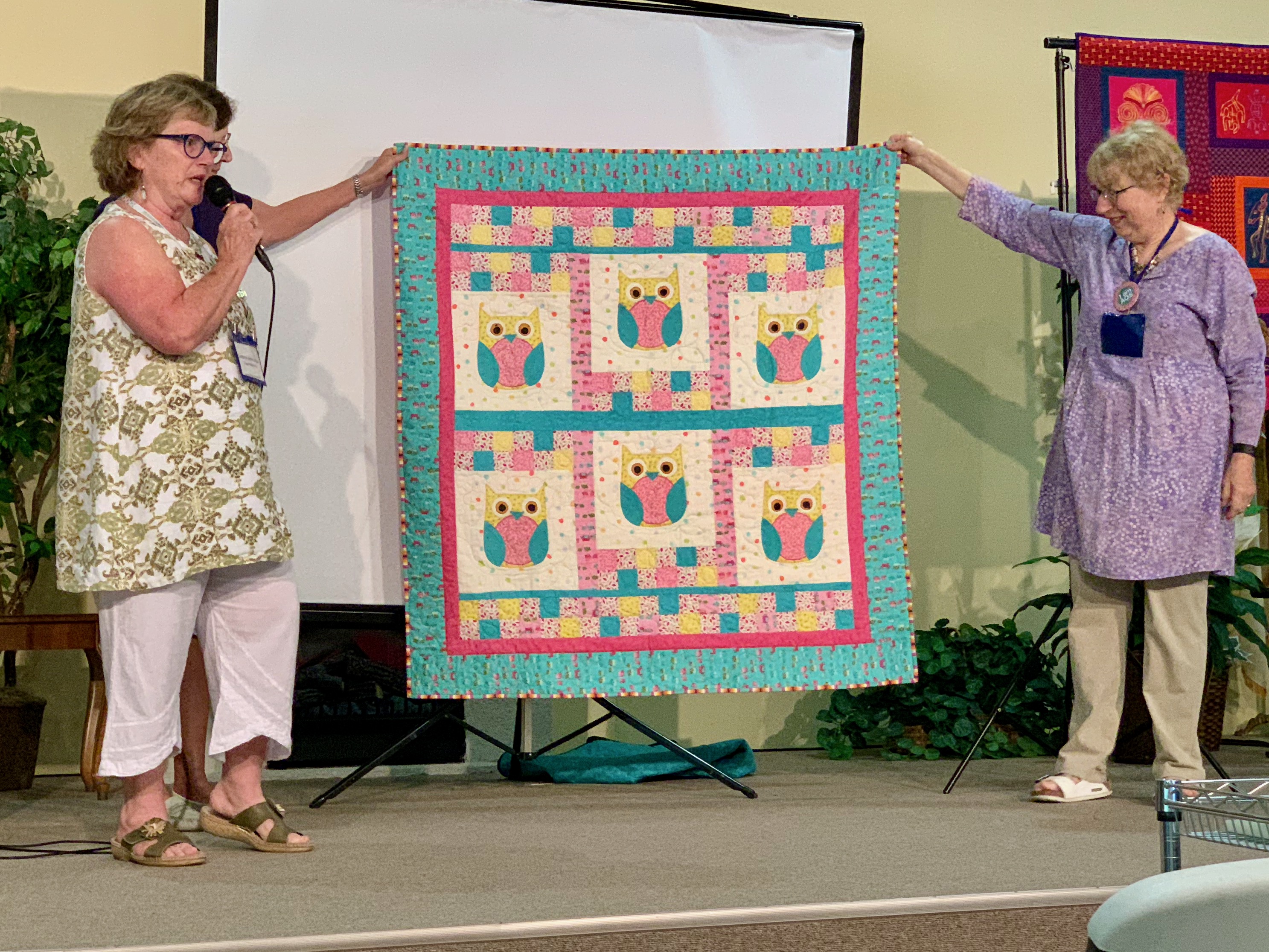 This huge wool blanket was an estate sale find.One happy member took it home as the finder didn't actually want it!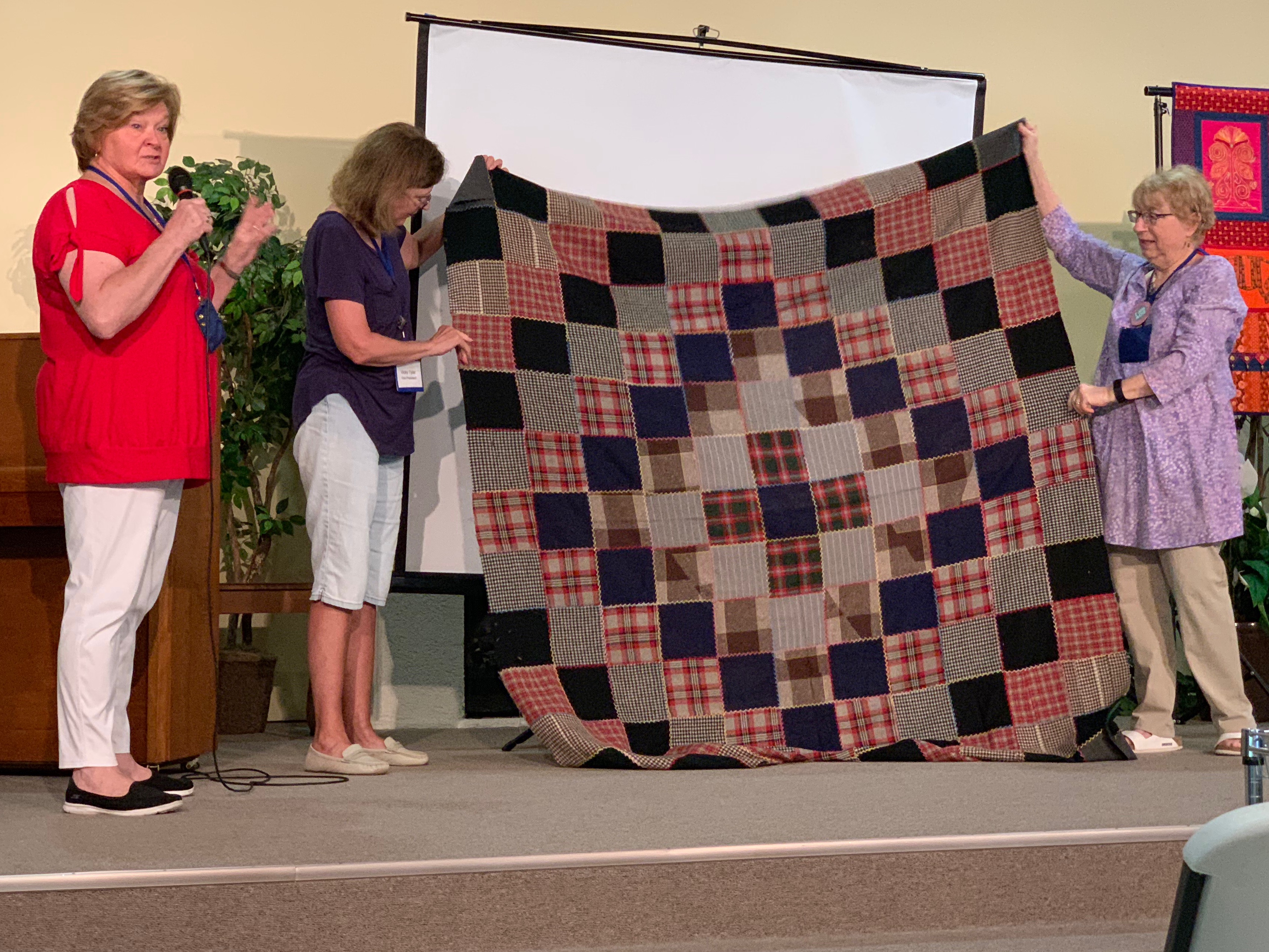 A badge and t-shirt quilter for a husband who is a fire fighter. It was quilted by a friend who was also on stage but I couldn't fit her in the picture.
A baby quilt… for Greyson… how did you guess?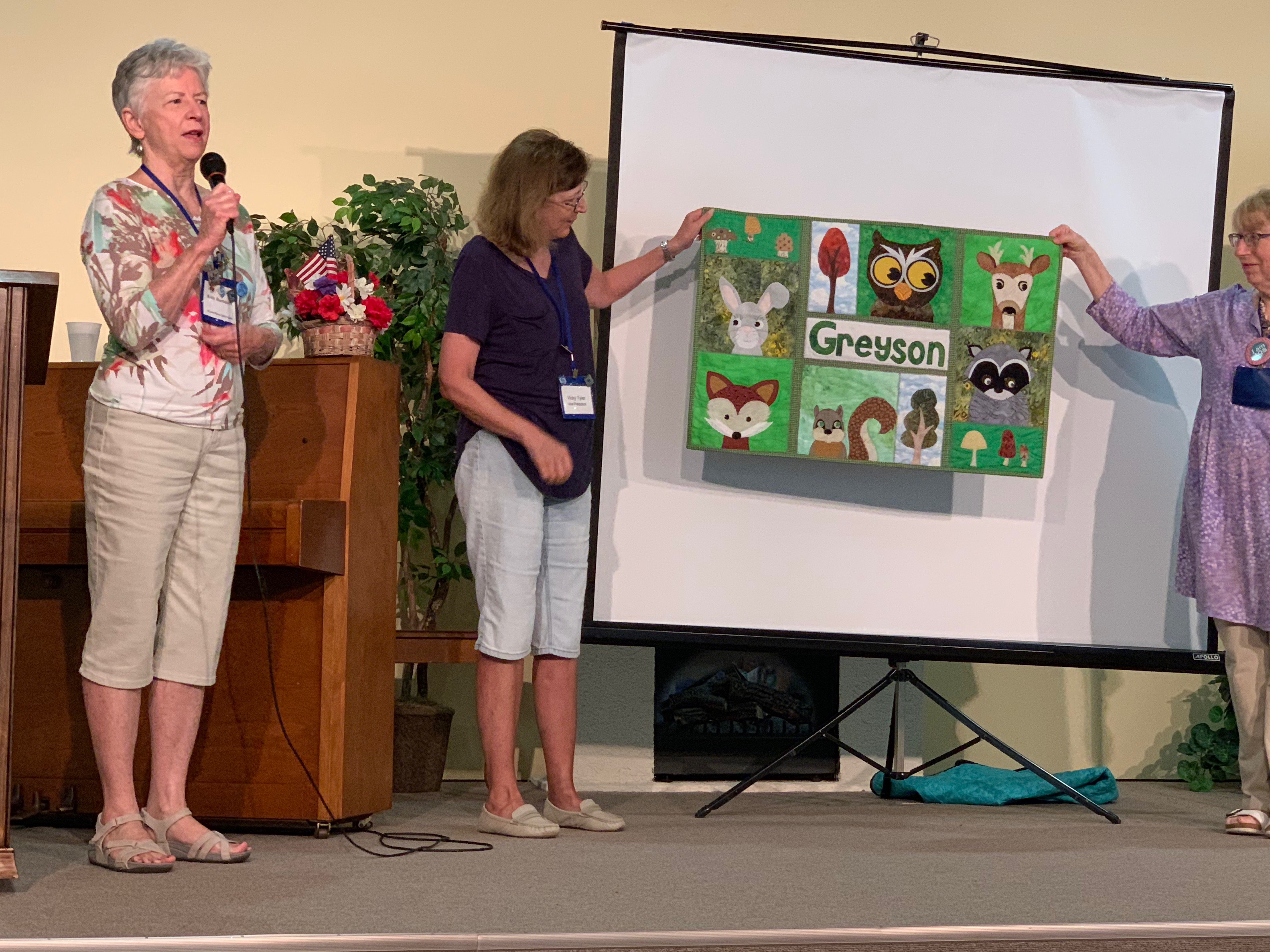 The makings of two rooster pillows!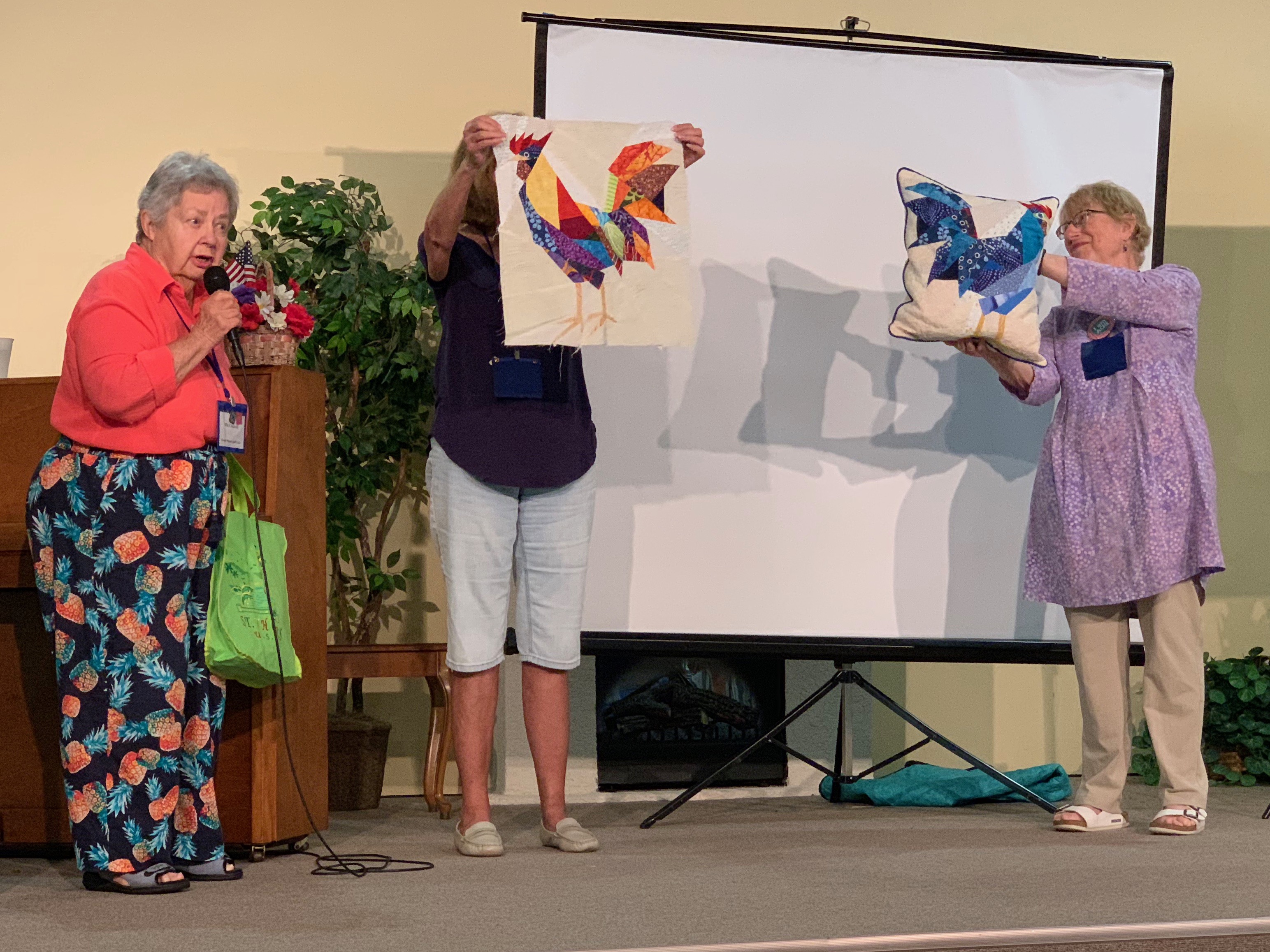 A nautical themed quilt that has taken so long that the intended recipient is now too old to have it so the maker is going to keep it for herself 🙂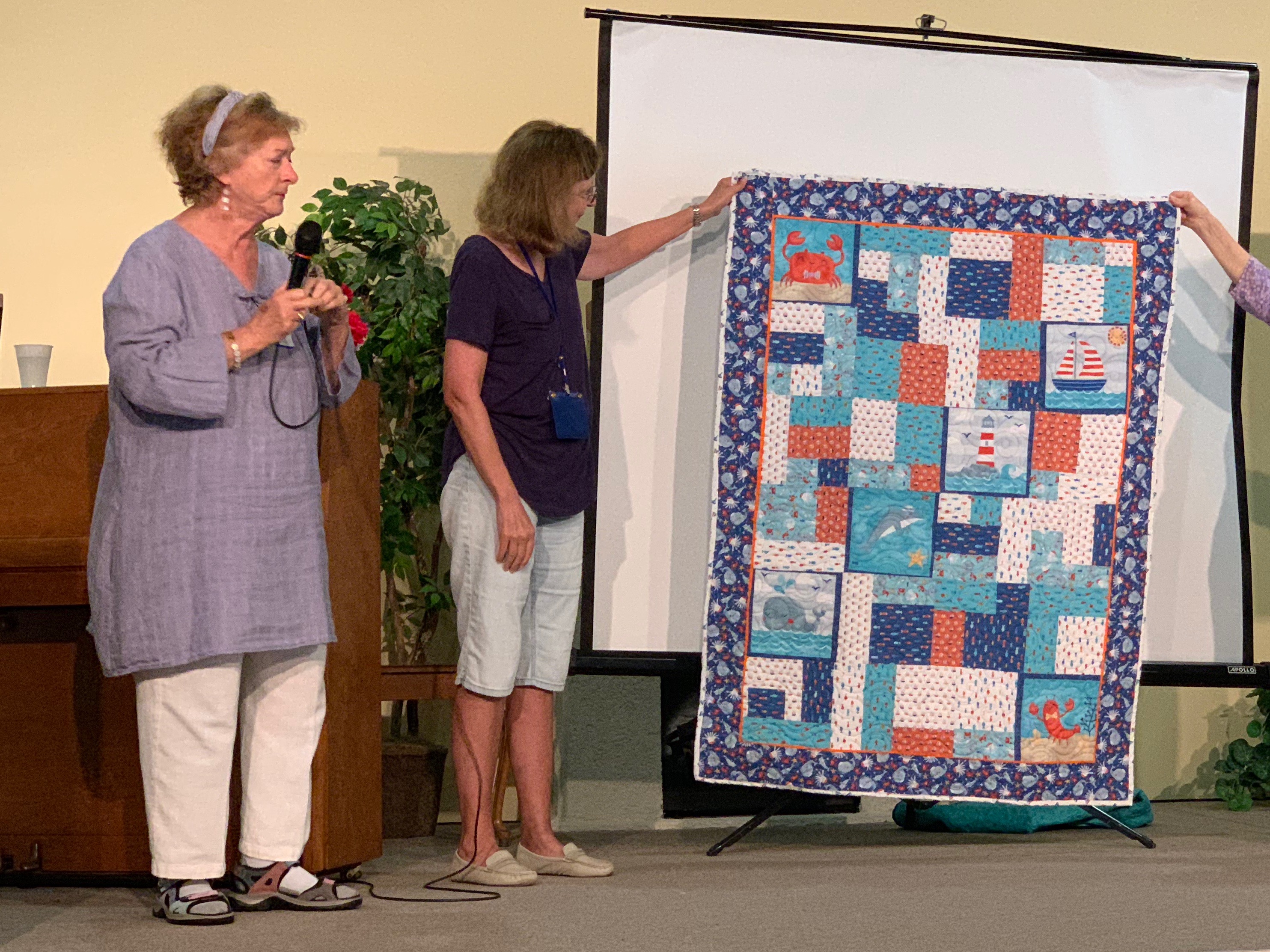 A big quilt made month by month.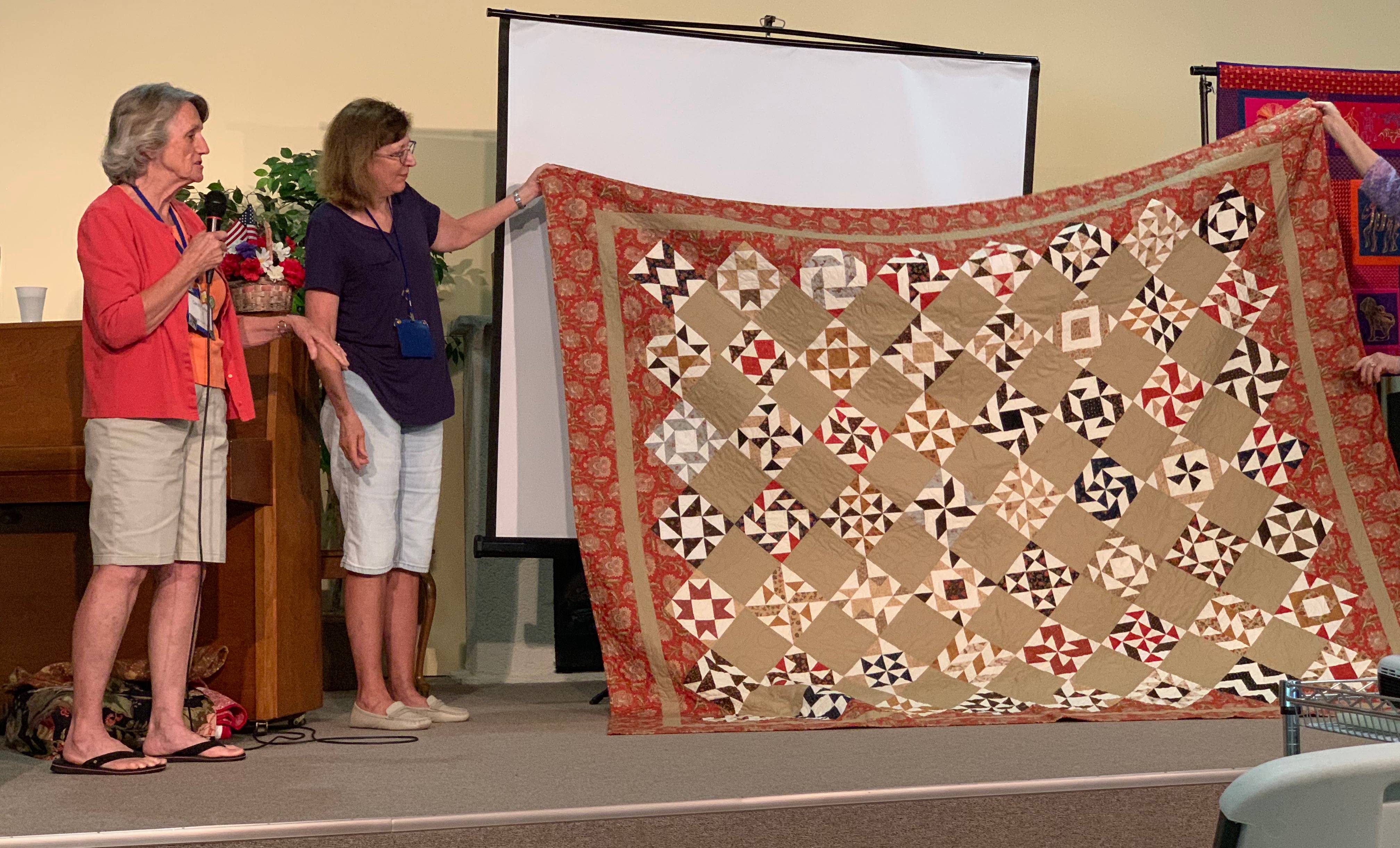 Good stuff! There was more but I figured that one quilt per quilter featured is enough?
Last on the agenda was the business. I'm glad to say there was no shortage of members willing to volunteer their time for the new slate of officers. The guild has a fun year planned.
A little more shopping time and then we put everything away before heading out for a very nice lunch.
I was ready for my next adventure. If I am anywhere near the coast I want to do two things… see the sea and eat fish!
Let's go and see the sea?
There is a car and passenger ferry between Lewes and Cape May, New Jersey. We headed to the ferry terminal, bought our tickets and went aboard. It had been raining but the clouds were clearing as we set off.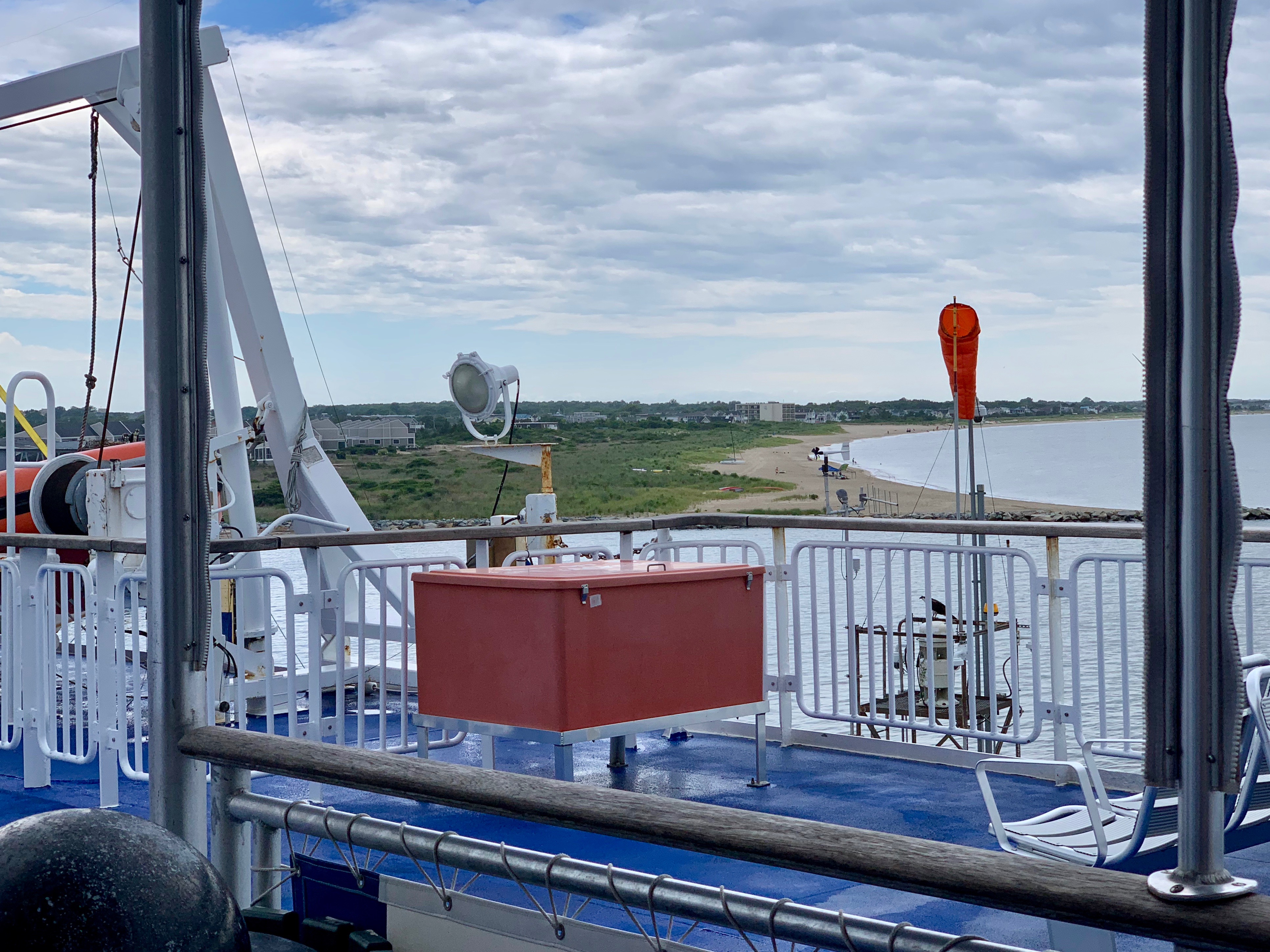 Past the lighthouse,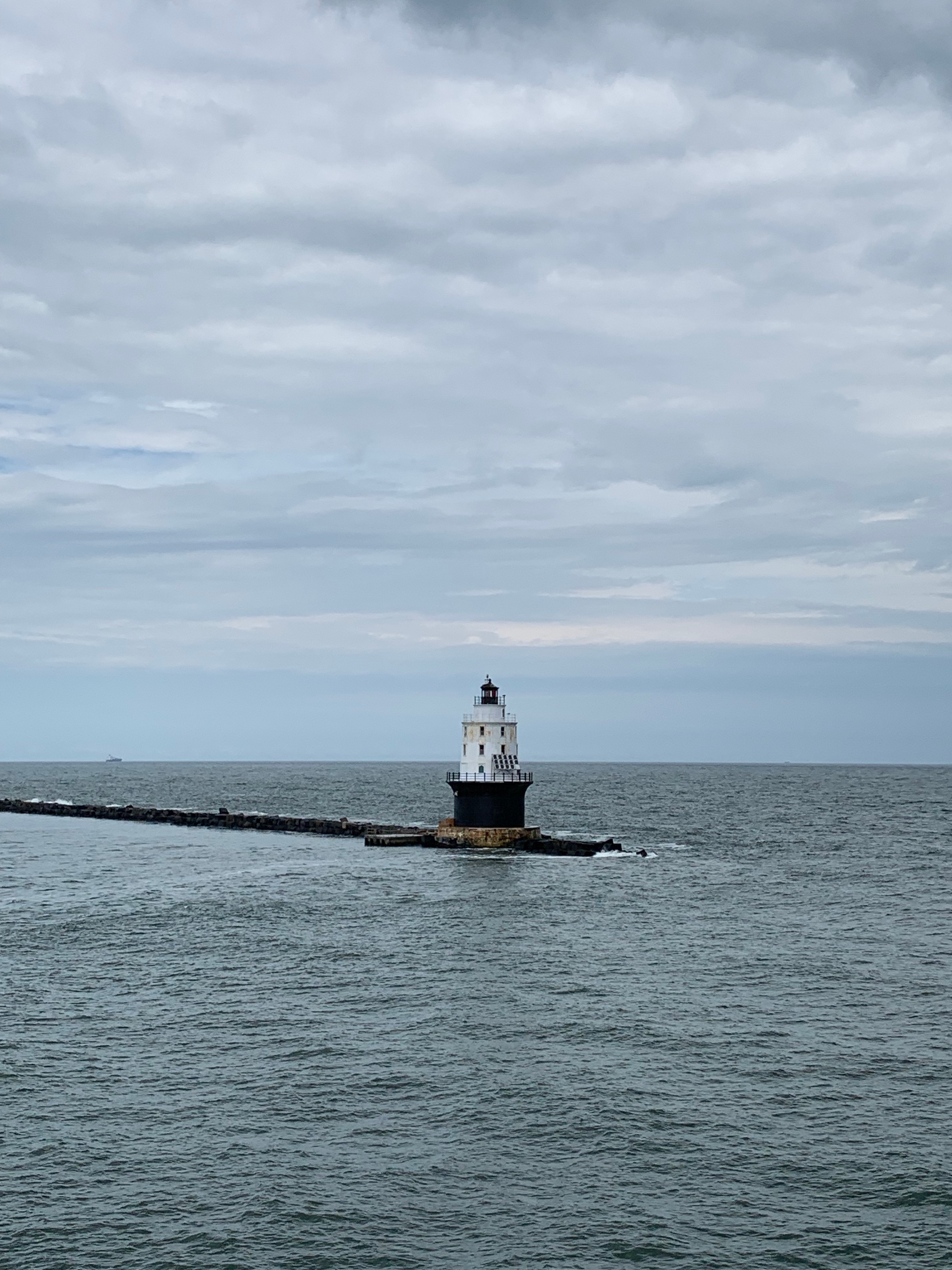 Just under an hour and a half. It was bumpy enough to know we were  on the water…
We stayed on board at Cape May and then came back the way we had gone. Now the sun had come out and we needed to stand in the shade. The light on the water deserved recording.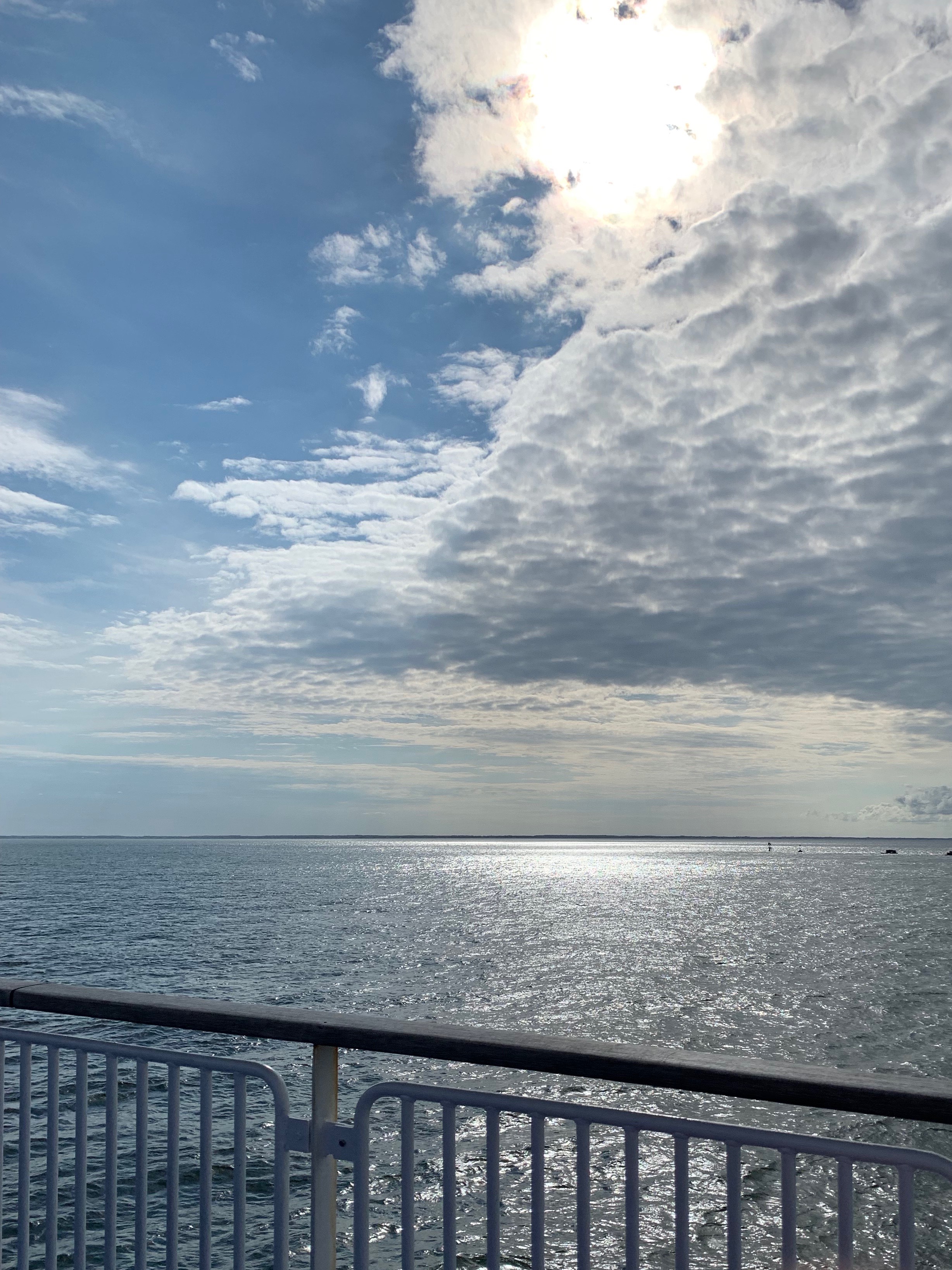 By the time we returned to Lewes it was almost, but not quite, time for dinner so we went for a walk around town.
The town dates back to 1631. There is nothing of that age remaining but there are several very pretty older buildings. This is the Zwaanendael Museum, named after the first European Settlement.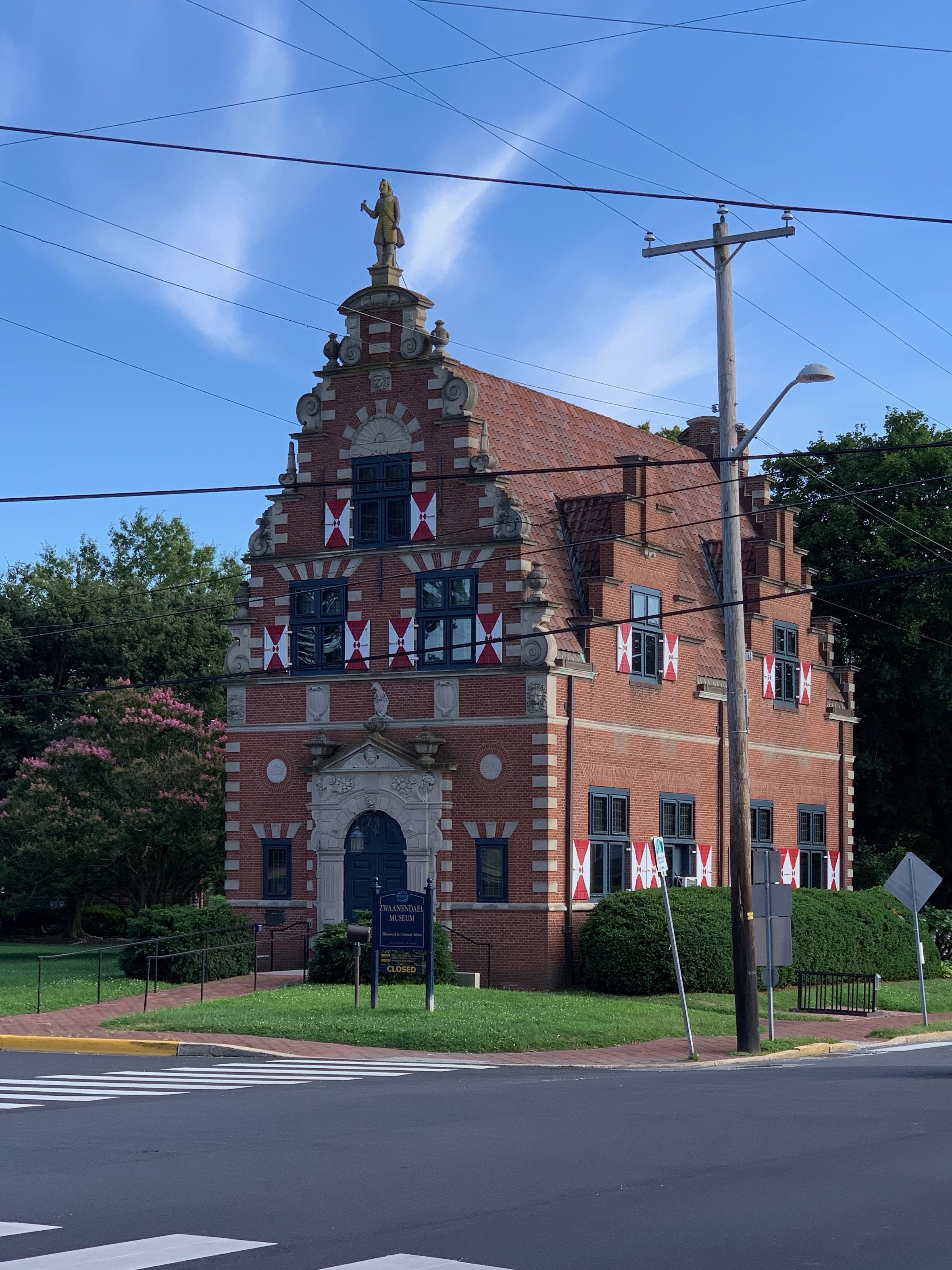 Here's a well kept building on one of the main shopping streets.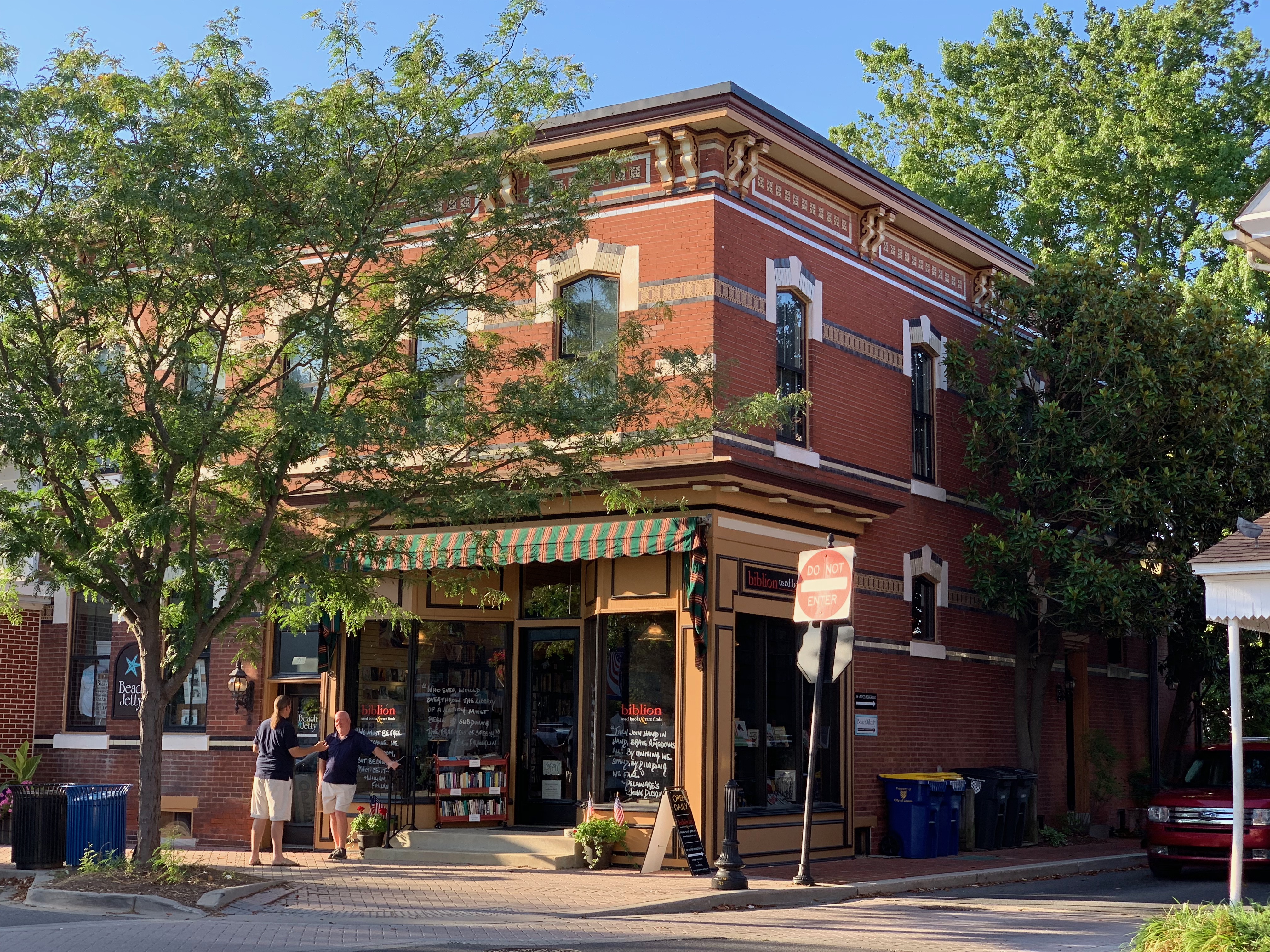 I found a fridge magnet and Lorraine found a few things for her grand children and we wandered a little more.
The flowers were lovely.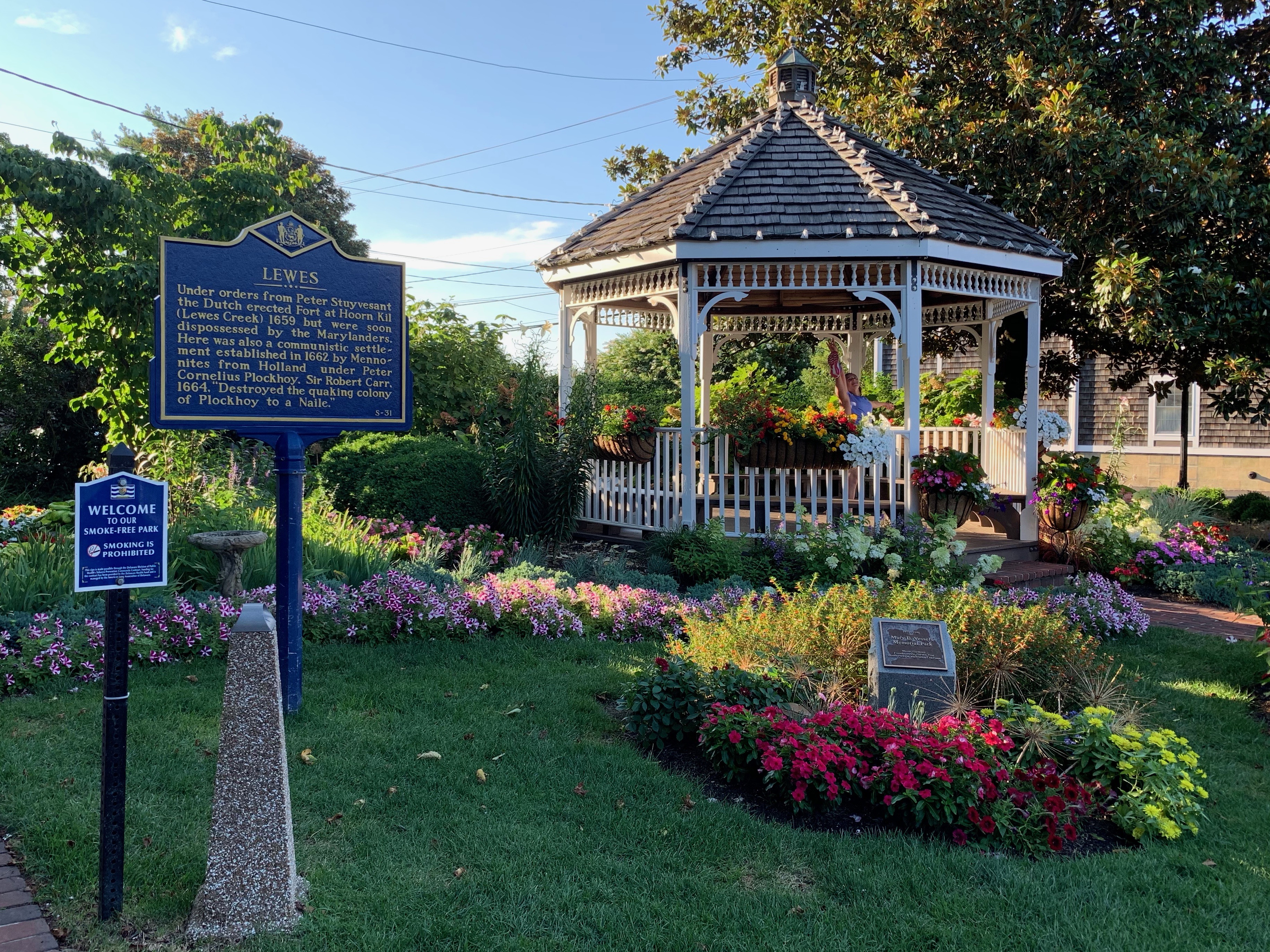 We have an excellent crop of weeds at home this year, so I needed to look closer.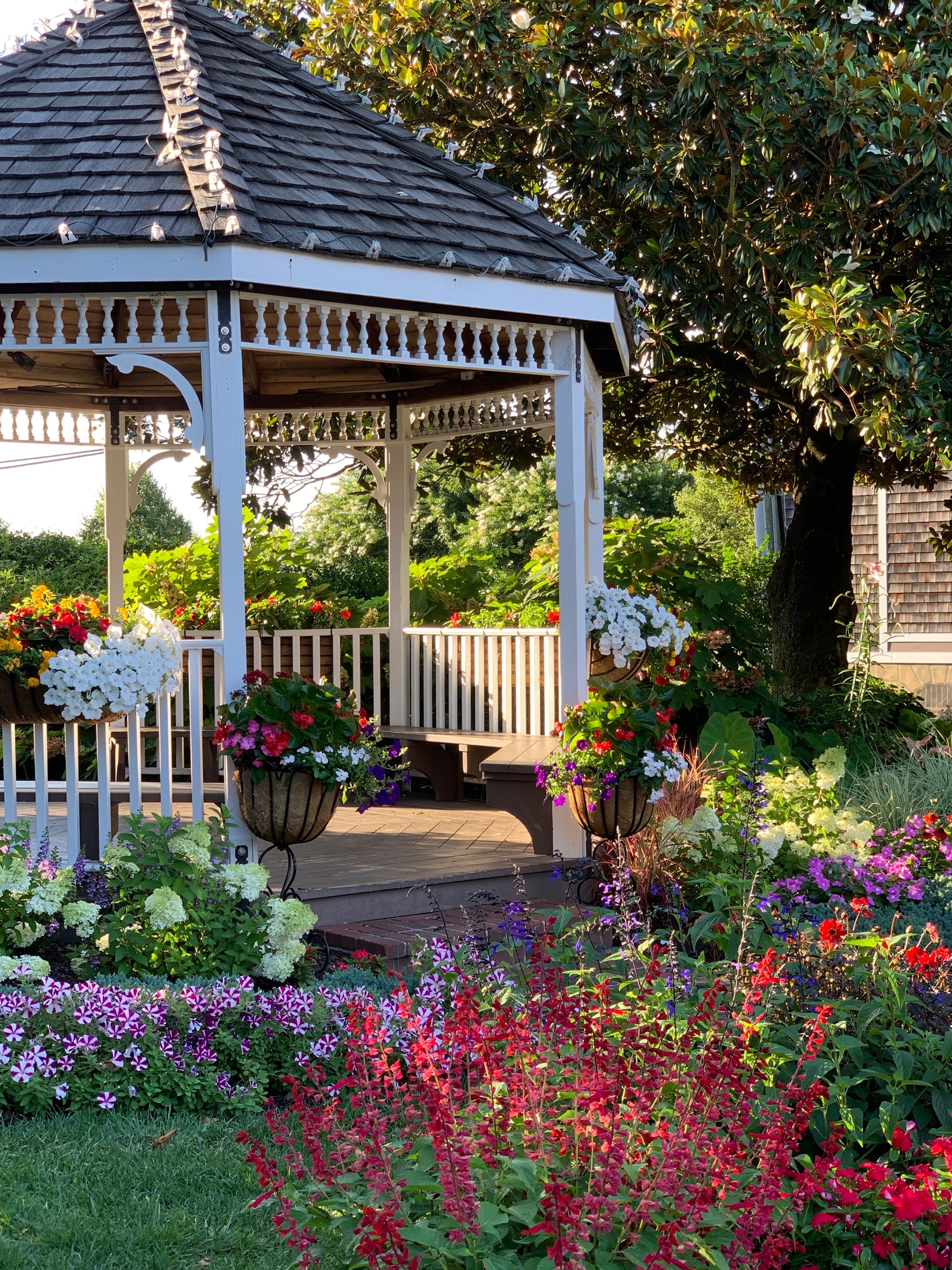 Just one more!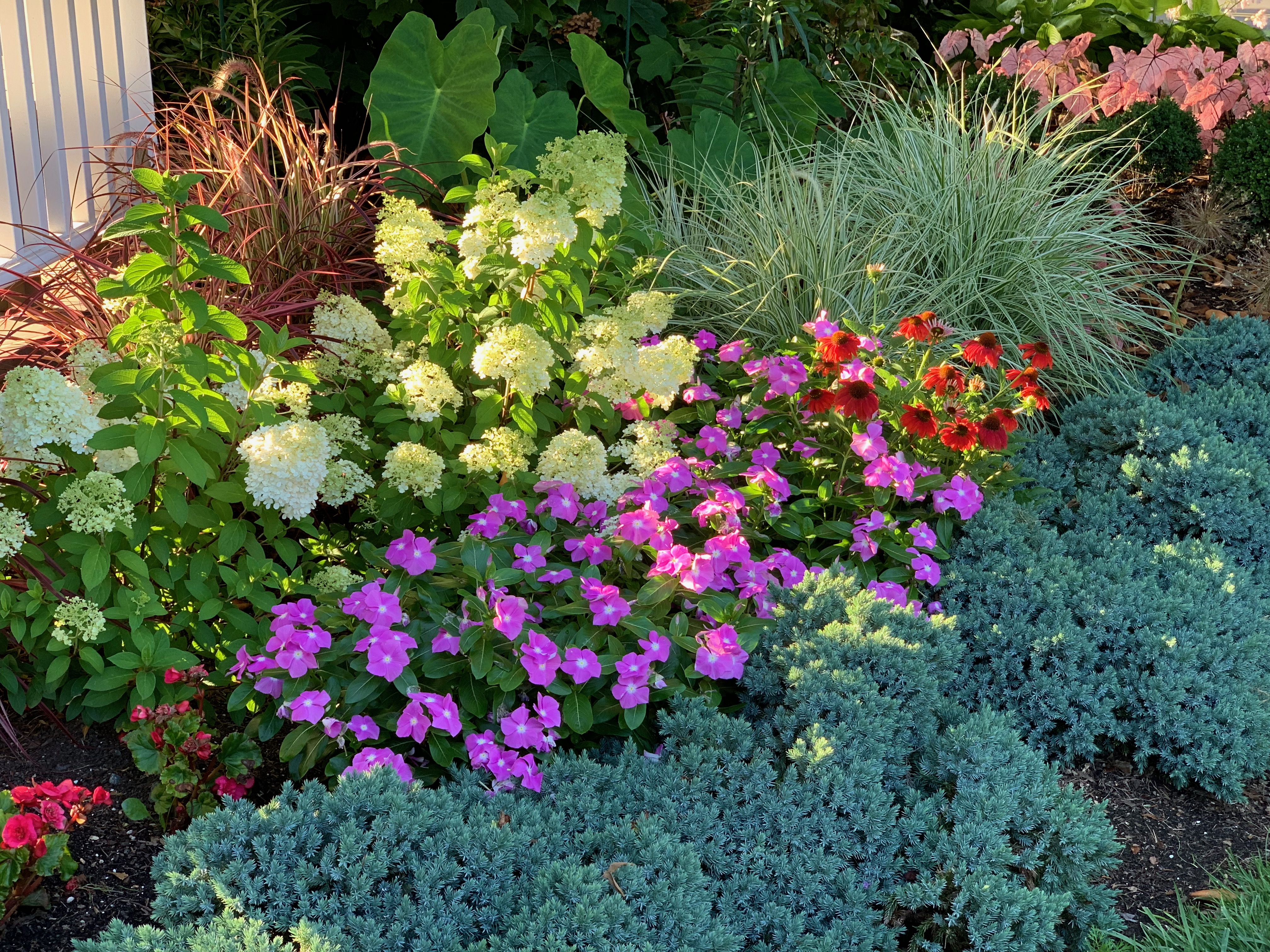 Now it was time for dinner. I found my sea food!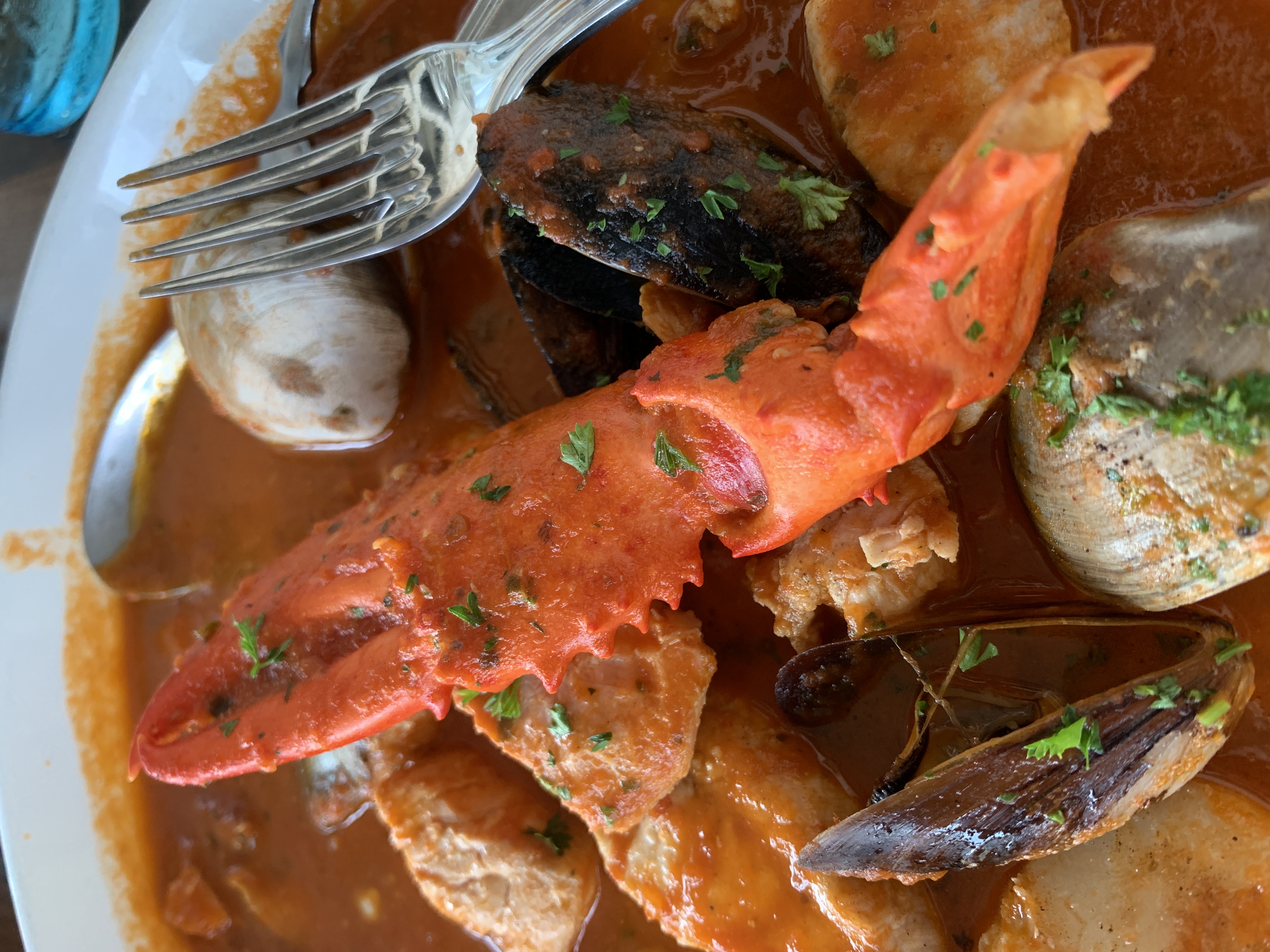 It was as good as it looked.
That's enough adventure for one day.
Back to work early Tuesday morning with a free motion class that was filled with eager students. It took a little while to get everyone's machines set to hum along but we did it and all 22 quilters worked hard. Some were complete beginners that had never tried free motion sewing before and some were seasoned stitchers. With lots of breaks for demos and doodling, we had a good day.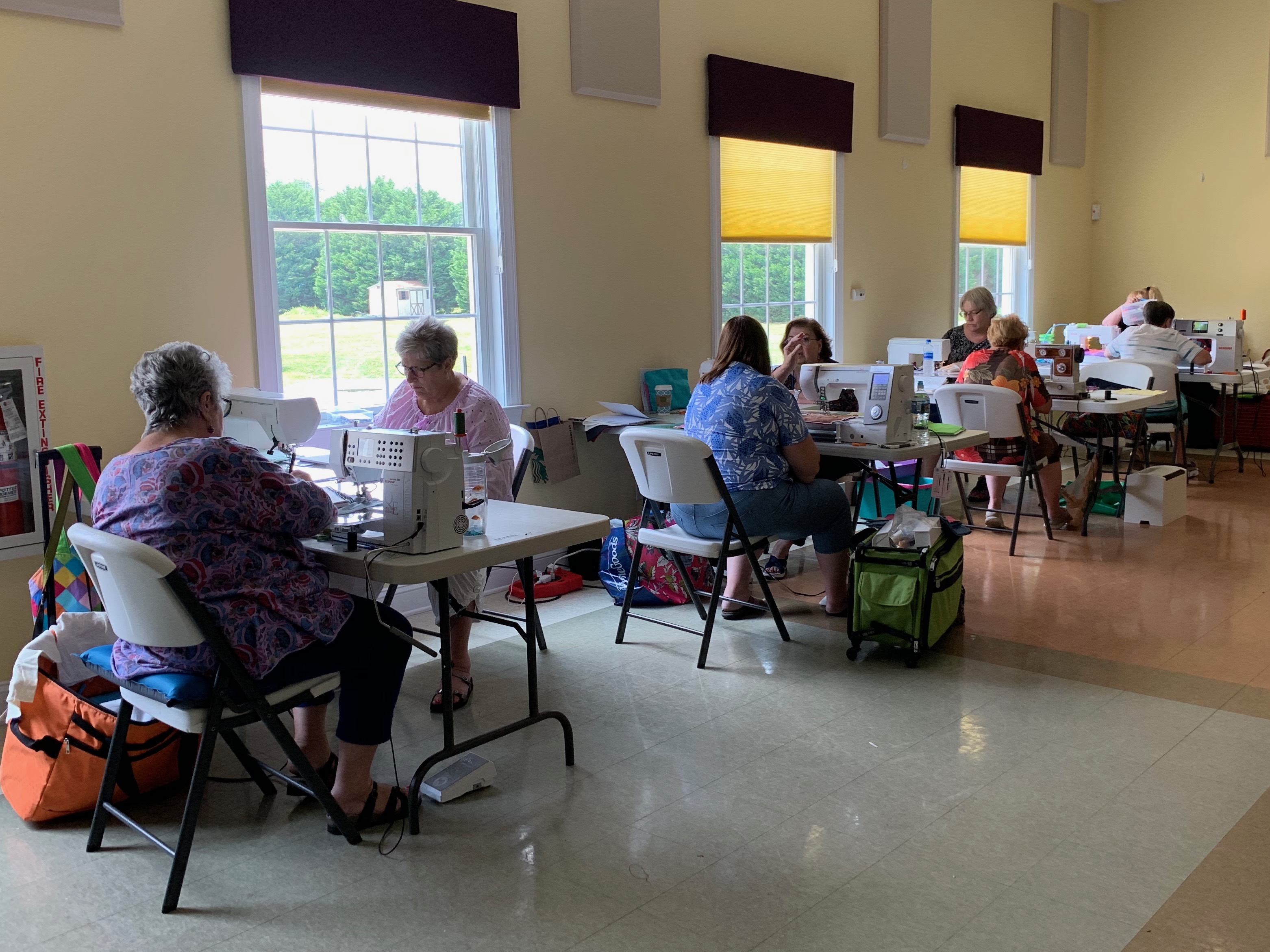 The light was best by the windows so everyone sat around the edge of the room.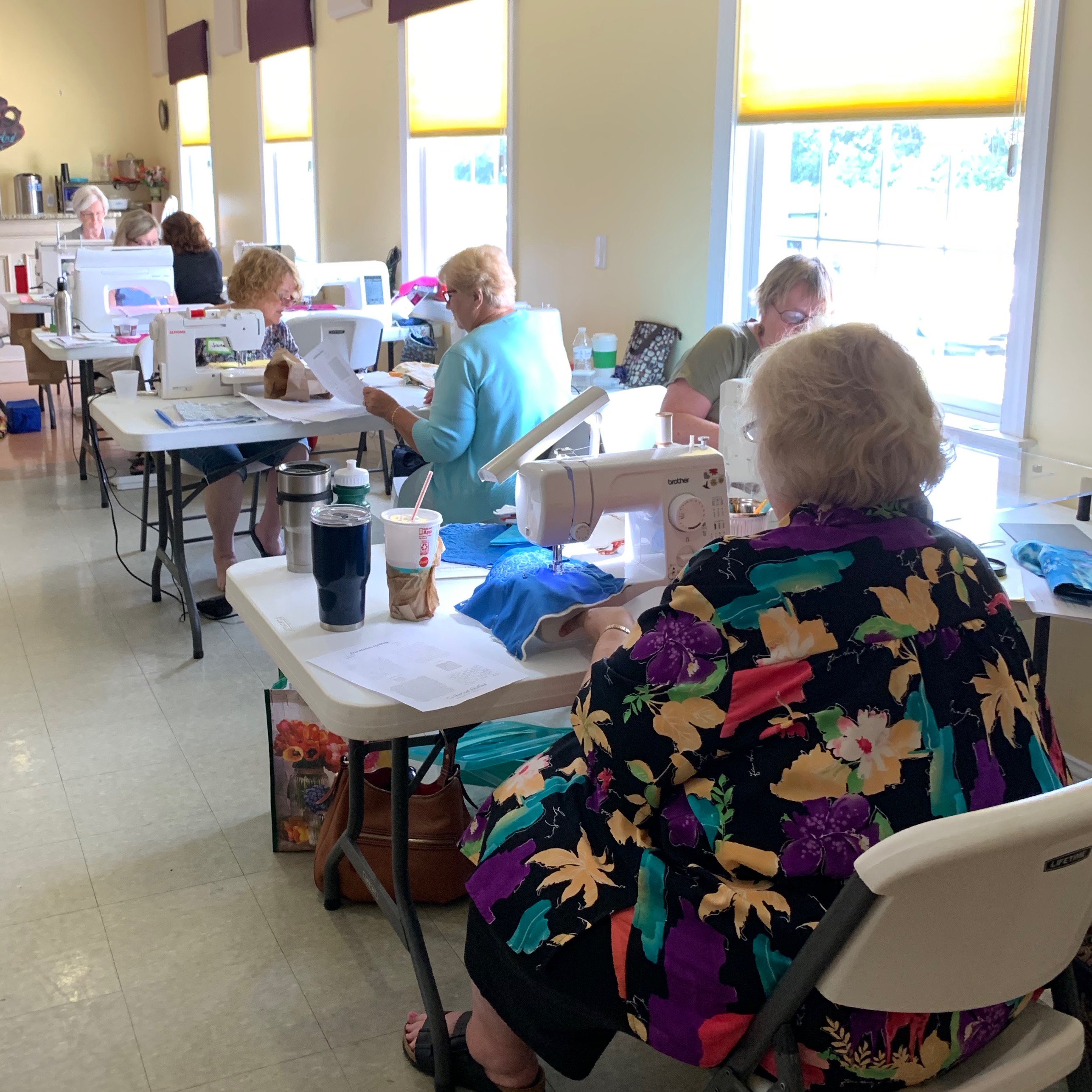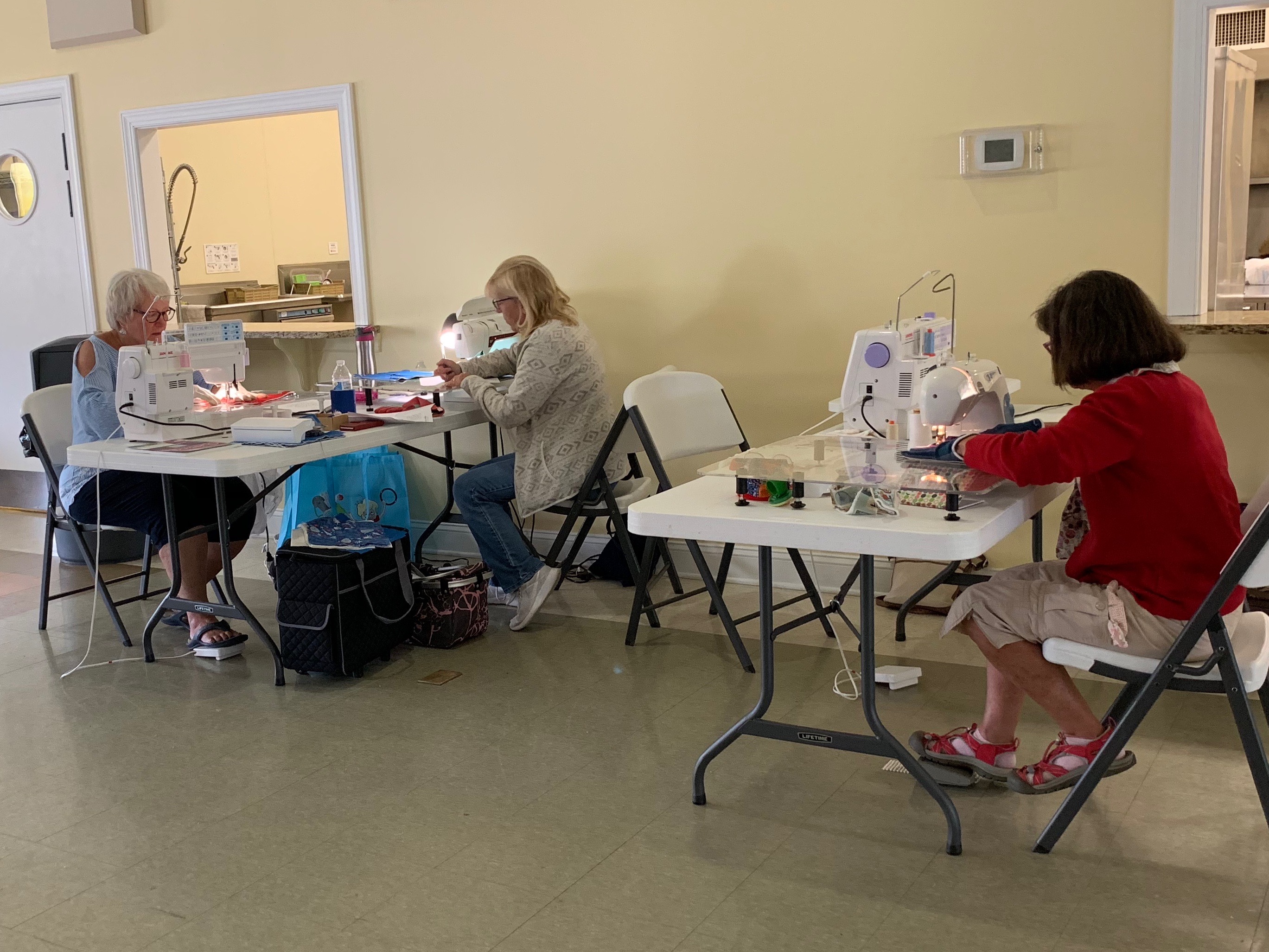 Of course the key to becoming an accomplished free motion quilter is practice, but always remember, it doesn't have to be perfect to be wonderful!!
I was booked on a flight home Tuesday evening so we packed up the bags again. They were a lot lighter by now, funny how that happens?
Lorraine took me back across the bridge,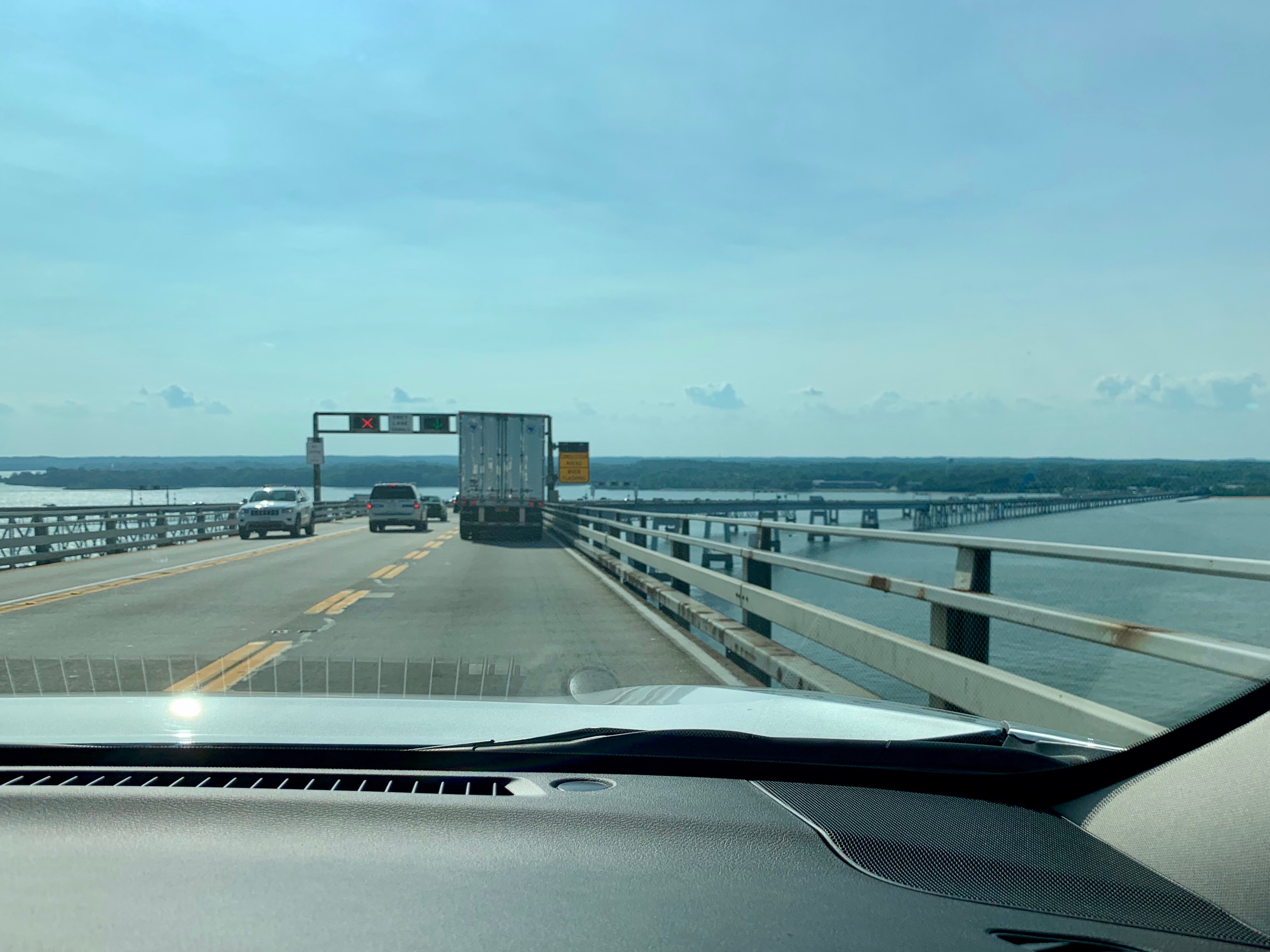 and had me at curbside check in in plenty of time for my flight. Definitely not a stranger now. I do hope I get back to Delaware again…
I've been at home four days. I've unpacked my bags, been out to breakfast with my friends, repacked my bags, fitted in a dentist appointment, basted six appliqué blocks, and now James, Sarah and Christopher are here!
What a happy boy.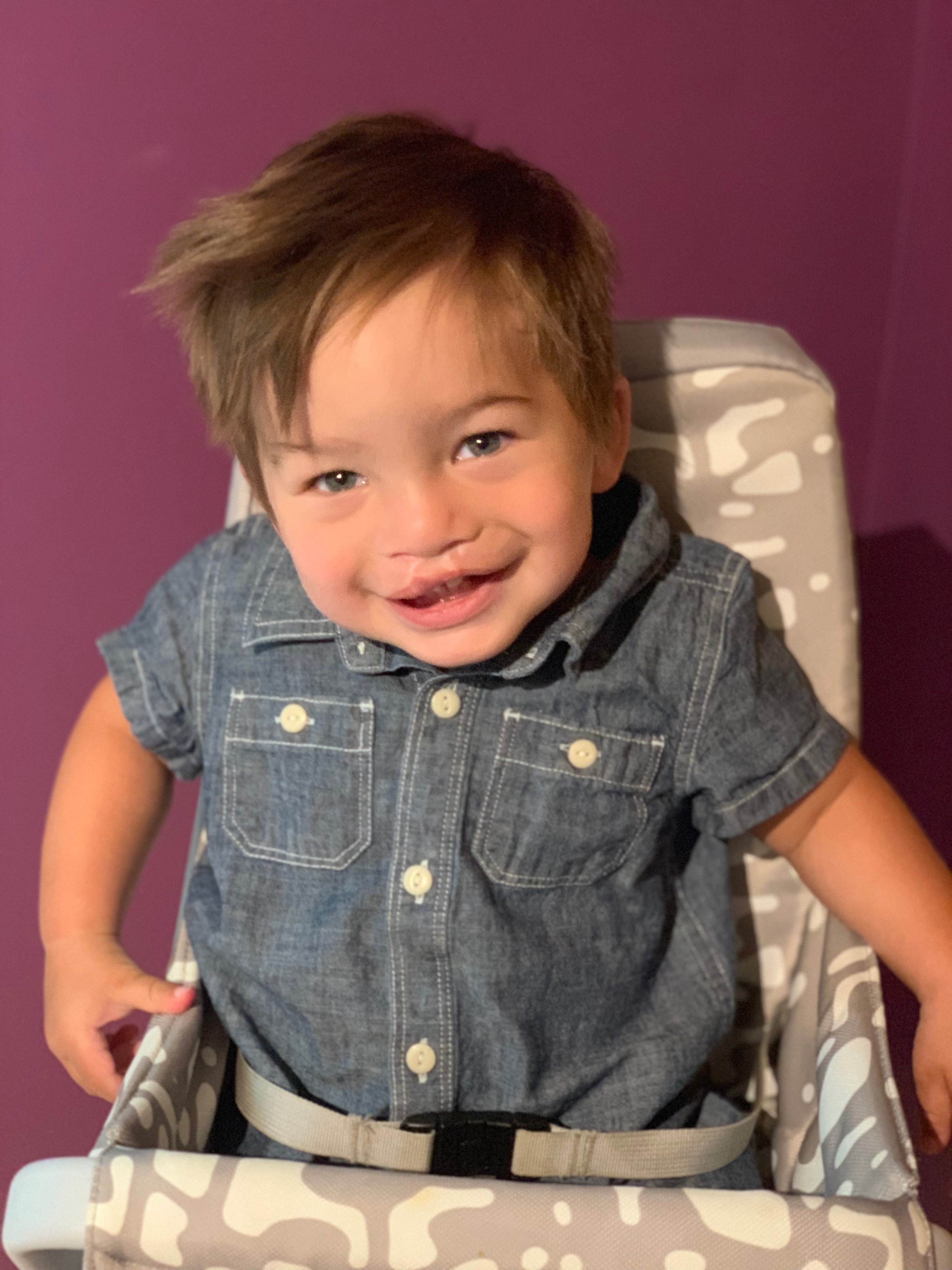 Julia, Matt and the children are headed over to join us for the day. Tomorrow I'm flying to Bentonville, Arkansas.
Another adventure is on the horizon?