This time last week I had finished my first day teaching at STITCHES Midwest in Schaumburg… We learnt about walking foot quilting in the morning and then moved on to free motion stitching in the afternoon. With around 16 students in each class I was kept on my toes. Fortunately Laura from Quilters Destination was there to help keep the machines humming and everyone happy.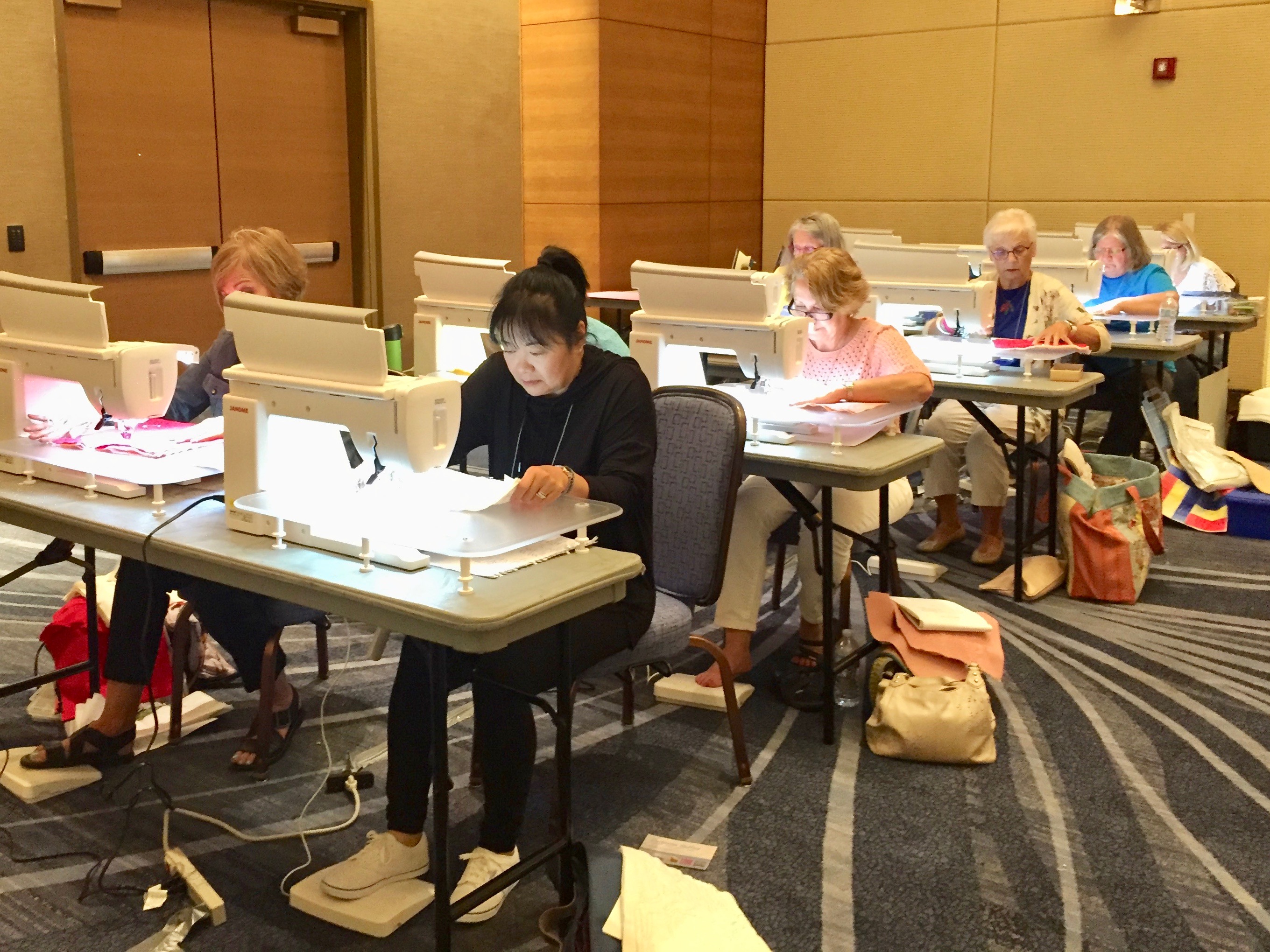 Classes were over by 4.30. By the time I had packed up my stuff a line was already forming to get into the Marketplace which was due to open at 5.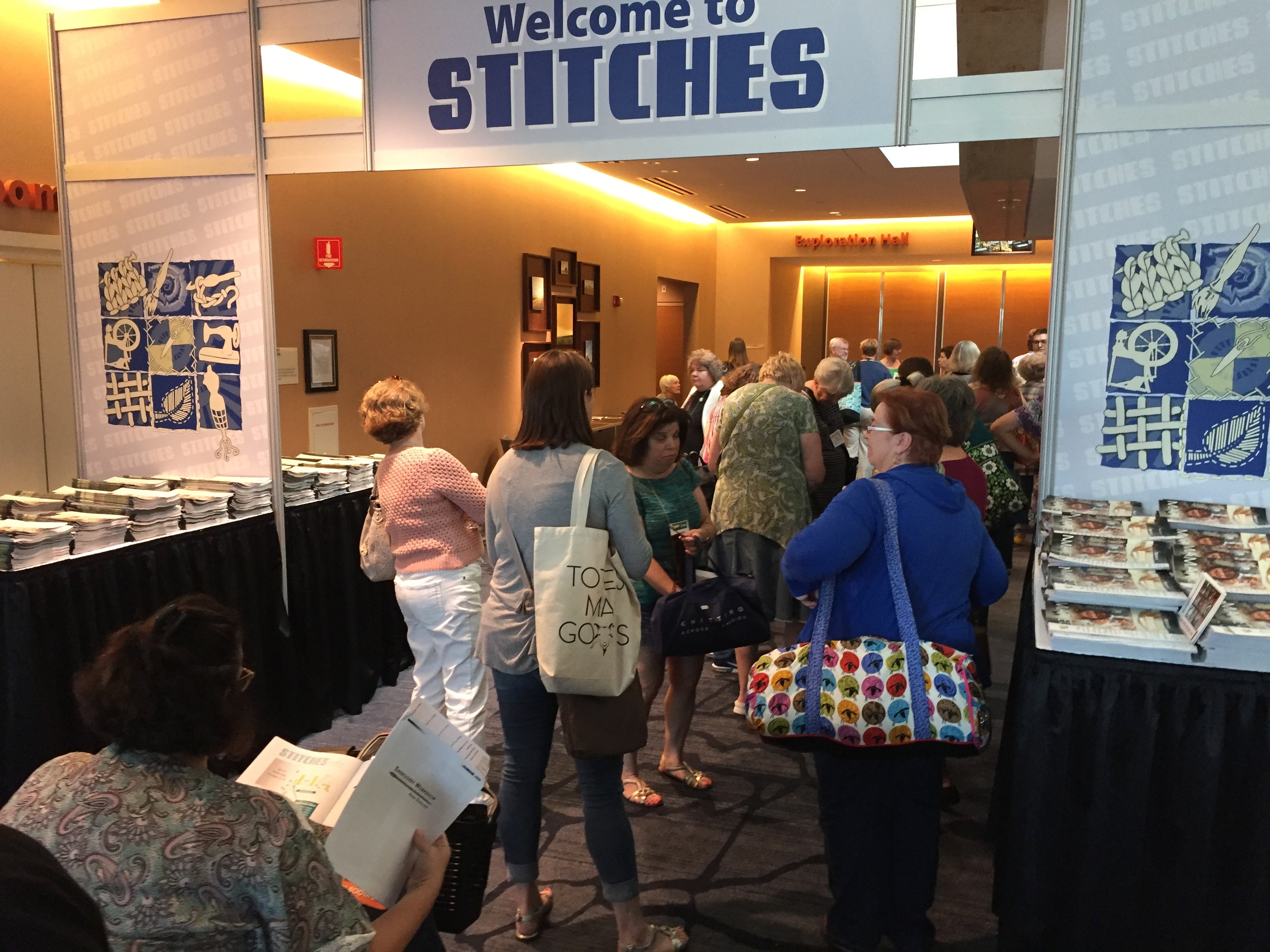 The queue went a long way down the hall!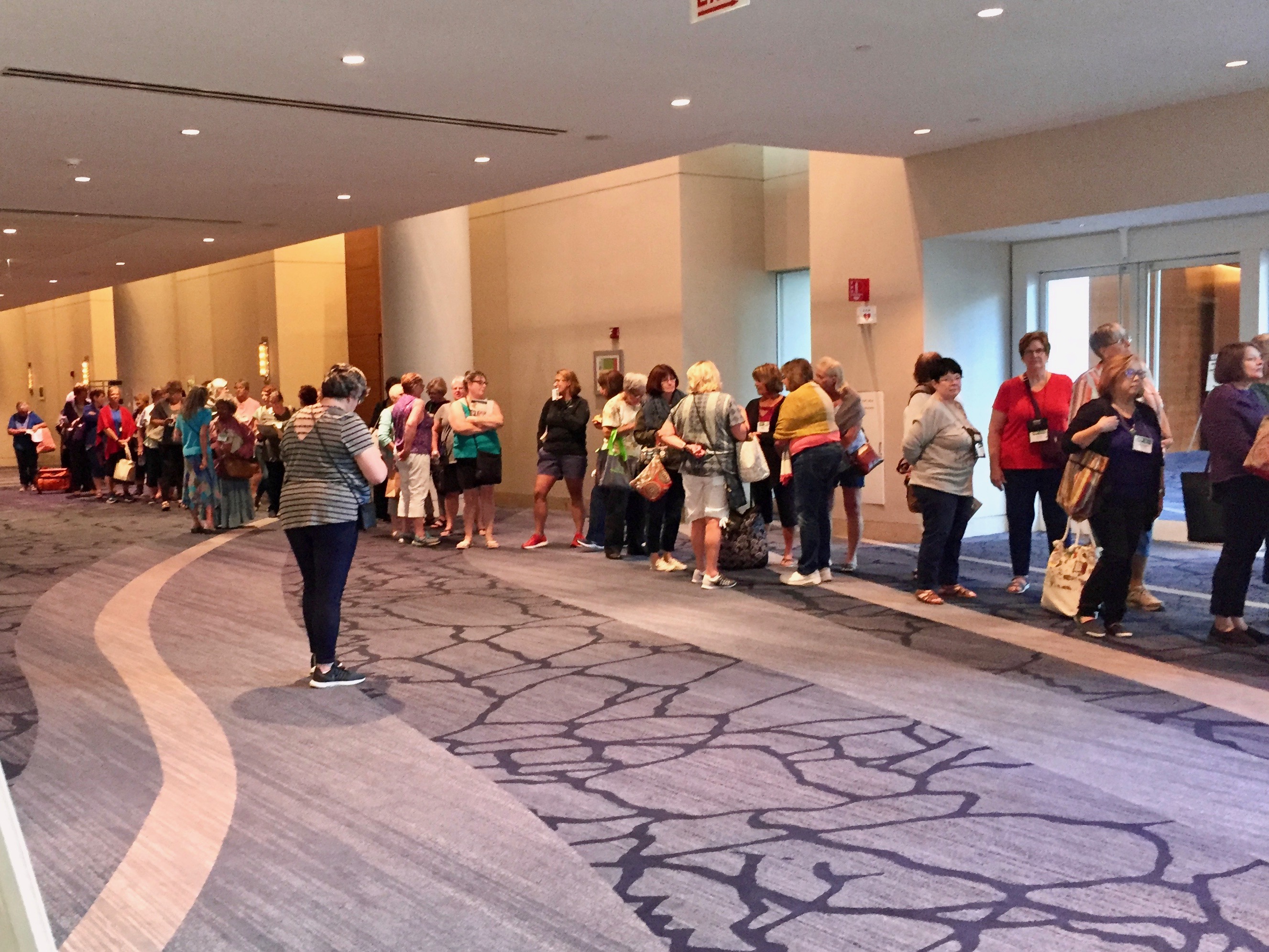 You had to know there was lots of good things to see inside. I managed a quick look around before I retired for the night.
On Friday I had a sold out Introduction to Folk Art Embroidery class in the morning and a beginning wool appliqué class in the afternoon. No pictures of the busy stitchers 🙁 but I did get a glimpse of Lynn Schmidt from A Different Box of Crayons in the playground at lunchtime.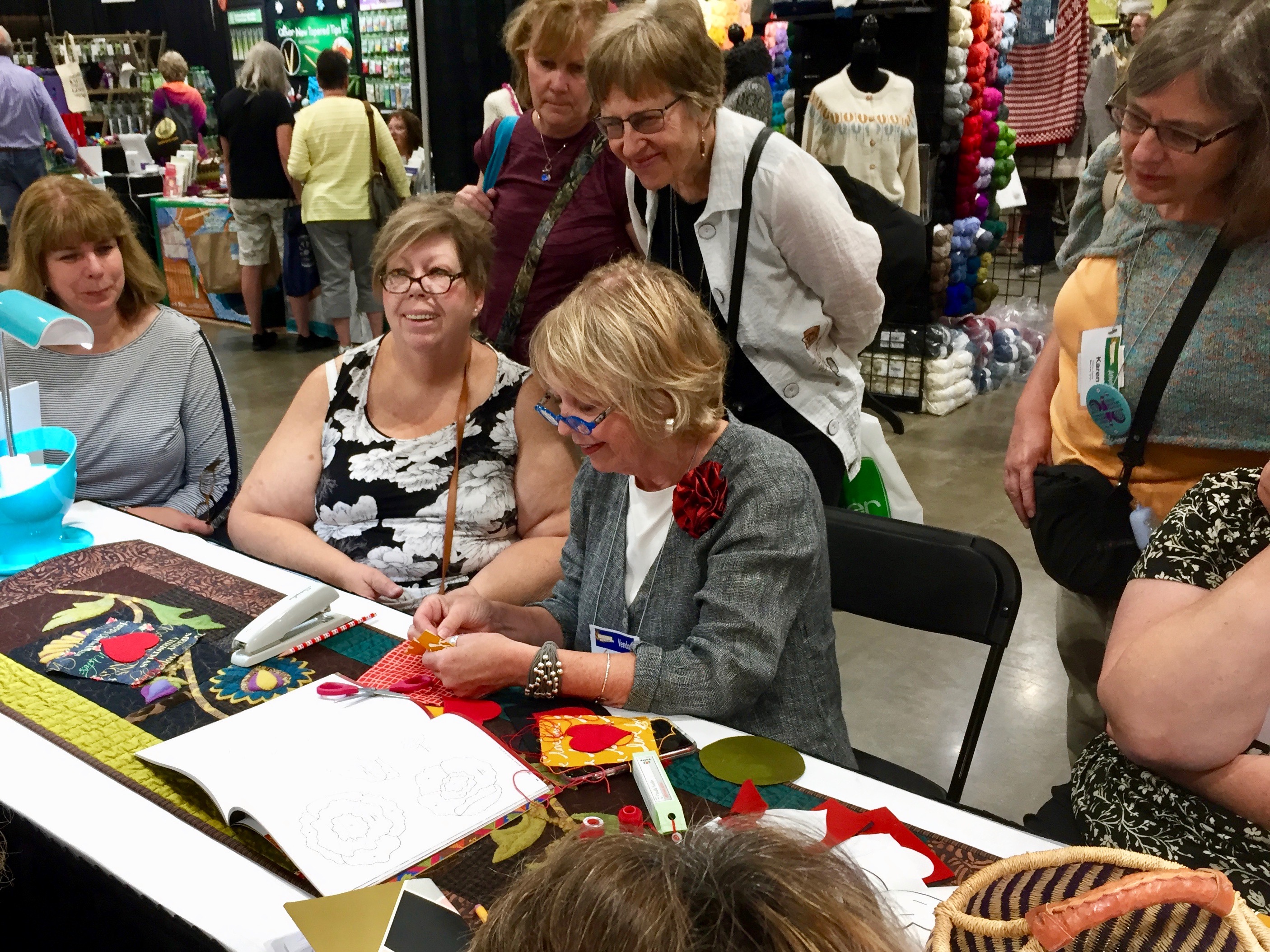 We stitched wool appliqué butterflies on Saturday, and learnt some more advanced embroidery stitches on Sunday morning. I finally remembered to get my camera out to take a picture in class on Sunday afternoon. You can see everyone stitching on their Bold Hand Stitching as Your Quilting Line pieces as today's featured image…
Quilts were new to the show. Karla from Cherrywood was there with her beautiful hand dyed fabrics and a small display of entries from the Van Gogh challenge. There were several local quilt stores represented and Illinois Quilters Inc. brought their raffle quilt.
Lynn Carson Harris is going to be teaching at STITCHES SoCal in November and the quilts from her book Every Last Piece were hanging on the show floor.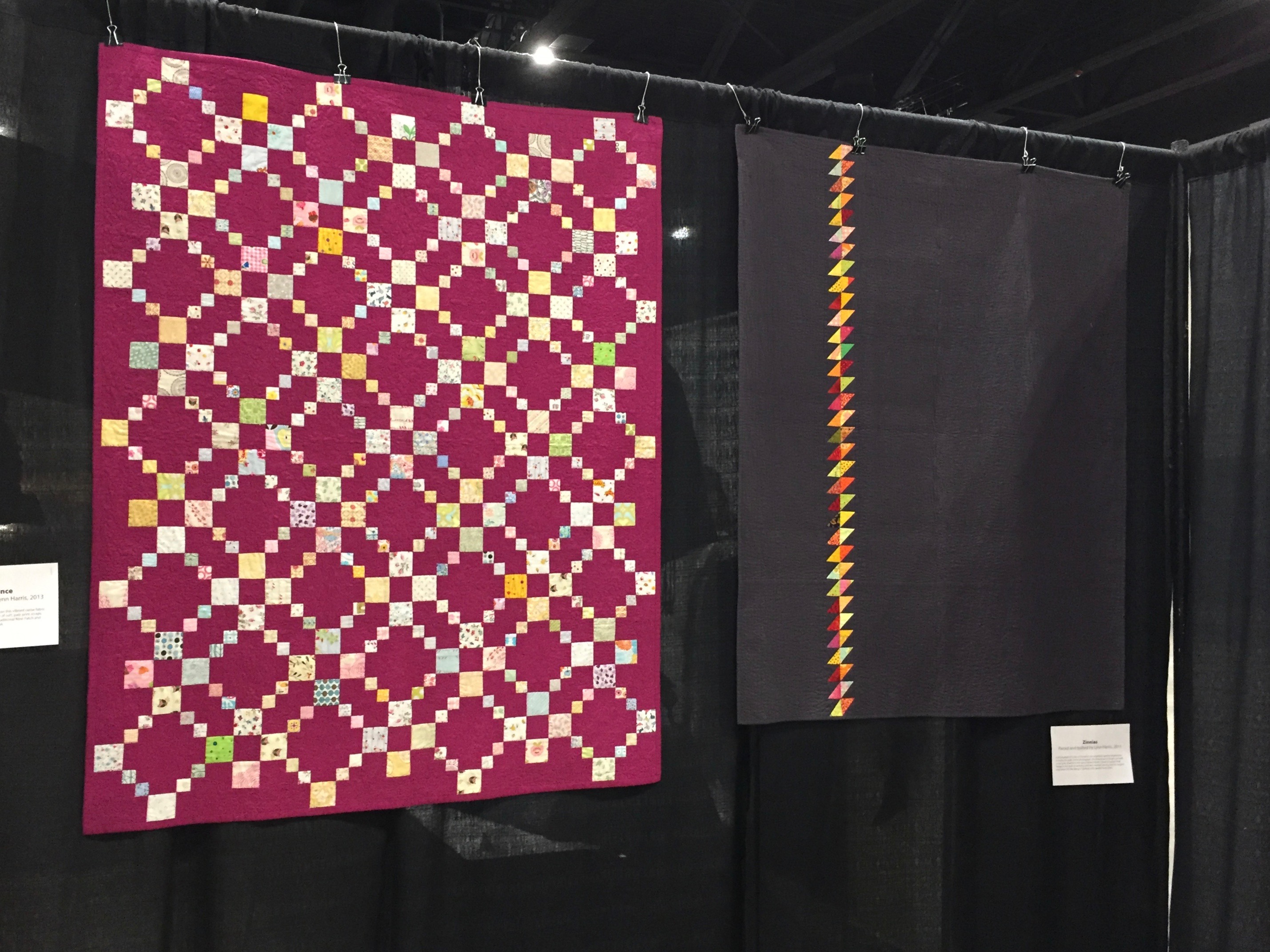 Here's her cover quilt.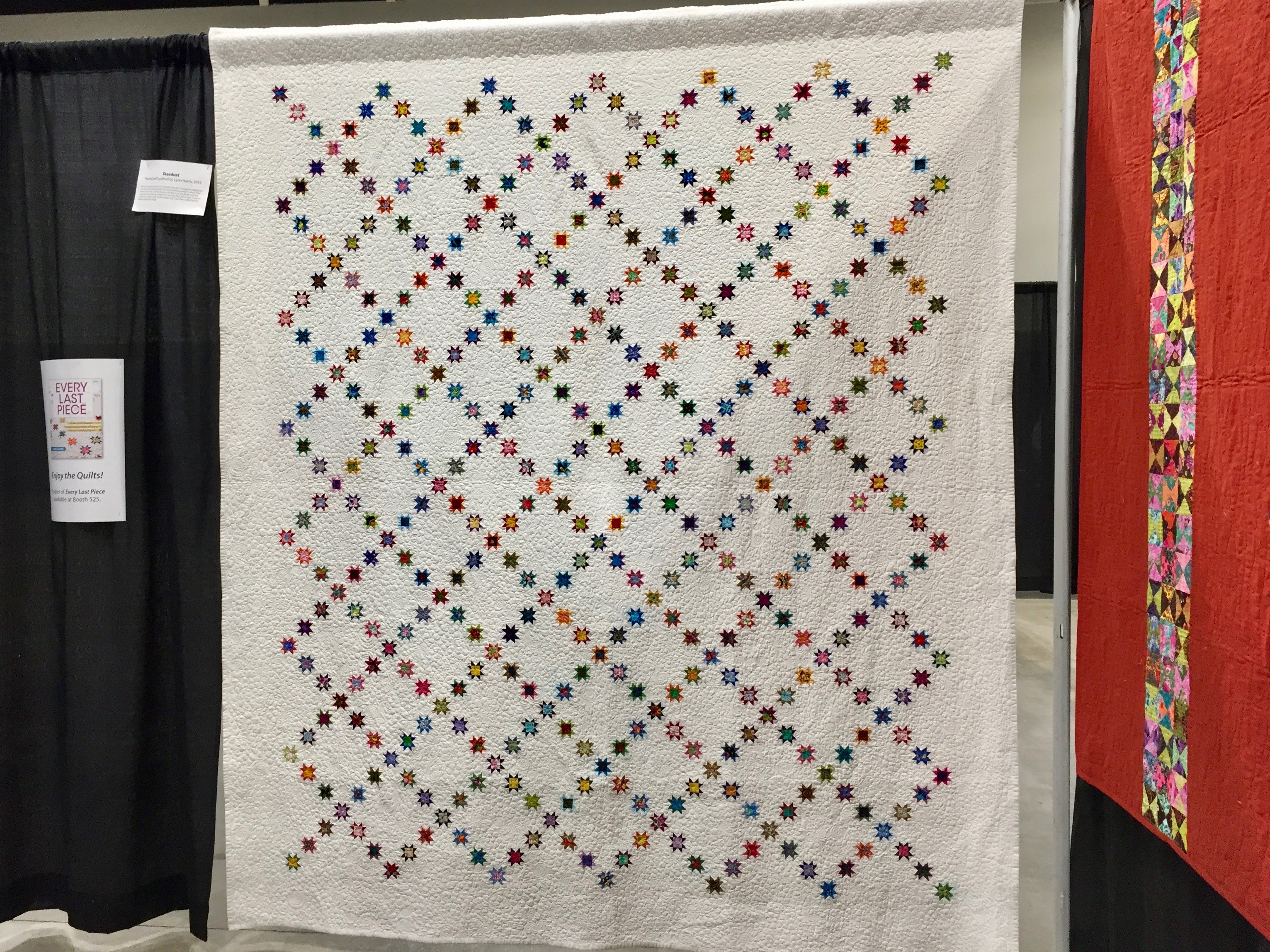 I've never seen all the quilts from my book hanging together before but they were there too.
Here are some of the ones that are featured in the gallery section of Modern Machine Quilting…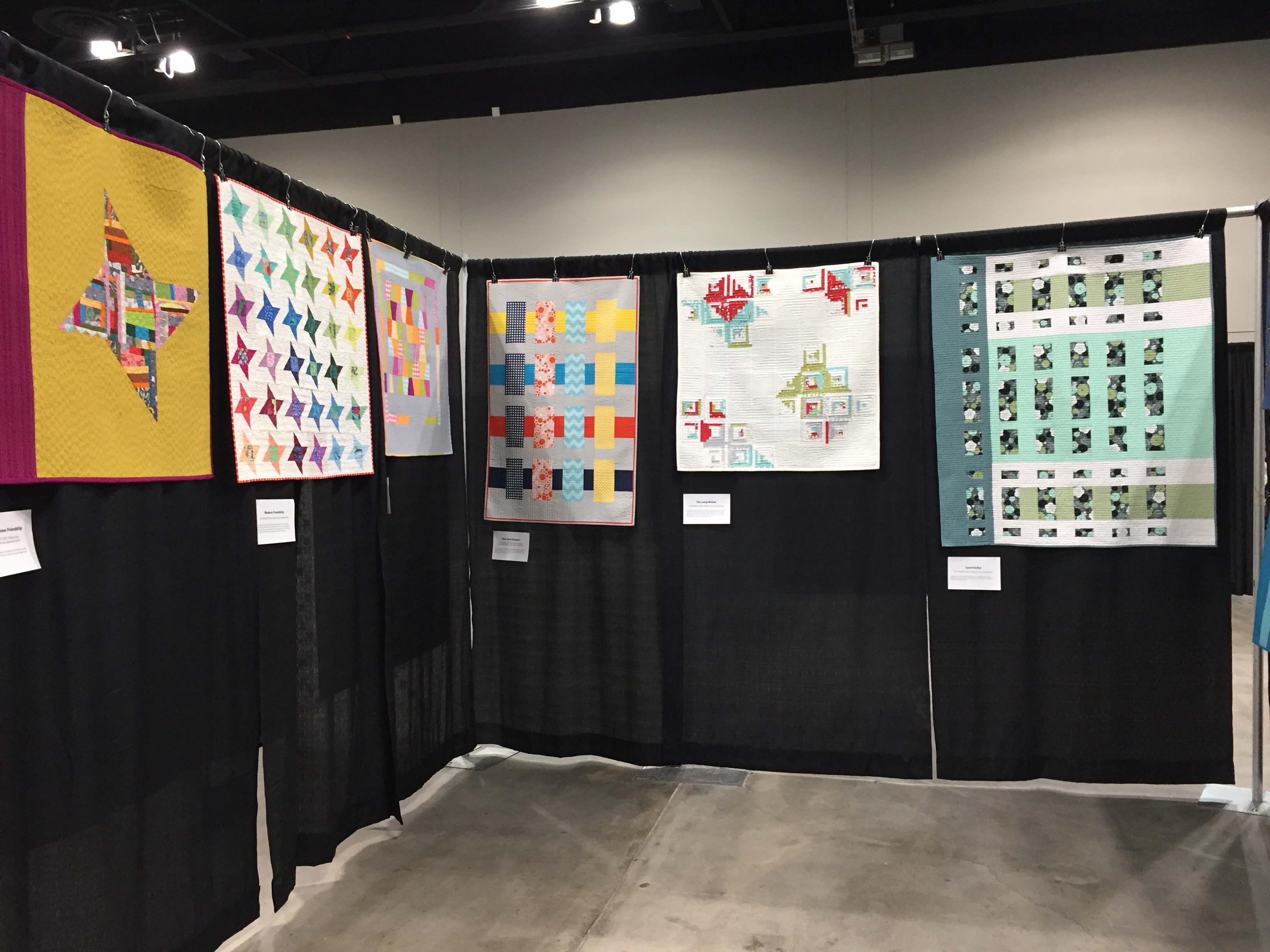 There seemed to be lots of them! Here's some more…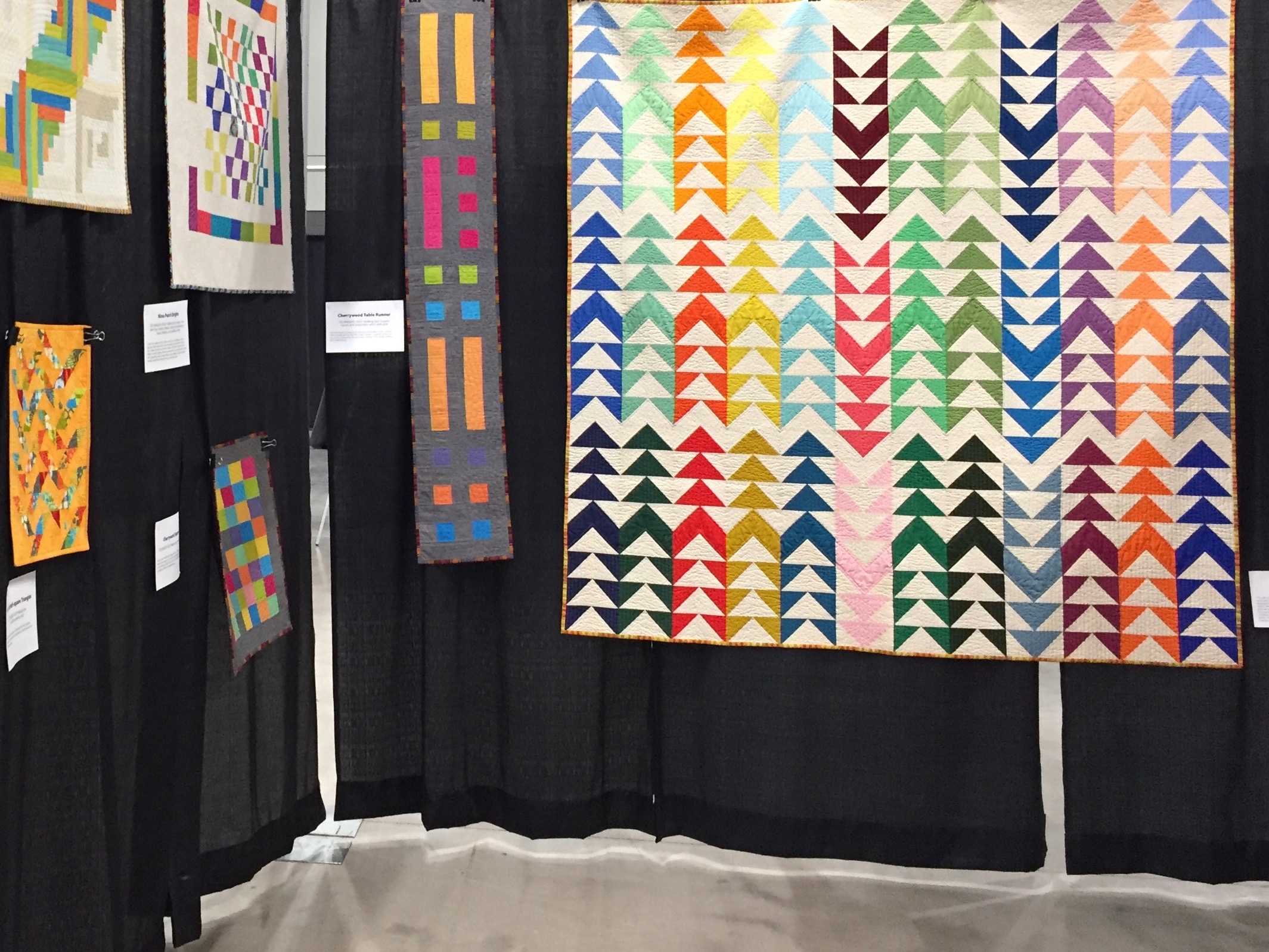 I have to admit I was tired by the time my last class finished on Sunday afternoon. I was very happy not to be packing up the car and driving home on Sunday evening. I was even more happy when I did get home and discovered the air-conditioning had stopped working and the house had been very hot all weekend… We needed a new furnace  (strange but true… it was the motor and fan that were broken)
With temperatures down for a few days but expected to rise again this weekend we were able to arrange to get a new furnace installed on Wednesday afternoon, just in time for me to head out again to visit the Pieces n Patches Quilt Guild in Steger in the evening.
I do love a small quilt guild, and Vickie was so nice when she called me, so we had come to an agreement that made us both happy. Apparently August is a busy month and the gathering was even smaller than Vickie had expected.
I took some pictures while Candy was making the introductions.
Looking left,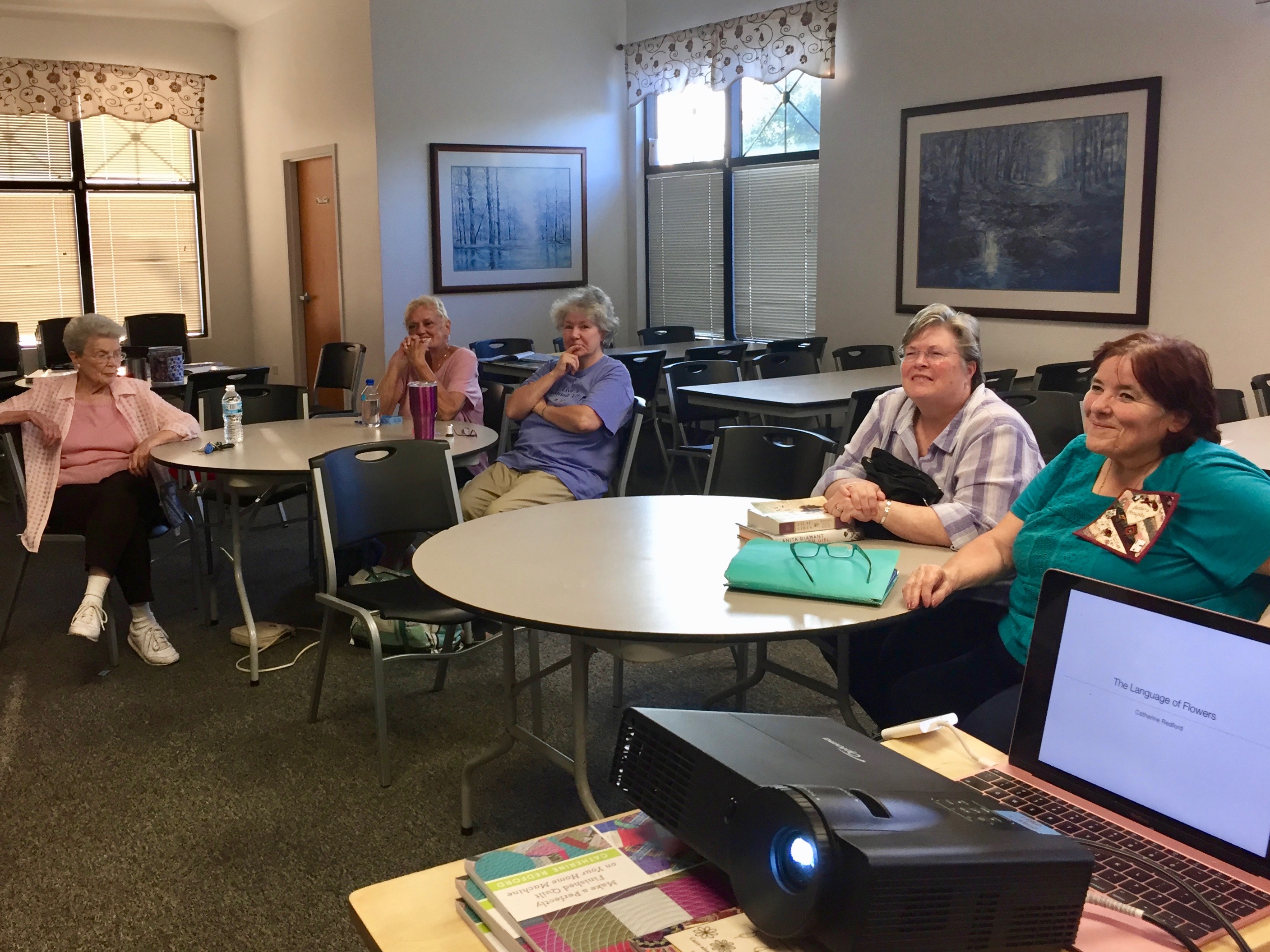 and right…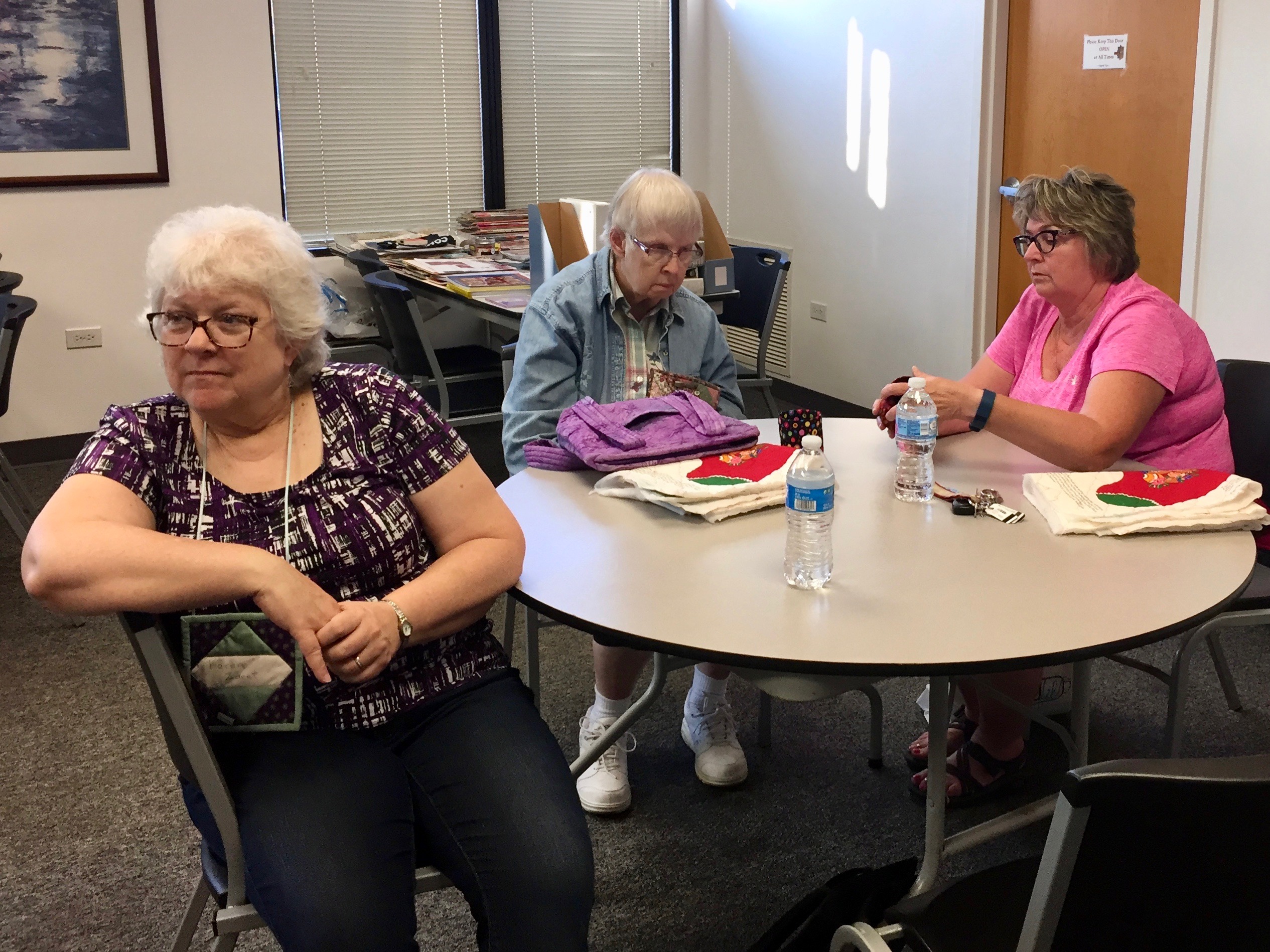 I think I just missed two people who were sitting out of camera range.
With  a small audience the chances of going home with a fat quarter when I gave them out halfway through my Language of Flowers lecture were approximately one in two!!
There wasn't a whole lot of show and tell. Candy showed us her needle holders and there were some thread catchers but I didn't catch those before their makers sat down…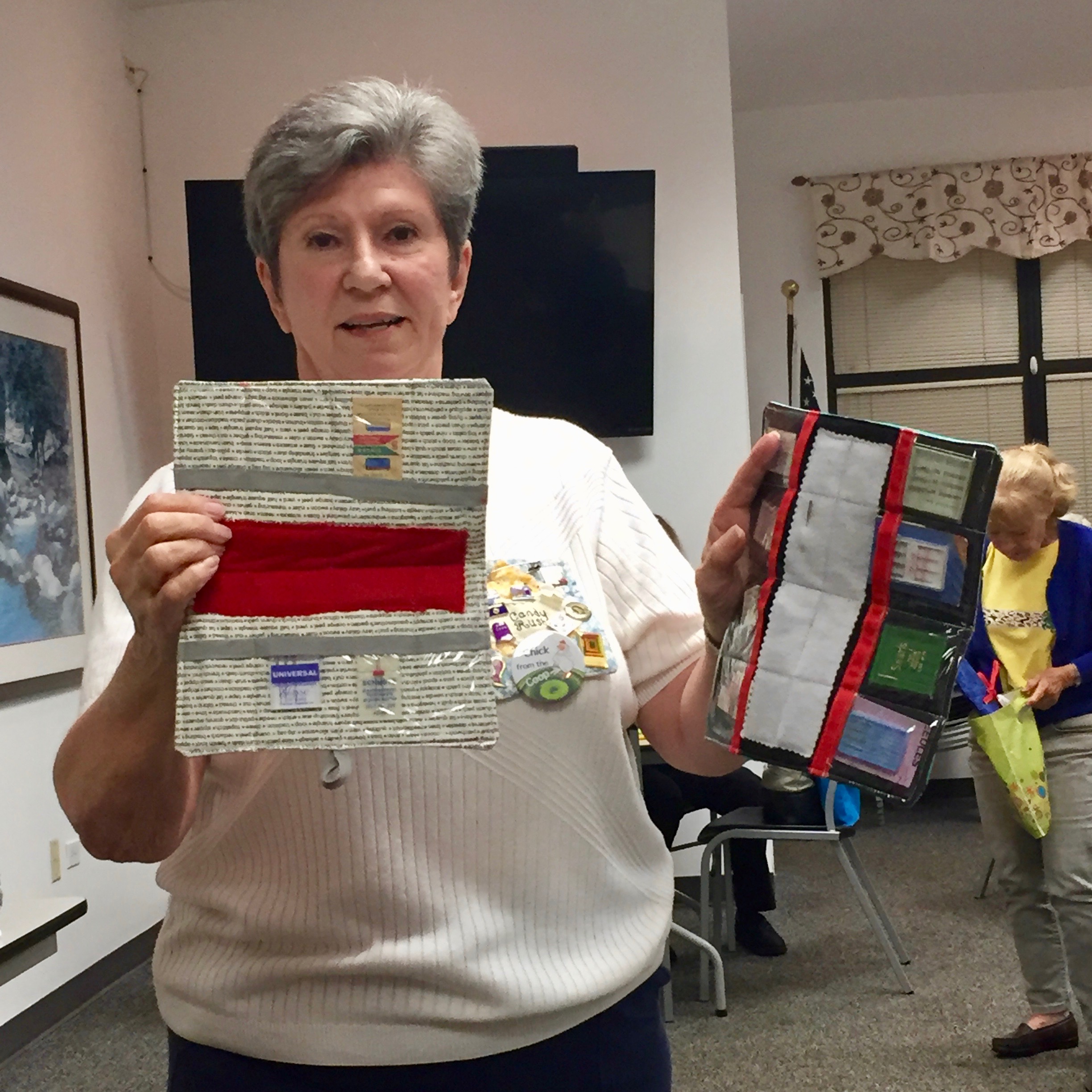 It was a fun evening. I hope the ladies enjoyed themselves as much as I did?
I'm off to Wisconsin on Saturday to see Christopher (and his parents). While I'm there I'm teaching at Stitch Supply Company in Altoona.
AND do you remember I briefly mentioned a phone call I had had just after I got back from North Carolina? It was from Pat Sloan of the American Patchwork and Quilting Podcast! We recorded a slot for next Monday's podcast. I'll be posting more details in the next few days but I'm just much too excited not to give you an advanced warning.
Life is good!