I've been absent from here for a while. If you follow me on Instagram @catherineredford or Facebook (there is a link button at the side) you know I have been busy most days. At the beginning of this season of staying at home I decided the best thing I could do for myself would be to keep making things… not necessarily high art, just things that keep me busy and creative and then I would see where all it leads…
So I am trying to post something on Instagram virtually every day and that goes to my Facebook page but I did intend blogging more often than I have been doing. A new week brings new resolutions? We'll see how that goes 🙂
Today I was booked to be visiting the Mountain Top Quilters Guild in Prescott, Arizona. Sheila and I had made plans to meet up in Phoenix, visit her son's family and add on a trip to Sedona after I had finished working. It would have been fun… and it will be, just some time in the future? Instead Steve and I made a trip to Target to get the household essentials that we are running low on. Too much excitement I have to say!
We are both fit and well. All our children and their families seem to be doing fine. We are doing lots of FaceTime calls and I think the two year olds recognize their crazy grandma with the long white locks. I am looking forward to making some visits to see them IRL when that's allowed again.
So, I have been making all sorts of "things". I'm not going to run out of fabric or thread any time soon although I have had to make a couple of on-line purchases…
Last week I pulled this stack of Kathy Doughty Horizons fabric out of the drawer. I've had it a few years but you might still be able to find it somewhere?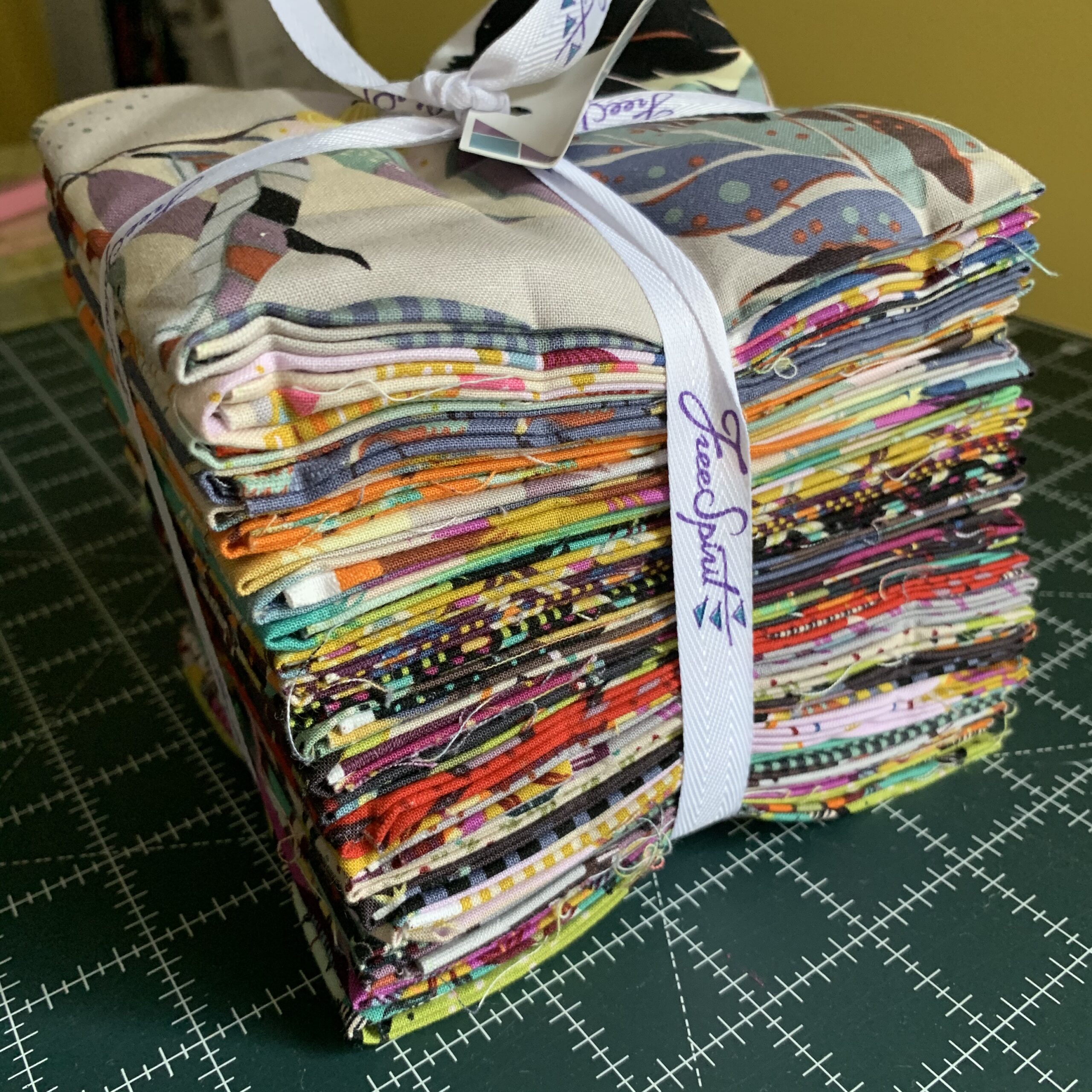 I added a couple of complimentary solids and made another 36″ quilt top based on the tiles from Laguna Hills.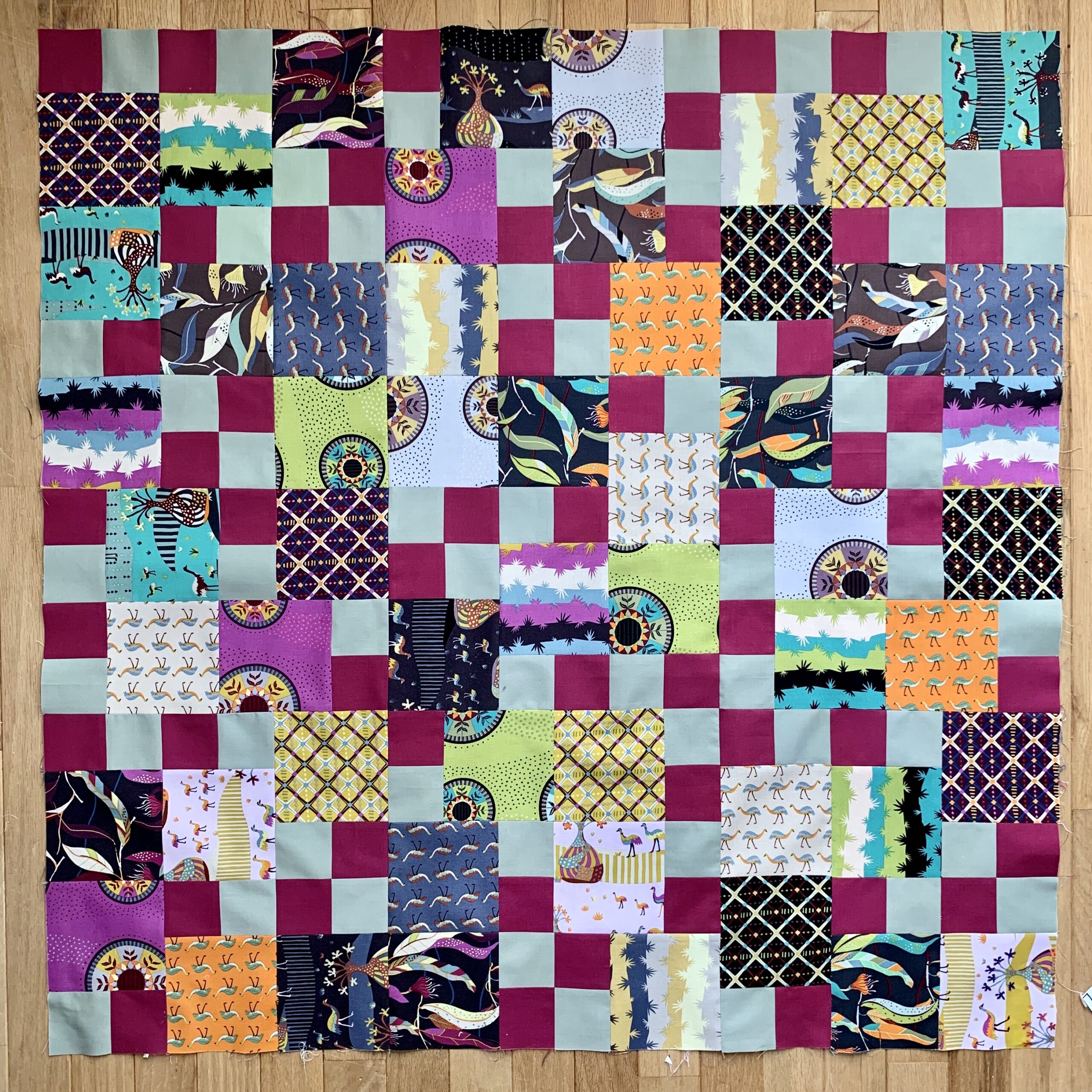 There are two slightly different 12″ blocks involved. Can you find them?
I'll get to quilting it at some point!
What next? How about a table runner and placemats?
I needed to buy some more striped Kaffe Fasset fabric for the binding but that wasn't too difficult and paying a little bit extra for shipping meant it arrived just when I needed it.
I did tidy up a bit before I staged this photograph…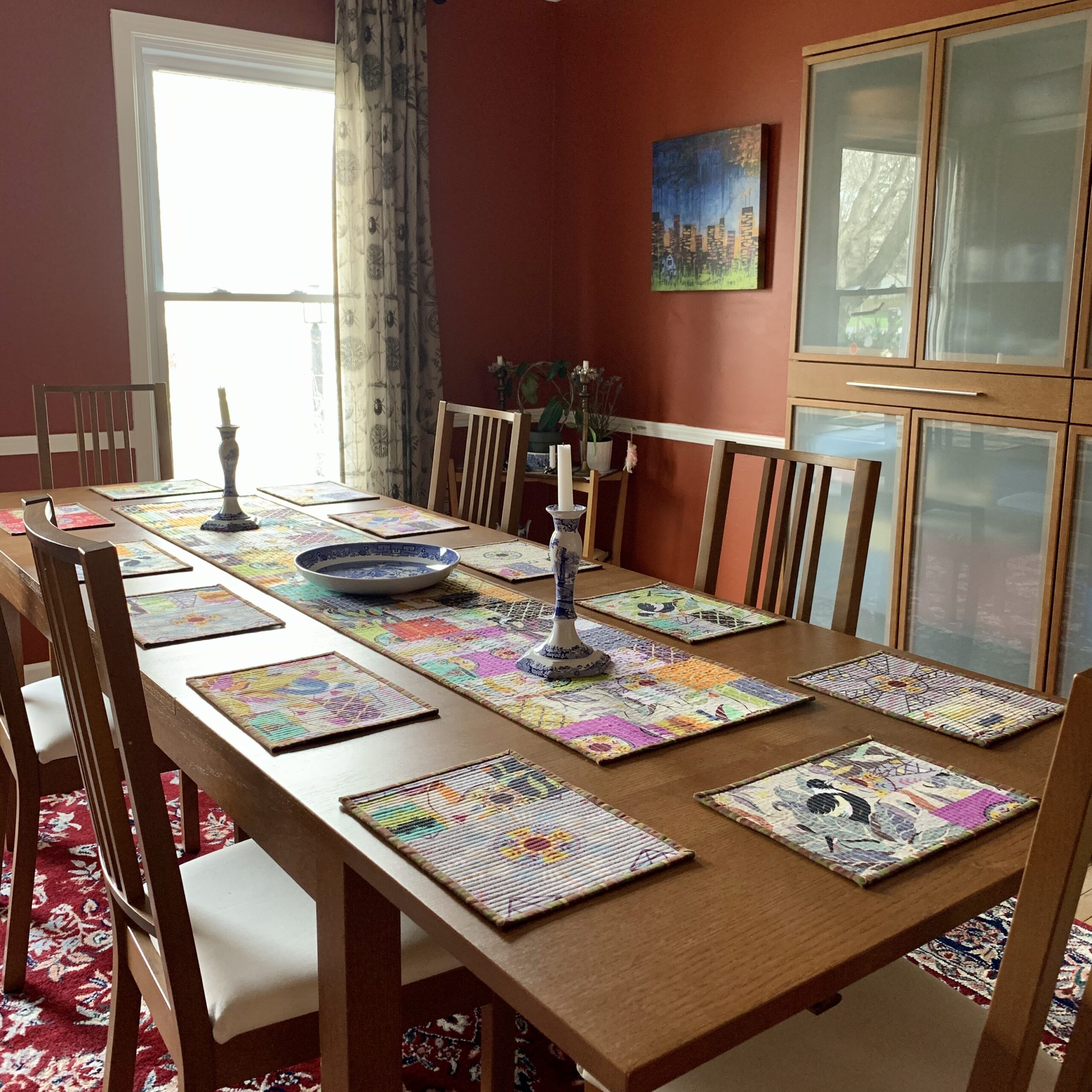 Twelve placemats means lots of room for guests…
The table runner used 4 1/2″ (cut) squares and 4 1/2″x 2 1/2″strips, set in lots of rows and finished with 1/2″ apart straight lines. It's 72″ x 14″ and will sit on the table for at least the next few months.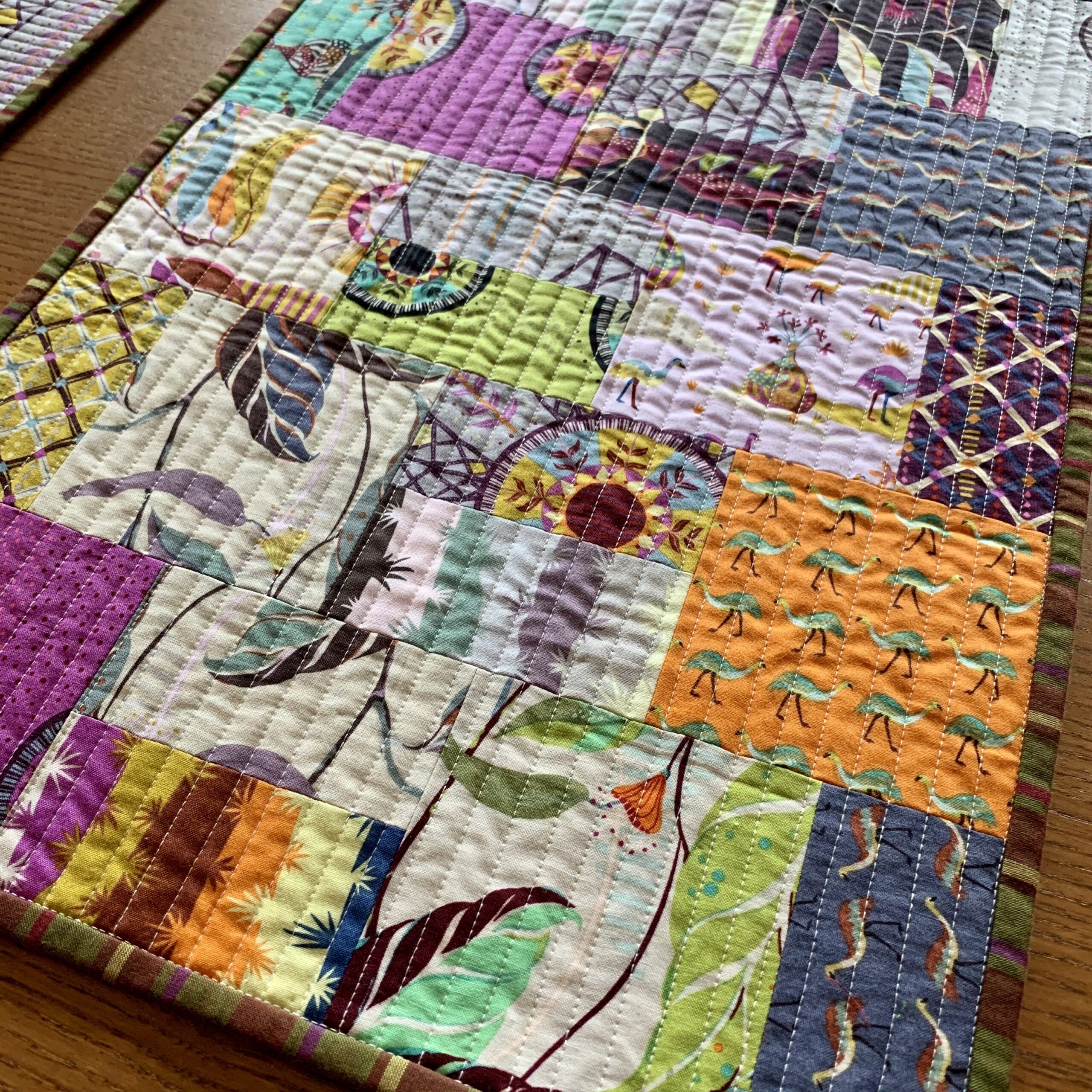 I fussy cut pieces of the largest prints in the stack for the placemats and added some random rectangles. The straight lines are 1/4″ apart so they will wash well. I stitched the bindings down by machine. They finished just over 11″ x 8″ to go under the dinner plates and fit everyone around the table.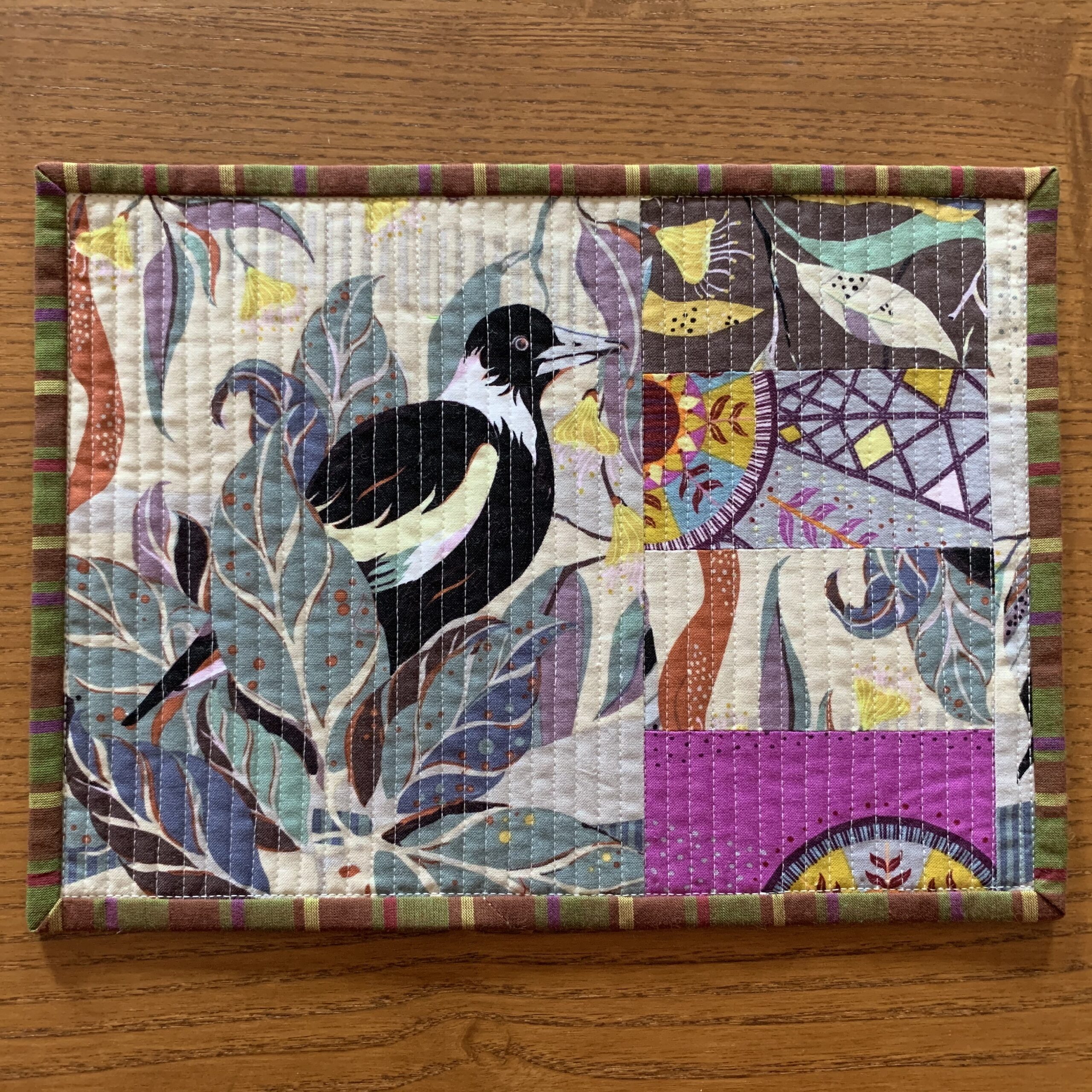 Of course I had more fabric left over. I have almost finished piecing one more quilt top. Perhaps I'll be sharing that soon?
I think that's enough from me for now. I hope to be back soon. Meanwhile, stay safe at home and just make something!