I'm writing this in Atlanta on Sunday evening… however on Tuesday I flew to Salt Lake City via Denver.
I didn't have a window seat but as we were flying over the mountains between Denver and Salt Lake City I couldn't resist asking the nice young man who was sitting by the window to take a picture for me.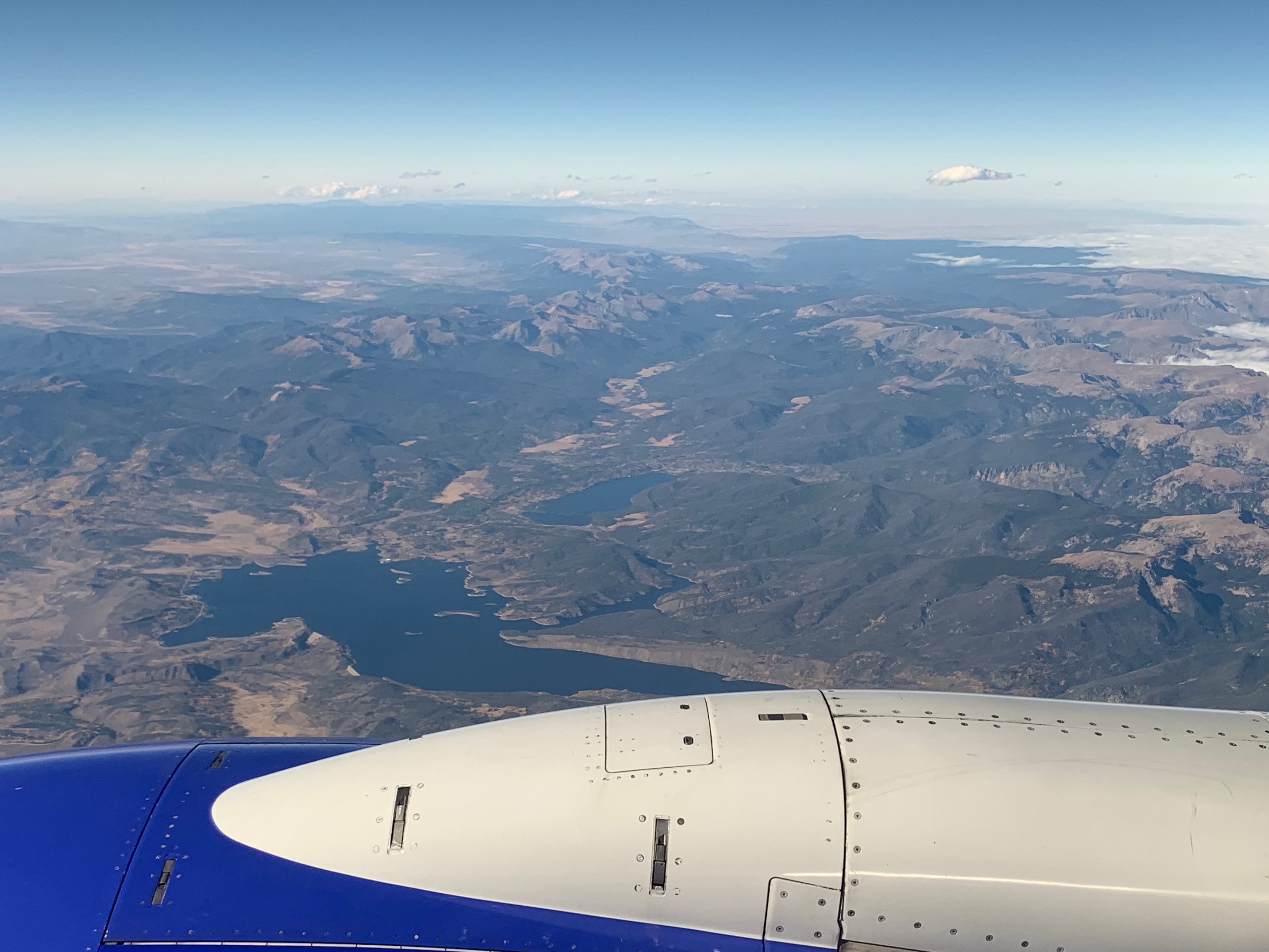 My luggage arrived safely and it's amazing how easy it is to get a Lyft into town… I've been to  Salt Lake City before so I knew where to go to get some healthy food to fill my fridge. I was soon well settled in to my room and ready to start work the next day.
I only had to cross the road from the Marriott to get to the Convention Center for my first class on Wednesday morning. Eighteen intrepid stitchers for Introduction to Folk Art Stitching.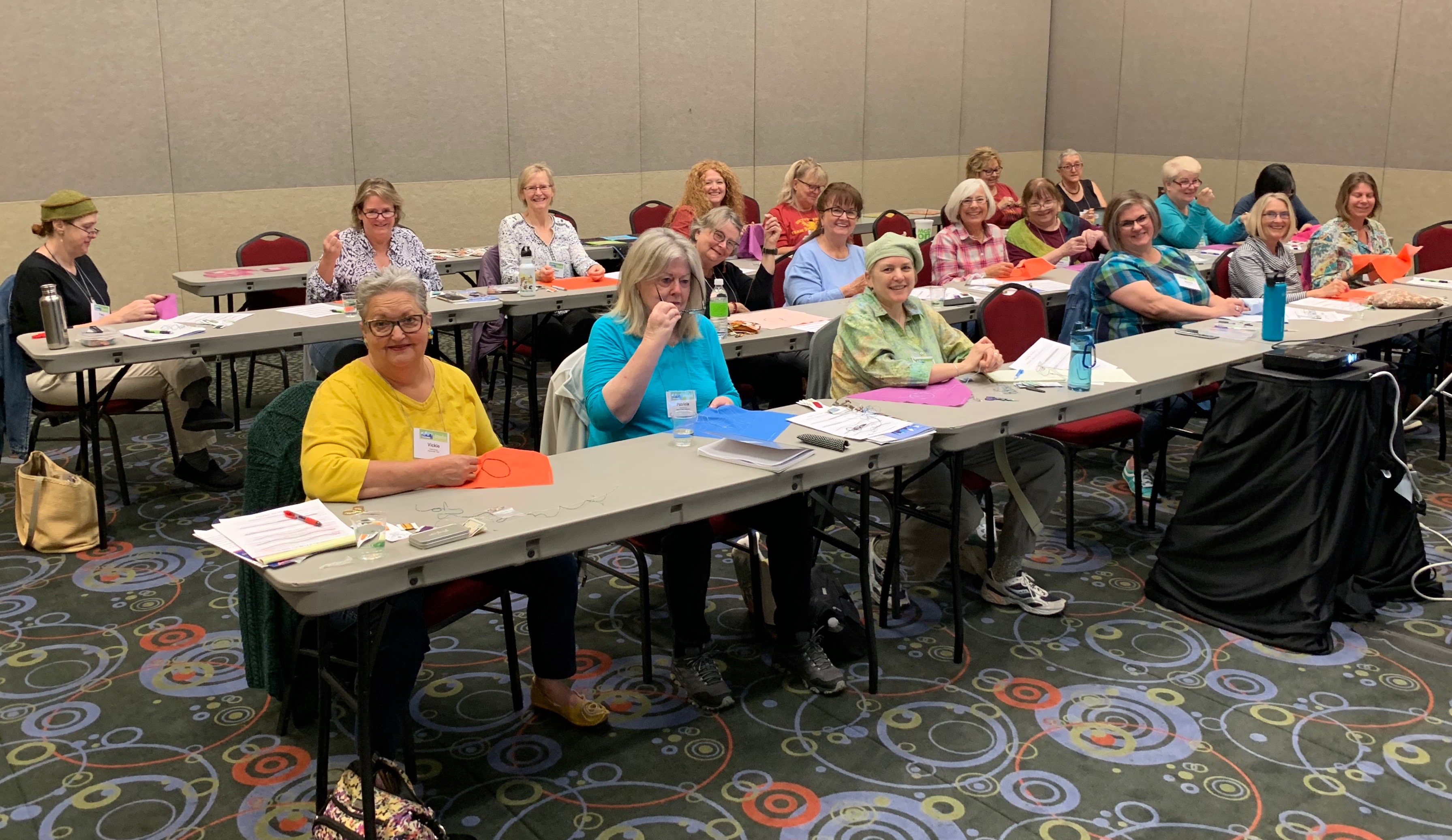 Lots of chain stitch and embellishments, the time flew by. I just had time to go to my room, repack my bag and eat lunch and then I was back crossing the road again 🙂
We were a small group for Walking Foot Quilting in the Pfaff room with the built in Integrated Dual Feed engaged on our machines. Not the best pic with me in it but what are you going to do about it? She said smile!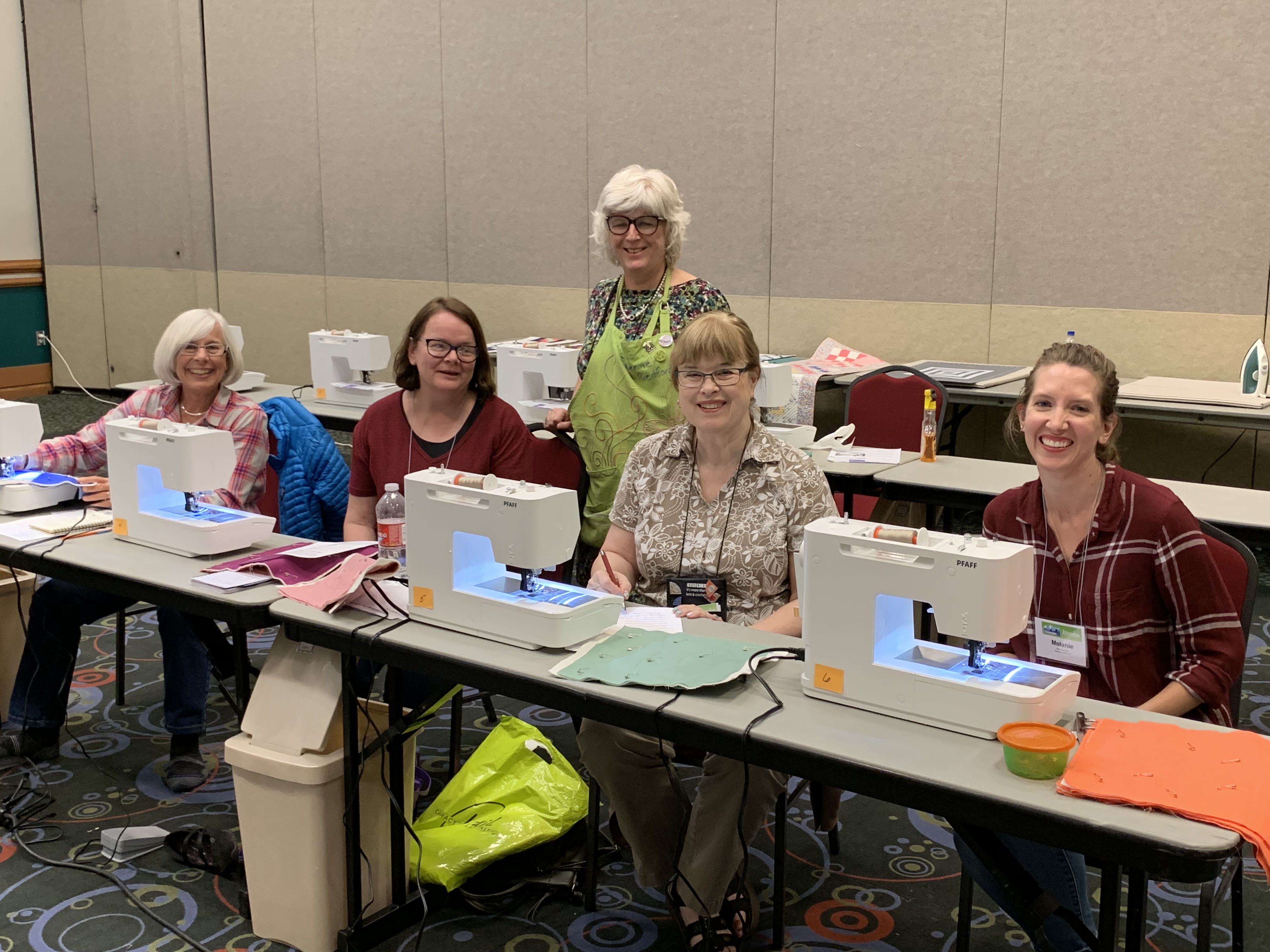 Three hours of straight lines, serpentines and spirals took us to opening time for the Market Place. I took my turn with a machine quilting demo in the playground.
Here's Lynn Carson Harris sharing her wonky stars technique.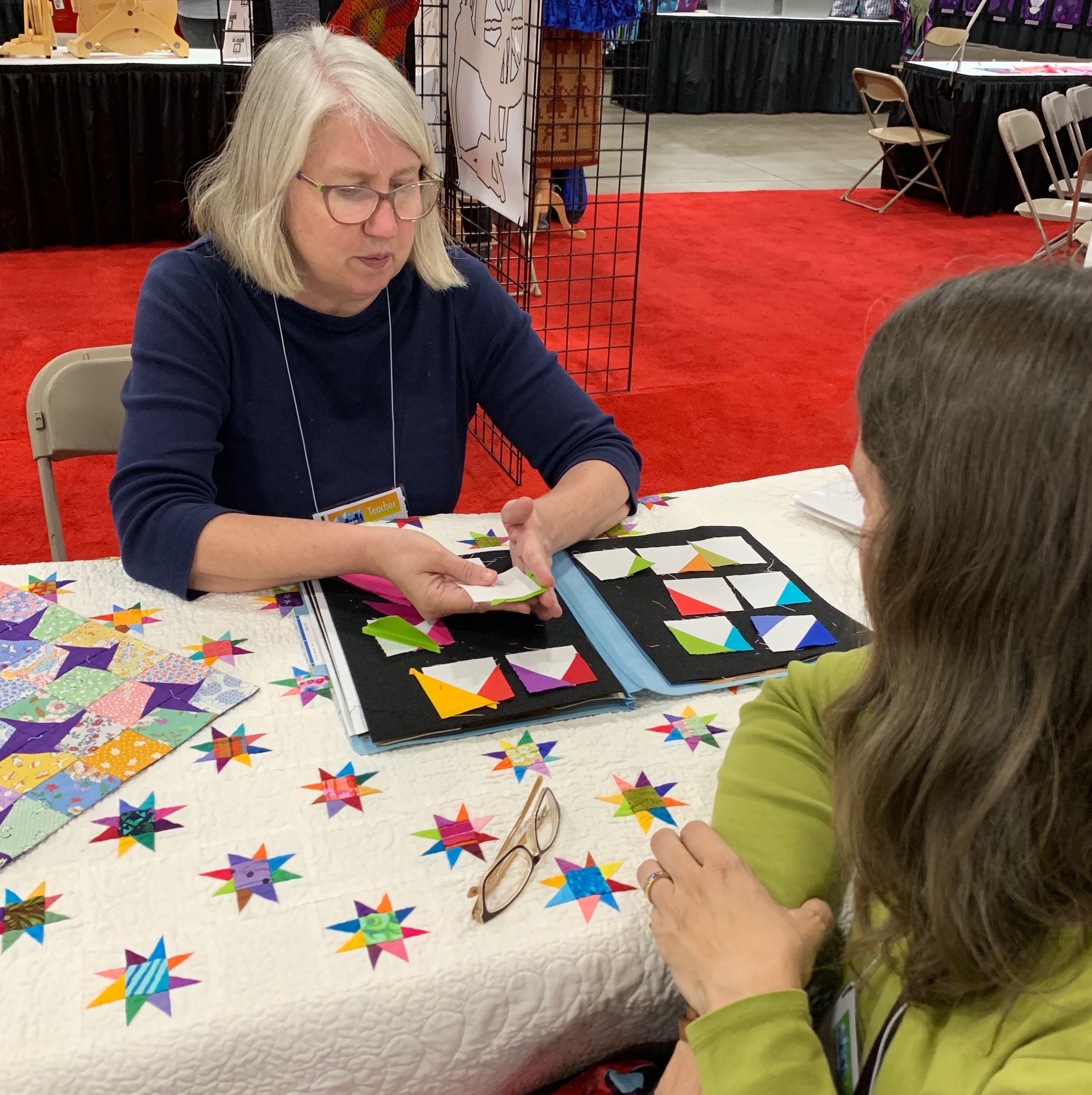 On Thursday morning I taught a Further Steps in Folk Art Embroidery Class. We had so much to learn I forgot to take any pictures… The ladies worked hard on their bullion stitches, crested chain stitch and so much more!
We had to get more machines out of their boxes for the free motion quilting class on Thursday afternoon.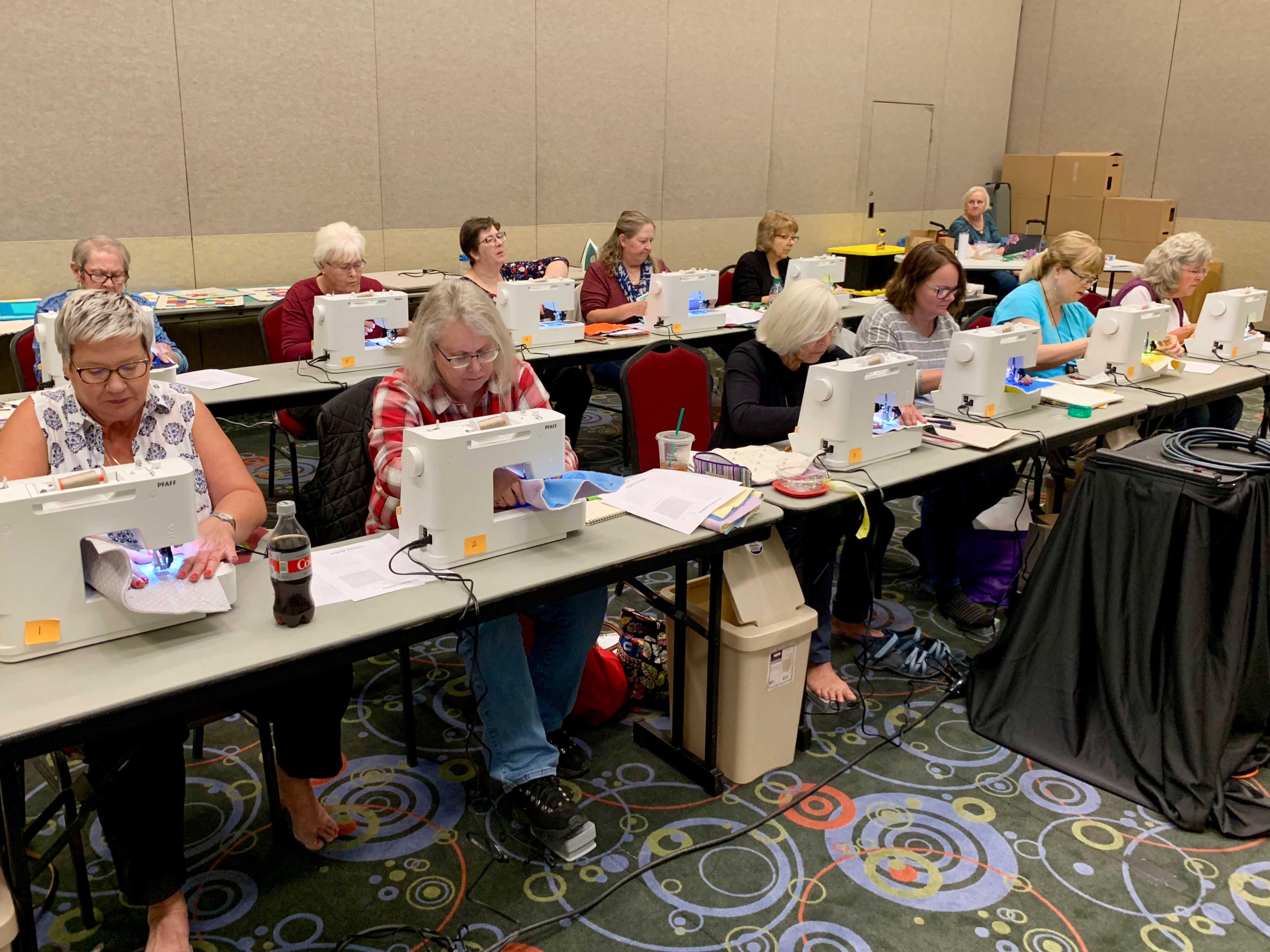 Three hours of concentrated stitching fun!
Just one more class on Friday morning. The students stayed engaged as they learnt the history and then the practicalities of making a basic cartwheel button. We managed a photo shoot…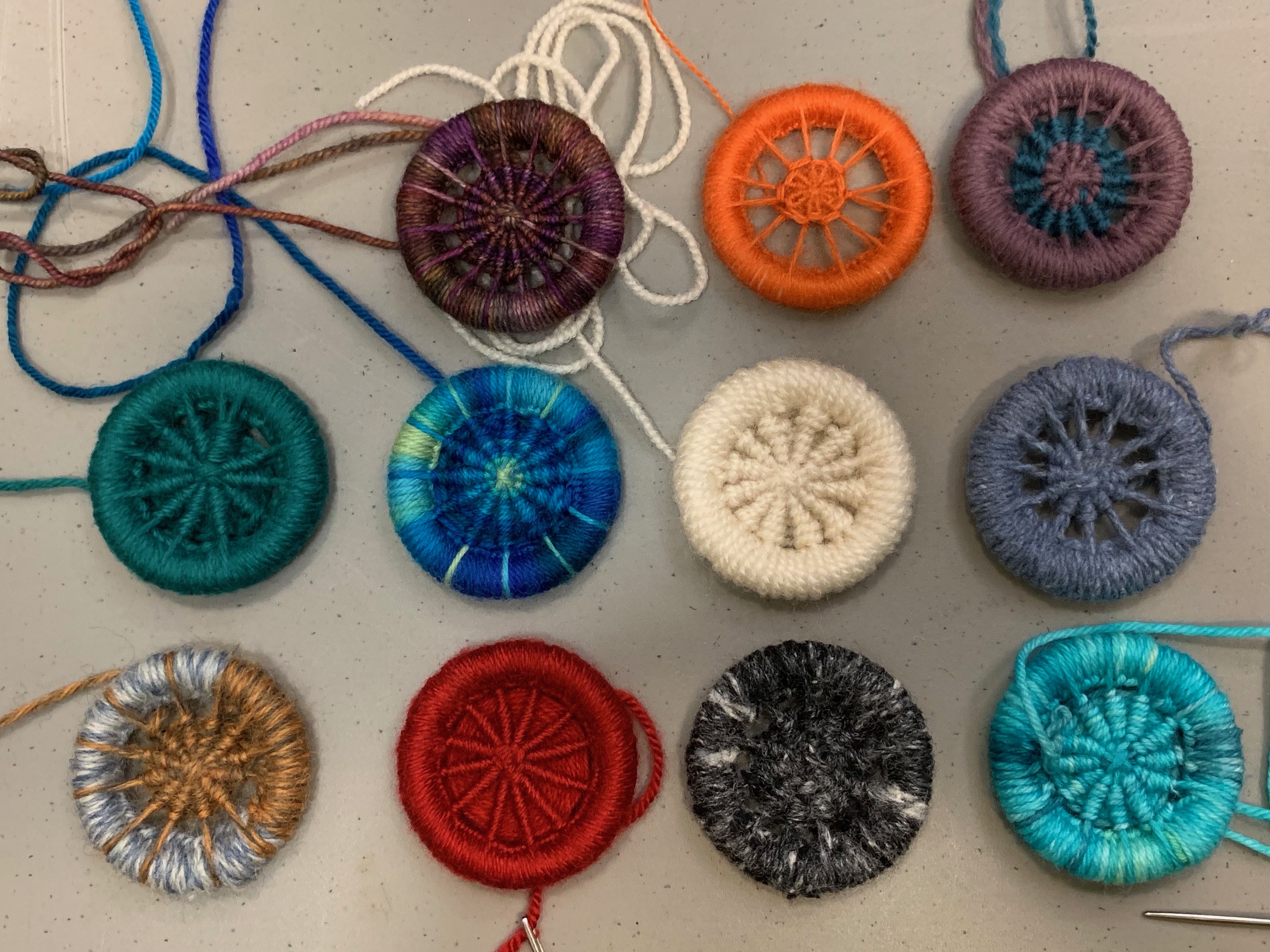 Some buttons were too shy to join the crowd and one was just late!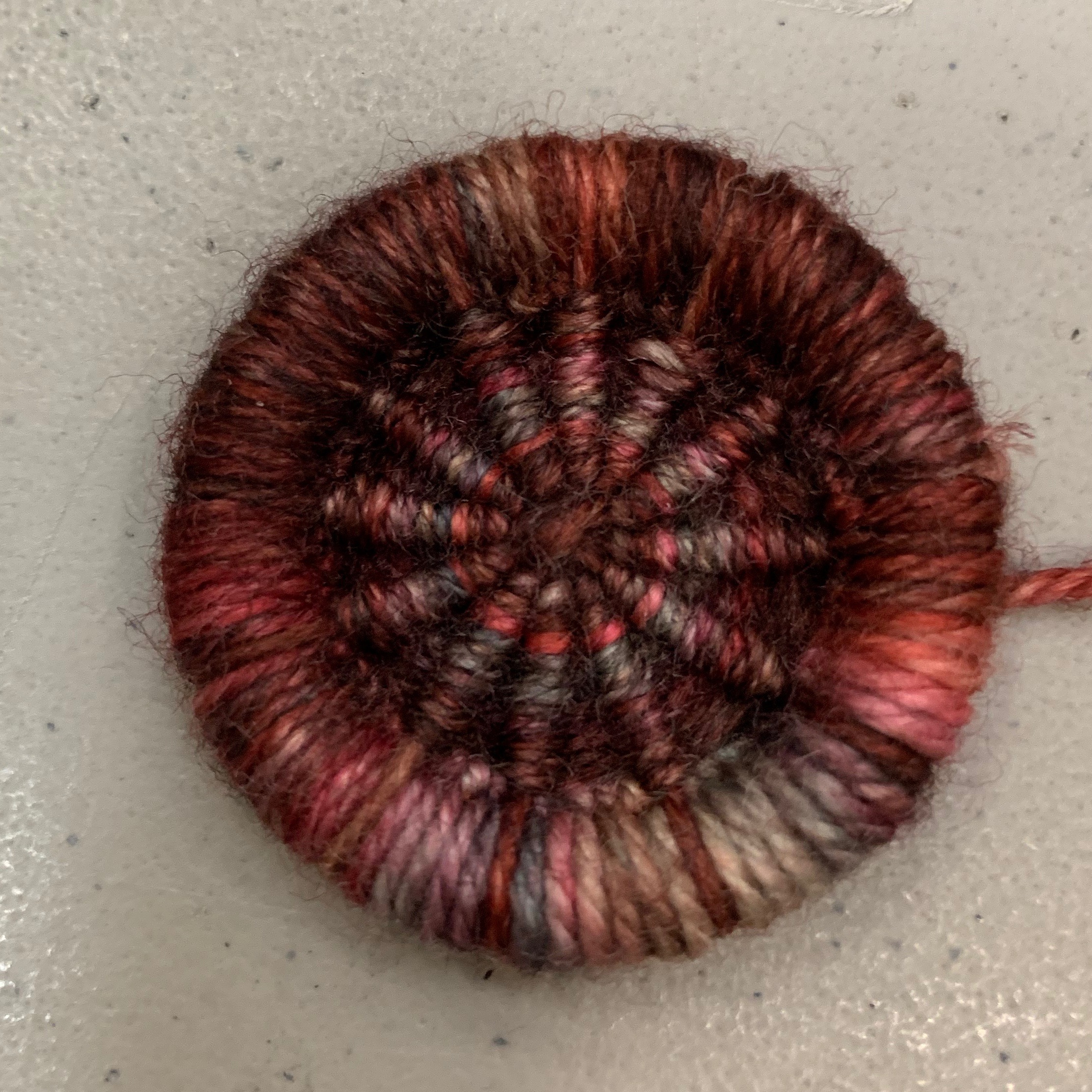 There were several interpretations of the fingering weight yarn which had been specified in the supply list but we made it all work!
I only had a short embroidery demo in the Playground left on the agenda before it was time to leave town. My flight was delayed almost an hour so it was nearly ten pm when I met Steve at the airport back in Chicago on Friday evening. It seemed like a very quick visit to Utah but less than twelve hours after I got home I was on my way back to the airport…
I already had my next trip booked when I was invited to teach in Salt Lake City. I do like teaching with the folk at the STITCHES shows. With a little planning and advance packing I could make it work?
Now I am in Alpharetta, Georgia! I flew in yesterday afternoon and taught an embroidery class today for the Chattahoochee Evening Stars Quilt Guild…
Life is always an adventure. I'll be telling you more about this one soon 🙂