Welcome to stop number two on the Hexie Love Blog Hop!
I've been stitching mostly modern  hexie quilts using basic English Paper Piecing techniques for around three years, since I got back to them with my little quilt that went to QuiltCon in 2013.
Now there is a brand new digital magazine devoted to the hexagon quilt!

Hexie Love is the brain child of Julia Wood, co-author of Quick and Easy Hexie Quilts and author of MORE Quick and Easy Hexie Quilts. I first met Julia on the set at Quilting Arts TV eighteen months ago when she was filming a segment on a traditional way of making hexagons from circles of fabrics. She is the quintessential southern lady from Auburn, Alabama. When we both taught at the AQS Quilt Week in Chattanooga last year we had a wonderful few days as roomies.
Julia was already planning the first edition of her new magazine and we had fun taking pictures in the hotel lobby…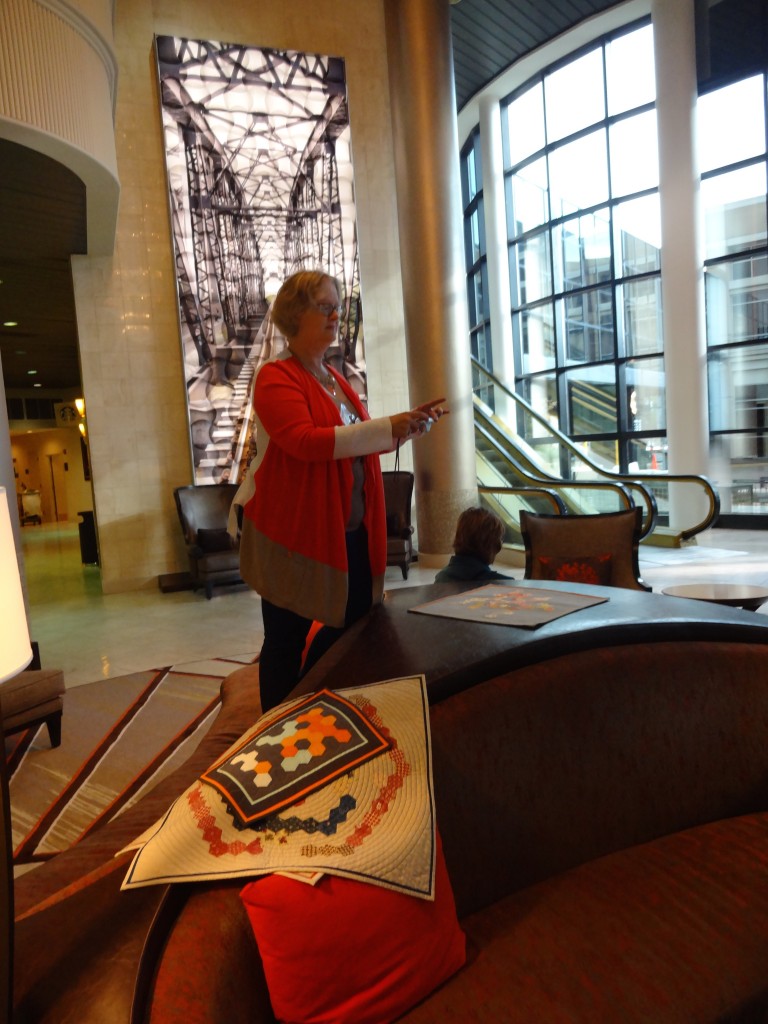 Two issues in I have to tell you Hexie Love is a magazine worth reading! I received the first issue free as a contributing author but now I am a fully paid up subscriber. Every issue has articles by hexie artists from around the world, patterns for small and scrappy projects, book reviews and steps towards a super progressive quilt… and all for $5.99 an issue or $26.99 for a year (6 issues). You can sign up from the link on the Hexie Love blog site.
Of course a blog hop wouldn't be a blog hop without a give away! Julia will send a copy of the magazine to one lucky reader and I will send a set of perspex templates for cutting 3/4″ and 1″ hexagons from your favorite fabrics, ready for EPP, to a second winner. All you need to do is post a comment at the end of this blog post before April 14th. Make sure I have a way to contact you if the random number generator picks you.
At the end of the week Julia is also giving away a subscription to her magazine and a copy of her MORE Quick and Easy Hexie Quilts book, make sure to leave a comment on her blog for a chance to win those.
And don't forget to check out the other blogs on the tour:
April 6  Bonnie Hunter http://quiltville.blogspot.com
April 7  Catherine Redford https://catherineredford.com (that's ME!)
April 8   Linda Franz http://www.lindafranz.com/blog/
April 9  Cheryl Sleboda http://muppin.com/wordpress/index.php/blog/
April 10 Geta Grama  http://cadouri-din-inima.blogspot.com
April 11  Victoria Findlay Wolfe http://bumblebeansinc.blogspot.com
April 12 Becky Campbell  https://www.facebook.com/sewforeverquiltingbybeckycampbell
April 13 Joan Shay https://www.facebook.com/joan.mooreshay
I'm looking forward to reading your comments. Thanks for stopping by!