I got back from Alpharetta last Tuesday so it's about time I caught up… after all I am leaving  town again on Friday, that's just the day after tomorrow… my bags are almost packed but I've still got a list of things to do 🙂
First, back to Alpharetta!
The city of Atlanta sparkled on the horizon as we landed. There is a lot of building going on in the area. Those were some big cranes in the foreground.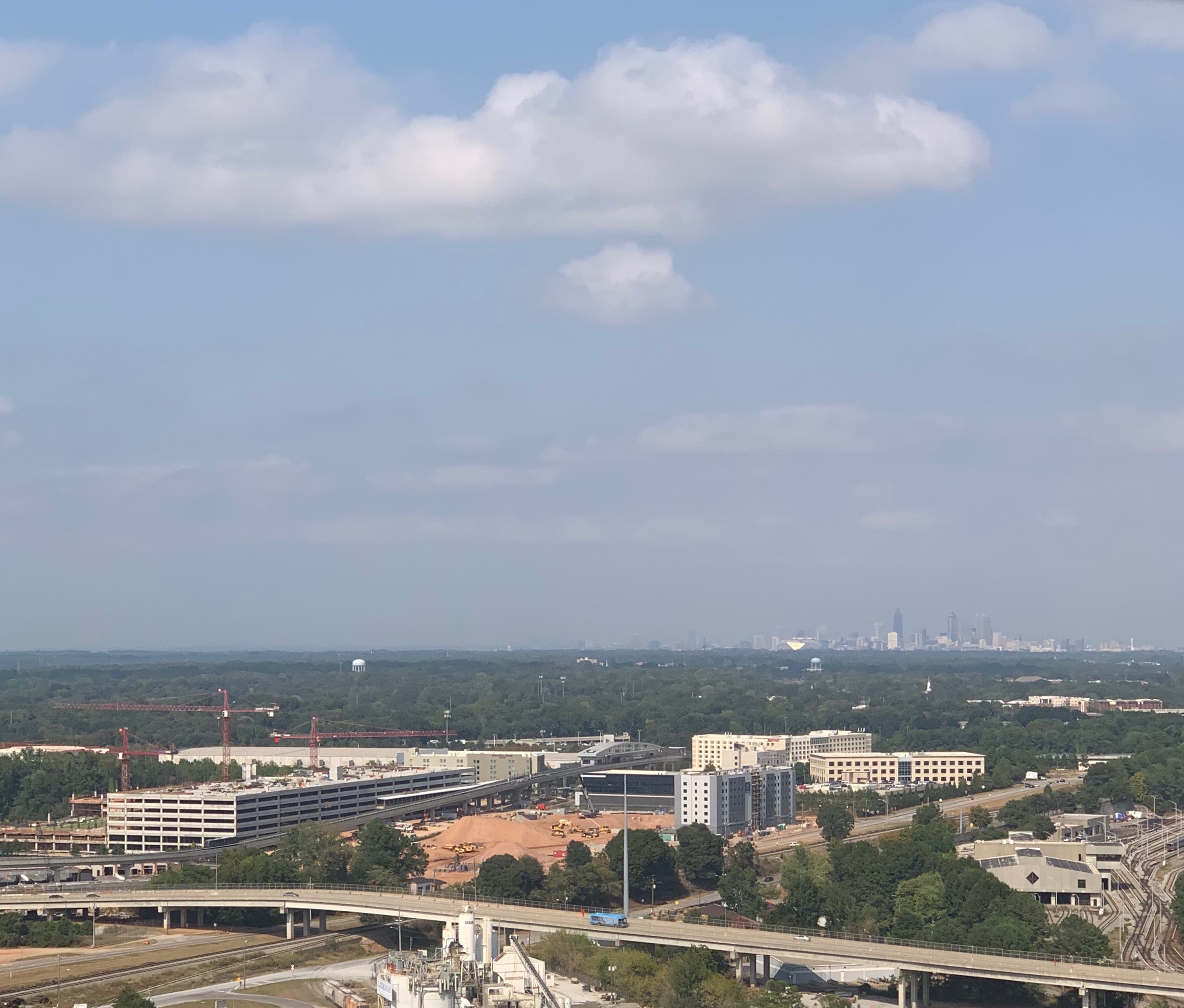 Atlanta is a big airport. It's the busiest one in the US but it wasn't my first trip there, and I can read the signs… I found my luggage and Karen, the program chair of the Chattahoochee Evening Stars with no problems and off we set, north to Alpharetta.
On Sunday I taught an all day Introduction to Folk Art Embroidery class. I managed to forget to take any pictures so you will have to believe me when I tell you we had a good time! Today's featured image shows some of the students with their stitching at the Monday evening guild meeting. They all look pleased with themselves?
Monday was at leisure before the meeting. It was time for a little sightseeing. Karen picked me up and we visited the Archibald Smith Plantation House in the nearby town of Roswell.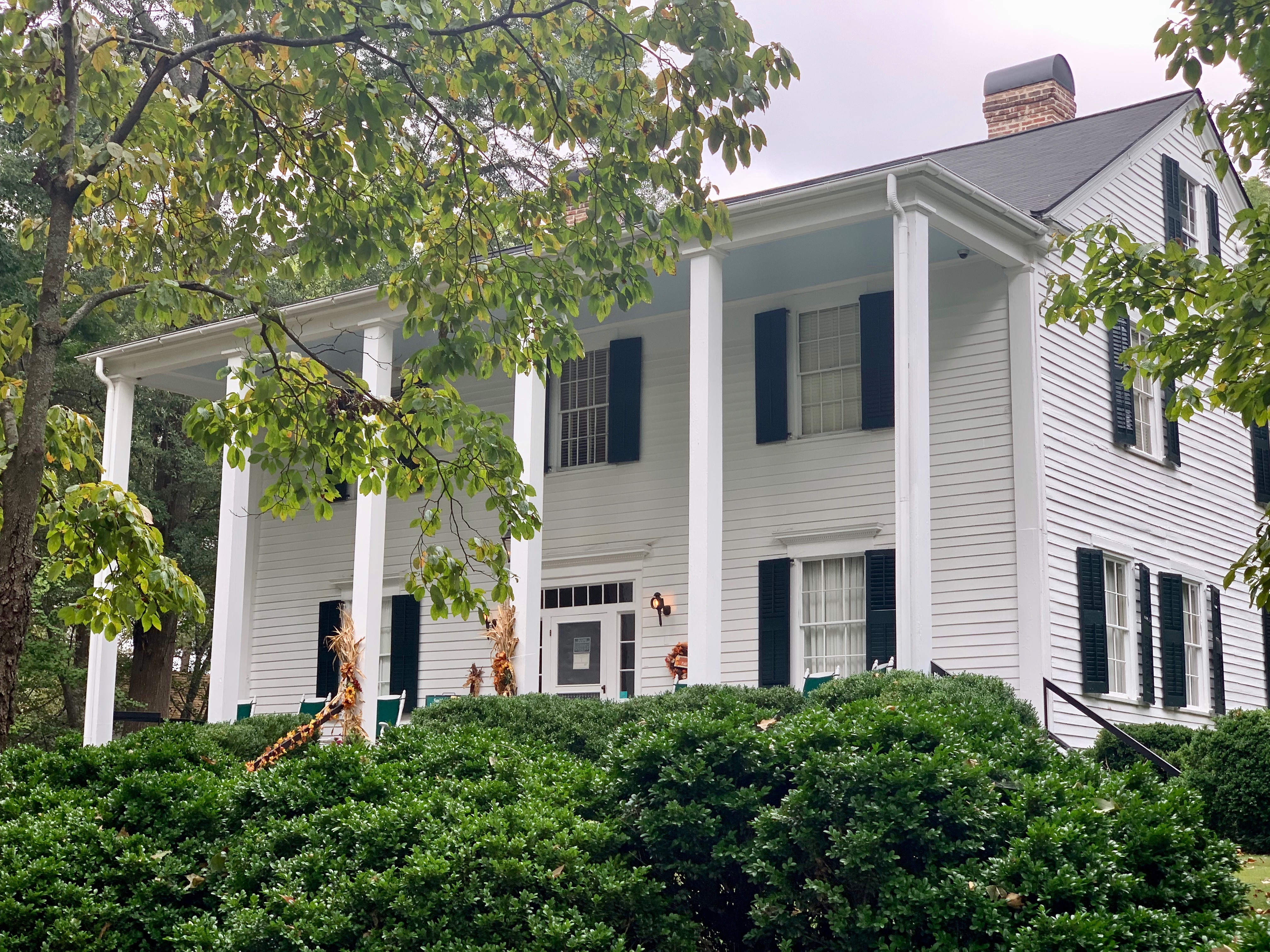 We had a lovely personal tour with Amy. No photos were permitted inside so I can't show you all the furnishings and artifacts left behind by the original owners who didn't like to throw anything away…
We were allowed to take pictures in the outbuildings. This is the old cook house. Everything was in great condition and well maintained.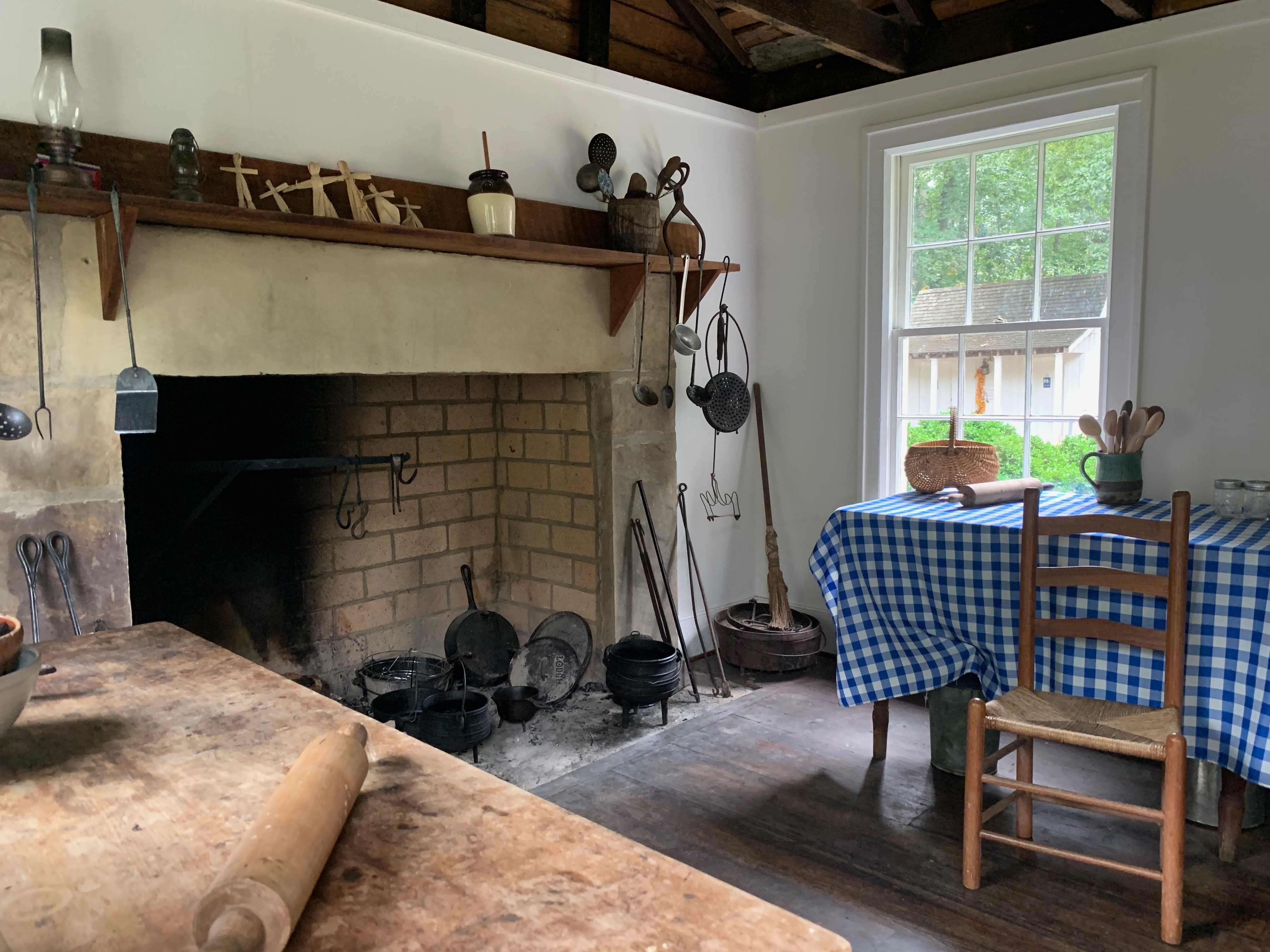 The house is number one on the list of Roswell attractions on Trip Advisor and I could see why!
Karen took me back to my hotel after lunch so I could get sorted and ready for the evening's adventure. Here are the members before my presentation, to the right…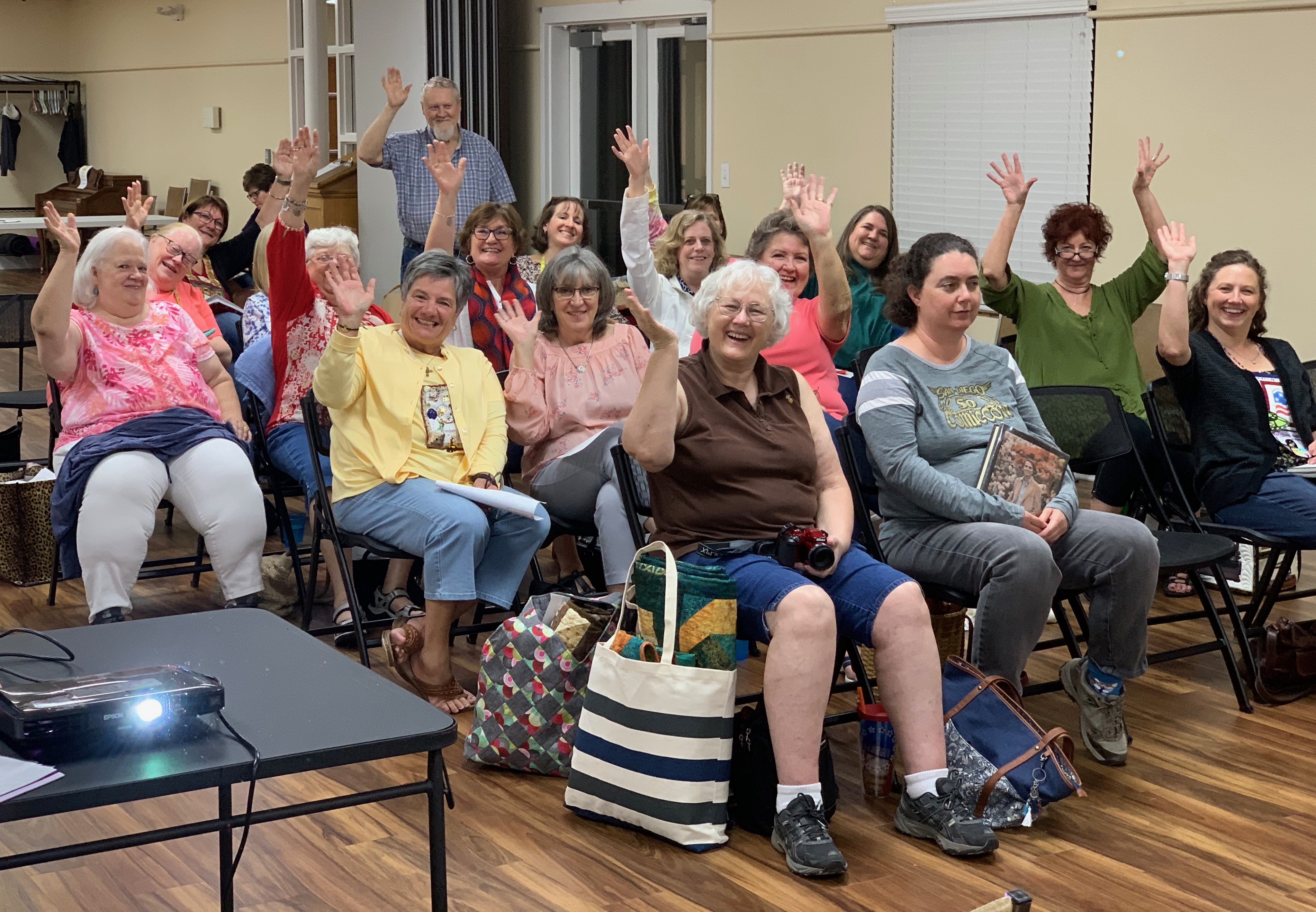 and to the left.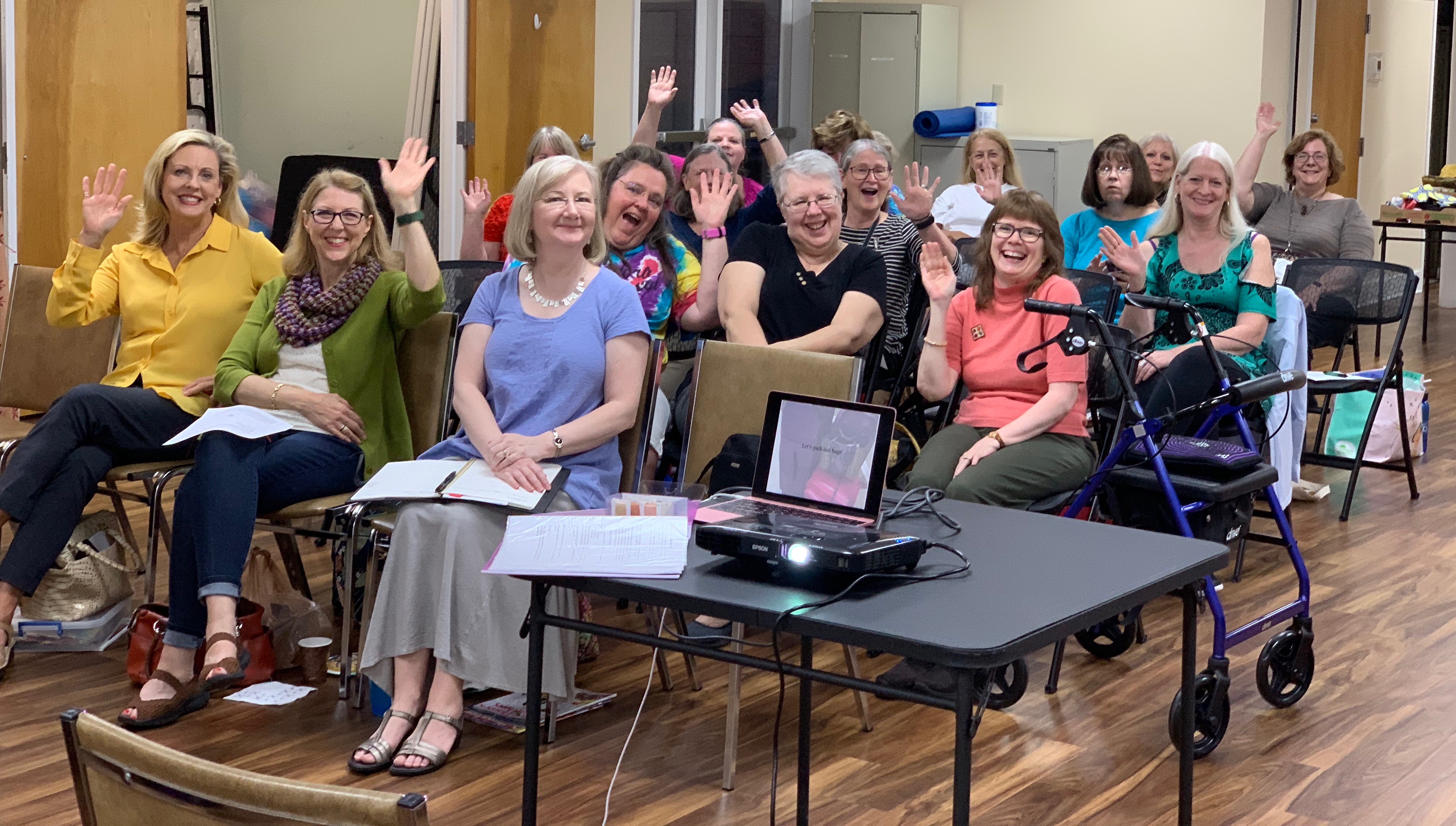 There was a lot of laughter as we took a Trip Around the World in Folk Art Stitches together. Do you know how far it is from Lobeke National Park in the Central African Republic to New Delhi in India?
We finished the evening with Show and Tell.
Here's a fine entry into Northcott Fabrics Stonehenge challenge.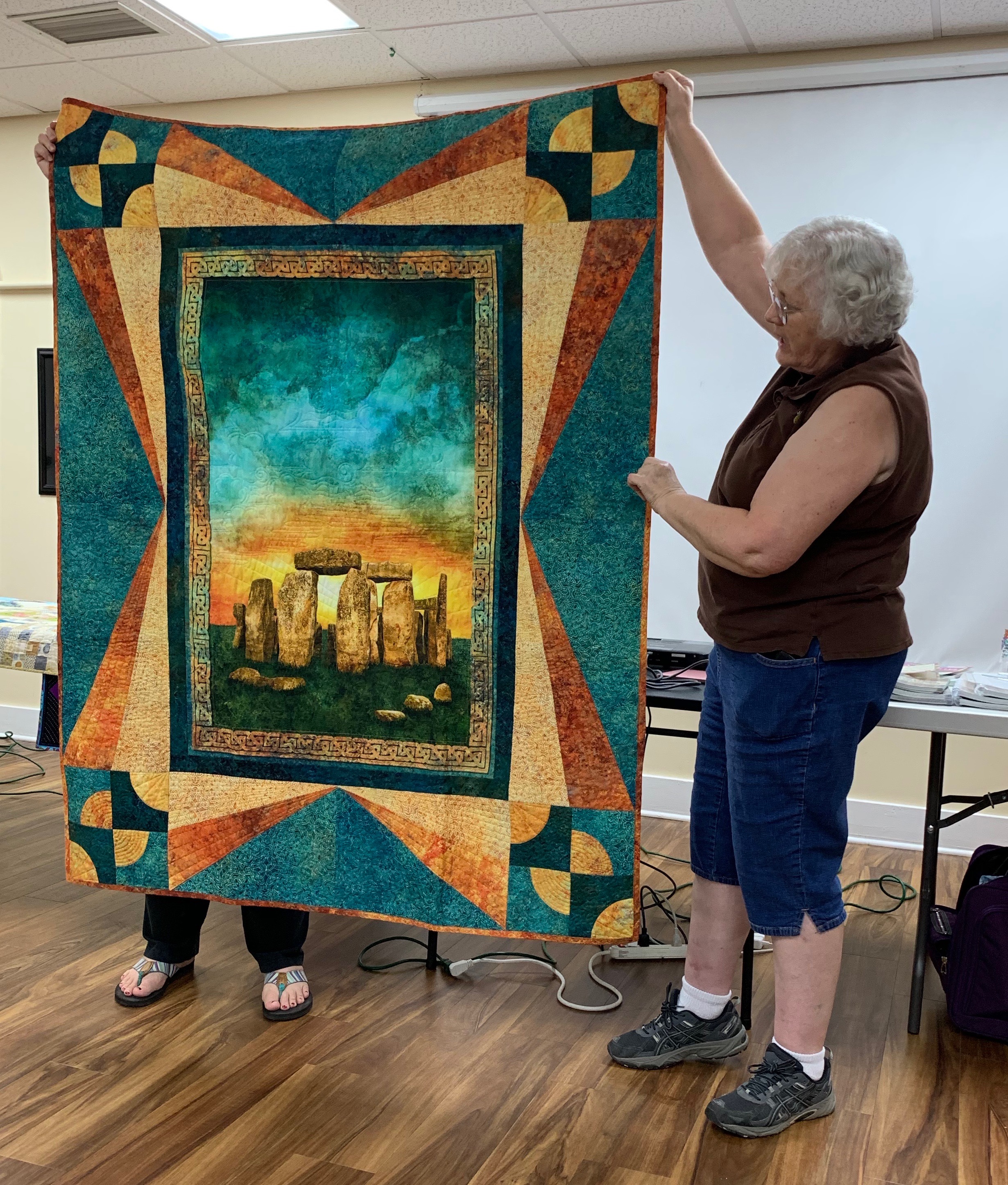 This quilt was made from vintage blocks.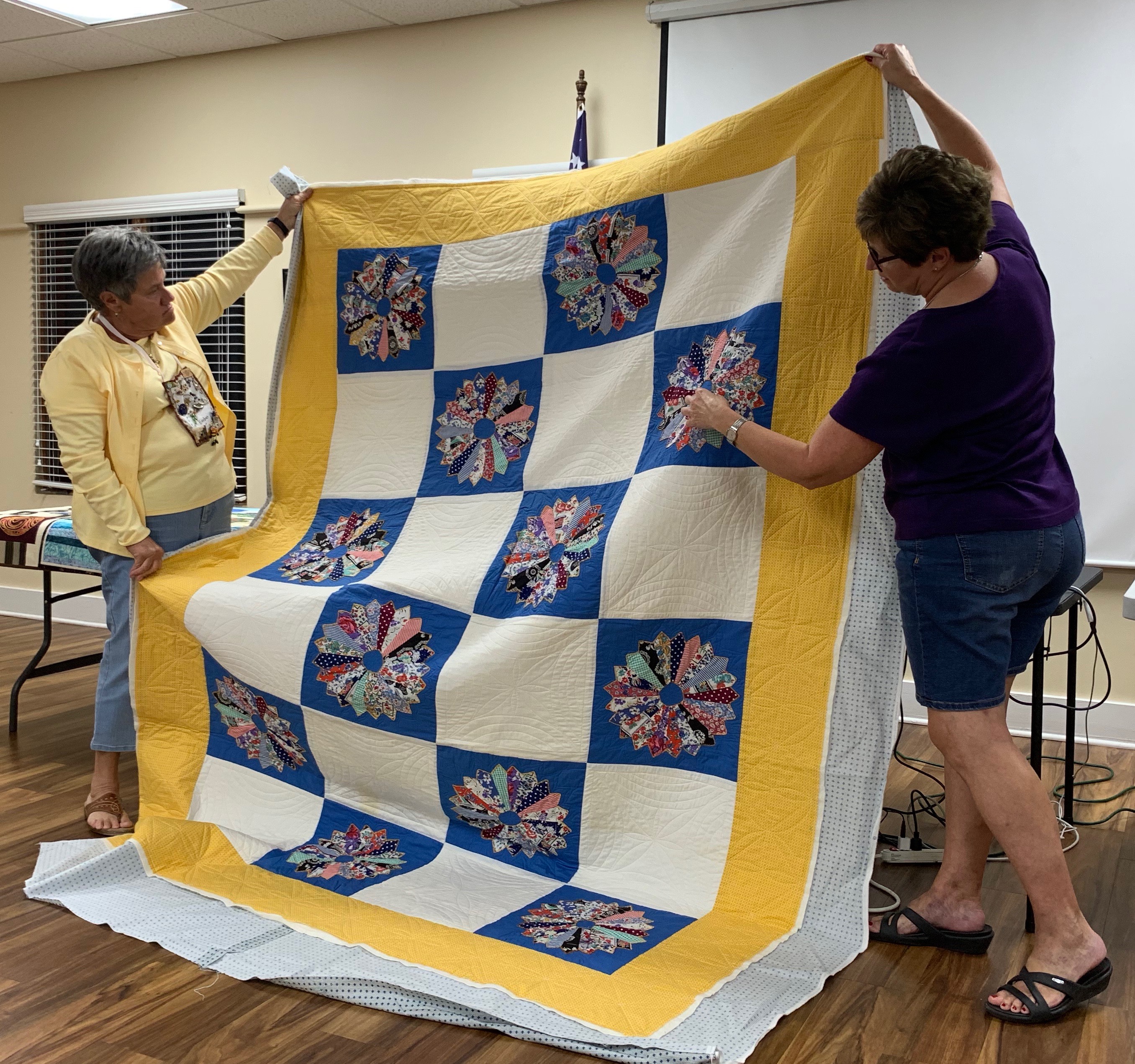 Red, white and blue for Quilts of Valor.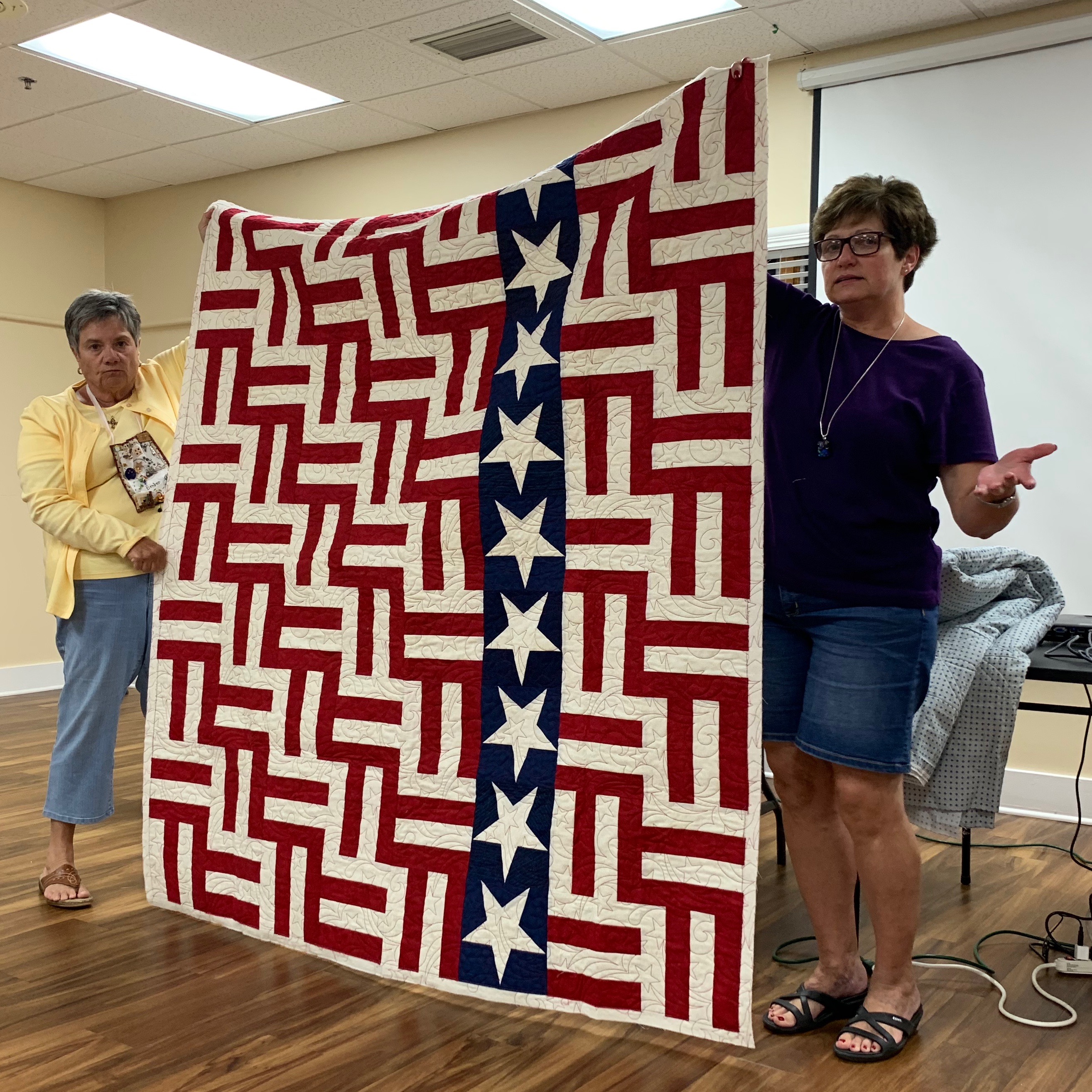 A neutral palette made a lovely medallion quilt.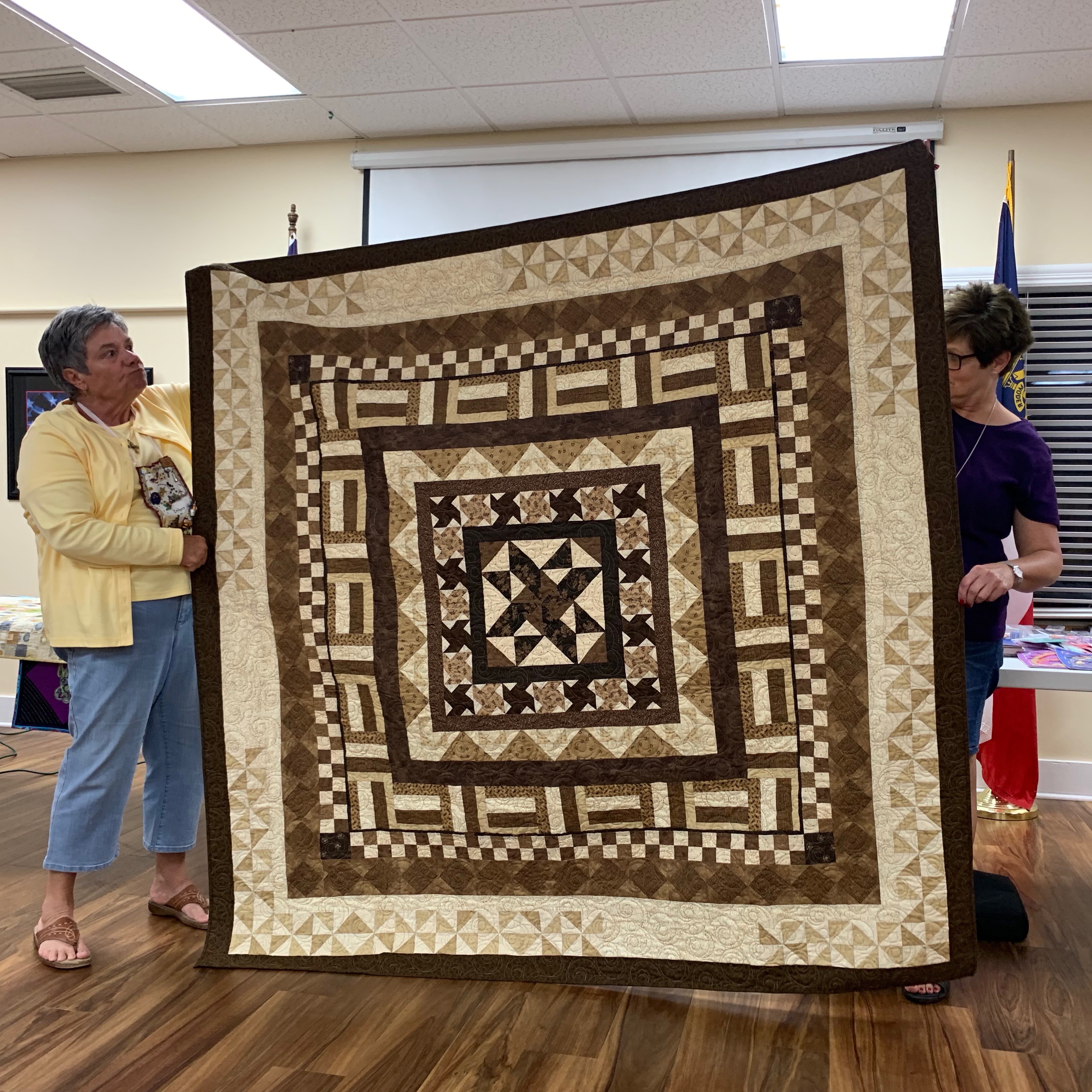 This was its maker's second quilt. Lots of triangles!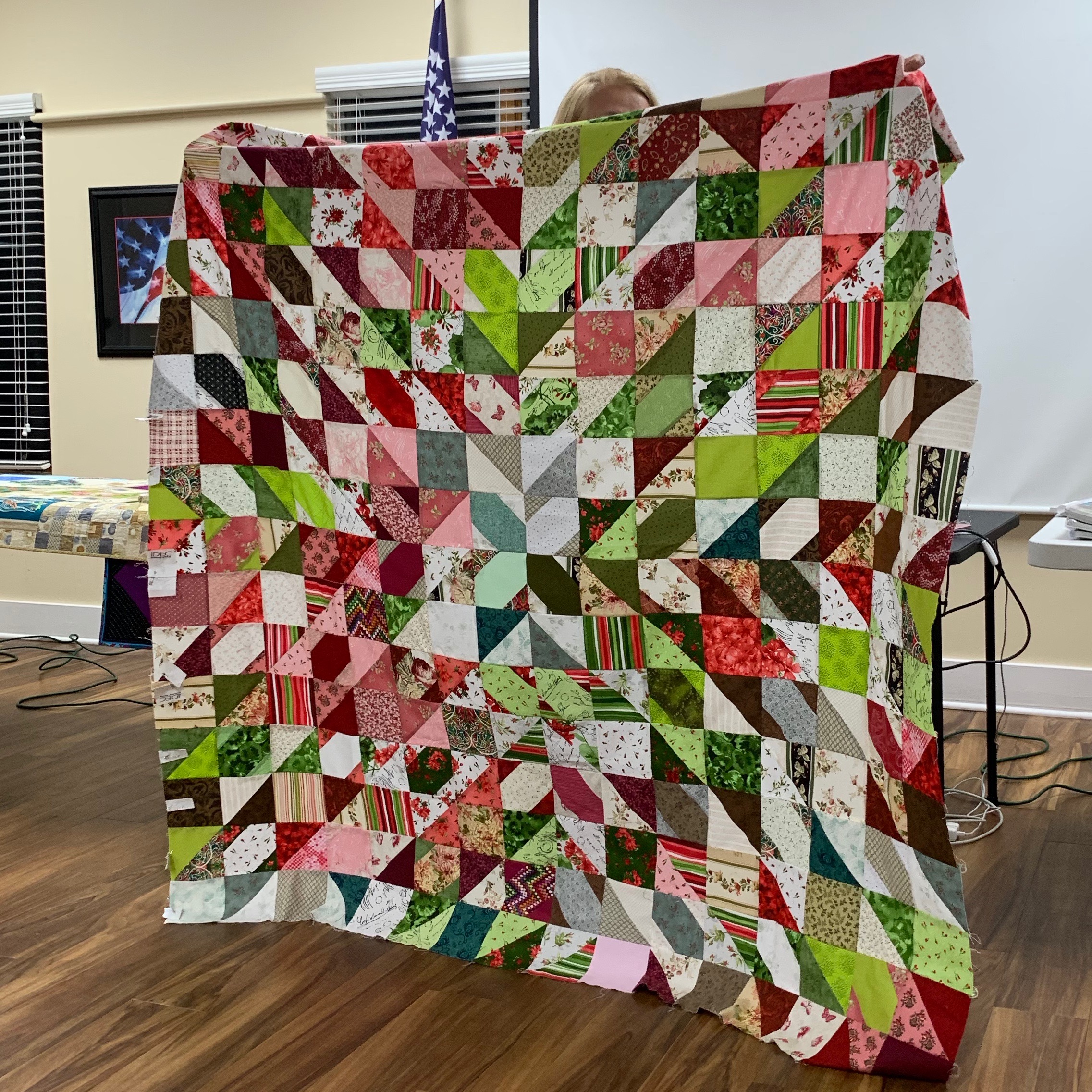 A cute dinosaur quilt for a baby girl.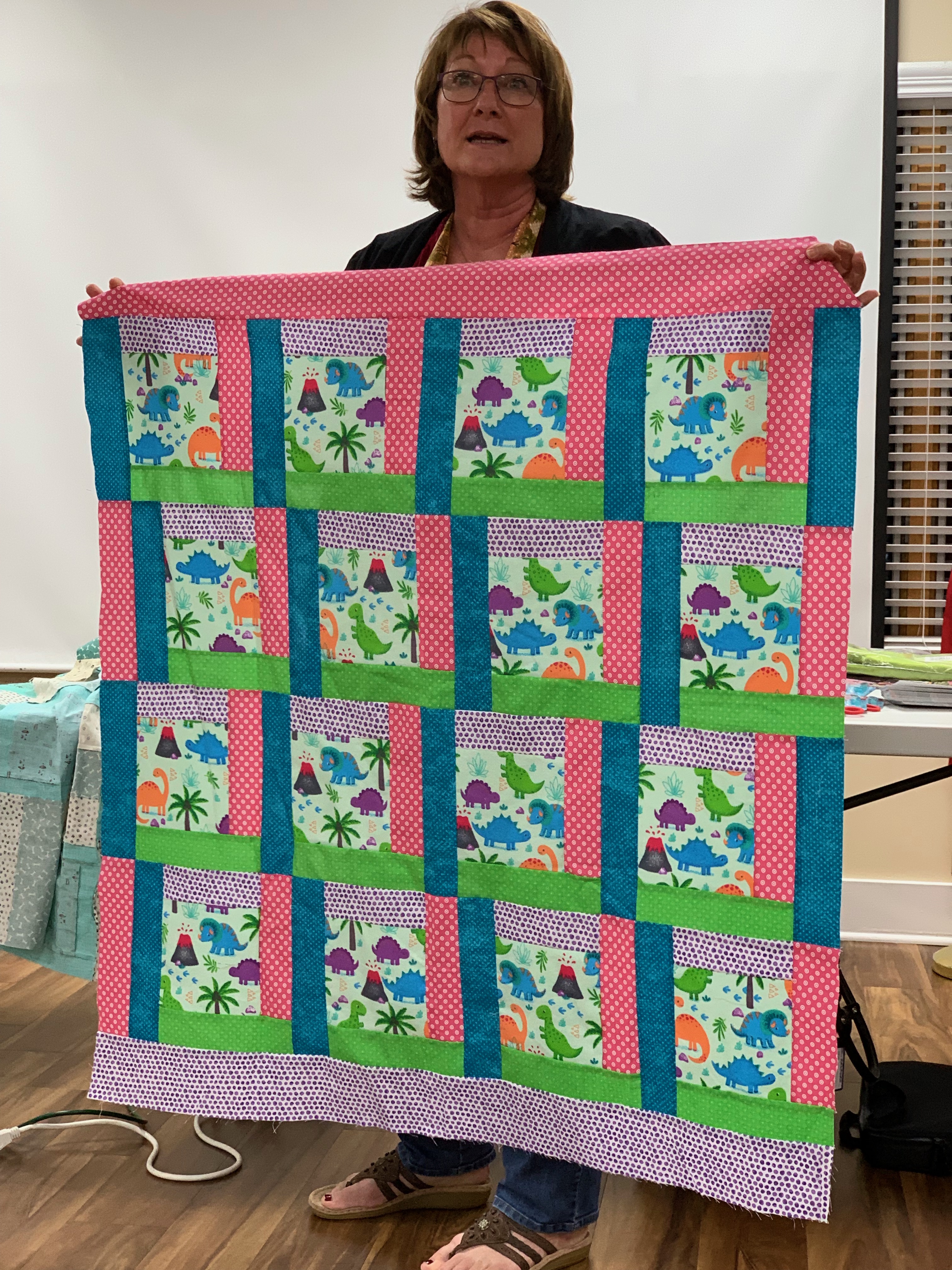 A bag for Kathleen's husband. She was very pleased with the straps.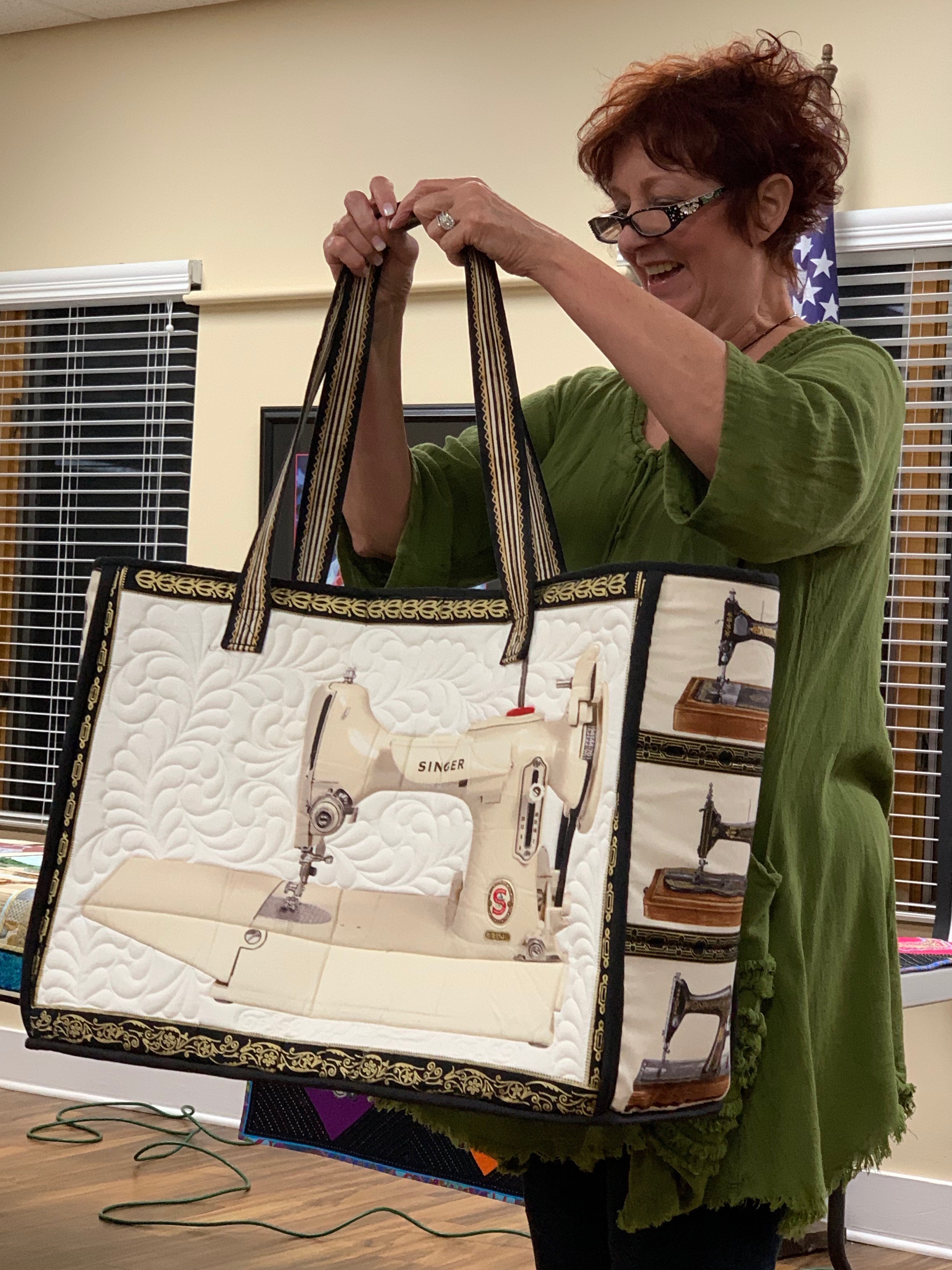 And another bag to put things in!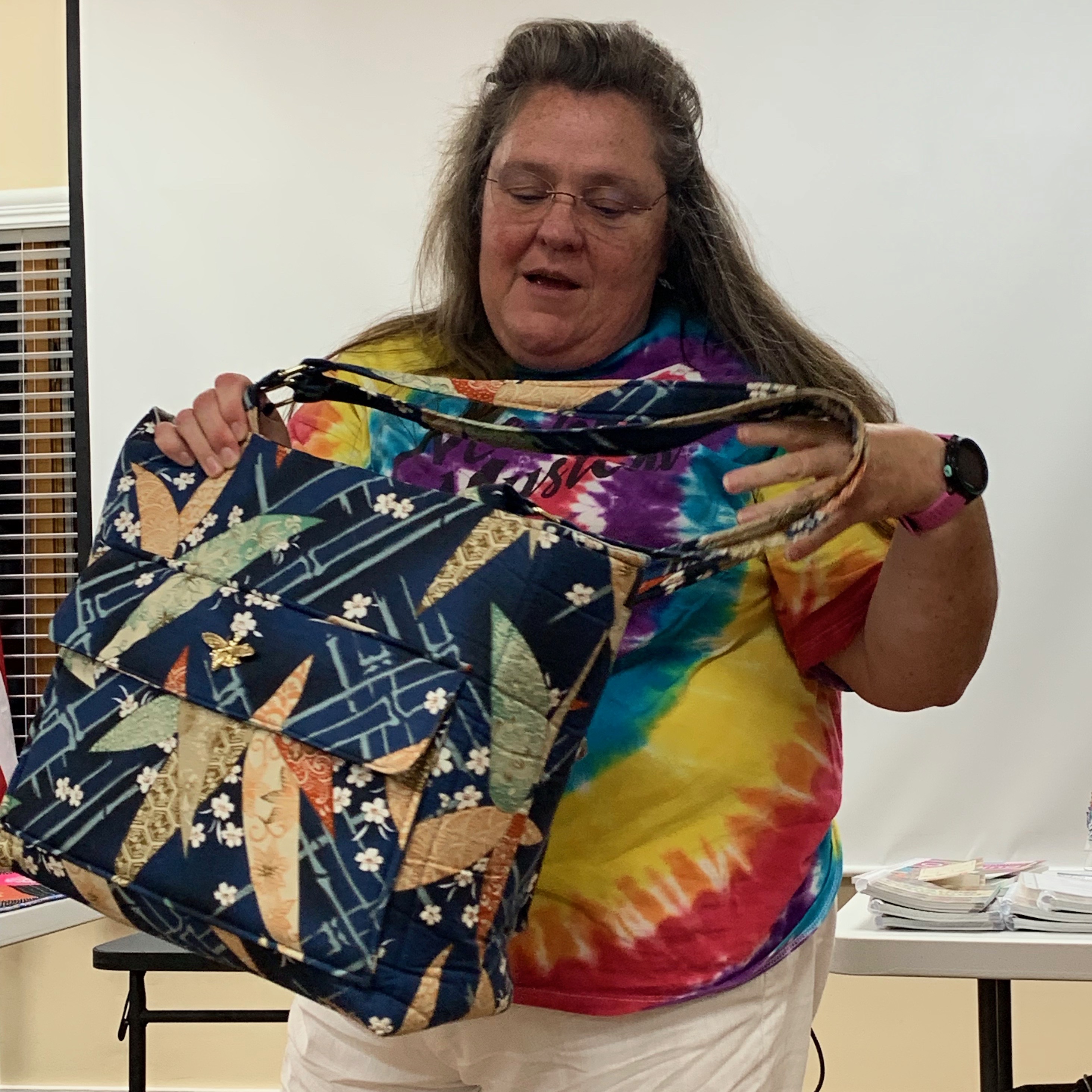 And another bag! This one is the Mondo bag.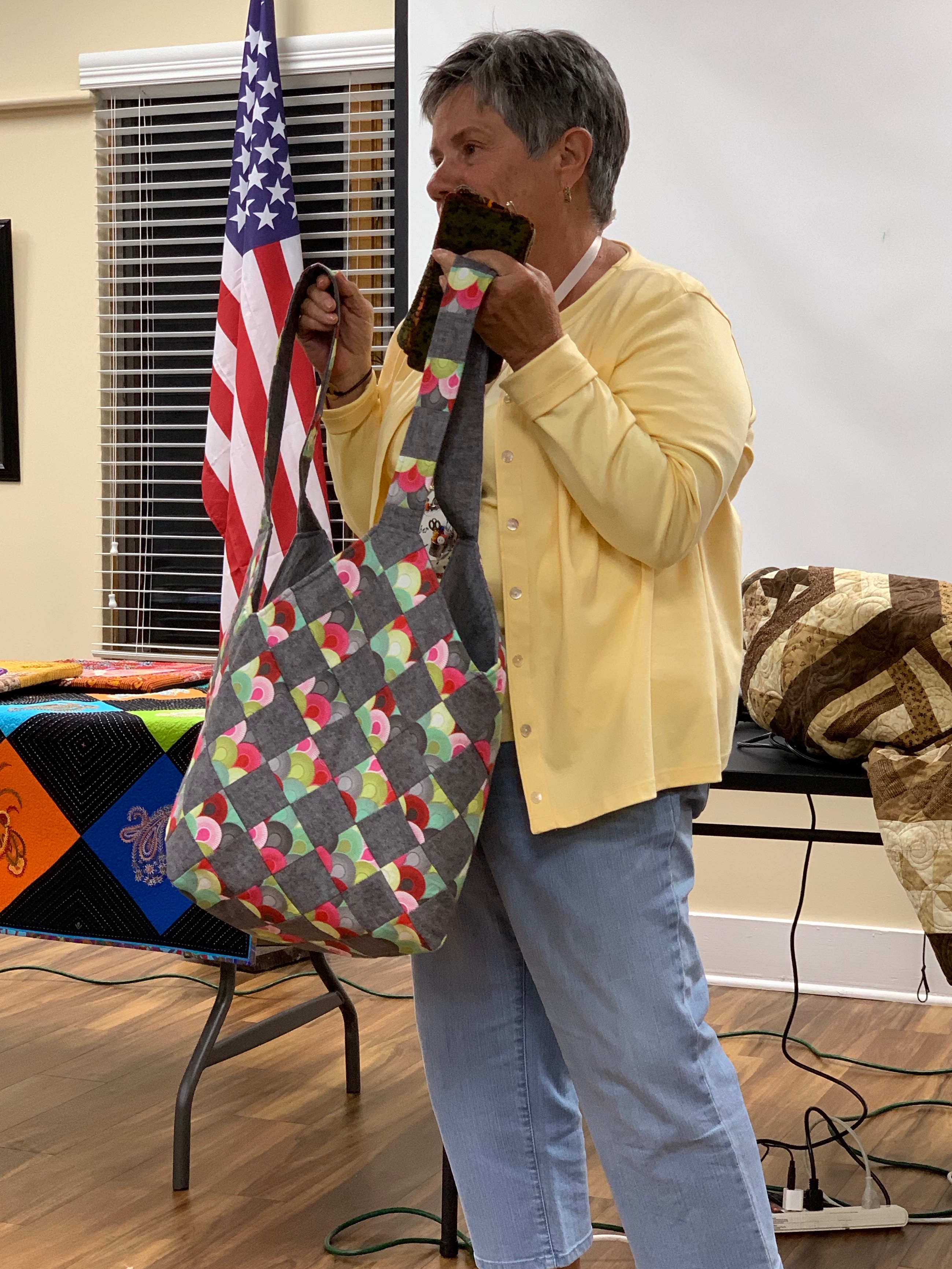 Ben and Kathleen had been in my embroidery class. They brought a hand stitched tablecloth made by one of Ben's relatives… an aunt?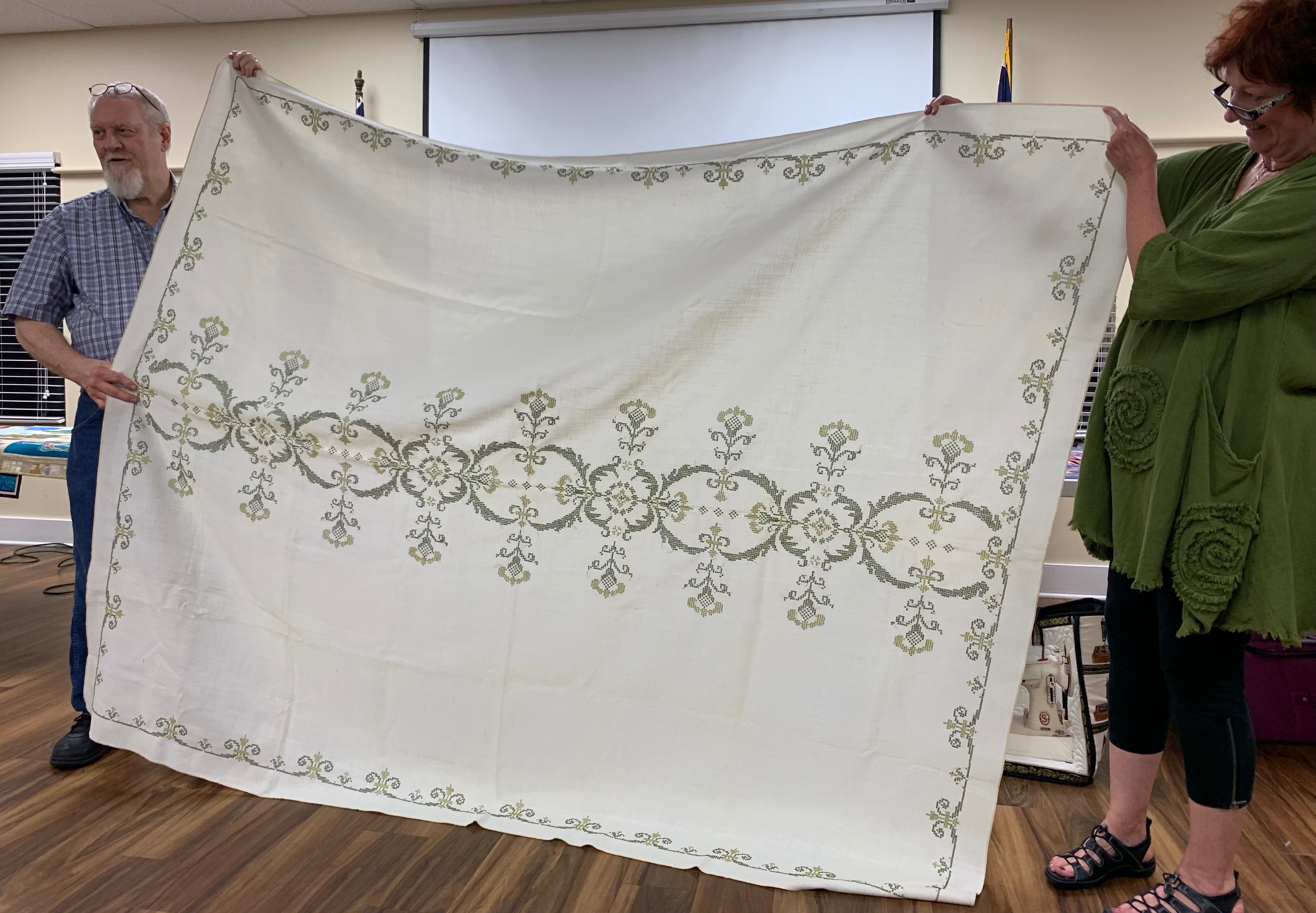 It was beautiful. They have been too worried about spoiling it to put it on their table… I think it needs to be used. What do you think?
And one more quilt, a green Irish Chain with some pretty quilting.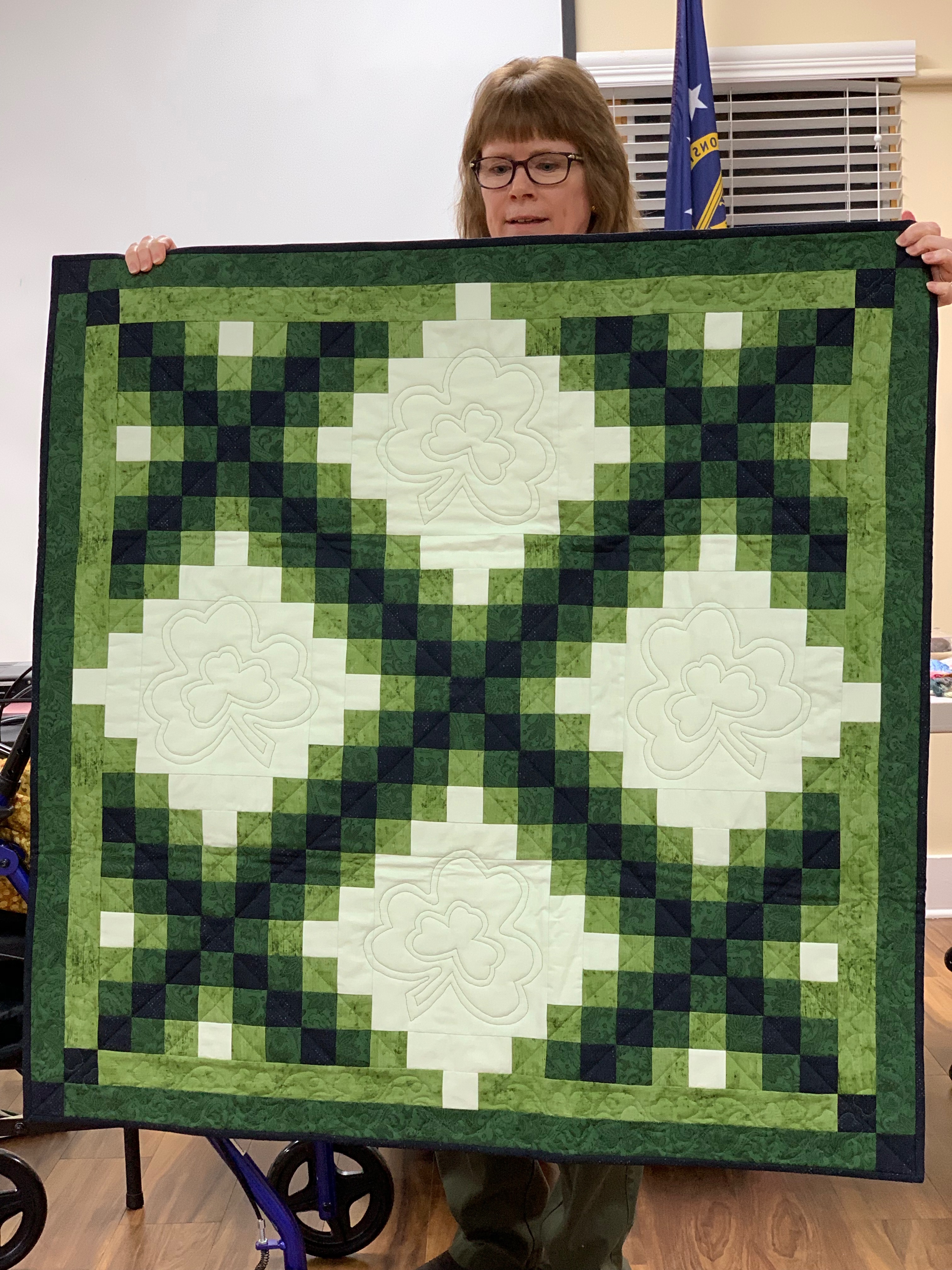 There was more but it's time to move on!
I had booked an evening flight home on Tuesday so I still had one more day to go adventuring.
Ben and Kathleen were in charge. I went to visit the Alpharetta Arts Center  where there was an exhibition of work by the Alpha Arts Guild.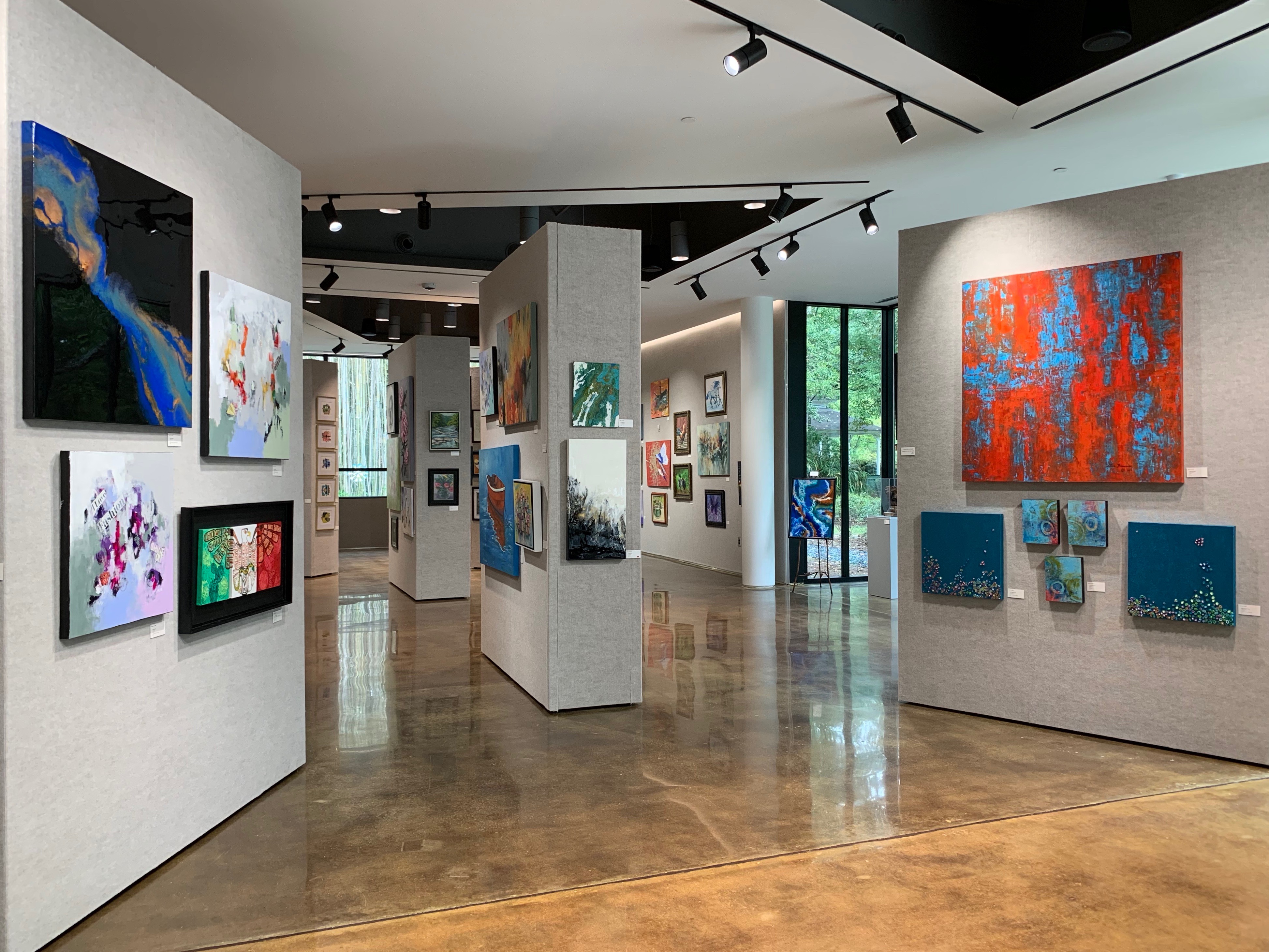 The building had previously been a library. All the windows were new. It made a super well lit space to show off the eclectic mix of pieces to their best advantage.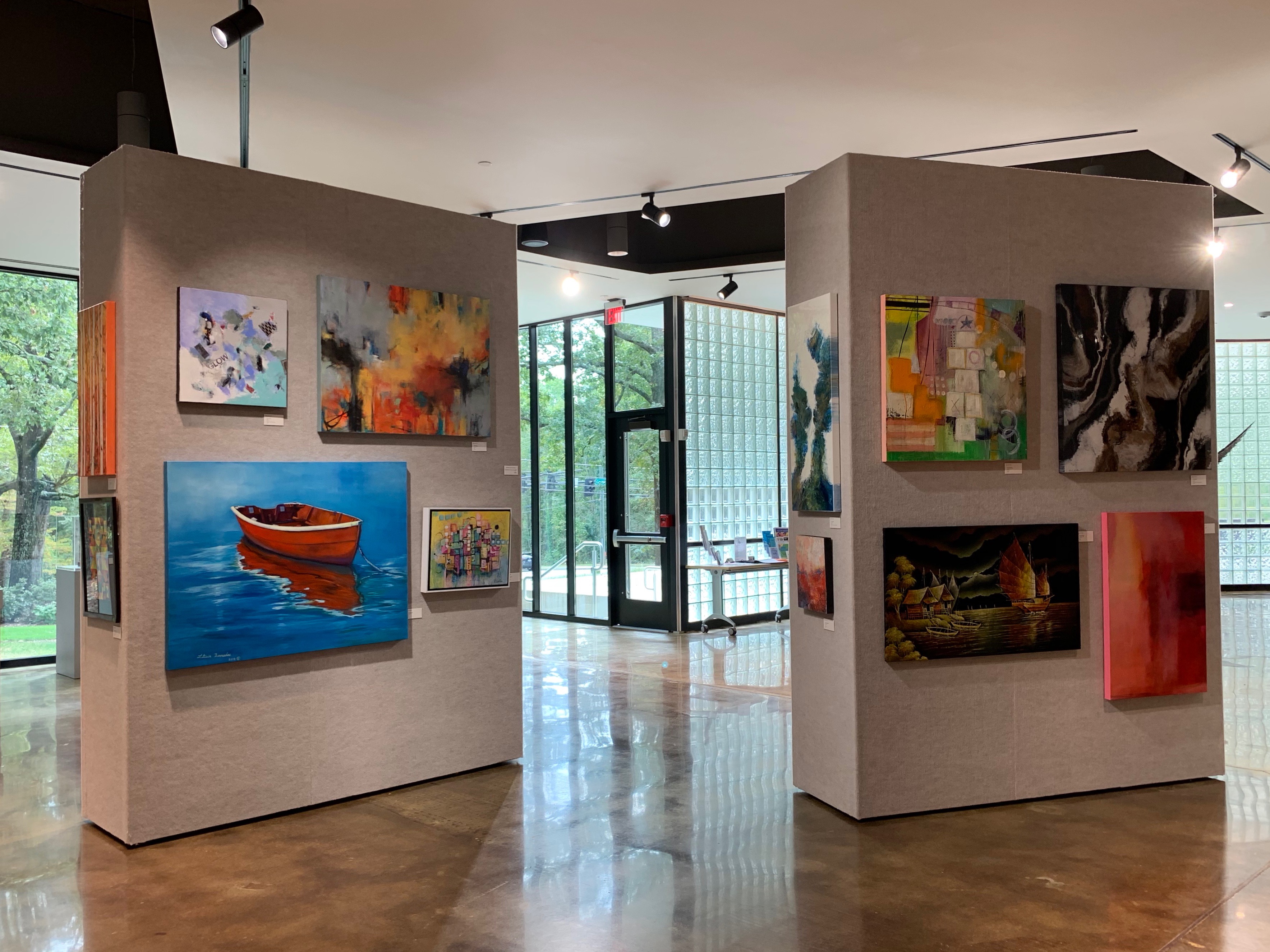 After lunch we headed into Atlanta to the Atlanta History Center. The Cyclorama of the Battle of Atlanta is one of the big attractions. Yes, that's a model of Clark Gable as a Confederate soldier in the foreground…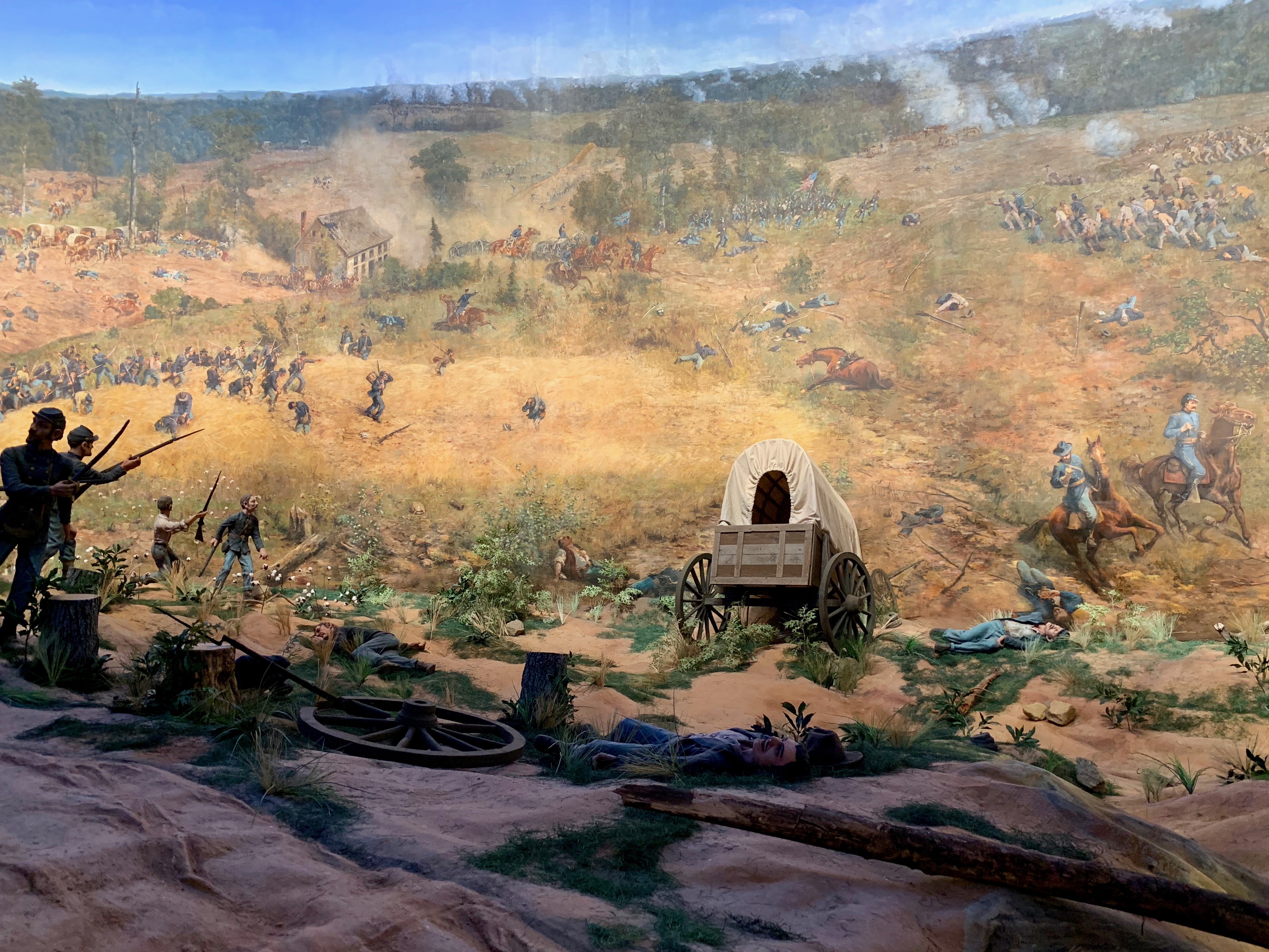 The beautifully restored locomotive deserved a photograph.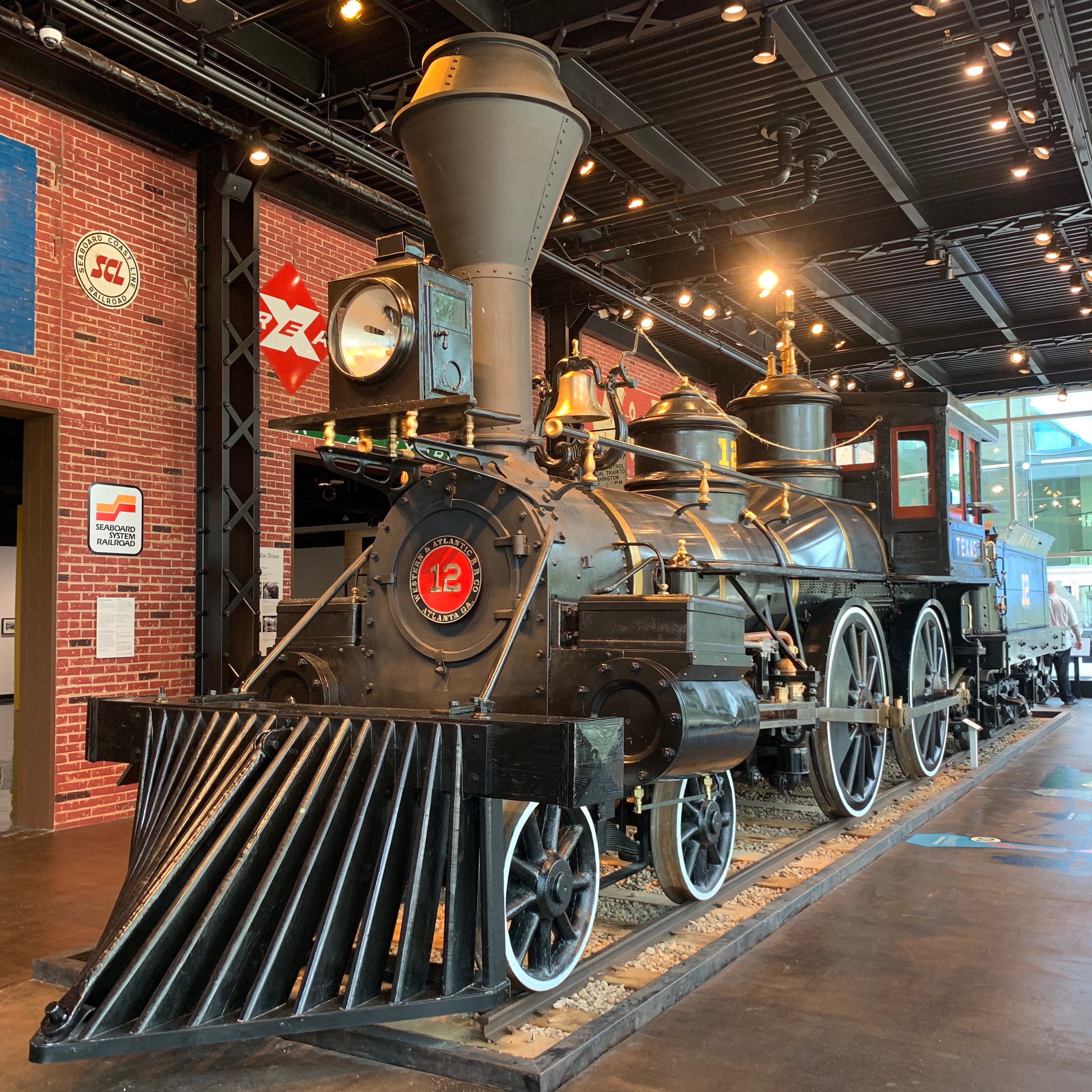 And of course I had to visit the Folk Art Gallery. The face jugs were used to buy and store liquor… apparently the frightening faces would stop children trying the contents? This one is attributed to "Charlie" Ferguson and made around 1900.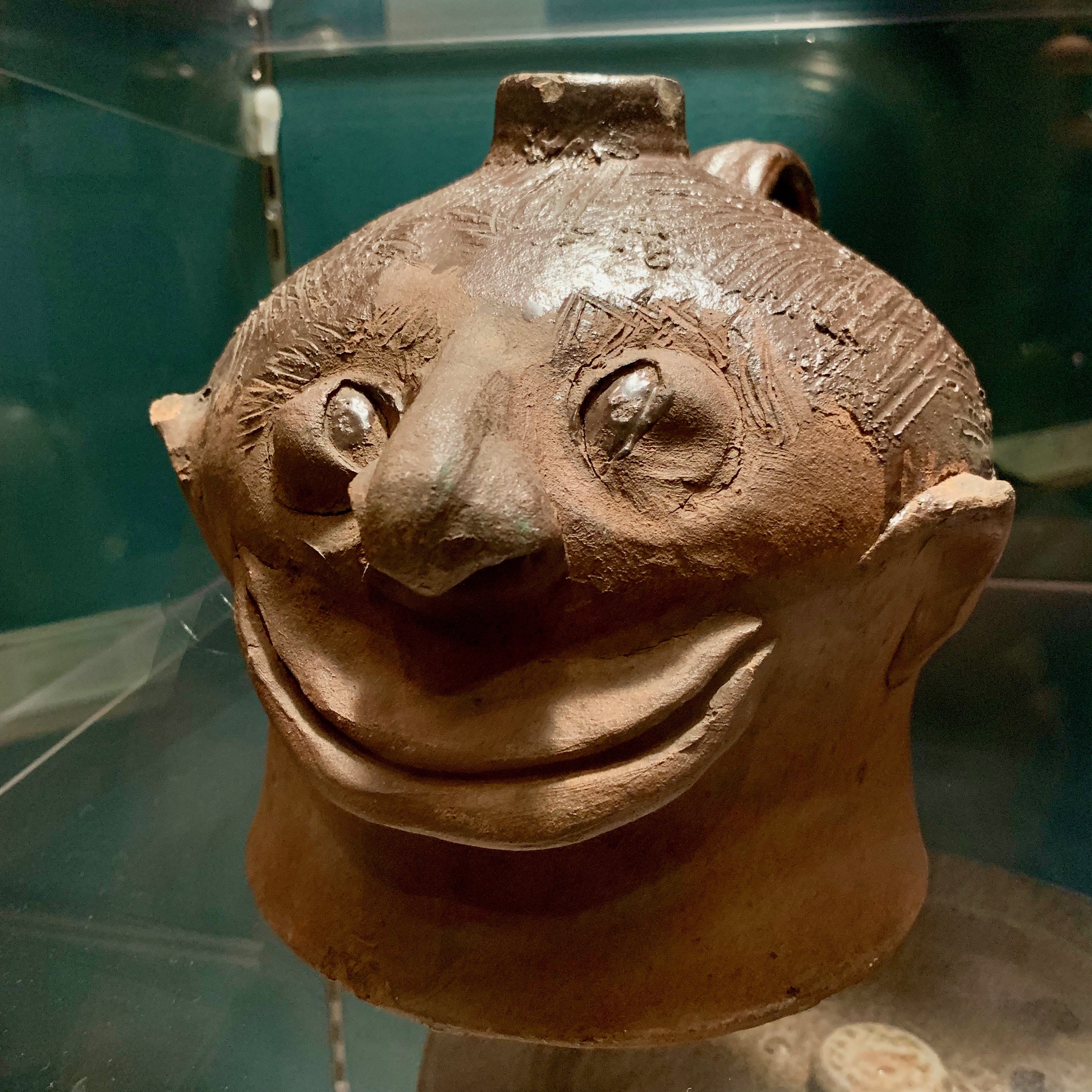 The baskets were prettier and more recent.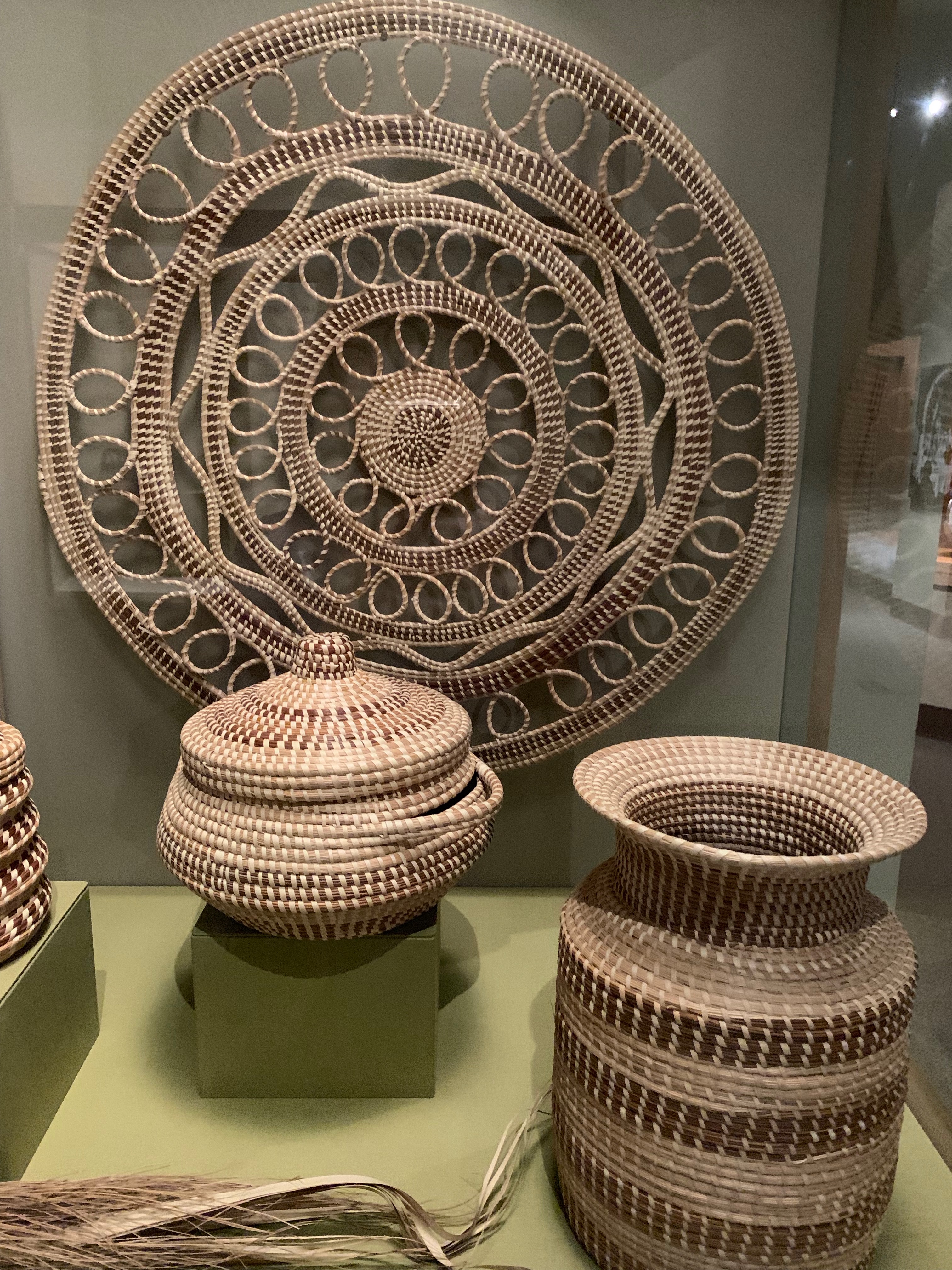 No more time. I had a plane to catch and Atlanta traffic is always busy… I was delivered safely to the airport and checked my bags in curbside. There is a train between terminals but I had asked around and walking seemed to be a good option. I made a good choice! There is something different between each terminal.
First there was a display of huge Zimbabwean sculptures, followed by a section that was set up to be a rainforest, complete with sounds and overhead trees, and then an Atlanta history exhibit. My phone told me I had walked a full mile between check in and my gate. It felt great 🙂
My flight was on time and my luggage came through at Midway, no problem. Steve just had to drive through the parking garage and there I was waiting for him! Not too bad at all.
It had been a very intense week, what with the trip to Salt Lake City so swiftly followed by Alpharetta but it was an excellent week. I do sometimes worry that I am having too much fun? Am I concentrating on what I'm there to do? Everybody looked after me so well and made me feel very welcome.
I have been unpacking and repacking. Julia and Matt and the children came at the weekend. Julia and Matt cleared up my mess in the den. Benjamin and Ruby made a Lego Gingerbread house.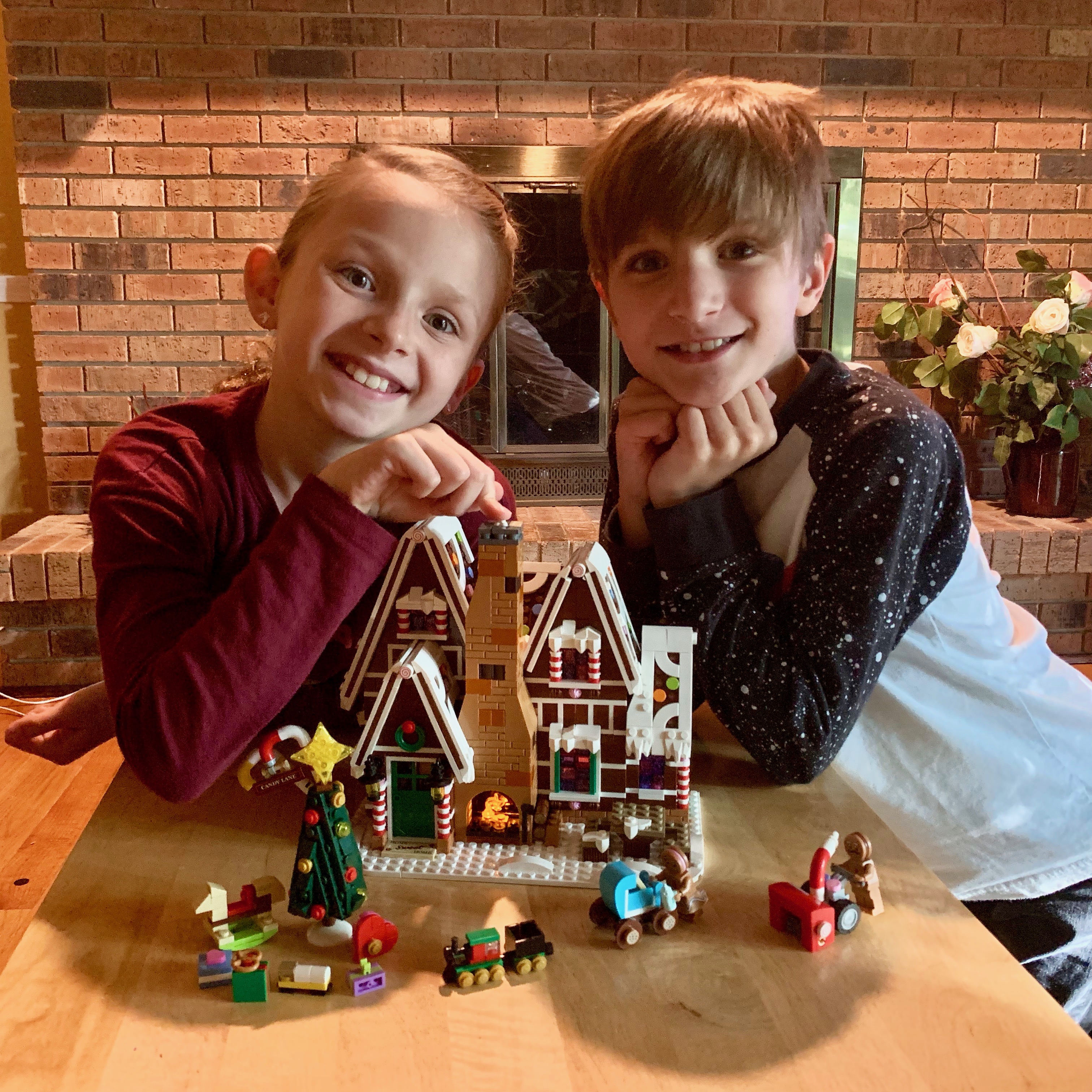 The idea was that we would deconstruct it after they had finished, so they could remake it at Thanksgiving, but we just couldn't bring ourselves to do it! We might need another project instead?
I wrote a magazine article yesterday. Today I taught a class to a local group in Winfield. My bags are almost ready to go to Tampa on Friday for Camp Saddlebrook. (I'm going to be looking for an alligator) I have a quick turnaround next week, forty hours between landing and taking off again. That means my bags for Houston are two thirds packed. I have a list of things to do tomorrow, there are contracts to fill in for next year,  packages to mail, a car to get an emissions test done… I can do it… really I can!!