There were 624 comments on my celebration blog post! Thank you to everyone who left me a message. I enjoyed reading them all. Welcome to all the new readers who hopped on over because Bonnie sent you. Every one is always welcome here.
As I suspected, there are some hand quilters, some machine quilters, and a good number of pay by check book quilters out there! Some of you quilt your own little things but send the big quilts out. That makes a lot of sense to me.
I loved one comment from a quilter who has "never quilted by check or plaid"… but does like straight and curved lines 🙂 I guess I didn't make myself completely clear to everyone?
Ida told me she tends to "stitch on the shoulder", rather than in the ditch. I think that's a common problem. I'm going to send Ida a ballpoint stiletto to run down her ditch before she stitches in the future. Try it and see if it doesn't just open the ditch just a little more to be able to get in even closer to your seam line?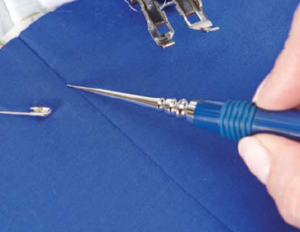 I have sent e-mails out to three lucky winners. Now I'm waiting to hear back from them so I can send their prizes which will be a selection of my favorite things I use to help me get better results when I'm quilting.
And if you're not a winner this time? Of course you can still get a copy of my book, Modern Machine Quilting, wherever you usually buy your quilting books. Don't forget, Bonnie has it available in her on-line store at Quiltville.
Too much fun!