Classes & Lectures
I taught at Pieceful Heart Fabrics in Lisle, IL. for ten years. I am now teaching regularly at Quilters Quest in Woodridge, IL. Please contact me for private or small group classes.
I would like to come visit you at your guild or shop. I would also be happy to join your group on retreat for a fun and creative few days!
LECTURES
I offer an inspiring and entertaining yet informative lecture. "Lessons learned while quilting." I have many quilts to bring with me and show during the lecture.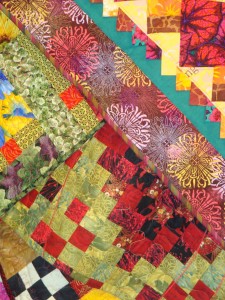 A second lecture, "The language of flowers," is now ready for your enjoyment. It includes a wide variety of quilts featuring flowers, many of which are beaded and embellished.
CLASSES
I have a range of classes suitable for your group, all taught with attention to detail and a sense of humor!
"You too can free-motion quilt"
Designed to give the beginning or hesitant machine quilter a confidence boost as they develop their skills and abilities in a one-day class (5 hours of instruction)

"Add that extra bit of style"
This class will teach basic hand embroidery stitches, with and without the addition of beads, making fringes and tassles, and beaded edge treatments in a one day class (5 hours of instruction)

"The Wool Applique Experience"

Bring your own project or start a new one using Catherine's own design. Learn a basic whip stitch to sew your pieces down and then add embroidery and bead embellishments to make your piece unique. (5 hours of instruction)

"Wrapped In Scraps"

Make decorative and useful bowls and table runners on your sewing machine with clothesline and fabric using Catherine's no fuss technique. Everyone goes home celebrating their success!! (5 hours of instruction)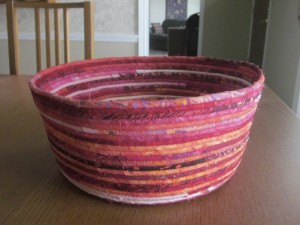 All classes can be adapted for different ability levels or as a less detailed 3-hour class.
Another  great alternative is my very popular African Folklore Embroidery lecture and workshop, details here
Pricing guide
In 2014 my basic guild lecture fee will be $200 with all day workshops at $400. Reasonable travel/accommodation expenses will also be the responsibility of the organization making the booking.
Please note I am willing to adjust my fees for smaller guilds and other groups. Contact me.