Available: Lectures, full-day workshops, multiple-day workshops, retreats, conferences, half-day workshops, lecture-demos
In my lectures and classes students learn about African tribal art and wildlife while learning the needle art techniques of African Folklore Embroidery.
ONE-HOUR LECTURE & TRUNK SHOW: SAFARI THROUGH AFRICAN FOLKLORE EMBROIDERY includes embroidered samples and interactive discussion on South African wildlife, the Ndebele tribe and techniques used for completing an African Folklore Embroidery design.
African Folklore Embroidery kits and African hand dyed threads and Ndebele hand-beaded dolls are available for sale after the lecture. The lecture is humorous, educational and entertaining with a pop quiz included where audience members can win hand-dyed African threads for correct answers. I will donate copies of Leora's book, Safari through African Folklore Embroidery to any guild or organization I visit.
Five percent of all sales from trunk shows are donated to our Aids charity in South Africa, KIDZPOSTIIVE. (kidzpositive.org)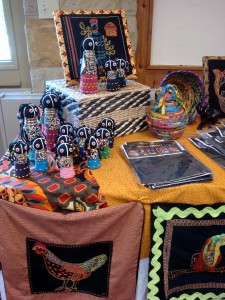 WORKSHOPS (3 hour, 6 hour or 2-days): EXPLORATION OF AFRICAN FOKLORE EMBROIDERY
Students can select a kit from the many different design options available. Kits include design, needle, threads and stitch diagram. The only item students need to bring is a pair of scissors. Kit fee for all classes is $35.00
This workshop includes instruction on:
The history and background of African Folklore Embroidery and the culture, traditions and customs of the Ndebele tribe.
Stitching techniques for completing an African Folklore Embroidery design, including chain stitch, satin stitch, french knots and bullion stitch.
Embellishment techniques for enhancement and effect: use of variegated and metallic threads, beading, Mola Barbara interweaving, double-sided interweaving, roller coaster and African couching.
Playing with threads and color and how to mix threads and fibers
Completed designs can be converted into quilts, tote bags, pillows and wearable art.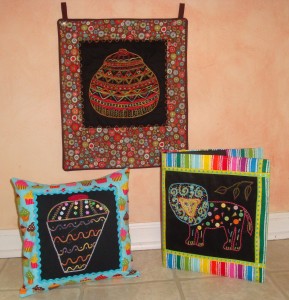 Overview of the one day class (6-hours)
History and background of African Folklore Embroidery and the various techniques that are to be explained, illustrated and incorporated in the class
Philosophy of African Folklore Embroidery. This is an "out the box" kind of class, where creativity, color and creative expression are highly encouraged. The rules of African Folklore Embroidery are explained and emphasized throughout the class. The class is suitable for the beginner embroiderer, advanced stitcher as well as those interested in weaving, beading, and knitting, crocheting, quilting and expanding their creative horizons.
Foundation techniques – Our first technique is learning the quilters knot and then going into learning the chain stitch and being in a comfortable and easy rhythm, being able to start and end off. The chain stitch is the foundation of African Folklore Embroidery and once we have completed an outline in chain stitch we begin with our first of three embellishment techniques, the MOLA BARBRARA INTERWEAVINGA TECHNIQUE, which transforms a regular chain stitch into a rope like three dimensional appearance. The effect of this technique is stunning.

Embellishment techniques – Next we learn the DOUBLE SIDED INTERWEAVING TECHNIQUE AND THE ROLLER COASTER TECHNIQUE, both of which use chain stitch as their foundation. Use of color and different fiber weights are incorporated into these techniques for effect and enhancement.
Additional Stitches – using our needles as paint brushes and threads as paints we learn how to do the following stitches: Satin Stitch- vertical, horizontal and diagonal satin stitch as incorporated into the design for effect and contrast. This allows the student to make each part of the design into a feature within itself. French knots and bullion stitch as a filler stitch and for various parts of the design are discussed and then illustrated.
Advanced stitching such as cross stitch, herringbone, spider web blanket stitch are taught and incorporated into the designs
Couching techniques which make use of silk ribbons, metallic threads and stranded floss will be illustrated and incorporated.
Embroidered Beading techniques – All beads are provided as part of the class fee. The inclusion of different types and weights of beads takes the African Folklore Embroidery design to a whole new level.
At the end of the day, students will feel like they have been on a visual safari, learning, exploring and extending themselves creatively.
A 3 hour workshop will be a shorter condensed version of the 6 hour class. In 2 days students will have chance to master all the stitches and be well on their way to a completed project.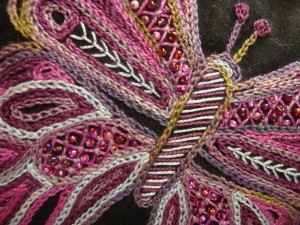 My lectures and workshops are entertaining, interactive, fun, educational, creative and humorous!
Now booking through 2016.
FEE SCHEDULE
2015
Lecture/Trunk Show: $200 (with product sales permitted)
Workshops: $400 per day (maximum 20 students, $15 daily fee per person above 20 students) $300 for 3 hour workshop
My fees have remained the same for three years. I will be raising my prices for 2016 to $250 for a lecture and $450 for the day class. In 2017 lectures will be $300 and all day workshops $500. Please ask if you are a very small group or guild as I am willing to help you out!
Reasonable travel/accommodation expenses will also be the responsibility of the organization making the booking.