African Folklore Embroidery is a creative needle art. It is a multi-cultural visual art using beads, buttons and fabric.
African Folklore Embroidery is for those who have never held a needle as well as for those who are experienced in stitching, quilting or other needle and fiber arts, It is for all those who love color and creativity.
Whether you are a quilting diva, embroidery queen, and appliqué princess or have never held a needle or stitched a stitch you will be stunned your results and excitement with African Folklore Embroidery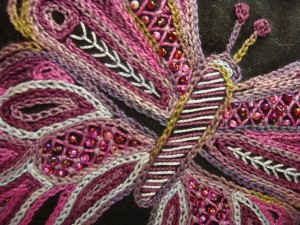 Most people will never get to experience Africa. The distance from the United States to Africa and the cost of the air ticket are enough to frighten anyone! Now, you don't need to travel on a twenty six hour plane trip to experience Africa. You can experience Africa in America with African Folklore Embroidery.
African Folklore Embroidery is fun, relaxing and easy to do. It is the perfect TAKE-ALONG PROJECT, for airplane and car trips. Since no hoop is required and everything needed, including the needle, is in the kit, you can start and finish a design on vacation.
Unlike other needlework activities, African Folklore Embroidery does not require a high level of precision and perfection. Also, no two completed kits ever look exactly the same as each completed kit is unique, relying on each users color interpretation and imagination. The beauty of African Folklore Embroidery lies in its simplicity and individuality. There is no such thing as the wrong color and stitches do not need to be perfect. The extreme contrast of the brightly colored threads against the black fabric will make any completed kit look both striking and beautiful. I encourage people to express themselves, use their imagination, and be creative and most important, always to have fun!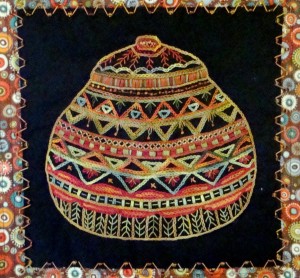 Many of the designs are inspired by life in South Africa. African Folklore Embroidery needlecraft kits are for the beginner as well as the sophisticated stitcher. African Folklore Embroidery is for those who love to quilt, embroider, hand appliqué, knit and crochet. Kits include the pre-drawn design on black over-locked fabric, a needle and threads.
The threads included in the kits are hand- dyed pearl 8 and are light fast, color fast and wash fast. These threads are from South Africa and assist in creating employment for women. All the women involved in the thread dying process have been able to move from shack housing into formal housing with running water and electricity. The threads are magnificent! Every two inches you will see a color change. The extreme contrast of the bright threads against the black background will make any completed design striking and beautiful.
Find out more about African Folklore Embroidery and purchase kits and thread at aflembroidery.com
Philosophy and rules of African Folklore Embroidery
RULE #1 Whatever color you choose to stitch is the right color—there is no wrong color; if you wish to stitch your giraffes pink or your sun blue—go for it!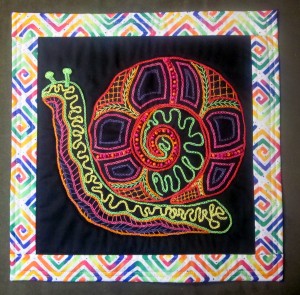 RULE #2 your stitches do not need to be perfect—there are no needle art police who are going to come and inspect your work! Life is not perfect! You will be pleasantly surprised how stunning your design will look with imperfections.
RULE #3 the needles are only to be used for stitching, No poking anyone or sewing yourself! Always secure your needle when you are done stitching or changing thread colors.
RULE #4 you do NOT NEED A HOOP!
RULE #5 have fun—you are creating a visual art, a fiber art, a wearable art.